Decorated Life is reader-supported. When you buy through links on our site, we may earn an affiliate commission. Learn More
20 Cozy Bedroom Rug Ideas
No matter the decor or flooring material in your bedroom, a rug can act as a grounding piece.
A good area rug will help set your style, give you a warm place to put your feet down, and turn your bed into the room's focal point.
If you're searching for the best bedroom rug ideas, here are the top 20 choices.
Play on Neutrals with a Chunky Jute Rug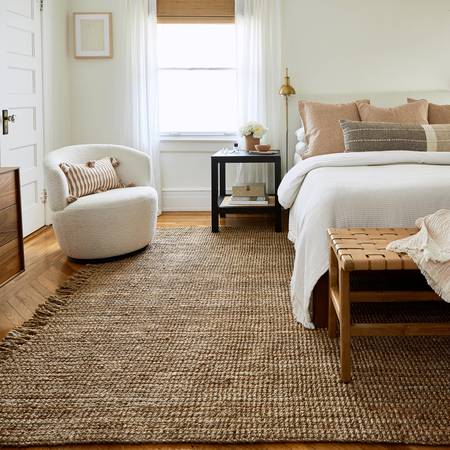 Neutrals are great for the bedroom since they create a calm, relaxing feel. If you love a neutral bedroom, consider this chunky jute area rug.
This rug comes from Rugs USA and is available in eight colors. If you've decorated your room in browns, whites, or creams, consider this natural colored rug or the darker brown version.
Warm Your Feet on a Plush Shag Rug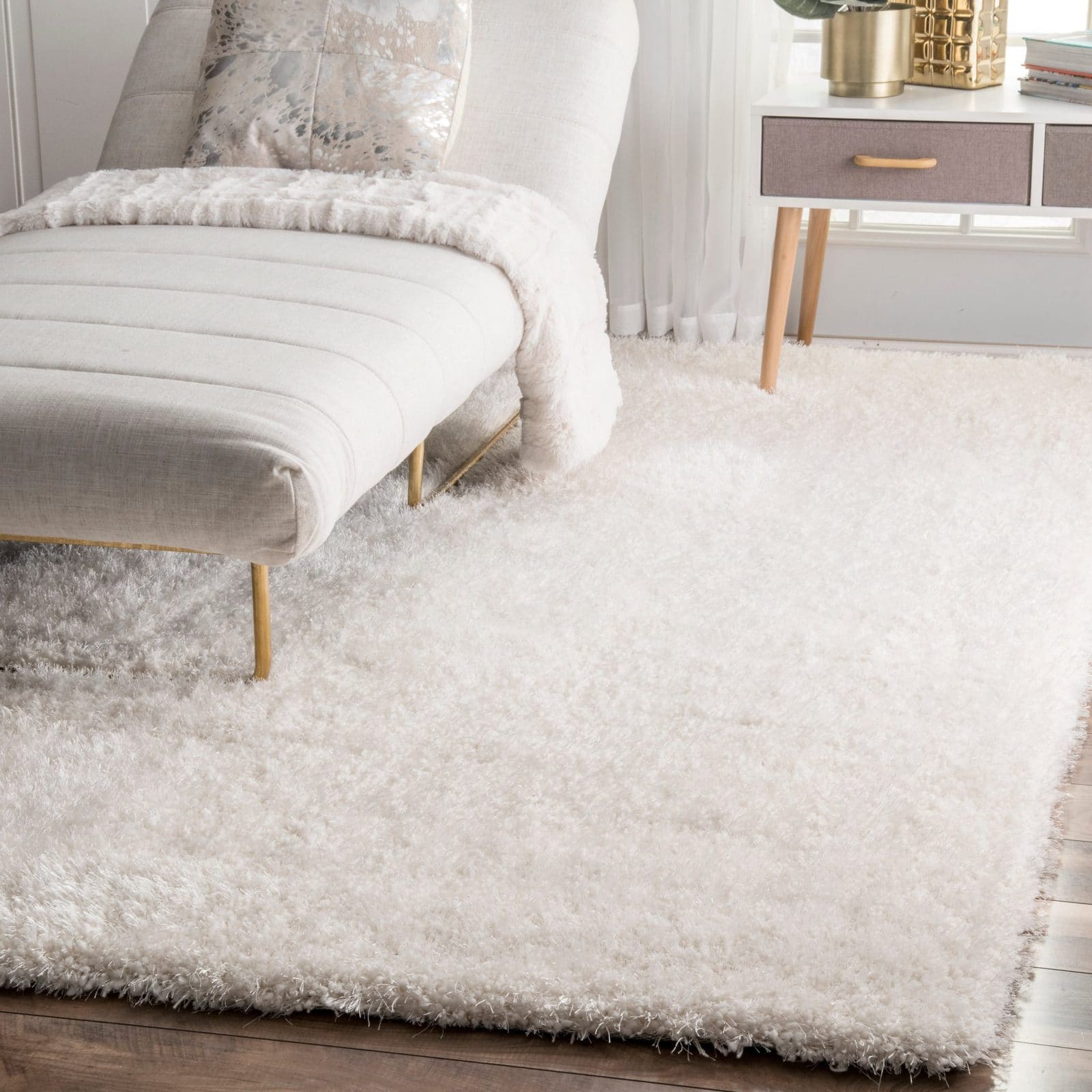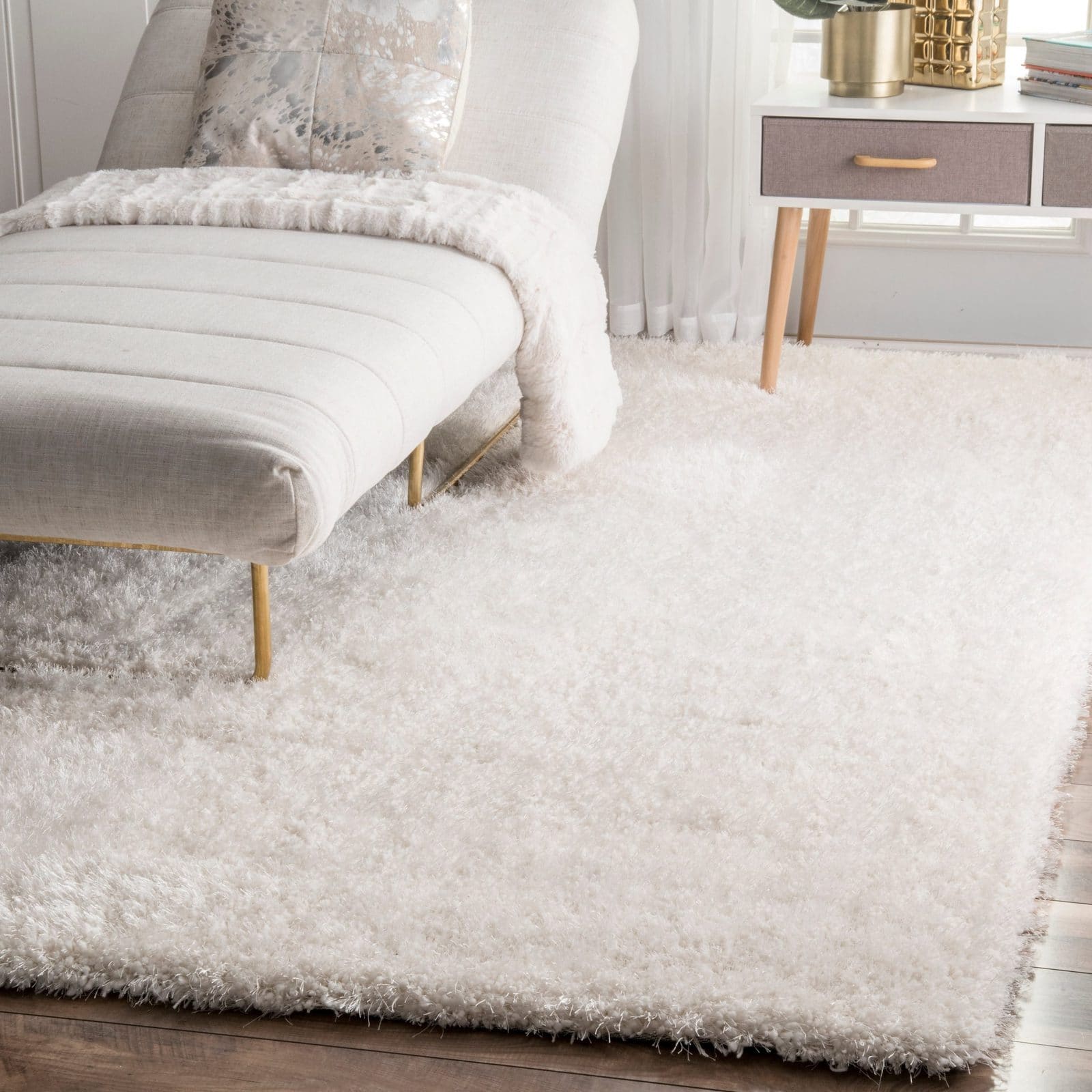 If your main goal is to have a nice warm spot for your feet to land each morning, try a plush shag rug.
You can find this rug in ivory or silver. Both colors work with a lot of different decor styles and color schemes. This rug is perfect if you have hardwood floors and want to wake up to a soft, comforting surface.
Add Vintage-Flair with a One of a Kind Carpet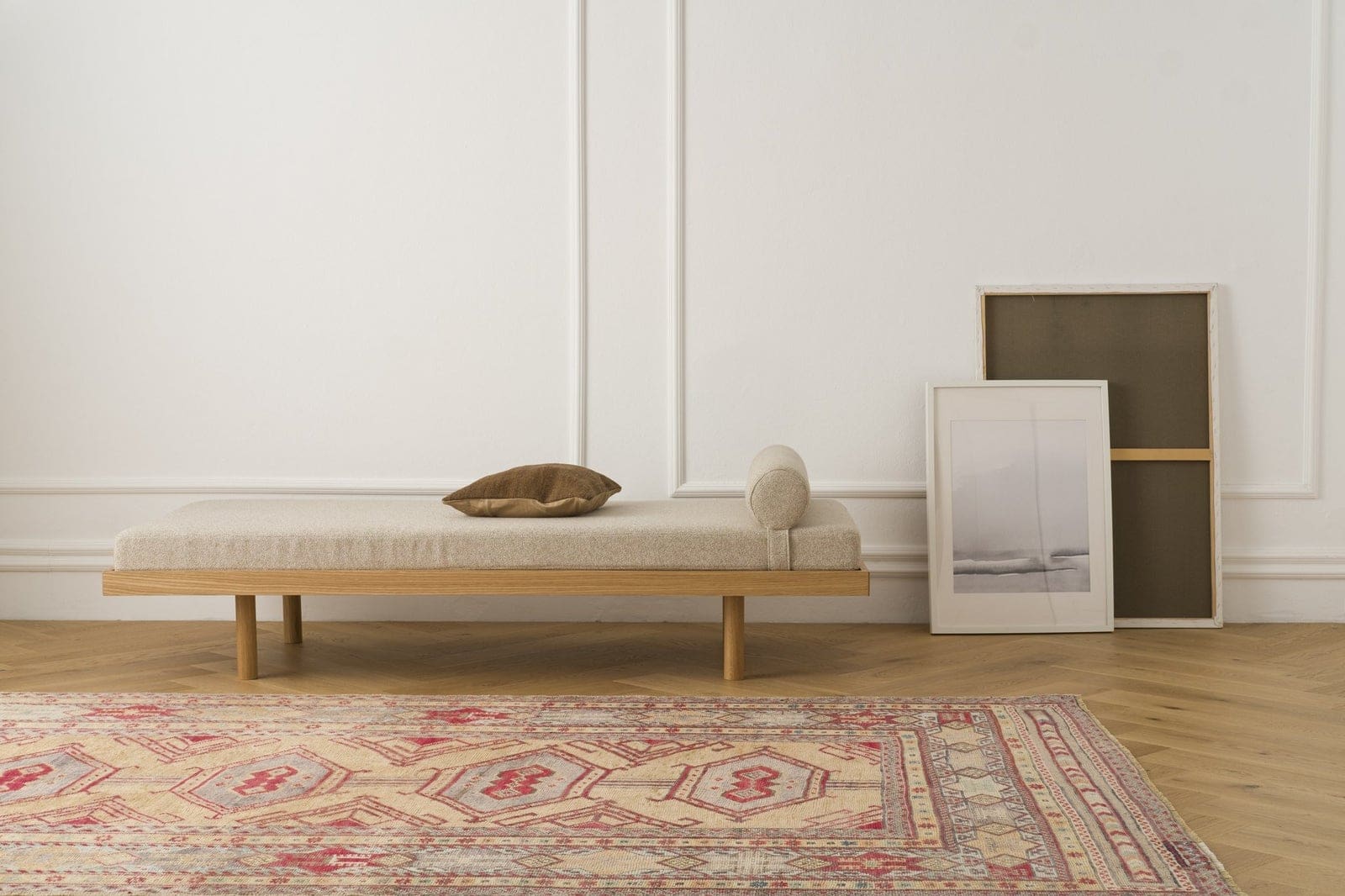 Looking for one-of-a-kind master bedroom rug ideas? If so, you'll want to check out the selection from Revival rugs – they have several one-only vintage styles.
If you're into Turkish rugs, this one is a great option. It's a large 5' x 10' runner style that would look great next to a twin or full-sized bed.
Choose an Easy to Match Option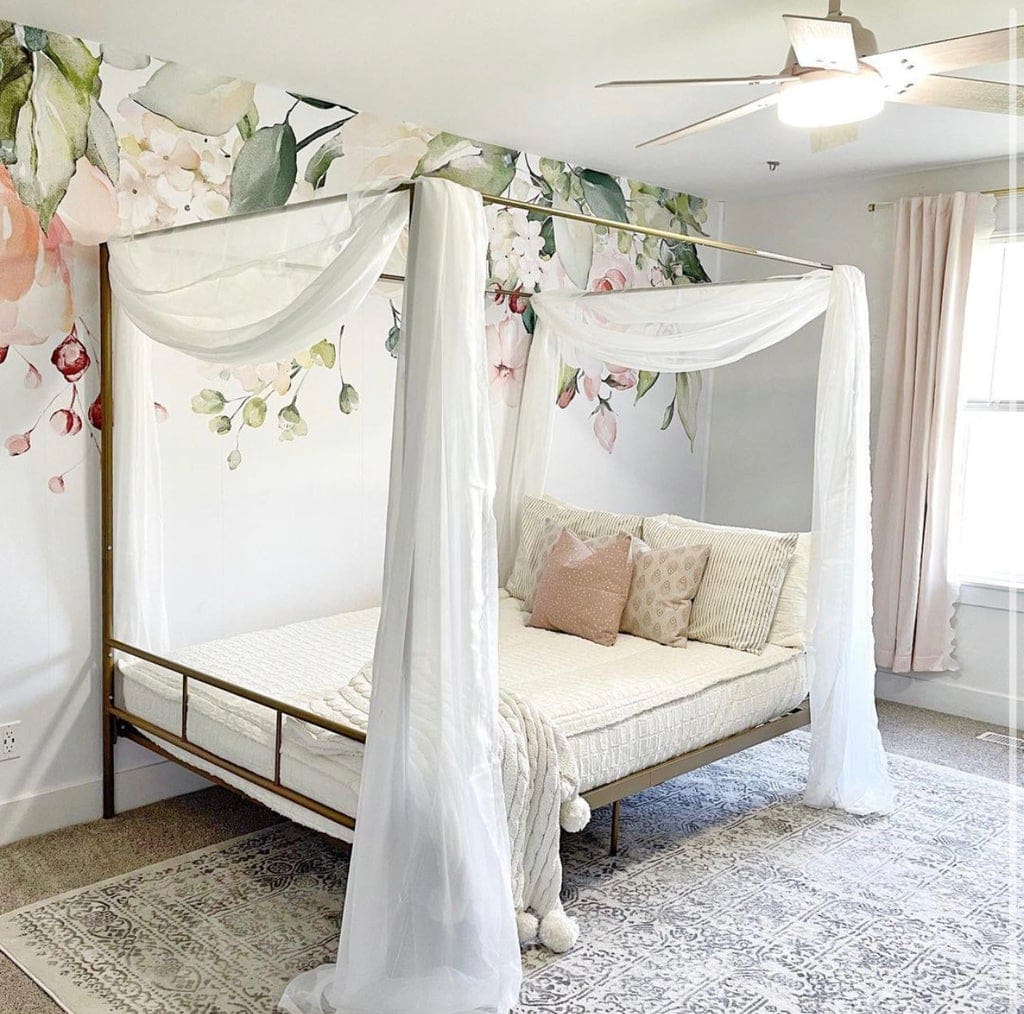 Do you worry that the rug you'll choose won't quite match your decor? If that's the case, try a versatile option like this one.
A light-colored rug with a muted pattern can easily go with many different decor styles. This rug works with traditional, bohemian, and even farmhouse-decorated bedrooms.
Place a Rug at the Foot of Your Bed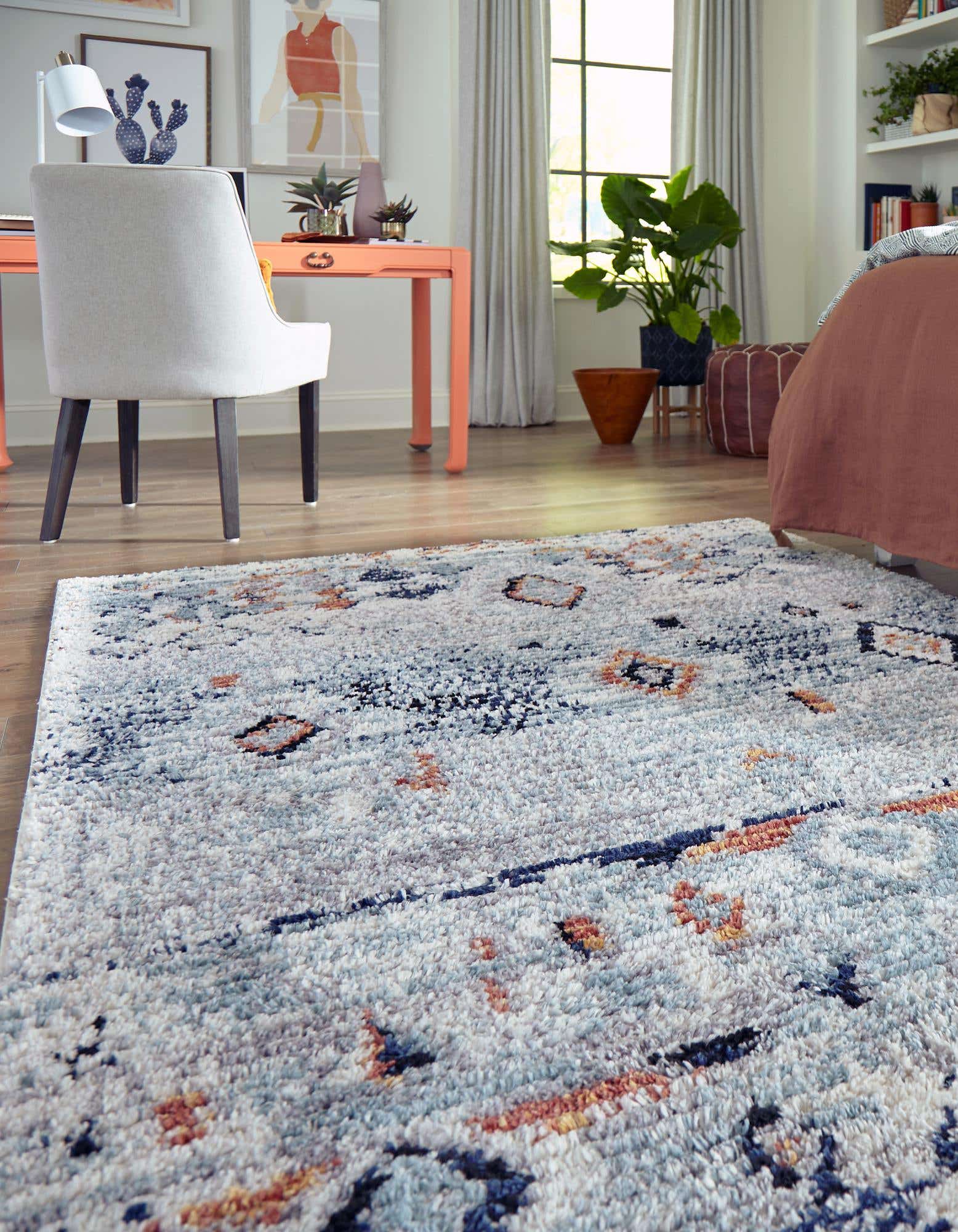 If buying a large rug isn't in the budget, or you just don't like that look, consider putting a smaller rug at the foot of your bed.
Like this 5' x 8' option, smaller rugs will still help you create a focal point in the bedroom. If you like boho style, this Morrocan rug is a great choice. You can find it in the light blue pictured or a much deeper navy blue.
Go Modern with an Abstract Rug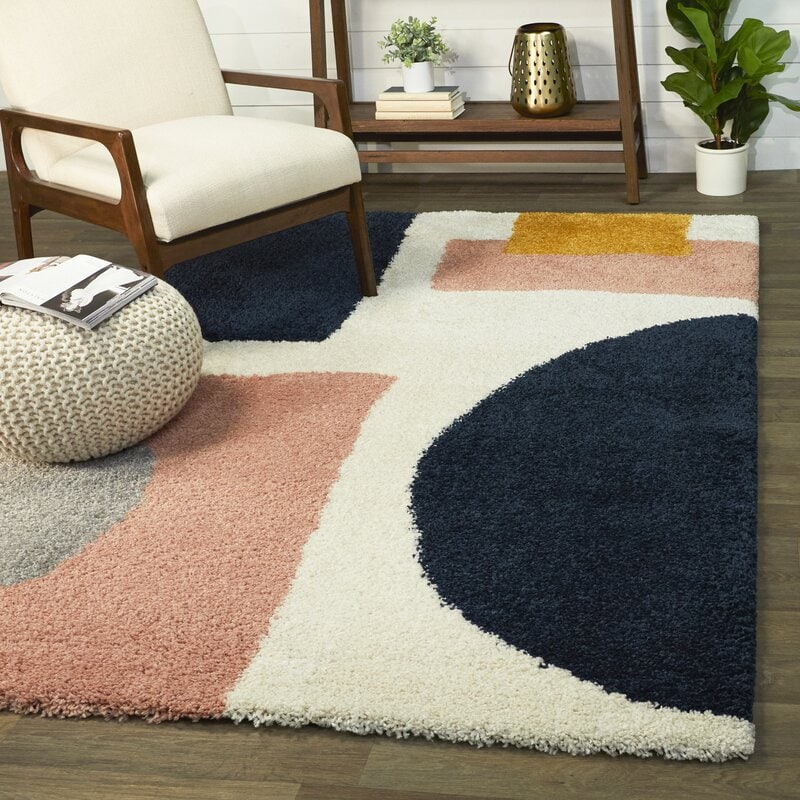 If you're looking for the best modern bedroom rug ideas, try abstract or geometric prints. An abstract rug can work underneath your bed or, if you have a large room, as a way to create a defined seating area.
Also, if you're looking to add a pop of color to an otherwise neutral room, something like this is a good choice. This rug comes in two color schemes, navy/pink and pink/gray.
Ground Your Room with Greyscale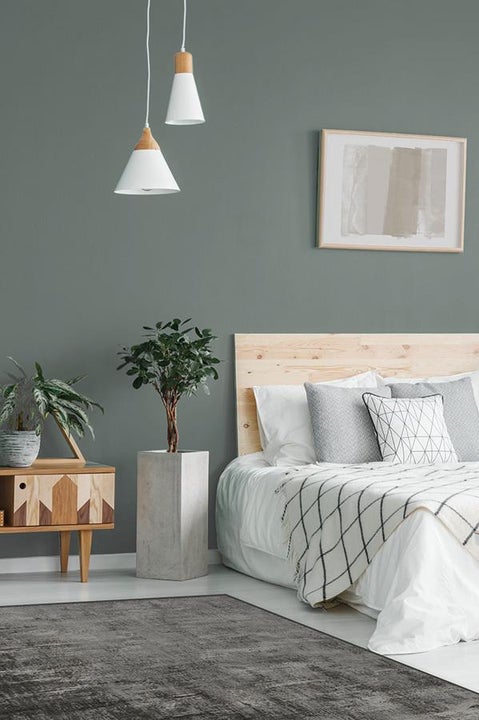 Another modern option is this greyscale rug from Ruggable. On it are various shades of gray that go from dark to light.
This rug comes in six different sizes. There's an option whether you're looking to place a rug at the foot of your bed or need to put one underneath it. And as a bonus, this rug is machine washable.
Stay on Trend with The Moroccan Trellis Rug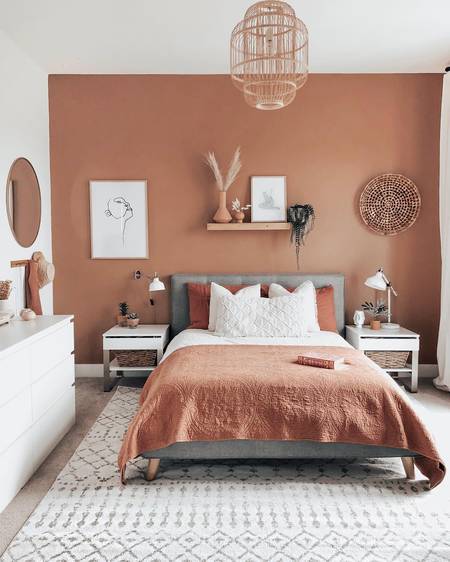 You can find versions of this Moroccan trellis rug on just about every rug site available. It's quickly become a fan favorite because it's easy to match and hides dirt well.
On Rugs USA, they have this rug in eleven color options and many different sizes. Because of this rug's ability to blend with so many kinds of decor, it's one of the best rugs for the bedroom.
Try a Modern Farmhouse Rug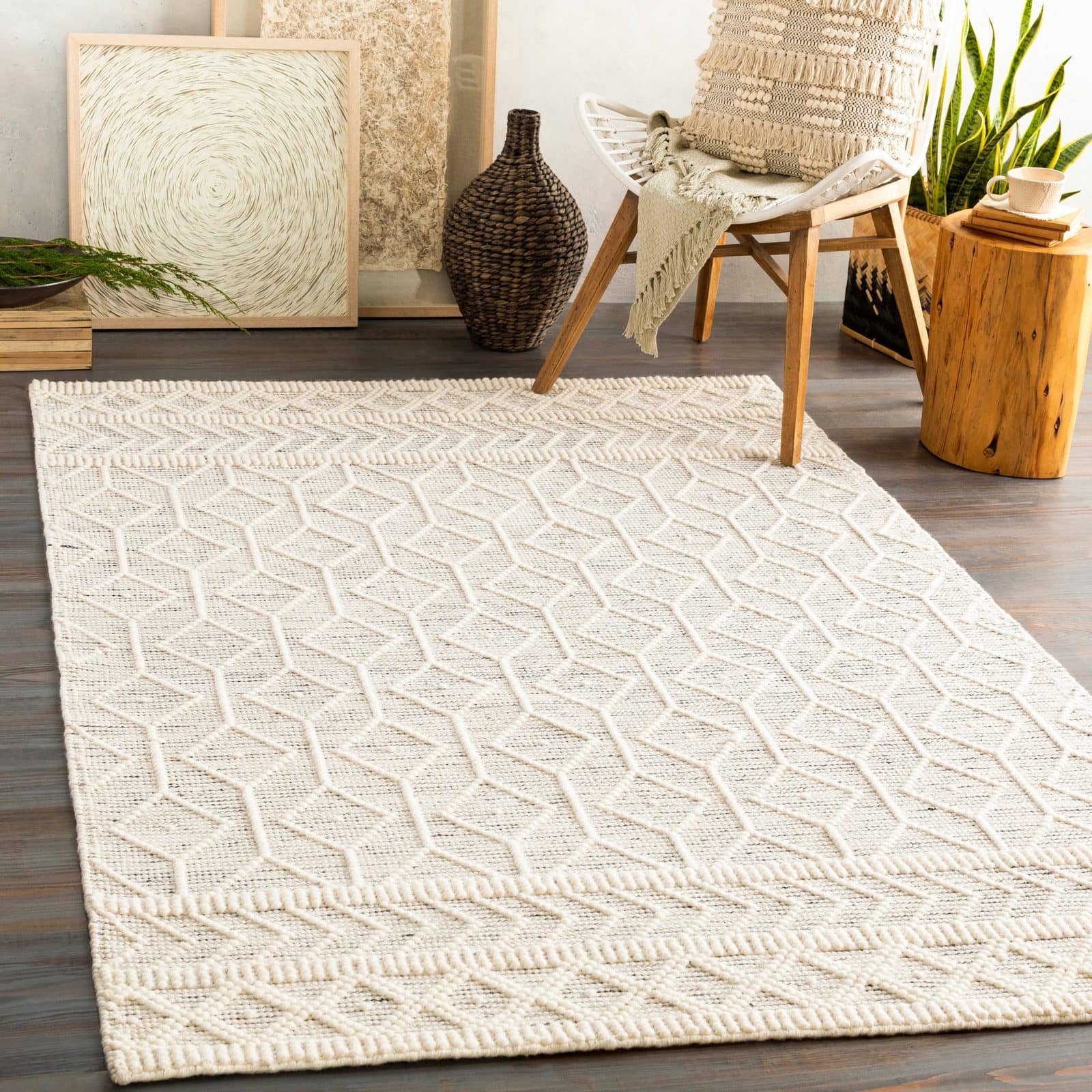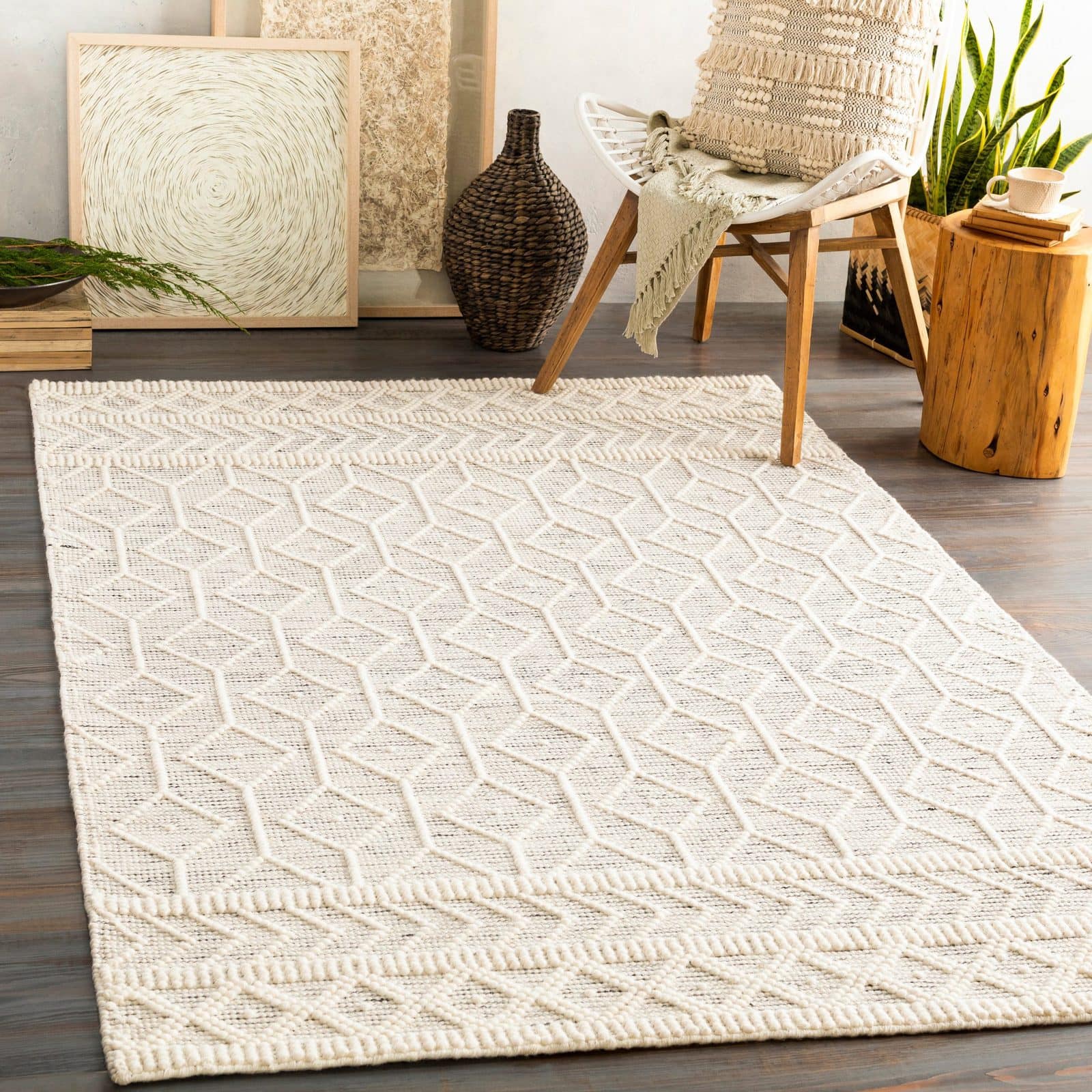 If you like the modern farmhouse look and need the perfect rug for your bedroom, this is a solid choice. This rug from Overstock is wool with gray and cream colors and comes in five sizes.
While perfect for modern farmhouse, you could also use this in boho and traditionally decorated rooms. As a bonus, this soft rug will feel great on your feet in the morning.
Give Your Room a Fresh Feel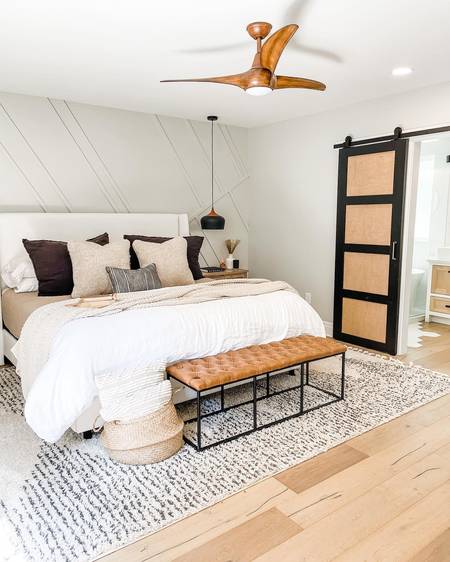 By now, I think it's easy to see that Moroccan rugs dominate current design trends. But that doesn't mean the design has to be in-your-face bold.
Try this version if you want a toned-down Moroccan rug with a modern feel. It's an off-white color with black stripes and will match most decor. And since it's so soft, it's one of the best rugs for the bedroom floor.
Show Off Your Southwestern Style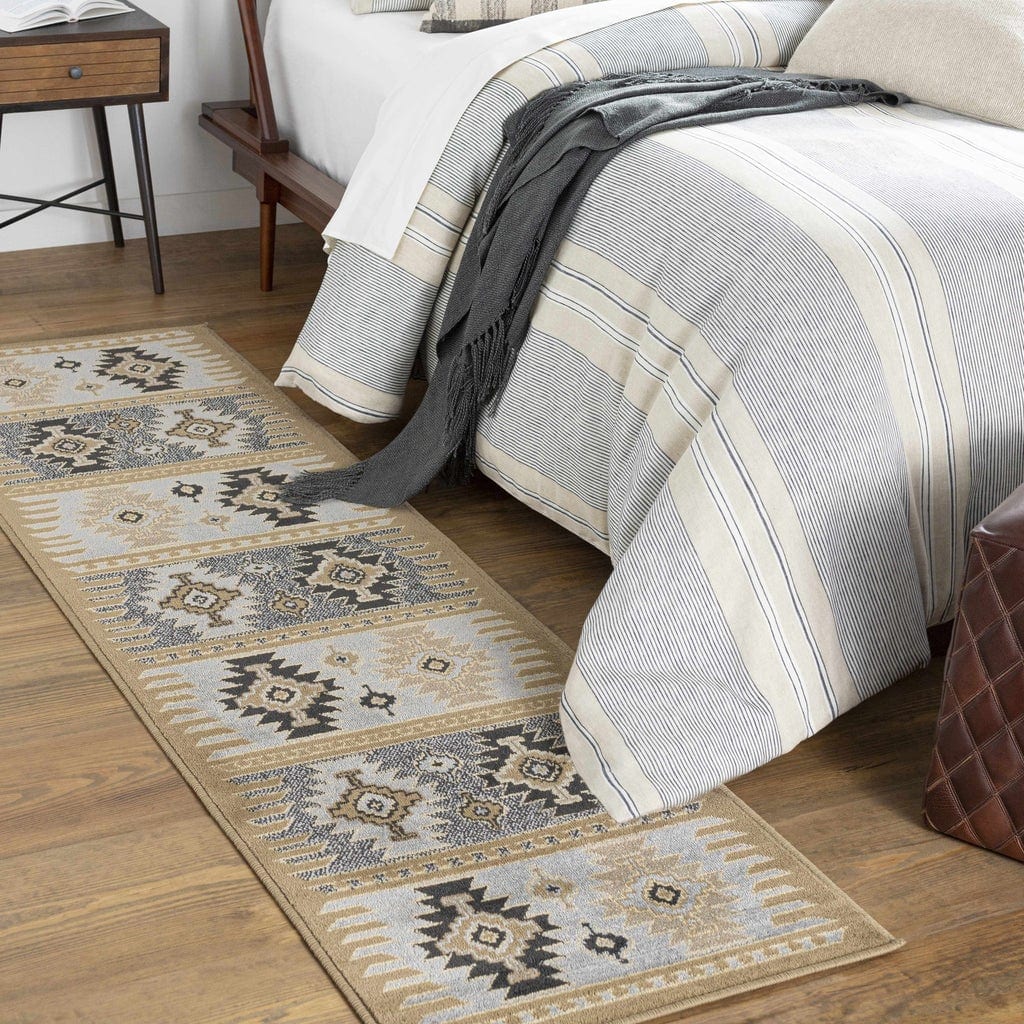 If you're into southwestern style, Boutique Rugs has a lot of great options to choose from. For neutral rugs, I like a toned-down brown version like this.
You can use a runner and put it beside your bed as pictured. Or, you can get a large area rug and position it under your bed. Just remember to order the right rug for your bed size.
Warm Up Your Bedroom with a Gold Rug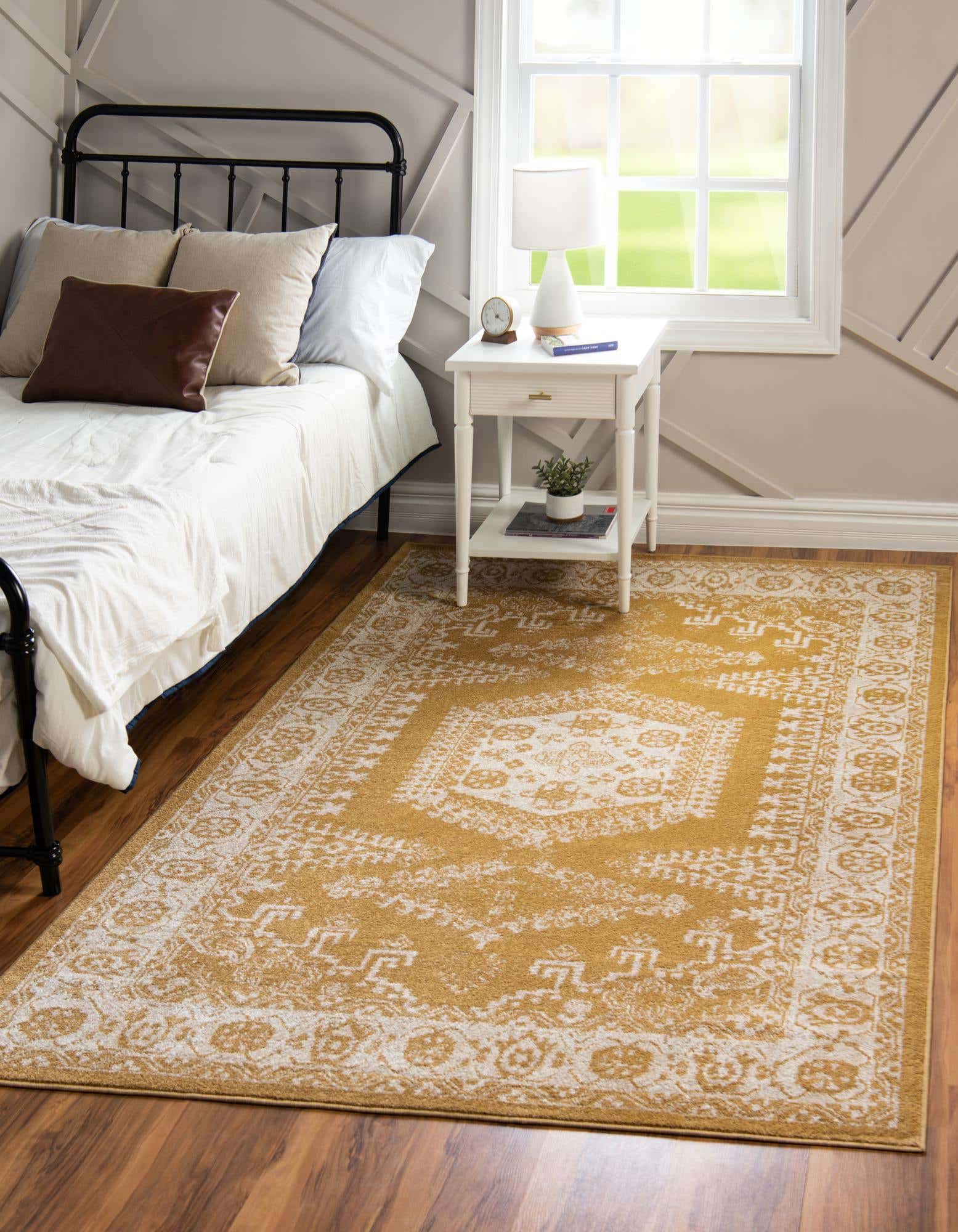 Do you want to add warmth to your bedroom through your rug? If your answer is yes, you have two options: a jute rug or a gold rug. And if you don't like the feel of jute on your feet, gold is your best bet.
If you want the pattern on this but not the gold, don't worry. This rug also comes in four more color options and seven sizes.
Define a Seating Area with Something Unique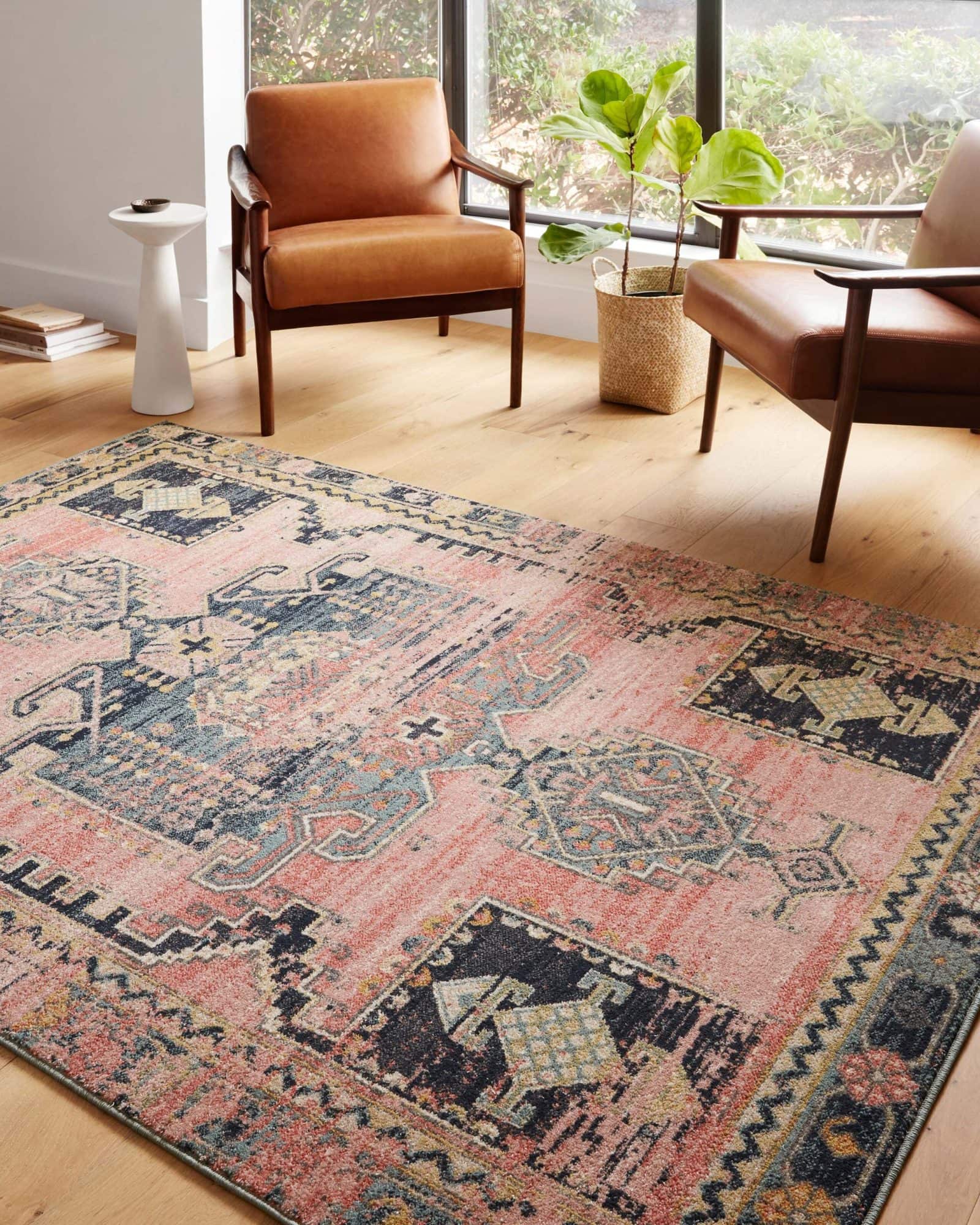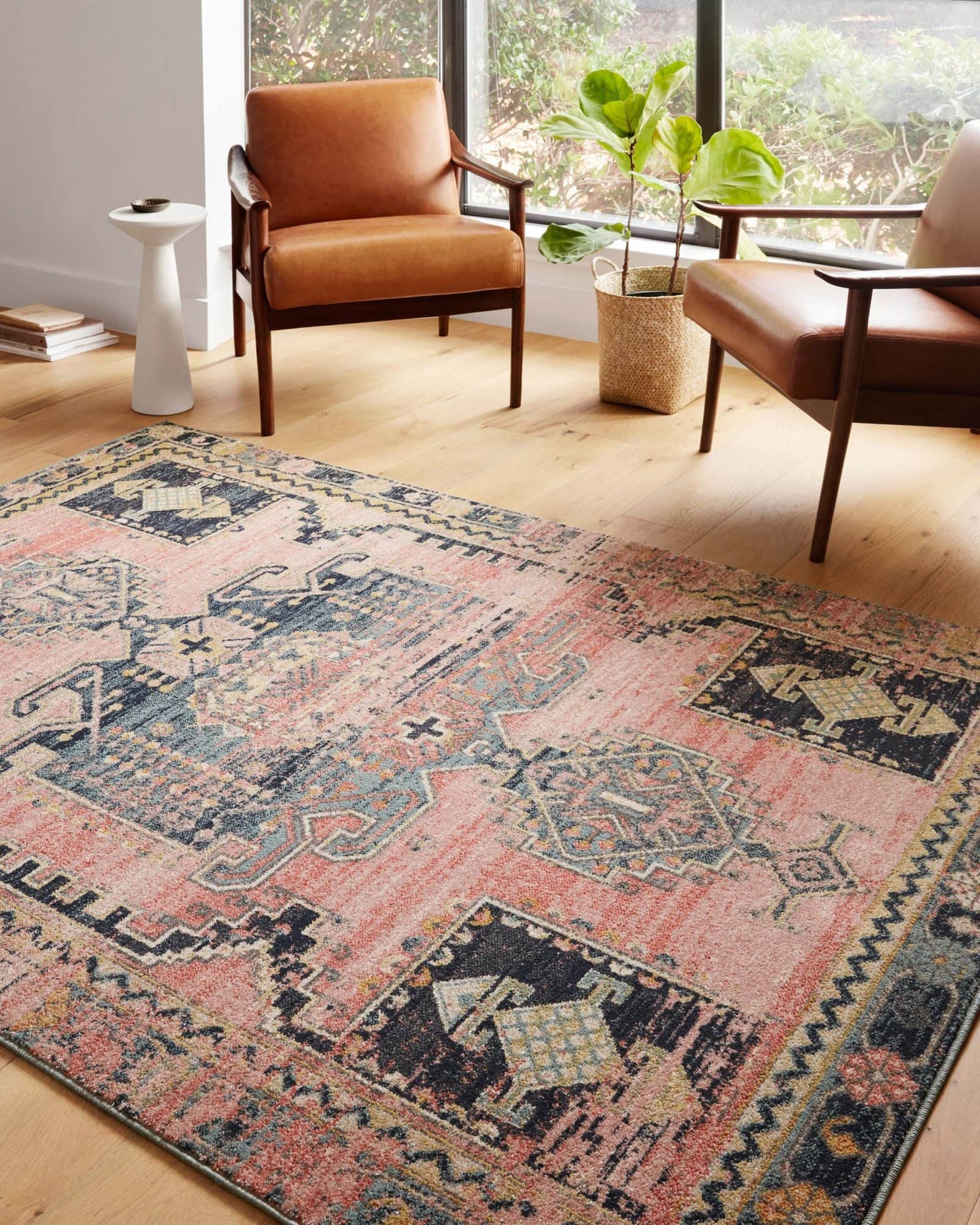 If you have a large bedroom, there's a lot you can do with an area rug. For example, instead of just putting a rug underneath or beside your bed, you can use one to create a seating area.
Of course, you can use any style or color of rug, but if you like an antique style, this one works perfectly. This rug comes in seven sizes, so you'll be able to find one to accent your room the way you'd like.
Make a Statement with a Bold Patterned Rug
Want to make a statement with your rug? Try a bold pattern. This abstract floral patterned area rug from Ruggable is bold without being overpowering.
You can find this rug in three colors: teal, midnight blue, and gray. It comes in six sizes, so you can get it big enough to place under your bed or opt for a runner to go beside it.
Keep it Clean with this Simple Chevron Option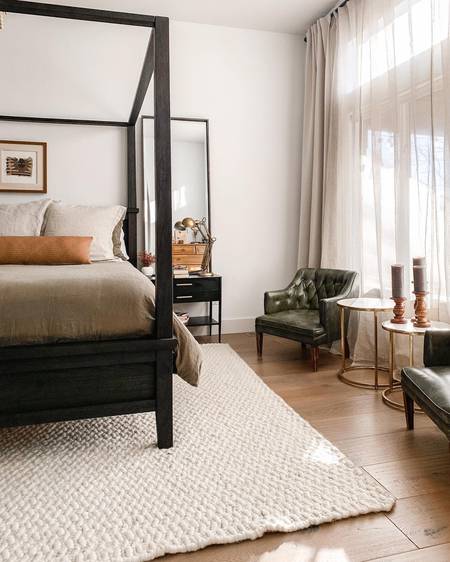 If you like a clean and tidy look, a solid neutral is the way to go. But, you can take things one step further by bringing in texture with a jute and cotton blend.
This rug is stunning and works with every single design and color scheme. You can find it in ivory, light blue, and gray.
Soften Your Room with a Muted Floral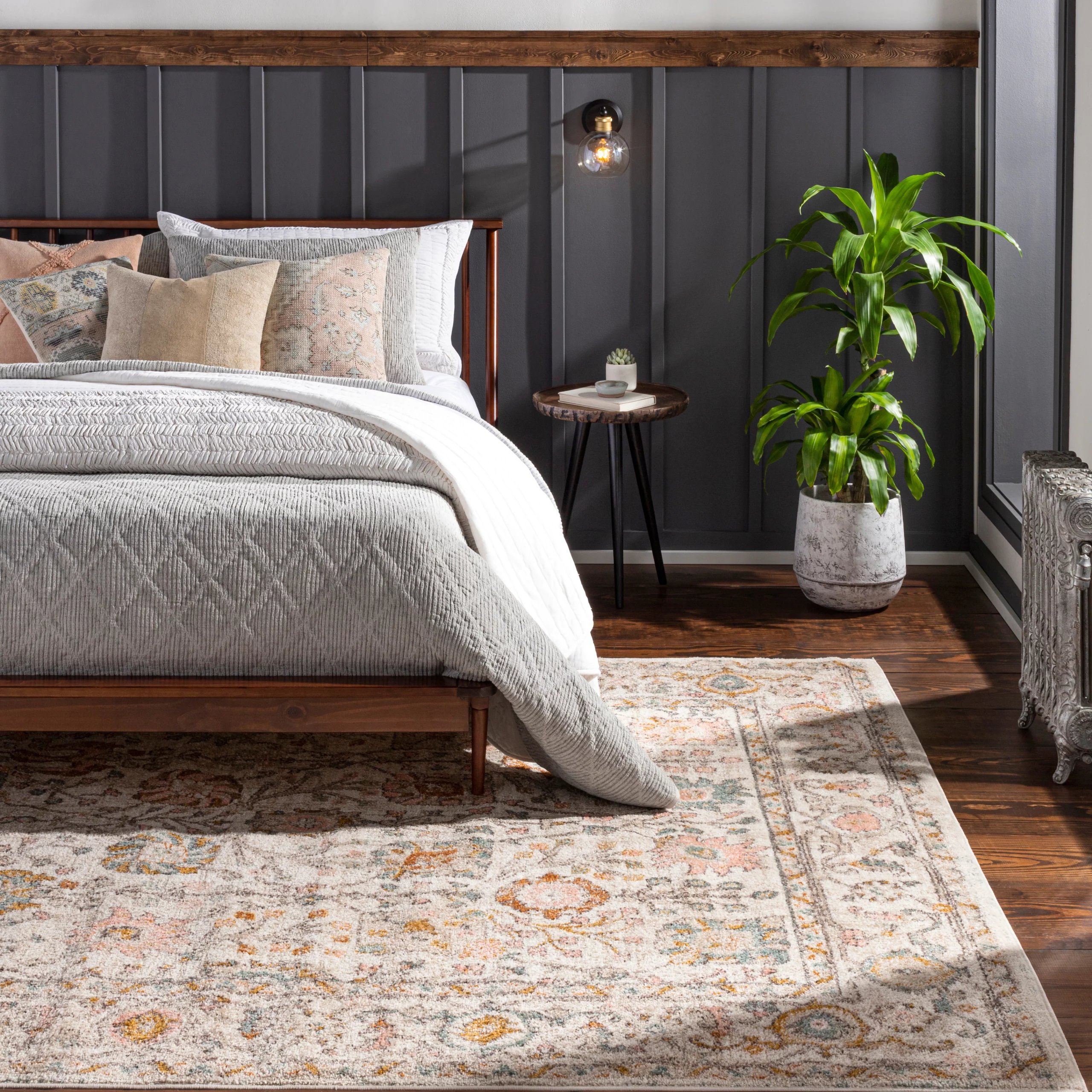 Do you want to add a soft touch to your room without it looking overly feminine? Try a floral rug in a muted color scheme.
This floral rug from Overstock is ivory with pinks, golds, and blues throughout. It's great for high-traffic spaces and easily conceals wear and dirt.
Bring in Color and Texture with Dyed Jute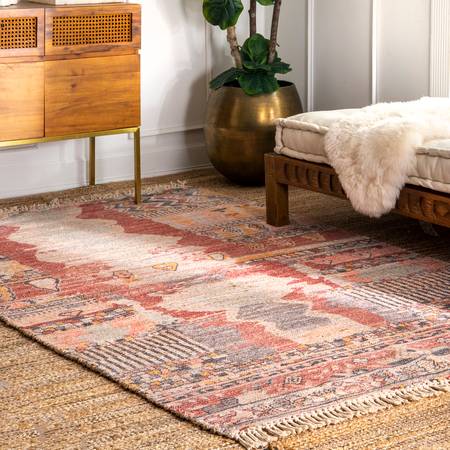 In home design, texture refers to the fabrics and different feels in the room. And mixing textures is what brings a design to life.
If your room feels like it's missing something, it probably needs another type of texture. And luckily, a great way to bring this in is through a rug.
Jute is always a great option. Try this dyed jute rug to bring texture and color to your bedroom if you like boho style.
Try a Contemporary Wool Rug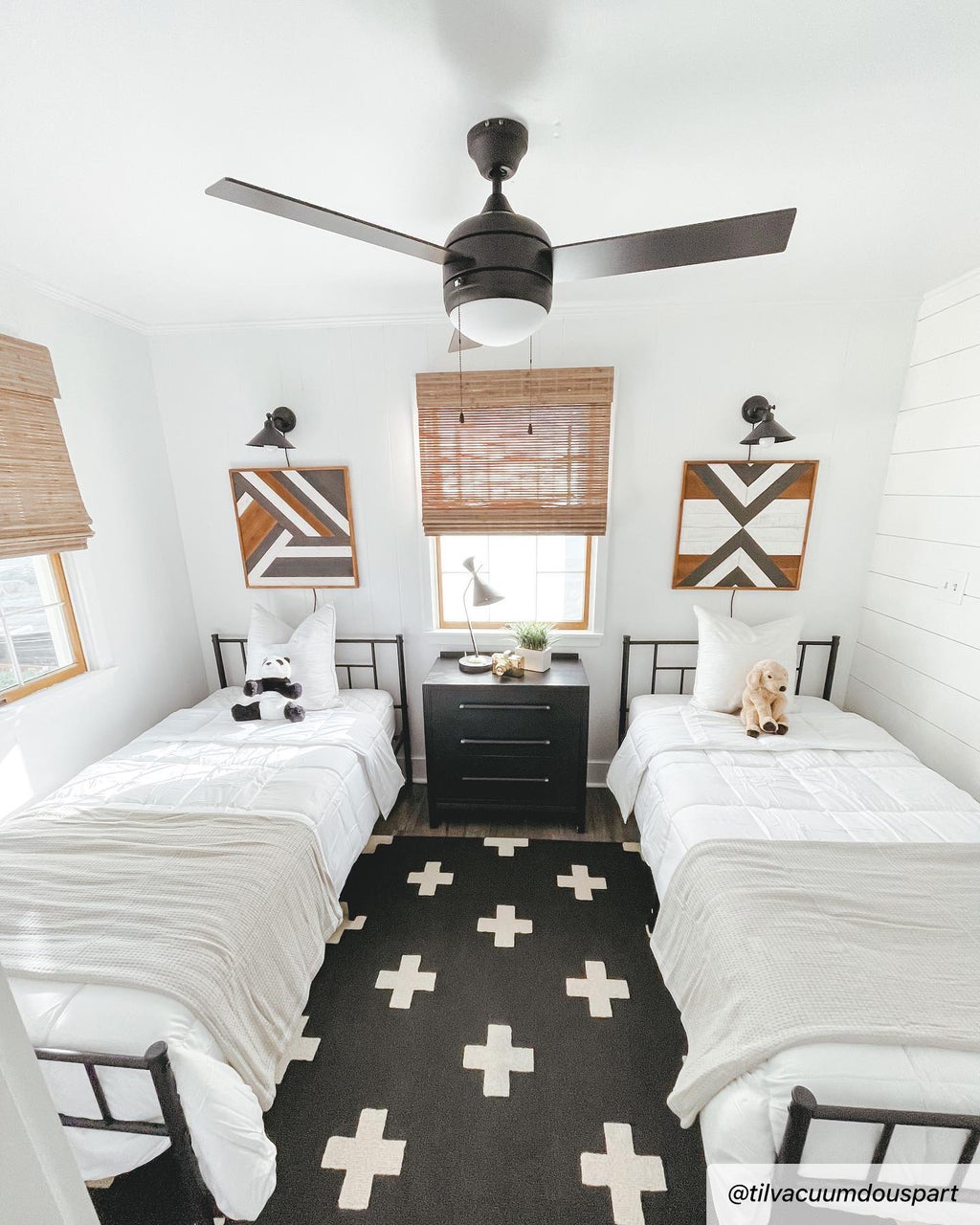 Don't let the picture fool you – even though this rug is in a kid's room, it works beautifully in contemporary master bedrooms.
This rug is 100% wool and is soft to the touch. Its modern design leads to a very contemporary feel and would look great in white, gray, and black color schemes.
Go Coastal with a Modern Beach Inspired Rug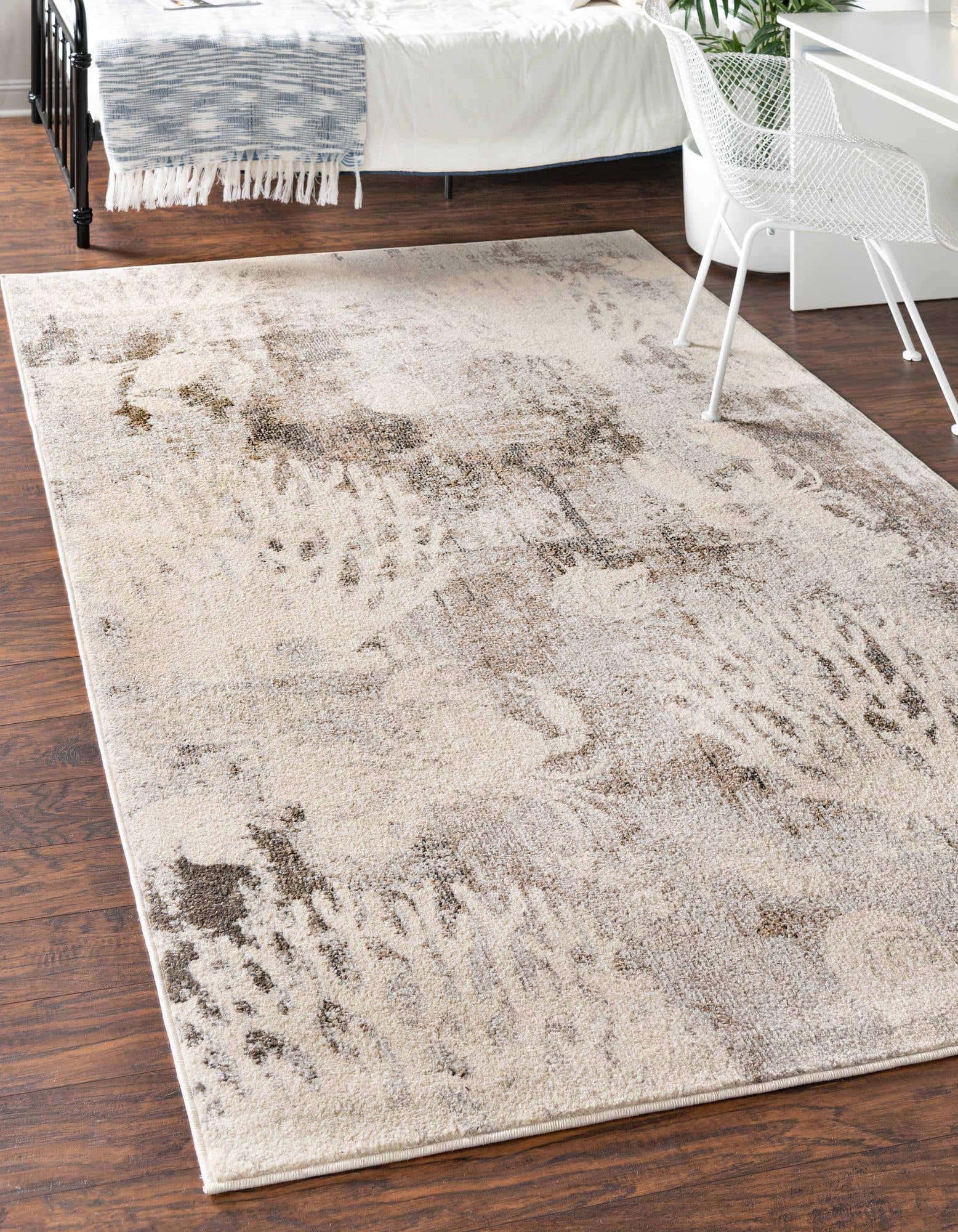 If you like the coastal look, you know how hard it can be to find beach-inspired decor that doesn't look like it's for a kid's room. So, if you've been looking for the perfect coastal rug, you're in luck.
This area rug from Rugs.com has subtle ocean images with a faded antique look. It comes in six different sizes.
Accent Your Room with Earth Tones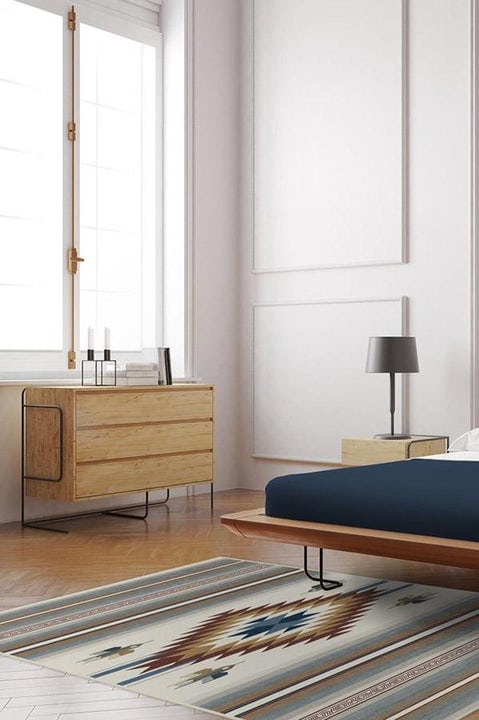 This rug is designed to mimic a traditional Mexican blanket and is full of earth tones. So, if you're looking for an easy way to bring more warm colors to your room, this rug is a suitable option.
You can find this in three color schemes and six sizes. It's machine washable, so you can toss it in your washing machine anytime it looks dirty.
Final Thoughts
Bedroom rugs are almost as crucial as beds themselves. They ground the room, help create a focal point, and give you a warm place to land your feet in the morning.
There are many ways to incorporate a rug into your bedroom, but positioning the rug partway under the bed is the most popular. And fortunately, no matter your decor style, there are tons of great options to choose from.