Decorated Life is reader-supported. When you buy through links on our site, we may earn an affiliate commission. Learn More
What Color Rug Goes With a Blue Couch – 12 ideas
When you're trying to pick a rug for your room, it's a great idea to consider the colors you already have in the space, like your furniture.
So, what color rug should you choose for a blue couch? Many options are available, but it depends on the shade of blue. For light blue, consider rugs in gray, white, lavender, or airy blue. Dark blue couches look better with rugs in aqua, earth tones, russet, gray, or ivory.
Decorate with Diamonds (Print)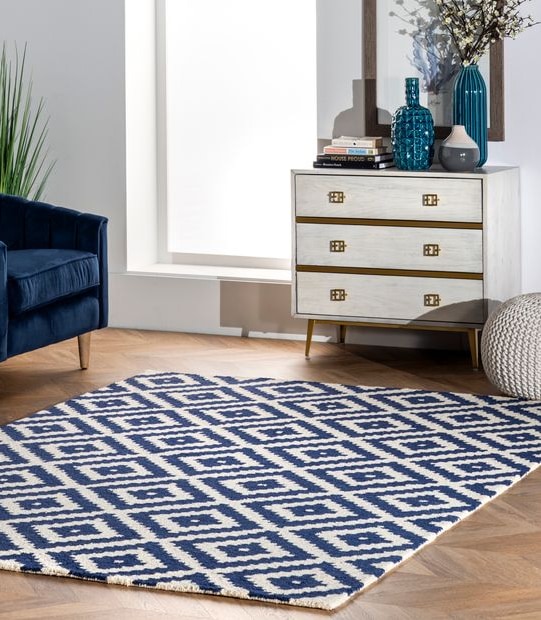 Diamonds aren't just for jewelry – check out how cute this area rug looks in a creamy white with a bold navy blue diamond pattern. Or check out the other color choices – aqua, light gray, dark gray, or black all go great with a blue couch.
Pink or red is also available but might not clash with a bold blue couch – but it could look cheeky for a light blue-gray or denim color.
This rug creates the perfect contemporary living space added in front of a dark blue sofa, with accent pieces in shades of blue, gray, and white to tone down the vibrancy of all the dark rich blue.
Go Vintage with Gray Demonte
This vintage-looking Demonte area rug in gray and white patterns is the perfect piece to tone down a living room where there are many different shades of blue used.
Mismatching pieces like this dark blue couch, light blue blanket, teal barstool, and tri-toned vase (dark blue, light blue, and orange) with wicker plant baskets create a comfortable, casual space.
Pair a Gray Rug with a Light Blue-Gray Couch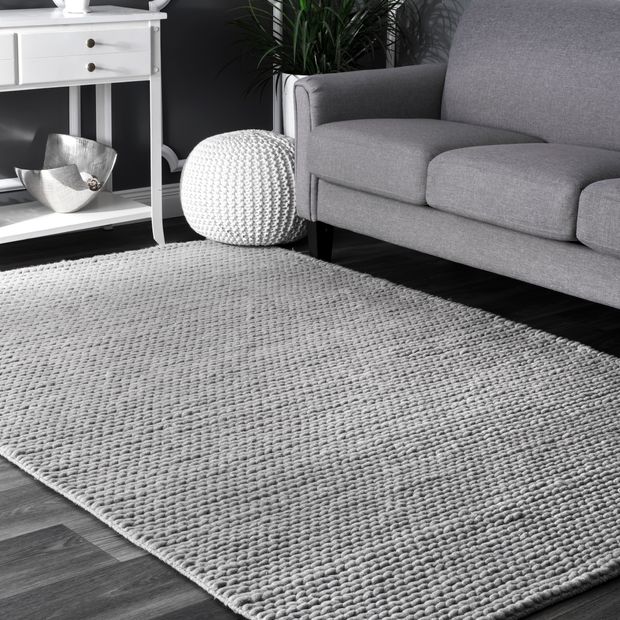 Gray is a chameleon color with multiple undertones that can become dominant based on the other colors in the space.
This living room looks charming and welcoming with white accents and a braided wool area rug in a soft light gray, which pulls out the gray undertones in this blue couch.
Add a Navy Trellis Print Rug with Denim Sofa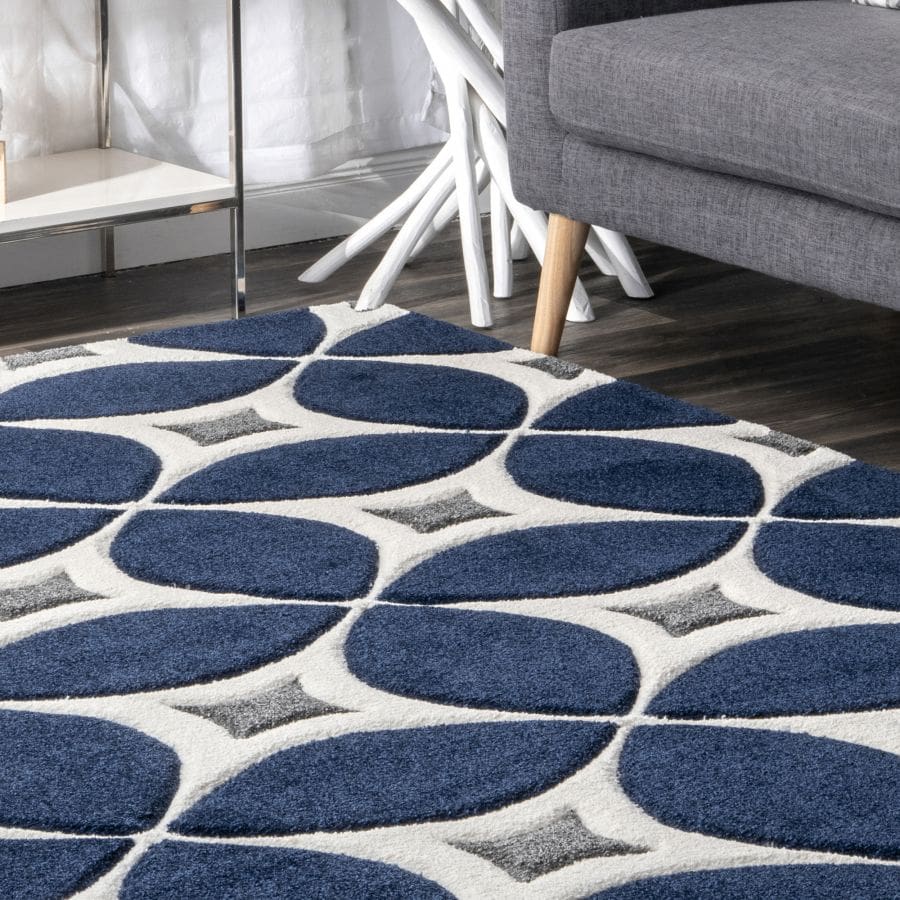 If you have a sofa that's more on the denim side of blue, like this one, you can create a stylish modern living room by adding a patterned print area rug.
We love this geometric print area rug in bold navy blue, white, and gray. The mixed-use of natural wood, metal, and white wood gives the space a comfortable, lived-in feel.
Make a Magnificent Modern Space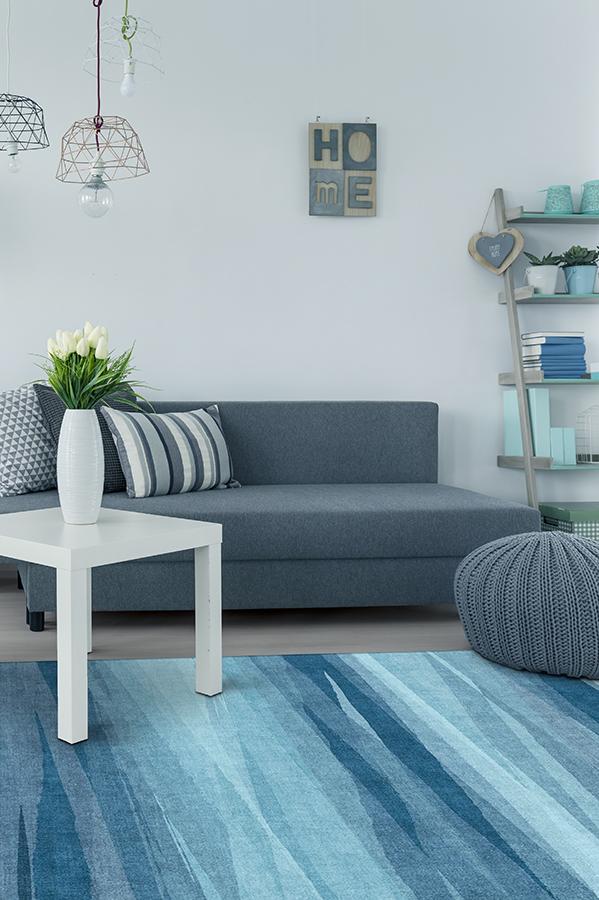 This abstract rug screams modern contemporary with bold streaks of various shades of blue from dark midnight to lines so pale they could almost pass as white.
White tables, a textured blue footstool, gray and white patterned pillows, and light blue and white accents with a light-colored blue-gray sofa make the perfect modern minimalist space.
Scoop Up a Solid Shag to Use with a Retro Sofa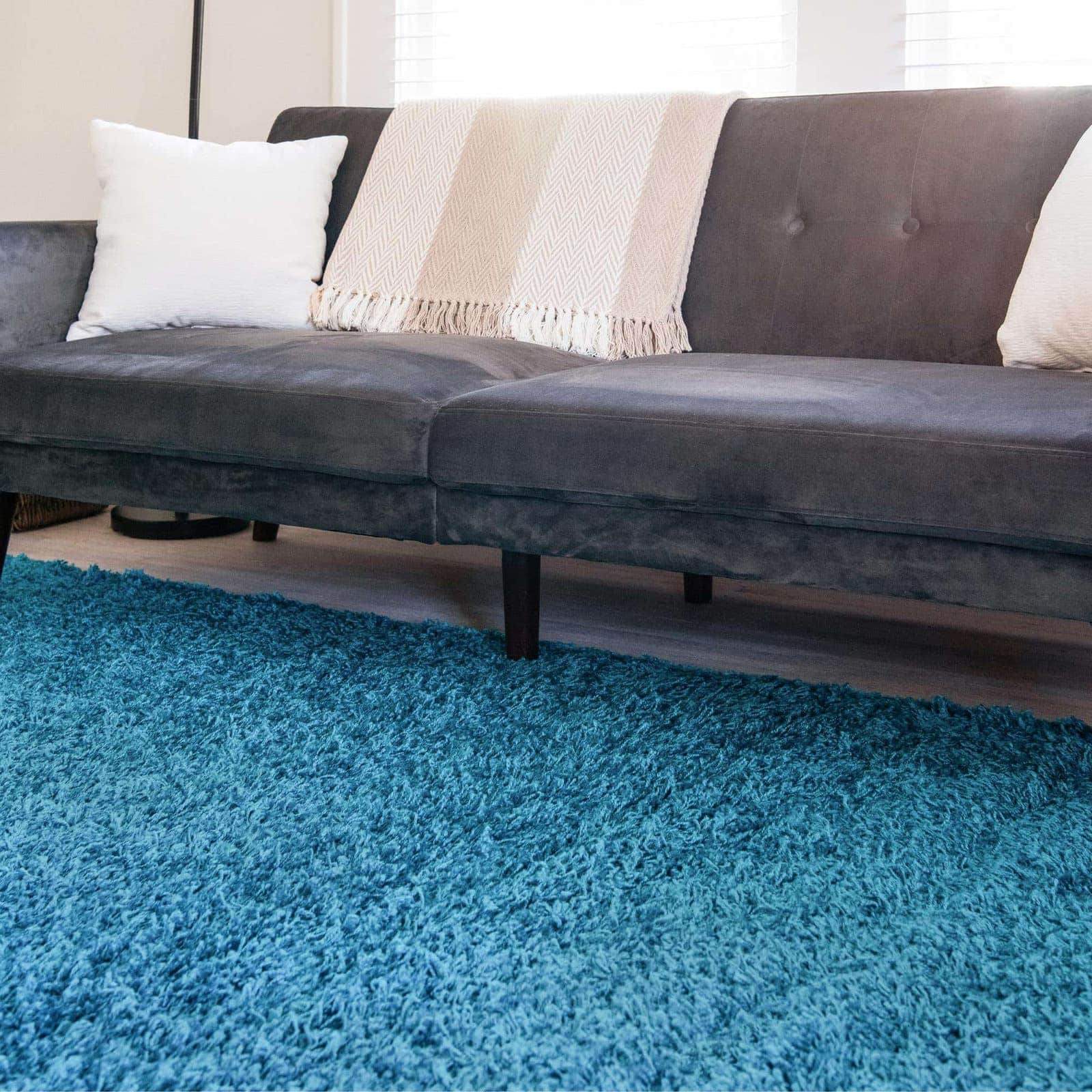 Nothing is comfier under the feet than an old-school shag rug. It's the perfect addition to any living room and is especially enjoyable for laying on the floor – common with pets or children.
If you have a room full of mismatched furniture pieces like a retro blue velvet sofa, continue the vintage feel with an area rug in a solid print like soft cloud gray or turquoise (21 colors available) with a 1 ½" thick shag pile. But you can also use a shag for modern contemporary styles, making it quite versatile.
Drop This Distressed Delight with a Blue Couch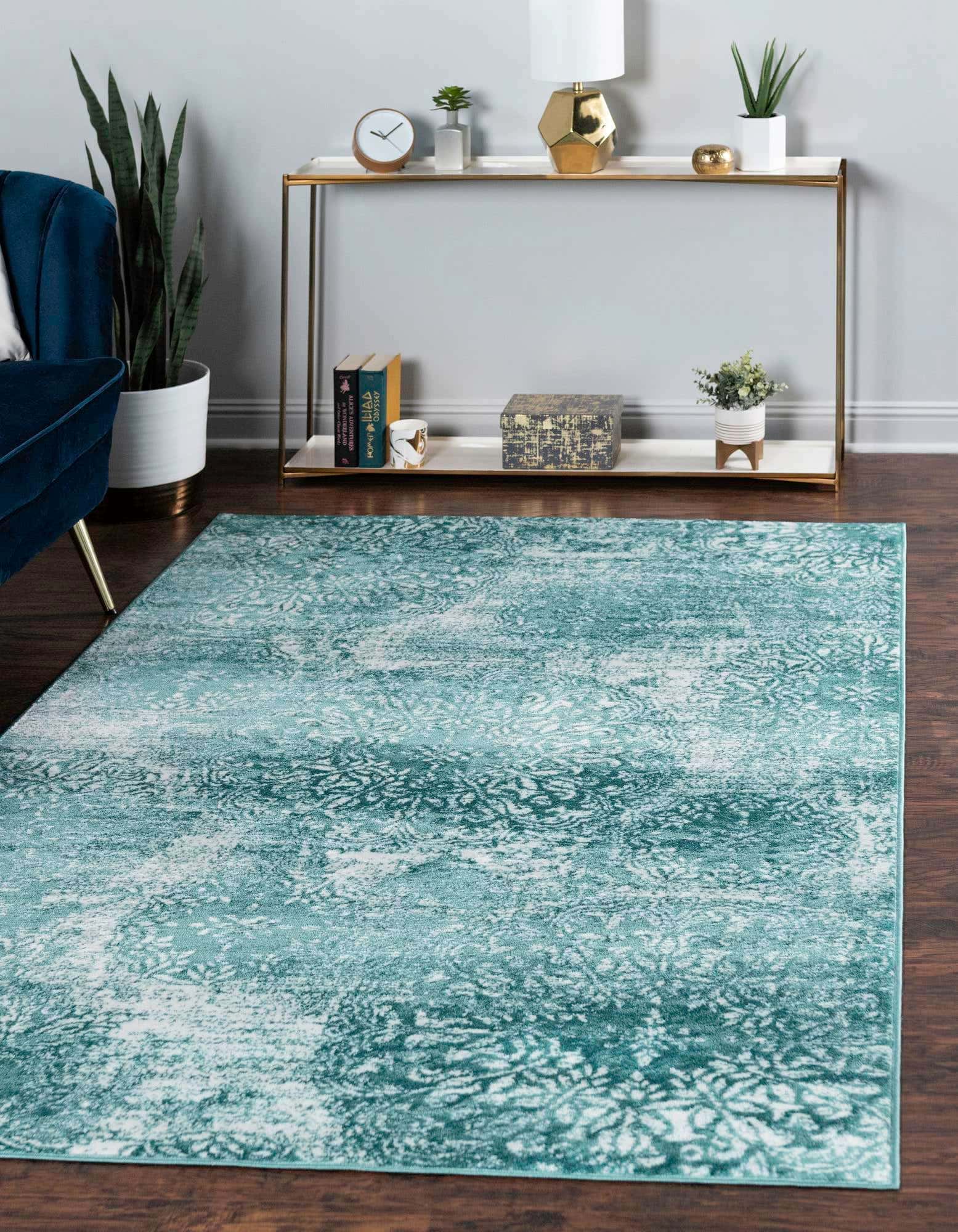 If distressed and detailed is your thing, you're sure to appreciate the beauty of this area rug, a part of the Monte Carlo collection.
The soft blues, grays, and whites are sure to pop when paired with a navy blue couch. But you also have the option of eight other dynamic colors, including golden yellow, dusty orange, and darker colors like purple, navy, and black.
Abstract Outdoor Area Rug
There are plenty of occasions where you may want to work with a rug outside. We love how this outdoor wicker furniture with blue cushions looks balanced with this outdoor area rug.
This rug is the perfect pick for the outdoors because the gorgeous shades of purple, orange, red, and yellow are reminiscent of the setting sun's colors.
Navy Couches are Gorgeous with a Multi-Colored Medallion Rug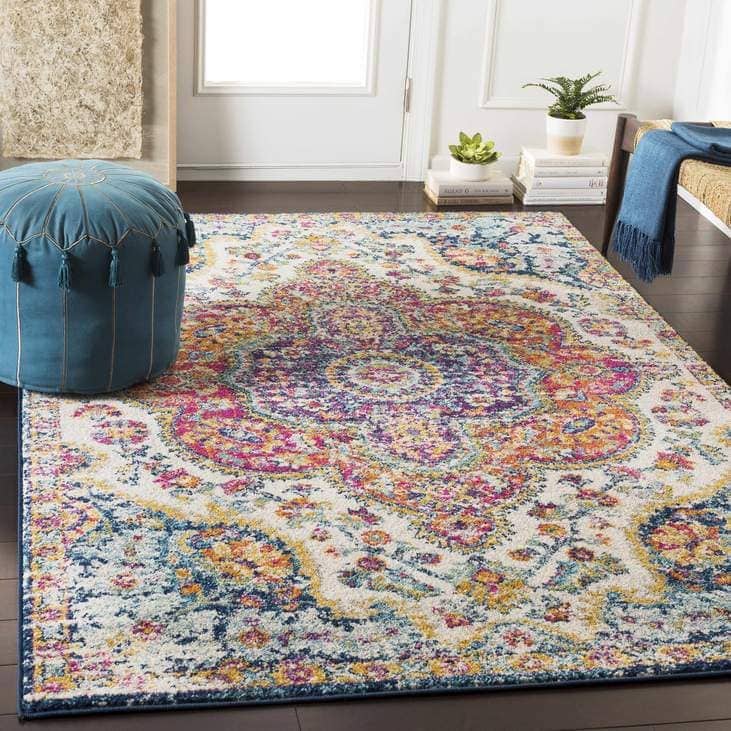 The dark richness of a blue navy couch can pair well with earthy tones, like this rug's subtle ivory base. The medallion colors – orange, yellow, aqua, saffron, bright pink, white, and dark blue – increase the room's vibrancy.
We love using a multi rug color for blue couches when you're hoping to achieve a vintage or boho design aesthetic. And the medium pile gives you comfort without being too thick.
Rainbow Swirl Can Rejuvenate Your Room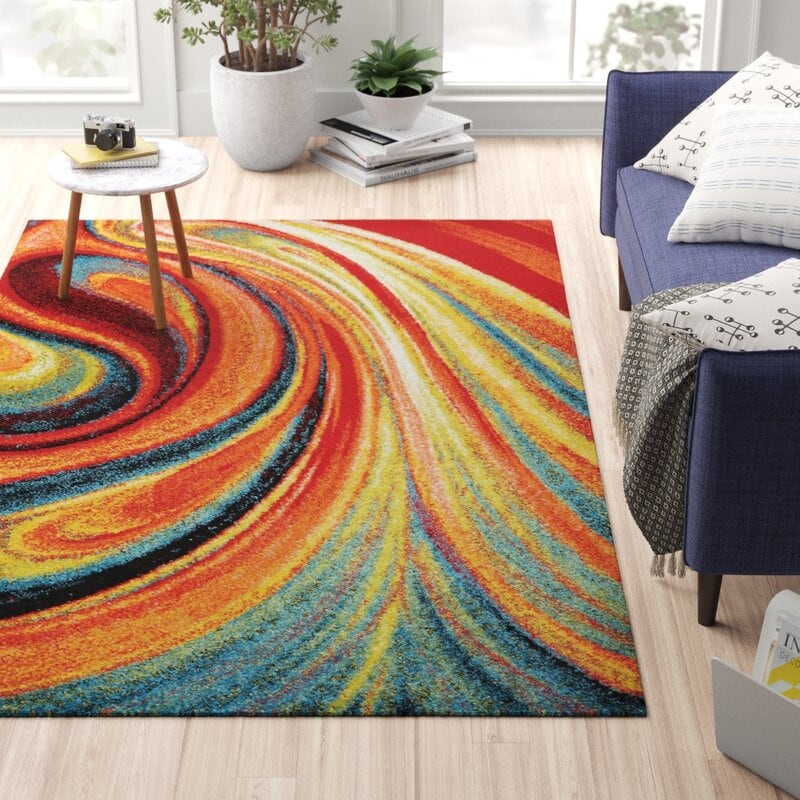 If you've gone conservative in your room design with a lot of simple pieces, white accents, and a blue couch, you can add some much-needed punches of color with a swirled rug like this one.
The bright strokes of bold reds, firefly oranges, sunny yellows mixed with white, black, and fine blues lines give this area rug an abstract watercolor feel that sets off the dark blue couch.
Geometric Block Prints are Great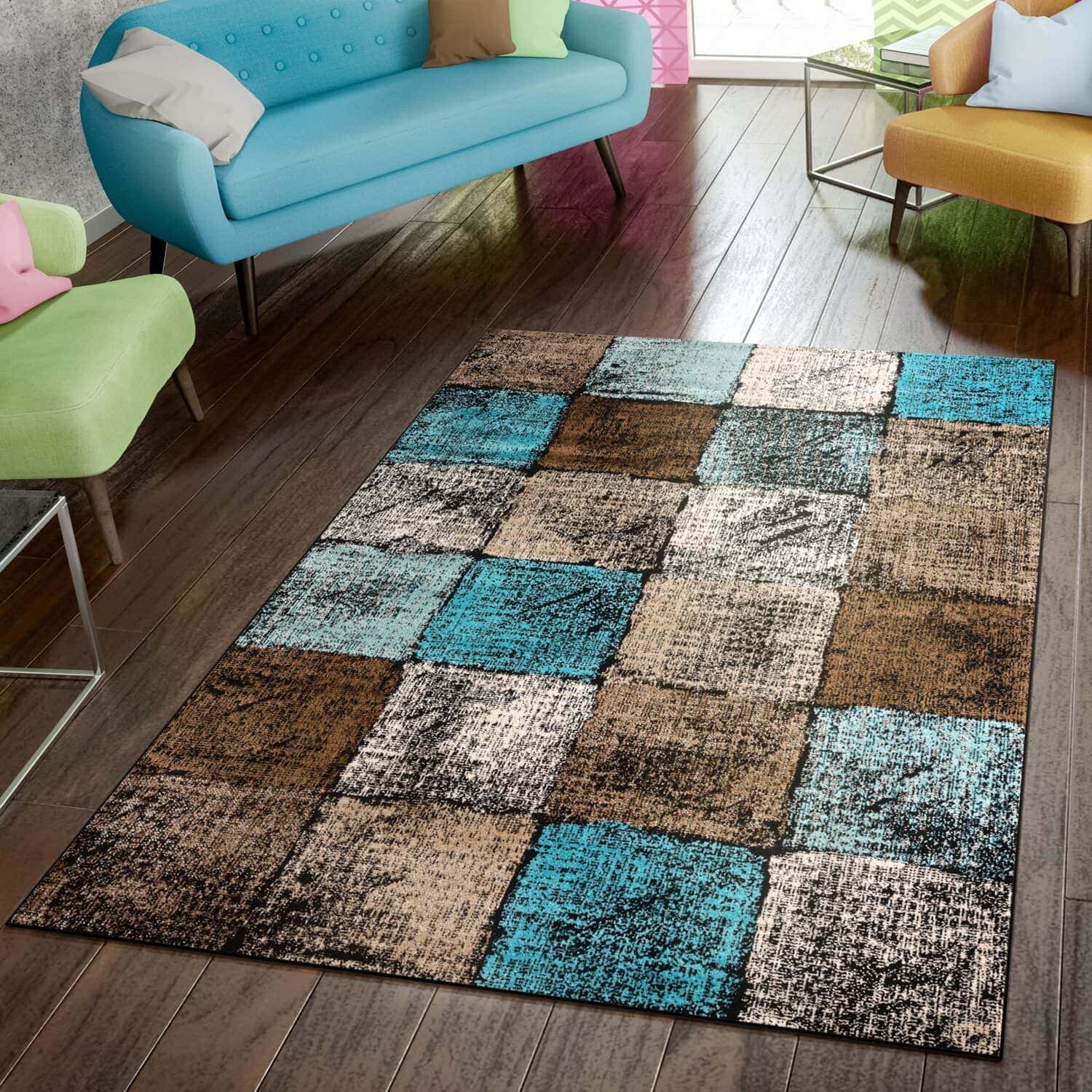 If your room is full of vintage pieces in funky colors like this sky blue sofa with orange and green armchairs, continue the theme with a fun area rug like this geometric print.
The squares in shades of brown, electric blue (and some light blues), whites, and creams give your space color and pattern without being overwhelming.
Be Bohotastic with Pink Medallion Beauty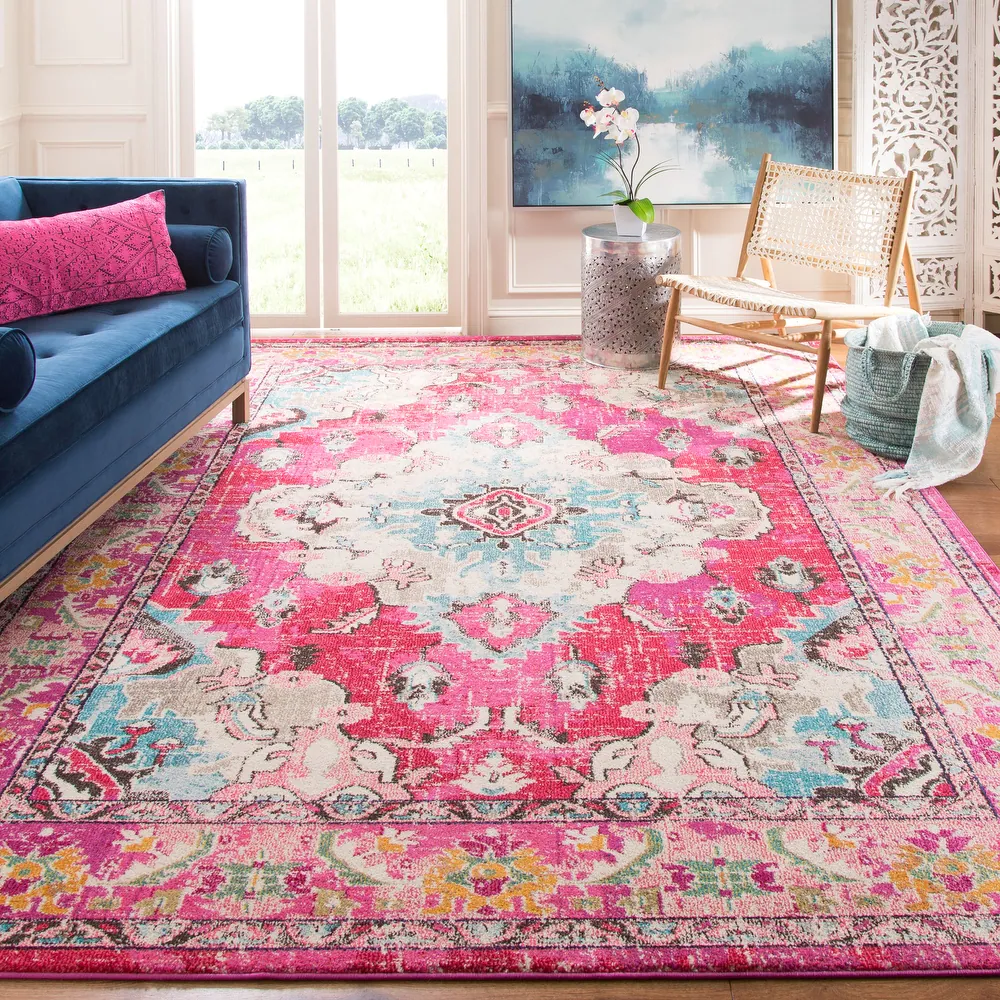 If you're not scared of vibrant, bold colors, you're guaranteed to enjoy this boholicious distressed area rug in bright pink with yellow, sky blue, cream, and light pink.
A hot pink cushion can help tie in the dark blue couch to the lighter blues of the rug. Then finish the room decor with some boho wall art and some metal and rattan accent pieces.
Wrapping Up
Trying to color match a rug to a couch can seem tricky and frightening, especially if the color is blue, which won't always go with everything. So we've given you 12 rug colors that can go with a blue couch. Remember that the shade of blue can help narrow down the color choice of your rug.