Decorated Life is reader-supported. When you buy through links on our site, we may earn an affiliate commission. Learn More
What to Consider When Buying a Table Runner
By: Decorated Life Team
|
A table runner is such as simple decorating tool that its easy to over look. It may not be an absolute necessity, but its a solid foundation to giving your table a new and different look. Change the color, pattern and texture, and you change the look of your table. That could be a runner for your sofa table, dining table or hallway table. Simple. 
There is less fabric than a table cloth, so it is one of the least expensive ways to add a flare to your table and create a feature, especially for celebrations and major holidays like Thanksgiving, Christmas or Easter. Add your runner over a table cloth, and dress it with candle holders, garlands, red and green plates, flowers and name tags or leave it plain and simple. 
Your runner is mostly running down the center of a table, working it magic to give the space a feature and point of reference, switching them out according to the season or occasion.
Follow these steps to create the same farmhouse look.
Step 1: Use a piece of drop cloth measuring 14¼"W × 8'1¼"L. Iron out wrinkles. Hem all sides: First turn each side under ⅝". Press, then stitch in place with a ½-inch seam allowance. (Your runner should measure 13″W × 96″L, if not, don't panic).
Step 2: Use a ruler and pencil to measure, and mark, one inch increments along one of the strip's long sides. Do the entire length on one side, then repeat on the opposite side. Using your ruler as a guide, draw a line at each mark, varying the line lengths as above. At the 16th inch mark, the line should cross the entire fabric. Use a black fabric marker and trace over the lines. 
Step 3: Its time to add numbers. Create large six-inch numbers left of each long line that crosses the strip. and working in numerical order, center a six-inch-high number stencil. 
Step 4: Using a foam stencil brush, fill in the stencil with fabric paint. Allow to dry. Remove stencils, and touch up if necessary. Once dry, hand wash and dry
There are  a lot of different designs, patterns and colors, but as to length and width.. keep reading.
Measuring Your Table Runner
First, measure the length and width of your table. Your runner should be 22 to 24 inches longer than the table. The width is usually one third the size of your table but can vary, allowing room for flatware and plates.
Table runners often hang over each side of the longest side of the table. Some people like it exactly as long as the table, and no longer. This is a personal choice, but either way you will need to know the size of your table.
As for the width, there's an unwritten rule says that the table runner must be one third of your table, with a third of naked table (or tablecloth) on either side. The standard width of table runners is 10-15 inches. As far as decorating your table runner, it can be as easy as placing a garland, red and white string and a red candle holder across it.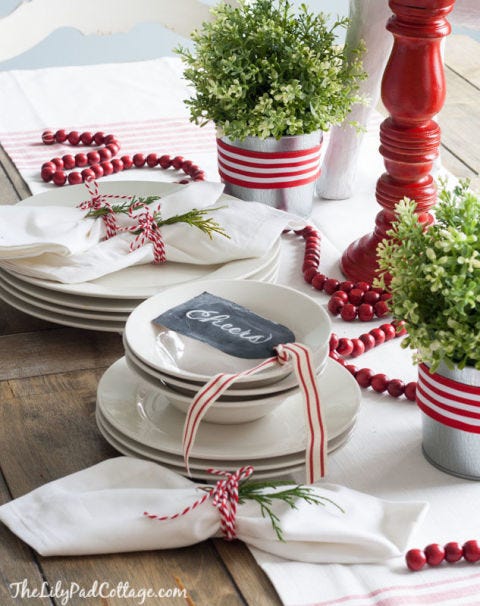 How Do You Run Your Table Runner? 
At The Center: The most common way to place a table runner is at the center with either end hanging over the table. Centerpieces and food dishes are placed along the path of the table runner. Depending on the size of your table and table runner, you can place more than one arrangement on the runner, adding candles and other adornments along side.  
Across The Table: Placing your runners width-wise is less common, but very effective. Instead of only using one runner, you will need 3 to 4 table runners, that are shorter in length but often longer in width to create 3 or 4 rows. 
Style Options
Runners come in so many different designs, patterns, fabrics, textures and colors that choosing just one can be daunting. Even a simple neutral runner can be given the Christmas spirit with pine cones, a few red baubles, some candle holders or mason jars for candles, greenery and a long wood table runner or wooden box to place on your fabric table runner for a rustic look.
You can layer different fabrics for more interest or color. This burlap and lace combination is easy to create. Add red, green tartan or plaid for Christmas or a pumpkin or two for Thanksgiving.
If you have a table cloth in place, and your runner is to go over the table cloth, its good to find a runner that contrasts with the table cloth. Other things to consider are the room's decor, the table color, design and style.
Choices
Table runners are relatively inexpensive. However, you can also buy beautifully hand crafted, embroidered, Irish or French linen, silk or cotton. They are perfect to hand down from one generation to another.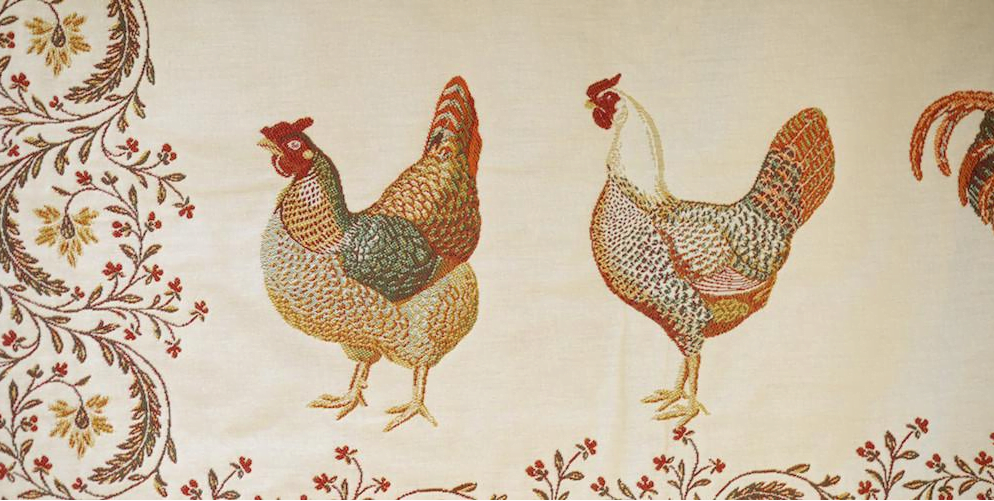 Table runners are a great addition to your table's decor and it never hurts to keep replacing them in a few months or on special occasions because they are cheap to buy.