Decorated Life is reader-supported. When you buy through links on our site, we may earn an affiliate commission. Learn More
22 Gorgeous Sofa Table Ideas for Your Living Room
You might be wondering, what in the world is a sofa table? It's actually a piece of furniture that sits behind a sofa, whether between the couch and the wall or in the middle of a living room.
It stands a bit lower than the couch and is useful for adding reading lamps, plants, and other pieces of decor. Once you see these great sofa table ideas, I guarantee you'll be running out the door to get your own!
Add a Wooden Table for a Beachside Feel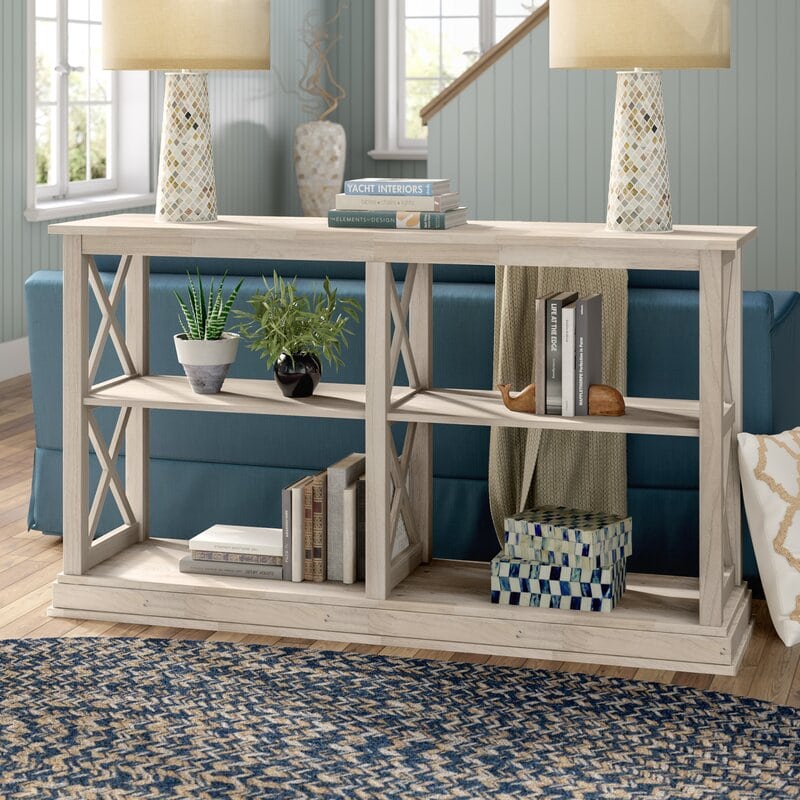 A common look for a sofa table is this smooth wood with crosshatch ends, bringing to mind a coastal and beachside decor. It's a more functional option due to its three shelves and wide surface.
You can get a paler or darker wood finish depending on your decor style; for the beachside look, what's important is the crosshatch on either end of the table.
Mix Metal And Wood For An Industrial Look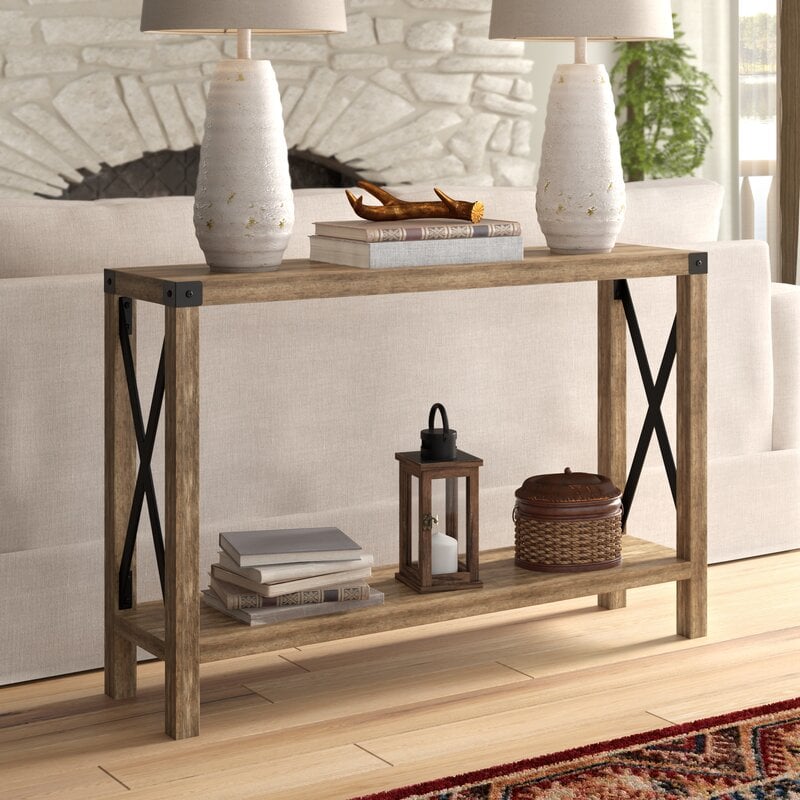 A great addition to a sofa table is adding the metal detail like in this photo. It gives off a trendy industrial vibe with the mixed material use.
The added shelf at the bottom provides more space for decorative items or to store everyday use things in a basket, like toys, books, or blankets.
Include Stools for a Sofa Bar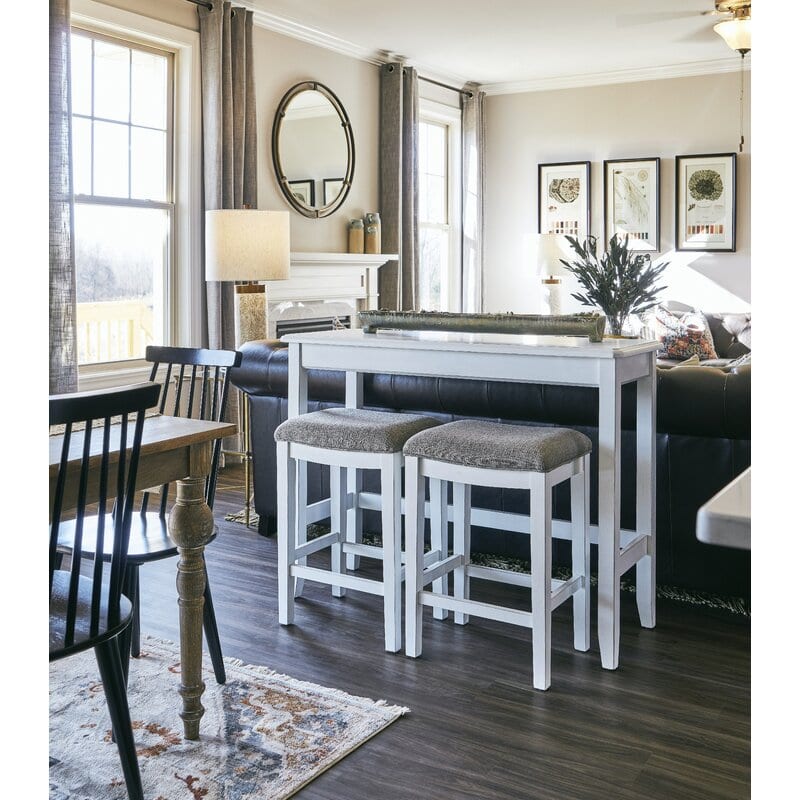 Why not get your sofa table to double as a bar? It's easy enough to do, just get a table that's a bit wider and has space underneath it to push in some stools.
Here, we see a set that fits in perfectly with the home's decor. You can also change it up by getting some poufs if your table is low enough. It creates a more casual atmosphere.
Go For A Cool Look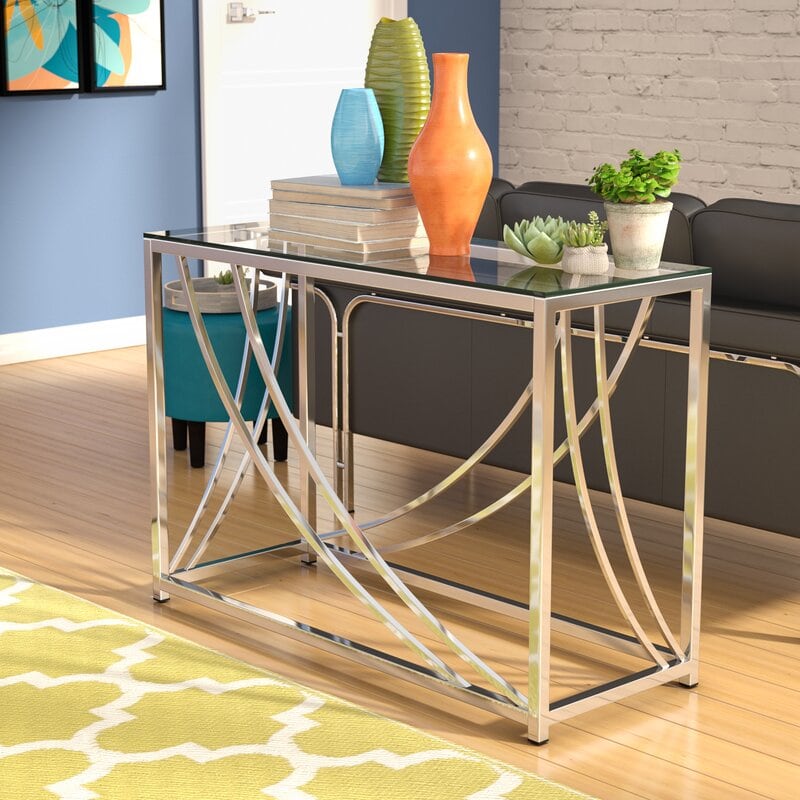 If you have more of a glam style, consider a sofa table with a lot of life like this one. The glass top and chrome framing is just the right amount of 'extra.'
This picture also has some great sofa table decorations ideas with the succulents, bright colors, and books to even out the glam. Everything about this style is well thought out.
Mix In Metallics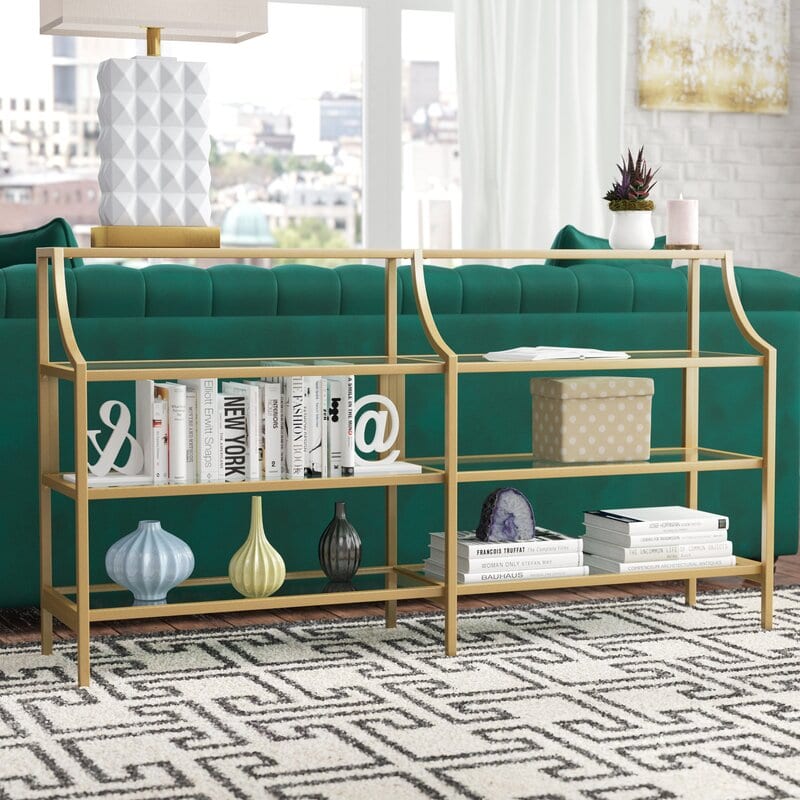 If you are on the hunt for some cool sofa tables, look no further. This gold and glass table is trendy, feminine, and looks fantastic up against the jewel-toned couch.
You can still tone down this table a little bit by putting it up against a more traditional couch and decorating it with white, navy blue, or green picture frames and trinkets.
Change Things Up With A Funky Design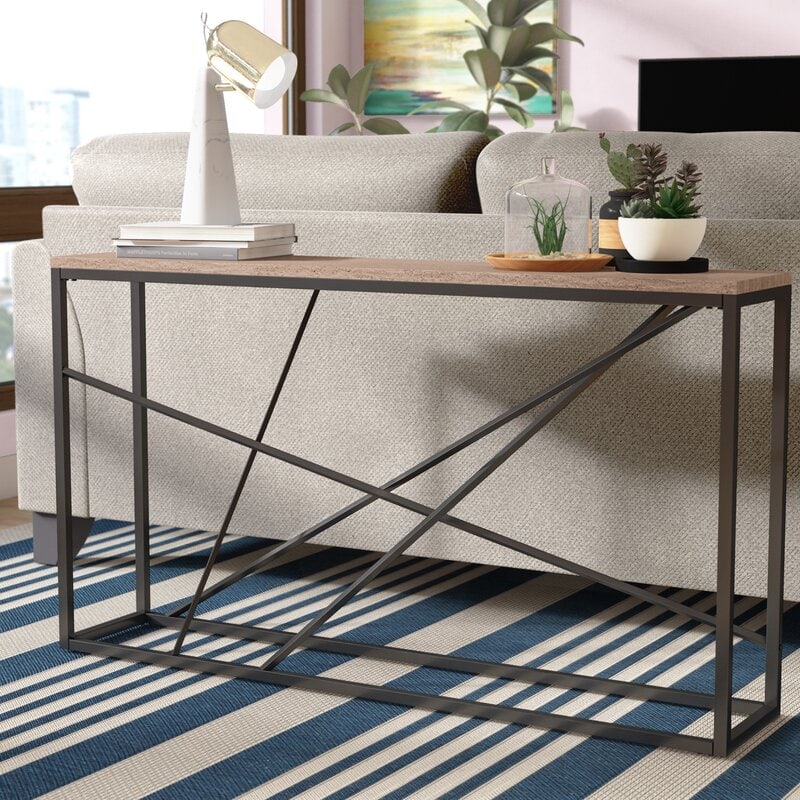 If you're debating between an over the couch table or behind the couch table, this funky but functional will sell you on the latter.
This table has a modern style without sacrificing the space and purpose of the piece. You can store your remotes on this table, decorate it with a vase and flowers, or display some artwork.
Add Carved Flourishes For Elegance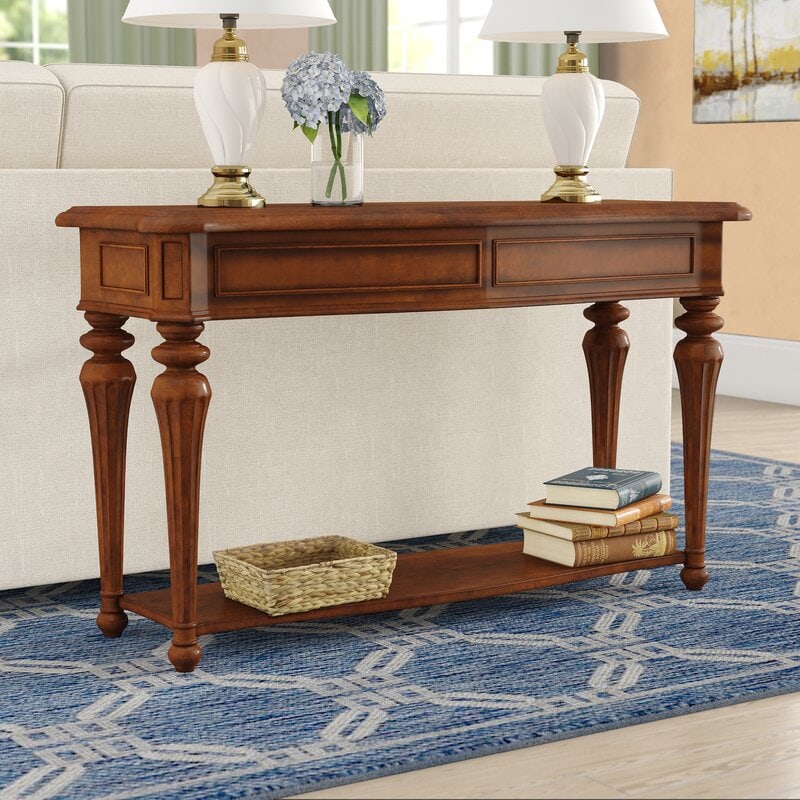 If you're not a fan of the straight lines and minimalism of most modern decor styles, get a sofa table with more pizzazz.
This table has carved legs, but the low profile keeps it from being too over the top. It would look right at home in an elegant living room.
Put Your Table On Some Hairpin Legs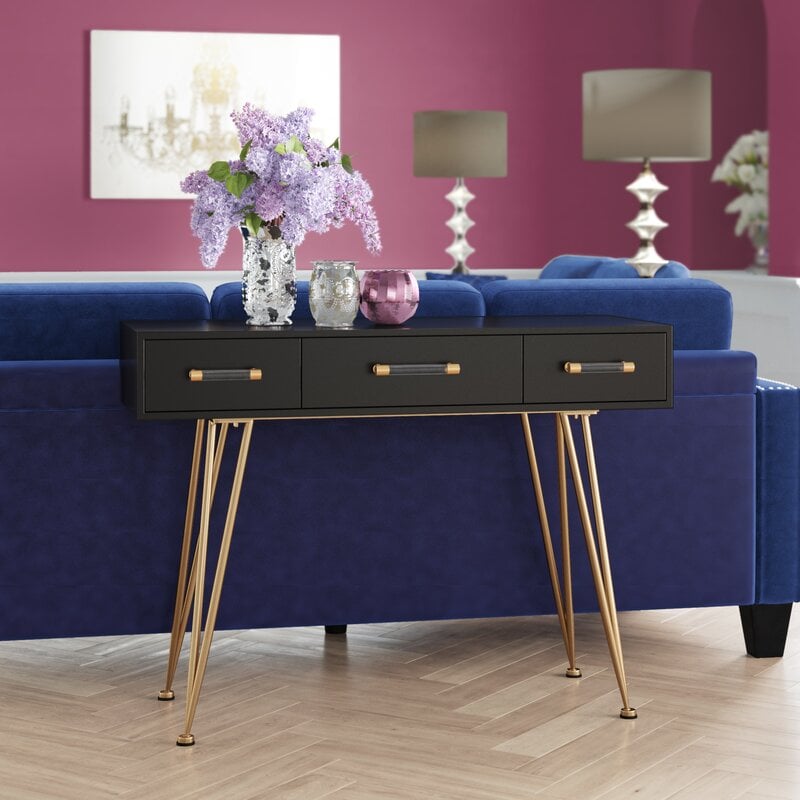 You can take mid-century modern design to a whole new level with this table that mixes black with gold accents and hairpin legs. It really elevates what can sometimes be a rather bland style trend.
As for how to decorate a sofa table, just check out the picture. If you go for a more stylized table, you want to tone it down a bit with simple decor like the vase of flowers and candles.
Add Some Rustic Charm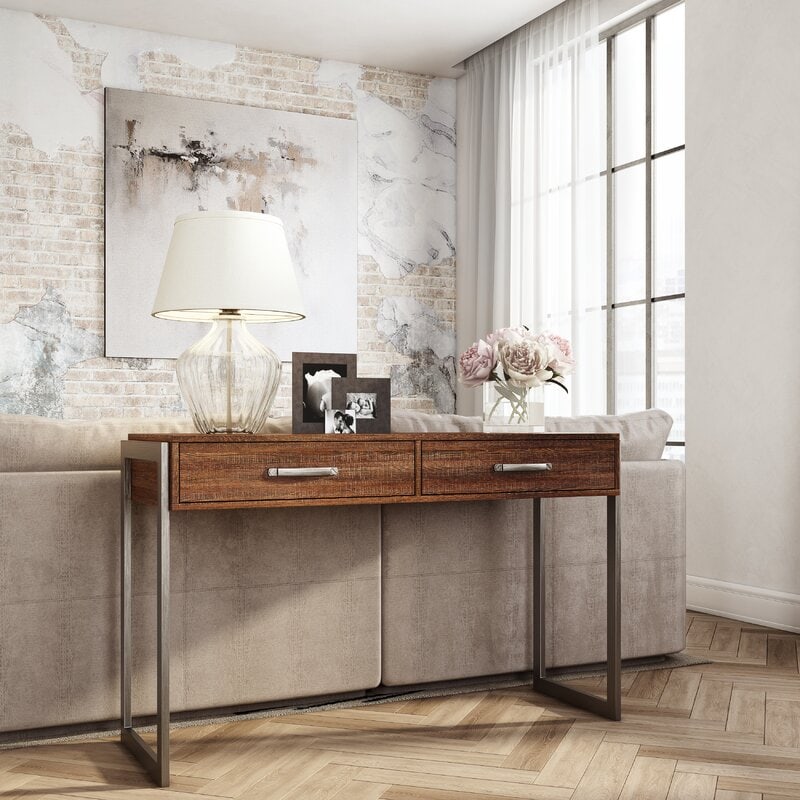 You can get a wooden table that's made too look like distressed or reclaimed wood. This style is perfect if you're looking for a heavier, sturdier table for the back of your sofa.
It blends in well to either a farmhouse, farmhouse chic, industrial, or clean-modern style home.
Keep It White For A Classic Look
We've explored some white sofa tables before, but this one takes top prize for the classic white table. It's incredibly simple but the little bit of rustic charm gives it something extra.
This is the go-to table for you if you don't want it to stand out or make a statement. It blends in with the rest of the decor while serving its purpose.
Put Your Sofa Table In A Different Color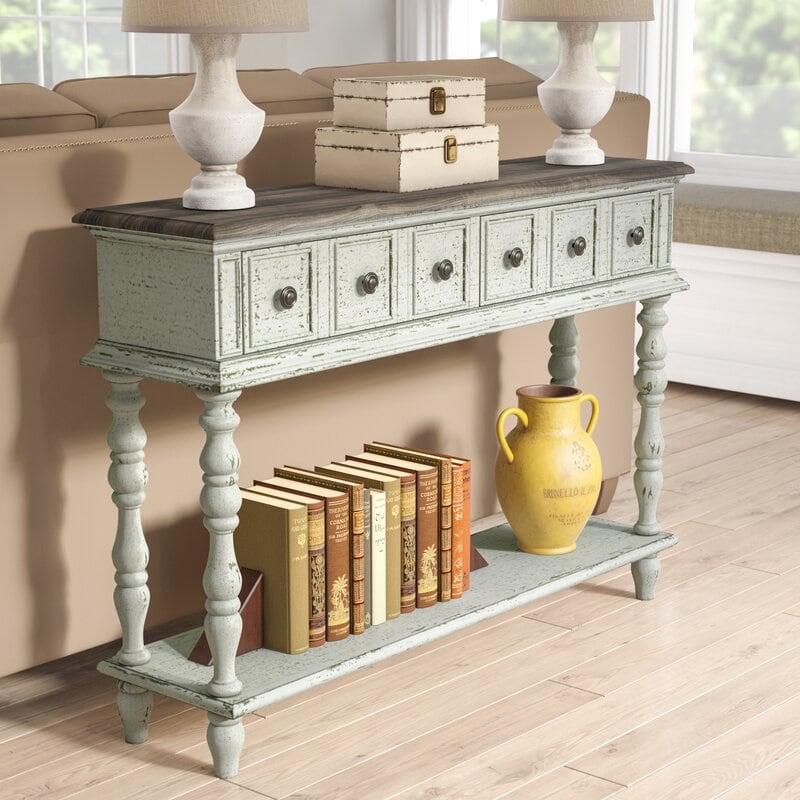 You can make a statement with your sofa table by buying one with some color, like this teal option. If you can't find one the right shade to match the rest of your decor, consider painting it instead so it's completely unique.
The table in this photo stands out and adds a splash of color to an otherwise pale and tame room without being too distracting.
Go Mid-Century Modern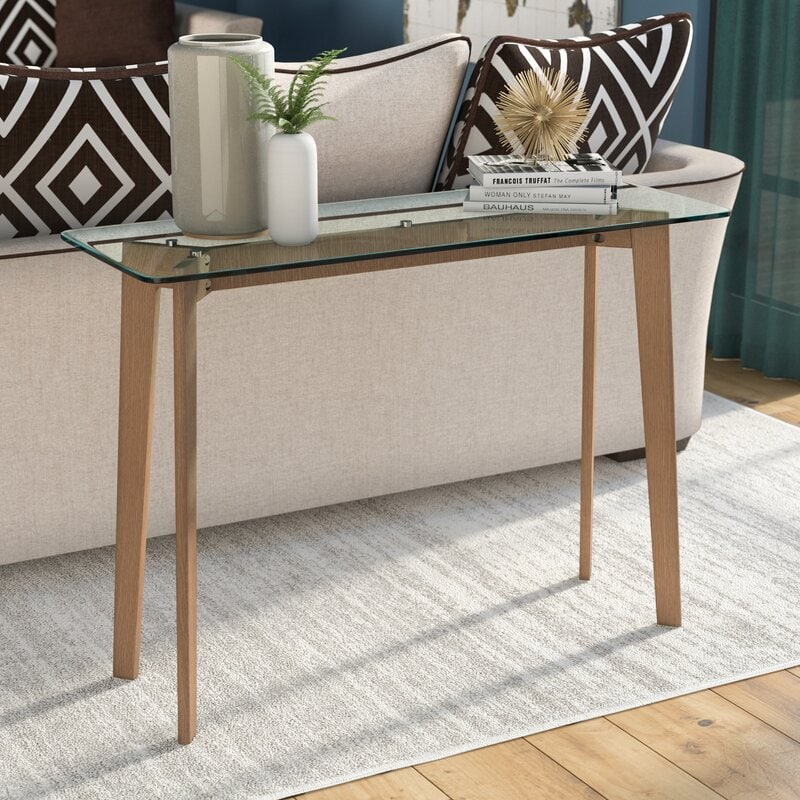 Mid-century modern is all about curved edges and flaring legs, like this wood and glass table which is understated without sacrificing style.
Decorating a sofa table like this may seem intimidating, but you'll want to jazz it up with some metallics, bold colors, or something else to make it stand out a bit.
Keep It Basic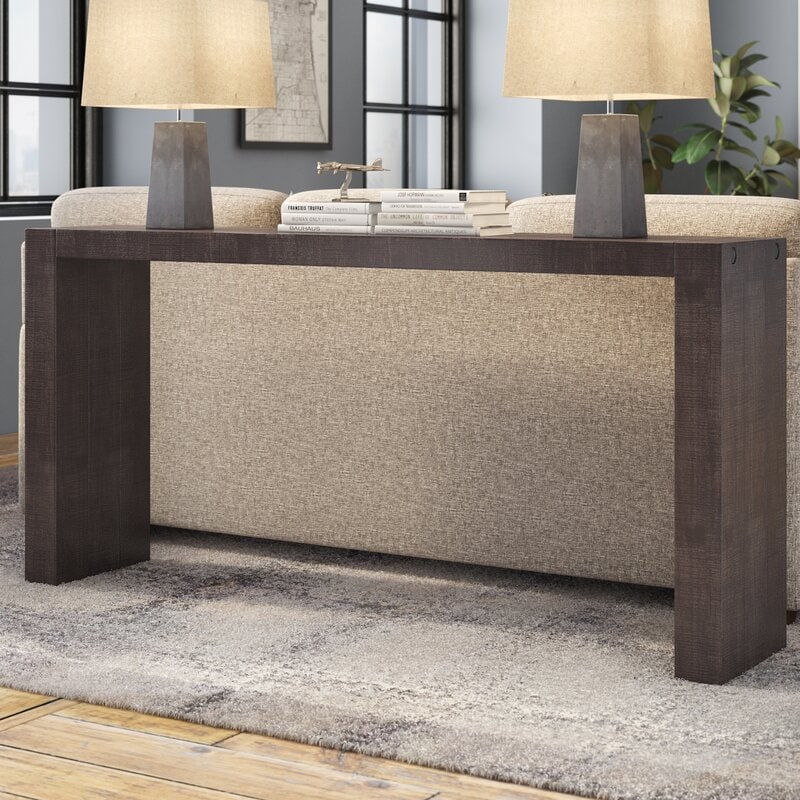 When it comes to couch table ideas, sometimes less and basic is the way to go.
There really isn't much to this sofa table, just three large pieces put together with sharp corners and sleek design. This is a great option for a room that is otherwise 'busy' with prints and bright colors.
Find One That's Proportional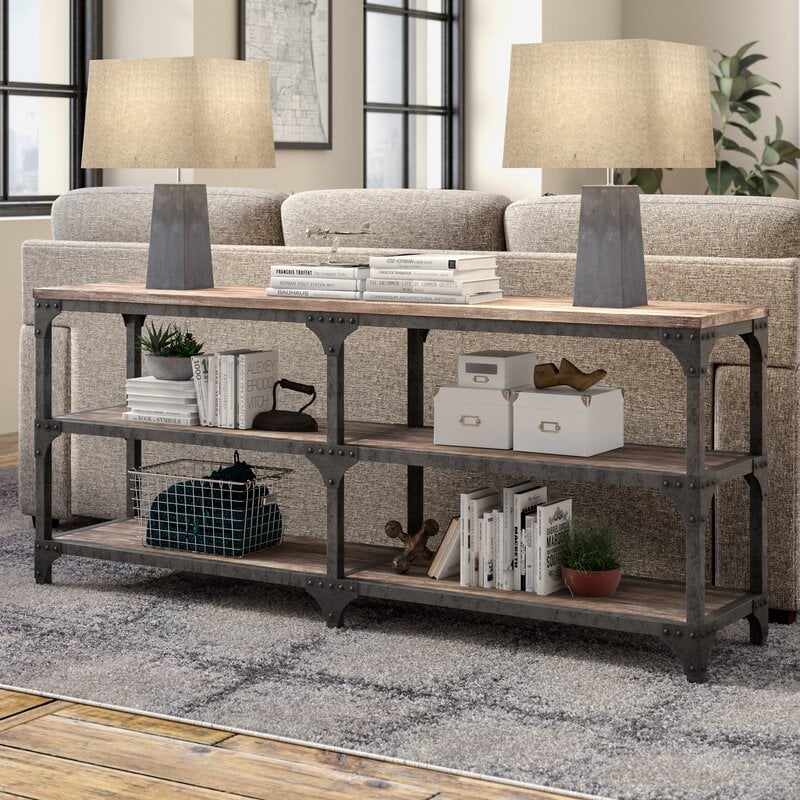 If you have a large sectional couch, you want to find a sofa table that is proportional to its size otherwise it will look out of place.
This picture is a great example of finding a table that pairs well with the larger sofa behind it. Plus, it has some great sofa table decor ideas.
Get More Storage Space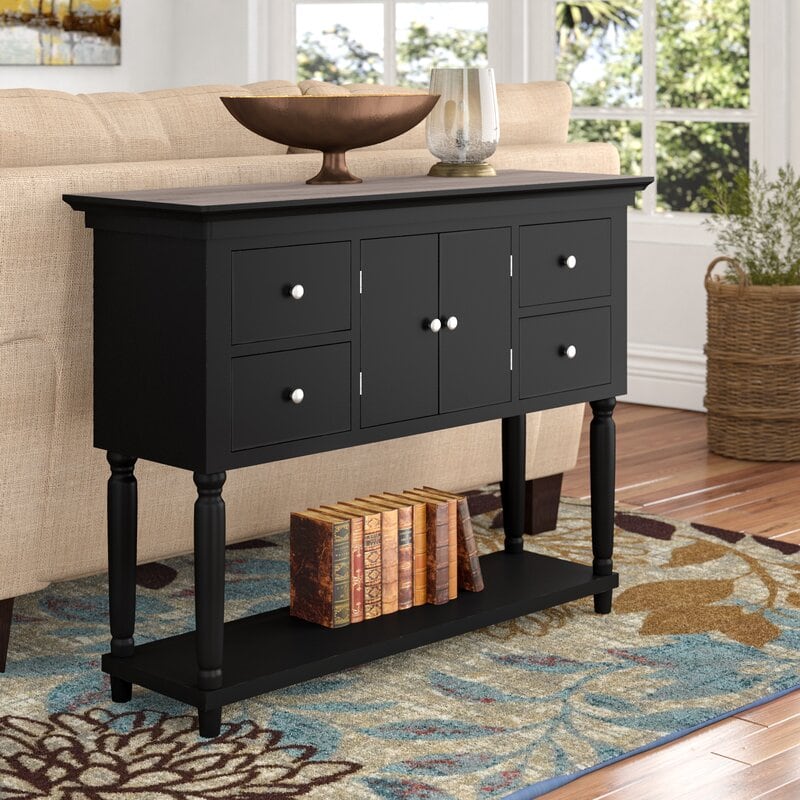 Finding a sofa table cabinet combination that doesn't look like an entertainment center isn't always easy. You want to be sure it still gives a console table feel if its behind the couch.
This table is a great option for someone who likes a more classic style and who needs a spot to sore things out of sight (like kids toys or mismatching blankets).
Get Unique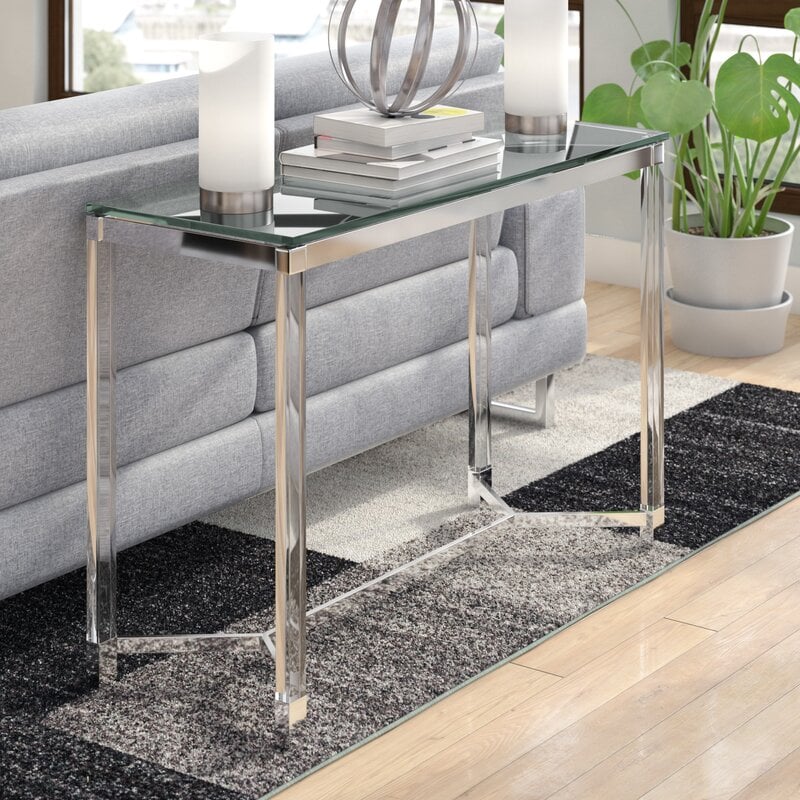 Anyone who loves unique sofa tables should consider something edgy like this.
The glass top paired with clear legs gives it almost an illusion type look. You can play into this theme with decor like this picture shows, or balance it out with some bright colors.
Add A Metal Frame To Mix And Match Materials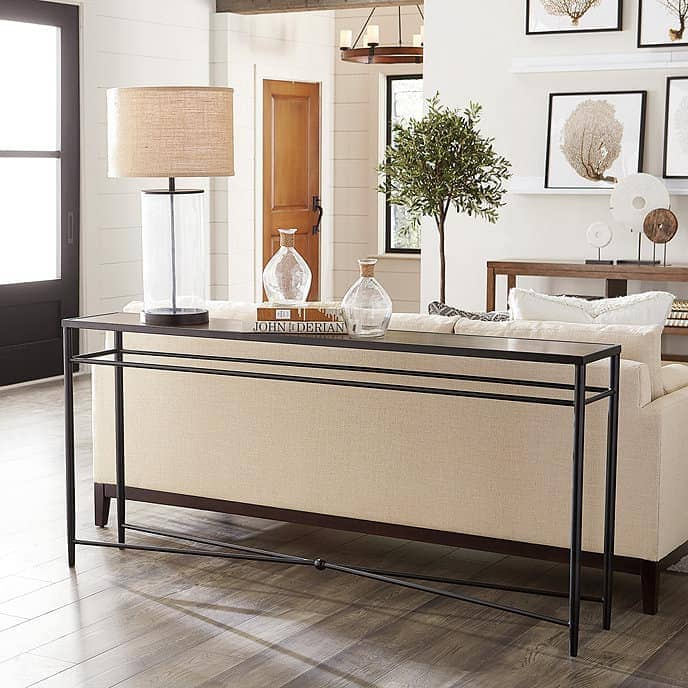 Mixed media is a staple of mid-century modern decor. This table with a wooden top and thin metal frame is the way to go if you're decorating in mid-century.
It's thin, sleek, and functional, and it doesn't have any unnecessary features. It doesn't get much cleaner than this.
Add Drawers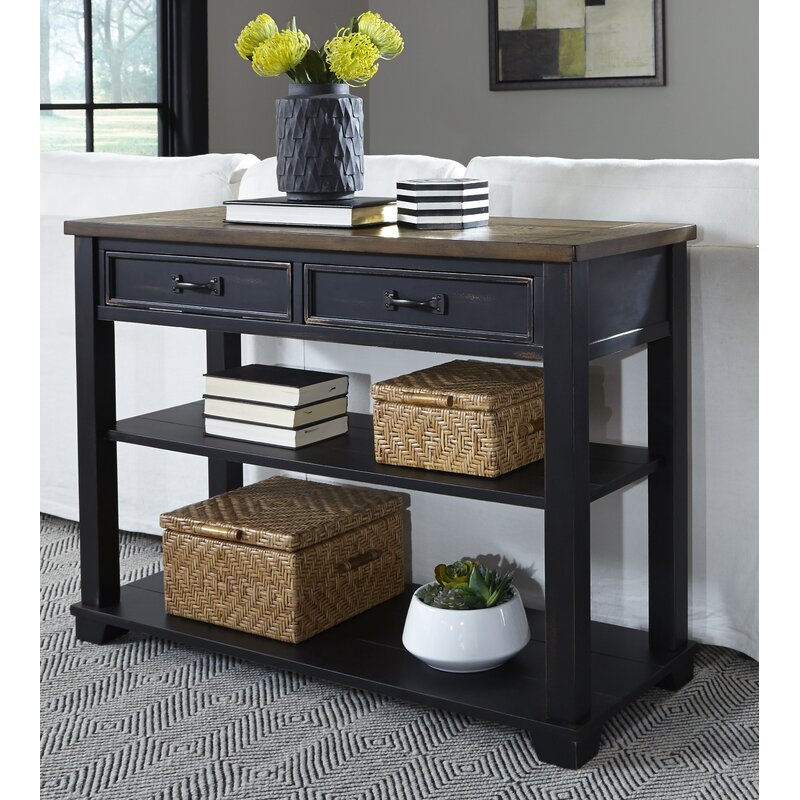 When you're looking at different sofa table designs, only consider the ones that will work for you and your unique needs.
This table has drawers and two extra shelves that can be used for storing a lot of things that you want out of sight but easily accessible. Even if you don't want to store anything, there's plenty of space for decor and the drawers add a little extra style.
Show Some Grain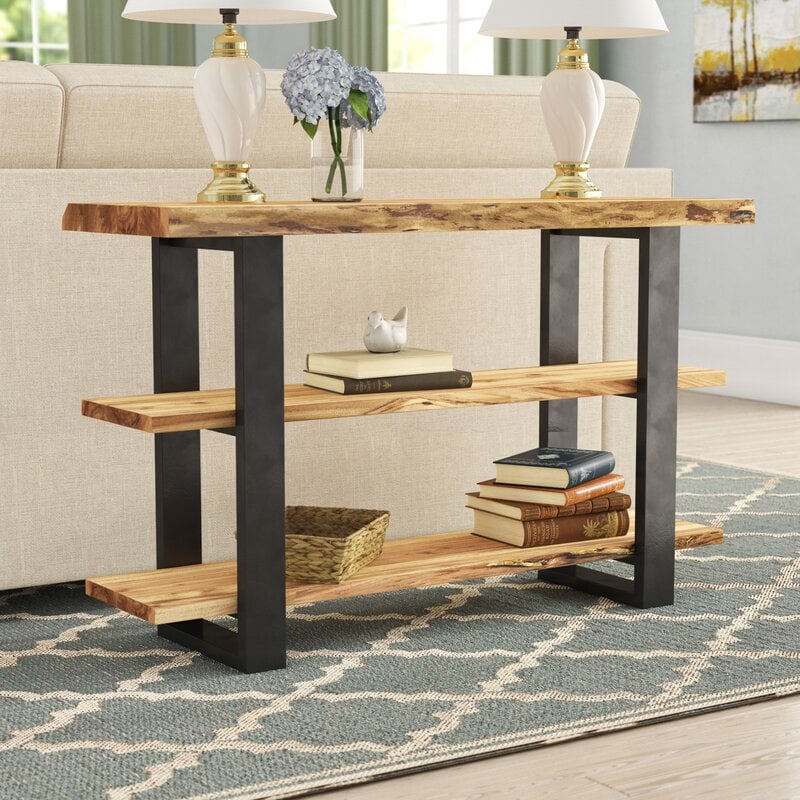 The natural wood grain in this table really elevates the look because it's clear it's not composite. Plus mixing it in with the black frame creates a nice contrast.
There is plenty of space on this table for decor, but honestly, the grain does a lot of talking for itself so you can go muted with decor.
Add Glam With Gold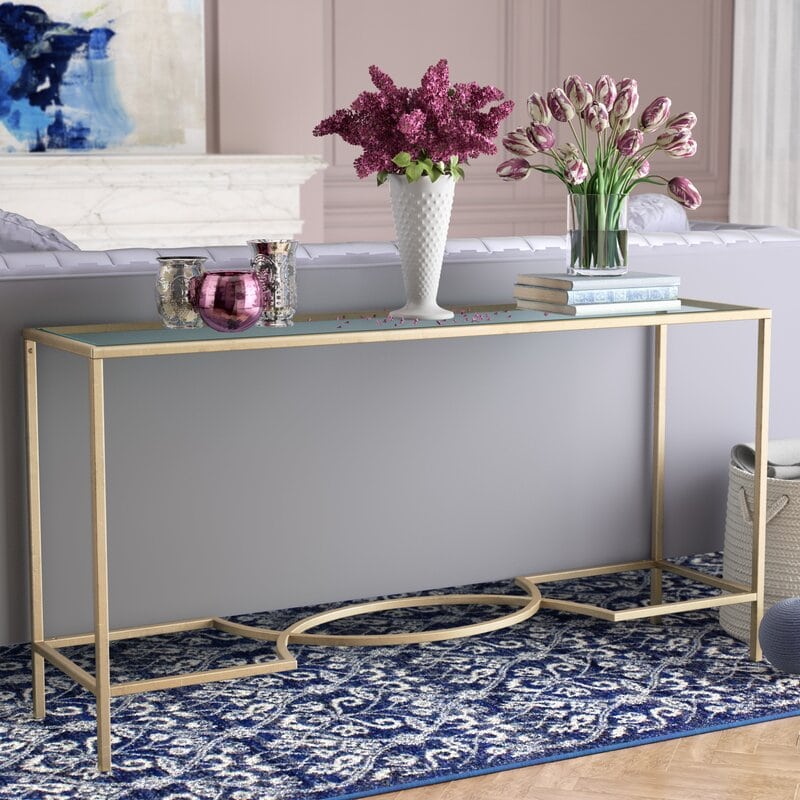 Mixing in some warm gold adds a touch of glam to any room, and this particular sofa table does that without being over-the-top thanks to the glass top and thin metal framing.
This picture demonstrates how easy it is to mix gold into an otherwise colorful room without looking out of place or being the center of attention.
Consider Something Classic With A Modern Feel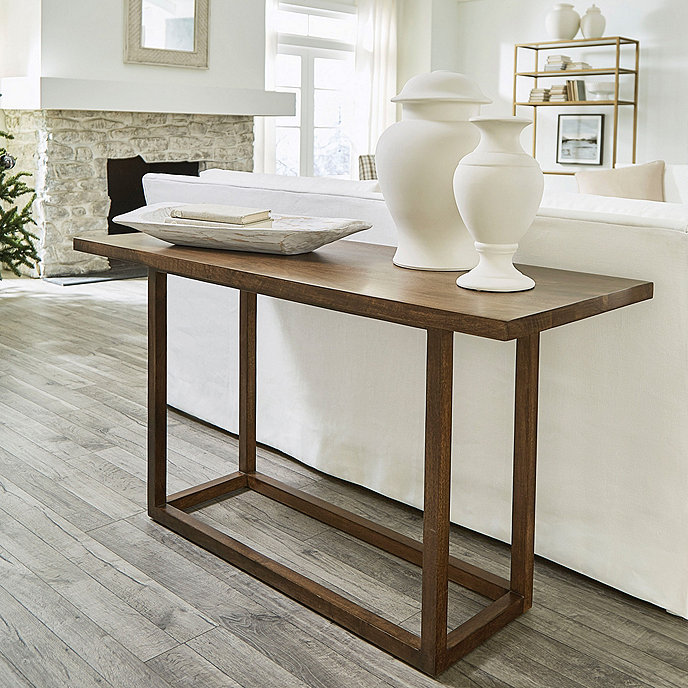 If you like the clean, straight look of modern furniture but don't want your home to feel cold and unwelcoming, mixing the modern look with a classic material will warm things up.
This sofa table is straight-forward with its design but the warm wood fits into the cozy room a little better. Especially up against the cream-colored couch!
Go Sleek With A Dark Wood Finish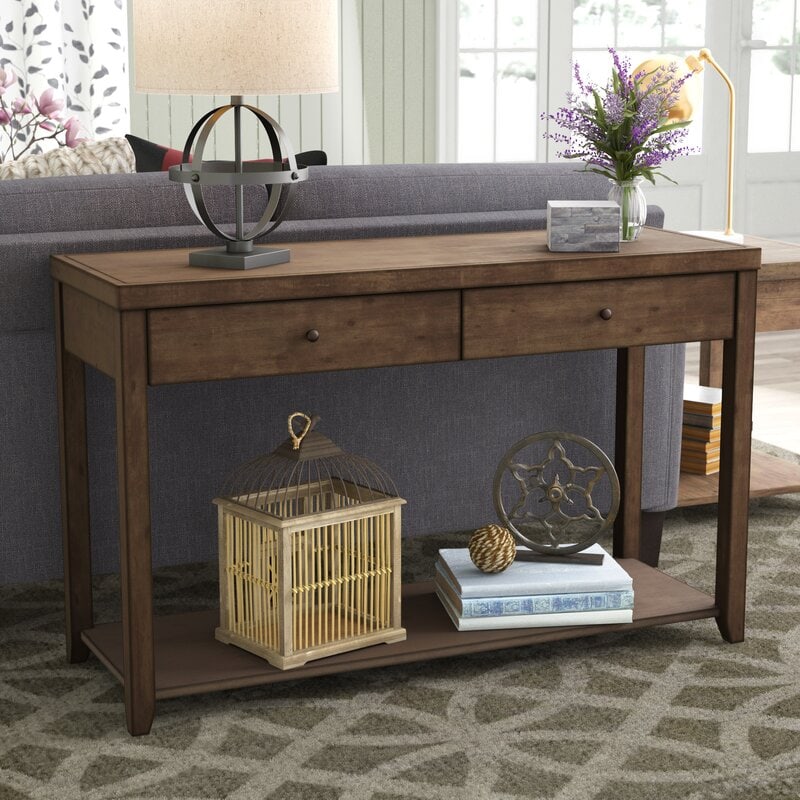 Everyone loves the airy look, but adding in a little dark will liven things up a bit and add depth to the room. So, go with a dark sofa table to help break things up.
This table will go with most decor styles plus it has drawers and a shelf for storage. You can't go wrong.
Final Thoughts
A sofa table is a great addition to a living room because it adds an extra surface for plants, picture frames, and books.
It can simply blend in to the couch, stand out as a statement piece of furniture, add storage options to your space, or even be used to divide the living room in separate sections.
Whatever you want to use your sofa table for, there are many varied styles to choose from. Even better, if none in the store appeal to you, you can build your own just how you want it!