Decorated Life is reader-supported. When you buy through links on our site, we may earn an affiliate commission. Learn More
10 Best Dining Room Rug Sizes
When decorating the dining room, many people falter when picking an area rug for the dining room table.
What size rug under a dining table will you need? Multiple factors will determine the right rug size for the dining table, including the size of your room, the table, and the number of chairs positioned around the table.
Jazzy with Jute – 6' x 9' is a Natural Selection for Four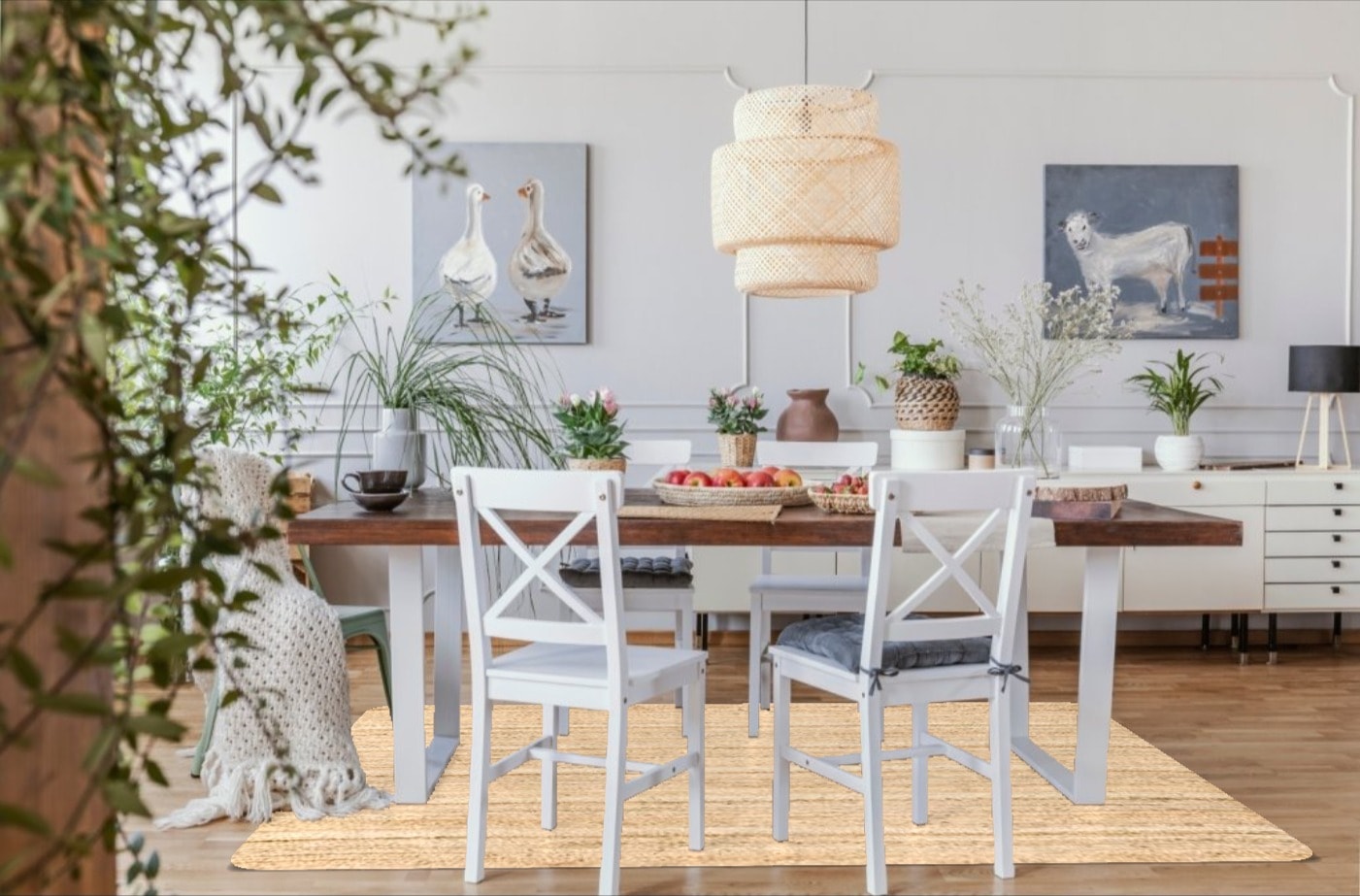 One size for an area rug under a four-person table in a smaller dining room is 6' x 9'. This option gives you coverage to protect the floor without dominating the space.
This 6' x 9' handwoven area rug – braided jute – in a neutral color can look stylishly sophisticated yet understated and homey under any dining room table.
When Seating 8, Go Great – 9' x 12'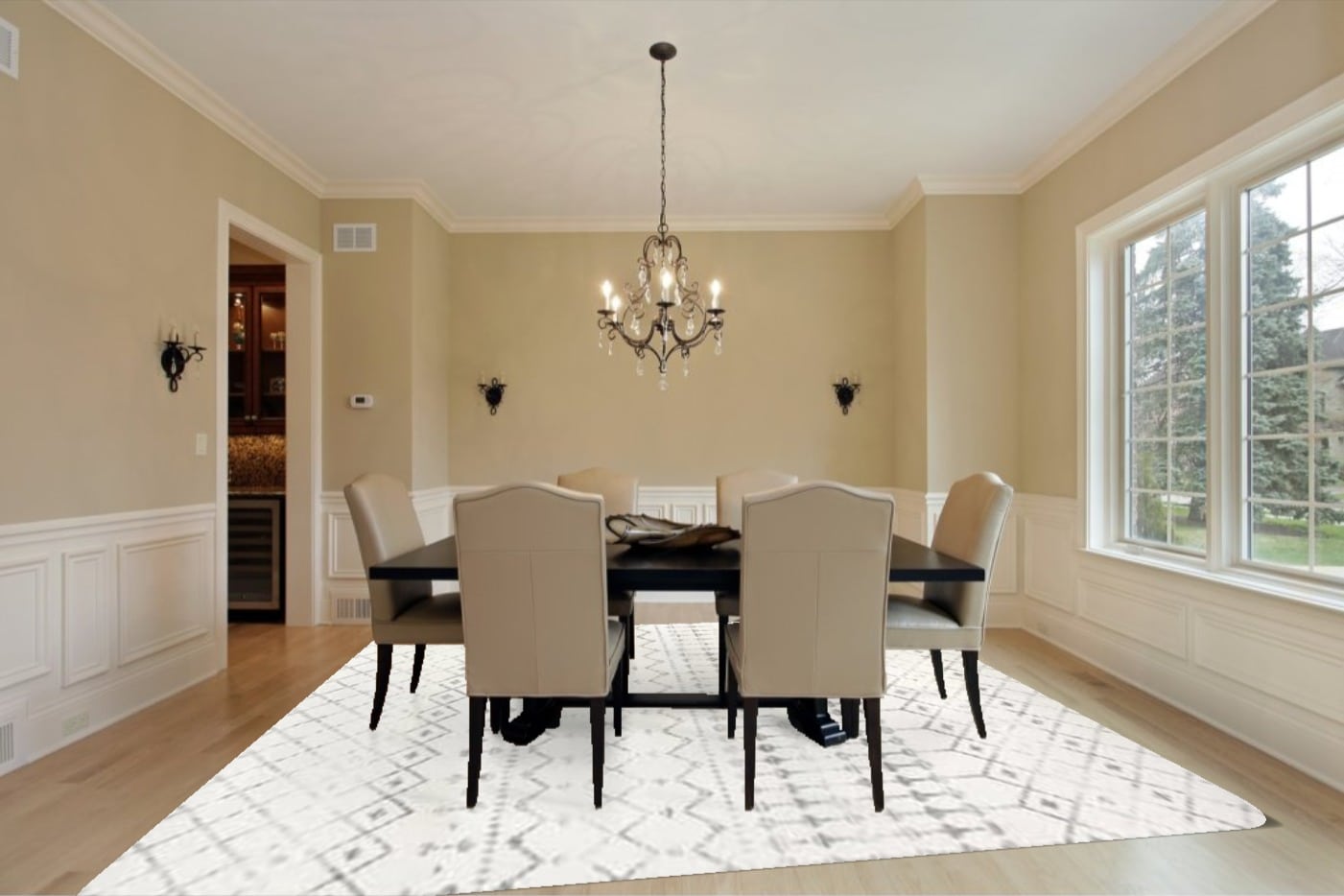 When you have a larger dining room table where you'll want to arrange up to eight chairs around it (42" x 79"), you'll need a bigger-sized rug.
Since you'd need 24" around the table to give adequate room for the chairs to slide out, you'd want to pick a rug that's an 8' x 10' at minimum. If spacing permits, get crazy and go with a 9' x 12' size.
Large and in Charge with an 8' x 10' for Six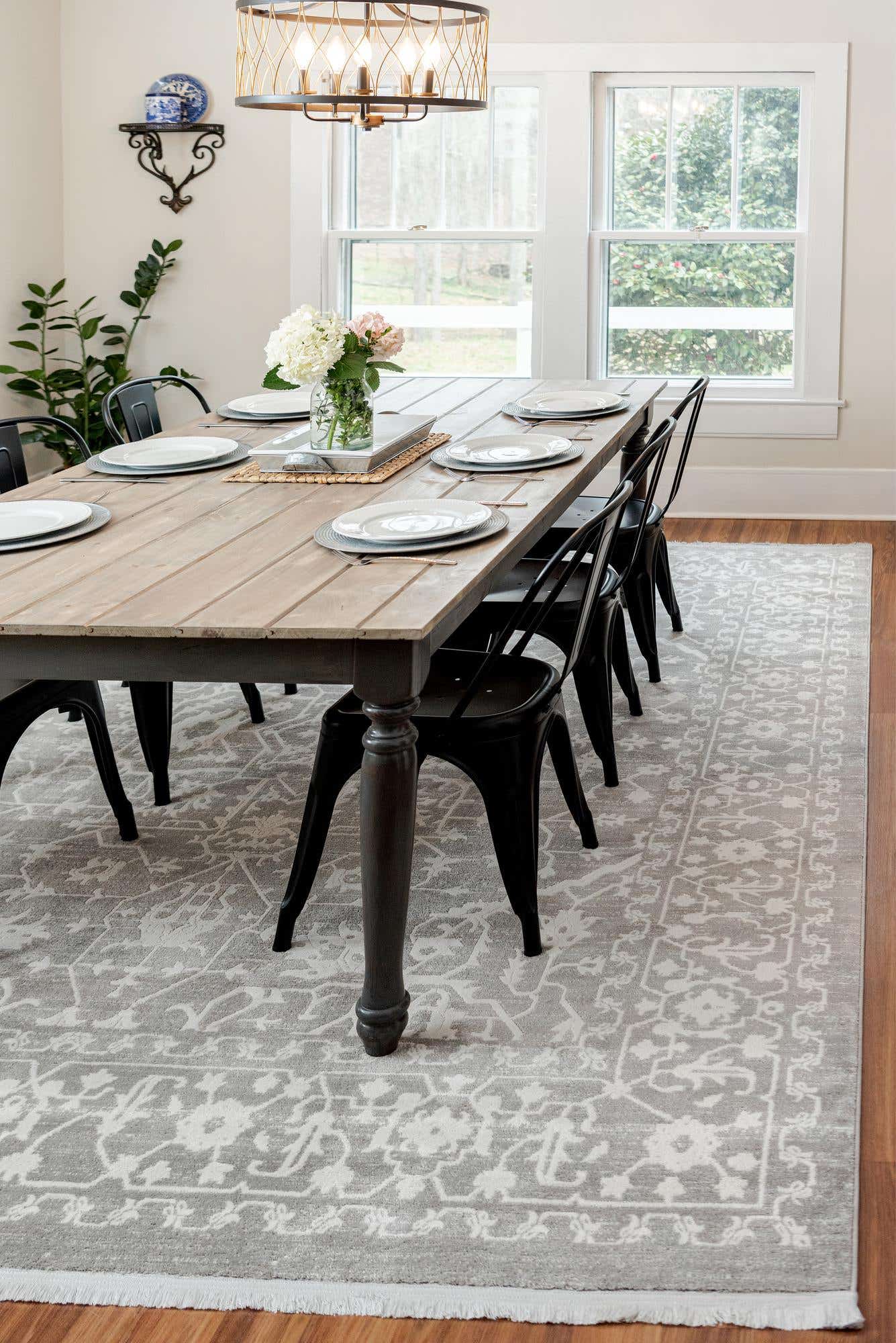 When you have a bigger table with enough spacing for six, such as an elegant modern rectangle shape like this one, you can get a big statement with a larger rug in an 8' x 10' size.
We love a modern yet classical design in a subtle yet stylish gray with a white print. Or go even more modern with a brighter base color like orange, gold, or purple.
A Standard 5' x 7' Size Rug with Big Potential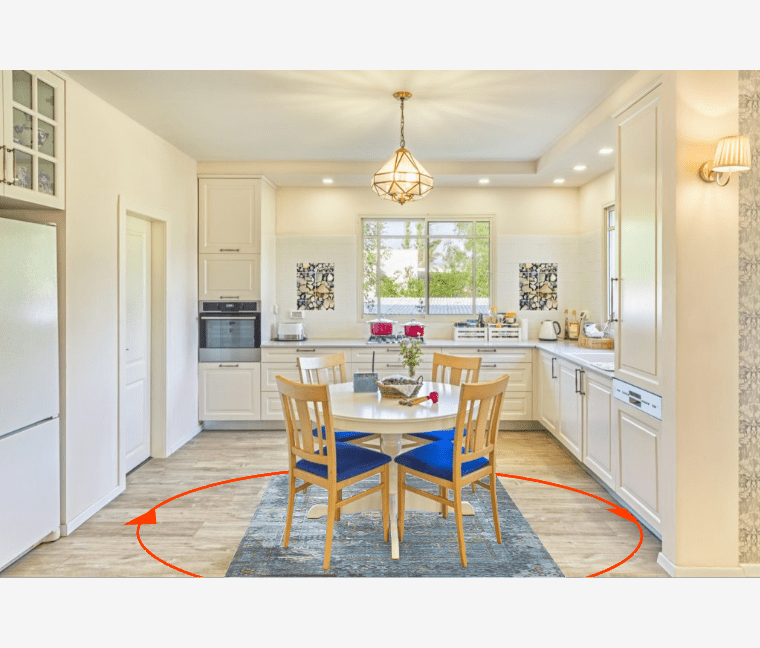 A 3' x 3' square table with four chairs can float over a 5' x 7' area rug, a standard size for dining rooms with less room for a huge rug.
The great thing about going smaller is that you have more freedom to choose a busier print. So, take advantage of the opportunity by picking an area rug in a bright, bold color like turquoise and yellow.
Round and Round We Go – 6' or 8' D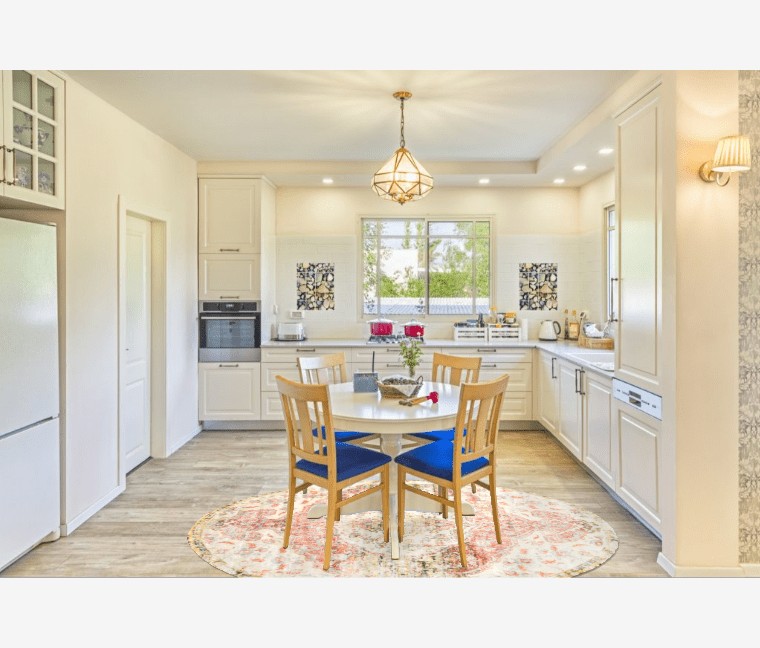 We love the look of going with a round rug under a round dining table. An 8' round area rug works for a round table with a 3' diameter, providing enough room for four chairs.
You can use this antiqued colorful Oxford rug to give your room a charming old-timey, Old World, boho, or classic feel.
5' x 8' Braided Oval Under Modern Table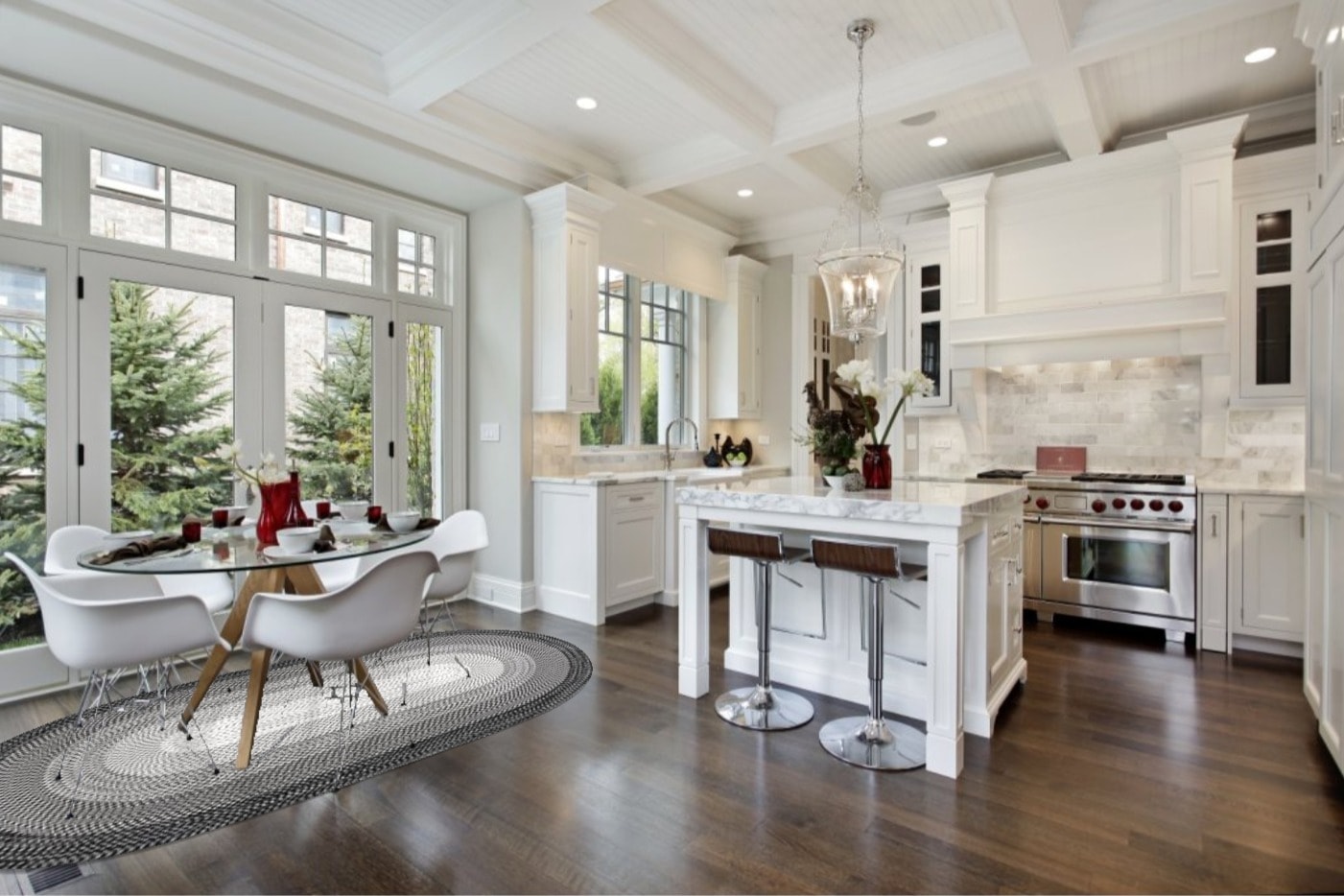 Braided rugs may seem like an old-school trend, but they can make for a rather modern move, like this 5' x 8' braided oval rug with a black outer that filters to white.
You can achieve a chic dining room by pairing this trendy retro rug with a modern rectangular table with thin steel chairs.
Rectangular and Washable – Just What the Rug Doc Ordered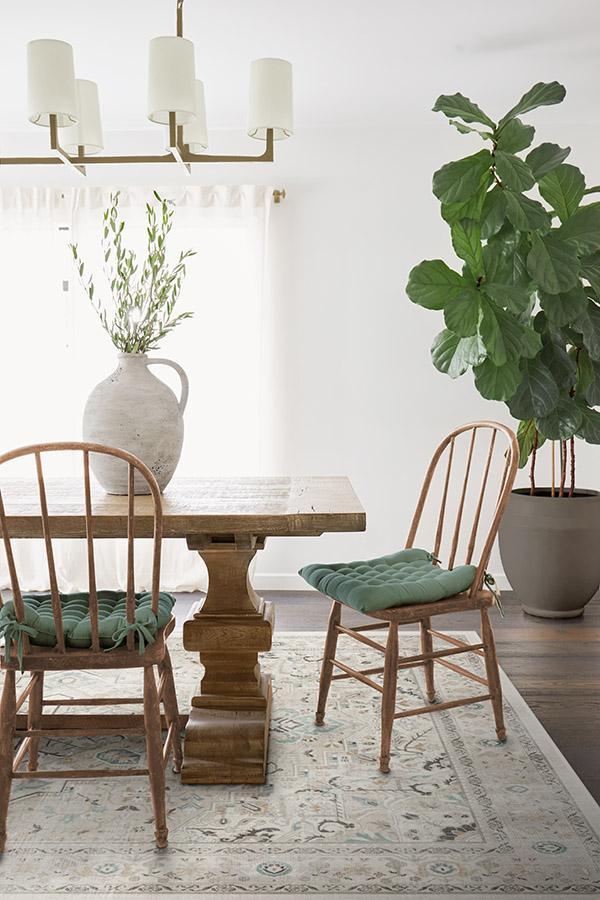 If your large dining room table measures 3' x 6', you'd need a bigger rug – preferably an 8' x 10' or larger. But if you have a home with children and there is the risk of messing being made on the floor, you may have concerns about using a fabric rug.
Ruggable makes it easy to enjoy the beauty of a rug floor covering, such as this vintage Ivory Opal, without the fear of hours of cleaning. All you have to do is toss it in the washing machine if it gets dirty. I bet you can't say that about your other area rugs!
Rustic Rug for Spacious Room Charm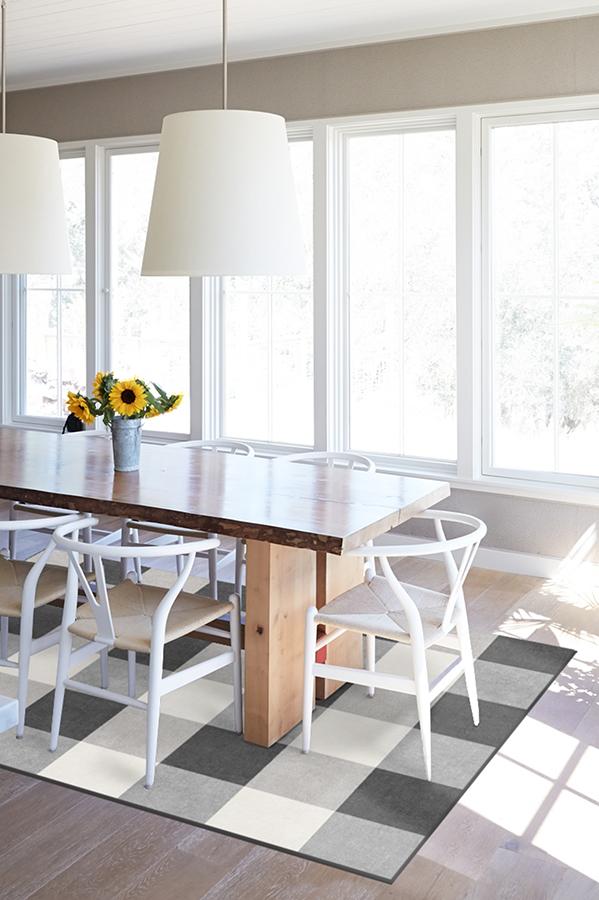 If you like a simple design that screams rustic, farmhouse, or country chic, you'll fall head over heels (figuratively – this rug is low pile, so there's no real tripping hazard) for the classic beauty of this black and white plaid Buffalo rug.
Available in sizes small (3' x 5' is great for circular tables while a 5' x 7' is better for a square or rectangular table shape) up to large (8' x 10' to 9' x 12'), there's no reason you can't enjoy this look in your dining room.
Soft and Fluffy Underfoot – Small But Dangerous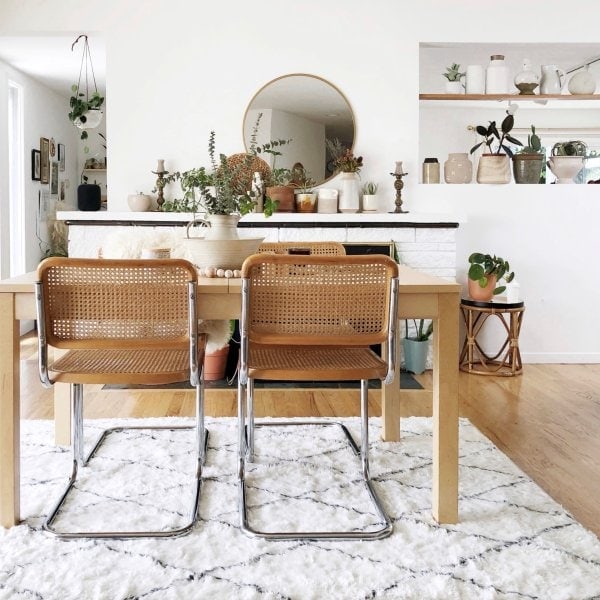 If you enjoy the luxury of a plush, fuzzy rug under your feet while gathering around the dining table, you're sure to enjoy the premium comfort of a shag rug like this white diamond Moroccan print.
Not only does this chic rug give your dining room a practical yet attractive decor, but it can also go into the washing machine while being water and stain-resistant.
Squared Up – Give Your Dining Room Dimension with a 7' x 9'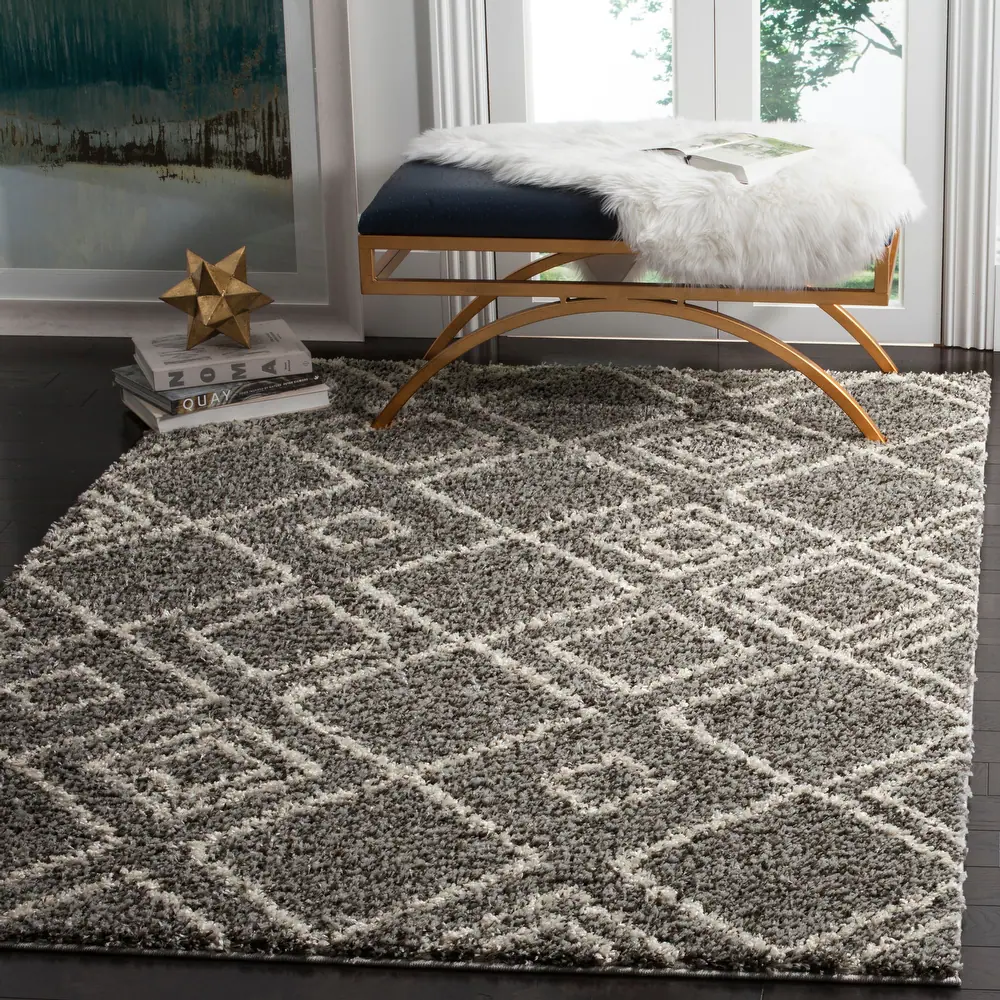 If you want to stay away from the more traditional look of a rectangular area rug but don't want to go so out of the box as to pick a shape like a circle, octagon, or oval, stay in the safety zone going with a square shape.
This thick pile shag rug comes in a dark color palette (brown base with ivory print geometric diamonds or light (ivory base with beige lines). The only downside is it may be harder to scoot your chair back by sliding it, as the loomed fabric is thicker.
Signing Off
Before jumping on your favorite site (or any of the ones we've recommended), take the time to figure out what size rug your room can adequately fit without it feeling like full carpeting. We love using painter's tape to test different sizes to determine which works best for your space.
Which area rug size is your go-to for your dining room? Did you do any interesting prepping or testing before picking a rug size to go under your dining table? Let's see how many answers we can get to how big a dining room rug should be for your space? Then, tell us about it in the comments.