Decorated Life is reader-supported. When you buy through links on our site, we may earn an affiliate commission. Learn More
Should I Put a Rug Under My Dining Room Table?
Is there a design decision as controversial as putting a rug under a dining room table? Probably not.
Some designers believe that rugs make the space, while others think they're a hazard and prone to become filthy.
The truth is, there's a solid list of pros and cons for both sides of the argument. And whether you should or shouldn't depends on your personal preference and household habits.
Here's what to consider.
Pros and Cons of Putting a Rug Under Your Dining Room Table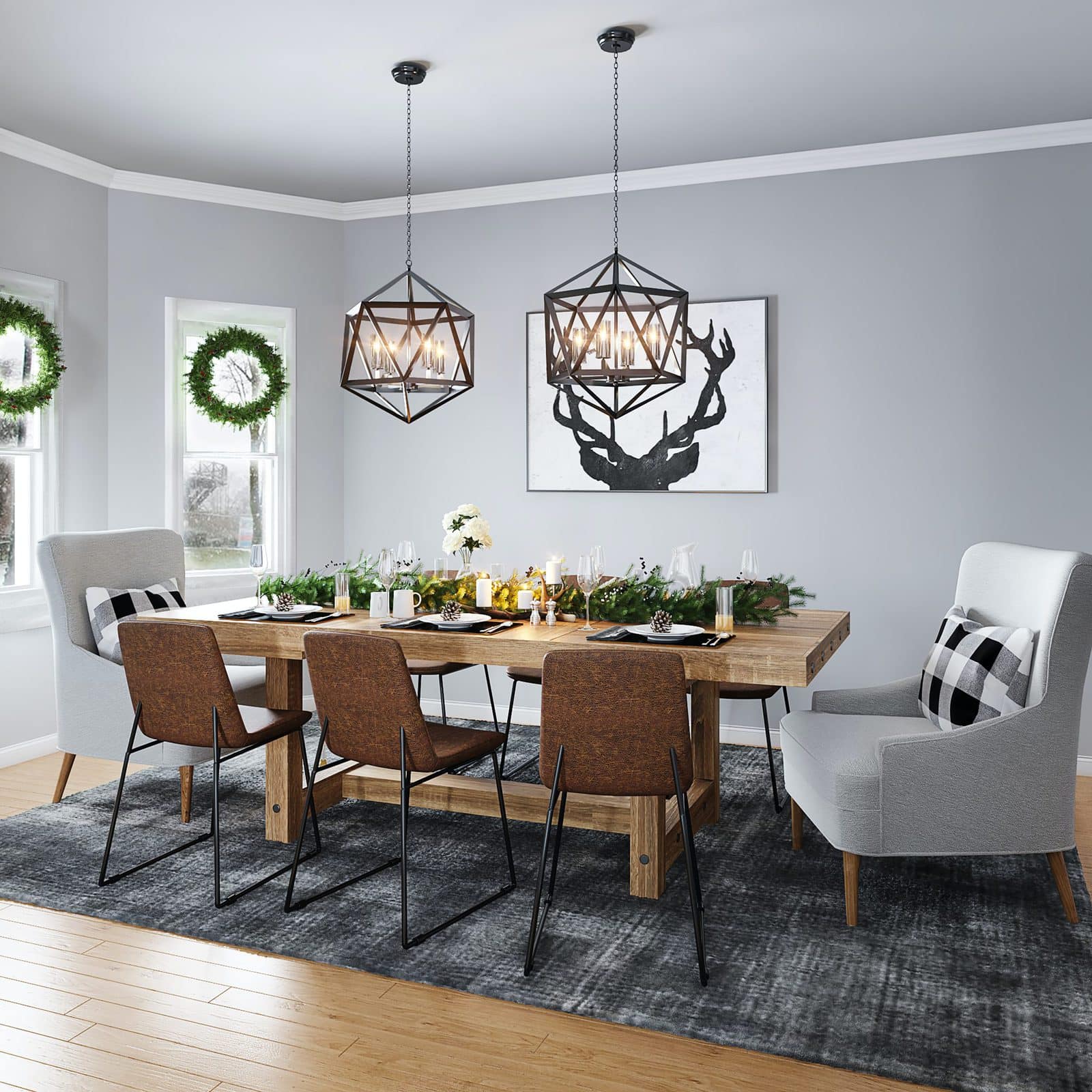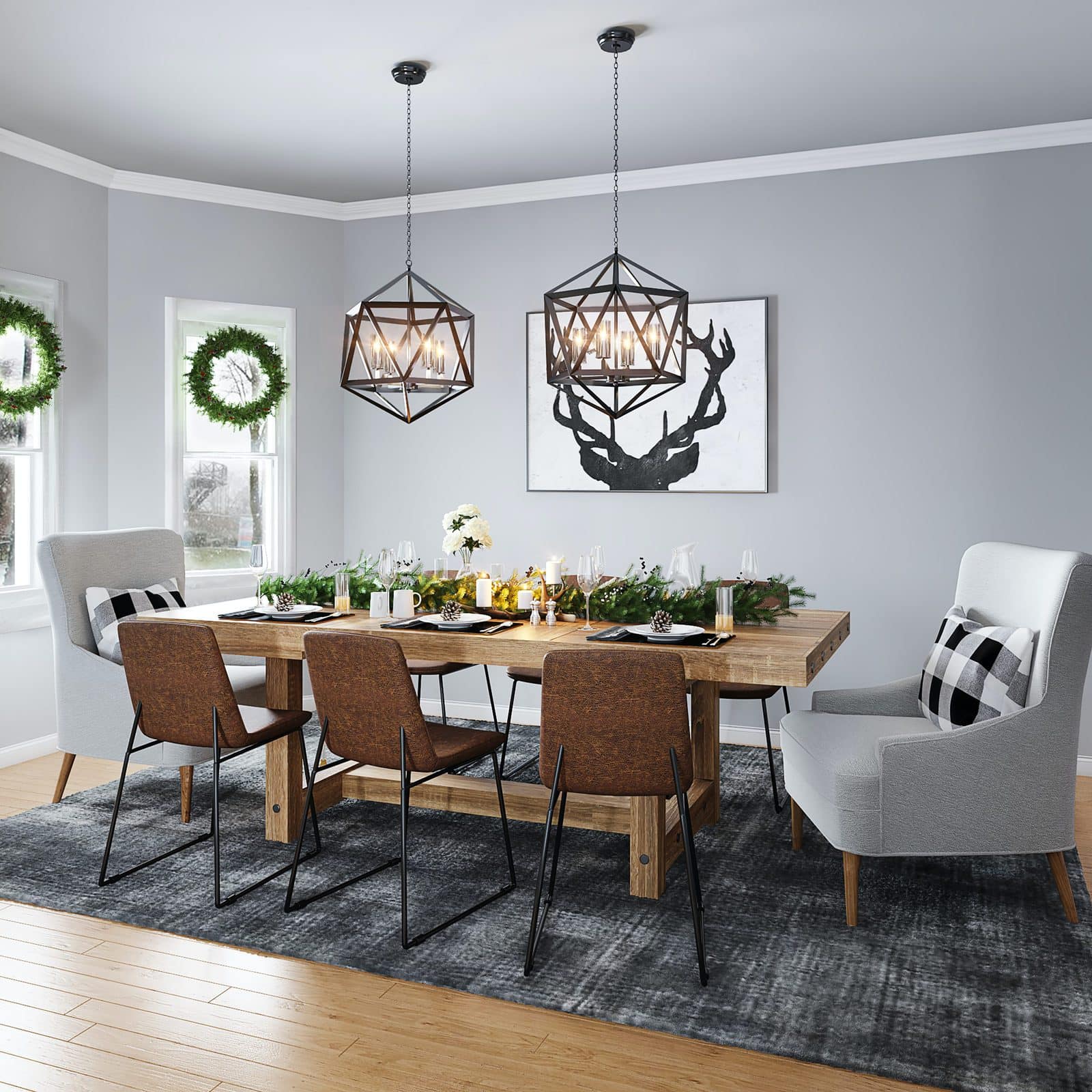 There are no specific rules on whether you need to put a rug in the dining room – it all comes down to personal preference.
So, let's take a look at the pros and cons so you can decide for yourself.
Pros of putting a rug under your dining room table:
A rug can ground the table, making your dining room design look more put together
Rugs are incredible for bringing in color and pattern
Rugs will add texture to the room
A dining rug can protect against scuff marks from chairs
Create a division of space in an open-concept home
Cons of putting a rug under your dining room:
Chairs can get caught up on rugs
Food drops and spills can cause a carpet to become filthy
What's the Best Type of Rug to Use in the Dining Room?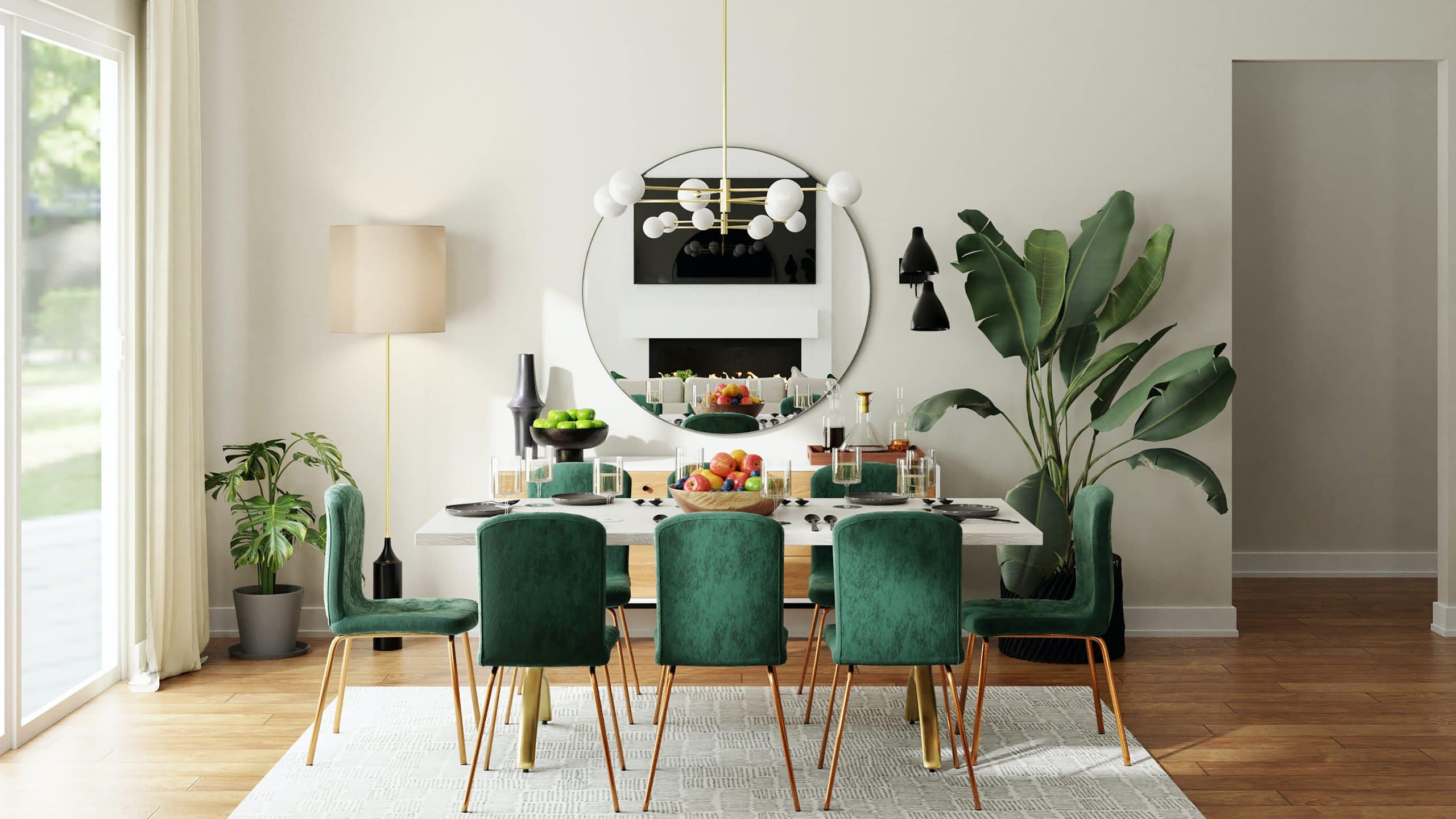 If you've decided to put a rug under your dining room table, don't use just anything. Instead, look for something easy to clean, hides dirt, and that won't snag your chair legs.
Here are some excellent options:
Jute – Jute is a natural fiber and popular rug material. Jute rugs are durable and relatively easy to wipe clean, making them an excellent option for the dining room. Another benefit is they pack in a lot of texture.
Dark patterned rugs – If you have kids or are prone to dropping food on the floor, opt for something dark. Dark patterns conceal stains very well.
Washable rugs – Washable rugs, like ones from Ruggable, that you can throw in the washing machine are excellent choices. (The downside is that removing your rug will be a pain if you have a heavy table.)
Avoid shaggy rugs, faux fur, and anything with a thick pile. These rugs will be hard to clean and easy for chairs to get caught on.
How Big Should a Rug Be Under a Dining Table?
Your dining rug needs to be at least 24 to 30 inches larger than your table on all sides. This gives you room for your chairs and appropriately grounds your table. If you use a rug smaller than this, it won't look right.
If you have a standard 36 inch by 72-inch table, opt for an 8' x 10' area rug.
If your dining table is 48 inches by 72 inches, go for a 9' x 12' area rug.
If your table is 36 inches by 60 inches, go for an 8' x 10' area rug.
Try to match your table shape to your rug shape. For example, for rectangle tables, choose a rectangle rug. For circular tables, select a circular rug, and so on.
Alternatives to Putting a Rug Under the Table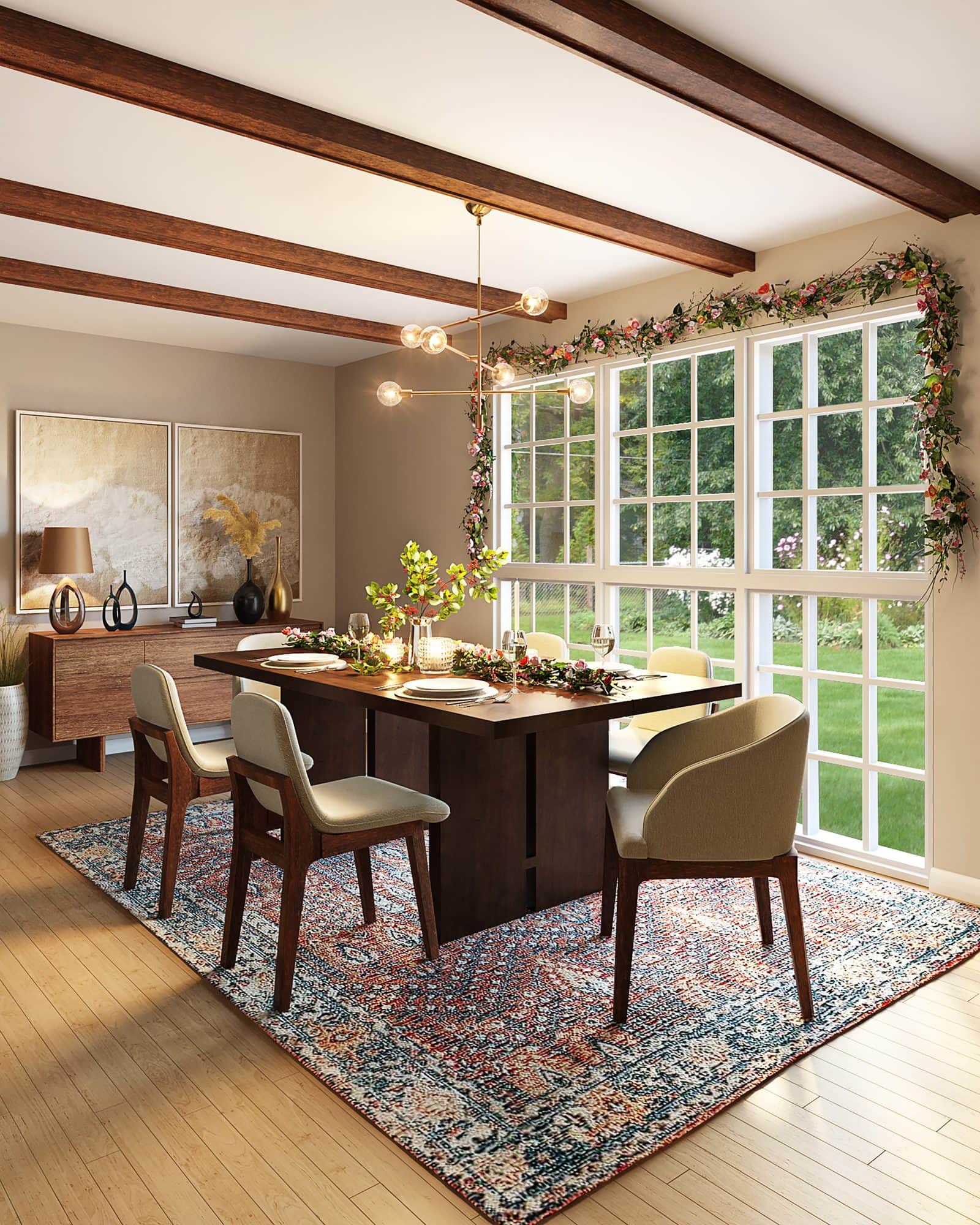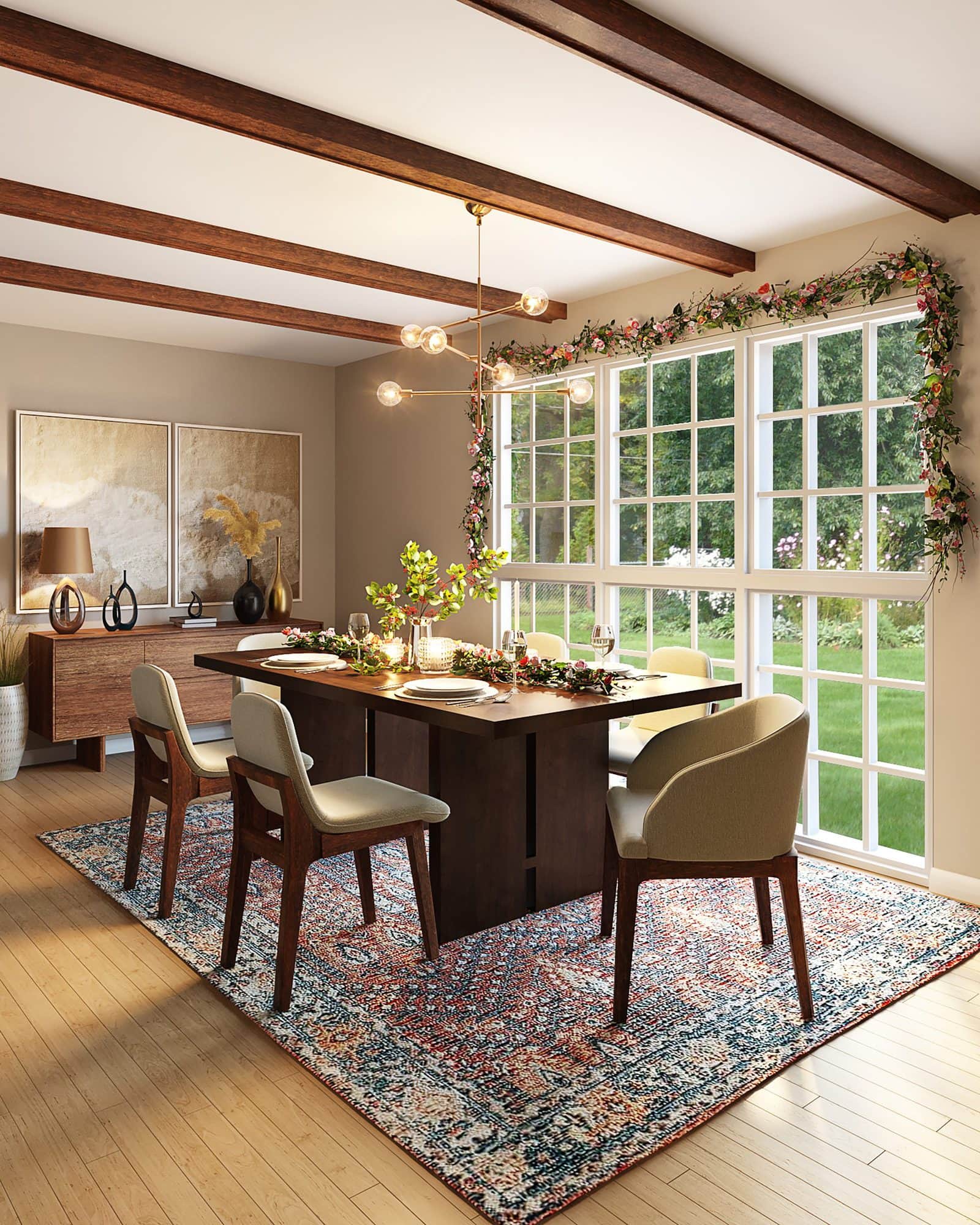 If you'd like to put something under your dining table but aren't keen on a rug that will absorb food and spills, try one of these alternatives:
For carpeted surfaces – If you have carpet in the dining room, protect it by putting a plastic carpet protector mat under your table. These mats are transparent sheets of plastic that will protect against spills and foot traffic.
For hard surface floors – If you're looking for something different for hard surface floors, consider foam tiles or a vinyl mat. You can find both of these in various styles and colors. They're much easier to clean than carpet.
However, make sure the ones you choose are compatible with your floor type. For example, some rubber-backed mats will react with hardwoods, discoloring them. You can protect your floors by placing a felt rug pad under whatever material you use.
Final Thoughts
There are no hard and fast rules for putting a rug under the dining table. Dining rooms can look great with and without a rug in them.
If you decide to use an area rug under your table, make sure there are 24 to 30 inches of extra rug on all sides. And opt for something easy to clean, and that conceals stains.