Backyard Deck Ideas on a Budget
You used to love your stylish deck but now it seems tired and bland. But you don't have any inspiration to know how to improve it. To get back some va va voom in your backyard deck, there are plenty of low cost ideas.
Whether your deck is big or small, it won't take much to smarten it up and have you sunning yourself there all summer. Perhaps you'll even want to stay out on your deck all winter too!
Decking Pergola
If you're looking to invest in a pergola, the sky's the limit when it comes to the cost. But if you build your own, it can cost as little as $150. All you need is lumber, screws, and some basic woodworking skills.
Usually built from cedar which is strong and withstands the weather, a pergola will look great on a deck. Providing a little extra shade and a feeling of enclosure, you can grow plants over it. Or you can hang some festoon lights for some evening entertaining.
Screen Off Your Deck
If you live in a residential area with little privacy, or you want the decked corner of your backyard to be enclosed, then a great option is a screen.
When it comes to materials, you can choose from wood, metal and plastic. There are pretty cut out vinyl options. You can also try making your own.
For a truly simple effect for even the worst DIYer, why not try a piece of wood trellis attached to a planter for instant privacy. Finish the look with some gorgeous blooms.
For a tropical look that'll make you feel like every day's a vacation, choose some bamboo or grass screening.
Attach a screen to your existing fence and create a seated area. Perfect for a glass of wine and a good old gossip!
Seating for Your Deck
On the Bench
For merely the cost of some timber planks, you could build your own bench. For a look that's truly bespoke, you can achieve this integrated look yourself.
So if you find a lack of decent seating is keeping you away from your deck, this could be the solution for you. To make the seat comfy, and of the moment, decorate with fake fur rugs and fluffy pillows. For prettiness, add some floral planting.
Swinging Time
If you've built a pergola on your deck and want some interesting seating, then a swing is a real winner.
You can buy a budget swing or make your own with some wood planks. Then attach the swing to the structure with strong metal chains. Cover the seat with pillows for a calm sanctuary in your backyard.
Fine Dining
For a romantic evening space, all you need is a table for two, some wine and a little outside lighting.
Perhaps you have an old table and chairs you can repurpose by painting it in a striking color, or by adding some beautiful seat cushions.
Otherwise you can buy a dining set from around $50. Remember to also check thrift stores and online recycling groups to grab a real bargain.
Light up Your Beautiful Deck
Festoon Lighting
You've built your pergola and rejuvenated your deck so now you want to use it all day through to the twilight hours. You're going to need some lighting!
For a romantic effect you could put up a net of fairy lights against a fence or screen. For evening entertaining then nothing says party quite like a string of festoon lighting. Pick a yellow bulb for a soft, warm look, or a white for more of a bright, disco look.
Firepit
A firepit serves several purposes. First, it has good old fashioned campfire warmth and somewhere to toast your marshmallows! Second, if you get a metal grill it can double up as a barbeque.
Finally it gives off lovely warm light and looks like a classy addition to your deck. Prices range from around $30 so you don't have to break the bank.
Tiki Torches
Originating from Polynesian-inspired culture in 1930s California where exotic ideas of the Pacific were in vogue, Tiki lamps are a fun way to add some light to your parties.
When they are infused with citronella they also act as an insect repellent so you can keep away those bugs and nasties as you dance the night away.
Plants and Finishing Touches
Planters for Your Deck
If your deck is lacking vegetation then a simple way to make a plant pot is with leftover decking planks or some cheap treated wood. The easiest shape is a trough or box shape but you could get creative with your angles and make a hexagon or octagonal shaped planter,
For year round color, pick plants with different shades of leaf. And choose flowers which will bloom one after the other. Top tip – lavender gives off a wonderful scent and looks good all year round.
Baskets and Blankets
To show off your deck in all its glory now that you have spruced it up, you'll need to add those designer finishing touches for the perfect Insta picture!
Natural woven baskets are very classy and look great with a blanket or tasseled shawl poking out, just so. Of course, they are also very handy if it gets a little chilly to wrap around your knees and stay out just a while longer on your backyard deck.
Garden Flowers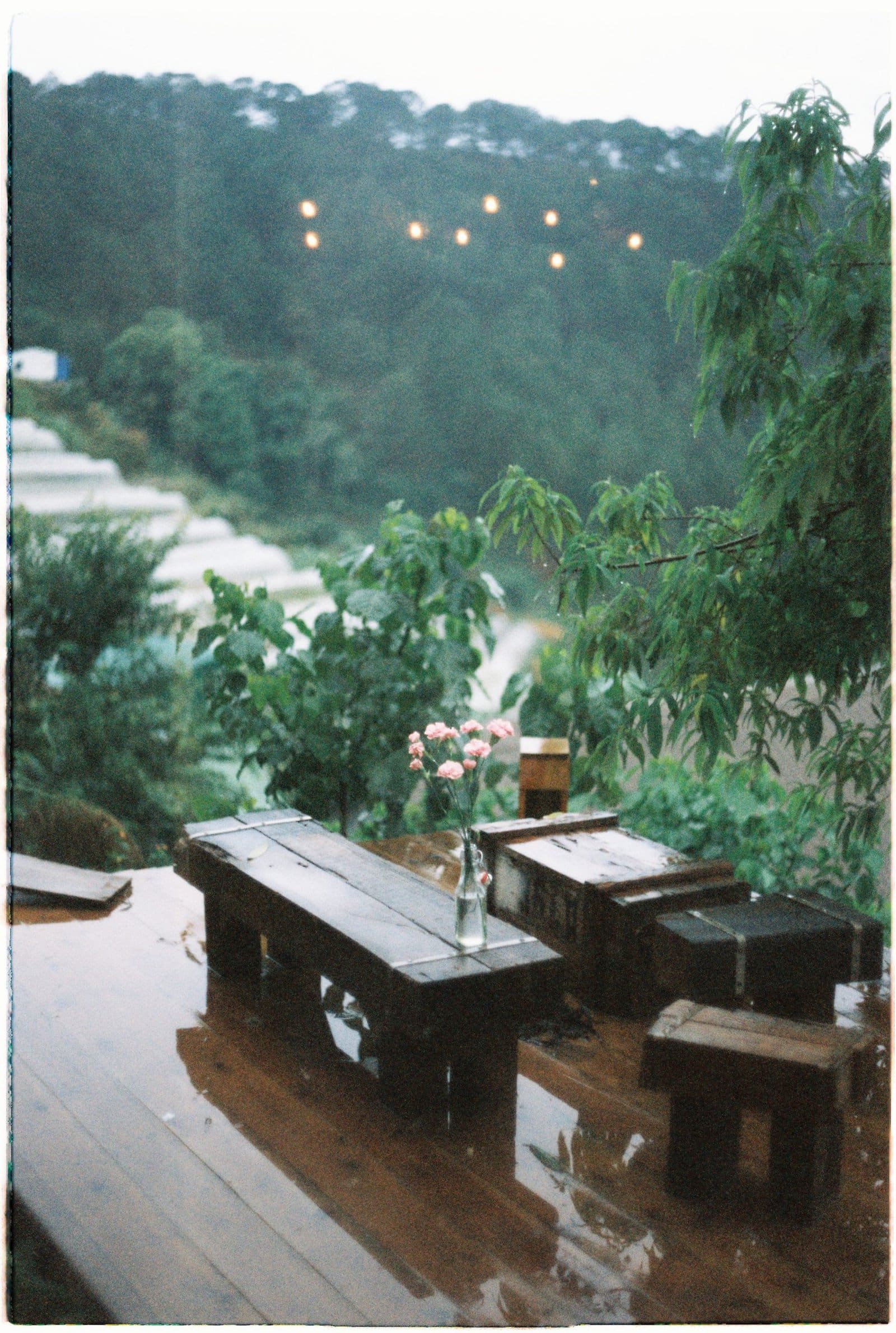 The simplest way to make your deck look dressed is to add some flowers. Even one stem with a billowy bloom will look picture perfect.
Outdoors you'll want to use a natural earthenware vase or a glass bottle for a natural look. Keep the arrangement simple. Little effort gives volumes of style.
In Conclusion
If you're finding your backyard deck unappealing and have found you're not even using it, there are some simple things you can do to give it a revamp on a budget.
You can enclose your deck and add some planting. When it comes to seating, add pillows and textures with blankets and baskets.
And finally, don't forget about how to best use your deck at night. Stringing up some pretty lights can transform your dull deck into a party zone!