Decorated Life is reader-supported. When you buy through links on our site, we may earn an affiliate commission. Learn More
25 Unique and Astoundingly Beautiful Basement Ceiling Ideas
Basements are often thought of as casual spaces. Not generally frequently visited (and sometimes used as storerooms), you might not put a lot of thought into your basement ceiling. Besides, basements often have low ceilings, which is why many people don't give much thought to them.
But as more people have started using basements as regular spaces, it's time to give more thought to their ceilings. Here are some basement ceiling ideas to get a cool looking basement.
Get a Stylish Beadboard Ceiling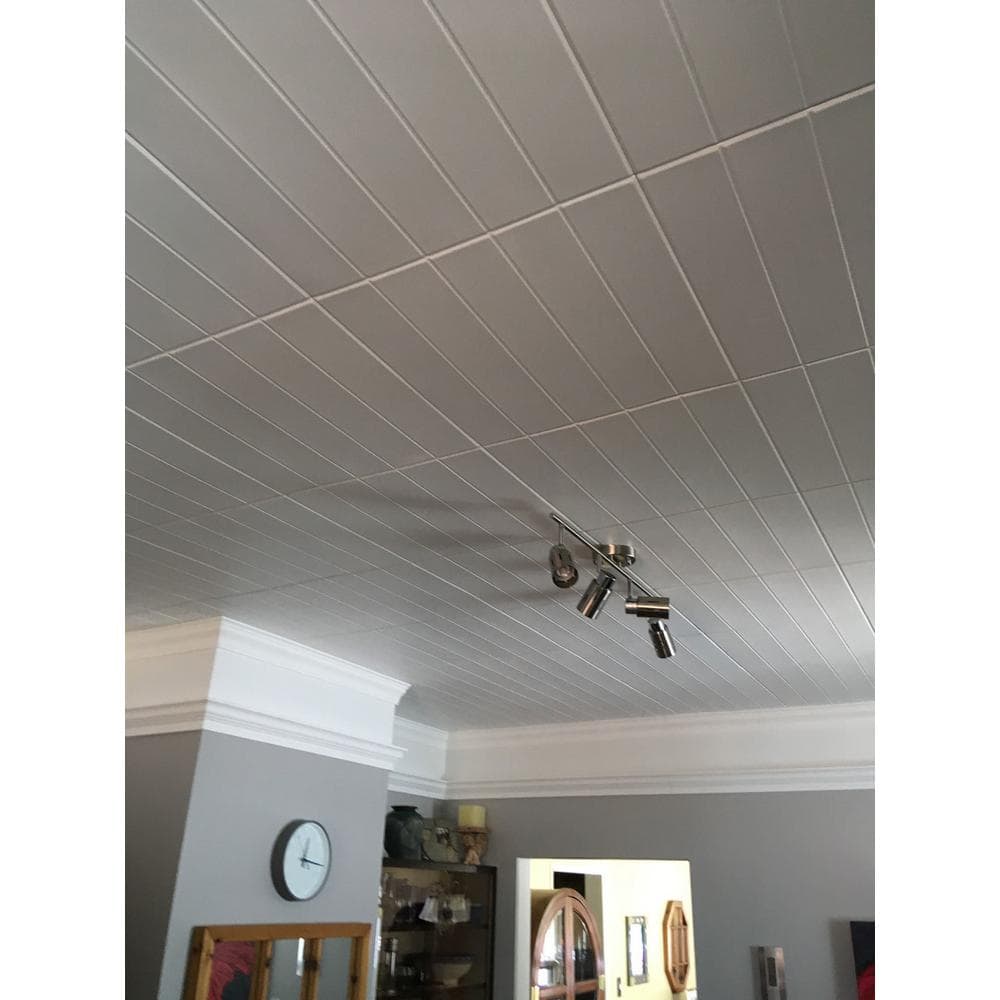 For a beautiful but cheap basement ceiling, there's the classic choice of beadboard ceiling material. Beadboard ceilings with exposed beams give a look that's an amalgamation of modern design and vintage art. If you watch home remodeling shows, you know beadboard is a popular choice and it's also a prominent product in the aisles of home improvement stores.
While the beadboard looks contemporary, it actually dates back to the Victorian era. It's durable and gives a warm cottage-like feel to a home. This is why it's perfect for a basement, especially if the ceilings are low. And since it adds a degree of insulation, your basement will be warmer than usual on cold winter mornings.
Try Black and White Wood Frame Panels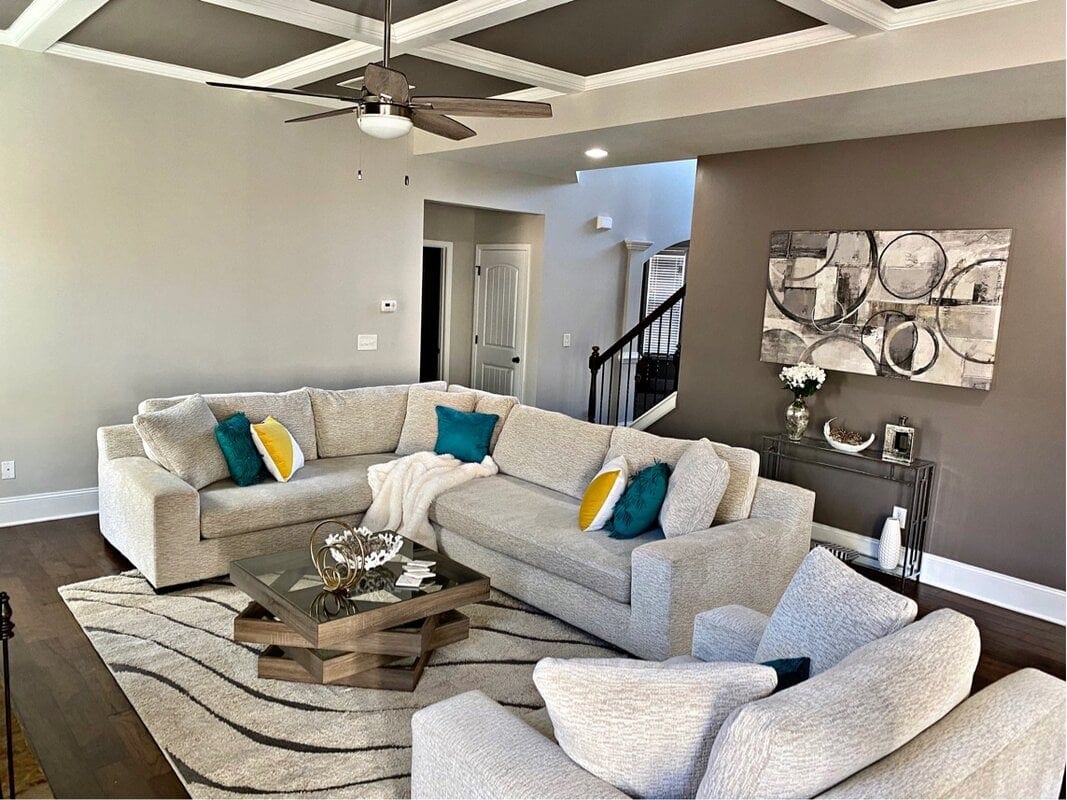 Another unique take on an old classic basement ceiling options is this "framed" black and white panel ceiling. This simple but elegant design offers a timeless, sophisticated look for formalizing any space.
Combine the look with gray or white walls and a matte black floor to compliment the look and tie everything together for an inviting second living room, game room, or guest room.
How About an "Old Tin Roof" Style Ceiling?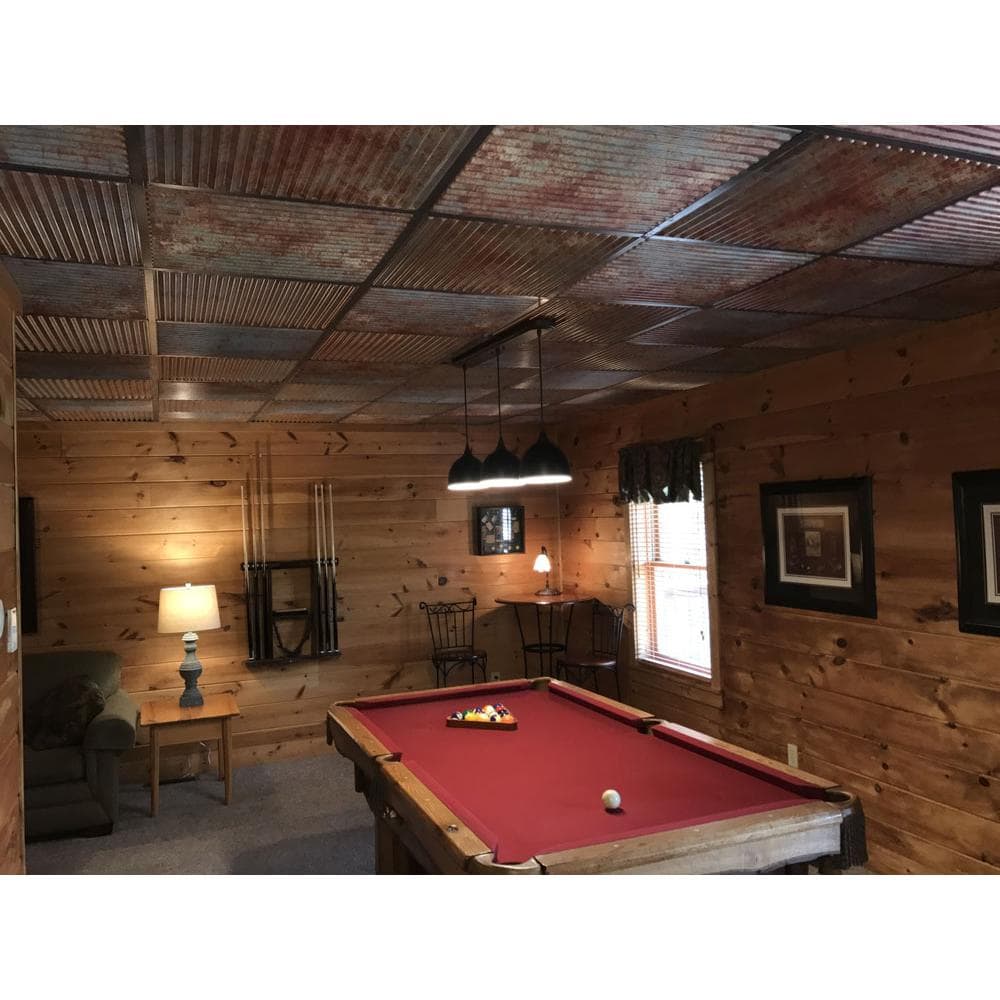 For a fun, old-timey feeling, try a simple metal basement ceiling made of "old tin roof" materials like these available from Home Depot. It's basically taking pre-treated corrugated tin roofing and turning it into your ceiling tiles, with a bit more panache.
These ceilings are durable, reasonably prices, and add some classic style that your neighbors probably won't have ever seen before.
Try a Simple Textured Glue-Up Tile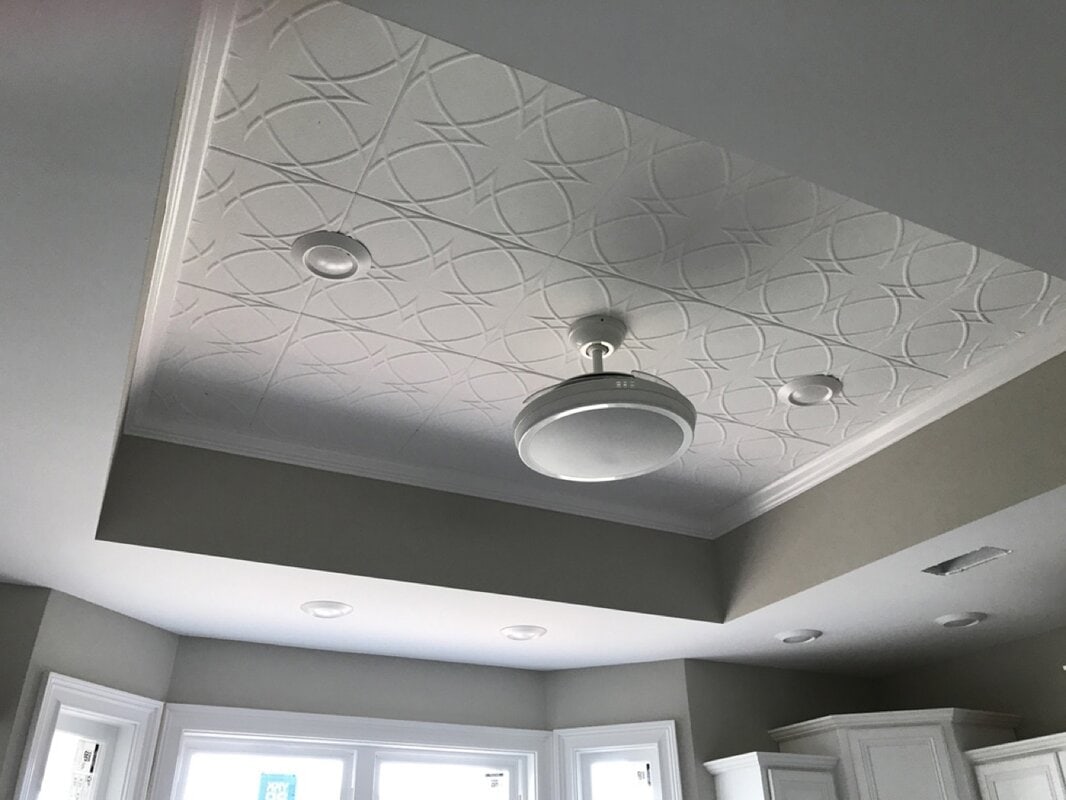 For great inexpensive ceiling options, find some simple, textured tiles that are designed to glue-up. You can do it in stages – doing a few sections at a time – or glue them all up at once. They look beautiful – even elegant – and won't cost you a fortune.
Plus, you don't have to pay someone else to come and install them – they're easy to do yourself. Find a simple tutorial online, if needed, and in a short time, you'll have a stunning new ceiling.
Install a Ceiling Medallion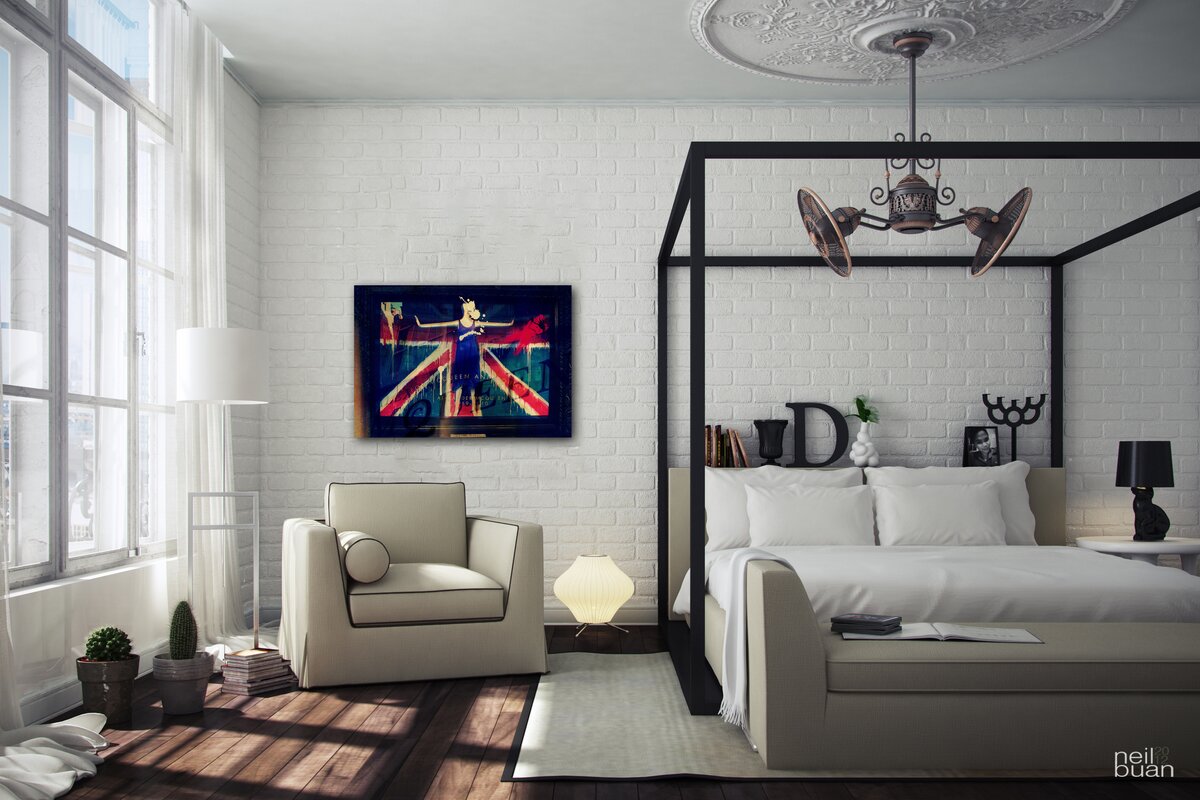 If you have a plain ceiling, you can do a quick and reasonably easy basement ceiling finishing job by adding a ceiling medallion. There are many options for this – from this gorgeous white medallion to some metal finishes, you'll find you've got loads of ways of using these to decorate an otherwise simple ceiling.
You can find some tutorials and DIY options, as well, on Pinterest and DIY sites. Get creative all at once, or add design over time as you improve that basement.
There's Always These Lovely PVC Mosaic Peel 'n Stick Ceiling Tiles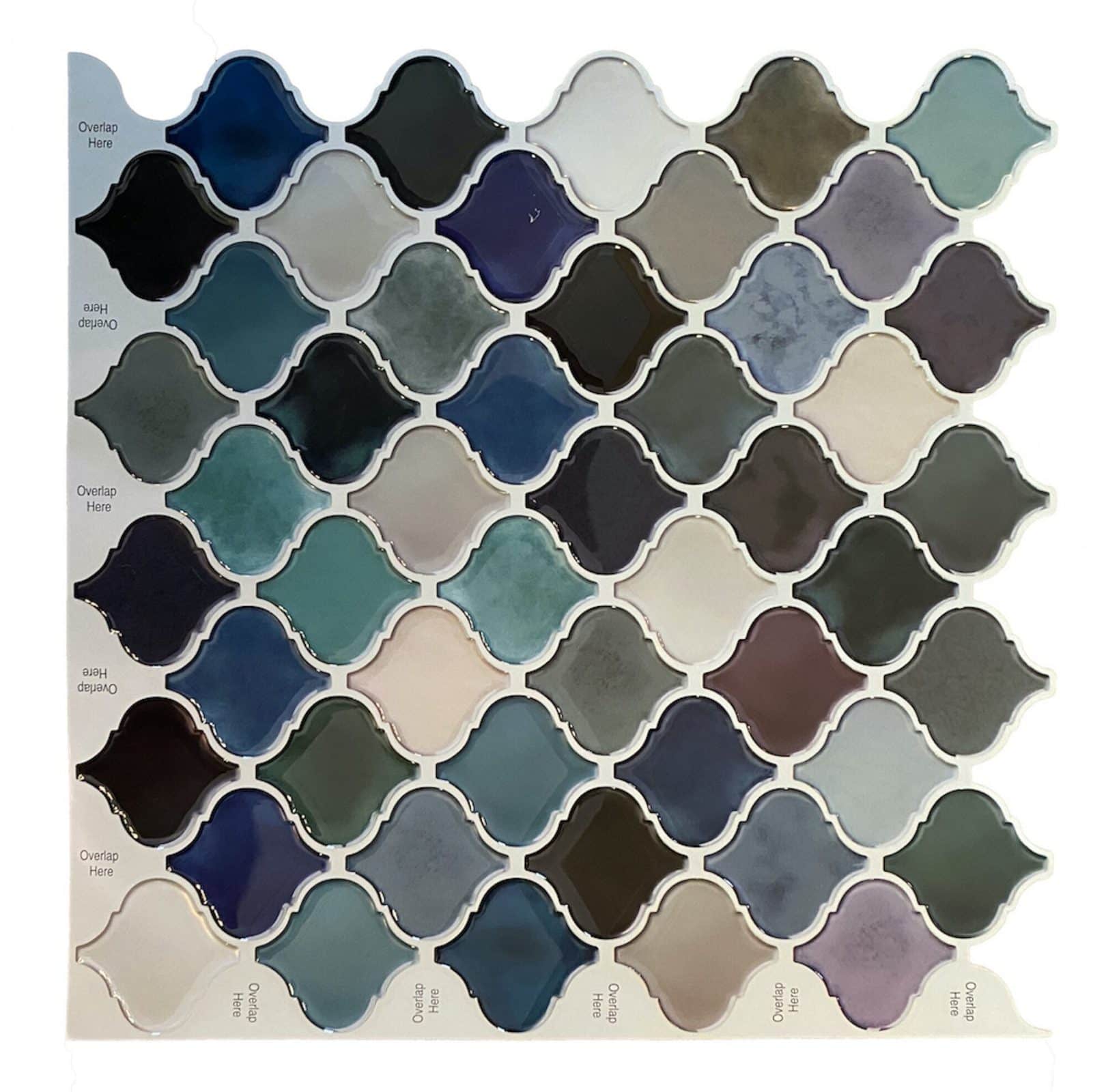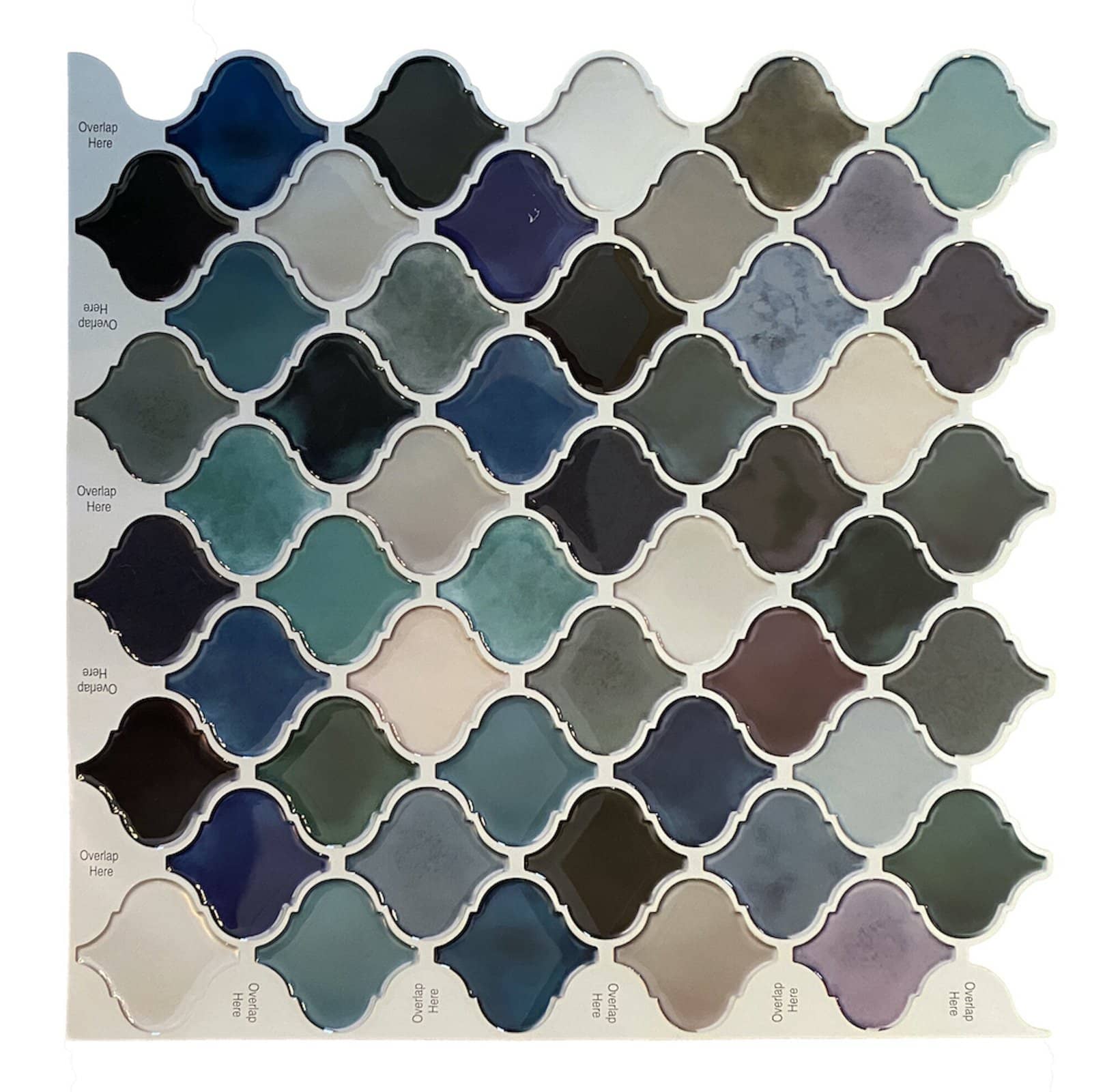 Another easy option for basement ceilings is using peel and stick PVC mosaic tiles. This is the easiest way to have a multi-tile ceiling. It's a way more economical option as well. You can find a variety of styles, colors, and themes for these lovely mosaic tiles.
Or, if you're not pressed for time and want to get super creative with it, you can piece together your own PVC tile mosaic collection.
Try Beveled Mirror Tiles – Especially for Dark Rooms or Low Ceilings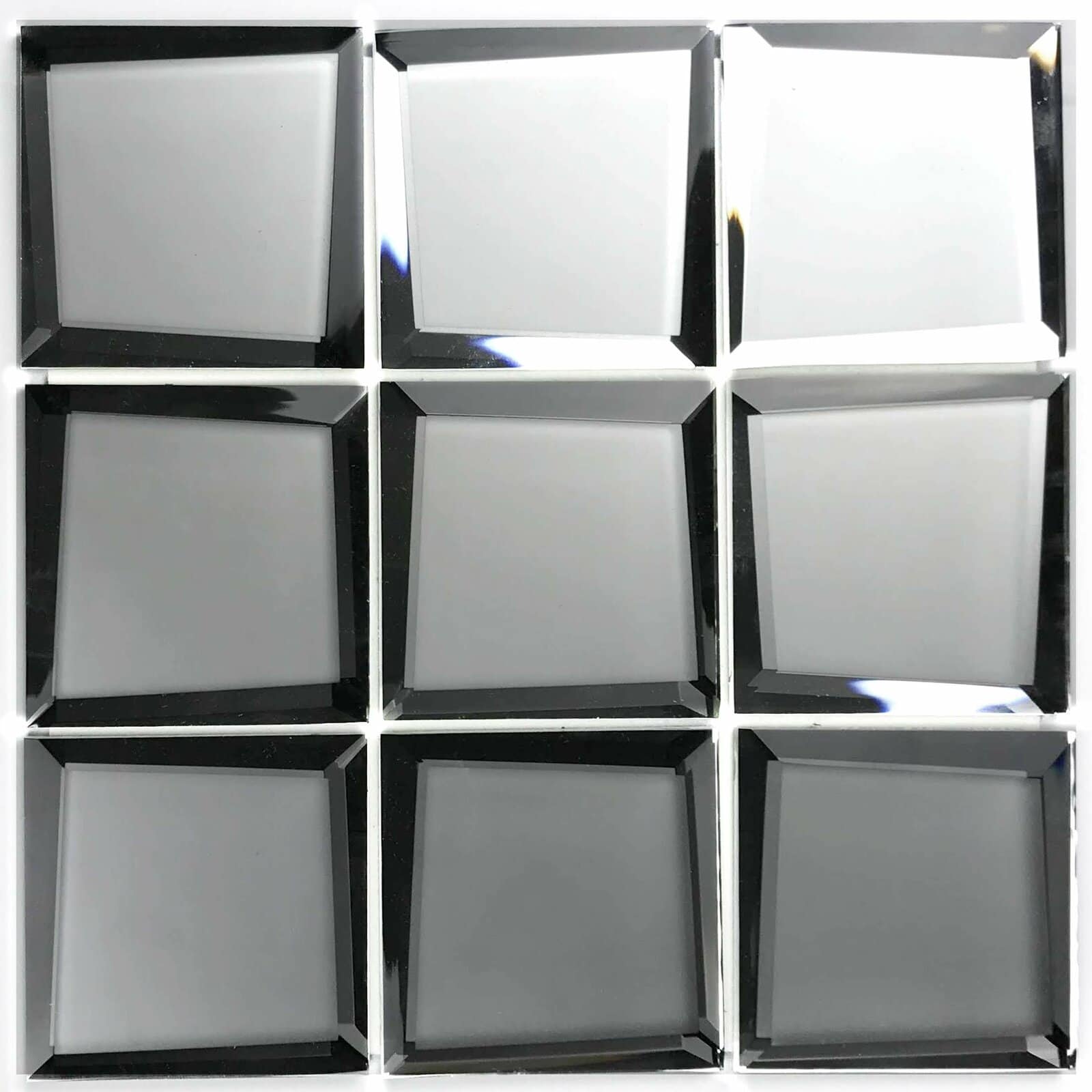 If you've got a low ceiling or dark basement, a great way to add some depth, vibrance, and light is by installing some beveled mirror tiles. If you install mirrored tiles with enough lights, you'll find light bouncing around the room, opening up the space. Add some white walls and you'll find the room opens up even more.
Install a Lay-In Coffered Ceiling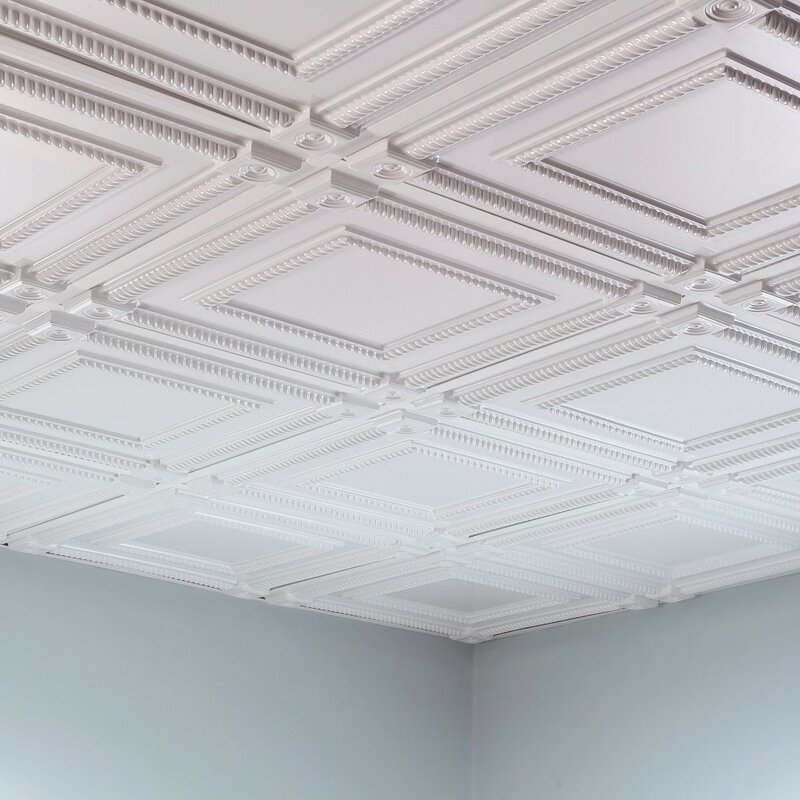 A beautiful coffered ceiling like this one is simpler to install than it looks. These tiles are actually lay-in tiles and won't be as challenging to install as they seem. They're beautiful and reasonably priced, especially for such an elegant looking option.
They truly create a unique and stunning focal point anywhere, so if you're hanging out in the basement with friends or decide to have your office down there, you'll find if your eyes wander to above, you'll find intricate, beautiful designs to enjoy.
Use Textured Vinyl Tiles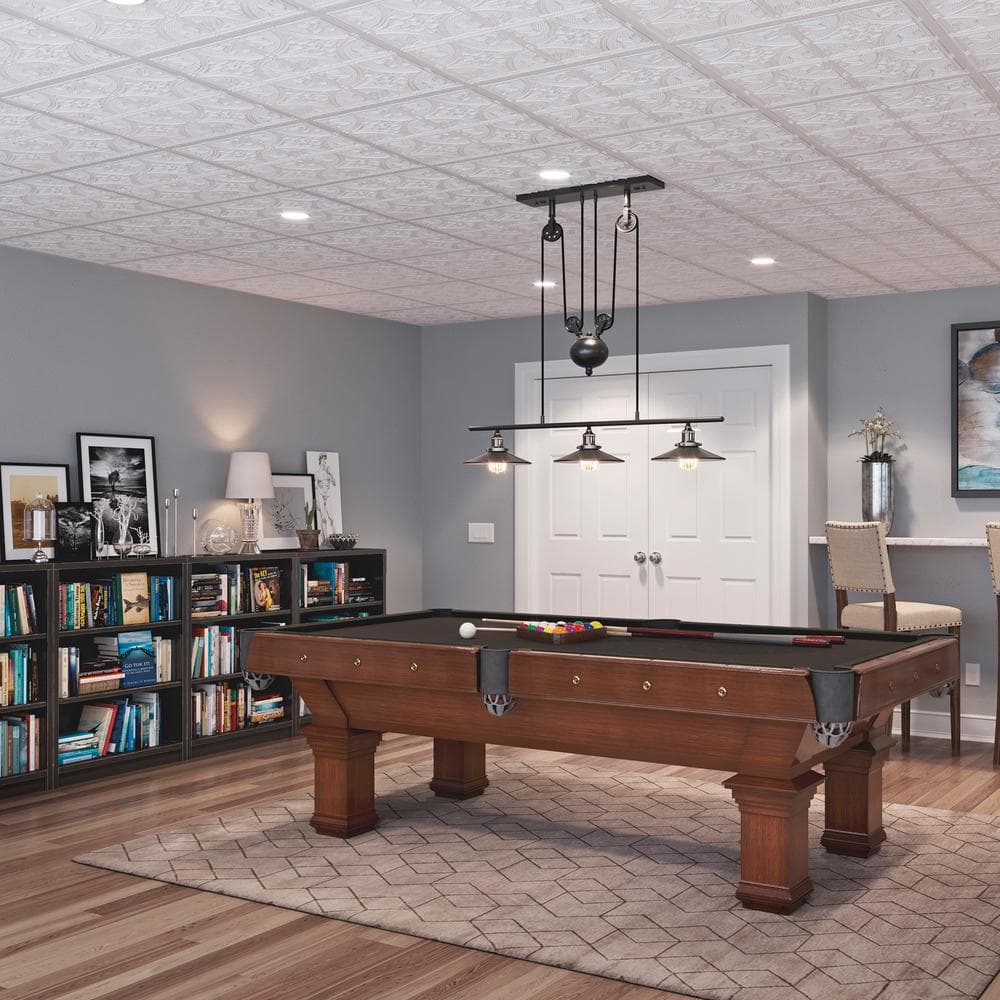 Another simple yet beautiful option is the texture vinyl tiles you can install without major issues. They're truly a lovely, delicate-looking option that can withstand the rigors of real life without a lot of maintenance.
Use Rich, Art Deco Tiles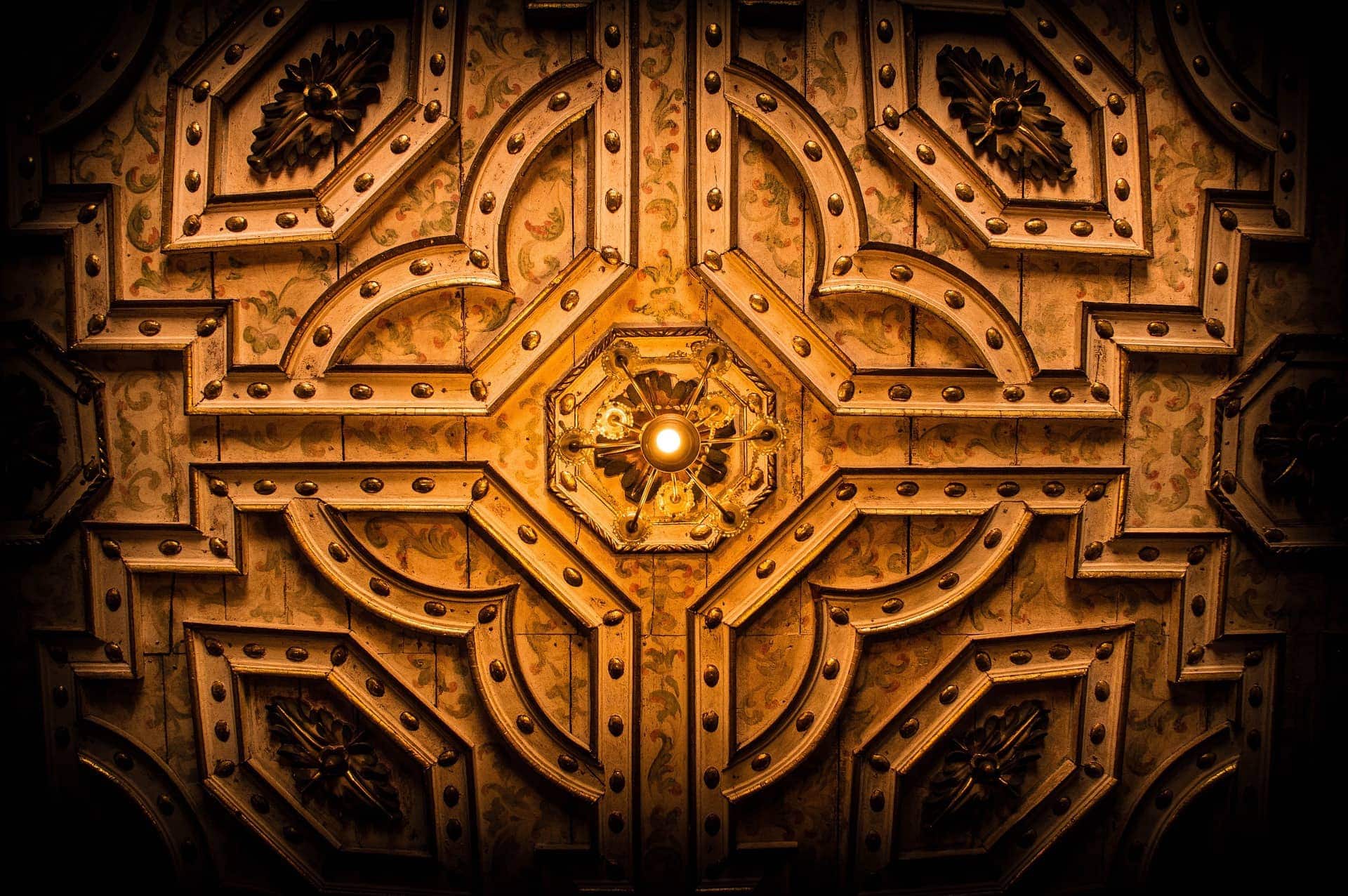 If you love an old world feel, install some art deco tiles. Whatever style you use – drop ceiling, stick-on tiles – you'll find this rich, elegant look transforms your basement into an elegant world. These will be a pricier option, certainly, but they're absolutely worth it for that true vintage feel.
You can find art deco tiles in a variety of styles and shades to suit whatever color scheme you're planning to install in your beautiful basement.
Enjoy a Cloudy Sky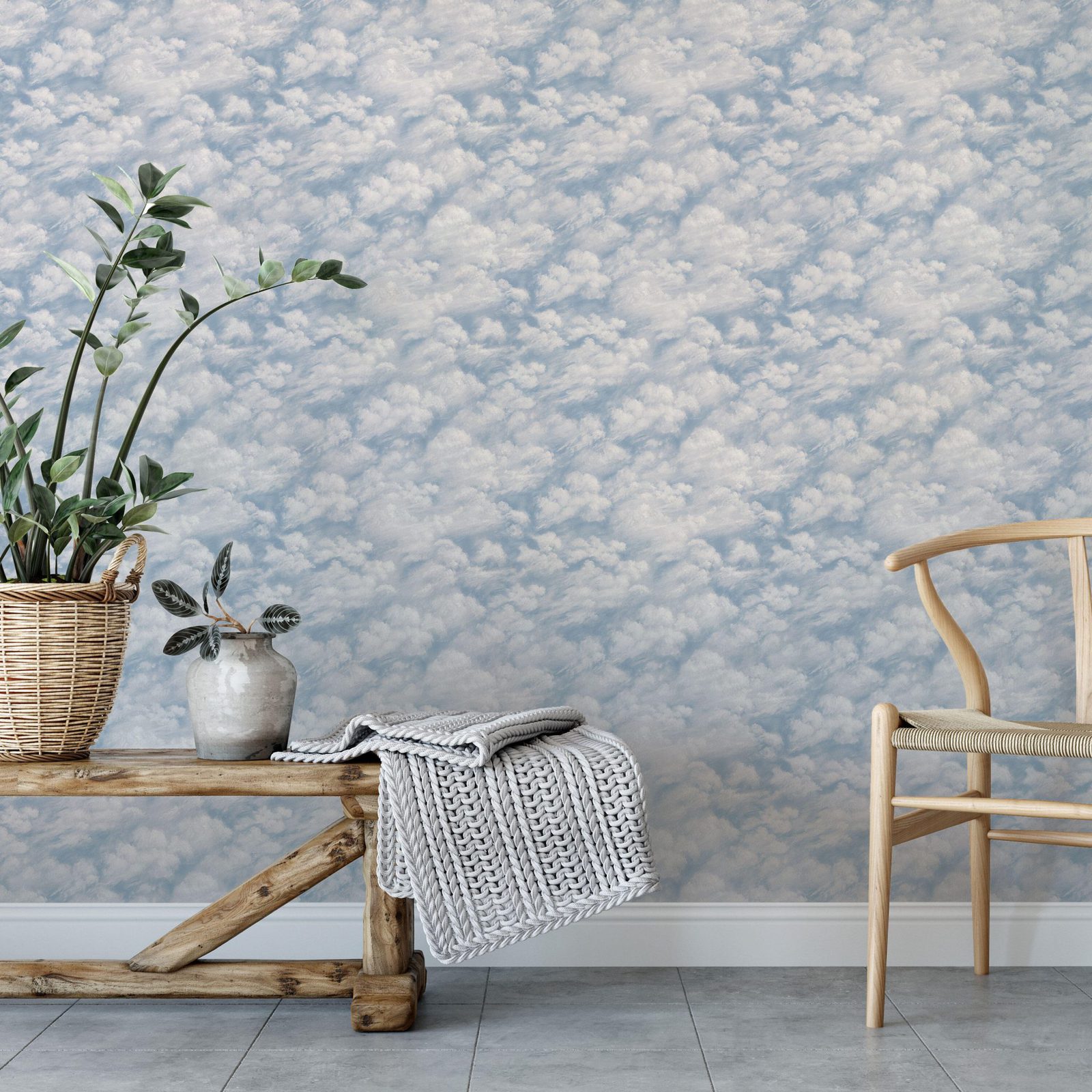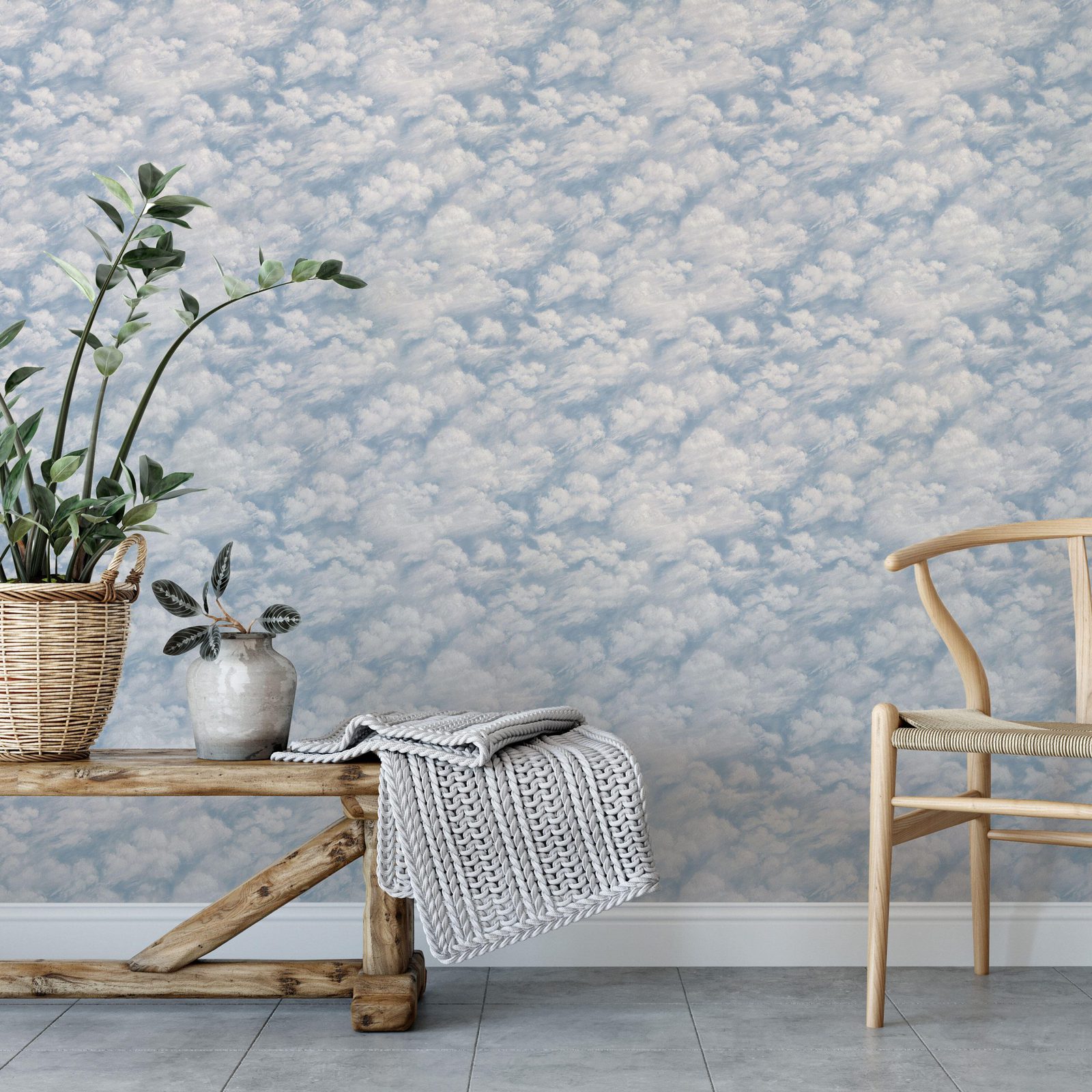 While this image is clearly on a wall, we'd like to suggest transferring the concept of a cloudy sky wall decal into an open-sky ceiling for your basement. Ceiling papers and wallpapers work the same way and come in a variety of patterns.
So, if you're looking to make your basement a magical spot where you can wile away the hours in creativity, there's nothing quite so inspiring as an open sky. The best part here is it's daylight any time of day, and the clouds never turn stormy.
Of course, if you prefer, you can always get a starry night time sky decal, forest tops with spots of sky peaking through, or just about any other natural view you'd love.
Turn Your Basement Ceiling Into a Plant Paradise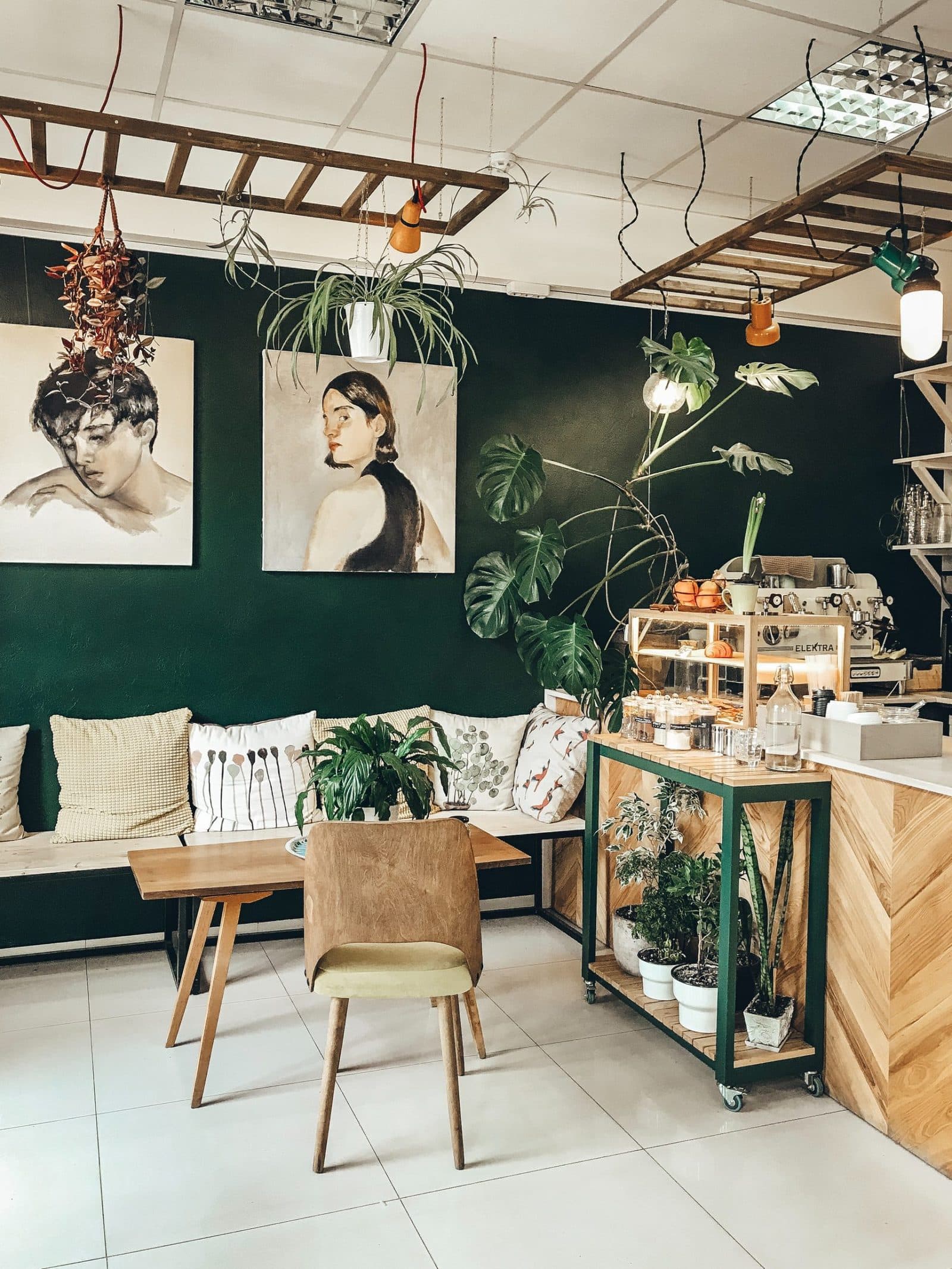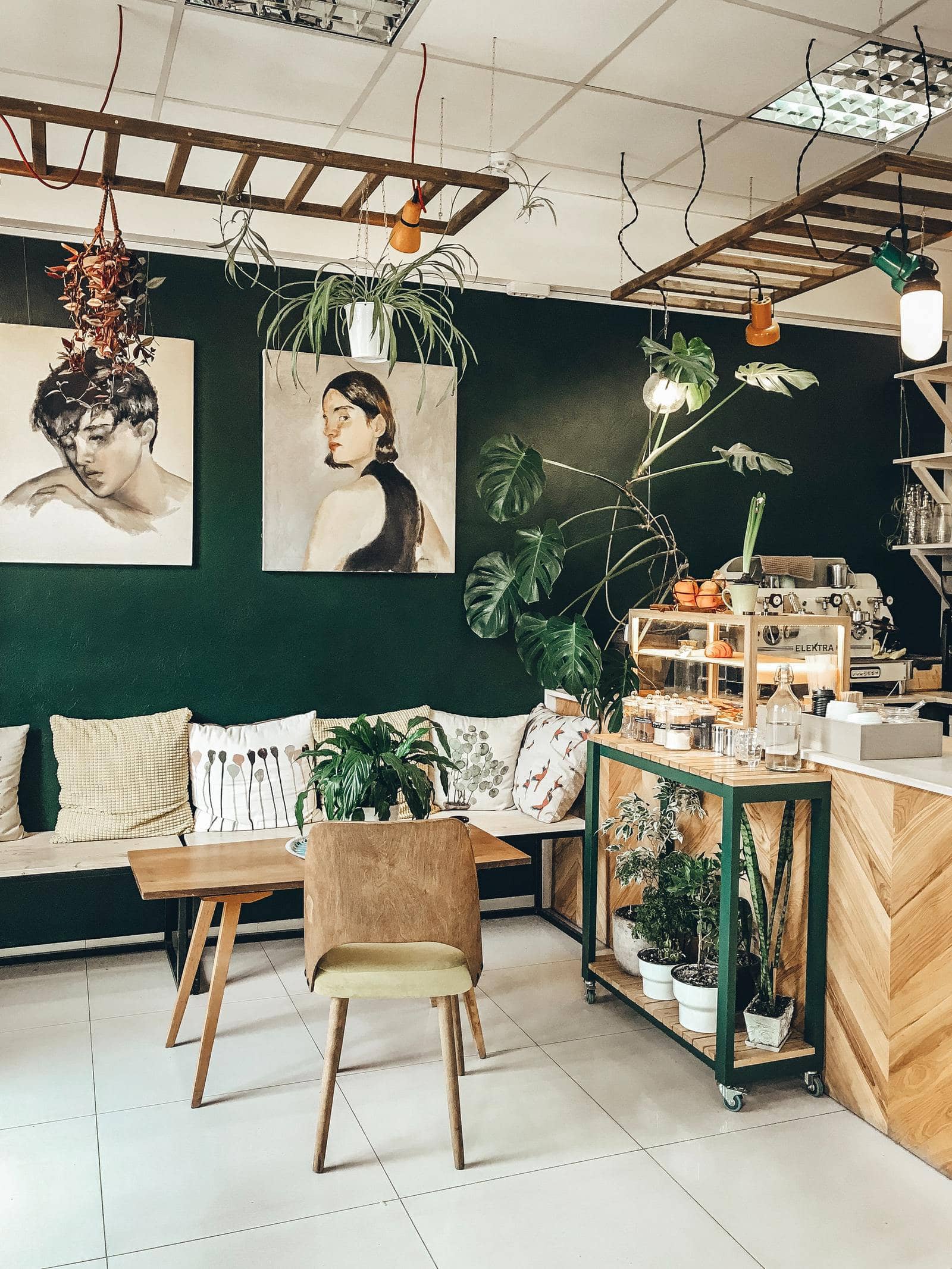 For folks who love plants and have a window or two beaming sunlight down into the basement, try this wood basement ceiling with hanging planters and enjoy a little plant paradise. If you don't have windows opening down in there, add some LED lights or use artificial plants instead to achieve the same look.
Uncover Beams and Raw Ceiling for an Industrial Look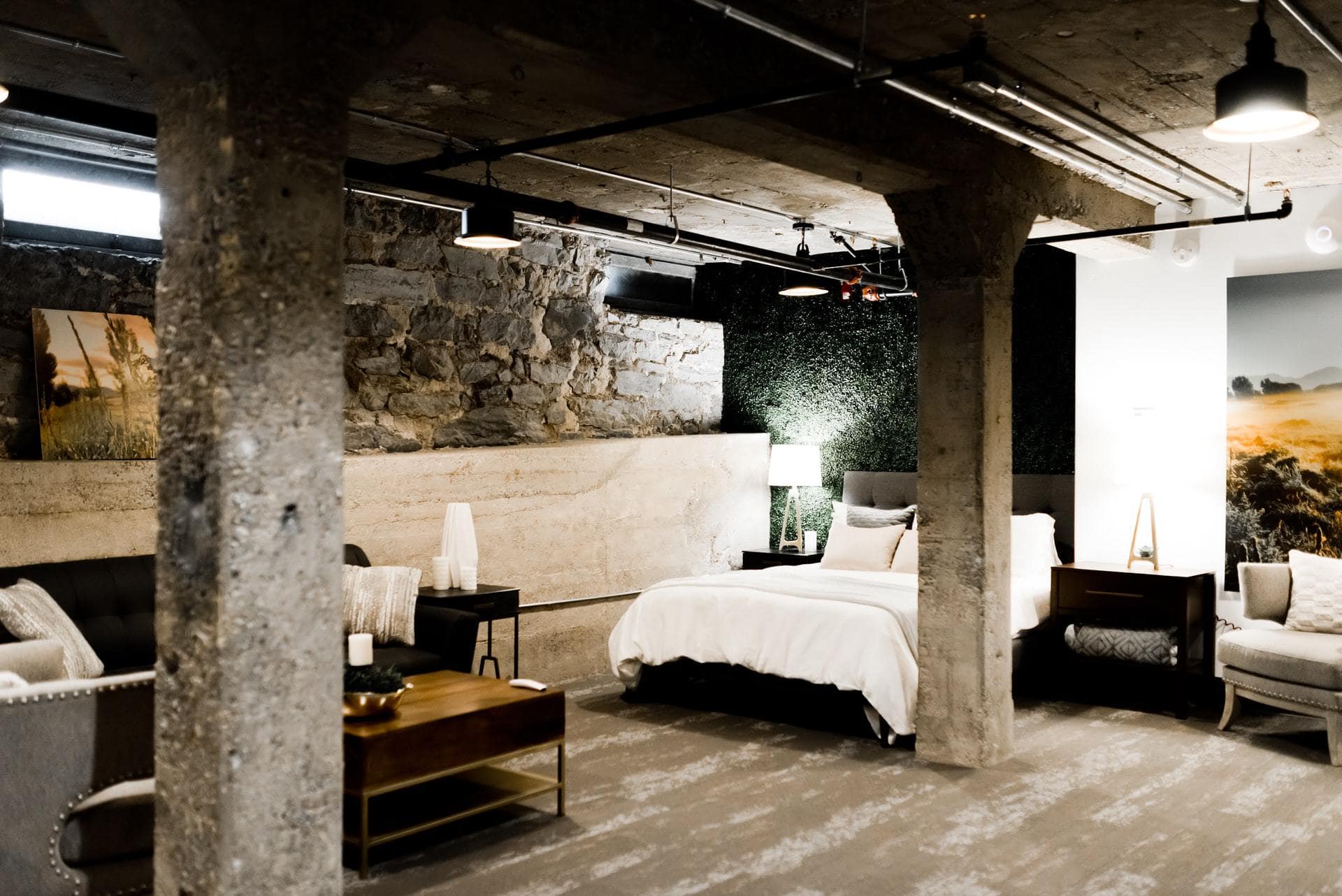 For a nice look for unfinished basement ceilings, try uncovering the ceiling that exists and exposing the beams and raw ceiling materials for a chic industrial look. For a completed look along these lines, leave the walls raw as well, showing off stone, brick, wood, or concrete.
You'll need to add some finishing coats or sealants but you won't need to paint the concrete. Add some industrial style decor touches, as well, and you'll have the perfect look.
Put Up Chandeliers on the Basement Ceiling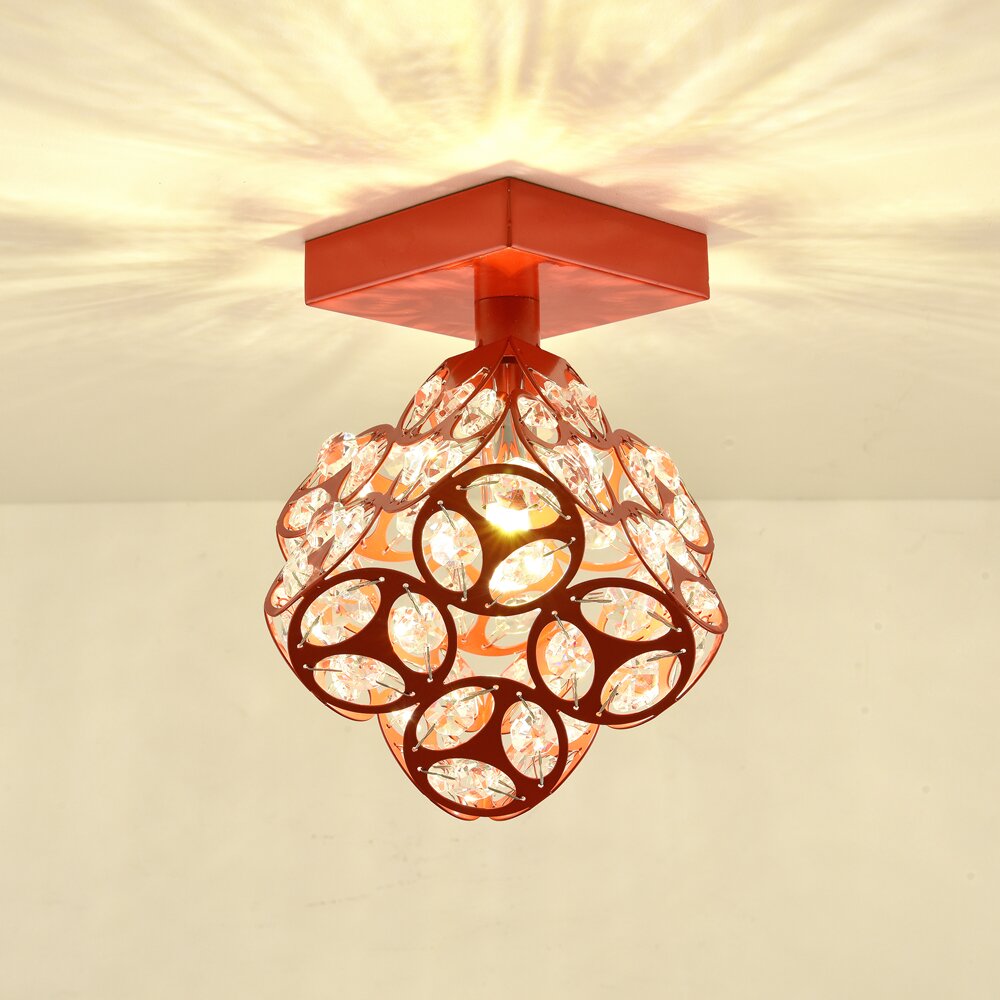 Chandeliers or other hanging lights look amazing and give a different appeal, depending on the design of the light. There are various types of hanging lights, and some of them come in colorful hoods or decorative designs like this one. Try them to add an accent to an otherwise boring basement.
When you have the right type of lighting at home, a dull ceiling will also come alive. Keep in mind that you need ample lighting to add beauty to just about any room and not just the basement.
Use a Basement Ceiling Fan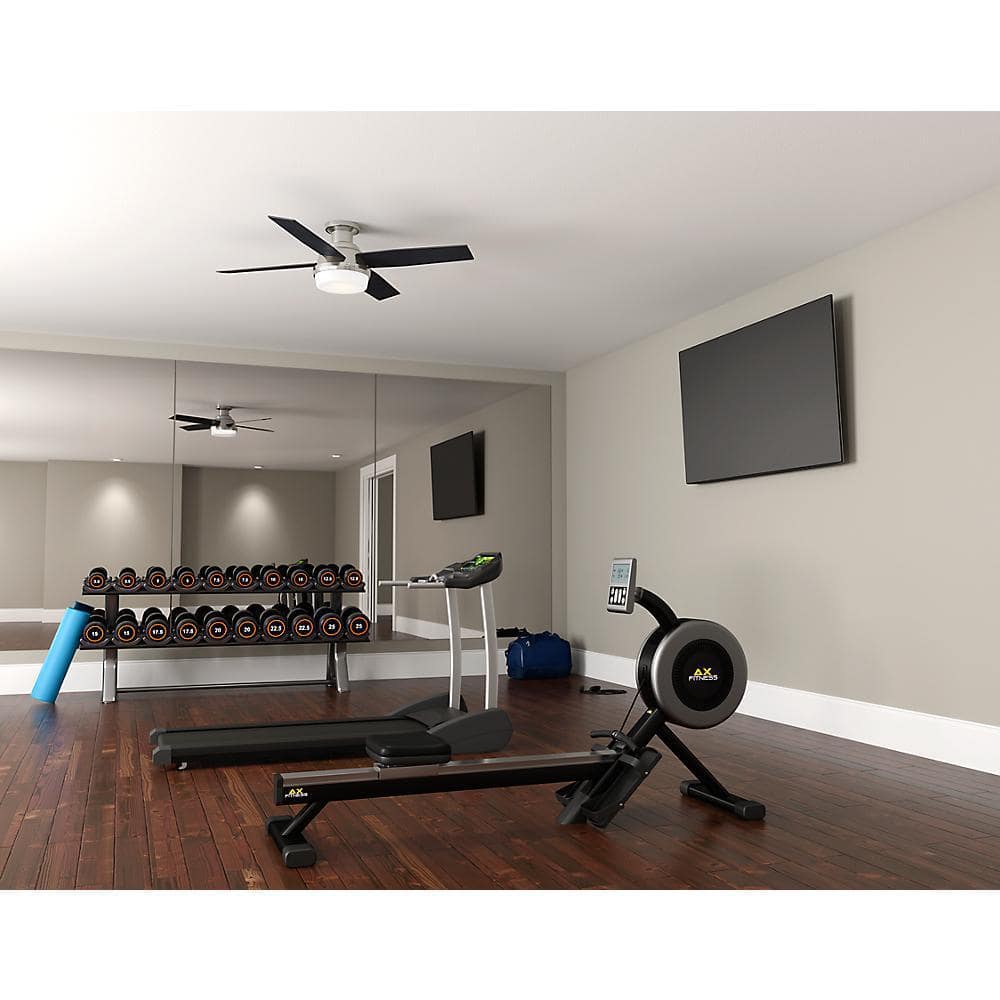 Basements are often humid, which is why it will be a good idea to install a fan there. And not just a ceiling fan, but you might also want to install an exhaust fan as well so it can suck out the stale air and improve air circulation.
When you install a fan in the basement, make sure it goes with the theme of the place. There are fans that have light bulbs built into them. They can be a good choice because basements don't get any natural lighting so any extra lighting is good.
Create a Work of Art With Mosaics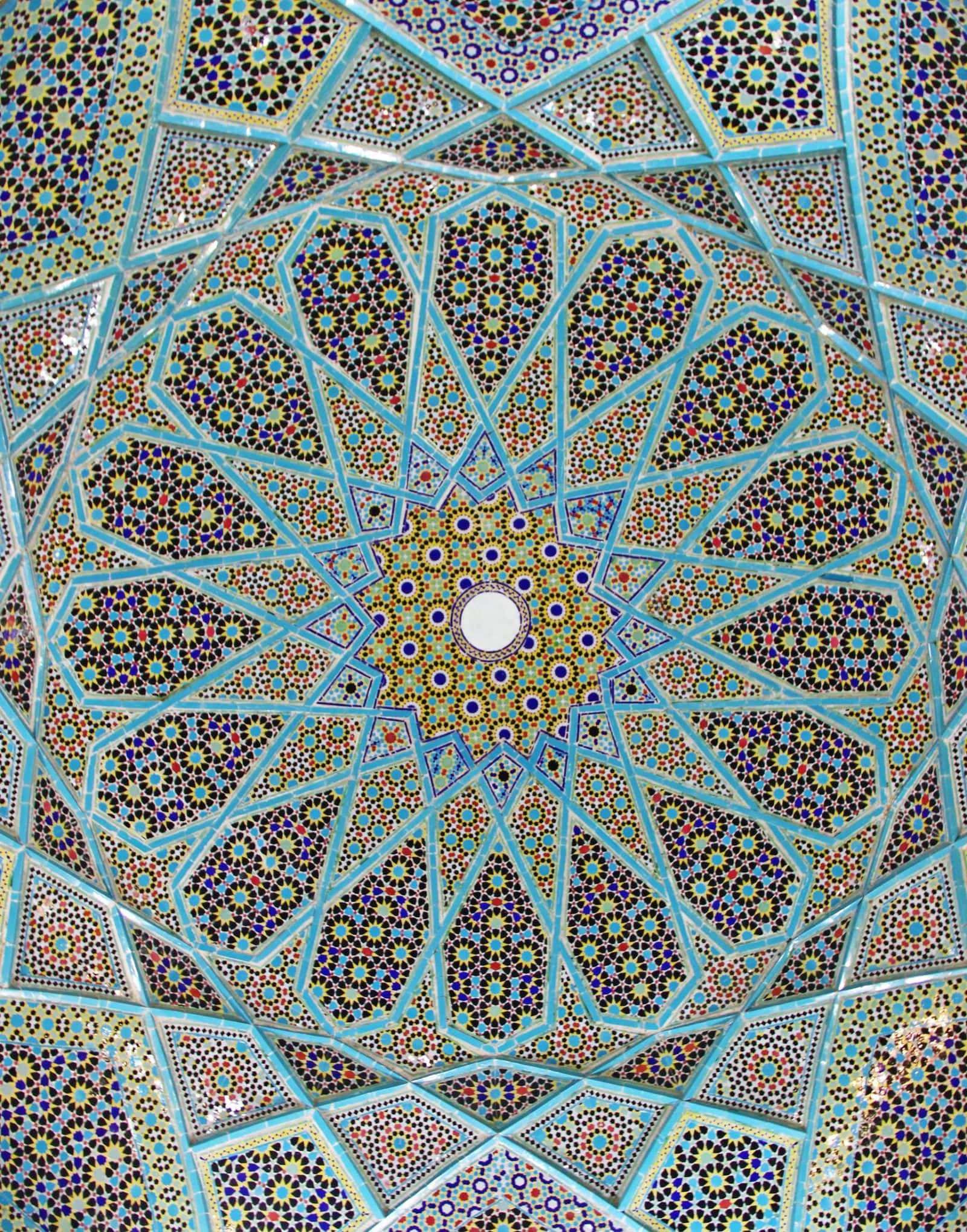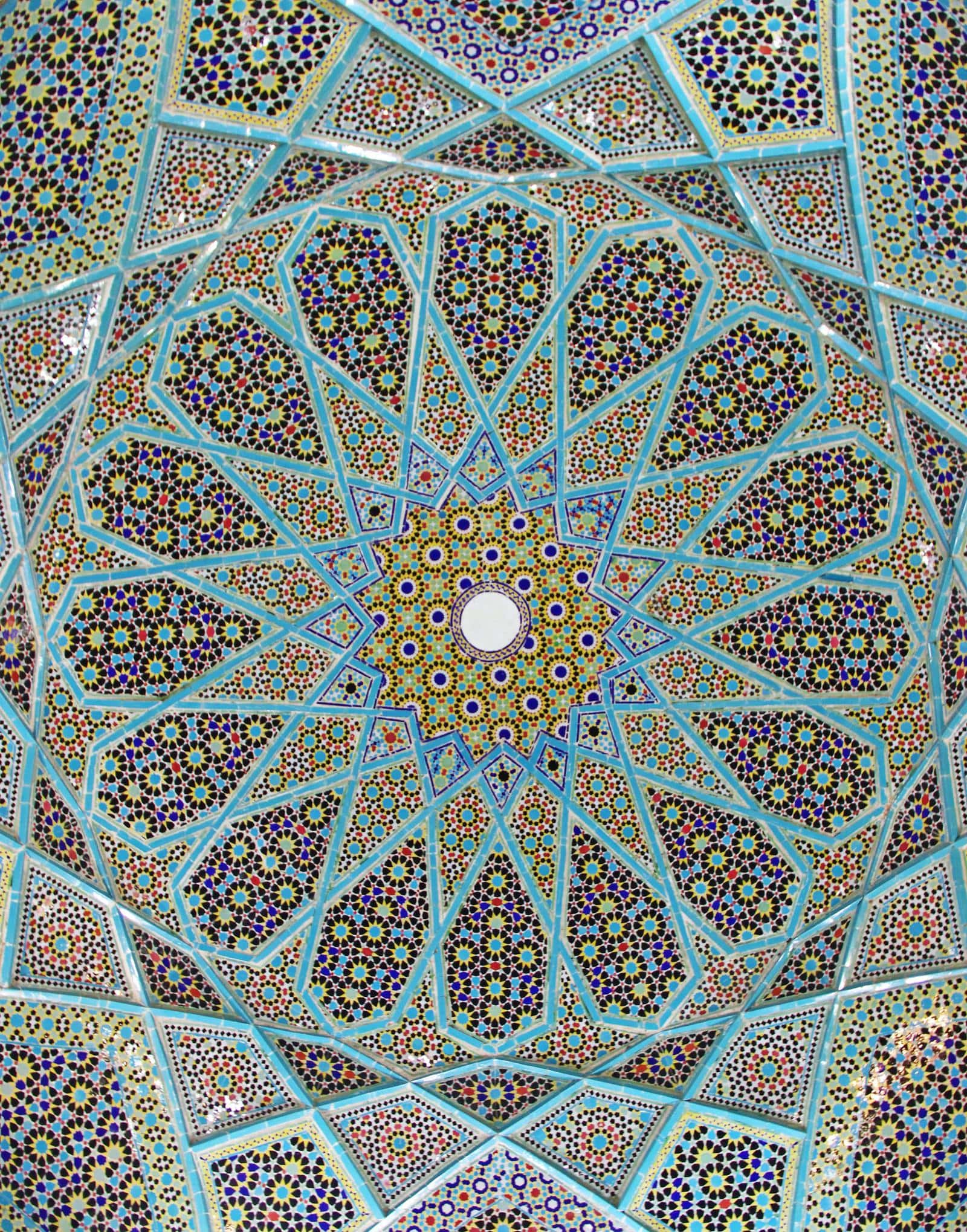 For the artist person, some great ceiling ideas for basement is finding some mosaics pieces – broken pottery, glass, or special pieces available on sites like Etsy and Michael's – and create a stunning ceiling like this.
You can find an assortment of designs on Pinterest and have some fun while you do up that amazing new basement ceiling.
Color the Ceiling Black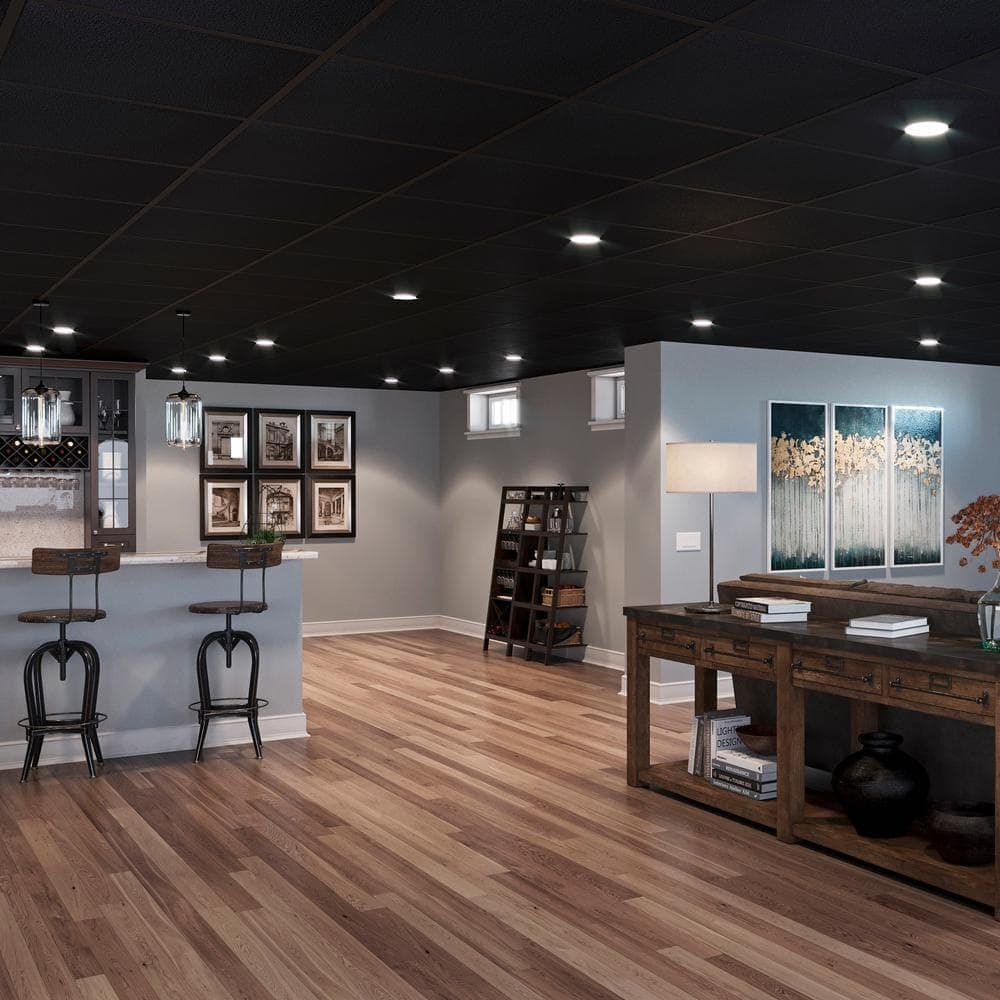 Try getting a ceiling that's black, dark brown, or any other darker shade. Black ceilings often go well with white walls. While your walls should be lightly colored to make the room appear bigger, black ceilings make the ceiling look a bit lower.
High ceilings are good, yes. But if there is too much space, a room can look cold and unfriendly. With dark ceilings, you get a warm feeling without losing out space in the room.
If you grew up thinking ceilings just have to be white (or light colored), this new theme will look fresh and new to you.
Install Styrofoam Ceiling Tiles on Your Own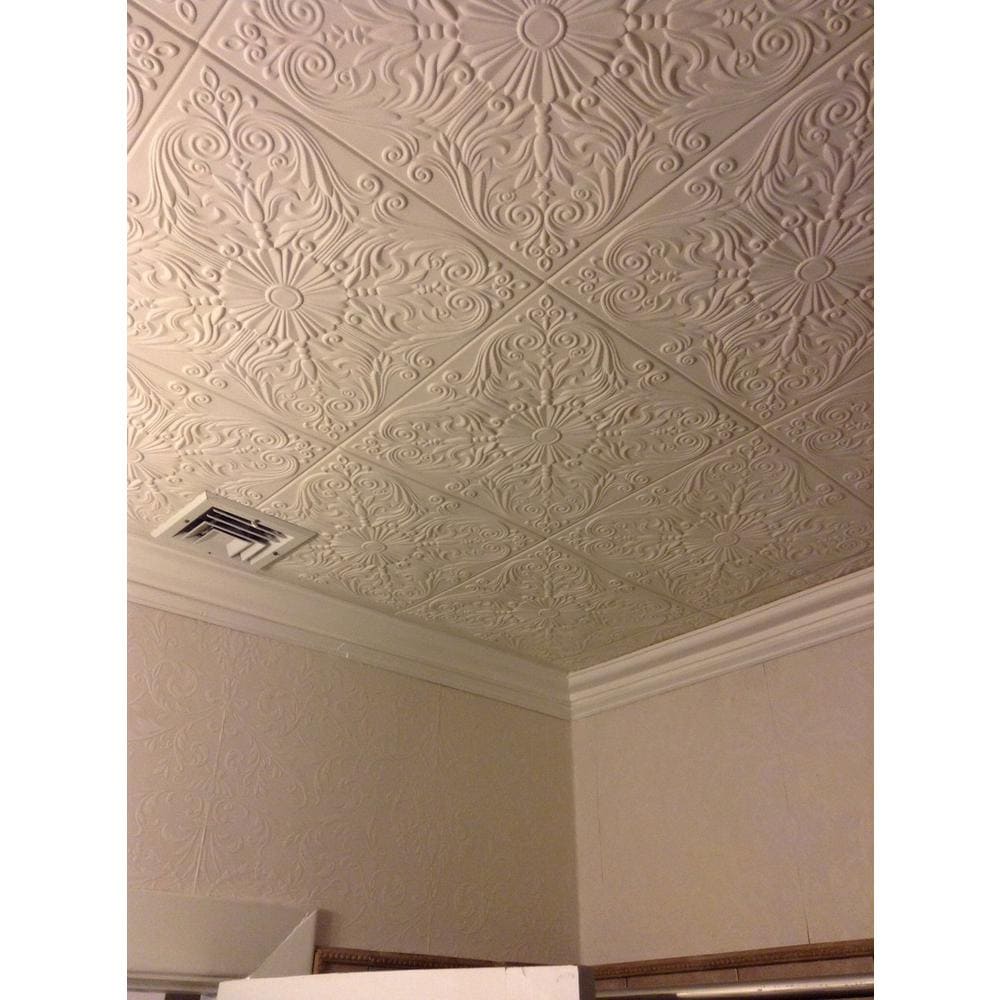 One of the best ceiling for basement options is the simple, inexpensive styrofoam ceiling tiles. They can save you a lot of money since they are easy to install and you'll save money by installing them yourself. And even if they're installed by you, they look like they've been installed by a pro. Besides, Styrofoam has insulation features, which means your home will stay warm in winter and cool in summer.
These tiles are available in a number of designs and patterns. And they go well with white walls. The white chandelier installed on the ceiling is looking beautiful. However, a different colored chandelier (not white) could be used to add an accent to the ceiling.
Expose the Wooden Beams and Planks for a Rich Look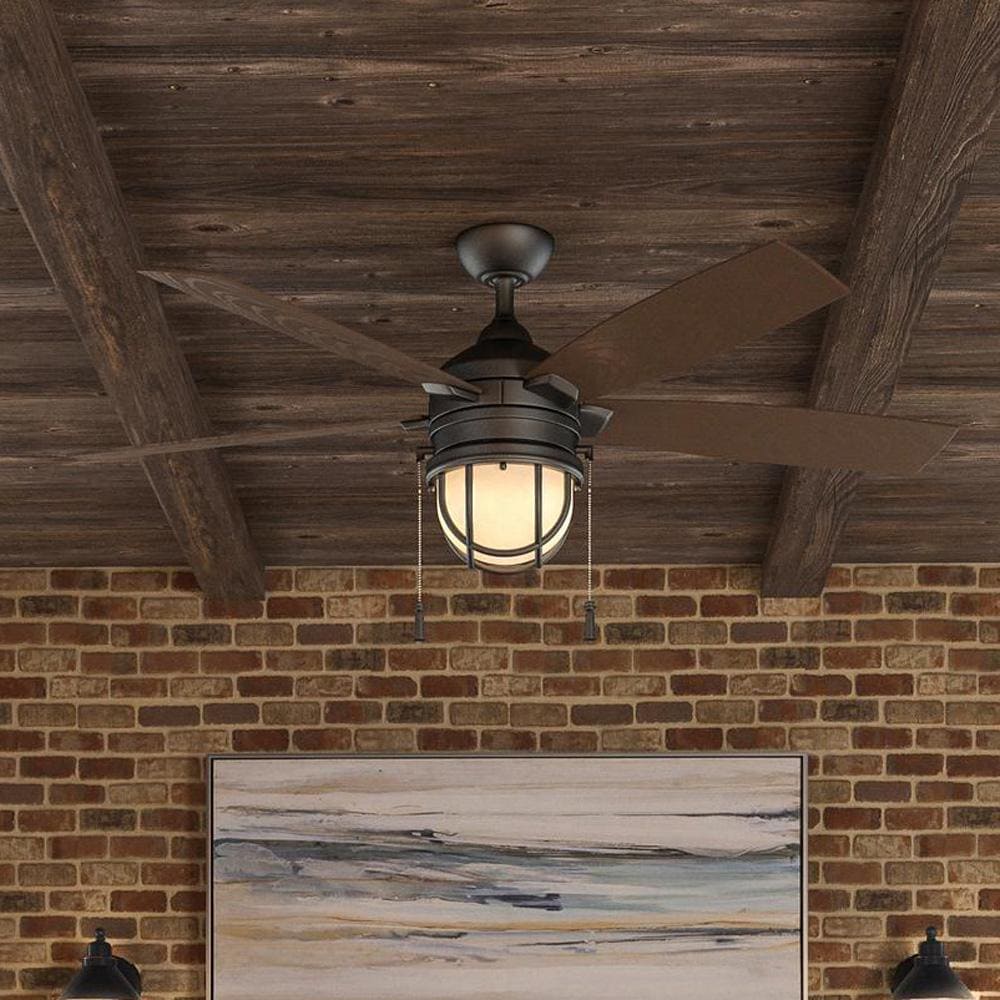 If you're wondering about how to finish a basement ceiling without a lot of extra work, you should try opening up the space by removing any old ceiling and simply exposing the beams and plants.
If the wood isn't in super attractive shape, you can add some lovely stains to freshen the looks up. Then, try adding a light fixture or ceiling fan to add some extra texture.
Instate a Luxurious Drop Ceiling in Antique Gold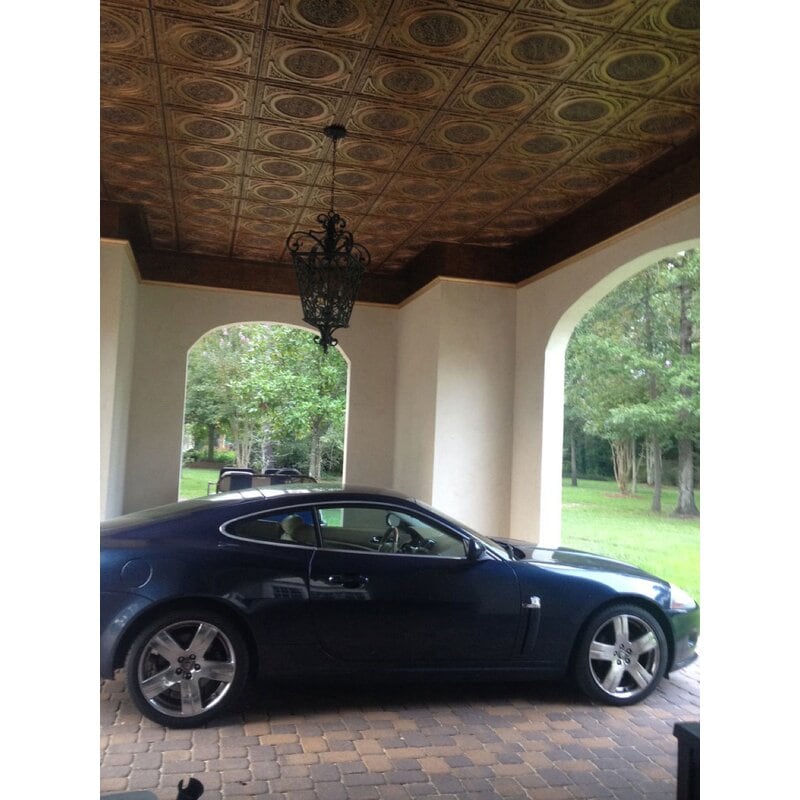 For a truly elegant look, try drop ceiling options for basements. Find some tiles with real class, like this antique gold collection from Wayfair. Antique gold tiles like these add a warm, dark feeling while also adding some vibrance and elegance.
Of course, with something as beautiful as this, the costs will go up. But if you're someone who liked to live their life in style and luxury, this will be your preferred choice. Hang a chandelier in the center to add to the grandeur of the place – or should I say palace?
How About a Simple Painted Ceiling?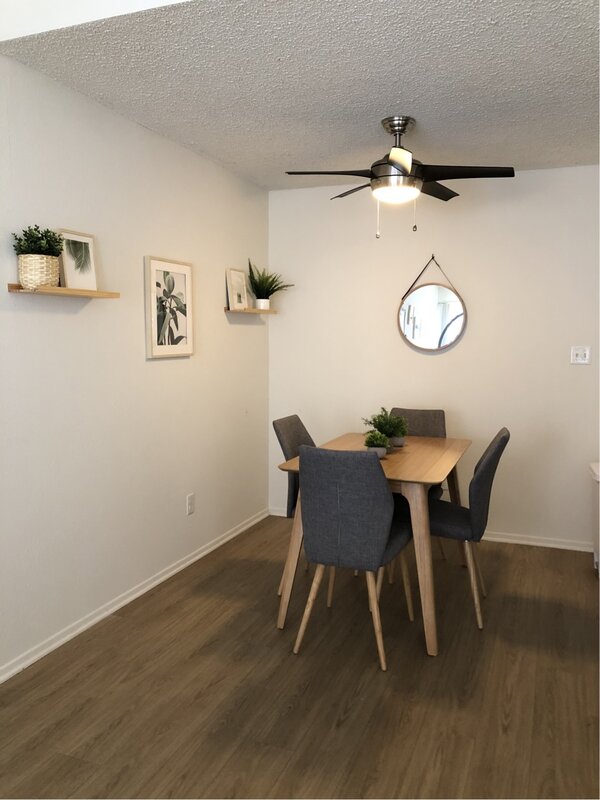 All these fancy ceilings failed to catch your attention? How about going back to the basics with just a simple layer of paint. Apply a coat and call it a day. Of course, everything looks pretty when there's ample lighting.
For great low basement ceiling solutions, one of the easiest is doing a simple painted ceiling. Choose a light color, like white or light gray. Add some mirrors on the walls and carefully placed lights and you'll notice the space opens up exponentially.
Get Creative with Unique Lamps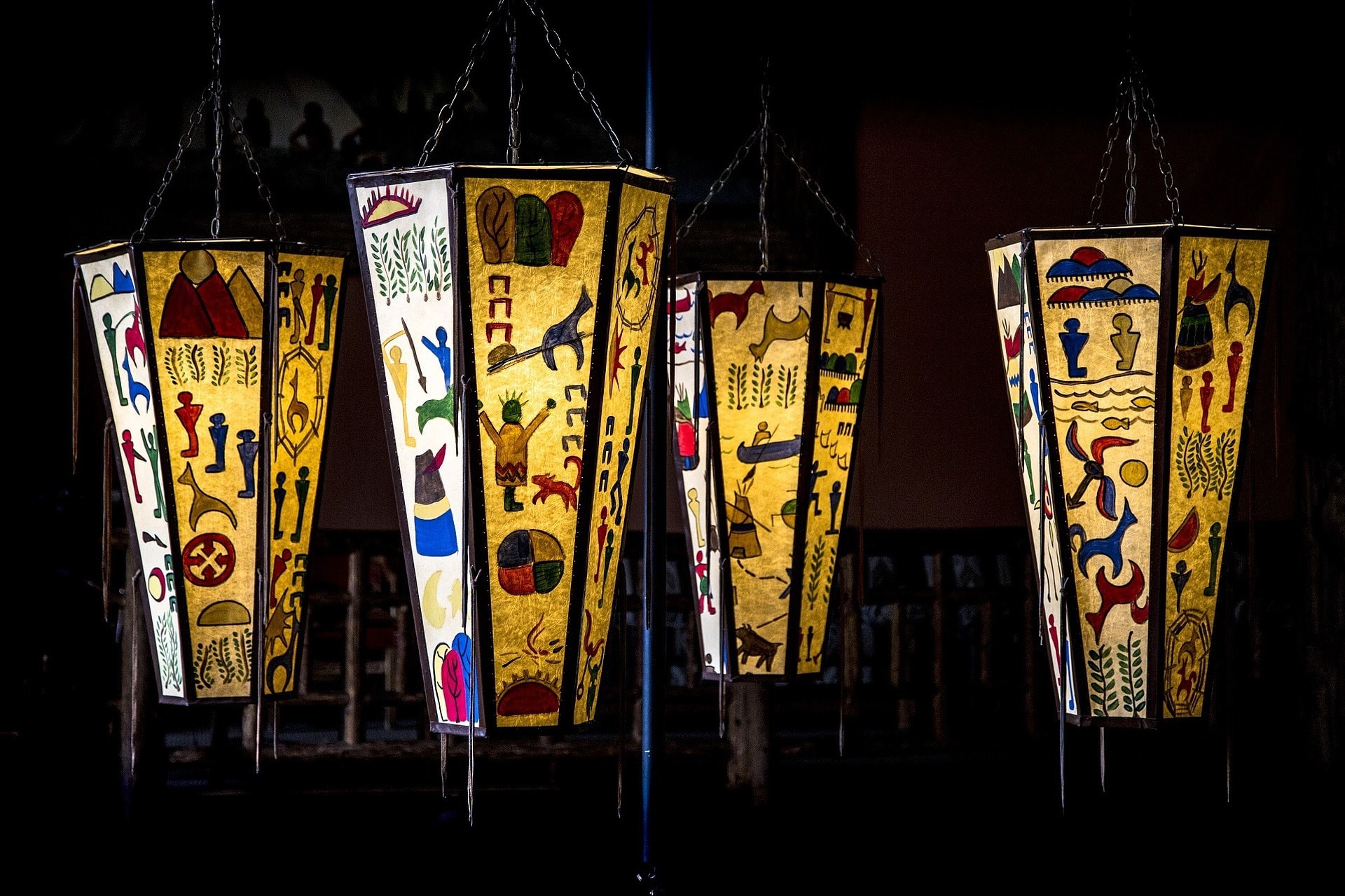 One of the best ceiling material for basement is what you've already got. You can add a coat of simple paint and then hang up some unique lamps to create a truly distinct and unusual but highly attractive look.
You add to the theme with other touches that match the lamps, or just enjoy an eclectic feel with complementary colors and styles.
Get a Ceiling Made of Old License Plates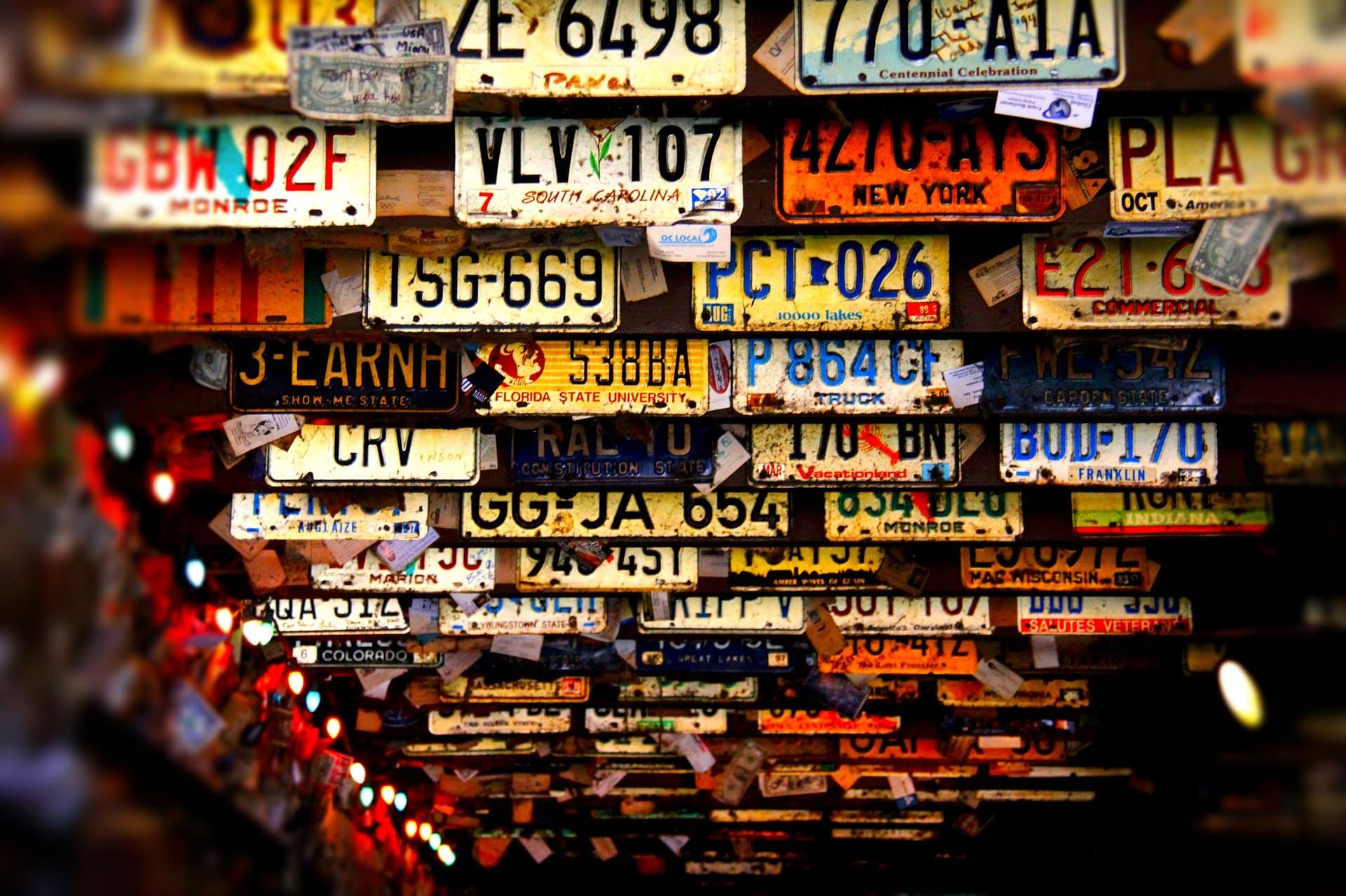 This is the perfect project for someone with an exposed basement ceiling they don't want to mess with too much. You'll just need to clean up any excess materials in the ceiling and collect some old license plates to use. You can find a bunch of options on sites like Etsy.
Measure the dimensions to understand how many plates you need to collect, then get a drill and start hanging. You can slowly build on the collection with a few select finds or get a bunch of old plates all at once and finish the ceiling in a few days.
Paint the Slats White and Leave the Beams Exposed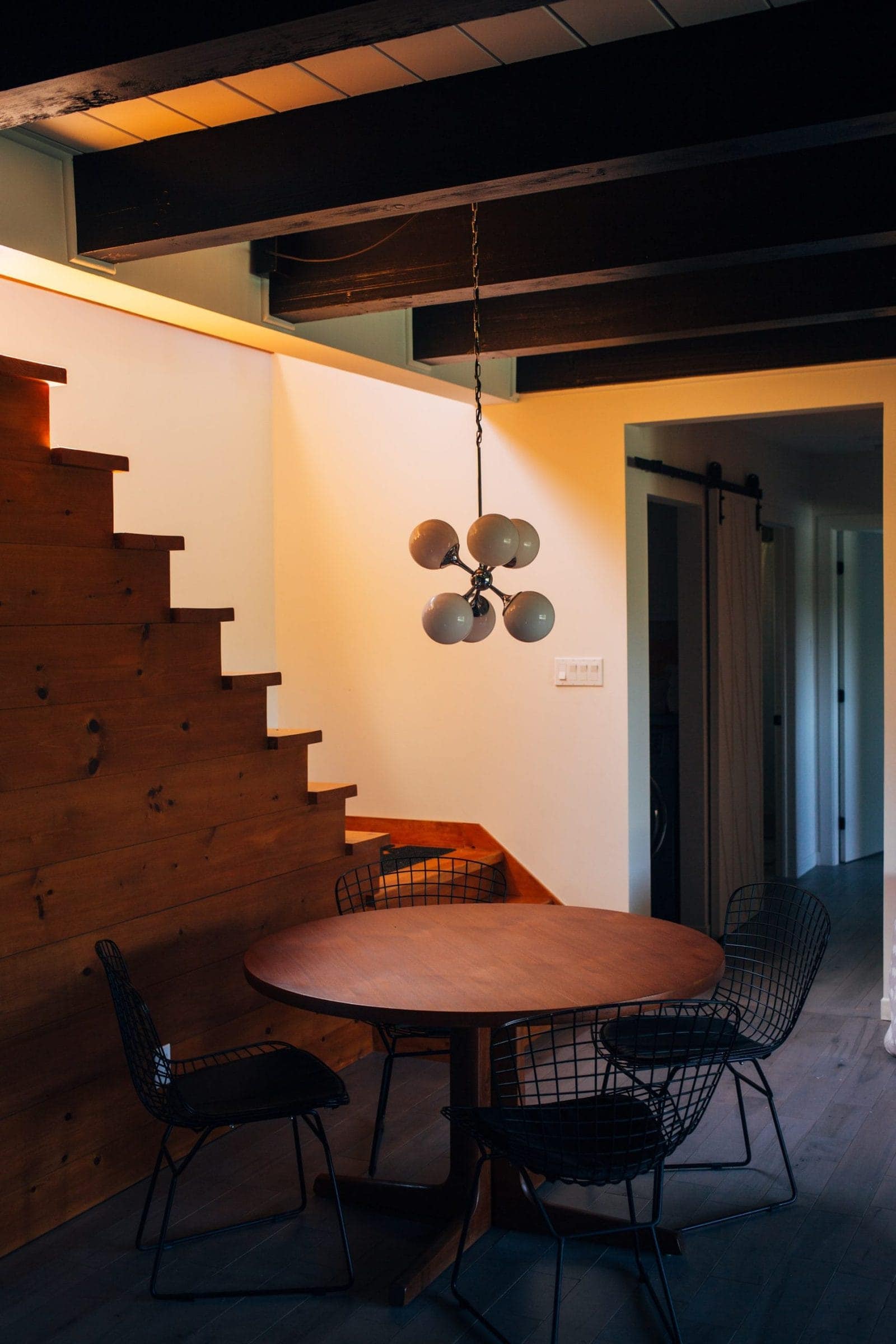 For a truly beautiful, rustic basement ceiling, try simply peeling back the layers of other materials and leave the beams exposed. Then, paint the woode slats between the beams with simple white paint. The simple look is elegant and easy – a winning option all around.
Install Old-Timer Style Tin Ceiling Tiles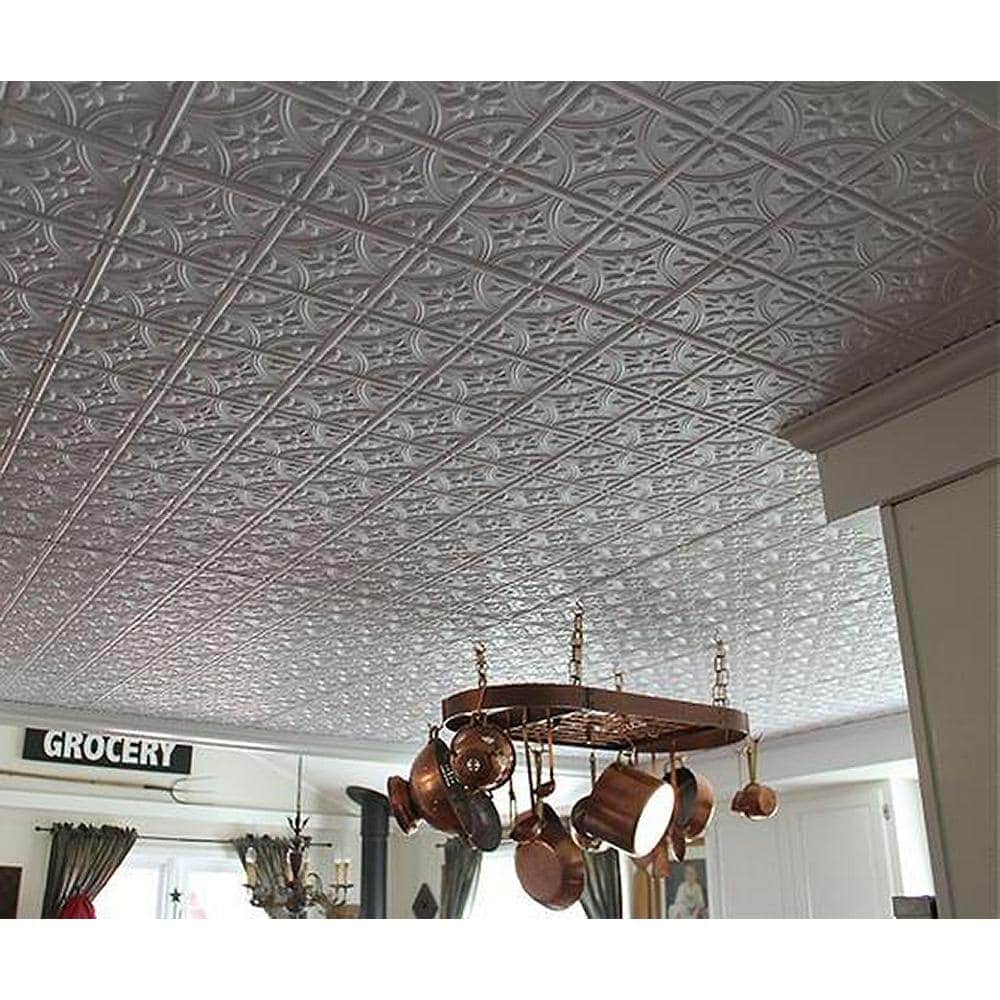 True tin ceiling tiles are a rarity any more, so authentic installation would be difficult. But, thankfully, this beautiful style has come back into fashion in recent years and now you can find options available at Home Depot, Wayfair, and other home improvement/home goods stores.
This style of ceiling dates back to the 19th Century when this kind of thin metal sheeting became readily available for the first time. Now, you can install this in your basement for an old-timer feel, extra light (unless you paint it!), and some simple, classical beauty.
What is Your Ceiling Choice?
There are so many ways in which you can install or set up a ceiling. However, since it's the basement, you need to decide who's going to visit it.
For example, if it's going to be your man/woman cave and not everyone's invited, it won't make much sense burning a hole in your wallet, putting up heavy wooden and metal ceilings. But if you're planning to turn it into another apartment, spending some extra dollars won't hurt. Make your choices after careful planning.