We independently select these products — if you buy from one of our links, we may earn a commission.
25 Unique and Astoundingly Beautiful Basement Ceiling Ideas
Basements are often thought of as casual spaces. Not generally frequently visited (and sometimes used as storerooms), you might not put a lot of thought into your basement ceiling. Besides, basements often have low ceilings, which is why many people don't give much thought to them.
But as more people have started using basements as regular spaces, it's time to give more thought to their ceilings. Here are some basement ceiling ideas to get a cool looking basement.
Get a Stylish Beadboard Ceiling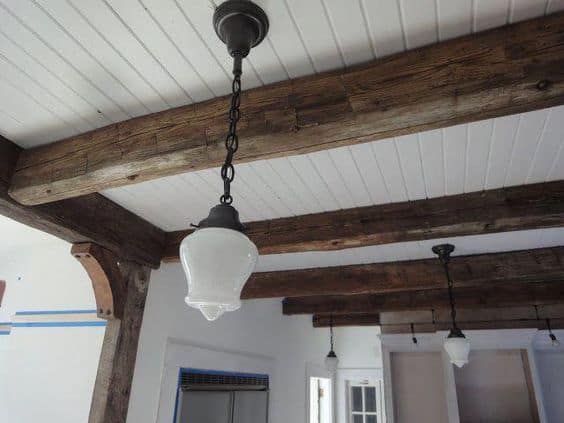 Beadboard ceilings with exposed beams give a look that's an amalgamation of modern design and vintage art. If you watch home remodeling shows, you know beadboard is a popular choice and it's also a prominent product in the isles of home improvement stores.
While the beadboard looks contemporary, it actually dates back to the Victorian era. It's durable and gives a warm cottage like feel to a home. This is why it's perfect for a basement, especially if the ceilings are low. And since it adds a degree of insulation, your basement will be warmer than usual on cold winter mornings.
Try a Beautiful Wooden Ceiling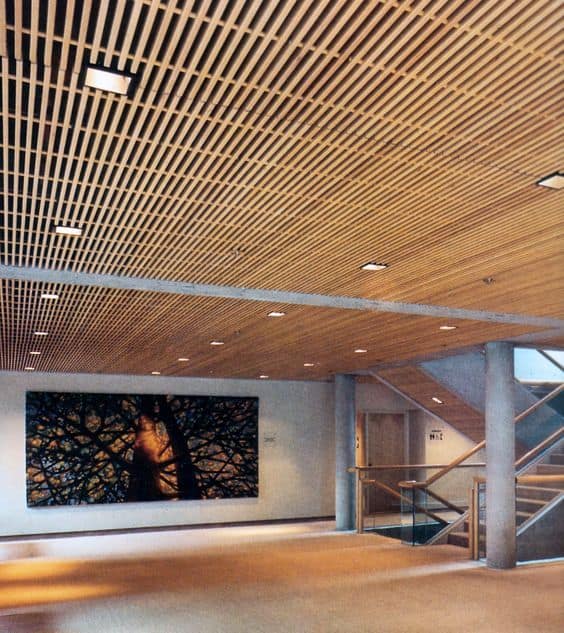 Wooden ceilings are timeless and forever beautiful. And there are so many ways in which they can be installed. Check out these wooden slat type ceilings that are stylish and practical. The entire basement is illuminated with beautiful ceiling lights.
If you wish to convert your basement into a guest room or even an entire apartment for renting purposes, it's important to have a good looking ceiling. If you have wooden floors, wooden ceilings will add to the theme of the area.
Make sure the unfinished ceiling and trusses are painted black before the wooden slats are installed.
How About a Corrugated Metal Ceiling?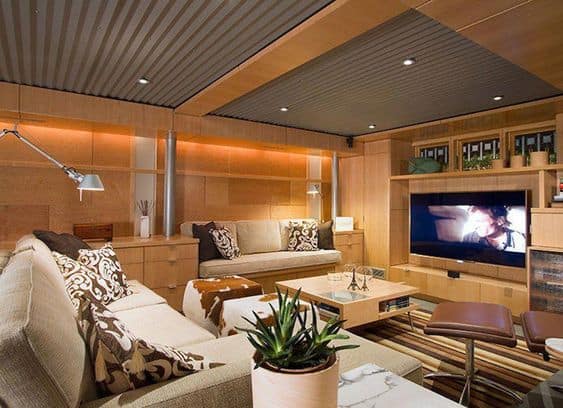 Corrugated metal ceilings have been around for years. While they are preferred mainly for their durability and low cost, they aren't the most glamorous option – until you give a new twist to them,
Check out this corrugated metal ceiling that's not just low cost but also stylish. And the strategically placed lights give it a glamorous and contemporary look. The entire room has a wooden look and this is why metal ceilings are installed with wooden frames.
Here's the thing about an old and boring metal ceiling – if you're creative, you can make anything look chic and fashionable.
Check Out a Minimalist Drywall Ceiling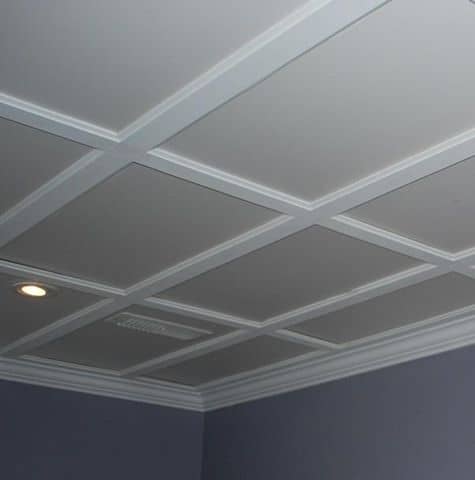 Drywall is easy to install so if you're a DIYer, this can be a good choice for you. Apart from that, drywall is also durable. Drywall ceilings have a plain and minimal look, which is desirable by many homeowners. However, since it doesn't look like it's handcrafted, this can turn many people away from drywall.
But it's an affordable and decent option. Also, it can be painted in any color you desire. But in any case, if drywall isn't something you prefer, there are several other basement ceiling choices for you.
Go Through an Assortment of PVC Ceiling Choices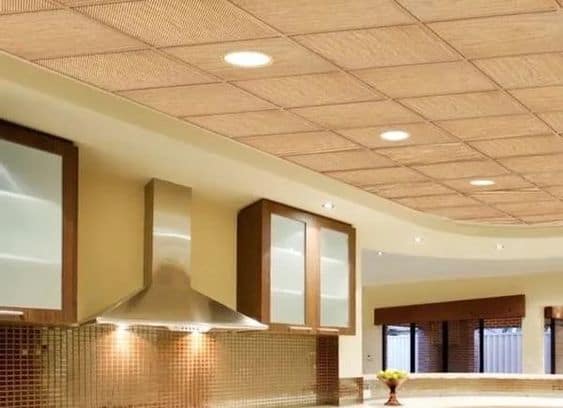 PVC or Poly Vinyl Chloride is a thermoplastic material that can be used on walls as well as ceilings. It is available in a number of colors, designs, and textures. You can even get faux wooden or faux natural stone design using PVC.
PVC is fire retardant and waterproof. These tiles are available in glossy or matte varieties. PVC ceilings are suitable for both dry and humid environments.
Since PVC is affordable, beautiful, durable, and practically maintenance-free, they are a popular choice for basement ceilings. No matter what your basement theme is, PVC will fit right in.
Get a Basement Ceiling That's Also a Bookshelf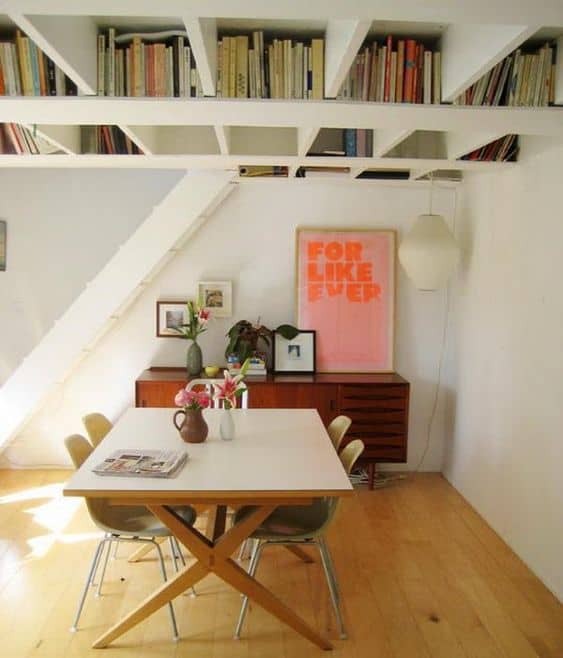 Book lovers will find some way to turn something into a library. If you don't have an extra room for that, turn your basement into a library. And if you don't have enough wall space for bookracks, turn your basement ceiling into a library!
Check out this unique concept. There's a stairway that will take you to books and you'll be able to take out and enjoy your favorite book. Books deserve special treatment because they take you to another world – the world of imagination. Try this sectioned ceiling and keep your books here.
Try a Fashionable Brick Ceiling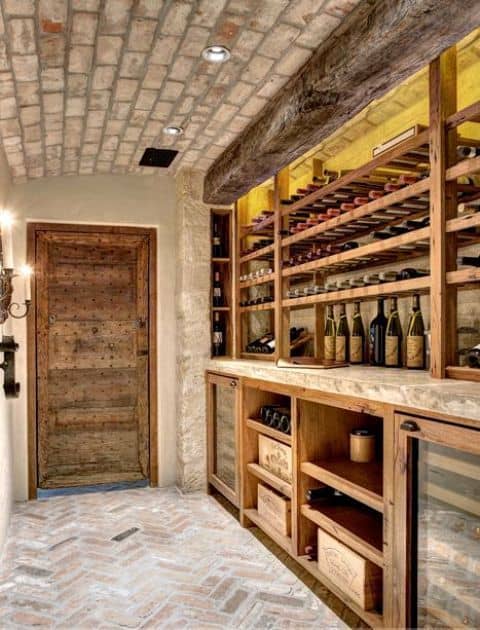 Brick flooring and brick ceiling – a uniform theme. This basement is being used as a basement cellar and the brick ceiling looks great here. But that doesn't mean brick ceilings won't look good elsewhere. The brick ceiling is giving a raw and rustic appeal that will look good not just in a wine cellar but also in a living room.
If you want to enjoy the feeling of living in a country home, brick ceilings will be perfect for that. Install a wooden barn door with that to complete the look. A candelabra on the wall provides the room with a mysterious touch.
Get Wacky with Creative Fabric Ceiling
Fabric is a very unusual choice for a ceiling but if you can place a carpet or a rug on unfinished flooring, why can't you cover the ceiling with fabric. Gravity, of course. But check out this design that gives a royal appeal with the cascading ripples of soft fabric.
It's a beautiful idea – not to mention a very different one. But keep in mind that installation is difficult. And then it will need a lot of maintenance, especially if you live in areas that receive dust or have high pollution rates.
Because the only advantage of this ceiling is beauty, it can be used temporarily, for example during birthdays or anniversaries.
Try a Neat Burlap Ceiling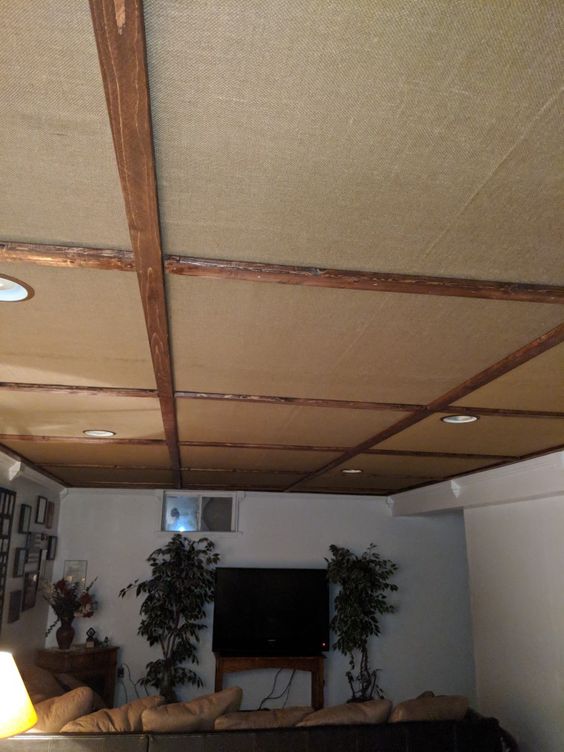 While burlap is similar to other fabrics and has the same pros and cons, the former is tougher than the latter. If you visit a house that was built in the 1800s, you'll find burlap ceilings in many of them. Burlap is environmentally friendly and thus an eco-friendly option.
Burlap ceilings add insulation to the place as the gap between the layers of ceilings traps air in between and keeps the hot or cold winds out. Besides, depending on how they're installed, burlap ceilings can look stylish too.
Get a Designer False Ceiling in the Basement
False ceilings can be made from a number of materials including fiber, glass, and plastic. False ceilings look beautiful and a number of homeowners now prefer having false ceilings that can house lights, smoke alarms, fire sprinklers, and whatnot.
With a false ceiling, you'll get a smooth surface with embedded lights and alarms instead of them hanging below the ceiling. Another advantage of false ceilings is thermal insulation. When you have a gap between the real ceiling and the false one, the air gets trapped there and helps to maintain the room at a comfortable degree.
However, keep in mind that you cannot install a false ceiling if the basement ceiling isn't high enough.
Enjoy a Cloudy Sky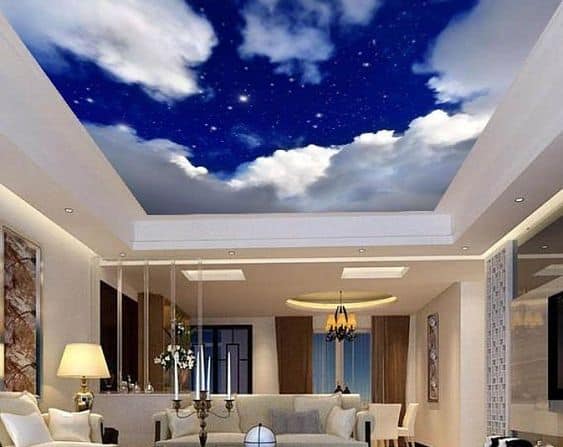 Try ceiling paper. Just like wallpaper, it will give more personality to your ceiling. Ceiling papers are available in several patterns that will make you feel you're under the sky. This overcast sky ceiling paper is looking magical as you sit under it, imagining you're having a date with your loved one.
You can also get starry night ceiling papers. While ceiling papers are pretty much like wallpapers, their patterns are different. If you're turning your basement into your kid's room, you can get a ceiling paper that looks like the solar system so they can understand the planets and how space works.
Use Charming Ceiling Tiles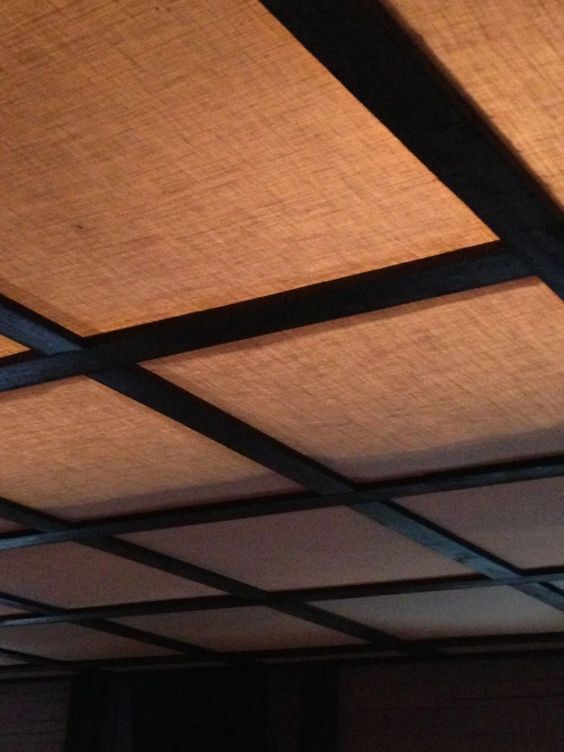 There are a number of tile options you can use. Tiles are available in several colors, shapes, designs, textures, and sizes. Just like PVC, tiles are also a versa(tile) option. There are so many options that you'll be spoilt for choice. But while ceiling tiles come in a number of designs, PVC generally offers a bigger selection as it can be used as a faux wooden ceiling as well.
Depending on the theme of your basement, you can get ceiling tiles accordingly. You can get gypsum tiles and create a beautiful looking basement ceiling that's not just quick to install but also maintenance free.
Put Up String Lights on the Basement Ceiling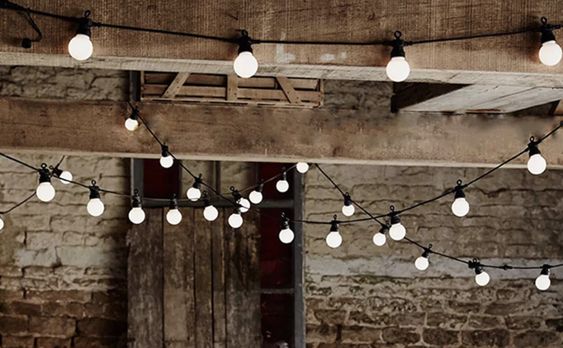 String lights are beautiful no matter where you put them up. While we all put up string lights during Christmas (and often forget to take them down later), string lights can be put up on the ceiling and wrapped around pillars.
Check out this basement ceiling with exposed beams. If you haven't installed proper lights and still want a beautiful basement, put up string lights. They will illuminate the place evenly and also give it a vintage and rustic look. The bright bulbs connected through a black wire are looking magical and amazing.
Put Up Chandeliers on the Basement Ceiling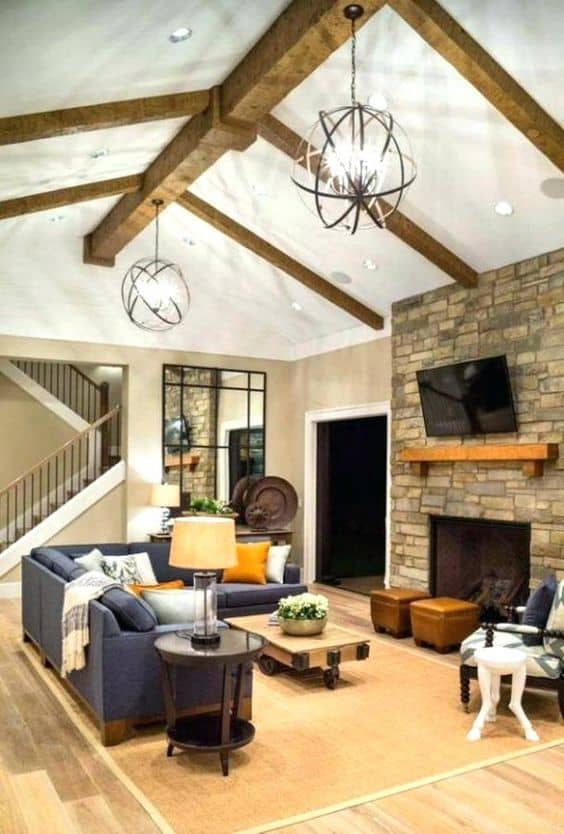 Chandeliers or other hanging lights look amazing and give a different appeal, depending on the design of the light. There are various types of hanging lights, and some of them come in colorful hoods. Try them to add an accent to an otherwise boring basement.
When you have the right type of lighting at home, a dull ceiling will also come alive. Keep in mind that you need ample lighting to add beauty to just about any room and not just the basement.
Use a Basement Ceiling Fan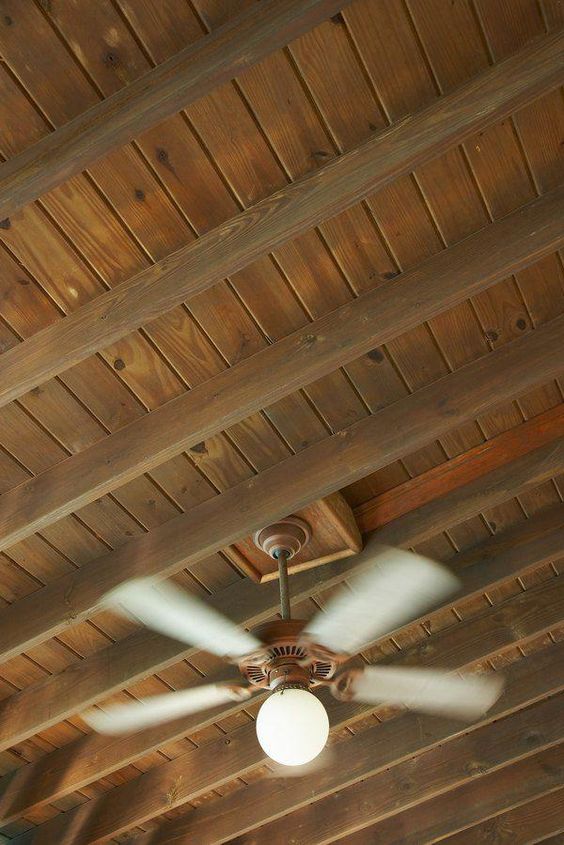 Basements are often humid, which is why it will be a good idea to install a fan there. And not just a ceiling fan, but you might also want to install an exhaust fan as well so it can suck out the stale air and improve air circulation.
When you install a fan in the basement, make sure it goes with the theme of the place. There are fans that have light bulbs built into them. They can be a good choice because basements don't get any natural lighting so any extra lighting is good.
Install a Stretch Ceiling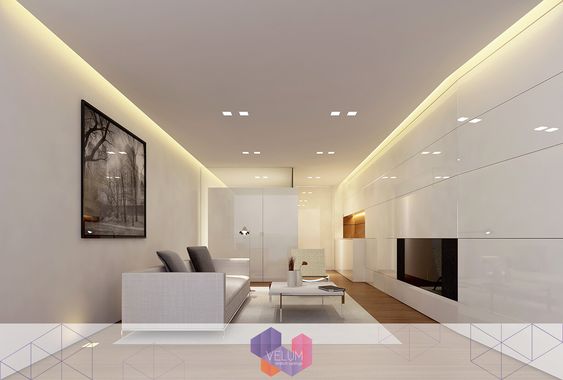 Stretch ceilings are suspended below the unfinished ceiling and are made of fabric membranes. With light diffusers, these ceilings create a magical effect. These ceilings are available in a number of shapes and designs.
With a stretch ceiling, you can install all types of lights and grilles. The fabric that is used in these ceilings is generally PVC based and its thickness is a fraction of a millimeter. It's basically a membrane that is available in a number of finishes and colors. You can get stretch ceilings in matte, finish, satin finish, glossy finish, translucent finish, and many others. The material is washable and waterproof.
Color the Ceiling Black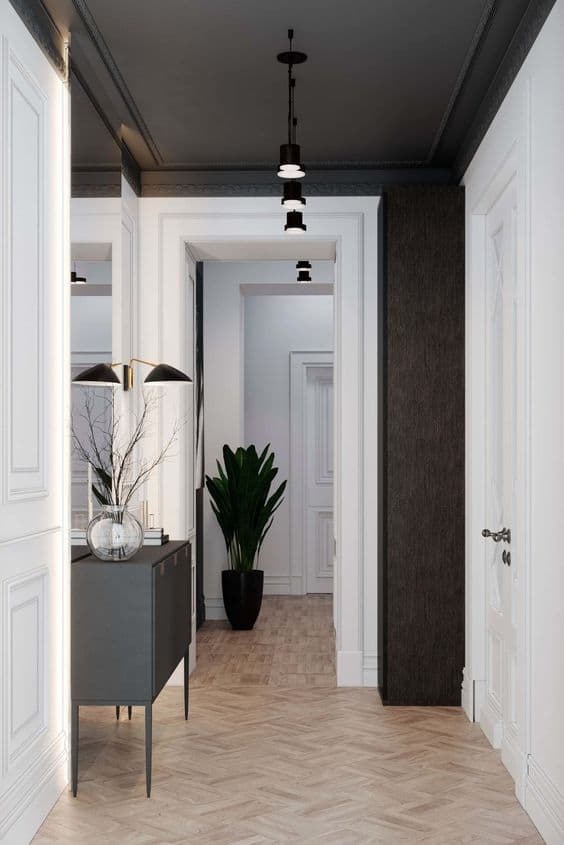 Try getting a ceiling that's black, dark brown, or any other darker shade. Black ceilings often go well with white walls. While your walls should be lightly colored to make the room appear bigger, black ceilings make the ceiling look a bit lower.
High ceilings are good, yes. But if there is too much space, a room can look cold and unfriendly. With dark ceilings, you get a warm feeling without losing out space of the room.
If you grew up thinking ceilings just have to be white (or light colored), this new theme will look fresh and new to you.
Install Styrofoam Ceiling Tiles on Your Own
Styrofoam ceiling tiles can save you a lot of money since they are easy to install and you'll save money by installing them yourself. And even if they're installed by you, they look like they've been installed by a pro. Besides, Styrofoam has insulation features, which means your home will stay warm in winter and cool in summer.
These tiles are available in a number of designs and patterns. And they go well with white walls. The white chandelier installed on the ceiling is looking beautiful. However, a different colored chandelier (not white) could be used to add an accent to the ceiling.
Get a Tissue Paper Ceiling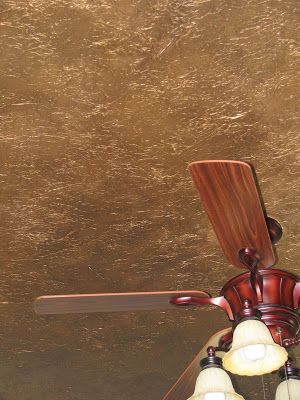 Tissue Paper Ceilings have a crumpled up look, like a tissue paper. If you don't want the same old boring plain ceiling, try the tissue paper look. One advantage of this type of ceiling is that in plain walls and ceilings, there are chances of some flaws creeping in.
But in tissue paper ceiling, since it's all crumpled up, flaws will only become a part of the design.
When you get a tissue paper ceiling, try to get an eggshell shine finish. You can also add some glaze, according to your preferences. This ceiling can be painted in any way you want.
Instate a Luxurious Drop Ceiling Grid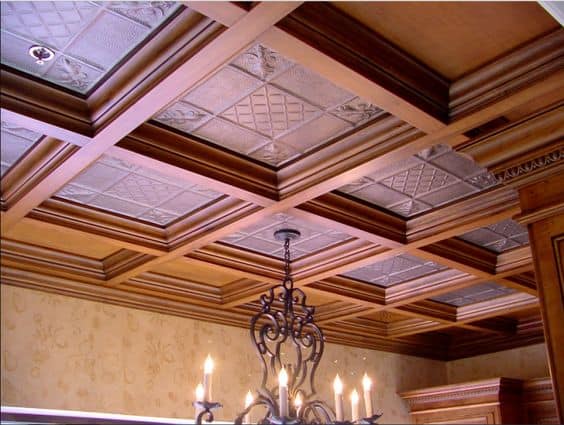 While there are several types of drop ceilings, a drop ceiling grid gives a very luxurious feel, especially when it's made of natural material such as wood. Create the aura of Old England with this unique looking wooden grid that seems to have come out of a Harry Potter movie.
Of course, with something as beautiful as this, the costs will go up. But if you're someone who liked to live their life in style and luxury, this will be your preferred choice. Hang a chandelier in the center to add to the grandeur of the place – or should I say palace?
How About a Simple Painted Ceiling?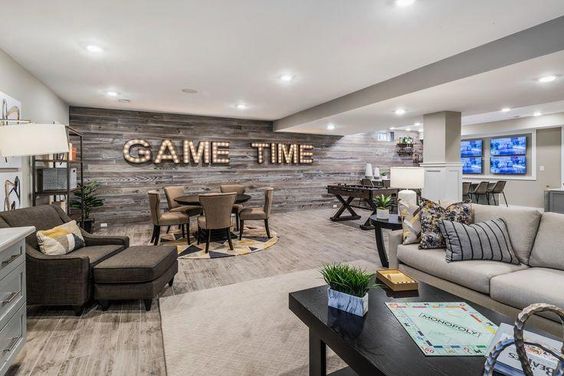 All these fancy ceilings failed to catch your attention? How about going back to the basics with just a simple layer of paint. Apply a coat and call it a day. Of course, everything looks pretty when there's ample lighting.
The wooden looking wall along with the big sign that says "Game Time" makes the room look beautiful and unique. This basement is being used as a complete apartment. The ceiling contains several strategically placed lights to ensure the entire place is well illuminated. And this is what makes it more beautiful.
Go for a Plaster of Paris Ceiling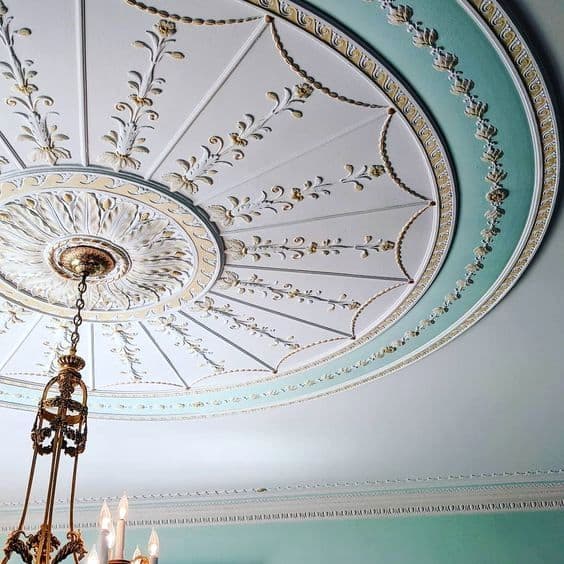 Plaster of Paris can be used to create beautiful and intricate designs on your ceiling. Plus, it can be painted on and you can get any color you desire. It gives a perfect finish and you can get the right design depending on your needs.
For example, if you want to hang a huge chandelier in the basement, get a Plaster of Paris design that draws focus to the central point where the chandelier will hang.
And the best part about these ceilings is that they can be made modern or traditional, depending on the theme of the room.
Get a Ceiling Made of Old License Plates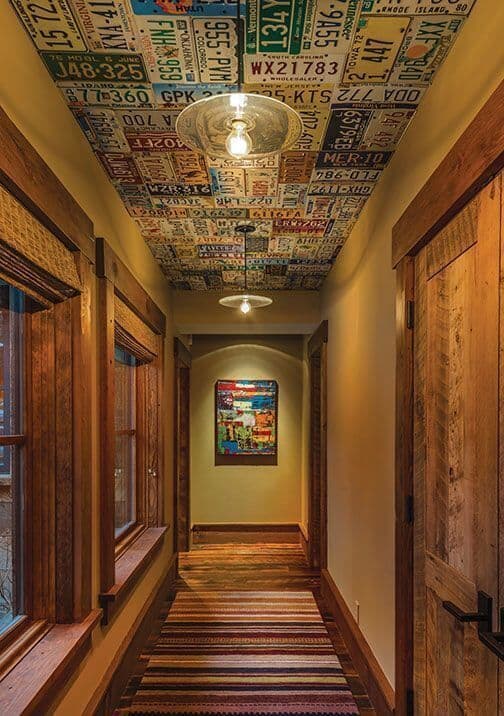 Old things can come in handy and in beautiful ways too. Take this ceiling for example. It's made of old license plates. This makes the ceiling not just colorful but also very interested. I can sit under the ceiling and keep gazing at it for hours.
If you want to add something to your basement that's interesting and makes the place more unique, this can be a good idea. In fact, why stop at license plates? Get a wallpaper that goes on in a comic strip form. This way, your guests will simply stop and start reading the ceiling. A really different concept, isn't it?
Try a Metal Accent Ceiling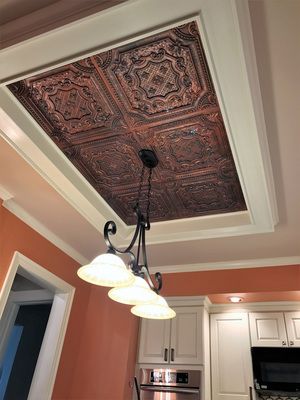 A metal accent ceiling will give you an industrial look so if you're a steampunk fan or are just looking for a general industrial look, a copper colored metal accent will look good on your basement ceiling.
Metal ceiling tiles come with beautiful patterns that make them look rich and luxurious. Install a hanging light and they'll give out a reddish golden shimmer, making them look even more beautiful. These tiles fitted between an otherwise lighter color ceiling create a perfect blend of contrasting colors. Make sure you install hanging lights below them.
Create a Jungle Look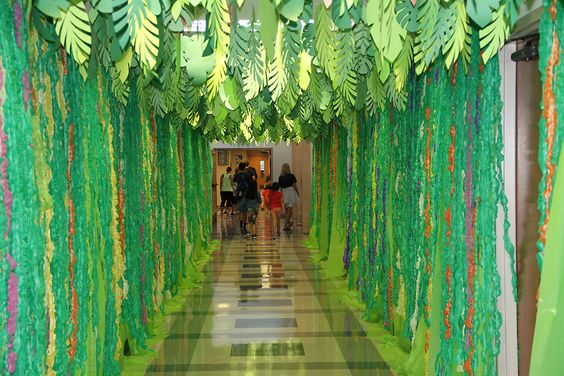 Whether you want to turn your basement into a kids' play area or it's your little one's birthday and you're looking for unique party decorations, these jungle looks will look amazing. Stick up a lot of paper leaves on the ceiling and drop some paper strips along the walls.
While this isn't a permanent ceiling idea, it's great for temporary events. You can also put up balloons or other things for a special event. But keep in mind that the life of this type of ceiling decoration is just a few months. That is if kids don't pull out the decorations.
What is Your Ceiling Choice?
There are so many ways in which you can install or set up a ceiling. However, since it's the basement, you need to decide who's going to visit it.
For example, if it's going to be your man/woman cave and not everyone's invited, it won't make much sense burning a hole in your wallet, putting up heavy wooden and metal ceilings. But if you're planning to turn it into another apartment, spending some extra dollars won't hurt. Make your choices after careful planning.