Decorated Life is reader-supported. When you buy through links on our site, we may earn an affiliate commission. Learn More
13 Functional Entryway Bench Ideas
The entryway to your home is a perfect place to showcase your interior design skills. It sets the stage for the rest of your home's aesthetic, and it's a fun place to decorate! An entryway bench is a cute and creative piece that is becoming more popular than ever.
Today we'll be reviewing some ideas for the types of benches you can place near the entrance to your home as yet another endearing decor item. Take a seat, and let's dive right in!
Choose A Bench With Storage Space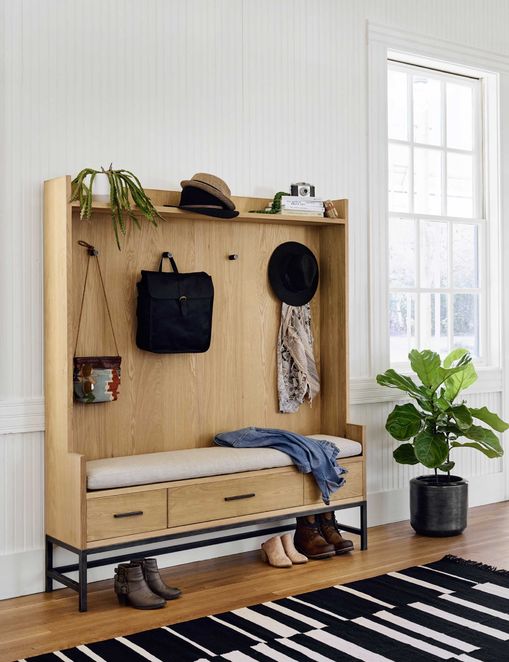 To start off, let's take a look at this practical and extremely useful bench idea. This not only provides you with an entryway bench, but allows you some extra storage space! Talk about a win-win!
You'll be able to hang things such as hats, bags, keys, and lanyards. Along with spots to hang things, you'll be able to place even more decorative items on built in shelving. If you choose one with drawers as well, you can fill those with whatever items you see fit!
Find A Simplistic Solution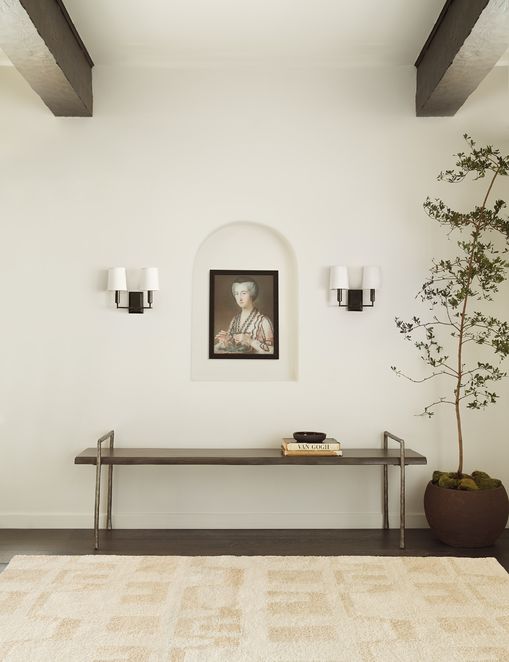 For all the minimalists out there, this is your perfect entryway bench. A simple, possibly antique bench will minimize clutter as well as maintain a classy look in your hallway. You may not crave all of the extra decor that the rest of these ideas provide, and if so, this is your best bet.
This does not mean your entryway bench will look boring. The mere presence of this piece will be intriguing enough. Simply make sure you choose one that appeals to you, and that you believe will catch your guest's attention as well!
Pick A Bench With Colored Fabric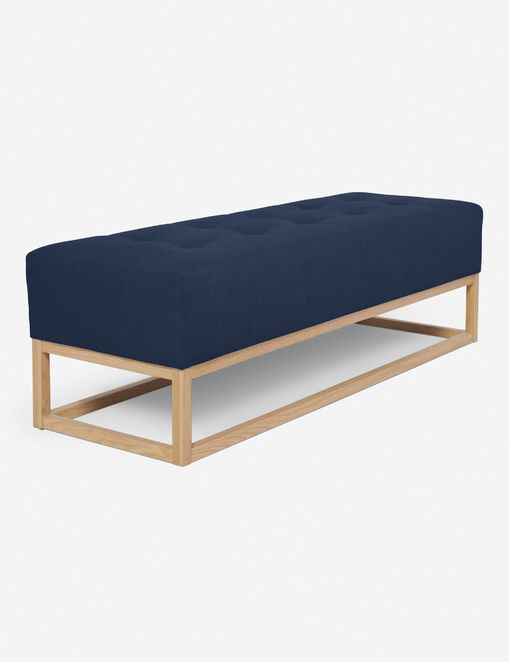 Picking an entryway bench with a pop of color is a great idea that allows you to experiment with your color scheme. For instance, if you're going for a modern look, black or white will look posh and chic. If you prefer a more daring color scheme, try some bolder or brighter colors!
You can find many entryway benches with different fabrics in varying patterns and solid colors. It all comes down to deciding which one compliments the other colors displayed in your entryway.
Discover An Extraordinary Bench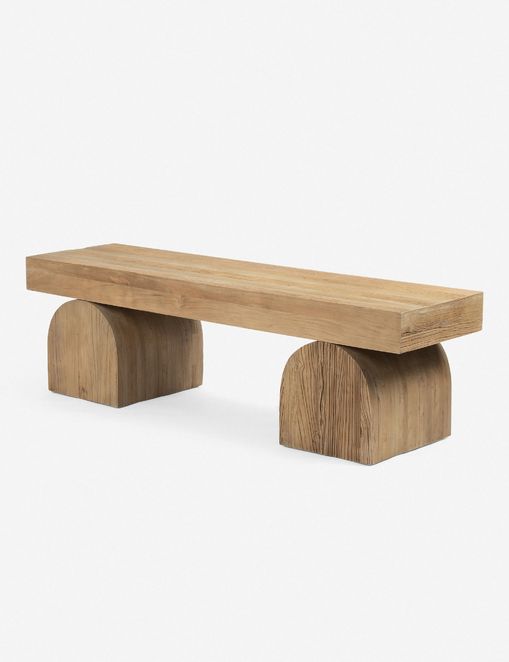 If you're the type to stray away from classic pieces and normal designs, there are many unique and rare entryway benches to discover! The goal would be to find a functional bench with an extraordinary look to it.
You can find an entryway bench that is structurally unique, or rare in design and color. While these benches may be a bit more expensive due to their uncommon features, it will no doubt draw attention and will be worth the money spent!
Save Space With A Small Bench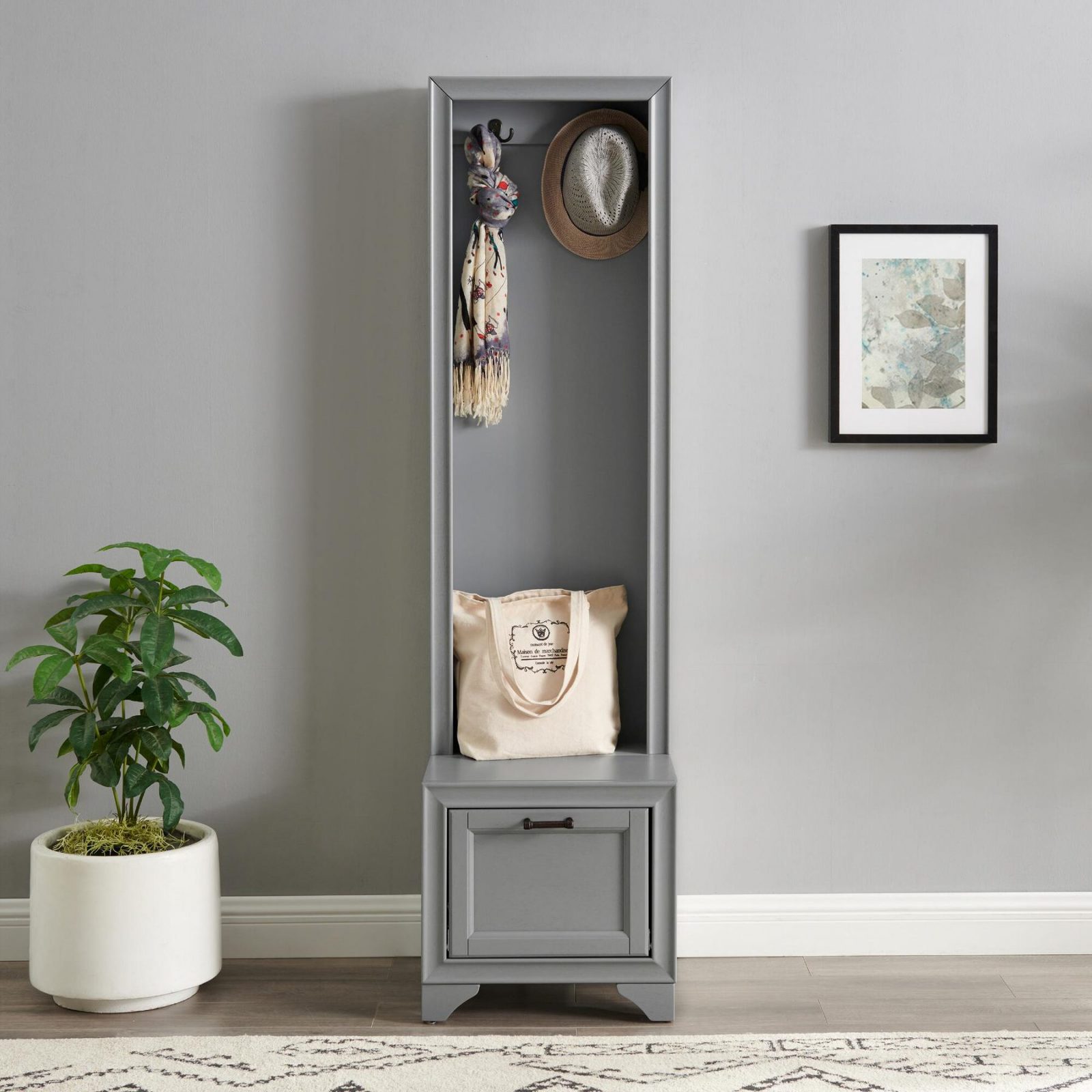 Having an entryway bench does not always mean compromising a large space in your entrance area. There are plenty of smaller benches that serve the same purpose, without taking up as much room!
These types of benches are perfect for those who want to maintain clearance within their hallway. As an added bonus, you can search for a bench that saves space as well as allows you to store your necessities.
Experiment With White Wood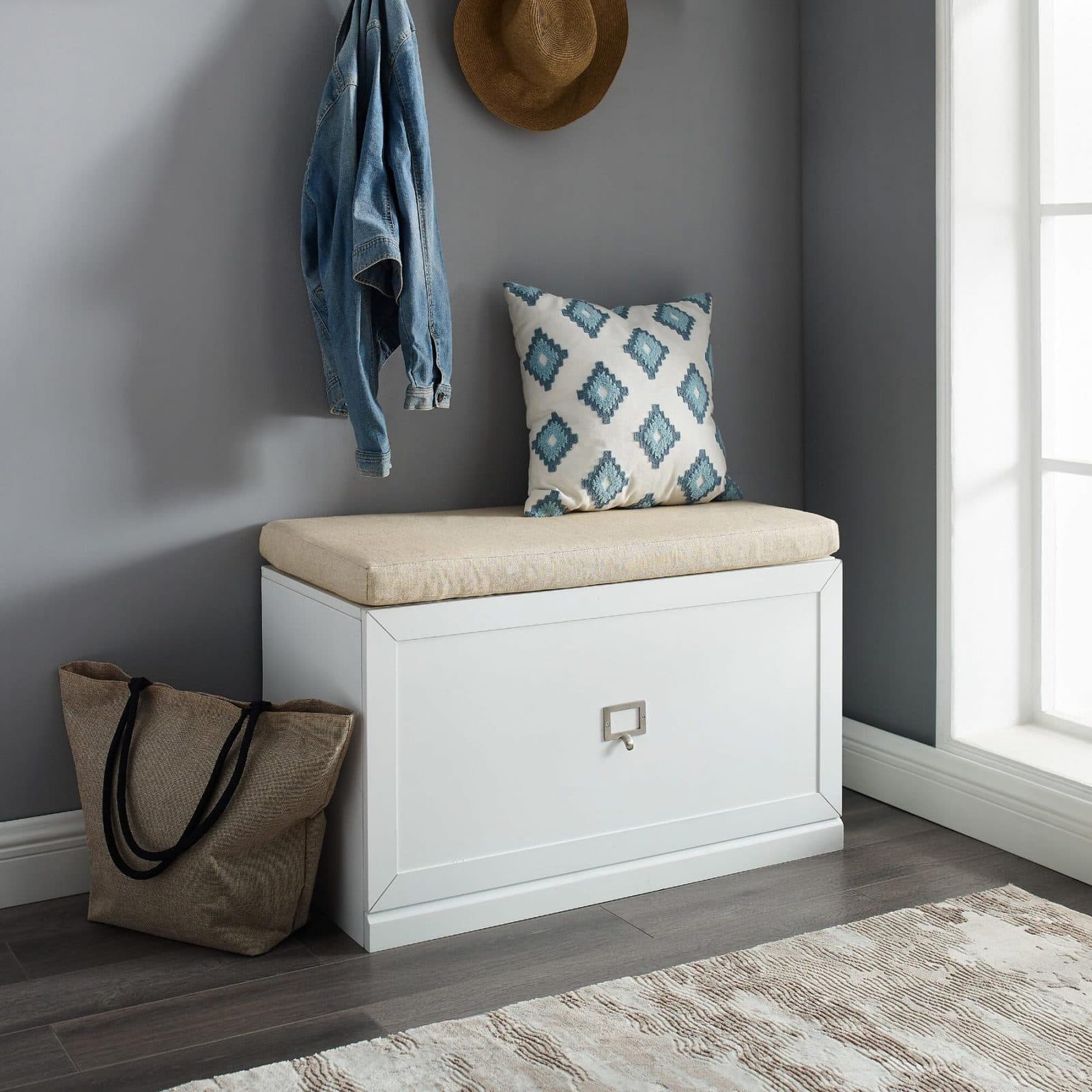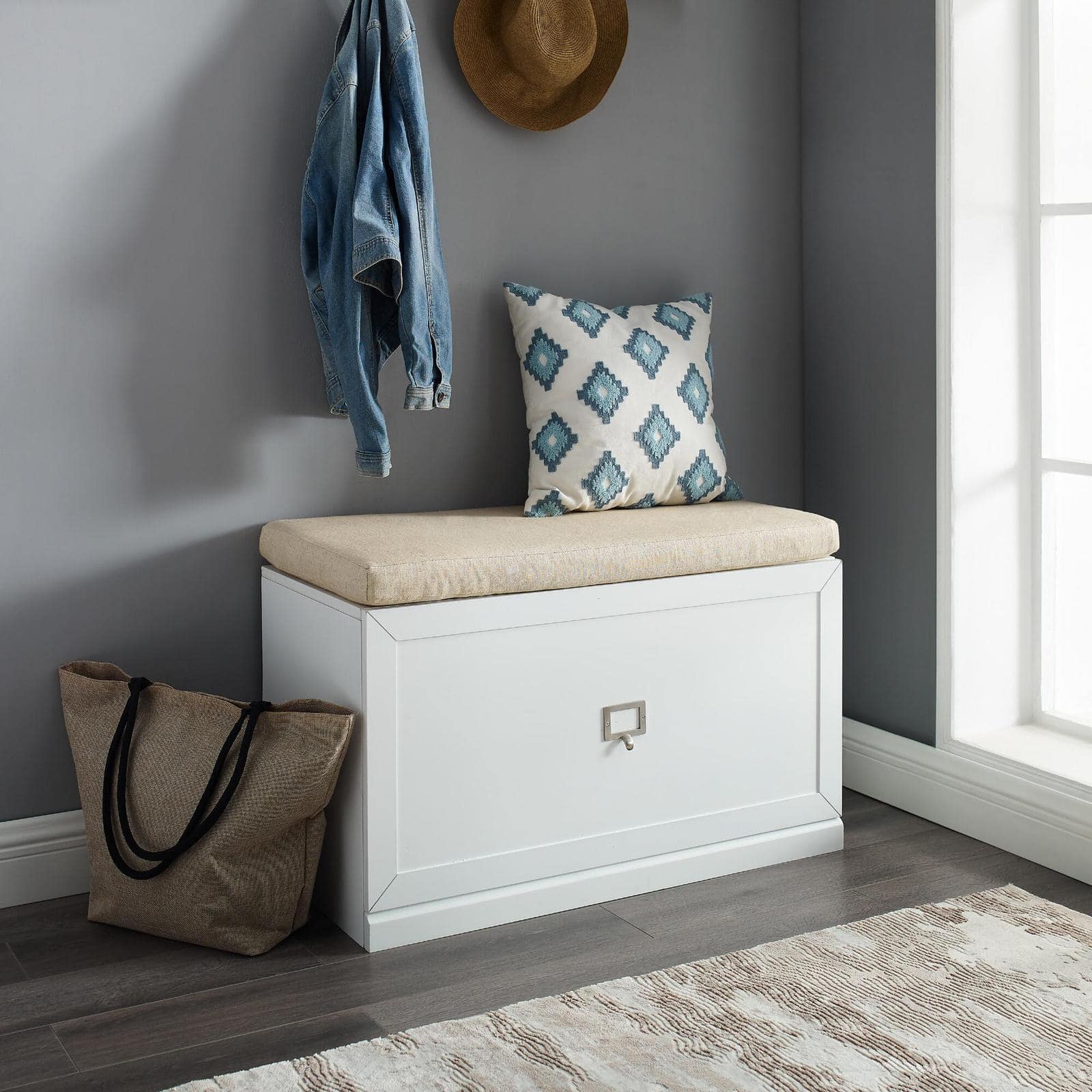 Let's get a bit specific with our color and material options. Choosing white wood for your entryway bench is a perfectly elegant choice. If you love contemporary interior design and aim to keep up with current trends, white wood should be your go-to.
White wood looks phenomenal against any other color, it fits well with just about any aesthetic, and is absolutely timeless. There's no way you can go wrong with a classy, white wood entryway bench. Simply add a cushion to the top, and you're all set!
Try A Backless Bench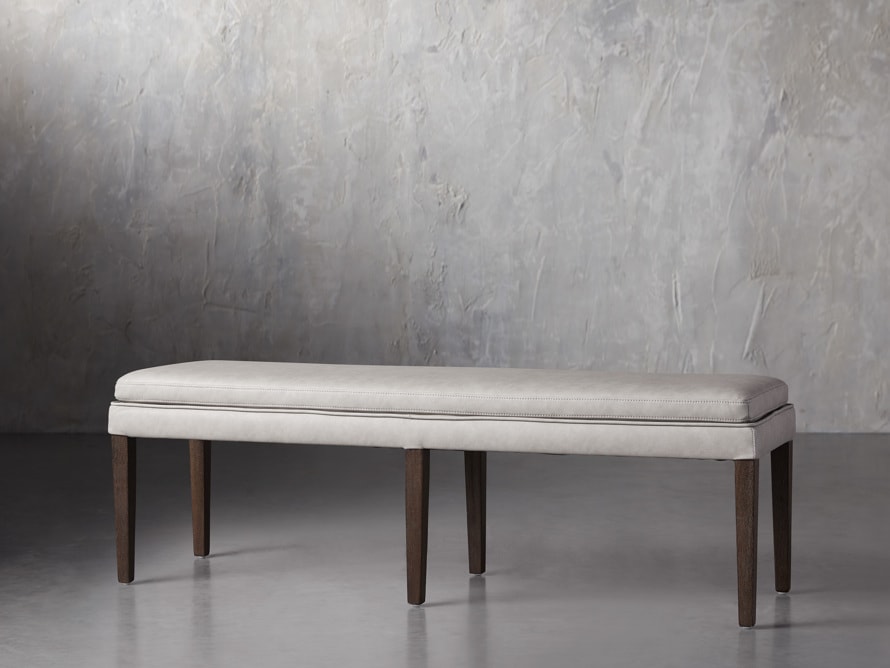 The best entryway bench doesn't have to be a fully supported bench with a backrest. Some may prefer the look of a simplified, backless furniture piece with a refined look to it. This kind of bench can still offer storage space and comfortability as well!
A perfect example of a trendy, backless bench would be one made of faux leather. This sleek design will look expensive all while serving its intended purpose. Trends may change, but this style of bench will never go out of style!
Combination Between An Entryway Seat And Bench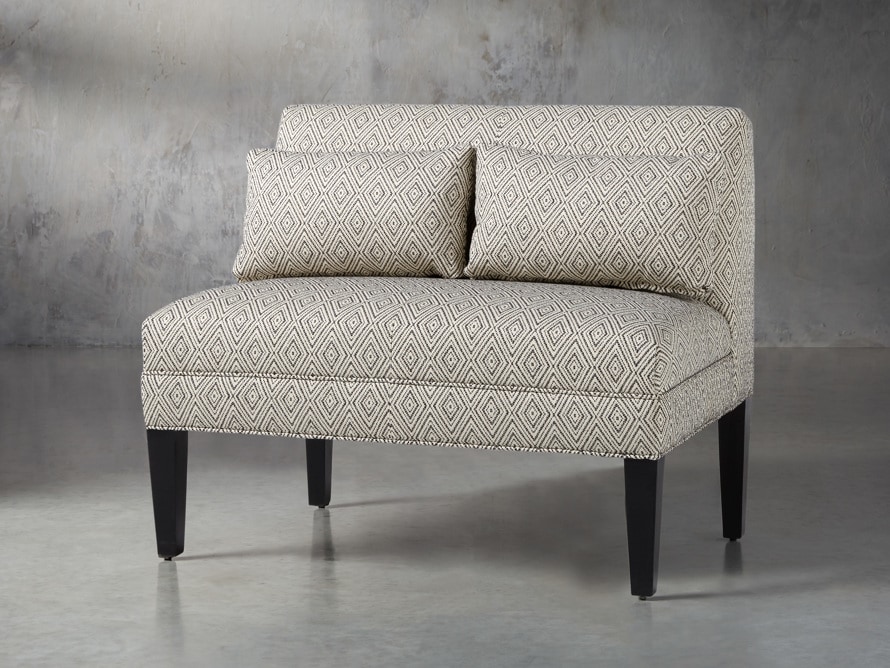 The piece of furniture you place in your entryway doesn't have to be restricted to a bench, there are many wonderful entryway seats available to you. With hundreds of fabrics, patterns, and designs, your options are unlimited!
The optimal entryway seat or bench does not solely depend on fabric, material, or color alone, all of these aspects should be considered when browsing. A seat may provide more comfort, but may not include room for storage. You must decide what aspects are most important to you!
Don't Miss Out On A Mirror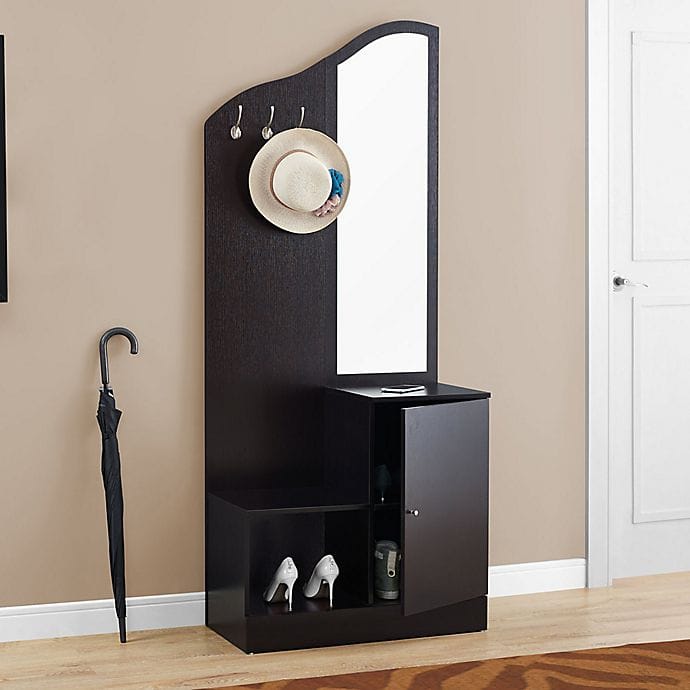 It may sound strange, but in some cases, you can find a bench with storage space and a mirror included in the design. This is the greatest use of space and entryway furniture there is!
Not only do you have a place to hang your hat and set your shoes, but you can also check your makeup on the way out the door! This makes for an incredibly useful and attention grabbing entryway bench. Make the most of your money, and don't miss out on a mirror.
The Perfect Farmhouse Bench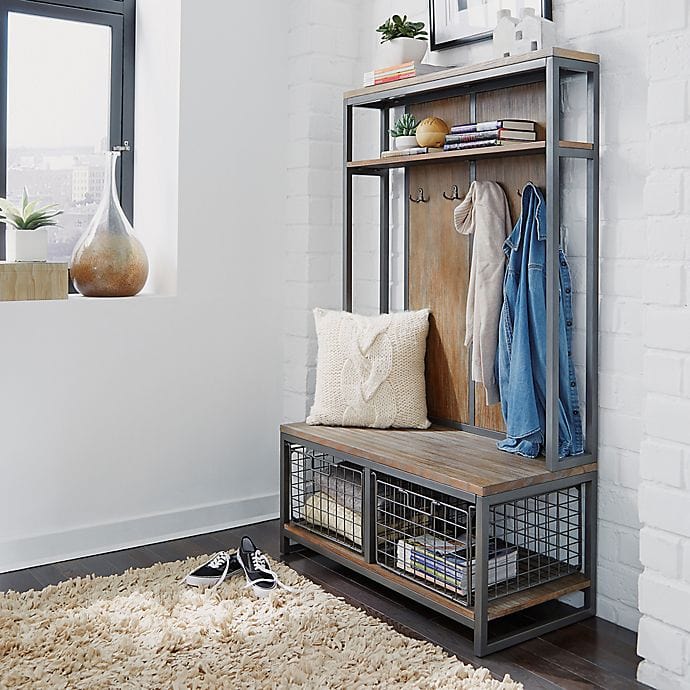 If you find farmhouse decor endearing and decide to decorate accordingly, picking a bench that compliments this specific style is important. You won't want to purchase a bench with a modern or trendy look, but rather a distressed or antique looking one.
Your options for farmhouse entryway benches are nowhere near narrow. Many of these benches may incorporate brown or grey tones, and be made of wood or antique metal. This type of bench will relate perfectly to your desired theme!
Store Necessities In Drawers And Baskets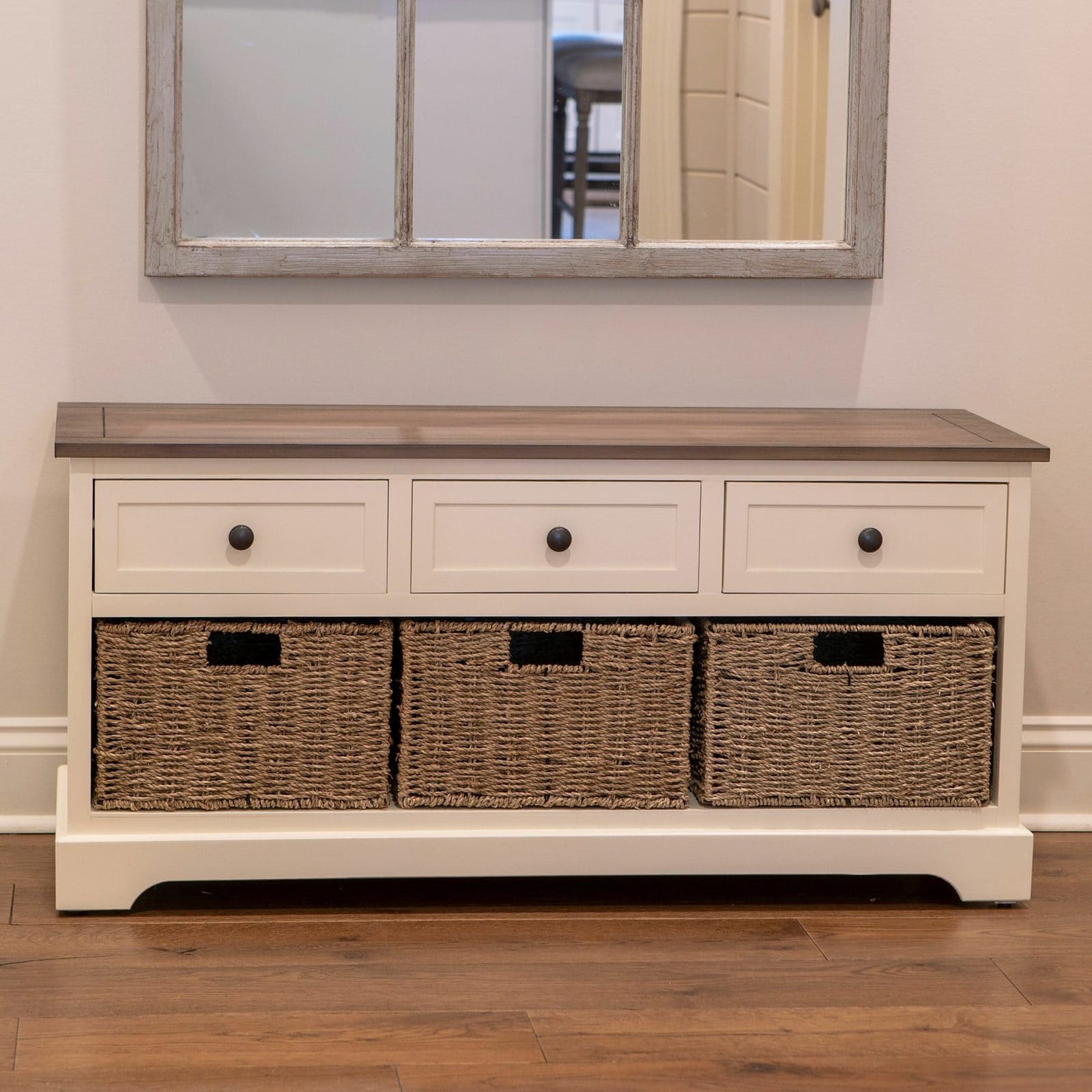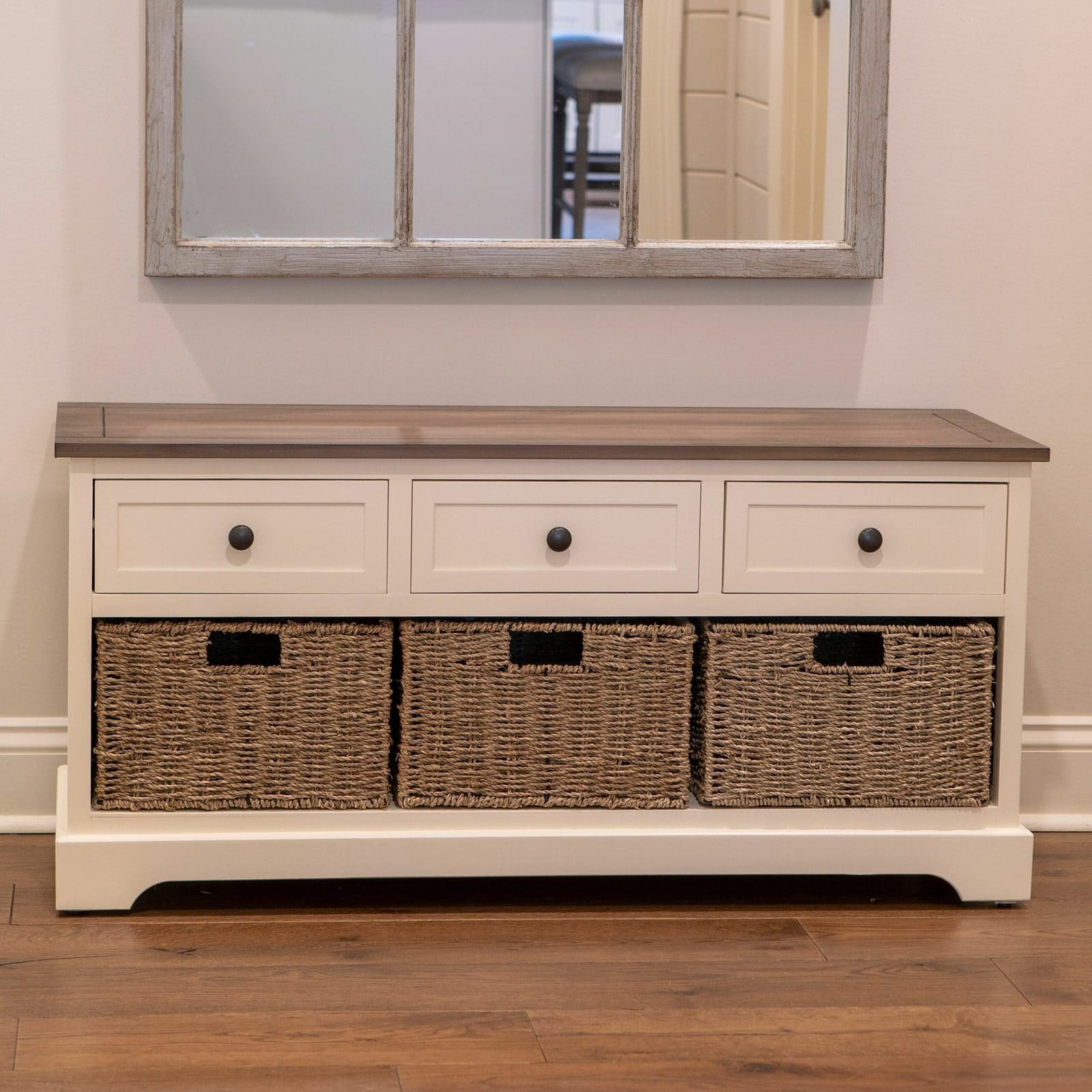 A bench in your entryway is alluring as it is, but it should also be a convenient piece of furniture. As we've seen, there are many benches that integrate storage space. Most of them use drawers or baskets for this purpose, but you don't have to choose between the two!
If you love the look of baskets and drawers equally, you can buy a bench with both! Whatever you choose to put in the baskets and drawers is completely up to you. Regardless, I'm sure you'll appreciate the extra room this bench provides.
Leave Your Shoes At The Door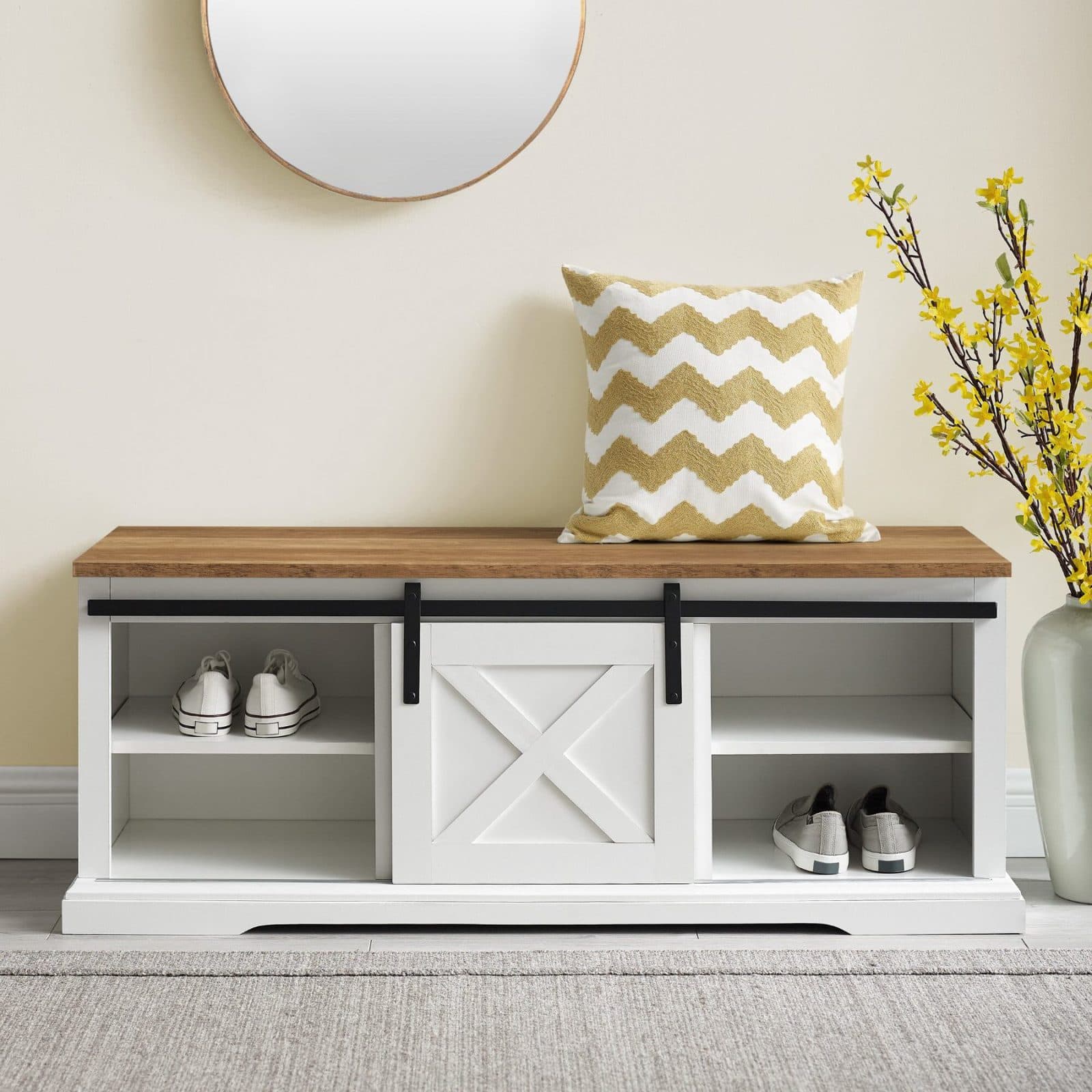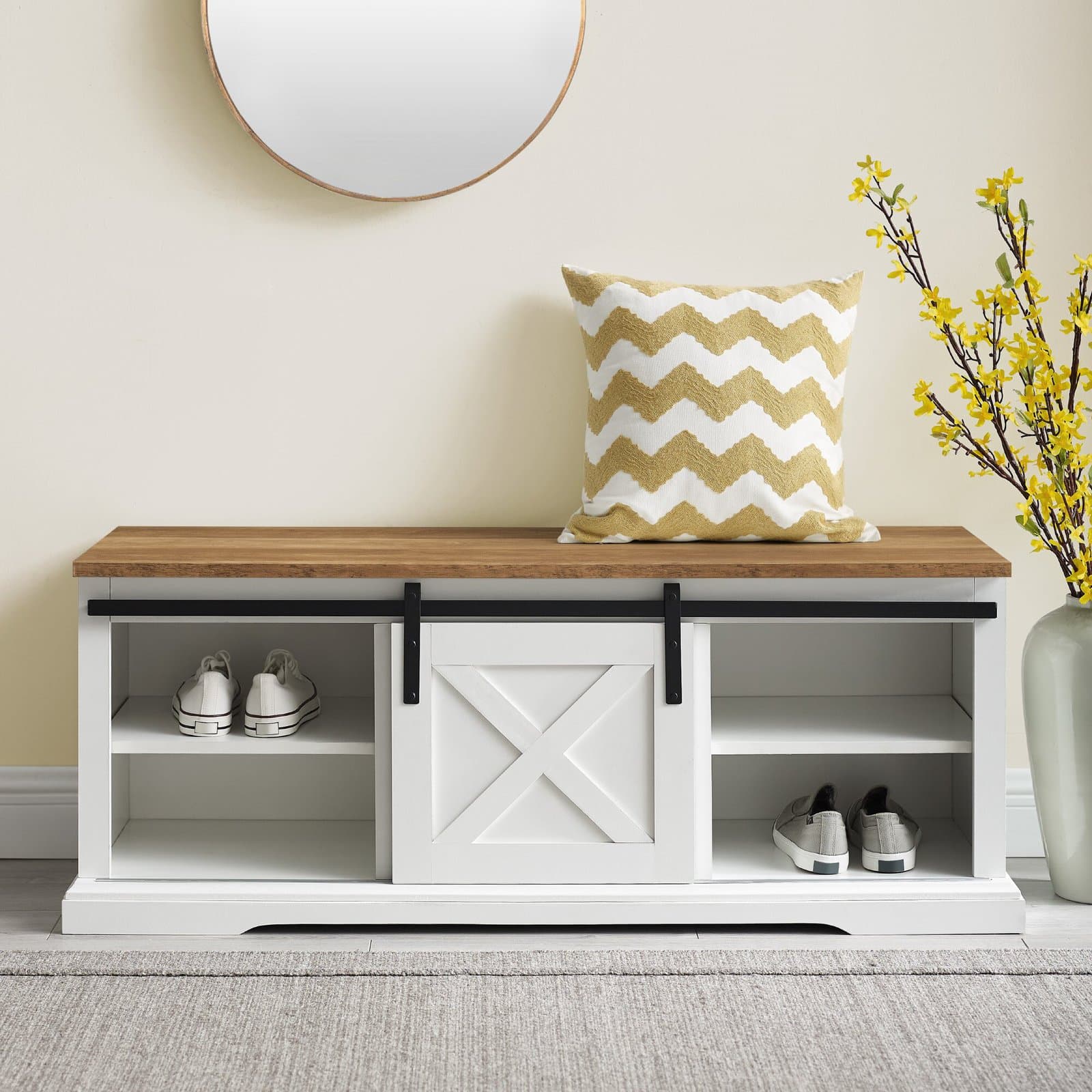 It's a popular and unspoken household rule to remove your shoes before entering the rest of the home. Usually, shoes are left on the mat or beside the door, but it may be a bit more convenient to have a specified place to leave them.
Since we're attempting to find the ideal entryway bench, let's combine both of these ideas and purchase a bench with a shoe rack or storage space built in! Now there won't be any mopping dirt up off of the entryway floor, simply wipe down the shoe storage area and you're ready for your next guest!
Get The Expensive Entryway Look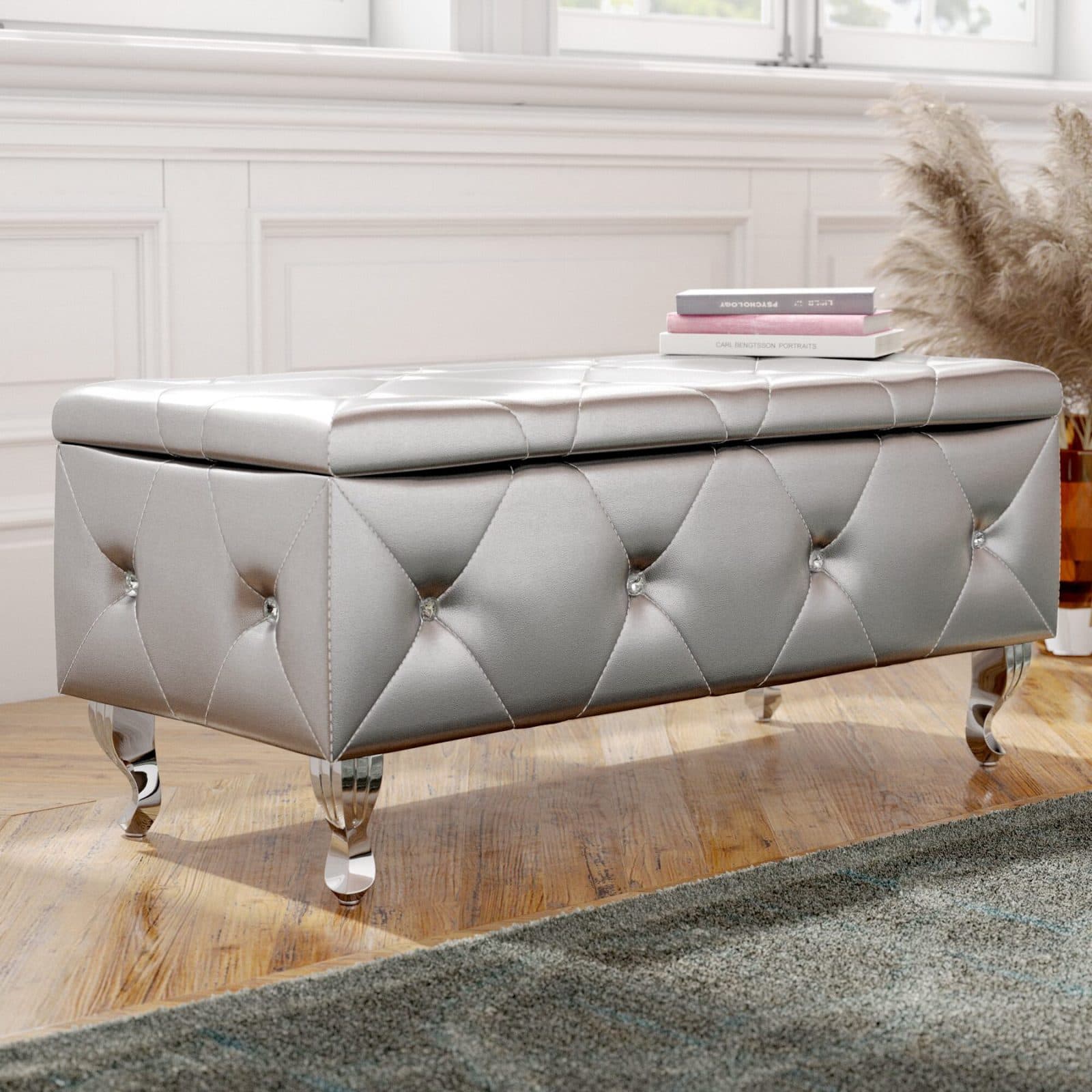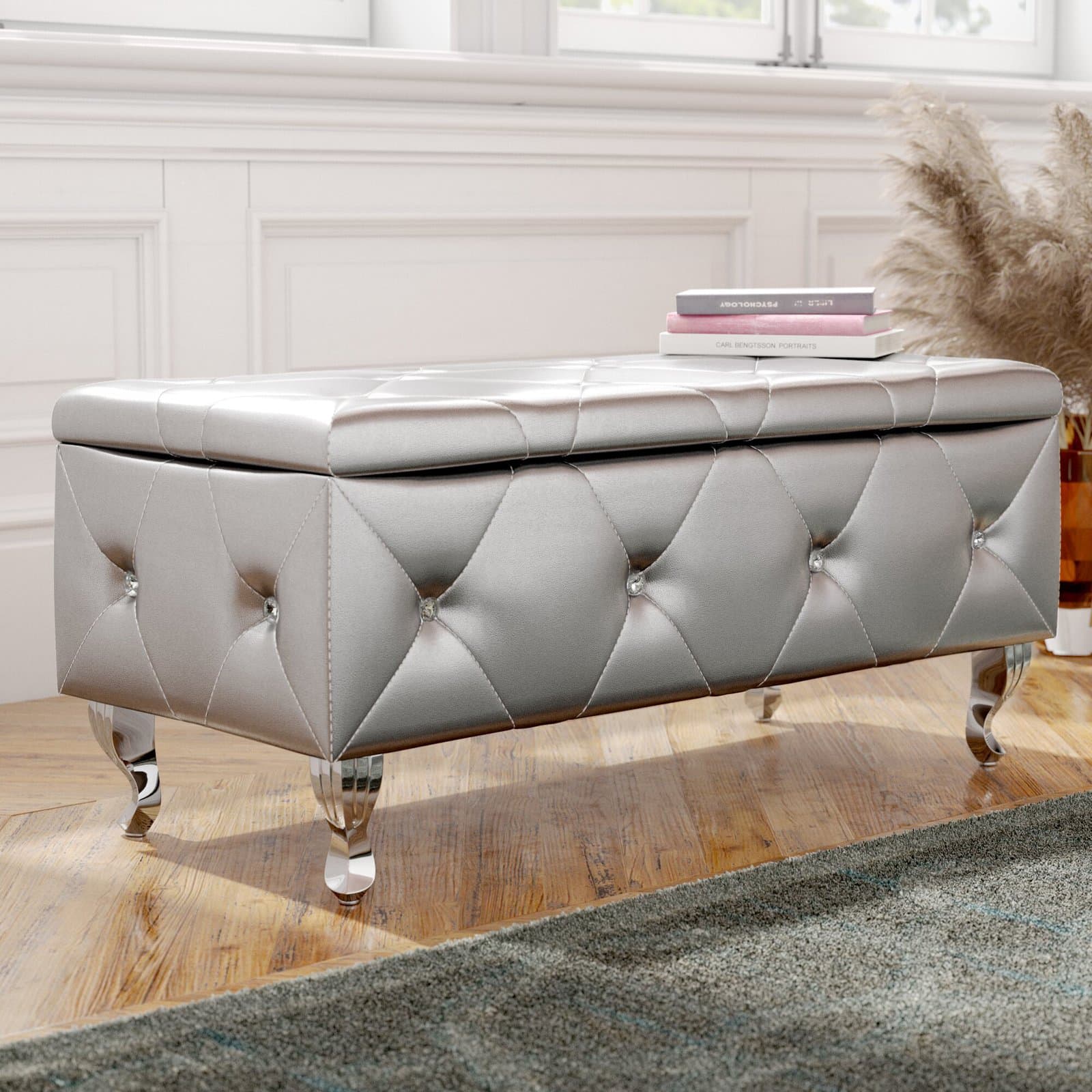 Are you obsessed with the expensive aesthetic? Flashy decor and pieces that reflect a lavish lifestyle are absolutely essential for anyone aiming for this look. Your entryway bench simply can't be left out of the room's theme, and luckily, it doesn't have to be!
It's easy to find a bench that looks like it was owned by royalty. With modern and fancy detailing, people will stop and stare at this entryway piece! You won't even need to break your bank to get this look, there are plenty of cheaper pieces that look just as posh.
Believe In An Entryway Bench
Looking through all of our options of entryway benches, there are so many that are incredibly useful, space-saving, trendy, and upscale. With so many to choose from, you'll surely be able to find the perfect one to match the rest of your home's theme.
The purpose of an entryway bench is not only to have a unique piece of decor, but also to allow for more room to store household and personal items. Entryway benches are becoming more popular in modern households, so don't hesitate to jump on the bandwagon. You won't regret it!