Decorated Life is reader-supported. When you buy through links on our site, we may earn an affiliate commission. Learn More
20 Space Saving Furniture Ideas for Small Bedrooms
Moving into a home with a small bedroom can be a bit tricky. How do you fit all of the necessary furniture in there and make sure there's enough space for storage? A tight spot doesn't leave much wiggle room for a dresser, bed, nightstand, floor lamp, and desk.
It will take a bit of hunting, but there are a lot of options for bedroom furniture for small rooms. Slimmed-down versions of traditional furniture, creative storage solutions, and a mindful layout are all things that can give you everything you need in a bedroom without making it feel cramped.
Twin Bed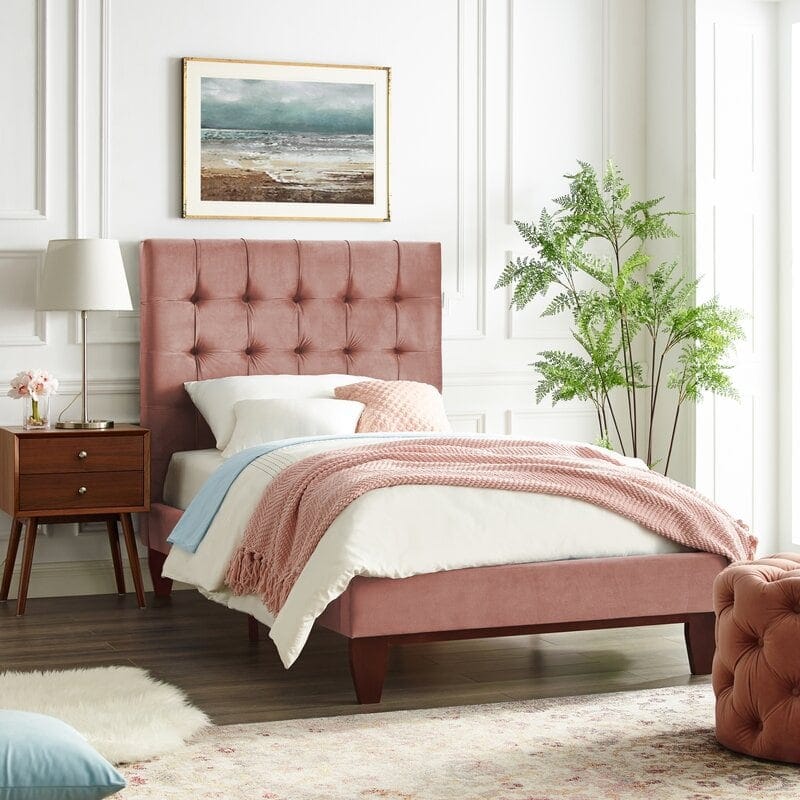 Obviously, twin beds aren't for everyone, but if this is a guest room or a kid's room, a twin bed works just as well as any other size.
Opting for a twin size bed allows you a lot more floor space, which is especially nice for kids who need a spot to play.
More floor space also means more opportunities for other pieces of furniture that are important for the room and the person using it.
Narrow Nightstand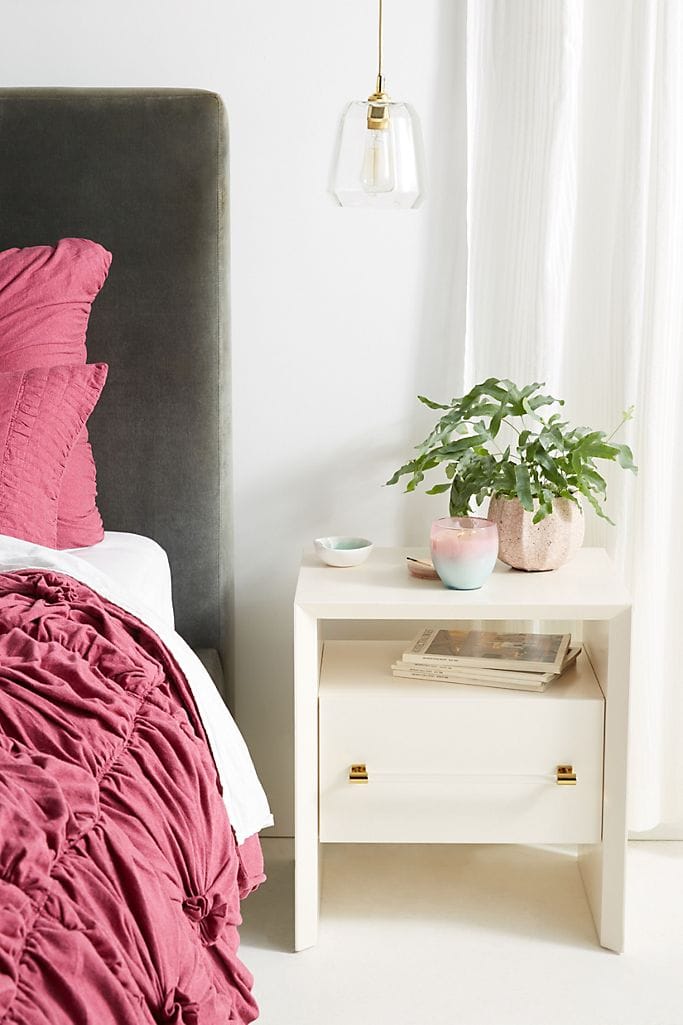 Nightstands are really helpful. They hold your phone, a cup of water, and offer a spot to store your book overnight while you sleep. A nightstand is one piece of furniture that's hard to sacrifice.
Rather than sacrificing it, consider a more narrow piece that still offers you the space you need, but doesn't take up any more than that. A small bedroom has no place for excess or wasted space.
Cube Storage & Shelving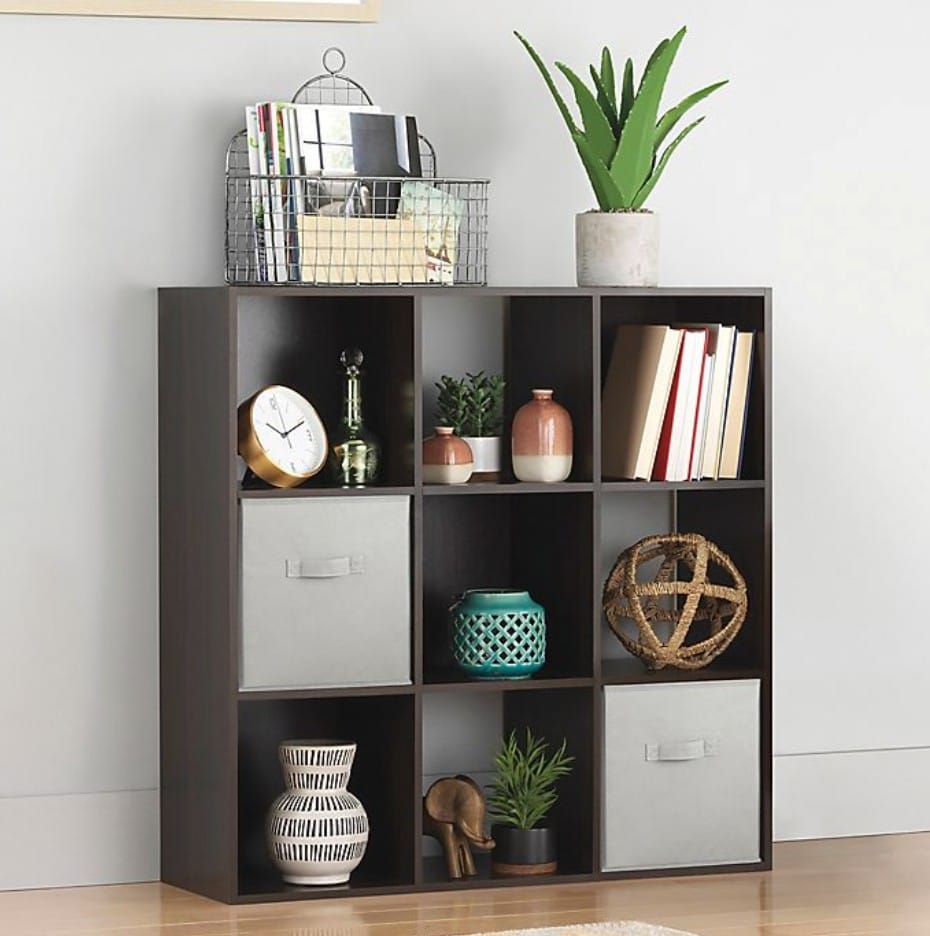 Cube storage and shelving is great, because these systems can typically be stacked on top of each other, so if you find you need more storage space down the road, you can purchase another row of shelving to stack on top without using up any extra floor space.
Another great thing about cube storage is that, like in this photo, it can be used in a variety of ways. You can add cubes to some spaces to serve as drawers, other spaces can hold your books, and others can be used for more decorative items. It'll create a cohesive look while still being useful.
Small Storage Bench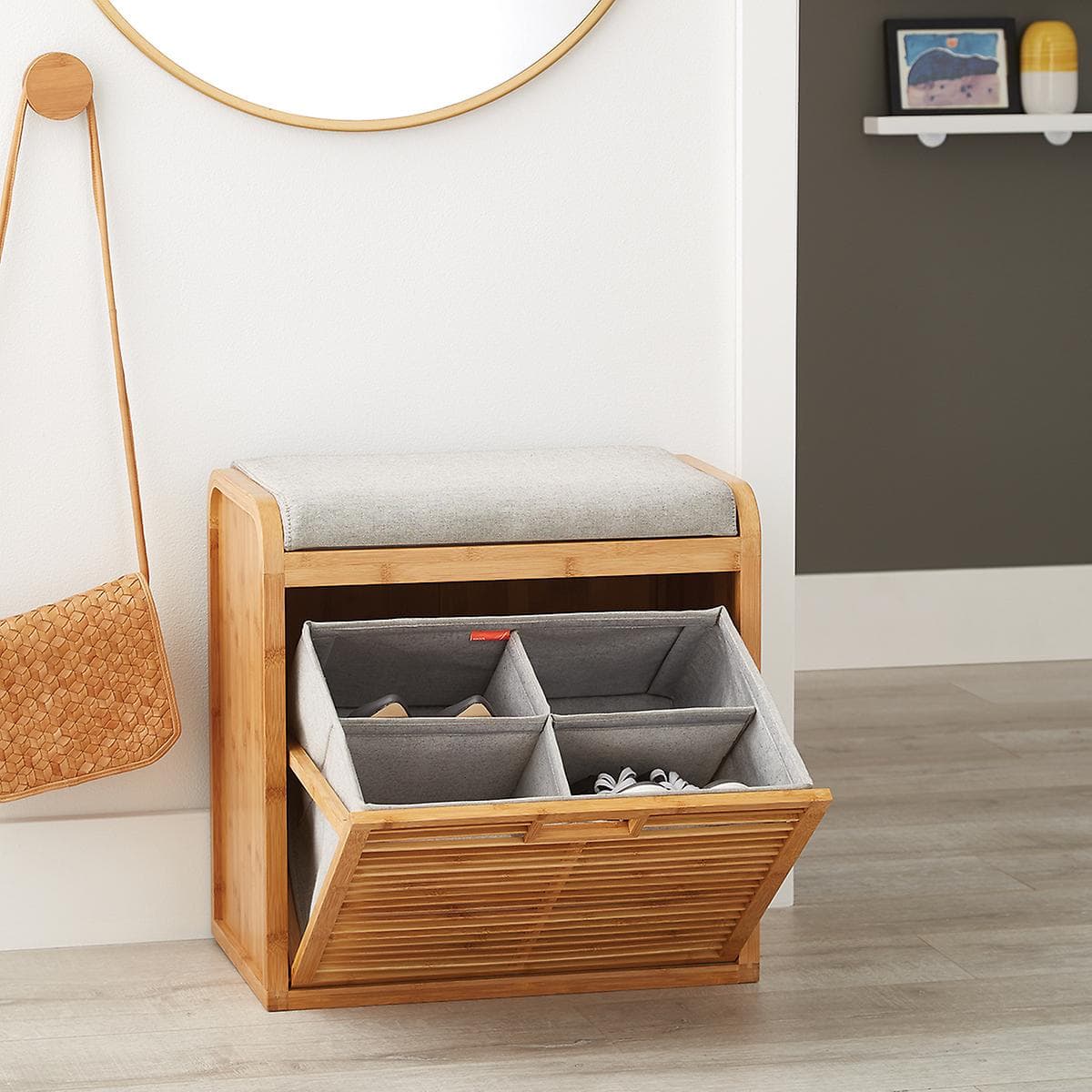 A small storage bench can serve two purposes: a seat and discreet storage. You can get something like this little bench that works right in with your decor, giving it a uniform look rather than out of place.
Something like this is great for any room, but especially a kid's room where there are more toys than storage options.
Loft Bed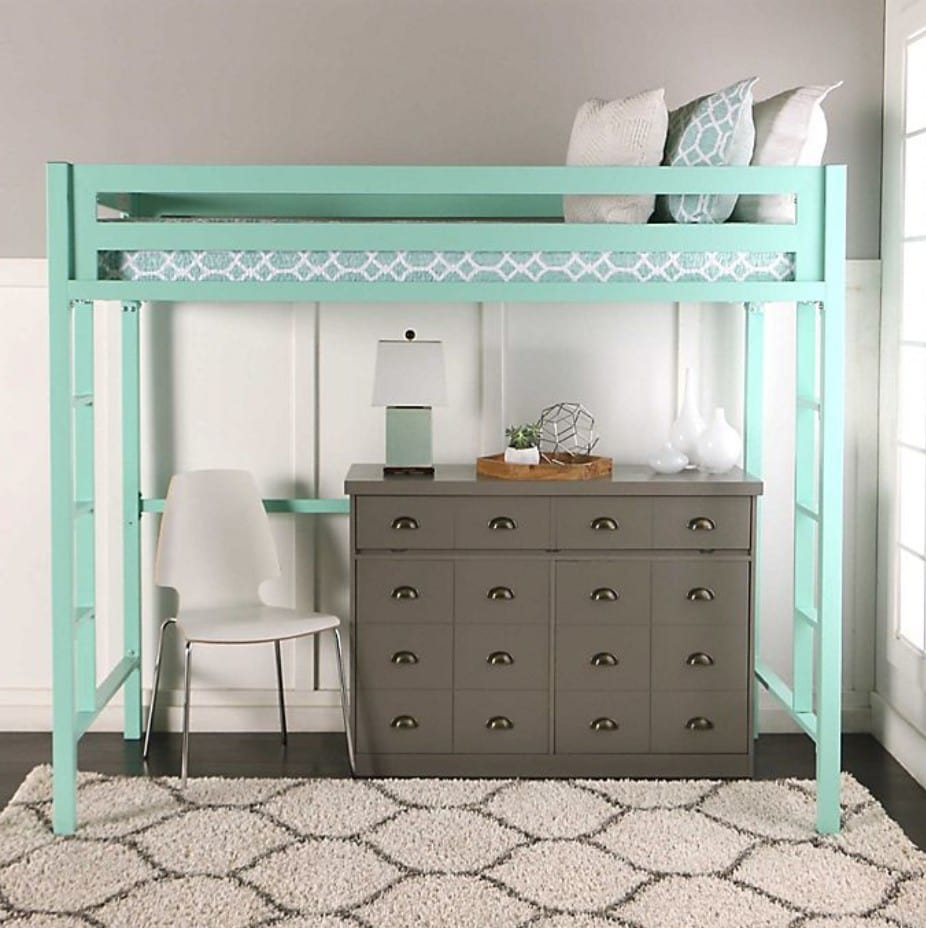 If the bedroom is really small, use its height to your advantage with a loft bed. This is one of the best small bedroom solutions because it opens up so much more floor space.
The set up in this picture is great, because two of the largest pieces of bedroom furniture are able to use one shared footprint. Of course, there are all kinds of other things you can do with the space below a loft bed, and that's what makes it so great.
Wall Mounted Side Table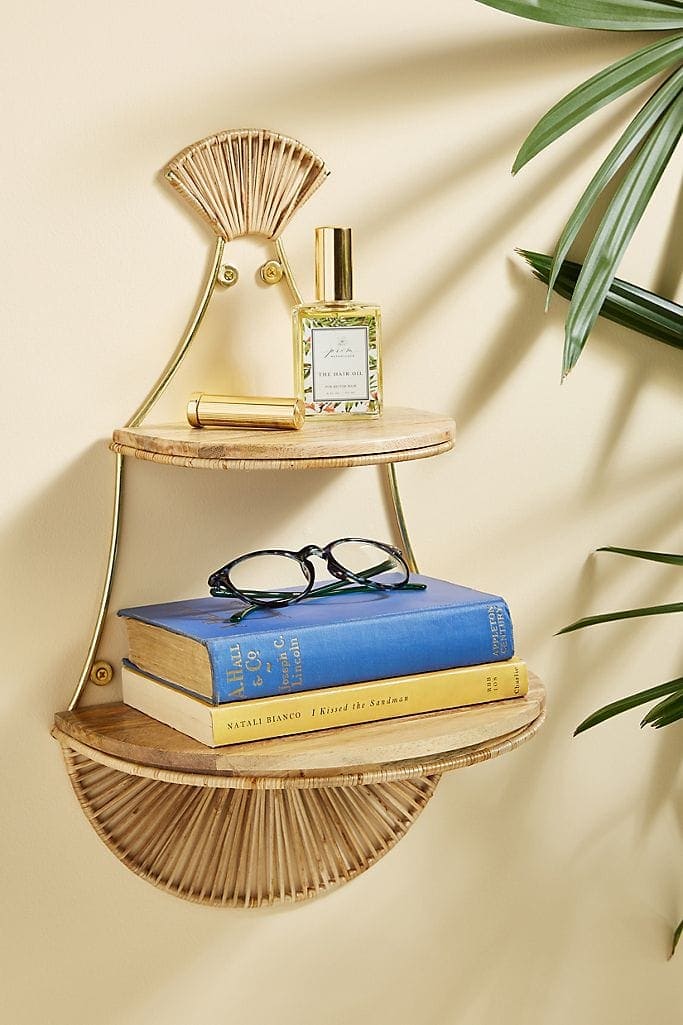 Who says a nightstand has to be an actual nightstand? A wall mounted shelf can serve as a bedside table just as easily.
Take a look at this shelf, for example. It has two levels, providing more than enough space to store books, a phone, and whatever else you need closeby when you sleep. Not to mention, something like this may work with your decor better than traditional space saving bedroom furniture.
Fold Out Desk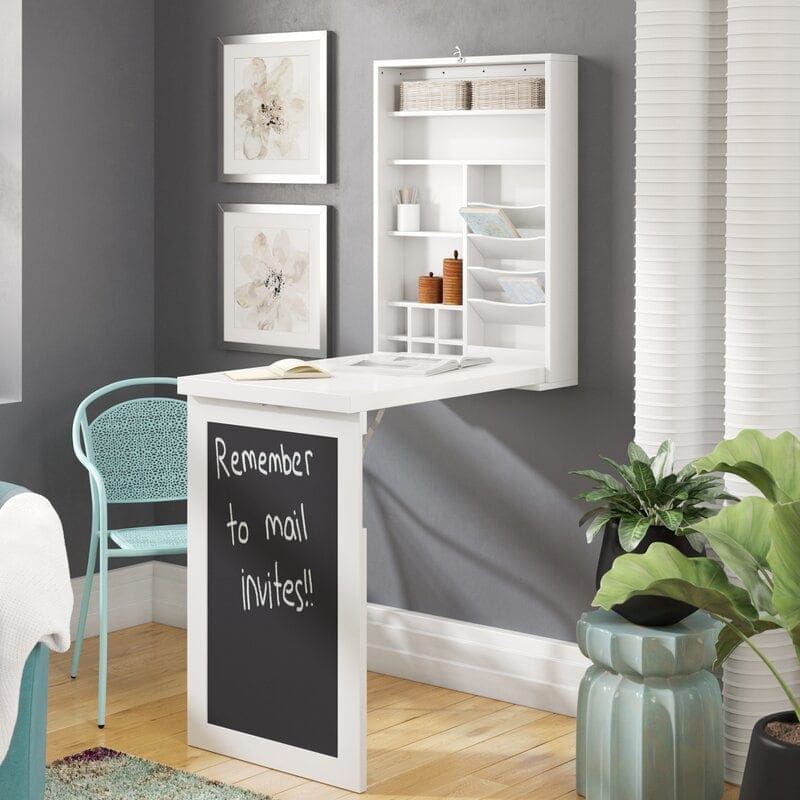 If you want to put a desk in your small bedroom, it might be tough to fit it in with all of the other large pieces of furniture. Plus, if you can fit it in, it can easily make things feel too cramped.
A fold out desk like this is a great solution. It can be stowed away whenever it's not in use and it still doesn't take up much room even when it is being used.
Tall Dresser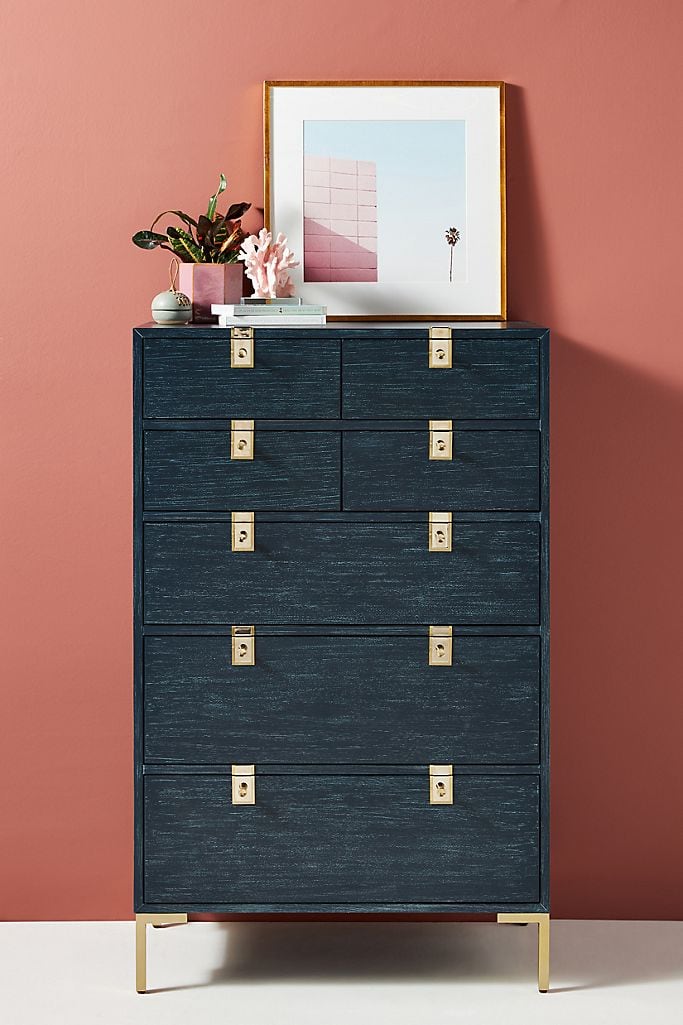 Traditional dressers are big, with two sets of three stacked drawers that are laid out side by side. They're easy to get into and offer a lot of storage space, but they're also usually really big and can take up as much space as a twin bed.
If you really need that drawer space, consider a tall dresser like this, instead. It takes up much less space and uses the room's height rather than the floor area.
Murphy Bed with Storage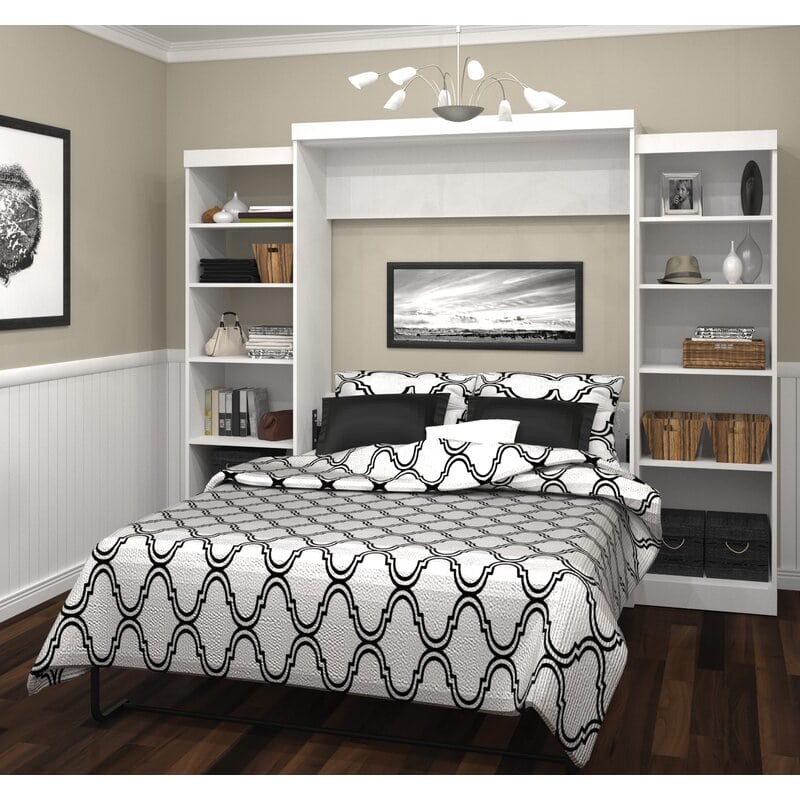 Murphy beds are great space savers, especially in a guest room that is only used on occasion. You can fold it up whenever it's not in use, opening up the room significantly, and just pull it out when you have guests.
You can even get additional storage if you invest in a murphy bed like this one that has built-in shelving. Plus, when it's all closed up, it simply looks like a large wardrobe closet rather than a clunky, outdated piece of furniture.
Under the Bed Storage Drawers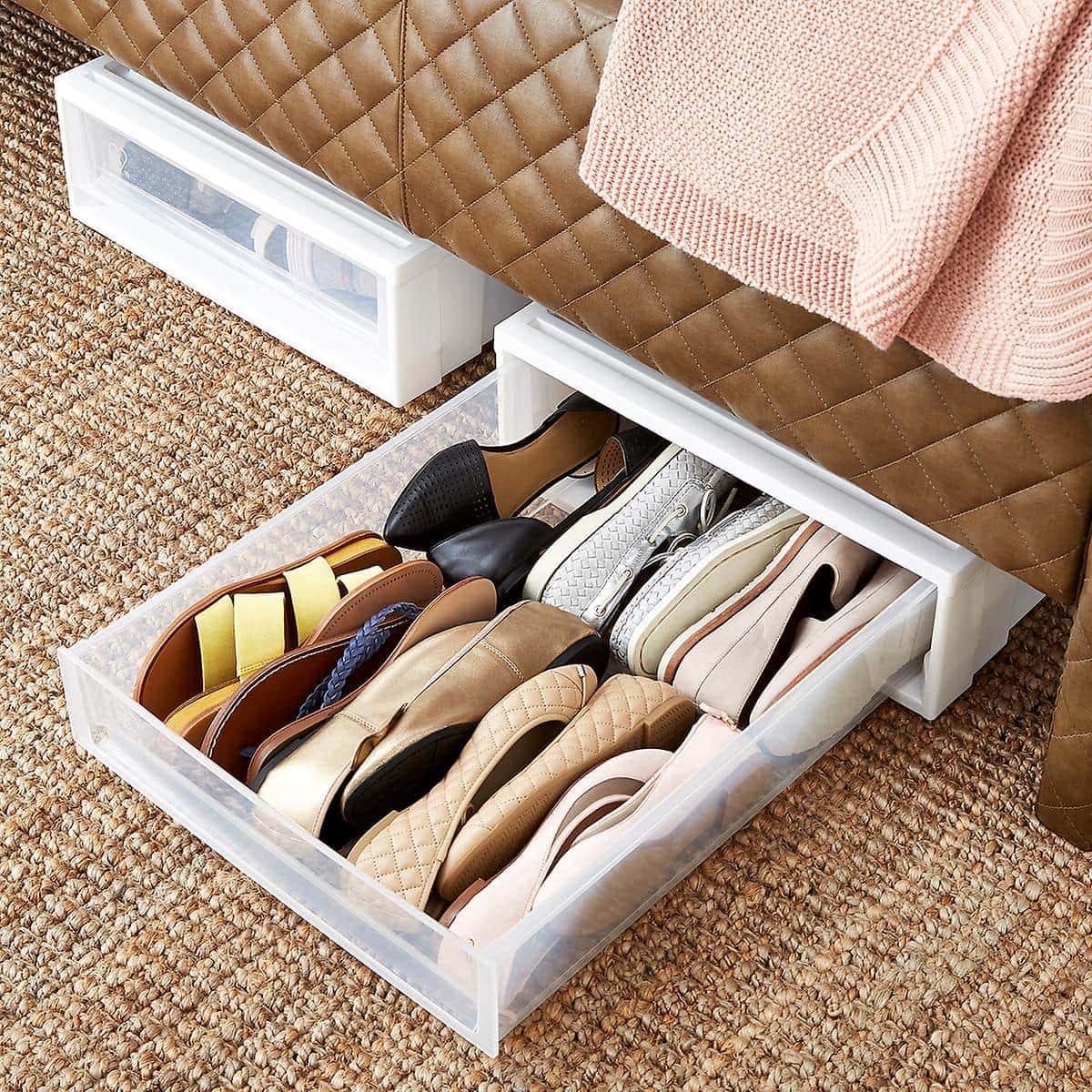 If you just cannot give up your big bed (no judgment), then consider sacrificing your dresser instead.
You don't have to sacrifice storage space to do this, either, just invest in some drawers for under your bed, like these ones.
They slide easily in and out, have a lot of space for your clothes, and don't take up any more floor space than your bed already has.
Flip-Up Vanity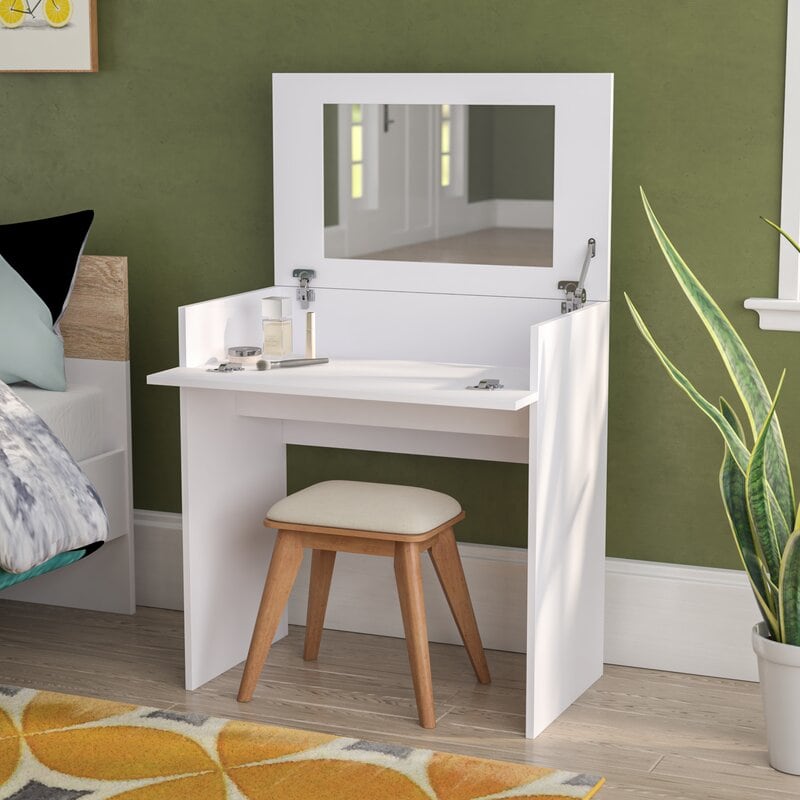 Having a vanity in a bedroom is often a luxury, and it's not one you have to sacrifice just because your bedroom is smaller.
This flip-up vanity can be used as both a vanity and a bedside table. Just close it up overnight to store some water and a book, and then clear it off in the morning to use while you get ready for the day!
Minimalist Nightstand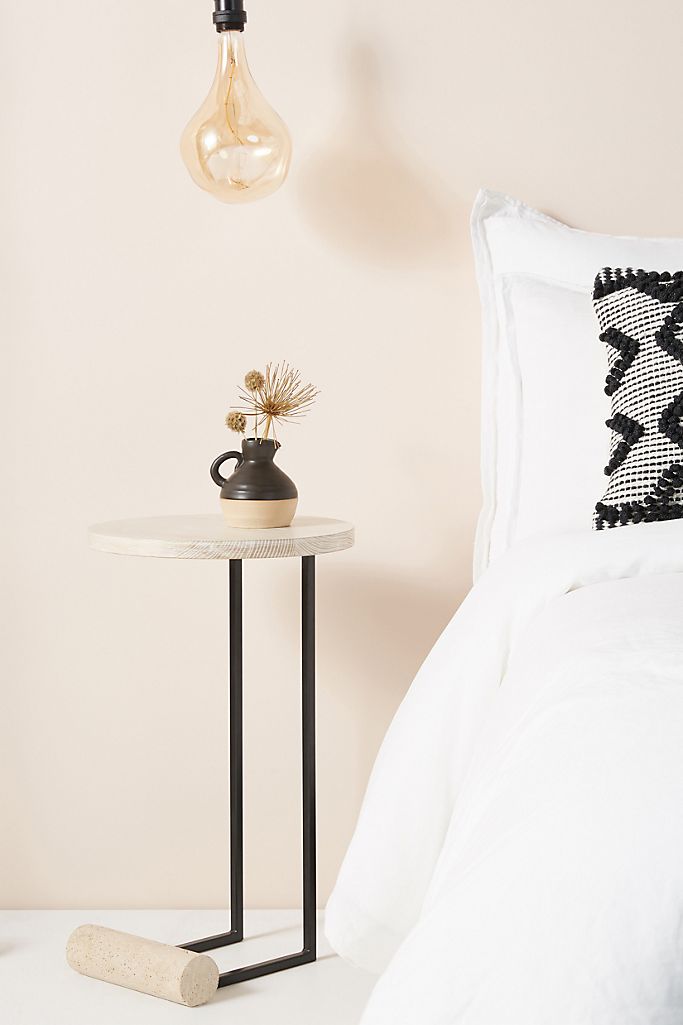 Another way to keep your nightstand without taking up too much space, is to get a minimalist design like this one. There isn't a ton of table space, but there's still enough for the basics.
Similar to this nightstand, you can also use a plant stand. They're tall, narrow, and even though they aren't extravagant, they get the job done!
Mirror & Jewelry Organizer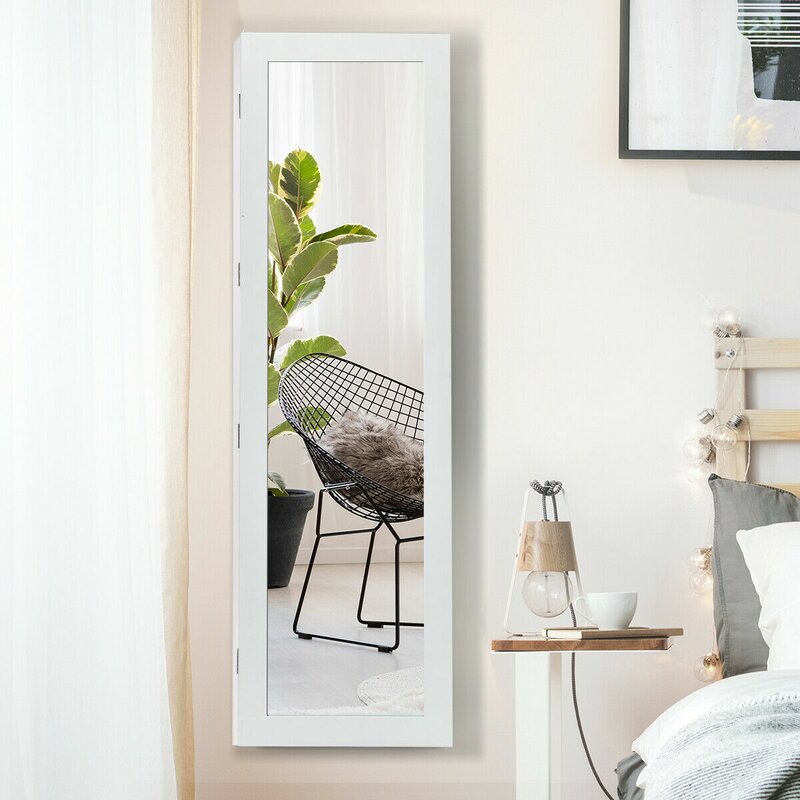 Instead of a standing full-length mirror, get one that you can mount onto the back of the door. It frees up a bit of space (likely in a corner) for another piece of more useful furniture.
You can take it a step further, too, with a mirror like this one that also opens up into a jewelry organizer. You can store your necklaces and earrings without using valuable wall space or investing in a tall jewelry cabinet.
Floor Lamp with Shelving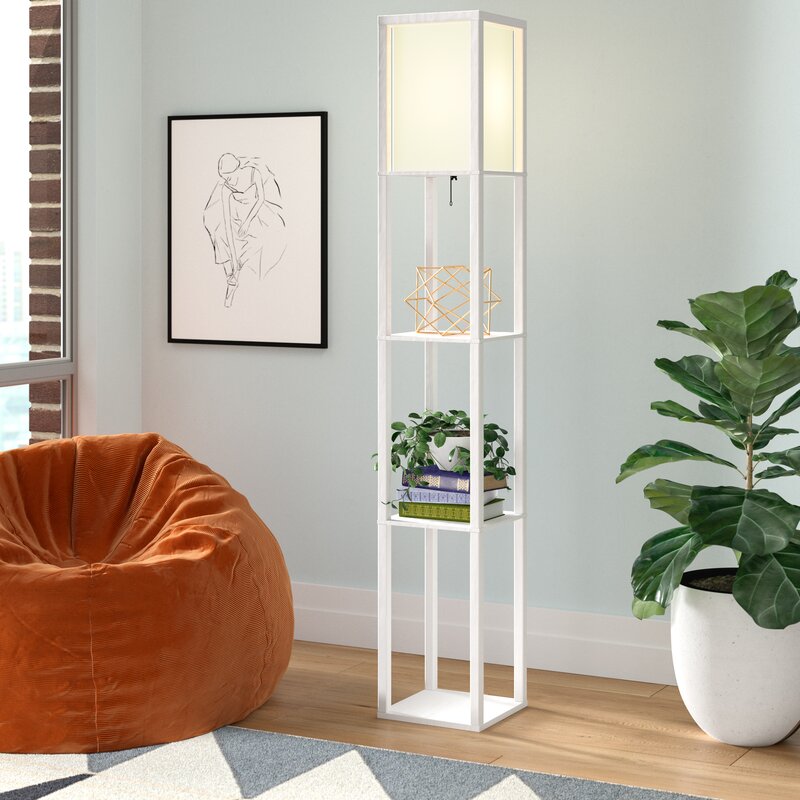 Floor lights create a more cozy atmosphere than overhead lights do, and if you're not willing to sacrifice that vibe, look for a lamp that is tall and narrow. Even better, look for one that also has some storage space in it.
This lamp has a small footprint, and the shelves offer a lot of space to store books or other small items. It's another piece of furniture that can serve two purposes, which is always a great solution for small bedrooms.
Storage Bed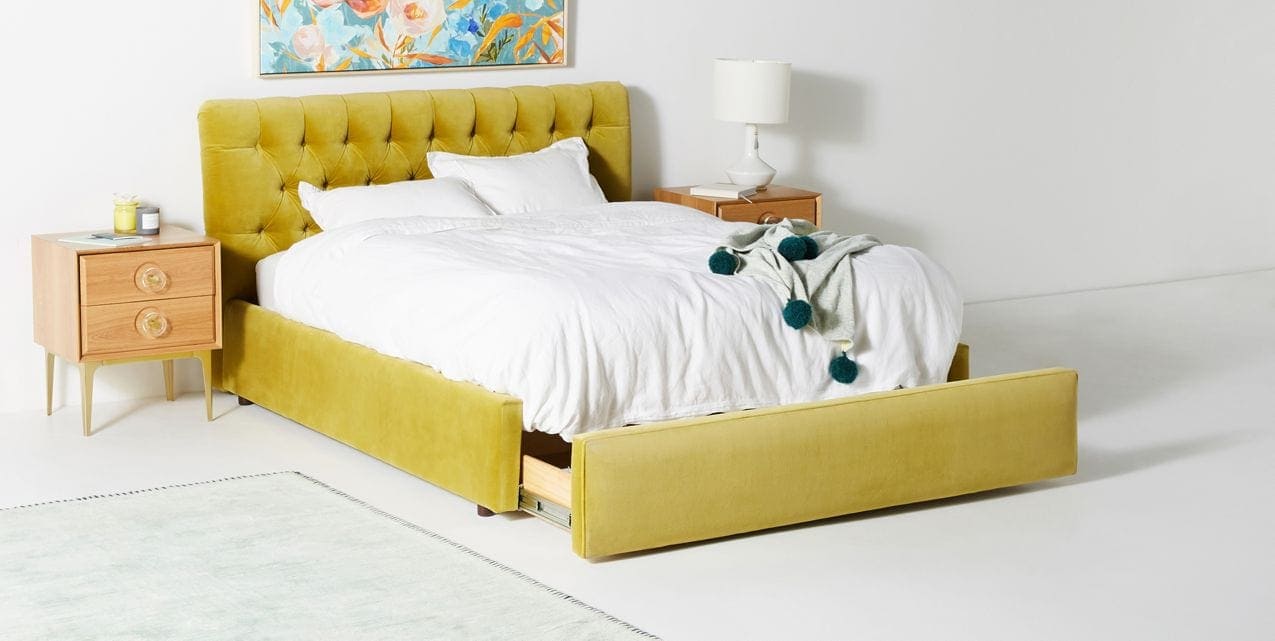 If you were to walk into a bedroom with this bed, you'd never think it had a big drawer in it for storage. It looks like any other traditional bed.
It's a great example of how a piece of furniture can double up in purpose without having to sacrifice style to do it.
Tall Narrow Hamper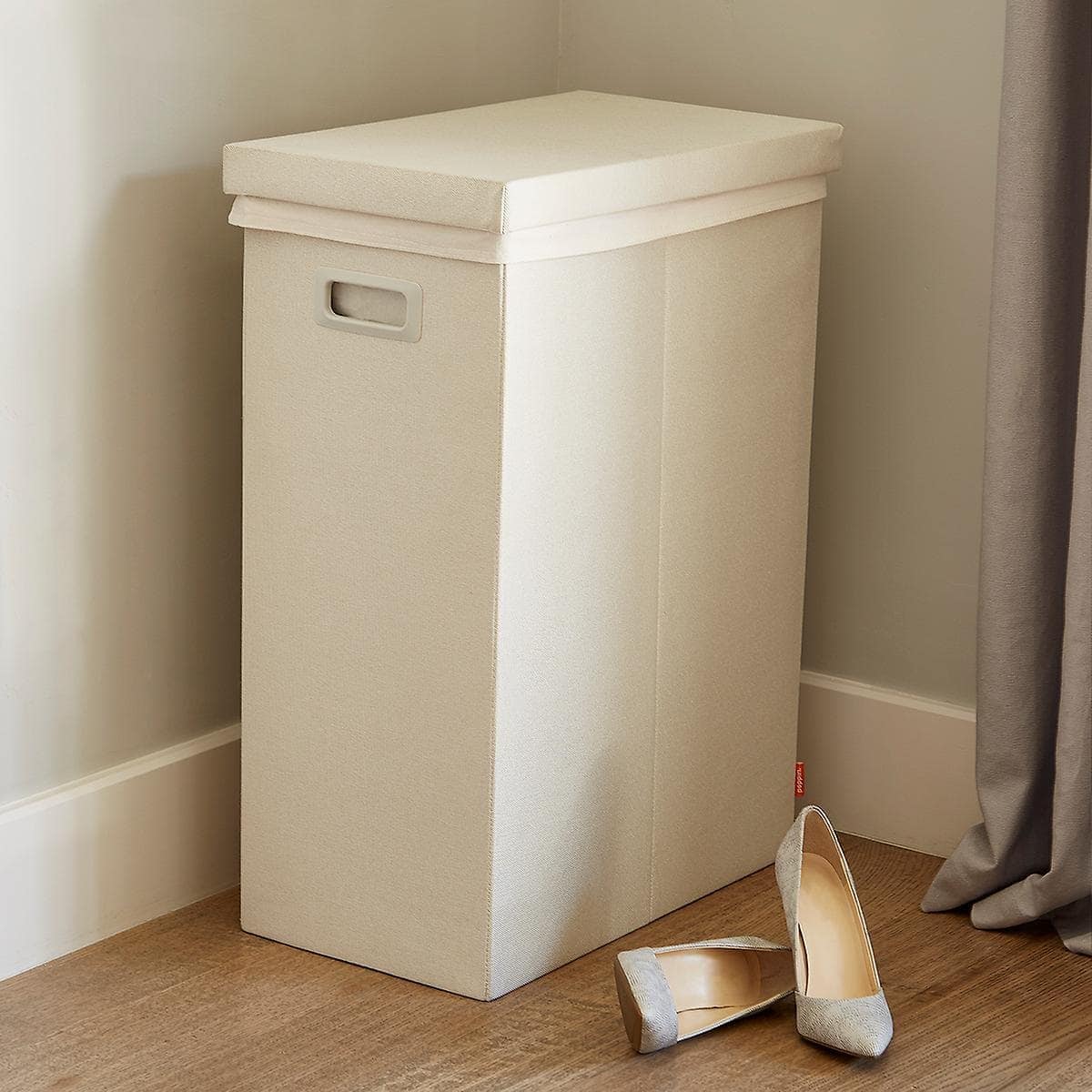 Unless you're one of those really disciplined people who take their dirty clothes right to the washer and dryer, you're going to need a spot to toss them until laundry day.
Rather than getting a large laundry basket, use height to your advantage and get a tall narrow hamper like this one. It can be tucked away neatly into a corner, not taking up much space but still getting the job done.
Daybed with Drawers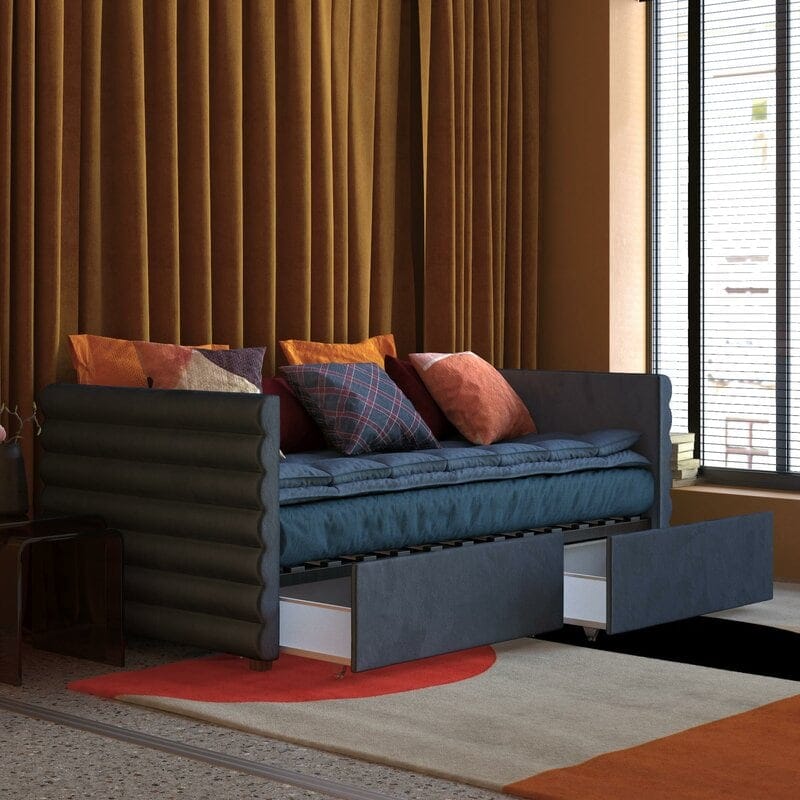 Some small bedrooms have awkward layouts where it makes more sense to put the bed in the center of a wall rather than in the corner, and for those rooms, daybeds are a great solution.
Even better, you can get a daybed with drawers underneath to give you a little extra storage space, which might even be enough for you to skip a big dresser.
Ladder Storage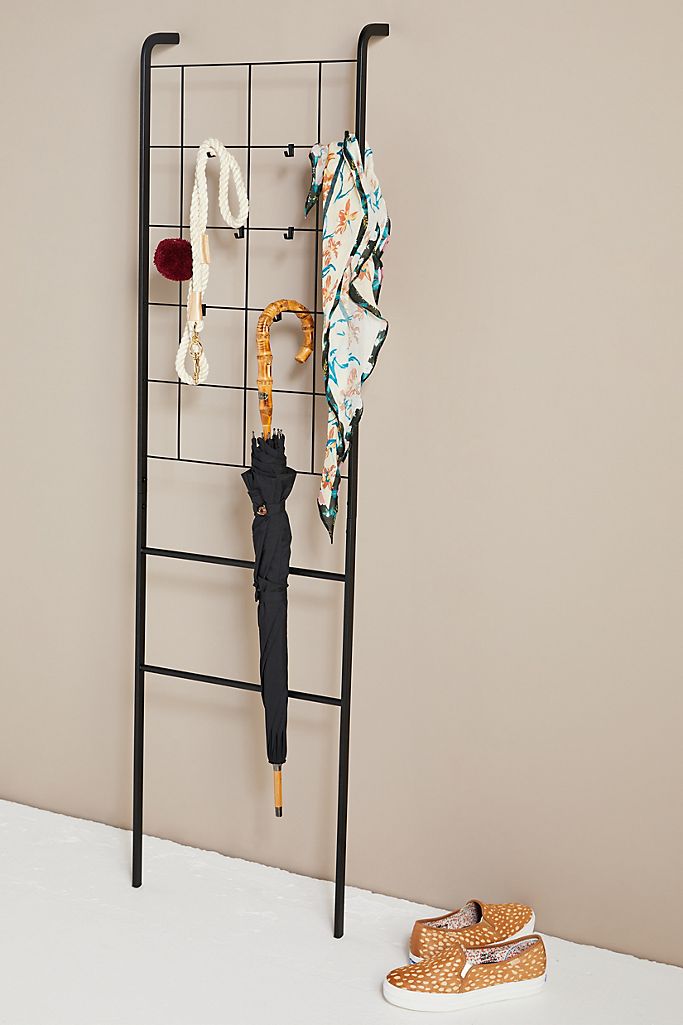 Ladders don't take up much room at all, but can offer a lot of benefits to a small room. This one, for example, is designed with the grid on top which provides storage space for small items in addition to larger ones.
A tradition ladder is still great, too, because you can hang blankets or towels over it, drape your coats on it, hang scarves or purses on it, or even display magazines over it. It is so versatile and takes up next to nothing in floor space.
Bunk Beds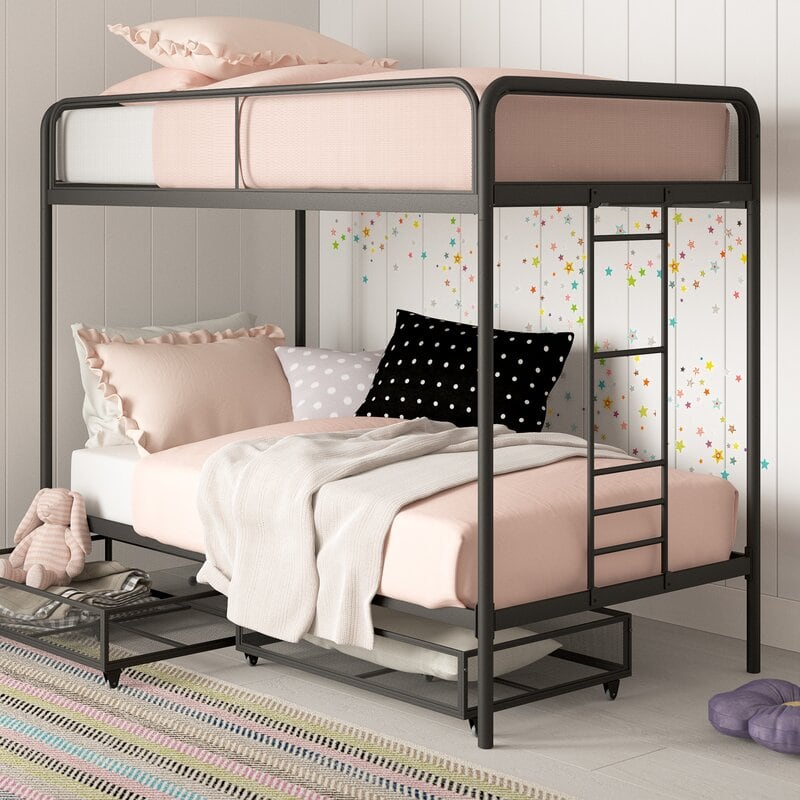 Bunk beds are one of the most classic bedroom space savers because you can fit two beds into one small space.
This is an especially great solution for a shared kid's room, or a guest room if you regularly have more than one guest visit at a time.
Over the Door Hooks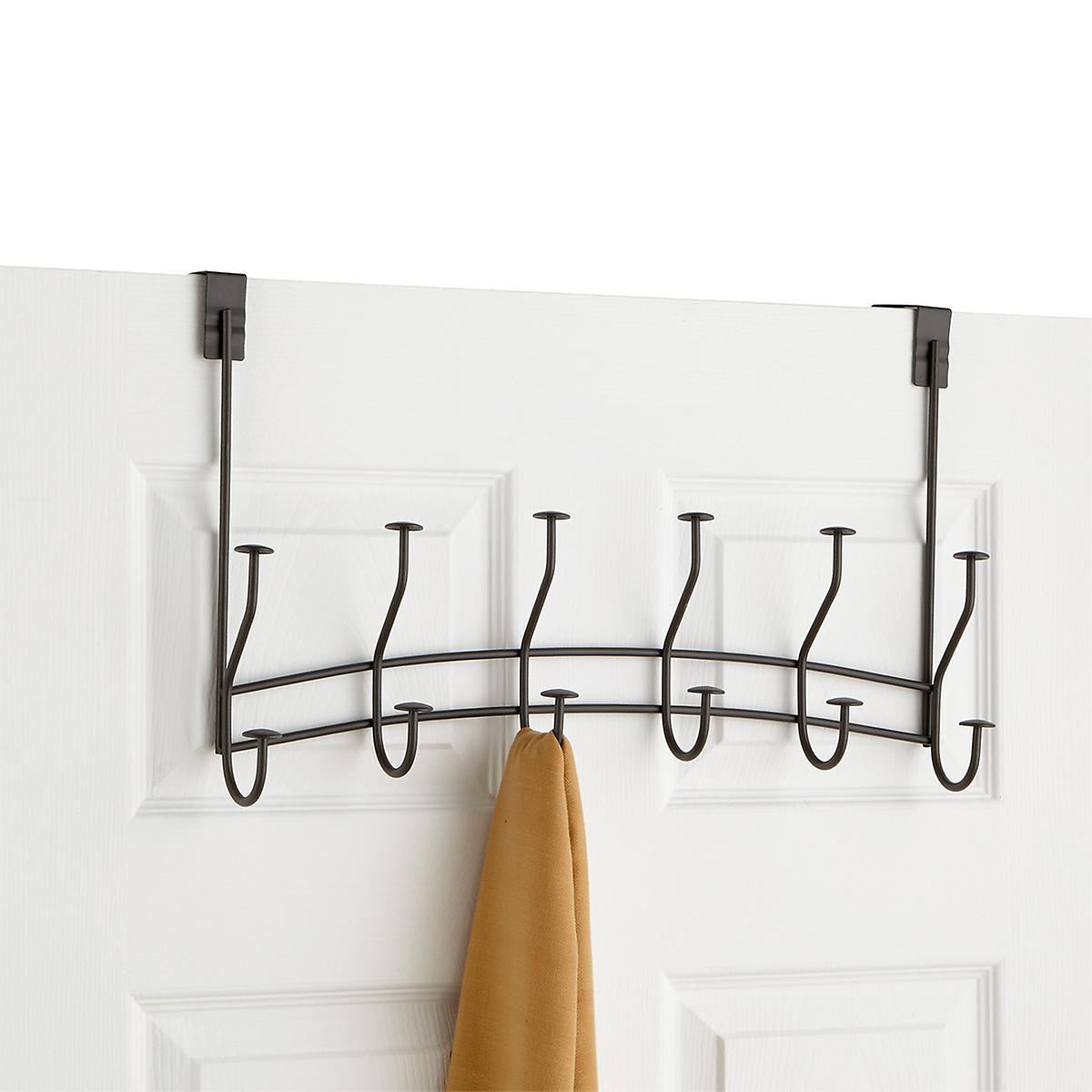 Instead of getting a coat tree, storage baskets, or a garment rack, just hang some hooks on the back of your door.
They're a great spot to hang bags, coats, scarves, towels, blankets, or anything else that requires storage space.
This will free up floor space in your room, allowing you to maximize the area for the furniture that you need the most.
Final Thoughts
All of these space saving ideas for small bedrooms can be used together or independently to create a room you or your family member will absolutely love and still feel right at home in.
While a king-size bed is nice, a full or twin still offer a cozy spot to get some sleep and a tall dresser's drawers are just as good as a standard dresser's. It's all about making the most of the room and doing what works best for you and what you need.