Decorated Life is reader-supported. When you buy through links on our site, we may earn an affiliate commission. Learn More
20 Shoe Storage Ideas for the Entryway
The entryway to your home is often an overlooked area when it comes to aesthetical design and organization. But having a dedicated place to put all your stuff when you come in for the day is crucial for your home's ambiance.
One of the most important storage and decor pieces for the entryway is a shoe cabinet. Picking a shoe storage bench is one of the most convenient ideas for entrances, but it's not the only option. We've come up with twenty shoe storage solutions for entryways in a wide range of designs.
Keep reading to check out all the different options you have to store shoes in your entryway when you're not using a closet.
Try an Industrial 3-in-1 Shoe Storage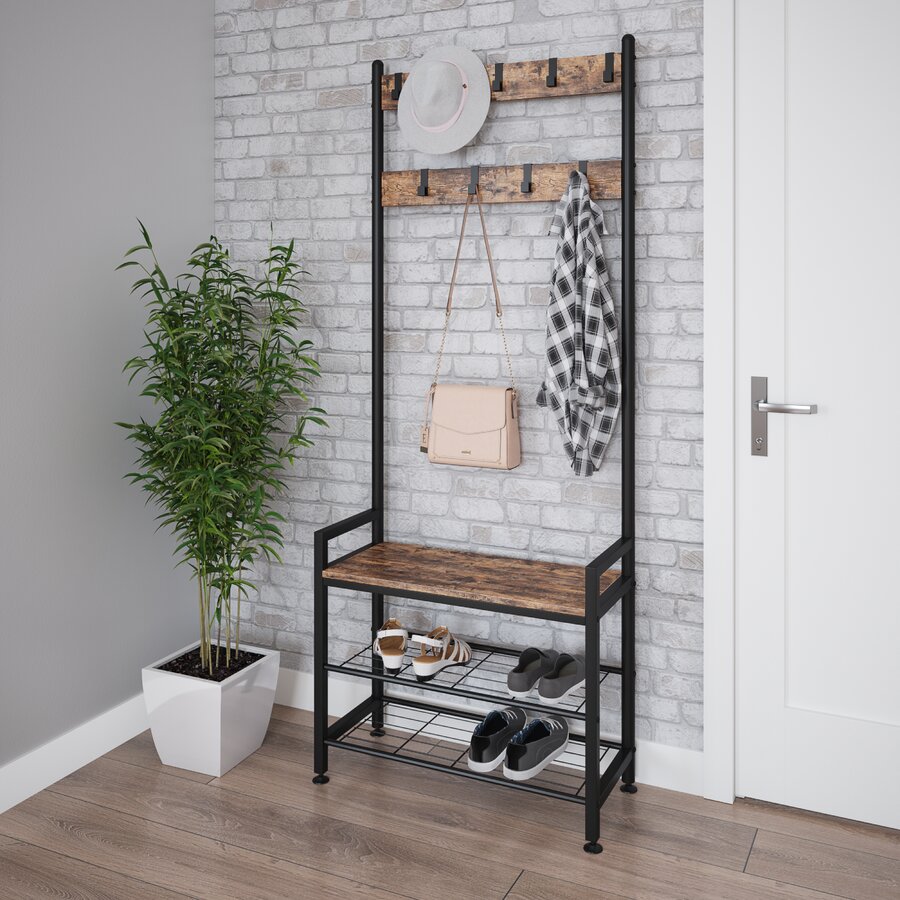 If you're lacking a storage closet, you may find yourself in need of a shoe rack for the entryway and a place to hold coats, scarves, and purses.
Give your foyer a rustic-industrial feel with a shoe storage solution that offers a bit of storage for everything. There are two wire shelves for holding your shoes, a bare reclaimed wood plank as the seat with two reclaimed wood boards on top with five metal hooks each.
Understated Shoe Storage Bench with Drawers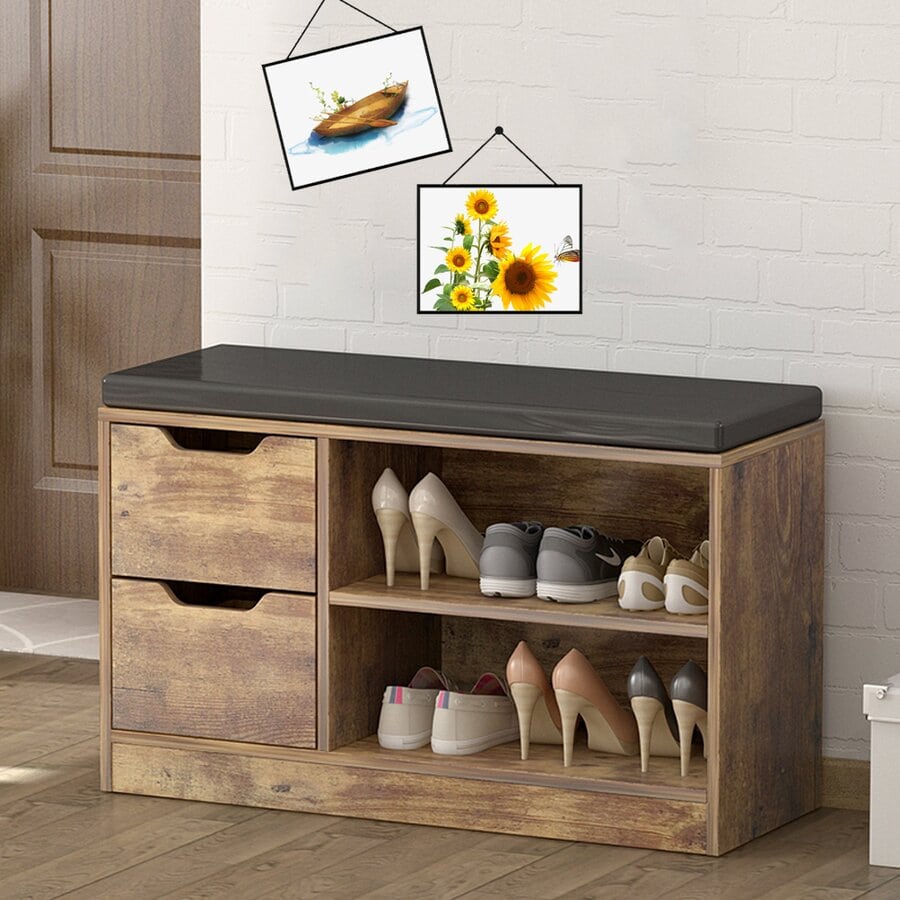 For a simple, understated shoe storage idea that's especially useful for children, you can't go wrong with a wooden shoe cabinet in a natural brown or a classic white.
We recommend a style with a padded bench seat, shelves for storing up to shoes, and drawers with curved handles for additional storage. This option fits six pairs of shoes on two shelves with two drawers and a PU leather cushion.
Simple Slatted Bamboo Shelf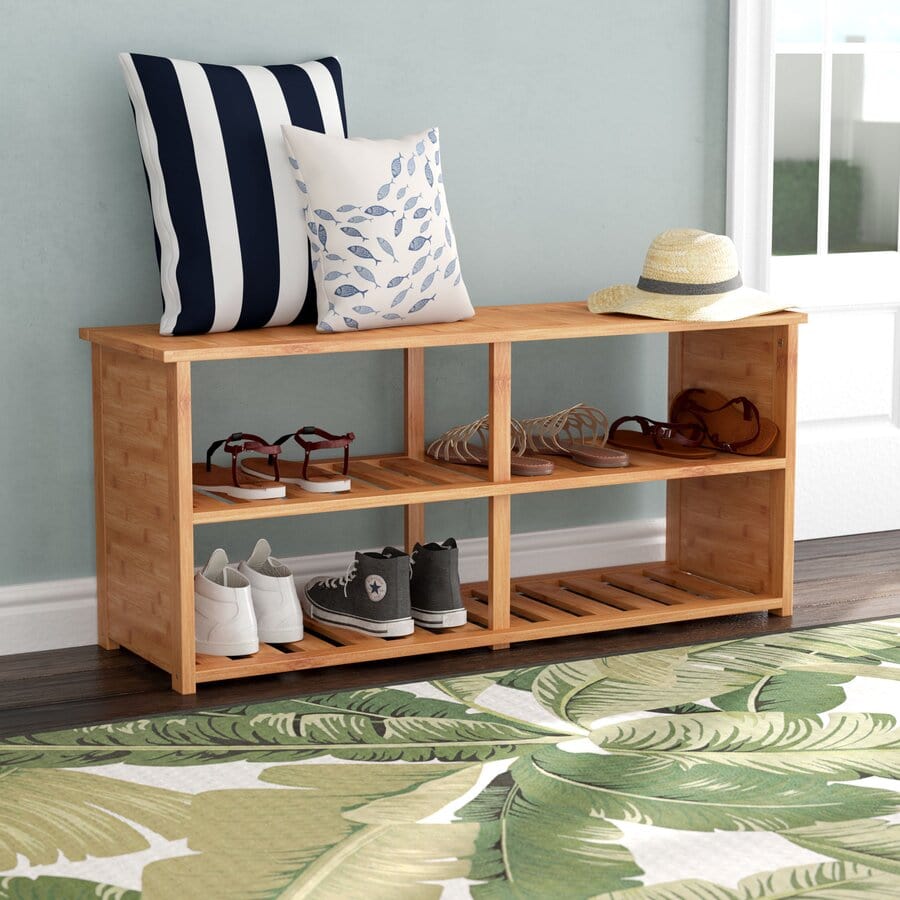 If you prefer a minimalist look, you can pick something basic and unadorned, like a shoe rack with two rows of slatted shelves in a gorgeous neutral natural bamboo.
The hard surface on top makes the perfect place for placing bookbags, books, or baskets to keep things organized near the door.
Cabin Chic Storage for Shoes and Boots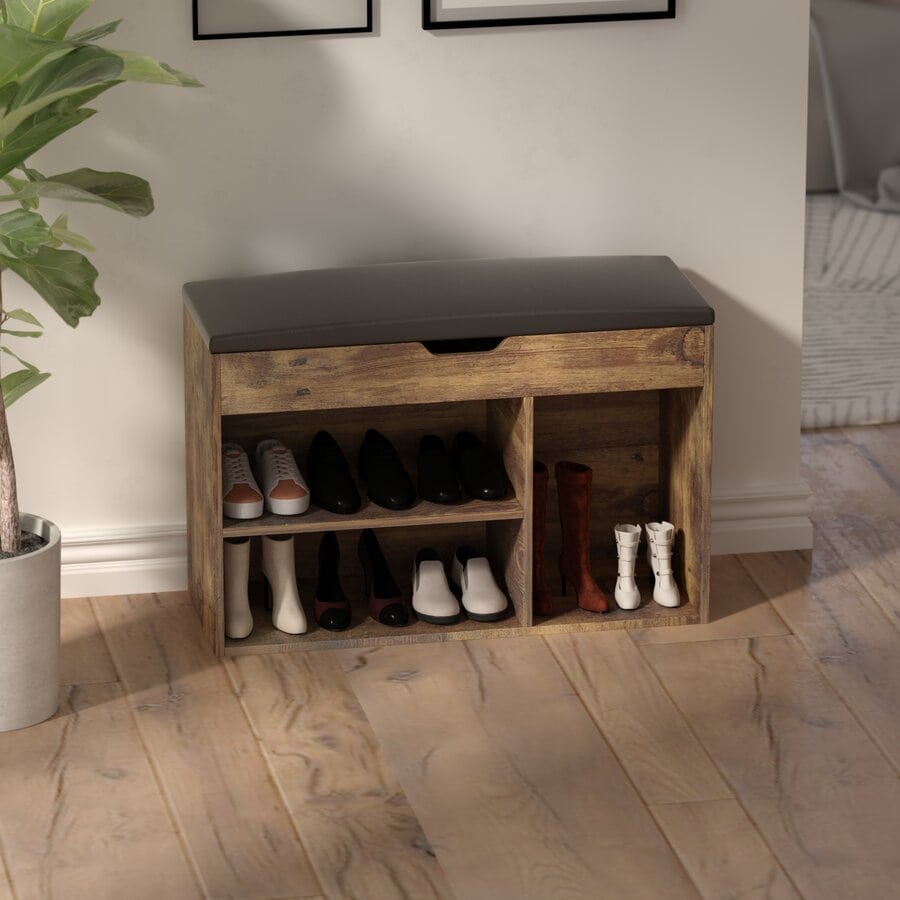 Achieve a modern cabin chic vibe in your space with the use of a sleek cabinet in a bright white palette and a minimalistic profile with tons of storage.
This shoe cabinet features two shelves for up to six pairs of shoes with a taller frame for storing boots. The thin white cushion on top gives a convenient space to sit while hiding a compartment underneath.
White Slotted Secret Shoe Rack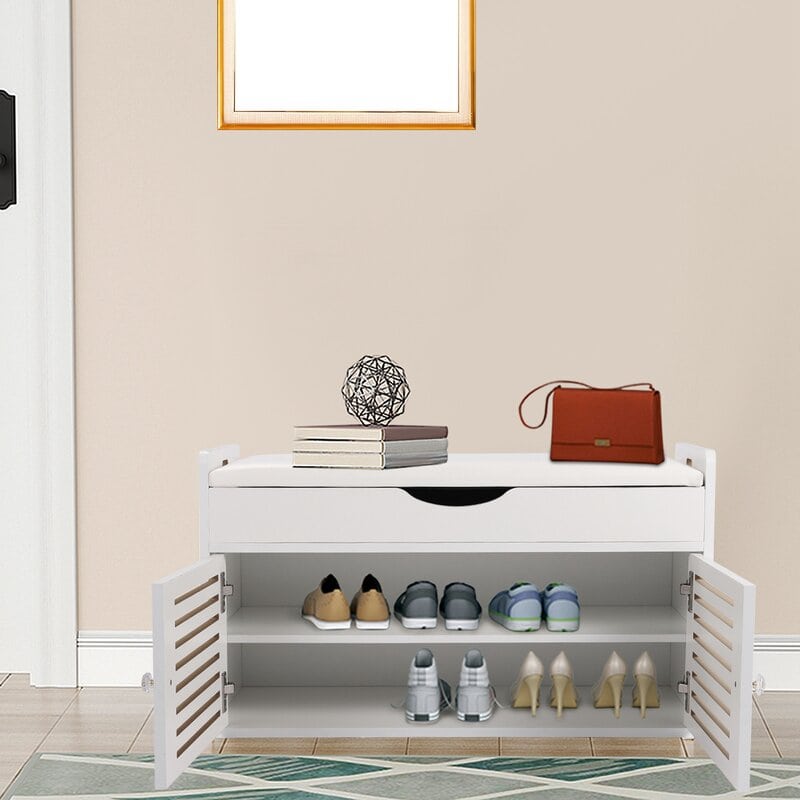 If you like to keep things hidden behind closed doors, an interesting design element is to choose a style with a slotted front.
This white shoe rack features a white cushioned bench and two slotted doors discreetly hiding two shelves for storage of up to 14 pairs of shoes.
Round Metal Tree Shoe Rack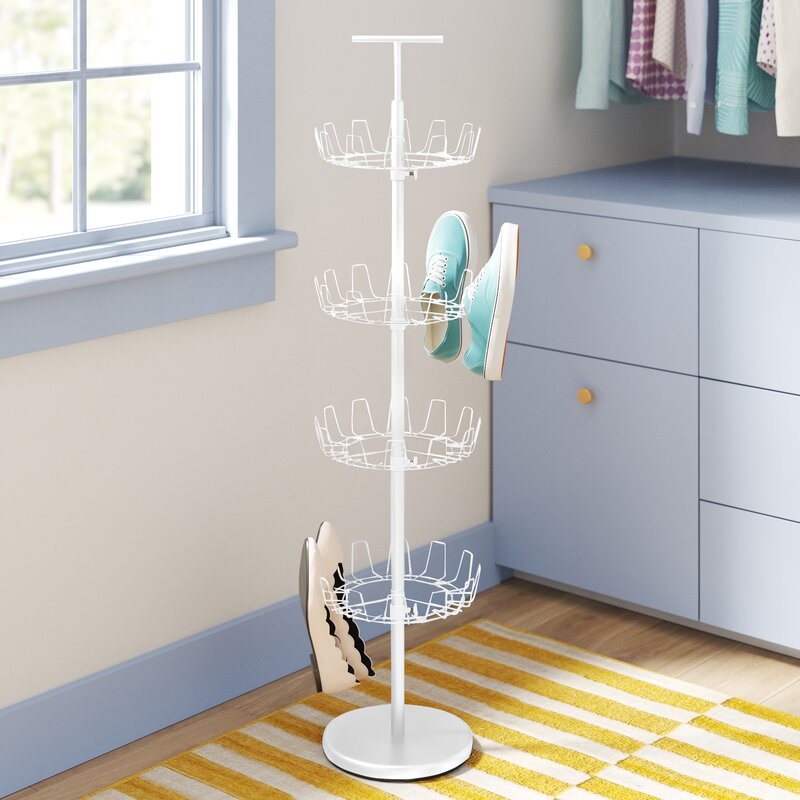 If space is a premium and you don't have room (or don't want the style of) a bulky wood shoe rack, there's the option to go with a freestanding shoe tree.
We love this modern shoe rack with four rotating tiers of hooks that hold heels, flats, boots, and sneakers on a 49" tall understated metal shoe basket for the entryway.
Stackable Shoe Rack with Clear Doors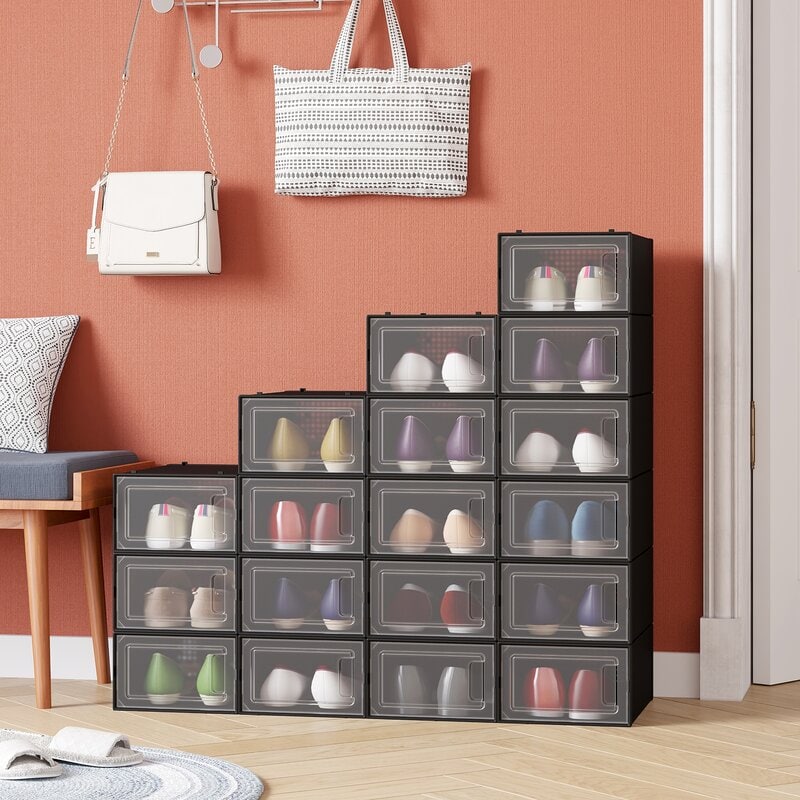 Shoe racks don't always come in metal or wood with benches and cushions. You can also go with something practical like plastic drawers with clear doors to let you see what contents are inside.
This entryway shoe rack provides space to store 18 pairs of shoes, and convenient air holes prevent moisture and odor buildup. And they're stackable so that you can combine multiple boxes for additional shoe storage.
Massive Storage in a Simple Case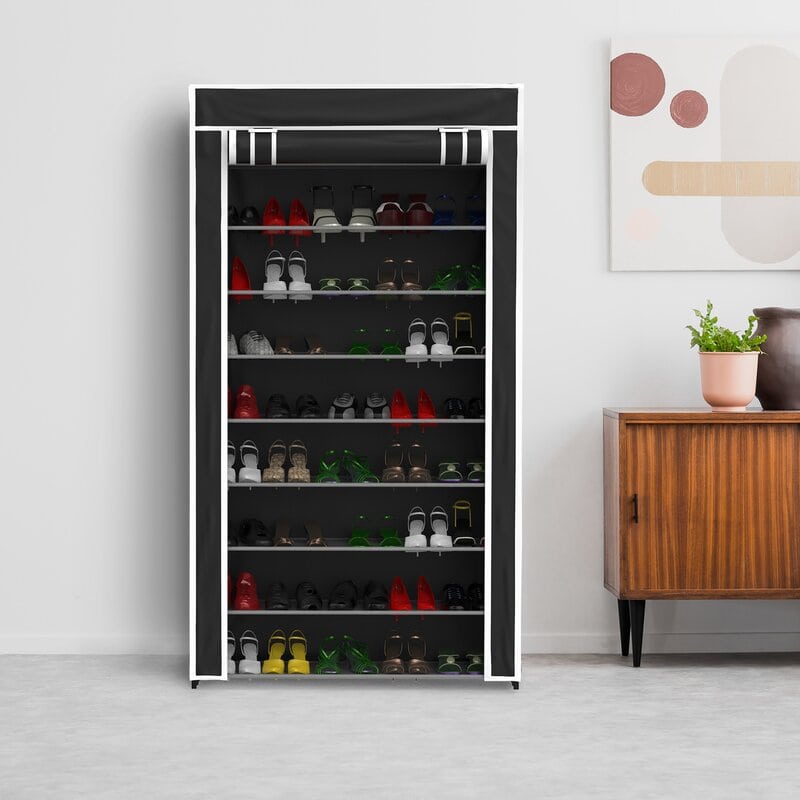 If you need maximum shoe storage, you have the luxury of going with a simple shoe cabinet, like a rectangular metal case.
This large metal cabinet has dimensions of 62" H x 34" W x 10.5" D, making it a wonderful choice for tight areas. You have space on this black metal cabinet with nine shelves for 45 pairs of shoes hidden from view by a drop-down curtain.
Modern Style Storage with Shelves and Drawers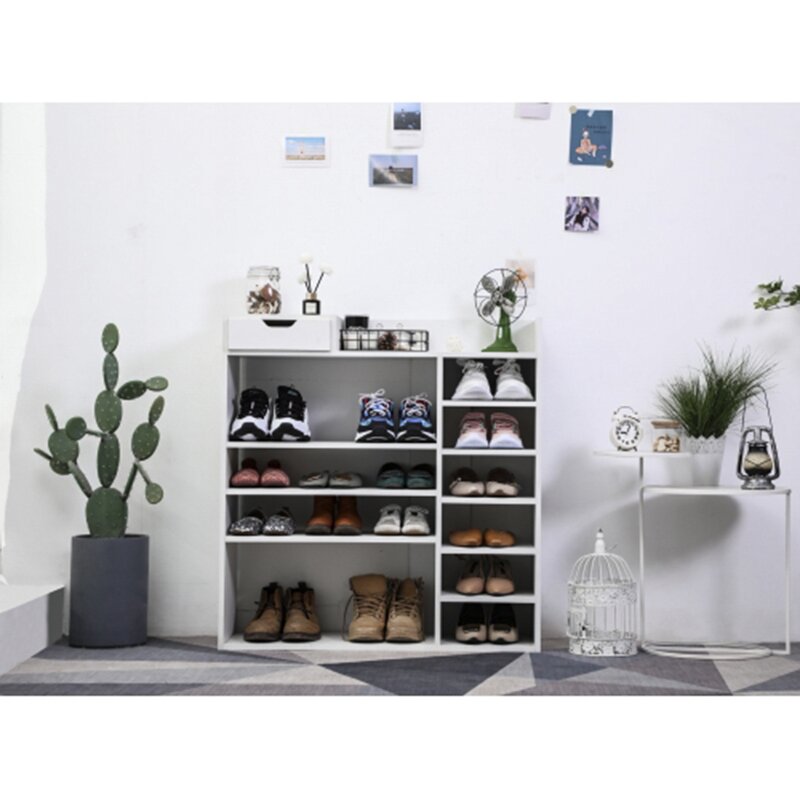 Choosing a shoe cabinet takes some serious consideration; you'll want shelves that fit your types of shoes. This sleek-profile white wood rack has enough room for up to 18 pairs of shoes with six shelves on one side for sneakers and low shoes.
And on the other side, there are four long shelves of varying heights to accommodate boots and large men's shoes. The top and bottom shelves are taller than the middle two. Then there's also a built-in drawer on top for closed storage and a raised border for using the top shelf for decor.
Dark Rich Wood Cabinet with Drawers and Cushion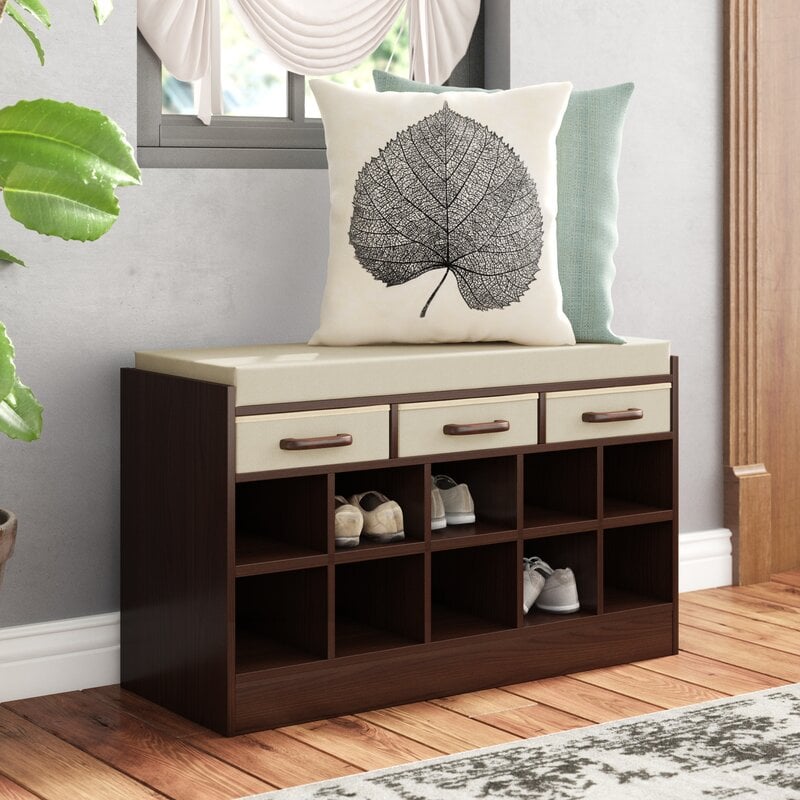 This shoe storage idea features a warm, modern, yet homey style, with all the options you'd need in a shoe rack for entryways.
You get a comfy place to sit with a cream-colored cotton upholstered bench seat, cubbies for the storage of ten pairs of shoes (two rows of five open boxes), and as a bonus, three drawers in a matching cream with brown handles.
Battan Bench Shoe Shelf and Coat Rack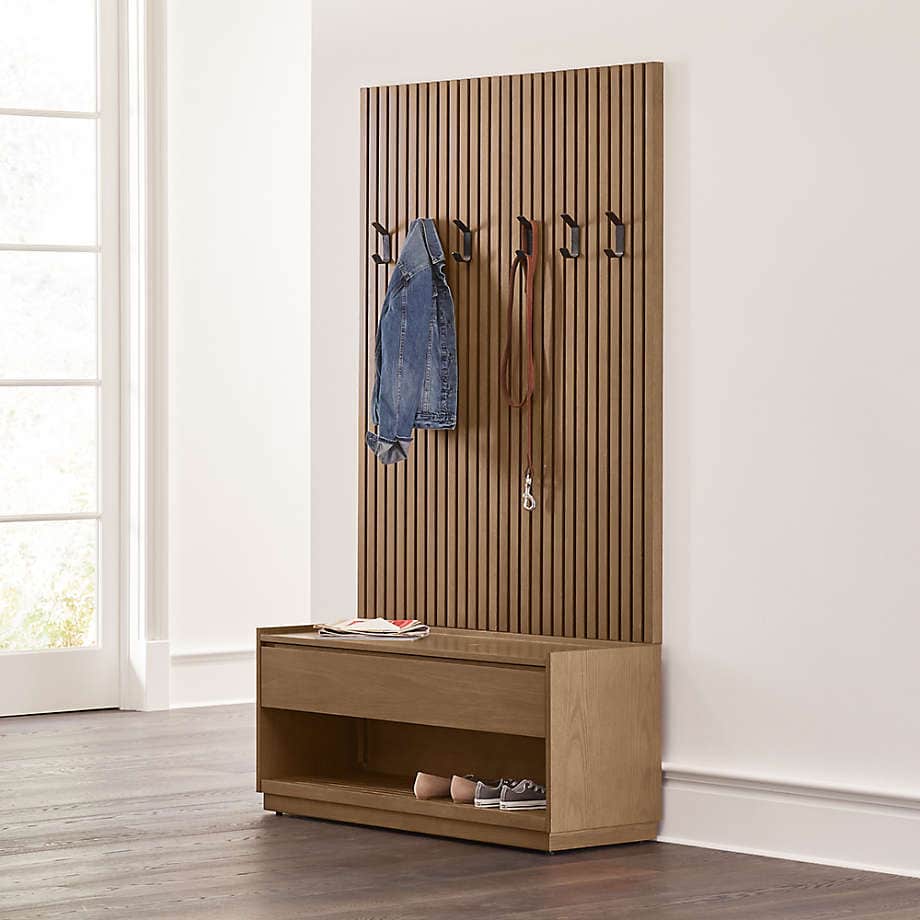 For a mid-century modern entryway, try something different in design, but with all the features, you'd want to keep things organized and clutter-free.
This three-piece wonder comes with a storage bench – featuring an open shelf for shoes and a pullout drawer – a slatted back panel, and six black steel hooks. You can position these hooks for custom organizing, and there's the option to buy additional hooks or shelves to meet your needs.
Hide It All in a Modern Shelving Cabinet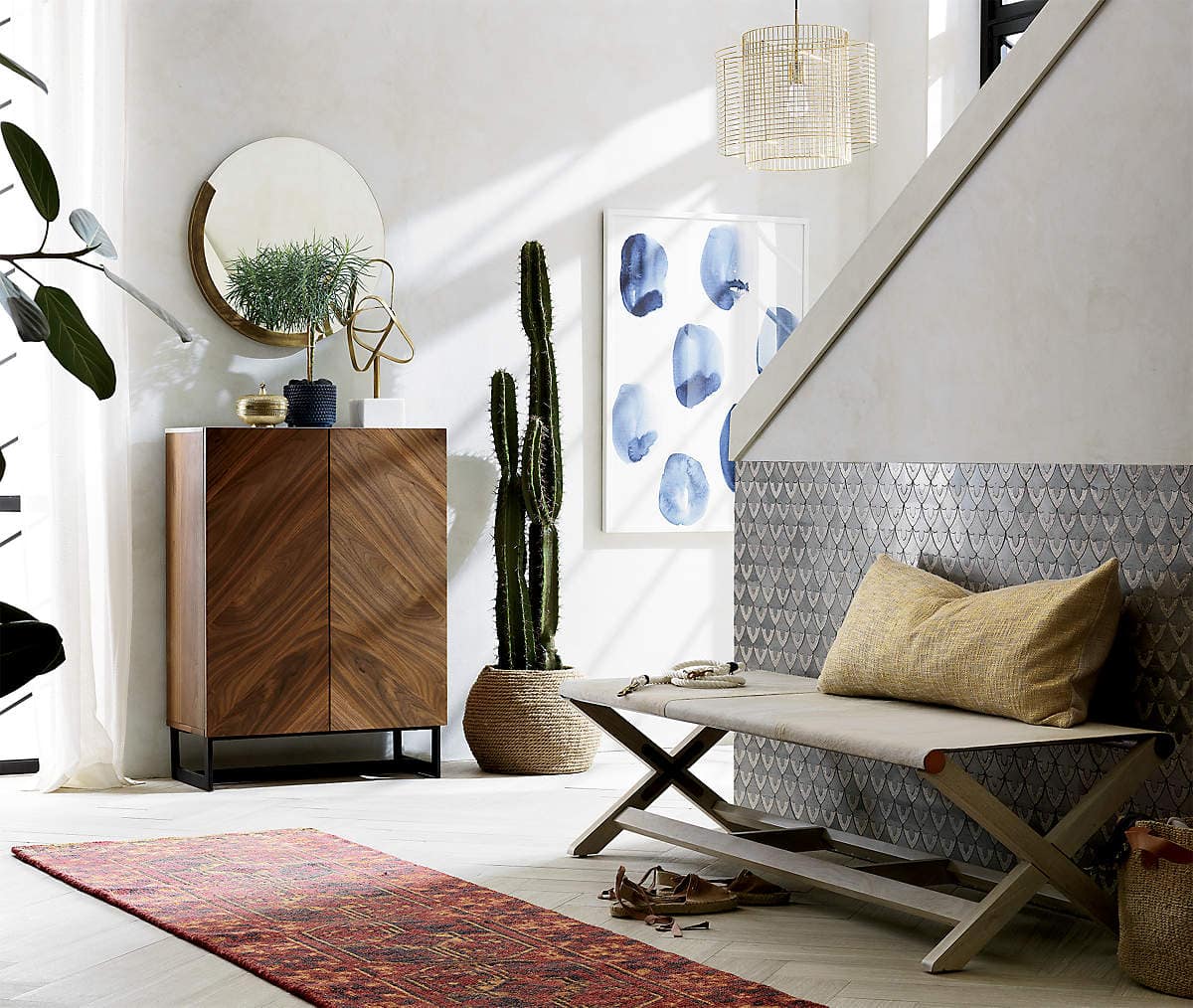 If your home is full of stylish modern furniture and a traditional (and obvious) shoe rack isn't your cup of tea, we understand. So, we've picked a shoe storage cabinet that doesn't look like a shoe rack.
This stunning modern-looking walnut wood cabinet in a gorgeous abstract pattern of swirled grain chevron two-toned doors conceals three inner shelves. The ultra-modern style is complete with black powder-coated iron legs and a slab of white Carrara-imitation marble with gray veining.
Rustic Hall Tree and Shoe Storage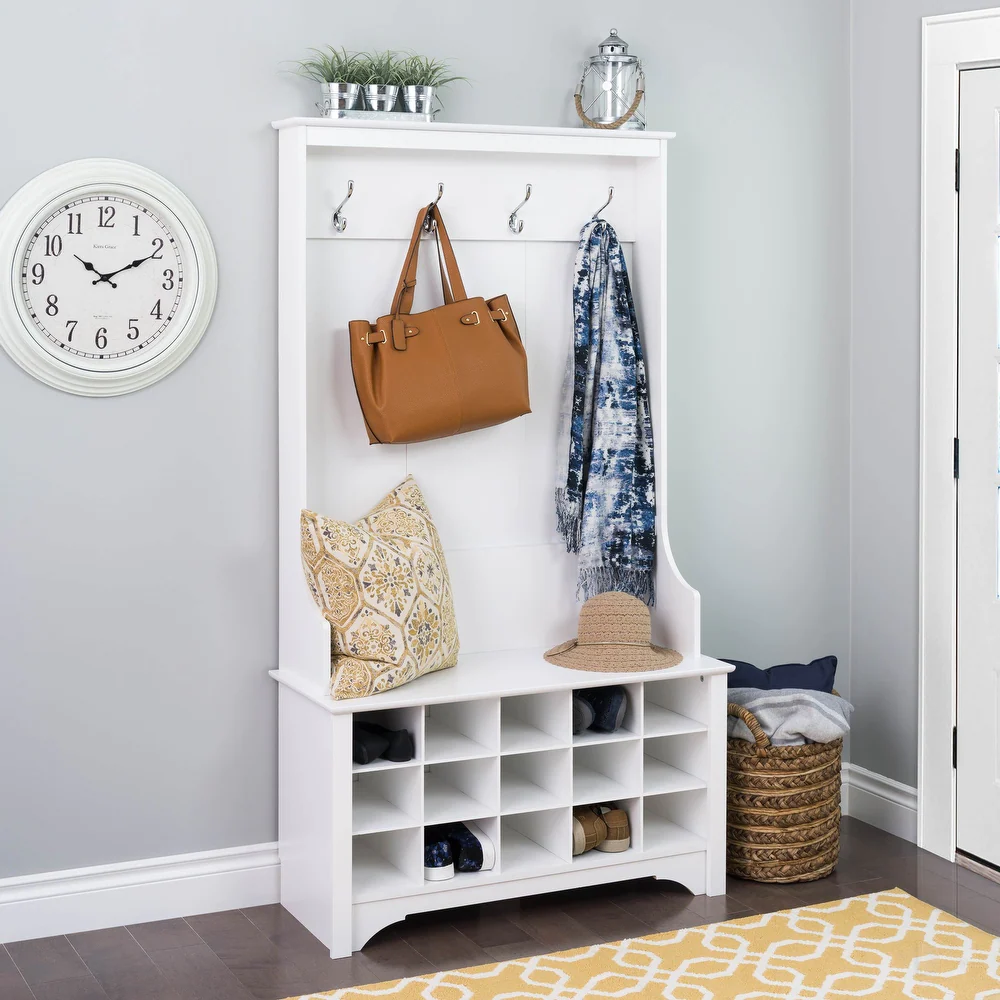 Enjoy a farmhouse fresh and welcoming entryway with a crisp, bright white hall tree. This 38" wide shoe storage piece features fifteen cubbies (three rows of five) for shoe storage, with a bench for sitting and four large silver hooks up top for jackets, scarves, purses, or backpacks.
A lipped edge offers a place for sitting up some small decor pieces like a few small plants and a decorative rustic lantern. If white isn't your thing, there's also black, drifted gray, or rich espresso in widths of 27" (narrow), 38" (wide), or 60" (wide), which provides extra cubbies.
Concealed Storage with Drawers and Doors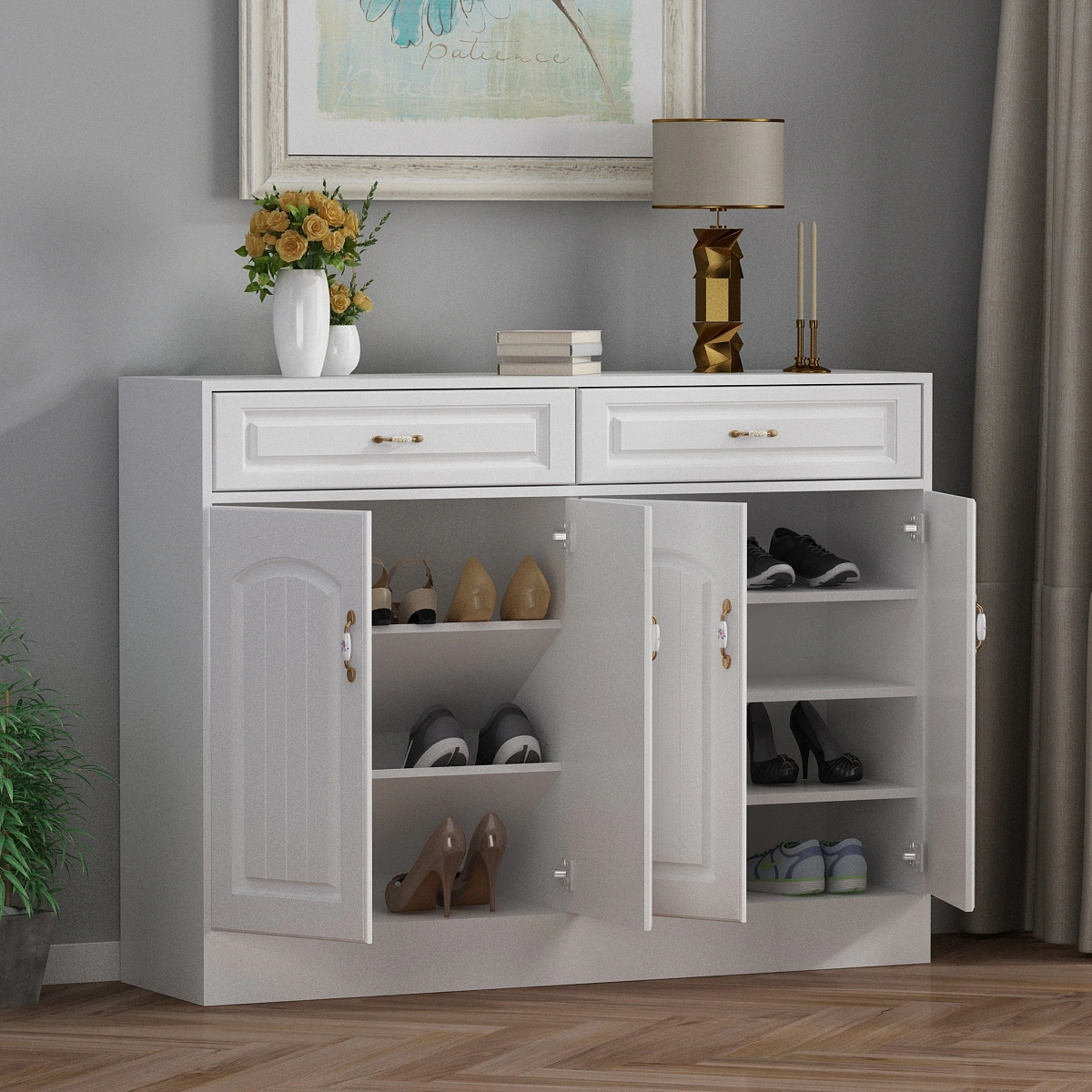 Enjoy a blend of contemporary and traditional with a gorgeous white storage cabinet in a lovely white paint with a natural texture. You get four paneled-grooved doors and two drawers with carved borders for storage of small items so you can keep the smooth top clear of clutter.
This cabinet offers enough room to store 21 pairs of shoes behind the four doors, which conceal seven tiers of shelves – four shelves behind the right two doors and three slanted shelves behind the two left doors.
Slatted Drawers for Slanted Shoe Storage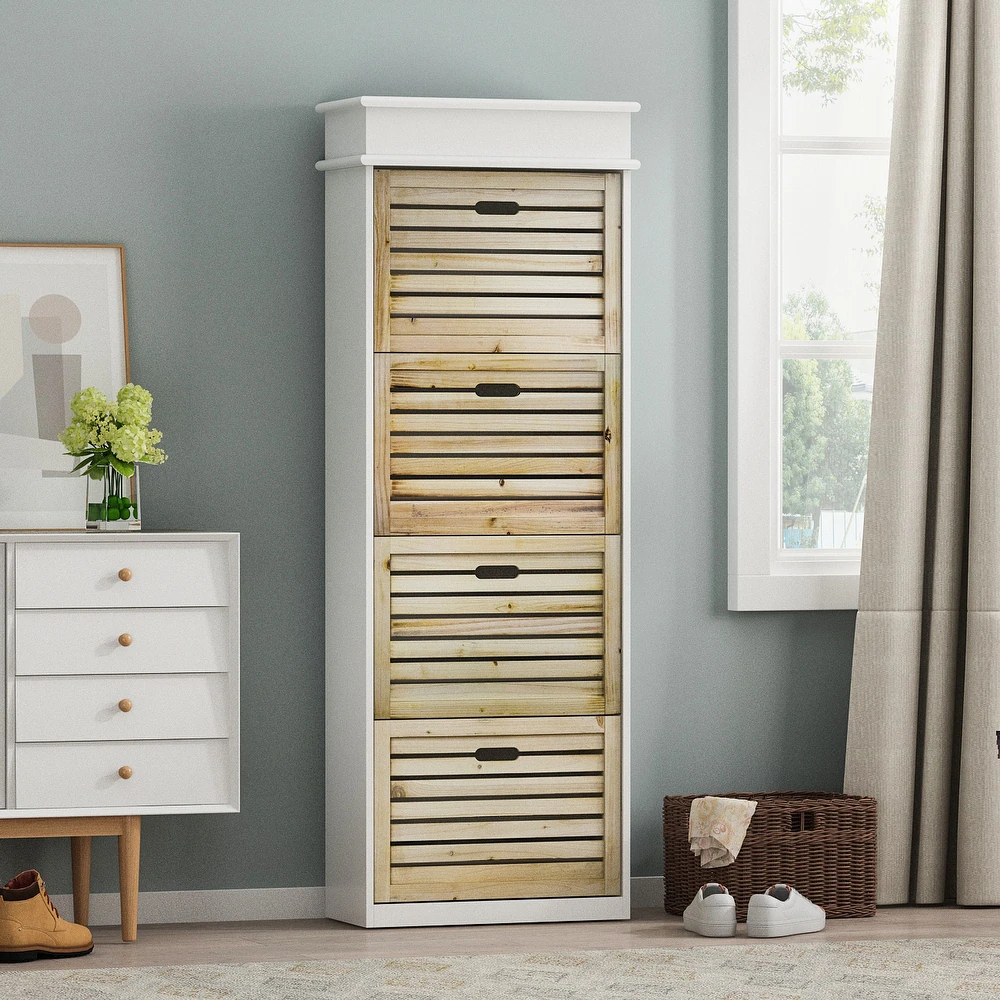 Appreciate the understated elegance of a compact Scandinavian-influenced shoe storage cabinet with enough room to hold up to sixteen pairs of shoes.
Four pull-down folding drawers feature dividers for two inside components, making eight tiers of shelves discreetly hidden behind four embossed slatted doors with silent hinges and metal handles.
Industrial Metal Hooks and Shelves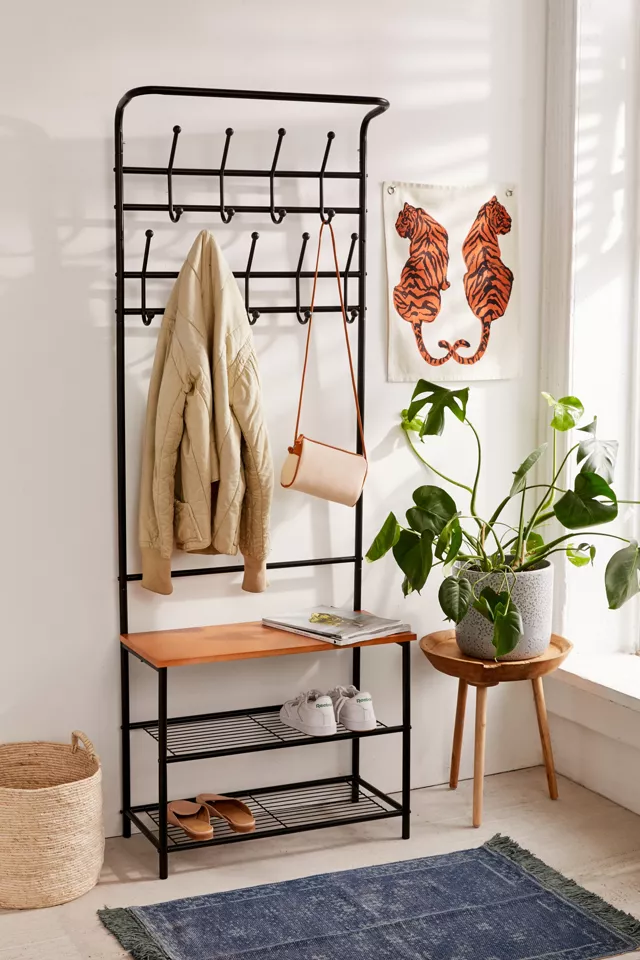 Give your entryway a modern minimalist feel with industrial flair with 3-in-1 shoe storage in a bold black metal finish with a natural-wood colored MDF plank bench seat.
This option has nine hooks up top for items you need to hang and two wire shelves at the bottom for shoe storage.
Sleek and Glam Gold Shoe Rack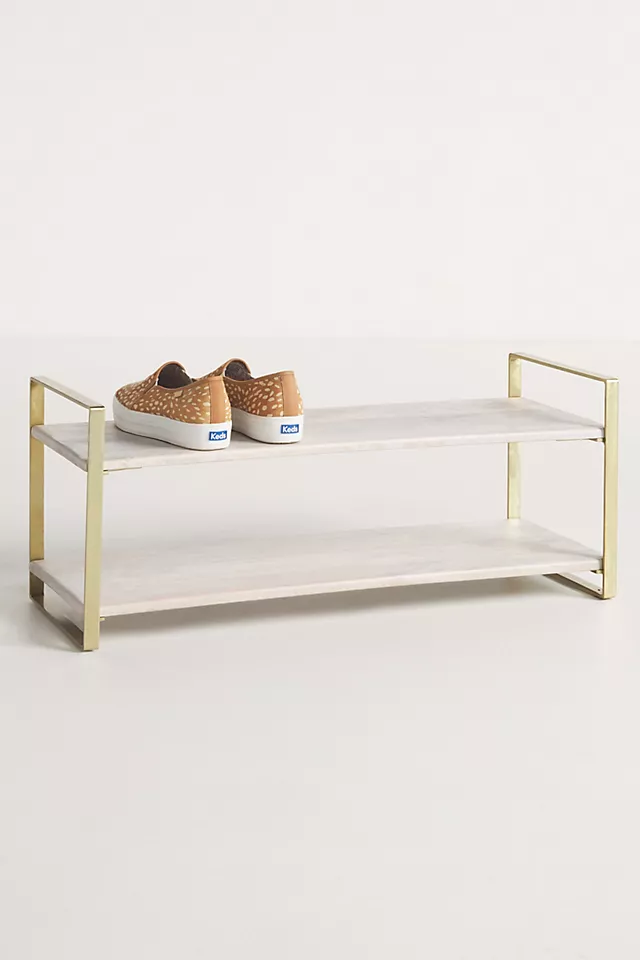 Shoe storage doesn't have to be a heavy, bulky wood rack. If you prefer to give your entryway a modern flair with some serious glam, go for a sleek design.
This small shoe rack (11.75" H x 30" W x 11" D) features two light tropical hardwood shelves and a thin metal frame in a shimmery gold frame.
Upscale Exotic Modern Converted Credenza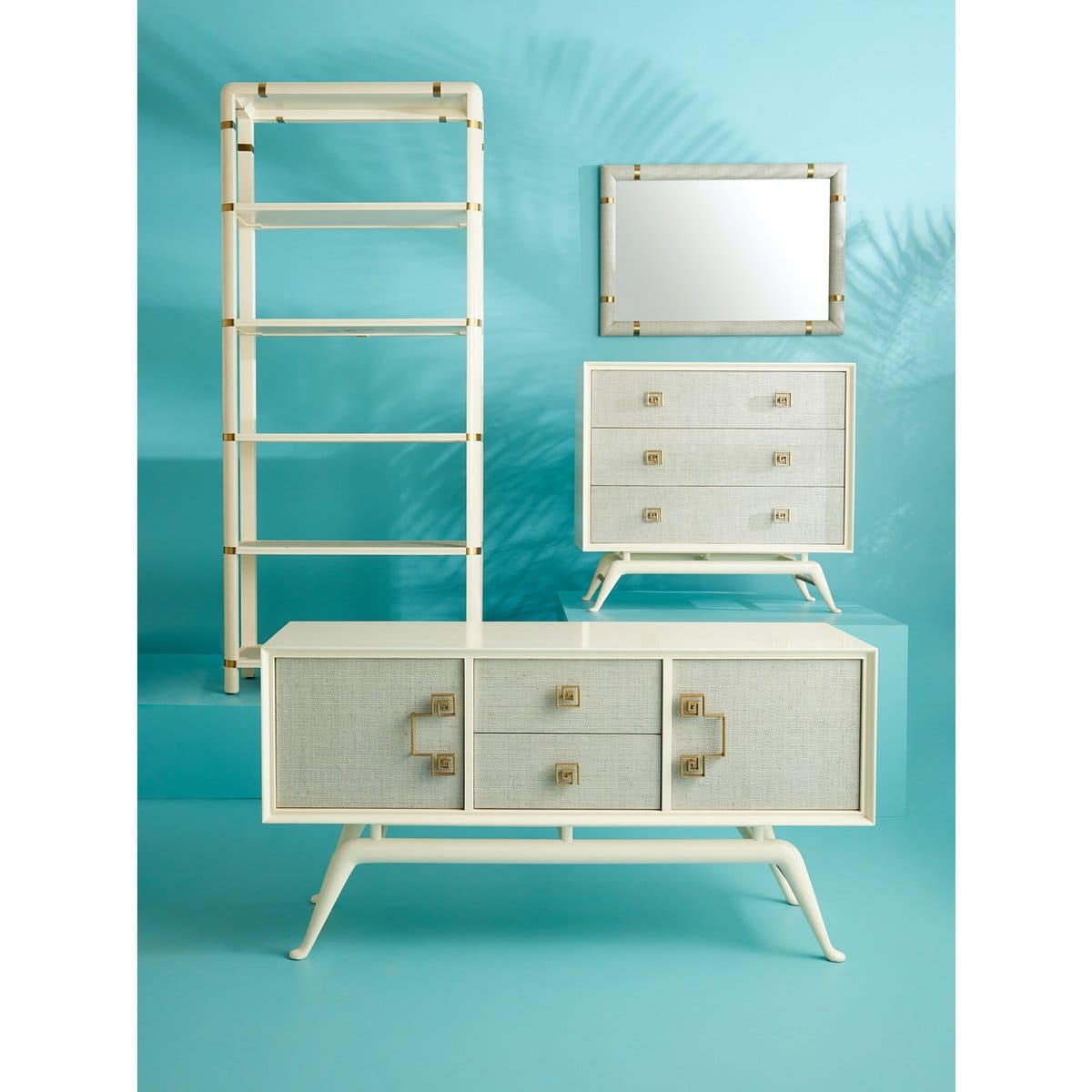 Throw everyone off by choosing shoe storage that's not a shoe rack. This exotic shelf is mahogany wood in an ivory lacquer coating with an icy sky blue lacquer stain on layers of natural raffia on the two swing-out doors and two middle drawers.
The glossy white raised stand with claw feet elevates this cabinet while adding a layer of style to accompany the Greek brass key hardware. The four shelves behind the two doors give you space for shoes, while the drawers offer closed storage.
Make It a Modern Console Table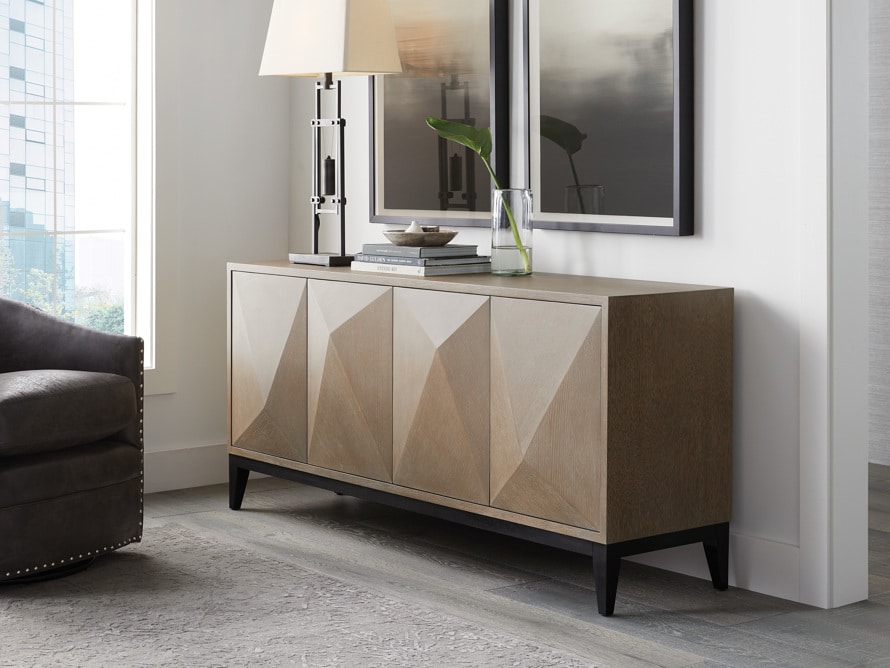 You can also skip the traditional methods of shoe storage in place of a media console – shelving used for an entertainment stand.
We appreciate the geometric beauty of this mixed-wood media cabinet, featuring multi-faceted doors with oak veneers in a light stain and lacquer to highlight the wood's natural grain. The solid mahogany frame and adjustable shelving offer post-modern storage discreetly perfect for shoes.
Try a Cushioned Bench with Solo Drawer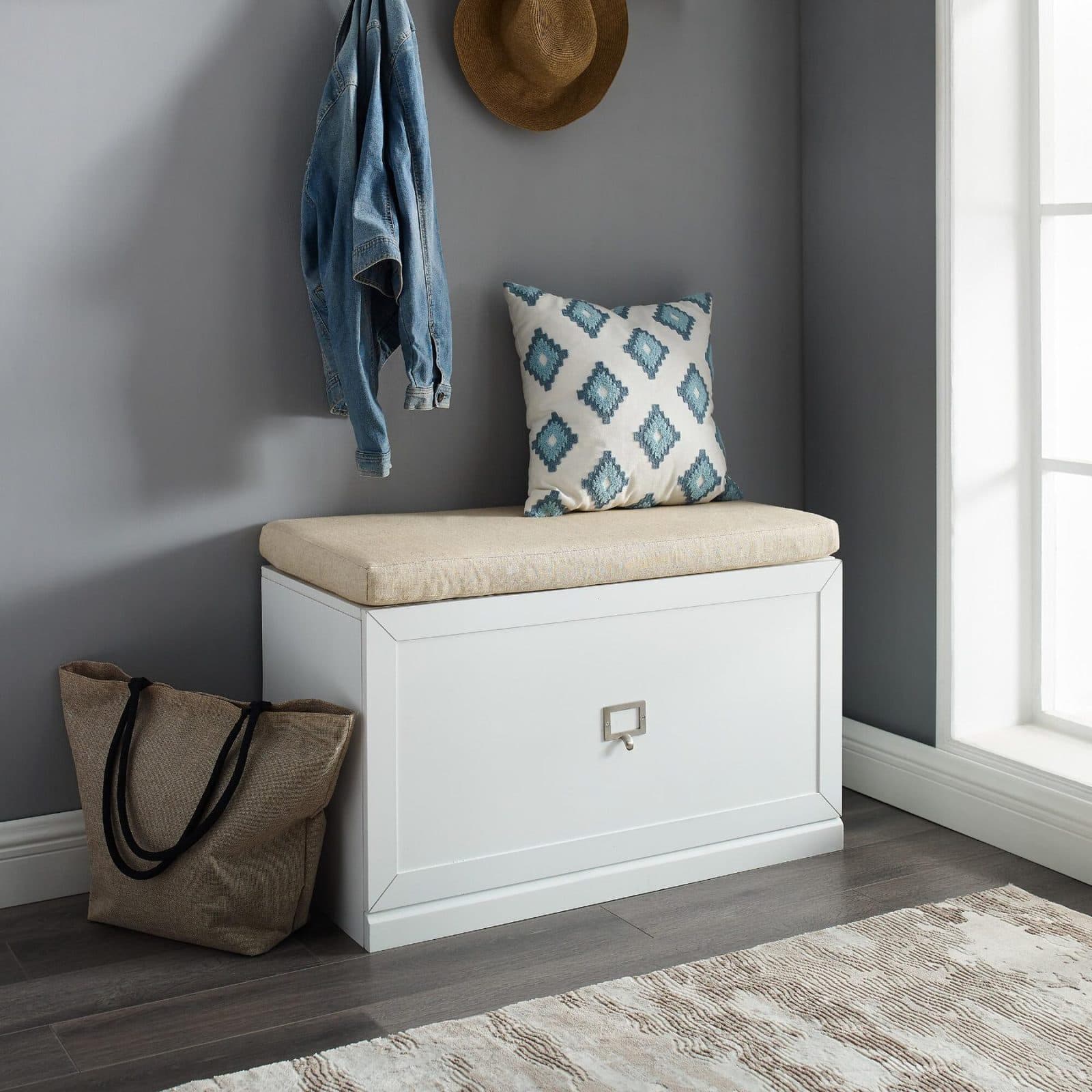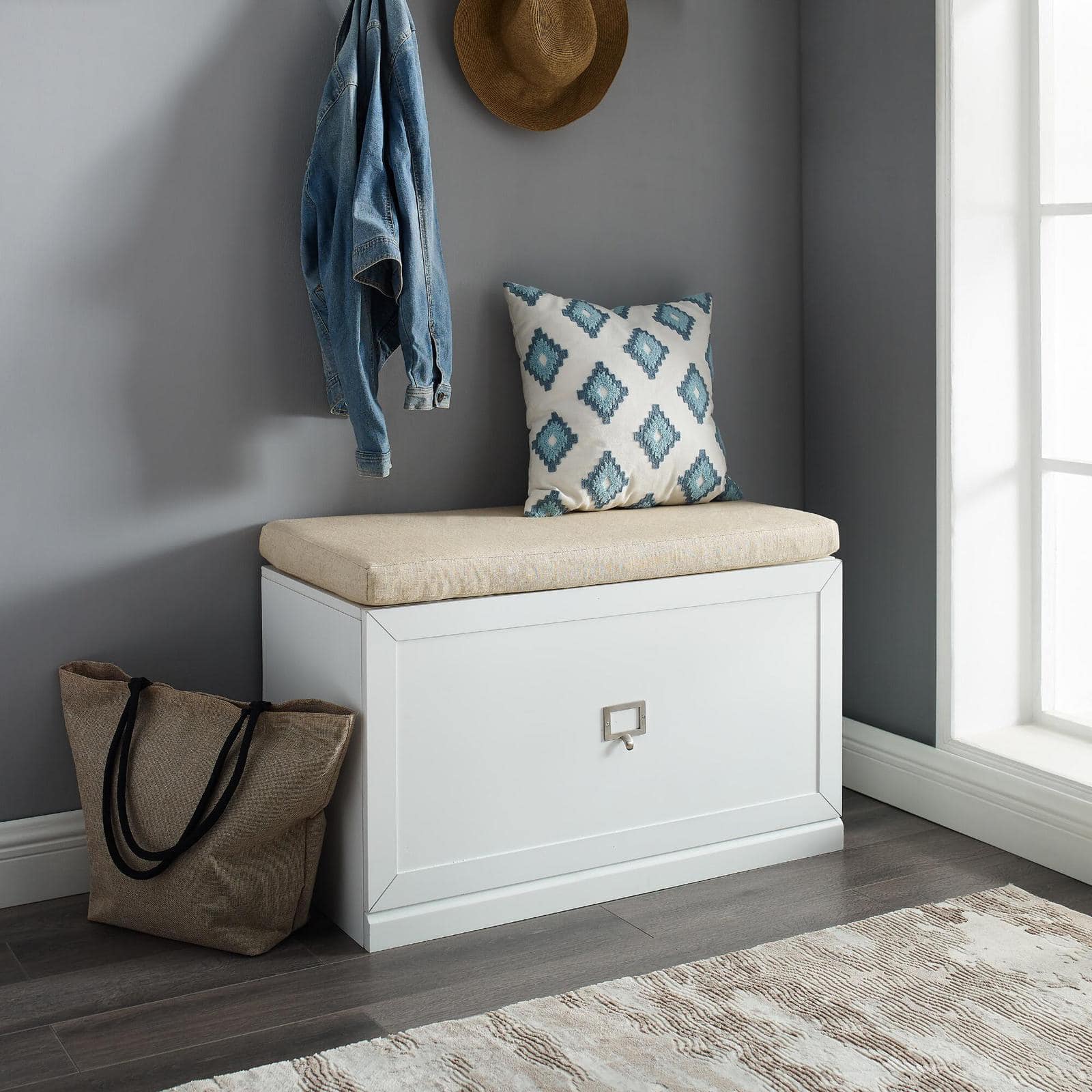 When space is a premium commodity, you may need small entryway shoe storage. Embrace a fresh farmhouse design for small areas with this shoe cabinet and bench design featuring a thick, removable linen cushion and a compact popping white birch veneer cabinet.
Polished nickel finish hardware pulls out the single spacious drawer, where you can store shoes, purses, or other items you want to keep close to your door.
Get Your Storage On in Your Entryway
Having dedicated shoe storage in your entryway is crucial for organization and space-saving. Nothing is more frustrating than tripping over shoes, jackets, backpacks, and other items that shouldn't be on the floor.
We've illustrated the creative freedom you can enjoy when picking shoe storage ideas for your entryway. Which shoe storage idea is your favorite? Drop us a line in the comments.