Decorated Life is reader-supported. When you buy through links on our site, we may earn an affiliate commission. Learn More
20 Throw Pillows For Blue Couches
Throw pillows have the power to transform the vibe of your living room and cohesively complete the look. They add color and texture while refining the overall appeal of the palette. You can either create an eclectic and busy look or go for something totally smooth and soothing – yes, and throw pillows have the potential to do that!
Generally, a blue couch is one of the most popular options for the living room. And choosing throw pillows for them is even more fun-loving and easy! From quirky pinks to mustards, gray, and off-white – you can choose from these gorgeous 20 throw pillow ideas for your blue couch.
The Exact Blue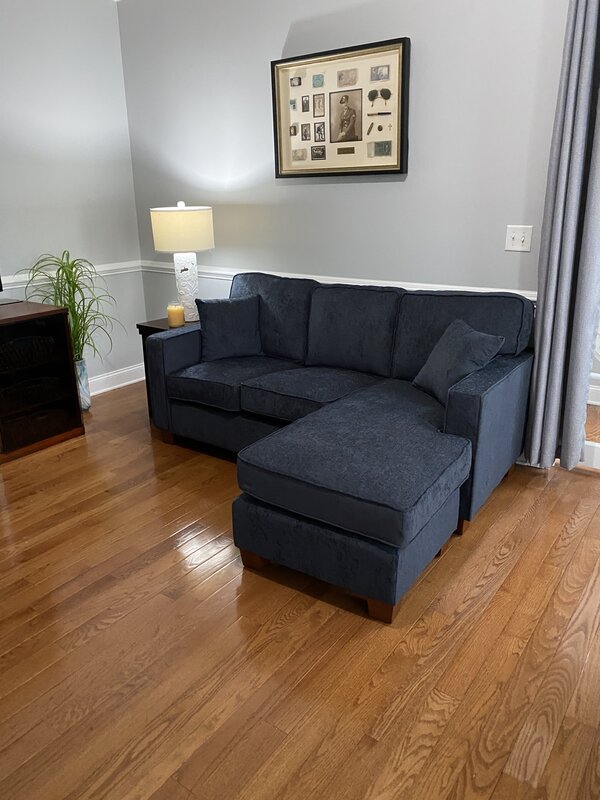 Choose the exact shade of blue matching the color of your couch. This will give a seamless and modern look to your space while making it look like one complete entity. So, if you're not fond of contrasts, this is one of the best color palettes to embrace.
Moreover, if you like a monochromatic and minimalist look, you can consider the exact same fabric as well!
Burnt Orange Pillow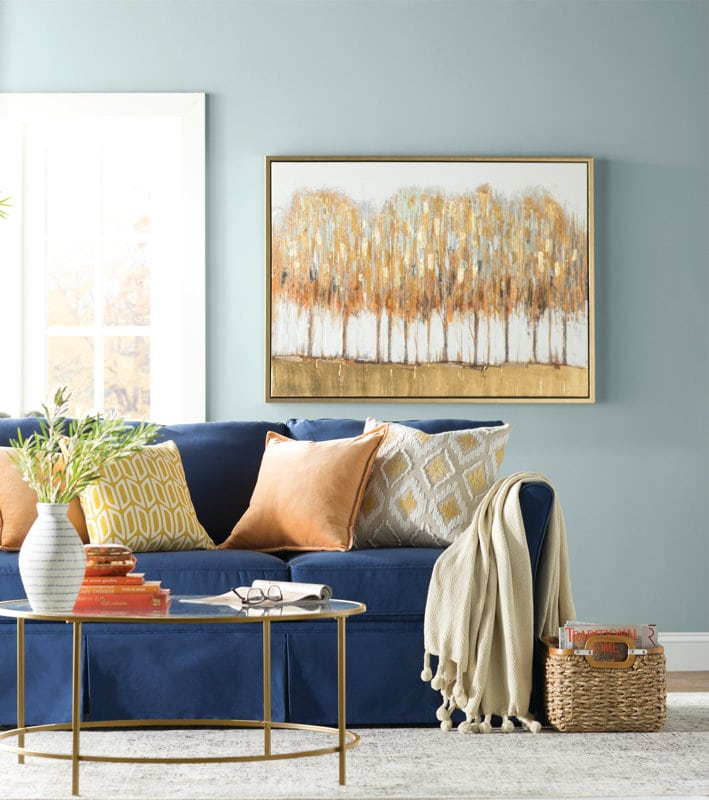 Blue and burnt orange go hand in hand. So, if you like pops of contrasts and a sense of vibrancy and vividness in your living room, it's time to have a look at the burnt orange or rust pillows. They can perfectly neutralize the cool saturation of the couch with its utmost warmth and smoothness.
Generally, velvet and suede can play quite well and add a luxurious statement to your blue couch.
Knitted Off-White Pillow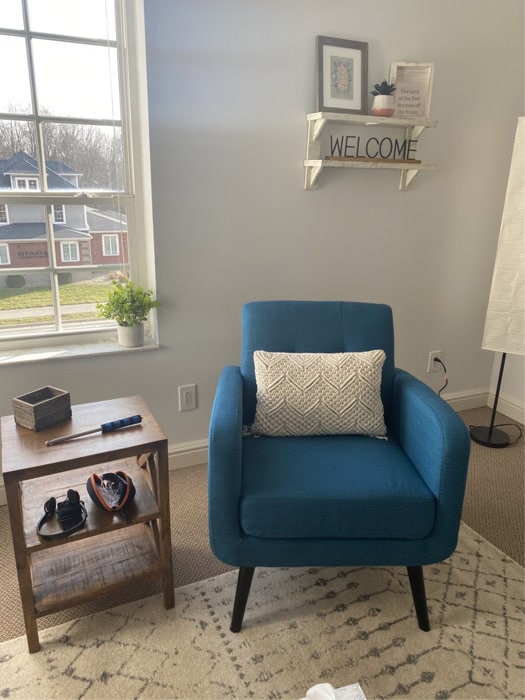 When in doubt, choose an off-white knitted throw pillow for your blue couch. This doesn't necessarily alter the palette or appearance of your living room but exhibits a sense of subtleness and a strong base. Yes, off-whites play a great base!
This neutral-toned throw pillow is even more playful and fun-loving with the minute details on it. The 100% cotton tassels add a pretty element to the blue sofa – thus, giving a 'wow' factor.
Olive Green Throw Pillow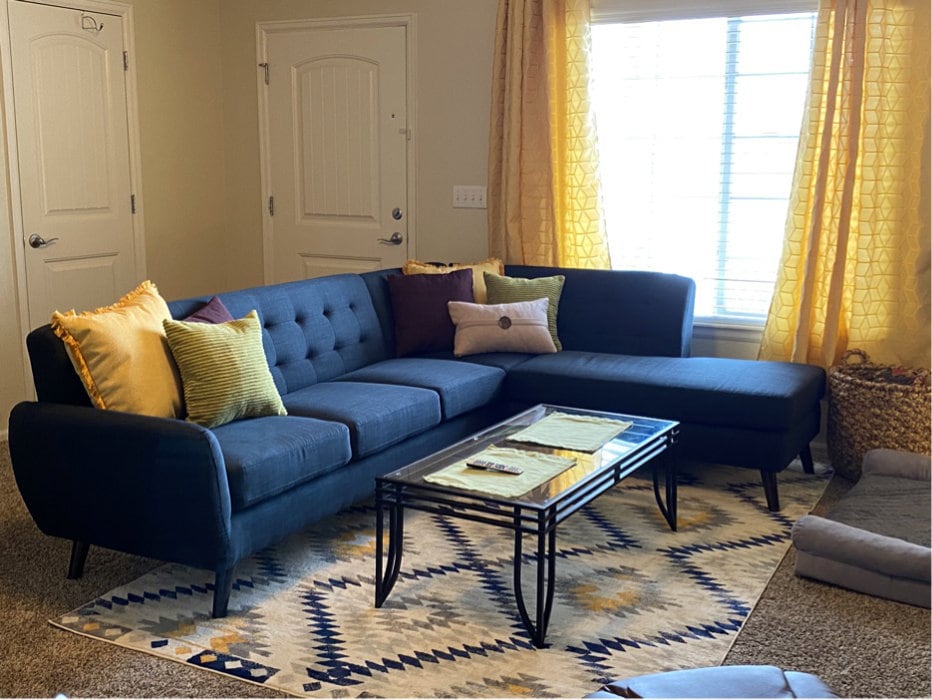 Blue is comparatively an easier color to work with. And when talking about greens, olive is an exotic tone that works beautifully. However, ensure that this green is not just a 'standalone' piece – rather a mix of yellow, green, and plum will work wonderfully together.
Note that this contrasting combo must also be incorporated on the rug. This will ensure a well-balanced and cohesive look in the living room.
Red Decorative Pillow
Don't red throw pillows work beautifully with your blue couch? Well, if you have an eye for details and a sense of quirkiness, this is the color to look forward to. Furthermore, try pairing this combination with a subtle off-white that plays a strong base as opposed to blues and reds.
If your accessories are too basic – try adding some details through your throw pillows. For instance, this rich chevron-patterned texture is something you simply can't ignore.
Embrace Neutral Hues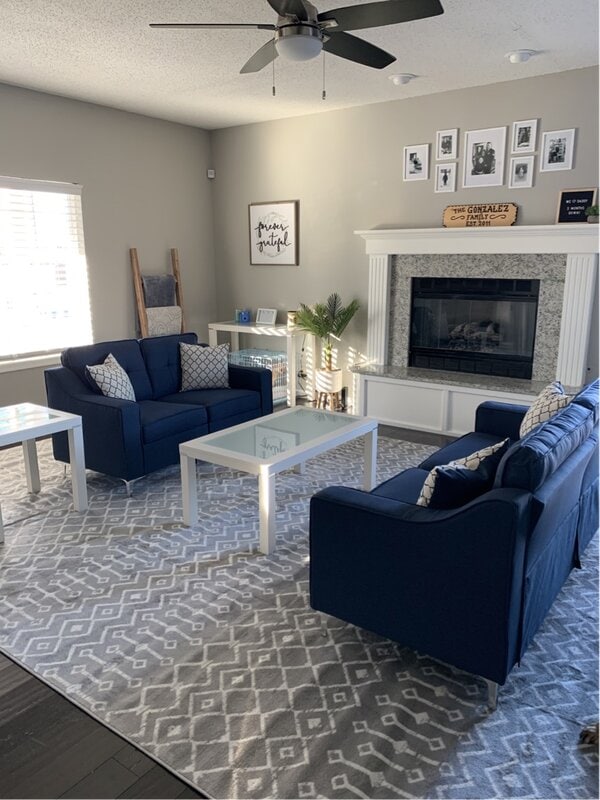 The basic neutrals have the potential to play extremely calm and soothing in a living room. Since they're not loud and disturbing, you can absolutely use lighter-toned, patterned throw pillows on a bold blue couch.
Here, in this case, the pattern is soothing enough to easily blend with your existing couch. Blissful enough, right? Also, don't feel shy from throwing a couple of patterns on your rug as well!
Pretty Pink Pillow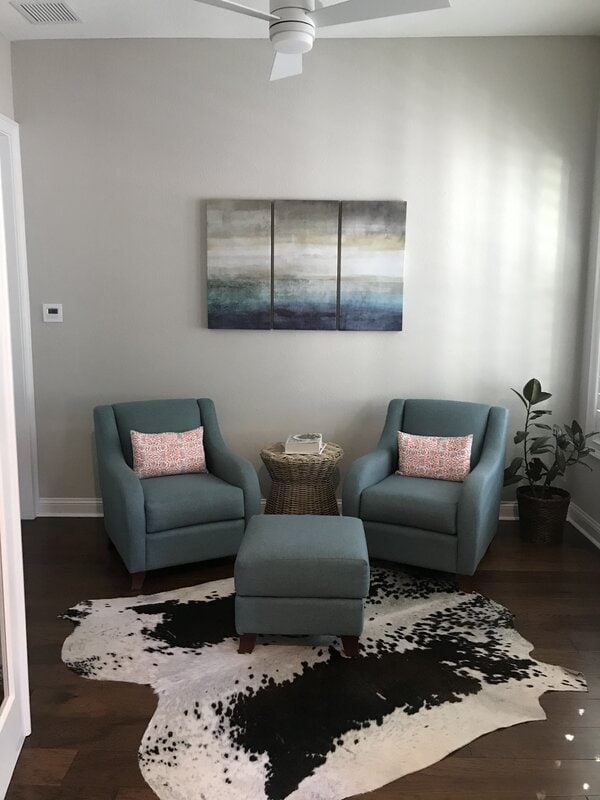 Pinks are going to take you a long, long way! Yes, you must not give a second thought to it. Pink throw pillows are chic, feminine, and feel extremely soft and calm – thus, a great recommendation for your blue velvet couch. Regardless of the shade or tone of your blue couch, this pink pillow is bound to play versatile and timeless.
Moreover, it's even better if you pair a patterned pillow against a bold-hued couch. That way, your living room will feel more cohesive and stylish!
Cute Lips Pillow Cover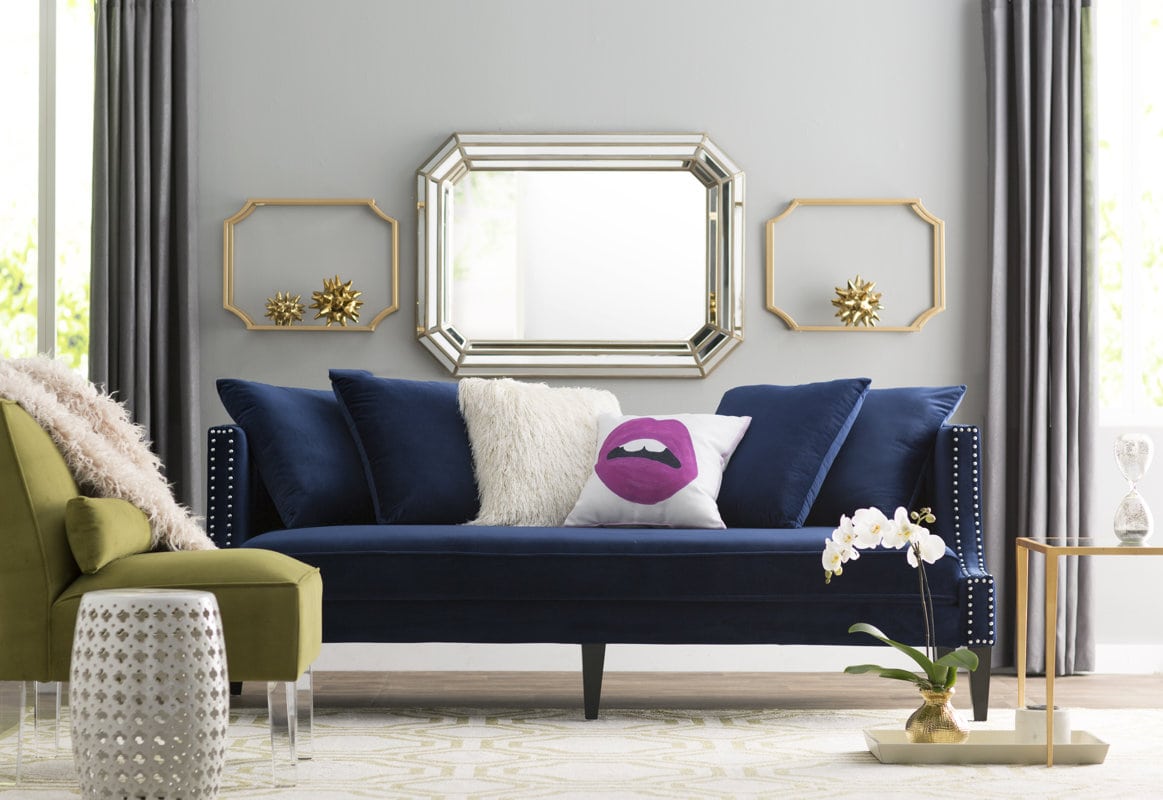 You don't necessarily have to focus on a particular solid hue every time. Sometimes, you should rather let a pattern or print play the dominant character. For instance, the blue couch plays subtle whereas the amalgamation of cute lips pillow cover and white fur throw pillow is what grabs the attention!
Furthermore, ensure to give substance to your couch with the help of the backup matching blue throw pillows.
Blue Tasseled Pillow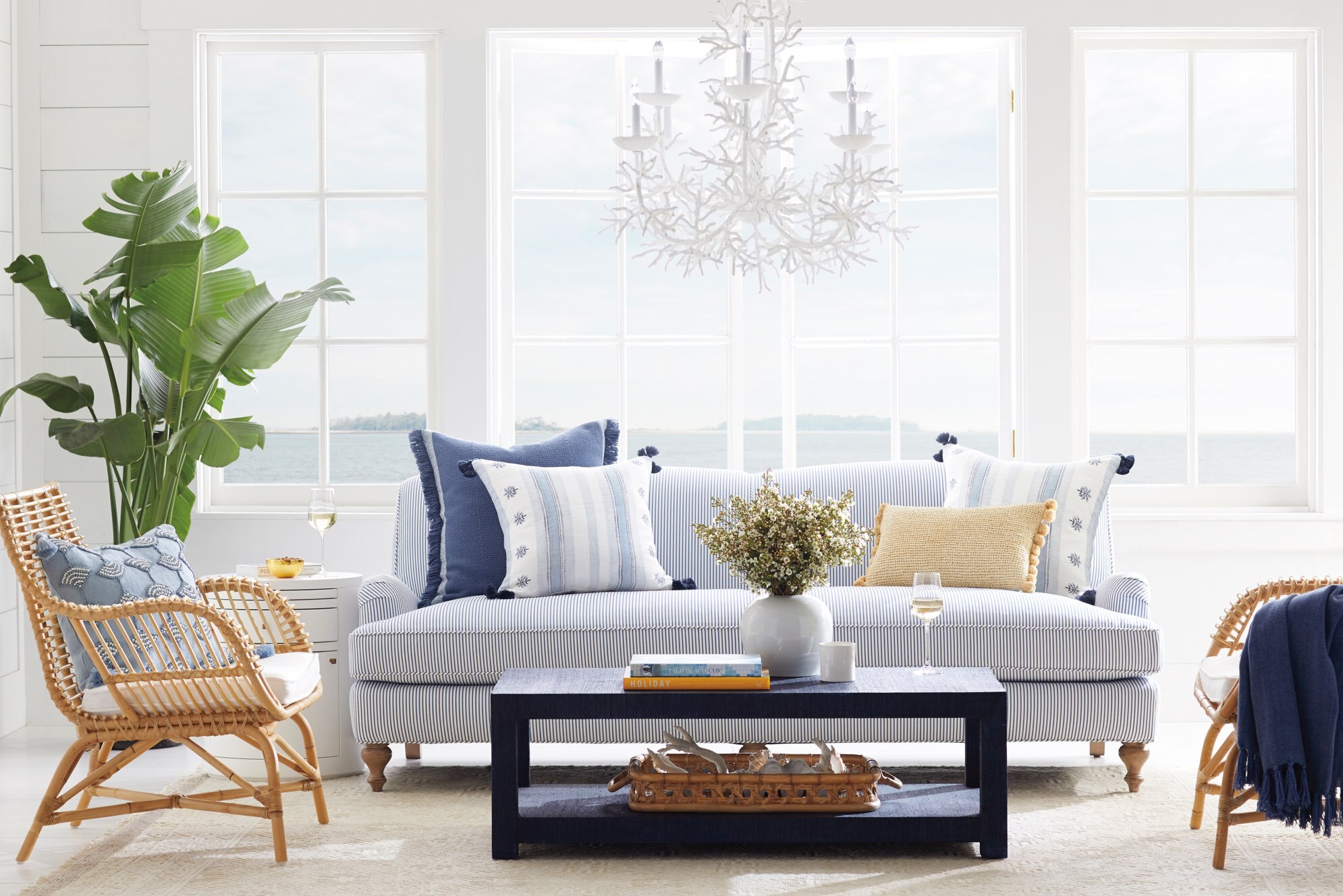 On the other hand, if you have a lighter-toned blue couch in your living room, you know exactly what to pair it with! Yes, let's focus on patterned light blue and white throw pillows this time. They will help exhibit an airy and coastal-like feel without overpowering your living room.
Also, don't forget how beautifully the pillow tassels add a chic and cute element to the blue sofa!
Friendly Yellow Pillow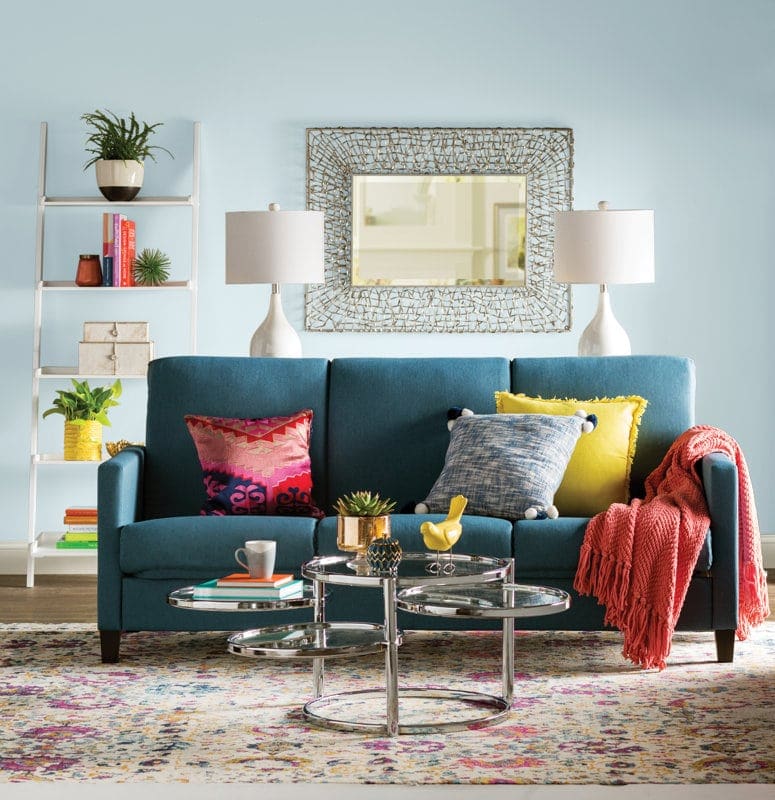 Whether you have a navy blue couch or light blue, dark blue, or teal – a color that will prove one for all is yellow. It tends to add a friendly and cheerful vibe while at the same time, totally complementing the blue on your couch. Another benefit is that it will undeniably create a stunning contrasting palette in the living room.
Yellow and blue are like sand and water. And this beautiful combination will definitely derive a harmonious feel in the space.
Sky Blue Throw Pillow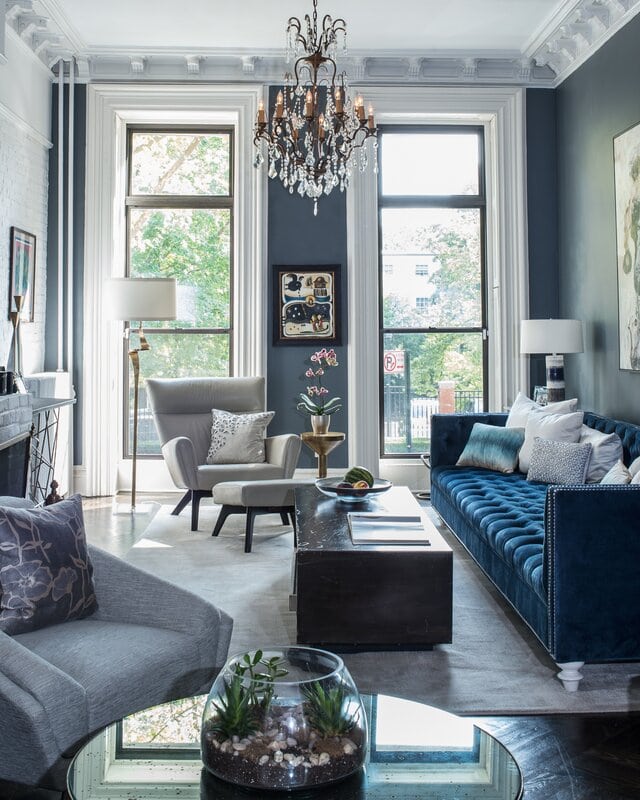 If you're looking for a monochromatic living room setup, this particular sky blue throw pillow would work the best. It can easily streamline your blue couch without overpowering it. And do you know the best part? Well, the throw pillow is so versatile that you can easily use it for any other palette as well!
The tiny details tend to add a sense of character and drama to the couch! Hence, especially for a bold sofa, this piece of throw pillow is something to look forward to!
Magenta Square Pillow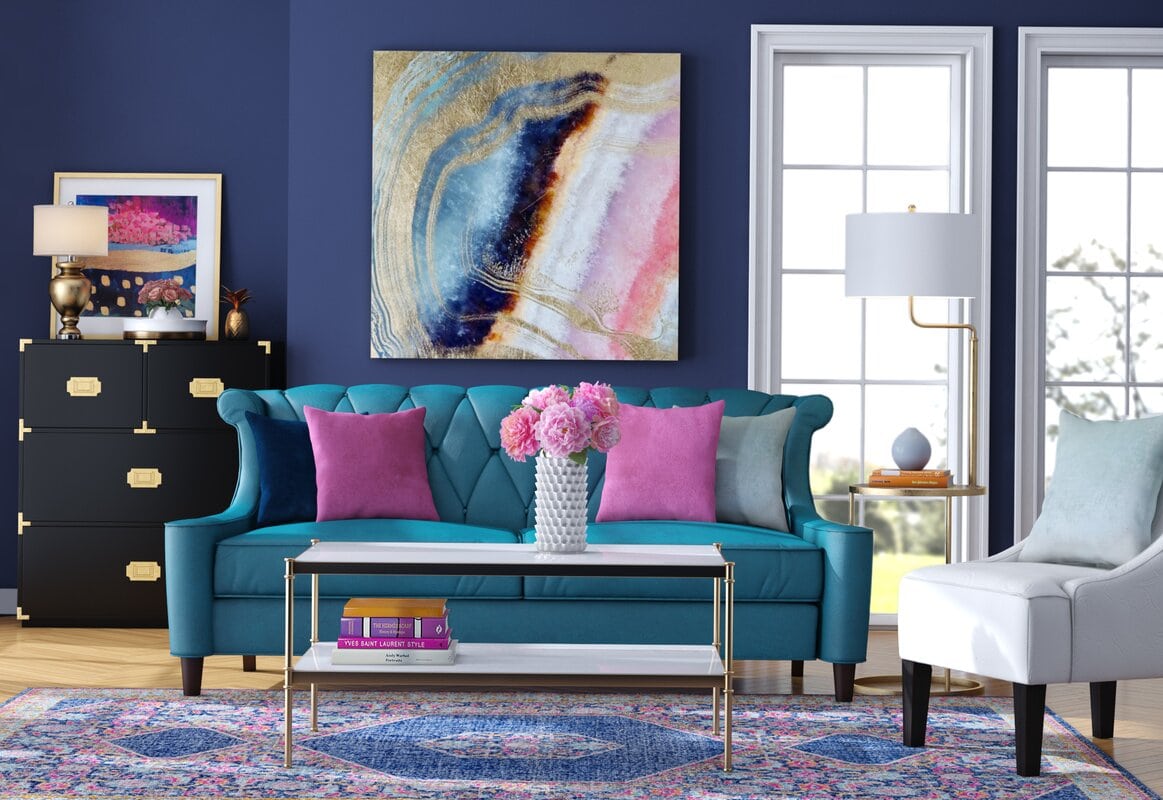 This throw pillow particularly applies to navy blue, charcoal blue, teal blue, as well as electric blue couch. Hence, not so much for the lighter blue couches. Since magenta is a bold, stark, and saturated tone of pink – it's a must that you only use it as an accent in amalgamation with subtle whites and pastel greens.
This combination is a great fit for eclectic, Hollywood Glam, and maximalist living room design style.
Red Chevron Embroidered Throw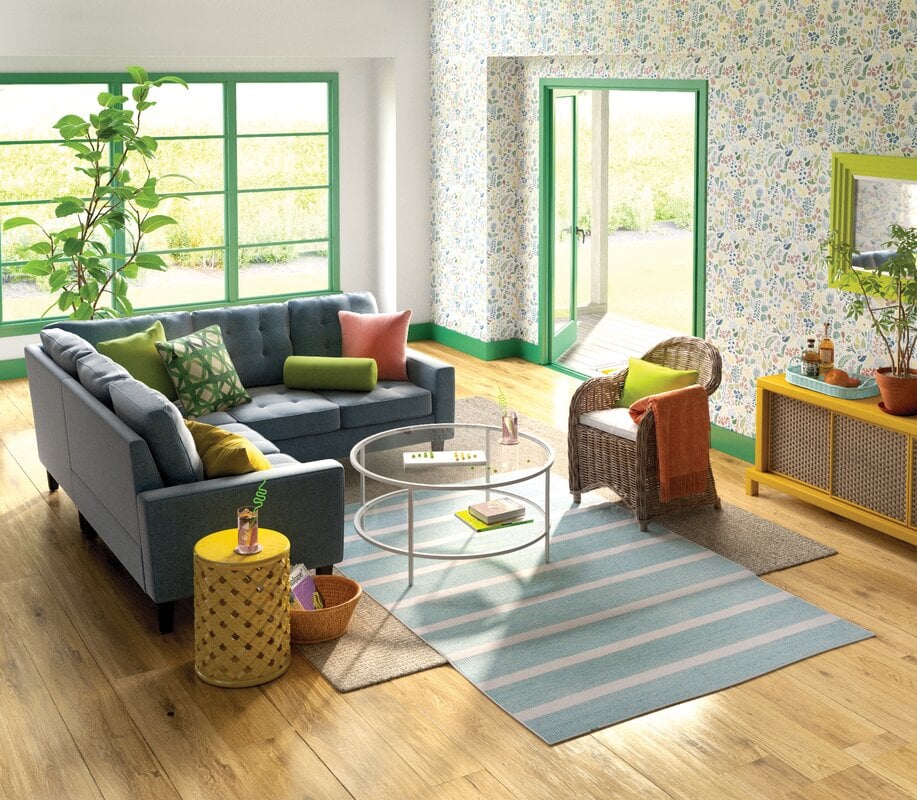 If you want to add a touch of luxe and elegance to your living room, this red chevron throw is your answer. Undeniably, the blue couch would work beautifully with the throw pillow in creating a contrasting and vibrant look.
You can mix and merge this red with minty green and mustard to further complete the look. Lastly, also remember to throw a blanket on the edge to invite cohesiveness and welcomeness!
Black and White Throw Pillow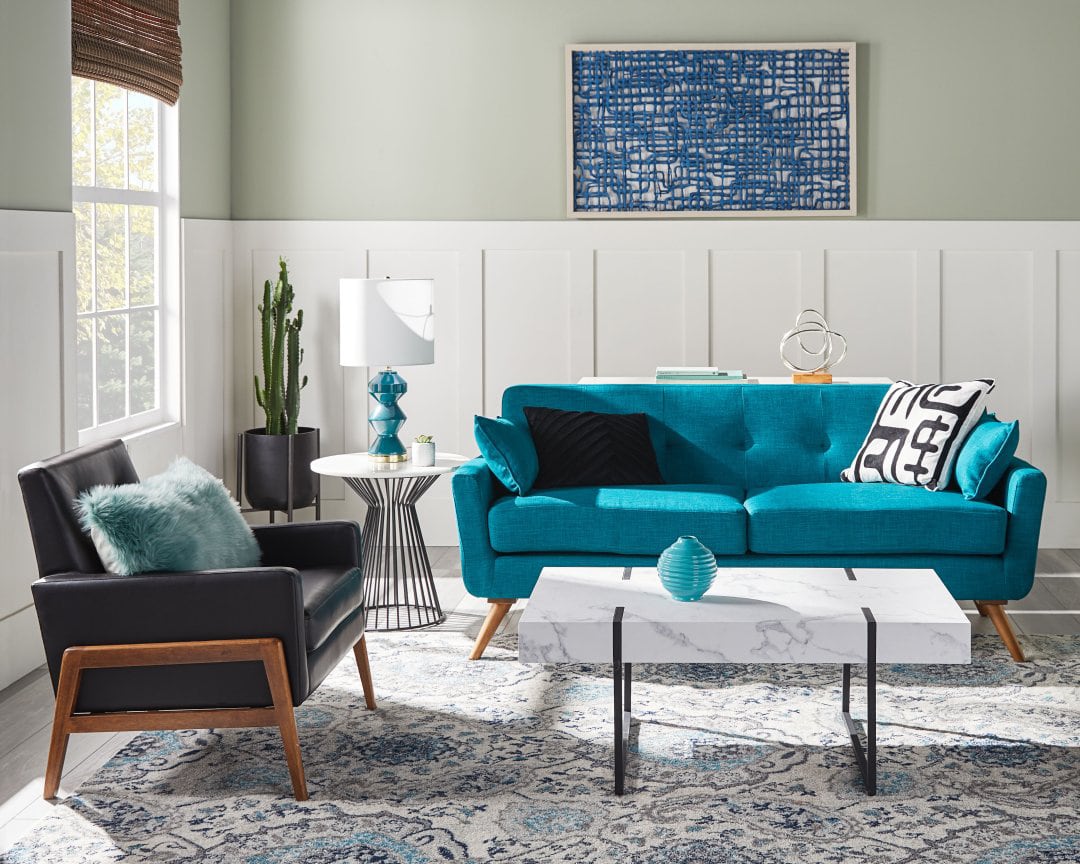 A black and white throw pillow looks quirky and artistic when placed on a blue couch. It's a given that it doesn't add to the color palette, but somehow contributes to a fun-loving and playful vibe. And regardless of the shade of blue, this throw pillow is bound to complement one and all.
You can further streamline the palette by adding a tinge of yellow and hot pink to the existing blue.
Minty Greens and Creamy Off-Whites
Looking for a refreshing vibe in your living room? Well, why not commence by styling with minty green and creamy off-white throw pillows. They will give your space a perfect sense of detail they deserve while exhibiting a sense of warmth and airiness.
At this time, the cool blue and green tones are totally getting neutralized by the warm macrame and tasseled edges of the throw pillows. Yes, they're absolutely instagram-worthy!
Indigo Throw Pillow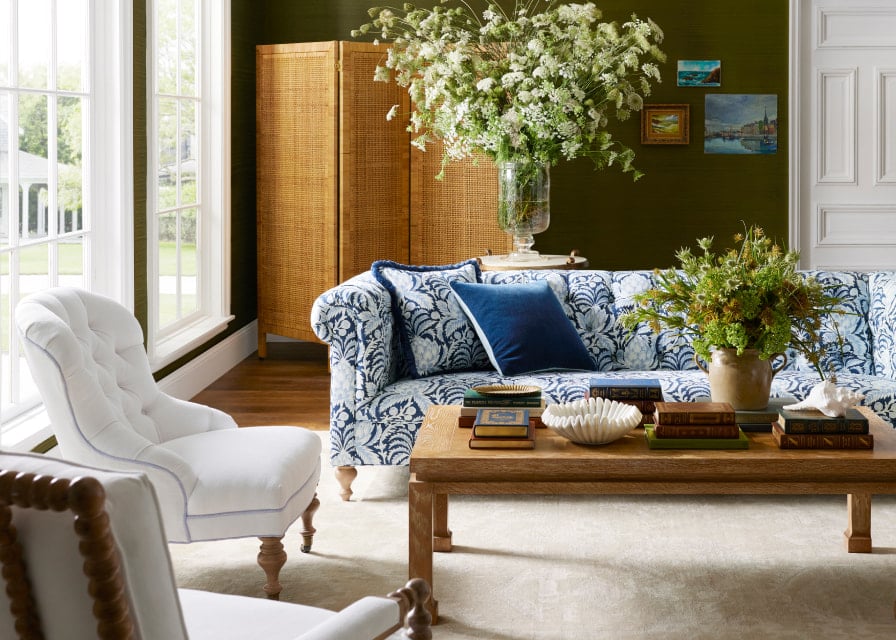 Indigo belongs to the same family as blue. And if you believe in an analogous color theme, you might as well make use of the indigo throw pillows. It wouldn't steal too much attention but at the same time, add beauty and elegance to the existing blue couch.
Another beautiful thing about this setup is the printed pillow cover that matches the fabric of the blue couch. Well, you could too have that in your space!
Floral Patterned Throw Pillow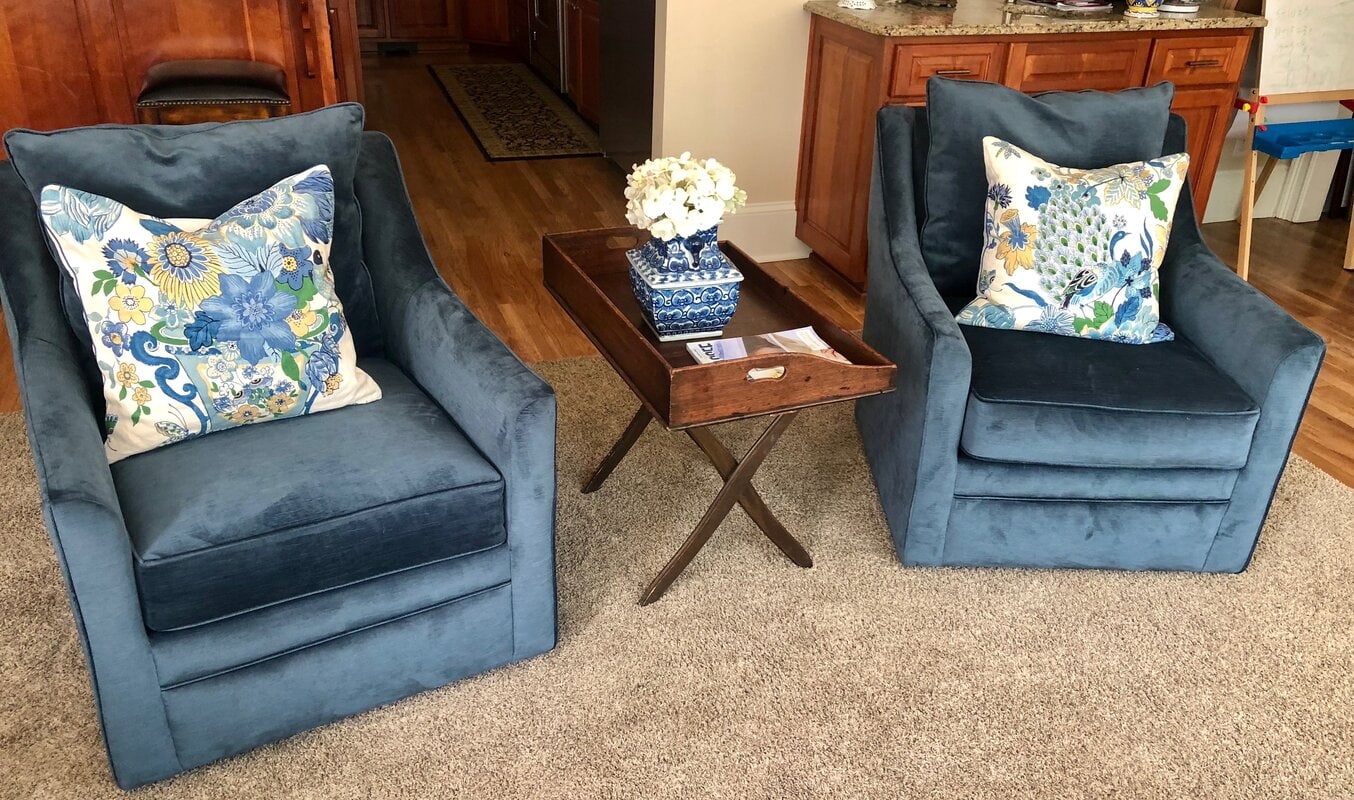 Let's think outside the box from solid hues to stripes to something soft and chivalrous – the florals. They could either be monochromatic or contrasting – depending upon your overall color palette. In particular, this floral throw pillow will definitely add detail and dimension to your blue couch or accent chair.
And it's so unique and versatile that you can almost pair it with any color palette without the pillow feeling outdated or old.
Navy Safari Pillow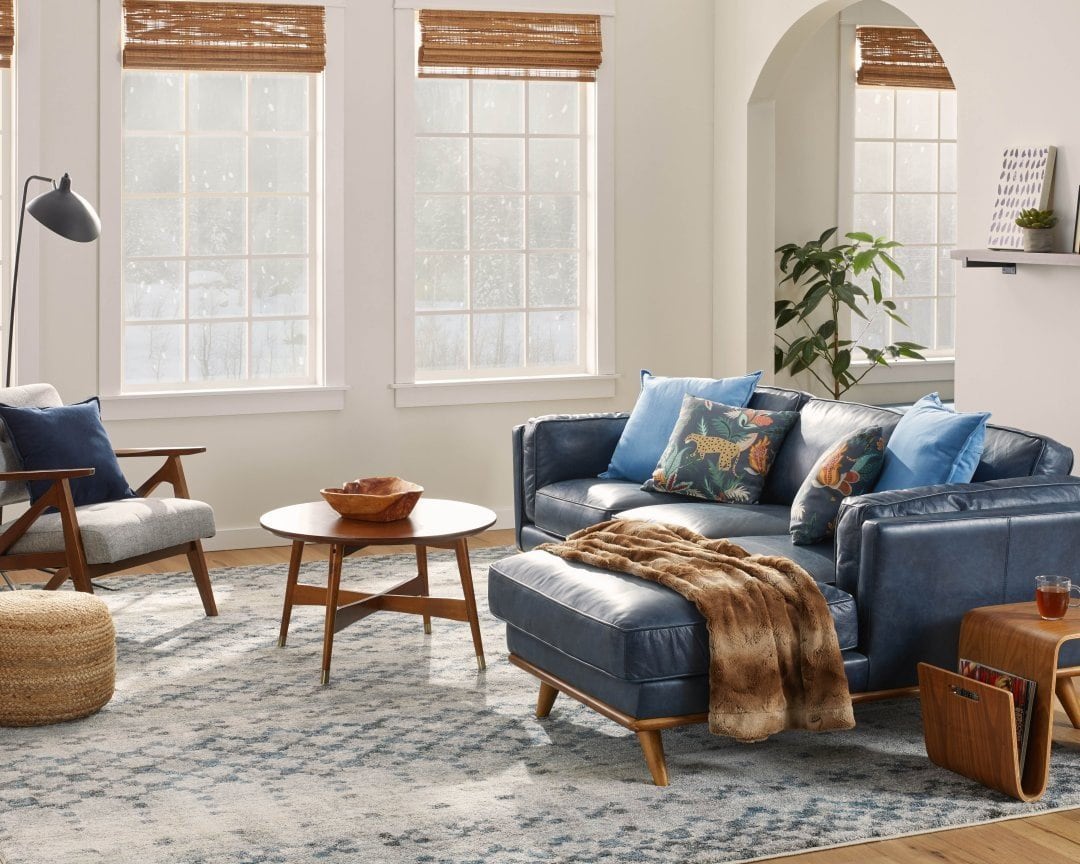 Add a fun and daring statement on your blue couch with the help of this navy blue safari pillow. It tends to blend in with your existing blue couch (whether leather, suede, or velvet) without grabbing too much attention. Yes, it plays subtle and seamless.
Furthermore, you can also foster a jungle-like look by introducing animal-print throw blankets and faux area rugs! And if these pillows feel outdated after a while, just simply replace and use them for play areas and kids' bedrooms.
Kemp Sand Throw Pillow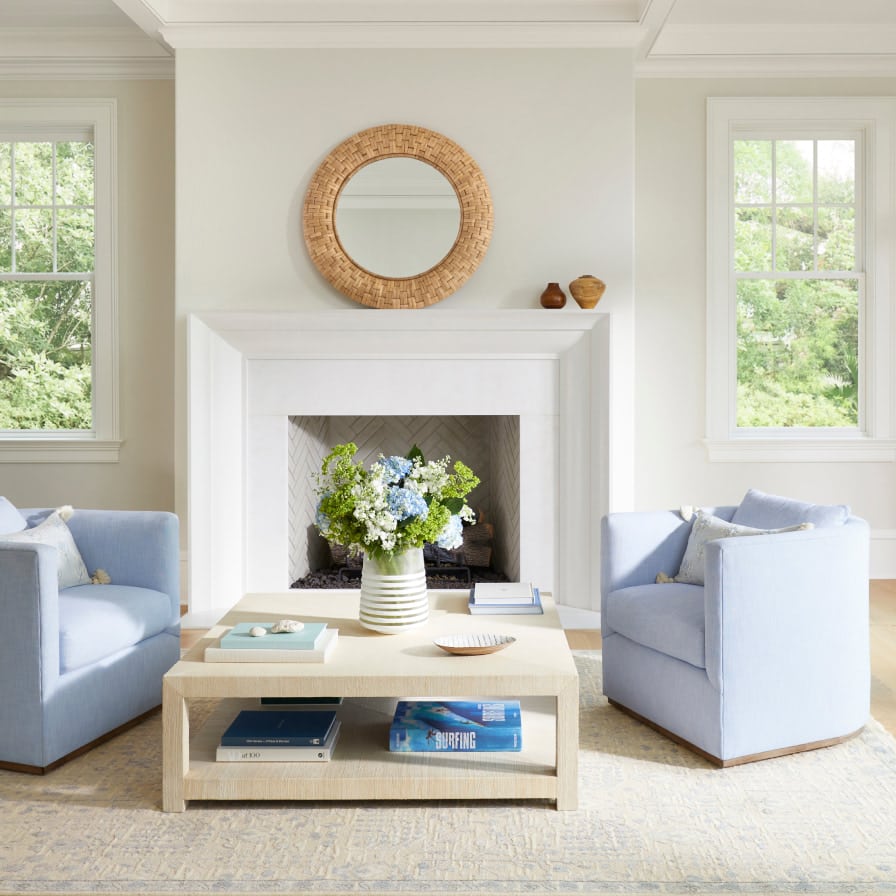 Another color that complements your blue couch is a tone that is very closely related to yellow and beige – well, something like sand. It makes a great opposition against the cool blues to create a well-balanced and cohesive living room color palette.
Also, don't ignore the little tassels and detailed embroidery on the pillow cover. Isn't that absolutely cute and stunning?
Abstract Throw Pillows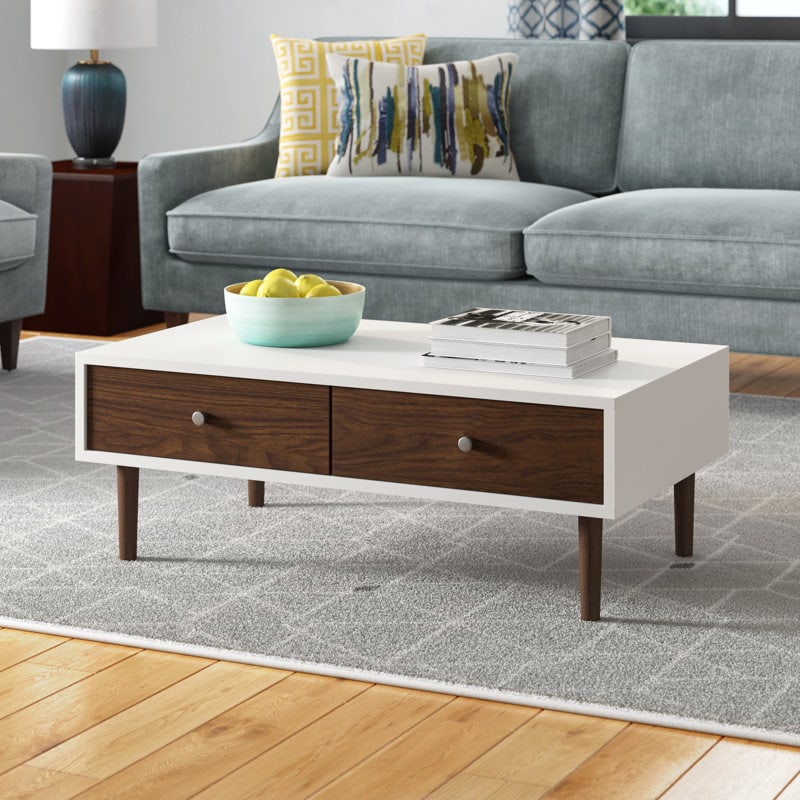 Bring an exclusive vibe to your blue couch with the help of an abstract throw pillow that adds a phenomenal vibe to your living room. These pillows are versatile and timeless – and that's why, you can absolutely use them in any corner you want!
Especially for bohemian, eclectic, and contemporary interior design styles – this overall combination is quite good to go!
Summing It Up
You see – pairing the throw pillows with your blue couch is quite an easy task. All you have to do is to stick to a particular style and vibe – and let the living room speak for itself. So, now that we have discussed the 20 best throw pillow colors for your blue couch – are you looking to incorporate any? Do let me know your thoughts in the comments below!