Decorated Life is reader-supported. When you buy through links on our site, we may earn an affiliate commission. Learn More
20 Timeless Ideas for Decorating Around a Blue Sofa
If you have trouble decorating around a blue sofa, I don't blame you.
Not because it's hard to do, but because there are SO many good options it can be challenging to choose. Many colors and materials pair well with blue so you need to narrow down your favorites before coming up with a design plan.
If you're stumped on how to decorate, here are 20 ideas to use in your home.
Use White and Light Blue Accents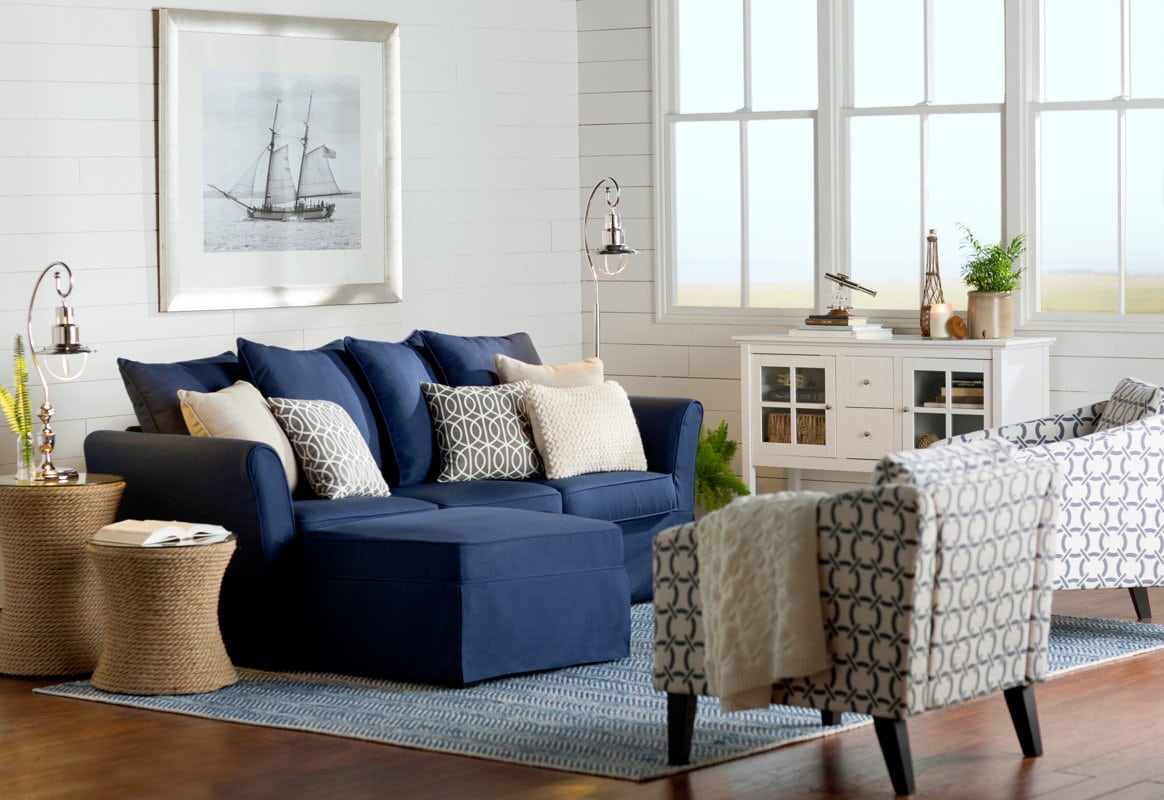 If you like a nautical or coastal look, your blue couch is a great starting point – especially if it's navy. You can use light blue and white colors for decorating around a navy blue sofa.
To get this look, start by laying down a rug. Then bring in more shades of light blue and white through your furniture and accessories.
Pair Unique Pieces for a Vintage Look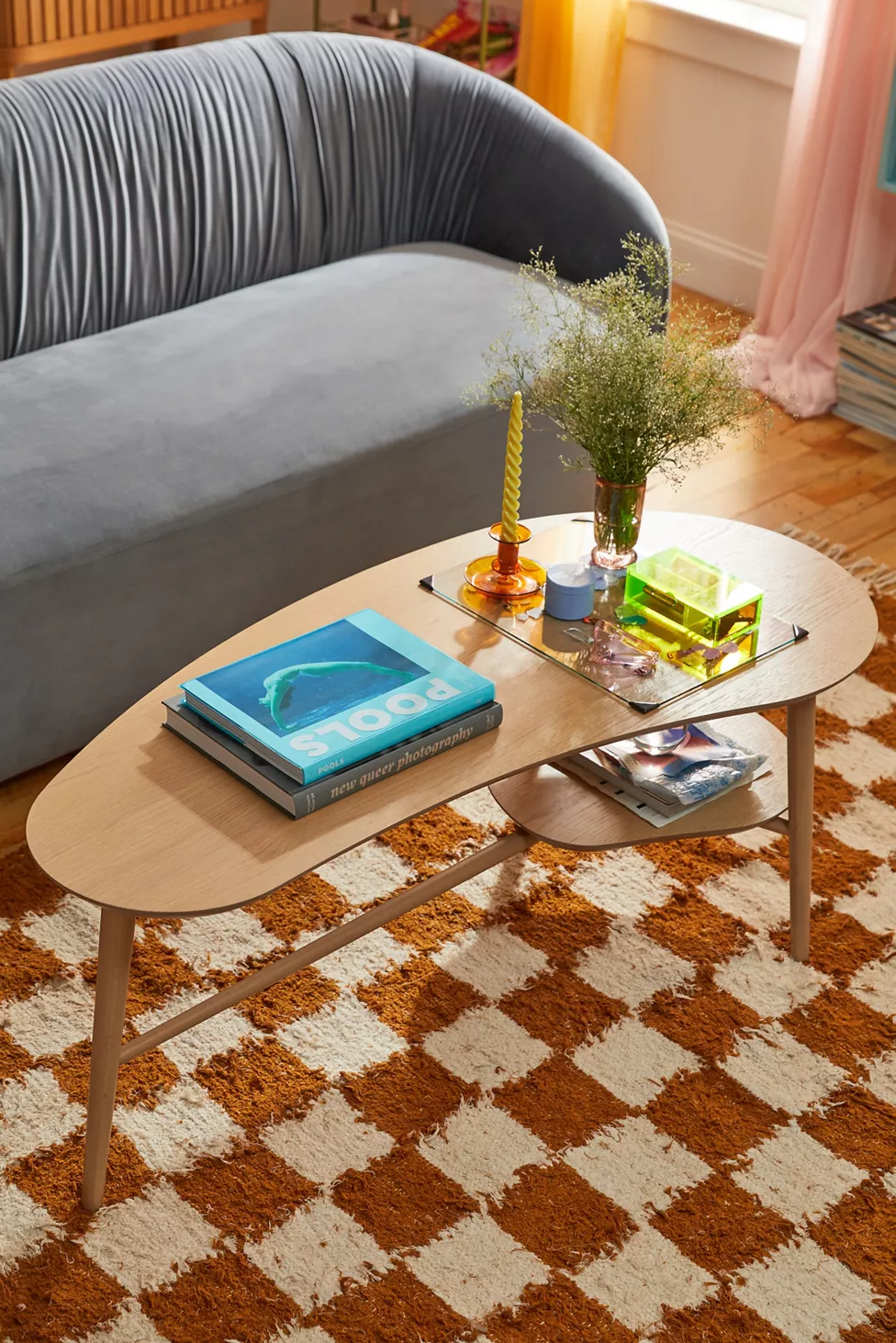 Are the vibes in your living room super casual? If so, don't worry about perfection, and instead pick out some unique and vintage items.
This light wood coffee table is one great example of a high-quality new item that pairs perfectly with older, thrifted furniture. It has an asymmetrical shape with a small shelf underneath – perfect for mid-century modern and vintage-inspired rooms.
Incorporate Blue Artwork
If you're looking for blue sofa living room decor ideas, here's something to try: find artwork that has the same shade of blue as your couch.
Doing this creates a very pulled-together room. You can use one large piece, like this canvas from Overstock, or create a gallery out of several smaller ones.
Try a Reclaimed Wood Coffee Table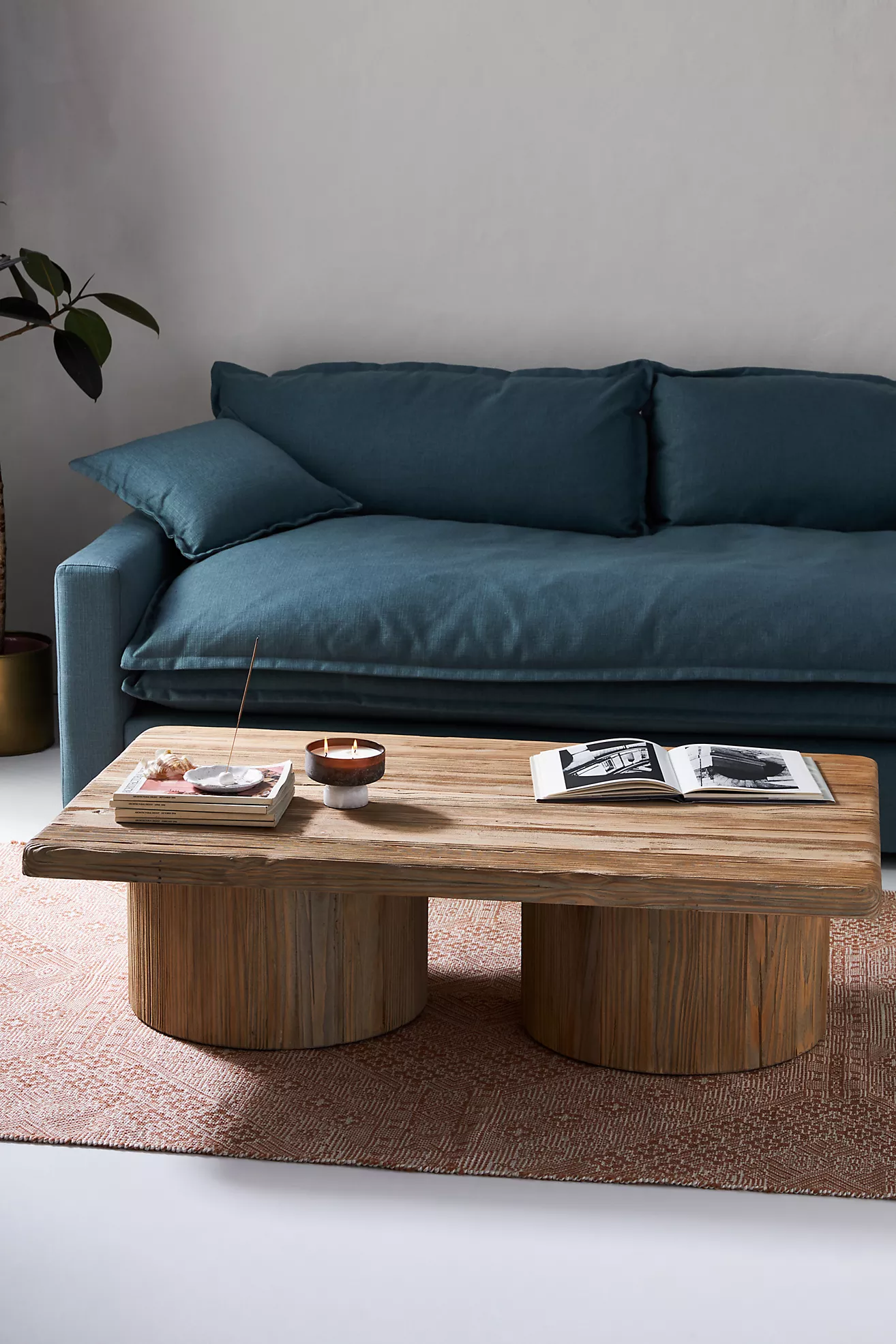 Blues pair well with wood. Light blues look great with darker wood tones, while dark blue sofas look amazing with lighter tables like this.
This light-colored reclaimed wood coffee table is from Anthro. Since the wood is organic and reclaimed, each table is slightly different. A lacquered seal on top protects the wood and makes it perfect for use in your living room.
Glam it Up with Metallic Accents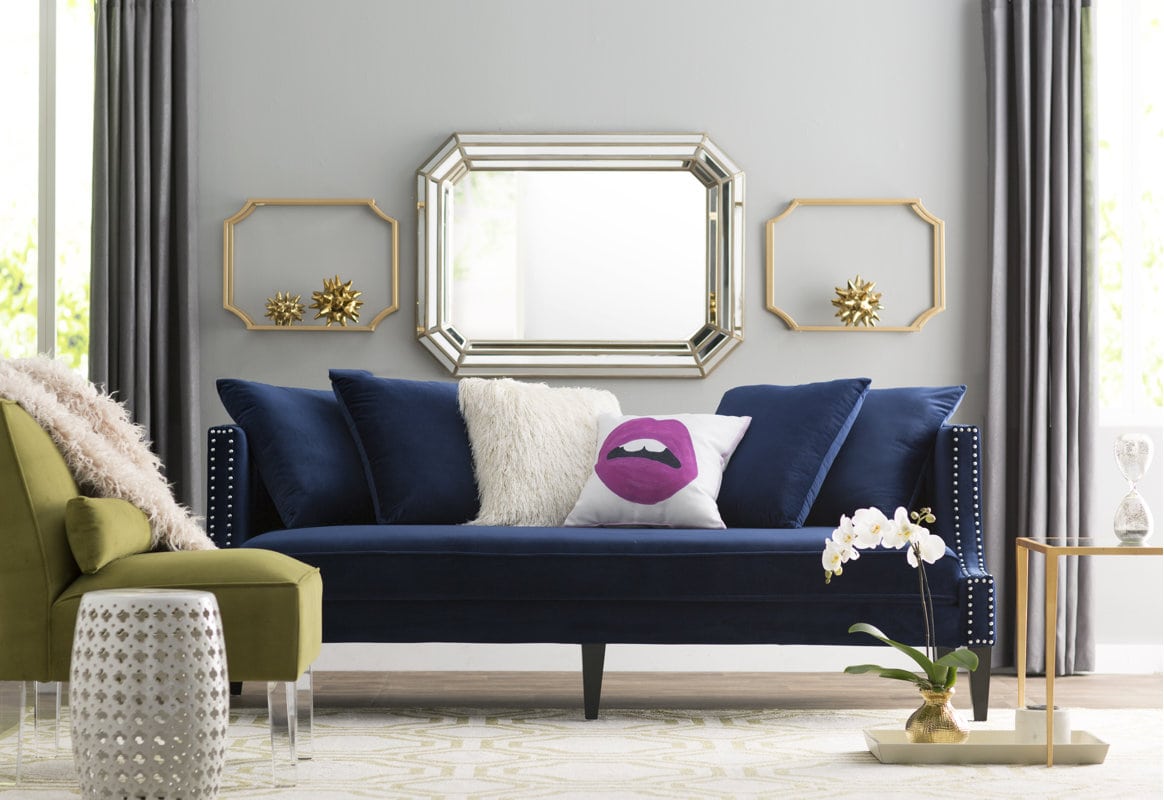 If you're a lover of glam, you can't go wrong with metallic accents. You can mix and match golds, silvers, and brass colors as much as you'd like.
An easy idea is to start with metallic end tables. You can find versions like these from Wayfair in silver and gold. Then bring in some metallic frames and mirrors.
Style with Complementing Throw Pillows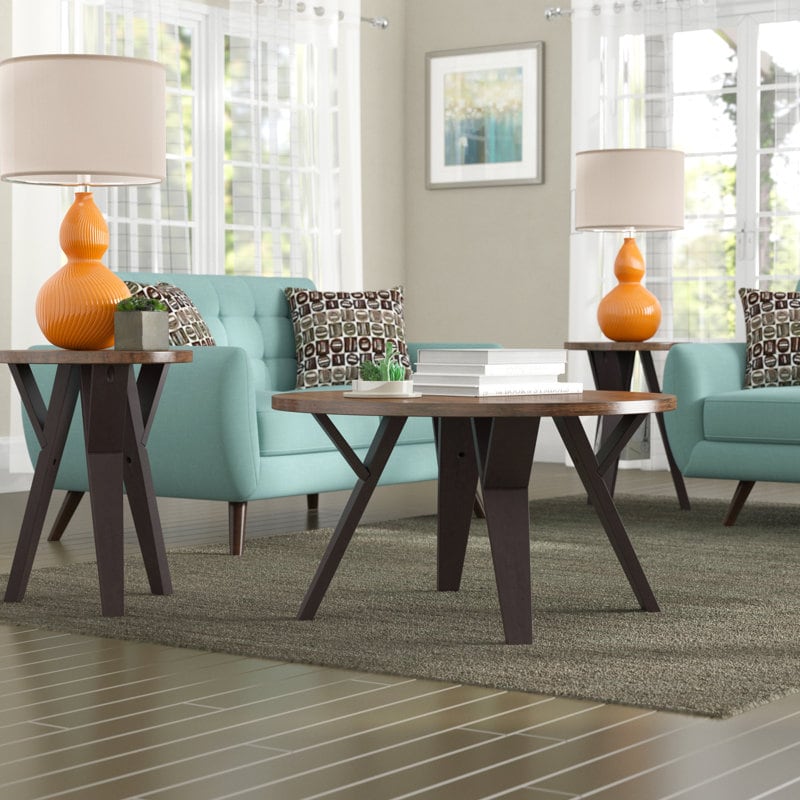 Wondering how to style a blue couch? Throw pillows are the answer.
If you have a light Robin's egg blue couch like this, use throw pillows with grays, blacks, or warm browns. If your sofa is a darker blue, consider using warm mustard, orange, or white if you like a crisp and clean look.
Bring in Light-Colored Accent Chairs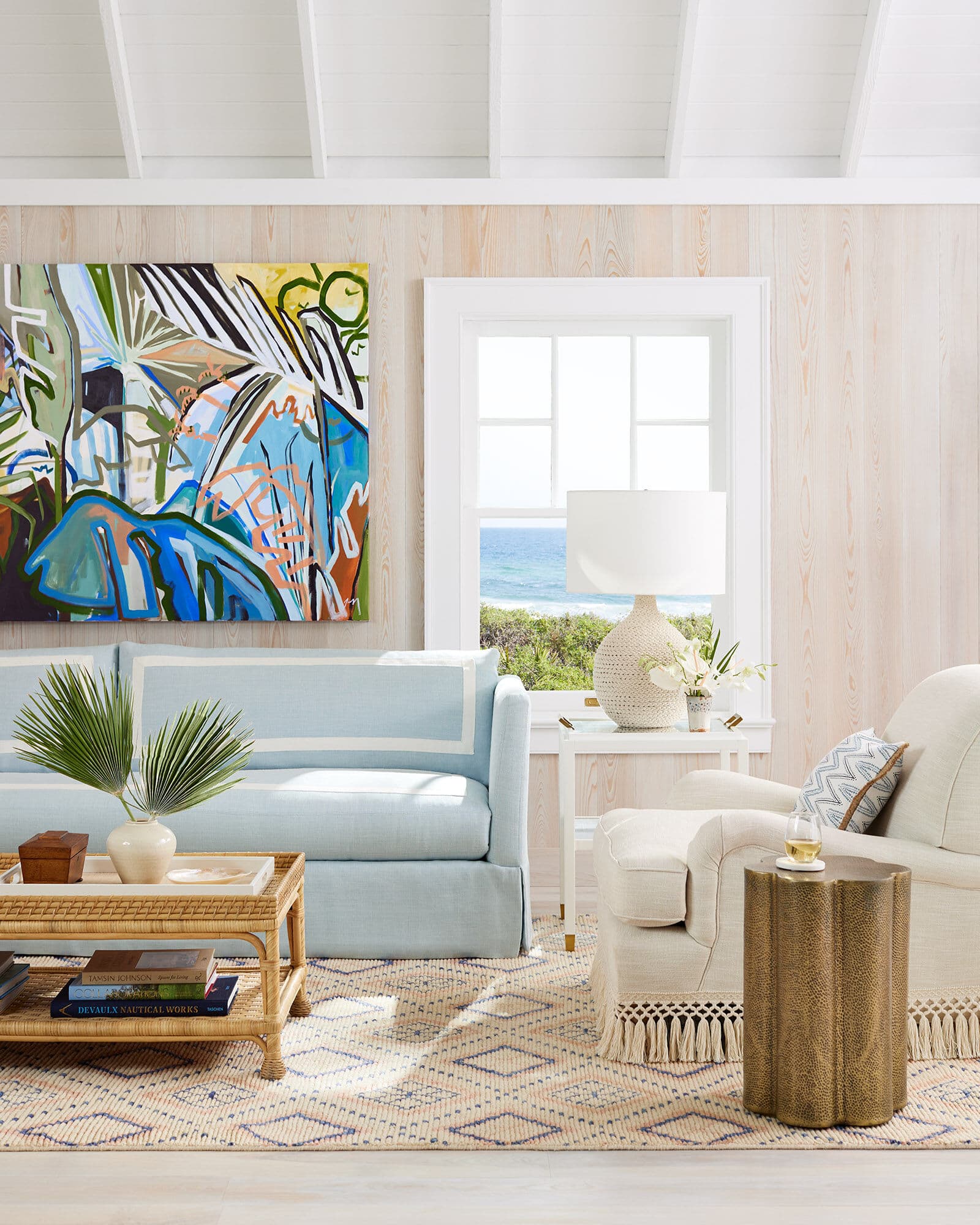 If you want your blue couch to be the star of your room, pair it with light-colored accent chairs.
This rolled armchair from Serena & Lily is classic and modern, making it one of my favorite choices. It coordinates with many styles, including farmhouse, boho, and traditional. You can use this whether your sofa is light or dark blue.
Swap Your Coffee Table for a Large Pouf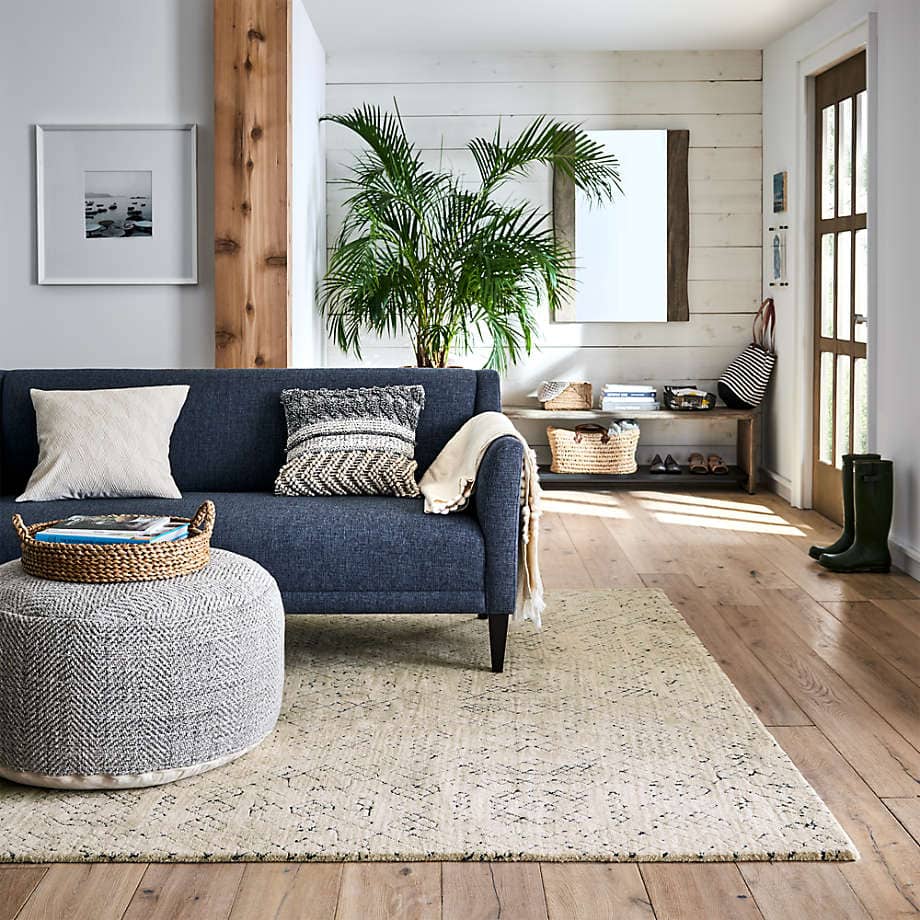 If you're looking for something unique, consider swapping out your standard coffee table for a large pouf. Using a pouf is especially great if you have super young kids running around.
You can find this pouf at Crate & Barrel. It's a neutral color that will work with any blue sofa. You can add a tray on top to make it sturdy enough to hold your drink or favorite book.
Consider a Blue and Orange Color Scheme
Blue is directly across from orange on the color wheel, making it complementary. So if you're looking for color schemes to go with a blue sofa and you're feeling bold, consider orange.
If you want to tone the look down a little, start by bringing in a blue rug but skip the orange one. Then, add a few orange throw pillows and a throw blanket.
Use Floral Prints for Cottage Style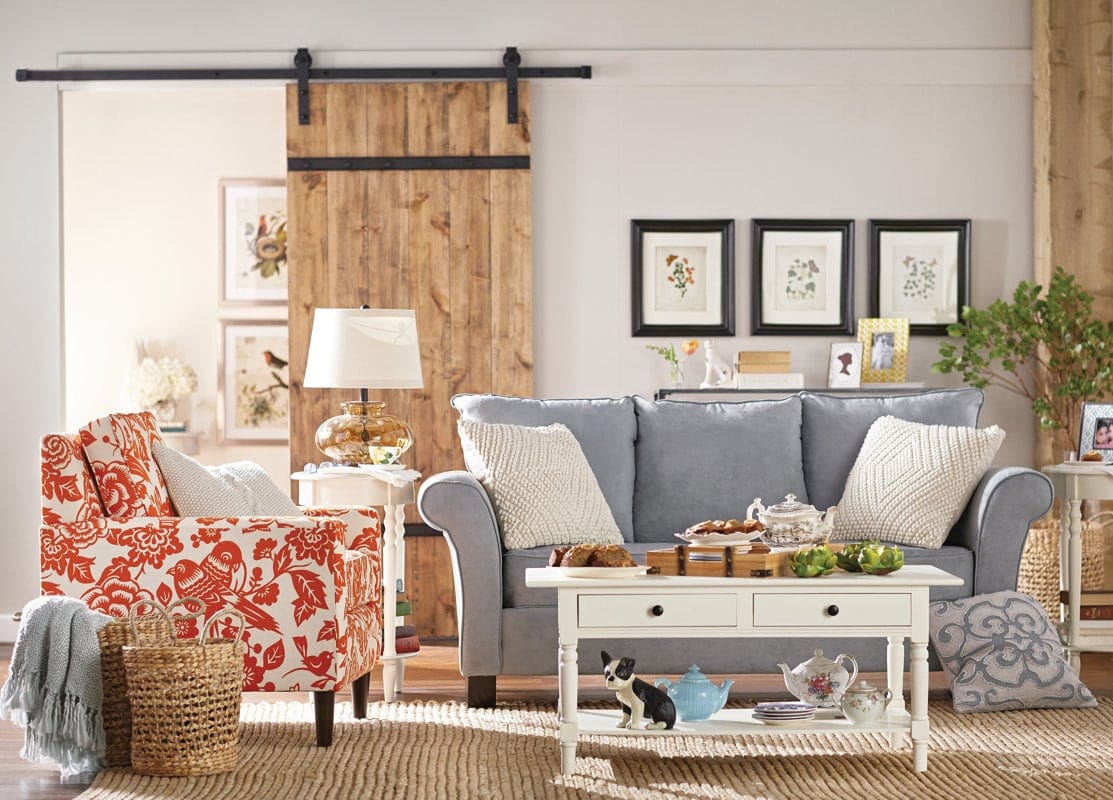 If you like cottage or shabby chic style, pair your blue couch with floral prints. You can use floral artwork, chairs, or throws.
The art prints pictured have a vintage look and are the perfect wall decor for cottage style. You can take things one step further by bringing in white furniture and a floral accent chair.
Modernize Your Room with Clean Lines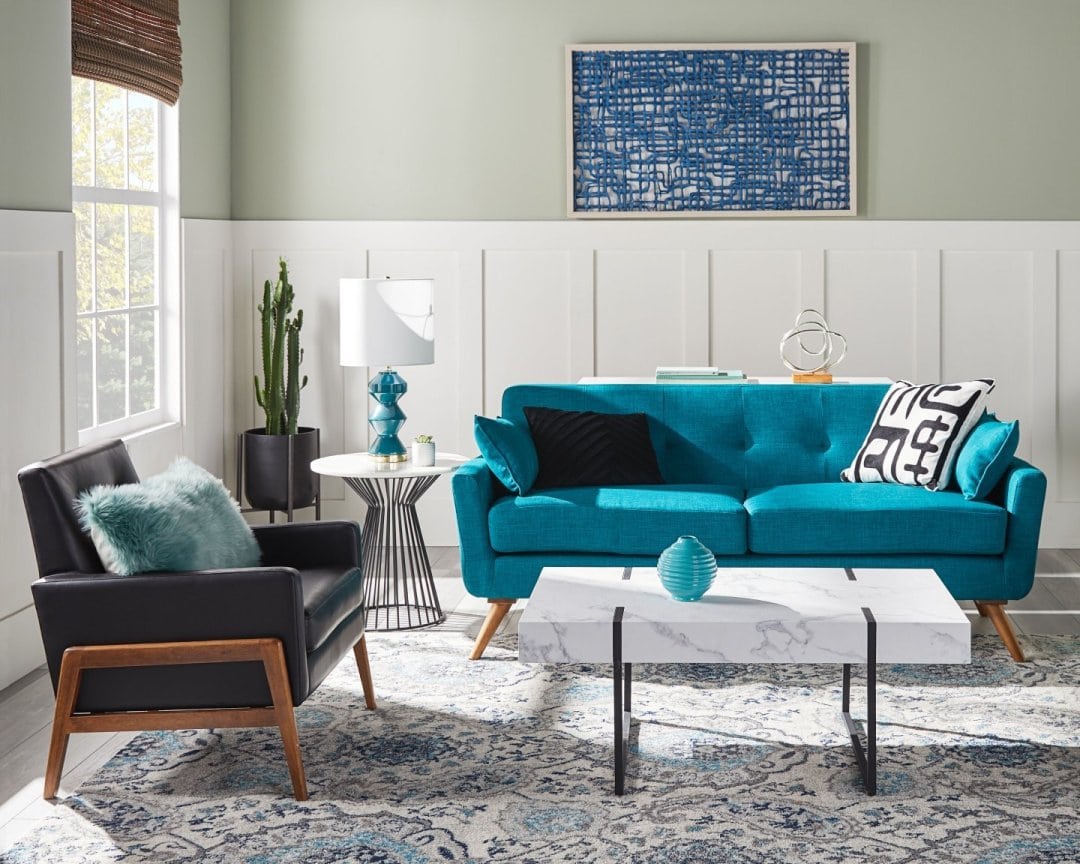 I think it's fair to say: blue sofas are incredibly versatile. You can even change how they look by pairing them with different furniture and accessories.
So, if you're after a modern space, bring in a coffee table and accent chair with clean lines. The faux marble table in this photo has the perfect contemporary look without a super high price. And the accent chair comes with a mid-century silhouette.
Brighten the Space with Color Block Art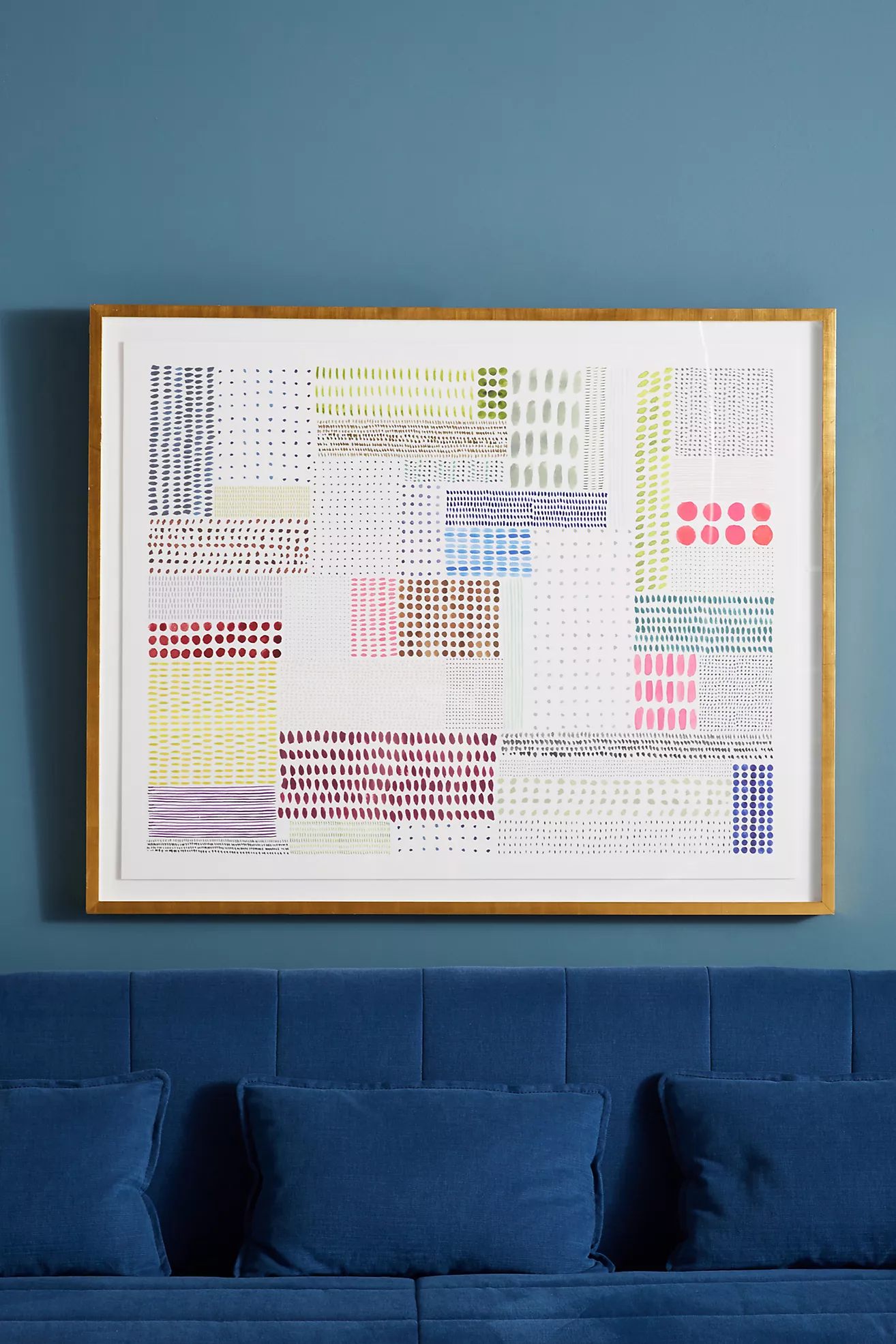 Need some artwork to brighten the room? Try this color block quilt-inspired wall art.
This large piece measures 43" x 35". It has various shades of blue that will coordinate with your sofa, regardless of its color. This art looks especially great if you have dark walls or a monochromatic color scheme.
Combine Styles for an Eclectic Look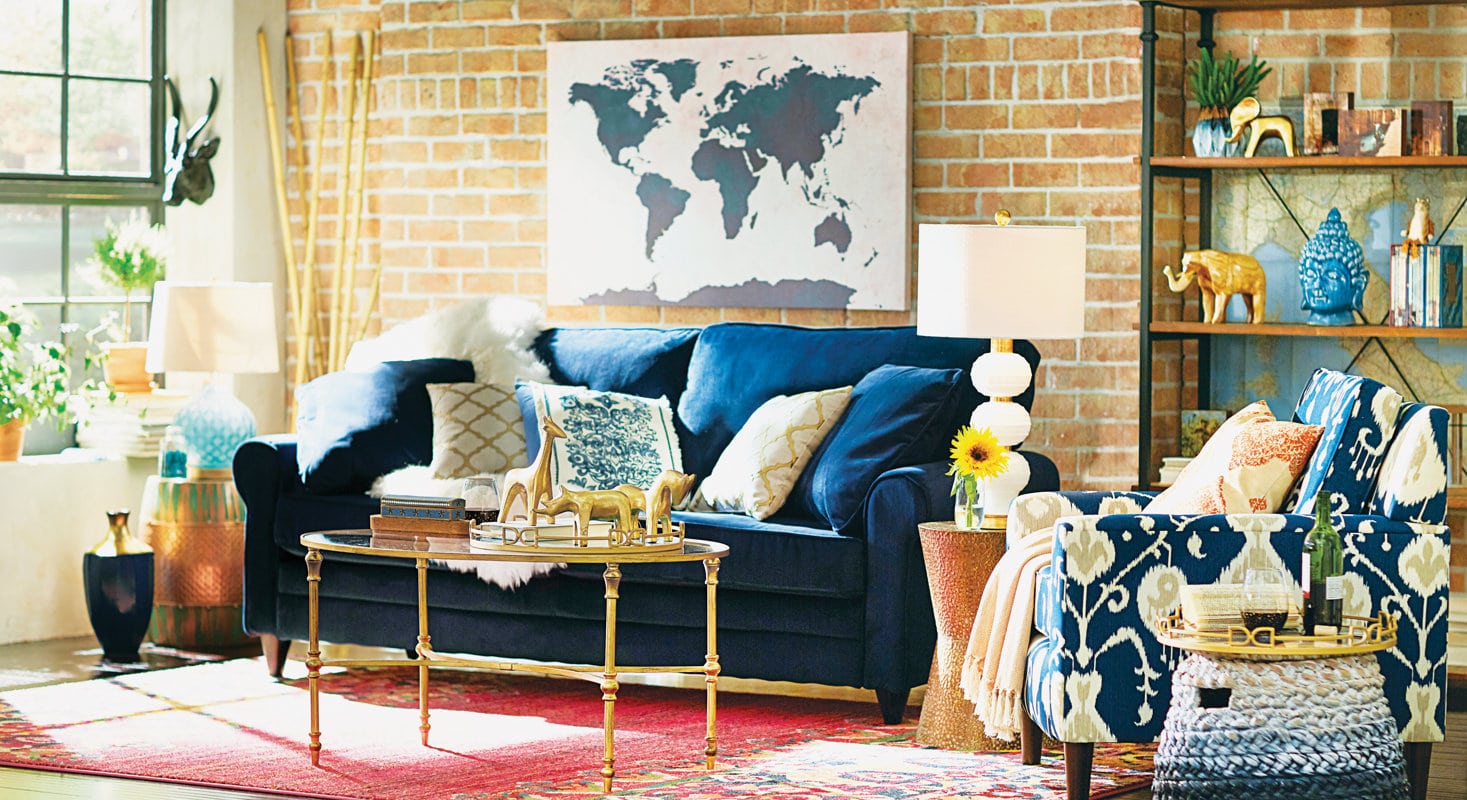 If you're unsure what your style is, maybe it's eclectic. Eclectic styles don't worry about getting their decor perfectly and simply use what they like.
In this room, there are bits of traditional, glam, and boho styles all in one. If you like this look, you can find many of the pieces on Wayfair.
Add White Accessories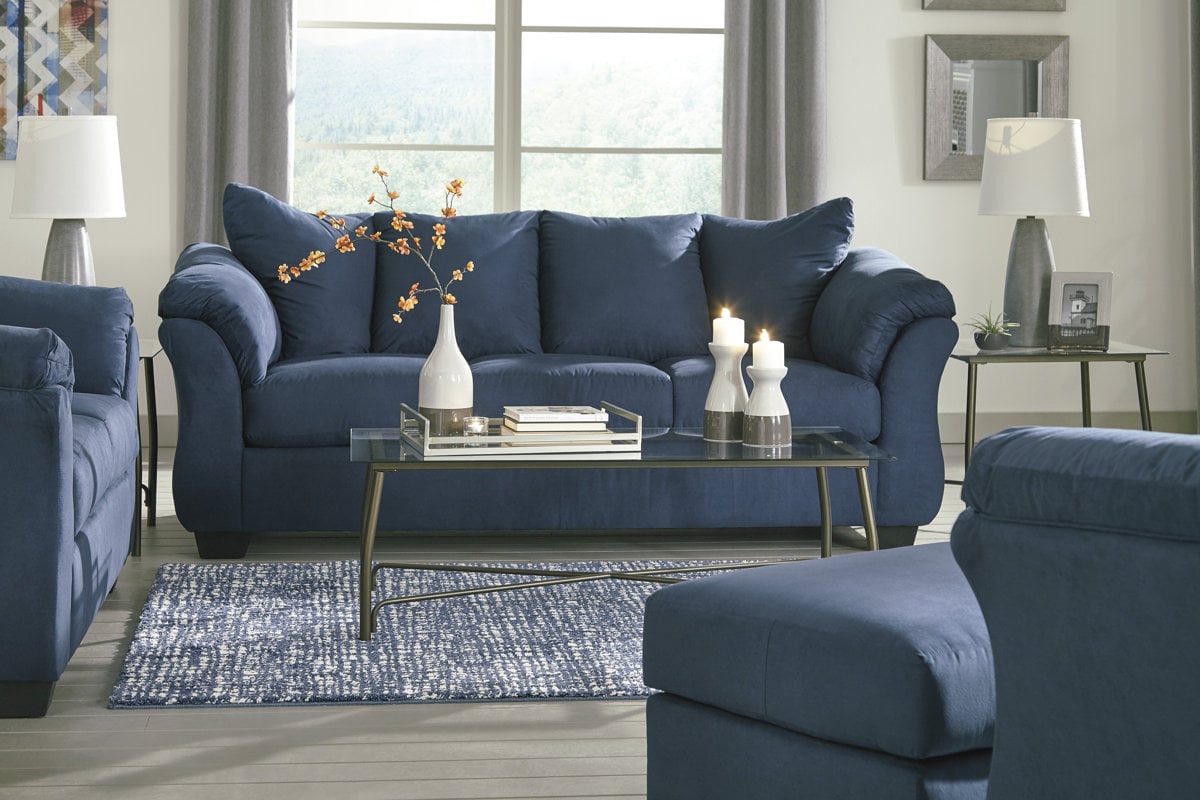 While shades of orange and gold complement blue, white also looks fantastic, especially with darker-colored couches.
So, if you're getting ready to purchase new accessories for the living room and want a clean look, try a white vase. The white will pop against the dark blue, and a bouquet will breathe new life into the room.
Surround Your Couch with Natural Elements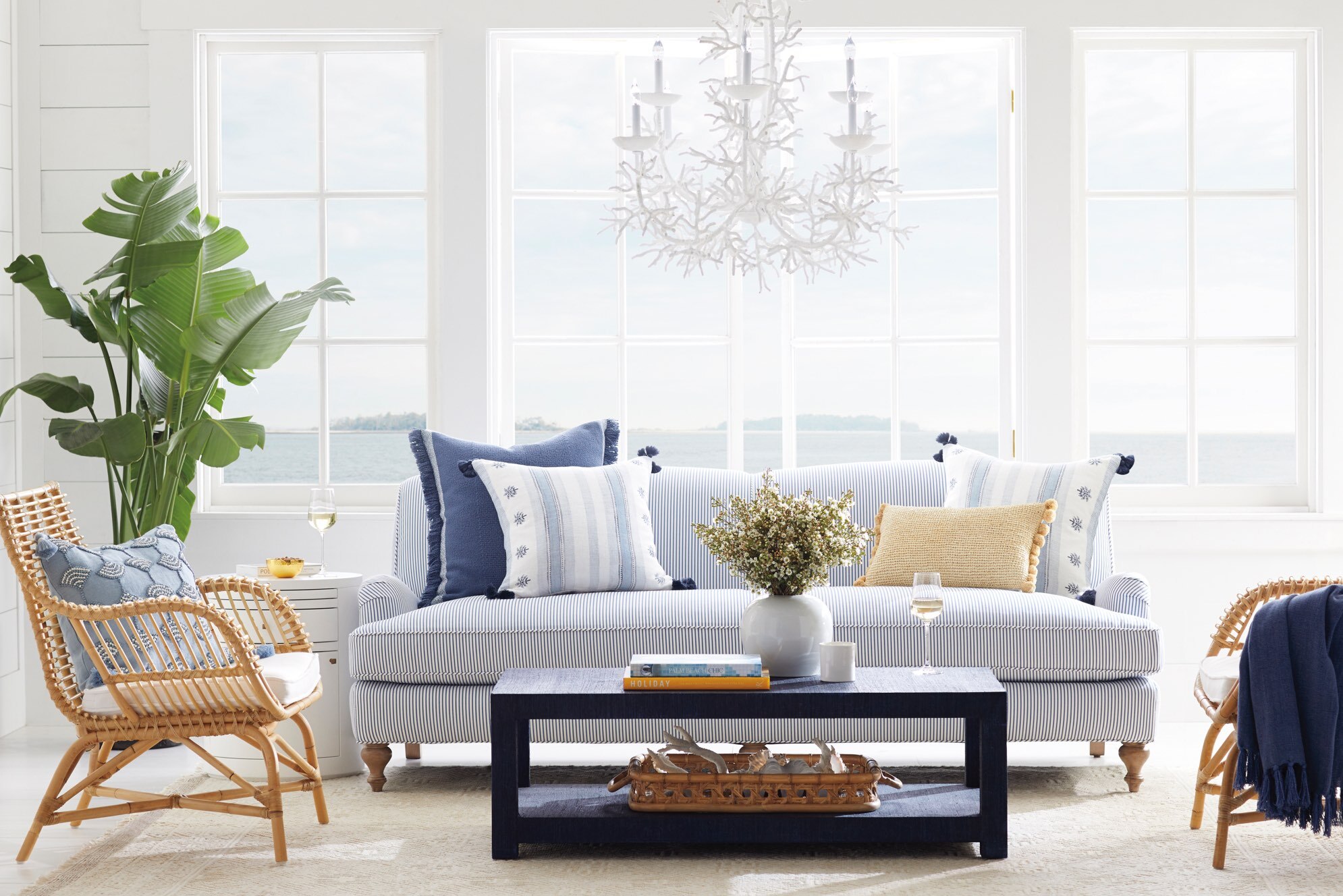 Since blue is the color of the sky and water, it makes a great starting point for a nature-inspired room. For a boho look, you could cover it in plants or do something coastal, like this.
In this room, they've brought in rattan chairs, a coral chandelier, and a large banana leaf tree for a drop-dead-gorgeous space. You can create a similar feel in your room by surrounding your blue sofa with natural elements.
Soften the Room with Pops of Pink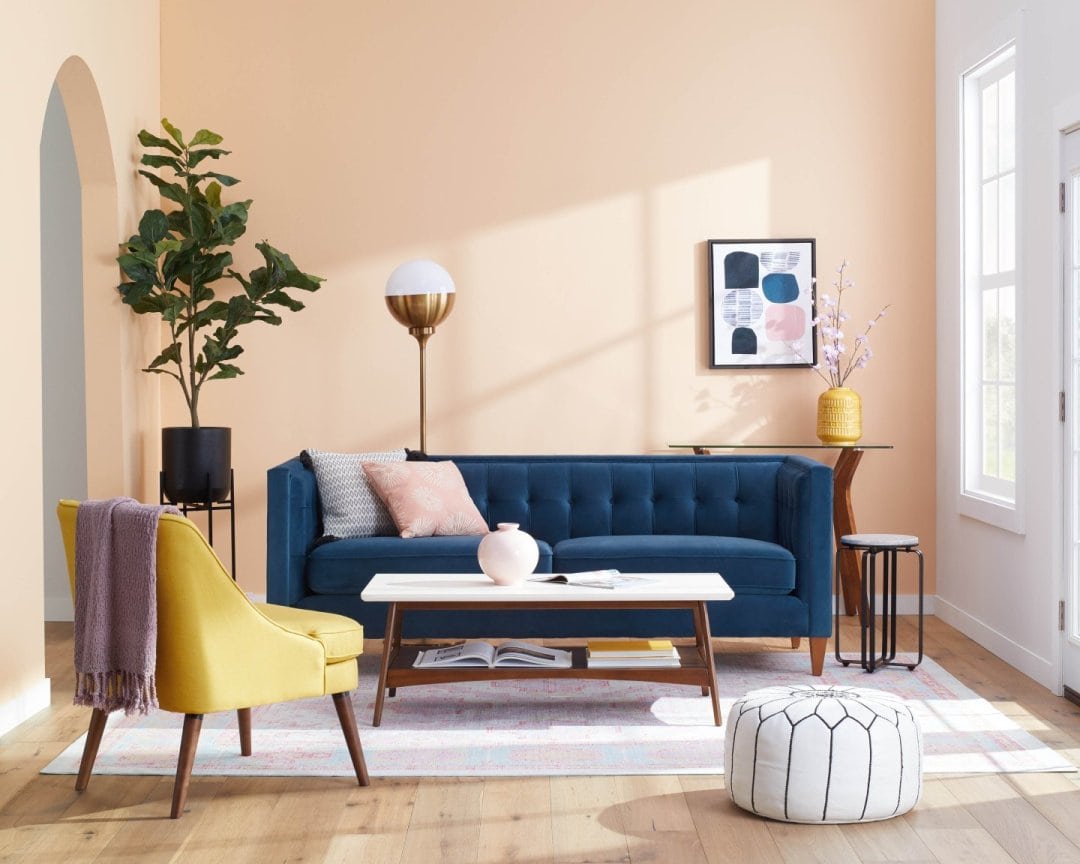 Pink is another hue that always looks good with blue. So, if you want to soften the look of your room, consider bringing in pink accents.
You can find the artwork and throw pillows pictured on Overstock. Using these accessories is an easy way to add a feminine touch without painting your walls pink. (Unless you want to, of course.)
Go Mid-Century with a Geometric Rug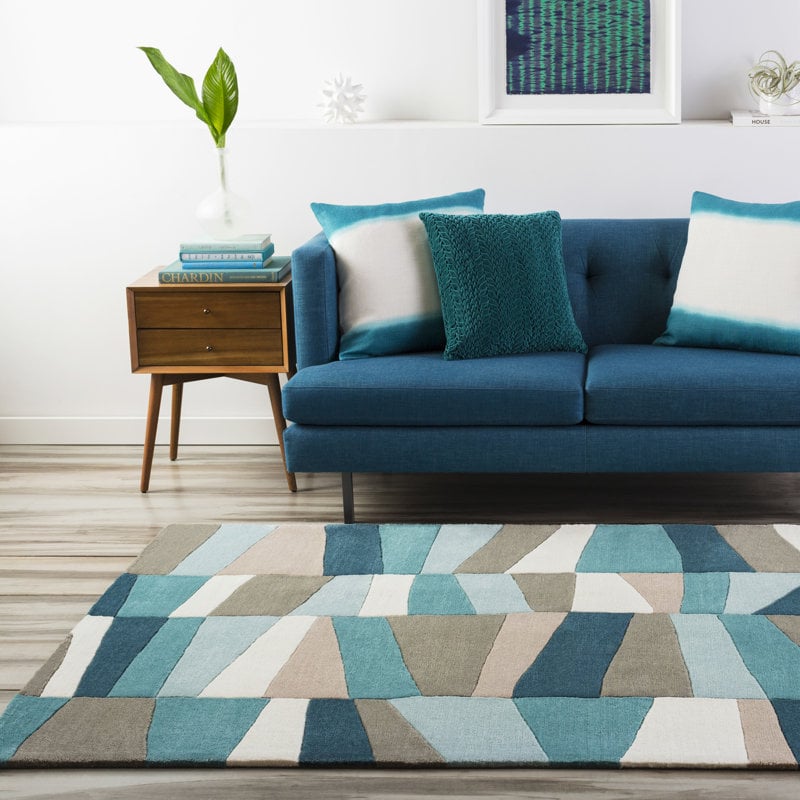 The mid-century modern look is all about furniture with clean lines, sharp angles, and accessories with geometric prints.
If mid-century is the look you want in your living room, consider this geometric blue rug. It has brown, tan, white, and various shades of blue in it. So, no matter the tint of your sofa, this rug will coordinate.
Pull Off a Traditional Look with Neutrals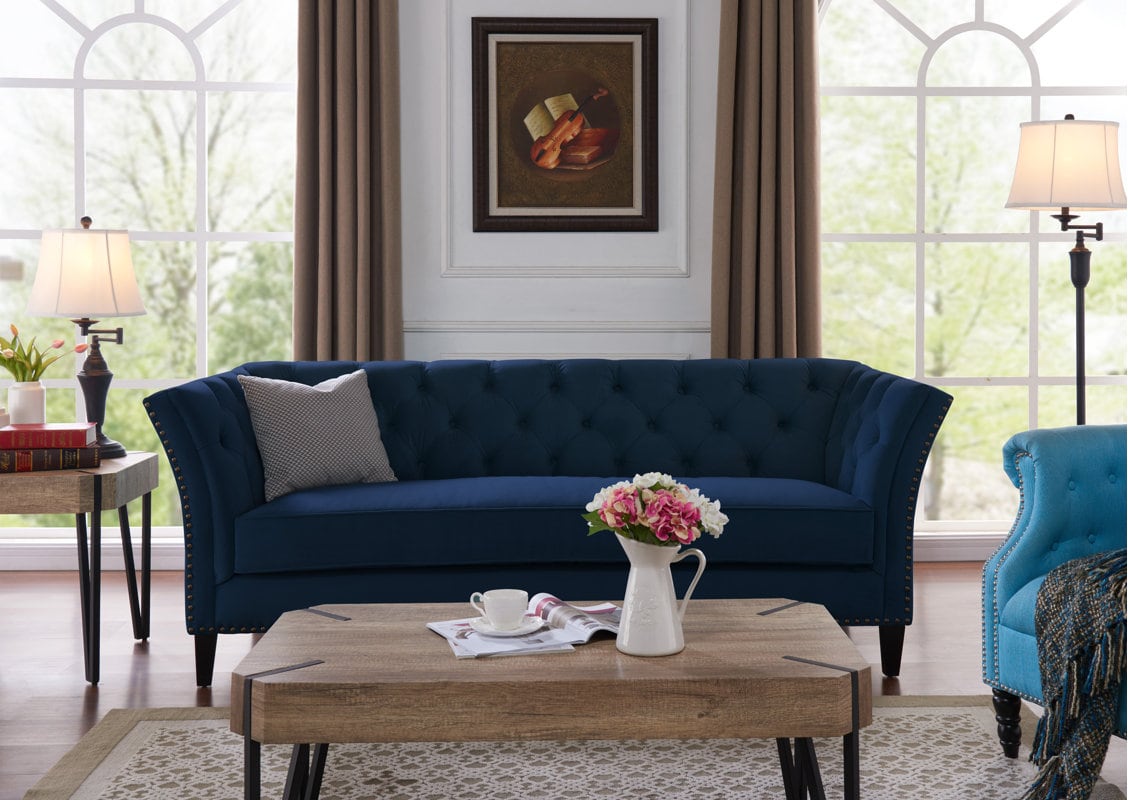 If you favor a traditional style, surround your navy or light blue sofa with neutrals. An excellent place to start is with wooden coffee and end tables.
Then use a neutral rug, curtains, and traditionally styled accent lamps. If you do this, your blue sofa will act as the pop of color in your room.
Match Your Accent Chair to the Couch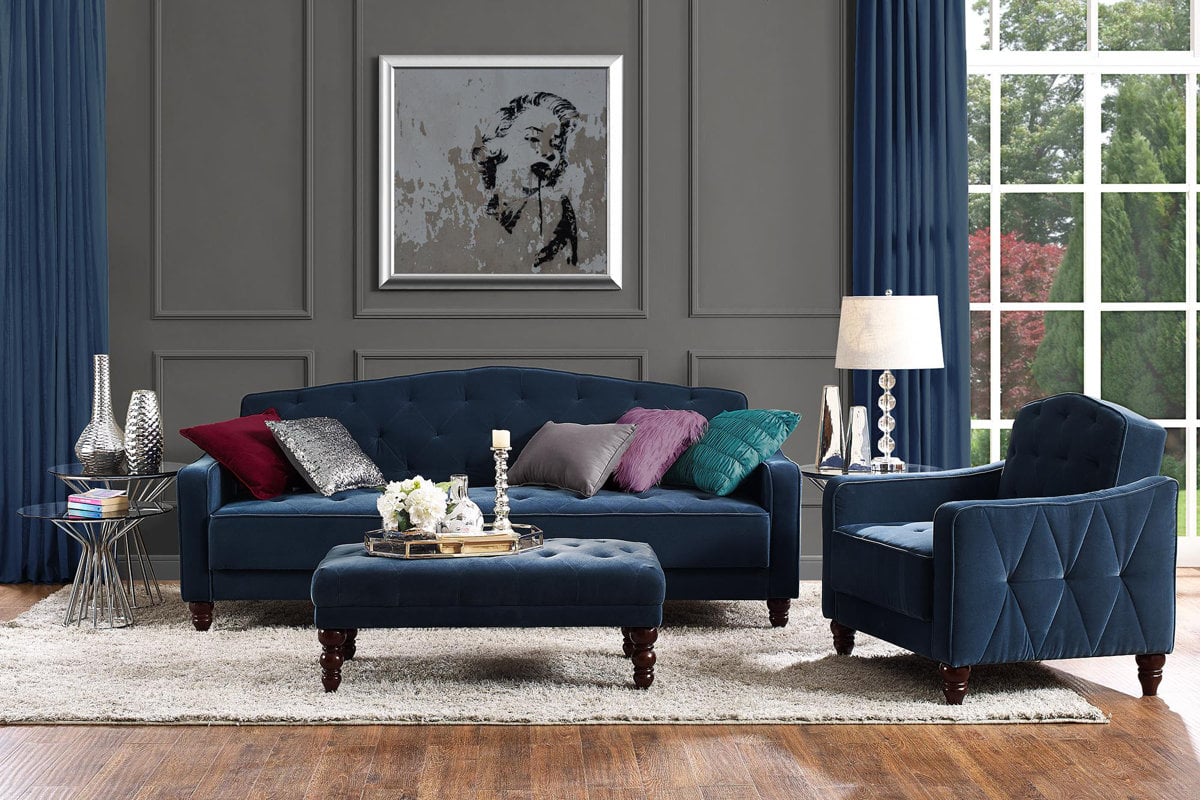 While using an accent chair of lighter color or natural material can look great, sometimes using the same color as your couch looks just as good.
If you're after a glam look and have a velvet sofa, consider bringing in a velvet accent chair the same color. This looks especially great if you have hardwoods that contrast your shade of blue.
Balance Your Blue with Warm Wicker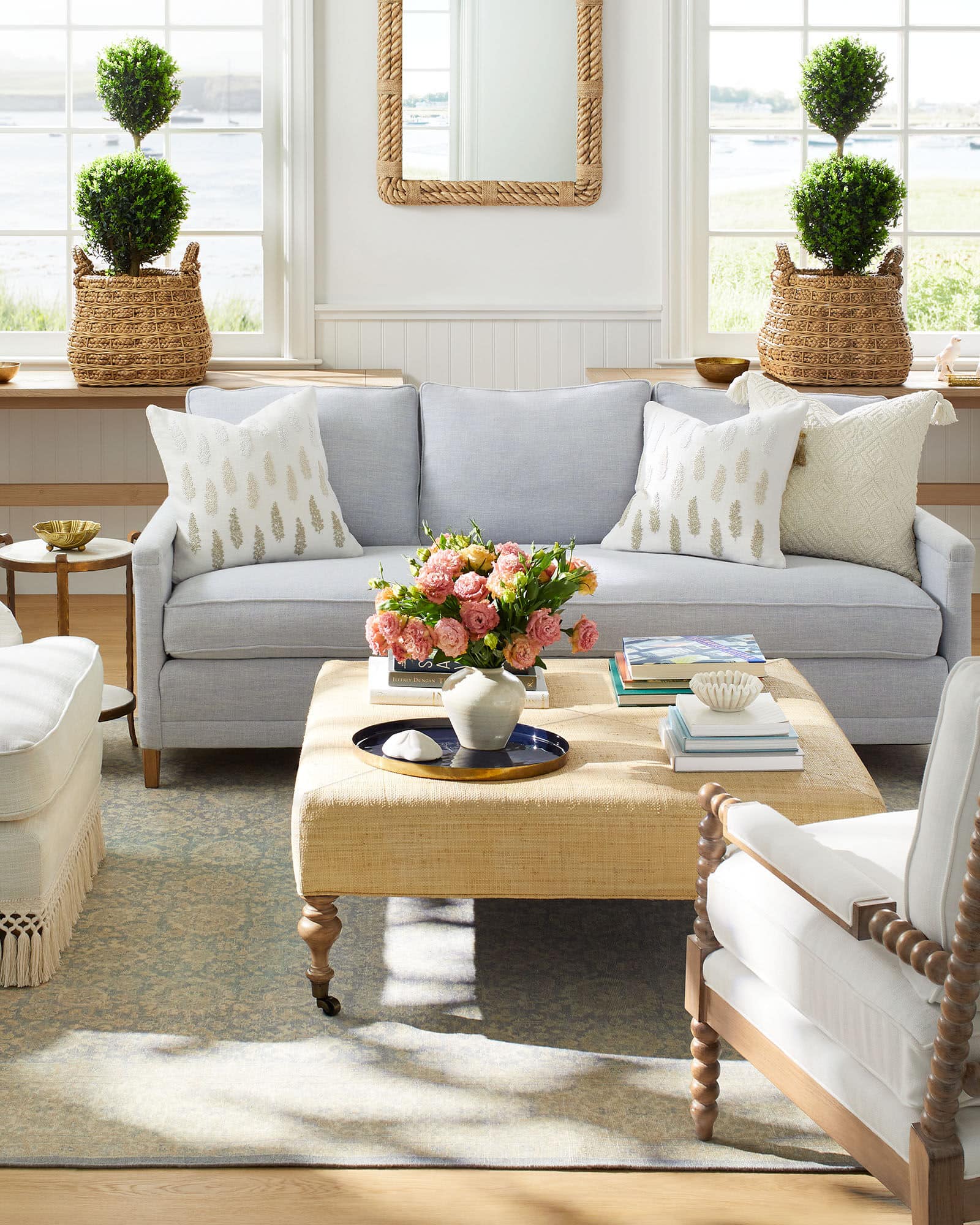 Since blue is a cool color, you can bring balance to your room by adding wicker or rattan accents. Wicker is warm, and it looks excellent paired with all shades of blue.
One idea is to get baskets like these and fill them with a potted plant or topiary. Then, you can place them beside your sofa or behind it on a sofa table.
Final Thoughts
Blue sofas aren't hard to decorate around. Many colors go with blue, including browns, white, orange, yellow, and pink. If you like a crisp and clean look, consider using white and contrasting shades of blue.
You can also bring in nature-inspired accents, metallics, or pops of bright color. If you don't know where to start, find some inspo pics you like and try imitating them.