Decorated Life is reader-supported. When you buy through links on our site, we may earn an affiliate commission. Learn More
11 of the Best Behr Green Paint Colors
If there's any color that's trending right now, it's green! Greens bring us that serenity and life-filled, vibrant tones are the nature-inspired colors that everyone's craving.
Whether you prefer warm, herbal greens, cool, watery greens, something from the depths of the forest or the mist on the mountain, this list has got you covered. In it you'll find the very best greens from Behr to keep you on top of this lush and leafy trend. We'll also take a look at greens in use in real homes so that you can get inspired for your next project.
Let's step into a home refresh with Behr's best greens!
Breezeway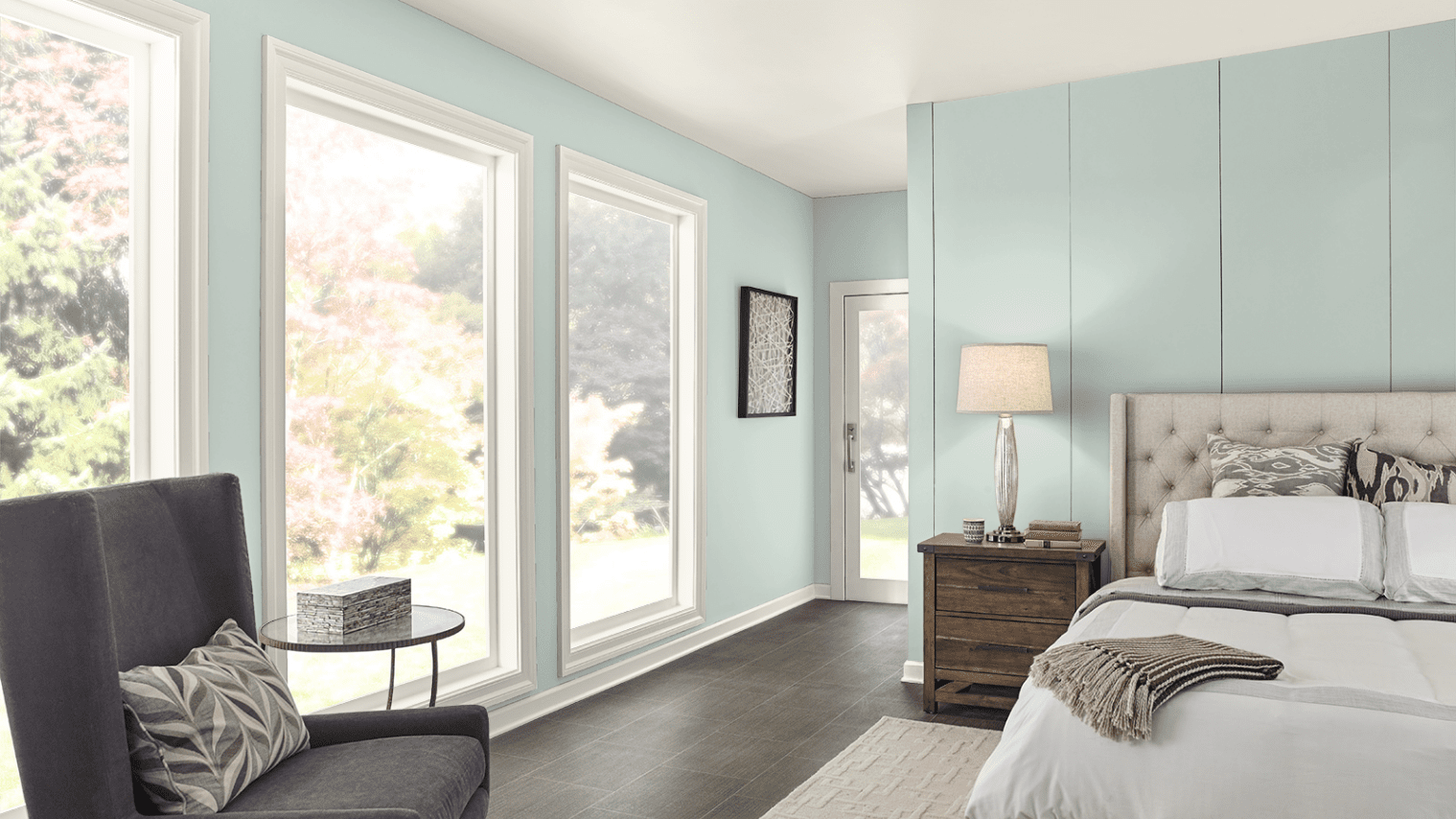 Breezeway is a light and airy seaglass green that offers an uplifting, cooling influence in any space. It's Behr's 2022 Color of the Year.
Breezeway looks beautiful with whites, grays, and natural materials like wood or stone. It has a LRV of 66.
Jojoba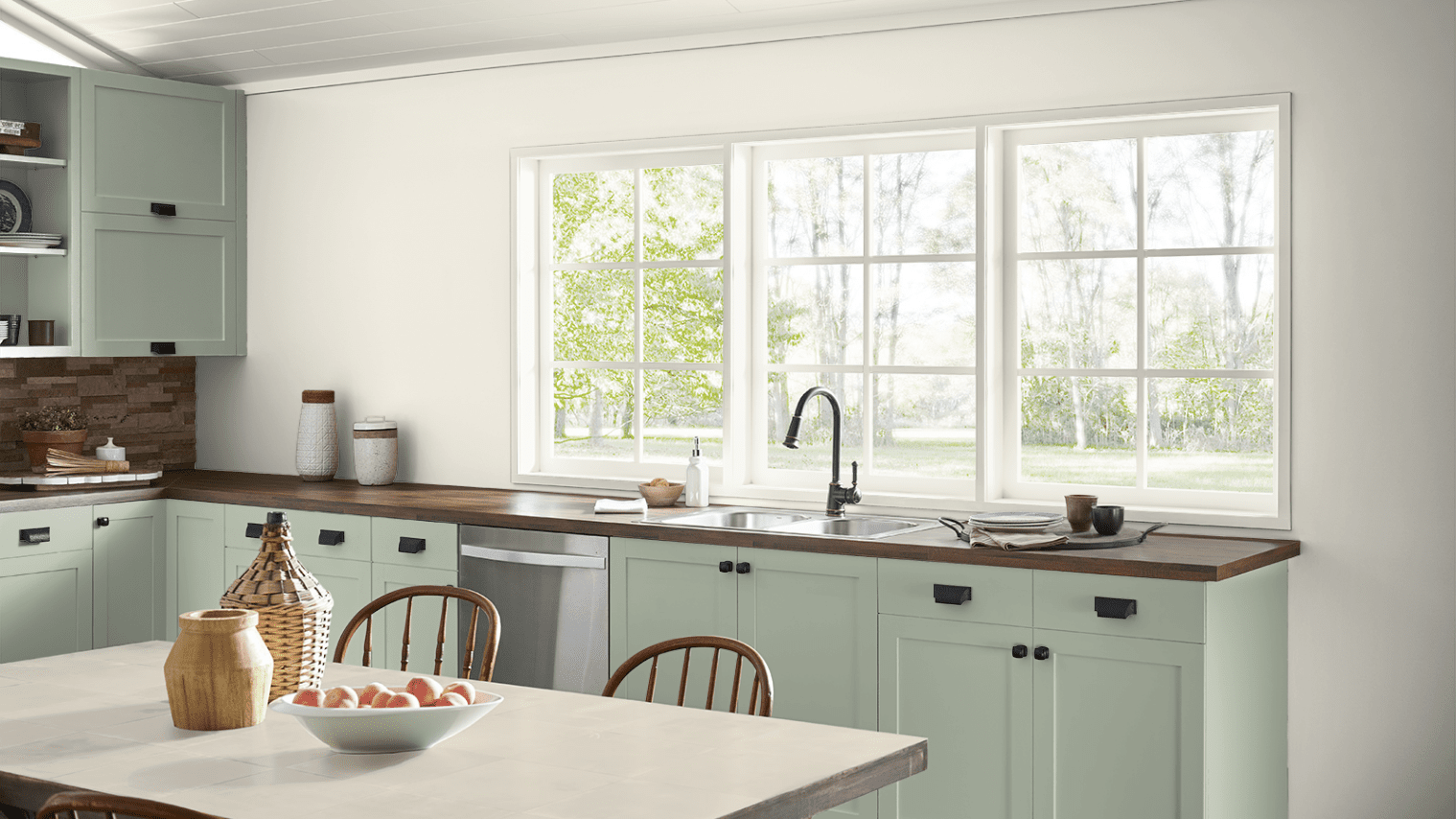 Jojoba is a warm, earthy, pastel green. Behr describes it as a therapeutic color that evokes tranquility. It has yellow-green undertones. Jojoba is a great choice to pair with natural woods. It has a LRV of 47.
Morning Zen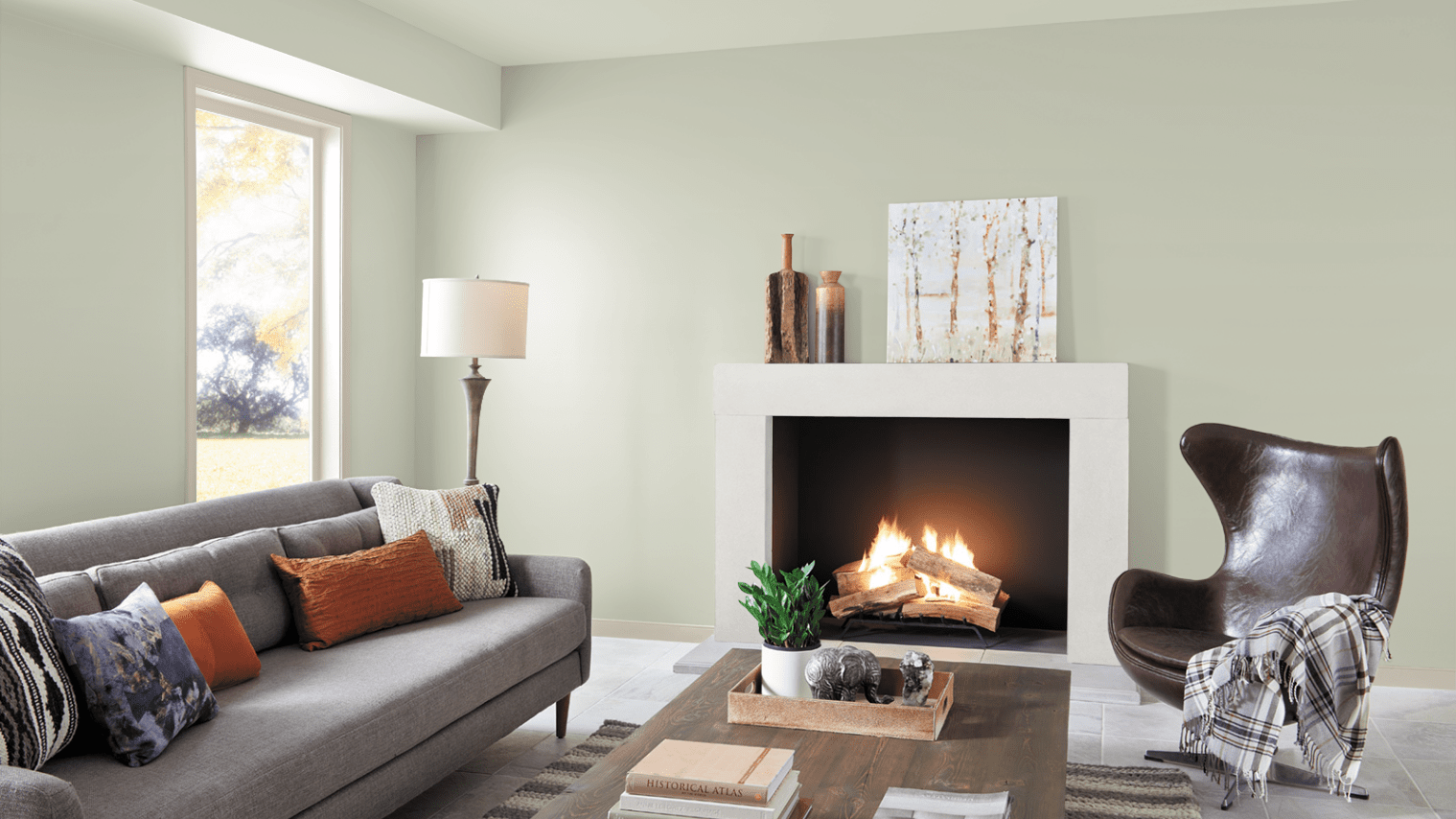 Morning Zen is a light sage green. Its LRV of 60 sets it right in the ideal range that many decorators favor for its adaptability to light conditions. It would make an ideal wall color, but it would also be lovely on cabinets.
Garden Spot
Garden Spot is a refreshing light apple green. As a medium-toned color, you could put it to a variety of uses–it's dark enough to offer some contrast, but light enough to serve as a main color in well-lit rooms. Garden Spot has a LRV of 54.
Dragonfly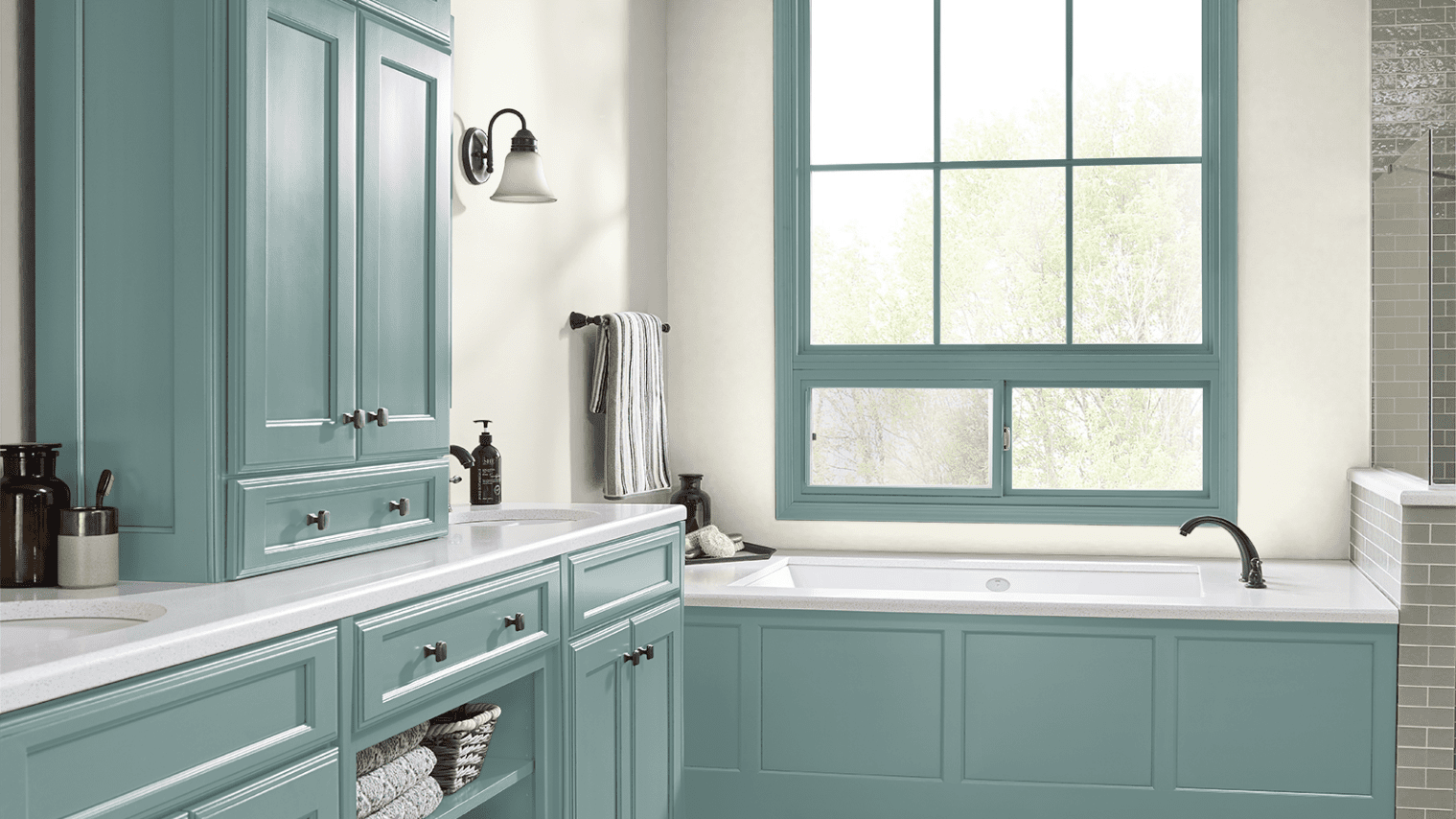 Dragonfly is a cool blue-green with gray undertones. This more mild take on teal can give you a more subdued touch of the tropical in your decor. Its color is reminiscent of flapjack succulent plants. Dragonfly has a LRV of 26.
Minty Frosting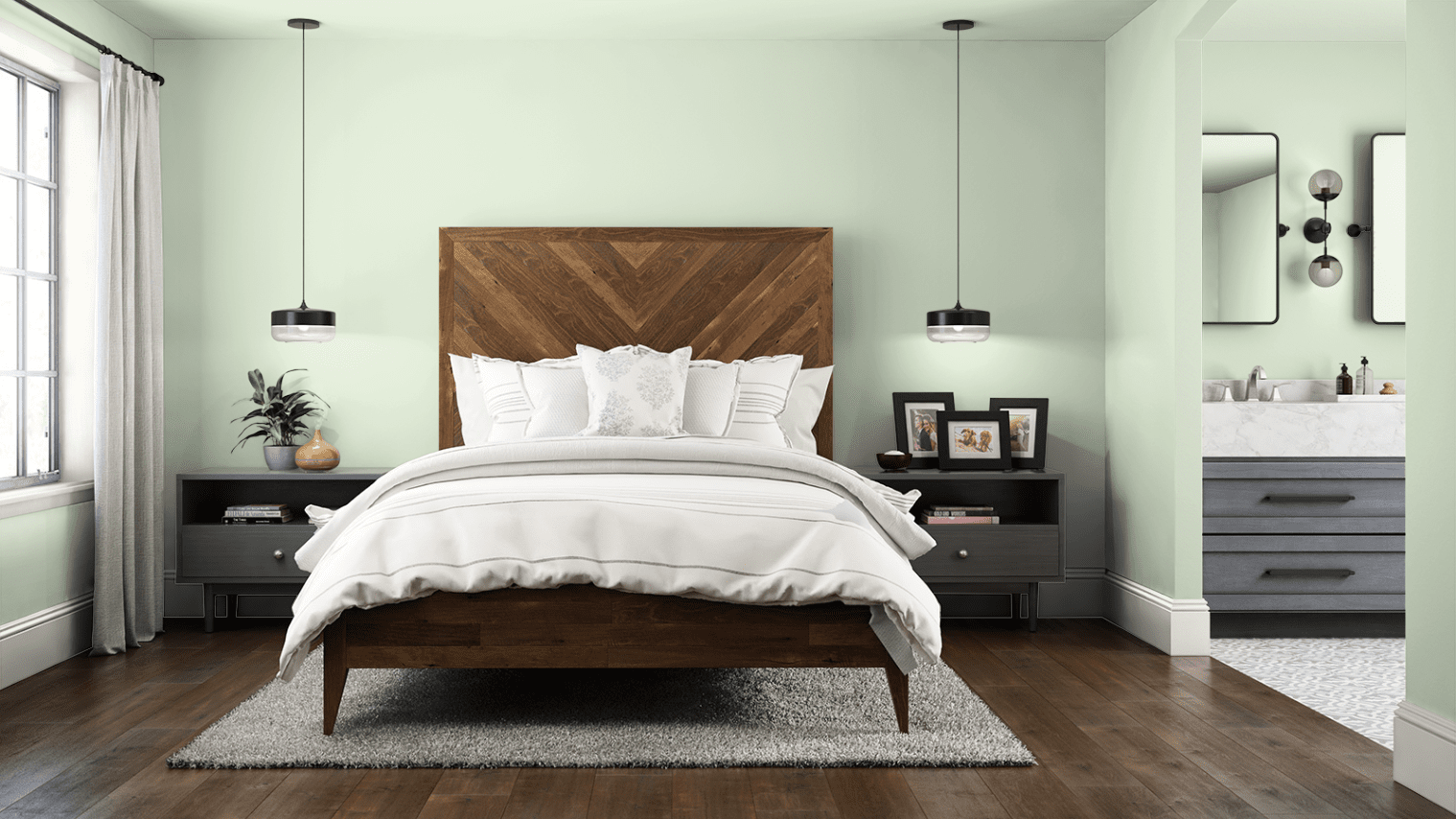 Minty Frosting is a subdued pale green blended with light gray. The name might make you think that this is a saccharine color, but it actually resembles soft lichens on a tree branch. Minty Frosting can help small spaces feel larger and more open. It has a LRV of 77.
Dancing Jewel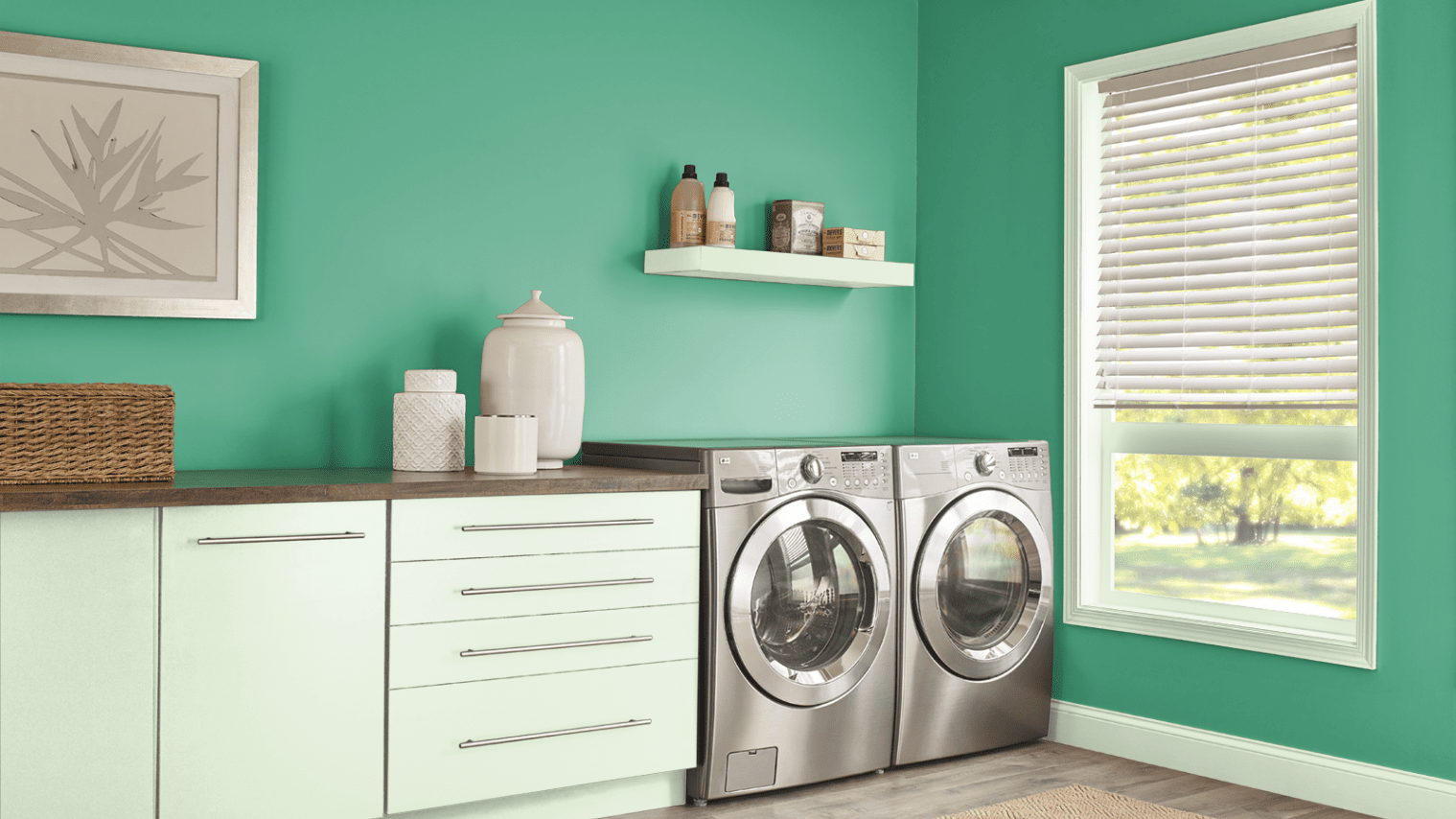 Dancing Jewel is a darker tone of a kelly green. The depths of this color do in fact appear to dance around! Dancing Jewel has a LRV of 26.
Caribbean Current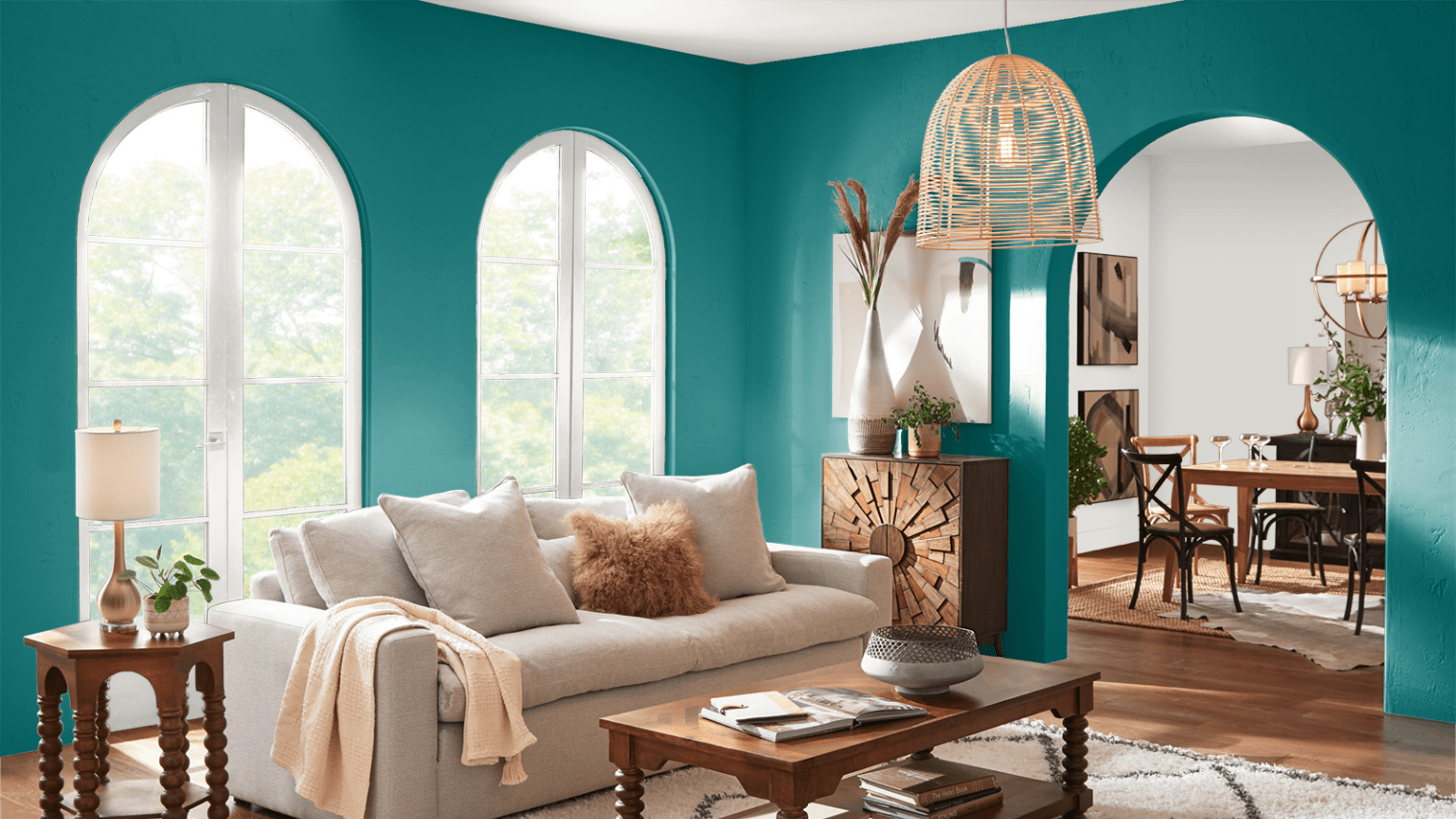 Caribbean Current is a vibrant dark teal with cool, refreshing depths. It leans more into its green side than your average teal.
You can pair this color with strong colors like golden yellow, charcoal gray, royal purple, or coral pink. Teals are trending as front door colors with strong curb appeal, so Caribbean Current would be an eye-catching front door choice as well. Its LRV is 12.
Royal Orchard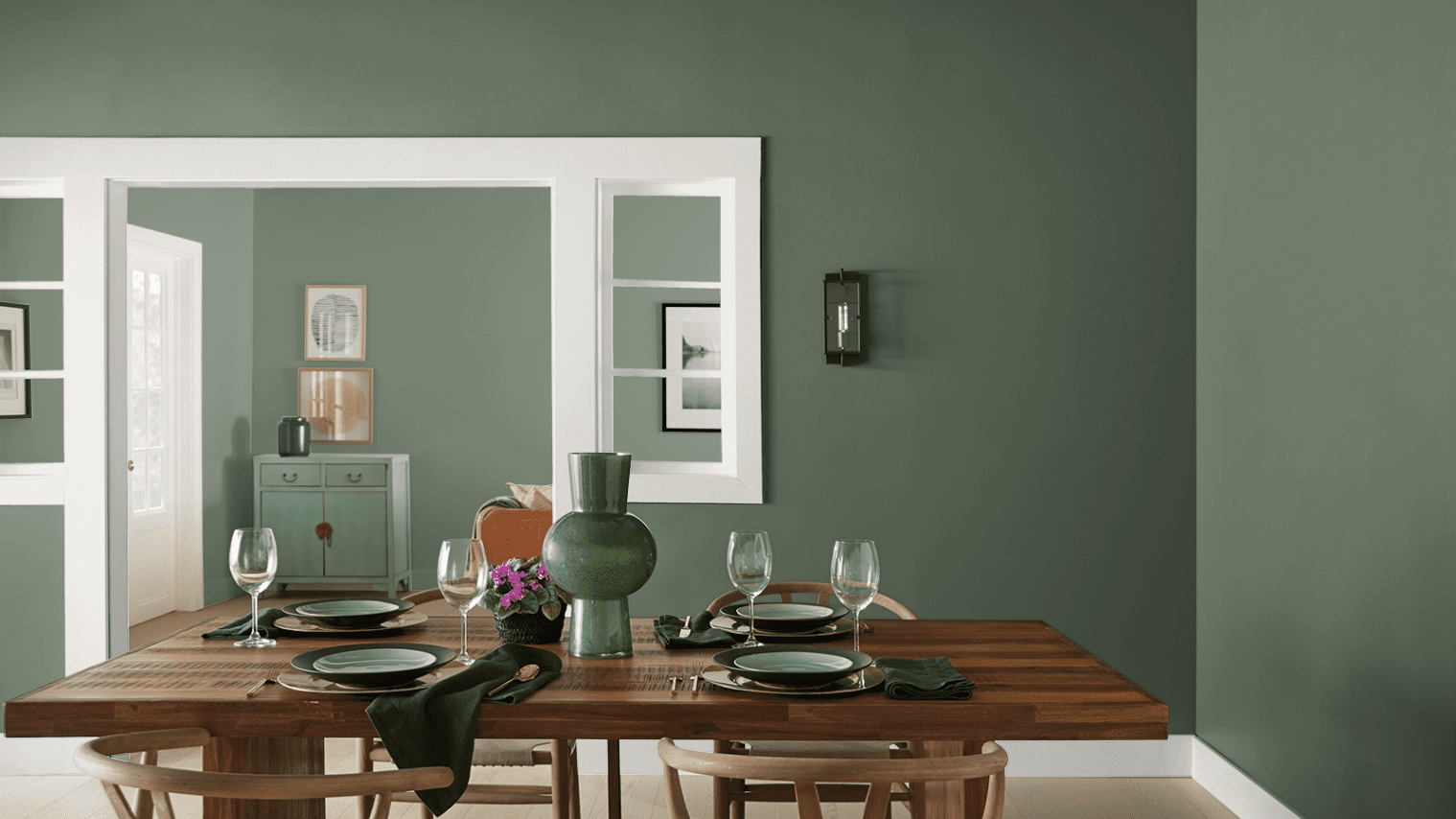 Royal Orchard is a natural, botanical green that's nicely balanced, giving it a warmer vibe than your average green. If you're looking for a more subdued green but don't want to head into the gray range, this is a good choice. Royal Orchard has a LRV of 14.
Laurel Tree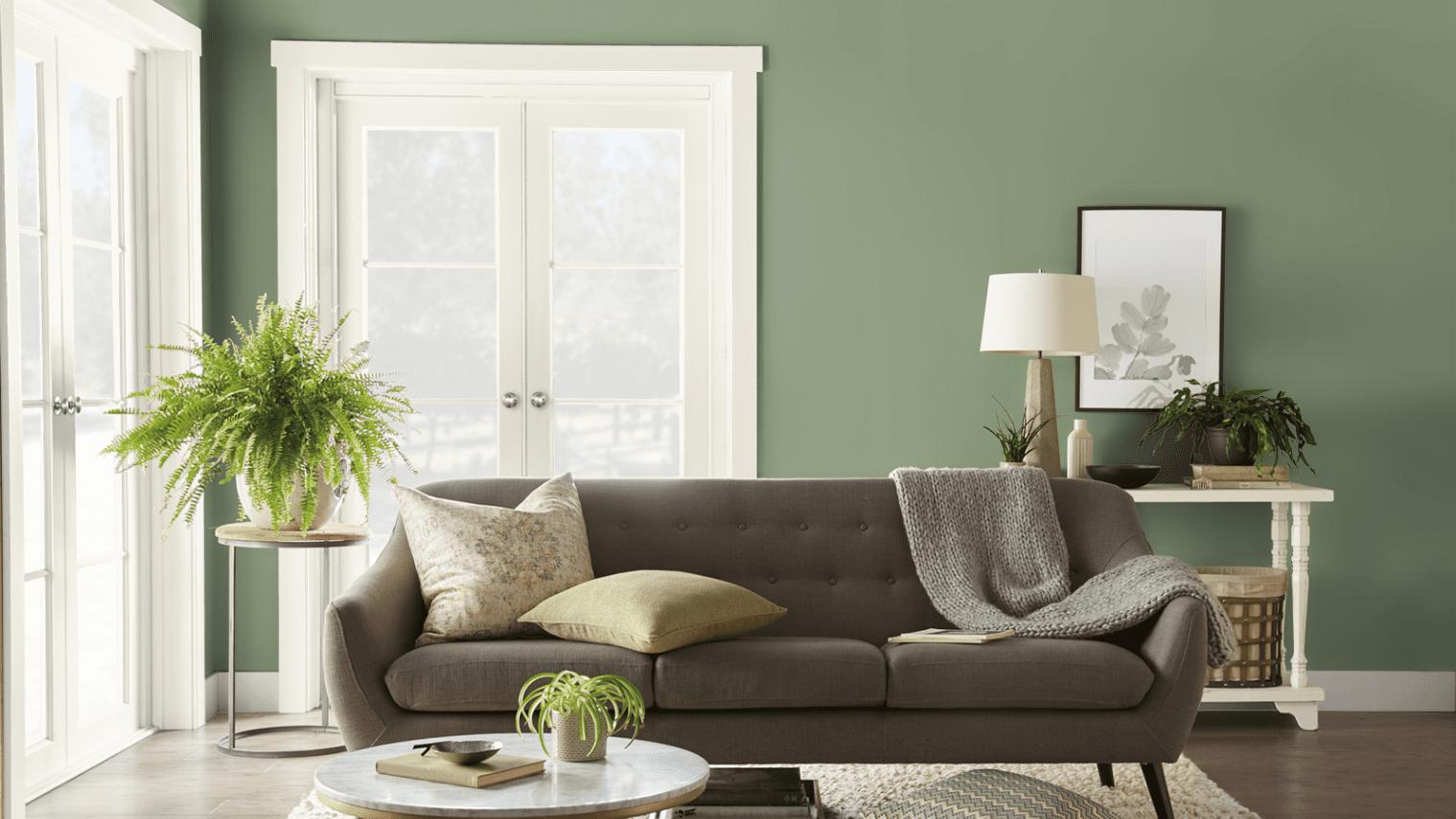 Laurel Tree is a botanical green blended with gray, that's somewhat comparable to Evergreen Fog or October Mist–both 2022 Colors of the Year for their respective brands. It has more green and less gray than either of those colors, though. The gray aspect makes Laurel Tree more neutral and subdued. It has a LRV of 29.
Sparkling Emerald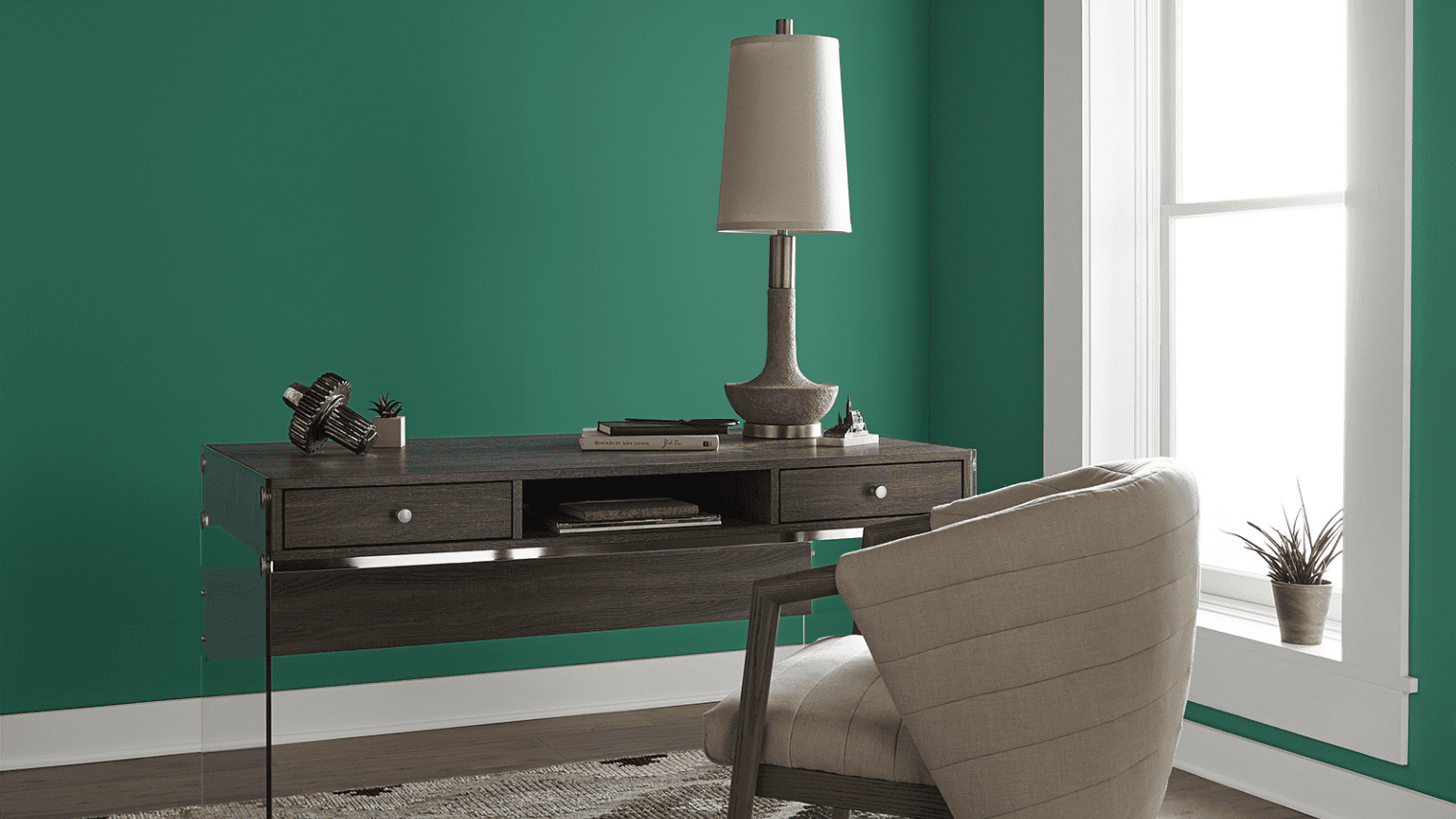 Sparkling Emerald is a lush, deep forest green. This is a classic color that's great for traditional and historic styles, and it would look very elegant paired with gold metalwork. Sparkling Emerald has a LRV of 12.
Green in Real Homes
The best Behr green colors look even better in their native habitat: the home! Let's take a look at what other homeowners have done with these fabulous colors and get inspired for our own projects.
https://www.instagram.com/p/CakupHisiLU/
Breezeway is cool and inviting, brightening a space especially when paired with white.
Jojoba is a color with vintage vibes that looks good in mid-century modern styles.
Morning Zen is a light and uplifting green that pairs well with charcoal gray.
Dragonfly is a charming choice for kitchen islands and cabinets.
Remember, you don't always have to paint within the lines! Creative focal points created with Caribbean Current make this bedroom striking and lively.
Royal Orchard as a wall color is a sophisticated choice in this modern minimalist office.
Wait, So What is LRV?
LRV stands for Light Reflectance Value. It's a way of measuring how light or dark a color is. The scale runs from absolute black, which is 0, to sheer white, which is 100. The LRV numbers are provided in this article so that you can easily compare the colors on the list to each other.
Final Thoughts
Green is a refreshing color that can uplift any space and bring the serenity of the natural world into your home. It pairs readily with whites, off-whites, creams, grays, blues, or browns. With a range of cool, watery greens and warm, earthy greens, there are shades of this on-trend color to suit any style.