Decorated Life is reader-supported. When you buy through links on our site, we may earn an affiliate commission. Learn More
9 of the Best Benjamin Moore Blue Paint Colors
Did you know that blue is the most popular favorite color in the world? It's true! People just can't get enough of those soothing, cool vibes.
In terms of home decor, blues are fantastic. Not only do they coordinate well with cool favorites like grays and greens, but in many cases, they can even act like neutrals. Just like your favorite pair of jeans can go with anything, navy blue is being hailed as "the new neutral".
Another reason blue is becoming more popular is because we're all looking to bring some more calm and serenity into our lives, and blue is perfect for that.
So kick back, relax, and take a look at the very best blue colors that Benjamin Moore has to offer. You're sure to find inspiration for your next home refresh.
Palladian Blue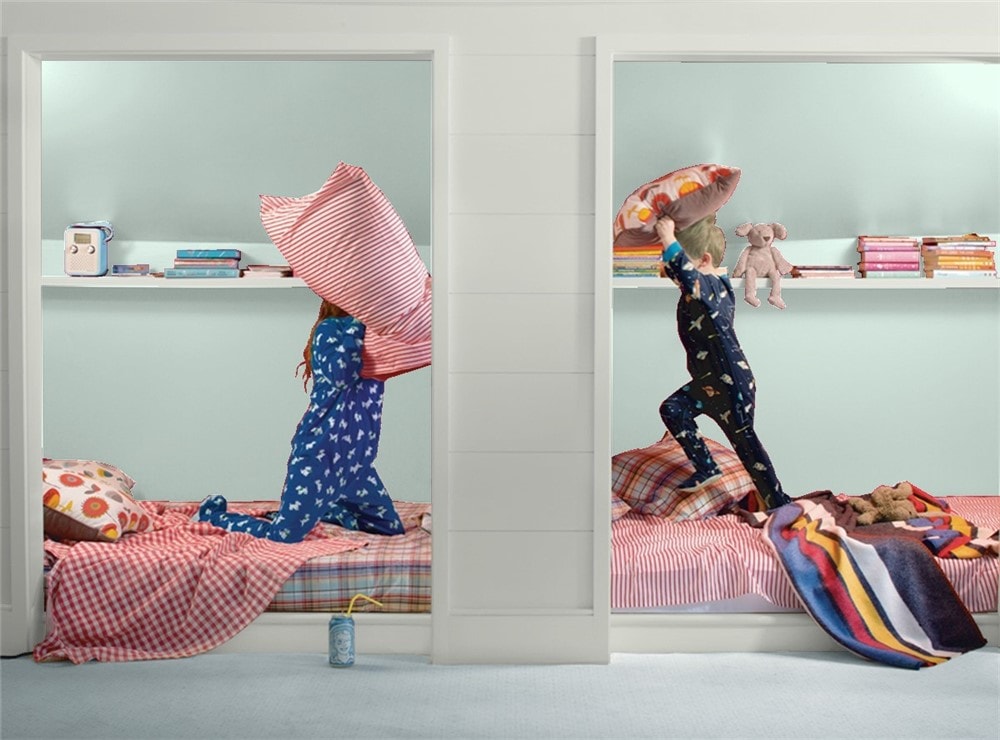 Palladian Blue is a pale blue shaded with mother-of-pearl. This is a fun color that can be dressed up to pop with colors like coral pink, or toned down to serene elegance with grays and whites.
This is a super-popular color with a wide online following, and you'll especially see it catching on with the recent trend for front doors in turquoise and teal. Palladian Blue has a LRV of 61.17.
Palladian Blue is a Door Color with Curb Appeal
Hale Navy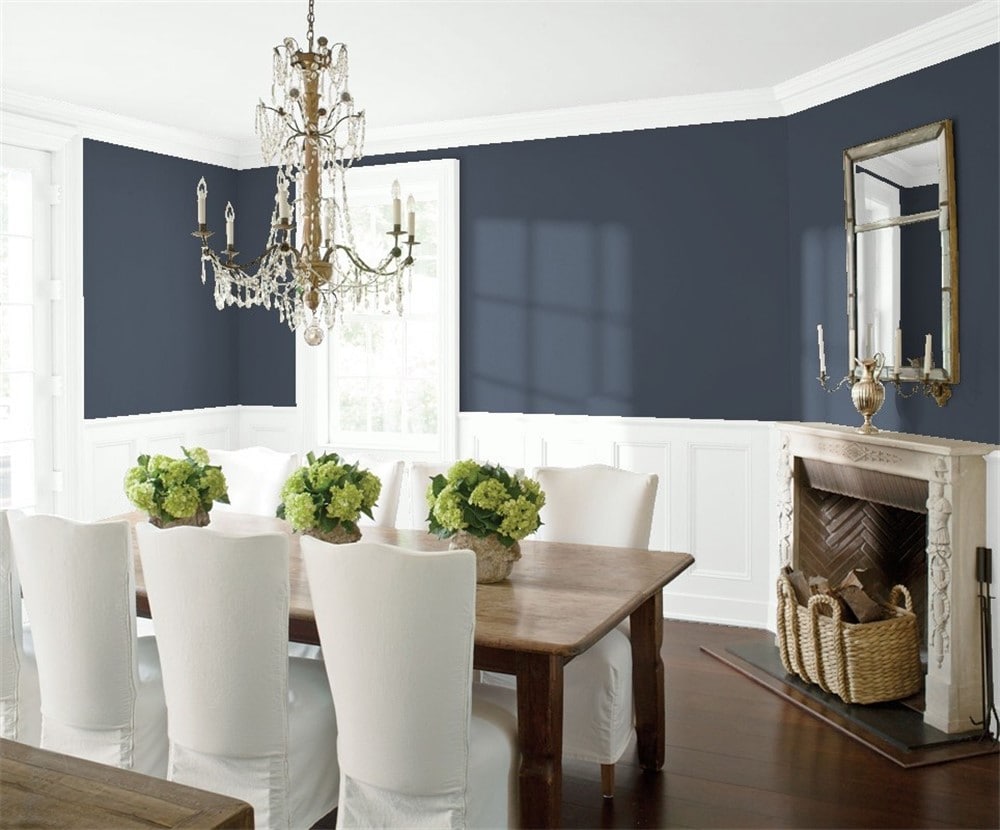 Hale Navy has a ridiculously dedicated fanbase, and you will see this inky, deep, traditional navy blue absolutely everywhere on social media.
Use Hale Navy anywhere you want a luxurious feel and a bold statement. It coordinates beautifully with gold and silver. Hale Navy has a LRV of 6.3.
Hale Navy Offers Bold Luxury
Newburyport Blue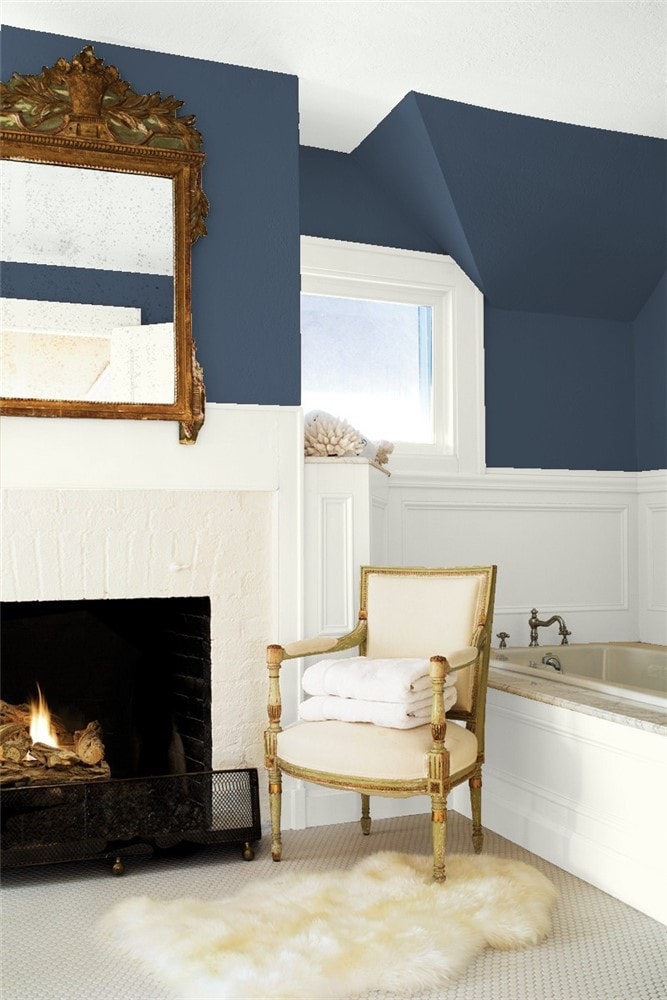 Newburyport Blue is a classic navy that's a close relative of Hale Navy, but it's a bit brighter, with a LRV of 8.28. Both colors are incredibly popular choices for kitchens, especially kitchen cabinets and islands. Consider coordinating this color with light grays.
Newburyport Blue is a Stylish Choice for Kitchen Islands
Old Pickup Blue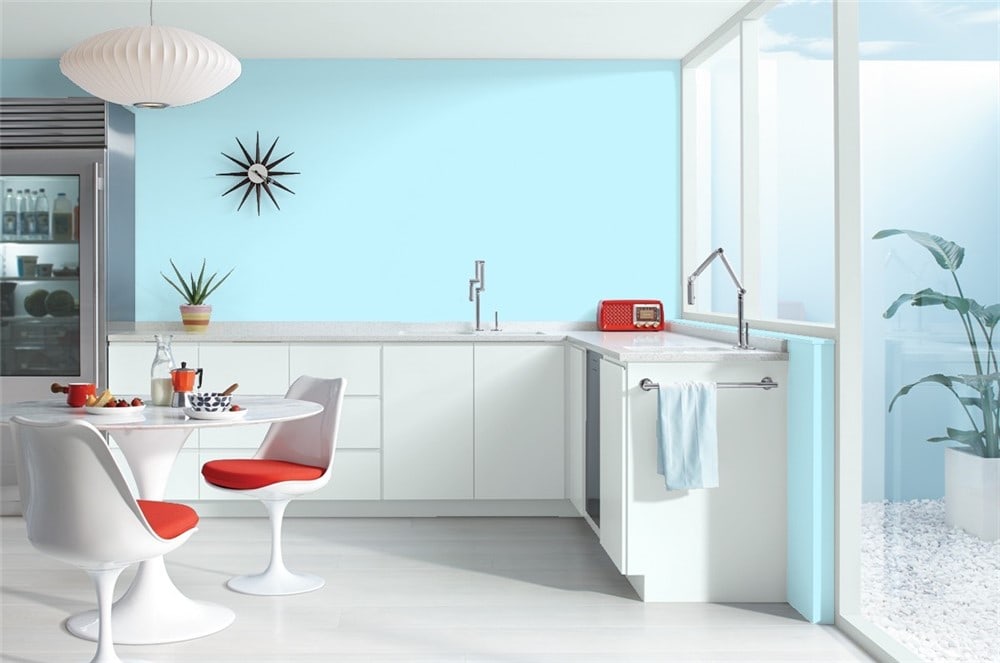 Old Pickup Blue is a bright and fun blue that manages to feel both modern and nostalgic.
This color will lighten and energize a room, and you can play up that energy with other bright colors, or tone it down with darker contrast shades. Its 65.87 LRV makes it suitable as a wall color.
Old Pickup Blue is a Fun and Chic Wall Color
Seaport Blue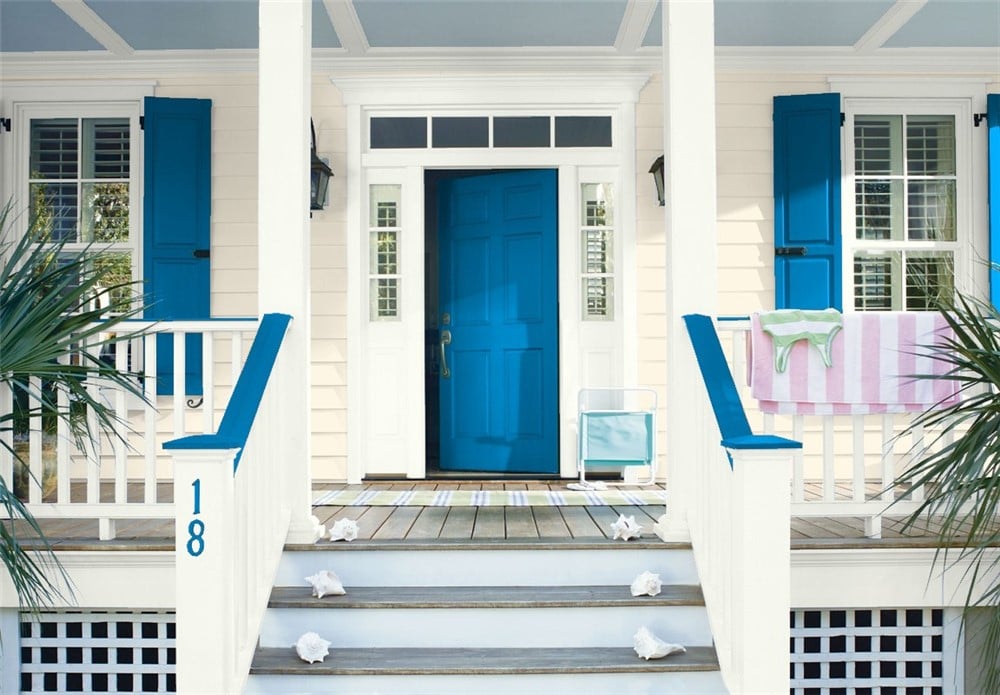 Seaport Blue is a bright, saturated ocean blue that brings beautiful seaside locales indoors.
This vibrant color can be used as part of coastal decor, but it's also great as a statement color in other palettes. Seaport Blue has a LRV of 14.58.
Seaport Blue is a Vibrant Accent Wall Color
Mt. Rainier Gray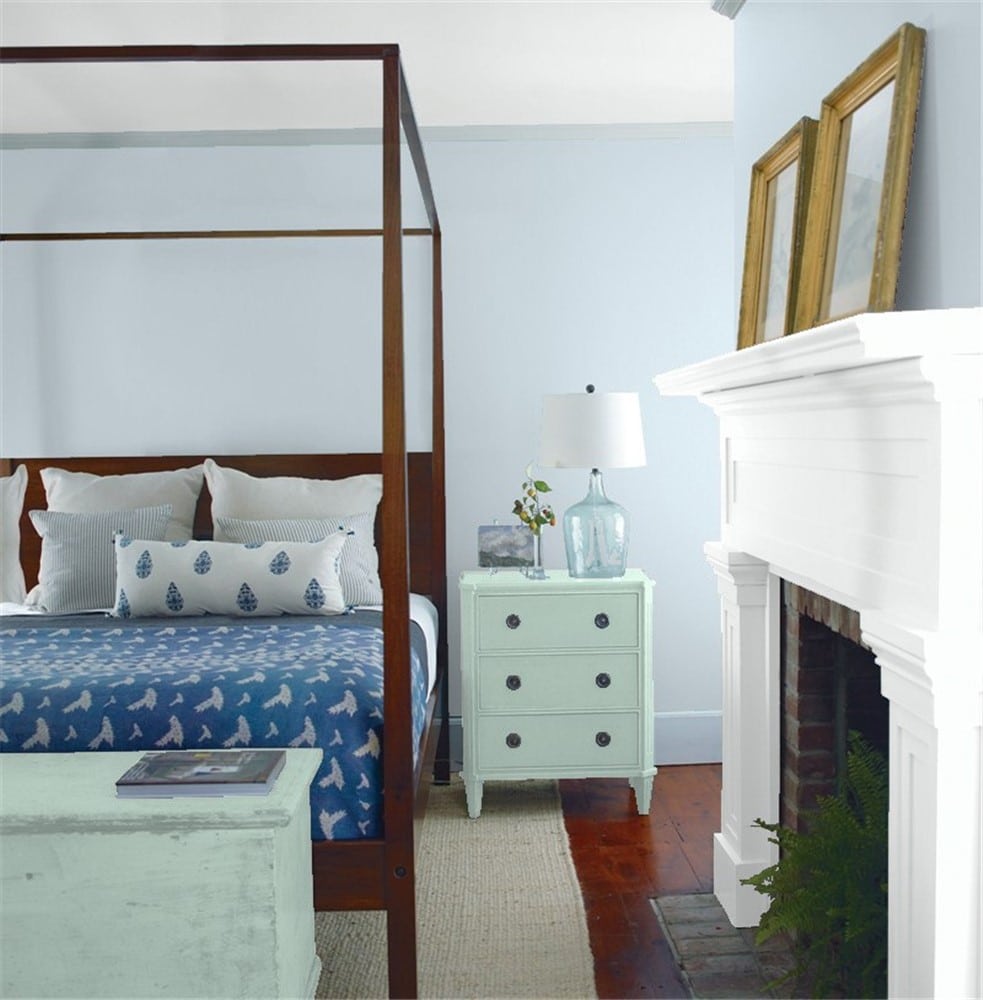 The name might surprise you, but Mt. Rainier Gray is actually a blue color–just one with a healthy dose of gray in it! This gently blended shade is relaxing and even a little mysterious.
It works beautifully with other blues, and it's light enough to use as a wall color in most situations, with a LRV of 60.3.
Mt. Rainier Gray is Perfect for Coordinating with Other Blues
Big Country Blue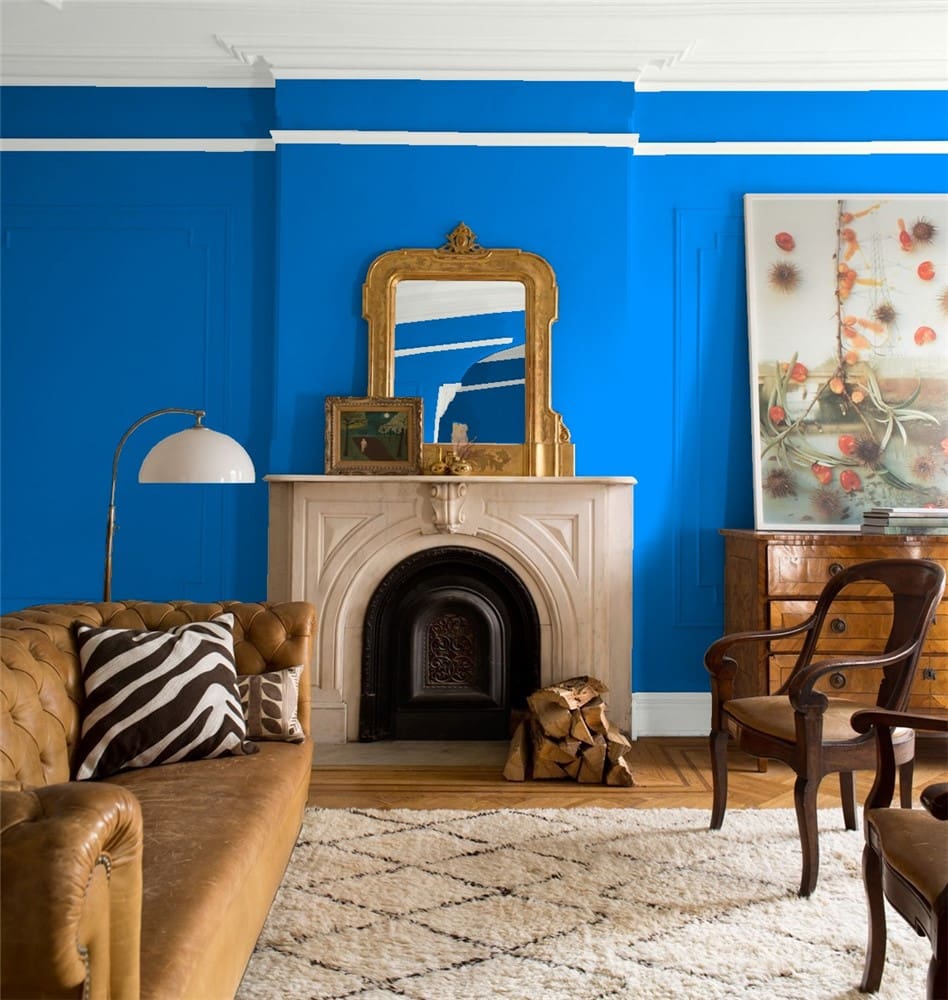 Big Country Blue is a perky, eye-catching blue. This color has a lot of fun energy, but it's an especially cold blue, and it sits on the darker end of the LRV scale at 14.18.
Its ideal use is to draw the eye, so think accents, molding, and trim. Big Country Blue would also be a fantastic front door color!
Big Country Blue is Great for Highlighting Details
Breath of Fresh Air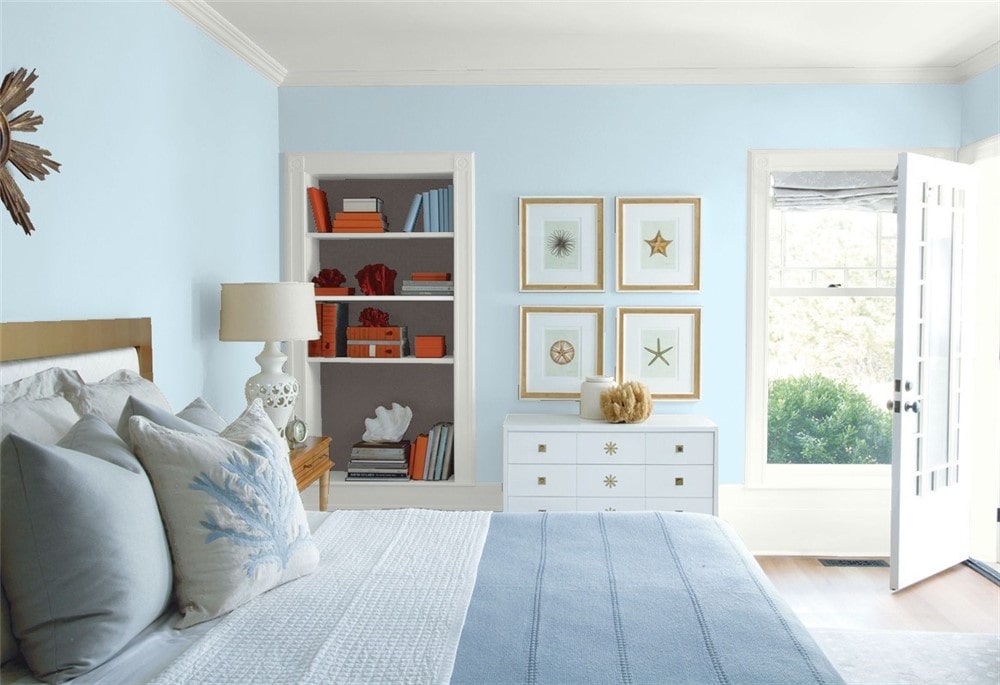 Breath of Fresh Air is a long-time favorite from Benjamin Moore, and was their Color of the Year in 2014. This perennial favorite is a gentle sky blue that can be used anywhere.
My favorite partners for it are charcoal gray and pure white, but it could also do great things for a navy blue. Breath of Fresh Air has a LRV of 70.55.
Breath of Fresh Air Opens Up a Space
Schooner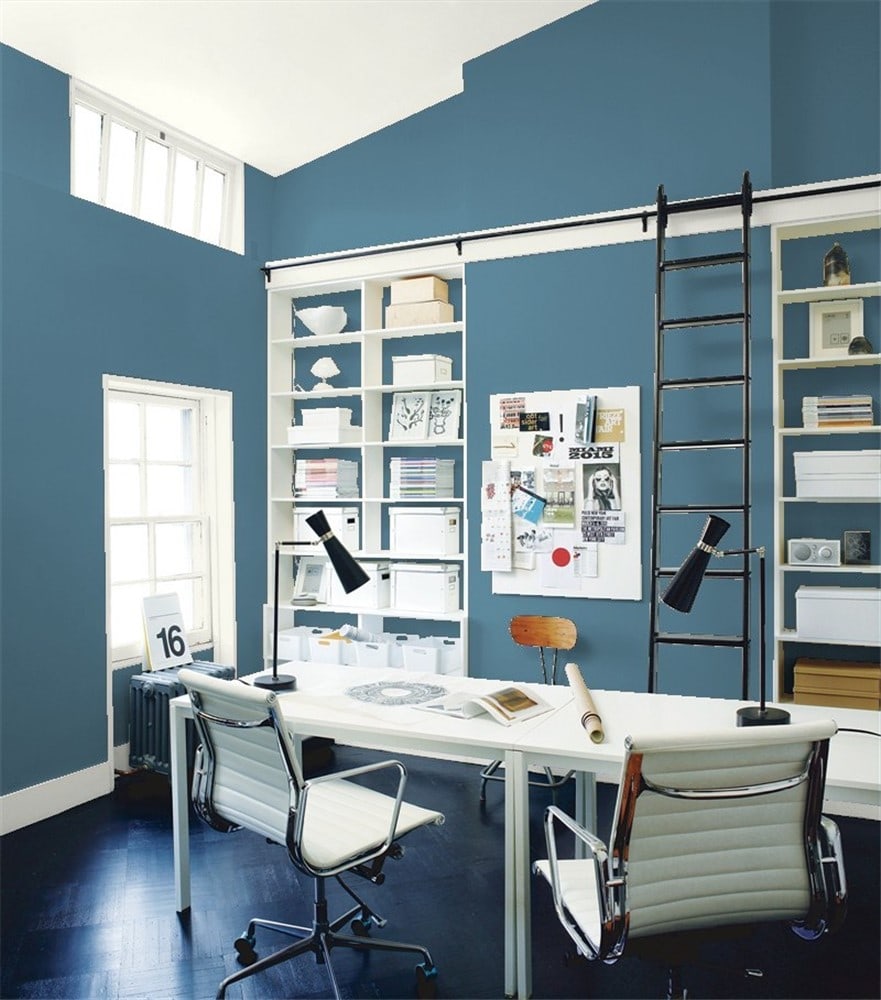 Schooner is a rich blue-green with a lot of depth. This color looks fantastic with colors like cream and linen, as well as natural materials like wood and stone.
This makes it a great color for coastal decor styles, especially if you want to explore colors beyond navy. Schooner has a LRV of 16.68.
Schooner is Ideal for Coastal Styles
Final Thoughts
A swim through the best of Benjamin Moore's blues shows the beauty and versatility of this beloved color. Blue can find a home in virtually any color palette, and it brings a welcome calm to any space. The hardest part is choosing a favorite!