We independently select these products — if you buy from one of our links, we may earn a commission.
Top 5 Best Chalkboard Paints in 2022
Check through Pinterest, and you'll see hundreds of home chalkboard designs. Home chalkboards are trendy at the moment, and it seems like everyone's kids are asking for a home chalkboard. So, how do you make a chalkboard at home?
Purchasing some chalkboard paint and applying it onto a wall or board is all you need to do to give your kids a writing surface.
Get creative and use chalkboards in the kitchen for a grocery list, or a notice board for your outside patio.
Chalkboard Paint Reviews
We review the features and use of these chalkboard paints to help you make an informed purchase decision.
Krylon Chalkboard Paint — Best Aerosol Option
Krylon K05223000 Chalkboard Paint is available in a 1-quart can, and there's a version that's suitable for use in a paint sprayer as well. The paint seems thinner than others in this review, but after drying, it forms a rock-hard chalkboard surface that's both durable and long-lasting. If you're applying the paint using a sprayer, the drying time is as little as 15-minutes in warm climates.
Those hobbyists painting with a brush will find that it takes 1 to 2-hours for the paint to dry to a writable surface. What we like about this product is that it comes in an aerosol spray can as well. If you only want to paint a small chalkboard, then the spray version is an excellent choice.
We use the aerosol for touch-ups and reconditioning of our chalkboards. The paint is easy to use and sticks to a variety of surfaces, including walls, wood, ceramic, and plaster.
Pros
Durable finish with long service life.
Dries to a slate-style finish.
Easy to apply.
Aerosol option available.
Fast-drying.
Cons
Suitable for indoor use.
Hard to erase old chalk.
---
Rust-Oleum Chalkboard Paint 30-oz — Best Classroom Option
This chalkboard paint offers you the best value option in this review. It's affordable and effective, and it's no wonder that it's the preferred paint for classroom chalkboards. The paint might be a little too thick for use in a paint sprayer, but it spreads well using a roller.
With the Rust-Oleum products, you get three color options; a clear coat, black, and the classic classroom green. The paint dries to a hard surface finish, allowing for repeated use and easy cleaning, even with heavy use.
Rust-Oleum designed this product to be both durable and versatile, and you can use this paint on plaster, wood, metal, and many other surfaces. If you decide to prime the surface before painting, you get a longer service life out of the paint.
Pros
Rock-hard finish when dry.
Easy and clean erasing.
Scratch resistant.
Cons
Thick consistency, may not suit use with a paint sprayer.
Suitable for use indoors.
---
American Crafts DIY Shop Chalkboard Paint — Best Multi-Use Craft Option
This chalkboard paint is only available in black, but the limited color choices aren't a problem when you consider the premium quality of this paint. This chalkboard paint is a close second favorite, and we would happily use this paint on any craft application in the home.
You can use American Crafts DIY Shop Chalkboard Paint on doors, walls, wood, paper, and so many more surfaces. The paint dries to a hard finish, producing a perfect surface for writing and drawing. This paint is ideal for creating placemats, cards, and portable chalkboards as well.
Best of all, this formulation is non-toxic and emits low VOCs after painting, reducing that "new paint" smell in your home as it dries. This environmentally-friendly paint gives you excellent coverage, and the thicker consistency of this paint means that you get fewer air bubbles or runs when painting.
Pros
Washable surface when dry.
Low VOCs.
Resistant to mold and mildew.
Self-priming for coating previously painted chalkboards.
Cons
Takes 48-hours to dry.
Color does not match the packaging.
---
FolkArt Chalkboard Paint — Best Premium Craft Option
We think that FolkArt Chalkboard paint is our top choice for the best craft option in this review. It's a non-toxic and environmentally-friendly formula that makes excellent chalkboards. You don't have to worry about your kids breathing in harmful VOCs, as this paint contains fewer VOCs than any other brand in this review.
This chalkboard paint has an acrylic chalkboard paint that has a water-base, and it's easy to clean. We like the different color options available from the classic clear, green, and black. You can pick up a can of this paint in colors like hot-pink, making it the ideal choice for your kid's chalkboard.
Pros
Easy to apply.
Comes in different colors.
Dries fast.
Water-based and non-toxic.
Cons
Chalk does not stick well.
Requires repainting after 8-months to a year with frequent use.
---
DecoArt Americana Chalkboard Paint — Best Craft Option for Glass
If you're looking to paint a chalkboard on a glass surface, then DecoArt Americana Chalkboard Paint is your best option. The other chalkboard paints in this review will stick to glass, but they require the use of a primer to improve the paint bond.
However, the DecoArt Chalkboard Paint requires no primer, and baking the glass after painting provides a permanent bond of the paint to the glass, producing a rock-hard surface. This paint also features environmentally-friendly formulation with non-toxic ingredients.
This chalkboard paint is best for DIY craft applications and probably won't hold up to daily use. However, for DIY use, it provides a durable and wear-resistant chalkboard that's ideal for painting stencils or other artistic projects where detail is important.
While this chalkboard paint is best for glass, it's suitable for use on other wooden and drywall surfaces, as well.
Pros
Dries hard.
Suitable for use on glass.
Excellent for stencils.
Water-based and non-toxic.
Cons
thick and challenging to apply.
---
Chalkboard Paint Buyers Guide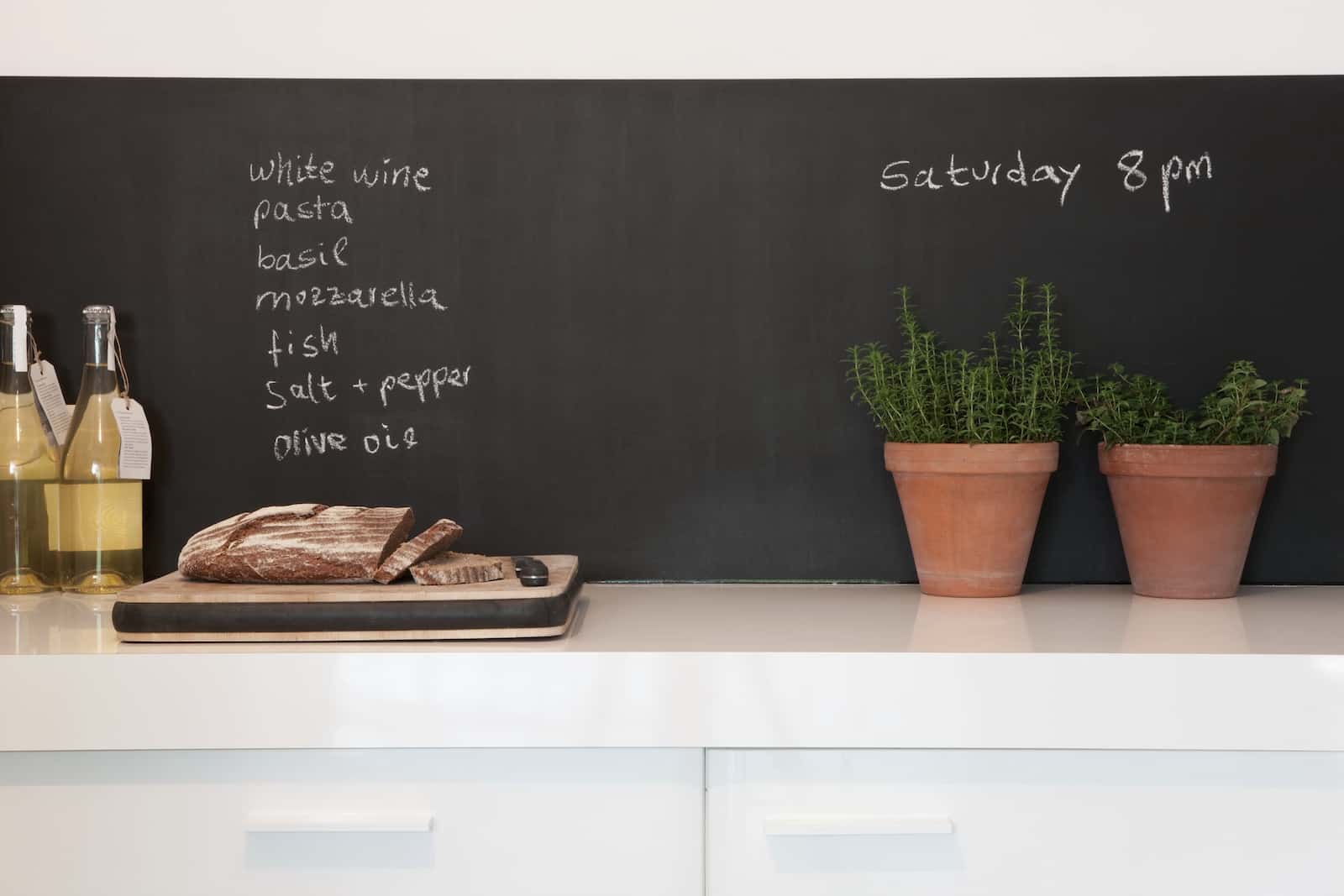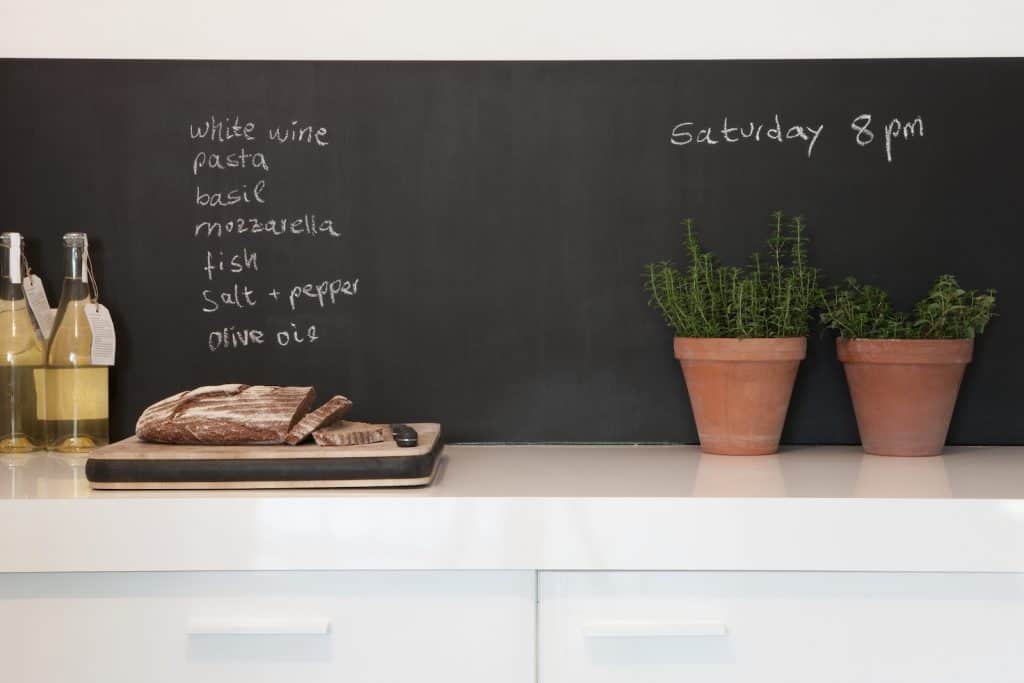 Chalkboard paint is the ideal choice for creating writable surfaces around the home or office.
Your kids might be bugging you for a chalkboard at home so they can use it for their homework, or get creative with artistic designs. If you own a business, then you might want to paint a chalkboard in your logistics room to track orders, or in your sales office to follow figures.
Whatever your reason for needing a chalkboard, there's a chalkboard paint that can make your vision a reality. This buyer's guide to chalkboard paints will give you everything you need to know about using and working with this material.
Steps for Applying Your Chalkboard Paint
After deciding on the best chalkboard paint for your application, it's time to paint the chalkboard. We put together this step-by-step guide to helping you paint the best chalkboard possible.
Preparing the surface – Before you paint, you'll need to prepare the surface. If you're painting onto a wall that already painted, you'll need to clean it using a mixture of warm water and powdered sugar soap.
Wipe down the walls and make sure you remove any debris. Use a filler to fill in any cracks or holes on the surface before you start painting.
Start with a primer – After cleaning down the wall and filling the cracks, you'll need to add a primer. Primers help the chalkboard paint adhere to the wall, creating a long-lasting bond that ensures the best service life for your chalkboard. Most primers dry in an hour, and you can start painting your chalkboard.
Painting tips
Depending on the brand of chalkboard paint you choose, you could use a paint sprayer for application. Paint sprayers are the ideal applicator, as they provide even coverage and use less paint than brushing or rolling.
If you don't have a sprayer or your paint is too thick to suit spraying, then use a roller. Make sure it's a foam roller, as the material ones may leave behind strings in the paint. Tape off the area on the wall that you want to paint using masking tape. Create a chalkboard in any shape you desire and review other people's ideas on Pinterest for ideas.
Drying times and second coats
Drying time varies depending on the paint you choose. Some dry in as little as a few hours, while other products might take days to reach a full cure. After priming the wall, we recommend you wait around 2 to 4-hours before you add your first coat of chalkboard paint.
Let the paint dry to a full cure before you add a second coat if necessary. After the paint gets tacky, pull away from the masking tape. If you let it dry on the tape, it might chip the paint job when you remove it from the wall.
Cleanup
Most chalkboard paints have a water base, which means that they are easy to clean up if you make any spills. Some warm water and a light detergent applied with a sponge are all you need for effective and efficient cleaning of chalkboard paint. Make sure you clean your brushes or tools after use. Leave them to soak in a bucket of water and then rinse them after a few hours.
Conditioning Your Chalkboard
You need to condition your chalkboard before use. After three or four days, when the paint reaches a full cure, take a piece of chalk and rub it over the entire board, then erase it. This conditioning helps with erasing chalk in the future and avoiding hard-to-erase words or drawings. You can clean your chalkboard once a week using warm water and a sponge.
Chalk Paint or Chalkboard Paint – What's the Difference?
It's important to note that there is a significant difference between chalk paint and chalkboard paint.
Both products have different purposes and applications. Many hobbyist DIY enthusiasts confuse the two paints and then wonder why they don't get the results they expect when finishing their project.
Chalk paint is a decorative furniture and carpentry paint using in painting or restoring old wooden furniture around the home. When chalk paint dries, it produces a "chalky effect" on the furniture that gives it a distressed and vintage look.
Chalkboard paint is very different and dries to a hard surface. You can write on chalkboard paint without damaging the surface. However, chalk paint is easy to damage, and it's this feature that makes it desirable in DIY projects. You can scrape or scratch patterns and designs into chalk paint to create a visual effect.
Therefore, you must ensure you're buying the right type of paint for your application.
Important Considerations Before You Paint a Chalkboard
Before you start painting your chalkboard, there are a few factors you need to take into consideration. Follow these steps to ensure you get the best results from your paint job.
Select the Right Wall – Many people make the mistake of painting a chalkboard on a focal wall in their home. This idea is a mistake, and you'll end up regretting it in the future if you kids get over the fad, and no longer use the chalkboard. By painting the chalkboard in a less obvious room of your home, you won't have to deal with a potential eyesore.
Painting a beautiful menu design in your kitchen is a great idea, but make sure you keep it out of reach of the kids, or they'll draw all over it. Avoid painting a chalkboard in the living room or high-traffic areas of your home; it will end up looking like a graffiti wall.
Sand, the Wall After the Paint, Dries – You might need to lightly sand the chalkboard before you prime it for the best results. Sanding debris and chalk dust will get everywhere, and you don't want that clogging up the air around your home.
Remember to "Season" the Wall – As mentioned previously, remember to condition the wall before use.
Your Floor is Going to Take Some Damage – Chalk is messy, and it gets everywhere. Expect chalk to get in carpets, and into the floorboards. Colored chalk may cause staining of carpets and boards, as well.
Tips for Storing Your Chalk and Erasers – Keep your chalk and erasers nearby in case you have a moment of divine inspiration and want to make a note or jot down your thoughts. We recommend hanging decorative buckets under the chalkboard for your erasers and chalk.
Chalkboard Paint FAQ
Is the paint magnetic?
Chalkboard paint is not magnetic. If you want to improve the magnetism of your chalkboard, and keep more of the chalk on the board, and less on the floor, then use a primer. Some primers designed explicitly for chalkboards help to improve magnetism.
Do I need a primer?
If you're painting onto a clean wall with no bumps, then you don't always need a primer. However, if you're wall has cracks or a textured finish, you'll need to sand the surface flat, and then prime it before painting.
How many coats do I need?
The number of coasts required for an acceptable finish depends on the product you're using. Some paints may require two layers, while others only need one. Check the details and instructions on the packaging before you paint. Wait for the paint to dry before deciding on a second coat.
Can I repaint the chalkboard?
Yes, you can repaint the chalkboard with a new topcoat as it starts to fade. In most cases, you'll only need to clean the surface with warm water before applying. We like using aerosols for touch-up paint jobs.
Conclusion
After reading through this review and our chalkboard paint buyers guide, you should have a clear understanding of this paint and which product suits your needs.
To make things easier for you, we selected our top three products for your consideration. We categorized our choices into three options;
The best overall chalkboard paint.
The best value chalkboard paint.
The best craft chalkboard paint.
Krylon Chalkboard Paint – Best Overall Option
For those DIY hobbyists looking for a chalkboard paint that's both versatile and effective, we recommend Krylon Chalkboard Paint. This paint dries to the touch in less than 30-minutes, providing a durable and long-lasting chalkboard. We think that the aerosol option is the best in its class and ideal for touch-ups on your chalkboard.
Rust-Oleum Chalkboard Paint – Best Value Option
Rust-Oleum makes top-quality paint products at affordable prices. The chalkboard paint on offer from the company is the most affordable option in this review and great value for your money. The paint works on a variety of surfaces, and it's suitable for use in real classrooms as well.
FolkArt Chalkboard Paint – Best Craft Option
If you want to paint a chalkboard for your kids, or as part of an artwork project around the home, then the FolkArt product is your best choice. It might be on the pricey side, but it's a premium-quality chalkboard paint that provides an aesthetic finish.