We independently select these products — if you buy from one of our links, we may earn a commission.
The 8 Best Chalk Paint for Furniture in 2023
Are you a fan of DIY or painting? Chances are you've already heard people talking about chalk paint in blogs and YouTube videos. What is chalk paint, and where do you use it in your home décor plan?
This decorative paint has a matte and chalky appearance like it could rub off in your hand, if you ran it over the painted surface. Chalk paint is an excellent choice for creating a vintage, rustic style that's both visually appealing and timeless.
Selecting the right chalk paint for your home is a challenging process, with many products on offer. We put together this chalk paint review to give you the best options available.
The Best Chalk Paint Reviews
The brand Annie Slone was the first company to produce chalk paint, and they currently hold a registered trademark over the term chalk paint.
However, there are plenty of paint manufacturers producing copycat versions.
Here are our top choices for the best chalk paint.
Dixie Belle Chalk Mineral Paint — Best Premium Choice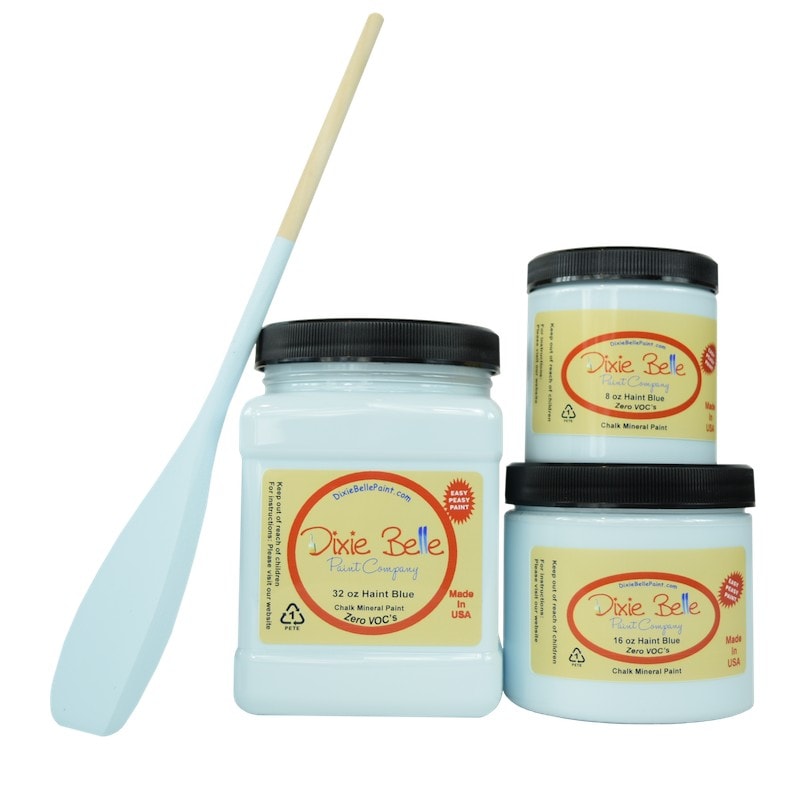 Dixie Belle Chalk Mineral Paint is everywhere these days!  If you haven't heard of it, it is water-based and comes in about 70 colors.  It is primarily for furniture, but it can also be used on home decor, fabric and even outdoor items if sealed properly.
Since it's non-toxic and odorless, you don't have to worry about painting indoors around your kids and pets.  It's completely safe!
It's available in 8 ounce ($12.95) , 16 ounce ($20.95) and 32 ounce ($33.95) sizes.  You can also get it in gallons if you have a big project.
This paint is porous, so it absorbs into the surface rather than sitting on top.  It dries to the touch in about 30 minutes to an hour depending on humidity, and fully cures to a hard coating in 30 days.
As far as coverage, the darker colors frequently provide full coverage in 1 coat.  Light colors usually take 2 coats. I have painted 2 small dressers, a toy chest and 5 bar stools with one 32 ounce container of Caviar (black).  It really stretches!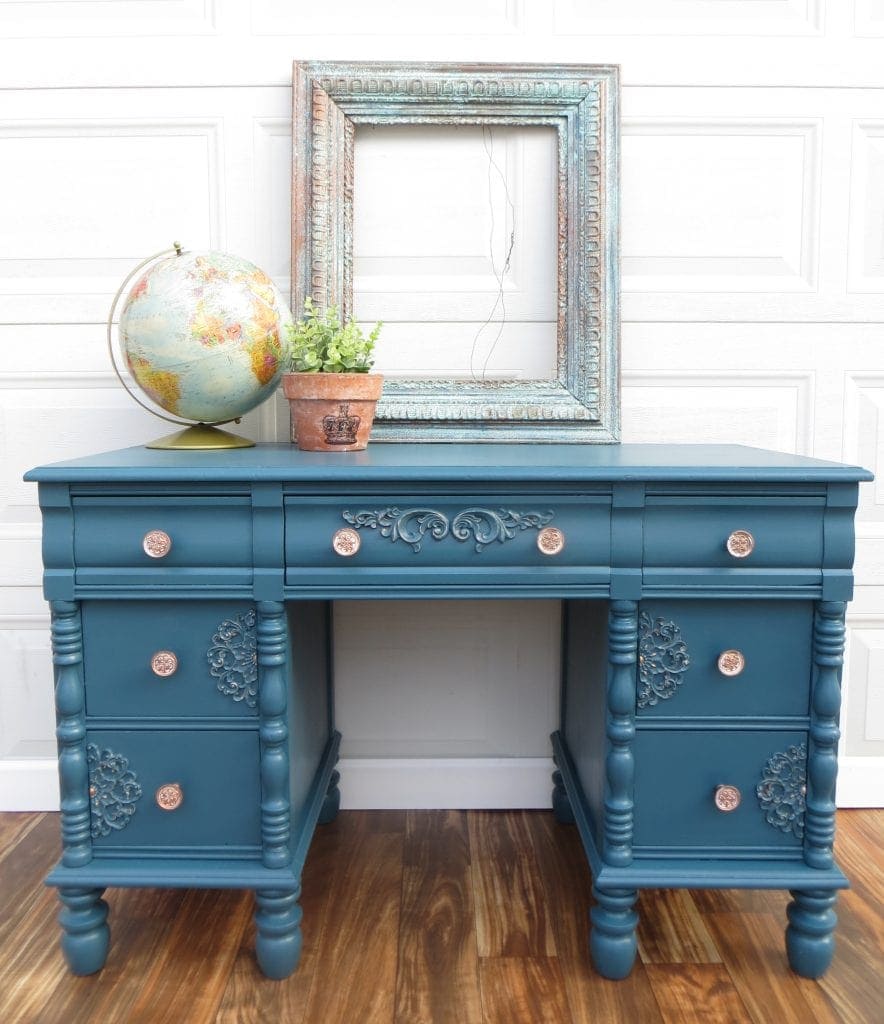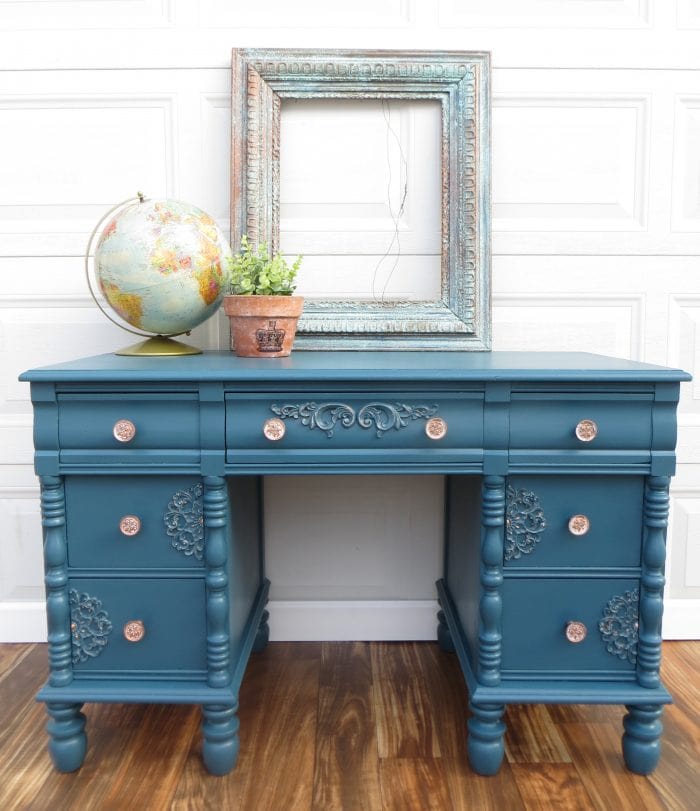 The consistency of Dixie Belle Chalk Mineral Paint is very thick which makes it more versatile.  You can use it right out of the jar in its thick state for great coverage or textured layers.  But you can also thin it with water for smooth, refined and brush-stroke-free results.
Ombre looks and multi-color blends are very popular right now, and easy to do with Dixie Belle.  This is hands down the best paint for seamless blending between colors!
You don't have to seal it because the sealer is built in.  Without a top coat, it distresses easily and has a matte finish perfect for authentically old-world or aged looks.  But if you want to add clear coat or wax, you can.
Pros
Wide range of colors (about 70)
Water-based (safe & not smelly)
Reasonable cost
Great coverage
Short dry time
Distresses well
Self-sealing
Superior for blending
Cons
30 days to fully cure
Jar lids get stuck/dried on
---
Retique-It Chalk Finish Paint by Renaissance — Good Value
If you're using chalk paint for the first time, then the Retique-It kit by Renaissance is an excellent choice to finish off your DIY carpentry project or refurbish your wooden furniture around the home. The Retique It Deluxe Kit has everything you need to give your project a classic chalky look that's rustic and attractive.
The kit includes 1-quart of chalk paint, along with 4-oz of dark wax and 8-oz of clear wax. Wax is an essential part of any chalk paint project, as it seals the paint, while protecting the surface. You also get a 1.5-inch and 2-inch paintbrush included in the kit, giving you everything you need to complete your paint job.
The kit is great value for money when you consider the cost of buying all of the components individually. You get a choice of 40-different colors, along with a custom tinted option. The Retique-It Alabaster Deluxe Kit is the ideal complete solution for giving your DIY project a chalk paint finish that looks fantastic.
Pros
Complete kit with paint and brush included.
Excellent value.
40-color options available.
Custom tinting options.
Cons
Not everyone needs a brush.
---
Mediterranean Heritage Collection All-In-One Chalk Style Paint — Best all-in-one Option
One of our favorite options in this review, this chalk paint comes with primer and wax included in the formulation. The 3-in-1 chalk paint dries quickly, leaving a lustrous chalky finish. The addition of wax built into the paint saves you time with your paint job. There's no need to spend extra money on sealer either.
After the paint cures, it leaves a beautiful and durable finish that looks eye-pleasing. This chalk paint is suitable for use on a variety of surfaces, including Formica, ceramic, stone, wood, and glass. The unique formulation of the Heritage Collection provides a durable finish after curing, and you have a choice of 25-colors with European themes.
With the Heritage Collection chalk paint, let your artistic creativity run wild and paint that flea-market bargain into an artistic masterpiece. Our favorite color is the Mediterranean, and its charming coastal blue shade creates a soothing and tranquil effect on furniture in any room.
The Heritage Collection comes in three container sizes. An 8-oz sample that covers 35-square feet, a 16-oz container that covers 70-square feet, or a quart that covers 140-square feet.
Pros
No waxing needed after painting.
3-in-1 paint with primer, wax, and top-coat.
Comes in 25-colors.
Available with a cupboard restoration kit.
Sticks to a wide variety of materials.
Cons
---
Rust-Oleum Ultra Matte Interior Chalked Paint — Easy to Apply
Rust-Oleum is legendary in DIY circles for producing some of the best paints on the market. The chalk paint on offer from the brand lives up to its reputation as well. The ultra-matte finish of this paint makes it a premium quality product with a premium quality finish that's worth the extra money you pay for it at the checkout.
Rejuvenate old furniture, or finish your DIY carpentry projects with this chalk paint. After it cures, the paint has a rustic and vintage look, with a distressed feel that looks magnificent. You can use this paint on a variety of surfaces, including glass, ceramic, metal, wood, and canvas.
Rust-Oleum Ultra Matte Interior Chalked Paint comes in a range of trendy colors to suit any room in the home and any color theme. One of the best features we like about this chalk paint is the way it layers with a brush to create a unique, one-of-a-kind look.
The formula doesn't include a sealer, so we recommend you use Rust-Oleum Chalked Clear Protective Topcoat if you need to seal the surface of your furniture or weather-proof it for outdoor use on the patio or by the pool. The standard version is too thick for use in a sprayer. However, there is a sprayer-friendly version, as well.
Pros
Provides a smooth finish.
Easy to apply.
Excellent coverage.
Available in a range of colors.
Cons
Only suitable for indoor use.
No primer included in the formula.
---
Retique It by Renaissance Chalk Finish Furniture Paint — Best Low-VOC Option
One of the biggest problems with painting furniture indoors is the smell as the paint is drying. As the paints cures, Volatile Organic Compounds (VOCs) fill the air and create that paint smell that leaves you feeling lightheaded at times.
Renaissance Furniture Paint features environmentally-friendly design, with zero VOCs and zero paint emissions. We're so confident in this paints no-VOC claim that we welcome you to examine the label online.
You'll see that there is no Prop 65 warning on the can, like with every other brand of chalk paint. With Renaissance Chalk Paint for furniture, you get excellent coverage, with most furniture only requiring one coat for a fantastic chalky finish.
Renaissance formulates this paint specifically for use on wood, so it's the ideal finisher for your DIY carpentry projects and for use in restoring your old furniture to its former glory. This paint suits people with allergies to VOCs, and its hypoallergenic nature means that you don't have to worry about allergic reactions to any chemical compounds in the paint.
The formula features a built-in primer, so there's no need for sanding or priming the surface before you paint.
Pros
Almost zero VOCs.
Environmentally friendly and non-toxic.
Self-levelling.
Fast drying time.
Cons
Not suitable for outdoor use.
---
Valspar Chalky Finish Paint — Best No-Prep Option
Devine Color by Valspar® Chalky Finish paints is ideal for those DIY enthusiasts looking for no-prep chalk paint. This formula includes a built-in primer and sealer for the perfect finish on all of your DIY carpentry projects.
The paint dries to an ultra-matte finish, with a weathered a vintage look that's fantastic for any room in the home. We recommend you experiment with sanding after the paint dries. Sanding will bring out deeper colors and lines in the paint that look both authentic and beautiful.
Pros
Easy to apply with little surface prep.
Provides an authentic distressed look to your furniture.
Manufactured in the United States.
Cons
No wax included in the formula.
---
FolkArt Home Decor Chalk Furniture and Craft Paint — Best Matte Finish
For those DIY enthusiasts and painters looking for a premium-brand chalk paint that provides a vintage and rugged finish, give the FolkArt chalk paint a try on your projects. This paint cures to an ultra-matte finish that leaves your reclaimed furniture or carpentry projects looking like a one-of-kind custom piece.
This no-prep acrylic chalk paint dries in minutes, and it reaches a full cure in less than 4-hours. We like the way you can layer and sand this paint to create unique visual effects. There's no need for sanding and priming before you paint, and FolkArt Home Décor Chalk Paint comes with a sealer as well.
While it may be more expensive than other paint products in this review, we recommend this product to anyone looking for a 3-in-1 primer, paint, and sealer solution. After it dries, the paint leaves your furniture with a distressed look that's both striking and professional.
Pros
Suitable for multi-surface use on metal, wood, plaster, canvas, and more.
Easy to spread and layer.
No primer needed.
Water-based formula.
Non-toxic.
Cons
---
Chalk Finish Paint - Furniture and Cabinet Paint — Best for Cabinets
We love this chalk paint for use on all of our DIR carpentry projects for our beach house. The sea-glass color of this chalk paint is intoxicating on the eyes, providing your furniture with a distressed look that's unlike any other paint in this review.
However, the steep price tag for this paint makes other products in this review offer better value for your money. However, this premium paint spreads well and works with an HVLP paint sprayer as well.
Use this paint when you want to make a statement. We love how it looks on our deck furniture, and it brings together the theme of the beach house, with the sea glass color reflecting the ocean theme.
Pros
Gorgeous sea-glass color finish.
Suitable for outdoor use.
Low VOCs.
Good coverage.
Cons
---
Chalk Paint Buyers Guide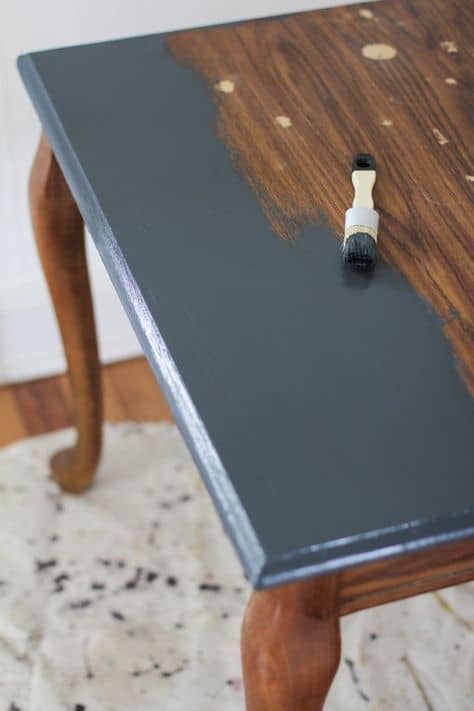 If you want to upcycle your old worn furniture and give it a contemporary and rustic look, chalk paint creates a fantastic finish. The smooth and chalky appearance of the paint looks amazing on chairs, tables, cabinets, and drawers.
We put together this buying guide to give you everything you need to know about using this paint on your next DIY project.
What is Chalk Paint?
Decorators and hobbyist DIY enthusiasts use chalk paint to create a vintage, matte look to furniture and other items around the house, like staircase balustrades and chairs.
After the paint dries, it produces a finish that looks like dusty chalk lying on the surface of the furniture. You can give the paint a glossy-type finish using specialized wax formulas included in the paint.
Many brands offer 2-in-1 or 3-in-1 formulas that include primer, paint, and wax all in one. Don't confuse chalkboard paint with chalk paint. While you can write on chalk paint as well, it produces a very different finish and has a different application and purpose.
The Kinds of Chalk Paint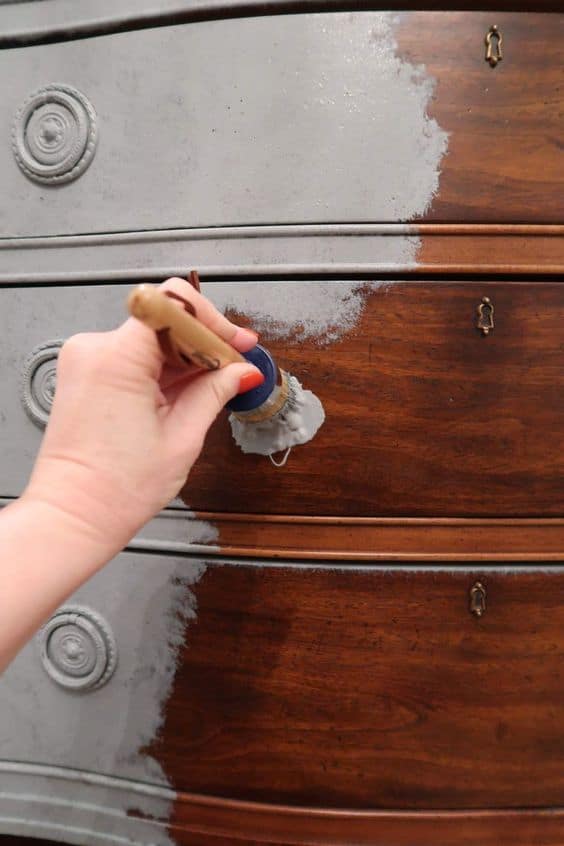 For those painters that want a fast and effective application, we recommend you use an HVLP paint sprayer for your project.
The sprayer coats the furniture efficiently, minimizing waste. However, you won't get that layered-effect utilizing a sprayer, and if you want to create that effect, you'll have to use a specialized chalk paint formulated for layering.
Vinyl and latex-based chalk paints provide painters with varying consistencies from different manufacturers.
Paints with a thin consistency offer an authentic and vintage look when dry. Chalk paints with thicker consistencies are ideal for layering and produce a contemporary look with only a single coat.
You might struggle to apply thicker consistency paints with a paint sprayer, and the tip might clog frequently. However, you should have no issues with using thinner consistency chalk paints with a paint sprayer.
Choosing Your Color
There are plenty of color choices for chalk paint. We suggest you pick colors that resonate with the interior theme of your home. Contrasting colors will make your painted furniture pop in the room, creating a visual focal point that attracts attention.
If you're looking to keep your color choices classic, the off-white is a good idea. For those that want to experiment with color, green and blues are excellent options that provide a tranquil theme to the room. Bold colors like oranges and reds are suitable for use in the kitchen, and make stylish color choices for cabinet doors.
Pastels provide the room with a homely feel, without attracting too much attention. You have plenty of options, so spend some time researching what's available before you make your final color selection.
Painting Furniture
Take a look around your home for old furniture that needs a coat of varnish or paint. These pieces will make ideal candidates for chalk paint, and it gives you a chance to restore your old furniture with a contemporary and rustic look.
Use chalk paint to upcycle your bookcases, coffee tables, chests of drawers, and chairs all around the home. With so many color choices available, you can upcycle your furniture to suit the theme of your home. Instead of donating your old furniture to charity, or throwing it out, upcycle it with a coat of chalk paint for a stylish finish.
Tips for Using Chalk Paint
Some chalk paints with 3-in-1 formulas that feature a primer allowing you to apply the paint to any surface. However, most decorators and DIY painters chose to paint wooden surfaces like bookcases, chairs, and tables.
Before you start painting, make sure that the surface is clean and free of debris. Sand old paint away, and prepare the surface properly for paint. Only start painting when the surface is dry, and most chalk paints will stick to any surface, without the use of a primer.
However, we always recommend that people buy paint that includes a primer. Most chalk paints have a matte finish, and you can give it a glossy finish if you wax the chair after painting. You'll need to check the product packaging to find out if the formula includes a wax coat.
When applying chalk paint, use a paint sprayer for thinner paints and a brush for thicker consistency paints. Using a brush and thicker paint, you can create a beautiful layered effect on your paint that provides an authentic, rugged, and rustic finish.
For a flawless finish, we can also recommend the use of a velour roller. The roller provides you with a durable and professional finish that feels smooth to the touch. If you want to wax your newly painted furniture, make sure that you wait for 24-hours for the paint to cure before waxing.
Conclusion
Chalk paint breathes new life into old furniture, and it's an excellent finishing choice for any DIY carpentry project.
Chalk paint offers you an authentic, rustic finish that lasts for years. The visual effect of chalk paint on cabinets, chairs, bookcases, and other furniture around the house is exquisite, and you can bet it will be a hot topic of discussion with your friends.