Decorated Life is reader-supported. When you buy through links on our site, we may earn an affiliate commission. Learn More
15 Best Colors to Paint House With a Brown Roof
Many homeowners worry about the curb appeal of their homes when they have a brown roof. But unfortunately, brown can be a drab, boring color that requires care when choosing accent colors.
You'll get the best nuance when you have a brown roof by painting your exterior blues, greens, beiges, taupes, yellows, whites, or terra cotta. Gray houses with brown roofs can also give you enhanced curb appeal. Here are fifteen inspirations for what paint color goes with a brown roof.
Nacre by Sherwin Williams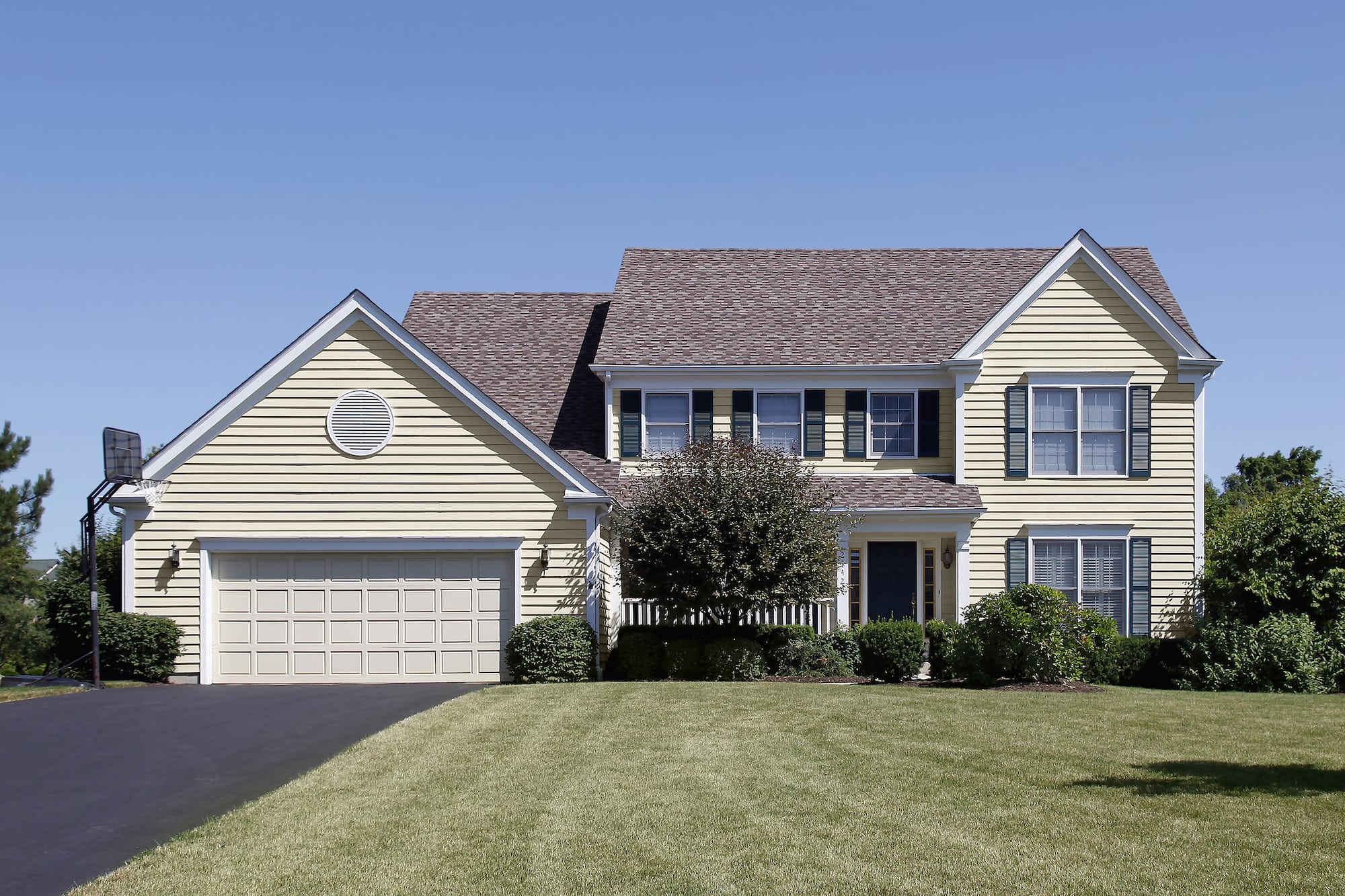 A brown roof's natural, earthy aesthetic is the perfect companion for an exterior painted Nacre. This light neutral shade of tan provides subtle coloring that stands out against the darkness of a brown roof.
The best thing about using a light neutral cream like Nacre is that you have an excellent base for using bold accent colors for your doors, shutters, and trim. For example, consider a dark gray-green like Calico, lighter browns like Rice Grain, and a soft neutral for the trim like Pure White.
Bravo Blue by Sherwin Williams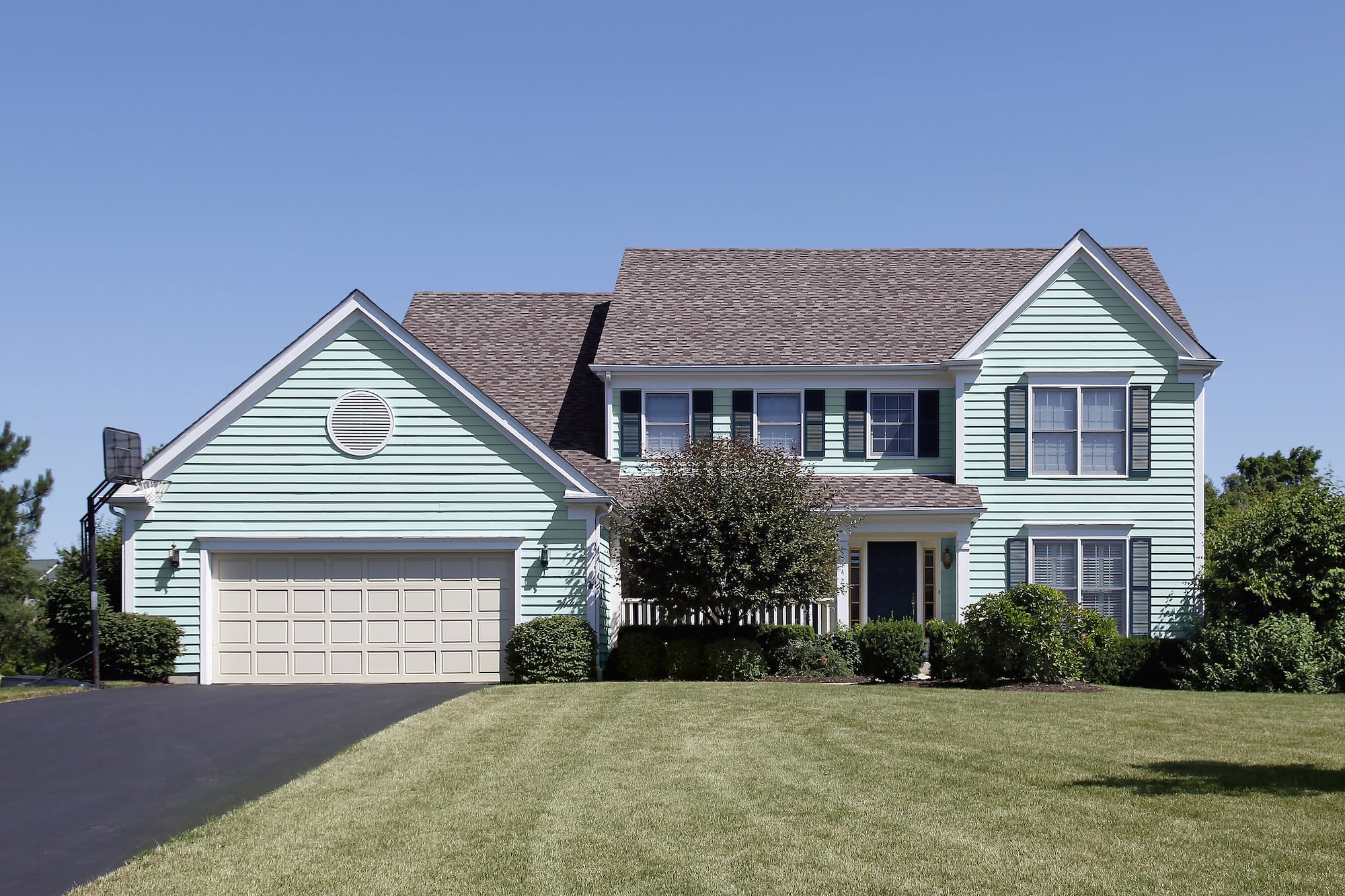 If you like the classic look of a home with a blue exterior, you're sure to fall head over heels for a light pale Bravo Blue. Unfortunately, this shade of blue has heavy gray undernotes that create a duller-toned blue.
When used for your home's exterior, you benefit from subtle coloring without it being over the top and in your face. The cool tone of this pale tinted color complemented with a brown roof can look great with accents like darker grays of Whirlpool, brown greens like Lemon Verbena, and whites.
Nurture Green by Sherwin Williams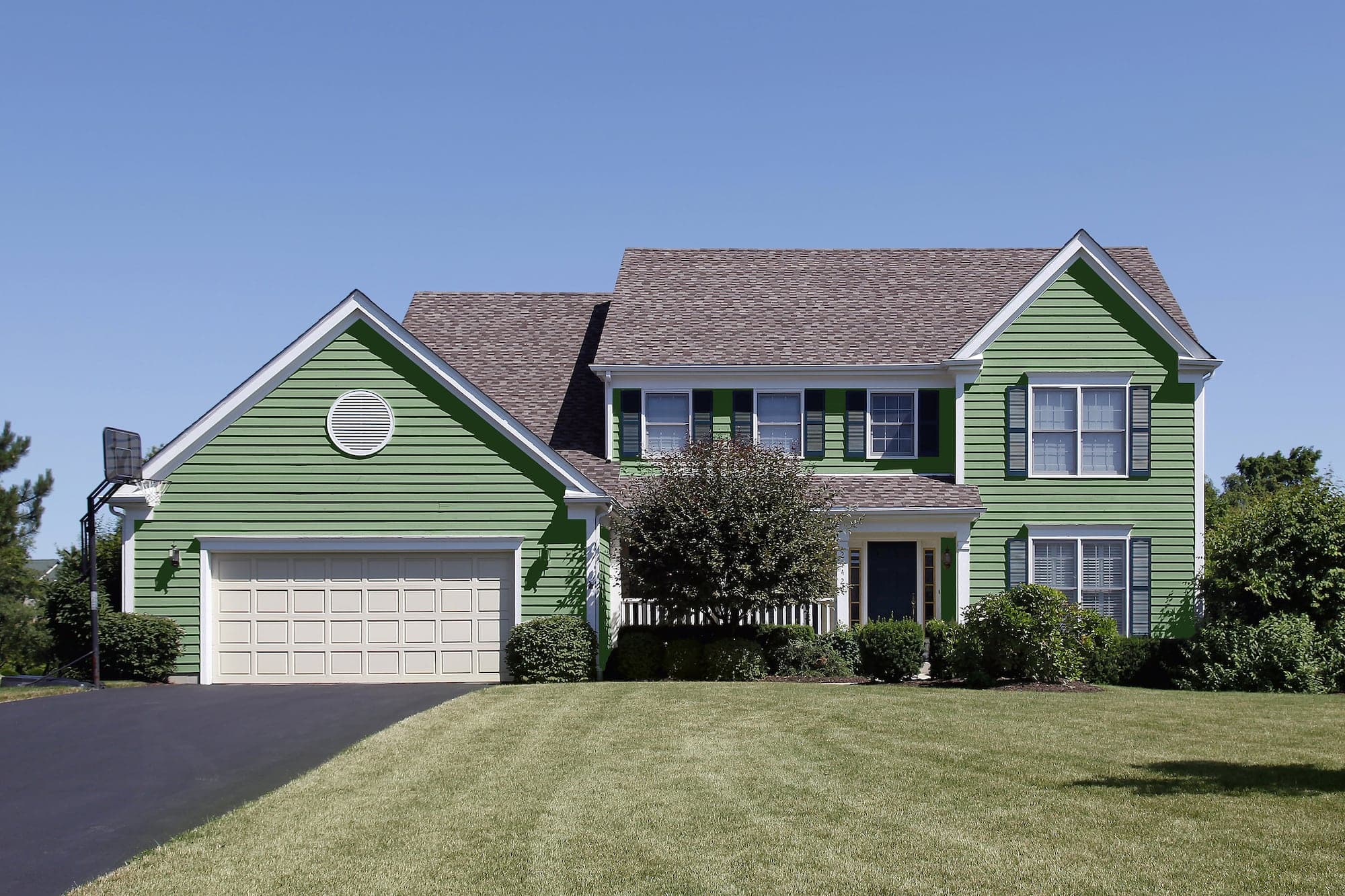 You can choose a green and brown color palette for your home if you want an exterior that blends in with your surroundings. For example, Nurture Green is a soft, warm mid-toned color that can pop against a brown roof.
This green is a mild mid-tone of mossy earth green for a tranquil, visually appealing color contrast between a brown roof and the fresh colors of grass and shrubs. Compliment your darker color palette with lighter, cooler tones like whites, yellowish creams (Pineapple Cream), and pale greens like White Mint.
Fleur de Sel by Sherwin Williams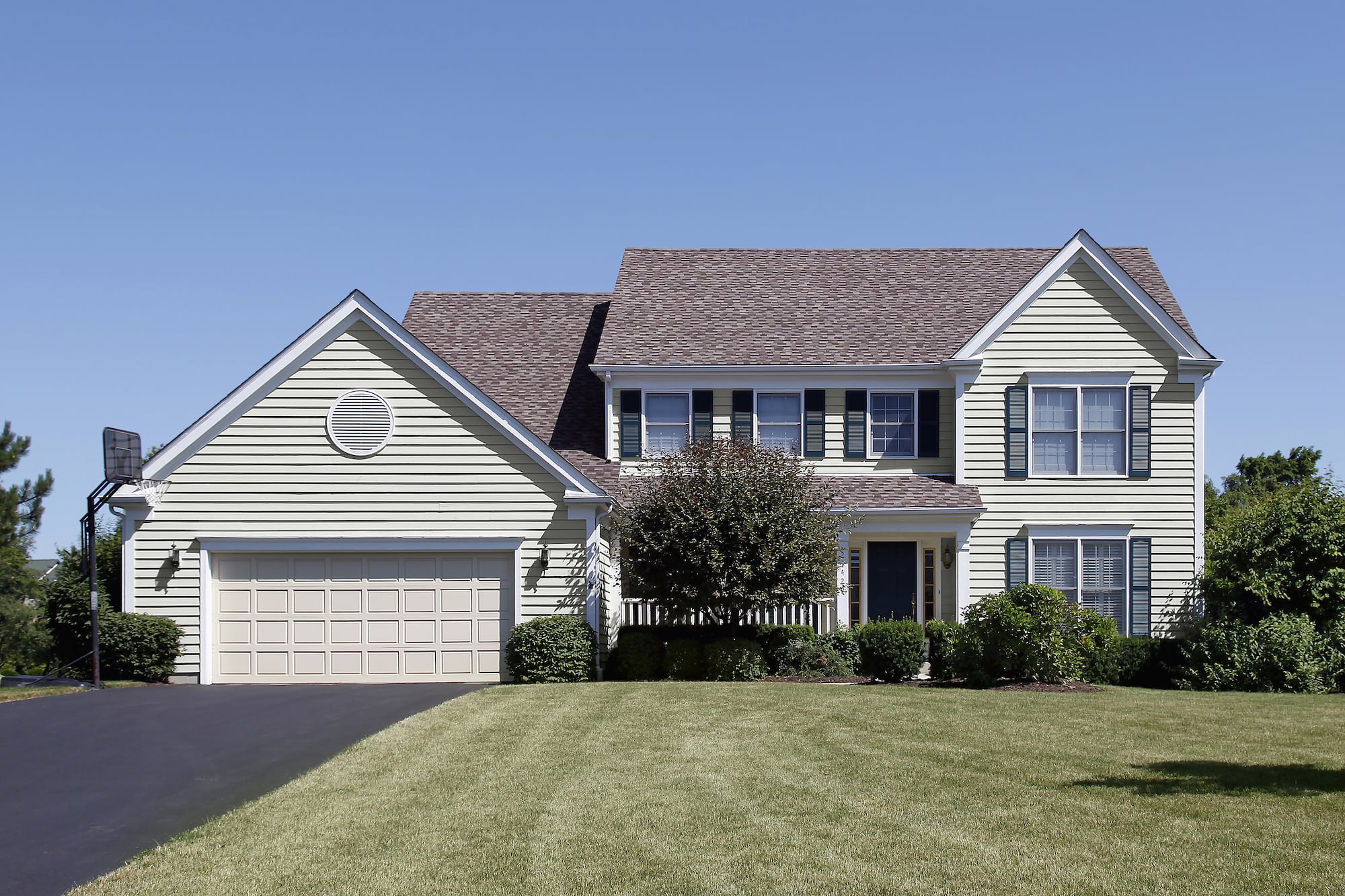 Fleur de Sel is a soft pale gray that can almost appear like a dirty white in some lighting. This color makes an excellent exterior choice for brown roofs due to its neutrality and classic appeal.
You can get a lovely contrast of light versus dark for an exterior that stands out. And you get the creative freedom of an open palette for accents in dark bolds or soft lights.
Bungalow Beige by Sherwin Williams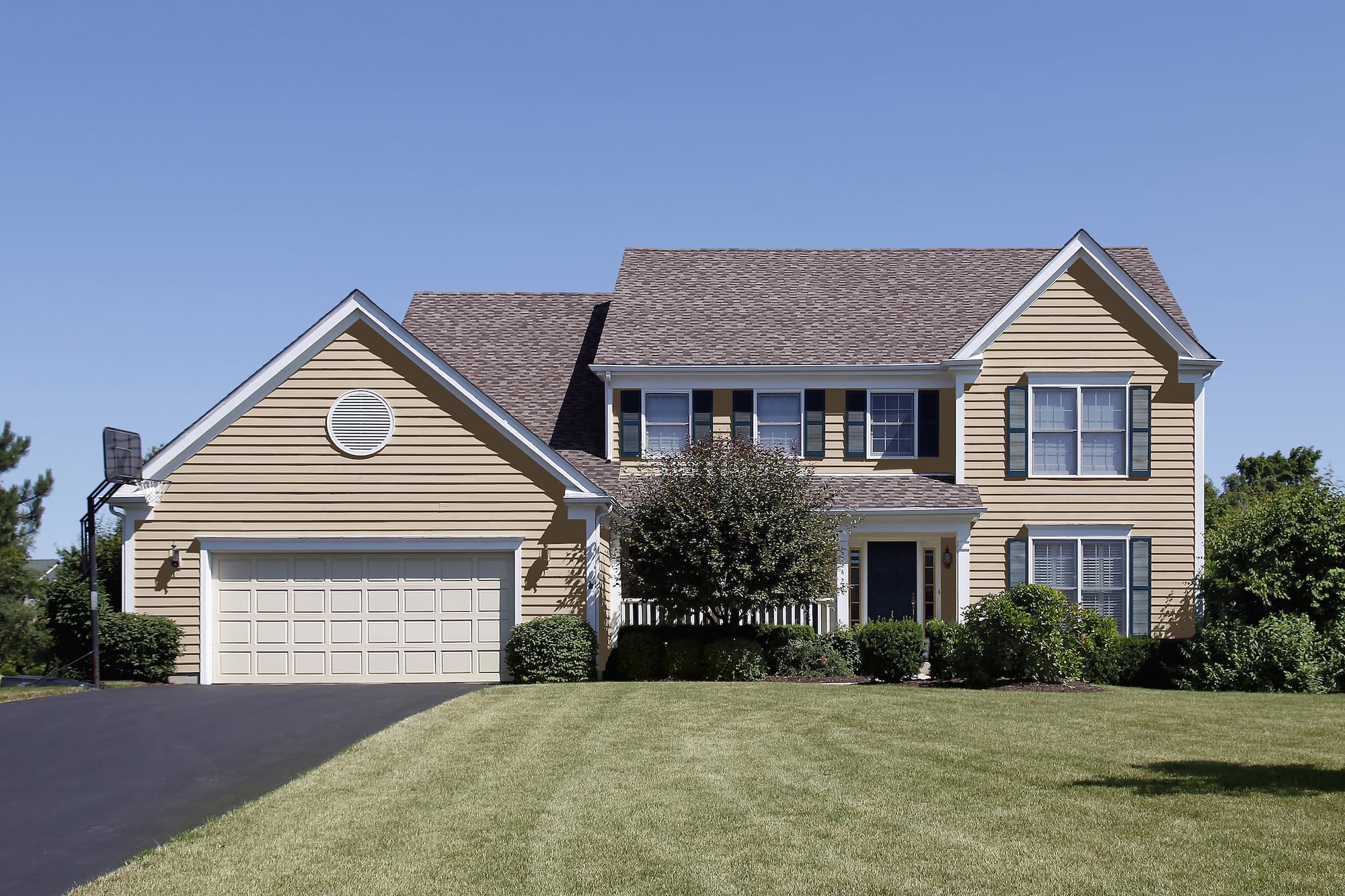 Try a warm-toned beige for a neutral earthy exterior color to go with a brown roof. We're fond of the aesthetic of Bungalow Beige, a low saturated beige with heavy brown influences.
This beige has a near-mauve look in some lighting, making it a balanced pigmented neutral for any architectural style. Then you can accent with whites, tans, and creams, or autumn colors like Copper Harbor orange.
Taupe Tone by Sherwin Williams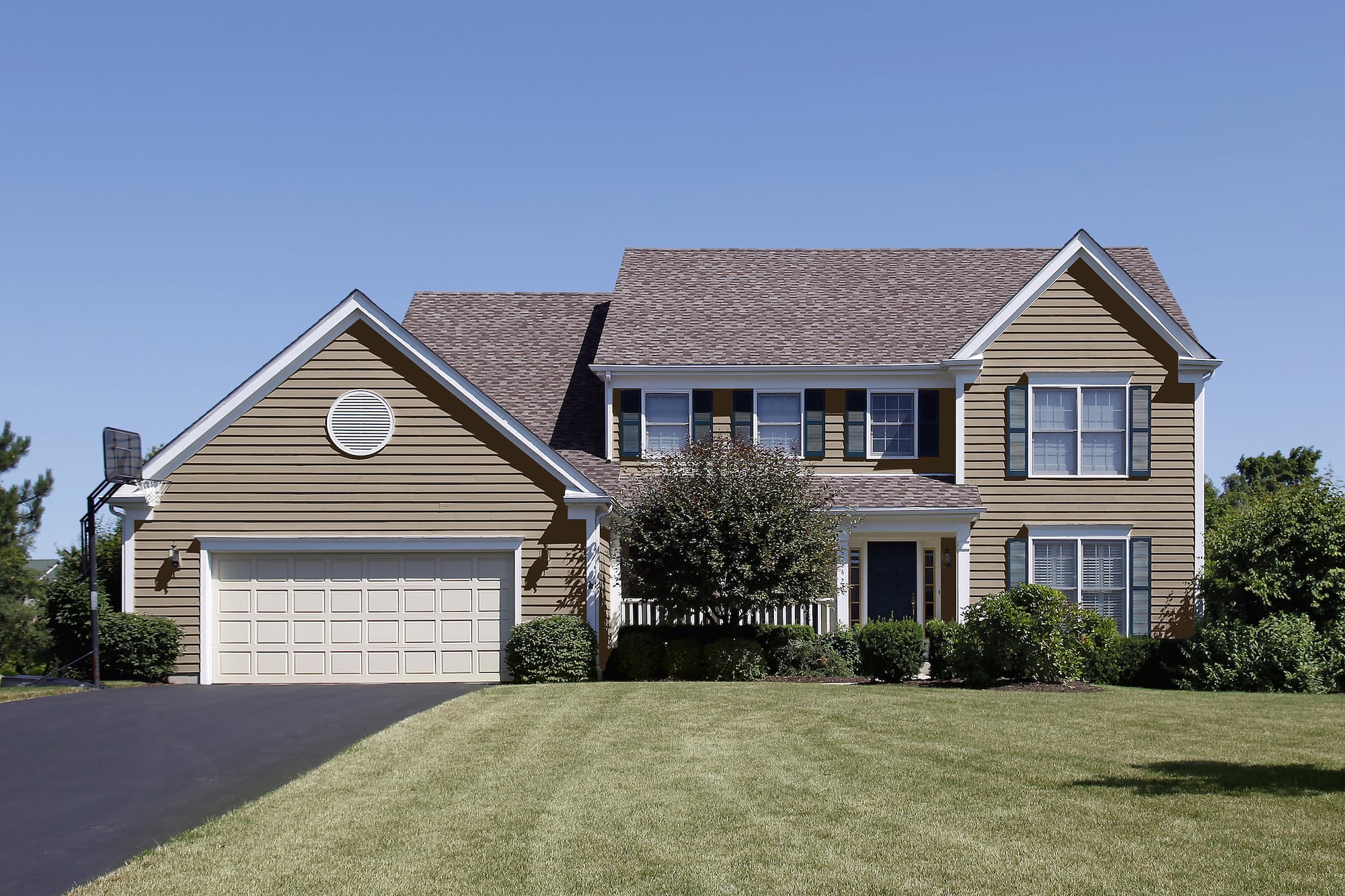 Taupes – colors between gray and dark brown – is another pigmented neutral suitable for exterior surfaces. Taupe Tone is dark with major brown undernotes and faint gray hints.
The best thing about using taupes for an exterior color is that you have a huge range of choices for accent colors. And taupes never go out of style, making it a classic color that will look great for years to come, no matter the changes you make to your exterior.
Traditional Yellow by Benjamin Moore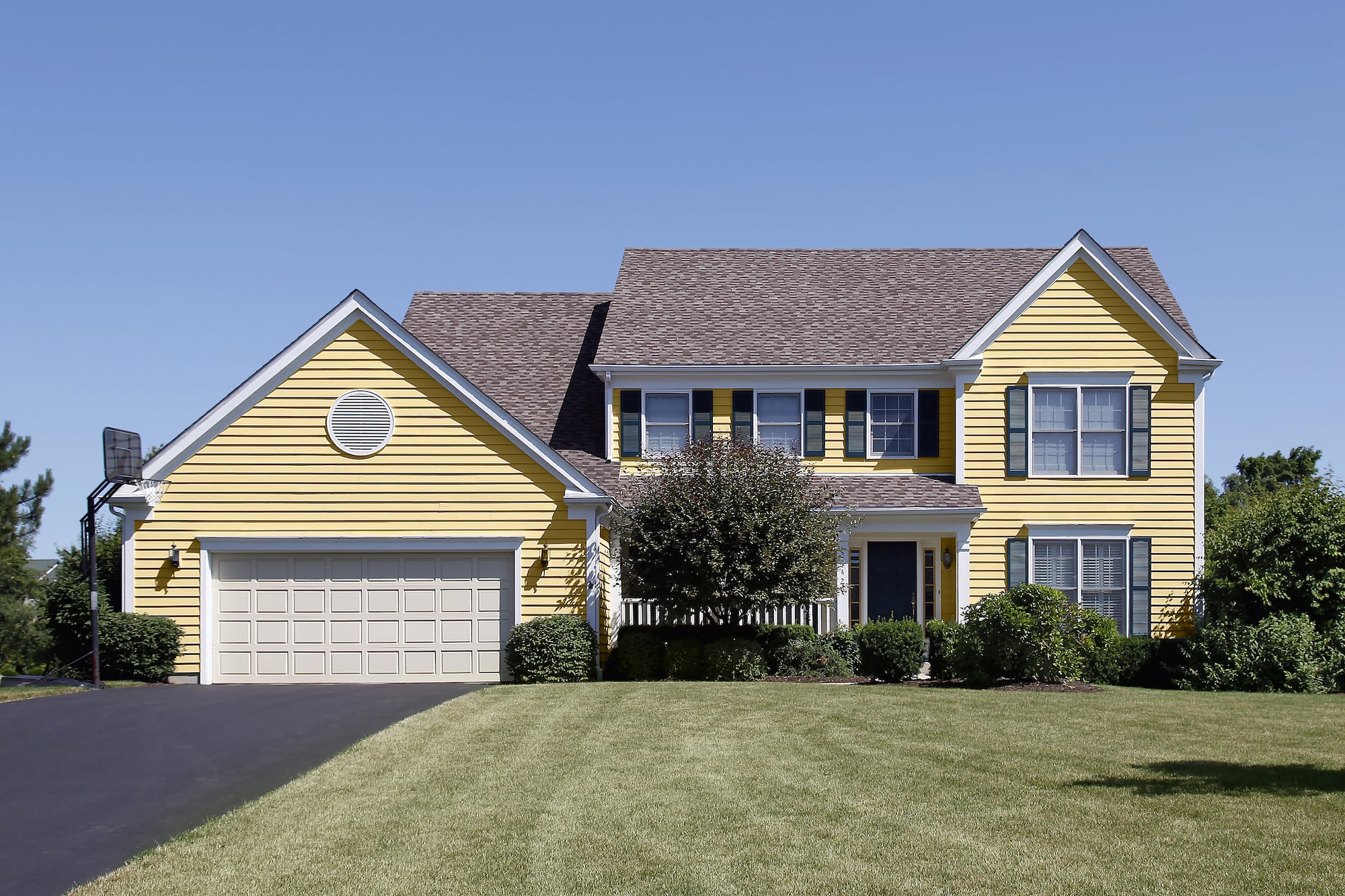 Yellows are a cheerful, bright color that can give your exterior a refreshing, welcoming vibe. So when you paint your home Traditional Yellow with a brown roof, you get a subtle palette that can work for any style from country cottage to modern, contemporary, or traditional.
Traditional Yellow is a medium-toned shade with faint dark tints that create interesting shadows. It's more of a combination of tan, cream, and beige with a hint of honey for a warm, welcoming home.
Stormy Monday by Benjamin Moore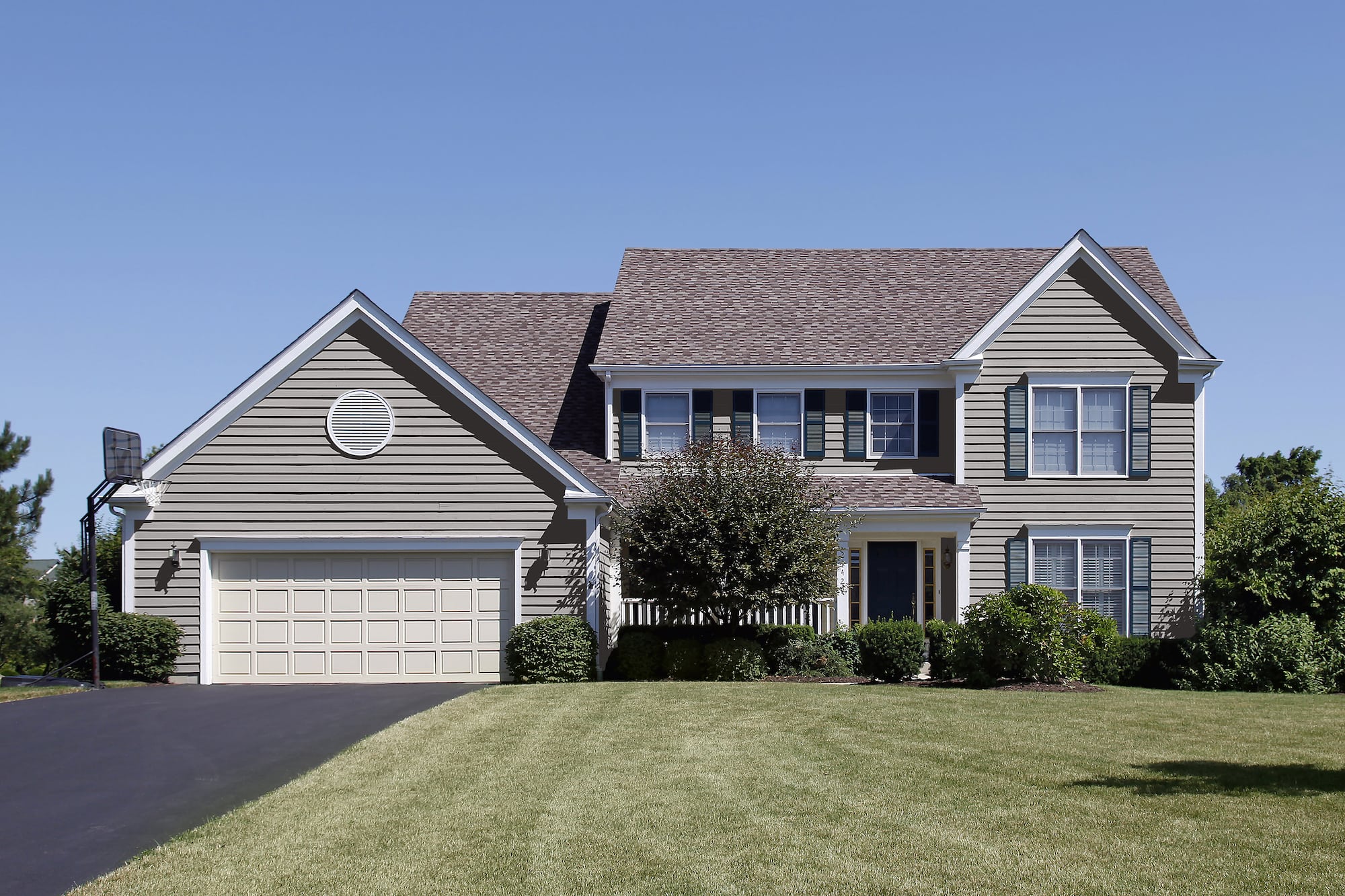 Going gray with your home's exterior is suitable for all architectural styles and color palette designs. In addition, this neutral gives your home mystery and slight color for more curb appeal.
Despite the name Stormy Monday, you won't feel gloomy when choosing this dark tinted gray with faint lavender undernotes. A brown roof will further enhance the mauve tones for a charming bold saturation of colors.
Guildford Green by Benjamin Moore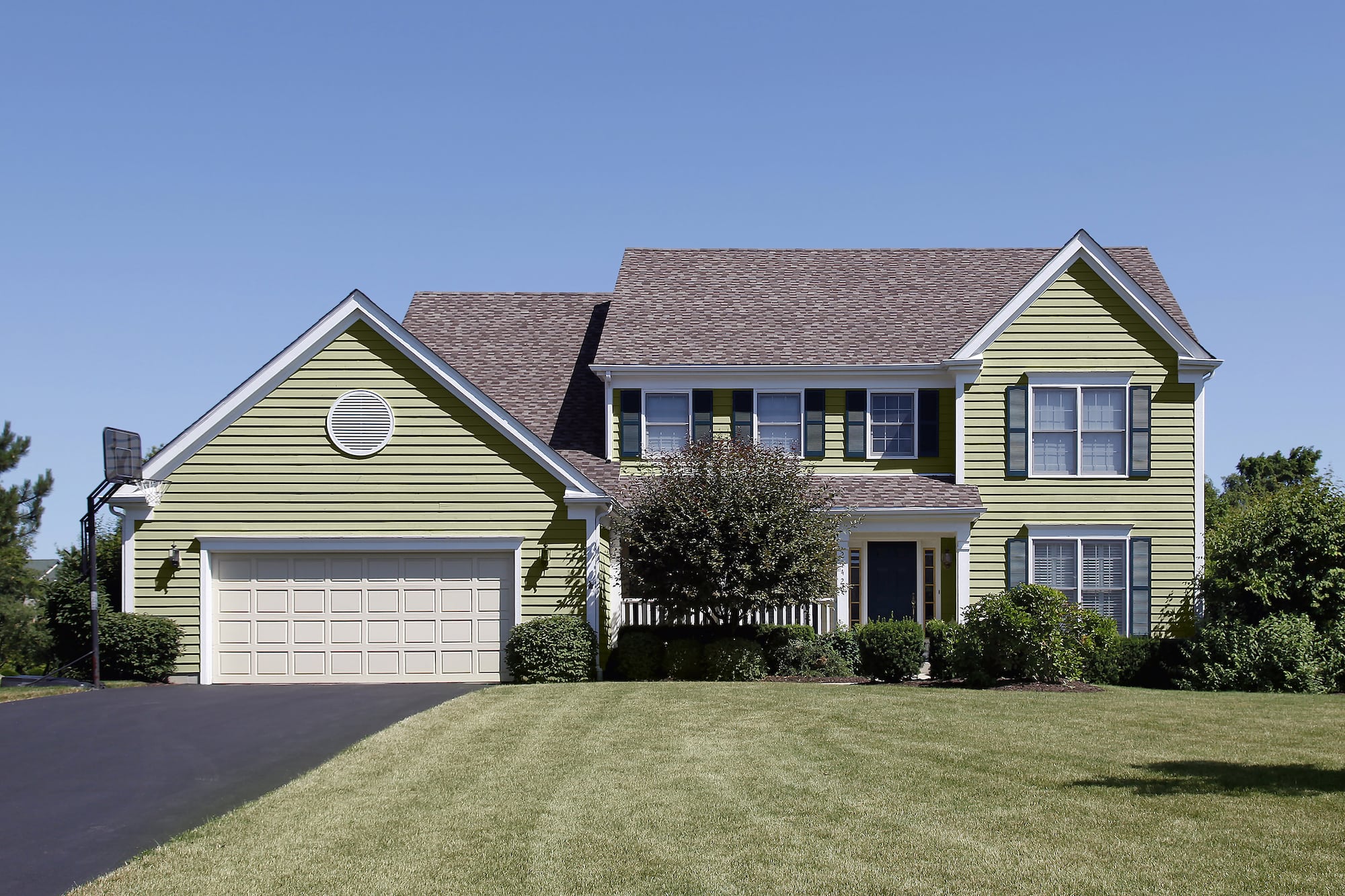 Guildford Green is a brownish-green that can give your exterior personality an earthy neutral nuance when matched with a brown roof in any tone. The darker the brown, the more beige and brown undernotes you'll see in the green.
This color can fade into the natural surroundings for a more subtle look, matched with whites, creams, and tans. Or you can use it for a more modern, exotic, or contemporary look by pairing it with a color palette of bolds like blacks, dark greens, and rich espresso browns.
Aqua Marina by Benjamin Moore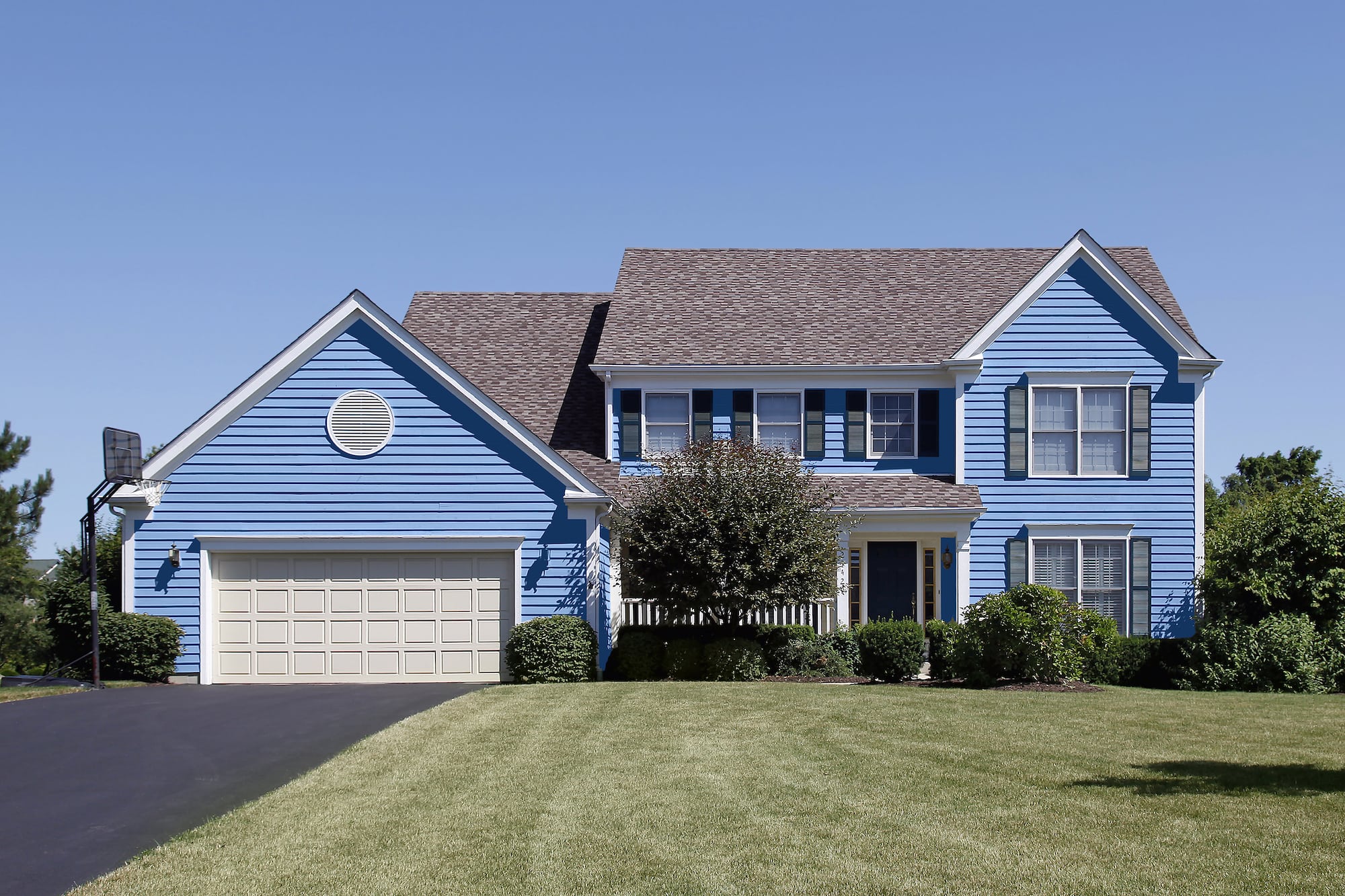 Aqua Marina is a bold, saturated mid-toned blue with stormy undernotes of gray tinting. Blues are one of the most popular choices for a timeless color with significant saturation.
And blues are also versatile colors that can fit most architectural structures, especially modern, farmhouse, and coastal themes. You can match Aqua Marina with dark blues or greens and light colors like grays, pale yellows, and off-whites.
Smokey Taupe by Benjamin Moore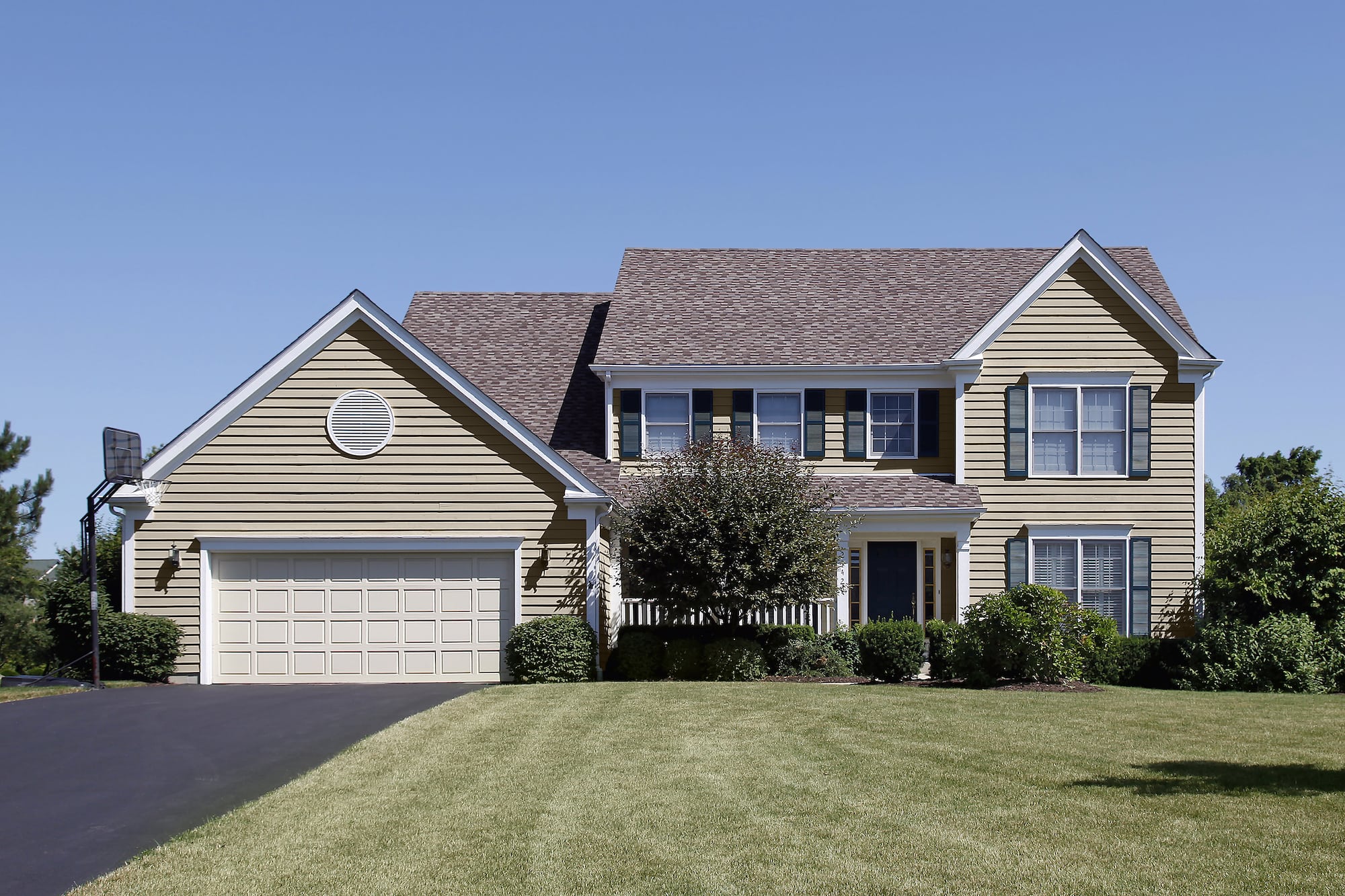 Another wonderful version of taupe for your exterior is a Smokey Taupe. Pairing this color with a brown roof can create wonderful magic.
Brown can highlight the dusty notes of this dull brownish gray, making it more saturated with smoky shadows. Then balance the look with bold darks or pale lights.
Swiss Coffee by Behr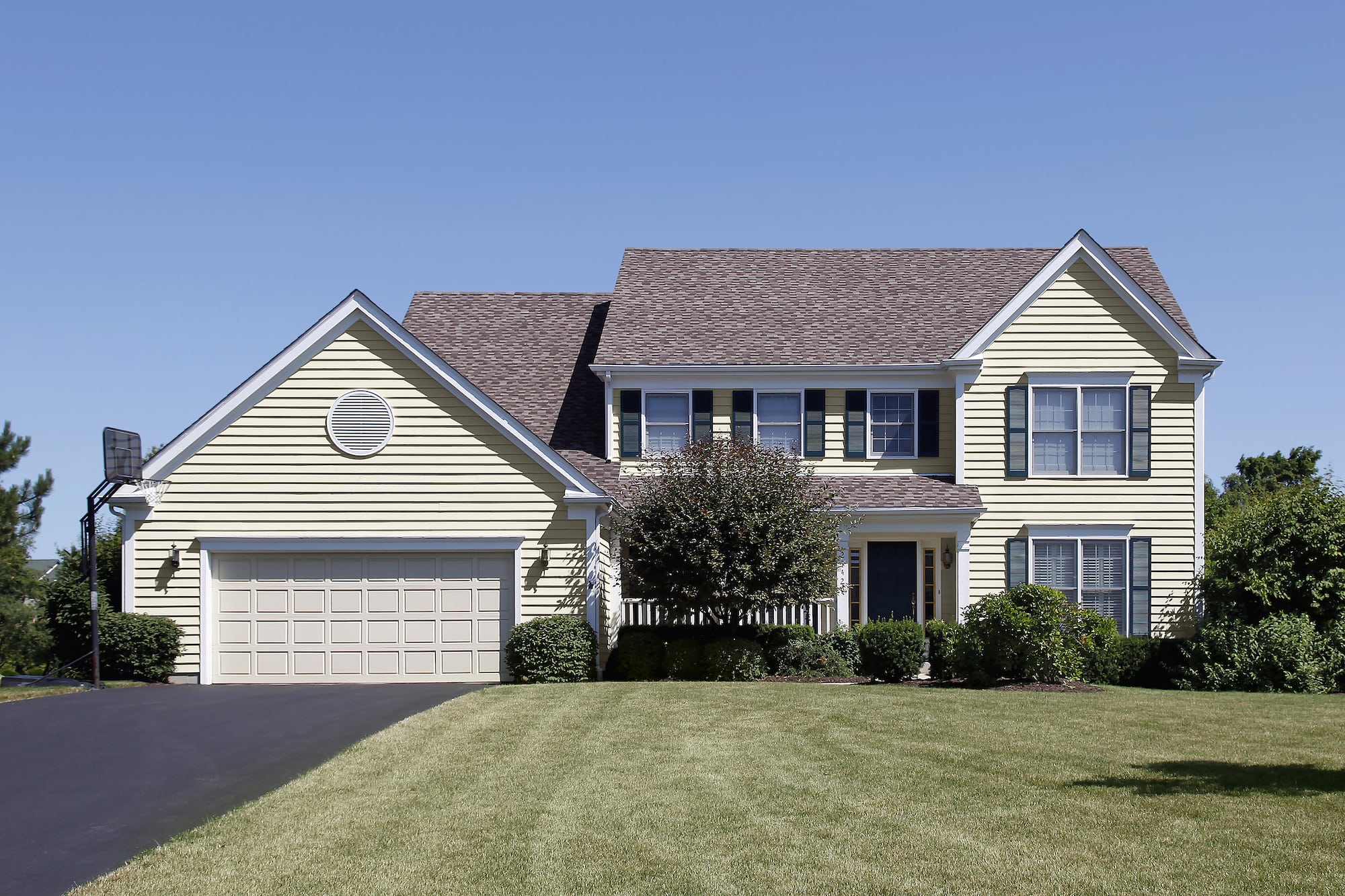 We're going opposite this color recommendation for pairing with a brown roof. A popular classic color option for house exteriors is white.
We like the magic of Swiss Coffee. This pale shade of white has subtle gray tints for a white with a slight smokiness. A brown roof can enhance these darkened undernotes to give your white exterior faint coloring.
Dolphin Fin by Behr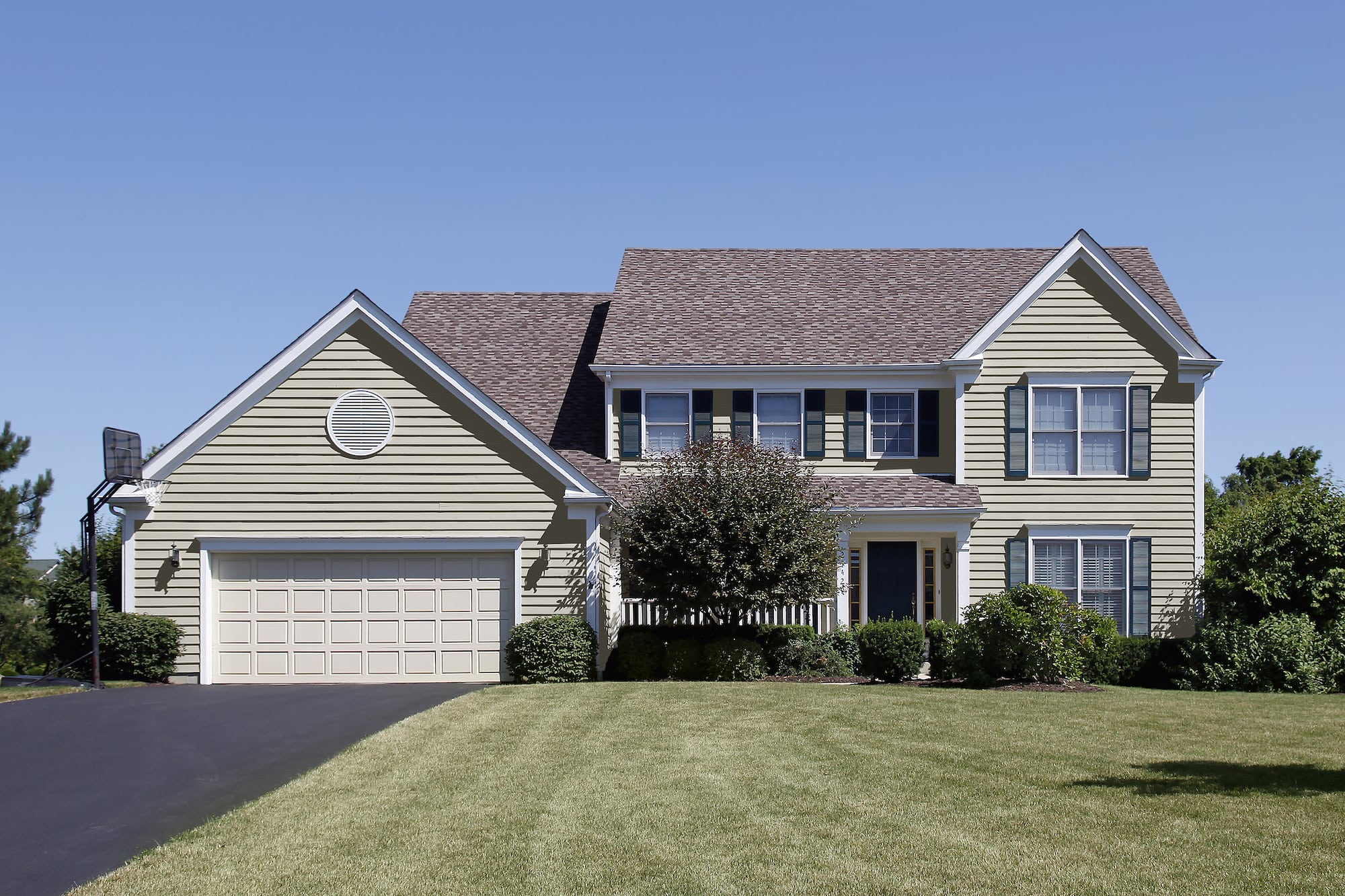 Dolphin Fin is a mid-toned shade of dirty gray with brown and mauve undernotes for a lovely timeless neutral with a saturated personality.
A dark brown roof can make this gray turn darker and stormy. But a lighter brown can make this gray turn more tannish beige.
Stony Ground by Farrow & Ball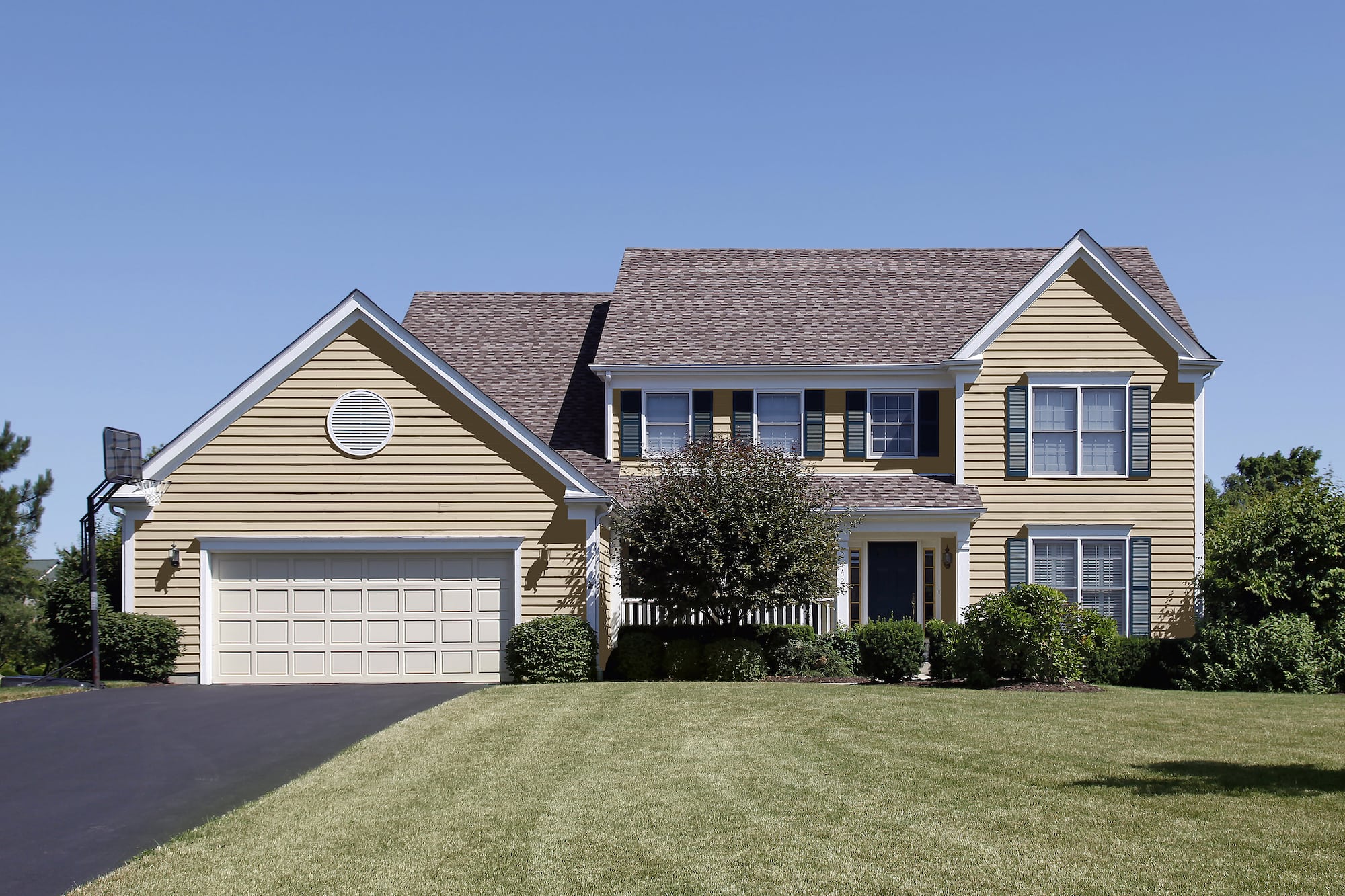 Another earthy tone for an exterior with a brown roof is a combo color like Stony Ground. This blended natural shade offers rich pigmentation that imitates the soft color of the stonework.
With a subtle beige tone and slight warm red undernotes, this neutral can mix with lighter shades like whites and off-whites or darker colors like black and brown.
Joa's White by Farrow & Ball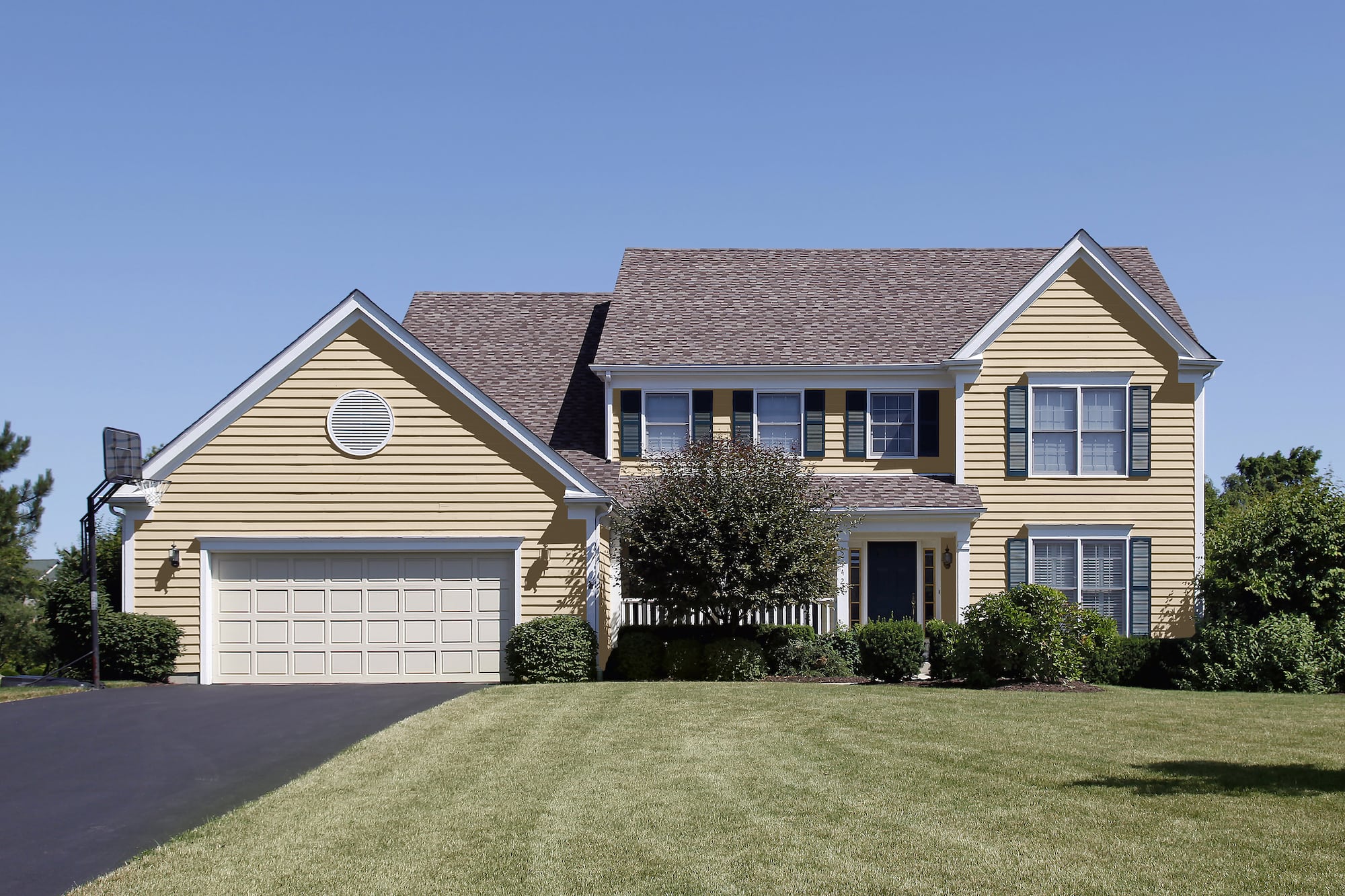 If we say to try a paint such as Joa's White to go with a house with a brown roof, you might envision a milky pale color completely absent of any color pigmentation.
But you'd be wrong. This red-based neutral color is a lovely shade of off-white with a bold beige saturated tint. In addition, this versatile taupe has the faintest notes of black to suit contemporary, modern, or traditional styles.
In Closing
A brown roof is a popular choice for homes that want a timeless neutral shade that can go with just about any exterior color. So whether you want to boost the look of a rustic or natural-themed home or you want to make a statement with a modern style that stands out, you have multiple color options that go with a brown roof.