Decorated Life is reader-supported. When you buy through links on our site, we may earn an affiliate commission. Learn More
12 of the Best Dark Green Paint Colors in 2023
In our hectic and driven lives, a connection with nature is more important than ever. The benefits of simply spending time immersed in nature, such as the Japanese practice of forest bathing, have been shown to reduce stress and improve well-being.
There's no better color to bring that natural connection into our homes than dark green. Whether you're working with lush forest green, earthy sage green, warm olive green, cool jungle green, or silver pine green, you're creating a peaceful and harmonious space.
In this article we'll look at 12 of the best dark green paint colors. Then we'll check out those colors in real homes to get style ideas, and review the best coordinating colors to use with dark green. Finally if you're not already up to speed on light reflectance value, I'll fill you in. When it's all done, you'll be ready to use dark green like an expert.
Let's take a deep breath, pause, and get in the moment with dark green.
Best Dark Green Paint Colors
Hunt Club by Sherwin Williams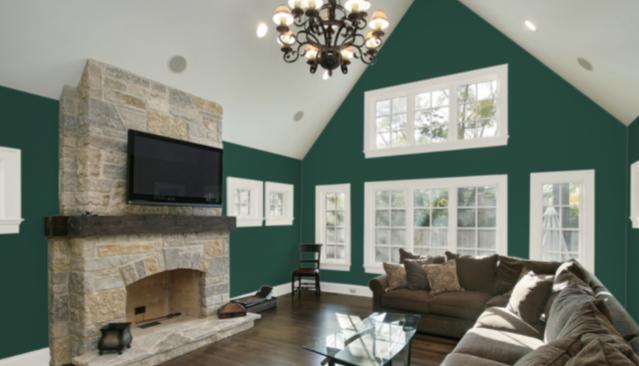 Hunt Club is a classic vibrant hunter green, or forest green, that you can just envision as part of an English country estate. It's a fairly dark color with a LRV of 6. Hunt Club was part of the 2018 Connectivity palette.
Roycroft Bottle Green by Sherwin Williams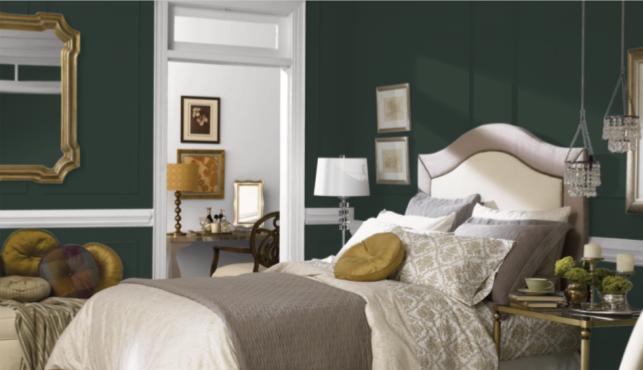 Roycroft Bottle Green is a very dark forest green that's balanced between the red and blue sides of its makeup, making it a more neutral green. What's really intriguing about this color is its historic flair. It's part of several historical collections, including Sherwin Williams' Arts & Crafts era palette. Its LRV is 5.
Evergreens by Sherwin Williams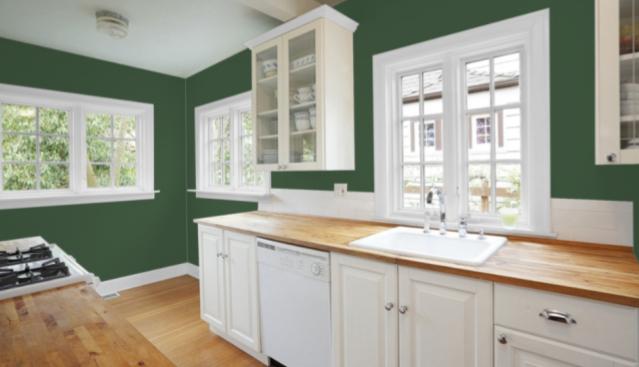 Evergreens is a lush pine green. It's perfectly balanced between its red and blue components, but it comes across as warm to neutral in tone. Evergreens is a touch lighter than our first two colors, with a LRV of 8.
Courtyard by Sherwin Williams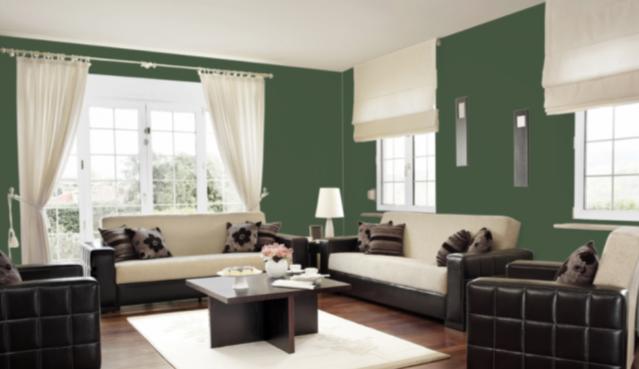 Courtyard is a dark sage green with a lovely earthy coziness to it. It evokes the feeling of a garden on a sunny day. Courtyard is a good color for cottage and farmhouse styles. This is a warm green, with a LRV of 9.
Cascades by Sherwin Williams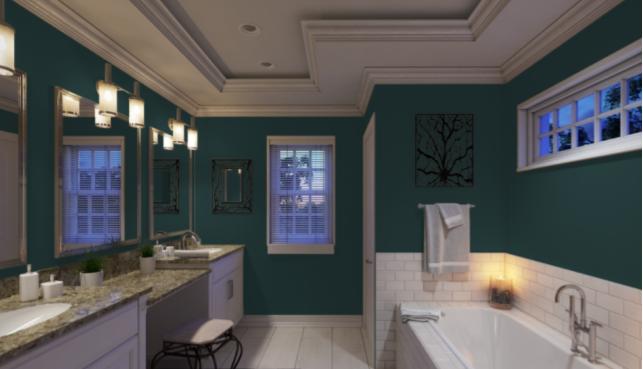 Cascades is a deep green-blue. It's not quite teal; you could say it's like a forest green blended with teal. There's a lot of depth to explore in this popular color, which is part of several collections including the 2022 Ephemera palette. Cascades has a LRV of 4.
Dragonfly by Benjamin Moore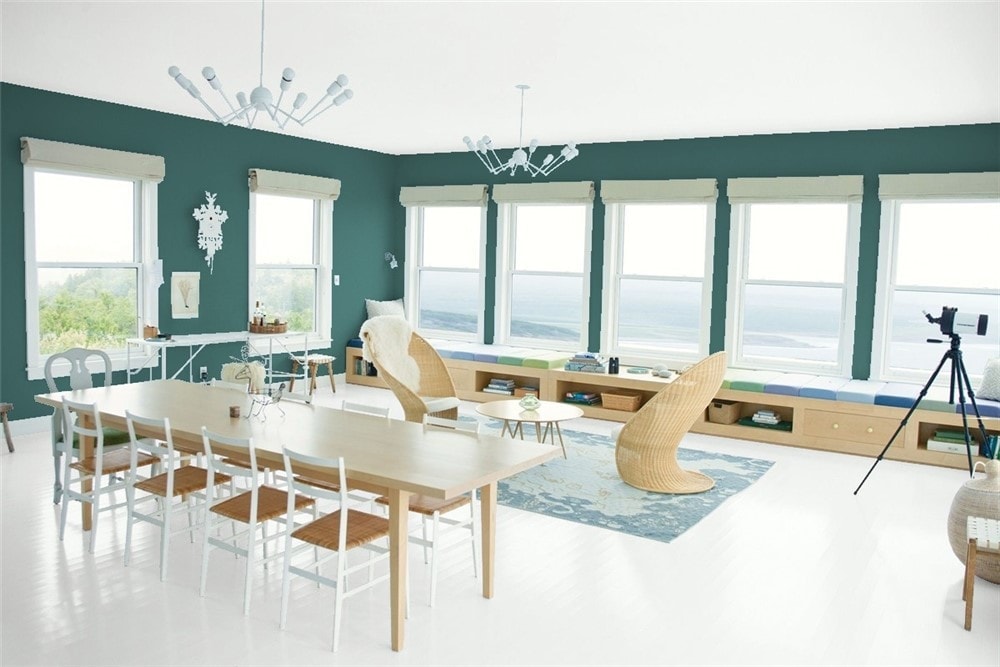 Described as a playful color, Dragonfly is an energetic dark blue-green. Its LRV is slightly lighter than others on this list, at 10.22.
Hunter Green by Benjamin Moore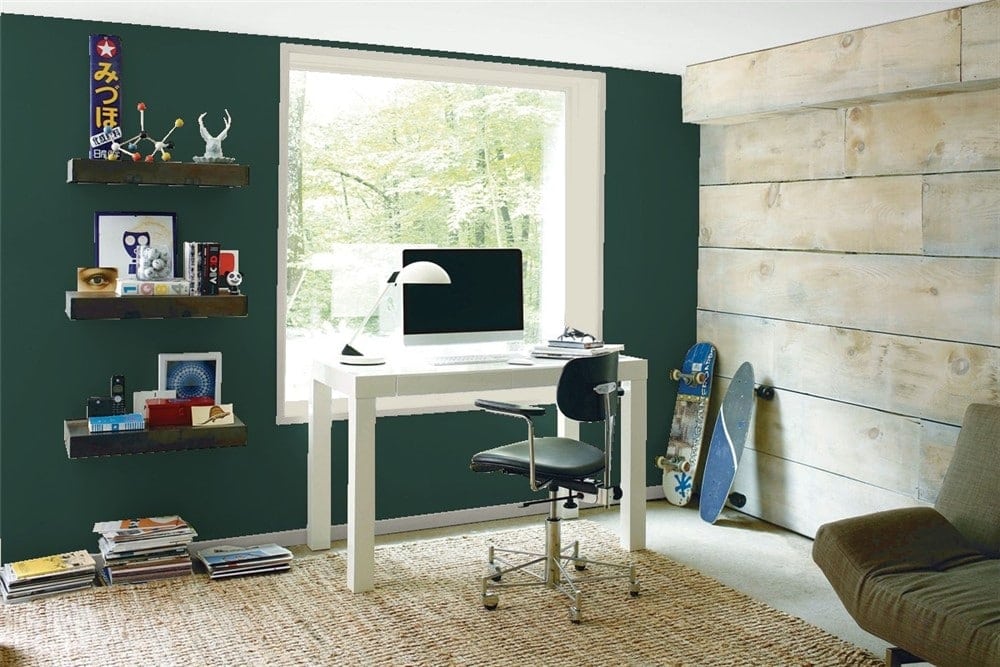 Hunter Green is a bold, deep green that has an elegant feel. It evokes a mountain pine forest and looks beautiful with naturally colored wood. This is a rather dark color, with a LRV of 4.31.
Tarrytown Green by Benjamin Moore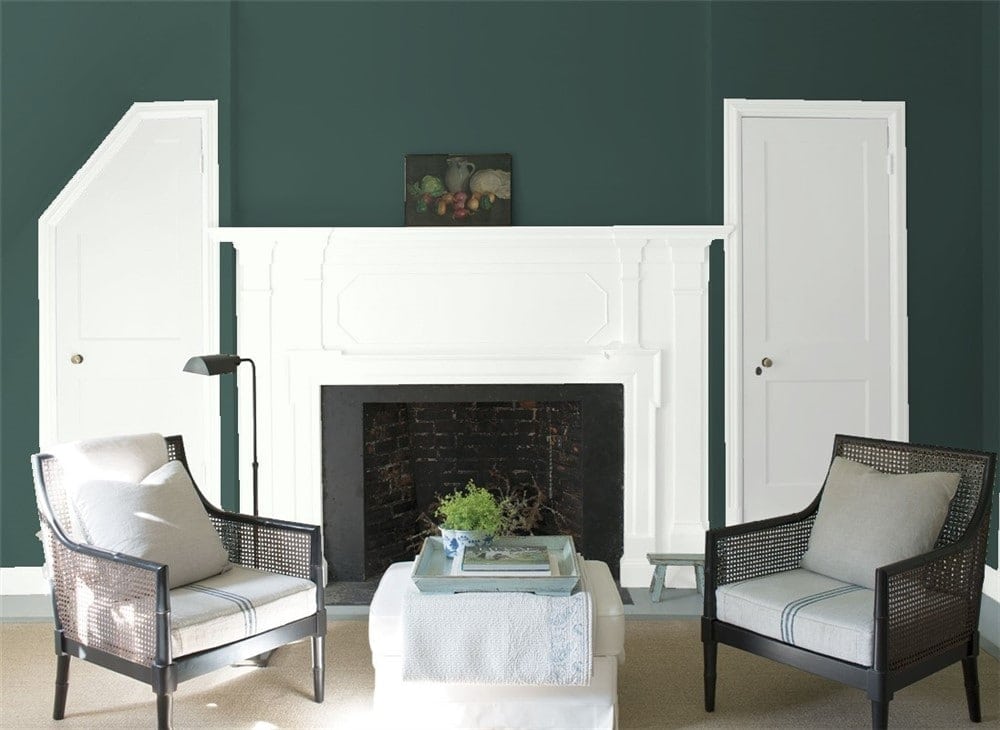 Tarrytown Green is a muted forest or hunter green with a traditional vibe. It's part of Benjamin Moore's popular Historic Color collection. This is a cool color that is shaded with blue undertones. Its LRV is a dark 7.65.
Jack Pine by Benjamin Moore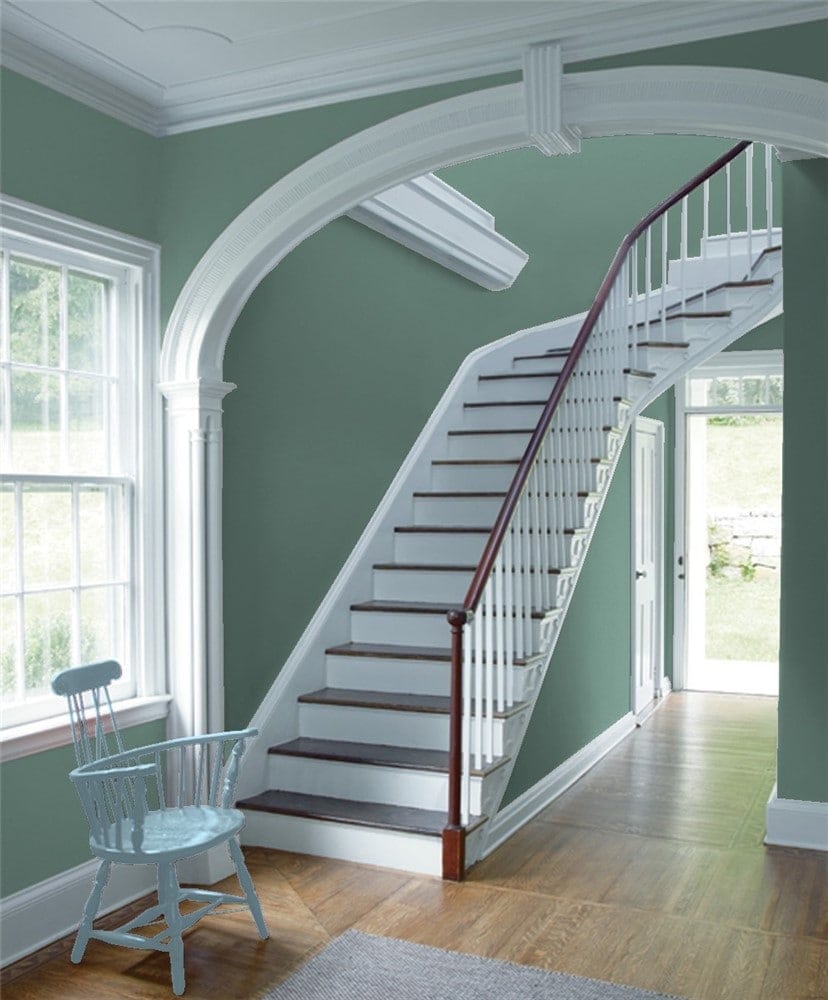 Jack Pine is a blue evergreen with a touch of silver shading that elevates the color and makes it feel sophisticated. It's part of Benjamin Moore's Classic Color collection. Jack Pine is noticeably lighter than some of the other greens we've looked at, with a LRV of 14.75.
Backwoods by Benjamin Moore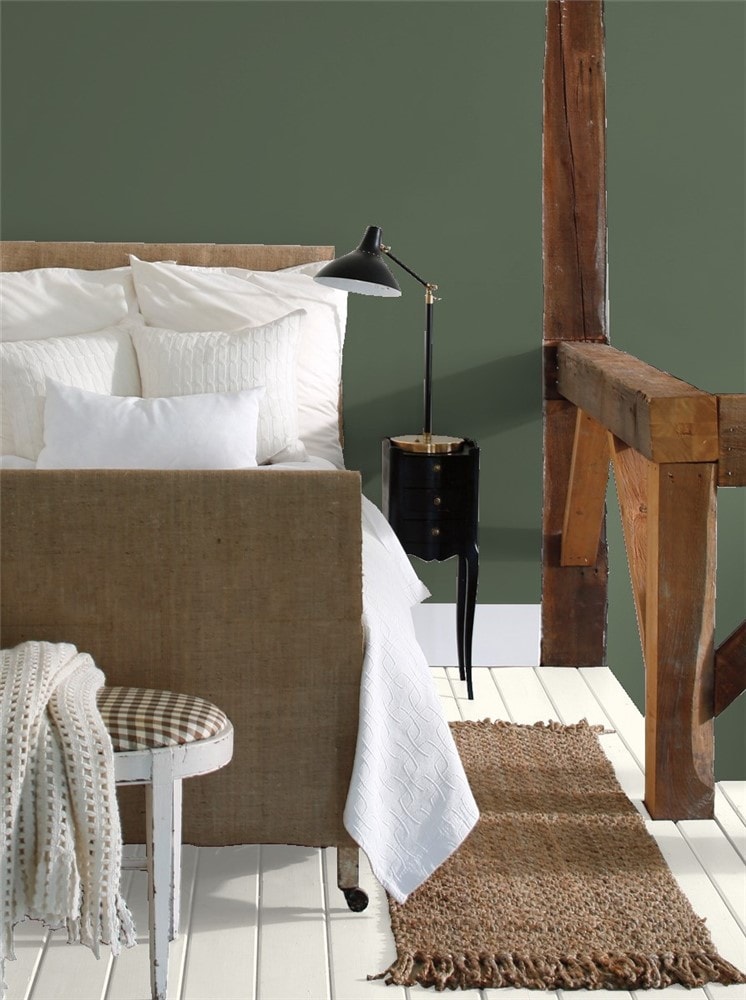 A warm, earthy green, Backwoods is a dark muted sage color. Backwoods is enjoying a fan following, and has been seeing a lot of use in spaces where people want to bring the outdoors inside. It's a favorite pick for entryways, bedrooms, and nurseries. Backwoods has a LRV of 10.81.
Rainforest by Behr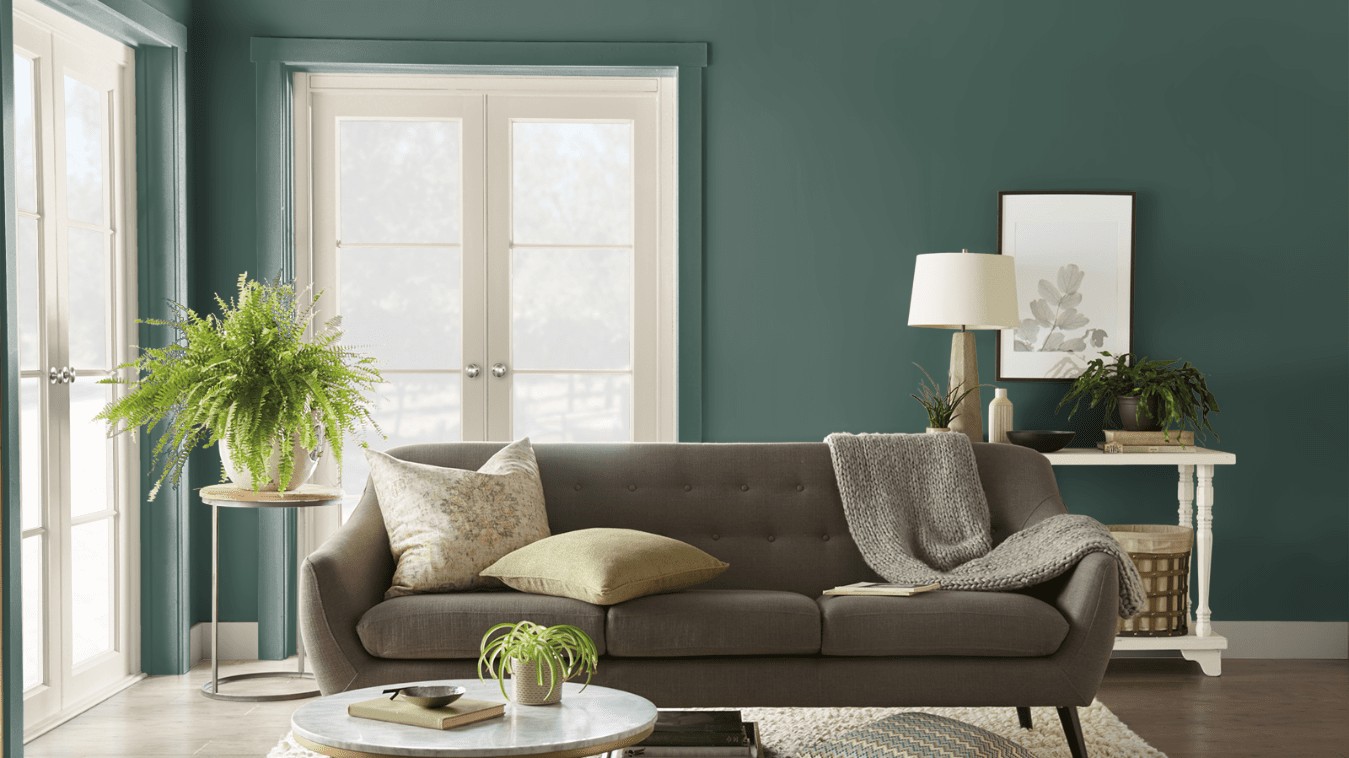 Rainforest is a luscious green-blue that can take you someplace tropical, or coordinate with your favorite potted succulents. It's a cool green, with a LRV of 10.
Pastoral by Behr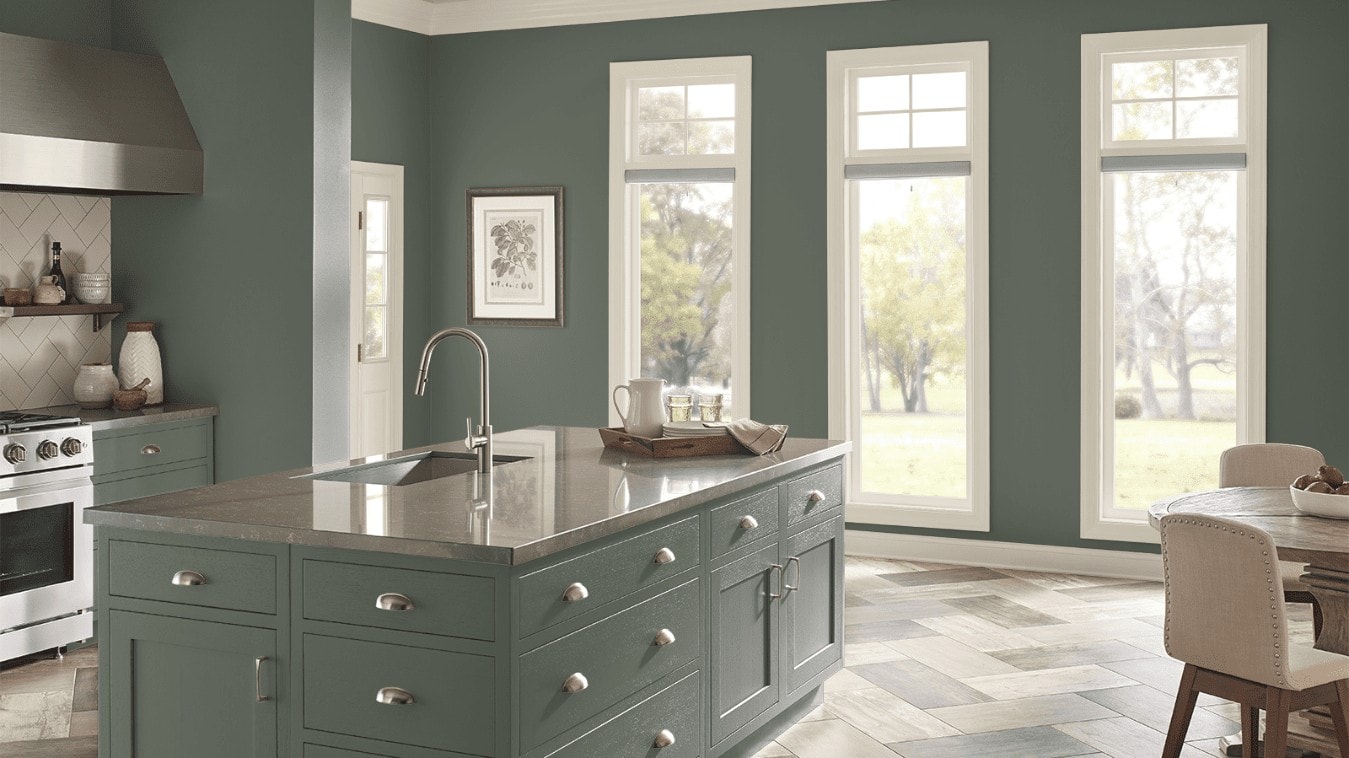 Pastoral is a sage green shaded with slate gray. This is a popular color for farmhouse and modern farmhouse decor styles, with its subdued earthy tones. Pastoral has a LRV of 11.
Dark Green in Real Homes
Now that we've seen the best dark green colors, let's take a look at all that lush greenery in real homes, and get inspired for our own projects!
Jack Pine makes an island showpiece in this white kitchen.
Hunt Club brings drama and elegance to this dining room, with board and batten in Simply White.
Balanced dark green draws this bedroom together.
Bold colors are great for nurseries, because babies are drawn to look at strong contrasts. Evergreens fits the bill in this modern chic nursery.
A stunning kitchen with a historic flair keeps it traditional with Roycroft Bottle Green.
Dark green makes a beautiful accent color, and looks stunning with luxurious gold decor.
A dark and dramatic focal wall can instantly make a room look more elegant and composed.
Dark green and grey are cool and balanced partners in this modern kitchen.
Coordinating Colors for Dark Green
Dark greens of all shades can be found in nature, paired with flowers of any color, so really, you could put dark green with any coordinating colors you like. But there are a few colors that will really make it look its best in your home.
Since you're already working with a dark color, the companions you choose for it are probably going to be lighter ones. A lot of people go straight to white, and it's not a bad choice. Aim for neutral whites that offer a clear contrast. Tinted whites are going to exaggerate their undertones against dark green.
Another light color that can work very well with dark green is grey, particularly cool greys. Cool greys have blue and green undertones that coordinate well with dark green colors.
Green's component colors are blue and yellow, so it can work well with either of these. Pale blues are a fantastic coordinating choice for dark greens, and can bring out its cool and lush side. Yellows will bring a pop and intensity in their contrast, while gold will look elegant and striking.
Pink is a color you might not expect next to green, but it definitely works, and it adds some fun to your palette. Pastel and bubblegum pinks are excellent for dark greens.
Here are some dark green coordinating color ideas to get you started:
A Note About Dark Greens and Light Reflectance Value (LRV)
You'll notice that each of the dark green colors described in this article have a light reflectance value (LRV) given. That's just a number to help you understand how light or dark a color is. It's on a scale from absolute black, at 0, to sheer white, at 100. So very dark colors like have very low LRVs. The lower the number, the darker the color.
What does that mean for you when picking out paint? You might want to limit your use of dark green to things like accent walls, trim, moulding, or cabinets so that it doesn't overwhelm your space and make it into a dark cave. You could use a light color, like white, sky blue, or pale gray, as a main color, to reflect more light into the room. But this definitely isn't a rule, and there are plenty of examples of rooms that work with very dark colors all over. It depends on how much light your home gets and what your personal tastes are.
Final Thoughts
The lush and vibrant tones of dark green bring natural harmony into any home. Greens are typically cool but undertones can bring out neutral or even warm varieties. Dark greens are perfectly suited to natural elements like wood and stone, but they can also be dressed up for modern and formal settings. How will dark green bring your home into the moment?