We independently select these products — if you buy from one of our links, we may earn a commission.
The 7 Best Concrete Paint in 2023
You finally decided to paint the garage floor. That tired old grey concrete is screaming for some color, and you think it's time to bring some life into the garage with a splash of paint. However, you can't grab the leftover paint from painting your walls and use it on the concrete floor.
Concrete requires painting with specialist products designed for durability and rugged protection of the concrete surface. Concrete is a porous surface, and it soaks up other types of paint by the gallon, making painting your garage floor expensive and time-consuming.
We put together this review of the best concrete paints available. Use any of these products to paint concrete, and you'll get a durable and good-looking finish.
The Best Concrete Paint Reviews
We review the best concrete paints available. You're sure to find the right paint for your application after reading. We also provide you with information on how to use your concrete paint.
Our buyer's guide gives you everything you need to know about buying, using, and choosing the right concrete paint for your application. Skip to the conclusion to discover our top choices for the best concrete paint.
Coloredepoxies Clear Epoxy Resin Coating — The Premium Choice
If you're looking for the best premium paint to paint your garage floor, then you can rely on Colored epoxies to deliver a robust and stable floor that durable, weather-resistant, and as hard as a rock. The epoxy formula comes with 2-parts resin to 1-part hardener and produces the most robust floor in this review.
Our favorite feature with this paint is the metallic tints and range of colors on offer. There's no need to stare at that cold concrete floor in your garage any longer. The strength of the epoxy formula also means that it's suitable for use on garage floors, as the paint absorbs the pressure of the weight of your car loaded onto the surface.
This two-part epoxy system emits no VOCs, formulating a modified cycloaliphatic curing agent with a cycloaliphatic resin for the best UV protection, and resistance to chemical spills. If you're a professional contractor, then your clients will love this epoxy concrete paint on their basement or garage floor. Choose from a range of 12-exciting colors, with metallic paints available.
Pros
Premium materials in the formulation.
Metallic tints available.
Long lasting and durable.
Suitable for garage floors.
Cons
---
KILZ Interior and Exterior Basement and Masonry Waterproofing Paint — Best Overall Option
If you're looking for a general-use concrete paint, then we recommend the KILZ Interior and Exterior Basement and Masonry Waterproofing Paint. This formulation by KILZ seals and waterproofs concrete surfaces outside and inside the home.
This paint features nano-technology that creates a barrier to prevent water seeping through into the concrete. You also get an alkali-resistant surface that can handle chemical spills while reducing water ponding. The long-lasting and durable finish is aesthetically pleasing, and you can use this paint in your basement walls, cinder block, retaining walls, and brickwork.
This paint is not suitable for use on driveways, but it does hold up to decent foot traffic on floors in and around the home. One gallon of this paint covers up to 100-square feet, and you'll need two coats for the best results. The paint dries to the touch in less than an hour, and you can add a second coat after 4-hours of dry time.
This paint is also suitable for use in a paint sprayer, providing excellent coverage while minimizing paint wastage.
Pros
Low VOCs.
Resistant to mold and mildew.
Tintable mid-tone and pastel colors.
10-year guarantee.
Cons
---
Drylok GAL BGE Paint — Best Latex-Based Option
This latex-based paint offers outstanding protection for concrete floors and walls, both inside and outside of the home. This paint is affordable and ready to apply without a primer, making it a cost-effective solution for warehouses and workshops as well.
The paint features specialized formulation to treat concrete floors, outperforming standard floor paints in areas of your home where there's high traffic, such as around the pool or the driveway. The paint also has excellent resistance to washing, weather events, alkalis, and acids. The paint comes in a 4-gallon tub, with a white color that's tintable.
The paint also features low-VOC, producing less smell as it dries. It takes around 30-minutes to 1-hour for this paint to dry to the touch, and you can recoat after 4-hours. In most cases, you'll need to use two coats if you aren't priming the surface beforehand. A gallon of this paint covers up to 500-square meters.
Pros
No primer required.
Meets regulations for low VOC standards.
Tinted white color.
Fast-drying.
Resists hot-tire grabbing.
Cons
No metallic colors available.
---
KILZ Interior and Exterior Slip-Resistant Decorative Concrete Paint — Best Slip-Resistant Option
Give your cold concrete surfaces, some paint, and bring them to life. The KILZ interior and exterior slip-resistant concrete paint is the top anti-slip paint in this review. When you pour an epoxy floor, it typically dries to a smooth finish. However, if you're pouring the floor in the garage, there's a chance it gets wet and creates a slipping hazard.
The KILZ anti-slip formula creates a non-slip surface with a textured feel and a matte look. The traction you get on the surface is fantastic, and it's one of the few paints you can use of your driveway and garage floor, without worrying about the weight of the car damaging the paint.
The KILZ anti-slip formula dries to the touch in 4-hours, and you can walk around on it after 24-hours. The paint reaches a full cure in 48 to 96-hours, depending on the climate conditions. One gallon will cover up to 50-square feet.
Pros
Suitable for use on driveways.
Non-slip finish.
Excellent coverage.
Fills cracks.
Cons
Not suitable for those DIY enthusiasts looking for a flat or glossy finish.
---
KILZ 1-Part Epoxy Acrylic Interior and Exterior Concrete Paint — Best Multipurpose Concrete Paint
KILZ also manufacture this top-quality concrete paint for your garage floor and offer it at an affordable price point. This 1-part epoxy formula is wear-resistant, and won't fade or crack in the sun. The paint also does not pick up on hot tires and doesn't blister easily in the direct midday sun.
The KILZ 1-part epoxy formulation is suitable for use on concrete, stone, and masonry, providing your surface with a durable coating that's long-lasting and rugged. The paint resists chemical spills and stops water ponding on the floor.
This KILZ product dries to a satin finish and feels smooth underfoot, so it might not be the best choice for areas around the home that might present a slip-and-fall risk, such as the pool deck. However, it stands up to the pressure of a car sitting on the garage floor, and it's also a suitable formulation for use on your driveway as well.
The paint dries to the touch in 4-hours, you can walk on it after 24-hours, and it reaches a full cure in 4-days. One gallon of this paint will cover 400-square feet easily.
Pros
Suitable for use on driveways.
Durable finish.
Resistant to gasoline spills, oils and chemicals.
Cons
Not suitable for vertical use.
---
KILZ Over Armor Textured Wood and Concrete Coating — Best Value Option
This paint offers DIY enthusiasts the best value in this review. Rust-Oleum manufacture top-quality paints and this product is no exception. The Over-Armor product provides you a color coating that's suitable for hiding imperfections like cracks, and it's also ideal for use on masonry, concrete, drywall, and wood as well.
The durable 100% acrylic resin formula provides a uniform look to any uneven surfaces, and weathered concrete as well. Use this paint on your porch, deck, railings, or even your boat dock. Over Armor covers up splinters, and seals cracks that are up to a ¼-inch in width.
The textured and slip-resistant finish makes this paint a top choice for many applications in and around the home. We recommend this paint as the best value option in this review, and a top choice for contractors. Brush it on or use it in a paint sprayer, and it's dry to touch in 4-hours or less and ready for recoating.
Pros
Suitable for exterior use.
Cons
Not suitable for driveways or garage floors.
---
INSL-X TuffCrete Waterborne Acrylic Concrete Stain Paint — Best Staining Option
TuffCrete® Waterproofing Concrete Stain allows for deep penetration of concrete surfaces. A stain is different from paint, but it serves a purpose in bringing your cold concrete surfaces to life. This stain accentuates to colors and visual features of the concrete, making it look more like a natural stone floor.
The satin waterproofs your concrete, and it's suitable for use on aggregate, stucco, ramps, floors, walkways, driveways, and garden paths.
Pros
Stains concrete.
Waterproofing action.
Durable and suitable for use on garage floors.
Good for commercial applications.
Cons
---
Concrete Paint Buyers Guide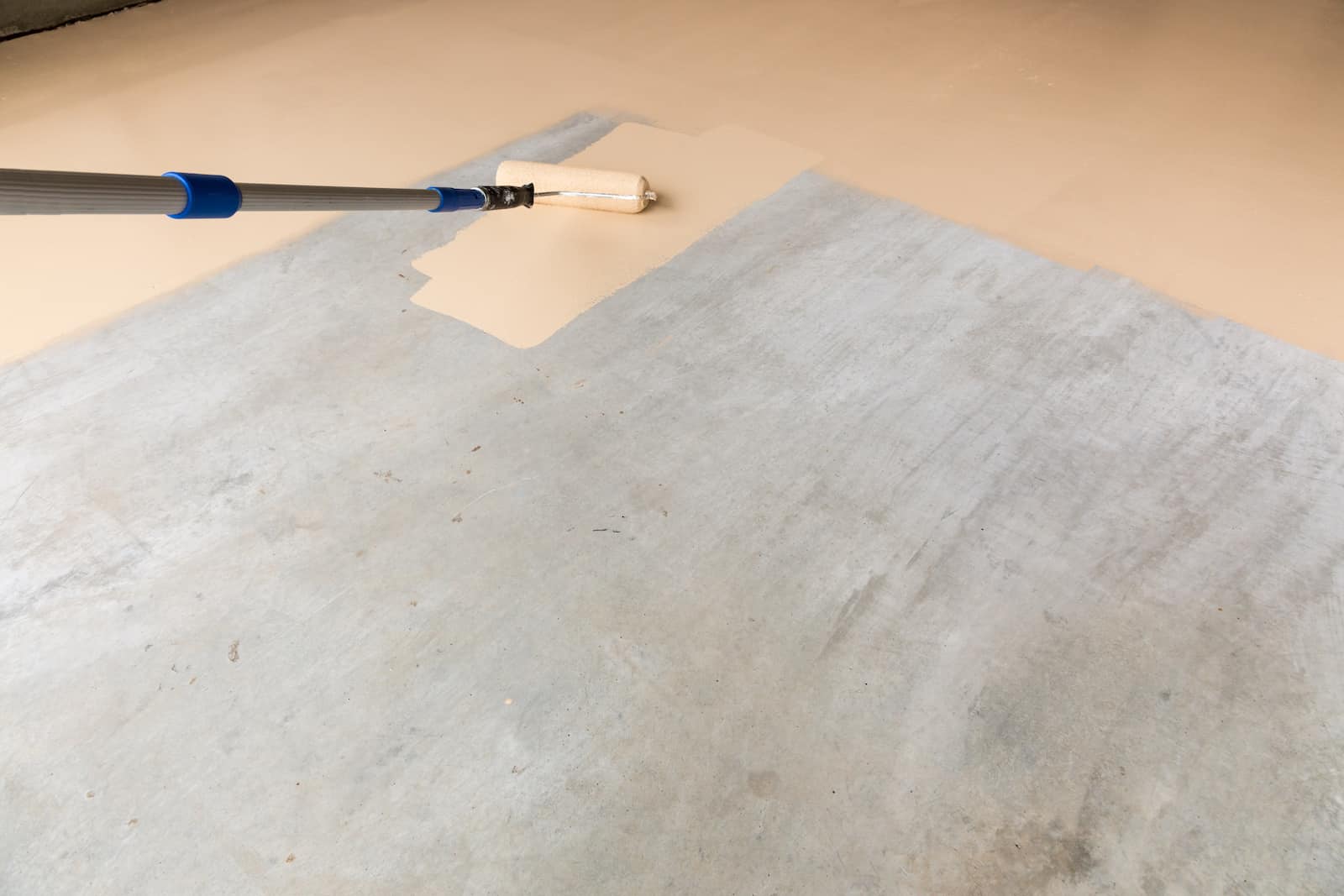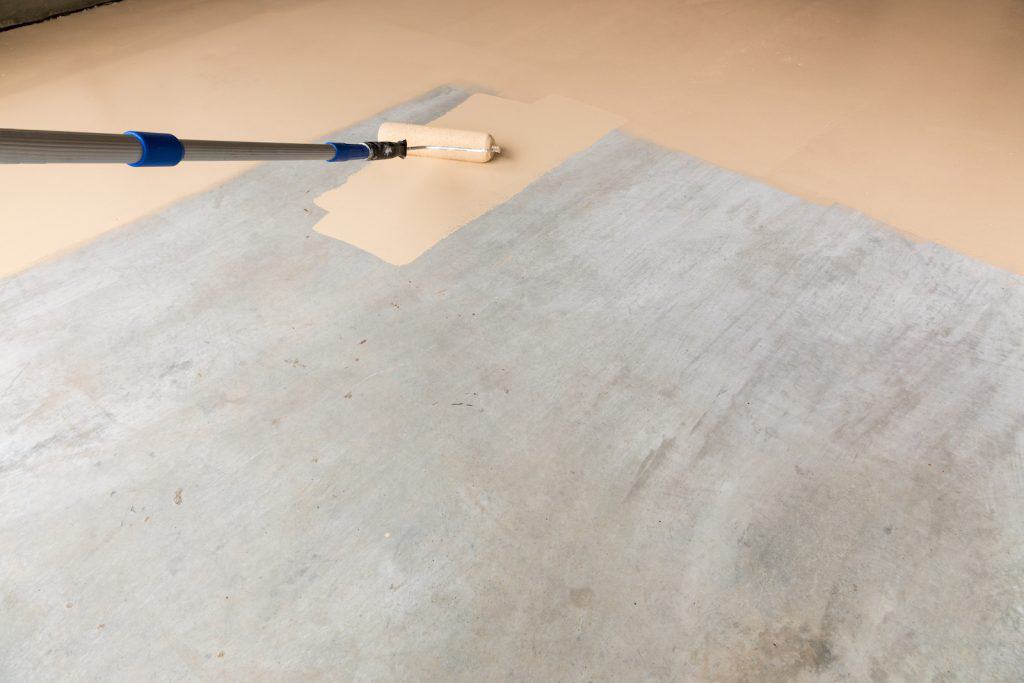 Choosing the right concrete paint for your task is essential if you want to ensure the best finish for the job. Concrete paint comes in four varieties;
Acrylic
Epoxy
Latex
Urethane
Most epoxy concrete paints come in either a 2-part paint and resin or a premixed product. Epoxy resin is a sturdy material, and paint that includes epoxy in the formulation is suitable for the most robust applications where wear-and-tear is a concern.
You can use epoxy formulations to paint your driveway and garage floor, as they stand up the weight of your car and foot traffic without any hassle. Epoxy paints are ideal for floor coverings because they offer a water-tight surface that resists the growth of mold and mildew.
Epoxy concrete paints typically cost more to purchase, and they are more challenging to apply than latex formulations. However, they offer the most reliable surface and long service life.
Other Concrete Paint Components
Manufactures put additional features into some brands of concrete paint to enhance aesthetics or durability. Here are the four most common additives that you'll find in leading concrete paint brands.
Primers – Before you paint any surface, you'll need to clean it and ready it for priming. Priming the surface helps for improved adhesion of the paint to the surface.
However, many leading concrete paint products come with primers included in the formulation. As a result, you cut down on time it takes to do the painting job, and you save money on primer as well.
Stain – Some manufacturers offer "stains" as alternatives to paint for concrete surfaces. The stain absorbs into the porous concrete surface, adding a depth of color to the surface. After staining, you'll need to seal the surface to ensure that the stain does not wash away.
You don't need to prime the floor before staining, and they're generally cheaper to purchase than paint. Stains give a translucent effect to the concrete surface, allowing the natural colors of the material to come through to the surface. Staining your concrete improves its visual appeal, but it does nothing to provide a protective coating.
Weather-Proofing – Before settling on your choice of concrete paint for your application, you must consider the weatherproofing features of the paint. If you intend to use the paint on exterior surfaces, then you'll need a specialized paint for outdoor surfaces.
Exterior paint has enhanced UV resistance and temperature flexibility, expanding with the concrete as it heats under the midday sun.
Sealant – You apply sealants to painted surfaces after they finish drying. The sealant adds durability and an aesthetic sheen to the surface that increases its service life. Many manufacturers include sealants in paint formulations, check the can for details.
How Do You Paint a Concrete Surface?
If you want the best results from painting a concrete surface, then you need proper preparation before you paint. If you don't prepare the surface, then the paint won't stick, or you might experience lifting in some areas after the paint dries.
Start preparation of the surface by sweeping it clean. Wash the walls or floor using a degreaser to remove oils that might cause problems with the paint adhering to the concrete. Let the floor dry before you start painting.
If you're painting a floor, then you can pour the paint out on the floor and start spreading it around using a long-handled roller. Make sure you start in the corner of the room and then work your way back to the exit. Think of it as sweeping the paint around the room.
Epoxy and latex concrete paints are self-leveling, meaning that you don't have to worry as much about even distribution of the paint. The paint levels itself, without any additional help for you. Make sure you let the paint dry overnight, and press into the surface with your fingernail to ensure its dry before you walk around on the floor.
Most epoxy concrete paints will take between 72 and 96-hours to reach a full cure, but you can usually walk around on the surface after 24-hours. Most epoxy formulations only require one coat, but latex paints for concrete walls might need two coats.
Concrete paints provide a flexible covering for your wall or floor. These paints expand with the concrete as it heats up under the sun, without cracking.
Painting concrete requires specialist concrete paint if you want to avoid a costly paint job that doesn't last.
Epoxy paints are the best choice for driveways, basements, and garage floors. The epoxy resin provides a durable and robust surface that's resistant to oil, chemicals, and pressure from parking your car on the surface.
Latex concrete paints are the best option for walls that need a durable surface covering. Latex fills in cracks and provides a long-lasting finish.
The Benefits of Using Concrete Paint
There are plenty of benefits for painting concrete around your home or business property. Concrete is susceptible to mold growth that might spread to other areas of your home or yard. Painting the floor provides resistance to pathogens like mold and mildew while providing a water-resistant surface that avoids ponding.
Concrete expands and contracts with fluctuations in temperature. If you live in a region of the United States where summer and winter temperatures vary widely, then painting your floor can help resist cracking.
You usually find concrete around high traffic areas like driveways and paths. By painting these surfaces with epoxy concrete paint, you give the surface higher wear-resistance. Epoxy floor paints are also resistant to chemical and oil spills, as well.
Painting your concrete floor also improves the lighting in the room, reflecting up to 300% more light than bare concrete. And finally – do you want to keep staring at that cold, gray concrete floor?
Conclusion
After reviewing all of the concrete paints we could find, we came up with the following three products as the clear winners of this review.
KILZ Interior and Exterior Basement and Masonry Waterproofing Paint – Best Overall Option
KILZ are industry leaders in home painting products. This interior and exterior paint does an excellent job of coating walls and floors. However, if you're using it to paint your garage floor, you might want to look into epoxy paint instead.
KILZ Over Armor Textured Wood and Concrete Coating – Best Value Option
Those DIY enthusiasts looking for the most affordable paint that still offers a good level of performance can benefit from choosing this KILZ product. It's an excellent choice for walls and even works on wood as well.
Coloredepoxies Clear Epoxy Resin Coating – Best Premium Choice
If you're looking for paint to cover your garage floor, then this product is your top choice. With metallic tints and featuring epoxy resin, this paint provides a durable and pressure-resistant surface that's suitable for the garage floor.