Decorated Life is reader-supported. When you buy through links on our site, we may earn an affiliate commission. Learn More
The 21 Best Floor Lamps of 2023
Lighting is one of the most important (if not the most important) aspects of interior design, and it's also one of the easiest ways to make your house feel like a home.
Using a combination of different types of lighting in each room allows you to easily change the mood from light and bright to warm and cosy at the flick of a switch.
Adding a floor lamp is one of the best ways to make your living room feel cozy, so today we're going to be sharing the best floor lamps to bring your living room to life!
Mid-Century Modern Floor Lamp With Glass Shade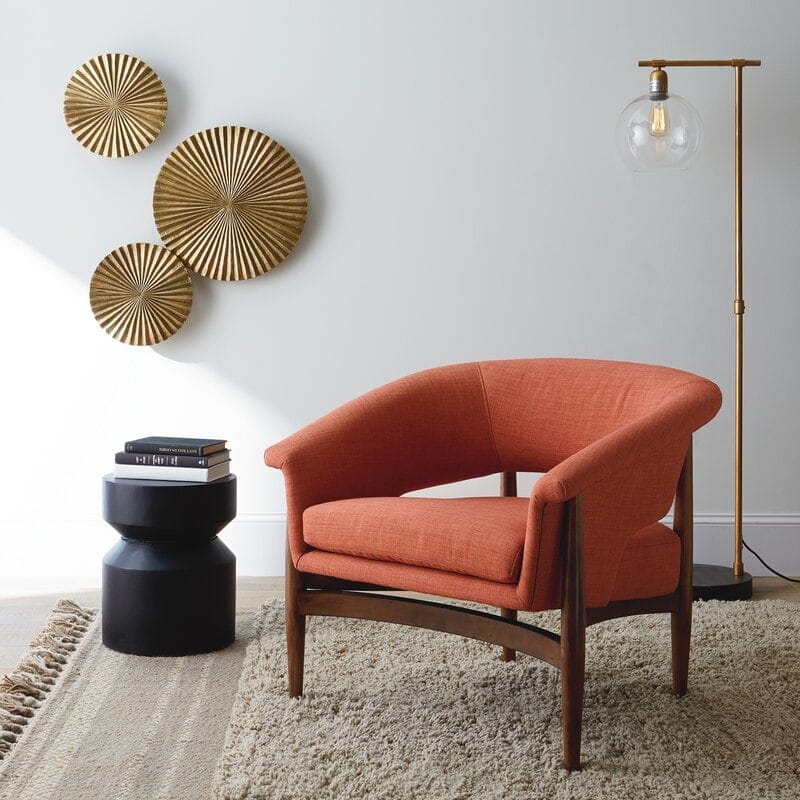 If you're going for a mid-century modern look in your home, this minimalist gold floor lamp will complete the look. With a sleek design and clear glass shade, this lamp will add a touch of sophistication to your living area.
This lamp is dimmable, so it's easy to change the mood in your room, depending on the time of day or activities taking place, to create the perfect ambiance.
Dorrette Floor Lamp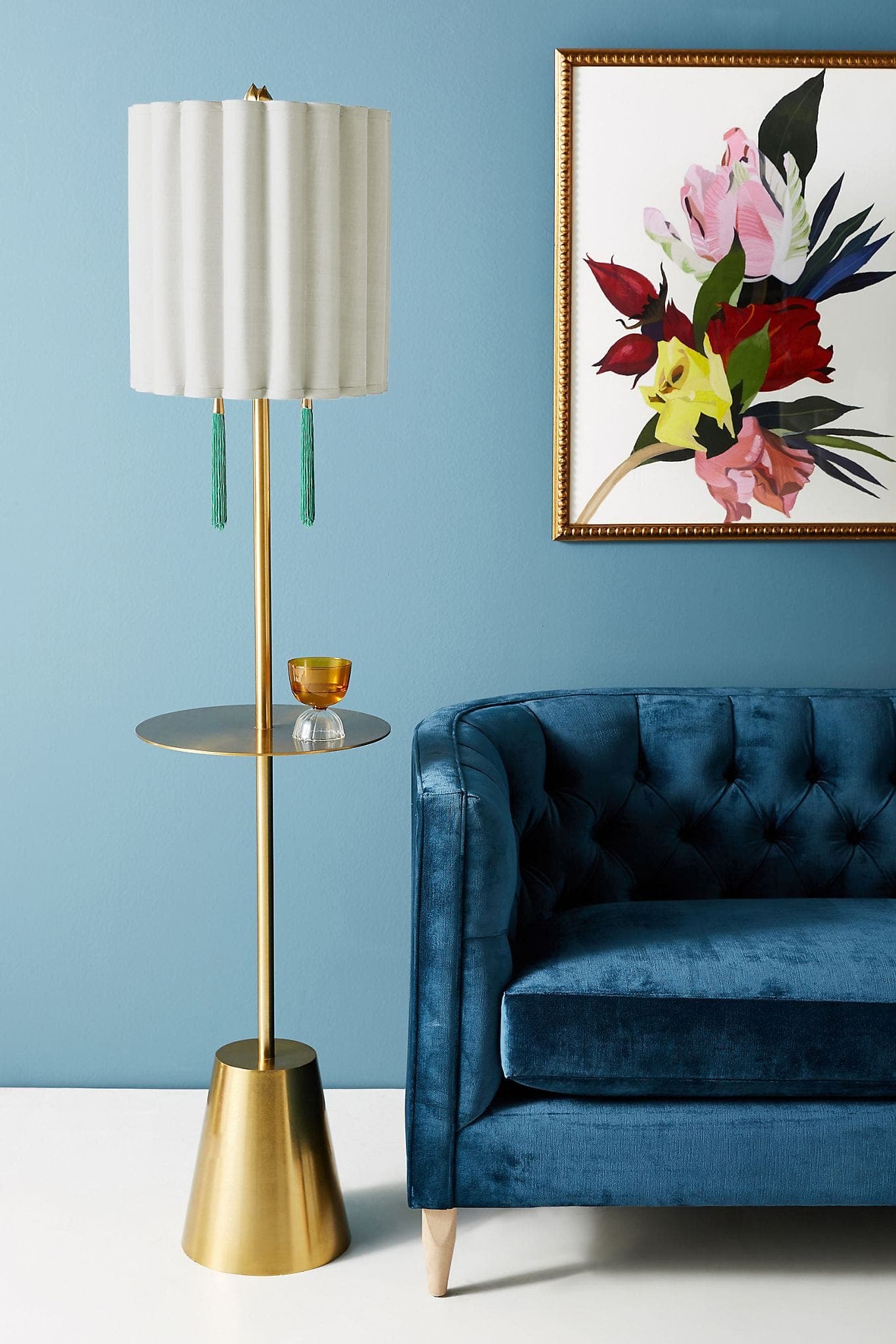 The Dorrette floor lamp by Anthropologie is the perfect mix of fun and functional. With a modern take on a classic design, this tall floor lamp also functions as a side table, so it's ideal to have next to an armchair or sofa.
The shade features scalloped curves, and Emerald green tassel pulls to turn the lamp on and off. It's tricky to find a good looking living room floor lamp that also has a built-in table, but this one ticks all the boxes!
Laussat 34″ Tree Floor Lamp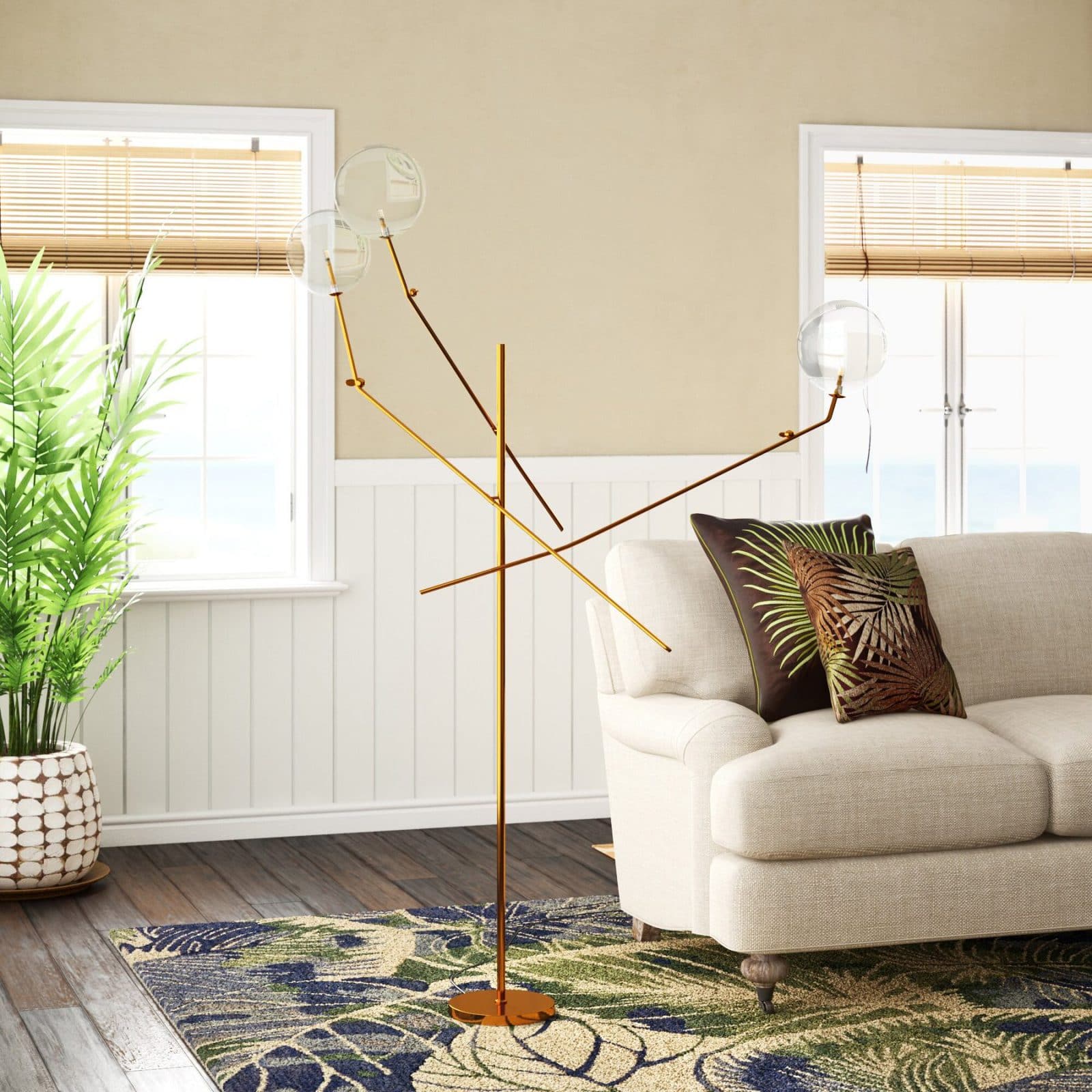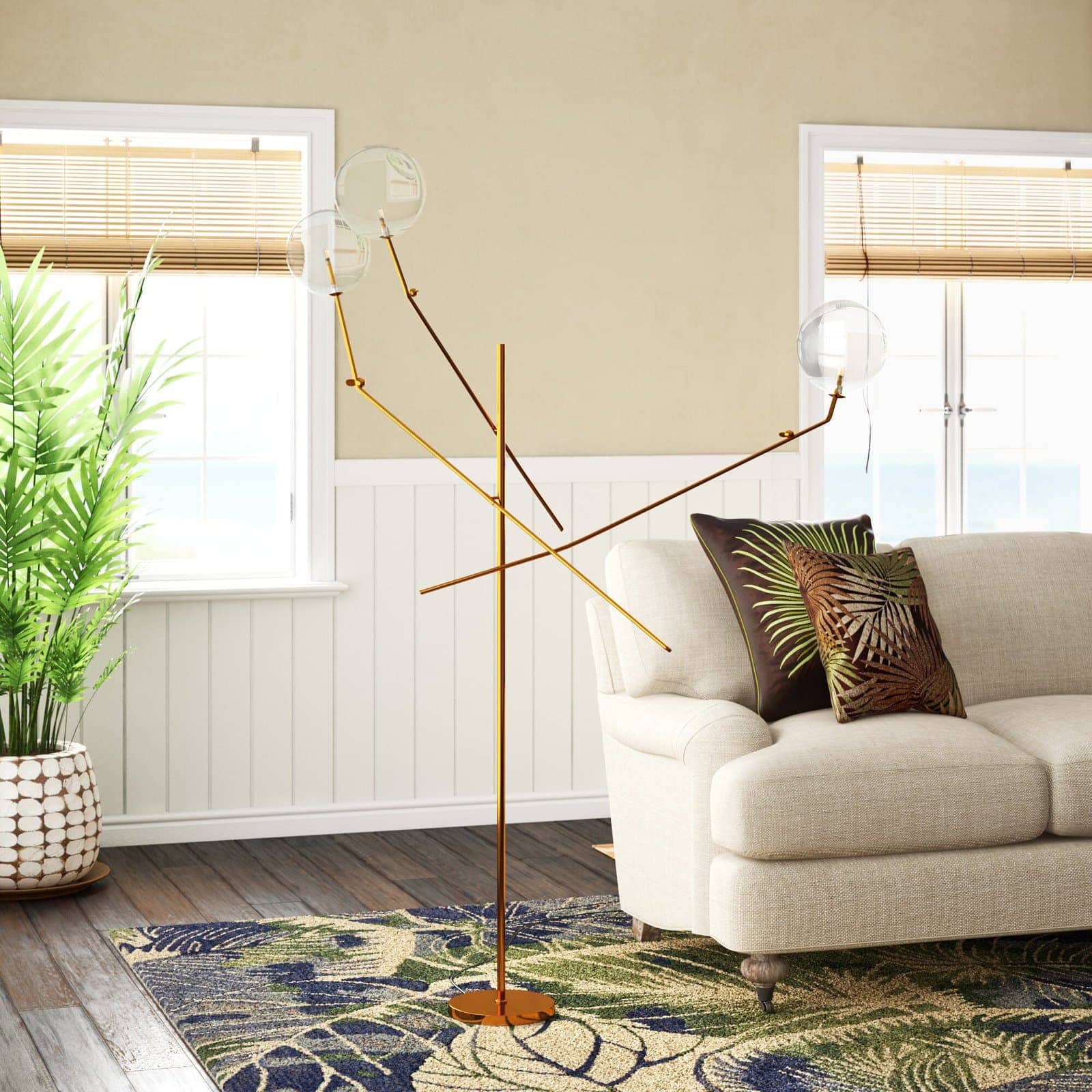 This contemporary floor lamp features a unique design with three tree-like 'arms' which each hold a bulb within a domed glass shade. Each arm is on a hinge with a joint in the centre, so it's fully adjustable and you can manipulate the angles depending on where the lamp is standing and what works best for your room.
This lamp is a real statement piece, and a worthy investment if you are looking for a unique floor lamp for your home!
Coastal Living Ebony Accordion Floor Lamp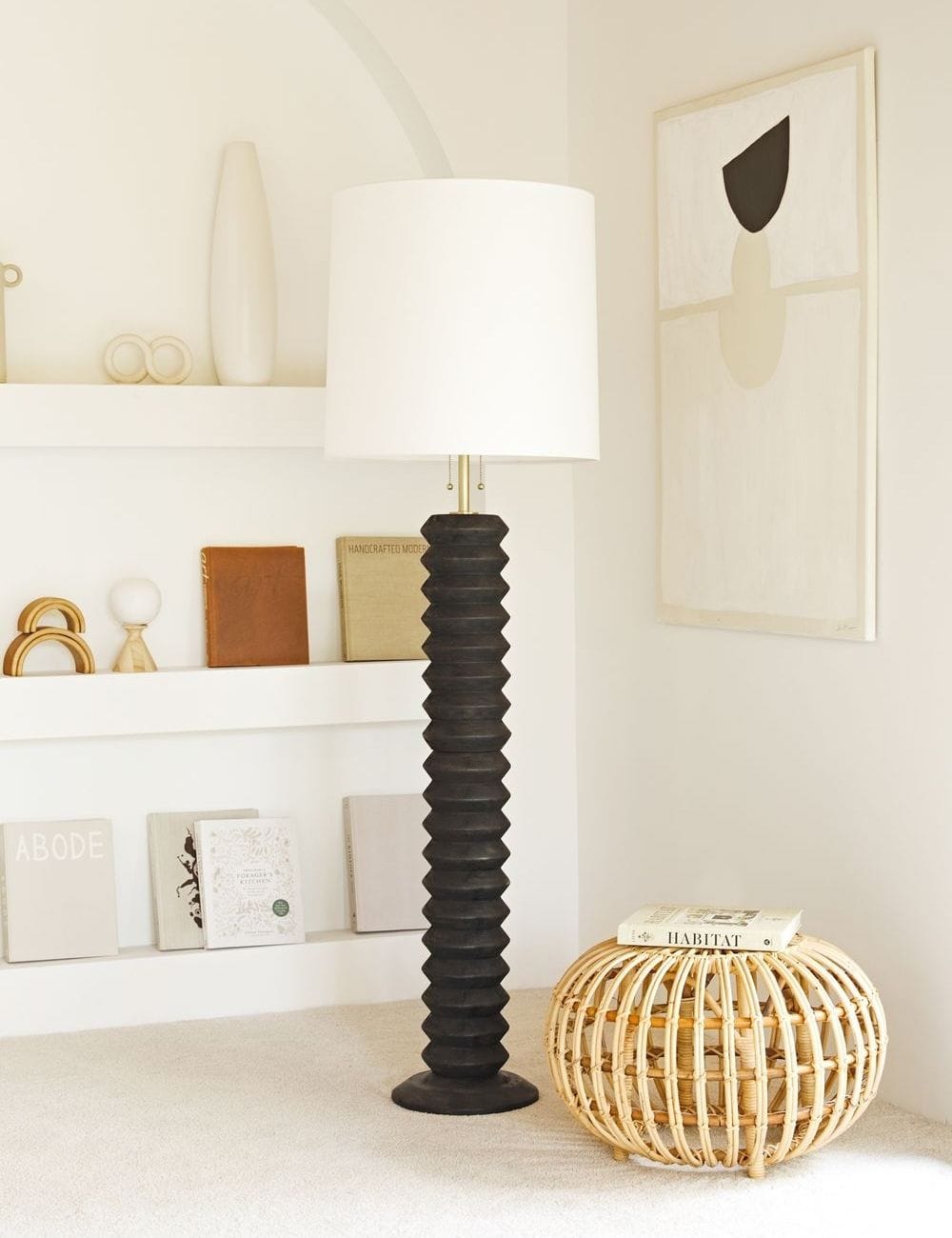 This striking floor lamp has a sophisticated coastal charm to it, and would work equally well in a living room or bedroom. The chunky stand is carved from Paulownia wood with an ebony finish, and the shade contrasts beautifully in a light natural linen color.
The natural materials of this lamp and unusual design work together to create a bold and memorable piece that is practically a work of art in itself.
Cecelia 64" Floor Lamp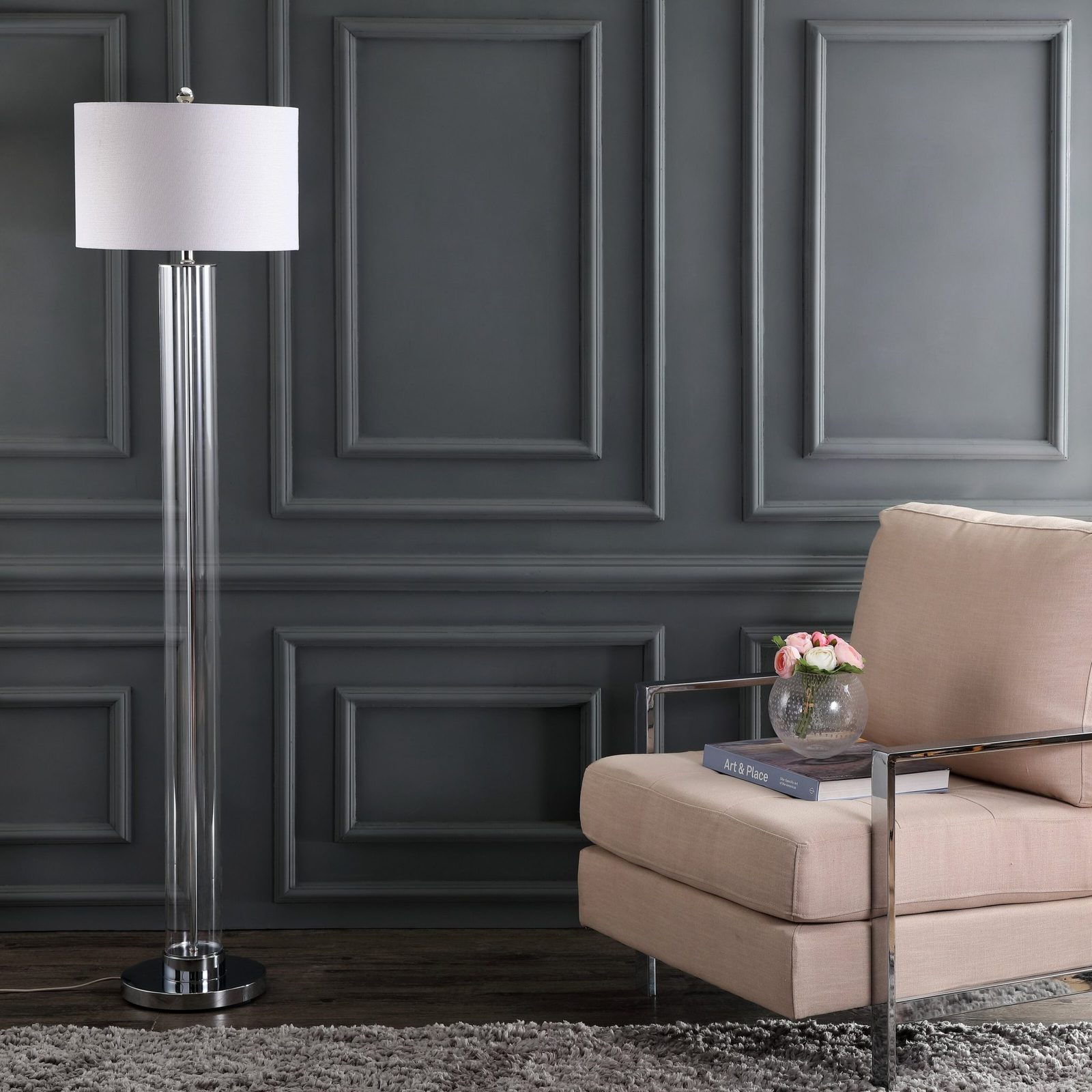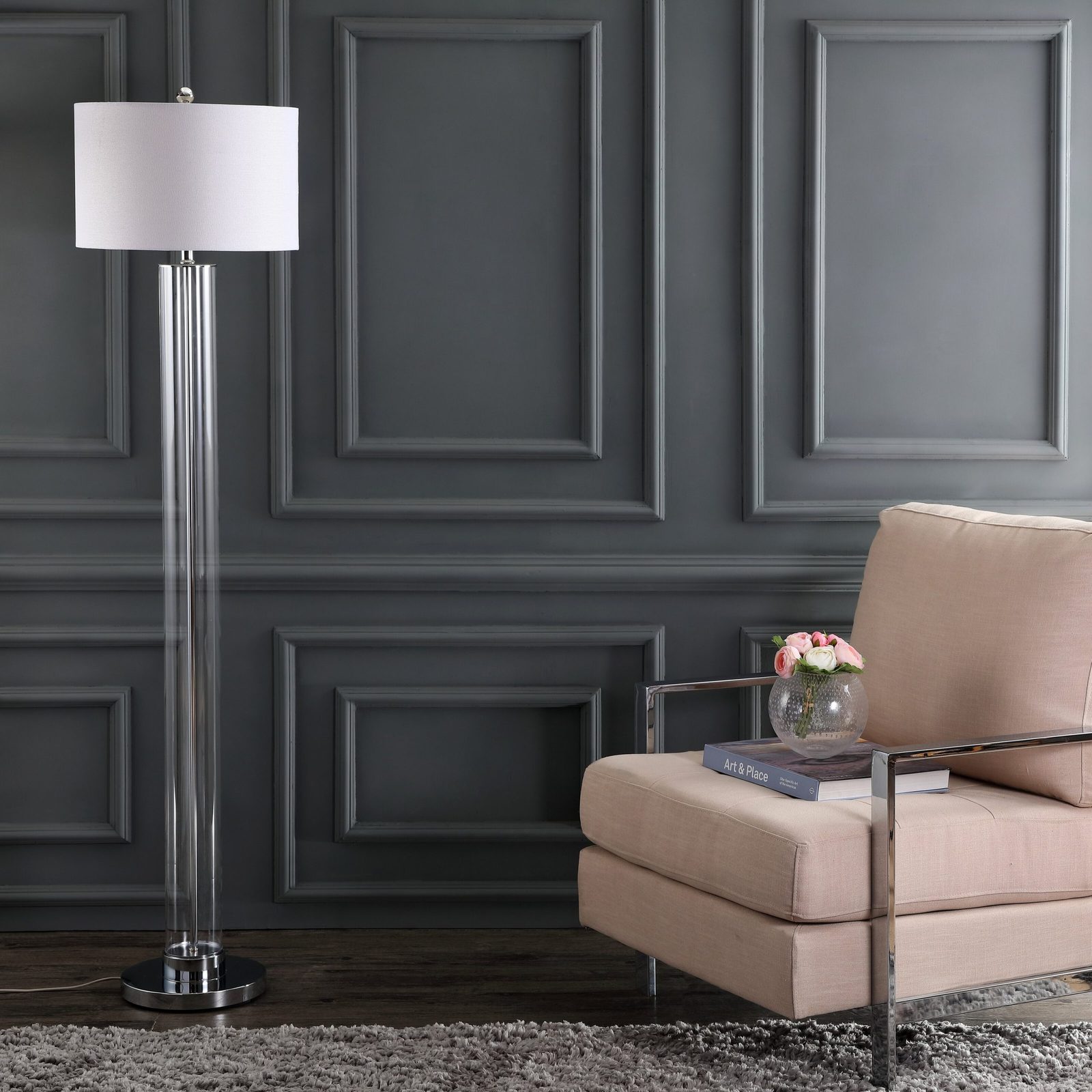 The Cecelia floor lamp by Joss & Main is a stunning choice, with a sleek, contemporary design crafted of glass and iron that has been treated to give it a chrome finish. This lamp would look great in both traditional and modern interiors.
The sturdy glass tube which houses the body of the lamp gives it an unusual and elegant look, and the lightweight cotton shade sits on top filtering the light to give out a soft glow.
Hana Floor Lamp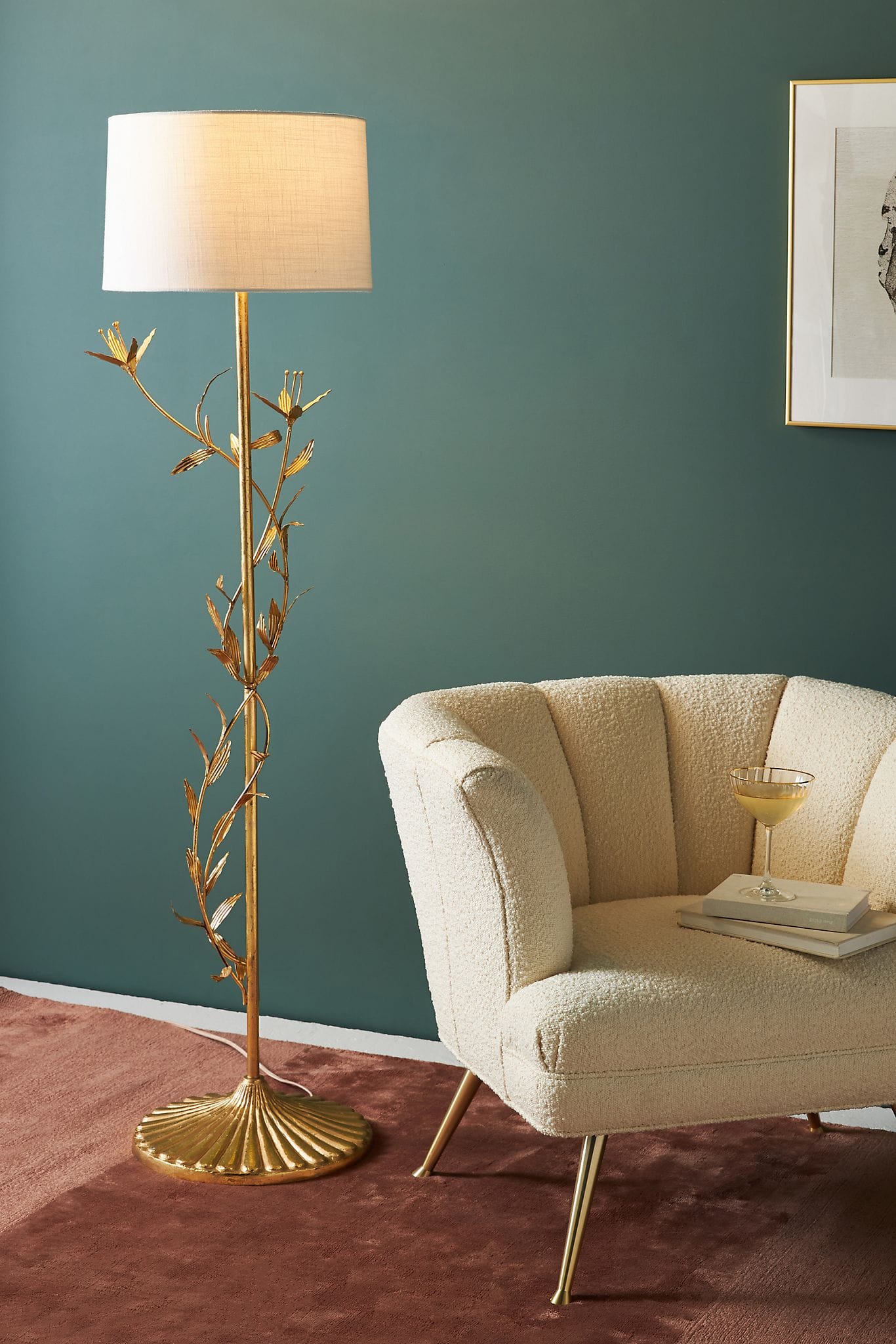 The Hana floor standing lamp is perfect if you want to add a touch of feminine elegance to your home. It features a sculptural base of gold leaves and flowers, with a heavy art deco style base and a linen drum shade.
This is ideal in a living room as it provides a soft diffused light, perfect for evenings at home on the sofa!
Areswell 63" Floor Lamp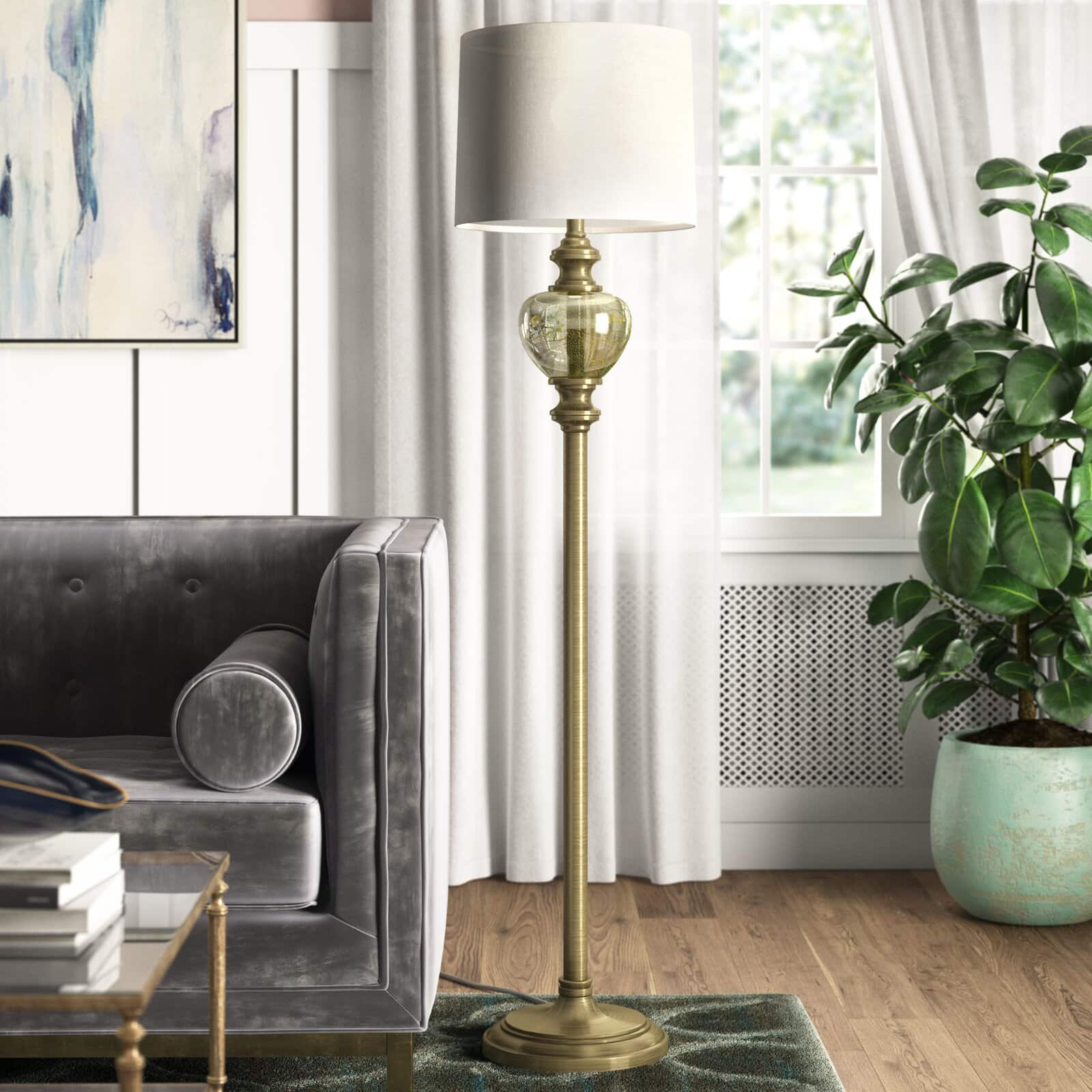 This elegant floor lamp is a modern take on a traditional design, featuring a shapely base with a crackled glass font with a gold finish. A round drum shade gives this lamp a fresh modern look, creating the perfect balance between traditional and contemporary design.
It has a three way switch, allowing you to easily control the amount of light depending on your mood. The neutral and gold coloring of this lamp mean it will work with most color schemes!
Marcel Floor Lamp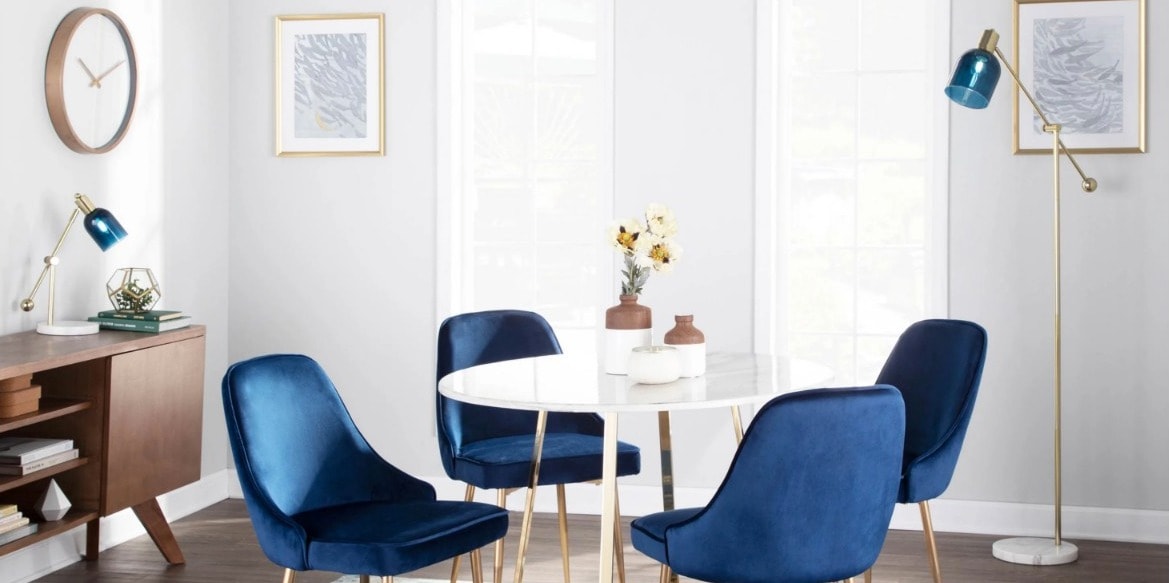 If it's style and simplicity you're after then you will want to check this one out. With a blue glass shade on a sleek gold stand, and a white marble base, this trendy floor lamp would be a great addition to any modern apartment!
It's also a great option if you're looking for a cheap floor lamp, as it's low in price without compromising on quality or style. It's also one of the best floor lamps for reading since the angle can easily be changed according to your needs.
Tristin 75" Floor Lamp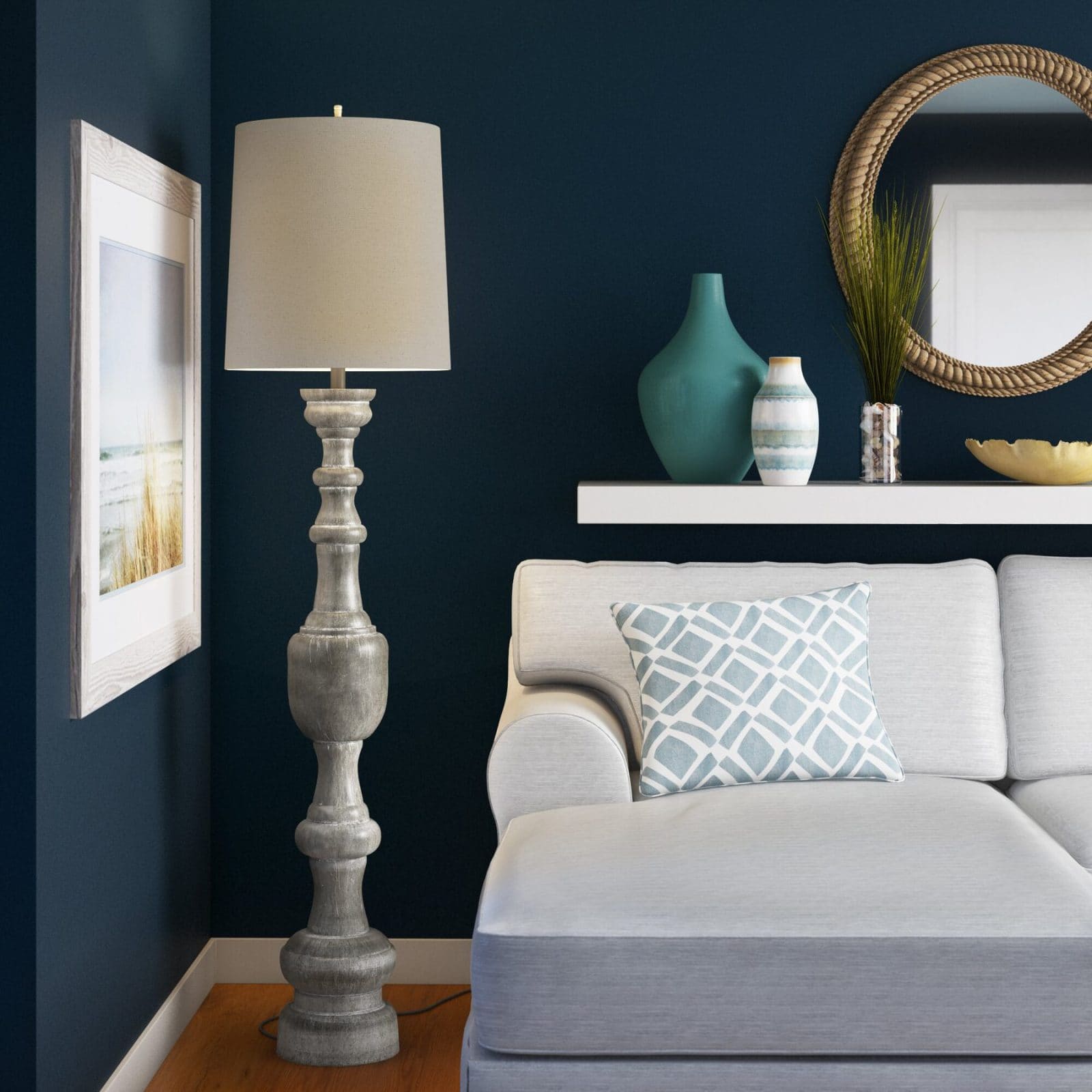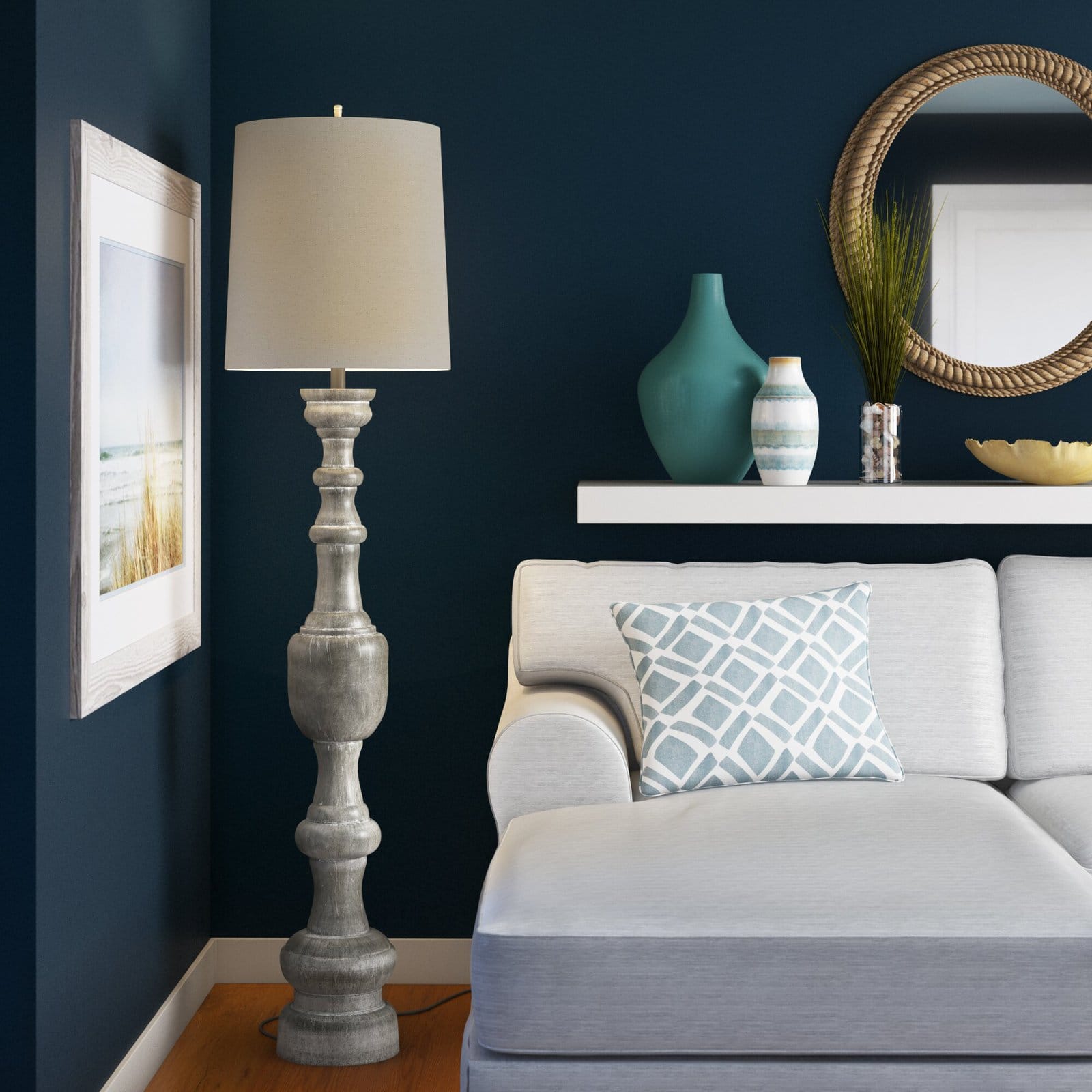 This sturdy floor lamp features a manufactured wooden base inspired by sculptural pieces. This lamp is huge, and will be sure to make a statement in any room with its unusual artful design and deep linen drum shade.
The mixture of wood and linen, along with a natural color palette lends itself to nautical inspired interiors, or anywhere where you want to achieve a stylish, yet relaxed look.
Safavieh Georgiana Floor Lamp in Gold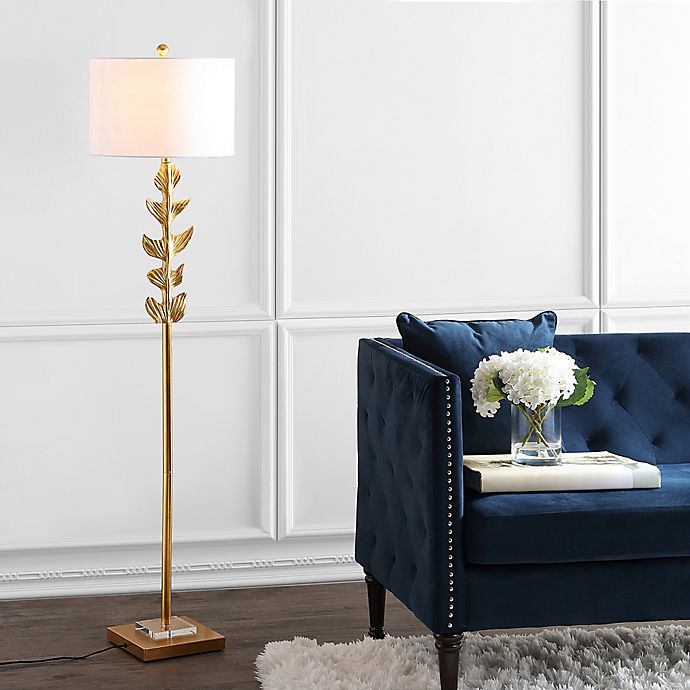 A bold leafy design on a gold stand will bring a touch of chic botanical charm to wherever you place this gorgeous lamp. This bright floor lamp is ideal for use in a living room, as it also serves as an eye catching statement piece with its almost sculptural design.
This lamp takes LED bulbs, and is one of the best LED floor lamps you can find. It also has a foot switch for ease of use.
Leos 59" Tripod Floor Lamp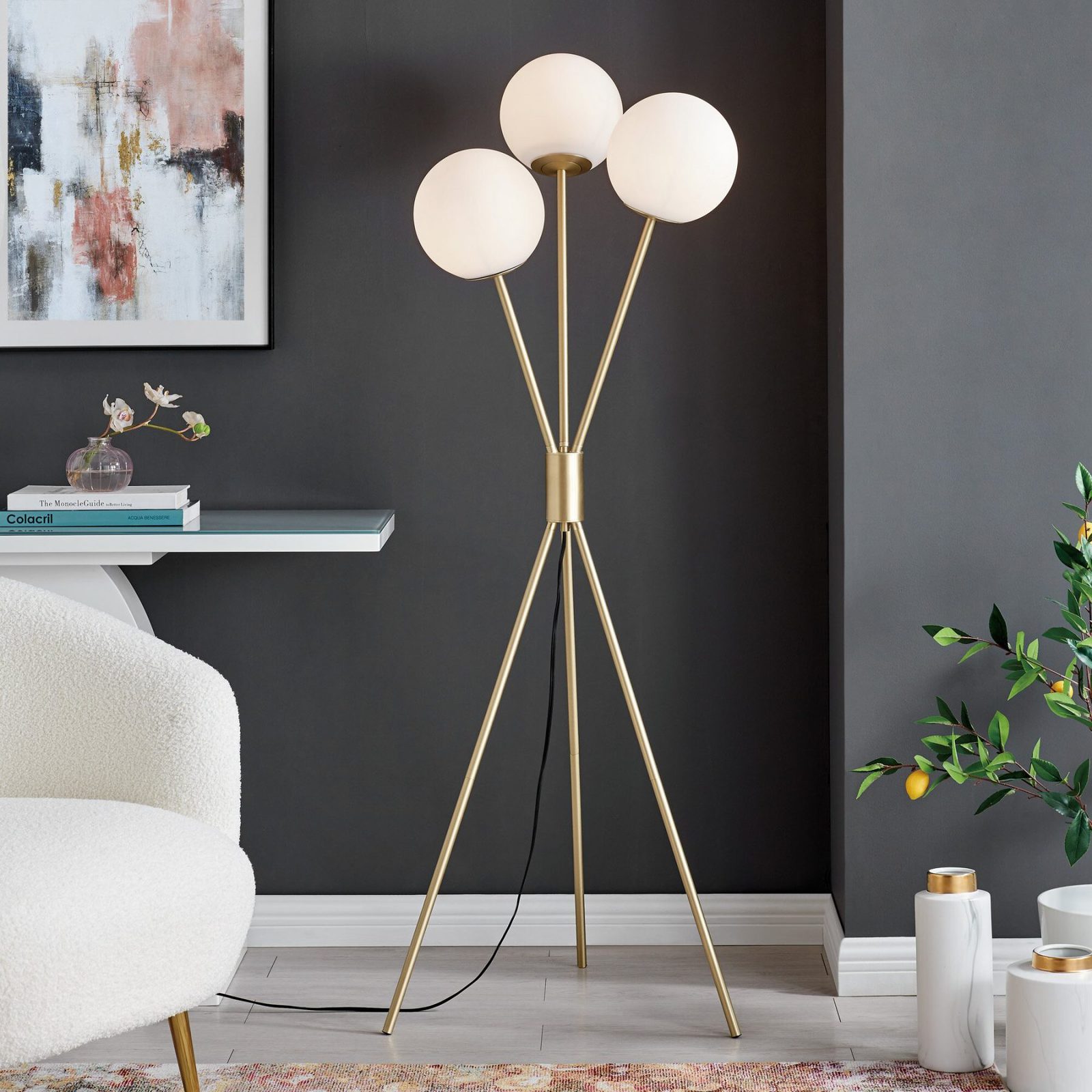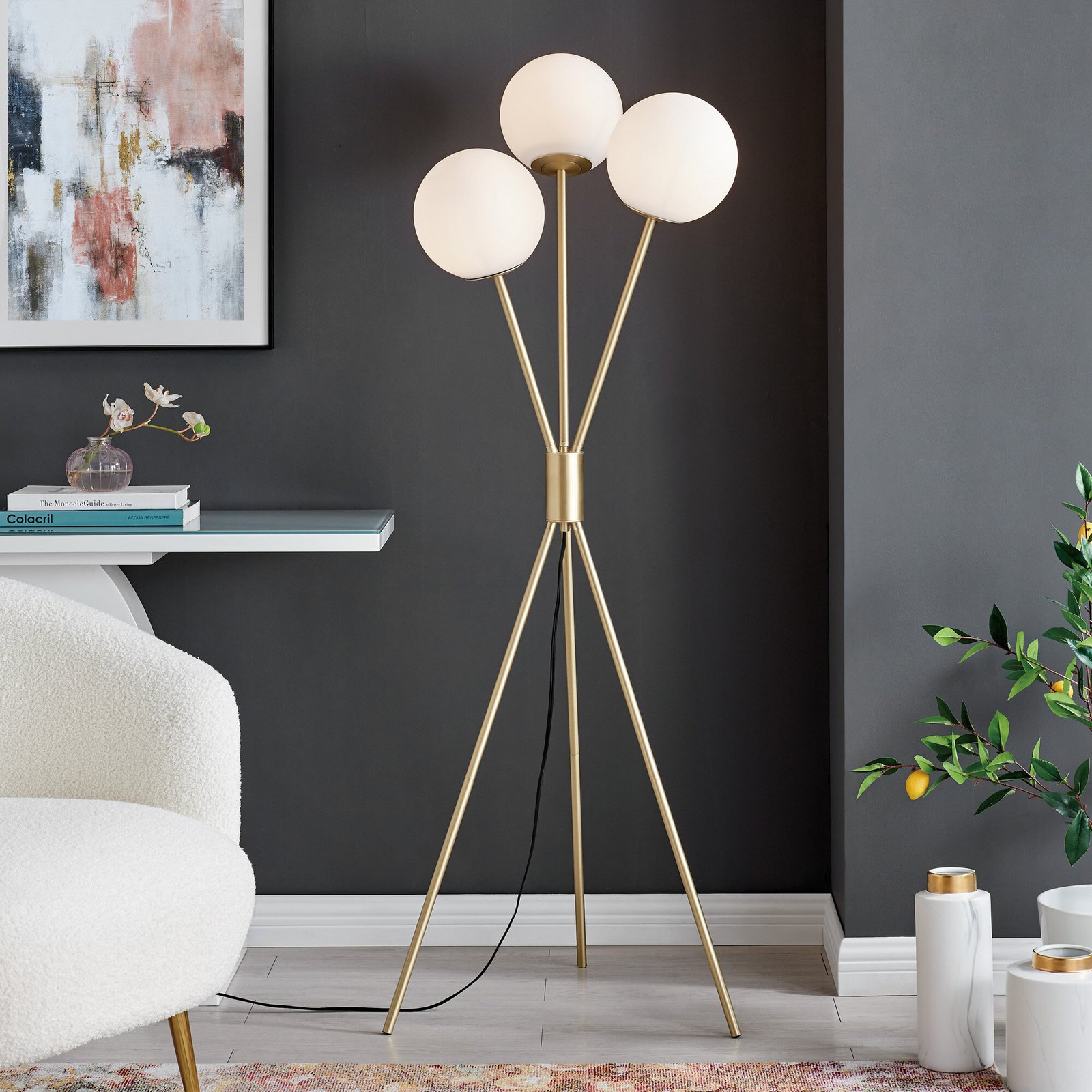 This stylish floor lamp would look great in any modern interior! Featuring three beautiful round glass shades, each on a gold baton with a tripod base, this floor lamp has distinct art deco vibes.
There is a choice of smoked or clear glass for the shades, depending on whether you want to lean towards a slightly industrial look with exposed bulbs under a clear glass shade. Either way, this stunning light will be the perfect finishing touch to your living room!
Mulberry Tripod Floor Lamp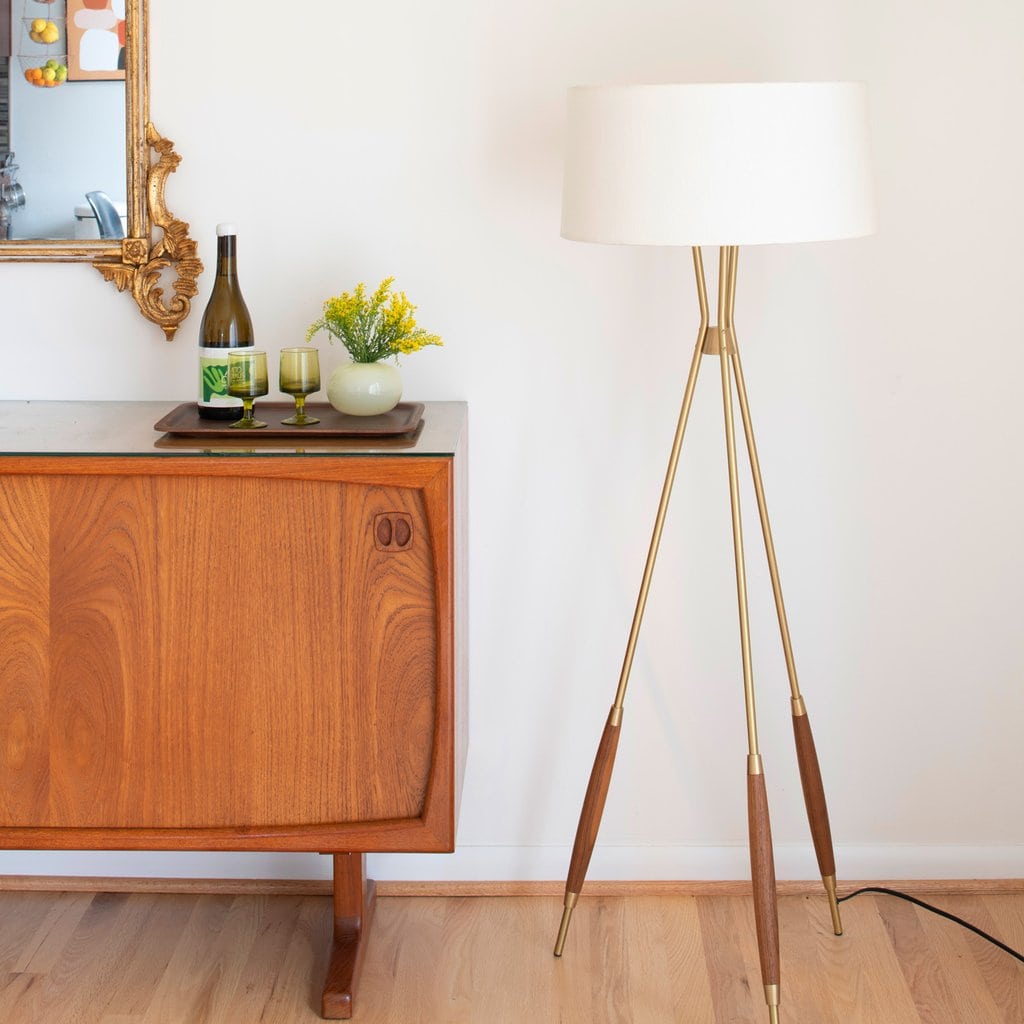 It's the detail in the tripod legs that stands out in this gorgeous floor lamp. A simple prevalent design given the School House treatment. The legs are hand-turned solid walnut with cast brass detailing and certainly draw the eye.
The sleek fabric shade above has a perforated diffuser on top, and a frosted acrylic diffuser below to give a subtle warm glow. Like all SchoolHouse Lamps this is handmade in the USA.
Leyden 70″ Torchiere Floor Lamp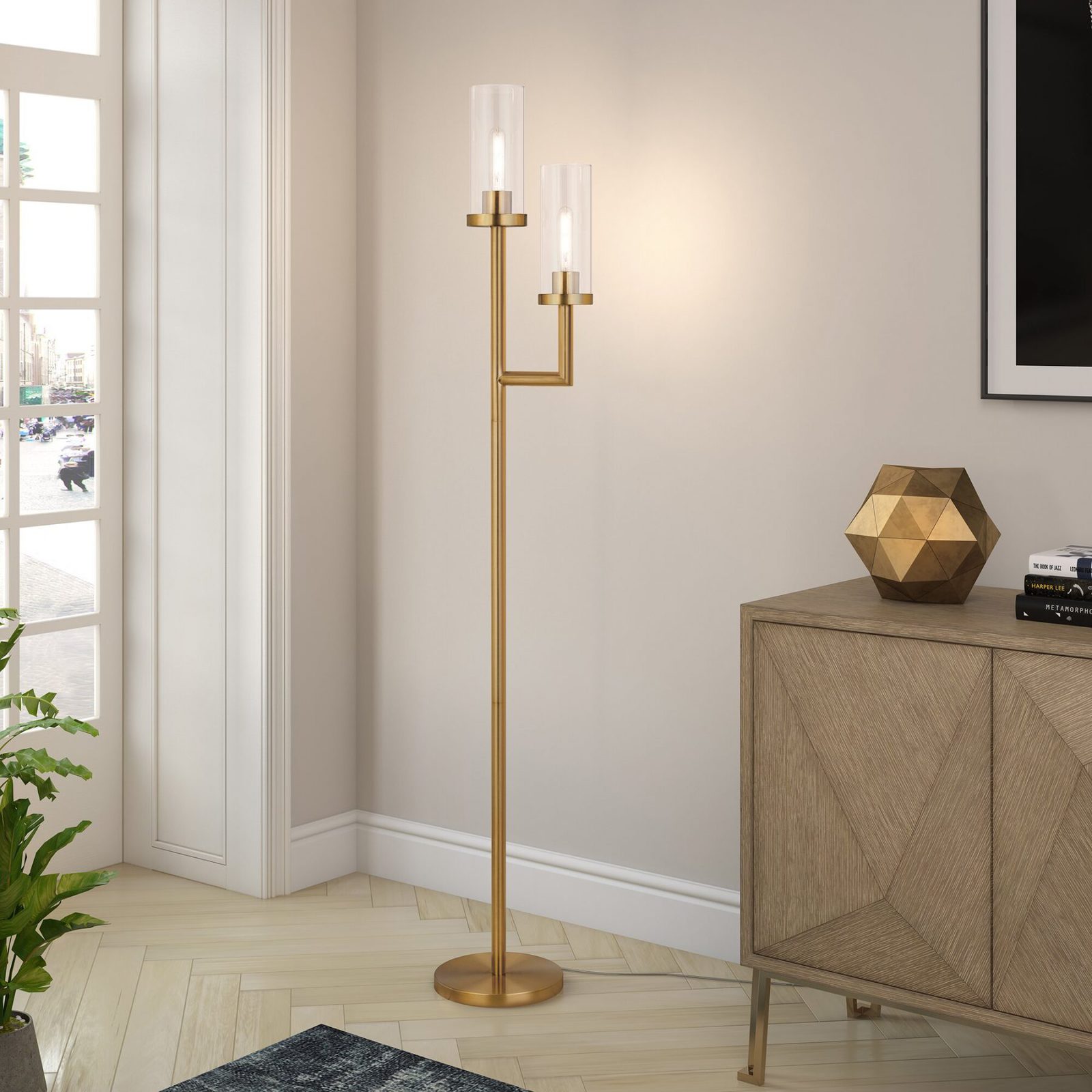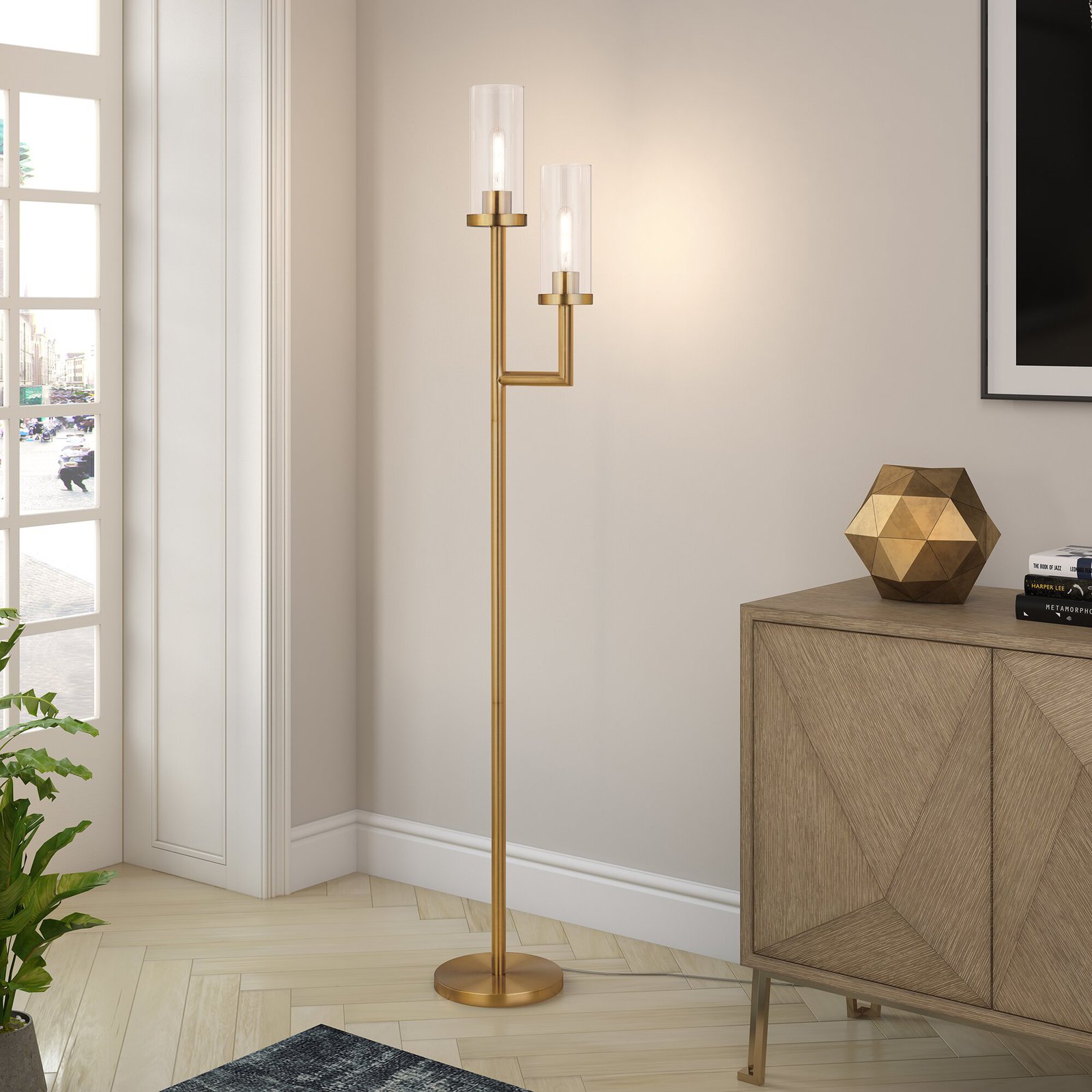 This chic floor lamp is the perfect mix of industrial and sophisticated. With a bronze finish, and sharp angles, this floor lamp manages to be both understated and unusual at the same time, with hand blown shades on each bulb giving it a sleek finish.
Since it has a small footprint and no bulky shade, this lamp is ideal for small spaces such as in a corner or behind a sofa.
Sadie 56" Arched Floor Lamp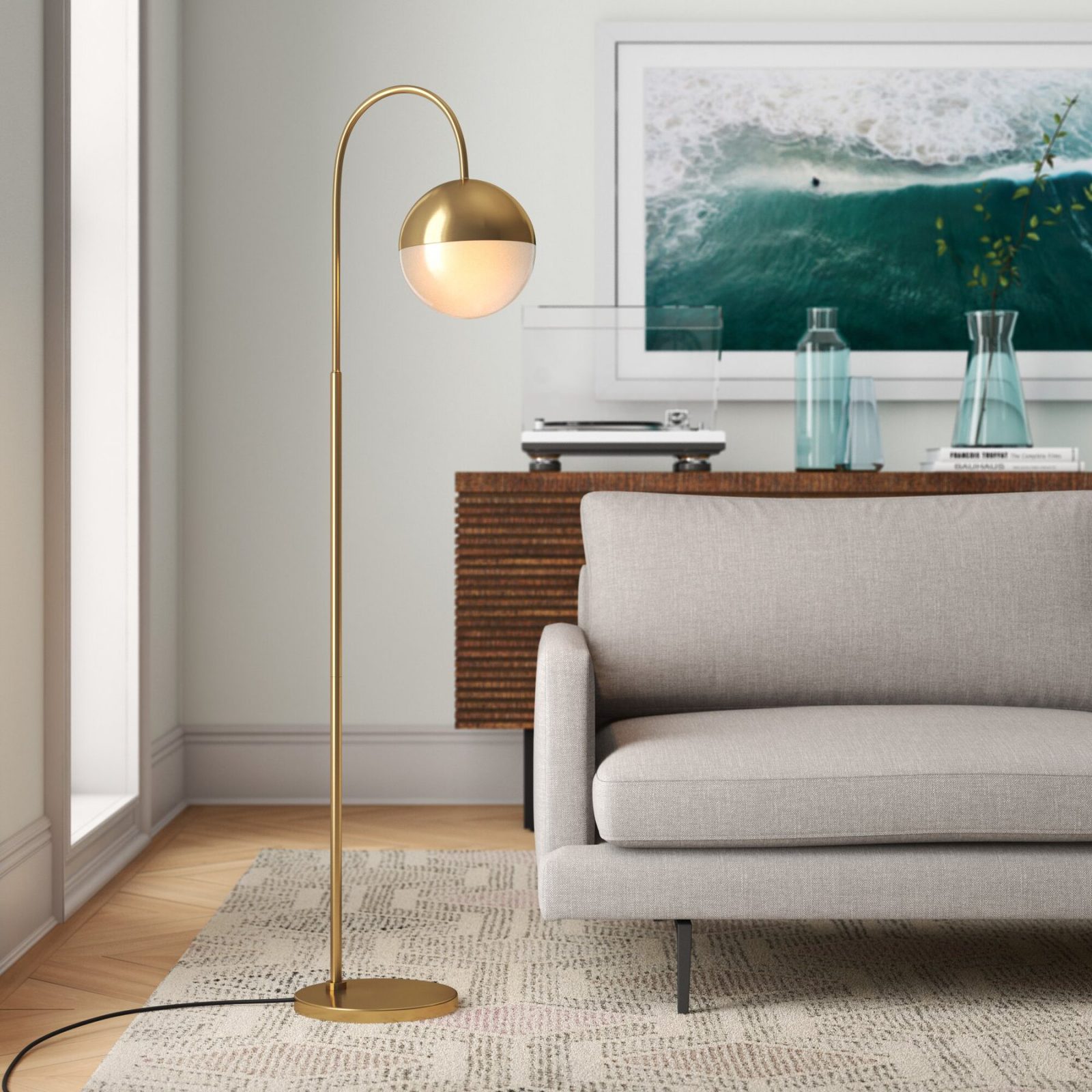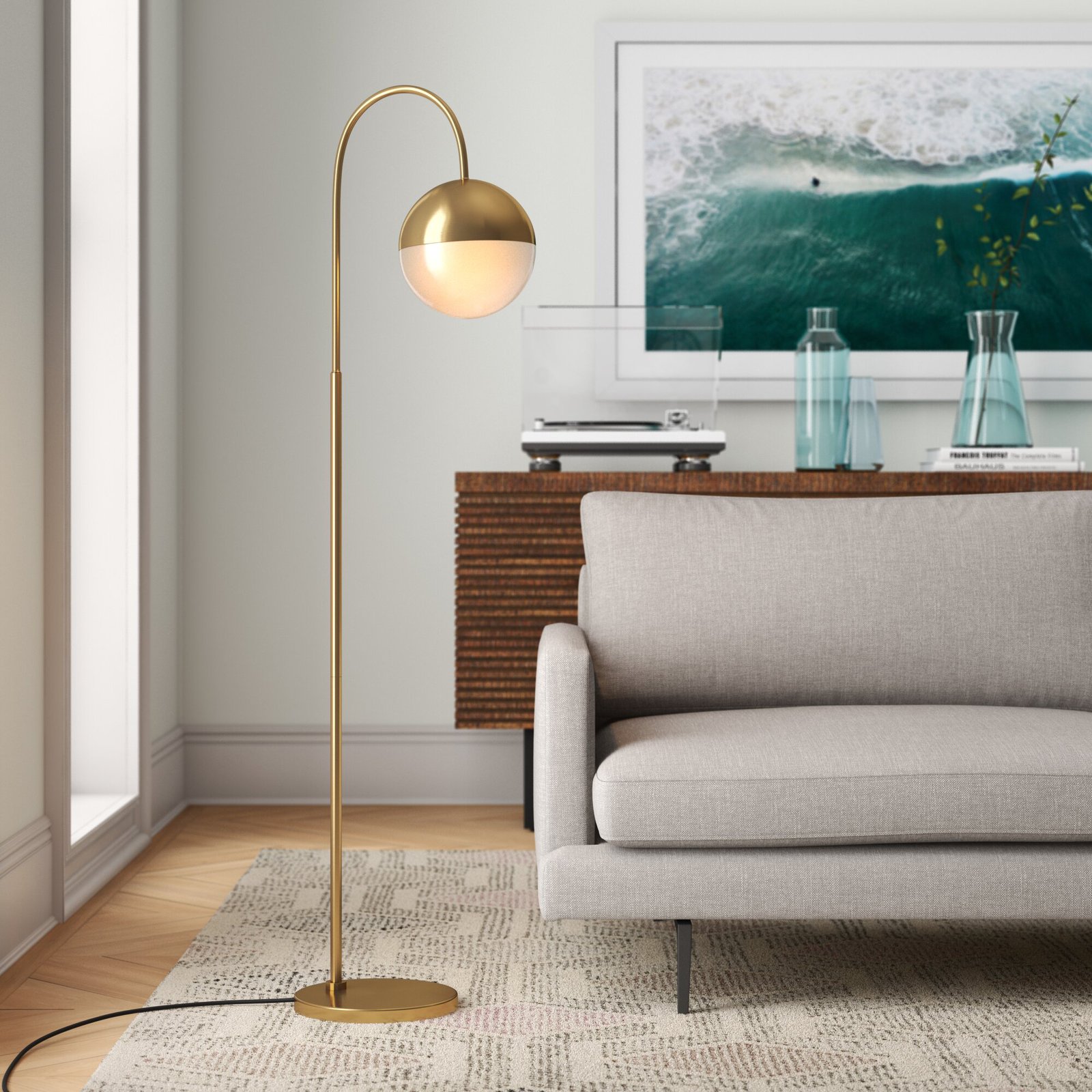 For a touch of mid-century modern style with a hint of feminine glamor, this arched floor lamp would look great in any modern interior. It has a white acrylic shade which diffuses the light beautifully, giving your room the perfect atmospheric glow.
While the arched design is ideal for a living room, this would also be a perfect floor lamp for the bedroom, with its sleek design and warm glow.
Studio Floor Lamp in Factory Black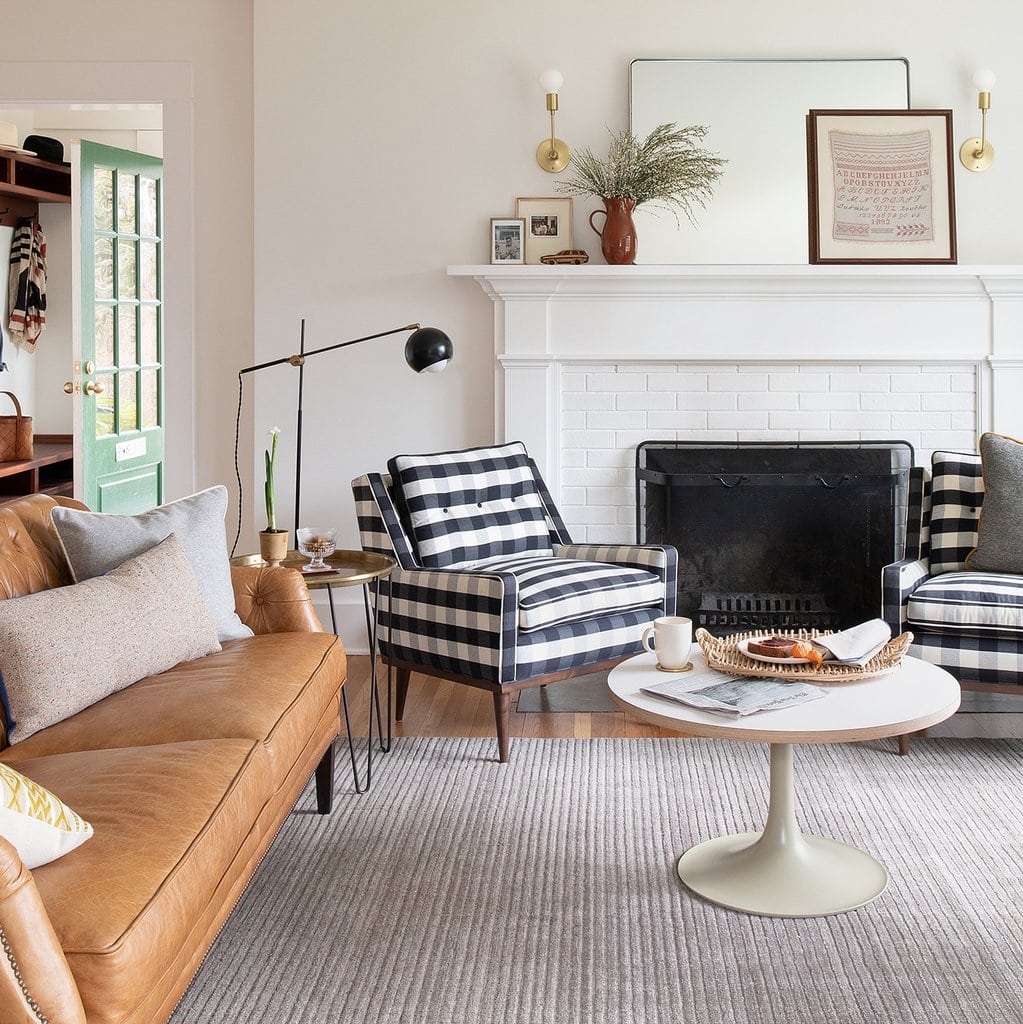 Elevated angles and a pronounced fulcrum make this a fine addition to your studio or industrial theme. The quality of the materials used is first-class, note the brass swivels.
It's extremely functional, adjustable in all the required directions. The sturdy steel rods and cast iron base will ensure none of the swaying frailty that some of these designs are guilty of. We think you'd agree this is a great example of the classic mid-century design.
Glamorous Feather Floor Lamp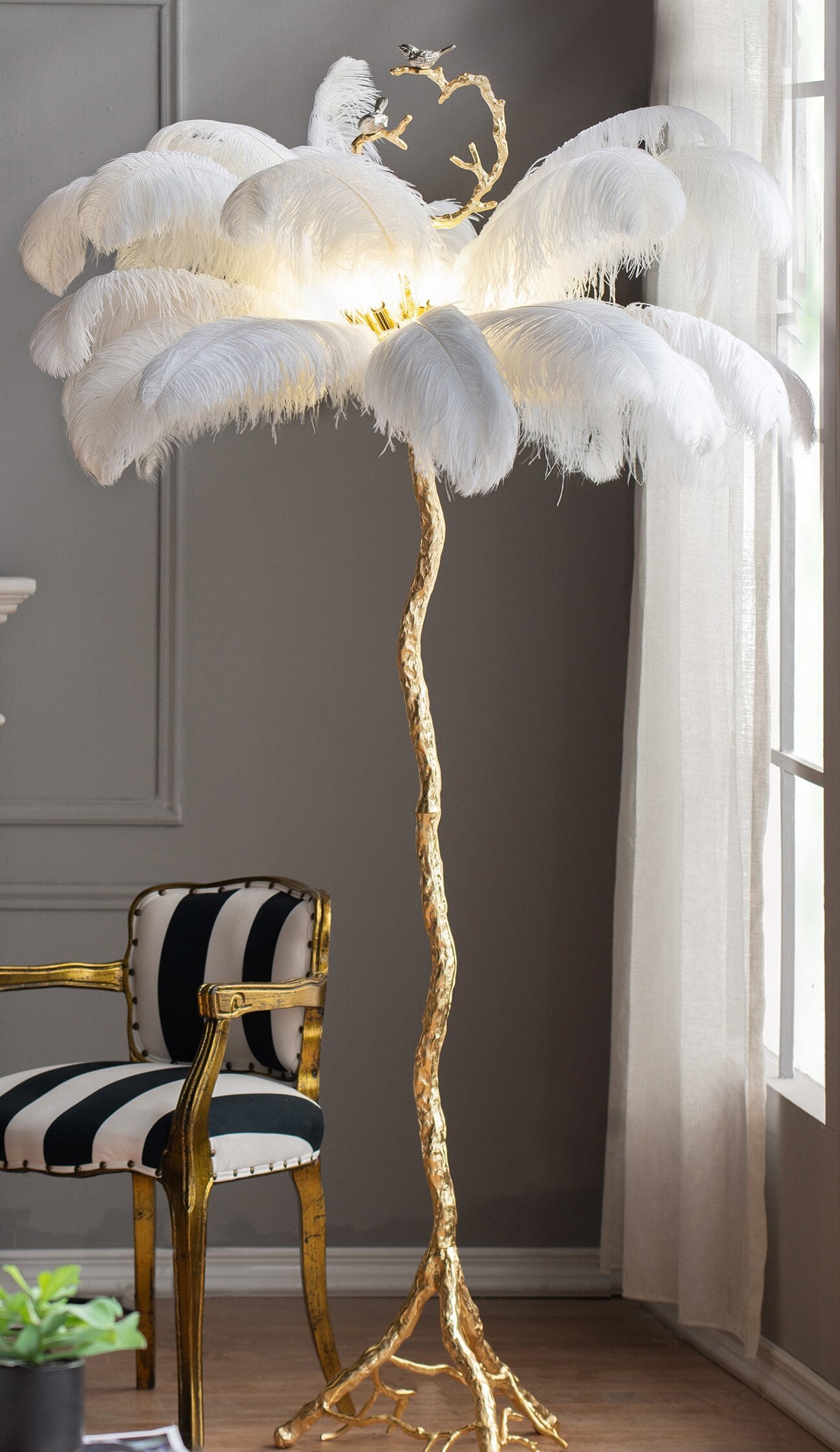 For something truly unique, check out this feather floor lamp. On a gold twisted branch base, this lamp has a plume of beautiful white feathers as a shade which gives the impression of leaves or palm fronds, and diffuses the light beautifully.
This showstopping piece is a true work of art, and would be ideal in an entrance hall or living room where it can make an impression on anyone visiting your home!
Brokaw Gold Task Floor Lamp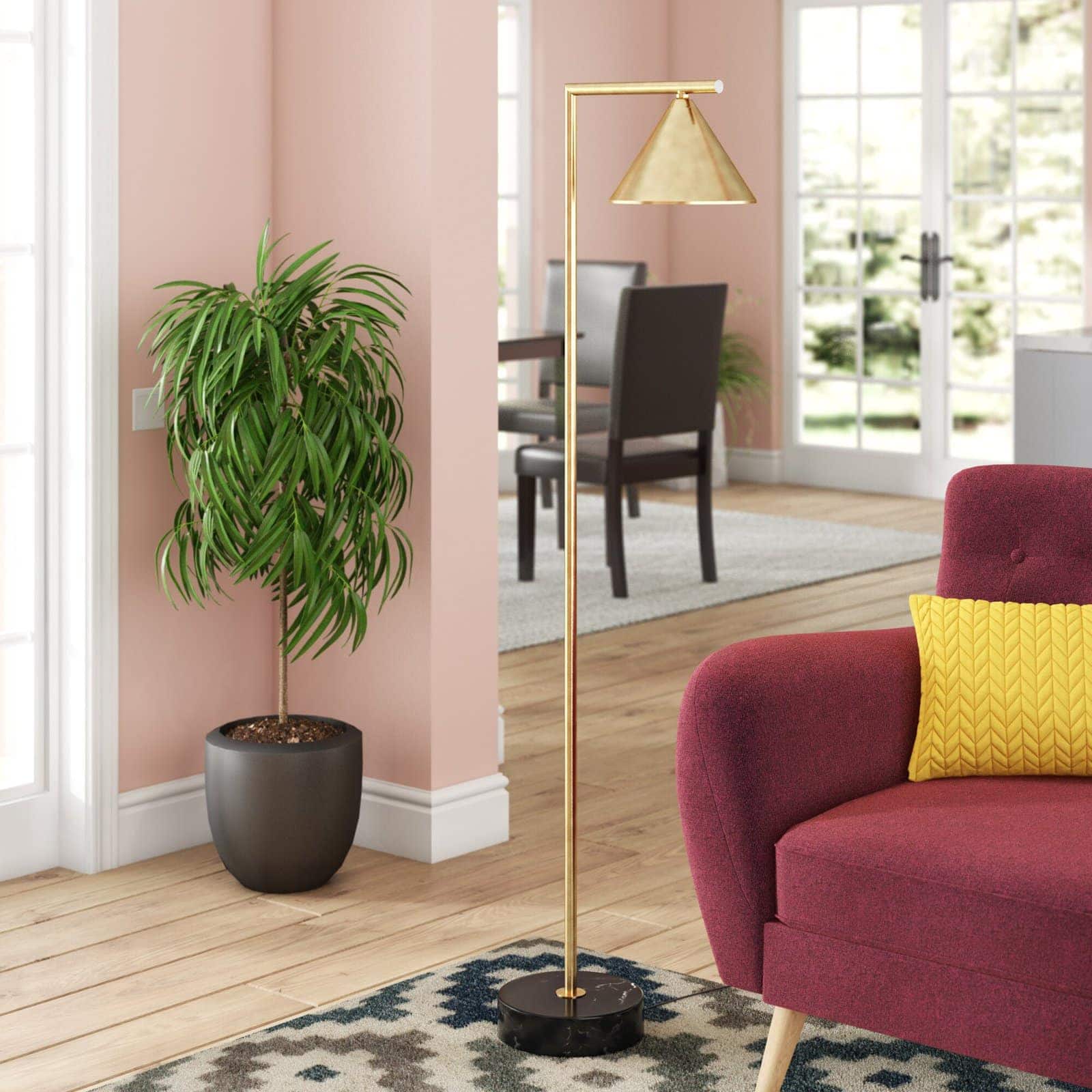 Sophisticated and glamorous, this gold and black marble lamp features a sleek body with a cone shaped shade, built on a sturdy marble base.
This high quality floor lamp is well made and sturdy, so you won't have to worry about this piece toppling over easily, and due to its shape and design it would fit nicely into a corner or in a small area beside a sofa or armchair.
Donna Polished Aluminium Floor Lamp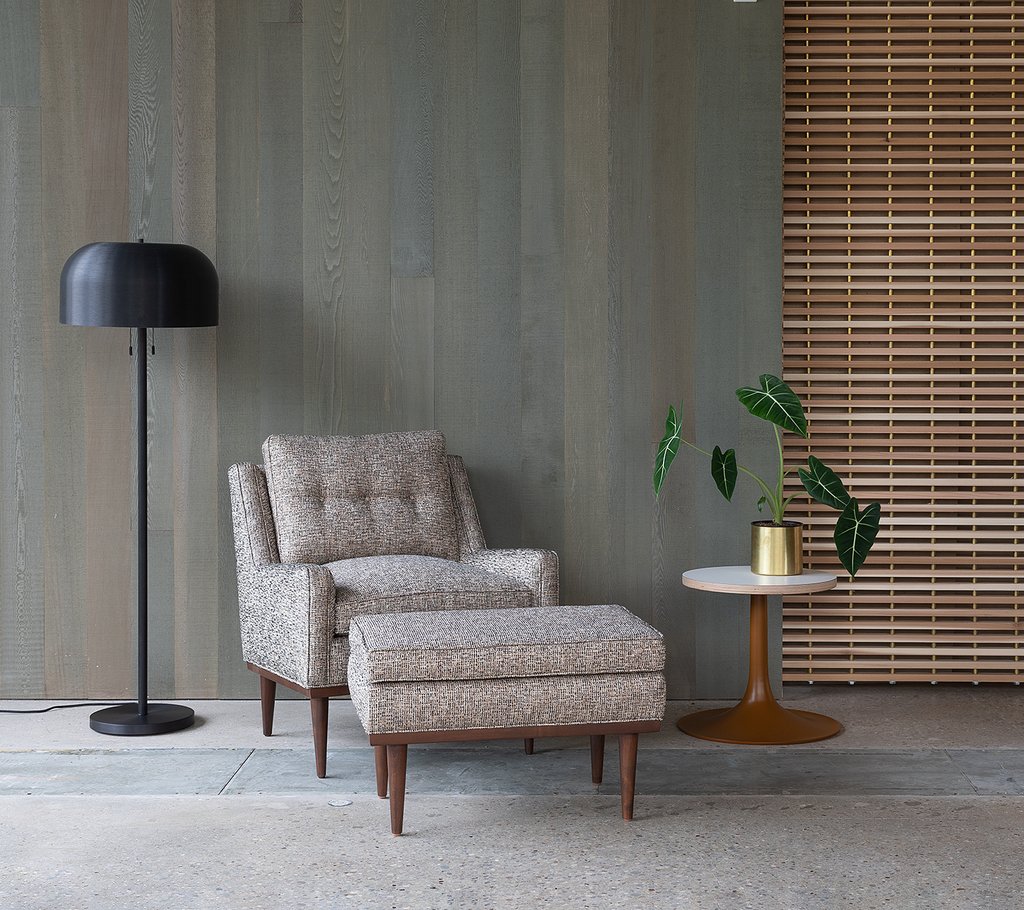 This piece boasts a striking silhouette to give a hint of vintage Italian class and sophistication. The mushroom-shaped shaded is crafted from hand-polished, heavy gauge aluminium, so it's built to last and sure to please.
The interior is white-painted giving a gorgeous soft glow illumination, and there are two metal chain-pulls for adjustable intensity. Combined with that stunning mirror-finish this will suit your Mad Men inspired mid-century decor. Pull up a chair and pour a deep glass of bourbon.
Pelham Floor Lamp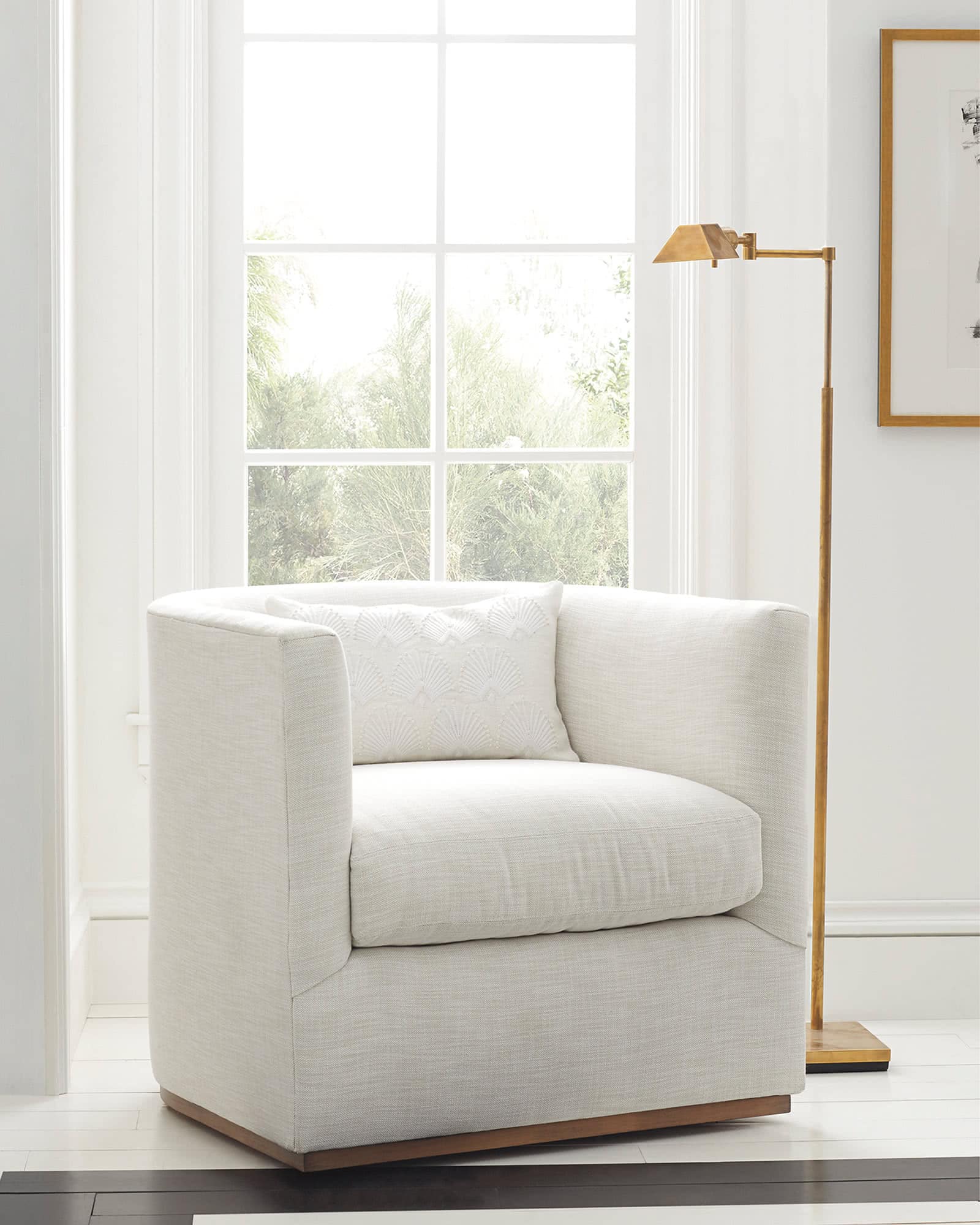 The crisp angles on this charming lamp are sleek and understated. The arm swings to illuminate your favourite reading chair in style, and the hand-rubbed antique brass which accentuates its premium appeal.
This lamp would add a refined accent to a room with a white or ivory palette. It is also dimmable so you can mute it or boldly highlight its charms!
Mina Floor Lamp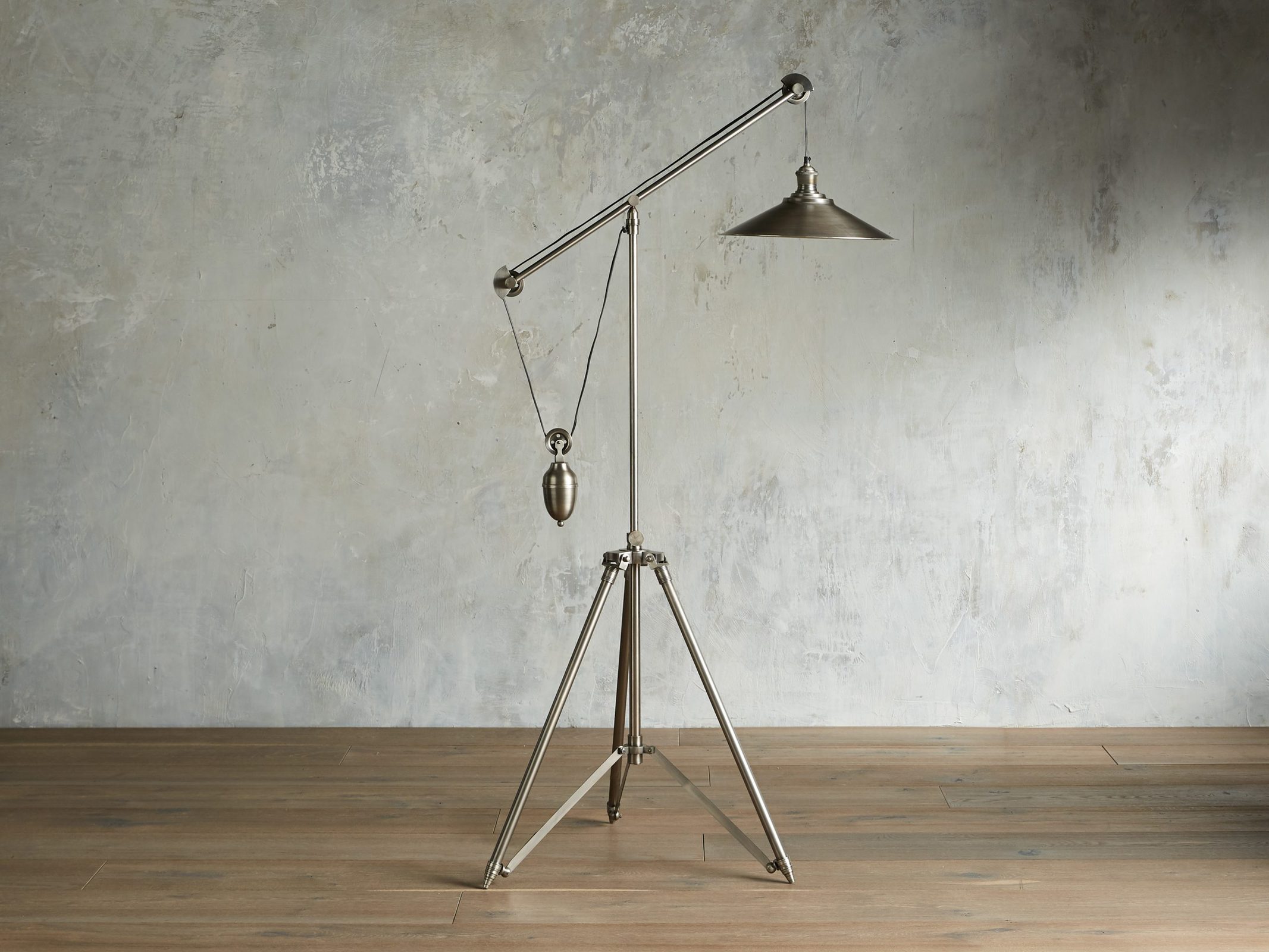 This lamp cuts a very striking pose. We think you'd agree it's quite a unique piece of craftsmanship! The stand out mechanism is the weighted pulley system which counterbalances the hanging lamp.
With a gorgeous gleaming nickel finish this is sure to catch the eye and make a stunning addition to your living space, and would look particularly good in an industrial style interior.
Springview Floor Lamp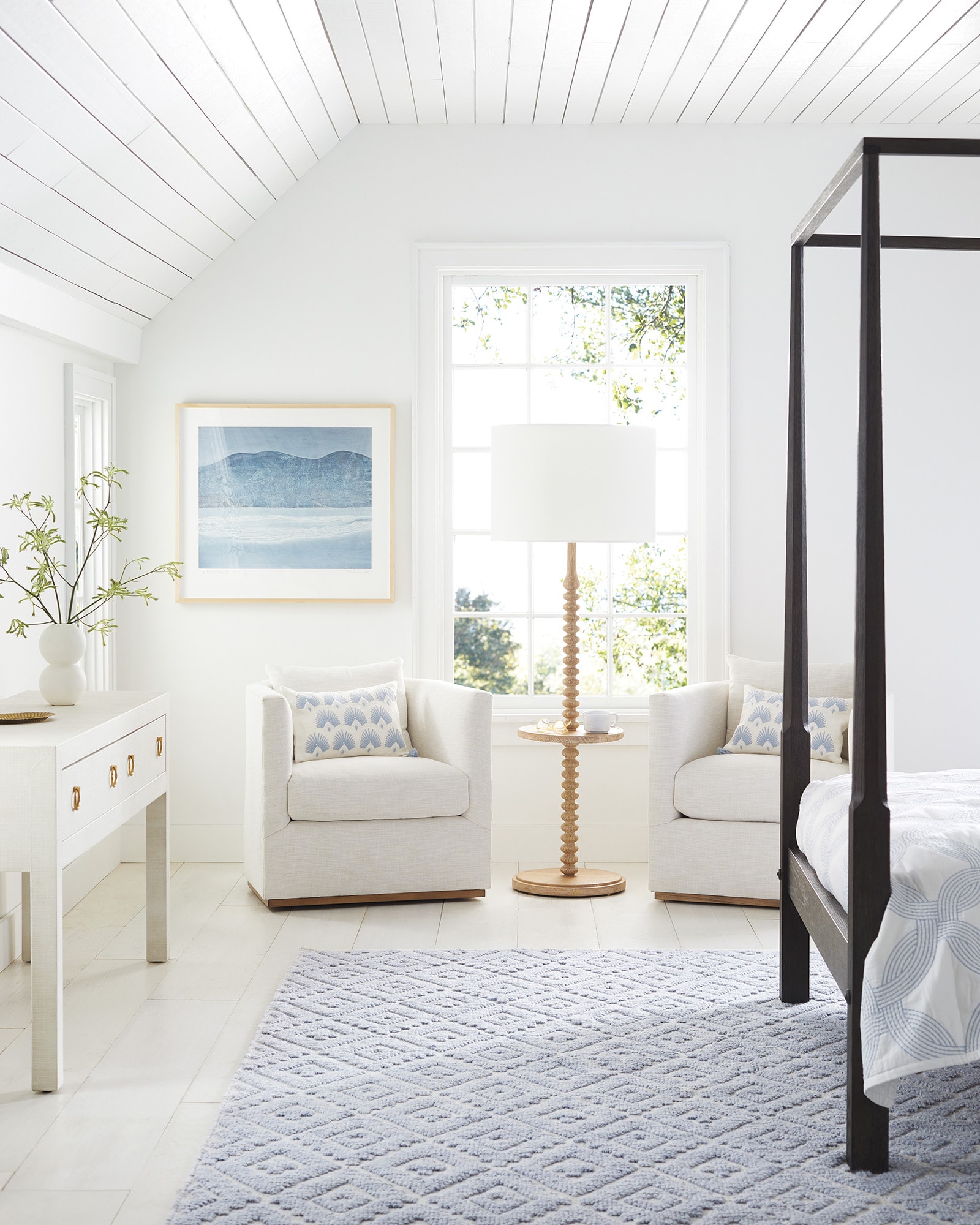 Bobbin or spindle furniture pieces were popular in the late 17th century, bringing ornamental flourish to everyday items. This superb floor lamp harks back to that style and era.
The cerused oak finish showcases the beautiful wood grain, with a white linen shade to give an overall neutral impression to suit most rooms. We absolutely love the ingenious built-in surface, very handy for your coffee or remote control!
To Sum it Up…
There are so many gorgeous table lamps to choose from, it can be hard to choose between them when you want to buy them all!
When you are choosing a floor lamp for your home, consider where it will be used. If it is intended for use between a couch (or another piece of furniture) and a wall, it's worth getting your tape measure out to check the width of the space to ensure it will fit the diameter of the lampshade. Some drum shades can be quite wide!
It's also worth considering what you will be using the lamp for. If you need it for reading as well as ambient light, you may want a lamp with an arm that you can move, or a dimmer switch.