Decorated Life is reader-supported. When you buy through links on our site, we may earn an affiliate commission. Learn More
27 Inspiring Mid-Century Modern Looks for Your Living Room
Mid-century modern is the classic style of the 1950s and 60s. It was born out of a desire to combine comfort, functionality, and art, and it's just as popular now as it was back then.
If you like the design and ideals of this style, then follow these decor suggestions to upgrade your living room. It will look like it belongs straight on the set of an episode of Mad Men—fusing trendiness and practicality.
Furnish with Low-Profile Pieces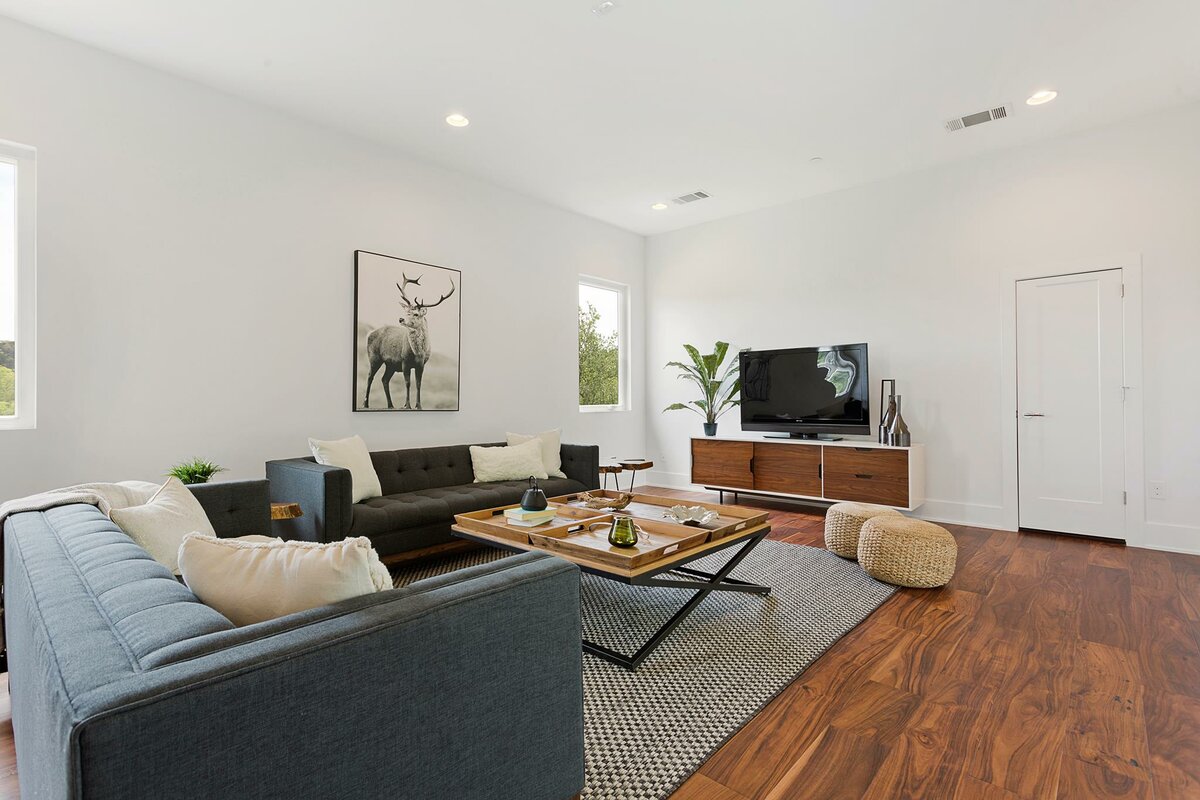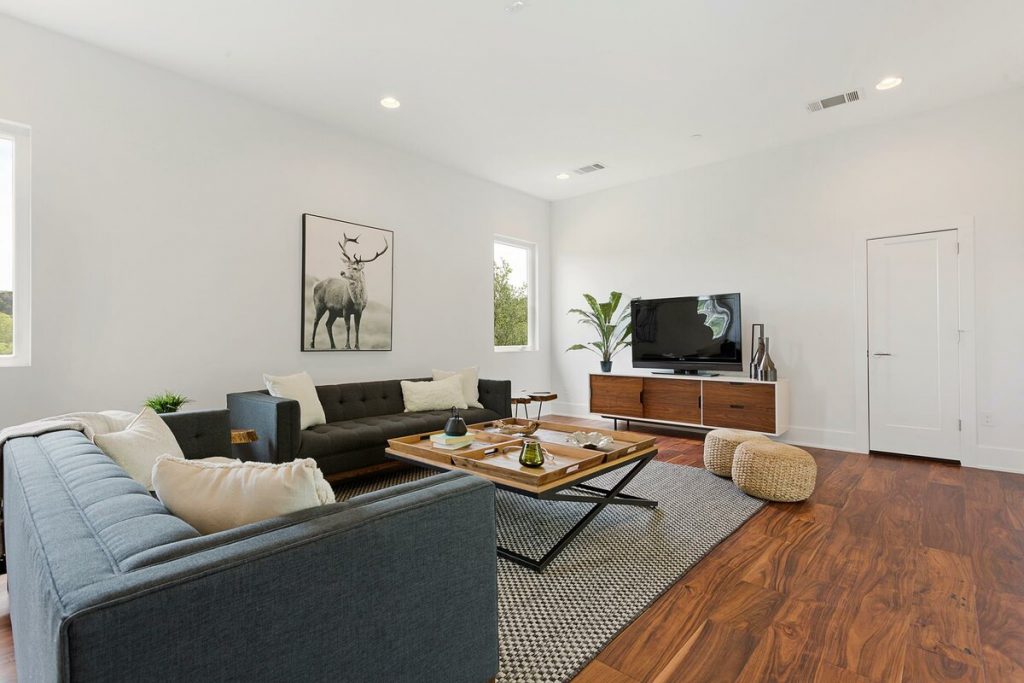 Create the illusion of more space with some mid-century modern living room furniture like low-profile couches and chairs. This allows more natural light to flow through, reduces clutter, and also promotes lounging and reclining.
Since this decor style is all about comfort meeting practicality and functionality, make sure your couch isn't too high-backed. That will have the negative effect of creating a visual block and cutting your view of the living room in half.
Make a Statement with Wallpaper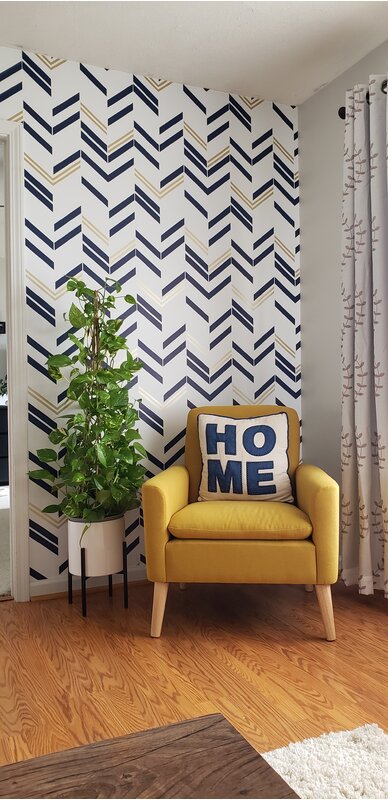 A bold wallpaper in a geometric pattern creates an accent wall. Adding a wallpaper pattern to one wall is also a great way to inject a bit of personality in an otherwise neutral decorating style.
You can get some stick-on wallpaper if you're decorating on a budget, and none of your guests will be the wiser! Avoid covering too large a space, though, because that can become dizzying and cause strain on the eyes.
Create the Feeling of Open Space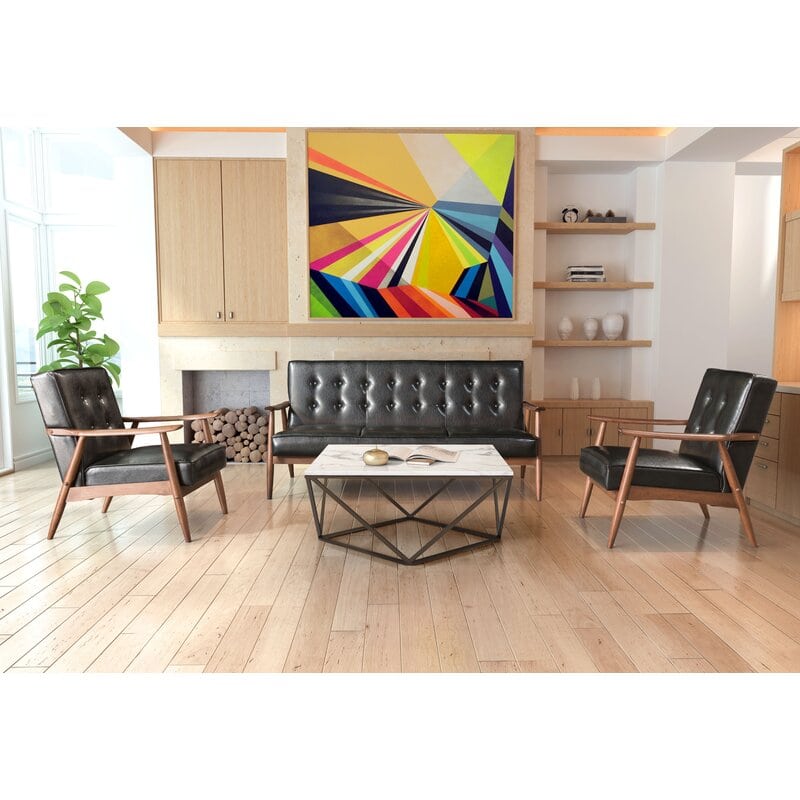 Don't put too much furniture in your living room or it'll appear too cluttered. Instead, get a few staple pieces with thin legs or this geometric coffee table to create a more spacious feeling.
In true mid-century modern style, everything in the room has a function and purpose and there is no unnecessary decoration or knick-knacks. The cupboards are a great addition to put away any odds and ends.
Get Leather Upholstered Furniture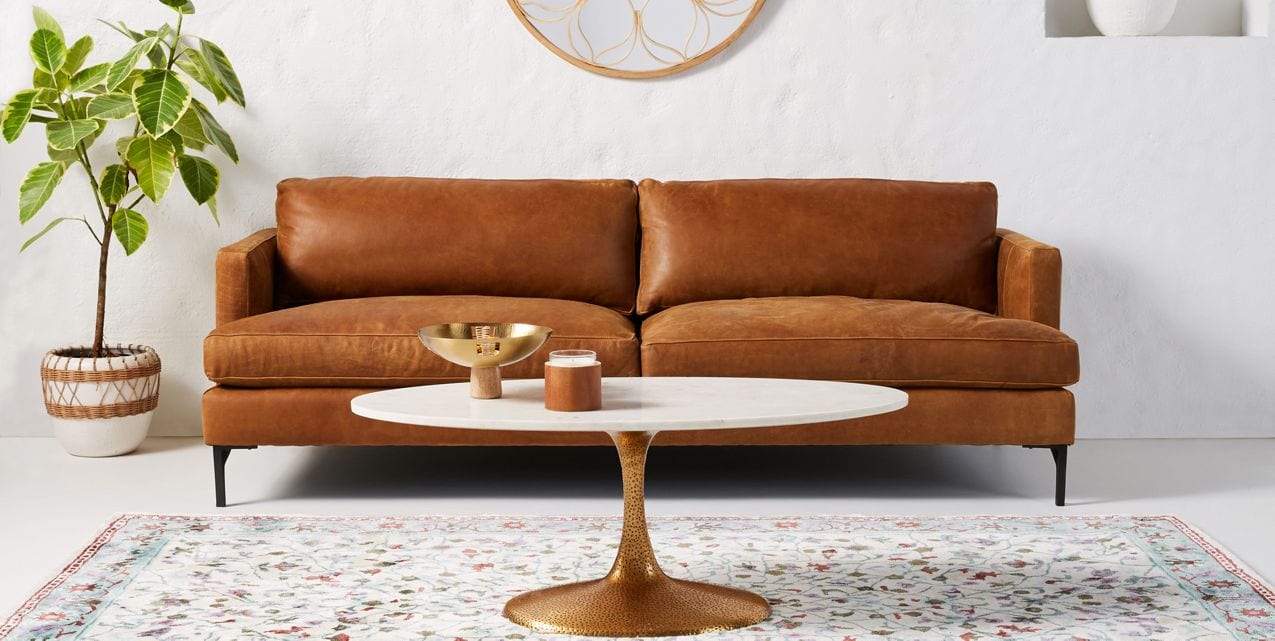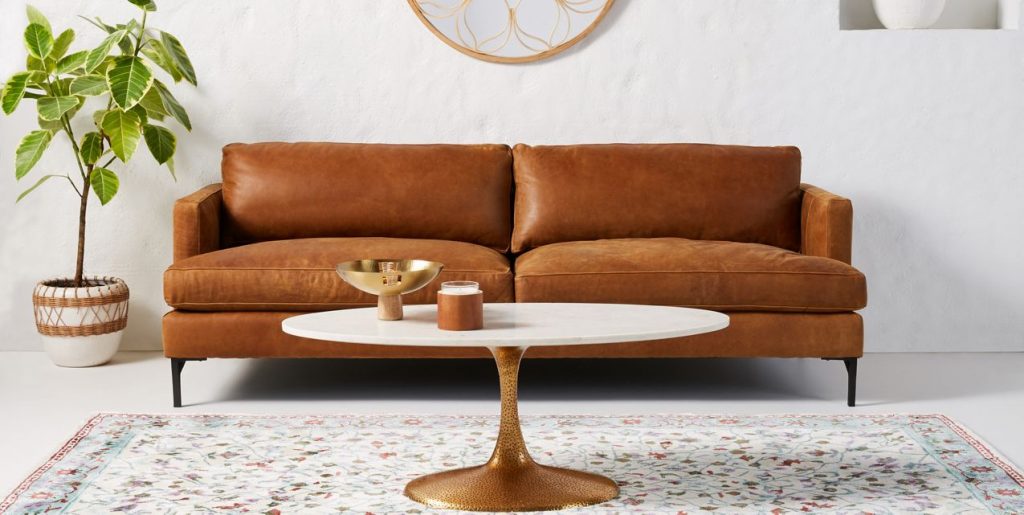 Add a leather upholstered couch or chair for a trendy mid-century modern look. This style is all about mixing materials. Leather furniture in shades of brown also fits in perfectly with the earthy tones of this decor style.
Add Touches Of Glam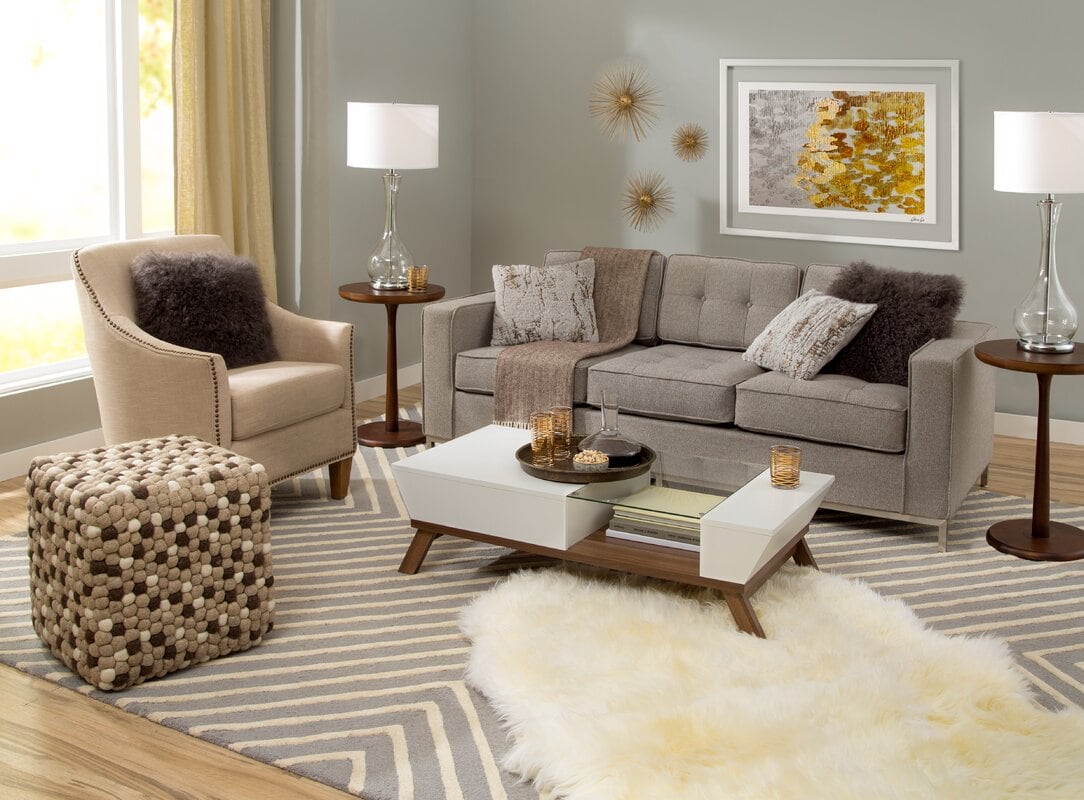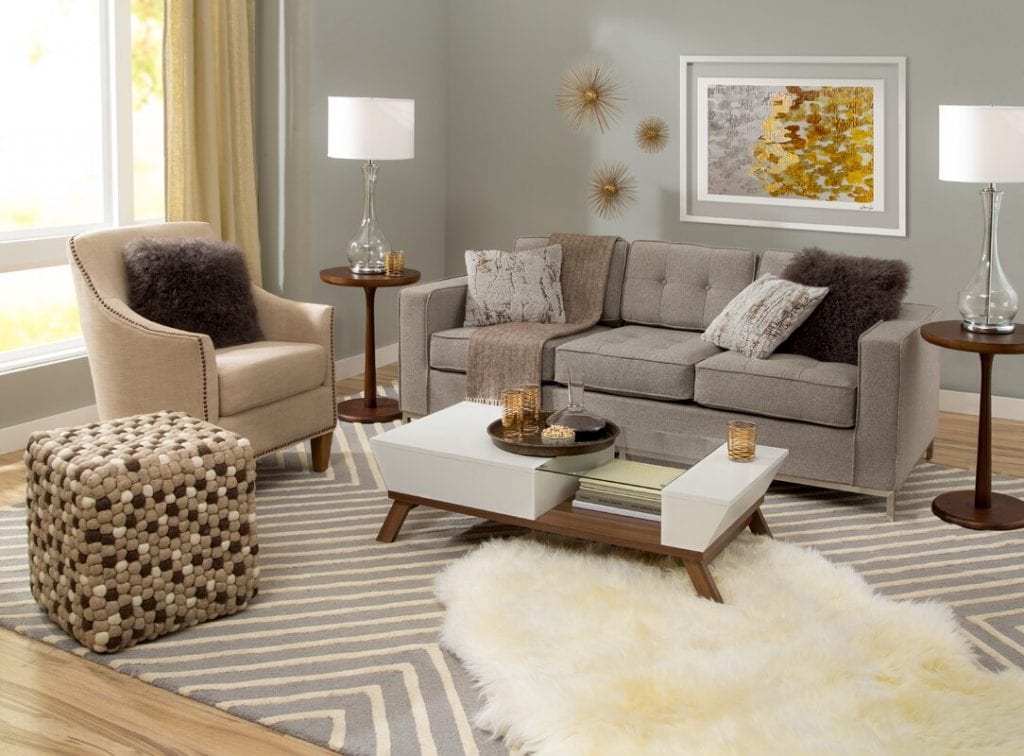 The mid-century modern style can sometimes feel a little drab, so if you love the general look but need a little glam, don't be afraid to add some in.
This room has a fur rug and throw pillows as well as touches of gold throughout. It's still very much in line with the mid-century aesthetic, but is a little brighter (and more fun).
Draw the Eye with a Geometric Area Rug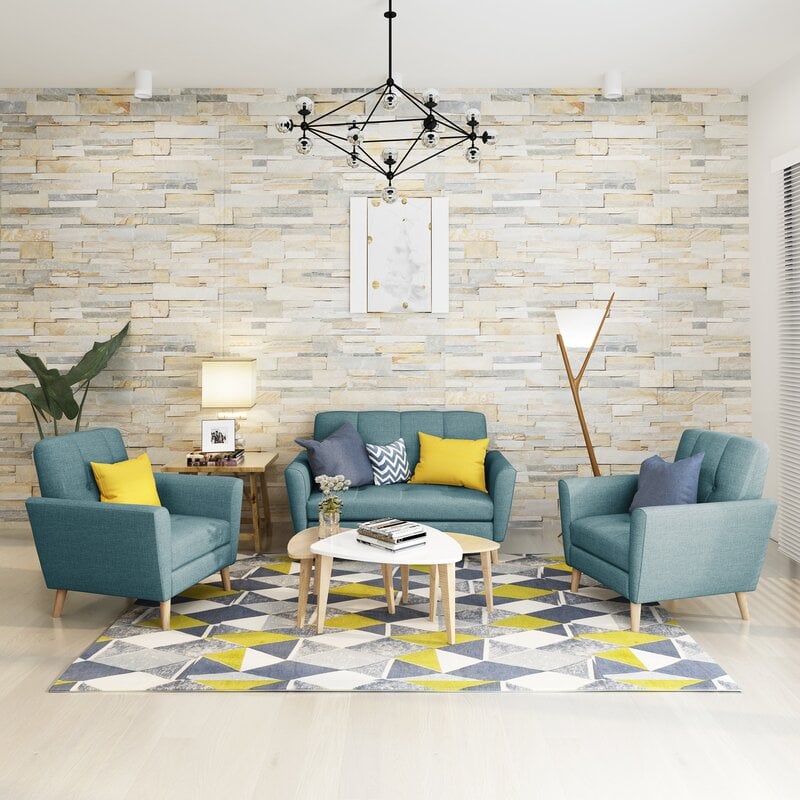 A key feature of this decor style is the geometric and abstract patterns here and there. In this example, a geometric rug acts as the centerpiece of the room and adds a splash of color.
It matches the furniture perfectly with its gray, white, and yellow tones, tying the room together. With a geometric area rug, it's important that you keep the other elements of the room low-key so it doesn't become too overwhelming.
Go Natural with Wood Furniture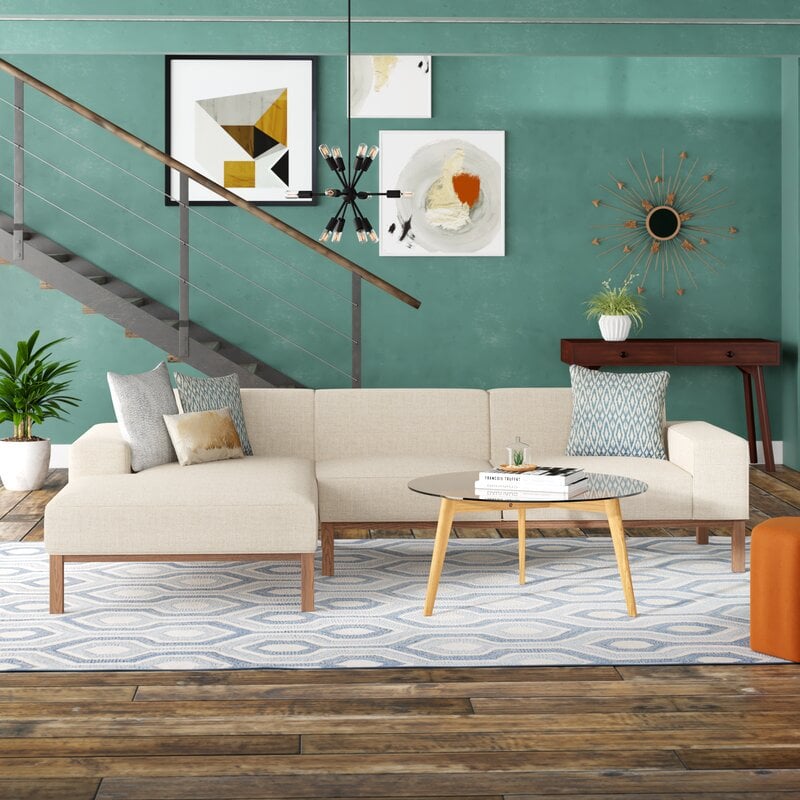 Wood is an important material in mid-century modern decor, and we see it here used perfectly. The floors, coffee table, console table, and couch legs are all different shades of wood, but all look very natural.
When buying natural wood furniture for your living room, be careful not to go too dark. Dark wood can look too bulky or heavy for the sleek and airy feeling of mid-century modern.
Keep the Room Natural and Earthy
The main color scheme for mid-century modern is typically the neutral and earth tones, so don't stray too far from that palette. White, gray, brown, and dark greens or blues characterize this style. Accents are in silver metal or brass.
In this living room, we see that the dark walls are balanced by the big window and green plants. Thanks to the earth tones, the room looks comfortable and inviting.
Stick With A Certain Color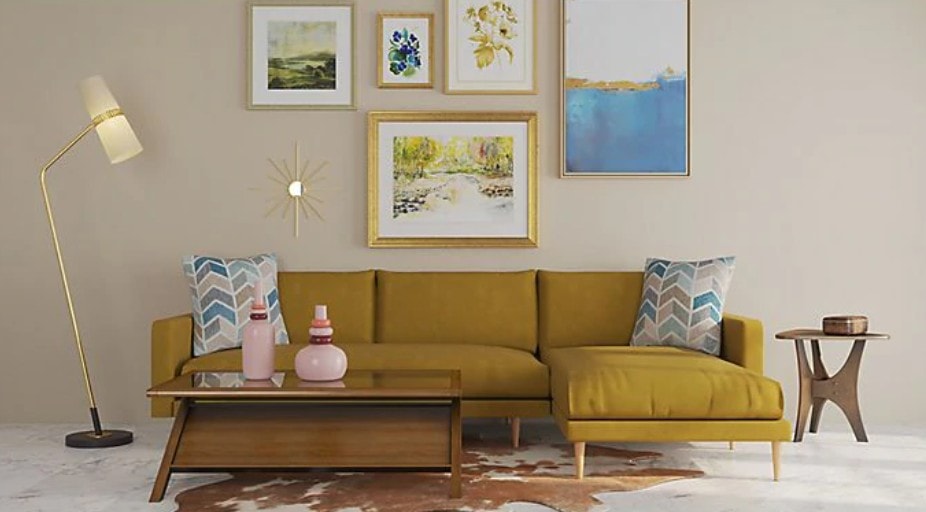 A lot of mid-century modern design ideas focus on the browns and greens, but you can still add some color, as long as you keep it fairly consistent.
This living room is really playing up the gold and mustard yellow color with the couch, picture frames, and even the light. The color goes well with the warm wood coffee and end tables and doesn't take away from the mid-century modern vibe.
Mix Wood & Metallics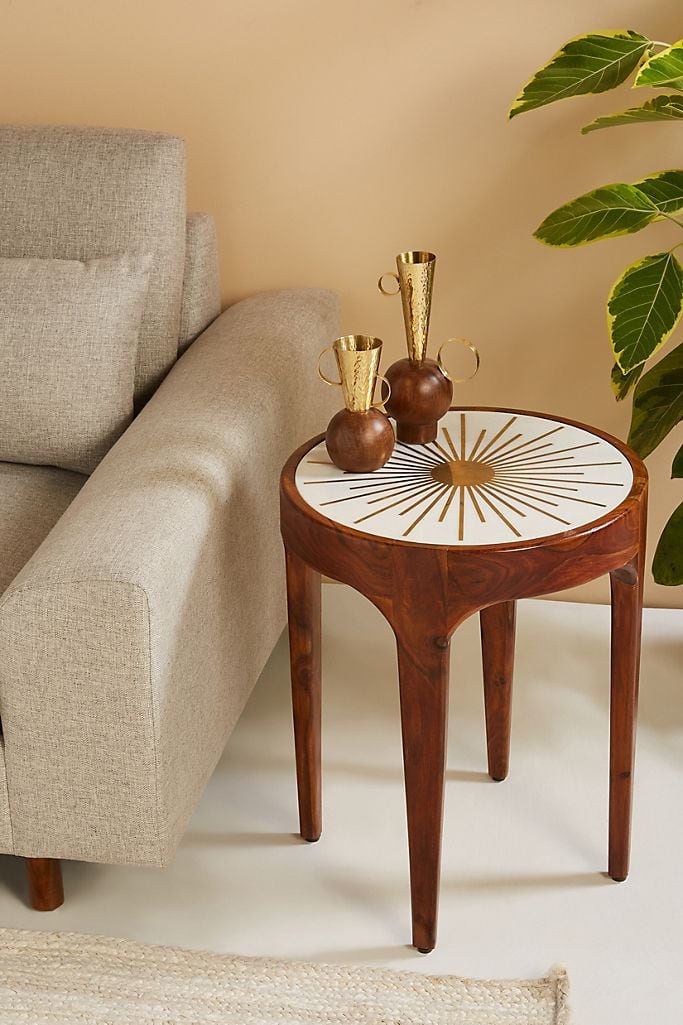 Mixing up wood and metallics is a staple in mid-century modern design. The metal pops from the wood and, combined, they create a softness.
This side table is a perfect example of how mixing metallics and wood can create a gorgeous piece of furniture. Plus, the starburst design is classic mid-century modern.
Furnish with Tapered Legs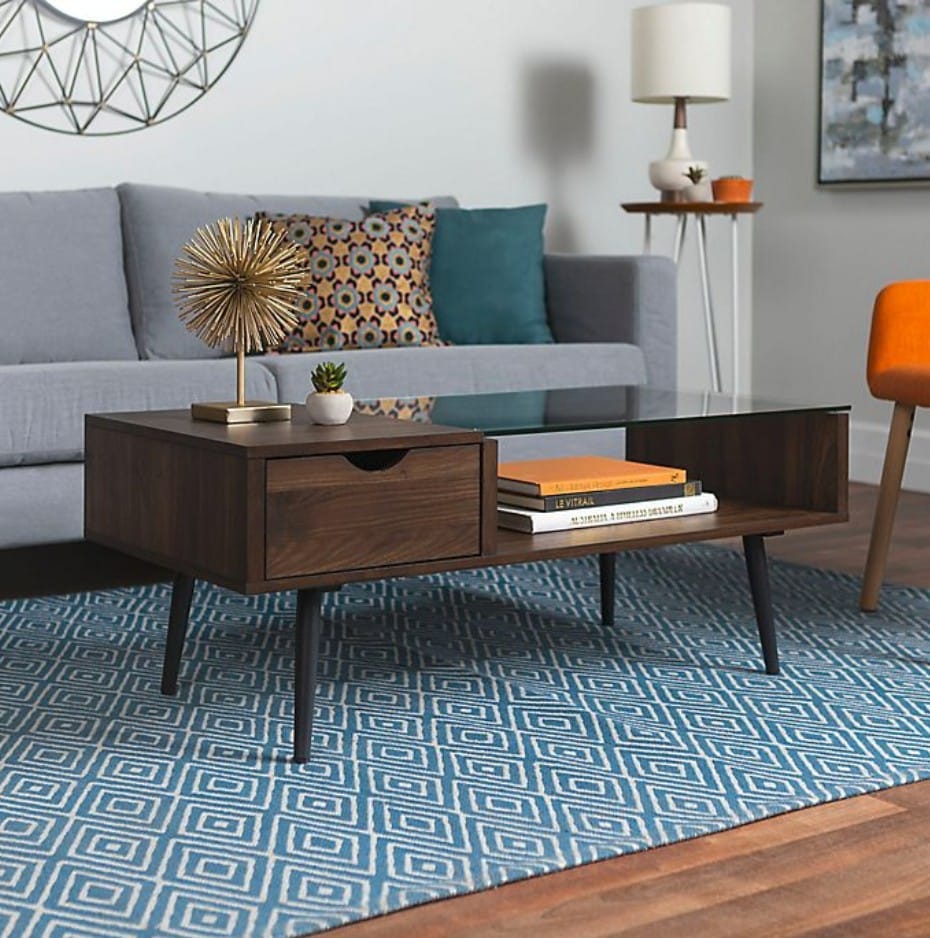 Tapered legs are furniture legs that angle outwards slightly and taper towards the bottom. It's one of the most recognizable signs of this design style and tapered legs are found on any piece of furniture from sofas and chairs to tables and cabinets.
Using slender, rounded legs on heavier pieces of furniture makes them appear weightless. This adds to the feeling of an airy, spacious room.
Make it Lively with House Plants
What better way to spruce up a room that's neutral and functional than by adding some green, lush plants? Look for bountiful, thick plants that are bright green in color to spice up your living room and make your space feel welcoming.
The pots should fit with the mid-century style, like smooth curved vases or smaller pots on hairpin legs. Don't forget to keep your plants trimmed and tidy, so your functional room doesn't look messy.
Focus On Straight Lines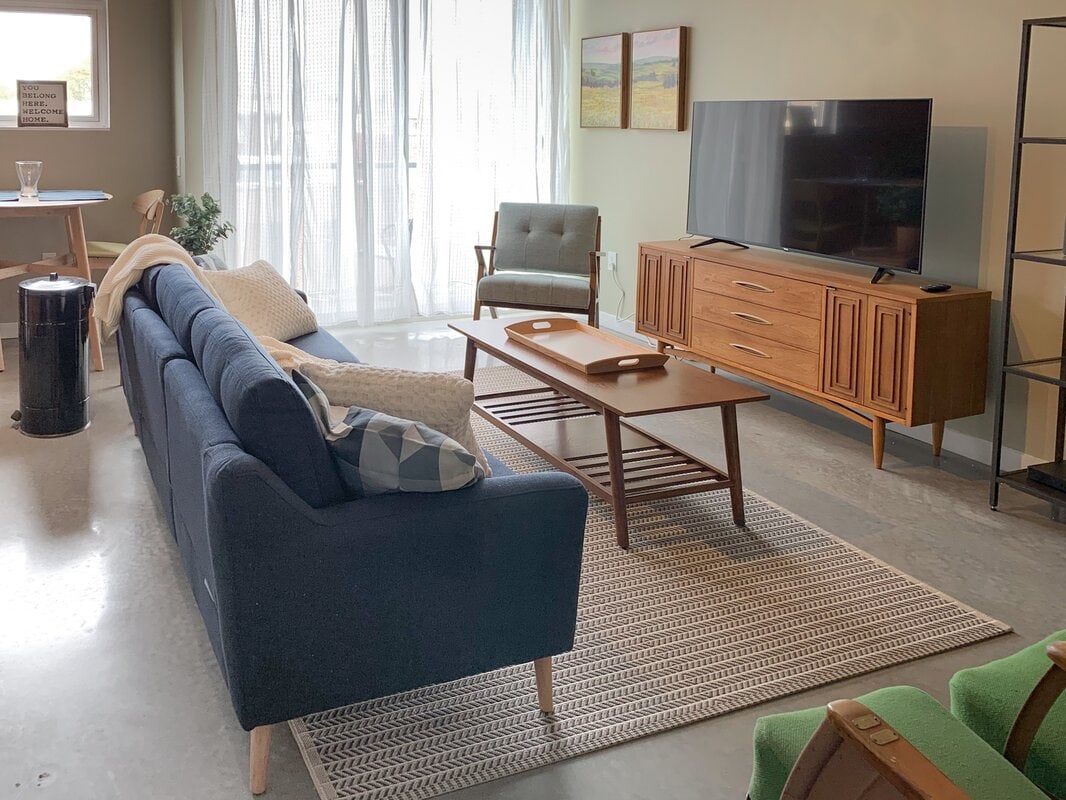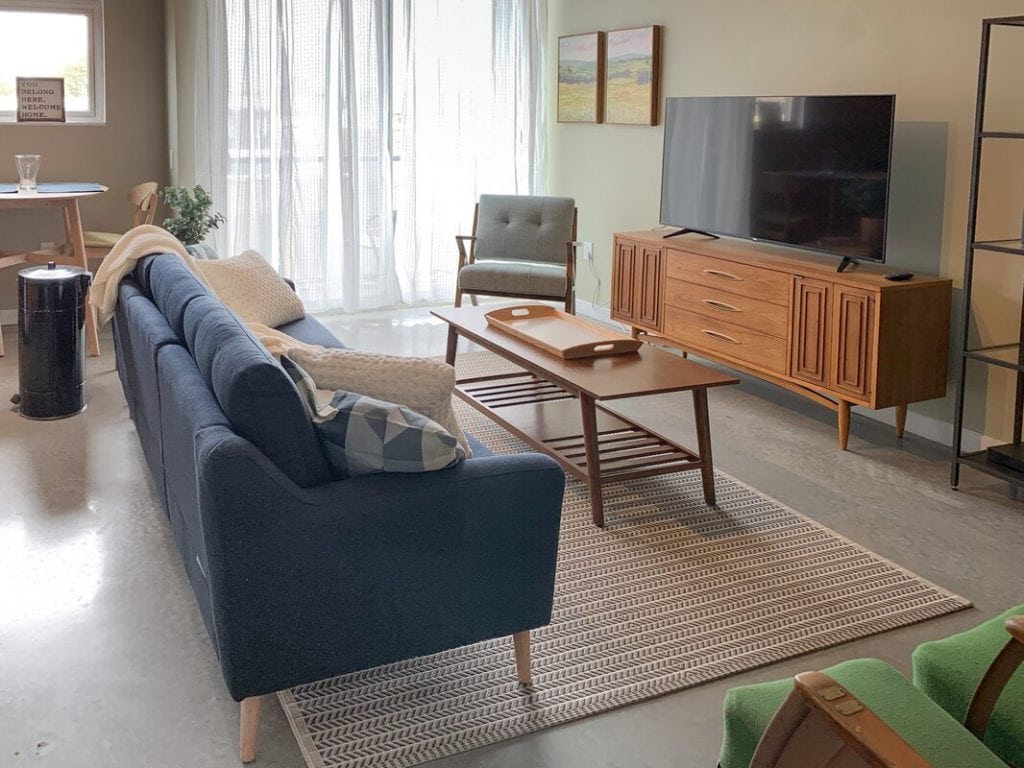 While it's good to have some circular accent pieces here and there to round things out, try to stick to primarily straight lines and sharp corners when furnishing your mid-century modern living room.
Boxy furniture with clean lines is what makes the mid-century modern style so great, so try not to soften them too much with accents.
Mix Different Materials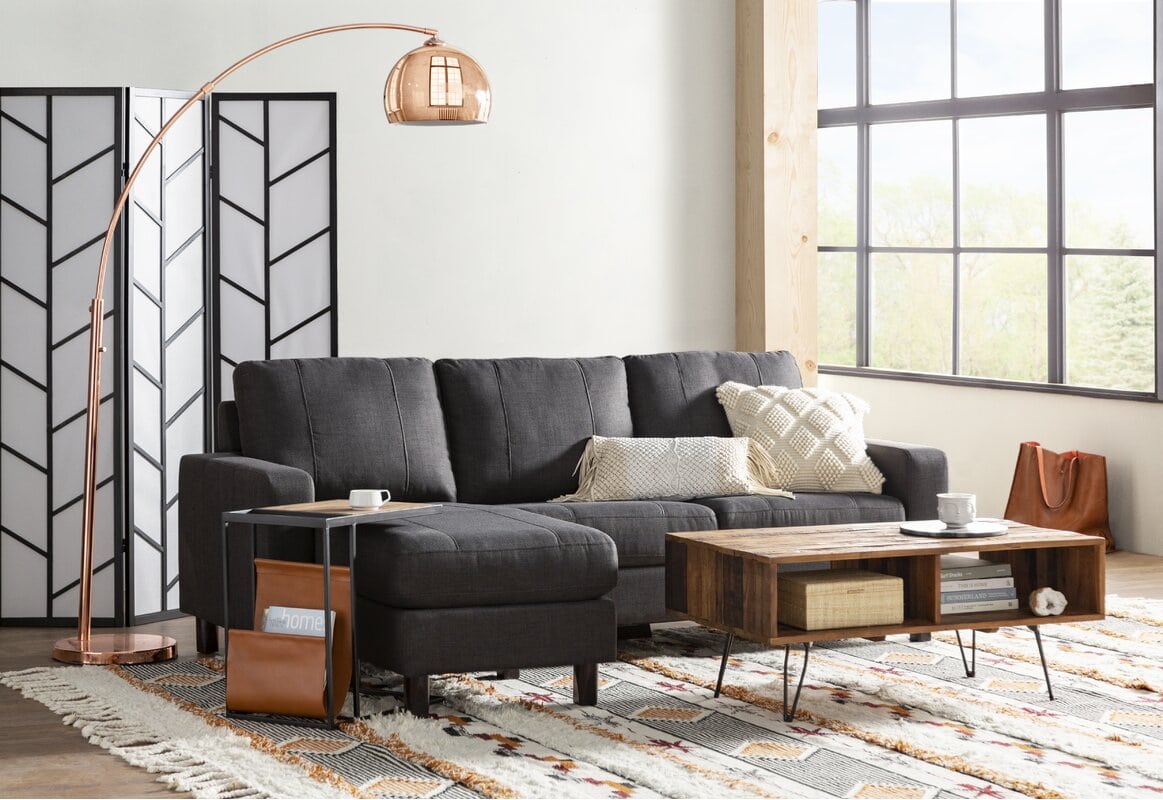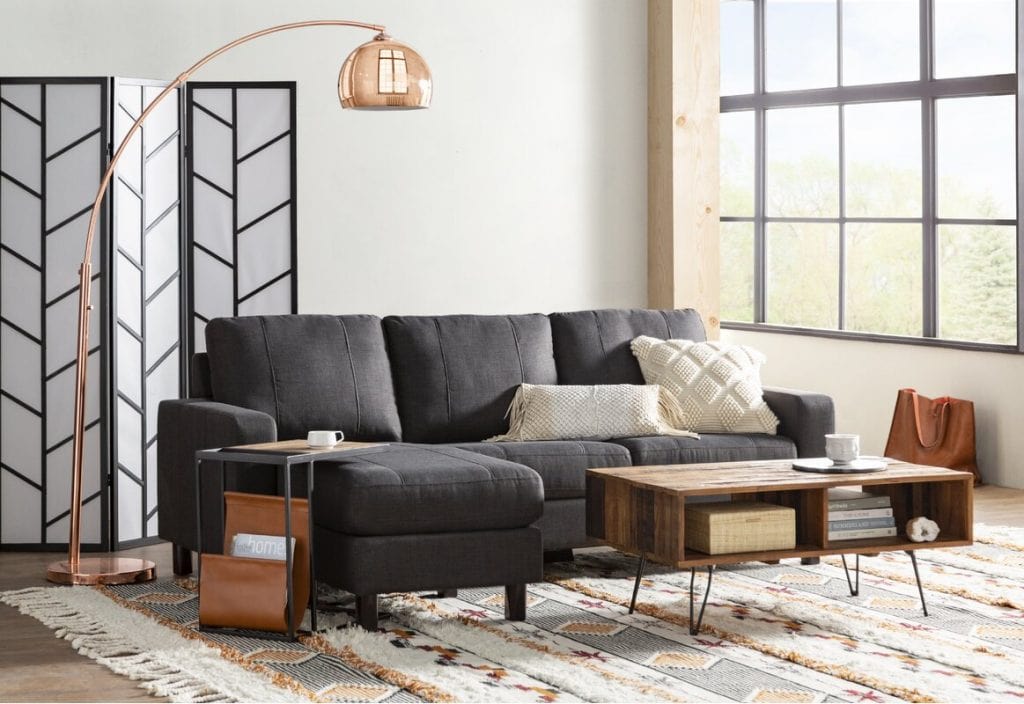 The mid-century modern living room should be diverse without looking too busy. One way to achieve this look in your own space is to mix materials by getting furniture that has different elements.
Get a leather chair with a wooden frame, or a glass coffee table on metal legs. These materials are usually all in earthy tones so they work together to look eclectic and utilitarian.
Hang Up Some Abstract Art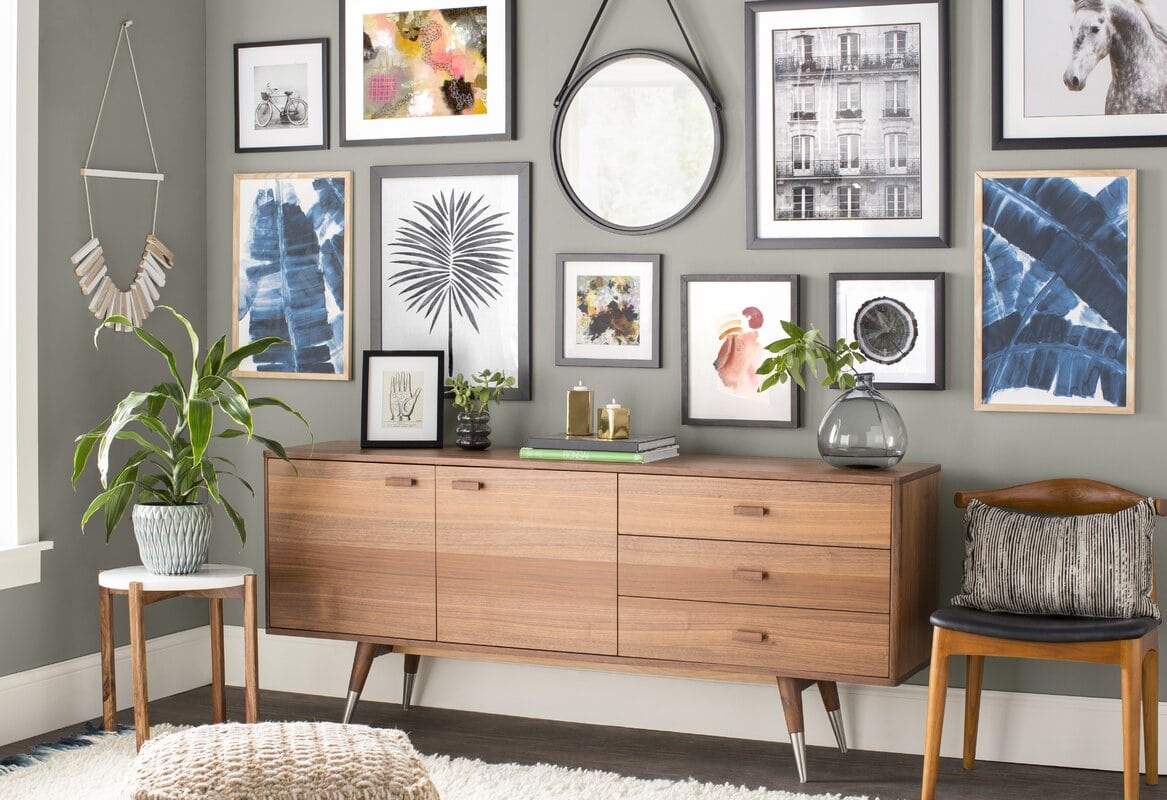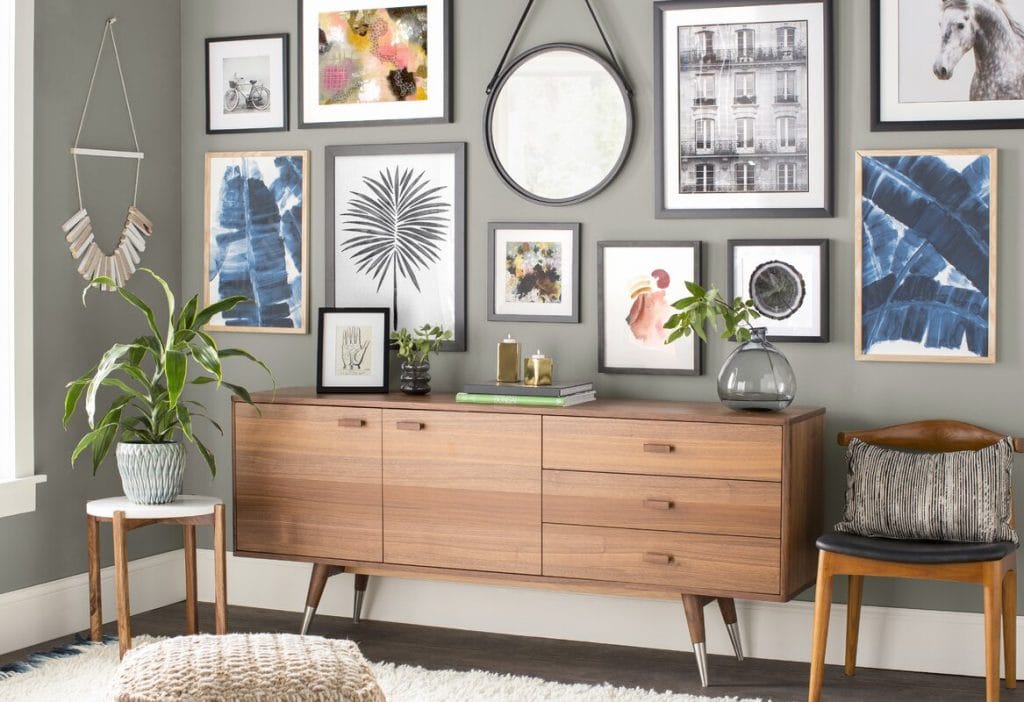 The art in the mid-century modern aesthetic is usually abstract, with an emphasis on style and color instead of landscapes or portraits. Look for your own pieces that complement the room and that draw the eye. They'll make great conversation starters with your guests!
Add Some Jewel Tones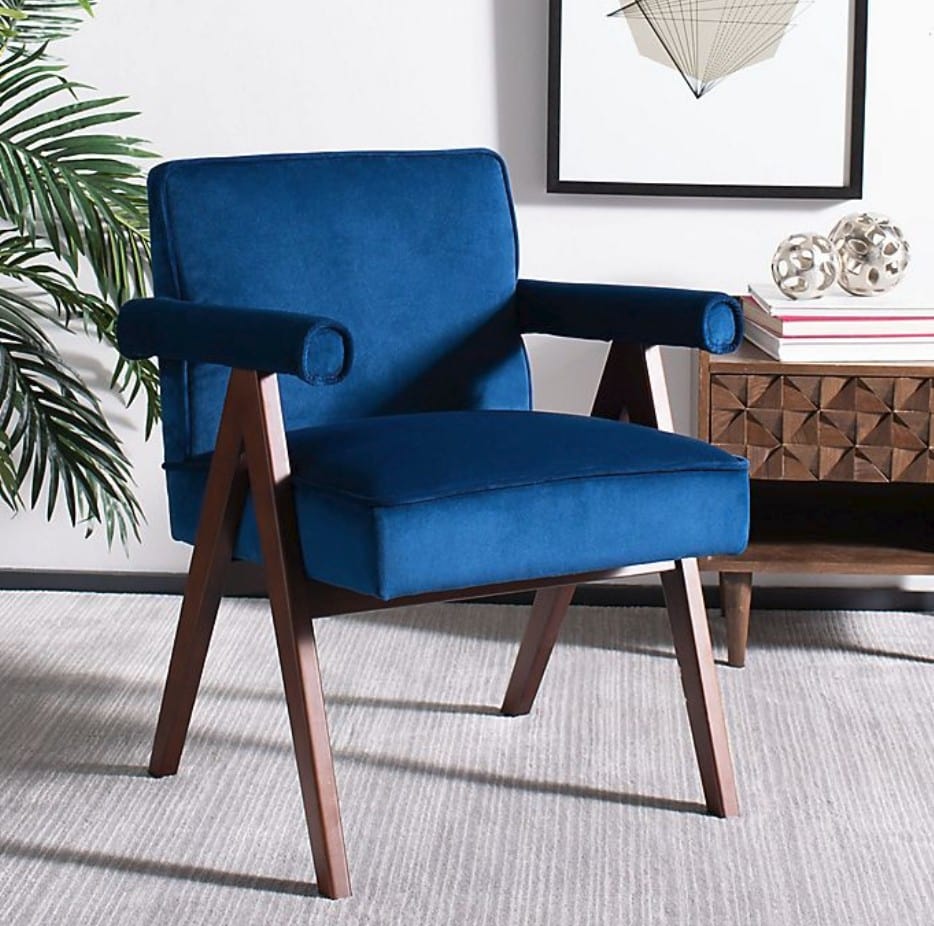 If you don't love the idea of sticking to avocado green and warm browns, throw in some jewel tones like emerald green, fuschia, and royal blue.
You can really play up the 'modern' part of the mid-century modern style by adding in some velvet touches, too. Find a velvet purple throw pillow to throw on the couch and you are on your way to mid-century modern (with emphasis on modern) perfection.
Soften The Room With Tufted Furniture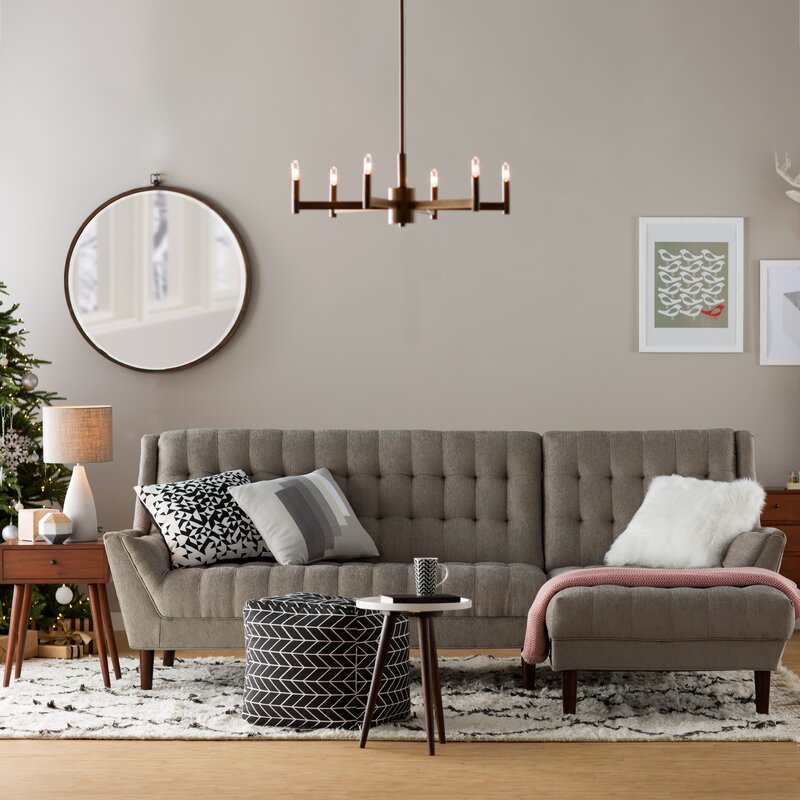 The clean lines and sharp corners of modern mid-century furniture are a key element to the style, but they can sometimes feel a little harsh. You can soften this by investing in some tufted furniture.
The couch in this living room is till boxy and clean in classic mid-century style, but the tufting makes it a little more inviting, and pairs well with the cozy pillows and soft throw blanket.
Mismatch (In A Coordinated Way)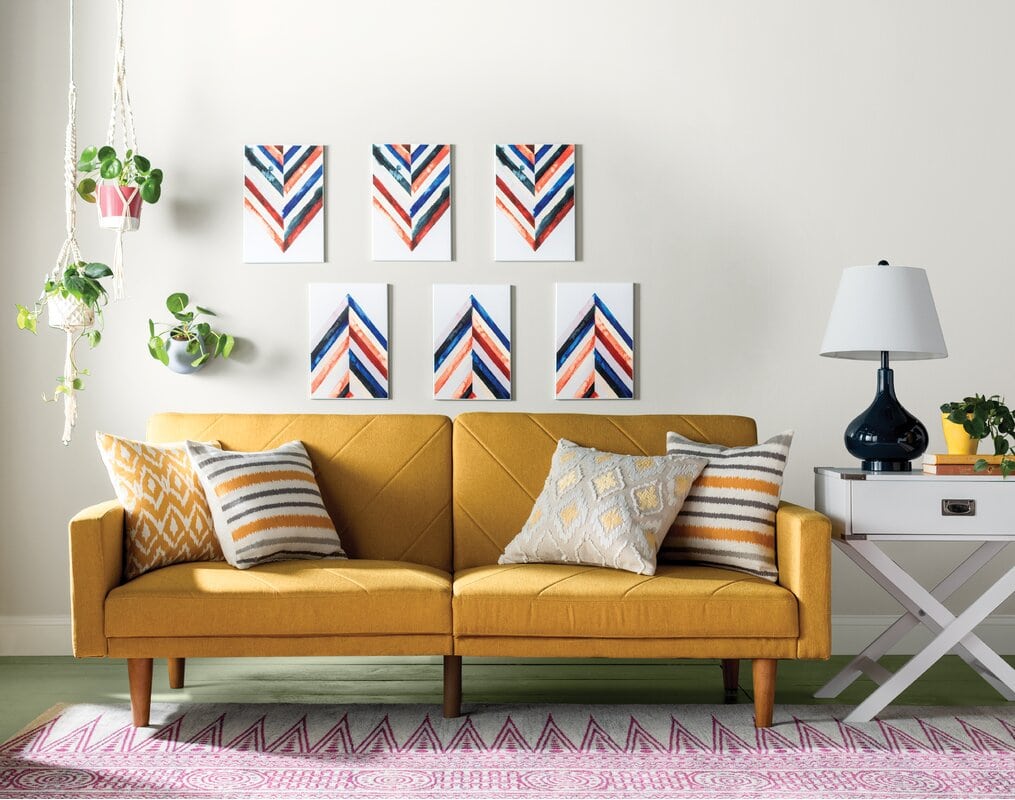 There's definitely something to be said for symmetry (especially in mid-century modern design), but sometimes being too matchy-matchy can be really boring.
You can still have symmetry and character with careful mismatching. This living room does it well with different patterned throw pillows, a funky rug, the art pointing in opposite directions, and the angled lines on the couch.
Mix In A Second Design Style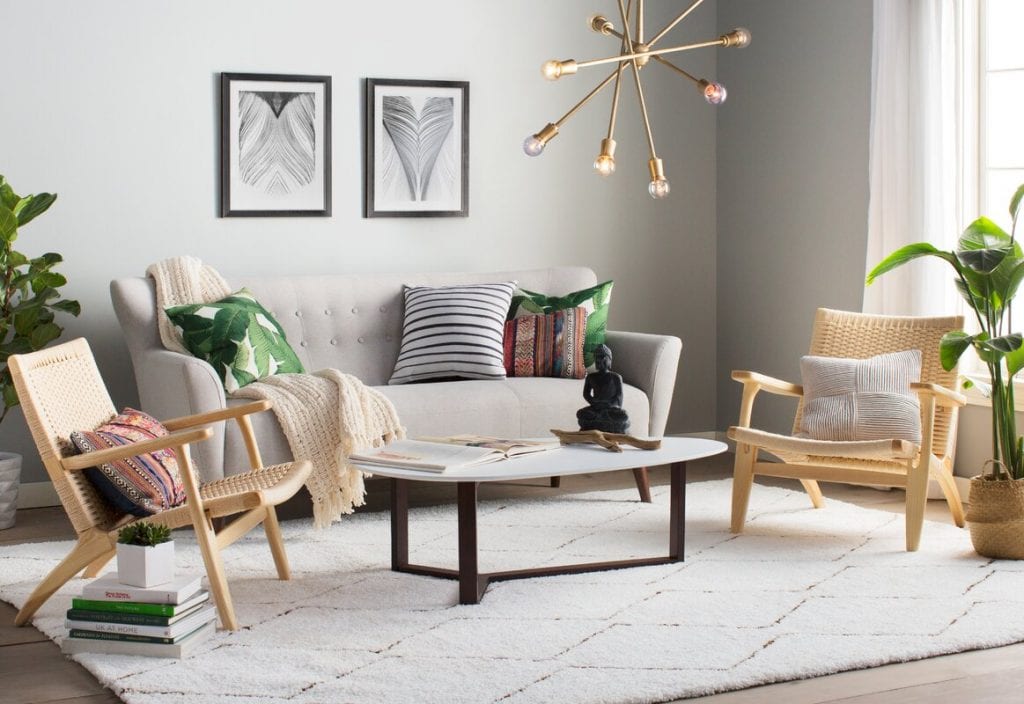 Love mid-century modern? Great! Also love bohemian? Perfect! You don't have to choose one or the other if you mix them together the right way.
This living room did it well by finding chairs in a mid-century profile but a bohemian upholstery. The green leaf throw pillows mixed with the sputnik light crate a unique look that totally works together.
Play Up Your Natural Light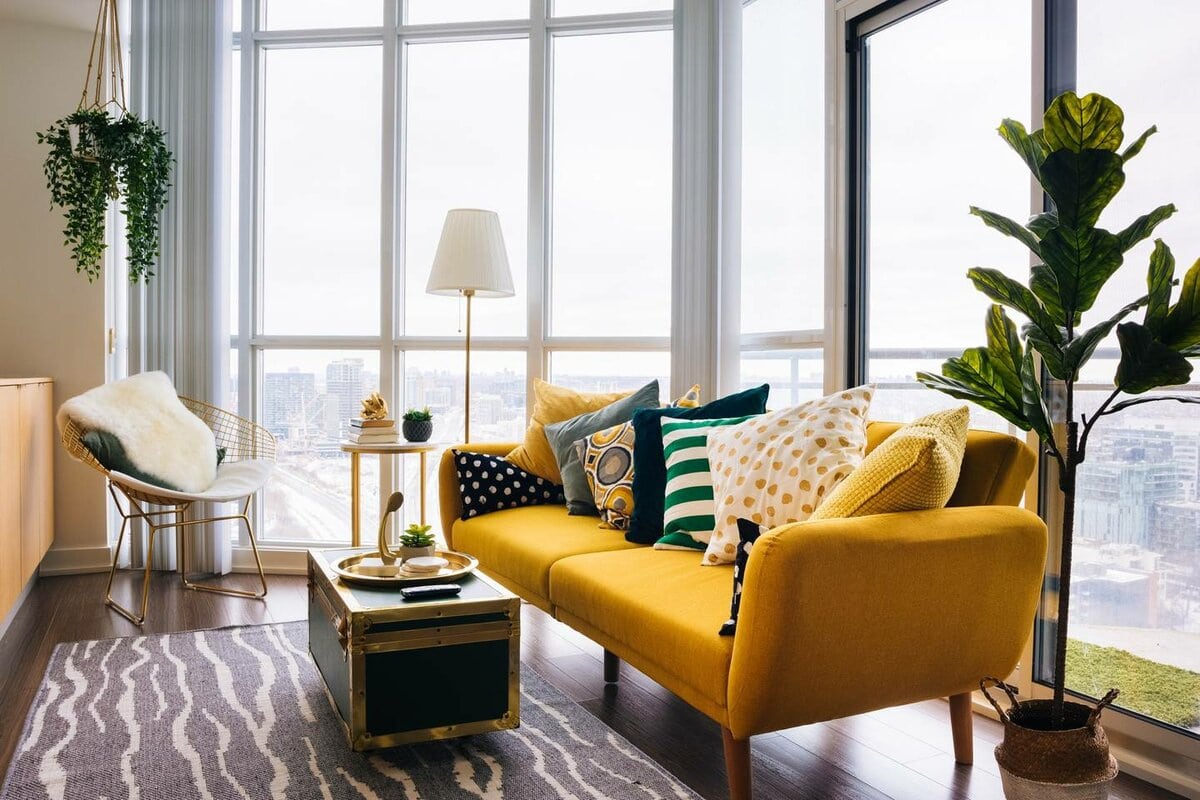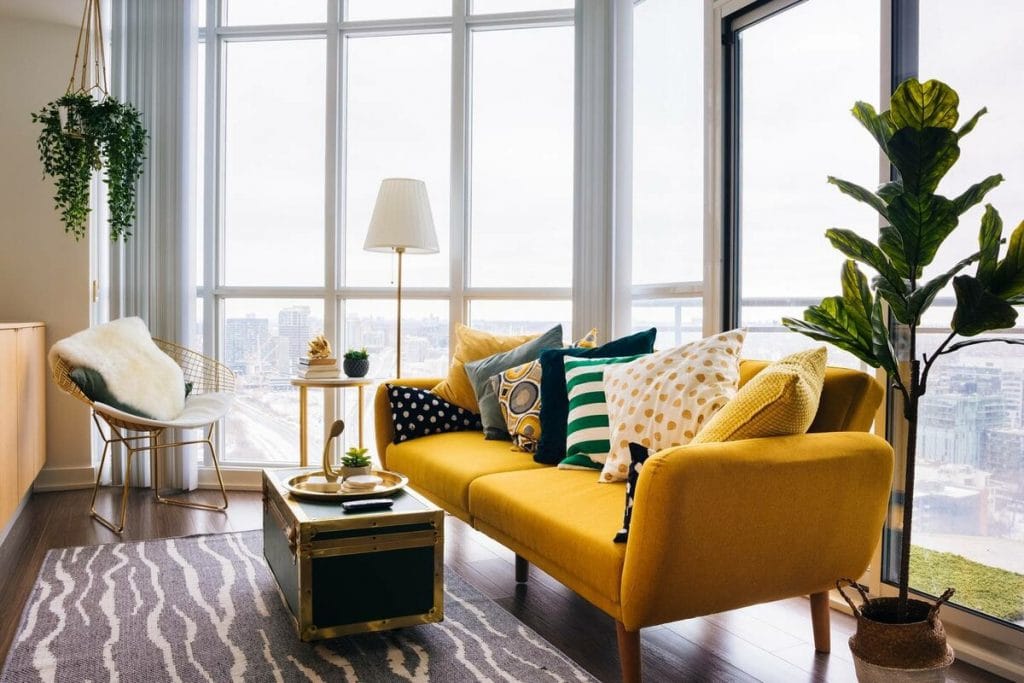 Dark rooms can feel uninviting, and you definitely run the risk of making a room too dark if you stick to the traditional mid-century modern colors in a room without much natural light.
While we'd probably all love to have a wall of windows like in this living room, you can play up your own room's natural light, no matter how much of it there is, by decorating with some brighter colors (lean towards yellow and orange) or even painting your walls a crisp white to draw out as much light as possible.
Brighten Up the Room with an Arc Lamp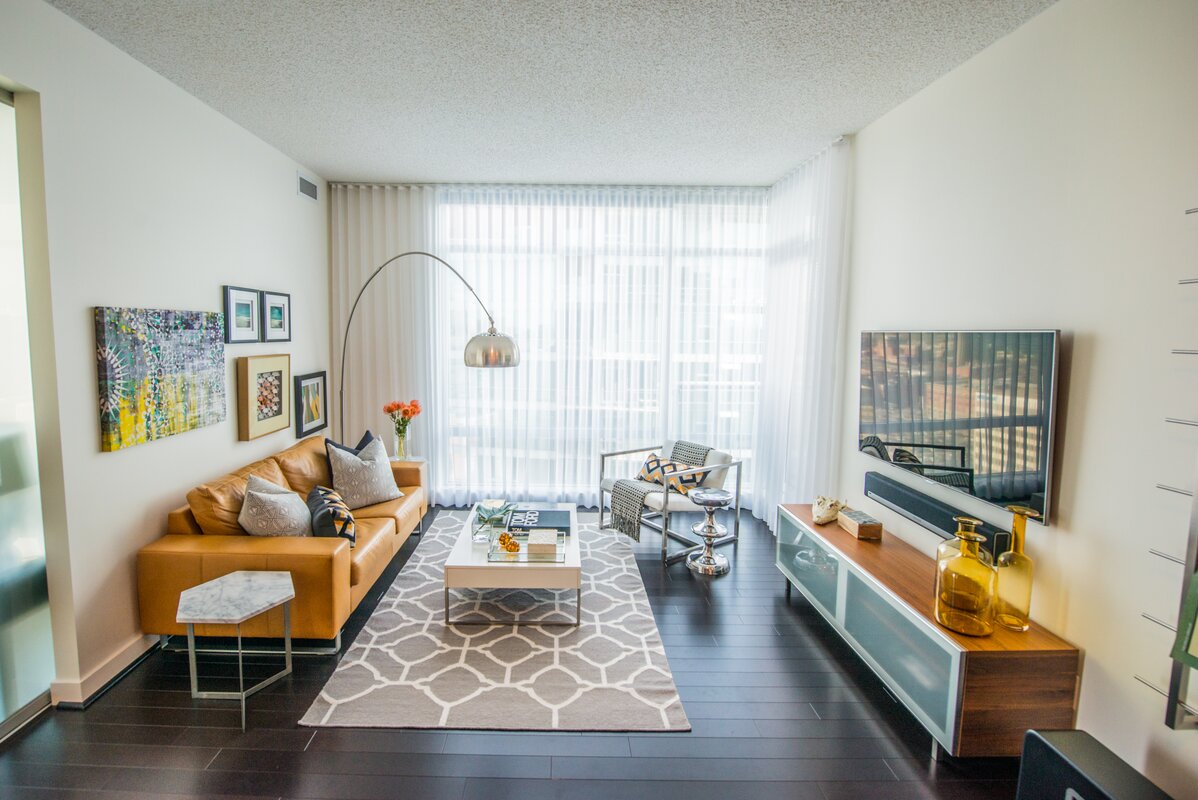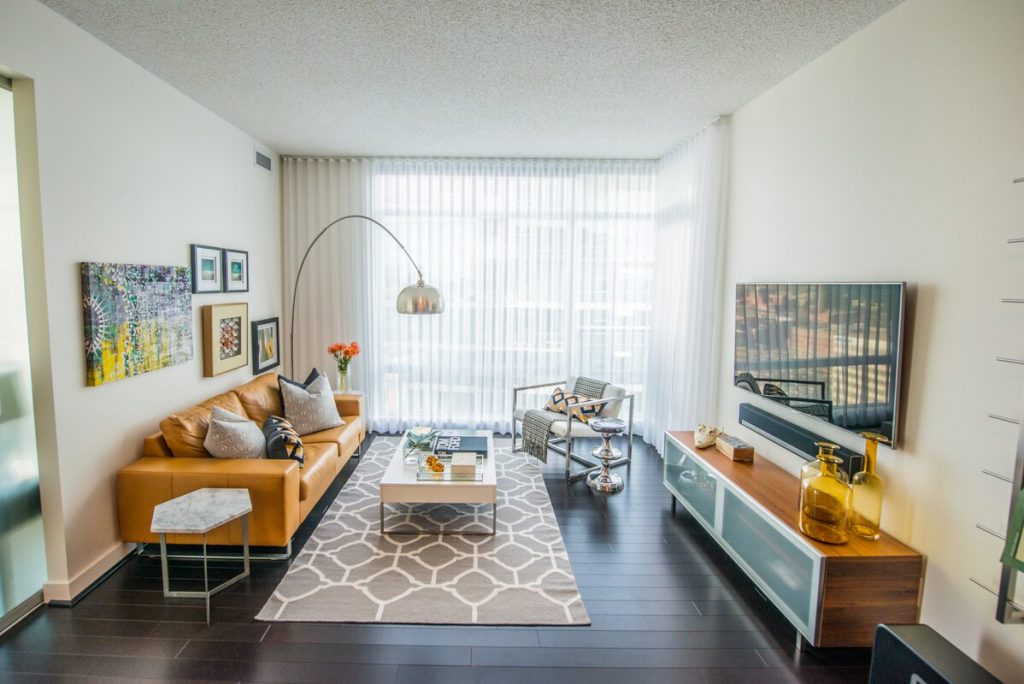 Add some light to your living room in the evenings with a classic arc lamp. This is a floor lamp that's smooth metal on a sturdy base and curves into the room to provide a lot of light.
You can go for a simple, minimalist arc lamp or one that hangs far into the room like in this example. Whatever you choose, the smooth design will add some curved appeal to the straight lines of your room.
Add Some Industrial Accents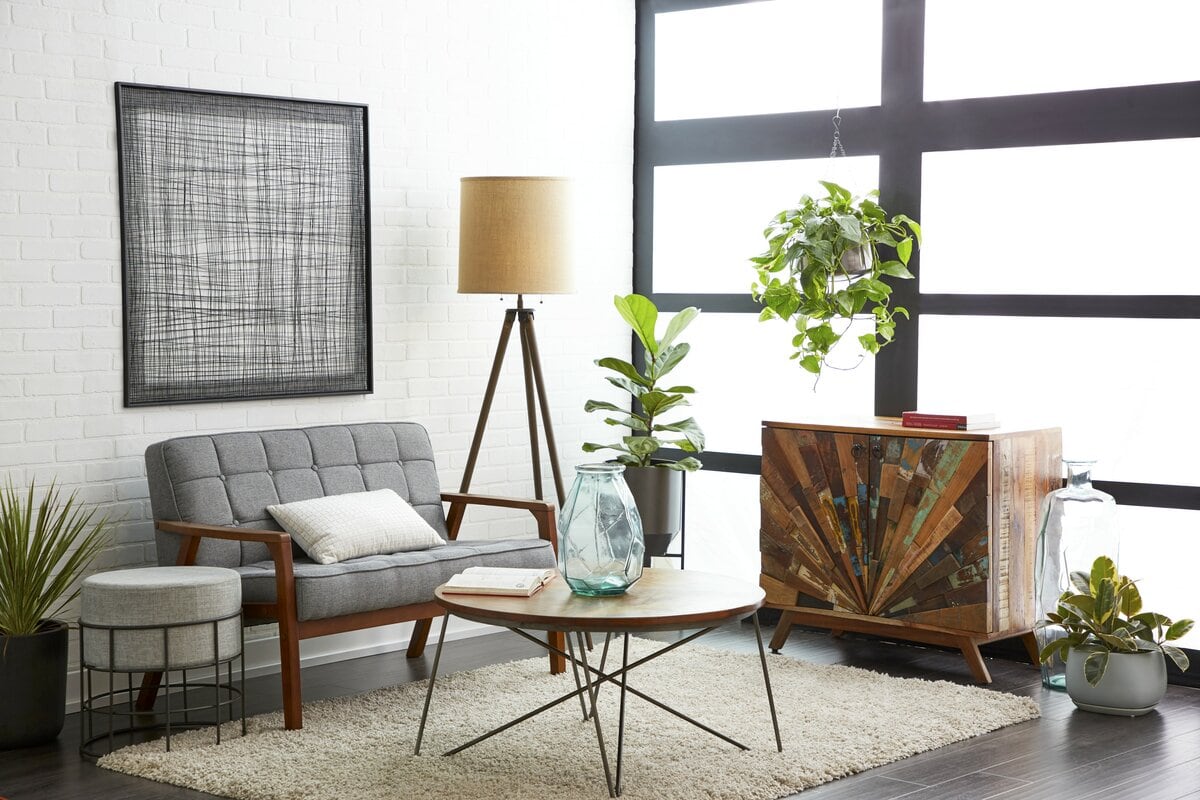 You can bring the mid-century style into this decade by adding in some industrial elements like iron legs or wire baskets. Since the iron will likely take the place of wood, it will cool down the room quite a bit and make it more masculine. If you want to balance it out a bit, add some soft throw pillows and colorful touches.
Don't Be Afraid To Go Bold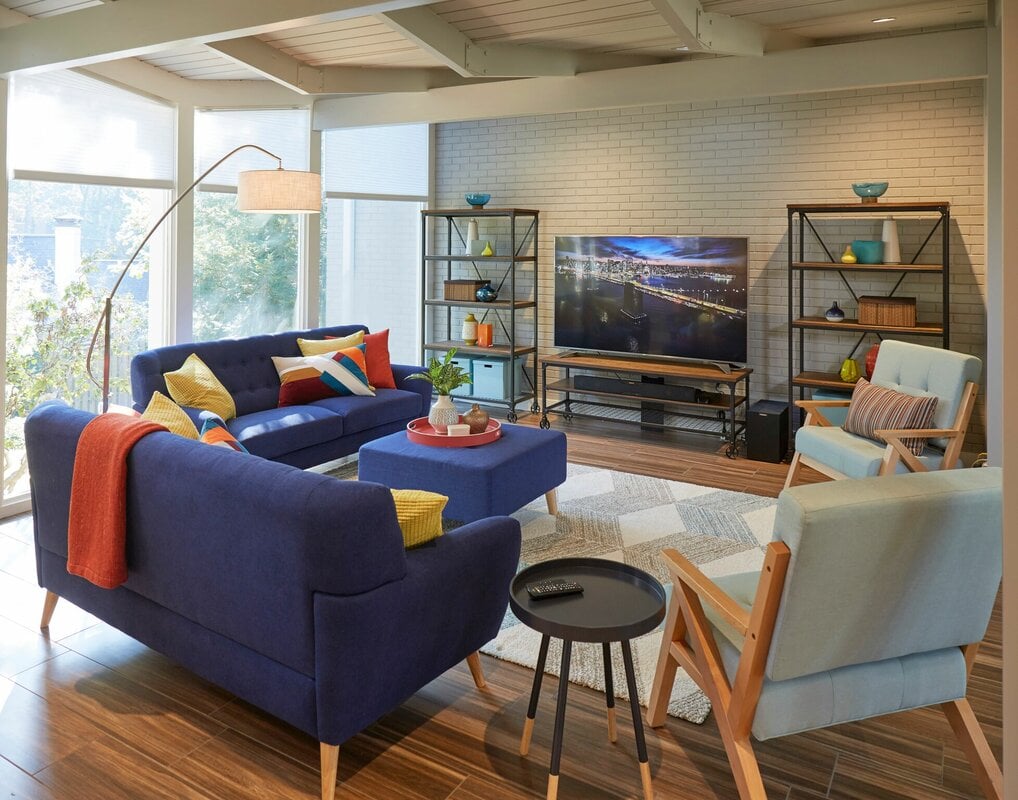 A lot of mid-century decor ideas center around earthy tones, but anyone who has ever watched an episode of The Brady Bunch (or, at least a scene photo) knows pops of bold colors were everywhere during the mid-century era. So, don't be afraid to go big with your furniture, throw pillows, rugs, or artwork.
Soften Up The Room With Some Fur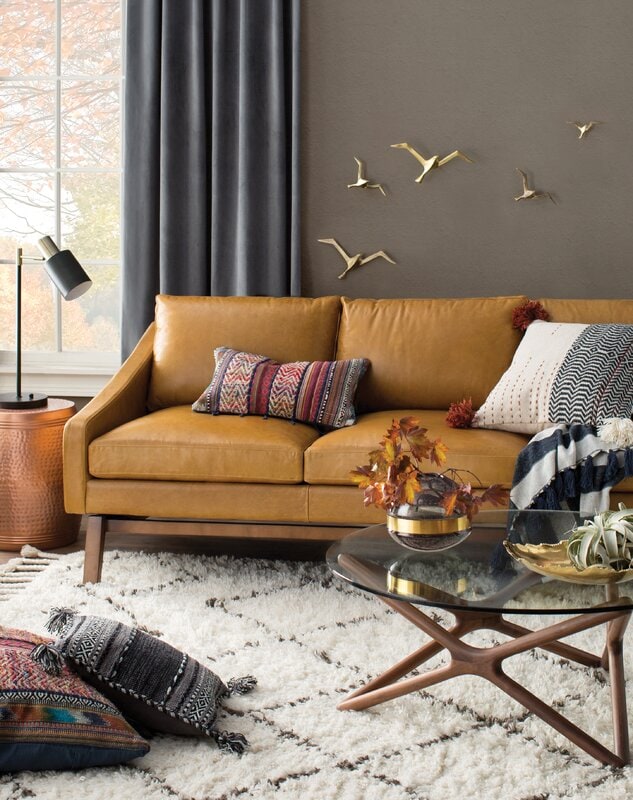 Mid-century living room design can feel really cold and can sometimes feel so structured that when you look at a sofa with the style, you may think there is no way it's actually comfortable (even though it may very well be).
You can soften the room and make it a little more inviting with some (faux!) fur accents. A rug, throw pillows, or a cozy blanket will make that stiff couch suddenly look much more inviting.
Use Table Lamps for Decoration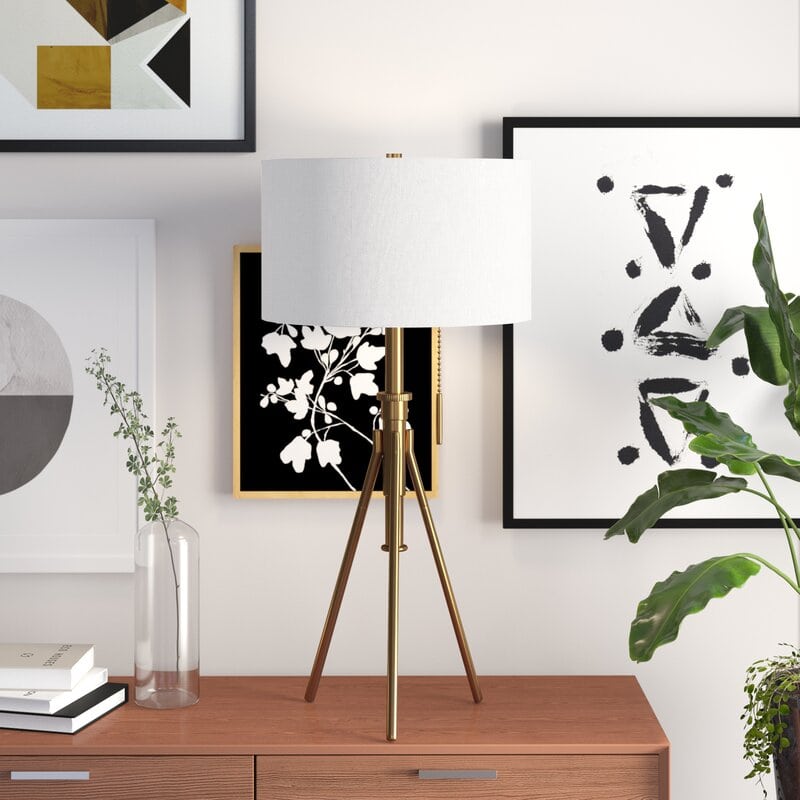 Table lamps aren't just about lighting a room. They can also be interesting decor pieces. Look for table lamps in bold colors or with metallic, interesting bases. Using table lamps for more than just light, like in this example, adds a little more style and texture to the room.
When In Doubt, Go With Black and Brown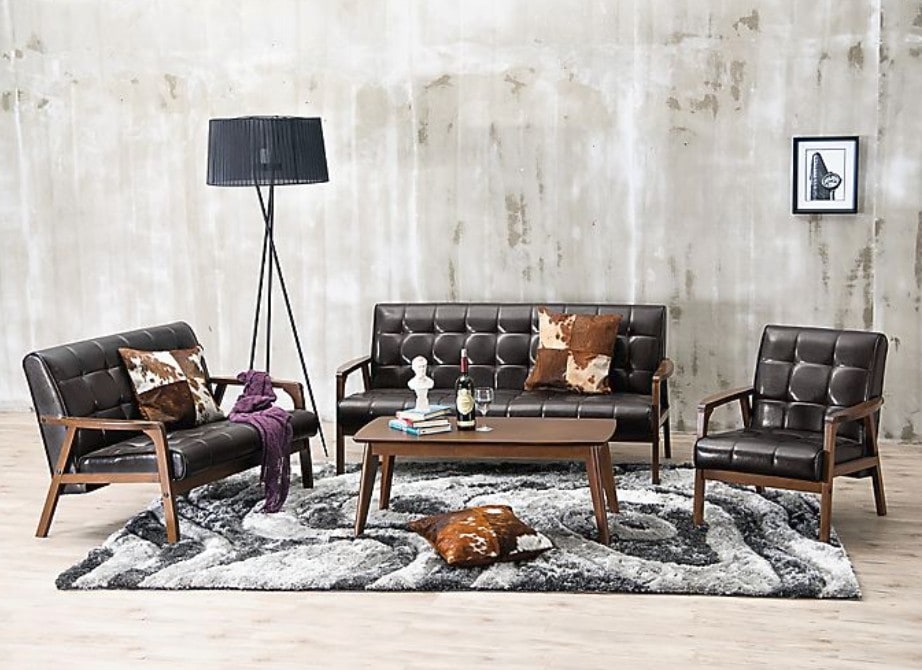 Classic mid-century modern interiors are full of neutral colors, particularly black and brown. So, if you love the aesthetic but feel like you don't have an eye for coordinating and style, just try to stick to black and brown accents. If you toss in a little white to brighten up the space, you will have a gorgeous living room.
Think Minimal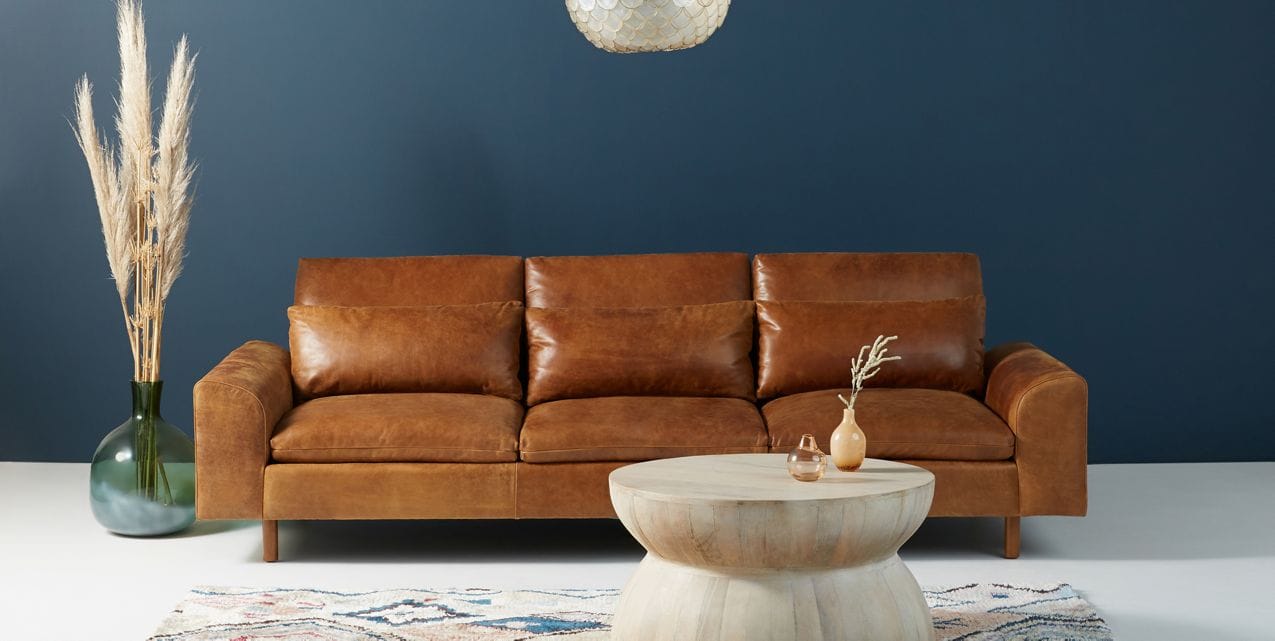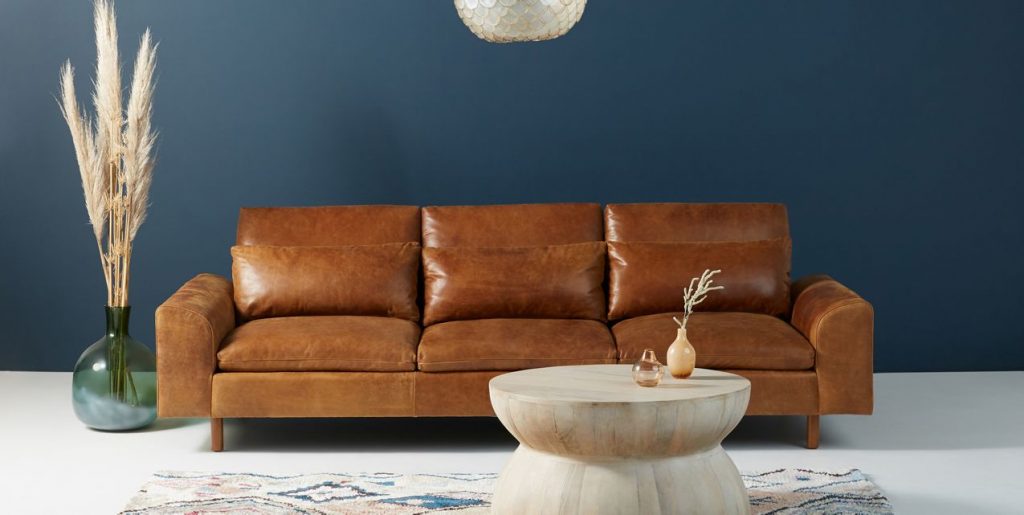 There are so many fun accents you can add to a mid-century modern room, but if you aren't a fan of brass flourishes or big pieces of abstract art, just keep it minimal. Like, really minimal.
Mid-century style is all about structure and functionality, so hanging less on the walls or skipping out on some traditional accent furniture is still right in line with the vibe. Plus, it'll save you some money.
Final Thoughts
Furnishing your living room in mid-century modern style isn't as difficult as you might think!
Focus on decorating in earthy, neutral tones and look for pieces that are functional as well as fashionable. Remember to mix and match materials like wood, metal, glass, and textured fabrics.
Your mid-century modern look doesn't need to happen overnight, either. Start with certain pieces here and there, and add to it as your budget allows. The important thing is making sure you're comfortable in your living room, as you'll be spending lots of time in this space.