Decorated Life is reader-supported. When you buy through links on our site, we may earn an affiliate commission. Learn More
10 Best Window Treatments for Sliding Glass Doors
If you live somewhere with a sliding door, you know how easily someone can see right inside of your home at night when you have the lights on. Or, you know the frustration of your AC kicking on solely because the hot sun is beaming in through the windows.
Window treatments for sliding glass doors can help solve both of those problems, it's just hard to know what kind of window treatment will work for your situation and in your home. So, we've gathered up some ideas to help inspire your vision for your home.
Pull Down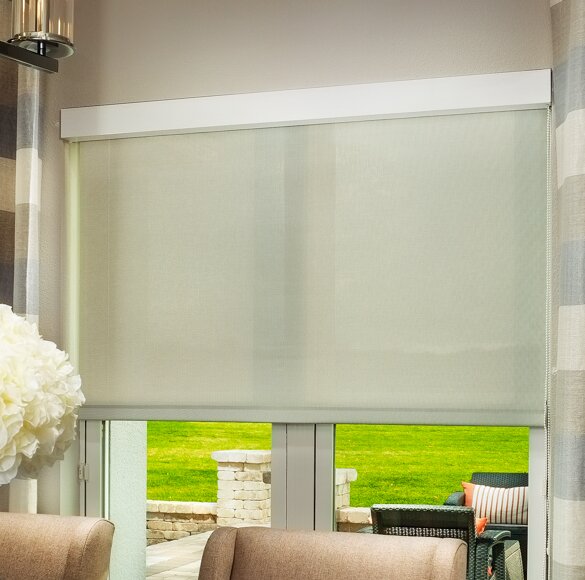 'One of the most traditional and best window treatments for sliding glass doors is the simple pull-down (or roll-down) shade. They're super easy to use and are perfect for privacy and shade.
You'll want to mount these up over the door frame since the glass windows overlap when you open and shut the door. So, if you have a door that extends really high up, this may not be the best option for you.
Burlap Look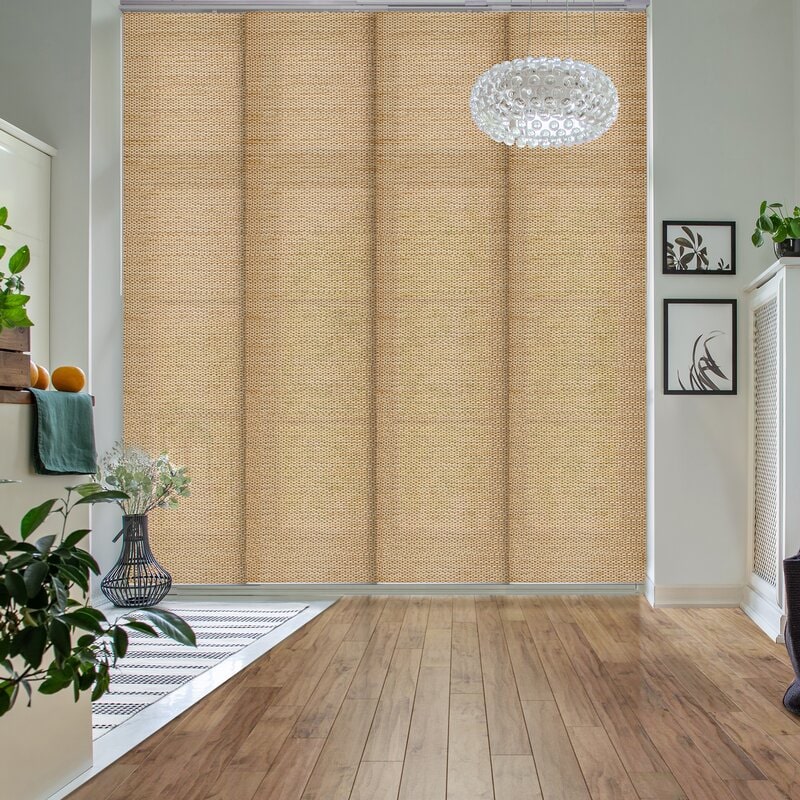 Bamboo shades for sliding glass doors are always gorgeous, but they're also often really expensive. You can get a similar look with these shades that have more of a burlap appearance, which is also rustic and natural.
Put these in a room with white furniture and decor and the contrasting colors will look absolutely gorgeous against each other.
Single Curtain Panel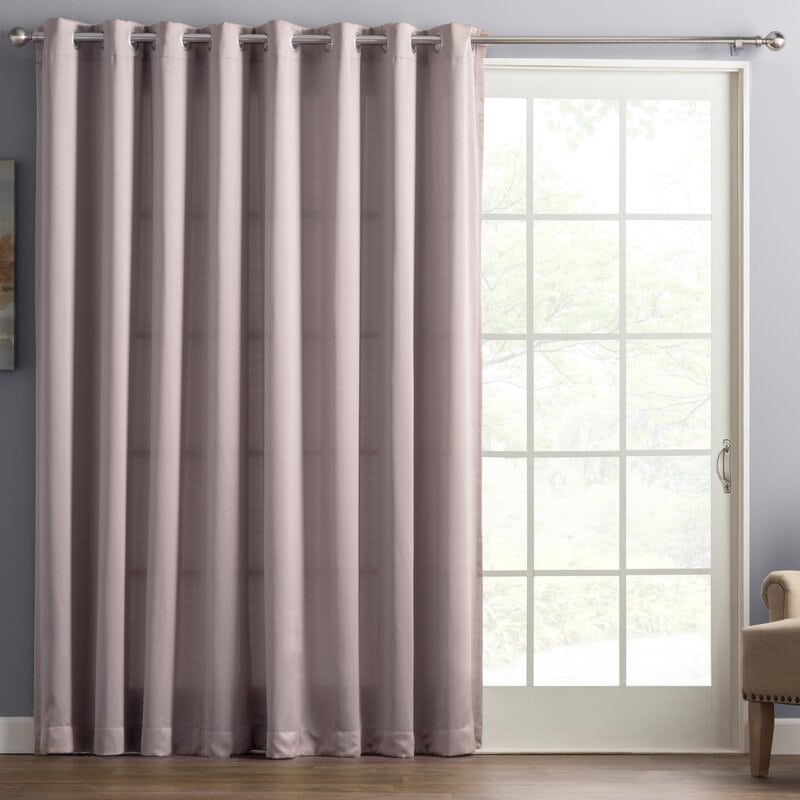 Instead of huge panels or shutters for sliding glass doors, keep it simple with a traditional curtain rod and a single curtain panel like in this photo.
With this choice, you'll want to pay extra attention to the width of the curtain you choose to make sure it's large enough to cover your sliding glass door. The last thing you want is a curtain that just floats in the middle with a few inches of window popping out at each end.
Semi-Sheer Style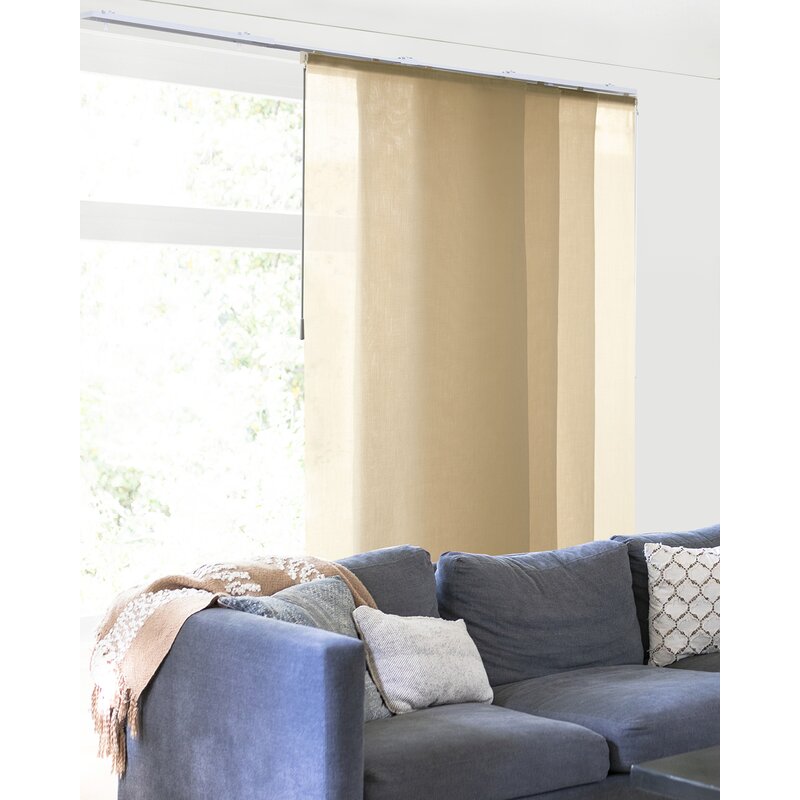 If you are looking for a way to block out the intensity of the sun's heat without sacrificing the gorgeous natural light, invest in some semi-sheer shades like these ones.
At night, they'll give you the same in-between coverage as in the day. Your shadows will likely be visible, but people won't be able to see directly into your home.
Outdoor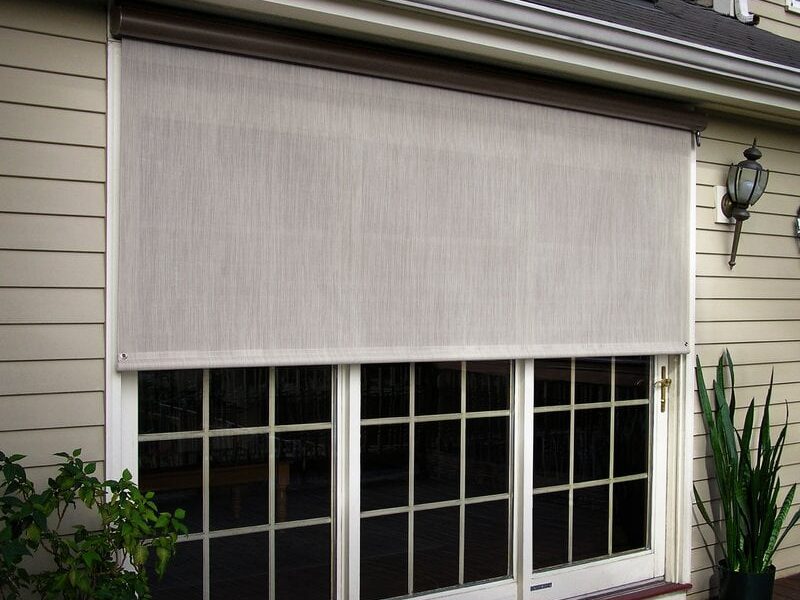 Instead of trying to find a want to mount blinds for patio doors inside the house, consider an outdoor shade. This is an especially great option if you don't have a ton of room on either side of your door to open traditional curtains during the day.
Traditional Two-Panel Treatment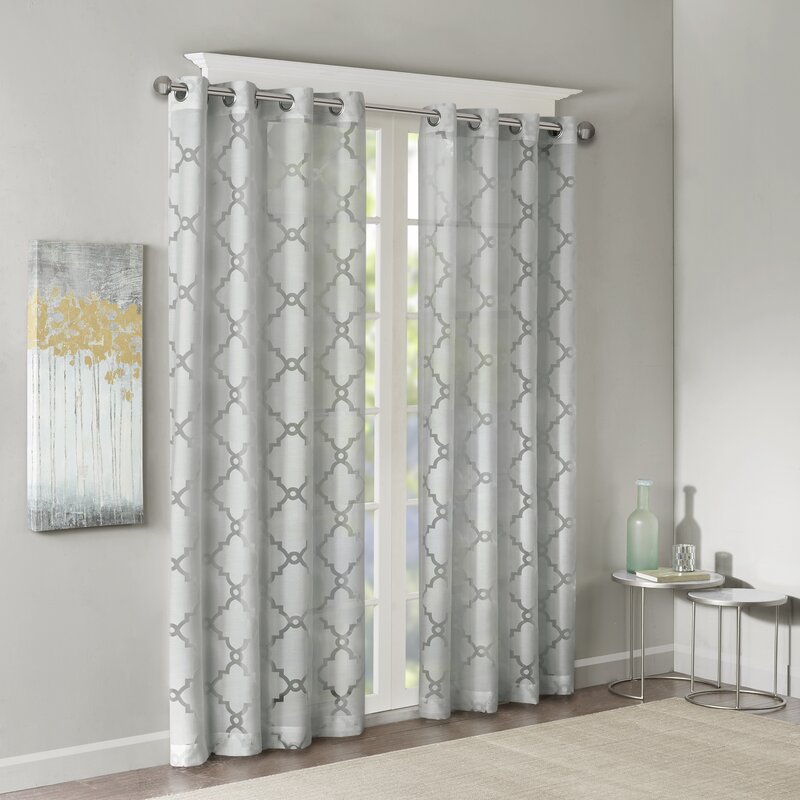 If you have the space and want to add some softness or color to your room, go traditional and hang two curtains for sliding glass doors. You'll need a wide curtain rod over the door, and a panel for each side of the door.
This is a great way to make your space look larger and ceilings higher since when they're hung correctly, curtains are great for creating the illusion of more space.
Grey Vertical Panels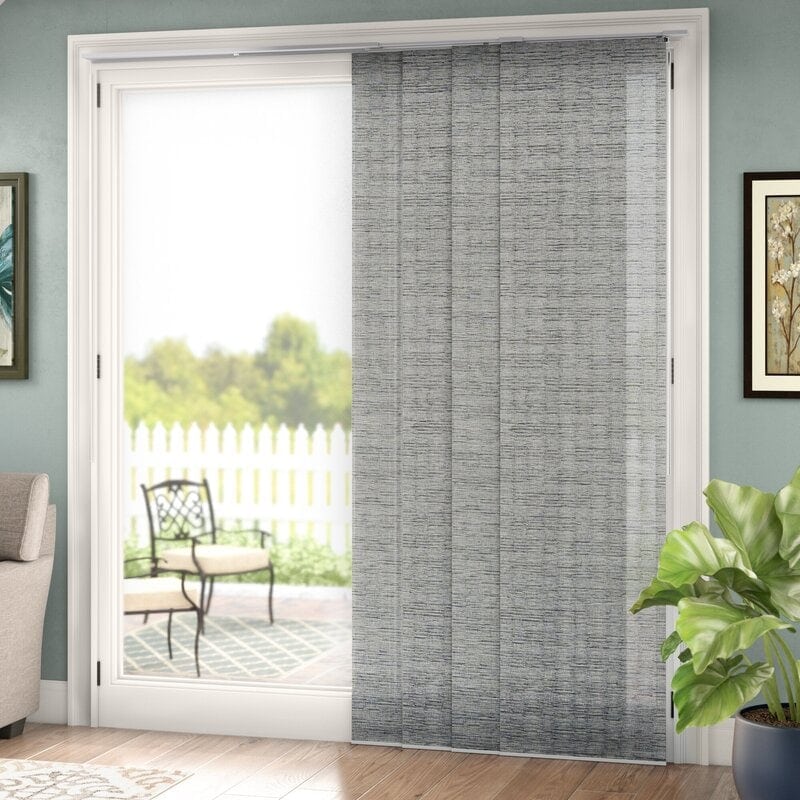 These sliding panels for patio doors are stylish thanks to their trendy grey hue, and smart because they can be pulled back entirely or just one panel at a time for an equally clean look. These would look great in just about any home and would lend plenty of privacy and shade.
Layered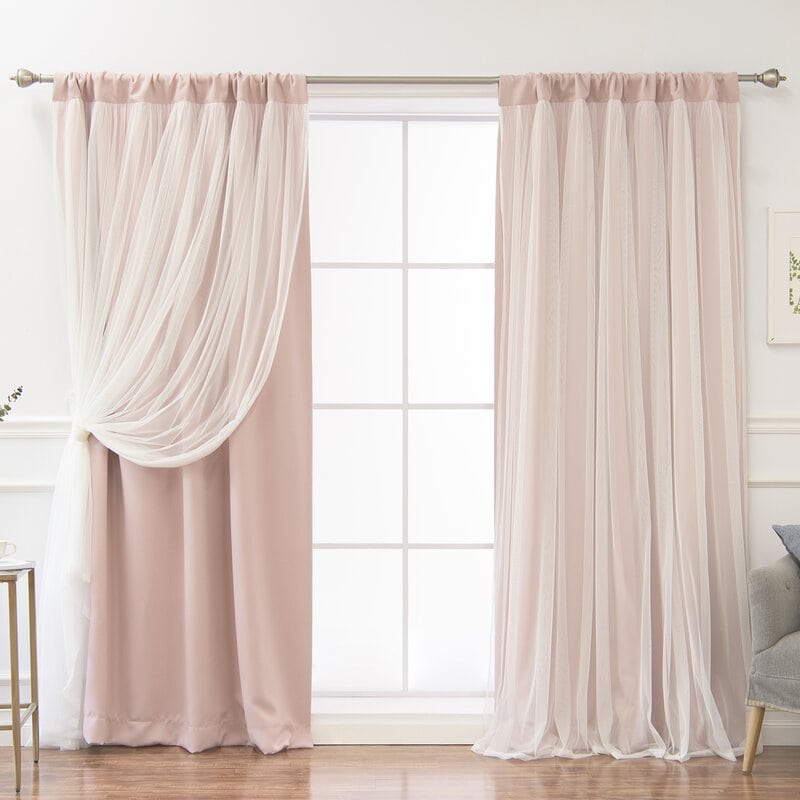 For a more sophisticated look with more functionality, take the traditional two-curtain panel style up a notch by adding a sheer layer in front.
To make this functional (aside from just pretty), get a double curtain rod that's designed to hang in layers. This way, you can open the solid panels and leave just the sheer panels closed when you need less intensity but don't want to totally close off the window.
Colorful Fabric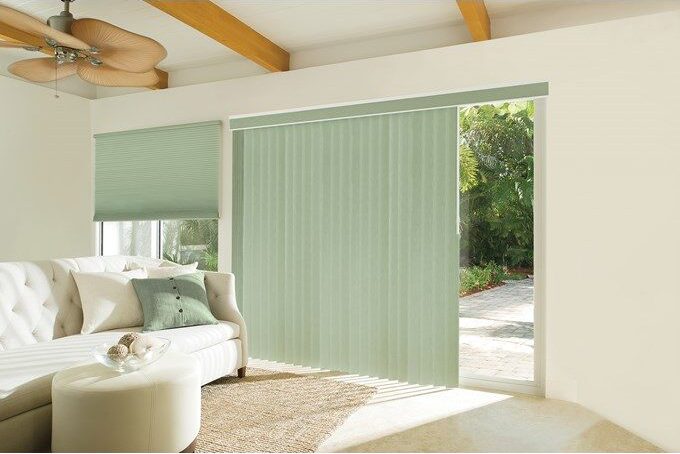 If you can swing it, it's often worth the investment to go custom and get a window treatment for sliders in a color or fabric that works specifically with your decor. When you go the custom route, you can usually also get the exact size you need, rather than having to rely on standard retail sizes which don't always work with every home.
Crisp White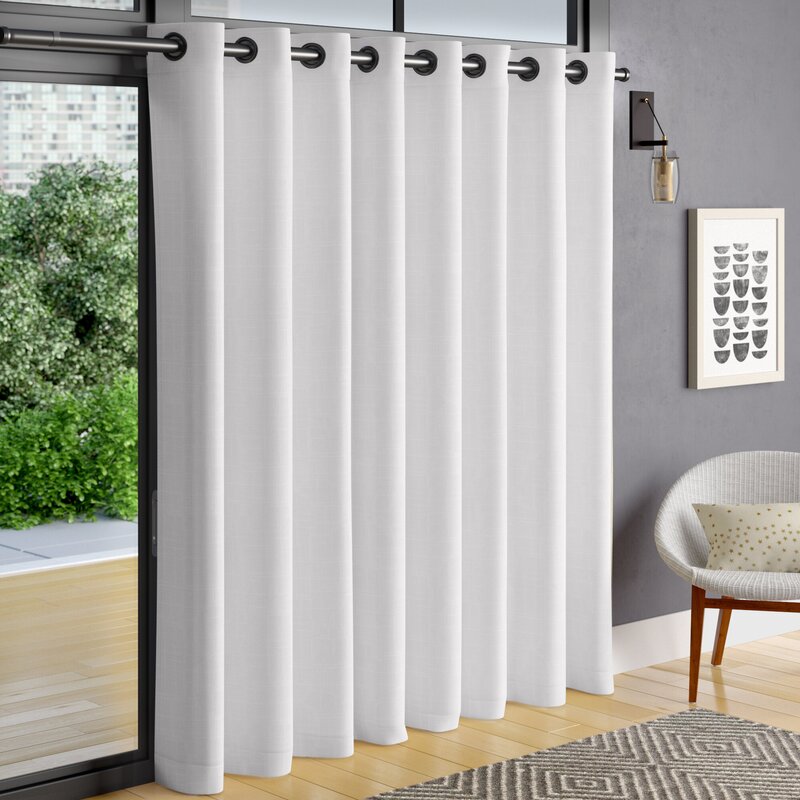 You can't go wrong with a crisp white sliding door window treatment. White is clean, light, and matches pretty much every home decor style there is.
White is also really great for a large sliding glass door because it amplifies the light when it's open during the day, and doesn't darken the room very much when it's closed. When in doubt, go for a white window treatment.
Final Thoughts
Whether you're trying to get shade, privacy, or just add a little color to the room, window coverings for sliding glass doors are the way to go.
There aren't an endless number of options, but there are still more than you probably realized! So, get creative and figure out what works best for your needs and space.