Decorated Life is reader-supported. When you buy through links on our site, we may earn an affiliate commission. Learn More
Patio Doors Styling – Make Your Patio Door Look Expensive
By: Decorated Life Team
|
Patio Door Makeover
Patio doors are the eyes to your garden, security for your home and an accessory to your decorating style – as you go from indoors to outdoors. This post is about making your existing patio doors look more expensive; either by painting or replacing the door handles.  No, you can't turn a folding patio door into a swinging patio door, without replacing the whole unit, but at least you can update the look.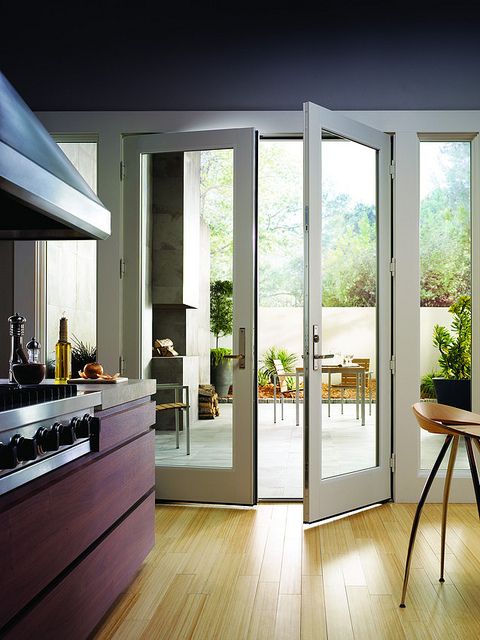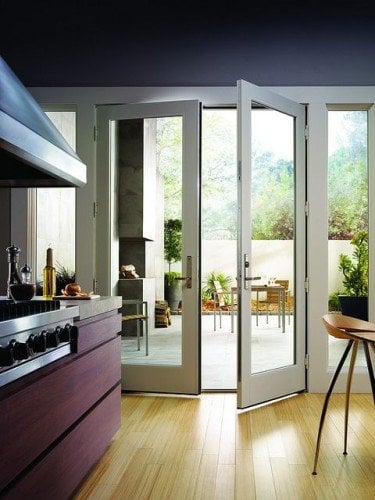 Sometimes, fresh paint, new patio door handles or new patio door rollers is all it takes to make your doors look new again.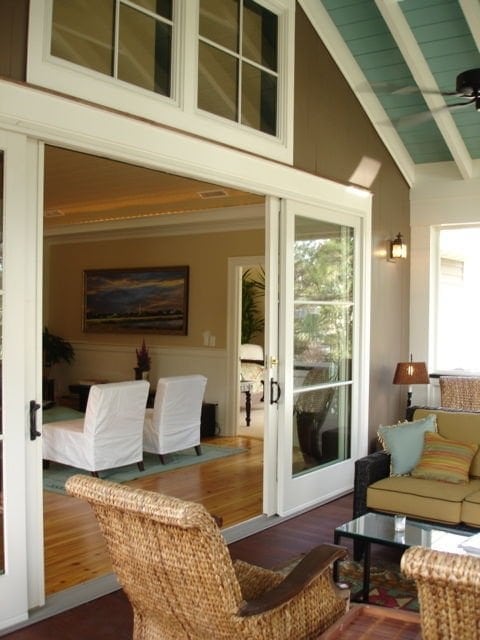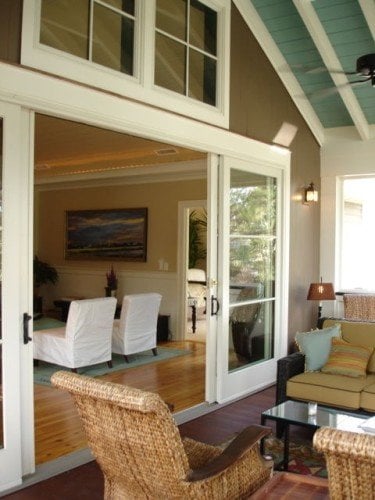 Source: herlongarchitects
The white sliding glass patio doors above, by Herlong Architects, are custom patio doors. This is a stylish look. A copycat version is to remove old outdated hardware and replace it with black patio door handles. Black looks great against the crisp white painted door frames. You can also add two thin wood moldings across the width of the glass to create the look of glass panels. Unlike the sliding door handles, the patio door lock is white and unobtrusive.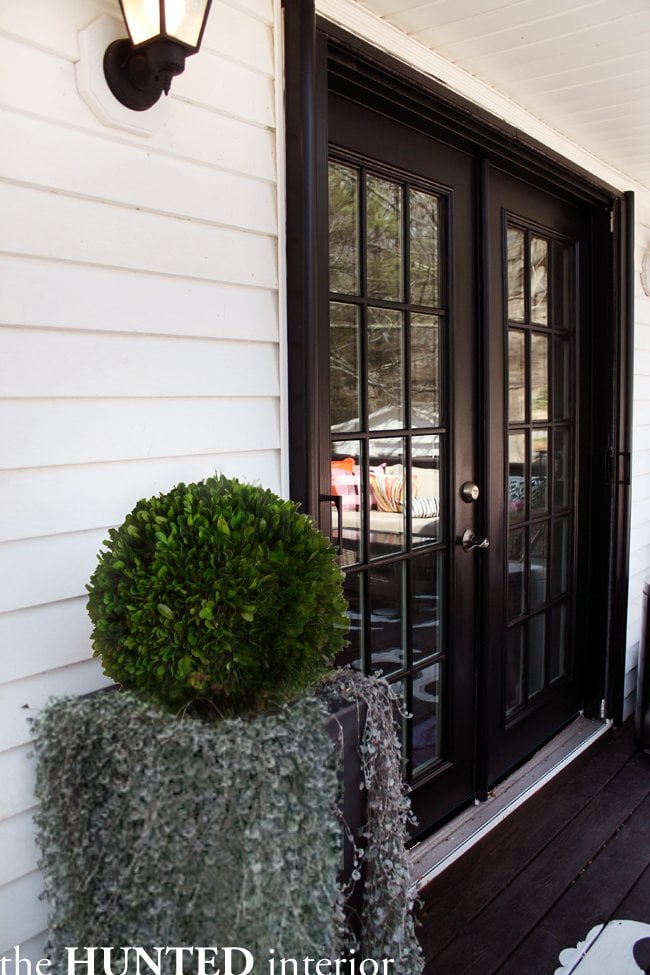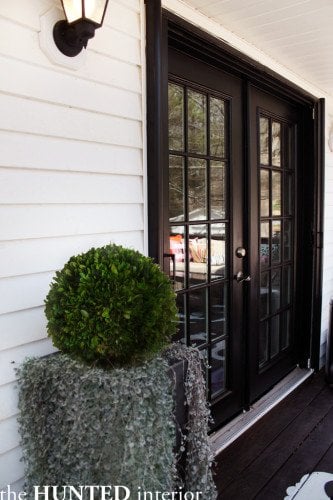 Source: The Hunted Interior
If you don't want to remove your old patio door hardware, use an oil rubbed bronze spray paint to create an aged bronze door knob effect to  get rid of old gold handles. It's a fast and inexpensive makeover. In this case, Rustoleum, Metallic Paint & Primer was used.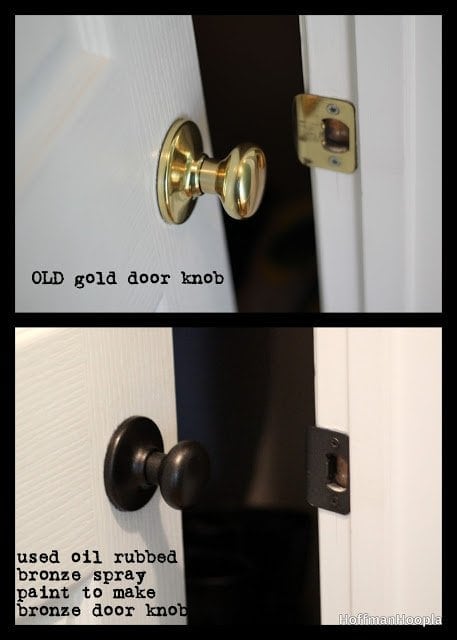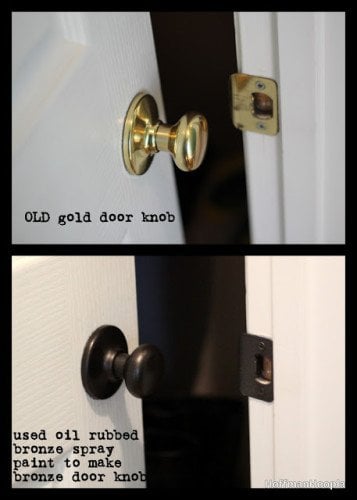 Source: K K Hoffman
There are so many sliding door handles and lever door handles to choose from and they are not too difficult to remove and change. The video below shows how to remove a sliding door handle.
The addition of plantation shutters, brings these sliding patio doors up-to-date as well as give protection from the sun and added privacy. No need for patio curtains with this look. They are easy to clean and maintain too.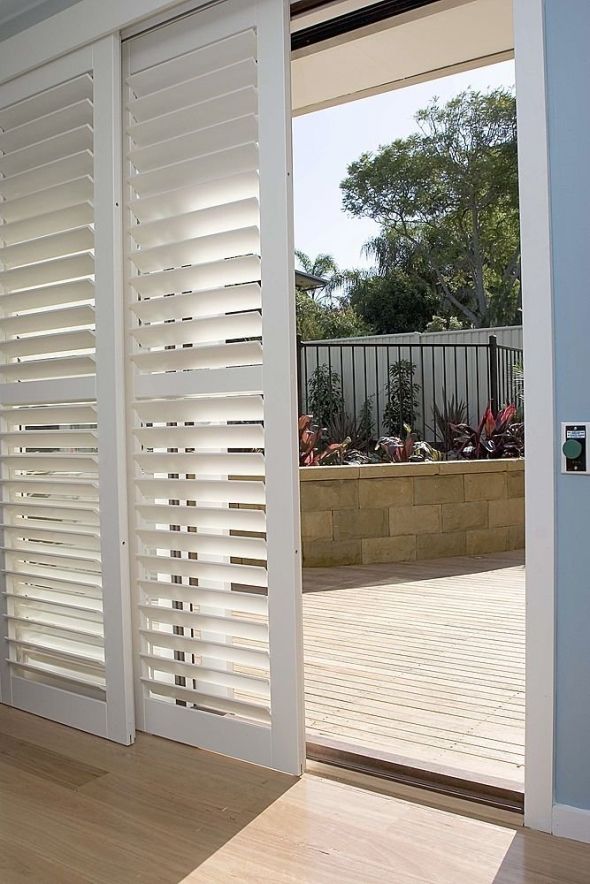 Source: Oranges and Peaches
The wooden swing doors below are given an external facelift with the addition of a cafe style canopy. It looks fancy but you can copycat this stylish look by adding canvas above the doors, and securing it over a simple frame. The frame can be made of wrought iron, an old style shower curtain rail or even an IKEA wrought iron curtain rod.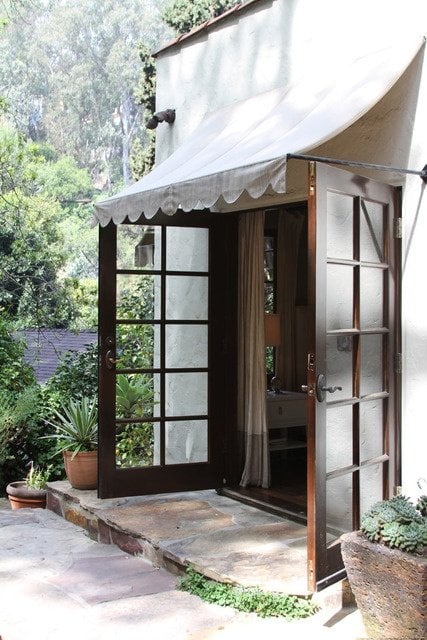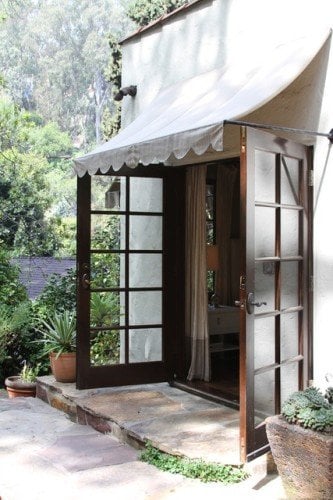 Bi-fold doors have been around for a while now. A fresh coat of paint, and some new brass hardware, makes them look new again. There are companies that will switch out your sliding doors for a bi-fold or swinging door. Talk to them before trying to replace them yourself, because patio door sizes are generally smaller than normal door sizes.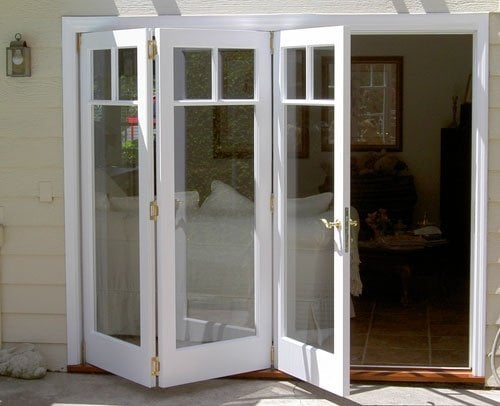 Source: Pinterest
The glass panel doors below are elegant and are 'party-ready'. These patio doors have been given a facelift with a navy and white canopy style heavy patio door curtains. The white banding is crisp and lifts the otherwise block navy colored fabric. You can get these made, or make them yourself if you are comfortable with a sewing machine… and staple gun. Using a curtain rod to secure the canopy means you can take them down to wash or put away for winter.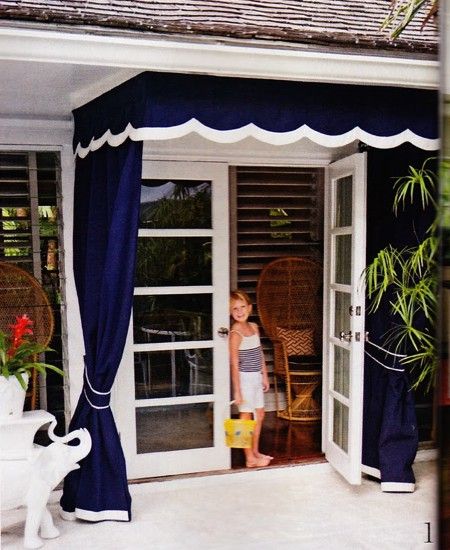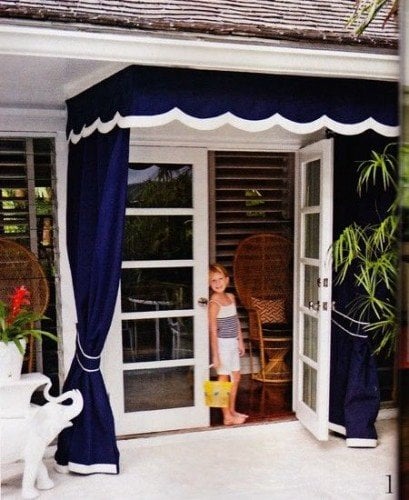 Source: Karen Davis Design
Just painting the frames of these glass patio doors black would create a similar look as the wood patio doors below. Black trim is a great contrast for almost any decorating style and creates a real feature. These doors have matching black handles but you could also use brass or silver as a contrasting feature.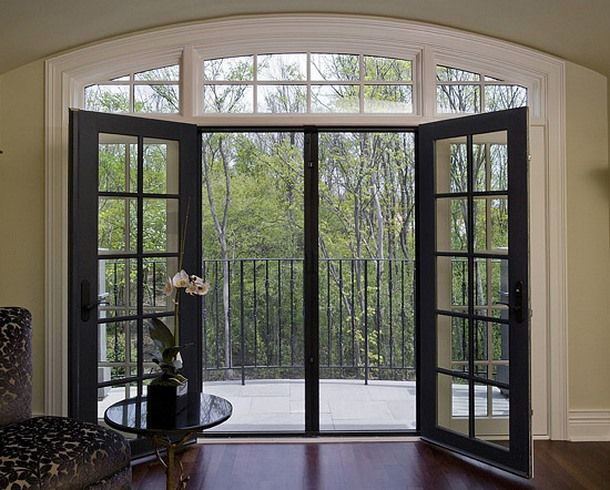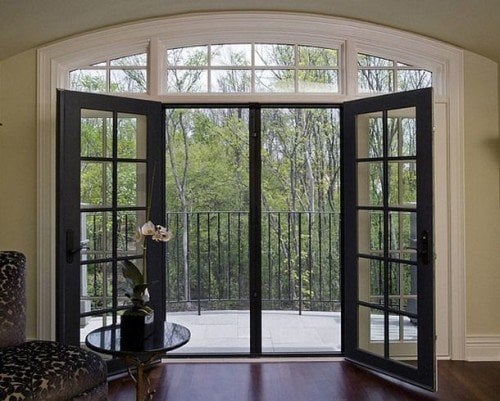 Source: Orren Pickell Designers & Builders
For lovers of color, the doors below are distressed and playful. Instead of going sparkly and new, use chalk paint and colored glass to create a unique patio door look.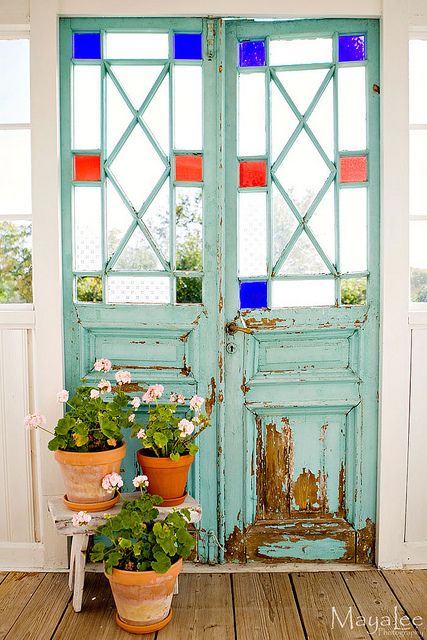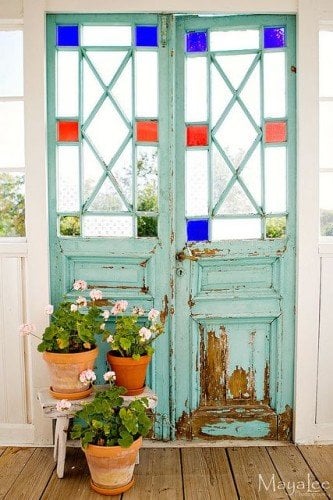 Need to remove a door knob? Here's a short video on how its done.
The only makeover these patio doors from Pink Persimmon had is the addition of overflowing lavender in terracotta pots.  It's a simple addition that makes these doors look timelessly classic and the perfect set for any garden party.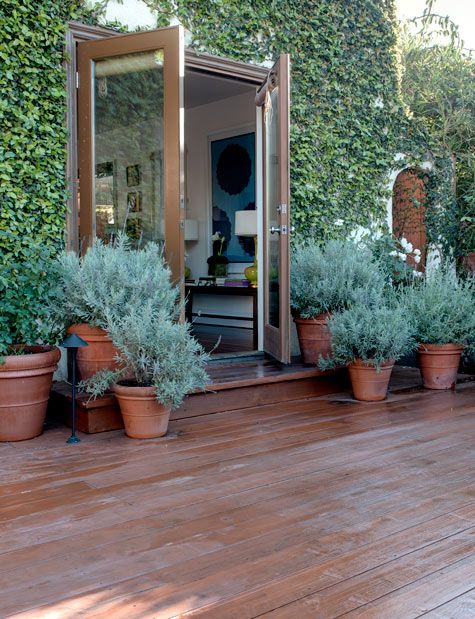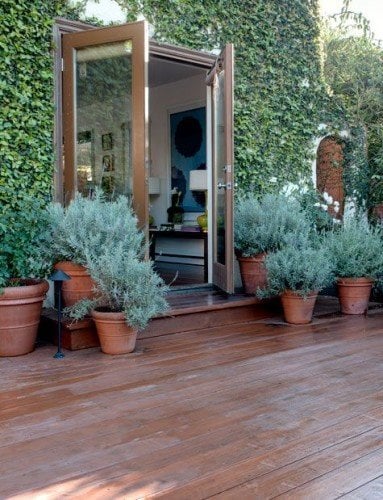 Source: Pink Persimmon
Need to remove a door handle with no visible screws? This video is for you.
The three main patio door styles are patio sliding doors, swinging and folding patio doors also known as bi-fold patio doors. They all have advantages. Right now swinging doors are making a come back. But unless you are prepared to spend a few hundred dollars, they are not always an option.  But if you are looking to change your door from a sliding door to a swing door this video will interest you.
If you have a patio door story, send it in, with some photos and let us publish it! If you haven't joined our list you can do that here.