Decorated Life is reader-supported. When you buy through links on our site, we may earn an affiliate commission. Learn More
15 Color Cabinets That Go with Black Stainless Steel Appliances
Black stainless steel appliances can give your kitchen a modern, upscale feel. But there needs to be serious consideration before picking what color cabinets go with black stainless steel appliances.
We've picked 15 kitchen color schemes with black appliances. Of course, the easiest choice is to go with natural wood color. But you can also paint your cabinets in shades like white, yellow, dark red, blue, or black cabinets with black appliances.
Cayenne by Sherwin Williams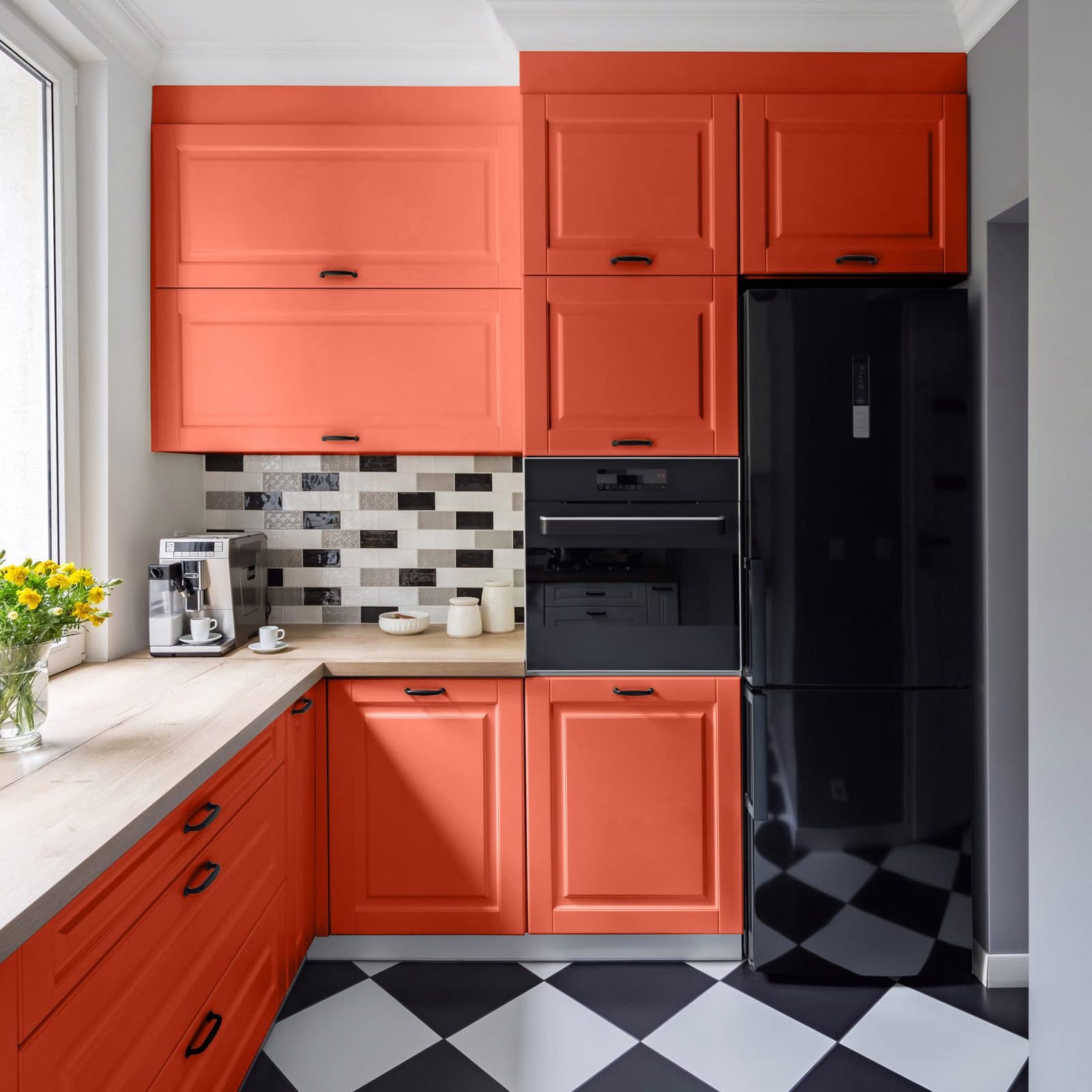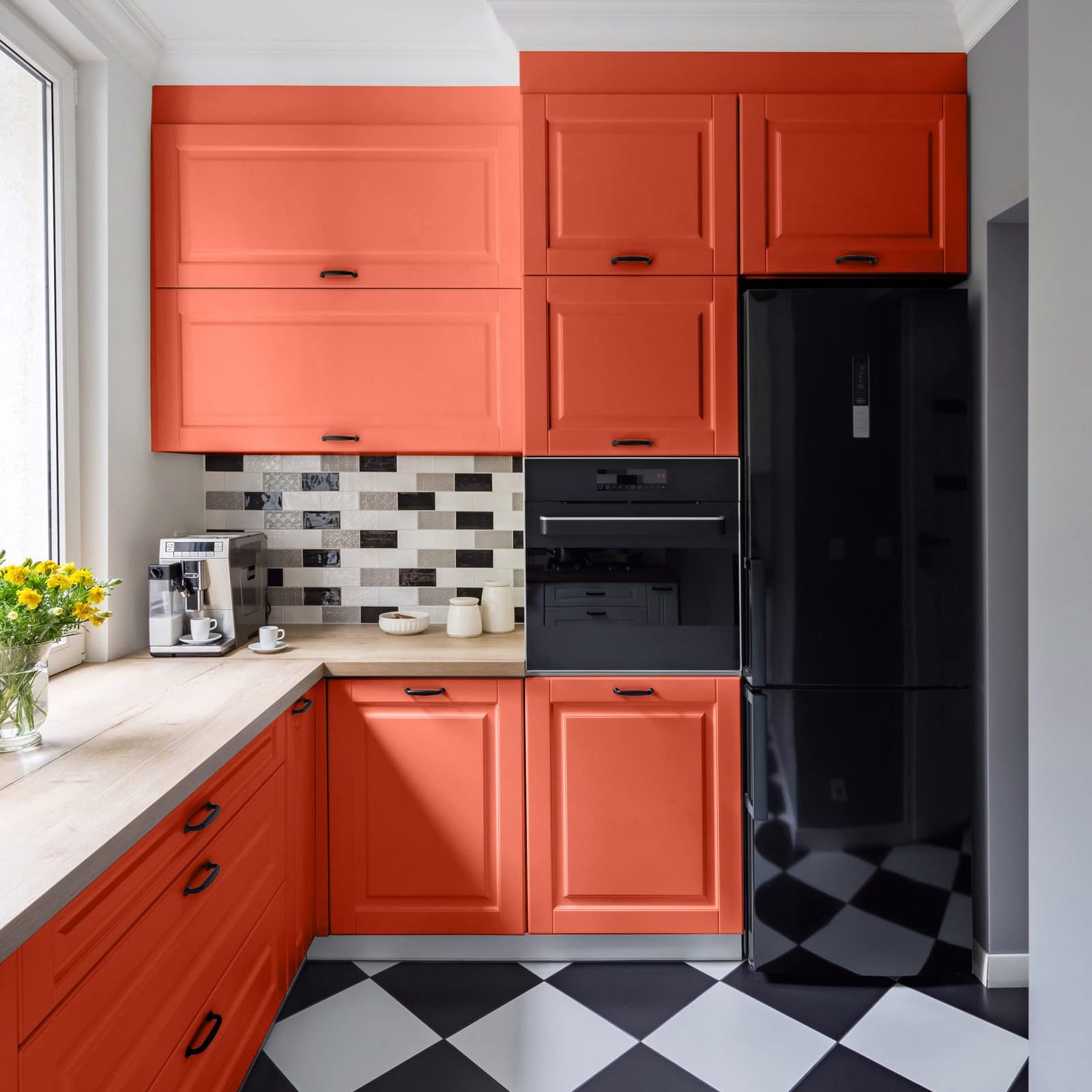 Black and red is a modern color combination that can make a kitchen scream with personality. When you have black appliances, painting your cabinets red – try Sherwin Williams Cayenne – can create quite a bold contrast.
Balance the look with lots of brightness, like white or light neutral walls. And a checkered tile in black and white can put out retro vibes. Finally, butcher block counters in a natural finish add a touch of softness.
Daisy by Sherwin Williams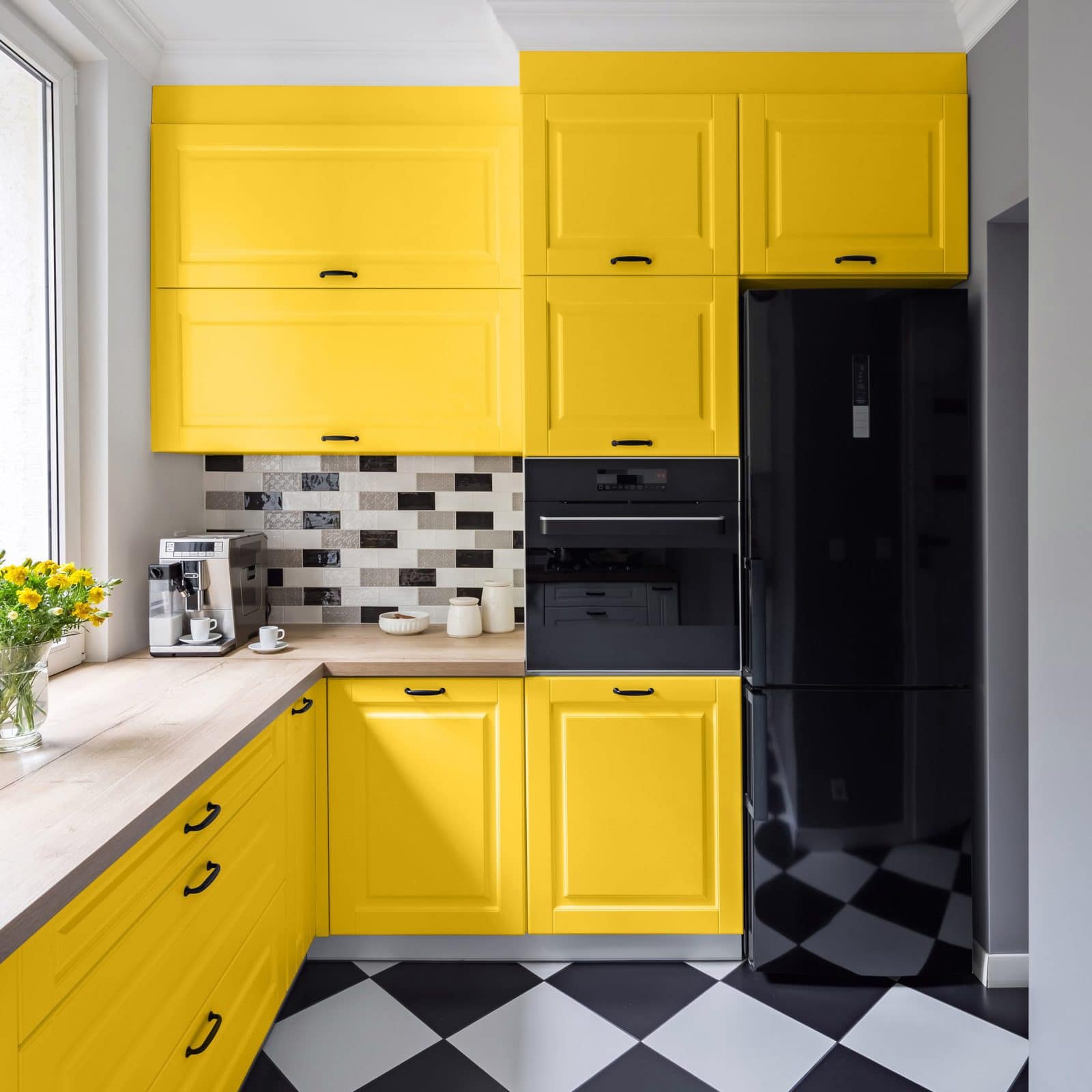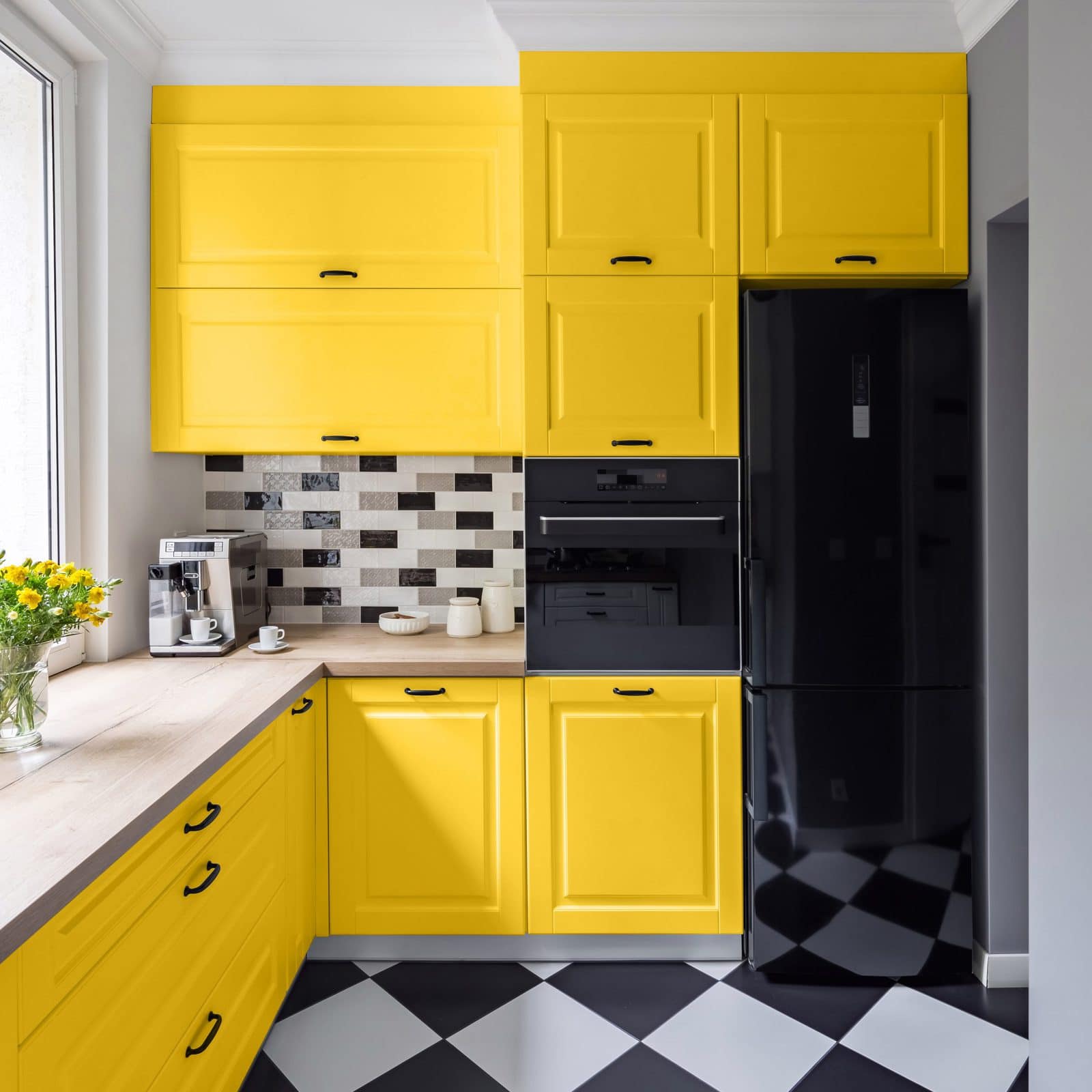 To tone down the darkness of black appliances, you can choose a brighter, warm shade like yellow for the cabinets. Yellow is a soothing, cheerful color that gives off rustic, country vibes.
Sherwin Williams has the perfect shade – Daisy – for kitchen cabinets. You can embrace the homey feel by distressing the paint finish. And to add some color contrast, use a mint green for additional accents.
Tricorn Black by Sherwin Williams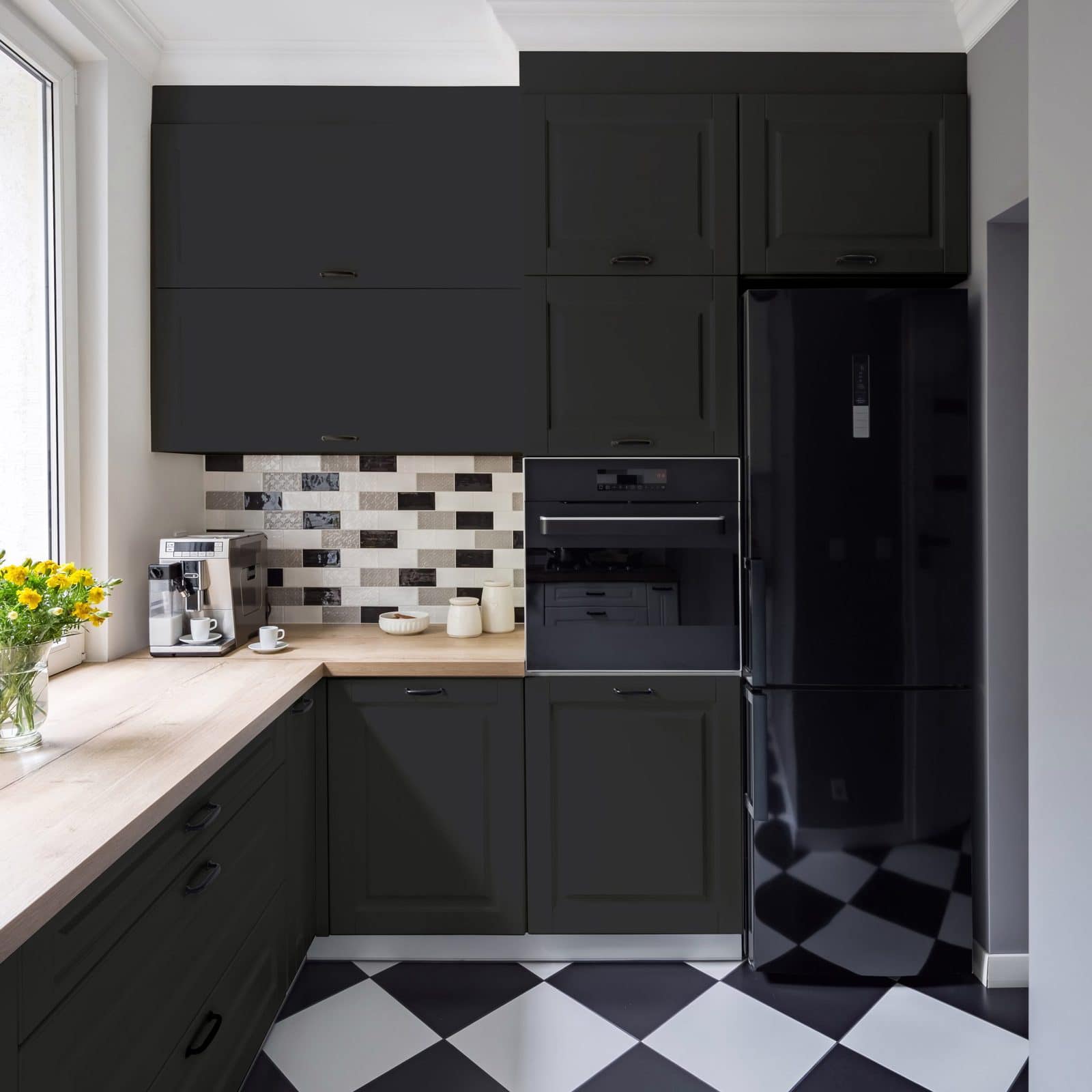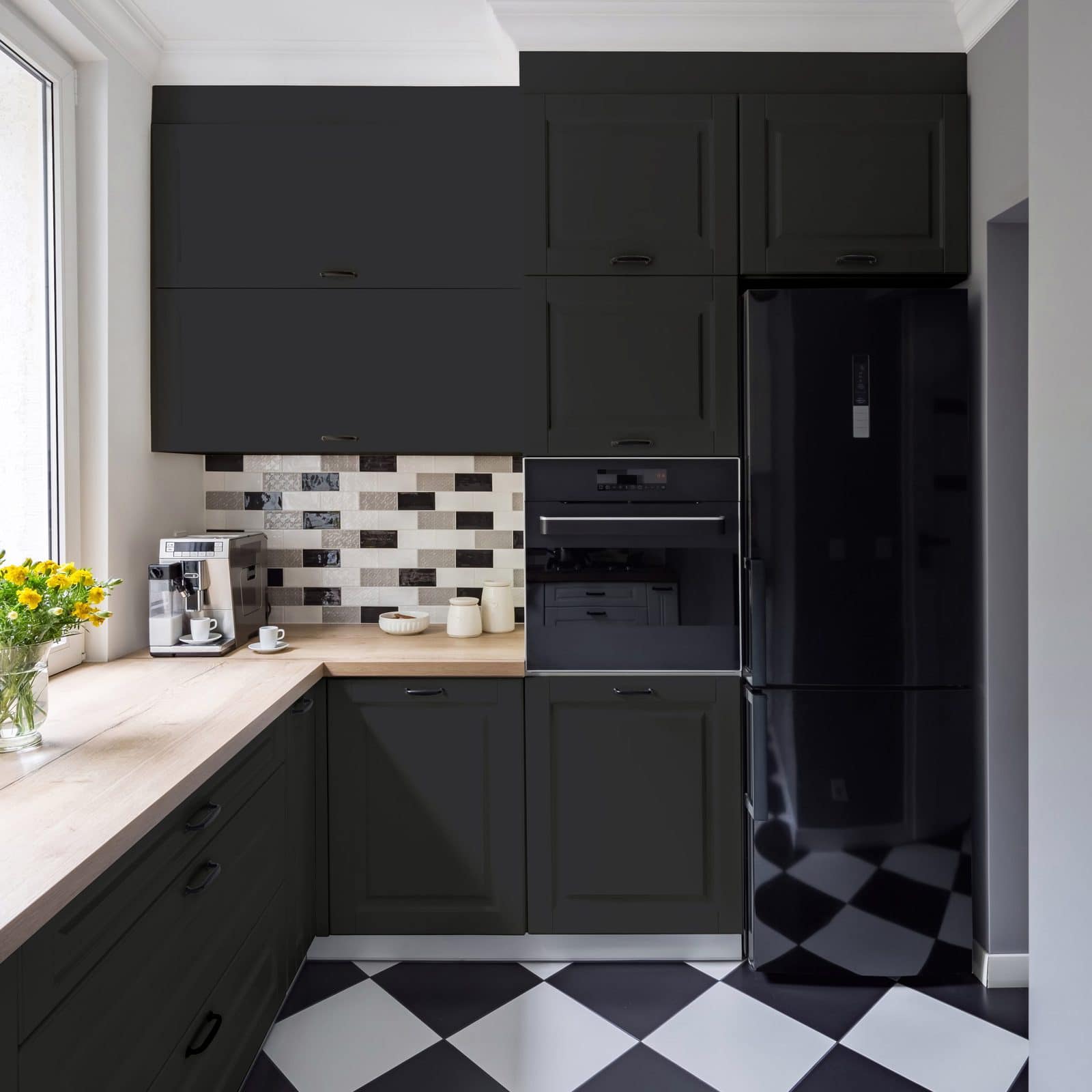 If you want to get an intense, industrial feel in your kitchen, you can go with an achromatic color scheme consisting of black on black.
Try black appliances with two-tone cabinets if going for a full black palette is too dramatic. Instead, go with a black like SW Tricorn for the lowers and keep the uppers white and bright.
Tinsmith by Sherwin Williams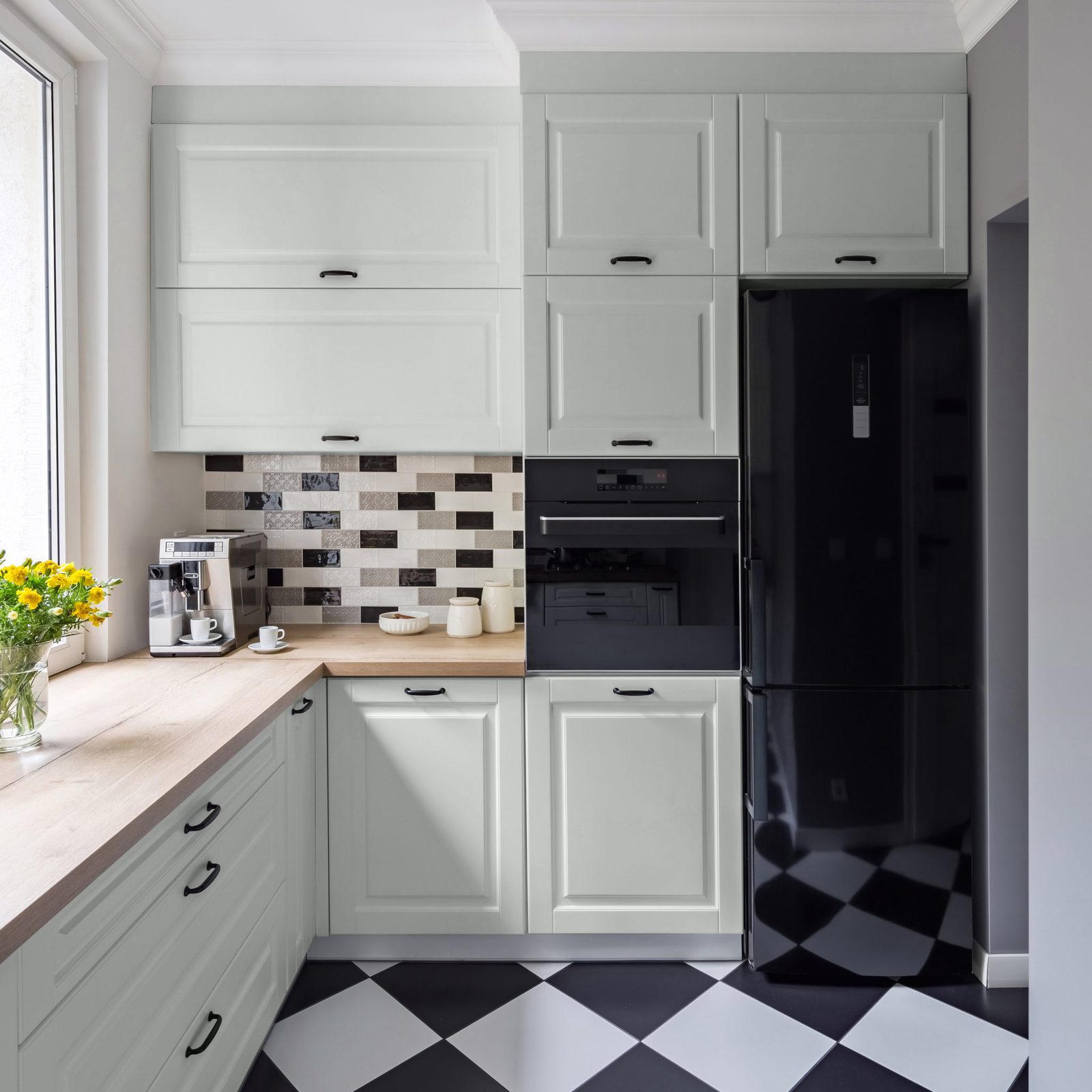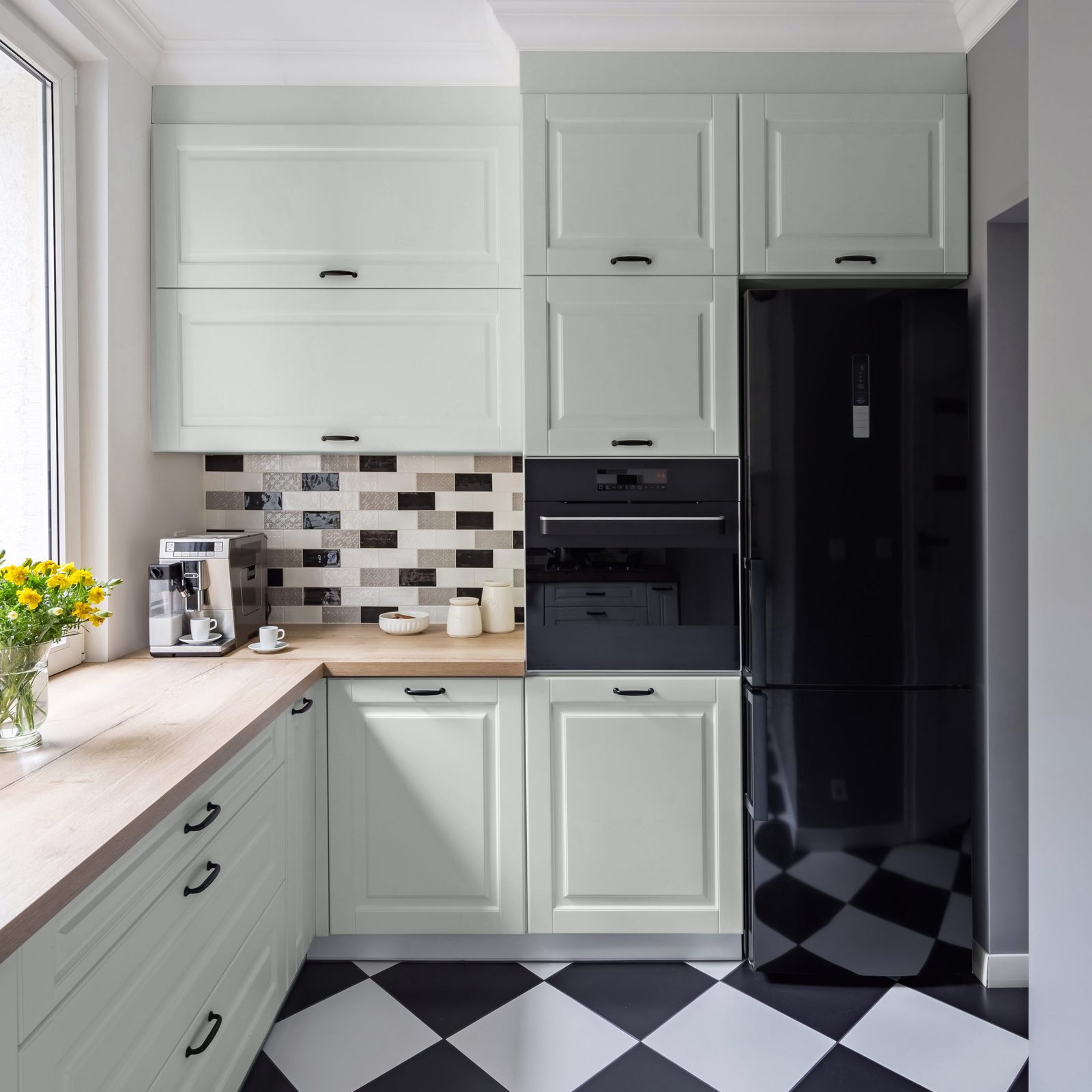 A grayscale color palette is another fantastic look for a kitchen with black appliances. With this scheme, you limit the accent colors and change the look by changing the intensity of the black.
Gray and black is a neutral palette that can look modern and classically upscale. We're fond of Tinsmith, a soft cool gray with pale greige – beige and gray – undernotes.
Blue Chip by Sherwin Williams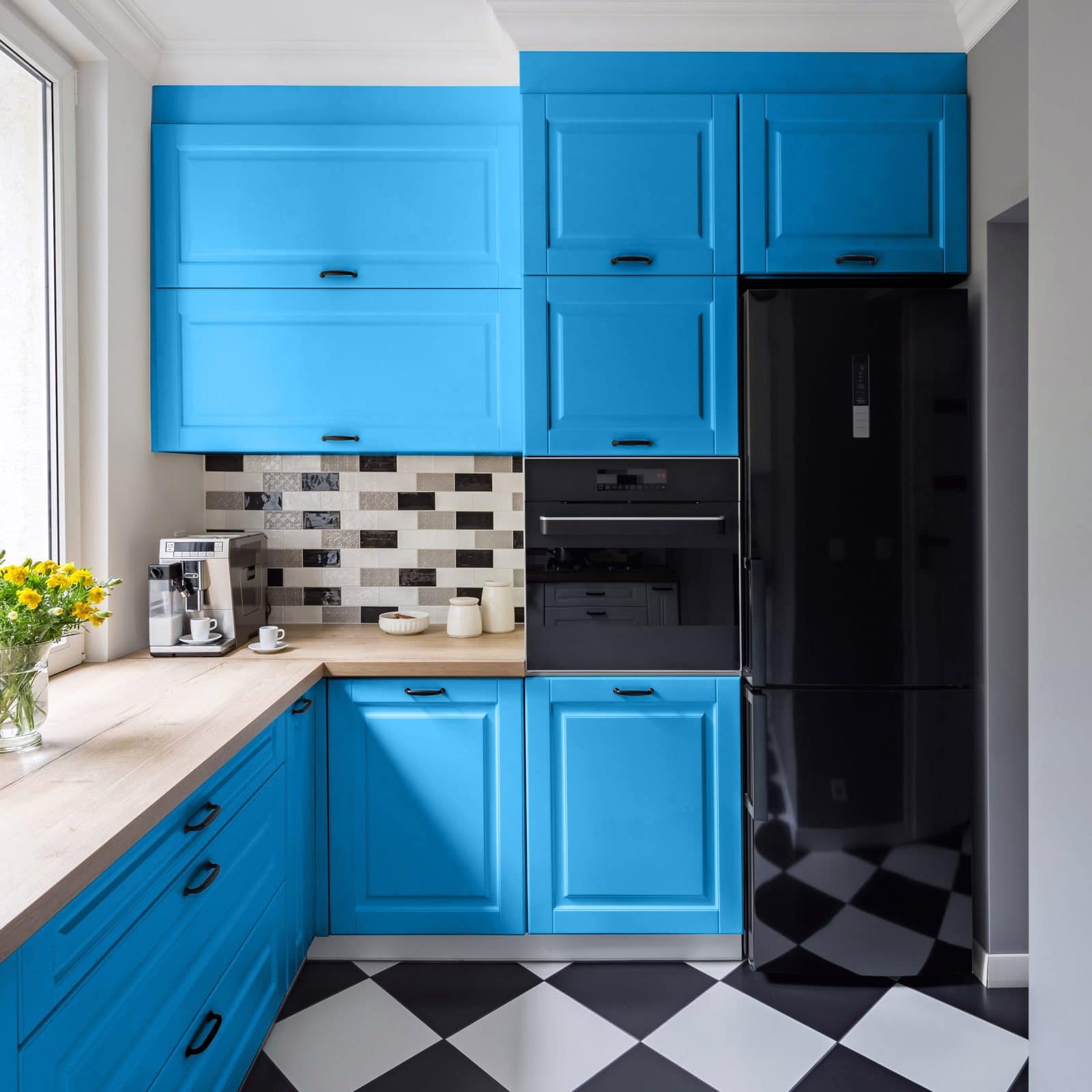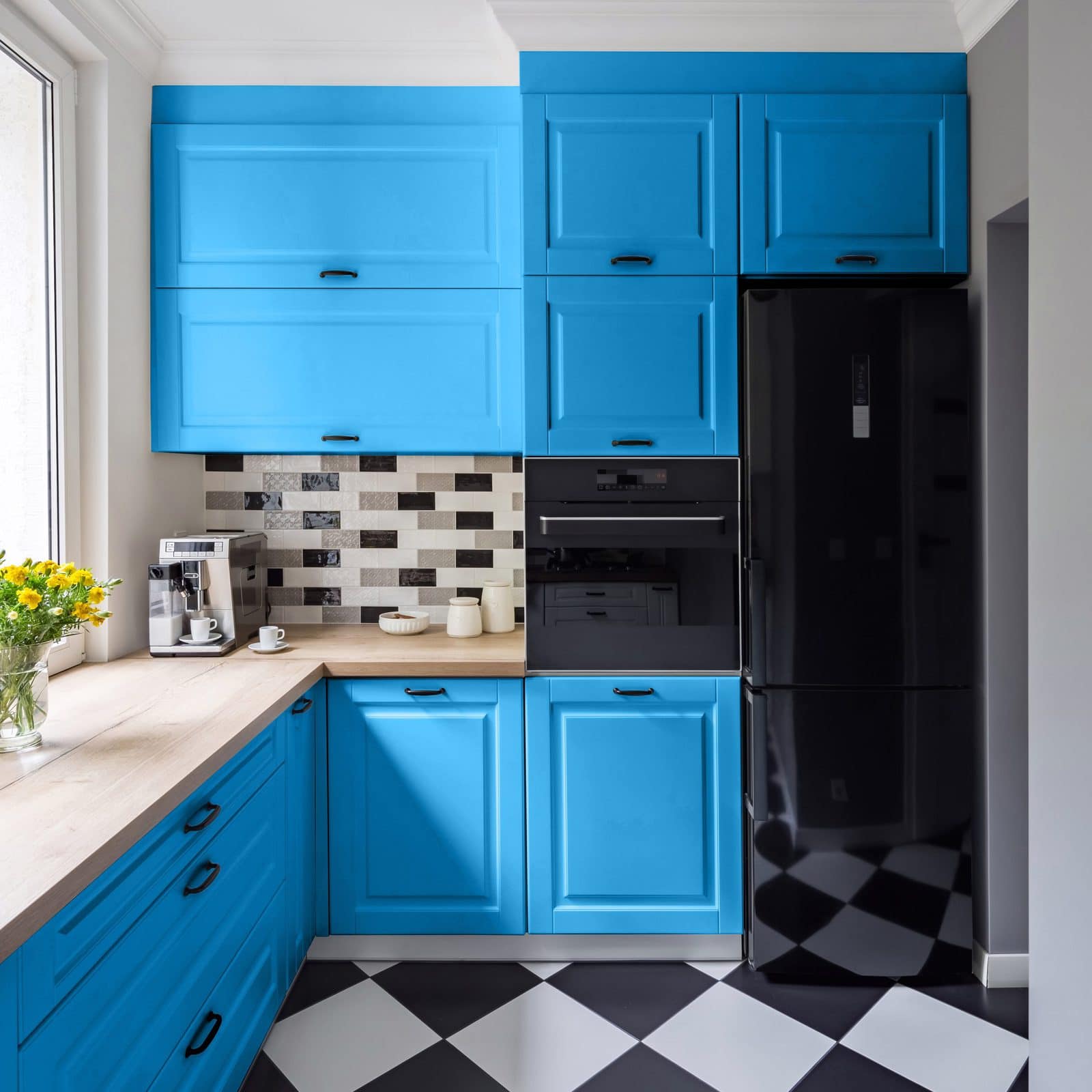 Enjoy a European cottage feel by painting your kitchen cabinets a vibrant shade of blue for a kitchen with black appliances. The crisp coolness of the richly saturated Blue Chip looks superb.
Go for a bold look with blue for the upper and lower cabinets. Or use a more subtle style by pairing blue cabinets with white or gray ones.
Elation by Sherwin Williams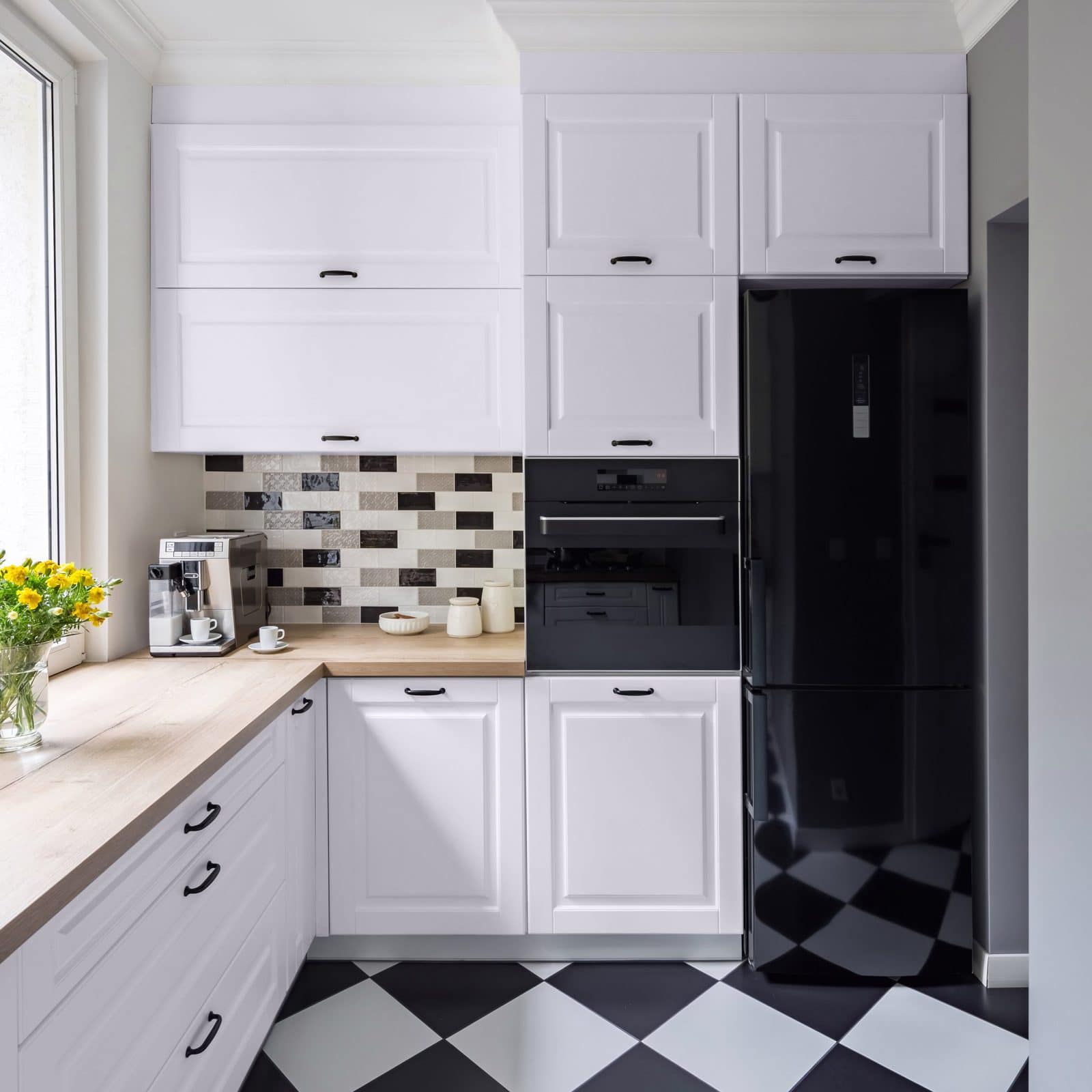 If you want to choose a light color scheme to go with black stainless steel appliances, but you want to add a bit of color, we're intrigued by the idea of going with a super pale purple.
Elation by Sherwin Williams is a purple that almost looks gray due to the high LRV of 72 and the balanced hex code of B:229 G:220 R:223. However, this subtle tinted color can add personality and charm when used for cabinets with a black and white kitchen.
Navajo White by Benjamin Moore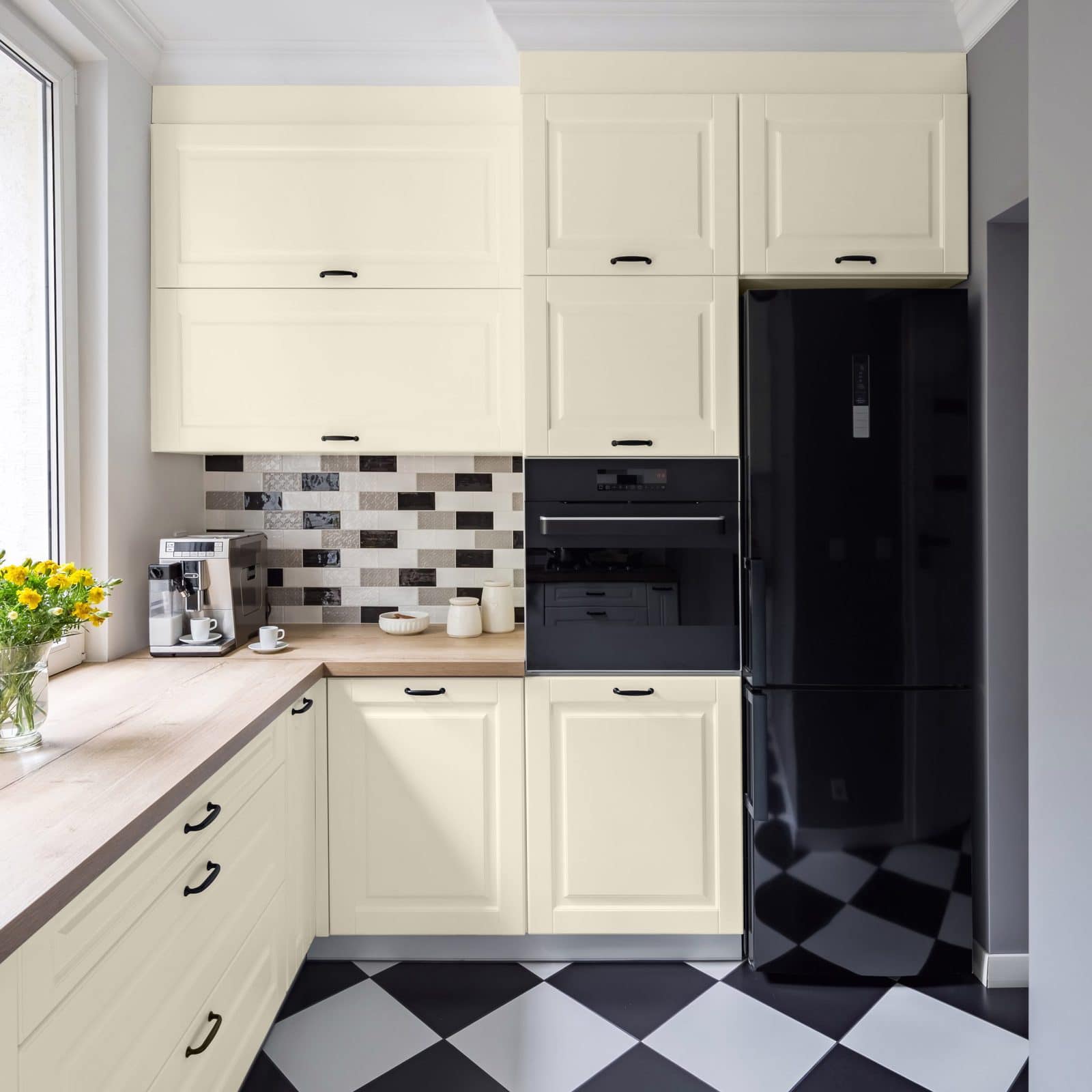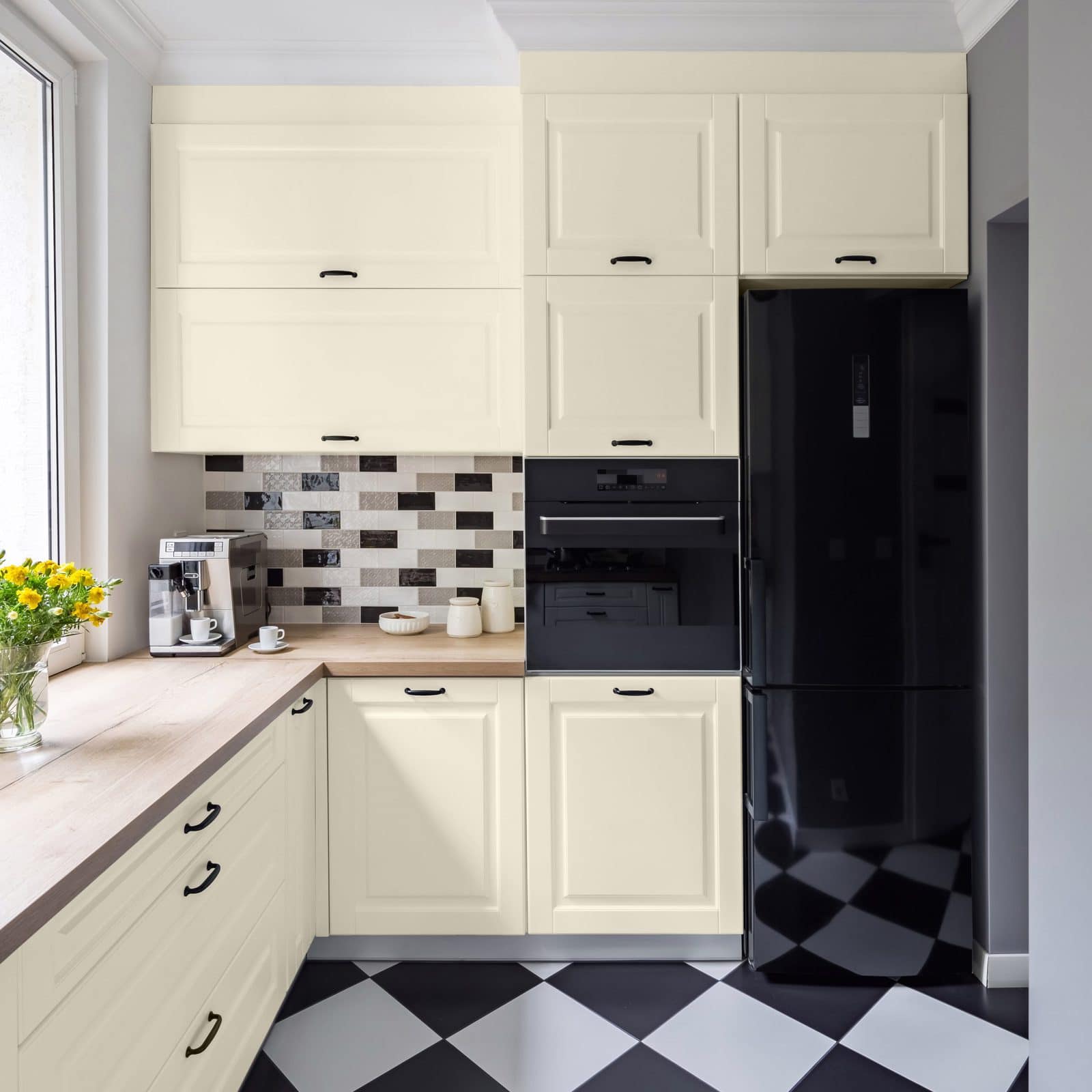 White is always a suitable cabinet color choice for kitchens with black stainless steel appliances. However, an off-white with a dark, saturated black can create an interesting achromatic scheme of natural neutrals.
We're partial to the warmth of Benjamin Moore's Navajo White, a white with slight traces of tan, brown, and beige undernotes.
Silver Half Dollar by Benjamin Moore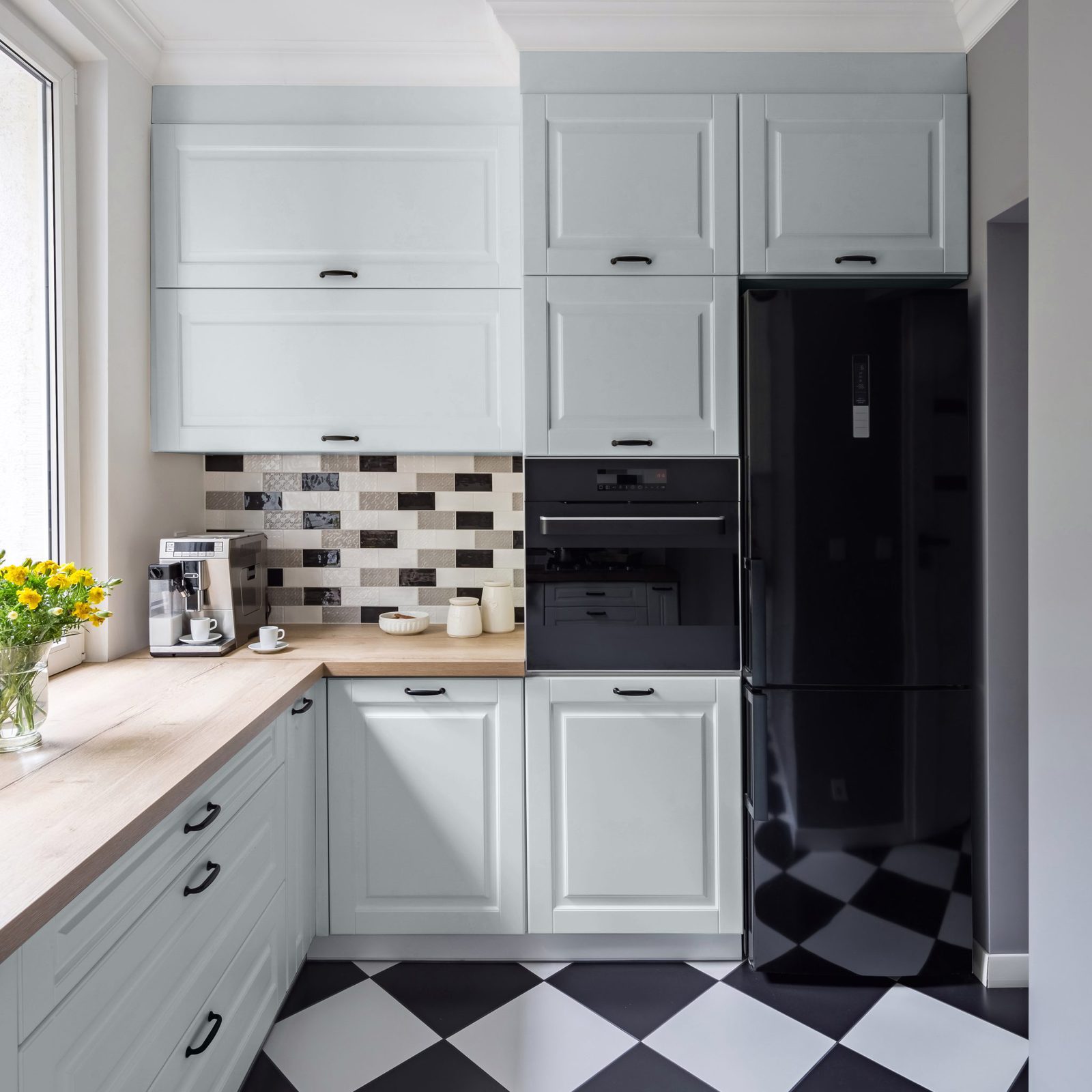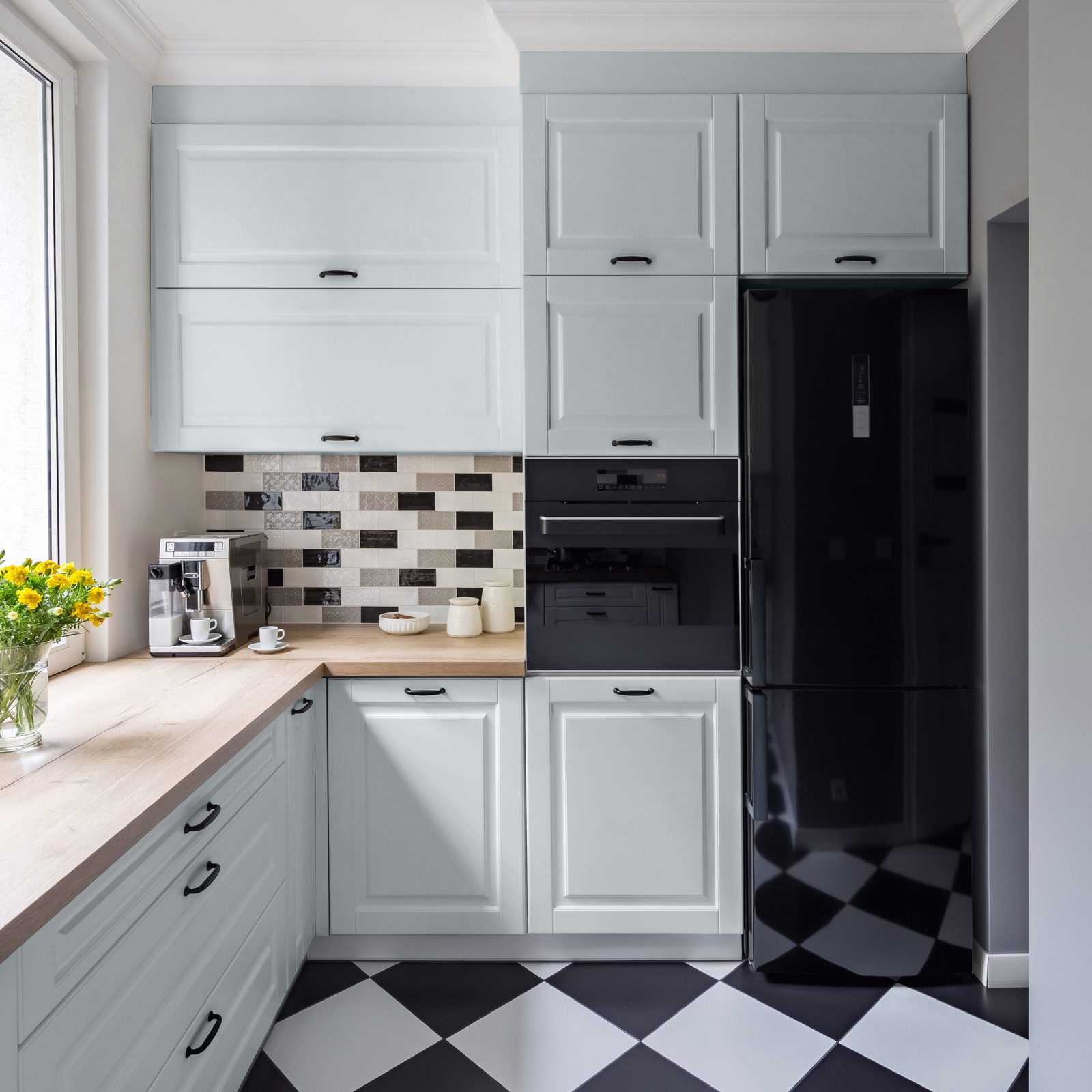 Give your kitchen cabinets definitive tone and personality by choosing a light, saturated shade of gray like Silver Half Dollar by Benjamin Moore.
With a mid-value LRV of 57.53, this metamerism gray has undernotes of blue and beige that can make it look different based on your accent palette.
Pomegranate AF by Benjamin Moore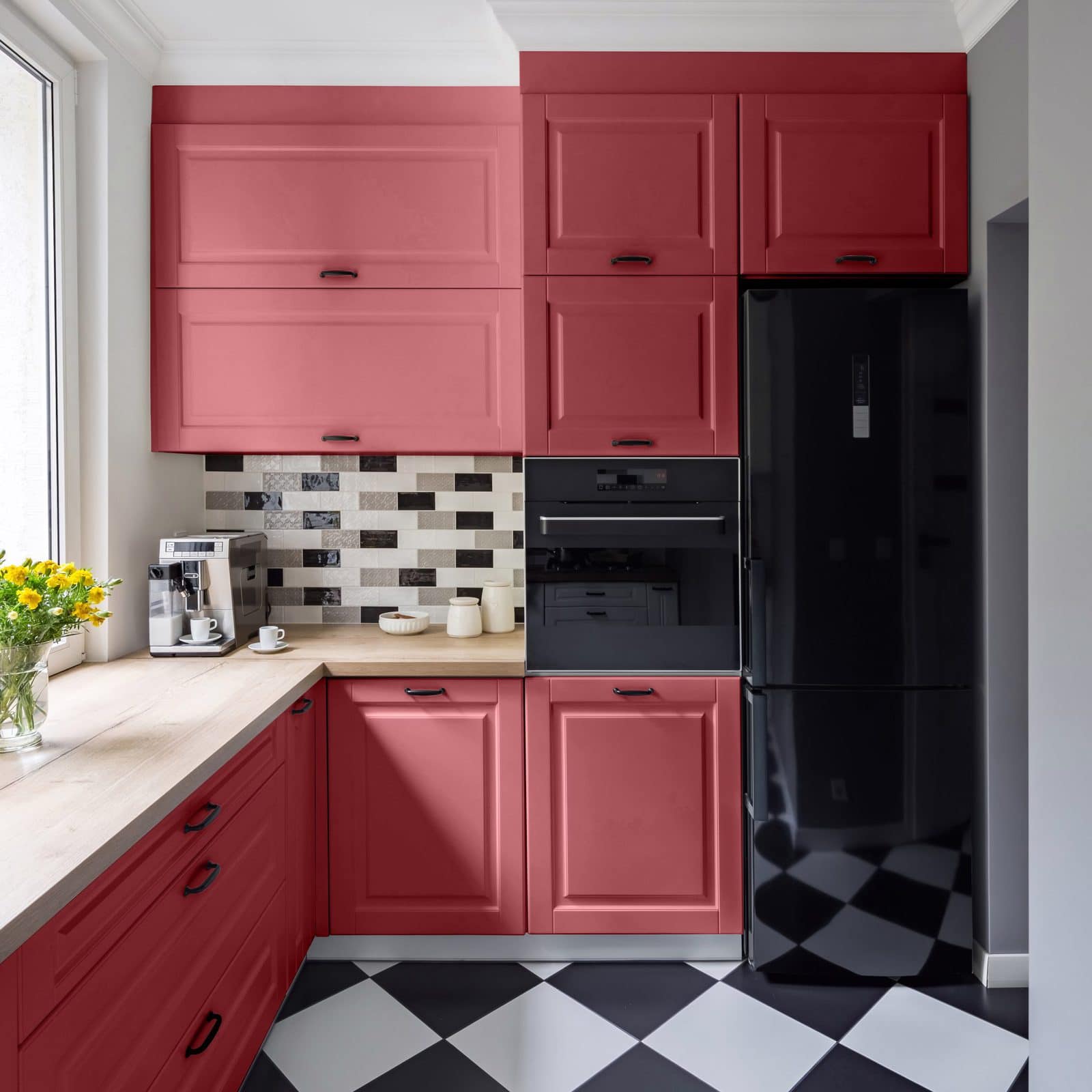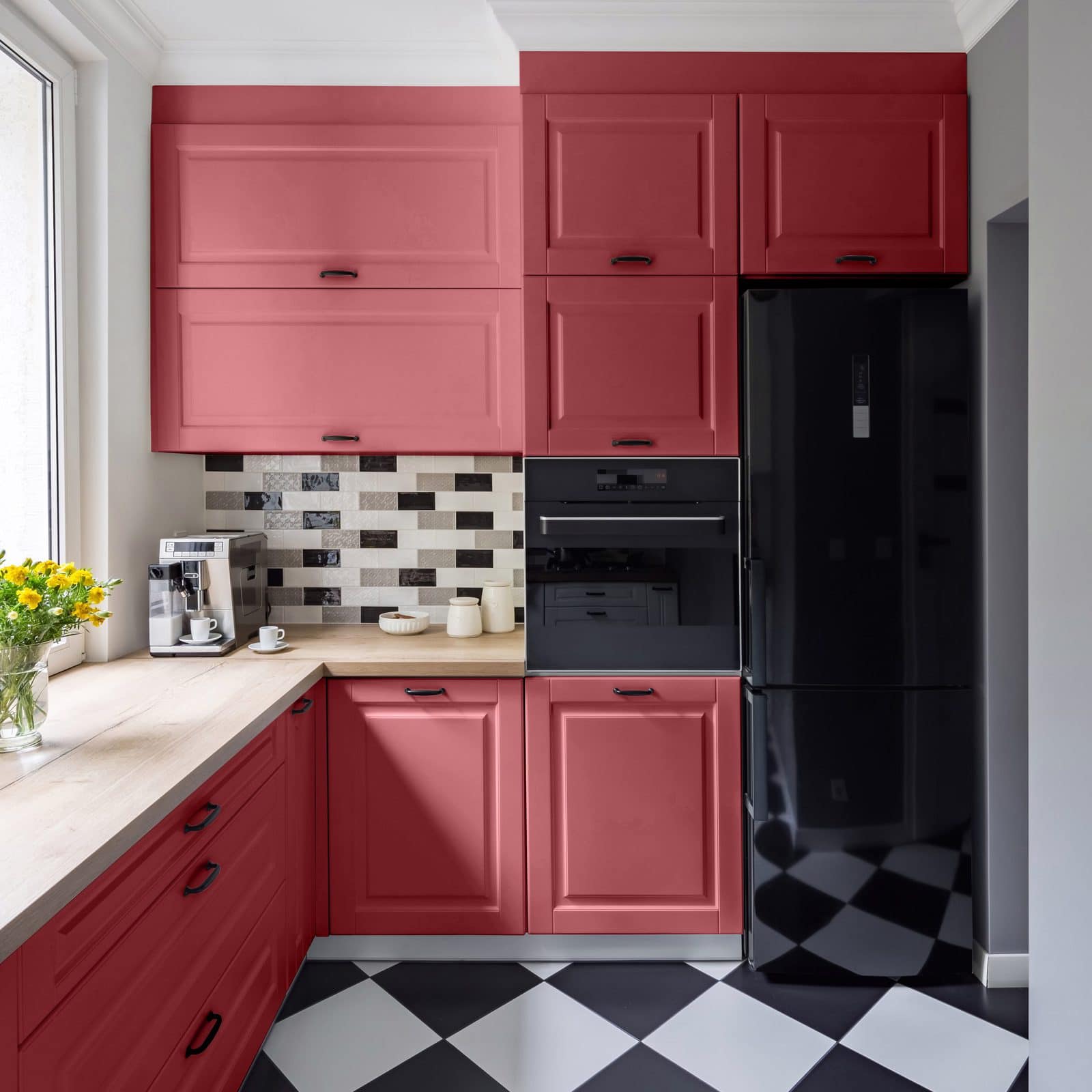 Achieve a classy, rich feel by choosing a warm primary color with the dark achromatic neutral of black. If you don't like the bold saturation of a bright, dominating red, try a blended red instead.
Benjamin Moore offers a darker red – Pomegranate – which can strike a balance against black appliances. This dark red has orange and purple hues that give a burgundy note.
Turquoise Haze by Benjamin Moore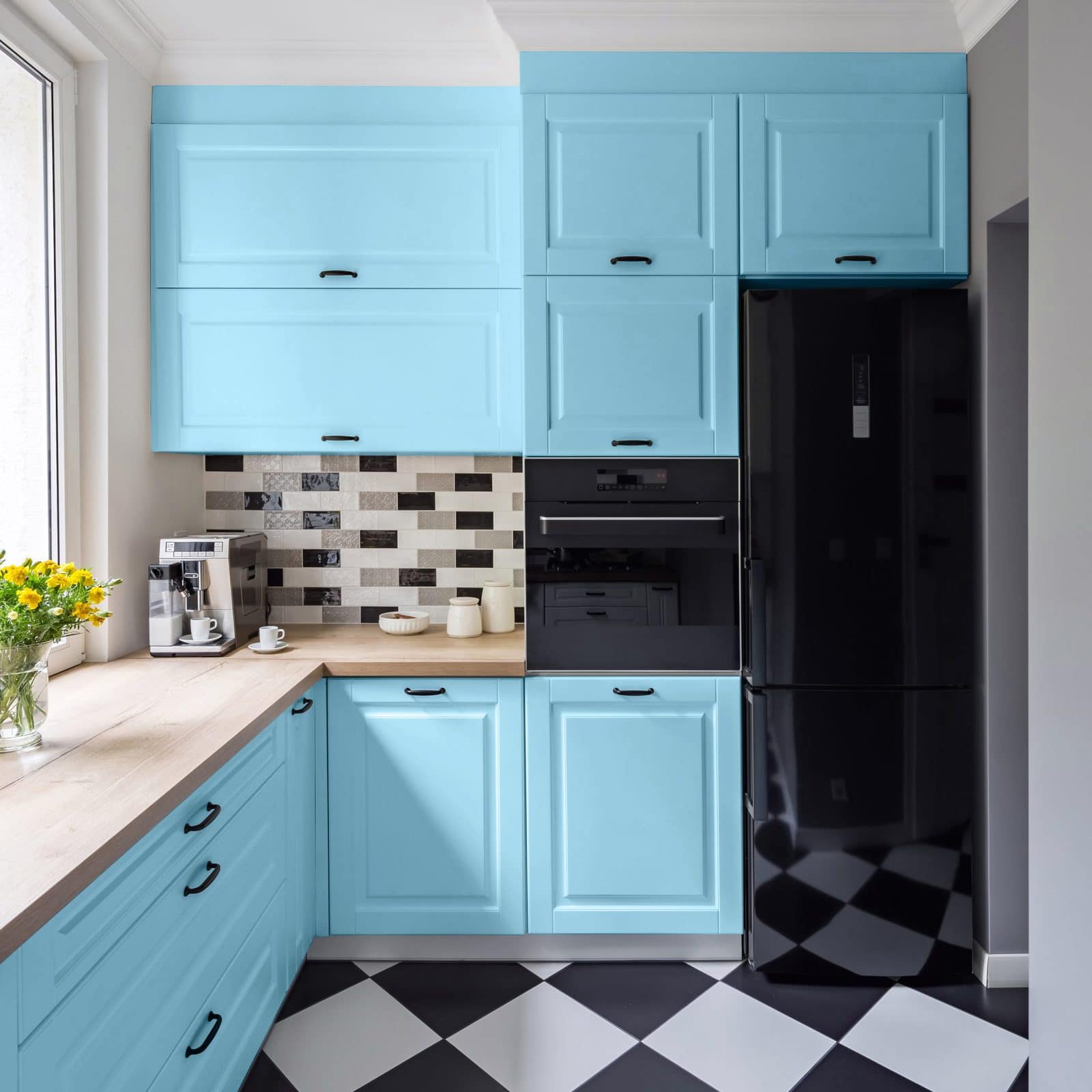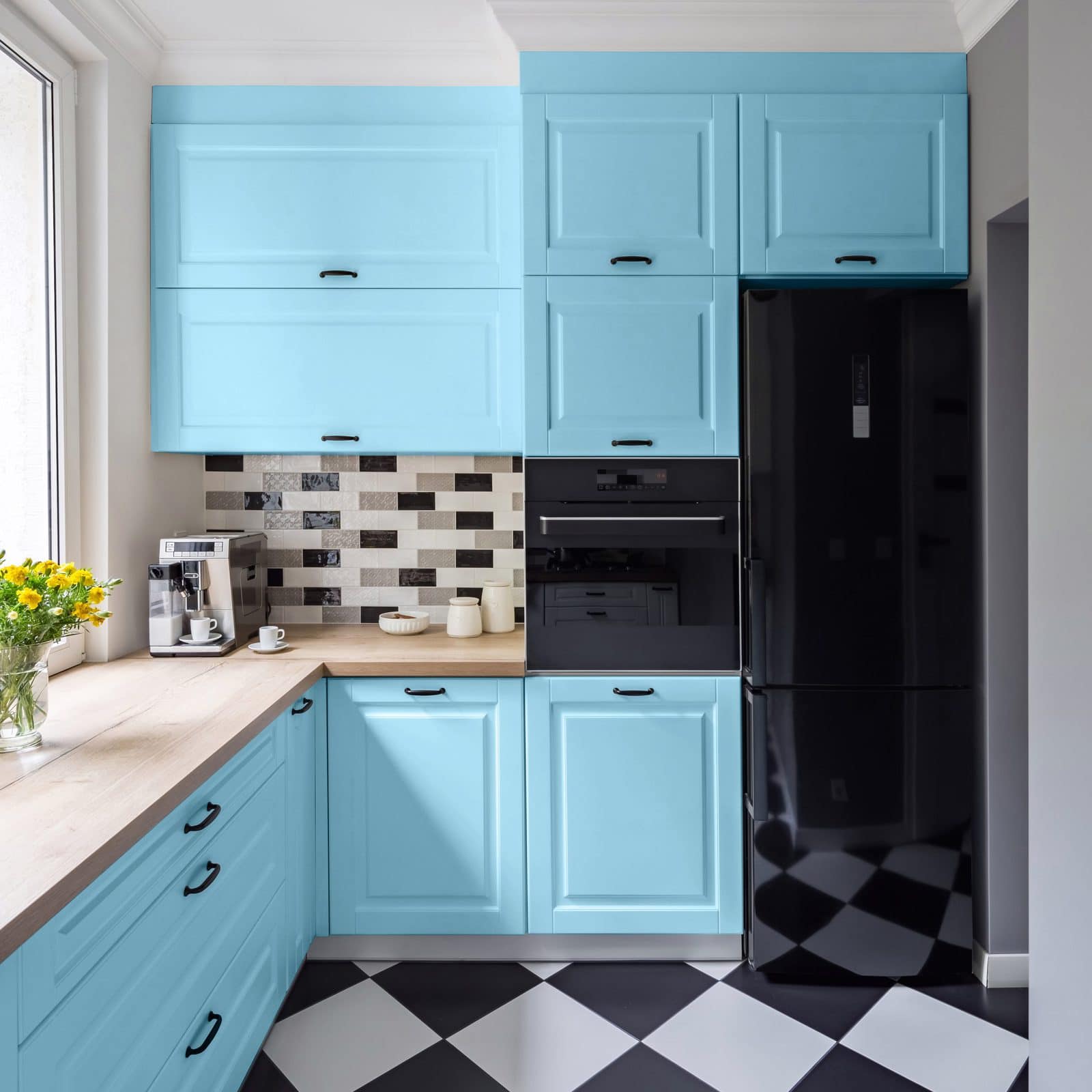 The Black and blue color palette works for almost any situation, including your kitchen decor. For example, painting your cabinets a light shade of blue can create a vintage, rustic, coastal cottage nuance when you have black appliances.
Turquoise Haze is a cool, softer form of blue with a stormy base and faint undernotes of green and yellow. Adding green, yellow, coral, and white accents can give your kitchen a beachy, laid-back feel.
Sundance by Benjamin Moore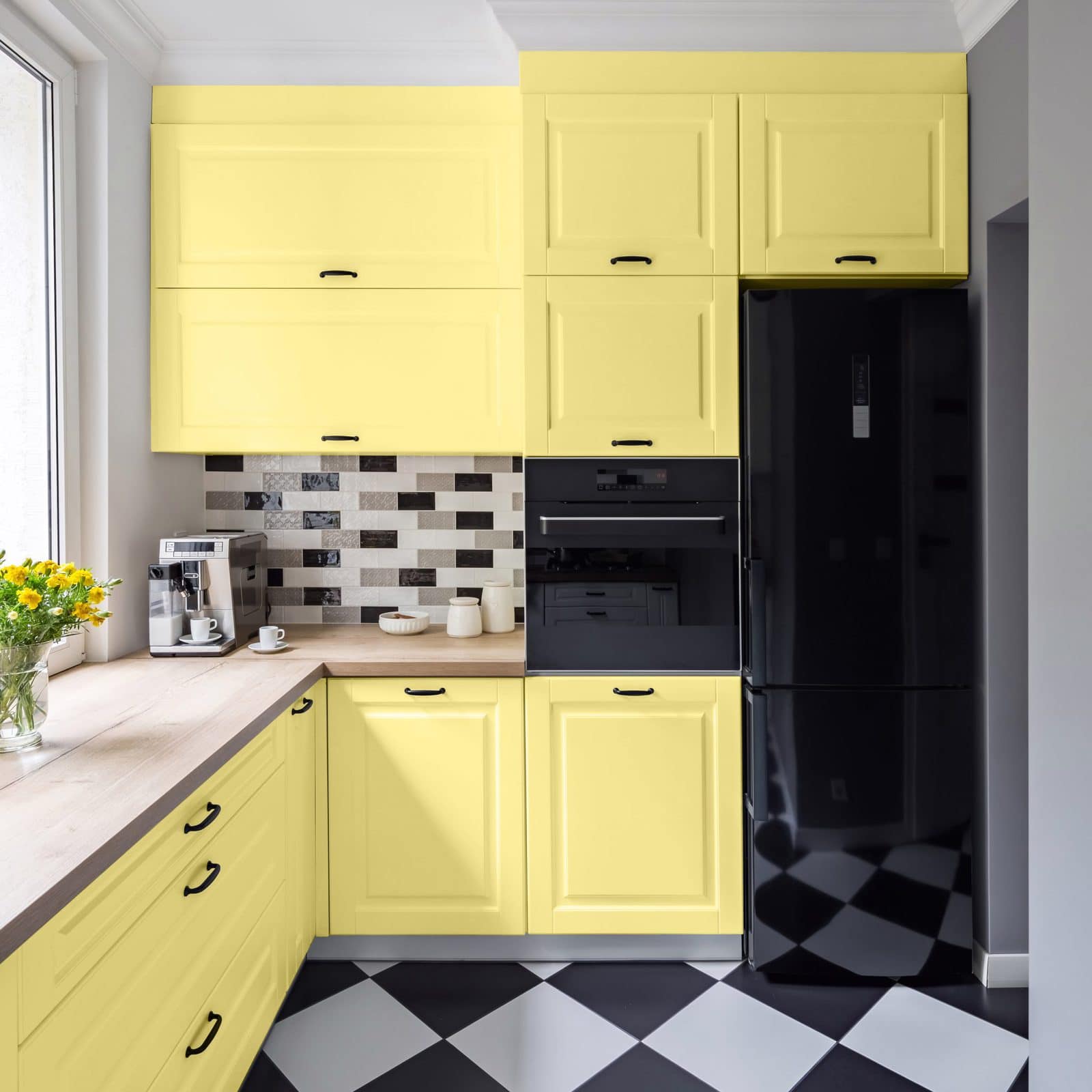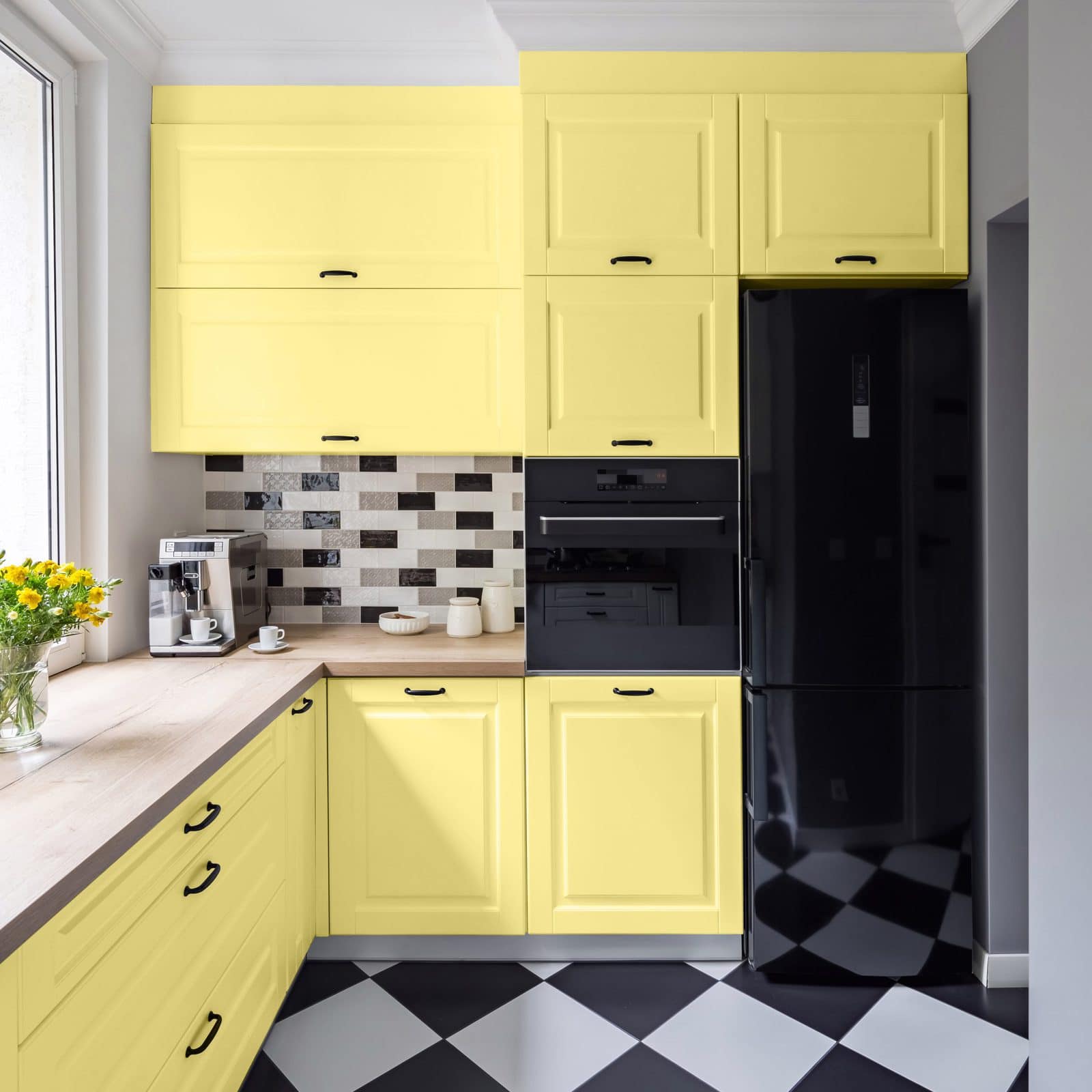 Pick a yellow in a much lighter hue for a cheerful yellow and black kitchen color scheme, like Sundance by Benjamin Moore.
With a high 81.91 LRV, this saturated yellow has a soft, buttery texture. Pairing Sundance yellow with black appliances, a white and black checkered floor, and wood grain countertops can make a small, tight kitchen seem bigger and brighter.
Poppy Seed by Behr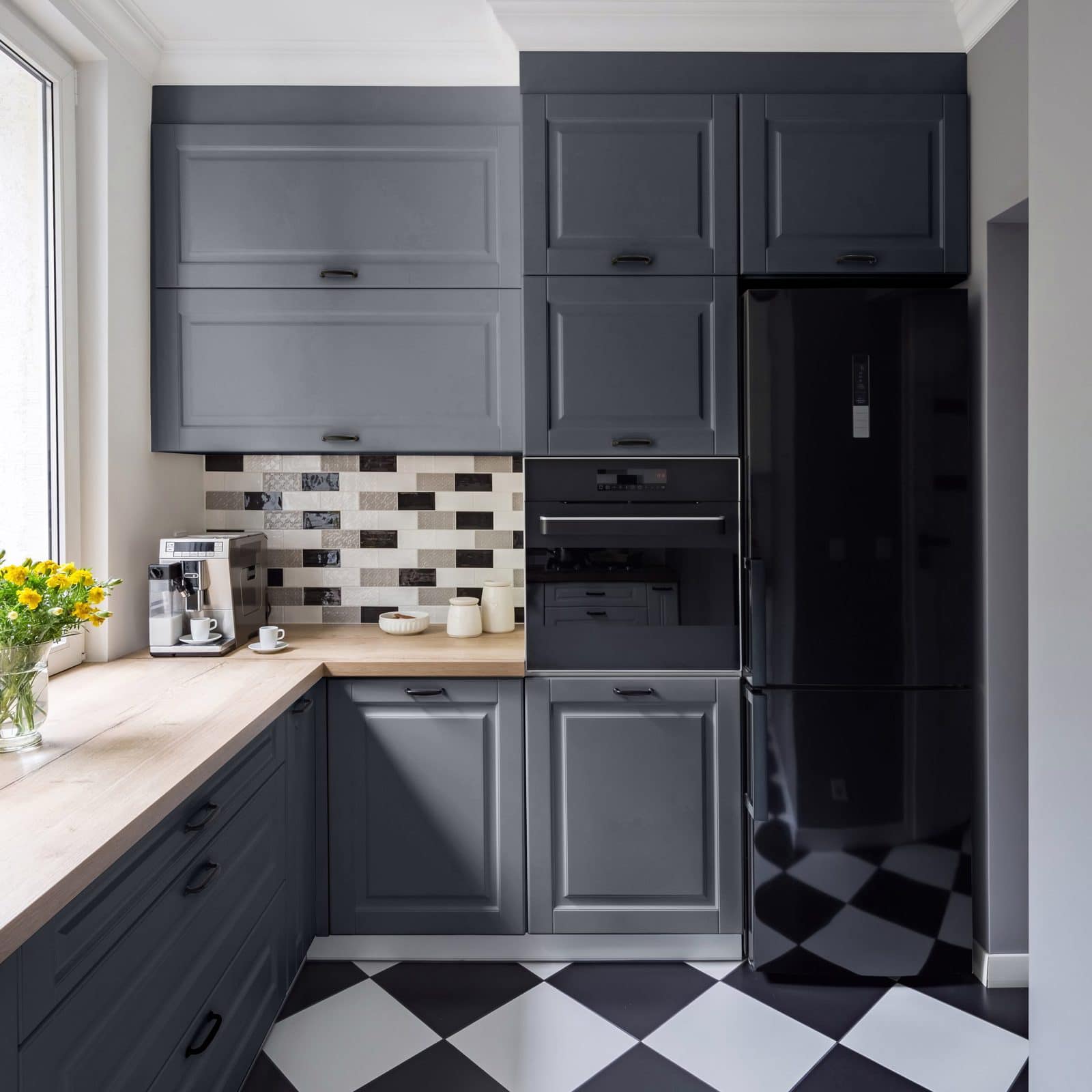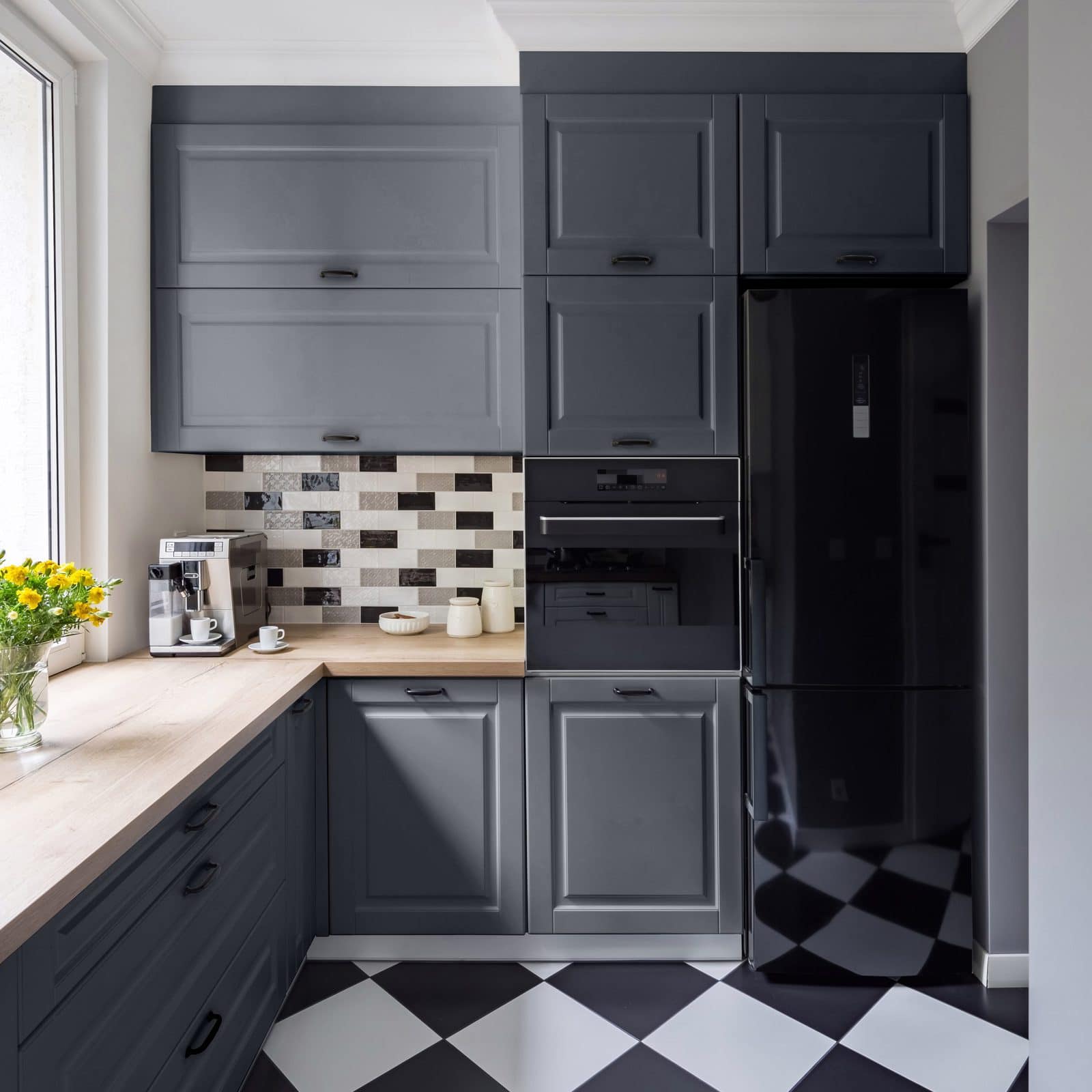 If you're fond of a monotone nuance using the same color throughout your space, you can mix your black stainless steel appliances with black cabinets.
Behr's Poppy Seed is a soft black with a minimal LRV of 8 and a hex code of B:84 R:74 G:78 that keeps this shade from being a standard black – absent of all color. Instead, this black is almost a dark smoky charcoal gray.
Misty Morn by Behr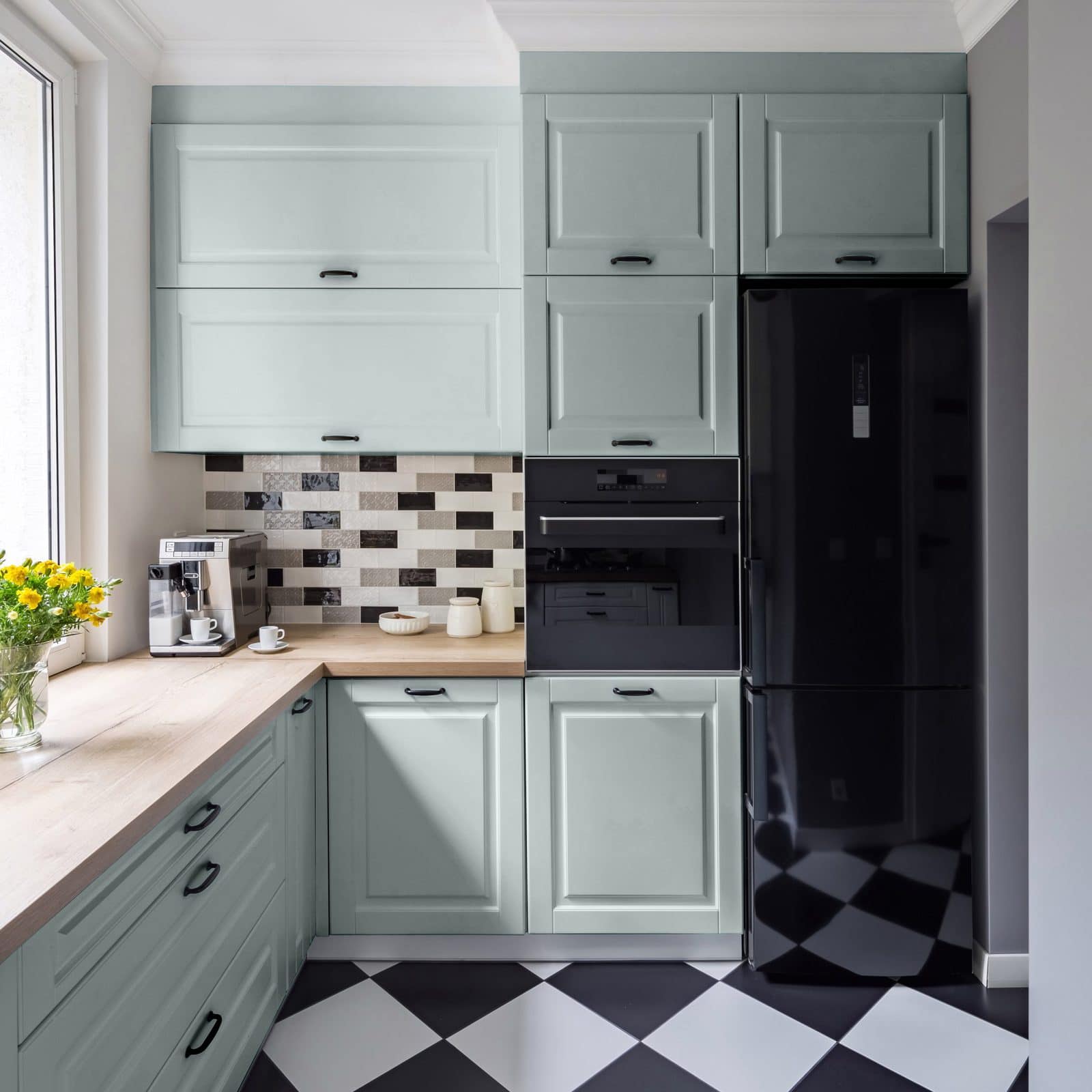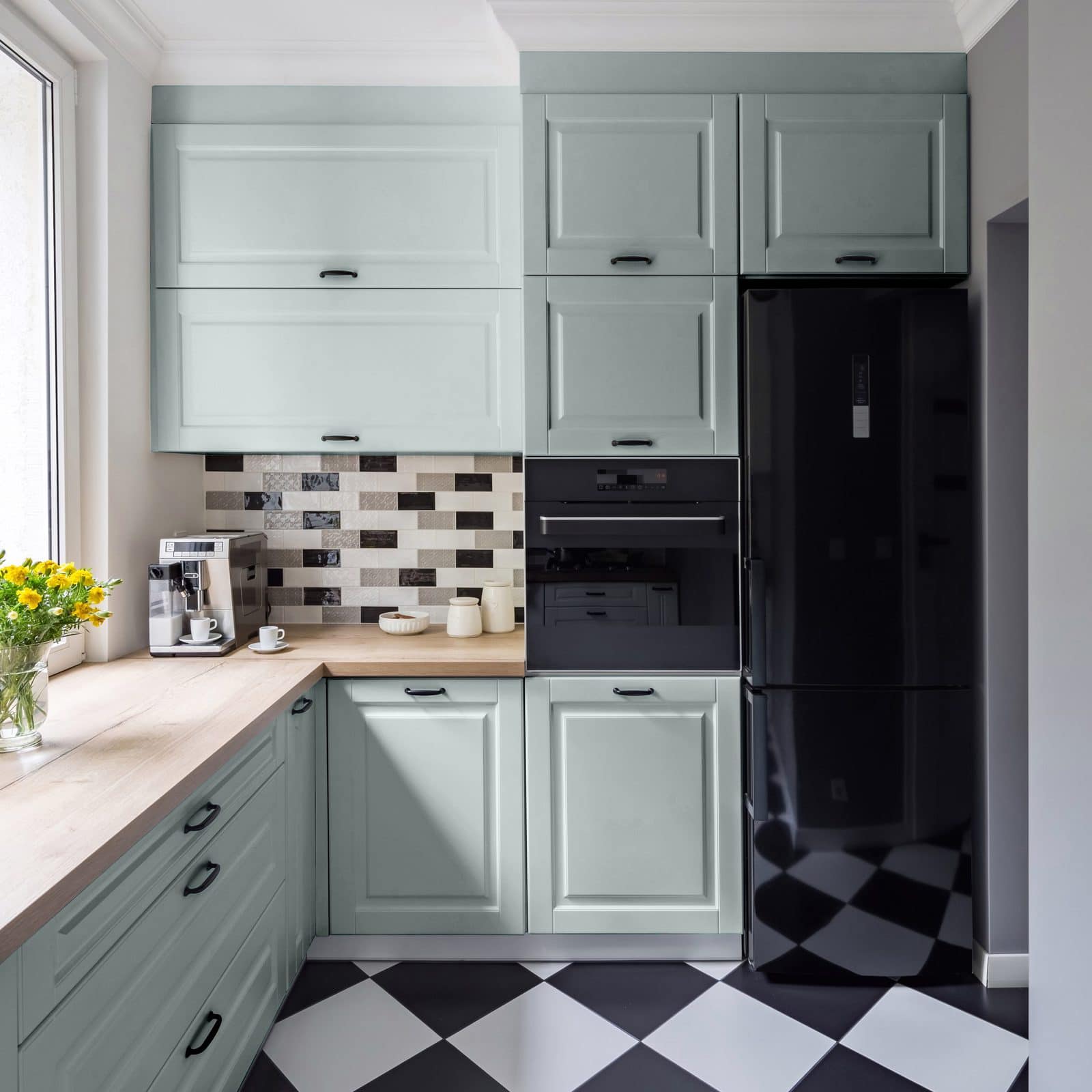 Misty Morn is a gorgeous blended color that can look superb as the cabinet color for a kitchen with black stainless steel appliances.
The gray neutral makes this color soft and unintimidating. While the slight tinting gives a faint blueish-green undernotes that adds subtle coloring without being too dark.
Salt by Farrow & Ball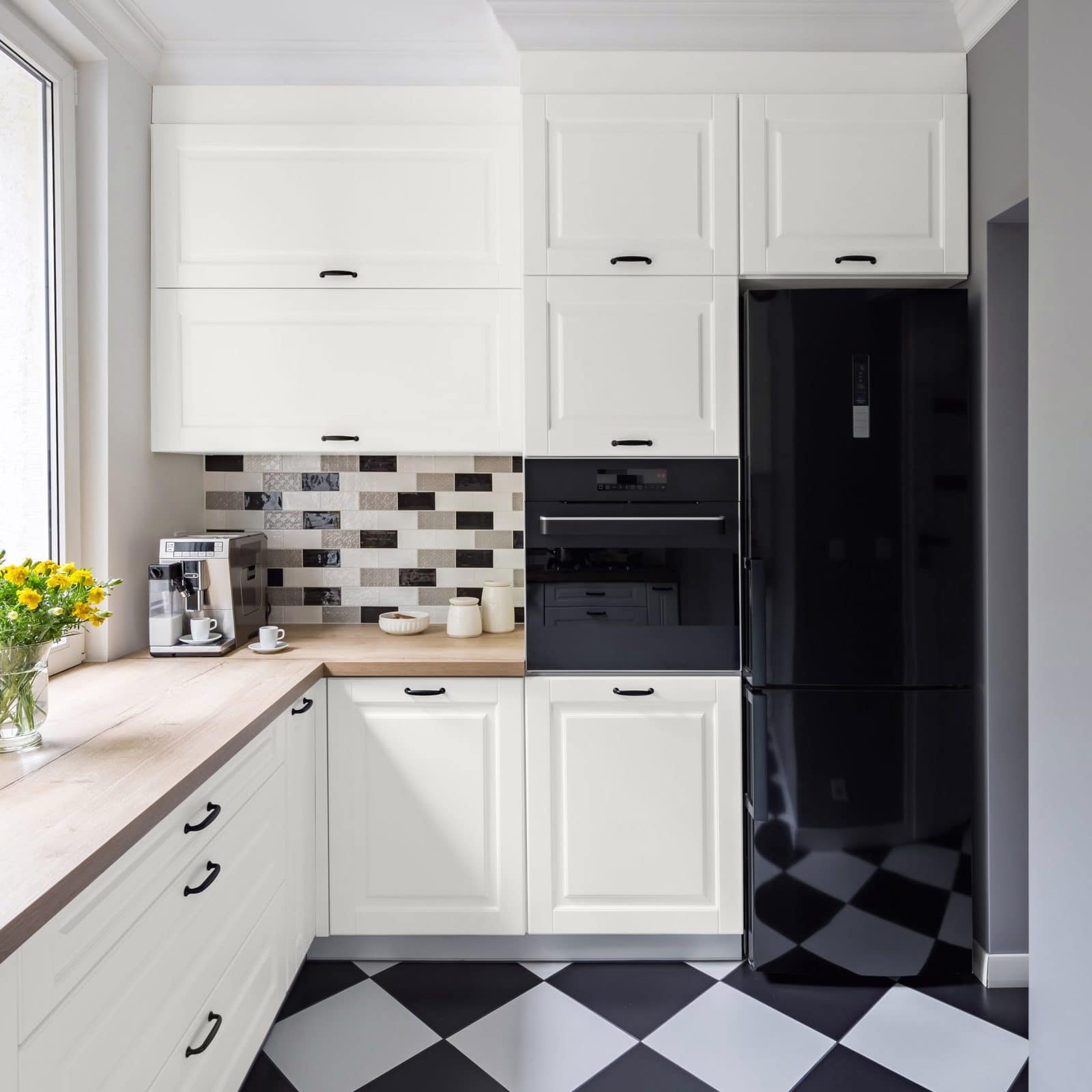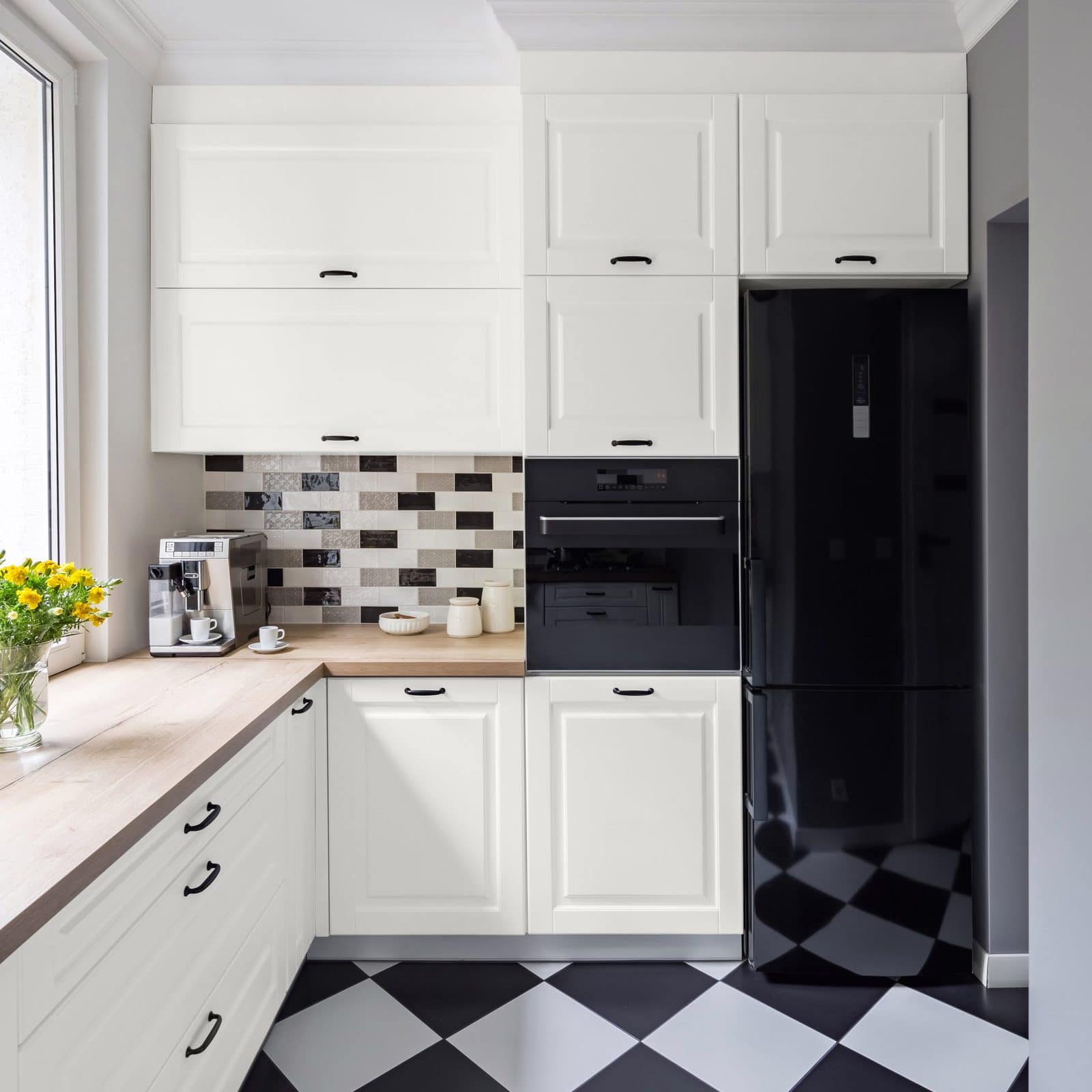 Salt by Farrow & Ball is a crisp, cloud white that reminds you of the salty sea sky. This gorgeous white can make any kitchen cabinets explode with personality with faint tints of gray.
Embrace a beachy, coastal vibe using a black and white color scheme in your kitchen by using a salty white for your cabinet color and a black, white, and gray backsplash in a glossy sheen finish.
Green Smoke by Farrow & Ball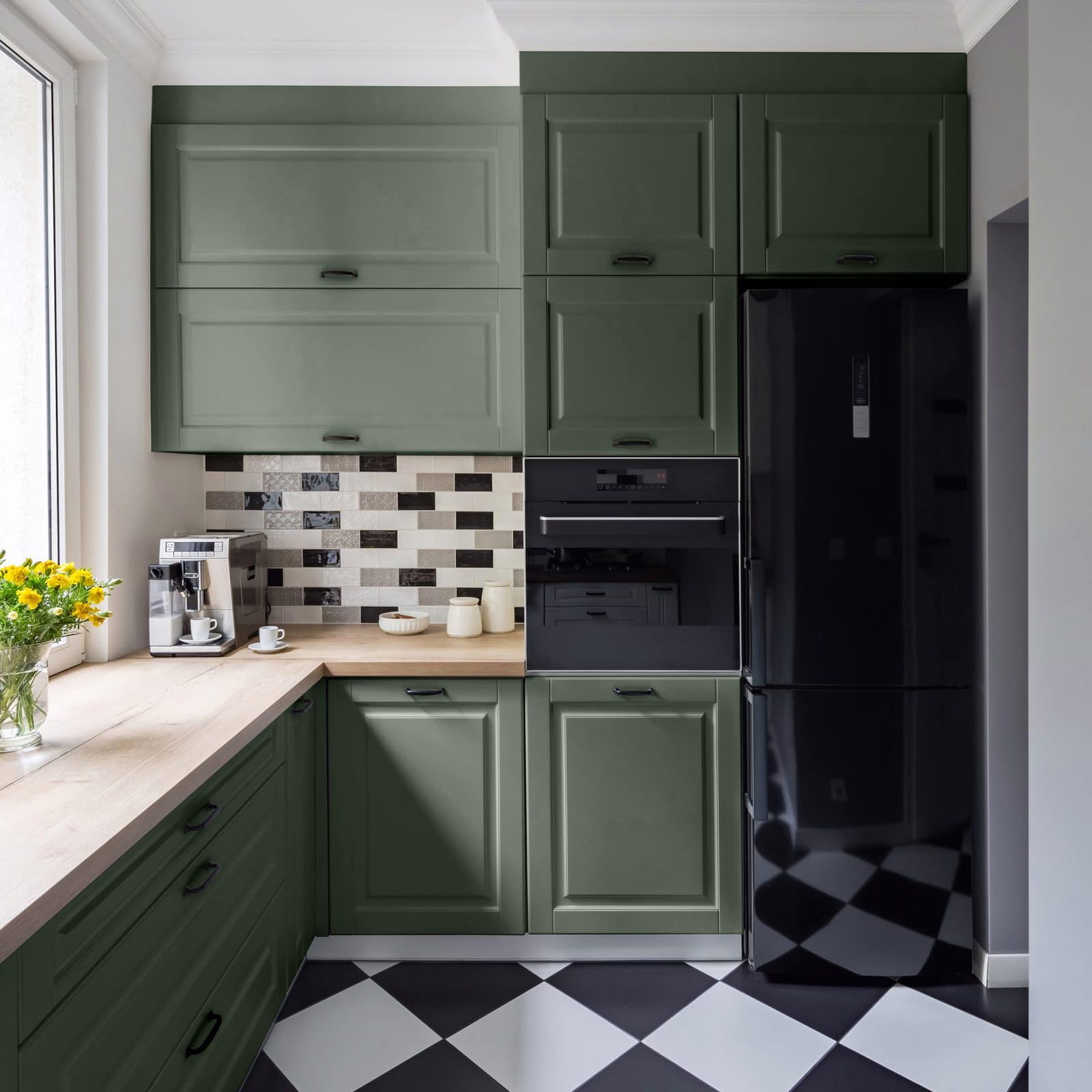 For a vintage, weathered shock of cabinet color to go with black stainless steel cabinets, you can go with a much-loved shade of green.
Farrow & Ball offers Green Smoke, a smoky blend of blue and green reminiscent of slower days and peaceful serenity. The deep richness provides the perfect balance of light color against black appliances.
Which Color Cabinets Do You Choose?
We've demonstrated fifteen fabulous cabinet colors that can go with black stainless steel appliances. Whether you choose a neutral shade like black, white, or gray, or you go with a dominant primary color like blue, red, or green, you have many color choices.