Decorated Life is reader-supported. When you buy through links on our site, we may earn an affiliate commission. Learn More
Navajo White by Benjamin Moore
This may be paint blasphemy, but not every neutral has to be greige! While the greiges and their parent gray family aren't going away any time soon, people have definitely been craving something a little warmer in their color palette.
Navajo White isn't new on the scene–it's been an enduring favorite for Benjamin Moore fans for years. But it just might be on the upswing as it brings a toasty, natural vibe to palettes that are looking for a neutral that's a little less gray.
Let's open up the paint can and take a look at Navajo White!
What Color is Navajo White?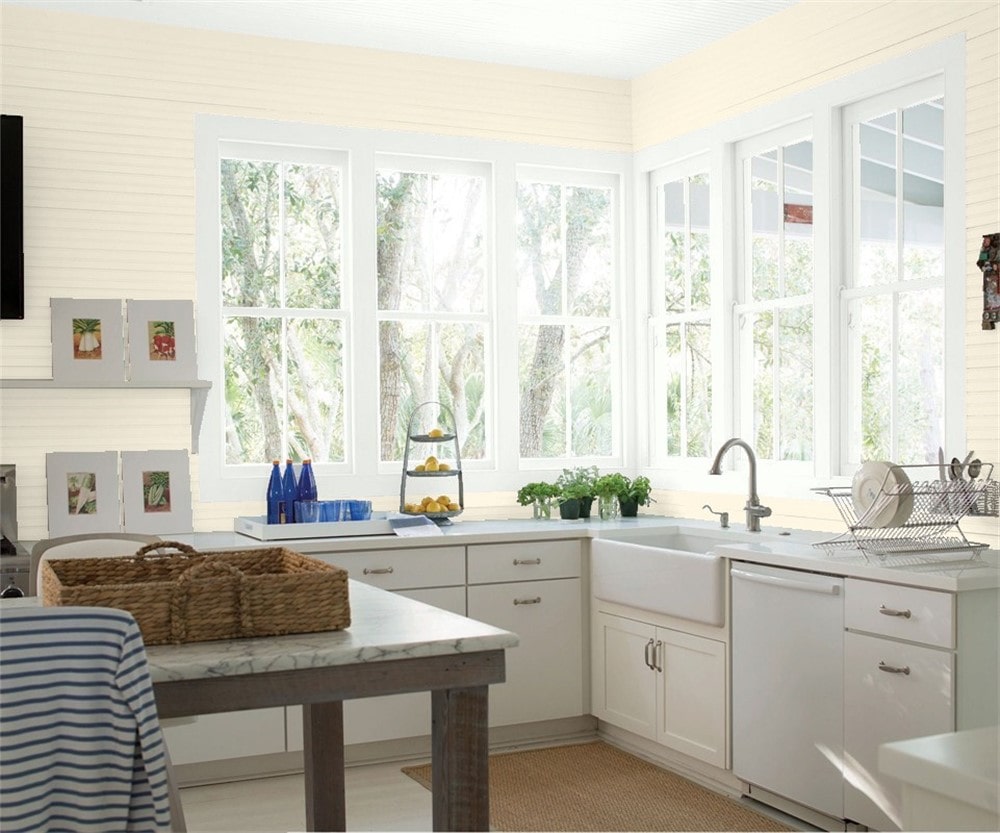 Although the name might make you think that this is a white paint, Navajo White is a toasty beige cream color. It can also be considered an off-white, and Benjamin Moore includes it in their Off-White Collection.
LRV of 78.26
Navajo White has a light reflectance value (LRV) of 78.26.
Light reflectance value is a scale designed to measure how bright a color is, and ranges from absolute black at 0 to sheer white at 100. The higher the number, the brighter the color.
Off-white colors typically range from about 73 to 82, with numbers above 82 being true whites. Navajo White is squarely in that off-white range.
What Undertones Does Navajo White Have?
Like all cream colors, Navajo White has yellow undertones. But it's also got some tan undertones that help to balance the yellow.
Is Navajo White a Warm Color or a Cool Color?
Navajo White is a warm, creamy color, with its yellow and tan undertones taking it to the cozy side of the spectrum. Under very bright light, this color will wash out, making its warmth less noticeable.
Where Can You Use Navajo White?
Navajo White belongs to that user-friendly category of colors that can go anywhere in your home. As an off-white, it's both neutral and very light. Although you'll want to keep an eye on its yellow undertones, its high LRV allows you to put Navajo White anywhere you want to welcome in more light.
Navajo White will make rooms feel warm and inviting, and it's also got a great natural vibe going, the way a linen mat or a macrame wall hanging would. This makes it an excellent companion for natural decor elements like houseplants, wood, or stone.
Let's take a look at Navajo White room-by-room to gather inspiration for our own spaces.
Living Room
Dusky browns and blues are excellent coordinating colors for Navajo White walls in this living room.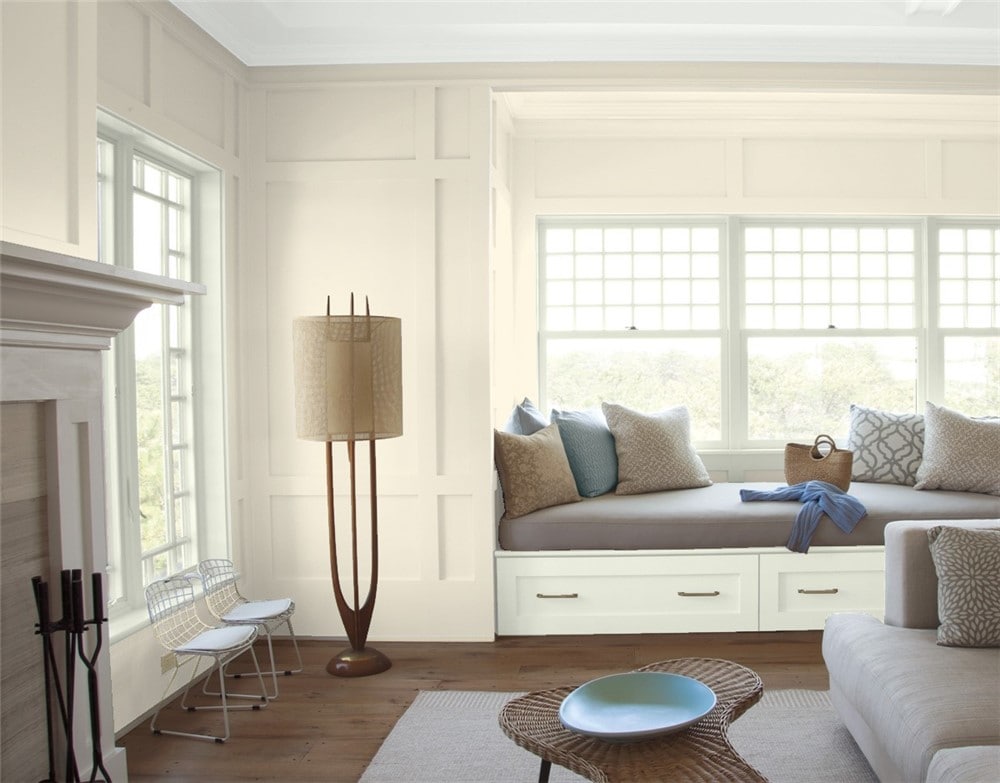 Navajo White walls combine with Silken Pine accents for this natural, relaxed living room.
Kitchen
Navajo White and indigo blue combine as cabinet colors in this kitchen, with cool gray walls.
Black, gray, and Navajo White make a classic combination in this kitchen.
Dining Room
Navajo White complements the natural wicker and wood in this combination kitchen/dining room while bringing in more light.
Navajo White, beige curtains, and houseplants bring a natural feel to this dining room.
Home Office
This cozy and comfortable office space uses Navajo White to bring some gentle warmth.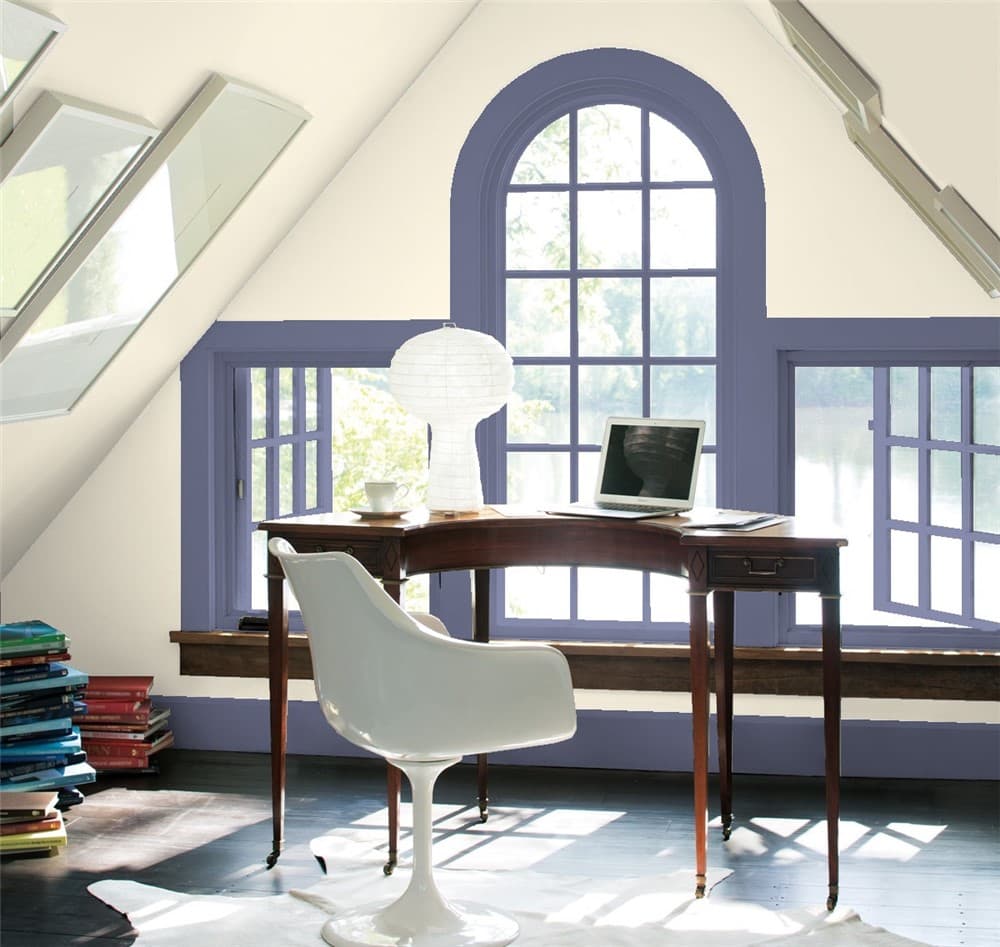 Navajo White opens up small rooms to help them feel more spacious, like this home office, where it partners with elegant French Violet trim.
Bedroom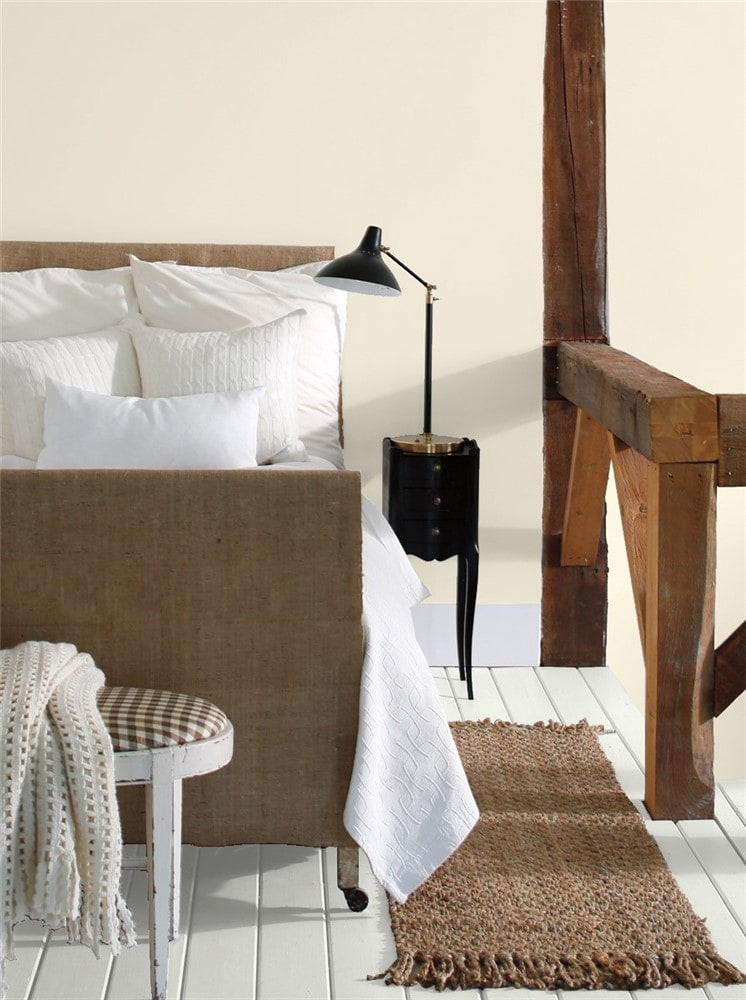 Navajo White is a clean and simple wall color for this bedroom, while still inviting you to snooze a little longer.
Navajo White brings together the different wood surfaces in this bedroom.
Bathroom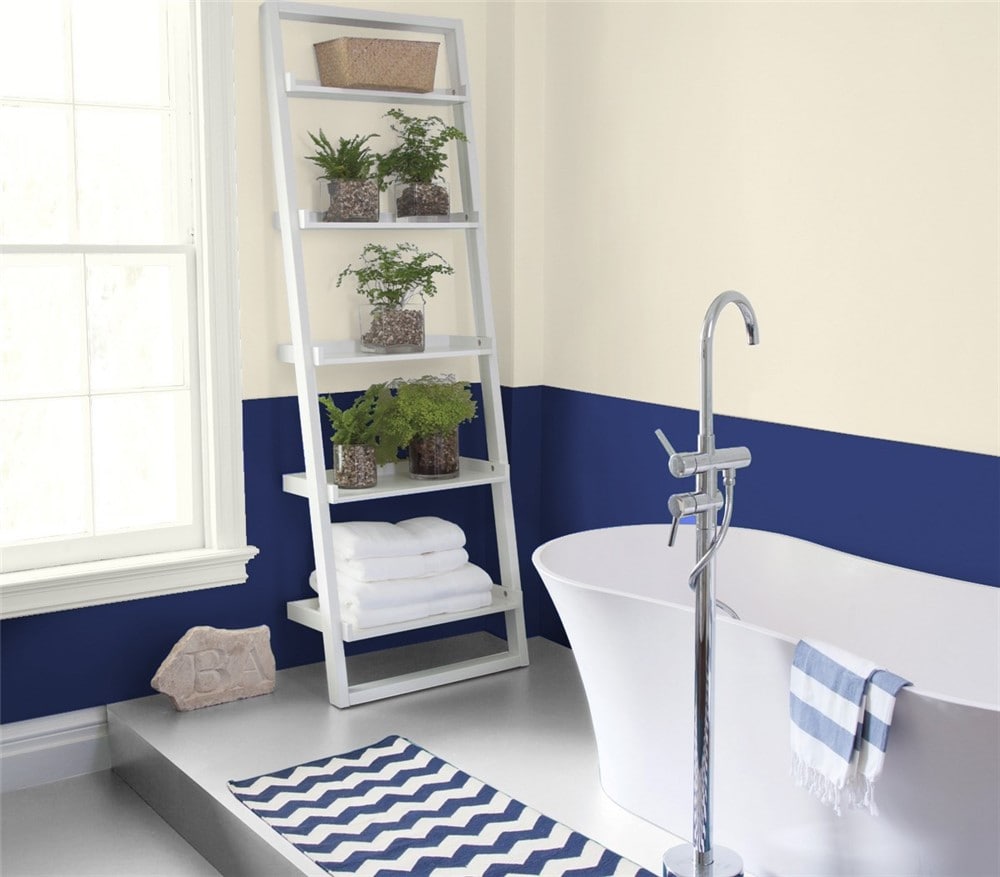 Don't be afraid to use color with Navajo White, because it can really make colors pop! Check out the partnership between Navajo White and Starry Night Blue in this mood-boosting bathroom.
Porch
Navajo White highlights the details on this charming porch.
Exterior
Navajo White and black make a sharp combination on this exterior.
Navajo White offered just the right warm, creamy glow for this exterior and its terra-cotta tile.
Coordinating Colors for Navajo White
Navajo White's membership in the off-white category helps it to coordinate with many of your color palette favorites.
What you'll see most often as you scroll social media for other houses is lots of other neutrals. Navajo White can certainly support browns, tans, greiges, grays, and even simply black and white.
Where you can really see this color shine, though, is next to blue. Next to a deep, inky blue, such as a navy blue, or a rich, royal blue, Navajo White really pops. You can get this effect at different degrees of intensity with other kinds of blues.
Soft, muted greens can help incorporate Navajo White into a nature-inspired palette, where woodsy browns would also be right at home.
If you actually like yellow and that's why you're choosing Navajo White, pairing it with a purple can play up that side and go into a romantic cottage look.
Here are some coordinating color ideas for Navajo White to help inspire you:
How Does Navajo White Compare With Other Colors?
Navajo White vs Navajo White by Sherwin Williams
So how do these two paint colors by the same name stack up against each other? Their differences are fairly subtle. The Sherwin Williams version, on the "house" shaped card, is cooler and has more gray in its makeup than the Benjamin moore one. It's also a little bit darker, with a LRV of 72, which still leaves it in the off-white range.
Navajo White vs Ylang Ylang by Benjamin Moore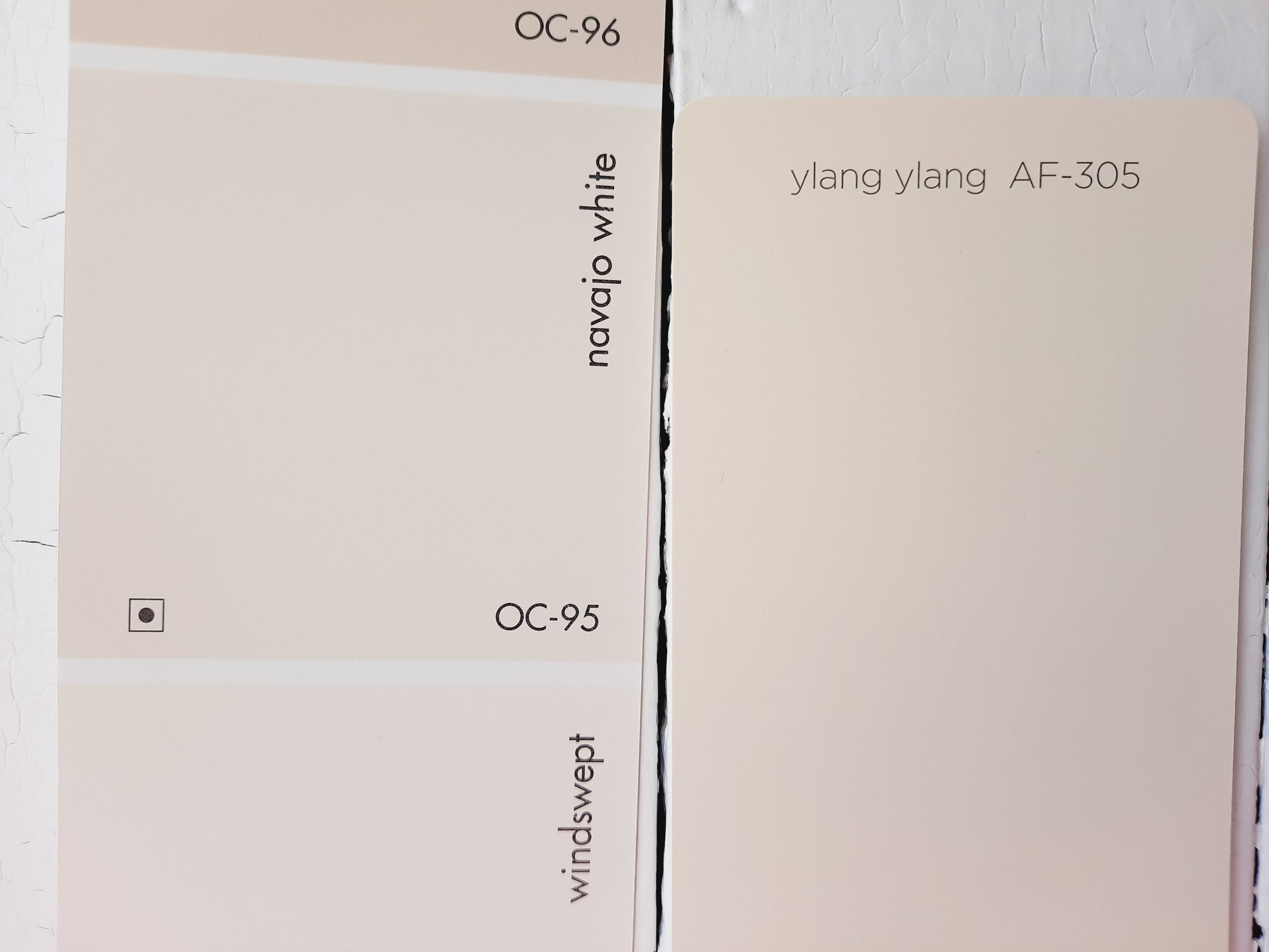 Ylang Ylang is a light and creamy yellow that's barely lighter than Navajo White, at 79.5. Despite that, it has enough yellow color to it that it doesn't really belong to the off-white family. Side-by-side, these two look surprisingly close thanks to Ylang Ylang's lightness.
Navajo White vs Gentle Cream by Benjamin Moore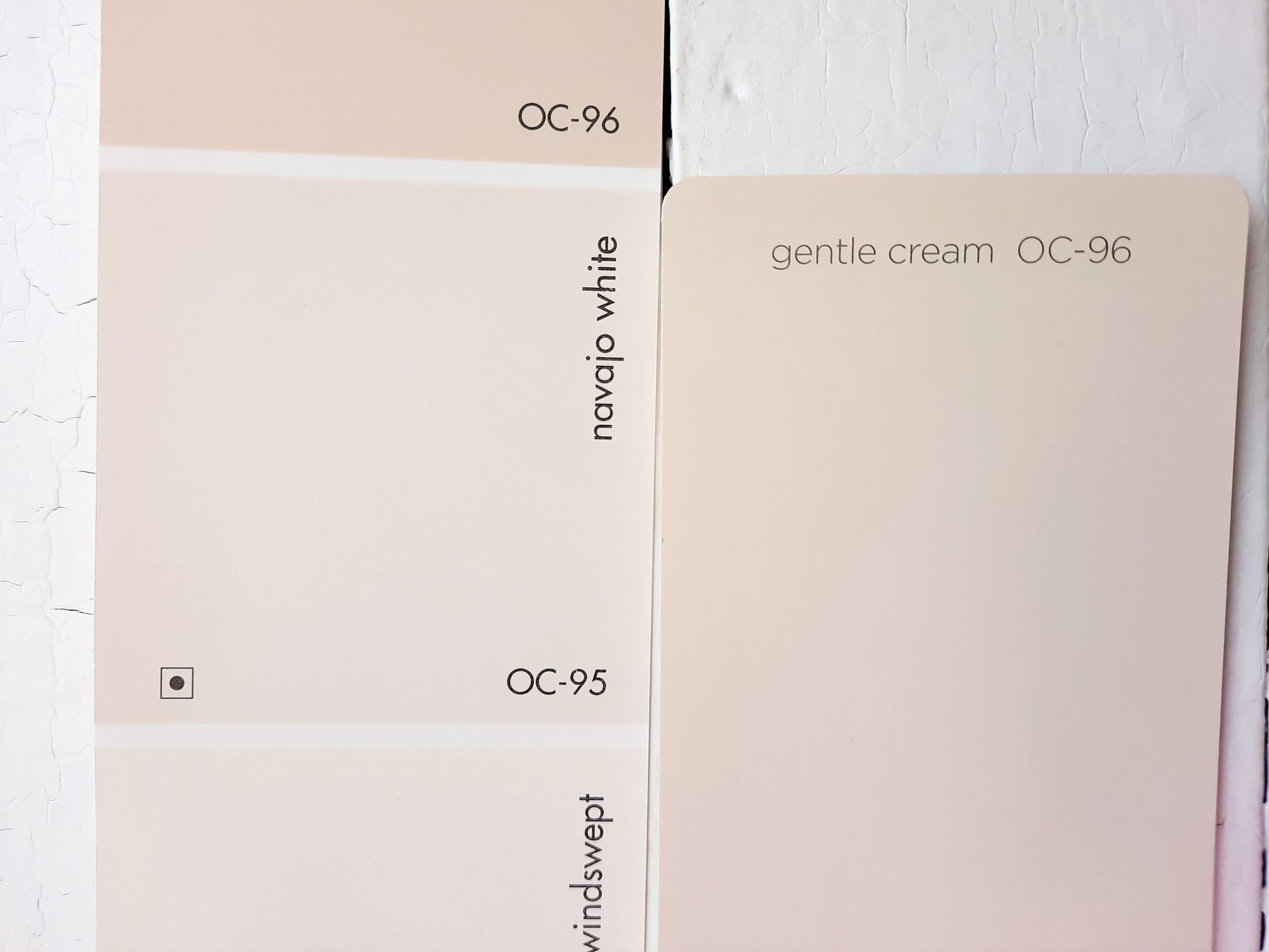 Gentle Cream is Navajo White's neighbor on the color card, so these two colors have a lot in common. Gentle Cream is the warmer of the two, and Benjamin Moore describes it as a "bisque" or "beige" color. Its LRV of 71.32 is still light enough to belong to the off-white family, but noticeably darker than Navajo White.
Final Thoughts
While its yellow undertones may present a challenge some are not willing to tackle, Navajo White is balanced enough to be Benjamin Moore's most popular cream color. This light color is squarely in the off-white family and versatile enough to go anywhere in the home, including exteriors. As palettes trend warmer, Navajo White could be that cozy alternative to greige you've been looking for.