Decorated Life is reader-supported. When you buy through links on our site, we may earn an affiliate commission. Learn More
Sherwin Williams Tricorn Black Paint Color Review
Oh, to be Morticia Addams. Such elegance, such style, such confidence! Whether she's snipping the heads off her roses or dancing a tango with Gomez, she does everything with a unique flair. And she does it all in the black gothic mansion that spooky dreams are made of.
Whether, like me, you grew up wanting to join the Addams family, or your tastes are a little less kooky and ooky, one thing is always true: black goes with everything. And there's no black that's more true for than Tricorn Black by Sherwin Williams.
What Color is Tricorn Black?
Tricorn Black is a bold, dramatic black. This deep, traditional black is thoroughly saturated and doesn't look like any other color.
LRV of 3
Tricorn Black has a light reflectance value (LRV) of 3. What does that mean? It's really, really dark. LRV runs on a scale of 0 (completely black) to 100 (completely white). As they say in This is Spinal Tap, "How much more black could this be? The answer is none. None more black."
What Undertones Does Tricorn Black Have?
Tricorn Black doesn't have any visible undertones. It's so dark that you simply cannot see any. That makes coordinating colors a snap: literally anything goes with it!
Is Tricorn Black a Warm Color or a Cool Color?
Tricorn Black is a neutral color. It is neither warm nor cool. Its RGB (red, green, blue) values are 47, 47, 48, making it a balanced color, and since it's so dark that you can't see any undertones, there's no tint for you to read this color as warm or cool.
Where Can You Use Tricorn Black?
Tricorn Black is like that quintessential little black dress: you can wear it anywhere! You might think that such an incredibly dark color would have limited applications, but designers and homeowners are going big and bold with their application of this color, whether it's an accent wall, a whole room, or even the entire house!
Whether your tastes run towards the Gothic or you just want a trim color with high contrast, there are many ways to make use of Tricorn Black. Let's take a dive to its inky depths and find out what this color can do!
Exterior
How cool is this old-fashioned lighting and stonework with Tricorn Black?
This handsome blue and white exterior uses Tricorn Black for its strong contrast on a few well-placed accent areas. It makes the whole look really put-together.
This house takes the opposite approach, using Tricorn Black for the main color and white for the trim. Those porch details look really elegant!
Living Room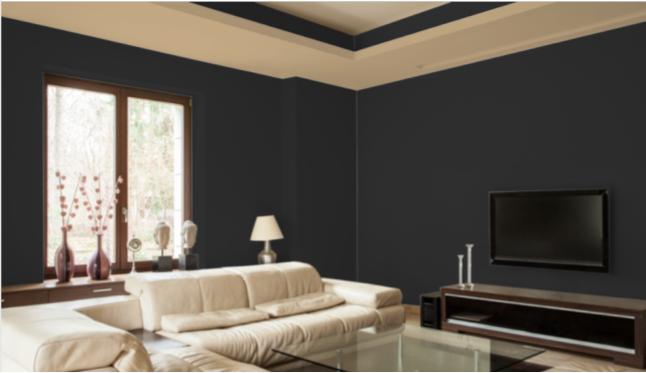 Tricorn Black and Camelback partner in this living room with neutral browns and creams.
This living room uses Tricorn Black to play with a wide range of bold colors and jewel-tones. Tricorn Black goes with everything!
This high rise living room is so sophisticated and chic with its black and white palette.
Kitchen
This rustic modern kitchen keeps it simple with a black and white palette.
Tricorn Black was the star of this incredible kitchen transformation. It was a great option to cover the old cabinet color.
Dining Room
Strategic placement of Tricorn Black,as in this dining room, can lend more impact.
The alternating black and white in this dining room creates that eye-popping effect that makes the room look so dramatic and elegant.
Bedroom
The colors you place around Tricorn Black can change its tone. See how this room is more restful and grounded?
Simple black and white took this bedroom from blah to wow! Deliberate composition and balancing the dark and light elements are keys to a sophisticated look.
Tricorn Black and pink is playful and chic in this bedroom.
Bathroom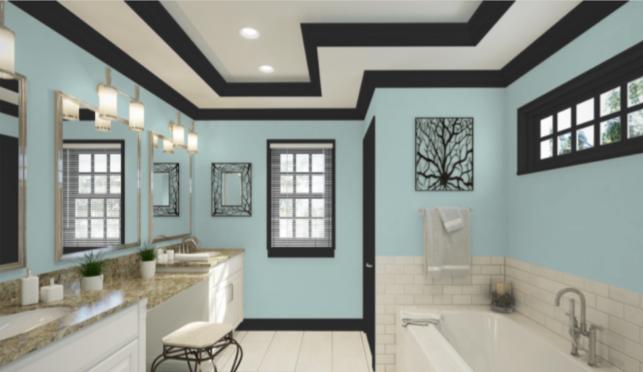 Tricorn Black trim with Watery walls and cream tile makes this a modern and refreshing bathroom.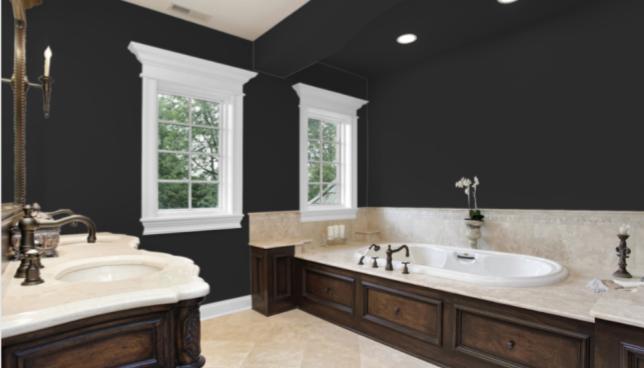 Tricorn Black turns this bathroom into an elegant retreat.
Tricorn Black Coordinating Colors
Tricorn Black is a truly neutral black, and you can pair it with just about anything. Warm colors, cool colors, neutral colors, pretty much any other colors you want. The only things you shouldn't put with it are colors that are as dark as it is. Everything else is fair game!
A classic combination I often mention is to pair black with gray and white. It's a shortcut to elegance, and it looks beautiful with metal too.
If you have a favorite color, you can pair it with Tricorn Black and build your palette around that. Tricorn Black can serve as a trim or accent color for anything you'd like to set off. While it's more common to use a light color as your all-over color, you don't have to follow that rule. As you saw in the previous section, some people break that rule very successfully.
Here are some coordinating color ideas for Tricorn Black to inspire you:
How Does Tricorn Black Compare With Other Colors?
Tricorn Black vs Black Magic by Sherwin Williams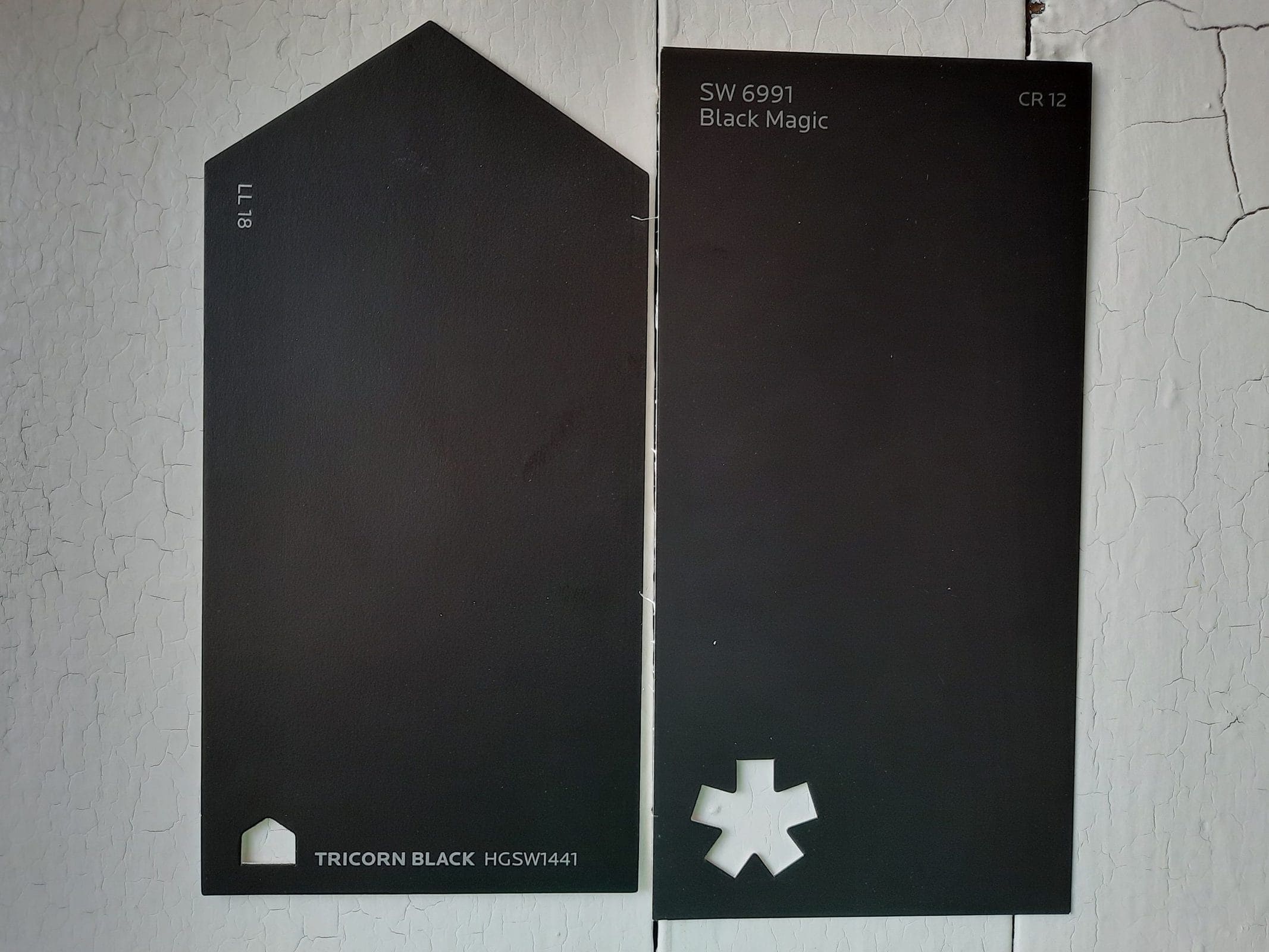 Black Magic is a color that's very close to Tricorn Black, and they share the same LRV of 3. Despite this, Black Magic is not quite as intensely black as Tricorn Black is. If you absolutely must have the darkest black possible, go with Tricorn Black. If you'd like a little relief to it, go with Black Magic.
Tricorn Black vs Black Fox by Sherwin Williams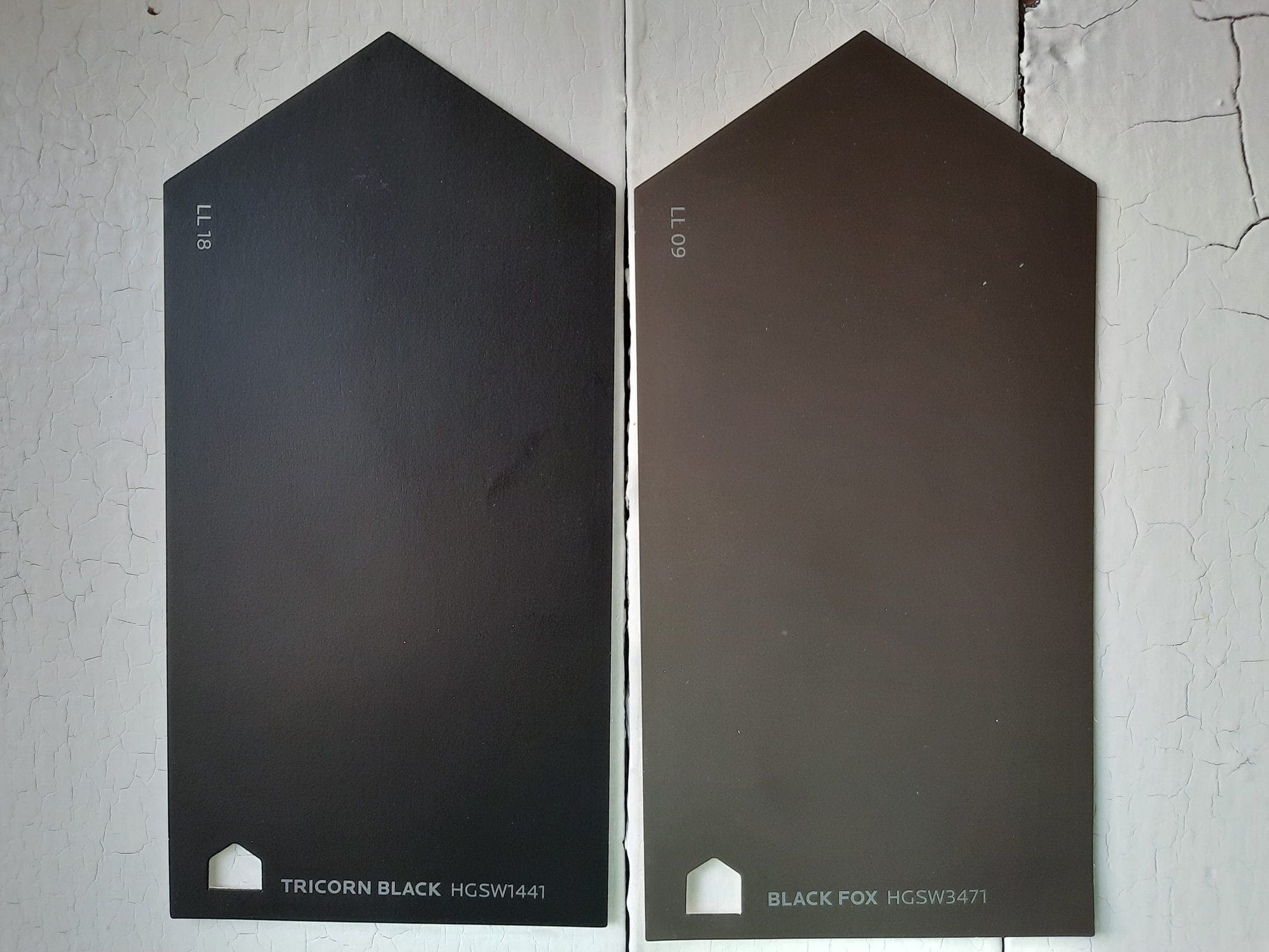 As you start to get away from Tricorn Black's intense LRV, the lighter shades of black start to look brown against it. That's definitely what happens with Black Fox, which has a LRV of 7, and looks distinctly brown next to Tricorn Black. Black Fox reads as a muted slate and chocolate brown. Despite the name, I wouldn't choose it for situations where you want a paint color that's actually black.
Tricorn Black vs Iron Ore by Sherwin Williams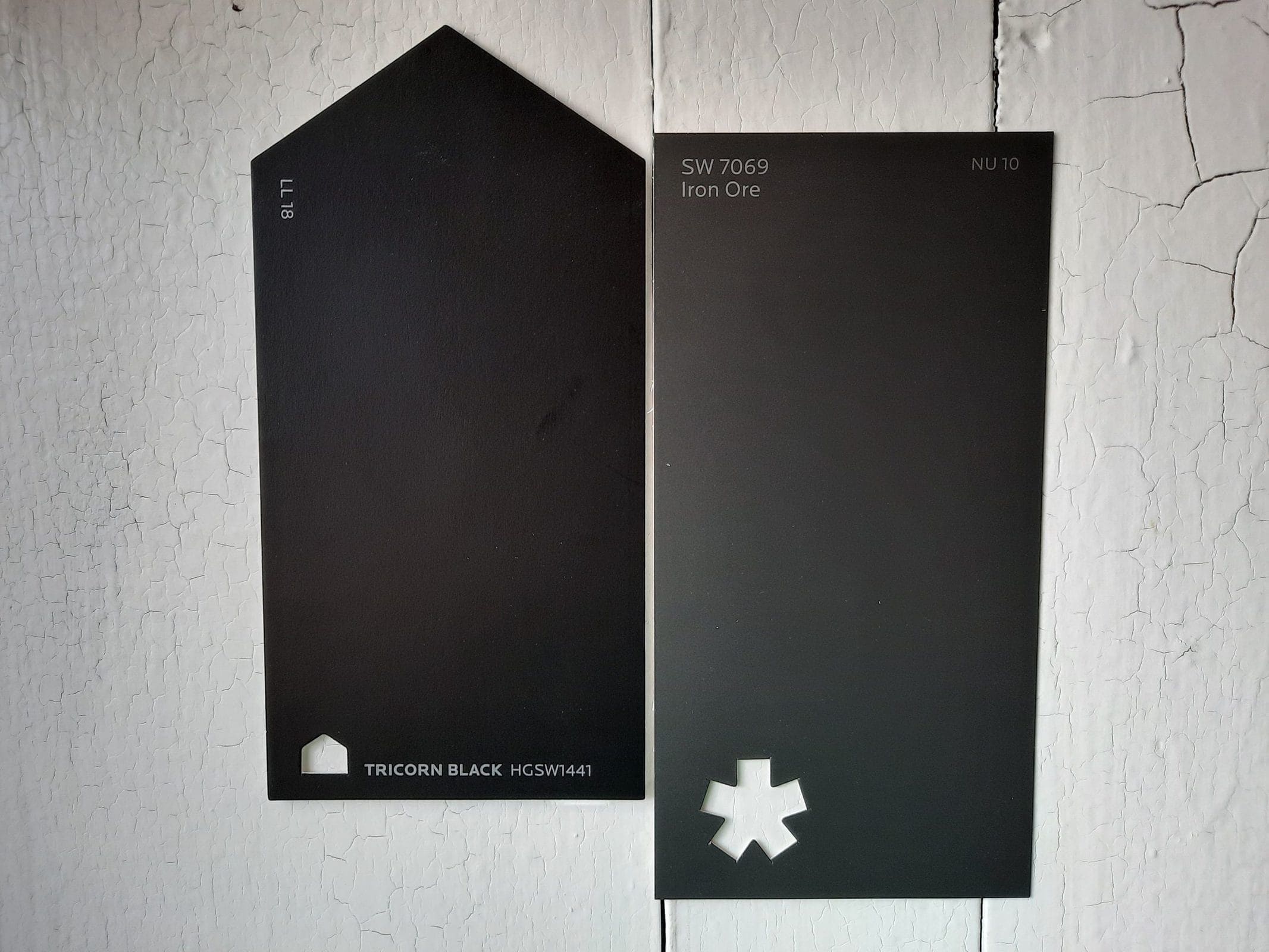 Iron Ore is an intense storm cloud gray-black next to Tricorn Black's flat black color. With a LRV of 6 it's several notches lighter than Tricorn Black. Don't let that small difference fool you, Iron Ore is still plenty dark! Without the side-by-side, Iron Ore still reads as black.
Tricorn Black vs Thunder Gray by Sherwin Williams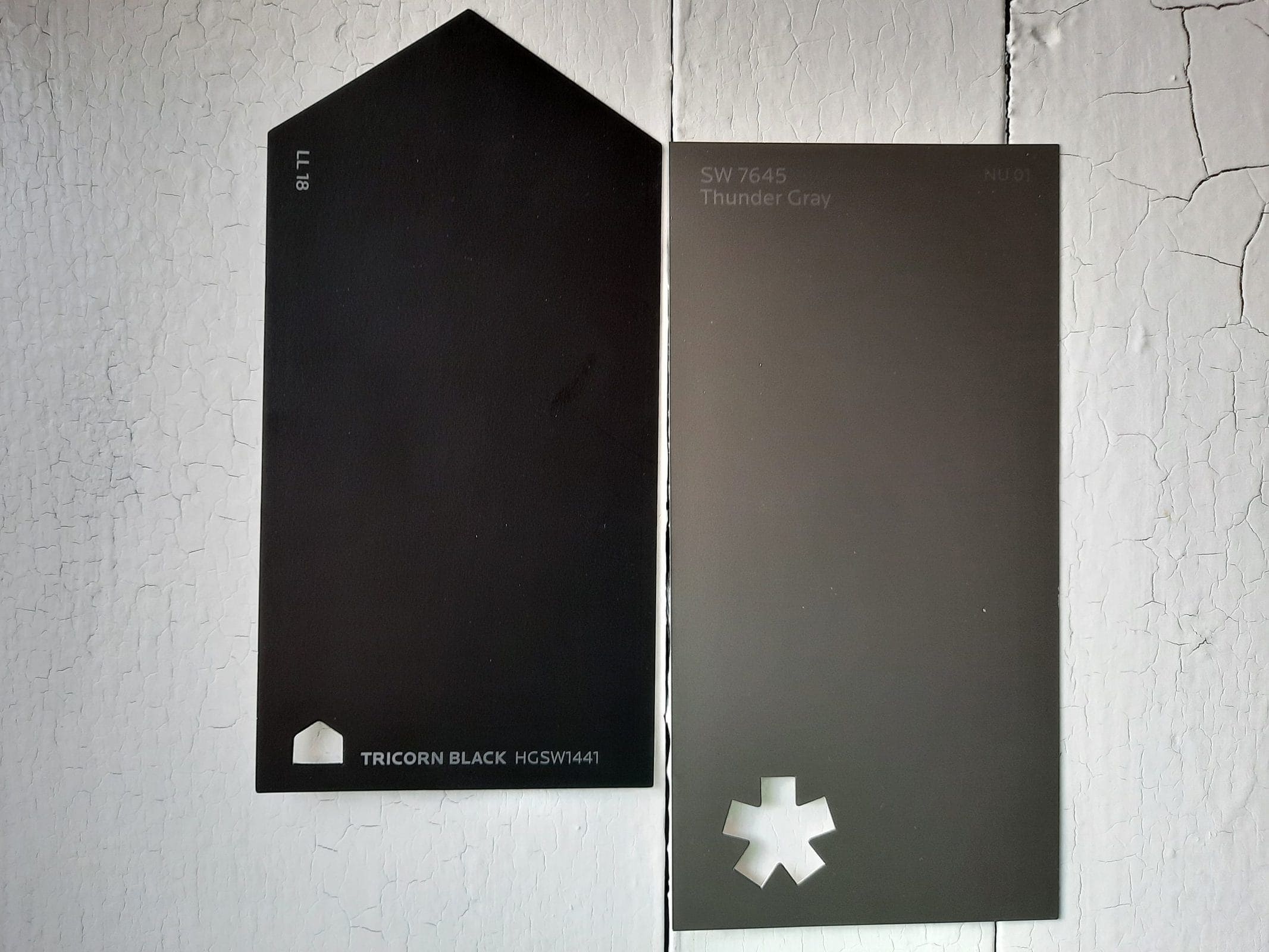 Thunder Gray is a very deep storm gray that also comes out looking slate brown next to Tricorn Black. With a LRV of 9 it's the lightest out of this grouping of color comparisons.
Final Thoughts
When you absolutely must have the darkest, the inkiest, the deepest of blacks, you simply must turn to Tricorn Black. This popular and traditional black paint goes anywhere and with any color. There's no undertones to worry about matching, and you know it will always make a statement. What will you say with Tricorn Black?