Decorated Life is reader-supported. When you buy through links on our site, we may earn an affiliate commission. Learn More
Cool Colors, Warm Colors, Easy Ways To Tweak Your Look
By: Decorated Life Team
|
Is it time for a color stock take? As we move from one season to another, the color scheme of our homes can look different and its not always great. You can blame it on a change of season, your lack of amazing decorating ideas or are doing just one thing wrong?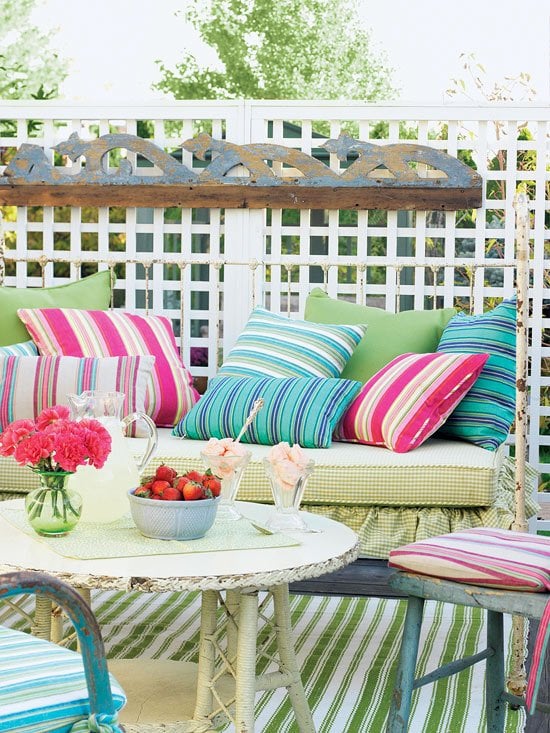 Source: BHG
Putting the wrong colors in the wrong rooms.
We've all done it..  and then wondered how on earth to fix it. I hate that feeling. One way to decide if you're making the right color choices is the warm-cool color test.

So, is your color scheme based on warm colors or cool colors and does it matter? The best decorating ideas in the world won't fix the wrong colors in the wrong rooms. Because you're always trying to patch something that is fundamentally just a little off… if you know what I mean.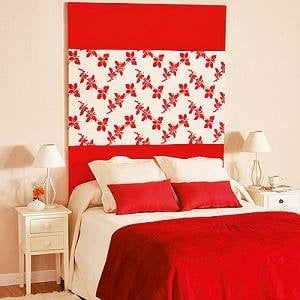 Source: Pinterest
Use this little rule correctly and your color scheme will sing and give you rooms that are warm, fun and relaxing.
Stimulating or Warm Colors
Warm colors include browns, oranges, reds, yellows and black. They stimulate and are perfect rooms full of activities, conversation and people. It's where we entertain,  dine or cook. These rooms should be full of warmth and the perfect places to stimulate great conversation, laughter and energy. But in the wrong rooms, like your bedroom, children's bedrooms or guest room, relaxing, unwinding and falling off to sleep becomes a big problem.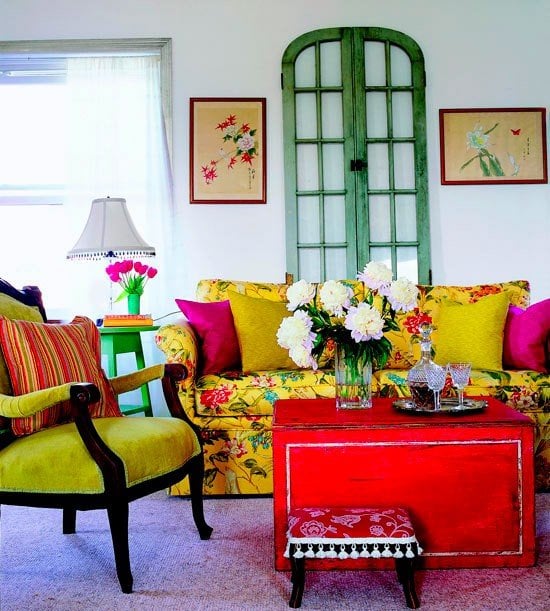 Source: Pinterest
If your living room is full of whites, off whites and cream, introduce splashes of intense warmer colors to liven it up. Use painted furniture, accent chairs, curtains and cushions. Entertaining will become easier, people will talk more and stay longer, because the stage is set for a little stimulation and drama. This kitchen below is given lots of life and a great focal point with the wood and black trim detail.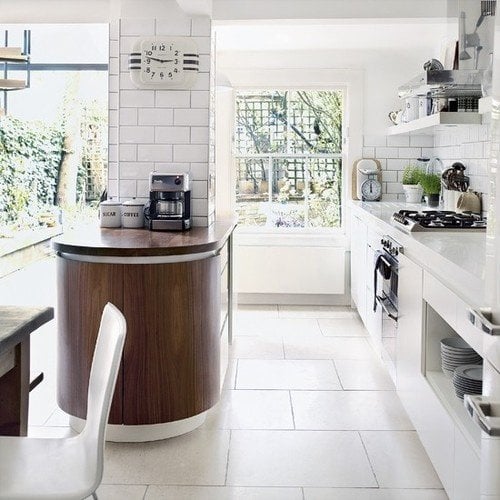 Source: Pinterest
Most people don't like these energetic colors in an office or study. Personally, I don't mind them because they give me energy. But if they drain you then try reducing them by moving our any warmer colored painted furniture, and in your bedroom, change the color of bed linen and move anything like paintings or throws that doesn't make you feel calm and restful.
Calming or Cool Colors
Calming or cool colors include white, greys, blues and greens and ideal for rooms where you sleep, work, exercise or study to help you focus, be calm and regenerate. Replace any intense warmer colors with lots of calming greys, blues and greens. This bedroom looks great but will it send you happily off to sleep?
Source: Pinterest
Why Your Color Scheme is Important
Choosing a color scheme can be incredibly stressful. It sets the tone and mood of a room. But it's also very important for your well being, as well as a backdrop for your very cool decorating ideas. You know it's right when you can just 'be' in those rooms, in an easy and comfortable way. (If all of this is too much and you would like help with your decorating colors click here).
I know I want a home that feeds me and is fun to live in. And half the work is done by choosing warm and cool colors that support my color scheme.
So, if color affects our inner and outer life, tell me, how good are you at selecting colors to support it? For rooms that have mood and tone you can almost taste, it's your job to find and match colors that make the room work.
How do you know they work?
Simple. They pop every time you walk in and do what they were designed for – stimulate or calm. If they don't, think about how to create either more stimulation or calmness. Warmer colors stimulate and cool colors calm. Adding or subtracting either one can totally change the look of a room.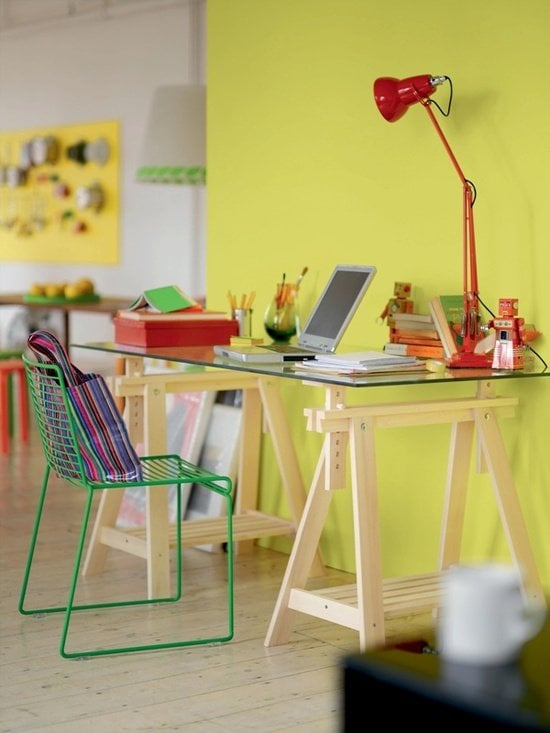 What to do when you have the wrong colors?
The best way is to change your wall colors of each room. Not everyone is a fan of this approach. Not me, anyway.
Let's be practical; most people buy one paint color and paint the whole house. Apart from the cost, painting different color rooms makes the it harder to make the house flow, especially if its on the smaller side and it certainly doesn't work for apartments.
Here are 9 decorating ideas to help you upcycle your space:
1. Painting just one wall is a great idea. An accent wall creates a feature wall, a focal point, anchors  room and introduces the best color that fits the purpose of the room and sets a great tone to stimulate or calm. An accent wall is also faster and cheaper than doing the whole room or house and can be changed if it isn't perfect. You accent wall doesn't have to be painted. What about wallpaper?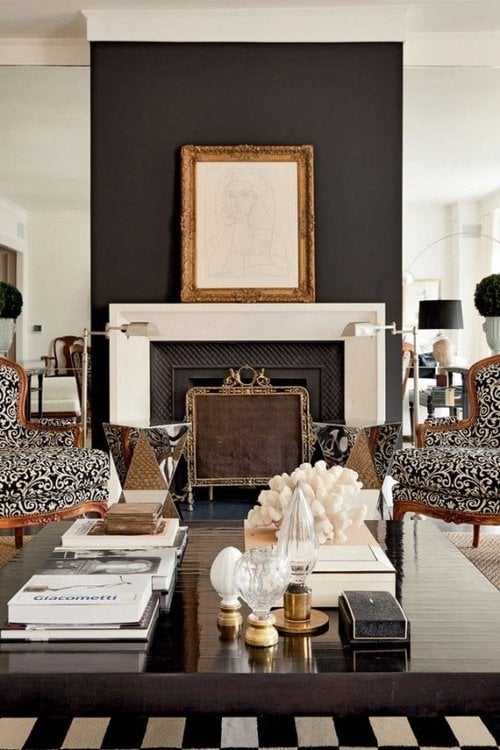 Source: Pinterest
2. If you want to stick with walls that are all the same color, use accent colors to create stimulating or calming effects. Adding or subtracting the amount of color as you go.
3. Painted doors different colors is another way of injecting color into a space without painting your walls.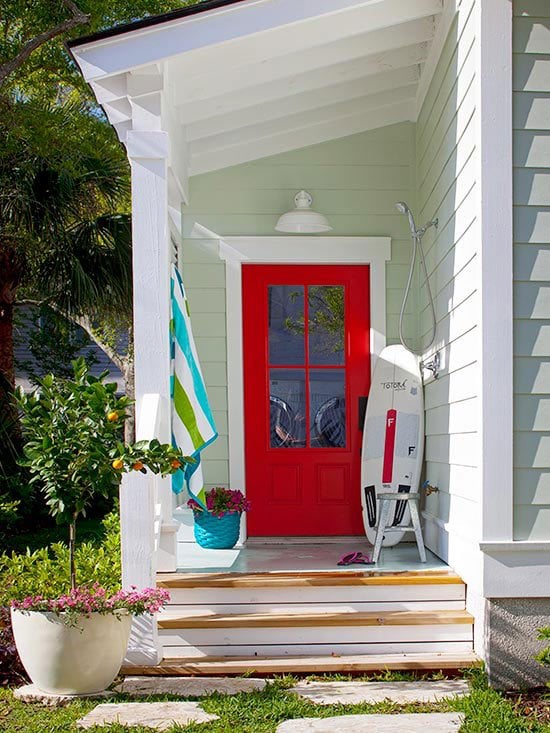 Source: BHG
4. When selecting a splash paint color for a wall or trim, make sure it has a similar undertone to the rest of your color scheme, otherwise your colors could jar.
5. Always take your natural light into account.
6. If your home is full of neutrals. Take note: they are rarely show stoppers on their won, but put with a striking warm or cool color they easily become very exciting and sophisticated. Curtains and window treatments are an easy way to give, take away and change a color scheme. They are a pseudo accent wall with the same impact.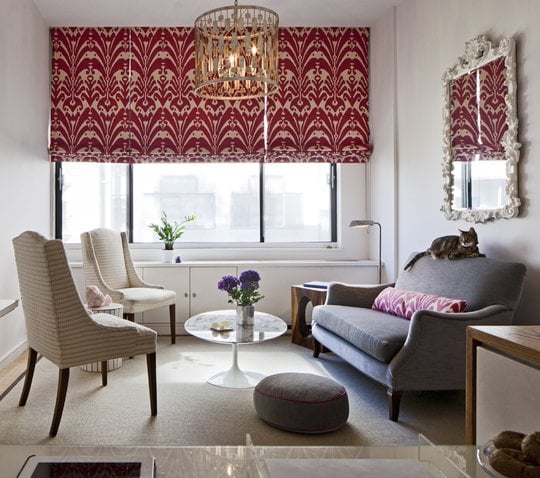 Source: Apartment Therapy
7. Decide whether a room is going to be mostly warm (social) or cool (private). If you build on that palette and are faithful you will avoid the color jarring combinations most people wind up with.
8. Don't combine warm and cool colors unless you decide you want an offbeat look.
9. Remember the 80/20 Rule. Use 20 per cent opposing color to balance out your look.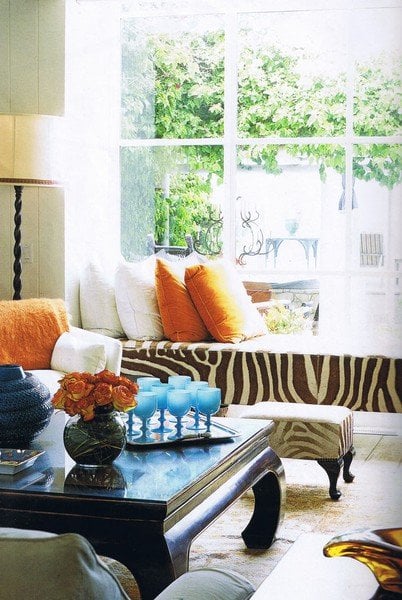 So, don't paint your kitchen blue (cool) against a terracotta floor (warm) and gold hardware (warm) or put a blue rug (cool) in your living room if you have sofas are brown and your walls are white with a warm undertone. But then again, break the rules… or go to Hop Skip Decorate and get someone to help you for $10. Best investment ever!

Join our email list and get more decorating ideas delivered right to your email starting with our DIY Decorating Cheat Sheet and followed by the 6 week series, 42 Interior Design Secrets.