Interior Design Ideas – Black Trim for a New Rockstar Look
Posted on June 17, 2013 by Christine in
Home Decorating
.
One of the best interior design ideas is using black trim as a focal point. This one thing can change your look completely. No doubt about it and no matter what look you have now. This decorating tool has been used for years by decorators to create clean lines and a crisp classic look, no matter what style your home or decor.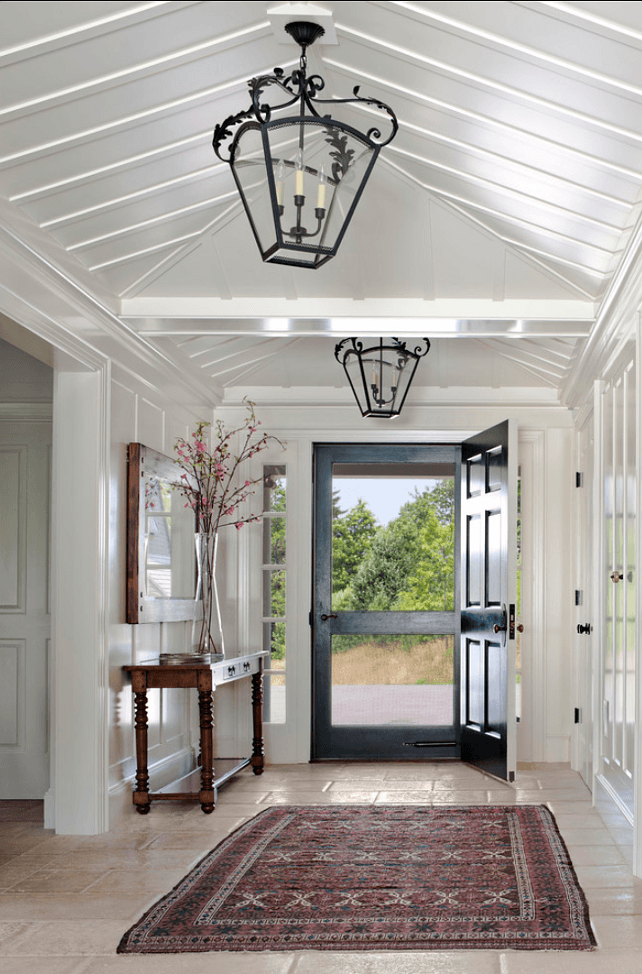 Source: Home Bunch
Best of all, it's not a complete makeover. Like icing on a cake. A strong exterior black front door can look very sophisticated and matches practicably any house color. It instantly updates the outside of your home. What about inside? Would you use black in your rooms? Even with the light, white, gray trends all around us, using black wallpaper or painted black furniture can look amazing.
Yet, most people feel it's too dark to carry off.  Me too. A room with black wallpaper on all four walls or a room with all matching black furniture is too heavy to look at every day. But the eye loves a bit of drama and contrast. The great thing is that black enhances any look; from vintage to Victorian.
So how about adding black crown molding, black baseboards, black shutters, black stair treads, railings, bookcases or doors instead? Black trim is a startling departure from your regular builder's standard finishes. I found this great example below from Hooked On Houses.
Source: Classic StyleHome
Whether you gloss to paint a black crown molding, or muted flat black on black baseboards, your home suddenly looks customized and tailored. And in most cases all it needs is black paint.
Source : Classic Style Home
It looks great against muted colors or white. Black is a perfect example of a timeless classic. From a feng shui perspective, black is energy of mystery and sophistication, power and protection.
Here's my suggestion – think of using it as trim – think 'ribbon'. Enough to contrast the other colors or features of the room.  This could mean a black front door or stair treads. To get chic without gloom here are some ideas you can use to create a Rockstar look to your home.
Black Trim – Interior Design Ideas
Most of these interior design ideas use black paint; that's it. You can buy expensive or inexpensive black paint. Use it on moveable items like black furniture. If you're more committed to the look, use black paint  on stair treads or a black mantel, things that are not as easy to change.
Use black wallpaper or paint a black ceiling if you're looking for a dramatic effect. It all comes down to your level of commitment. Here are 17 interior design ideas to bring black into your decor.
1. A black mantle can really anchor a room. A more up to date decorating idea is to go extend the black mantle to include the hearth. You can also go beyond the black mantle and hearth to include the wall. This depends on the size of your room, but it draws your eye to create a focus, contrasting other colors of the space helping them pop. If you are fortunate enough to have a fireplace, consider a black mantle.
Source : Pinterest
2. A black bookcase can create a visual weight in a room where none exists – an in place of architectural features. If this seems like too much, consider painting the inside of the bookcase or shelves in black. It's a great way to highlight objects.
Source: Pinterest
3. A black framed door creates a border.
Source: Pinterest
4. Black doors create drama and mystery.
5. A black front door welcomes all who visit and is the perfect background for wreaths. For the best black front door: Use a high-gloss oil paint. Apply it with a sponge roller for a smooth finish. Latex will give you a lower sheen – even if you apply a glossy polyurethane on top, you won't get the same depth of color as using oil paint.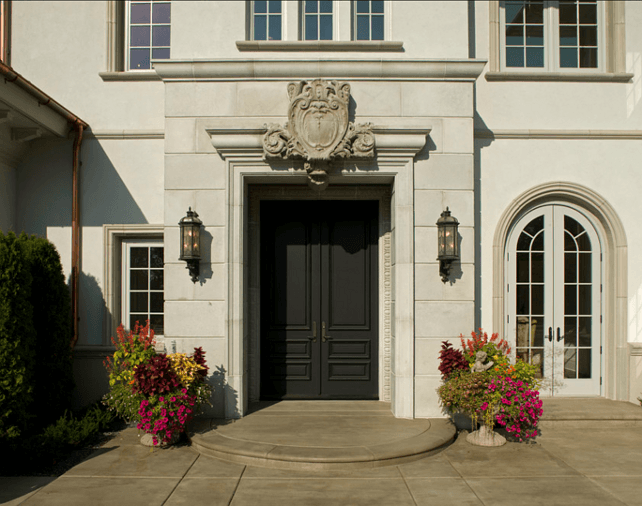 Source: Home Bunch
6. An entry with an internal black front door and banister are great accents to a mostly white entry or hallway.
7. Black baseboards or skirting boards work to frame a room. Don't worry if you have light or gold wooden floors.
Source : Pinterest
8. Marble black trim tiles are a classic look.
9. A black ceiling. Unlike your front door, the ceiling is best painted a flat black, not glossy, so the ceiling disappears. Add a great chandelier or pendant light and you increase the height of your ceilings.
10. Black walls or a dark shade of gray create a huge impact. The trick is to contrast black with lighter colors, for balance and contrast. For a softer effect, use a flat paint. See below for painting tips.
11. Black crown molding is highly dramatic. It frames the room.
12. Black furniture is a low-commitment to introducing black into your room. You can quickly create black furniture by adding a couple coats of high gloss paint to your furniture piece or use milk paint or chalk paint and distress. You can always move it to another room if you prefer or want another look. This inexpensive piece was turned into a very presentable sideboard.
13. Use black chalkboard paint on a bathroom door, kitchen wall or in a hallway. It's a softer way of introducing black to your home.
14. Paint thick black stripes on your walls. The effect is the same as expensive black wallpaper except you create it using some paint and a little time. Many home improvement stores sell laser levels that project a line on your wall to create guides for painting.
15. Black wallpaper can look amazing and is easier than trying to repair or cover less than perfect walls with paint.
16. Black stair handrail,  newell post and stair treads. You can paint the stair treads black and keep the others white; then again, any combination looks impressive.
17.  Use black in an entrance hall, hallway, kitchen, study or dining room. See what a difference black counter tops make in this kitchen.
Black paint: Interior Design Ideas

Black Walls
If you're going beyond a black mantle or stair treads, to create black walls or a black ceiling, remember that a flat, satin or eggshell paint finish is the best approach.
Use flat paint on textured walls because the glossier the paint, the more obvious the texture, cracks and flaws. Black walls with flat paint has a softer look and minimizes wall cracks or unevenness, but also shows fingerprints.
Source: Pinterest
Eggshell  and satin finishes are perfect for black walls in moist areas like bathrooms or kitchens.
Black Furniture and Millwork
Unlike black walls, when painting trim, doors, or furniture, a semi-gloss paint is better for the job. It's easy to clean and doesn't show markings or fingerprints like a flat paint and glossy paint shows scratches, even fine ones.
Source – Pinterest
Black is a great addition to any space. It sets a mood, anchor a room and creates drama. Do something different. Could you room take a black ceiling? I think a black ceiling is a great idea, especially if you want to create the effect of high ceilings. These interior design ideas using black as an accent trim is a classic and tailored look never dates.
If your new to Decorated Life,  sign up to our email list and get our DIY Cheat Sheet as soon as you sign up and the 42 Interior Decorating Secrets Series for the following 8 weeks. Love to have you join us.
If you want to create some of these looks, it's easy. For some black wallpaper looks go to Graham Brown and look up Kinky Vintage; Naughty Noir, Suzanne: Black and White,  Majestic: Black and white, Harem Tulips: Black and White. You never know what you'll find.