Farmhouse Entryway Ideas That Welcome You Home
Perhaps you have your very own farmhouse and all the period trappings, or maybe you just like to create that cozy rustic feel in your own space.
Whichever it is, you'll want to welcome visitors to your home with a beautiful entryway full of rural charm.
There are easy ways to create this look in your home so you might find you are ignited to try them out yourself!
Out on Show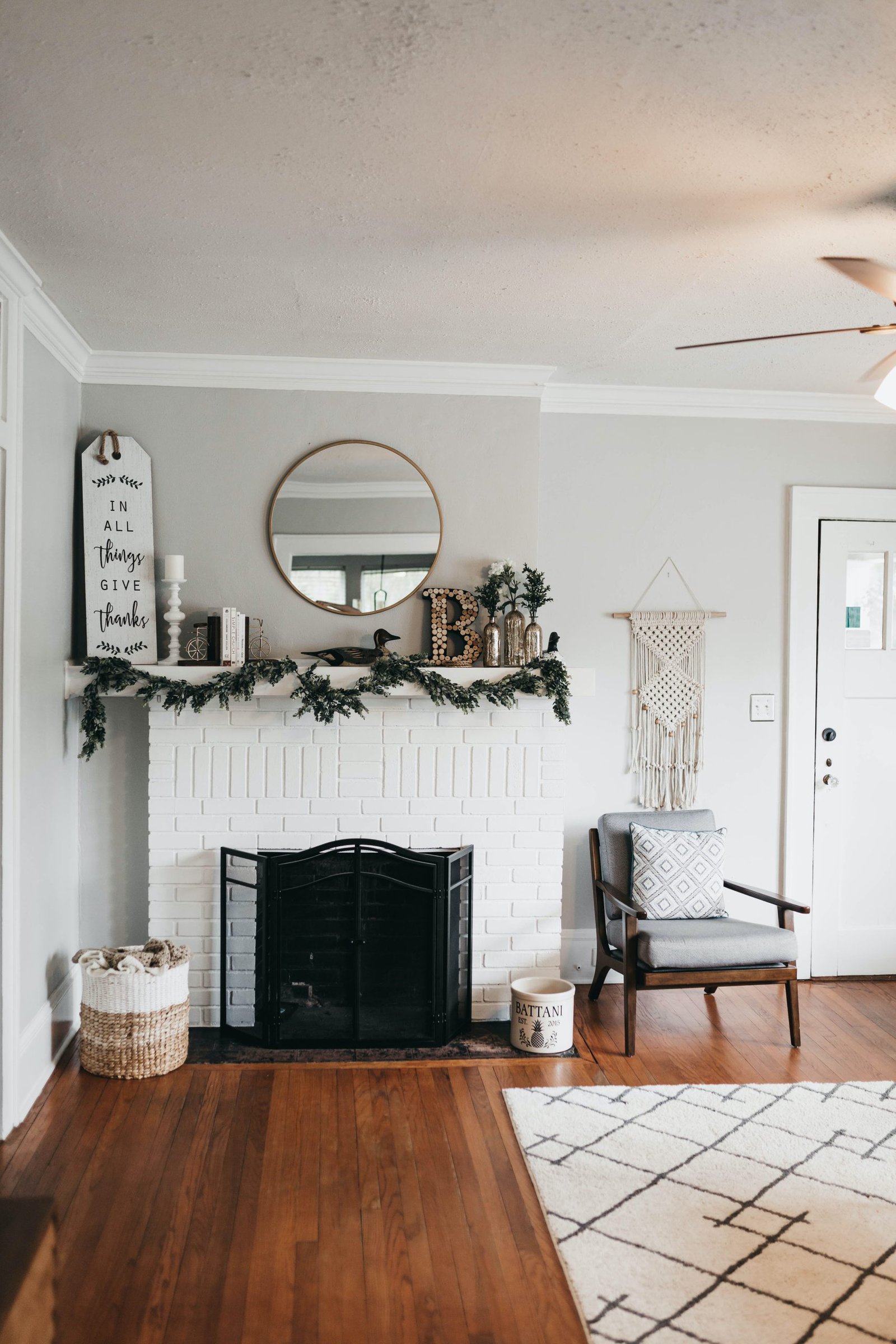 When your front door opens onto a large entryway or one of your reception rooms, make the most of an existing fireplace. The pinnacle of country cozy, a fireplace in stone or brick will bring all the farmhouse charm and you can add ornaments and decoration to the mantel.
For a farmhouse look, layering is important for a comforting hug you'd expect. So place an armchair with a cute cushion next to the fire. And textures could come from a wall hanging or a fireplace garland.
Woven baskets are excellent storage and decor, as is a rug. You can keep a muted palette if you up the texture. Otherwise think about using country shades of sage greens, blossom pinks and natural earth tones.
Tucked Away
Even if you have a small entryway in your home, you can make use of the space to create a farmhouse scheme.
Nestled in next to the stairs, you could fit a storage unit with handy bench space and storage above and beneath. Painted in a navy blue, this will pop against a wood floor and natural woven storage baskets.
To add further to the farmhouse dream, add cushions and a soft blanket as well as a plant or foliage in natural pottery. And for lighting, a traditional wall sconce light fixture will let you see where you're going as well as adding a design punch.
White Modern Farmhouse Entryway
For a contemporary entryway, go white all the way. But to pull back in time, add shiplap board and paint it in a crisp white paint. You can make your own if you're handy with a saw and a paintbrush.
Fittinging black metal coat hooks and hardware will keep things modern but use wood to contrast. A dark wood floor looks beautiful with a mid-tone wood bench.
And for classic storage use white woven canvas baskets and wire storage. As ever finishing touches can be a colorful cushion to add interest and a simple vase with some garden greenery.
Wonderfully Rustic Farmhouse Entryway
For warm tones in your farmhouse entryway, use an off white or cream to paint shiplap walls and layer with green plants, terracotta shades and warm wood.
A wooden coat rack on the wall can match a rustic door and simple wood bench. A brick tile in a washed warm earthenware tone will be practical and naturally traditional when laid in a herringbone pattern.
For embellishments, lots of wild greenery in the form of pot plants in traditional style pots. And why not add some garden artifacts like well-worn watering cans. Take a look at your local antique store to see what rustic paraphernalia is on offer.
Small is Beautiful
If you have the smallest of hallways you can still add farmhouse charm by adding board and batten paneling to your wall. Going as far as two-thirds up the wall is best. Then paint the paneled area in a slightly darker shade of your muted farmhouse colors.
Then add pegs to hang up coats. A simple wood dowel will work to create a unique coat rack. And a botanical or nature print will complete the look.
Perfect Entryway for Kids
It can be hard work sometimes getting the kids out of the house but they'll run to get ready with this wonderful rustic entryway idea with some bespoke child friendly features.
Natural shiplap looks great in a farmhouse entryway. You can add useful storage with shelving above and to the side, as well as below to create a bench where children can sit to put on coats and shoes.
To personalize, add a cut out letter to represent their initials and they'll always want to use their own special coat hook.
The Power of Flowers
In your farmhouse entryway you can go pretty by adding vases of flowers to a bookshelf. A large, ornate antique mirror will look divine if you choose vases and bottles in the same matching tone of glass, then fill each with cottage garden cut flowers.
Straw and woven storage and decor will lend to the rustic theme as will a wooden coat rack. And to complete the look, a chair set on a light wood floor.
Add a Bench to Your Entryway
For a wonderfully simple, puritanical look in your entryway keep the palette natural and the scheme pared back. A simple Scandinavian style bench can be layered with textiles in similar tones to the wood.
Woven baskets against a paneled wall look charming and a simple vase and earth tone rug pick up the natural, rustic charm.
Wallpaper to Enhance a Farmhouse Entryway
You don't have to keep your scheme completely plain for a rustic feel. A traditional wallpaper in monochrome works fabulously with natural wood and earth tone decor. Pick an uplifting floral print and echo with floral art on the wall above.
In a small space, you can add a cute wood bench and some linen curtains. A little designer trick, dried flowers stuffed in a jute tote bag.
Farmhouse Entryway Statement Lighting
In a small space you'll want maximum light, so if there is not much natural light, add a light fixture to the wall. For a farmhouse look, an anglepoise wall lamp is simple and traditional. Over a wood mirror this makes a statement.
Board and batten wall can be painted in a sift white and adorned with pegs and traditional art hanging above. A woven mat or rug gives rustic texture to this pretty scene.
Bring the Outside In
With a beautiful wall-sized landscape artwork you can have all the atmosphere of the outdoors right inside your farmhouse entryway. Frame it with simple wood.
The tones from the painting can be echoed in decor. A dark wood bench, dark green leaves from a floor pot plant, and pale sky tones in the soft furnishings. For texture, a sheepskin rug draped on the bench looks both effortless and high class.
Arty Designs in Your Entryway
The rustic wall is decorated with a horizontal split, with the bottom ordinarily painted darker and the top lighter. You can select a deep indigo blue for the bottom two-thirds and a pretty wallpaper for the top.
Coordinating artwork in flowers can be matched with wood tones. Some pretty bags hanging from a farmhouse style coat rack complete this gorgeous look.
In Summary
Any entryway should make an impression so you'll want to carefully choose the element s that make up a farmhouse style hallway. The palette should be natural with colors in floral shades and green but you can add a navy blue too.
Wood-a-plenty is key. As well as storage in woven natural materials and foliage and flowers to make a pretty setting. For soft furnishing, drape a blanket or add a rug. and layer texture with cushions and wall hangings.
For a traditional modern look, you might like to try your hand at DIY and install your very own board and batten wall. The height of farmhouse design.