Farmhouse Dining Room Lighting Ideas: Blend Tradition and Trend
Wouldn't you agree that lighting is the one aspect of home decor that truly brings the other elements of a home to life? The right lighting can make or break the mood and vibe of a place. This is true even of lighting fixtures, which must be chosen carefully to achieve the right aesthetics.
Imagine having to choose suitable lighting for your dining room. A dining room is a special place in a home. It serves as a gathering place for families and friends to enjoy meals and create cherished memories. So it makes perfect sense to have a kind of lighting design in this key area of your home that serves both functional and aesthetic needs.
We suggest introducing aspects of farmhouse dining room lighting to infuse a little soul and warmth into your home. You can choose from a wide variety of earthy yet bold and fashionable lighting choices with this type of lighting, such as traditional wrought-iron caged lights or rustic tiered chandeliers that give your dining room the atmosphere of a low-key period setting.
Eager to learn more about this lighting style so you can spruce up your lovely dining room? Get inspired by these ideas!
Beaded French Classic Chandelier
A vintage, empire-style beaded french chandelier works wonders for a farmhouse dining room. Due to its sophisticated appearance, it can effectively draw attention without being overly garish.
Combine this lighting with an eclectic cream-white and beige dining room with tufted seating to create a French-inspired country ambiance. This look will strike a balance between the rustic and the classically styled.
Choose beads made of organic wood or traditional crystal that gracefully swirl in a canopy-style chandelier. The resulting lighting is not only functionally sound but also sufficiently illuminates the dining area in a mellow glow.
Rectangular Caged Pendant Fixture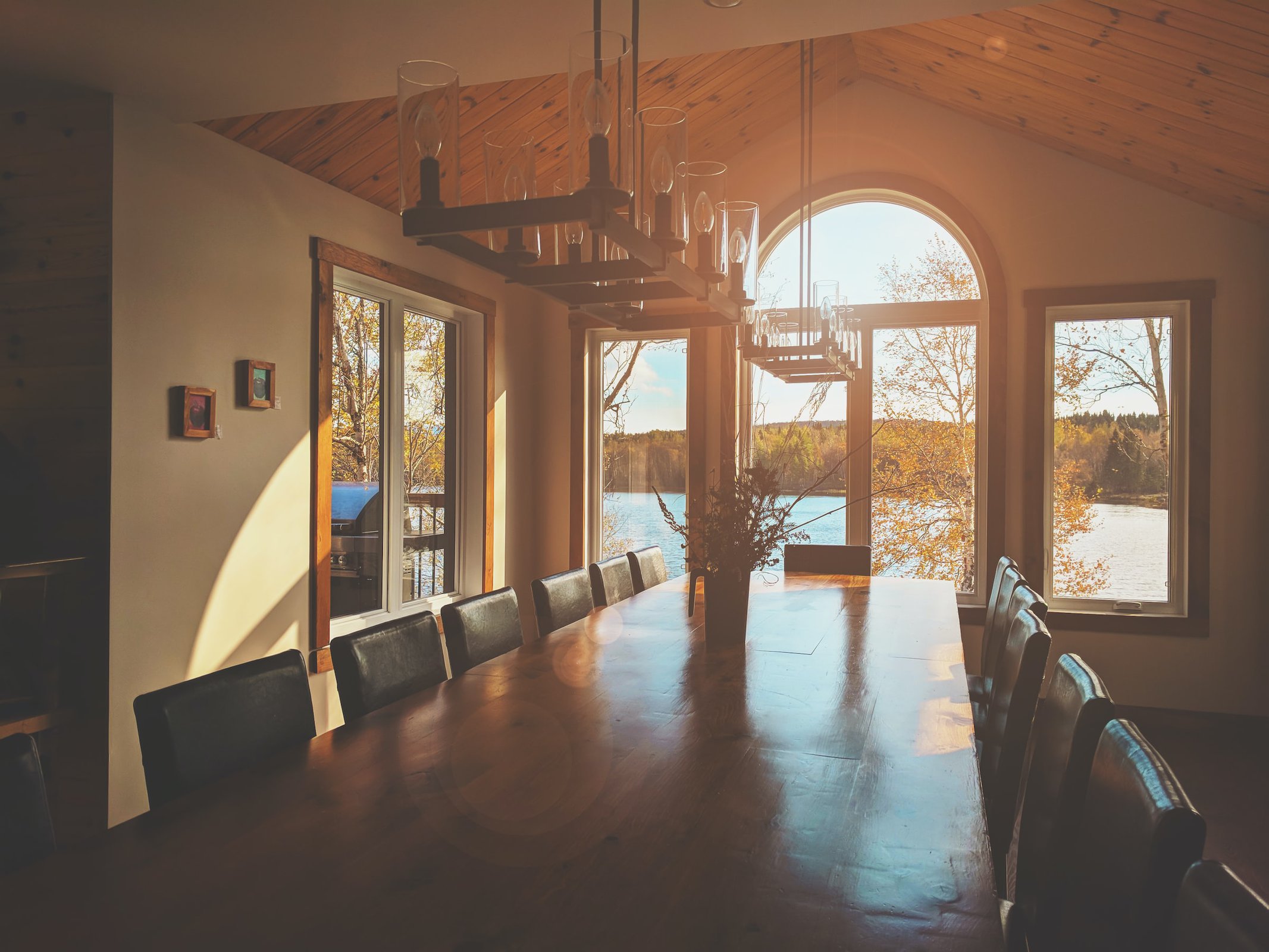 With this long-caged pendant bulb, you can incorporate minimalistic design principles with the simple rustic design of farmhouse-style architecture. The long dining table below the pendant light visually mirrors the fixture's rectangular form.
Even though the light's design is straightforward, it is elegant and practical because it evenly illuminates the entire length of the table. Although the fixture's open metal frame design is rooted in simplicity, the suspended pendant design looks chic in a dining room with a farmhouse theme.
Choose this matte-black, rectangular beauty to go with the teal and navy accents in your dining area. Alternatively, for a sweet country appearance, select a traditional white long caged light with candle-shaped bulbs.
Bold Statement Lighting
The dining area can appear more cohesive with just one bold, statement-making piece of lighting.
It also provides a stunning contrast to the earthy atmosphere of a farmhouse dining room — especially one that is furnished with a stained wood dining table that displays its rich texture, elegant white chairs, surrounding cream-white walls, and an oversized indoor plant in the background.
Bold lighting fittings, like large globe pendant lights and contemporary geometric lights with candle lamps, give the room a dramatic feel. For a more pronounced illusory light effect, place a mirror on the wall opposite the light.
Dainty Black Metal Fixture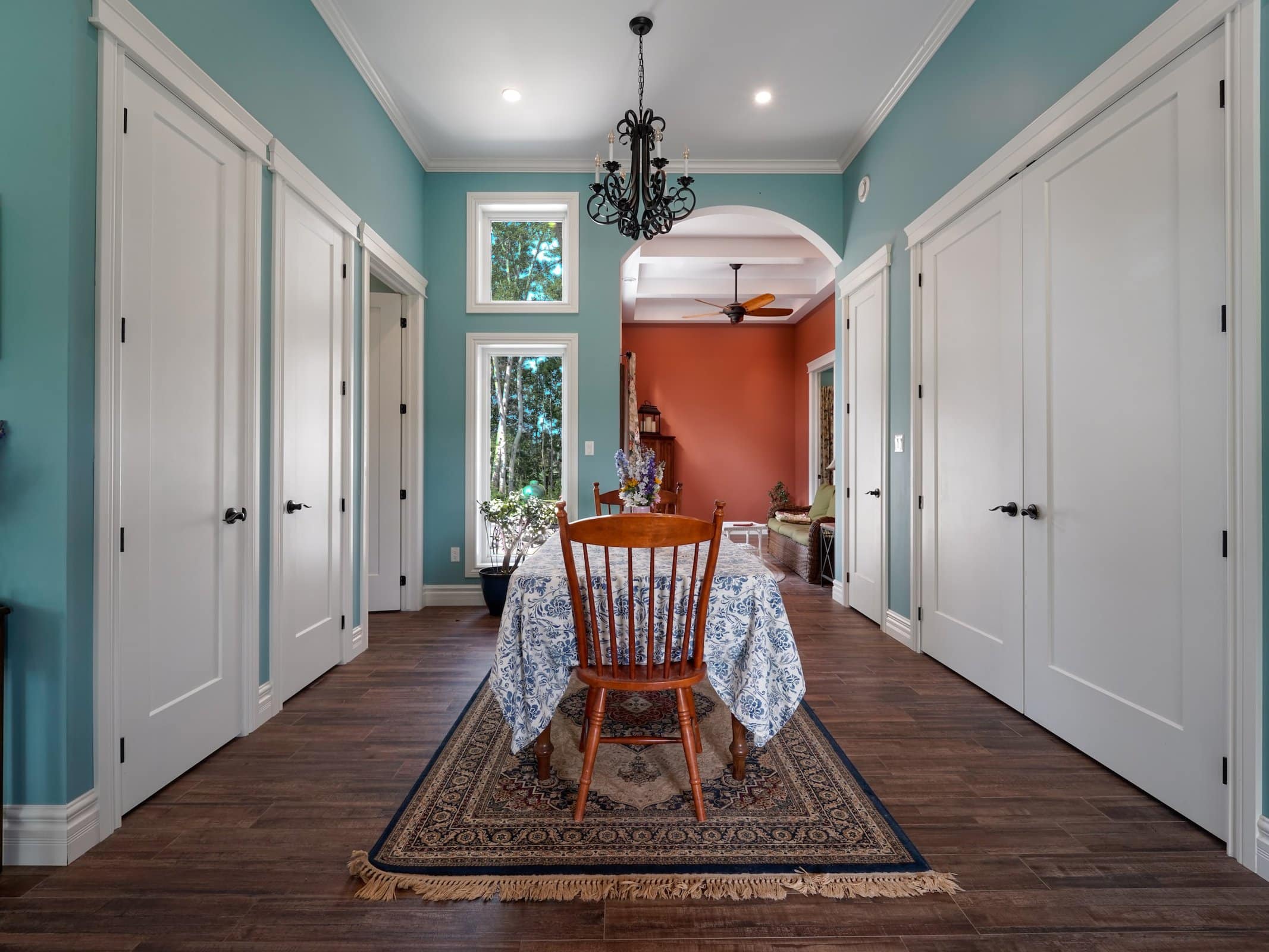 Clad in a svelte matte black finish, this dainty chandelier effectively adds to the farmhouse appeal of the dining room with its bold color.
To top it off, it has a cool minimalist attitude that blends seamlessly with the rustic ambiance of the dining area, which is furnished with dark wood seating, surrounded by walls that shine in a creamy contrast. For a dramatic impact, choose a wiry, sweeping, and open design.
Dual Pendant Lights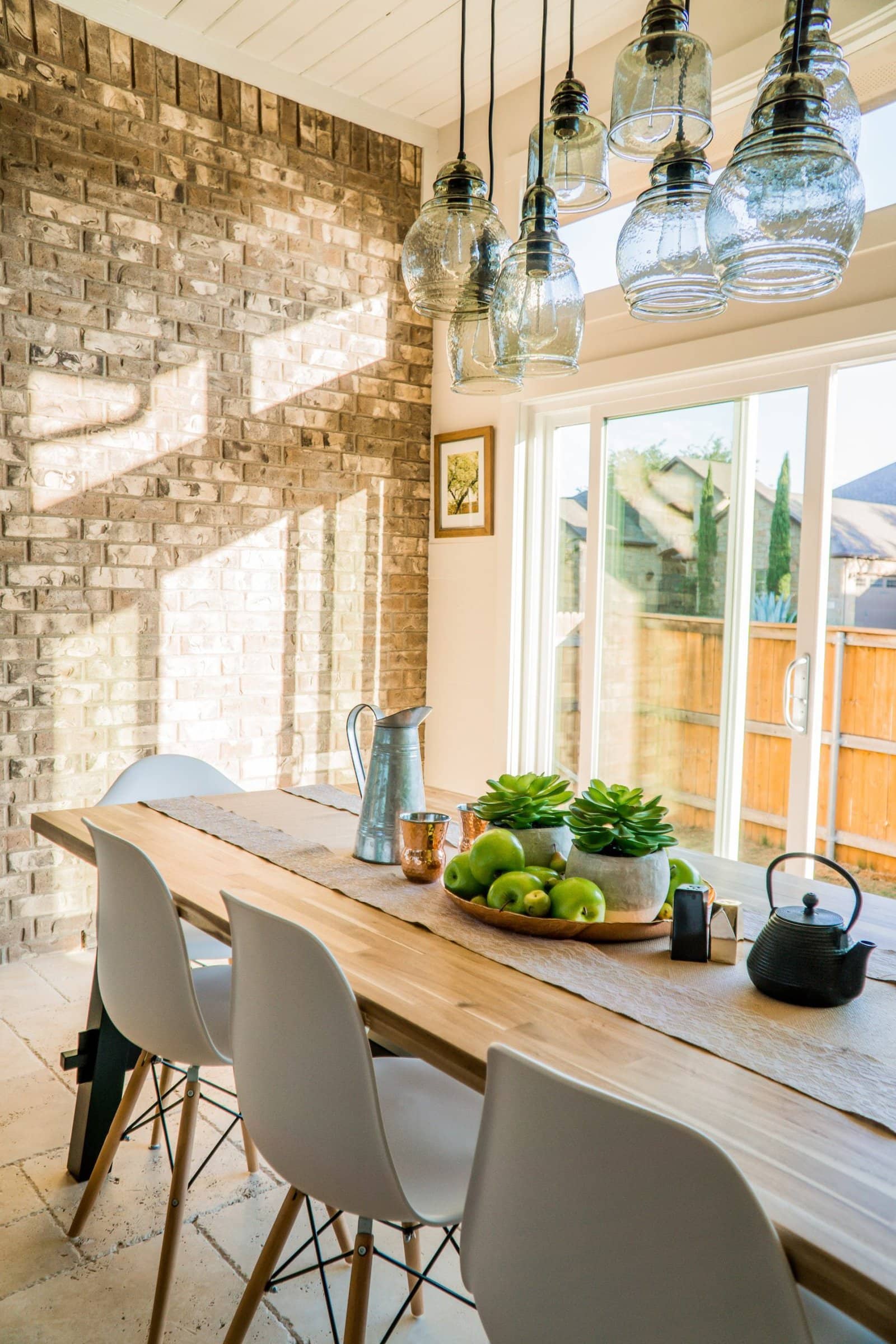 What's better than one pendant light? Two of them!
So far, we've only toyed with ideas of single fixtures, but dual pendant lights are a wise choice if you want to draw focus to your dining area.
This is particularly true if your dining table is a grand, sweeping table that was made for big family dinners. To effectively illuminate the full length of the table, two overhead beaming lights are the perfect option.
Dining rooms look stunning with caged farmhouse-style pendant lights in a royal black color, which successfully balances modern design and a rustic allure. The symmetry of these two caged lights also establishes the structure and discipline characteristic of a dining area.
You can also opt for more than two lights to create a stunning array of variously sized and shaped glass lights that encompass the entire table.
Or, you can choose a more down-to-earth barn-style design, such as boxy wooden-cage lighting that cozies up the dining room in more ways than one. If this style speaks to you,
invest in two of these gorgeous wood-hewn box lights, which feature geometric wooden beams inside of a cubed cage.
Ornate Country Style Lighting
Ornate, cottage-core details are everything and more in a farmhouse-style dining room!
If your dining room is outfitted with elaborate, gilded cushioned chairs, an exposed wood dining table, intricately patterned rugs, and a cozy, white-clad atmosphere to balance it all out, adopt this exquisite style.
Choose a deeply elegant light fixture that holds the theme together. Opt for a delicate birchwood style fixture with curved arms, or choose a vintage-style distressed wood chandelier that adds character.
Tiered Extravaganza
Let's face it. Despite how common it may seem, a farmhouse-style room would be lacking without the tiered elegance of a traditional glass-and-beads chandelier. The good news is that there are many different tiered choices available.
Choose a traditional chandelier with curved arms, pearl beads, and multiple tiers for a sophisticated appearance. This works well in dining rooms with lofty ceilings.
An industrial-style beaten oak tiered chandelier is a beautiful addition to your farmhouse table if you'd prefer a more simple design. If your dining room table is distressed wood, a dual-tiered chandelier with a similar texture featuring wavy glass lights will give the room a rich appearance.
Circular Gilded Fixture
Farmhouse-style circular light fixtures are making headways into the realm of lighting decor with their fluid, curvaceous design. Even though they're simpler than their more classic counterparts, they give off an air of earthy serenity that is ideal for a dining room with a farmhouse theme.
Choose a multi-tiered circular chandelier, which can instantly add warmth and make your space feel more inviting thanks to its base of richly textured wood, gilded accents, and subdued lighting.
Along with providing a pleasant geometric contrast to the rectangular dining room table, it also balances out the farmhouse theme's crisp white tones with its dark wooden hue.
Classic/Minimalist Drum-Linen Light
This lighting fixture is simple, practical, and unpretentious — making it the perfect farmhouse dining room lighting companion.
The dining area is subtly lit by this drum pendant lamp, which is encased in a light linen fabric that softly diffuses light. This light fixture's great feature is that it works well with both minimalist farmhouse style and cottage-chic décor.
If a fabric-clad drum light is not your style, you might want to think about an elaborate, statement-making open-weave drum light bulb. The metal texture of this piece gives the white-and-beige coolness of a country-style dining area depth along with a welcome contrast.
Final Thoughts
Lighting a dining room space can be a tricky but fun project so long as you carefully consider a few things beforehand. Determine and prioritize your lighting requirements before selecting a farmhouse-style item that works well with your décor.
Think about whether you would prefer a soft, romantic radiance or a powerful light that extends the entire length of your table.
If you want to prevent bumping into light fixtures while hosting guests, you might also want to take into account your ceiling height. This will certainly help you make the right decision while opting for certain lighting fixtures, such as tiered designs.
In the end, the best type of lighting is the one that strikes a balance between your personal aesthetic preferences and your practical requirements. So have fun choosing your farmhouse lighting and jazz up your dining room space the way you always imagined!