Decorated Life is reader-supported. When you buy through links on our site, we may earn an affiliate commission. Learn More
23 Flagstone Patio Ideas – Have an Antique Looking Patio That Will Last Forever
If you're a social animal, you must love holding pool parties and barbeques with friends. And for this, you must have a good looking outdoor area. You just can't enjoy a good BBQ steak over shoddy looking flooring because that just kills the vibe.
While there are a number of ways in which you can spruce up your patio flooring, using flagstones gives it a unique and antique look. If you like wild and rustic looks, you'll love flagstone.
Flagstone paving uses large flat rocks (that could be sandstone, limestone, or slate, etc.) that give a warm and welcoming feeling. Let's discuss some flagstone patio ideas for exciting backyard get-togethers.
Build a Multi-Level Patio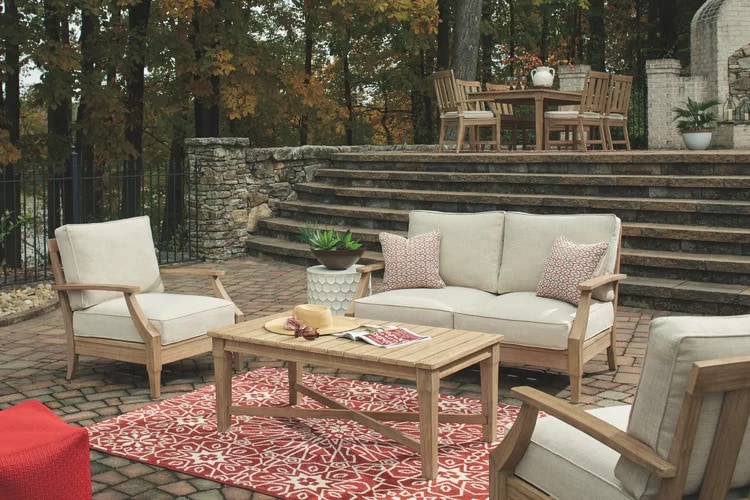 For those who live on a hill, you don't have to leave your patio to just a single level. Instead, use those pavers to create a multi-level patio that fulfills all your outdoor needs.
Add a level for your outdoor seating, another for outdoor dining. Mix and match designs for a beautiful, functional, and inviting outdoor space. This particular feel is a classically beautiful Farmhouse style that really pops with some touches of color in a rug and pillows.
Visit the Secret Garden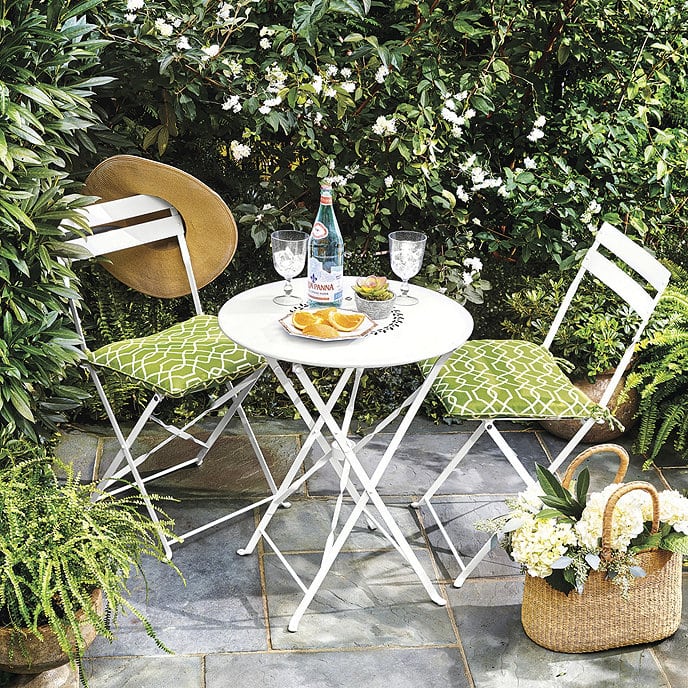 Set up a few chairs around a table in the middle of trees and shrubs to create a secret garden feel to your patio. Only a few privileged can sit in these chairs and bask in the glory of an enchanted kingdom. Keep the bushes trimmed, but not manicured, for the perfect natural effect.
Of course, when there are grass and bushes, maintenance is required once a week to keep things trimmed and gorgeous. In return, you'll get an awesome jungle-like look that houses a garden nobody knows about – only you and your loved ones will have access to it.
Create a Rustic Fairyland Paradise
Patio pavers are some of the most versatile pieces for a gorgeous home respite. Use them to lay the foundation for your perfectly magical rustic fairyland paradise out back. Be sure to find warm, inviting furniture with soft cushions.
Hang some lanterns from the trees, lay down a soft, outdoor rug, and let nature do its thing. Even if the concrete around the pavers cracks, let it be. Find other rustic decor and maybe even add a fairy garden and some birdhouses to up the woodland magic.
Create a Backyard Fireplace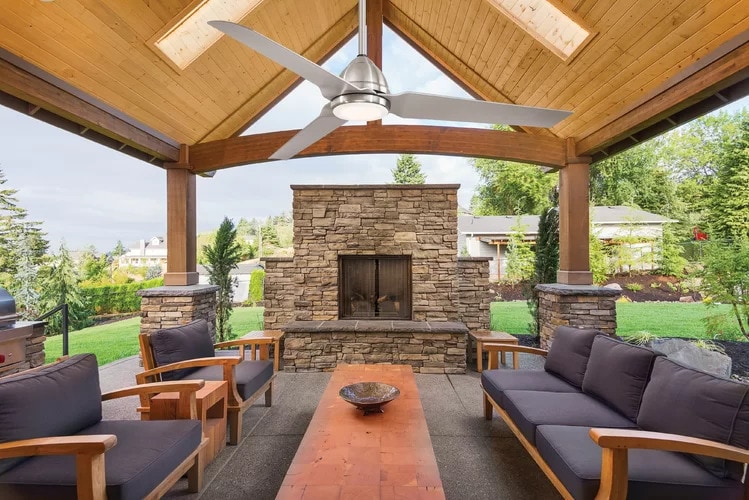 There aren't many things that come close to the romantic appeal of a fireplace. And that appeal is increased even more when it's in the open. This fireplace made of flagstone is great not just for romantic evenings but also for a campfire night with kids.
Bring out some marshmallows and it's the perfect nighttime experience, telling them funny stories under the starry sky (or an overcast one for horror stories) while being safe in your own backyard. It's also the ideal place to share a couple of beers with your buddies while talking about your old school days or watching that game on the outdoor TV.
Place Some Grandpa Chairs in the Patio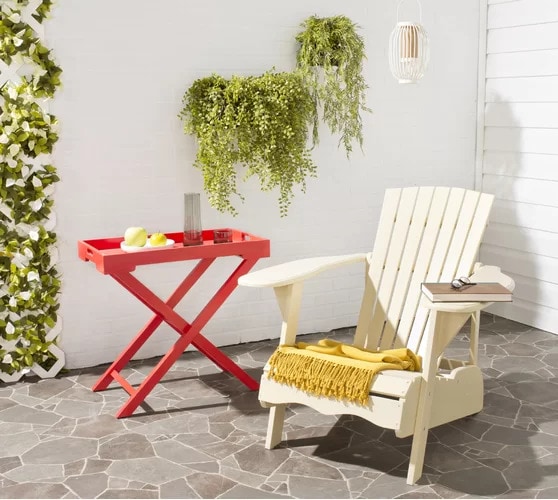 There's nothing quite like soaking up the morning sun on a Sunday morning. Place a grandpa (Adirondack) chair or two on the patio and lounge away the entire morning, being nothing but lazy. You can use a neat tight flagstone floor or leave some space and let the grass grow up between the stones.
With old wooden comfortable chairs and a flagstone patio with flowers growing around you, switch off your phone for a while (or put it in Zen mode) while you hit the snooze button of your body and enjoy the tranquility that's available to you right in your own backyard. And finally finish that book you've been meaning to.
Make it a Neat Flagstone Patio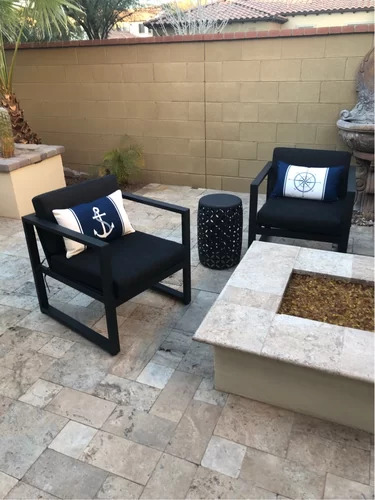 Flagstone is generally used in patios so it can give a rough and rustic appeal. But if you like neatness in everything you do, you can get a properly arranged and immaculate patio with flagstones. Check out this patio that's made with flagstone and yet has neatly defined lines.
The stones are properly grouted to maintain a neat and tidy look, with the varying shades of stone adding some intrigue without disorder. There's a seating area on the patio where you can hold a small party with your close friends. The firepit even uses the same stones to complete the outdoor party zone that totally matches and coordinates.
Make it Colorful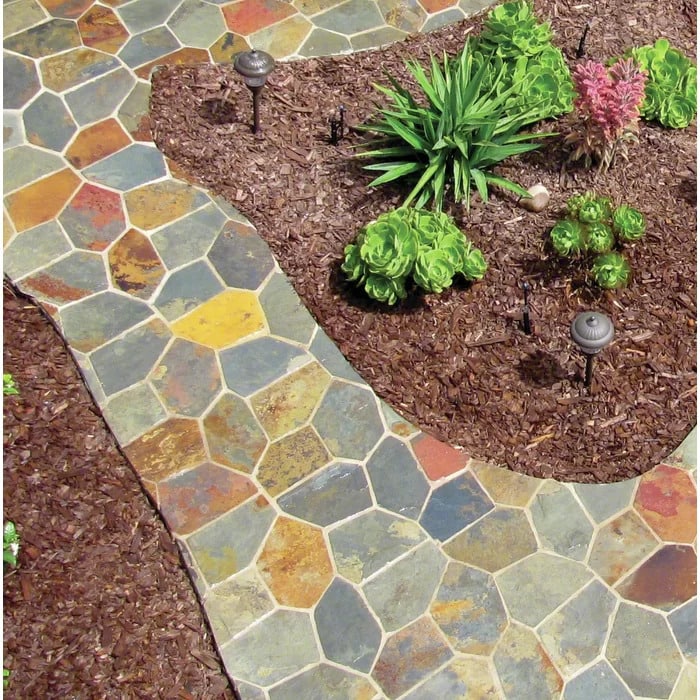 Flagstone doesn't mean you have to stick to a single-colored stone. Since flagstones are available in several colors, you can combine them and create a colorful patio. But keep in mind that these are natural stone so you won't exactly get bright neon colors.
However, flagstones are available in yellowish tints, reddish-brown colors, and grey shades. You can combine a number of them to give a colorful look to your patio.
You can take a traditional approach or create designs with the colored stones to suit your taste.
Give Yourself a Poolside View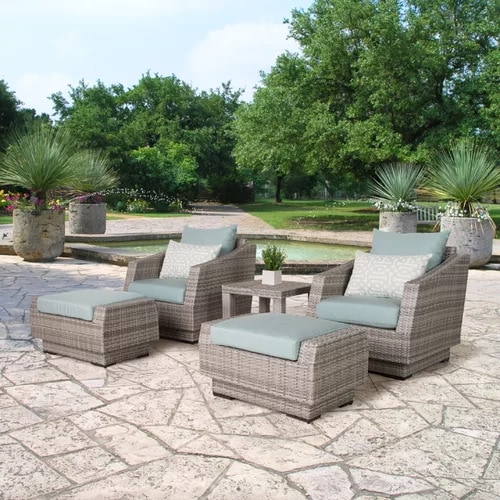 If you have a pool, chances are you're looking to build the patio near the pool or re-do an old one already there, but in disrepair. Lay down the new stone in a scatter-style design, filling in the gaps with solid grout to make maintenance easier. Then position your chairs and other furniture for a splendid view.
Add some large concrete planters, cozy chairs with soft cushions, and maybe even add in a fountain or other landscaping feature to add to the beauty while you relax poolside.
Build a Flagstone "Cabin"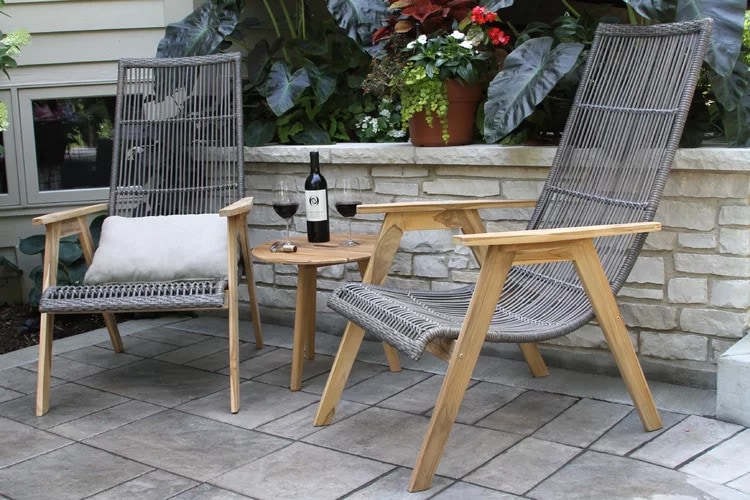 If you love the idea of a resort-at-home, you'll want to grab a load of flagstones for this cabin idea. Build a partial wall on any (or all) sides, laid a smooth flagstone top, and add some chairs and tables for a cozy, casual atmosphere. This can be an exciting getaway from everyday chores and daily activities.
Depending on the level of privacy you need, you can build a wall on one side and grow up shrubs on the other to keep out unwanted visitors. The flagstone patio cabin is perfect for some alone time when you want to collect your thoughts, romantic date nights while you stay in, or even just a sunny spot to enjoy a good book.
Perfect for thinkers, writers, and artists, a flagstone cabin can be the best retreat from the hustle and bustle of city life.
Make it the Perfect Family Place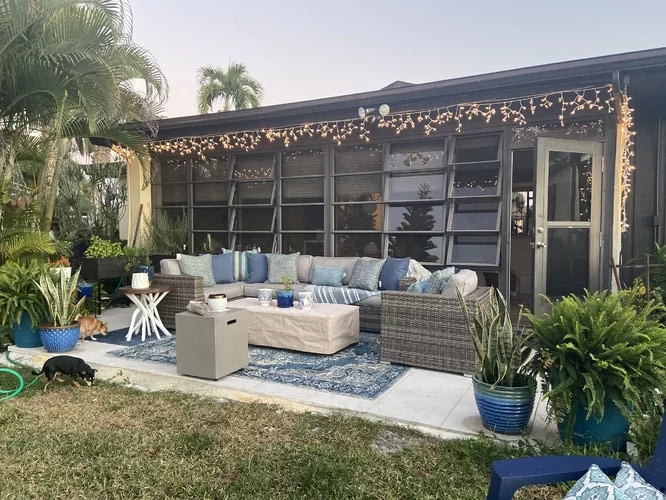 Flagstone patios are ideal for a family of any size, whether that's a couple, parents with kids, or pets and their parents. Make the set up colorful and inviting with soft cushions, lots of chairs, tables, plants, and plush rug to sink the toes into.
Ideally, include an outdoor couch or loungers for the ultimate relaxation, and maybe have a barbecue grill nearby. If you have pets, a large backyard is a blessing where they can run and play around, especially because they can sit on this furniture.
Create a Flagstone Patio for Outdoor Business Meetings or Family Dinners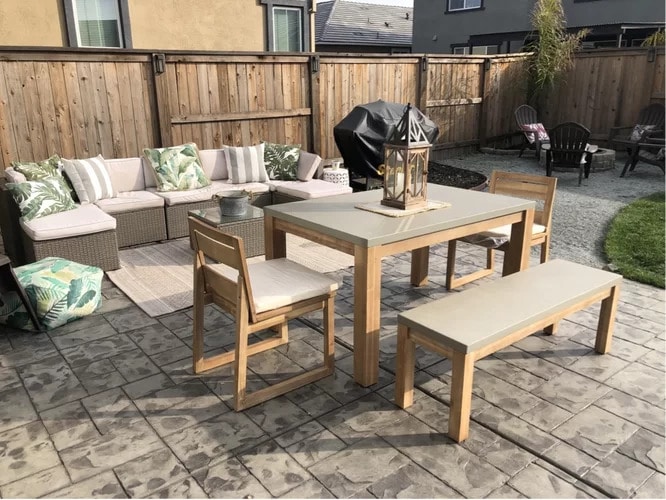 Whether it's a casual business meeting at your place or Grandpa Joe's birthday when the entire family gets together, a flagstone patio is the perfect paving option.
It's an exciting way to form an interpersonal bond with the people you work with. Impress them with your rustic looking flagstone paving that's beautiful and charming, use a classically beautiful farmhouse style table, and add in a comfortable couch for post-dinner drinks.
Create the Perfect Party Place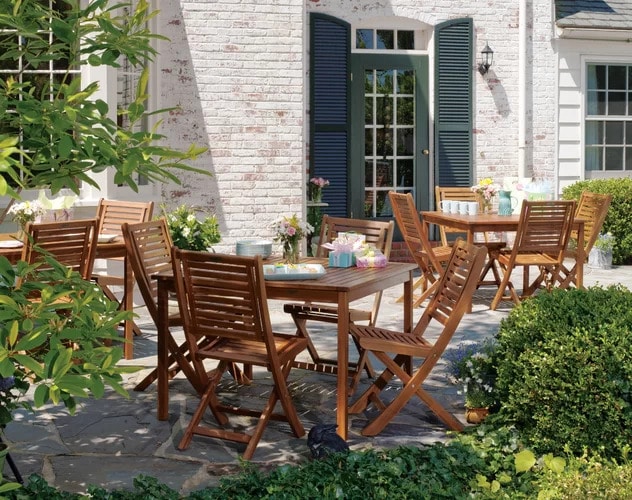 It's not just restaurants that can set up multiple dining sets on their outdoor patios. If you enjoy hosting dinner parties or have a large family, you may well want to design your patio space with multiple tables and chairs in mind.
You can find multiple sets that match or mix and match styles for an eclectic bohemian feel. The set up is perfect for game nights, family gatherings, and parties all the way from spring into autumn.
Create a Pergola Dream Palace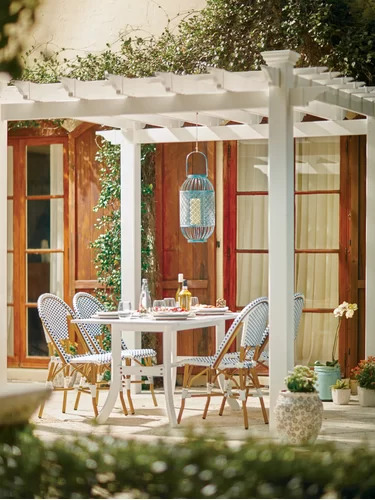 You might want to build not just a patio in your backyard, but a pergola. You can lay down the beautiful pavers in the colors of your choice, then install a stunning pergola to add some intimacy and elegance to the beautiful design.
And if you're into DIY, you can use some old pallets to build patio furniture like this beautiful rustic table or shop online to find something equally gorgeous and outdoorsy. Add a hanging lantern from the rafters, add some comfortable seating, and voila. A dream palace in any yard.
Make a Pool With Your Patio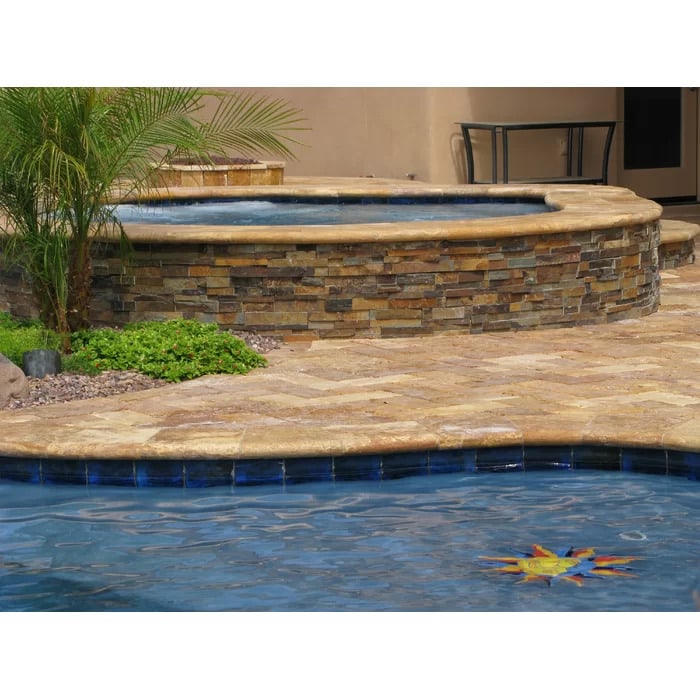 Extend your patio and include a pool in it so when you're done sunbathing, you can take a dip in the cool pool. The flagstone paving looks beautiful not just on the patio but around the pool and even a hot tub, if you so desire, as well.
Create the patio large enough for seating areas on all sides of the pool. Let the color and style of flagstone you choose shape the feeling of the whole area and let your imagination go wild.
Flagstones Arranged in Symmetry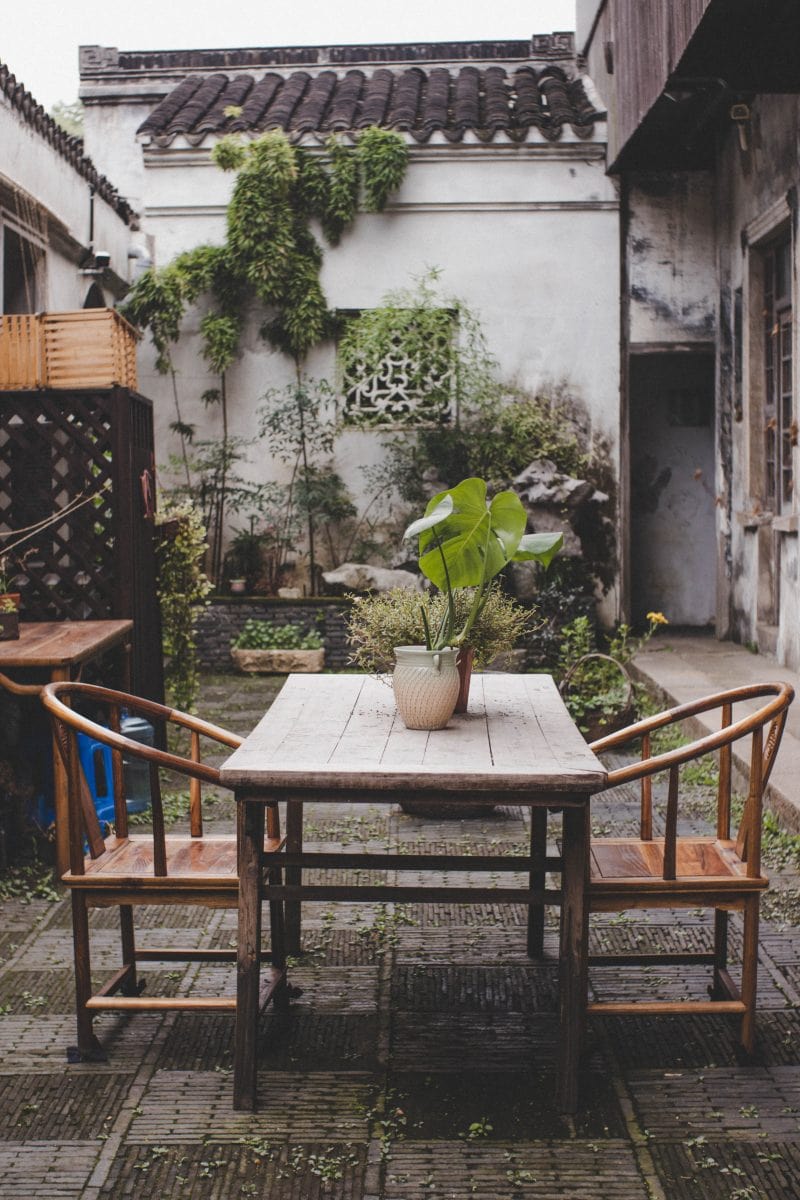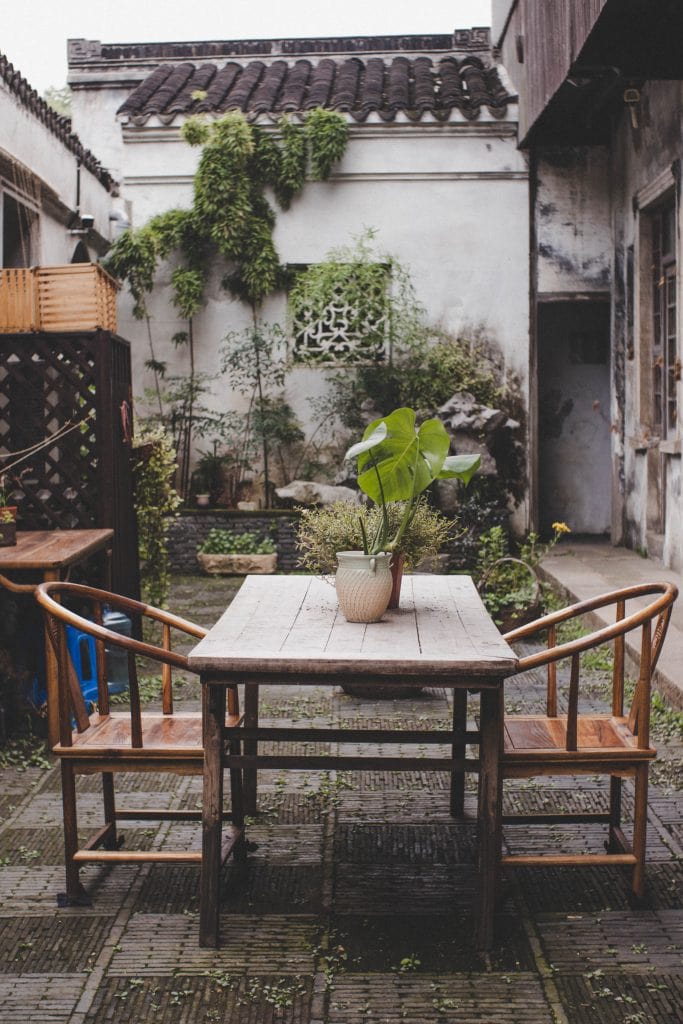 Flagstones are generally just laid randomly and the area around them is filled with gravel or grout. But you can be intentional and create some symmetry with your stone paving design. Use small paver pieces like this design, or cut large stones to create a checkered pattern. Or use diamond pavers to create other symmetrical designs.
Your imagination is your limit. Pavers of varying colors, shapes, and designs can be found at almost any outdoor center, hardware store, or even Amazon. If you're someone who craves symmetry in their lives, this will be the right choice.
Create a Tropical Nook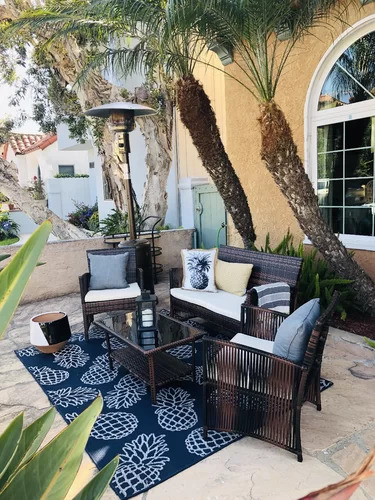 Whether you live in a hot or cold climate, you can still create for yourself a semi-tropical or even full-tropical nook on your flagstone patio. Pave the floor with warm, vibrantly colored stones, then find furniture that looks like it belongs on a Spanish veranda.
Look for the type of Hibiscus that grows in your region (yes, some grow in the cold north!), and other plants that give a tropical vibe. Use terra cotta pots to give that feel of red tiles and add some tropical decor elements like these pineapple themed pieces. Grab your favorite fruity drink and relax in the sun.
Add Some Heat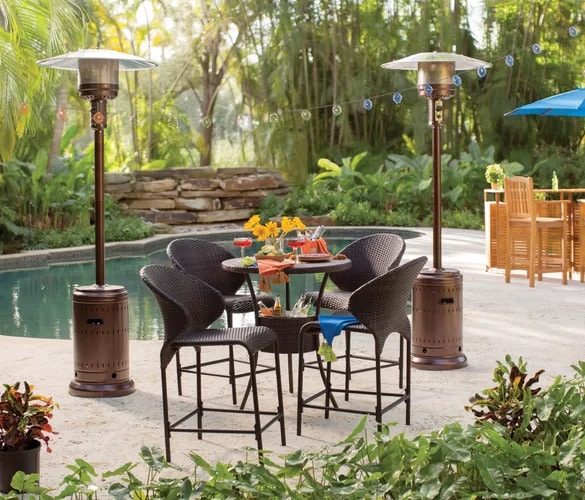 For an all season patio, layout our flagstone design with all seasons in mind. Create a spot for your dining area, sitting area, or anything else you envision, and include a bit of extra space for adding some heaters like these stand heaters.
Stand heaters are especially fantastic for any outdoor space because they're portable. You can easily store them in a shed in the summer, tuck them into the mud room by the back door, or just set them aside when warm weather hits.
A Flagstone Patio That's Also an Outdoor Kitchen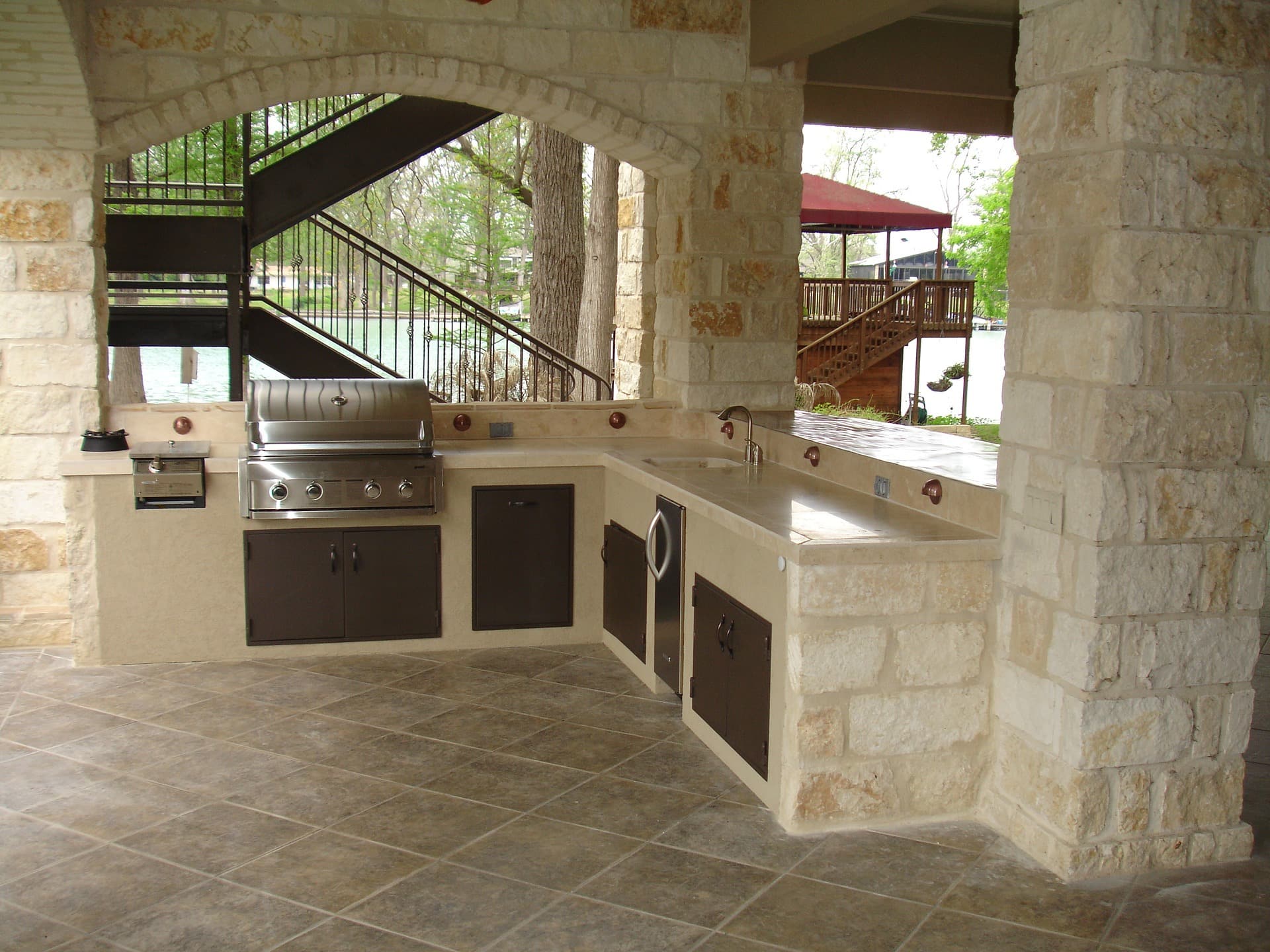 Flagstone isn't just great for paving the patio. You can also build with it. For example, here is a complete outdoor kitchen that's built with flagstone. You can install a grill or outdoor oven to use, build in the countertops – if you add long counters, you can more easily host larger groups – and even an outdoor sink and lots of cabinet space.
It's ideal for outdoor cooking time when you want to cook while relaxing in the sun and listening to the birds chirp. This patio idea is ideal for people who genuinely enjoy cooking. Don't limit yourself to the same old confines of an indoor kitchen. Enjoy outdoor cooking in a rustic flagstone kitchen.
A Complete Outdoor Setup on a Flagstone Patio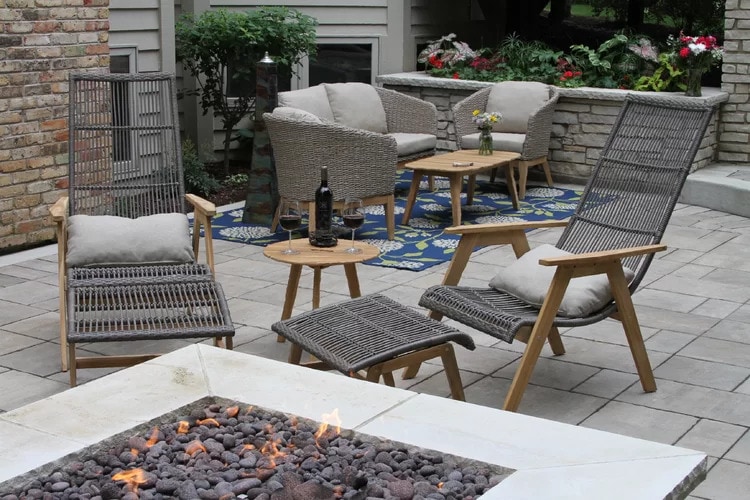 This patio uses a mix of rustic chic and modern looks. The flagstone pavers give it a neat, well-groomed modern appeal while the rustic seating blends seamlessly in for a chic outdoorsy atmosphere. There's a flagstone fire pit as well, which combines gorgeously with an outdoor rug and beds of flowers.
The comfortable seating place is ideal for the entire family to sit around and enjoy a warm summer day. Or, add some blankets into the mix, and you'll be set for cool spring and autumn evenings. You can add some candles along the edges for additional coziness and mood lighting.
Create an Outdoor Living Room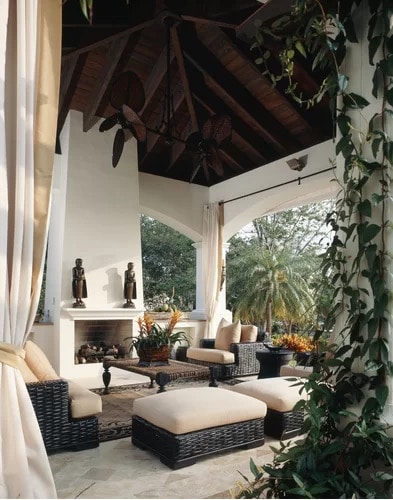 Nearly any climate would be suitable for a beautiful outdoor living room space. You might need blankets in winter, but with the right design, you can relax and enjoy the fresh air for much of the year.
Lay down the flagstone floor in a neat or scattered design, with proper grout work solidly drawing the stones together for a smooth floor, then add furniture suitable for the climate, a rug, furniture, and voila – your perfect outdoor living space.
If you live in a cooler or exceptionally sunny climate, you may want to add a roof and some curtains as well to help shield the space from the environment while you're out there enjoying it.
Hang a Swing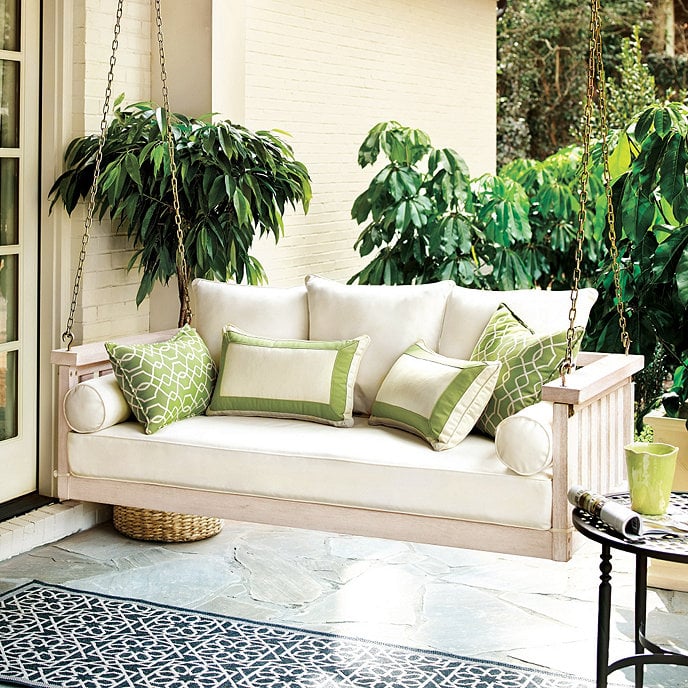 Swings aren't just for porches – they can be added to your perfect flagstone patio setup, too. For this stunning design, you'll need a gorgeous, solid swing with comfy cushions and pillows, a beautiful rug, and some casual accompanying furniture.
Be sure to leave enough space behind the swing to keep you from knocking into plants or other furniture if someone gets a little energetic while swinging. And don't forget a coffee table or side table for holding that glass of wine between swings.
Install a Fountain in Your Patio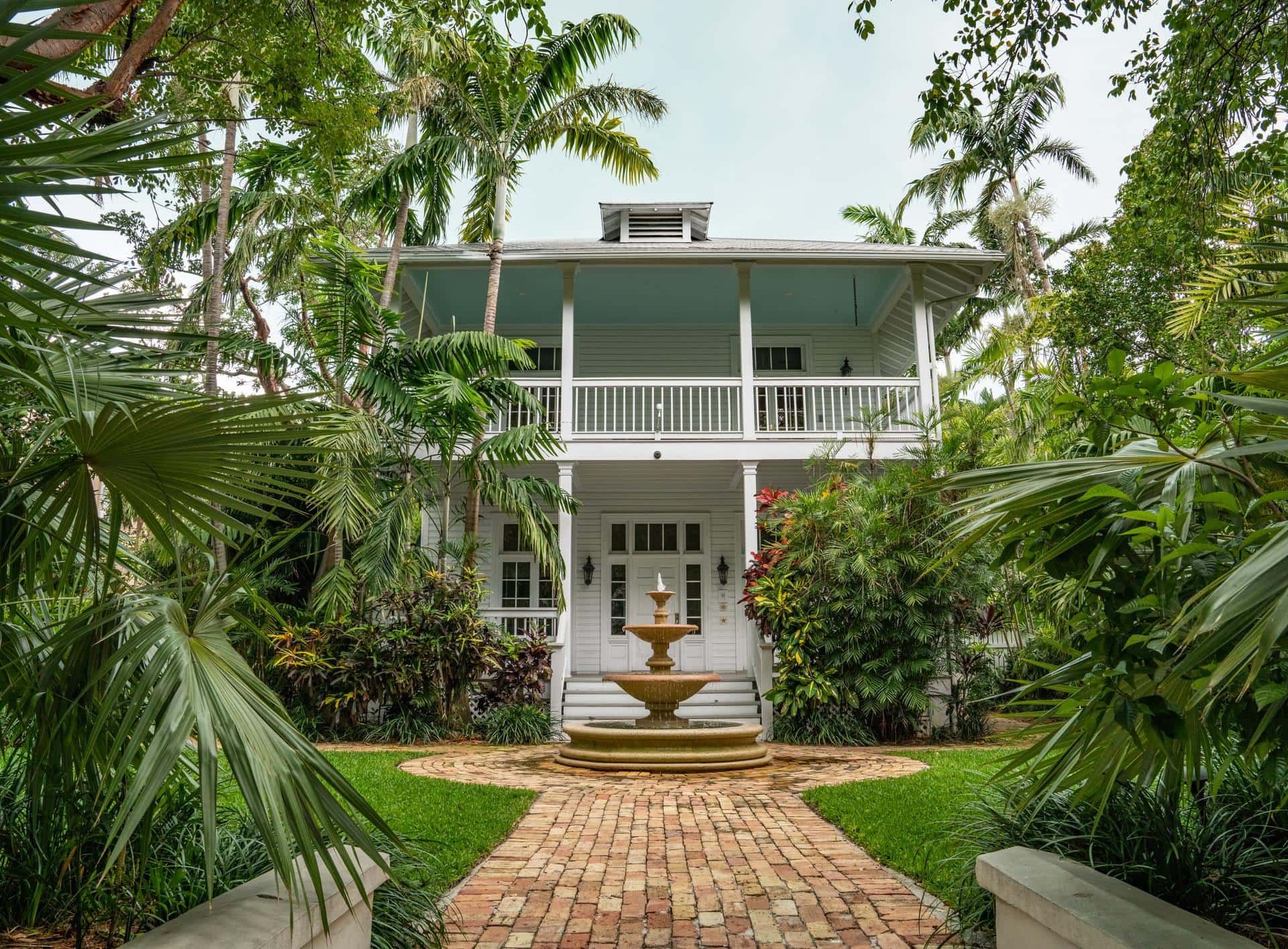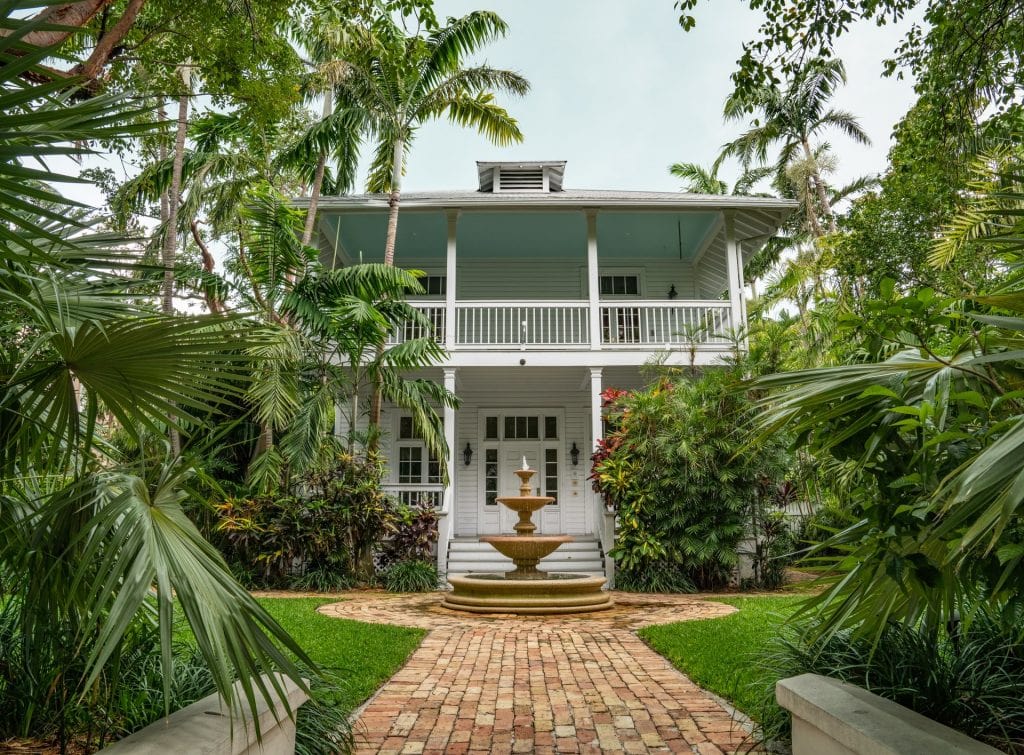 If you don't live near a lake or a river and don't have a pool in your yard, don't worry. You can still enjoy the calming sounds of water with a fountain (or multiple fountains). This flagstone patio has a central area with a fountain made of stone. You could expand the shape to add more seating room or open up for a walkway with seating at one end.
If you just want to relax and hear the trickling sounds of water, a fountain can be a good option. It's a simple design that's easy to implement. These fountains are often available premade and can be installed anywhere in your patio – an easy DIY project that can be done in a few hours.
Flagstone Stairs That Lead To Your Matching Flagstone Patio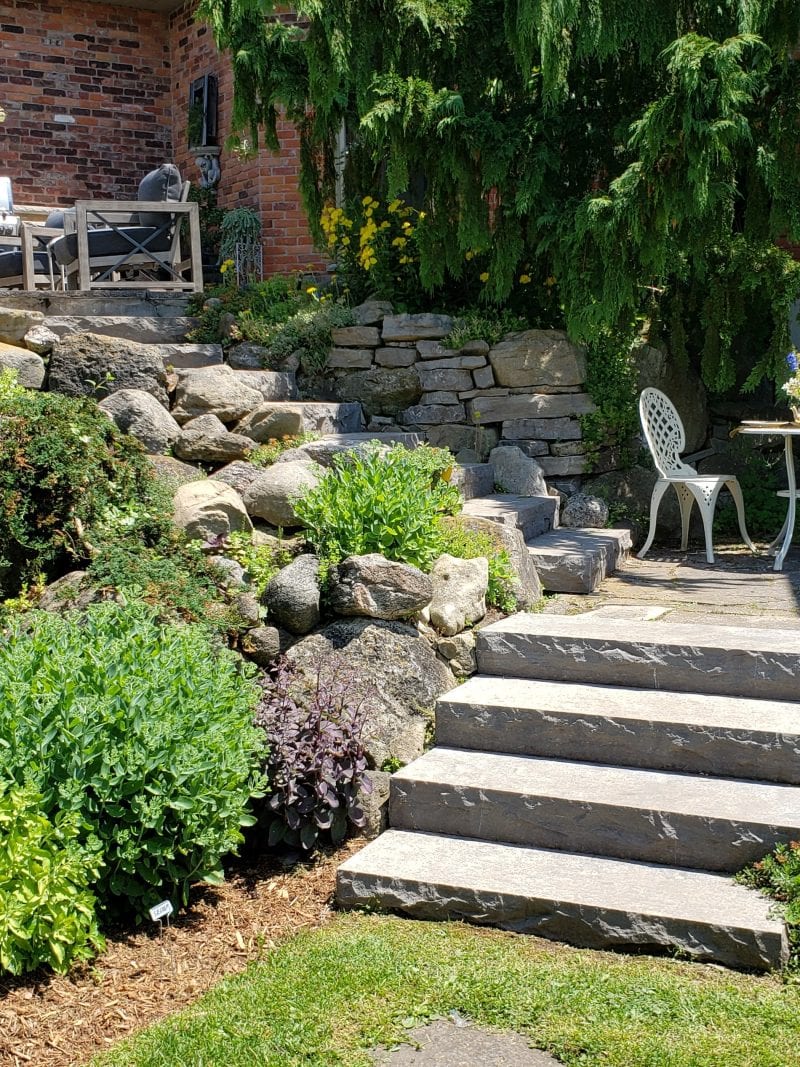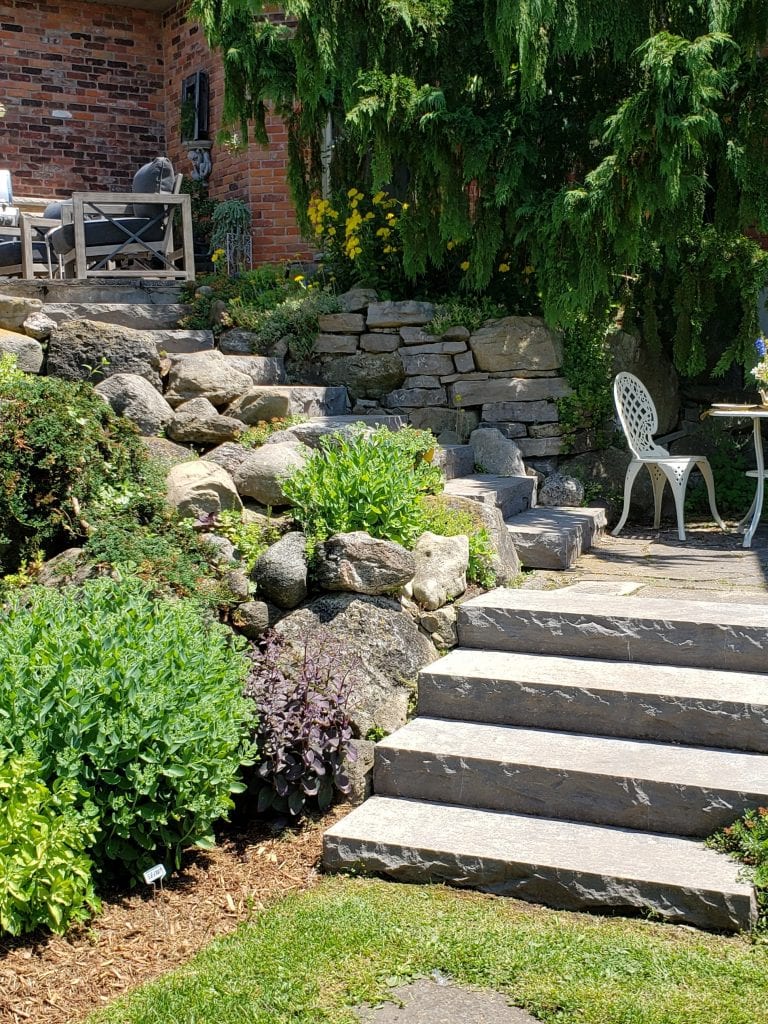 The stairs that lead to the patio can also be made of the same material as the patio itself, i.e., flagstone. It gives an old architectural building impact. The reddish-brown color is looking stylish and charming. But if that doesn't fancy you, you can get grey or yellow flagstone paving as well. Or you can mix different shades.
You can also place some houseplants on the sides of the steps to make the area look greener. Using the same material for stairs as well as patio will give it a uniform look.
When is a Flagstone Patio a Good Idea
While there are a number of ideas in which you can get a flagstone patio, you need to understand the pros and cons of flagstone.
Flagstone is natural looking and is very beautiful. It also increases the value of your home. It's more durable than concrete or brick paving. It is weather-resistant and versatile in terms of design and colors.
Because it's durable, it turns out to be cost-effective in the long run.
However, since it's porous, it needs to be treated properly before it can be used. And since it has an uneven surface (because it's natural), it needs proper installation.
Considering these options, you need to decide if flagstone is right for you.