Decorated Life is reader-supported. When you buy through links on our site, we may earn an affiliate commission. Learn More
27 Simple Front Yard Landscaping Ideas
The front yard of your home is the first impression people get, so you really want it to look good. There are a lot of different options for landscaping your front yard: an extremely manicured garden, a minimal approach, or a natural appeal.
The great news is that a lot of these front yard landscaping ideas can be done just as well on a budget. Let's check out some great ideas to create a beautiful and welcoming front yard.
Create a Border of Potted Plants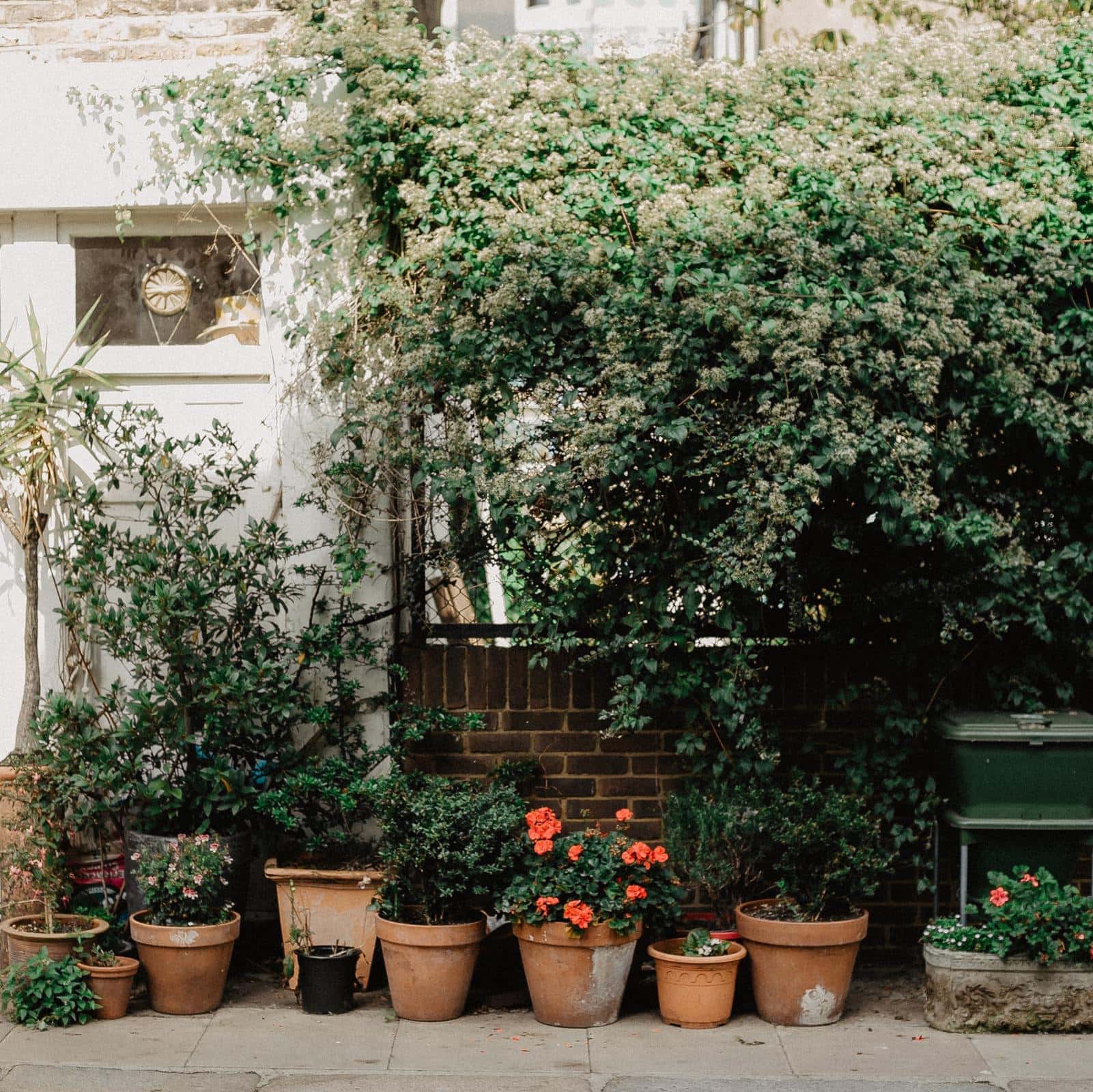 This simple landscaping ideas option is one that's easy to switch out, you can create a border for your walkway with some terracotta potted plants. You can leave them fully above ground like these on a hard surface, or half bury them in the ground for an added touch of "natural" appeal.
Add some bright flowers, lovely greenery, plant some trees nearby, or mix up the kinds of flower pots you use for an eclectic look.
Mix and Match Trellis Types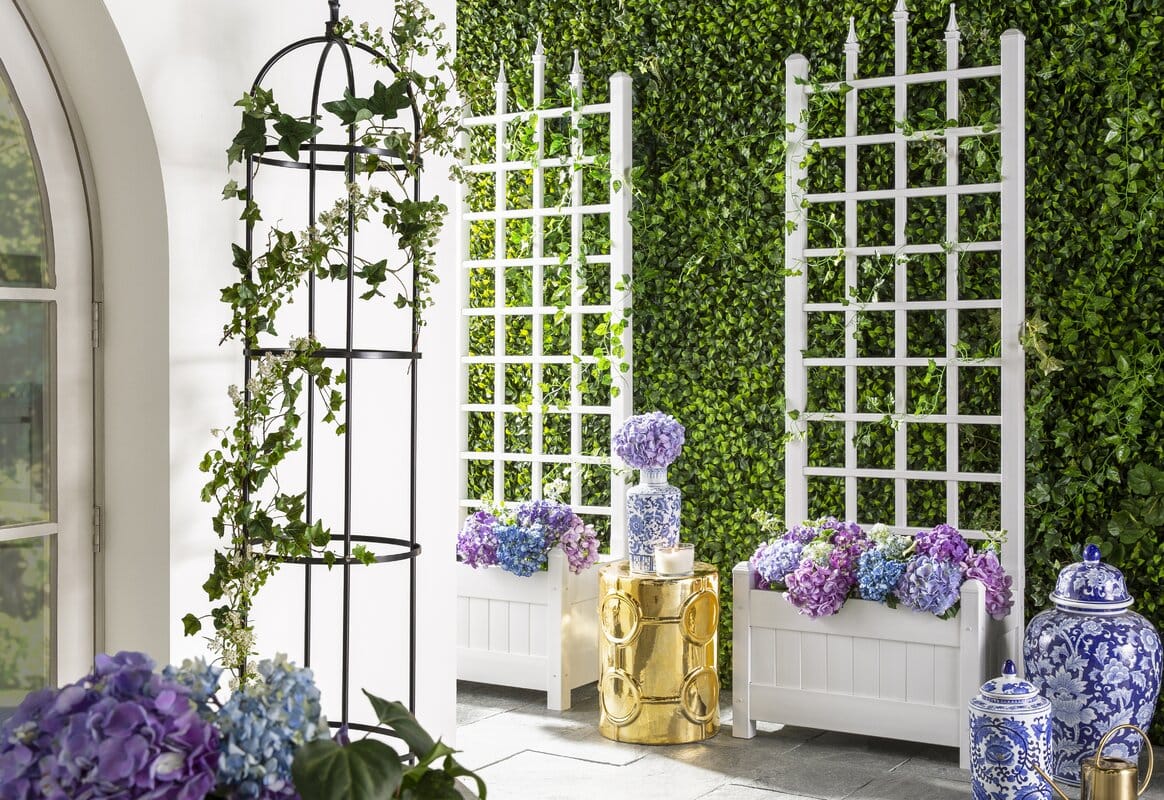 To add some truly unique, but simple beauty to your landscaping scheme, mixing and matching some trellises is an amazing way to go. You can find traditional style trellis, free-standing trellis, or any other types you can find at home stores, thrift stores, garden stores, and places like Freecycle.
For added beauty for this front garden design, add some free-standing flower boxes, plant vines of varying types, or use outdoor ceramic urns like this stunning yard uses.
Install a Gorgeous Hammock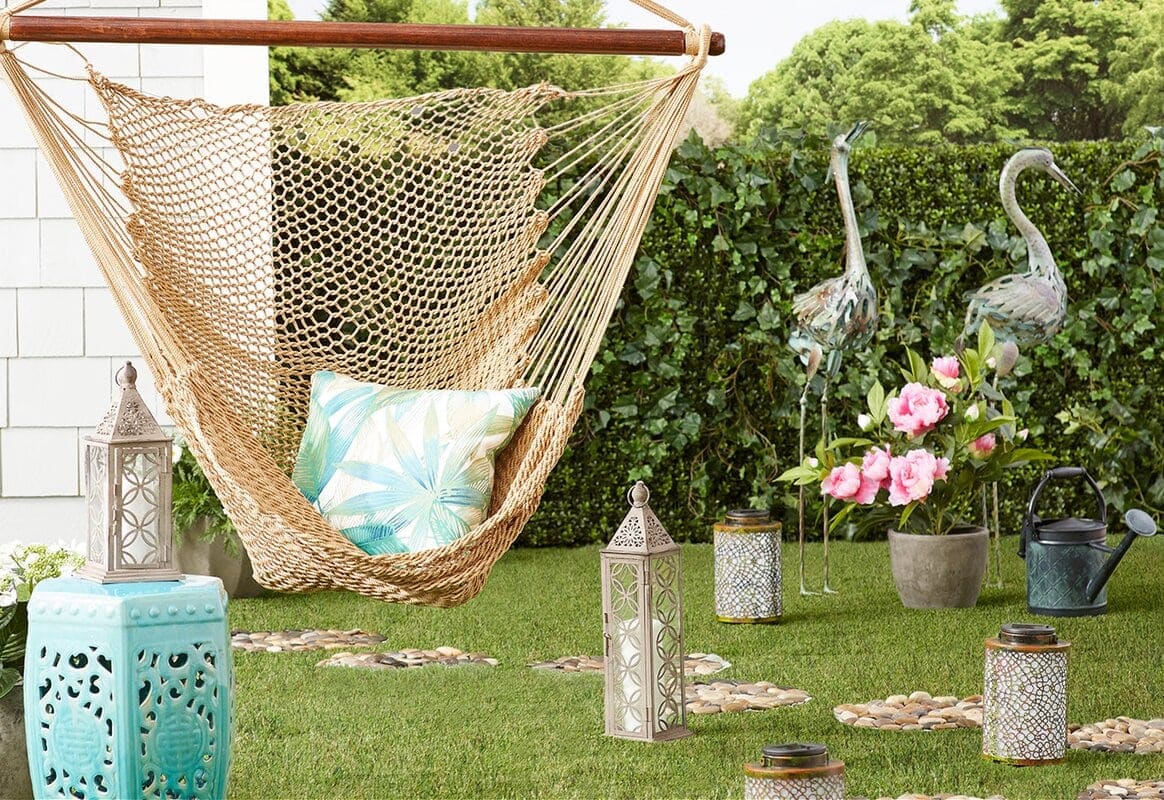 Whether you've got a couple of trees, a porch you can attach to, or want to build your own hammock frame, a hammock is one of the most relaxing, enjoyable features you can at to your front yard. They're great for relaxing, extremely inviting and attractive, and comfortable.
Take a page out of this yard's design and add some fun decor items as a simple, easy way to really make that lawn pop. Outdoor lanterns, lawn ornaments, and some decorative stepping stones will create quite the sensation without requiring a lot of effort from you.
Create a Simple Stone Walkway to the Front Door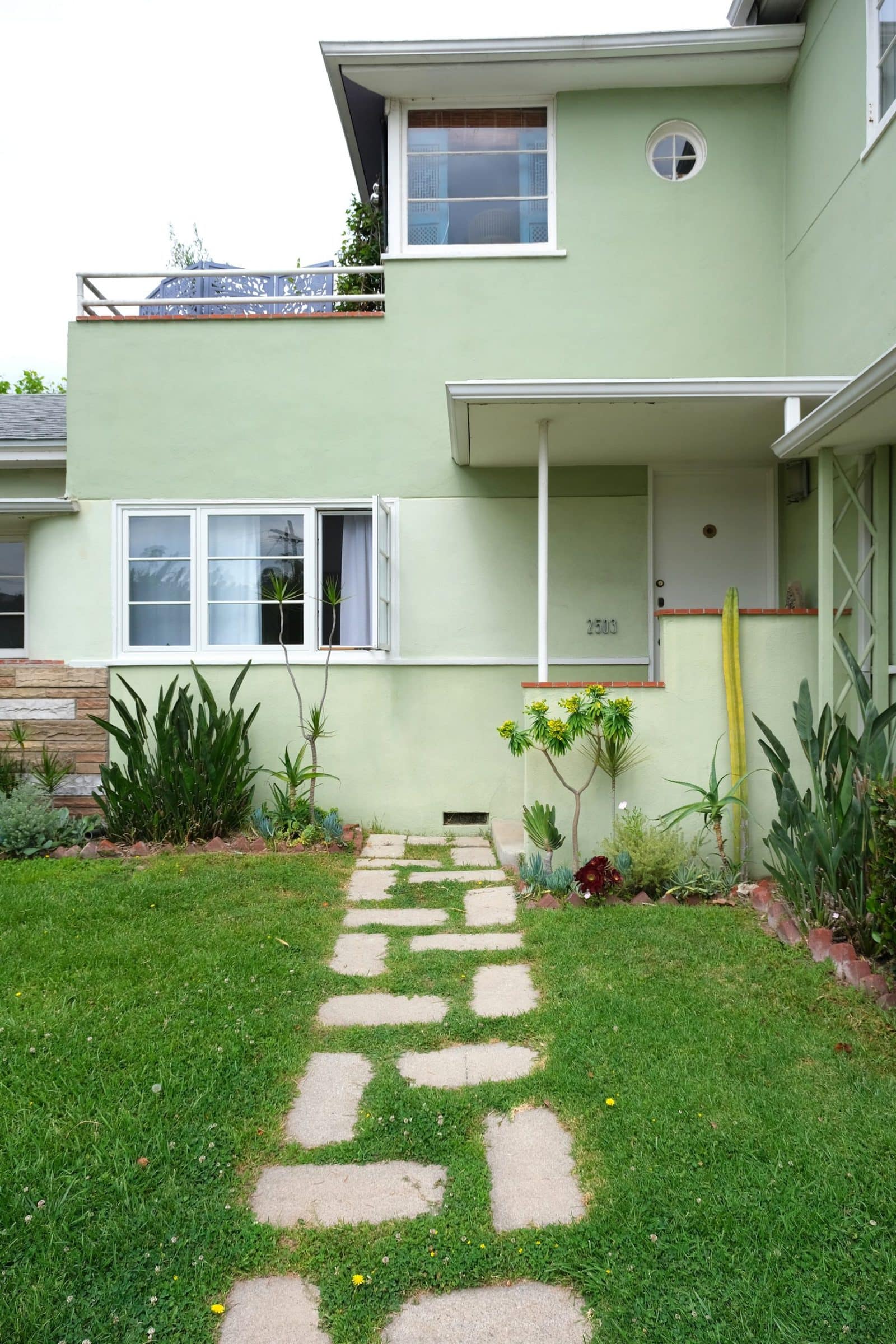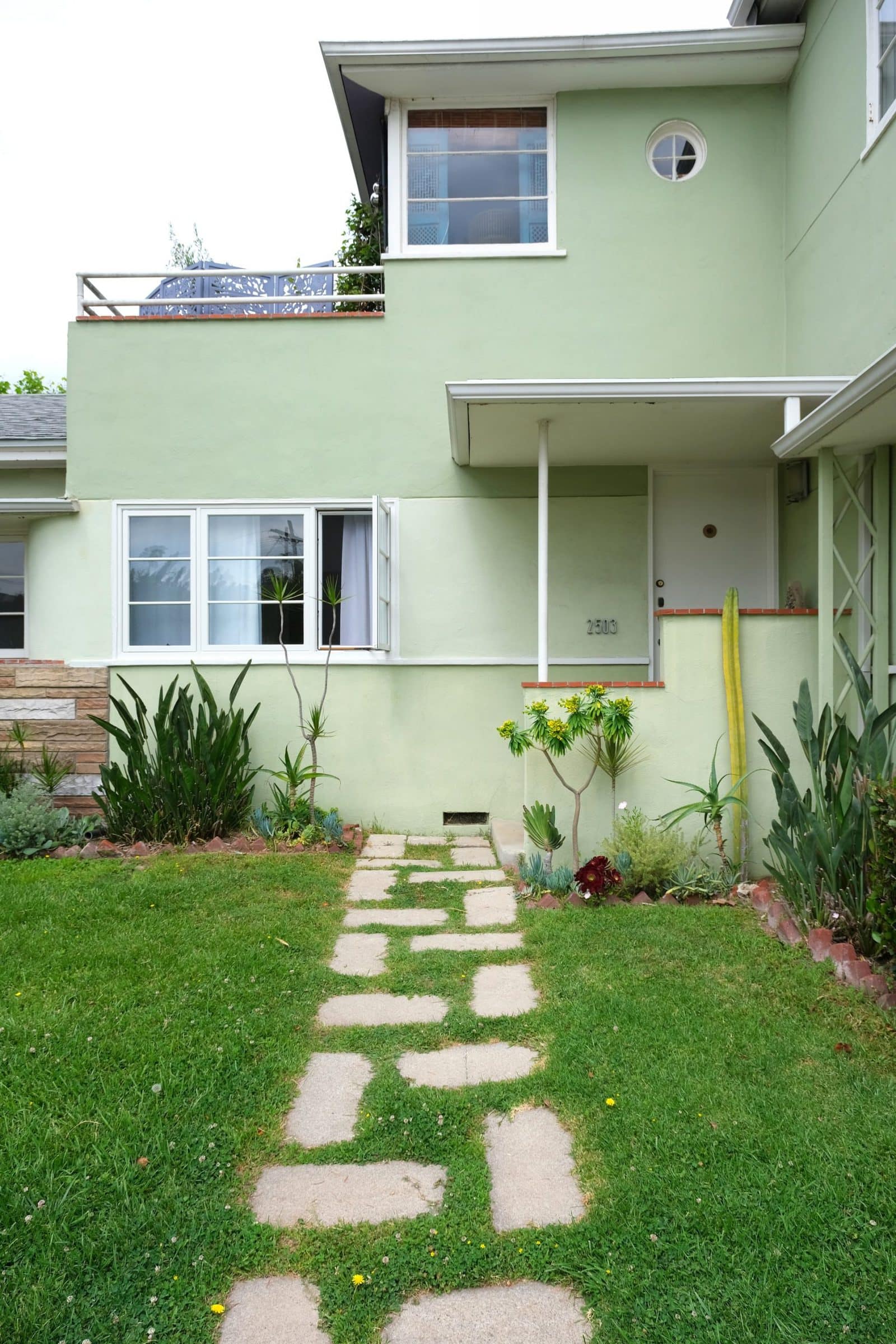 Many walkways to the front doors are one uniform path, but you can add a bit of whimsy with a wide gaps between the stones, allowing the grass to grow up in between each step. For easier maintenance, place each stone with even spacing so it still looks neat, but the separation between each step looks like a more natural path, straight out of a fairy tale.
When the path reaches the front of the house, the steps are made from wood instead of stone for a nice contrast.
Plant Flowering Ground Cover Plants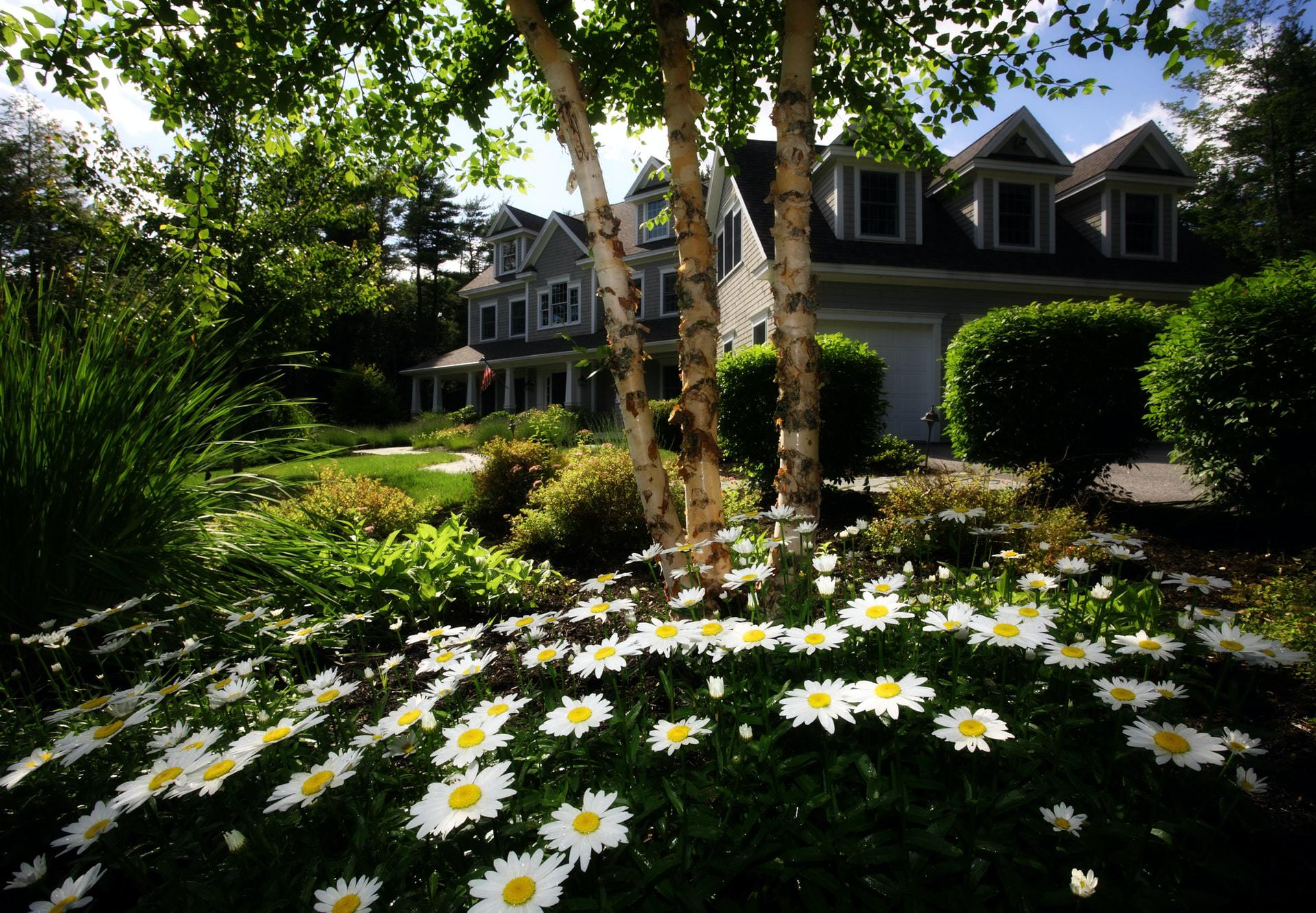 A great addition to any lawn is a flowering ground cover. You can go with larger ground cover like these daisies, or find some delicate, stunning color combinations in smaller ground flowers like Bugleweed, Canadian anemone, Creeping Phlox, Creeping Thyme, or Hosta.
Add tufts of greenery between the flowering plants, plant some trees, or add some decor items like solar lights, boulder stepping stones, or maybe even a trellis.
Install a Rustic Chic Wheelbarrow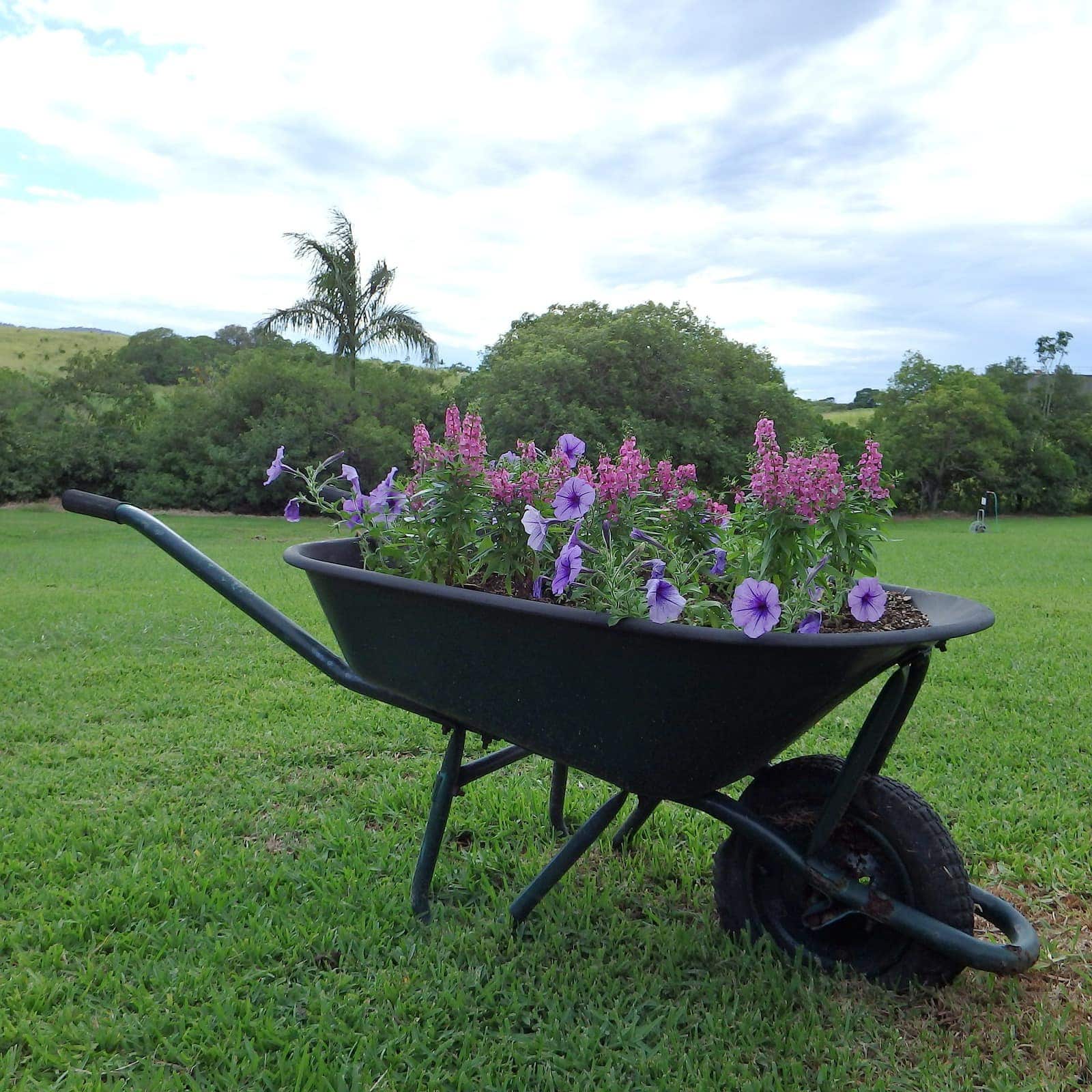 For some easy landscaping ideasYou can use some old objects as planters for a rustic and charming look. This well-maintained old wheelbarrow is a perfect planter for some gorgeous pink and purple flowers just spilling over the sides. It's a great addition for a front garden, and it's quite easy to find one as well.
You can also look in antique shops for other items that can be repurposed to planters, like steel milk cans and old mailboxes.
Create a Log Succulent Planter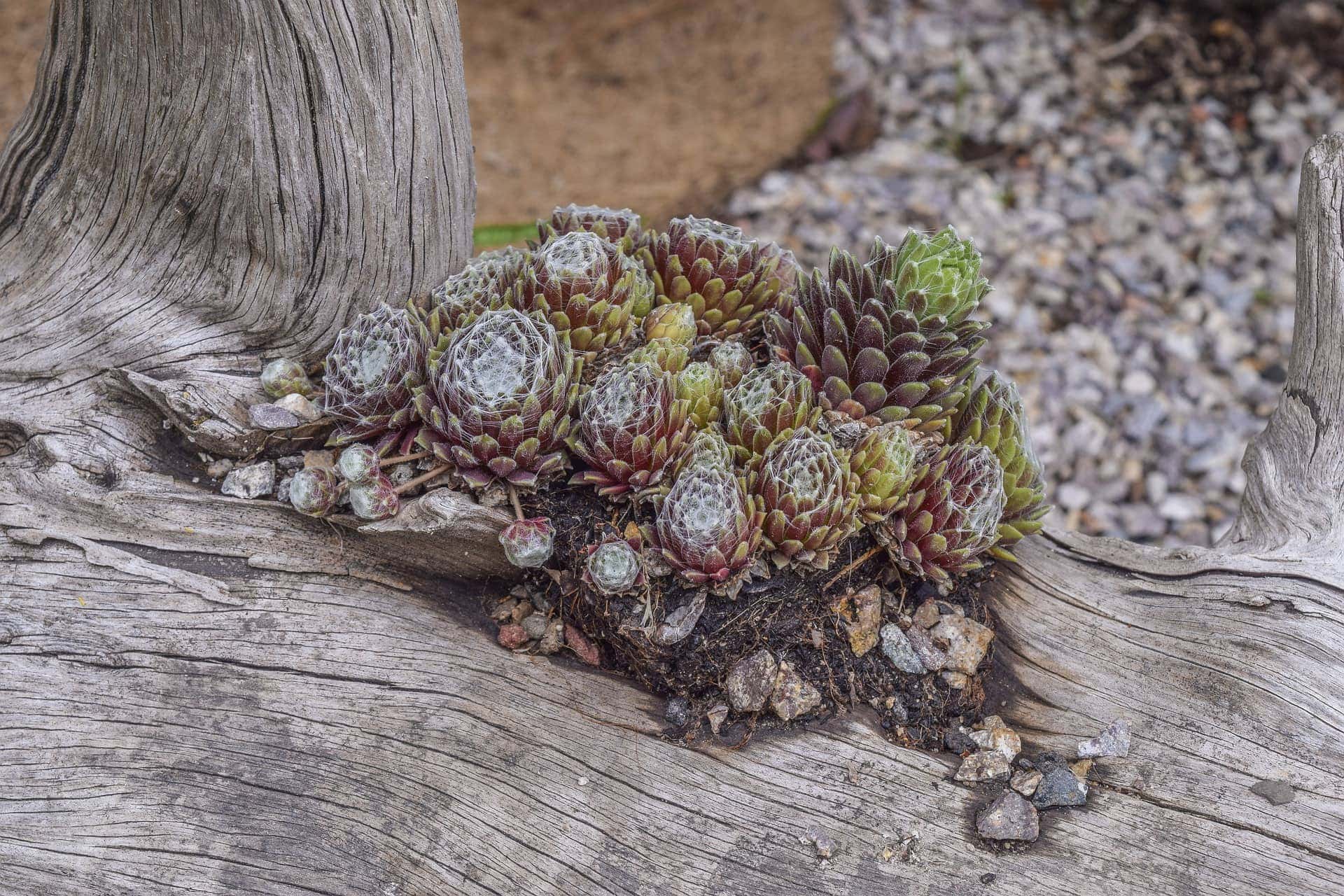 Succulents are one of the most interesting collections of plants you'll find – but planting them into a unique planter adds all the more intrigue for the stunning and unique earthy-toned plants.
This unique "planter" of an old log is a beautiful, natural, and incredibly unique way to add a touch of color. Try a mix of jade plants, spiral aloe, Gymnocalycium mihanovichii, or cape aloe to have a smattering of shades.
Grow Flowers and Veggies in a Raised Planter Bed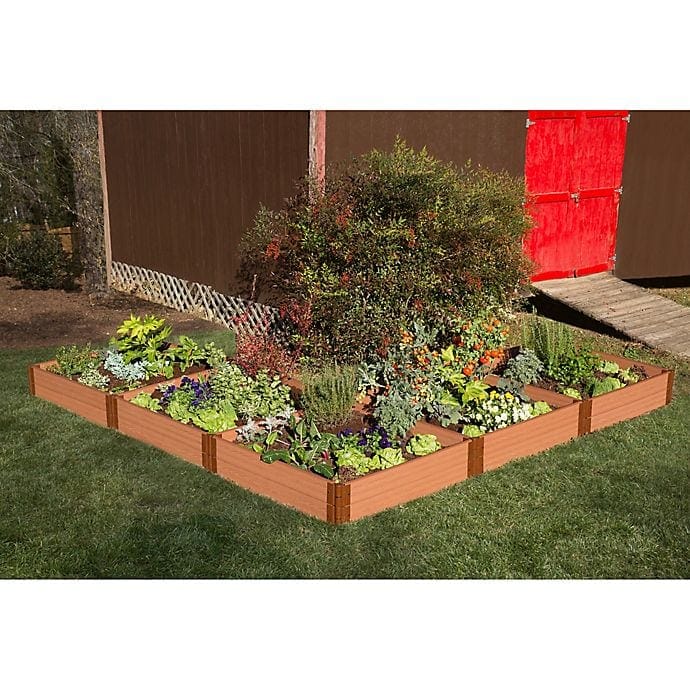 For a lovely but simple landscape design for front yards, add some bright, colorful touches to your yard with some raised planter beds. Choose a colorful planter box – or paint your own – and plant a wide range of vegetable and flower plants to create some of the most unique and beautiful landscaping in your neighborhood.
Create a Planter Wall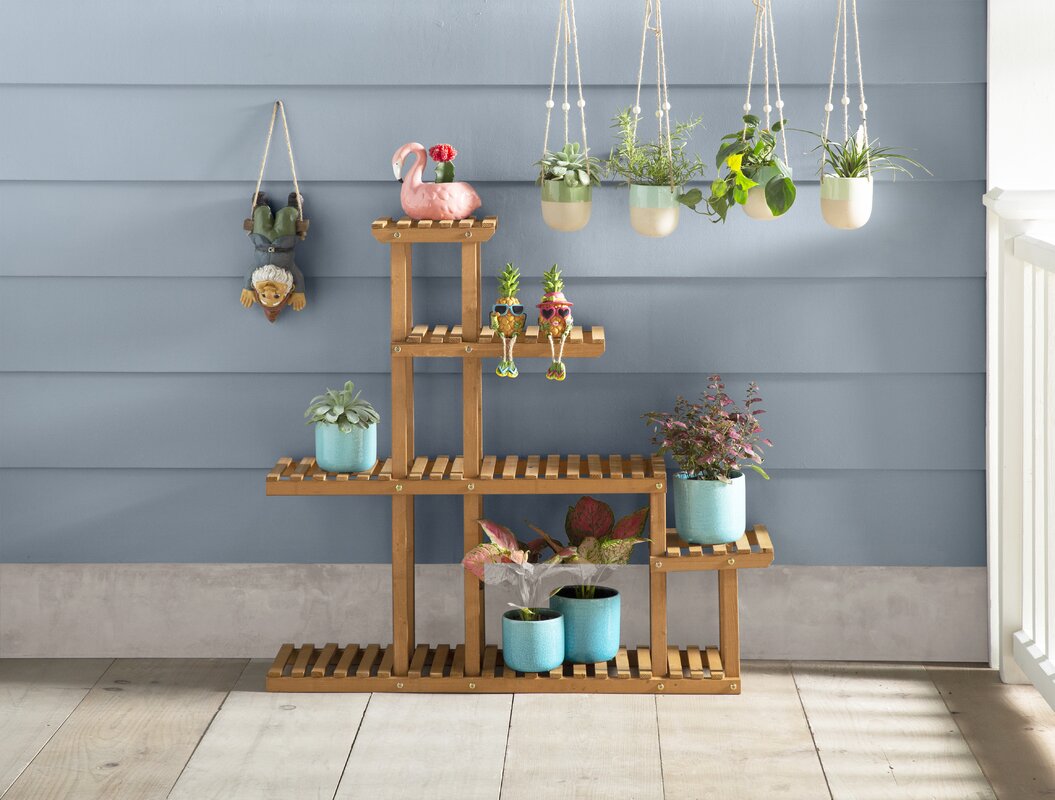 If you have more porch than lawn, you can create a simple, but beautiful, planter wall. Use shelves like these stunningly simple ones. If you love color, mix up the planters and plants for a wide range of colors, or go for a simple, monochrome take with a series of flowers in a single shade.
Some elegant annual flowers you may want to use include zinnias, begonia, celosia, cosmos, dahlias, geraniums, impatiens, petunias, and Ranunculuses.
Create a Picnic Garden for Gnomes and Kiddos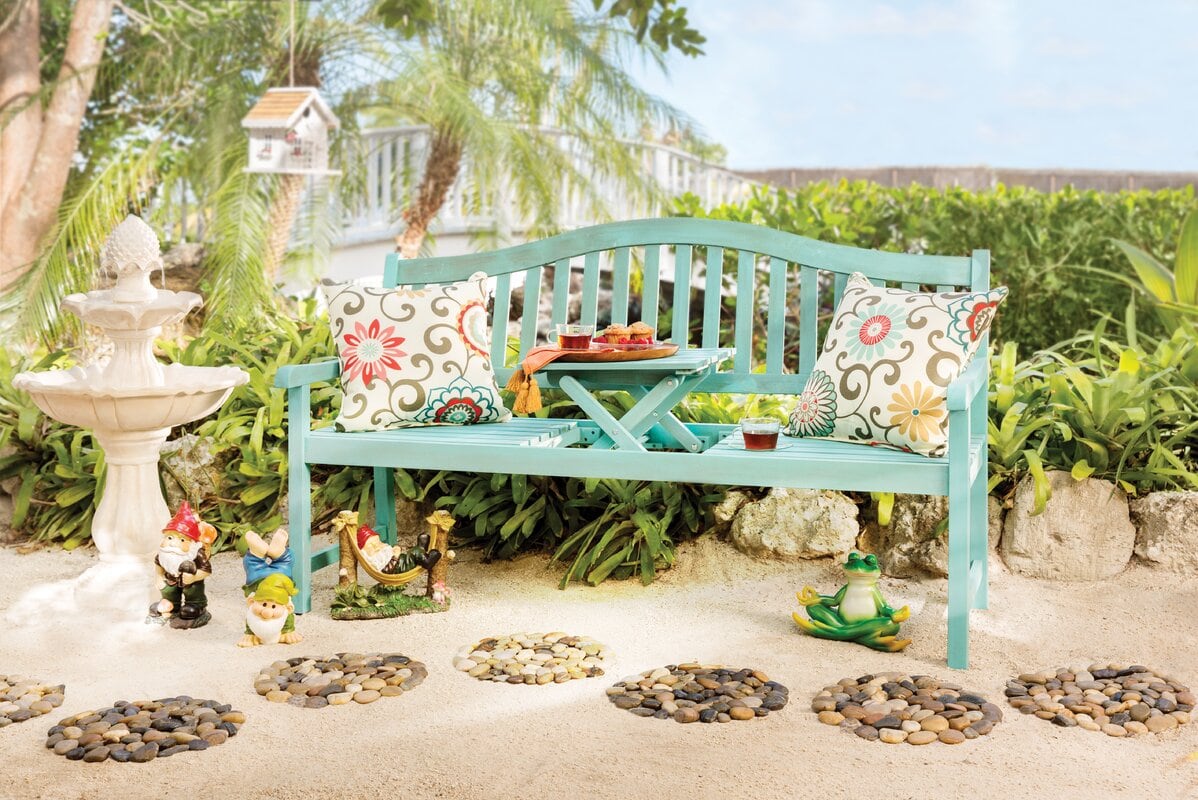 If you have a love of whimsey, you can grow your own fairy or gnome garden. You can add some cute statues, fairy houses, gnome houses, or just about anything else small scale and adorable. Boost the adventure with adding a picnic table or bench for the family to sit and enjoy the lovely space together.
Add some stepping stones, a fountain or some other water feature and you'll find everyone wants to just hang out here with the gnomes.
Upcycle an Old Wagon Wheel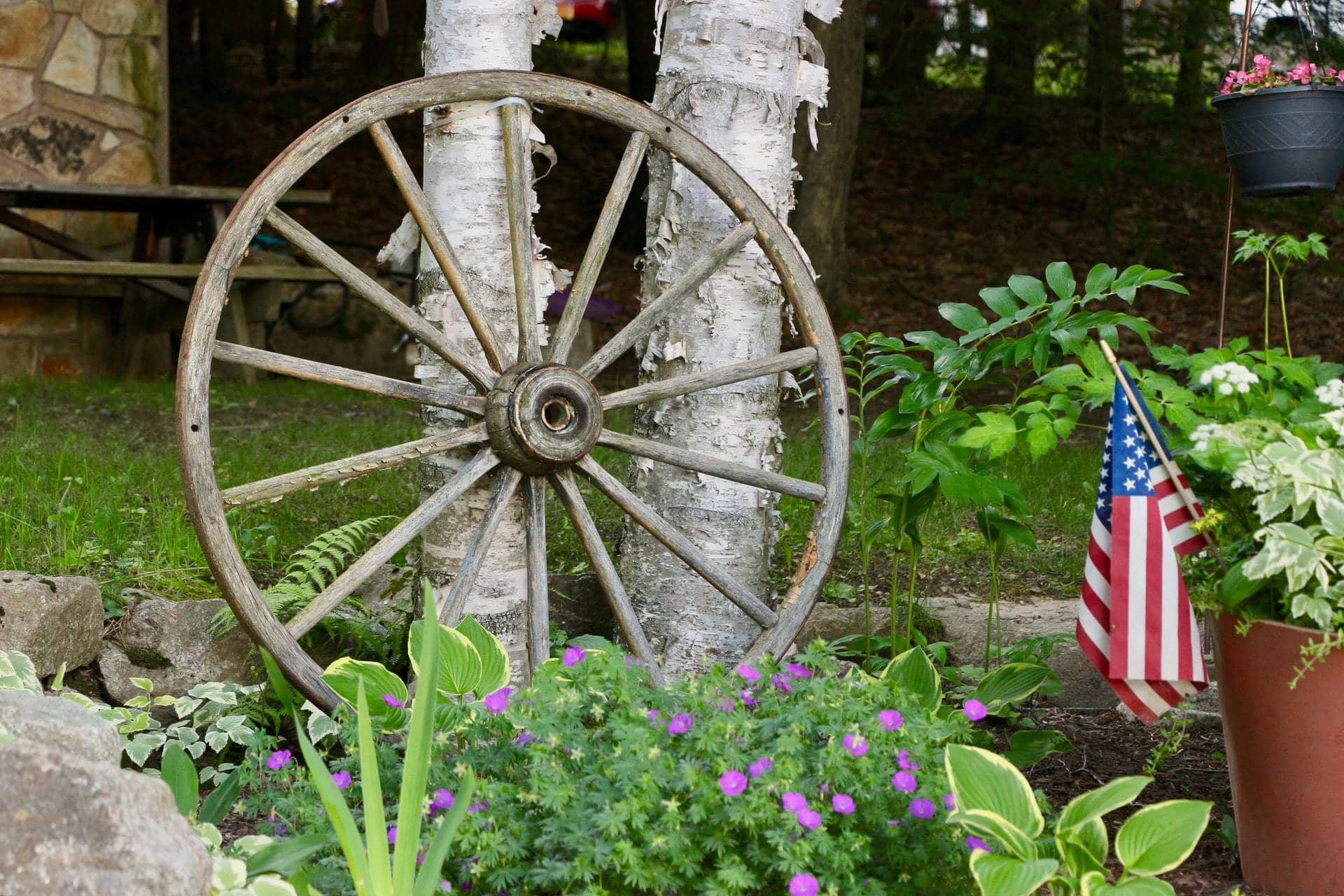 This is a beautiful, rustic, and fun way to bring the "old days" home with a vintage wagon wheel. Plant greenery around the wheel, flowering plants, and other decor – like a flag – to celebrate the beauty of the outdoors and your family's loyalty.
You can find vintage wagon wheels in a number of places, like Etsy, Freecycle, Craigslist, eBay, Amazon, or on local swap meet sites.
Border the Walkway with a Short Concrete Wall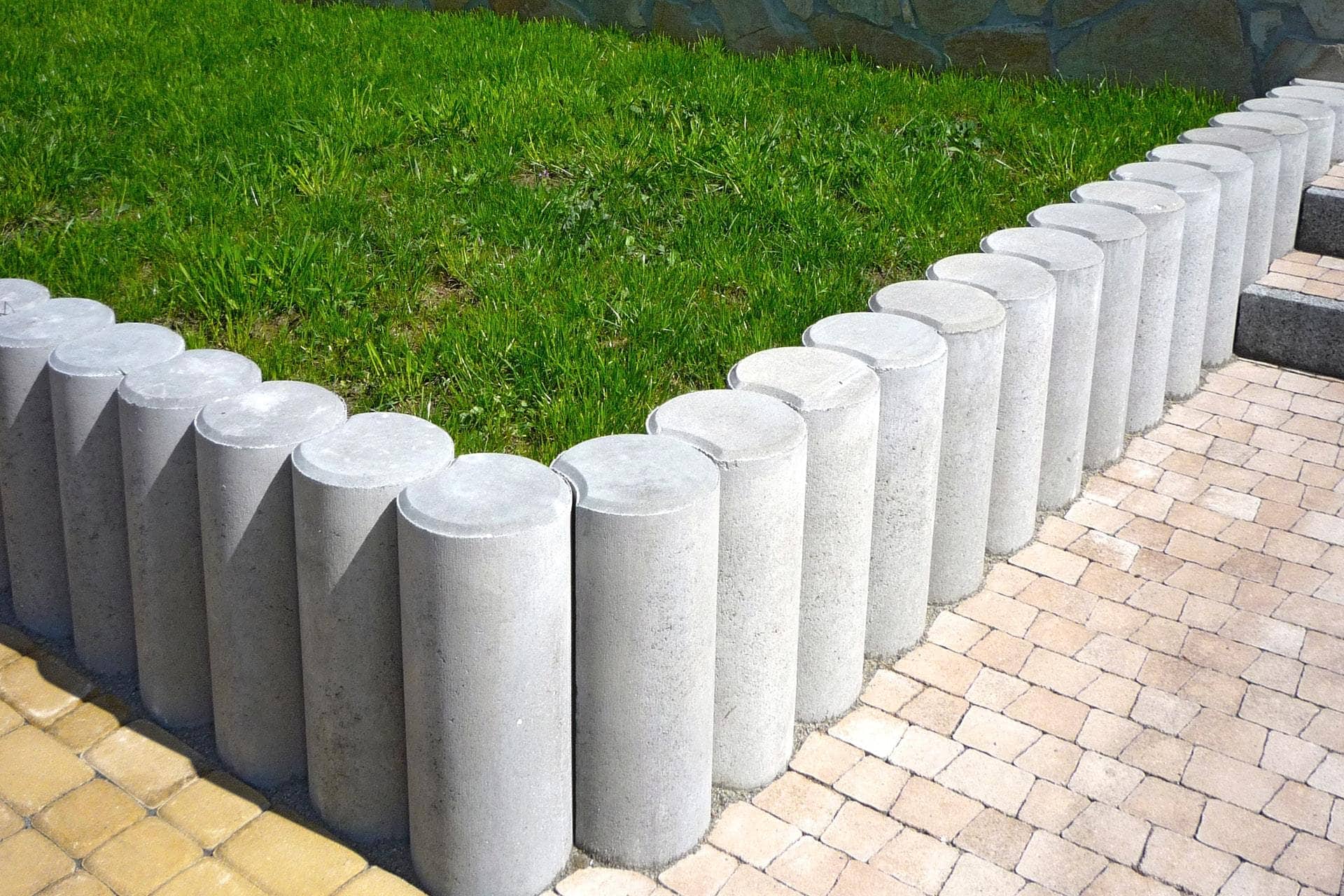 If you prefer a more trimmed look, you can use some concrete pieces to create a small wall around the edge of your yard or garden out front. They're fairly simple, inexpensive and attractive – and best of all, they don't require a lot of work.
Depending on the age of your kids, this could be a great project to do together as a family, too.
Get Creative with Hedge Sculpting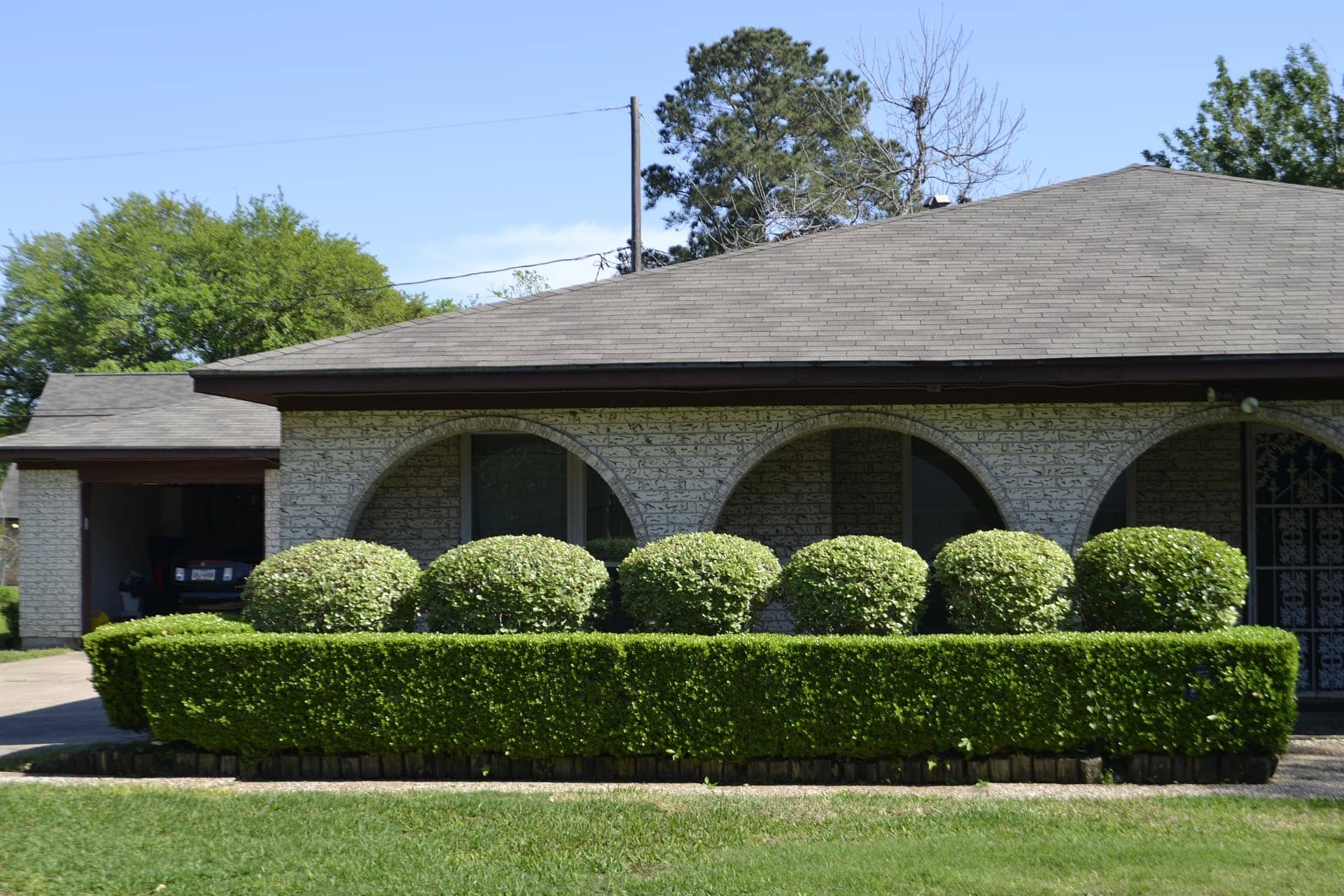 Of course, there's always getting creative with your hedges. You can keep them neat and trim, but combining two different types of hedges and using creative shapes to alternate the size and style of the bushes is a clean, clever, and stylish way to decorate the lawn without a lot of expense.
You can line the outer edge of the hedges with concrete logs, stones, small boulders, or anything else you'd like to create a border.
Mix and Match Bushes for a Unique Hedge Row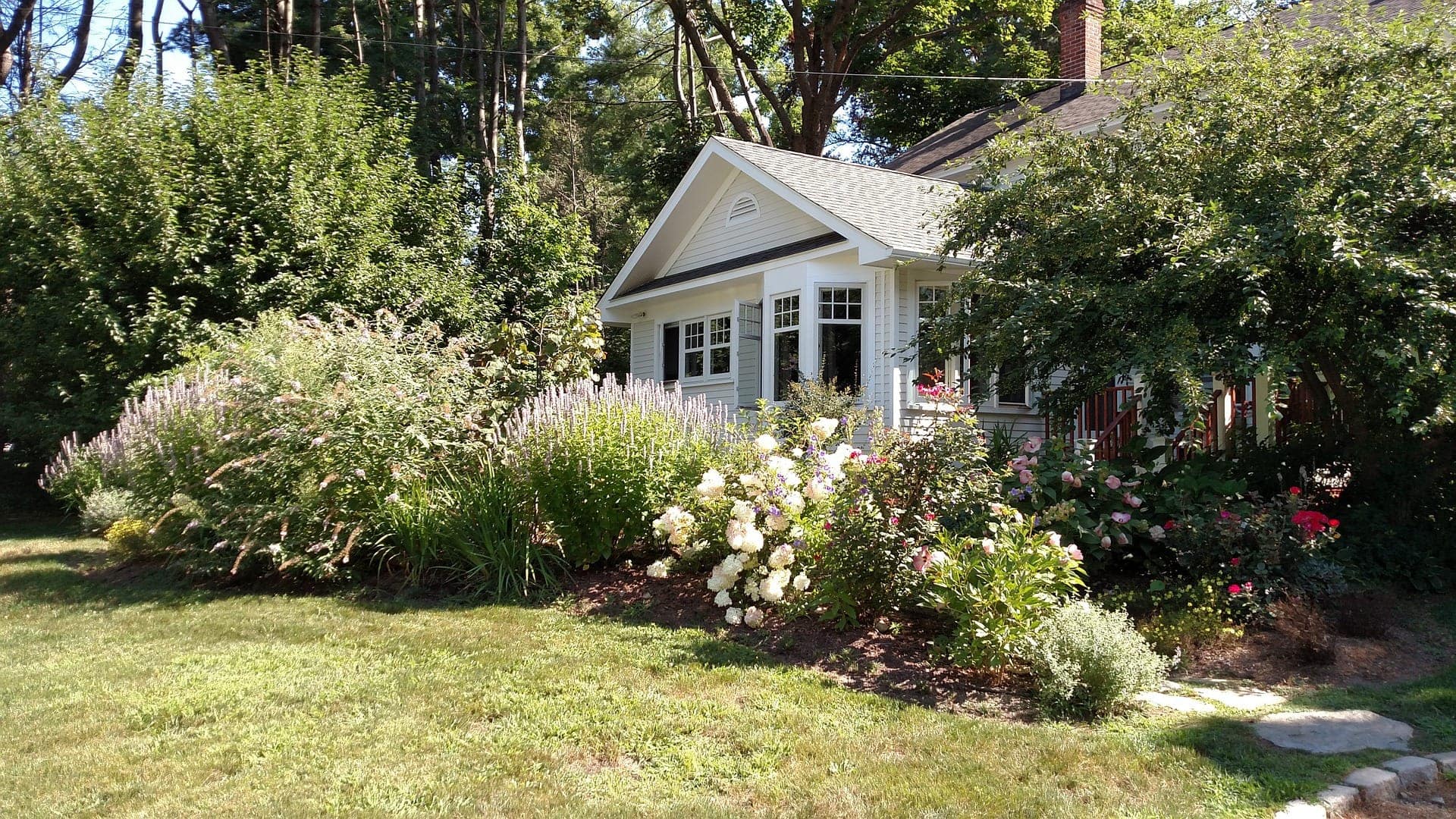 For a lovely, wild look, try mixing and matching a variety of bush species for a unique hedgerow along the front of the yard or directly in front of the house. Mix in flowering bushes with colorful tall grasses, and other greenery pieces for a truly beautiful and natural look for the front of the yard.
You can let the bushes mostly grow wild, without need to trim, unless you're placing them directly in front of the house. If the bushes border the building, you'll have to keep some things trimmed to still see out the windows.
Cover the House in Ivy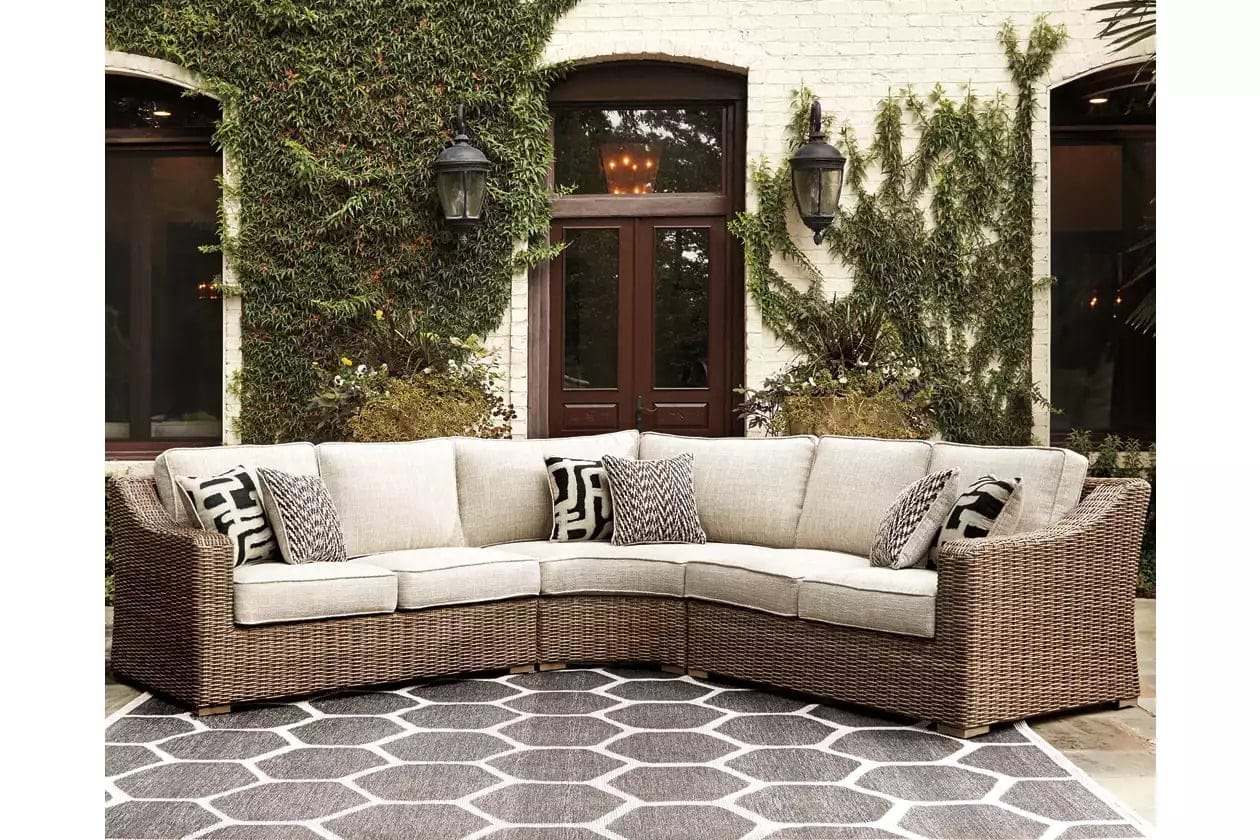 Another option for your home is to cover the front wall with ivy. Ivy does need to be controlled somewhat, to avoid damaging wood, but when it's done right, it adds loads of charm and intrigue and gives the impression of a storybook home.
Make sure you keep the climbing vines away from the windows, because you don't want your panes to get covered from letting in natural light or potential damage to the windows themselves.
Make Your Own Cute Bicycle Planter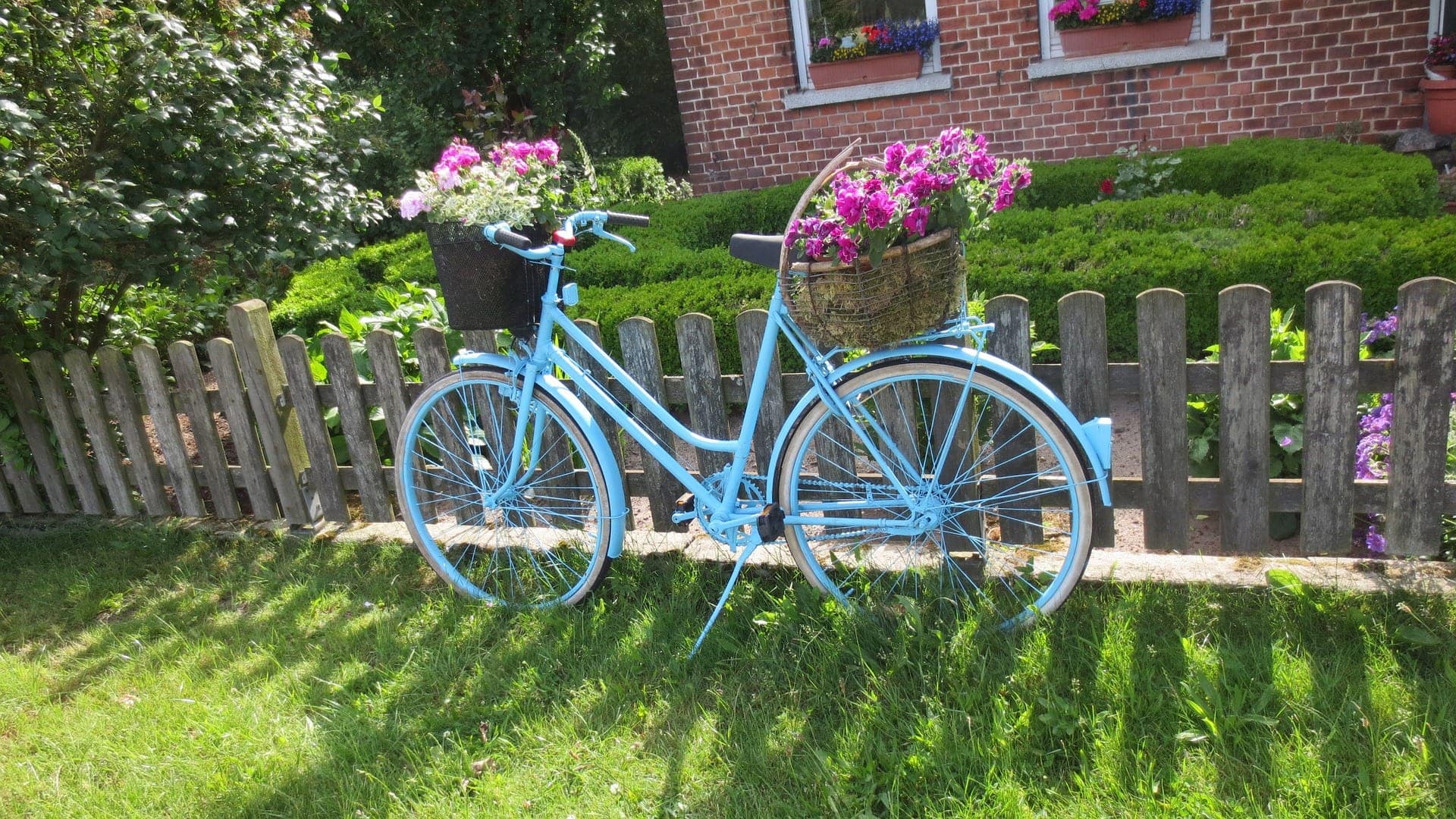 This cheap landscaping ideas is similar to the wheelbarrow planter idea we explored previously, but this time the planter is a cute old-fashioned bicycle. Baskets behind the seat and in front of the handlebars are great locations for planters, especially for flowers that grow long tendrils.
For great ideas on making your own bicycle planter, take a look at thisinspiring article with a lot of different suggestions.
Plant a Beautiful Rose Garden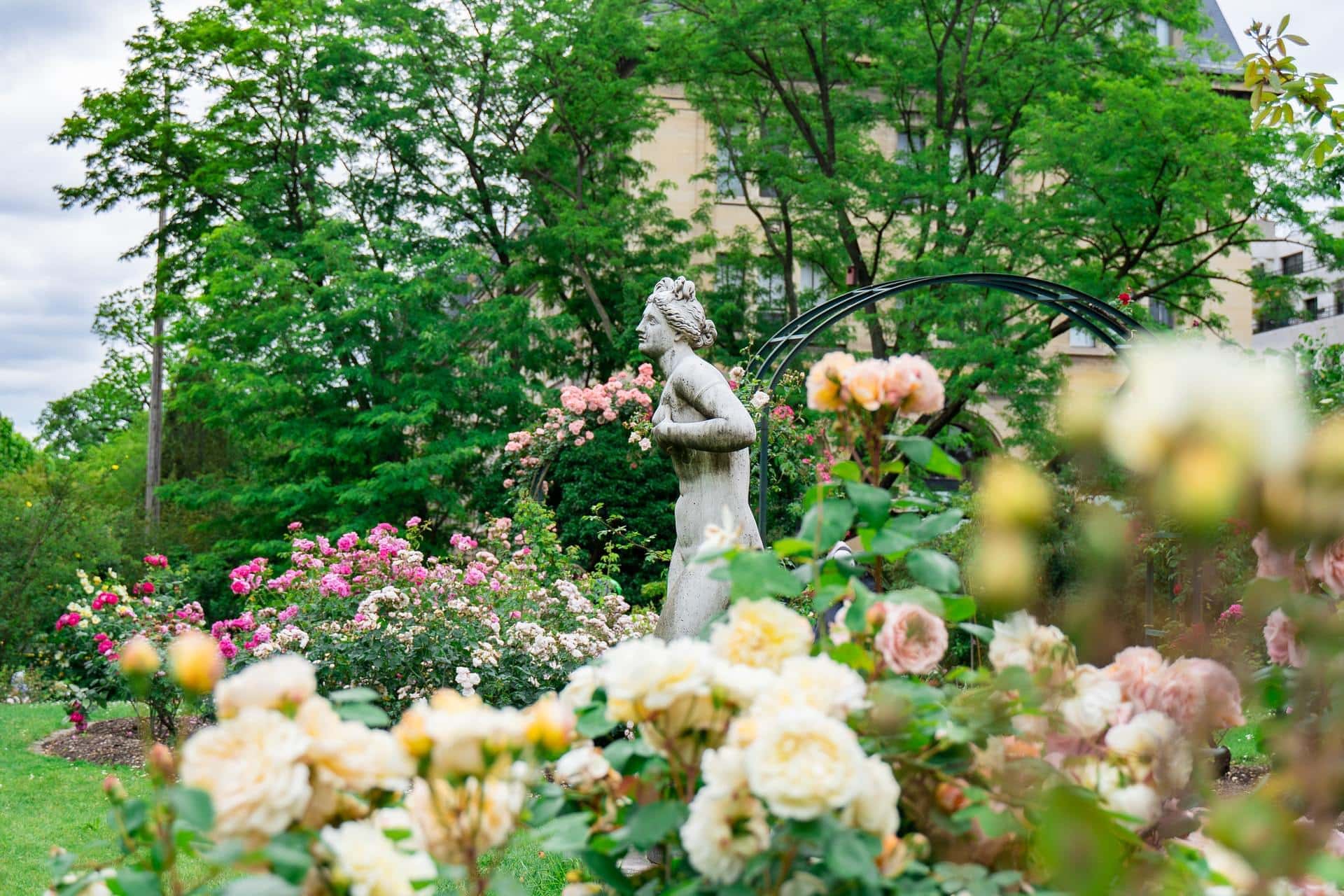 Rose gardens are a fragrant and beautiful way to add some color and greenery to your front yard. You can plant the bushes in a collected design like this, accented with statuary and other decor, or you can keep them trim and neat.
If you let the roses grow wild, you'll pretty much have a country cottage feel to your front yard or if you keep them trimmed and neat, you'll have that English manor feel.
Build in a Beautiful Wishing Well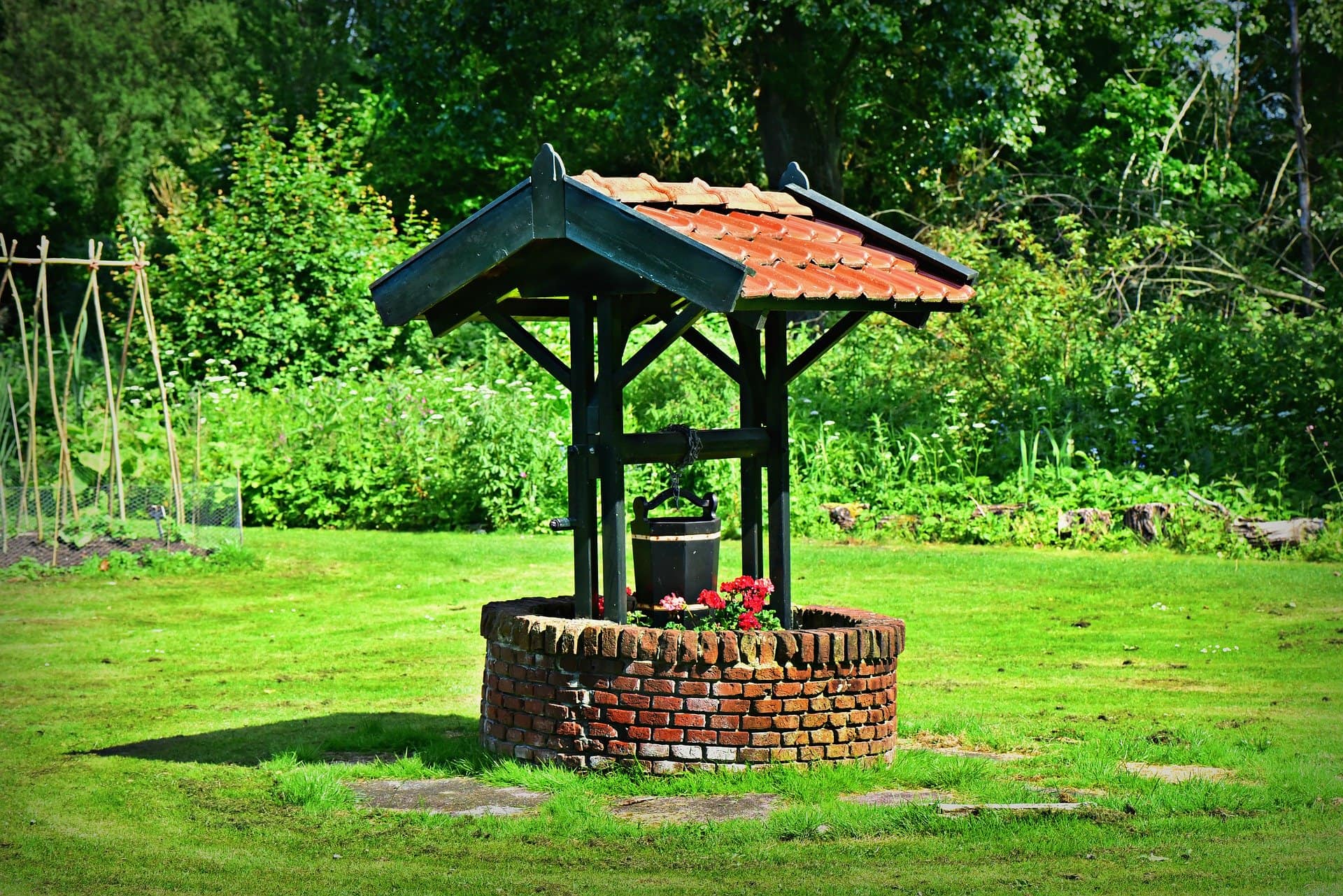 A singular piece straight out of a storybook is the wishing well. You can keep it straight forward and neat, planting some flowers in the well or the bucket to a pop of color, or you can let some ivy grow up around the well to add a more natural look to your landscaping.
You can build the simple decorative well with bricks, stones, wood, or find a pre-fab one to install.
Add a Gorgeous Rose-Covered Archway
This front garden ideas comes straight out of a fairy tale by installing a gorgeous archway on your front lawn. This archway is simply built from trellis, and the whole is covered in some lovely purple-ish pink roses.
It's a great idea to go for, especially if you have a wall of short hedges and you want to create a passage through.
You can make the arch out of traditional trellis – there are many pre-fab ones available – or you can build one out of lattice work, or upcycle a pallet.
Recycle Old Landscaping Features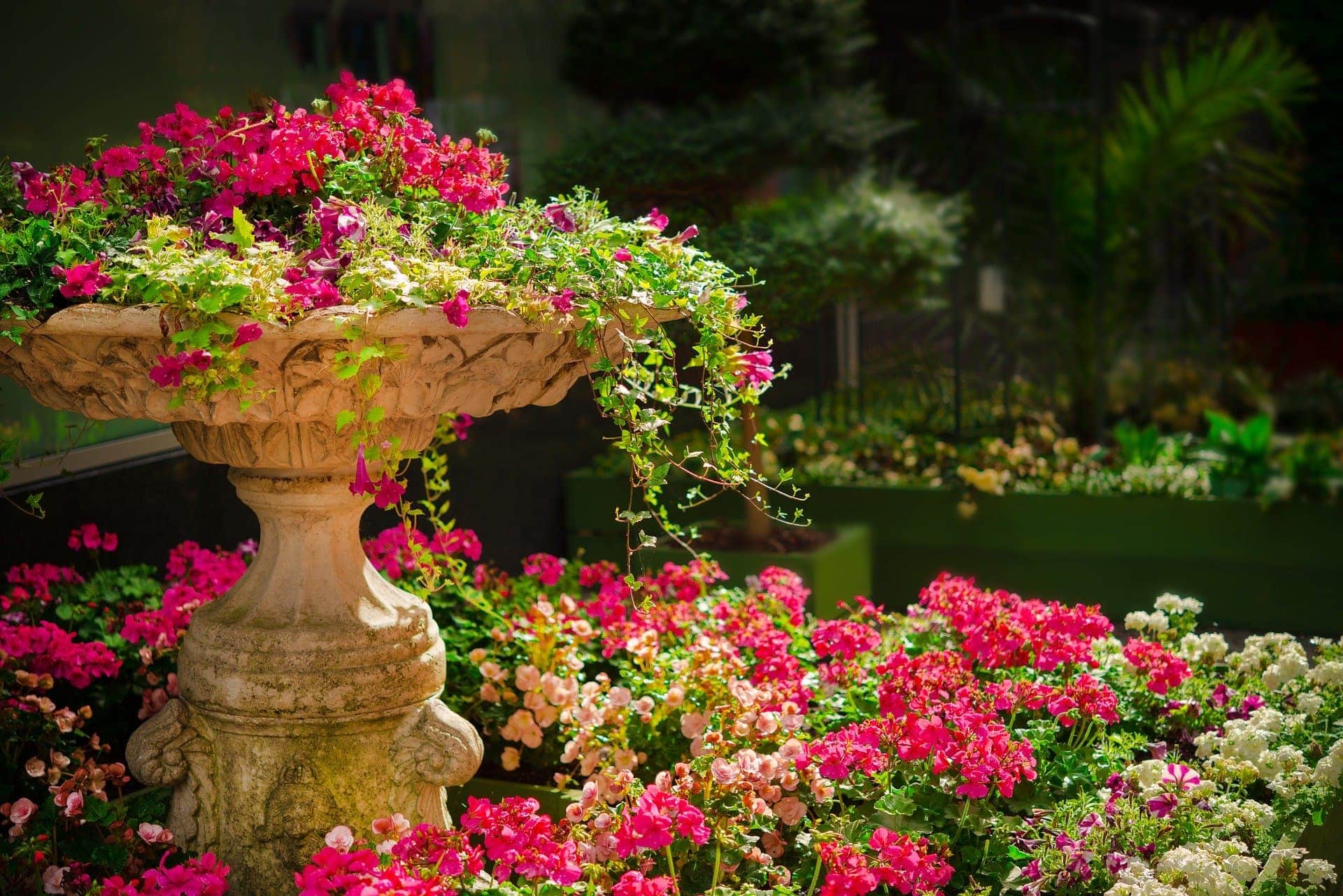 If you have an old birdbath, fountain, or other landscaping feature that no longer works properly, you're in luck – you can use these to create flower pots and unique landscaping. Plant some flowers in an old birdbath or let some ivy climb an old fountain and build a fairy garden in the top tier.
Grow a Cacti And Succulents Border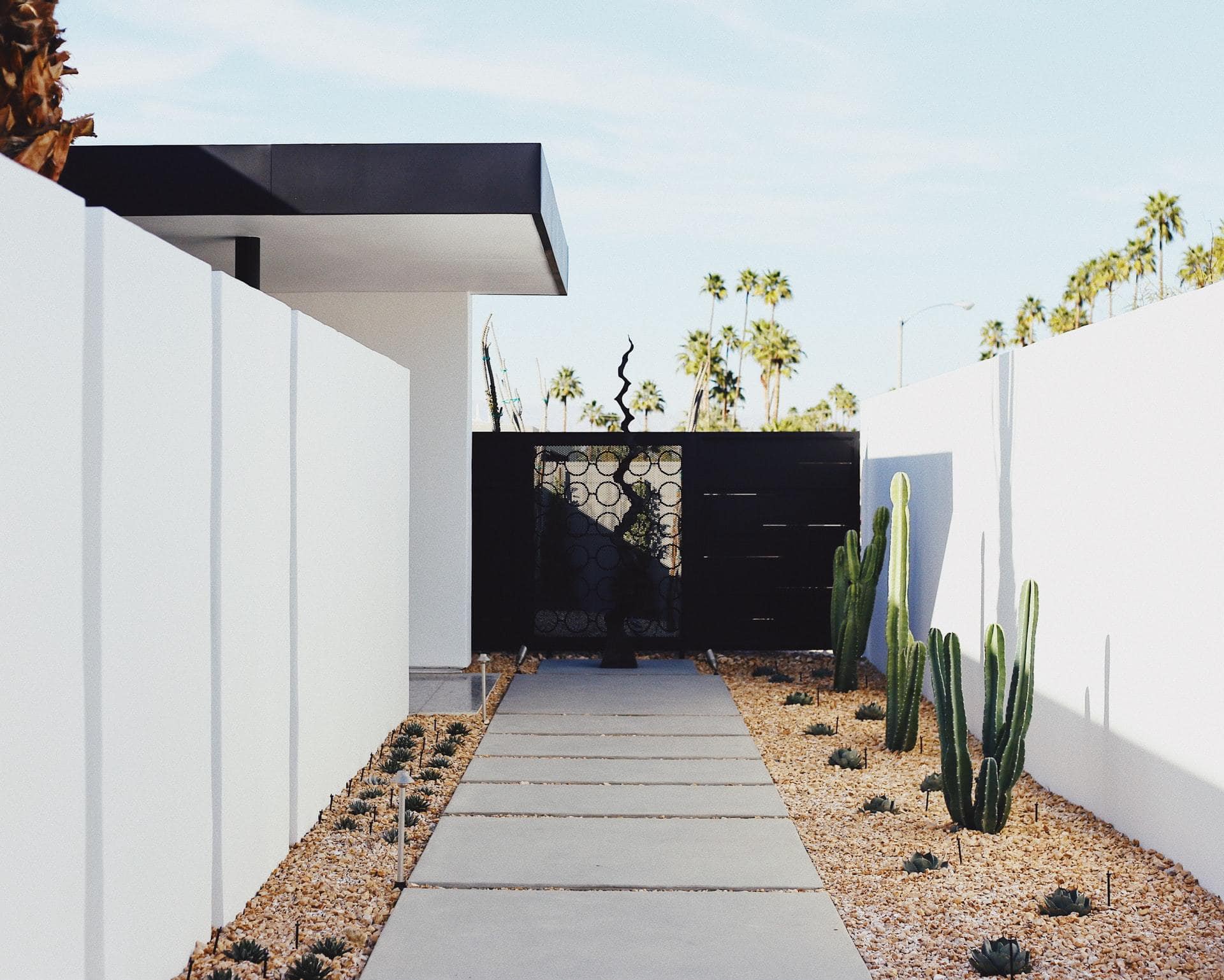 If you live in the right climate, you can plant some cacti and succulents along the way to your door for a lovely border. Create some "beds" with scrap wood, old railroad ties, or pallet wood, and plant the arid plants, then surround them with sand or small gravel or pebbles to keep the "natural" appeal of the desert.
Be sure to mix and match cacti and succulents for a variety of colors. You can plant flowering cacti like Christmas cacti, some prickly pear for tall accents, and Echevaria Black Prince for some lovely, rich red/brown.
"Rock Out" With Fun Solar Lights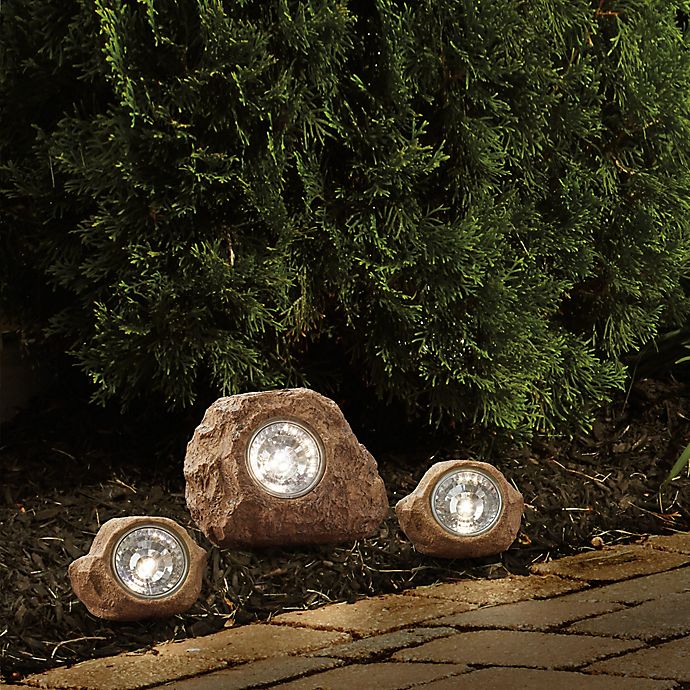 For a fun touch, especially for the kiddos, find some unique and fun shaped solar lights. You can grab these rocks with solar lights built in, or find some fun mushroom shaped lights, antique lantern style lights, or string up some butterfly lights through the trees.
Just be sure that you place the solar panels in a place where they'll get clear, direct light most of the day to charge up for use each evening. Most have automatic on/off settings, but you'll want to verify that before you purchase.
Buy an Attractive Front Yard Fountain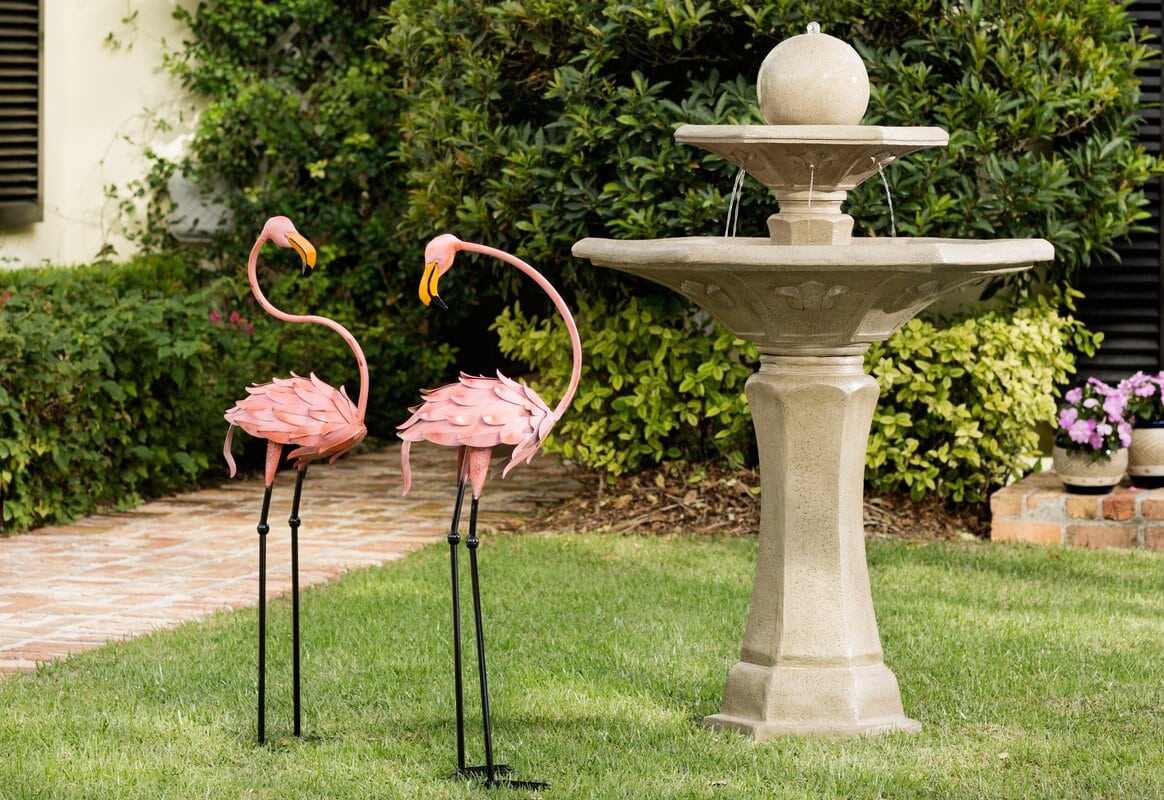 A stone fountain is a great way to create a focal point in your front yard. Keep this in mind when you build your front garden and walkway, as you'll want to make sure the fountain is in the right place.
For additional fun touches for a simple fountain like this one, add some fun statuary – like these flamingos – or decorative accent pieces. Even if you don't have a large front yard, a small fountain works comfortably.
Grow Your Own English Flower Garden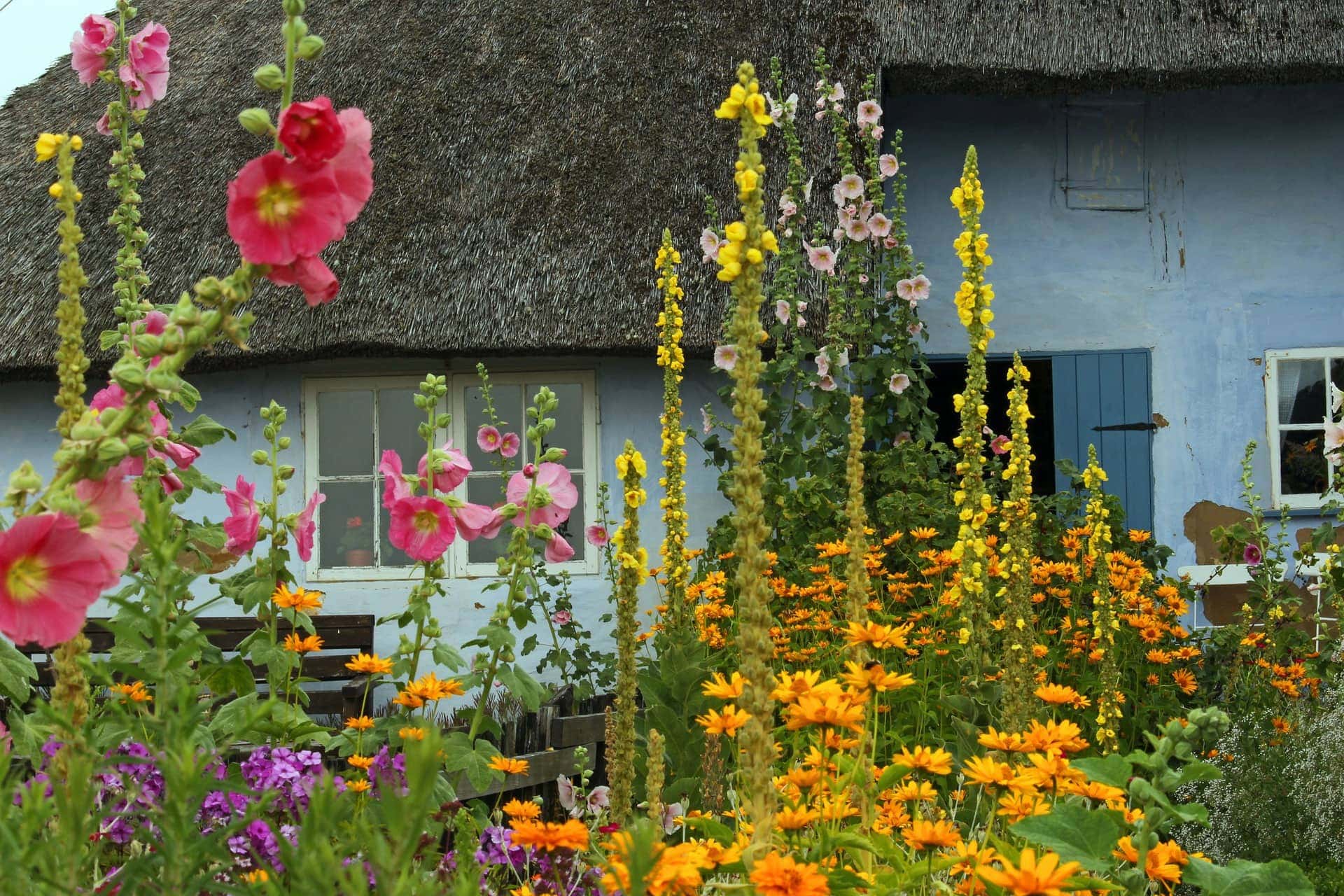 If you've got a fancy for a lovely, old-fashioned, flower-filled wonderland, then turn your front lawn into an English tea garden. Plant vibrant, colorful flowers that will cover the yard in brilliant shades of orange, yellow, red, pink, purple, or blue across the seasons.
For the perfect touch, leave space to enjoy a tea party on the lawn or add a patio table just for the purpose.
Find Cute, Quirky Statues For the Yard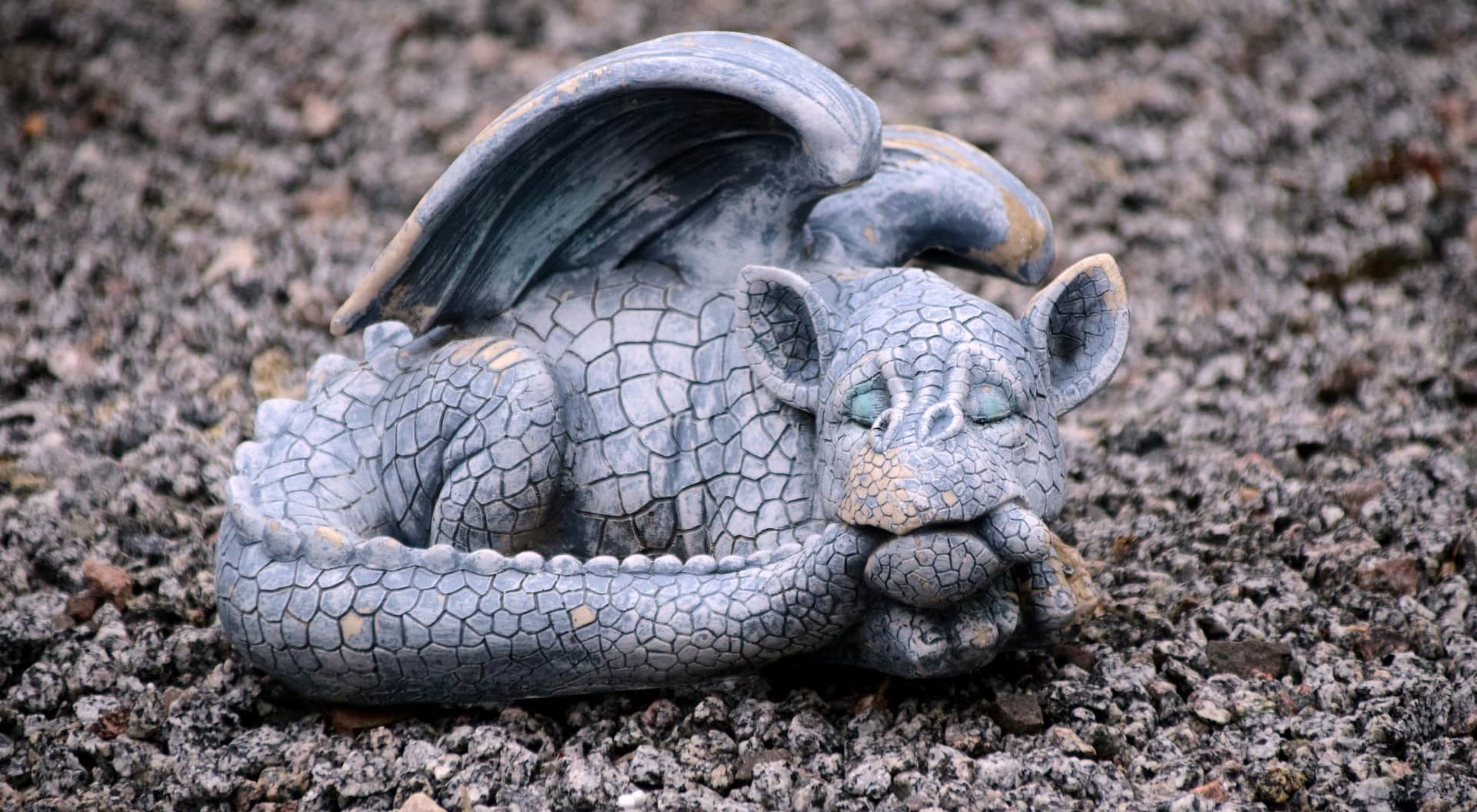 If you love fun, quirky, and cute things, find yourself a fun statue or collection of statues to decorate the yard with. This little dragon is perfect for a family-friendly space. You can find other animals, like rabbits, deer, and squirrels, or even find a castle, chickens, dogs, fairies, or just about anything fun you love.
Check out shops like Etsy, garden stores, and others for great ideas.
Upcycle an Old Bathtub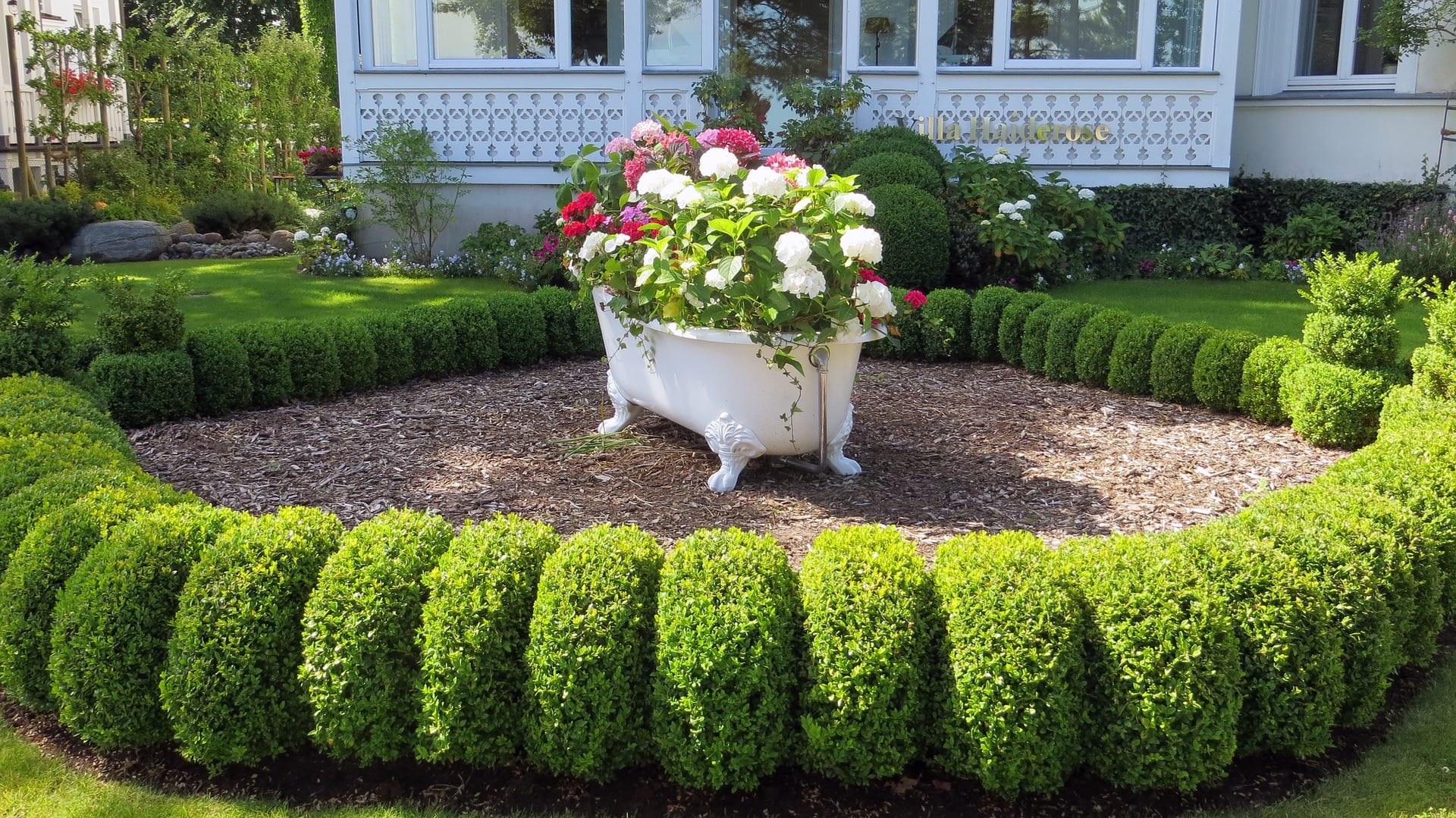 If you've got a taste for vintage, find an old cast iron bathtub and fill it up with soil and plants, turning it into a giant front yard planter. Choose casual, fun flowers like geraniums or tulips, or, if you want to get "bigger," go with hydrangeas, foxglove, and gladiolas.
Be sure to plant some ferns for greenery, and maybe some vines to drip out of the tub for a beautiful and natural feel.
If the tub happens to have chipped paint, you don't even need to fix the paint – it's perfect just as is.
Create a Full Water Feature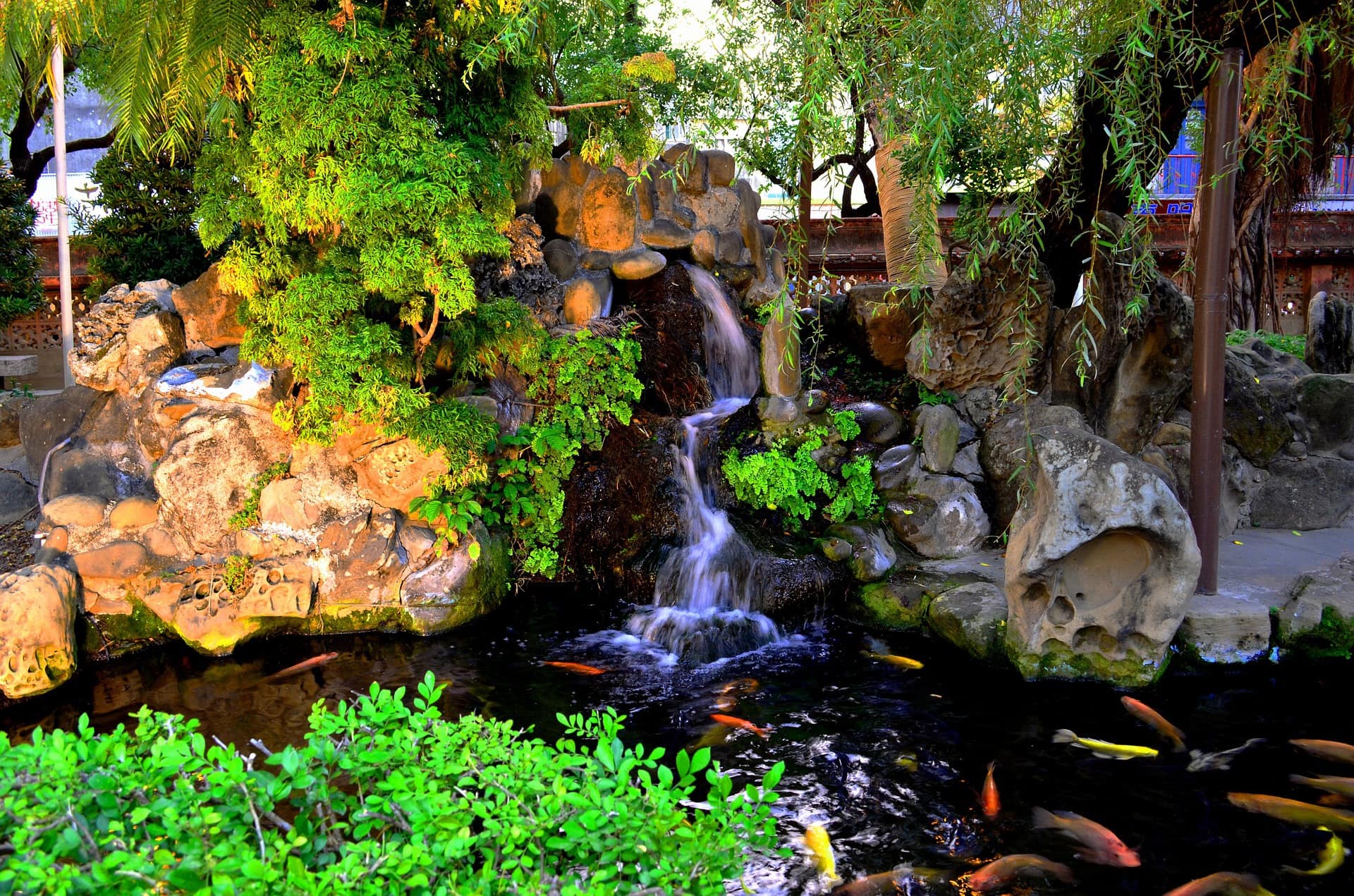 You can go beyond a fountain and create a water feature or pond on your front lawn—even right in front of the house! Build a waterfall, plant lots of greenery and bushes around, maybe some flowers, and stock your pond with some vibrant koi.
Add a bench to turn your front yard into the perfect reading spot.
Conclusion
There are really a lot of options for front yard garden, but what's important is planning it all out in advance. You've got to consider the hardscape—walkways, driveways, and garden beds—before you can get to the plants and flowers and foliage.
What's great is that you can be really creative for your front yard landscaping plans, designing your front yard the way you want to make a good first impression. There's a lot of ideas here, and many of them don't require a huge budget and are quite simple to accomplish.