We independently select these products — if you buy from one of our links, we may earn a commission.
27 Simple Yet Beautiful Front Yard Landscaping Ideas
The front yard of your home is the first impression people get, so you really want it to look good. There are a lot of different options for landscaping your front yard: an extremely manicured garden, a minimal approach, or a natural appeal.
The great news is that a lot of these options can be done just as well on a budget. Let's check out some great ideas to create a beautiful and welcoming front yard.
Create a Border of Potted Plants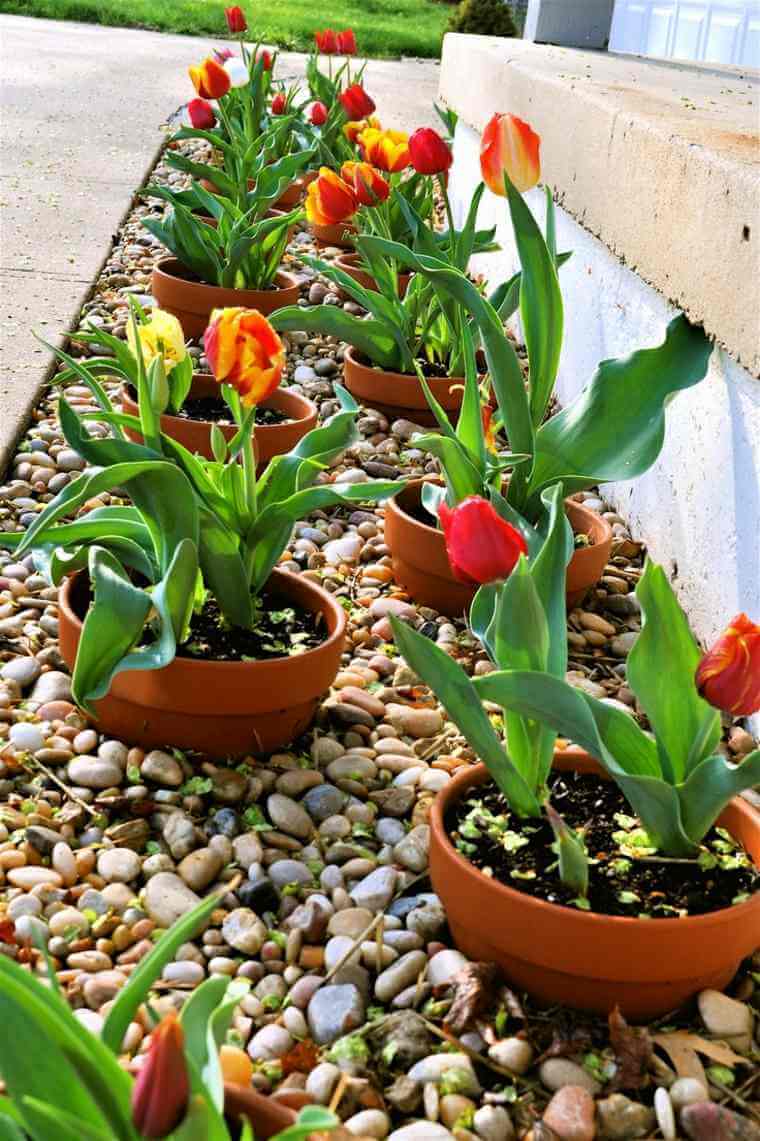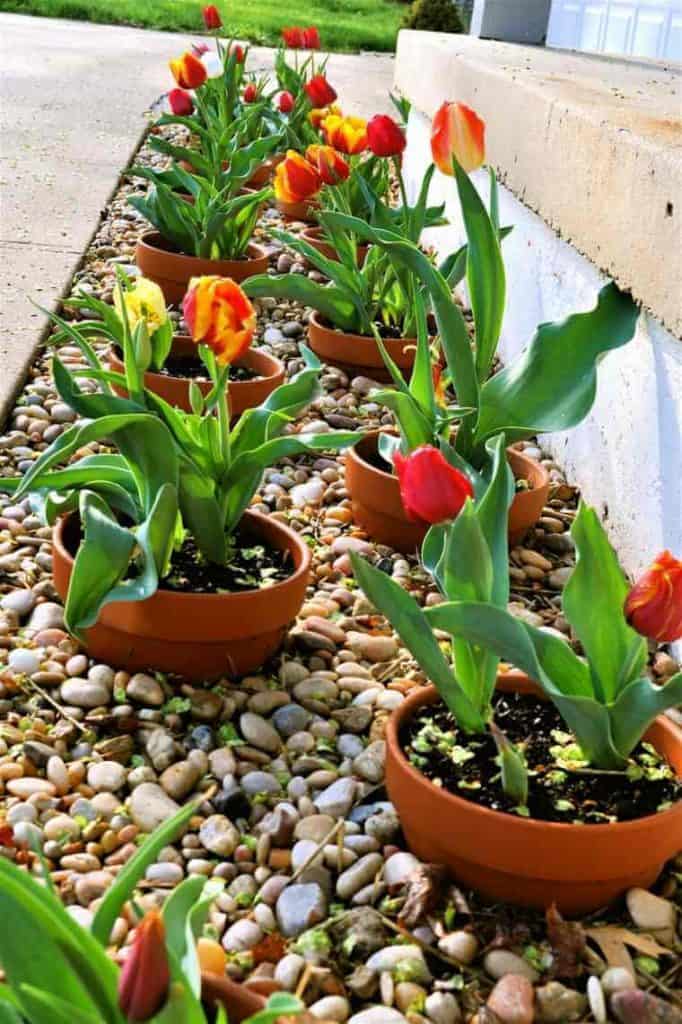 If you want a simple option that's easy to switch out, you can create a border for your walkway with some terracotta potted plants. They look great half-buried in the ground and surrounded by small pebbles, like in this example.
These are some gorgeous tulips, but you can easily replace the pots for other flowers as your mood strikes you. It's an easy and simple method to add some life and color to your walkway.
Plant a Sea of Flowers Across Your Lawn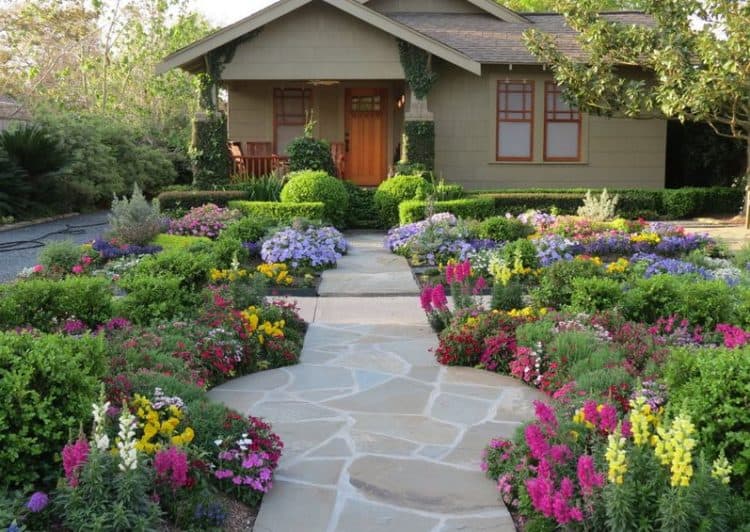 This is possibly at the other extreme for a walkway lined with flowers. There's a veritable sea of flowers here, creating a carpet of color all the way to the front door. What really makes this work is that the walkway has some curves, so the flowers aren't too perfectly lined up.
As you can see, the garden finishes off right before the porch with a low hedge rounding the house.
Keep Hedges Manicured and Low Profile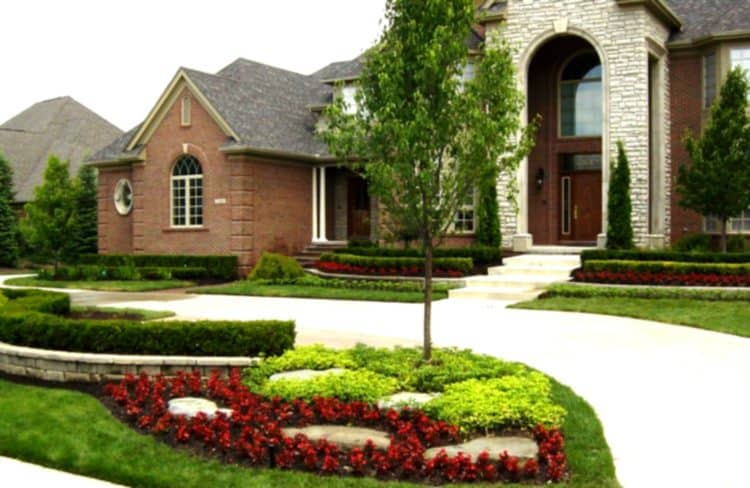 Hedges don't have to be tall and block the whole view of the house. You can also use hedges as low, curved walls to create some levels up to a front door. Make sure to keep them well trimmed so they don't start looking overgrown.
You can also mix and match with red plants to add some different colors to your hedge walls so they're not all green.
Create a Simple Stone Walkway to the Front Door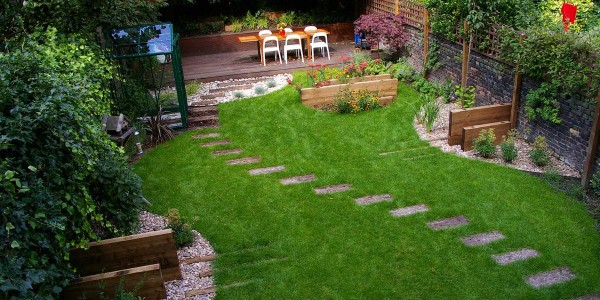 Many walkways to the front doors are one uniform path, but you can add a bit of whimsy with a curving stone path like this one. Each stone is evenly spaced out, so it still looks neat, but the separation between each step looks like a more natural path, straight out of a fairy tale.
When the path reaches the front of the house, the steps are made from wood instead of stone for a nice contrast.
Plant a Brightly Colored Mix of Flowers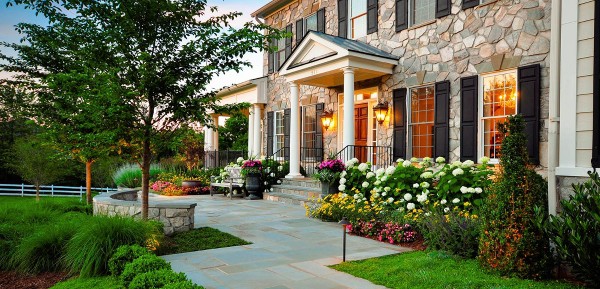 You don't have to worry about choosing only one color or two for your front yard flowers. It can look quite nice to have a mix of flowers, especially paired with some plants and grasses.
As we can see in this photo, there's a ton of different colors: yellows, whites, different shades of pink, and lavender. The result doesn't look messy or overwhelming, though. It's a great contrast of heights, colors, and textures.
Install a Rustic Chic Wheelbarrow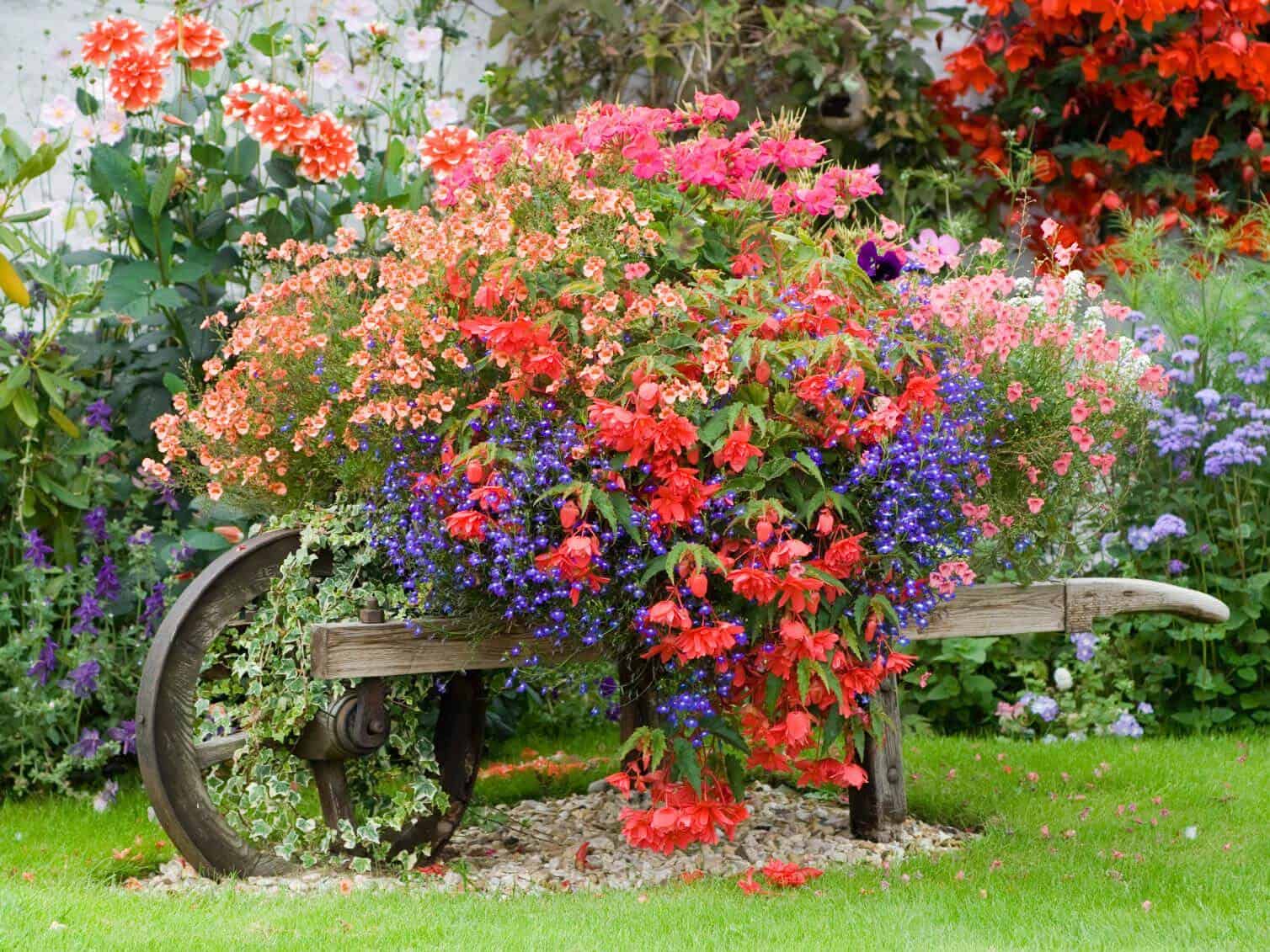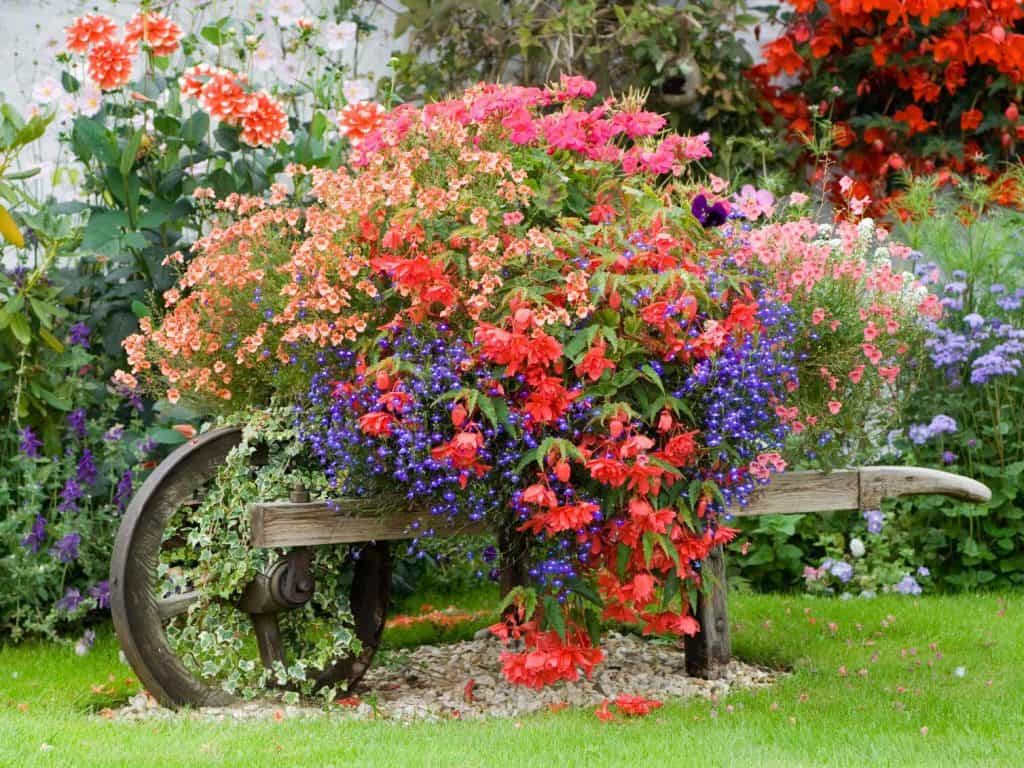 You can use some old objects as planters for a rustic and charming look. This old wooden wheelbarrow is a perfect planter for some gorgeous pink and purple flowers just spilling over the sides. It's a great addition for a front garden, and it's quite easy to find one as well.
You can also look in antique shops for other items that can be repurposed to planters, like steel milk cans, wagon wheels, and old mailboxes.
Build a Short Brick Wall for Sloping Lawns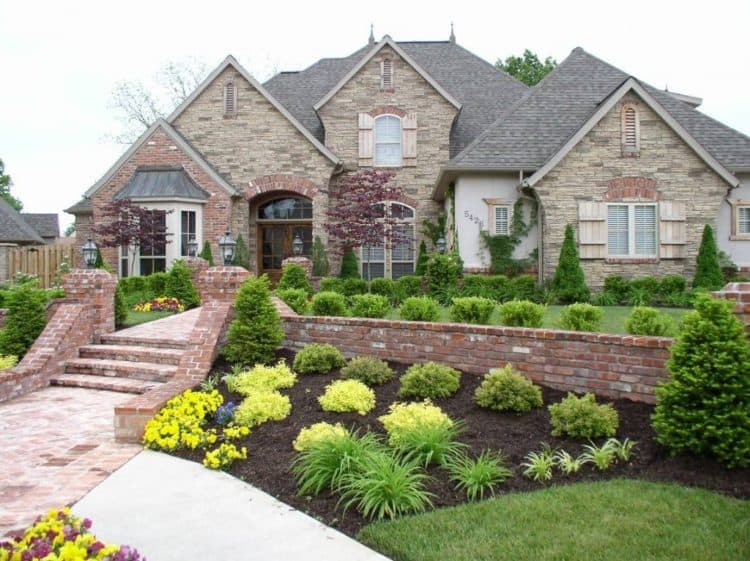 This is a bit of a more expensive project, but still quite simple to take on. If you have a long, sloping front lawn up to the house, you can consider building a short brick wall to separate the two levels of the yard.
It's a great way to incorporate some steps and lampposts, and you can add some gardens in front of and behind the wall to soften its lines.
Stones Make for Great Succulent Beds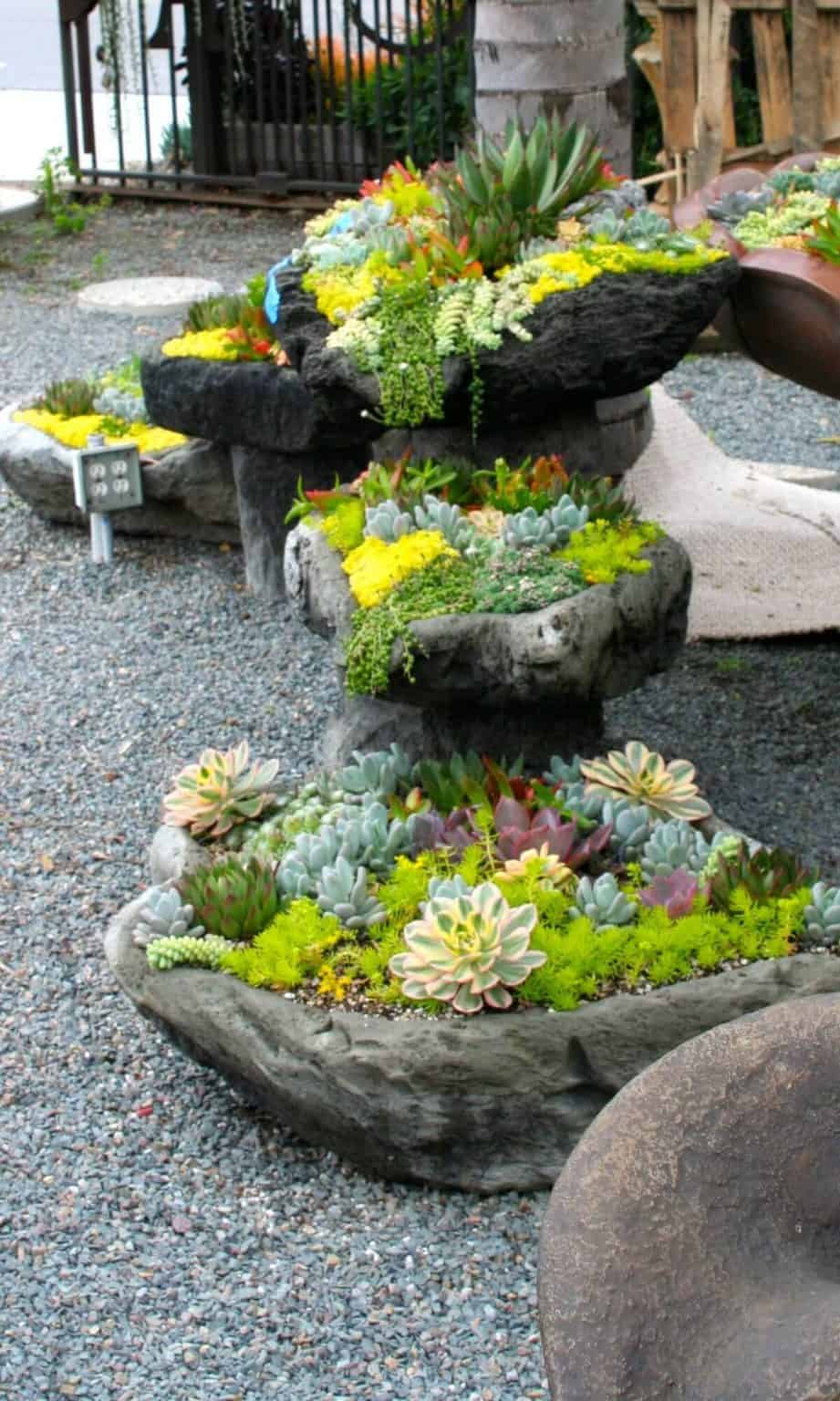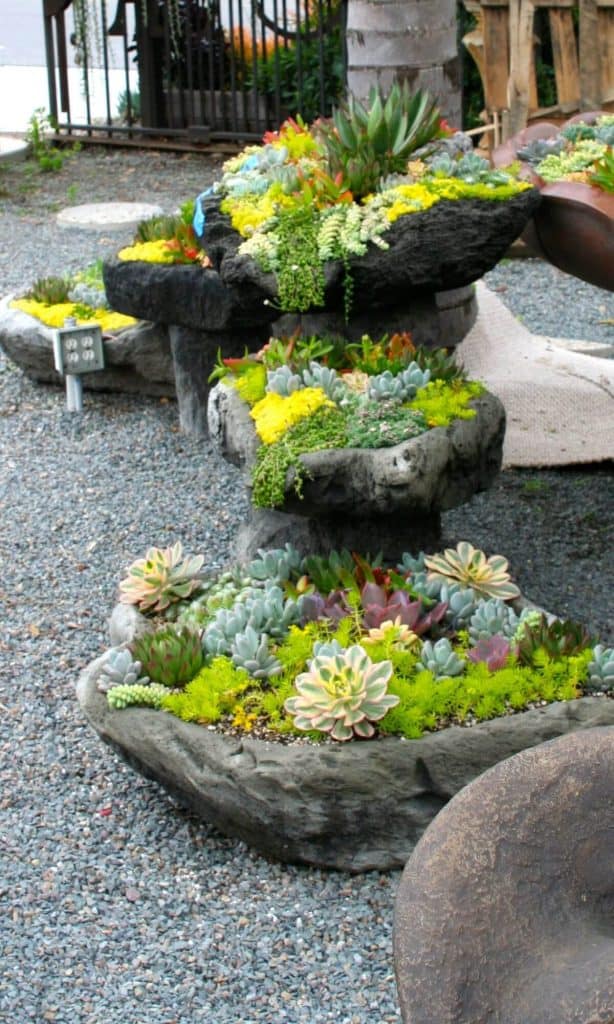 If you live in the right climate, you can create gardens of small, delicate succulents. Because their roots needs aren't as big as some other plants, they're great to plant in large stones, like in this gorgeous example.
As you can see, the lawn is actually all gravel, so the succulents in the large boulders of different heights add a lot of greenery and life to the front lawn.
Include Taller Grasses for Privacy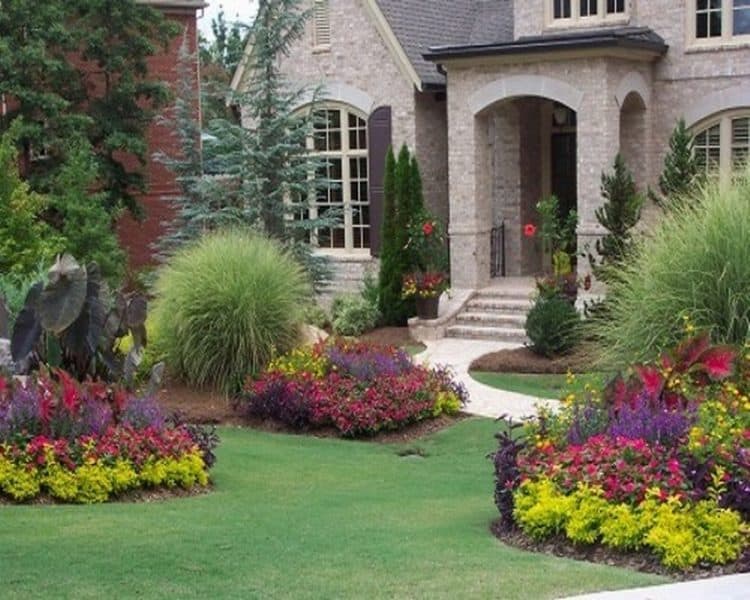 You can decide to add more visual blocks between your home and the street, especially if it's a busier road. To do that, you can plant some trees on the front lawn, but also some tall bushes and grasses like these. It adds a lot of privacy without looking messy or overgrown.
If you're planting trees, make sure you research how big their roots will get and make sure it's an appropriate distance from your foundation.
Create Large Stone Features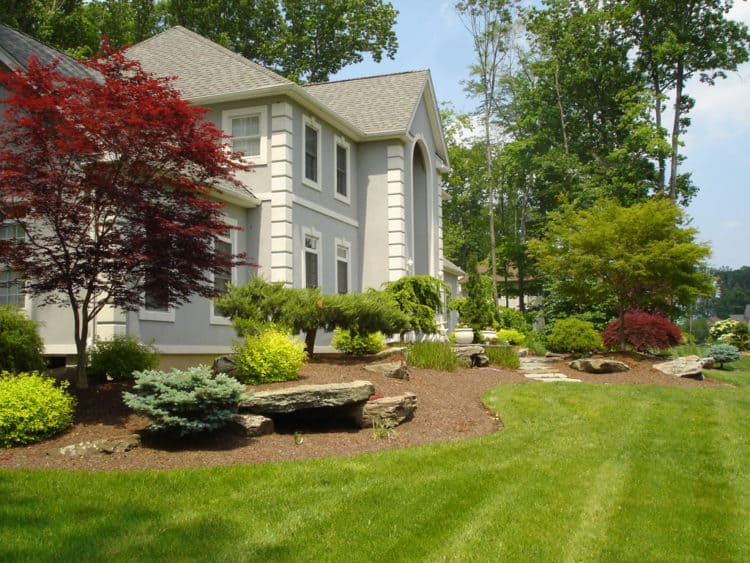 Front yard gardens aren't all about the plants and flowers. You can also add some interesting stone and rock features like in this photo. Some large, flat rocks are stacked to create texture and levels, and they're surrounded by a handful of bushes and shrubs.
If you want something that's lower maintenance than planting a bunch of flowers, this is the way to go.
Add Little Gardens Along the Walkway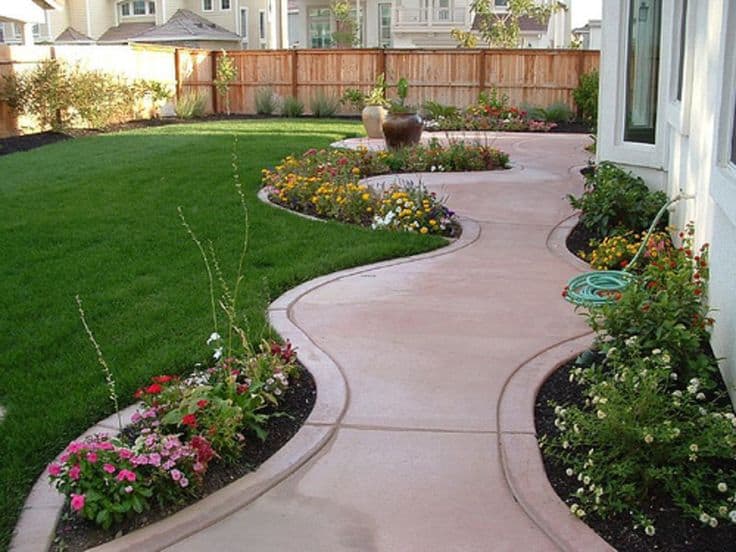 When you design your concrete walkway, you can add little pockets surrounded by concrete to plant little gardens. It's a nice minimal look for those who have less time to garden.
This one needs advance planning, though, to make sure your concrete walkway and garden combination looks just the way you want it.
Border the Walkway with a Short Stone Wall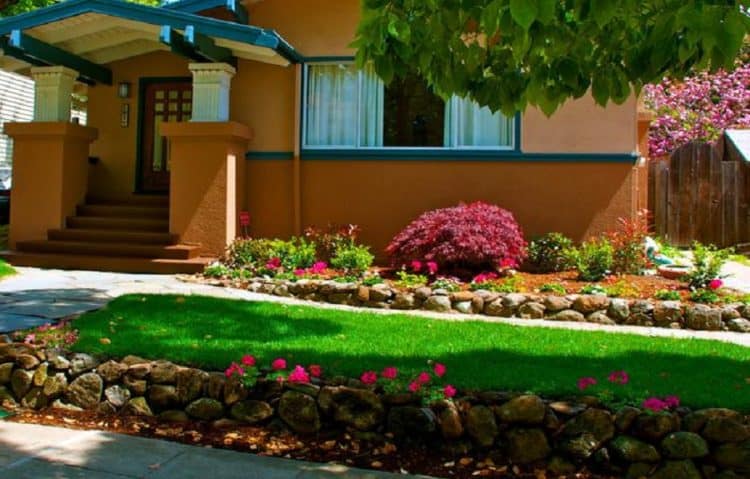 If you live near a riverbed or forest, or you know of a recently cleared field for farming, you can start slowly collecting some round stones. Try to look for ones that are all of similar appearance and size. Once you have enough, you can build a natural stone wall along your walkway.
It's a great project that doesn't require much financial investment, only the time needed to find the right stones.
Mix and Match Heights and Plant Types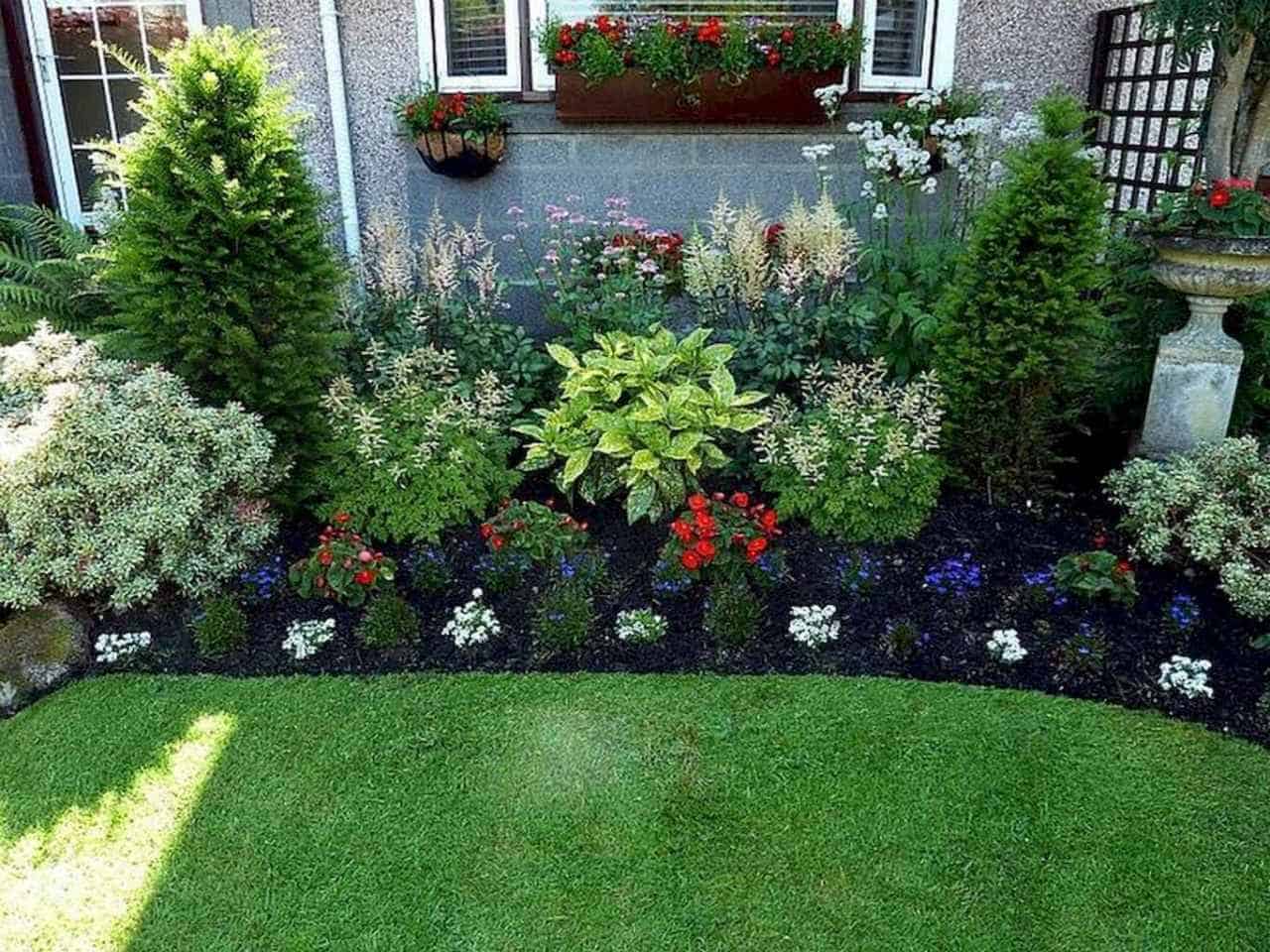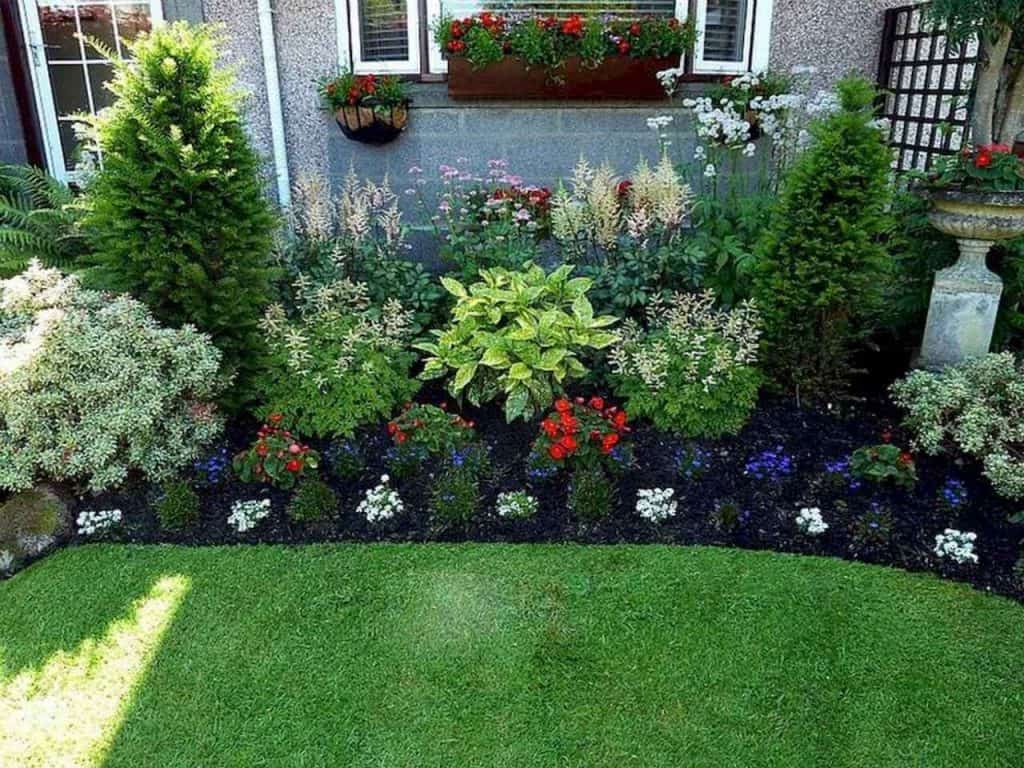 There is a true mix of plants and flowers in this garden, but it's all still neat thanks to some great planning. Start with the shortest plants and then get taller as you move to the back of the garden, against the house.
These are all great plants that don't spread around too much so you can keep things orderly. You can also add a few nice touches like a stone bird bath or window planters.
Create Levels of Stone Steps Covered in Plants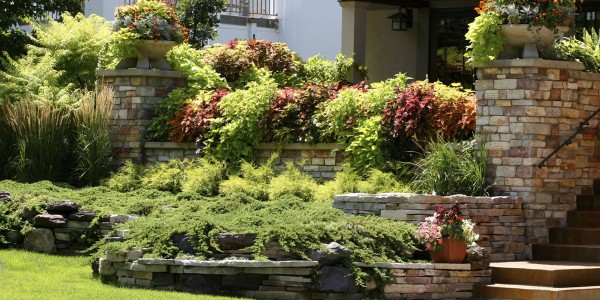 Some front yard landscaping ideas, like this one, require a lot more time and investment at the beginning of the process. However, once it's done, a garden like this doesn't need much time or care to flourish.
There are different levels of gardens surrounded by stone walls. This garden is the proof that your yard can get a bit overgrown and spill over the sides, but the result is still extremely vibrant and lovely.
Cover the House in Ivy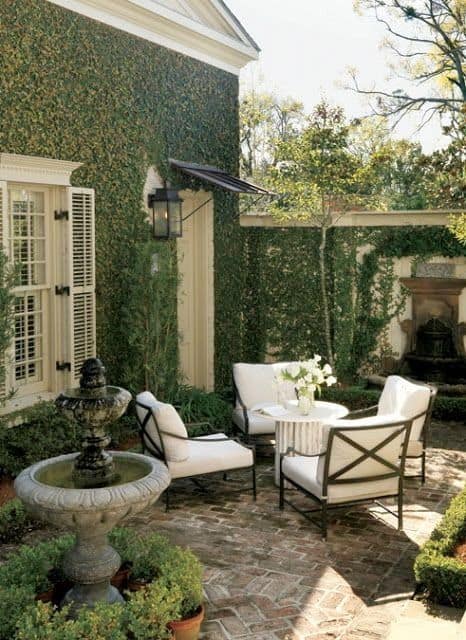 Another option for your home is to cover the front wall with ivy. It's a look that only works with some homes and done right, because the ivy still needs to be controlled. It's a very natural and charming look though, like a cottage in the woods or an old-fashioned house.
Make sure you keep the climbing vines away from the windows, because you don't want your panes to get covered from letting in natural light.
Make Your Own Cute Bicycle Planter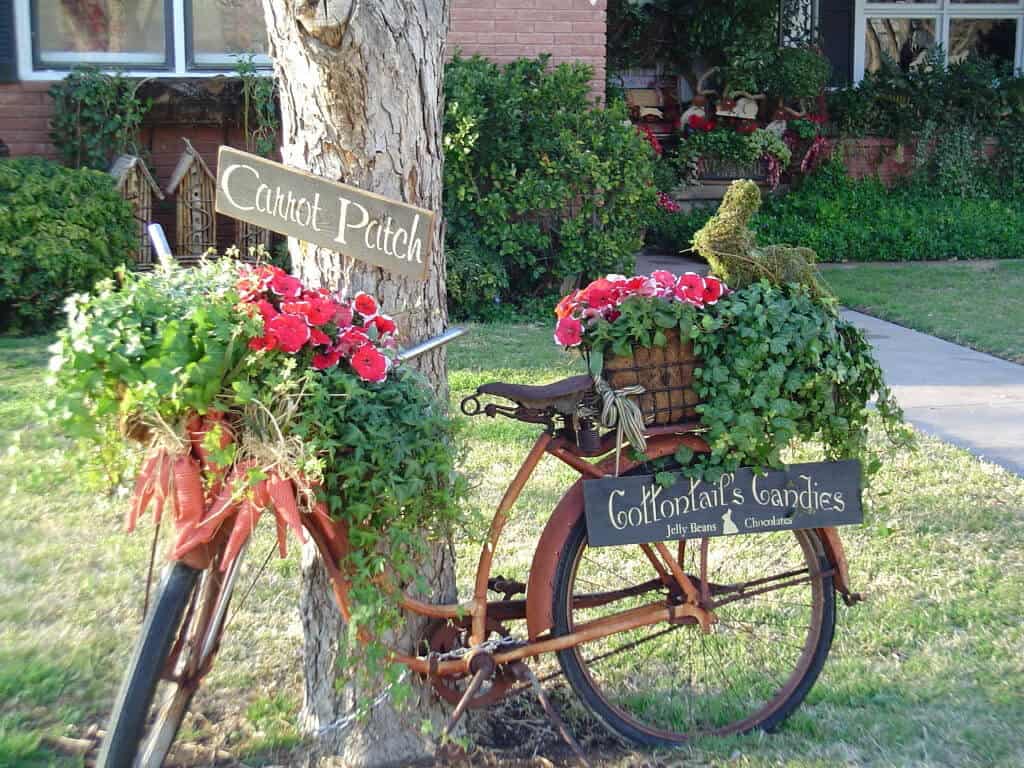 This is similar to the wheelbarrow planter idea we explored previously, but this time the planter is a cute old-fashioned bicycle. Baskets behind the seat and in front of the handlebars are great locations for planters, especially for flowers that grow long tendrils.
For great ideas on making your own bicycle planter, take a look at this inspiring article with a lot of different suggestions.
Get Curved Walkways and Manicured Hedges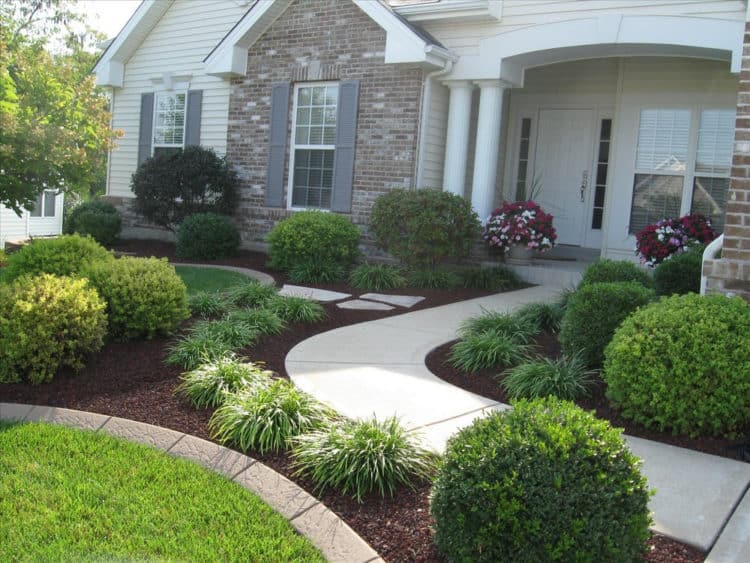 This is another example that shows you don't need gardens with brightly-colored flowers. If that's not your style, plan for more bushes and hedges, as well as bunches of grass. Be creative with your walkway instead of just going in a straight line.
Add some curves and different elements, and tie the whole thing in with the concrete garden border, too.
Plant a Circular Flower Bed for a Tree Base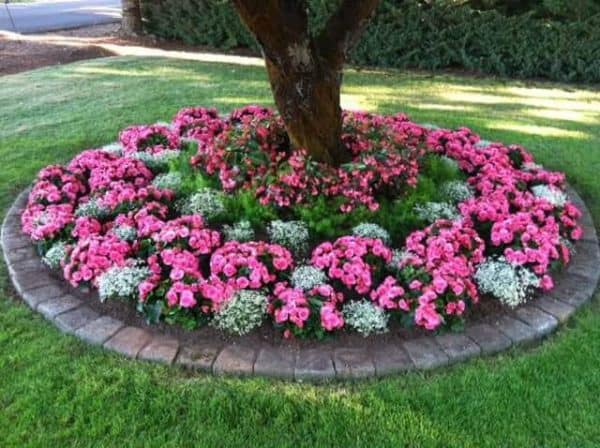 A tree on your front lawn is a great opportunity to plant a garden. All you need to do is simply create a circular border around the tree, as big or small as you want, and plant the flowers you choose in the middle.
These flowers might get more shade than you think due to the tree, so make sure you look for the right kinds of flowers that flourish in shade or partial shade.
Add a Gorgeous Archway Covered in Plants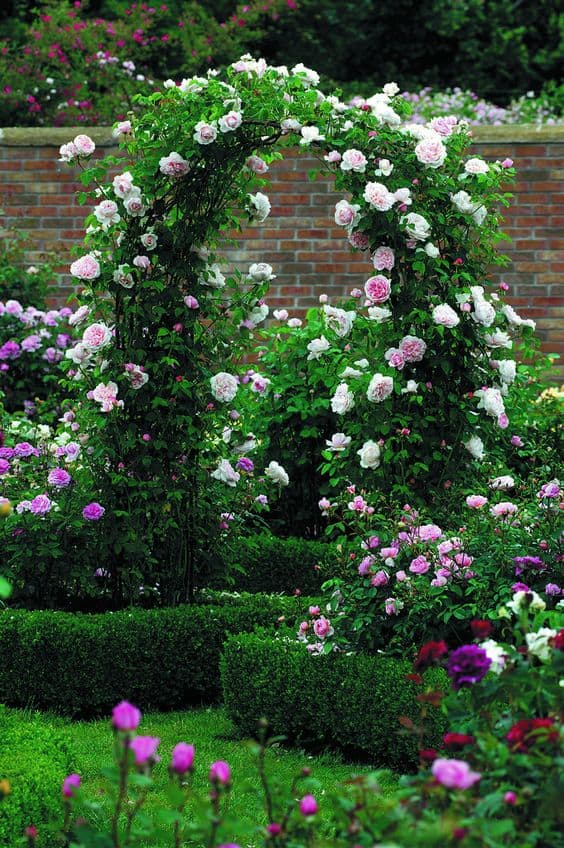 You can get a picturesque garden straight out of a fairy tale by installing a gorgeous archway on your front lawn. This archway is simply built from woven tree branches, and the whole is covered in some lovely white and pink roses.
It's a great idea to go for, especially if you have a wall of short hedges and you want to create a passage through.
Keep the Garden Contained Between the House and Walkway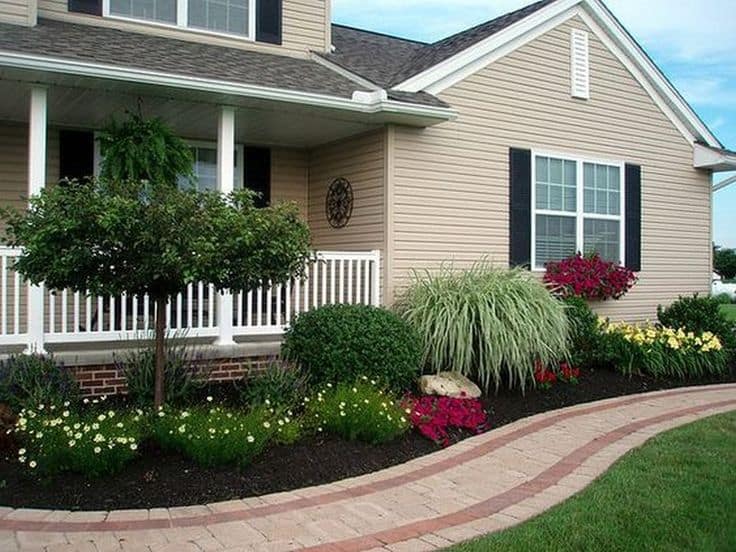 Sometimes, all you need to make a great impression through your front lawn is to have a small, narrow garden between the walkway and the home. Make sure the rest of your lawn is always mowed, get a nice pattern for the walkway, and you're all set.
The garden we see here is quite easy to accomplish, even if you're not a big gardener, and it's quite low maintenance too.
Some Overgrowth Makes for Wild and Natural Beauty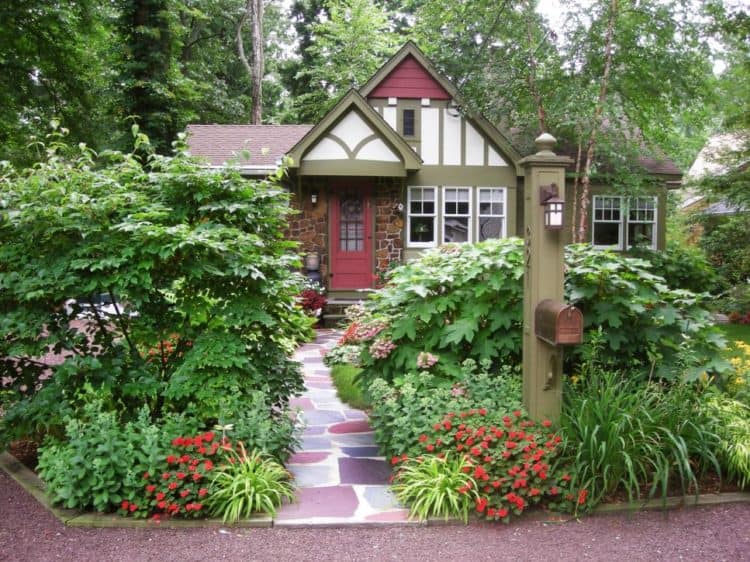 This front lawn looks pretty overgrown, but that's not always a bad thing. Not all lawns have to be perfectly manicured, and the wild and natural appearance of this yard fits perfectly with the charming brick cottage home.
The yard isn't just chaos, either. There's some organization there, from the symmetrical grasses and red flowers at the front of the walkway to the larger trees for privacy.
Get Climbing Plants for Front Columns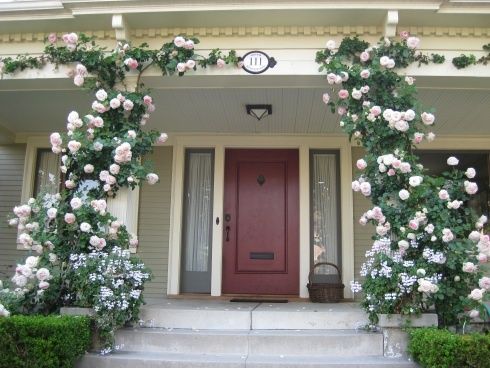 If you have some columns or porch posts in front of your home, you can use these for climbing plants. It doesn't have to be ivy, either. These climbing rose bushes are absolutely lovely at the front of this house.
There's a lot you need to know before starting a climbing plants project, least of all that it could take longer than expected! For a complete guide on climbing plants, check out this great article.
Buy a Stately Front Yard Fountain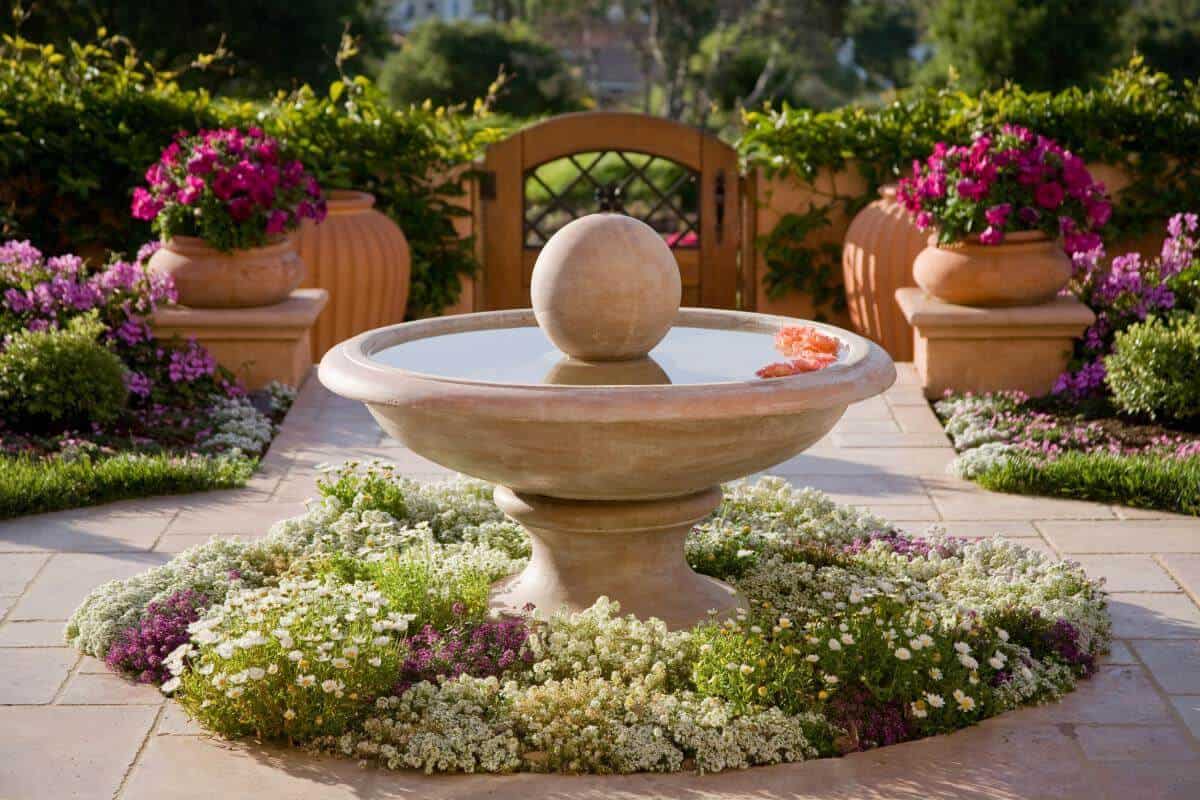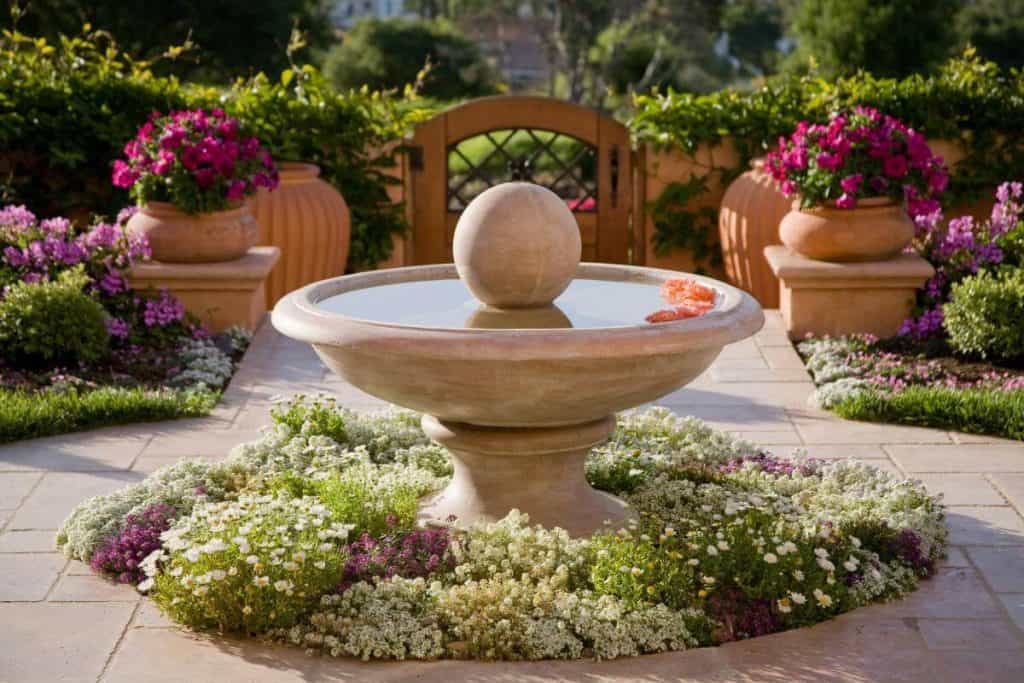 A stone fountain is a great way to create a focal point in your front yard. Keep this in mind when you build your garden and walkway, as you'll want to make sure the fountain is in the right place.
This one is beautiful, as well as smooth and simple, which shows you don't need anything elaborate for your home.
Hang Some Planters for a Splash of Color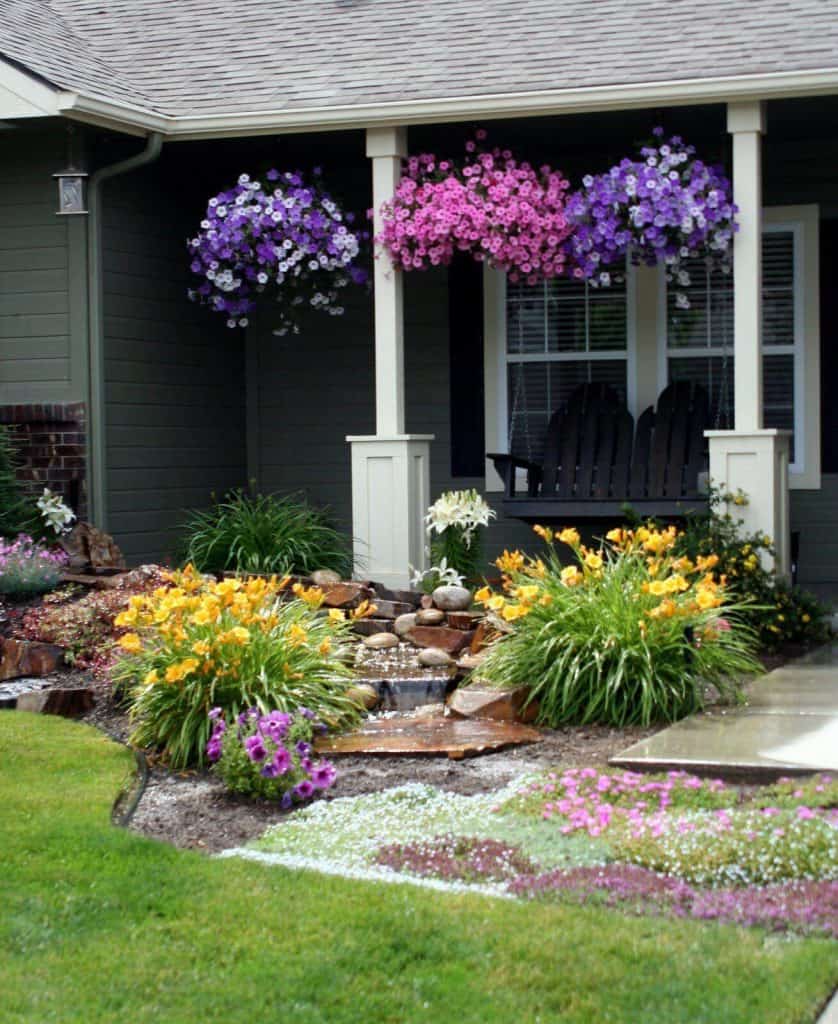 If you have a front porch, you can consider hanging some planters from the porch for some color and life in front of your home. This purple and pink mix looks great against the darker walls of the house, and complements the full garden really well.
Install a Row of Small Walkway Lamps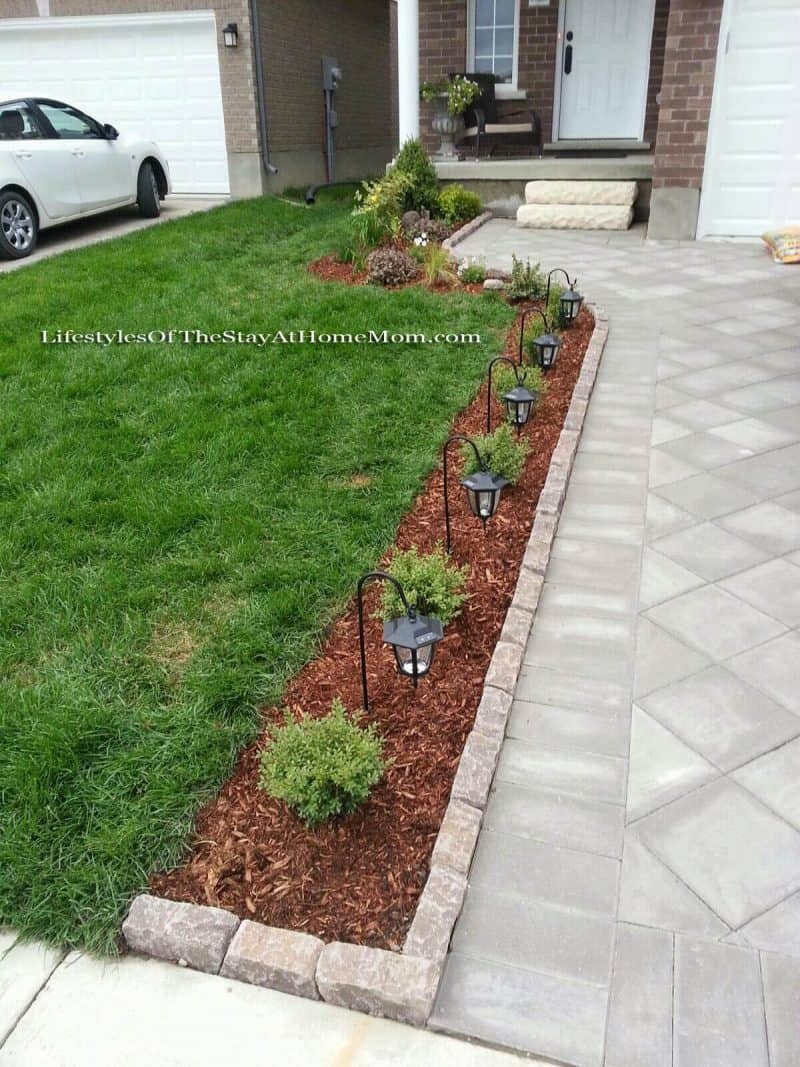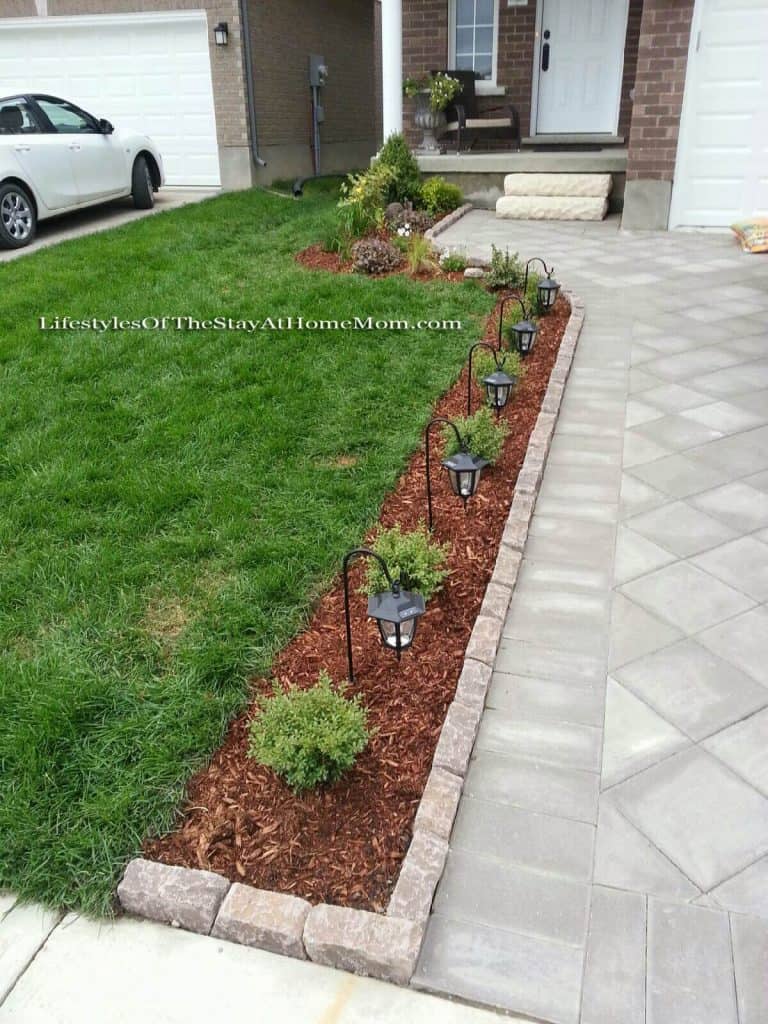 A lot of these ideas have to do with flowers and plants, but you don't want to forget lighting when you're designing your front yard. You can add some pretty and discrete lights along the walkway up to the home.
This is not only convenient but also a very lovely sight at night, especially with the soft glow that lanterns like the ones pictured here would create. Try to alternate plants and lamps like in this example.
Go Modern with Sleek Stepped Beds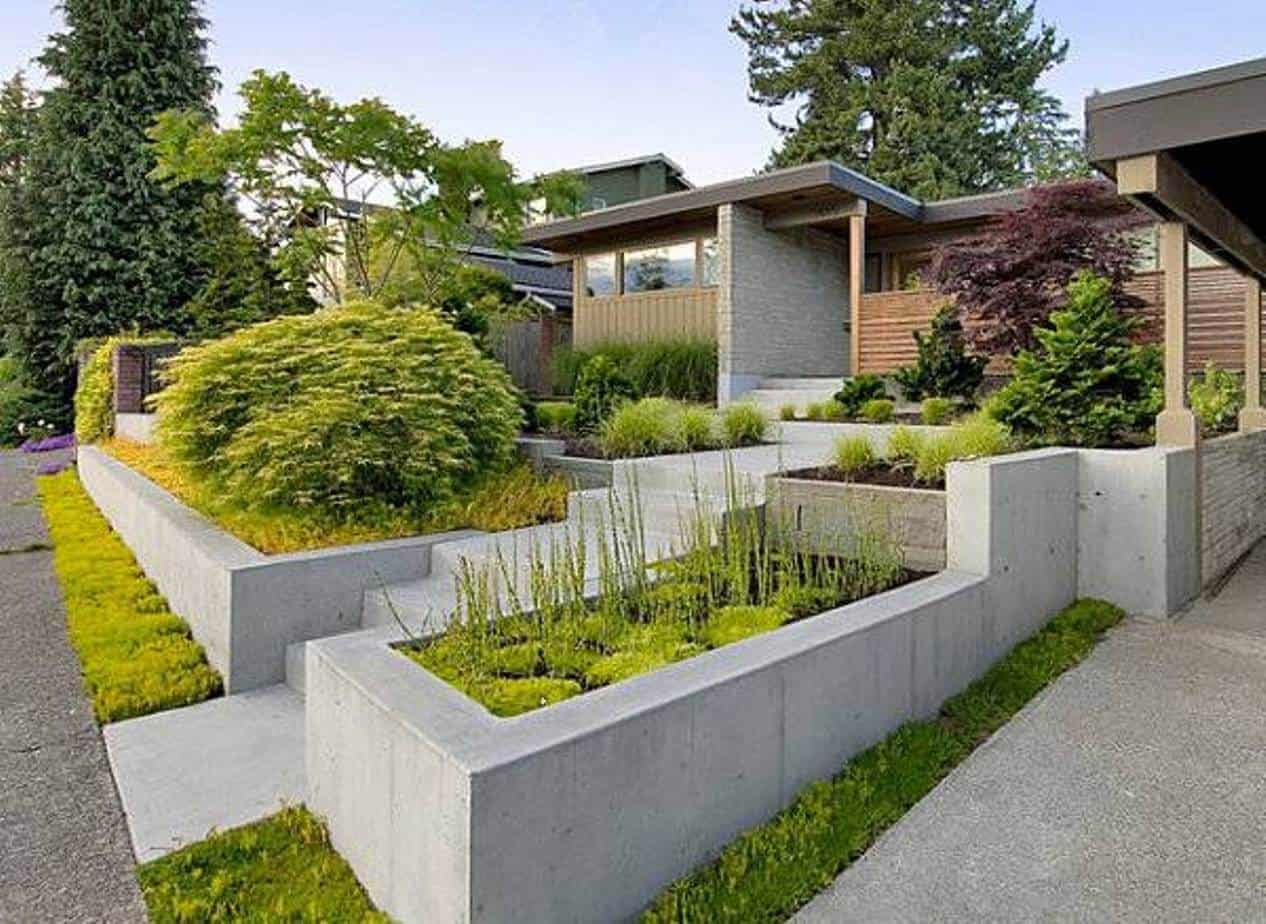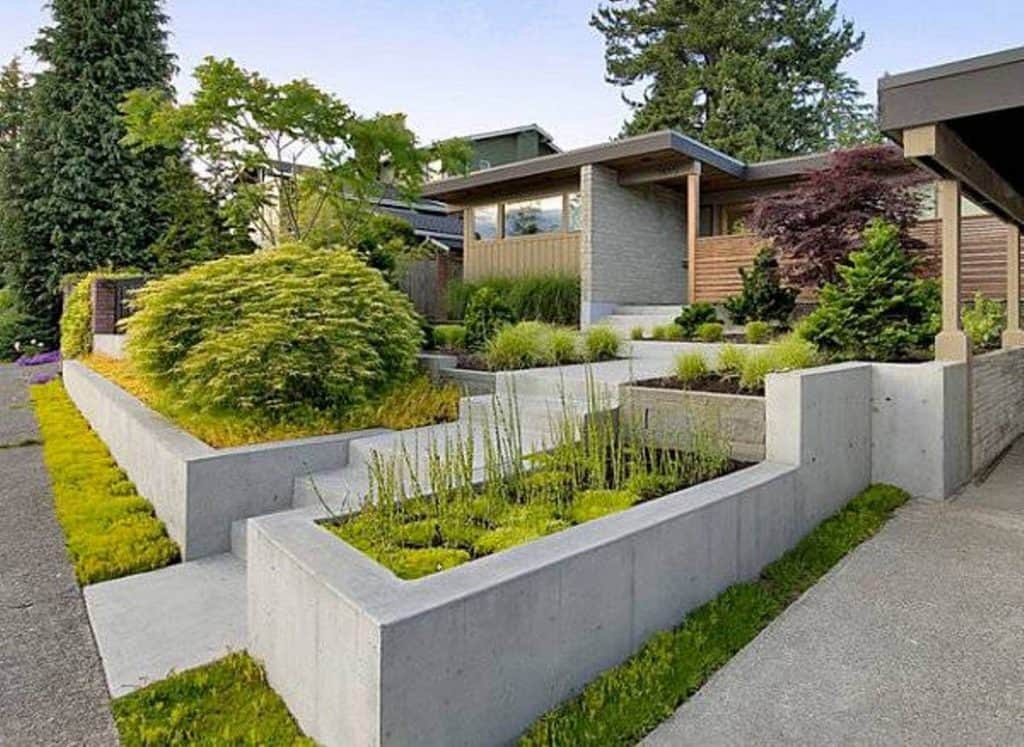 These smooth, concrete raised beds are a great example of a modern front yard and garden. The concrete is the same for the beds as the walkway and steps, for one smooth and seamless look.
The size and texture of the bushes and plants are excellent for softening the hard lines of the concrete.
Create a Full Water Feature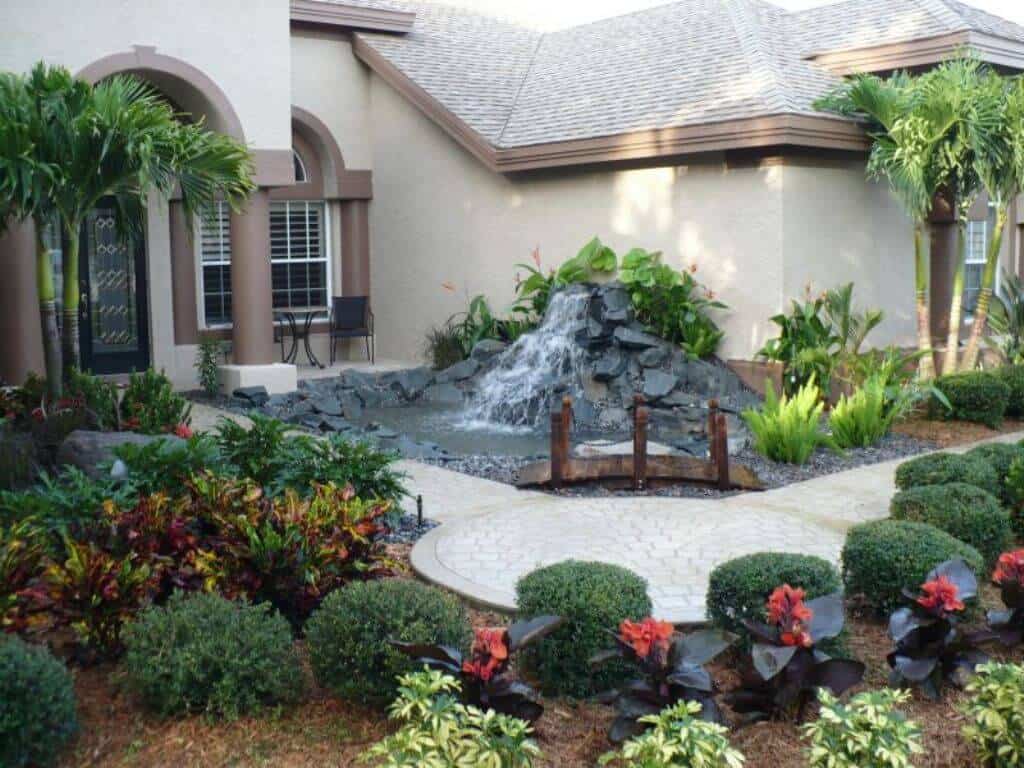 You can go beyond a fountain and create a water feature or pond on your front lawn—even right in front of the house! This water feature is a lovely stone waterfall that would make a soothing sound to enjoy when you're sitting outside.
There is even a pretty decorative wooden bridge next to the water feature for a complete experience.
Conclusion
There are really a lot of options for landscaping your lawn, but what's important is planning it all out in advance. You've got to consider the hardscape—walkways, driveways, and garden beds—before you can get to the plants and flowers and foliage.
What's great is that you can be really creative and design your front yard the way you want to make a good first impression. There's a lot of ideas here, and many of them don't require a huge budget and are quite simple to accomplish.
Now you've seen what's possible, what kind of front yard will you go for?