Decorated Life is reader-supported. When you buy through links on our site, we may earn an affiliate commission. Learn More
18 Comfortable Chairs for Small Spaces
There's nothing like sinking into a big, cushiony, soft armchair, and curling up to watch a movie or read a book. But, not every home has a spot for something that big, and trying to find a smaller version often results in an inferior and rather uncomfortable chair.
Instead of trying to find the mini version of a comfortable big chair, try looking for something that's compact and just a little different. Doing this will help you find a chair you genuinely enjoy sitting and is still aesthetically pleasing.
Not sure where to start? Here are some of the best chairs for small spaces inside your home.
Low Sitting Wingback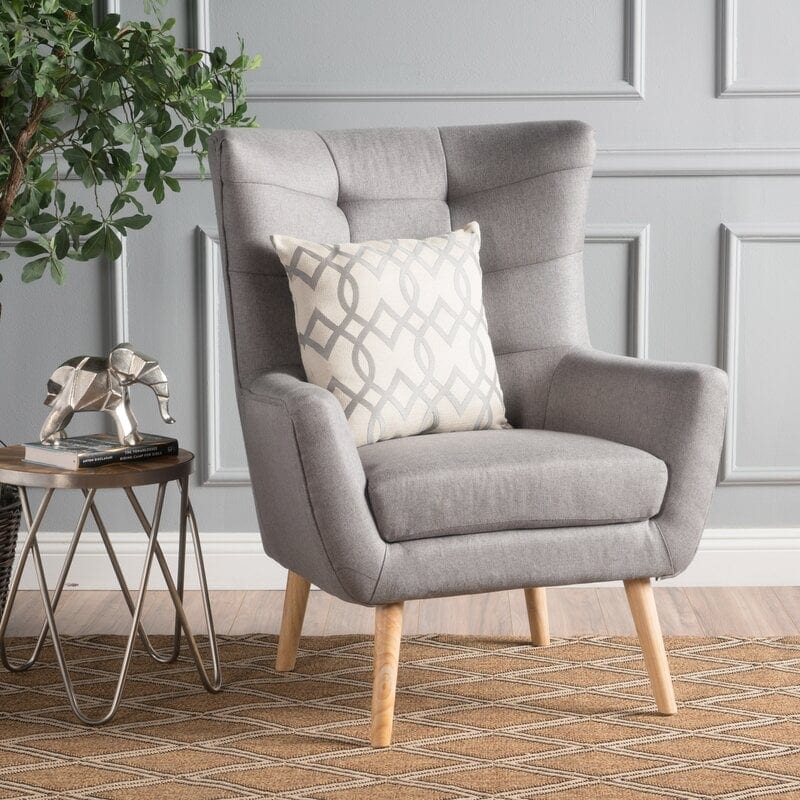 Look at the legs on this chair, they're tiny! It definitely sits low to the ground, but in doing so it allows the chair to have a high wingback-like backrest while still being a smaller piece of furniture that won't overwhelm a tight space.
A chair like this would work perfectly in a living room, family room, den, office, or even foyer.
Contrasting Armchair
To make a small room seem more spacious, they usually need to be painted a solid color and be minimally decorated so they don't look too cluttered. However, this can result in a somewhat bland look.
This little armchair is the perfect solution. Its black and white pattern is busy, so it'll add some character to the room. It's also small and cozy, so it won't just be a piece of decoration.
Compact Leather Seat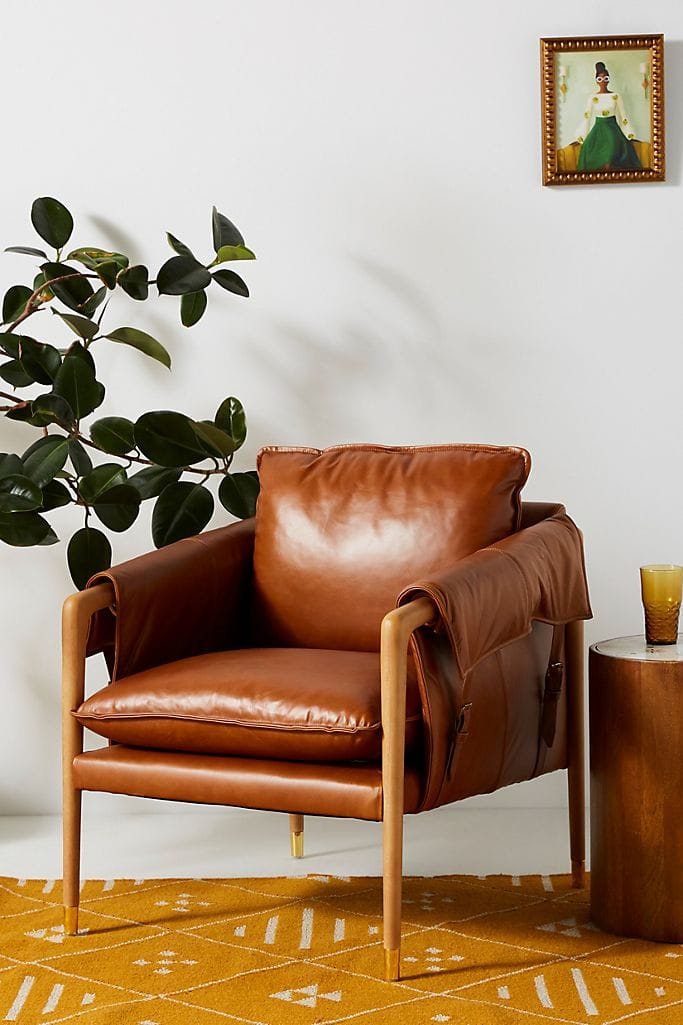 Finding a small leather chair that looks good and is comfortable can be tricky, but this one does the trick!
It sits higher up, leaving lots of space under it and around the legs to give the illusion of more space, while the seat itself is plush and soft. It's a perfect spot to curl up with a book.
Stylish Cane Chair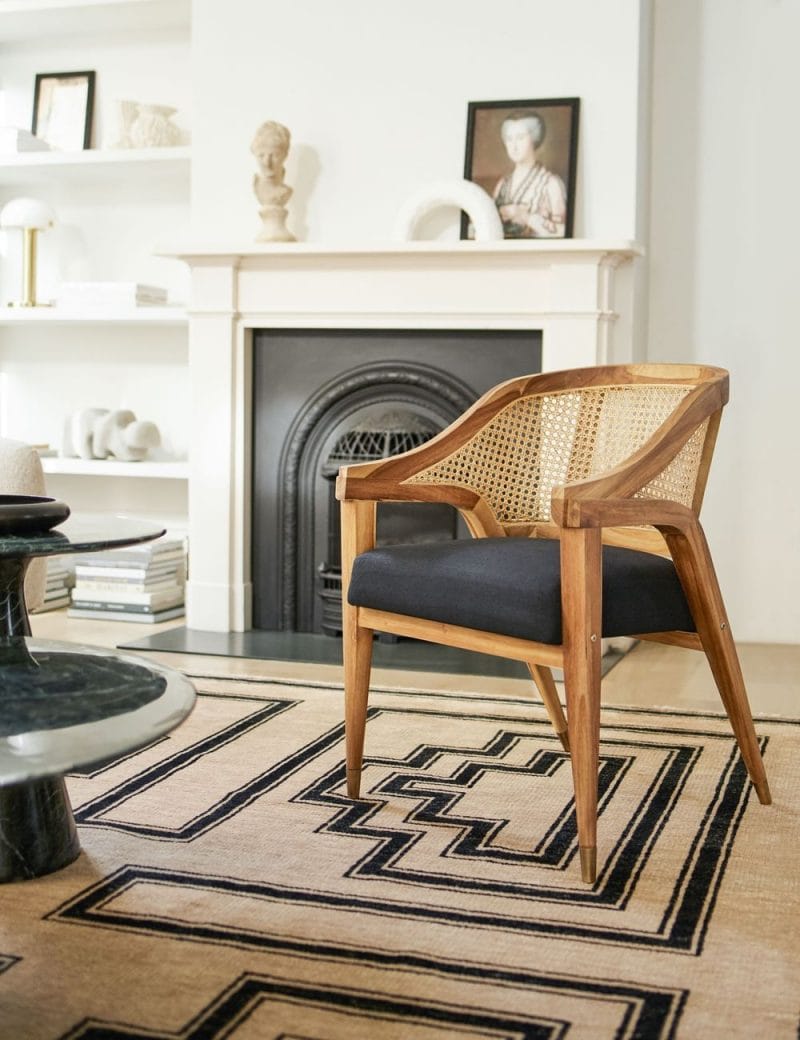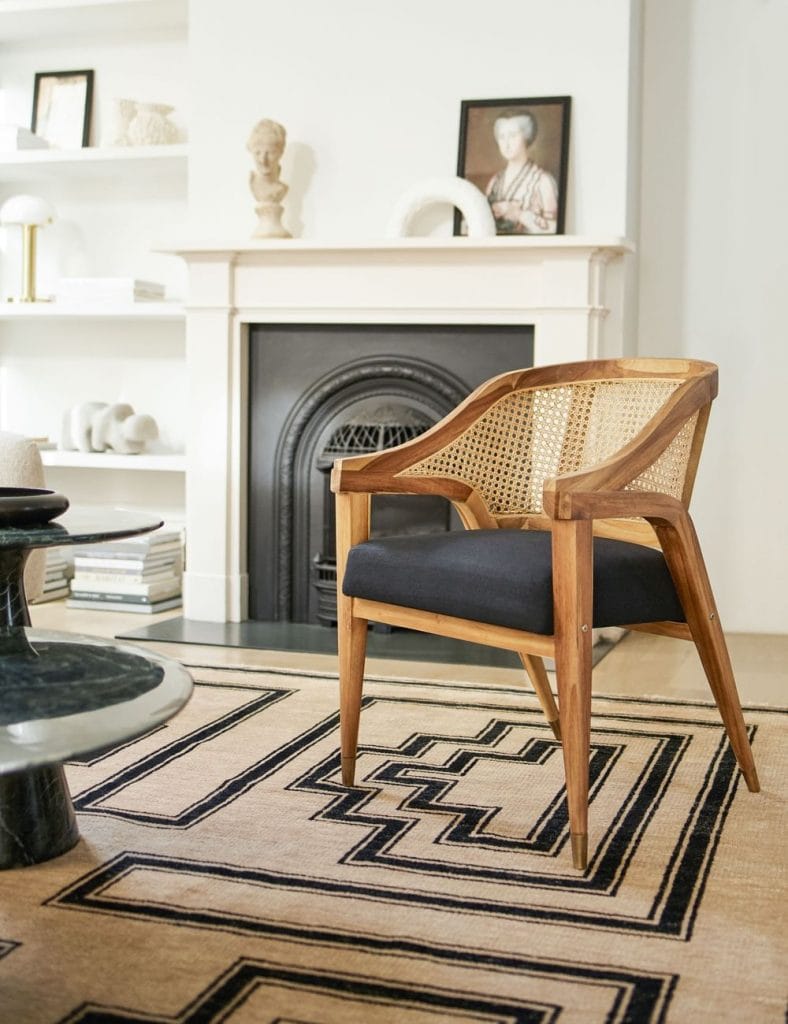 Another way to bring in a side chair with a little bit of character is by getting a cane style.
They're intricate, giving them texture and detail, but they still have an airy feel because of the design so they will look like they're taking up less space than they actually are.
Mid-Century Modern Chair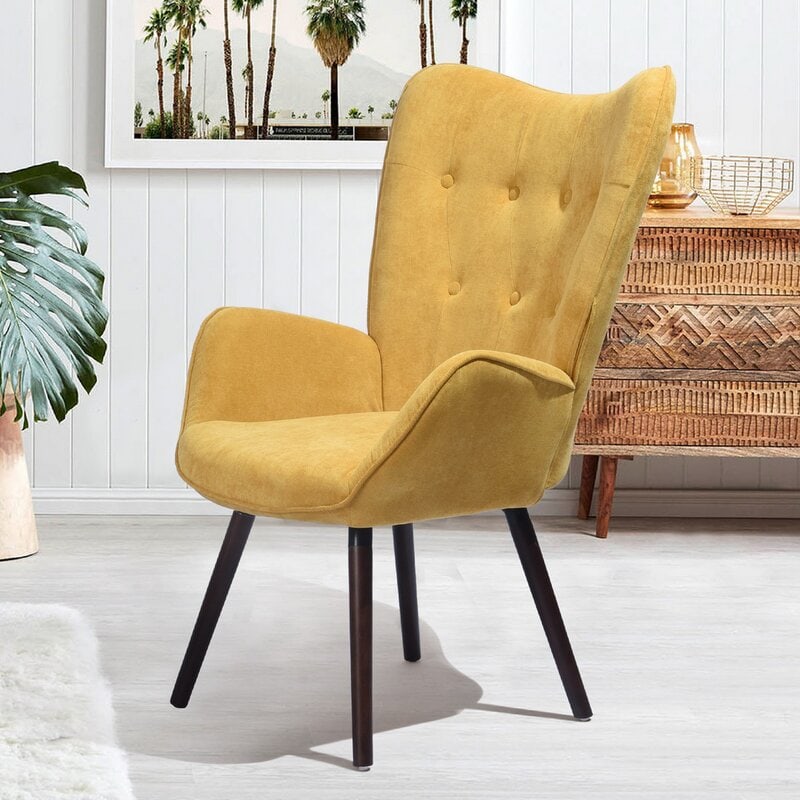 Doesn't this look seriously comfortable? It has a high back to give you lots of support, armrests, and is super plush.
Not only is this chair amazing, but it's also pretty compact, so it can easily fit into a small space. Also, since the seat is elevated a bit off the floor, it helps even out the high back so the chair won't just look like a clunky piece of furniture in a tight spot.
Cozy Scandinavian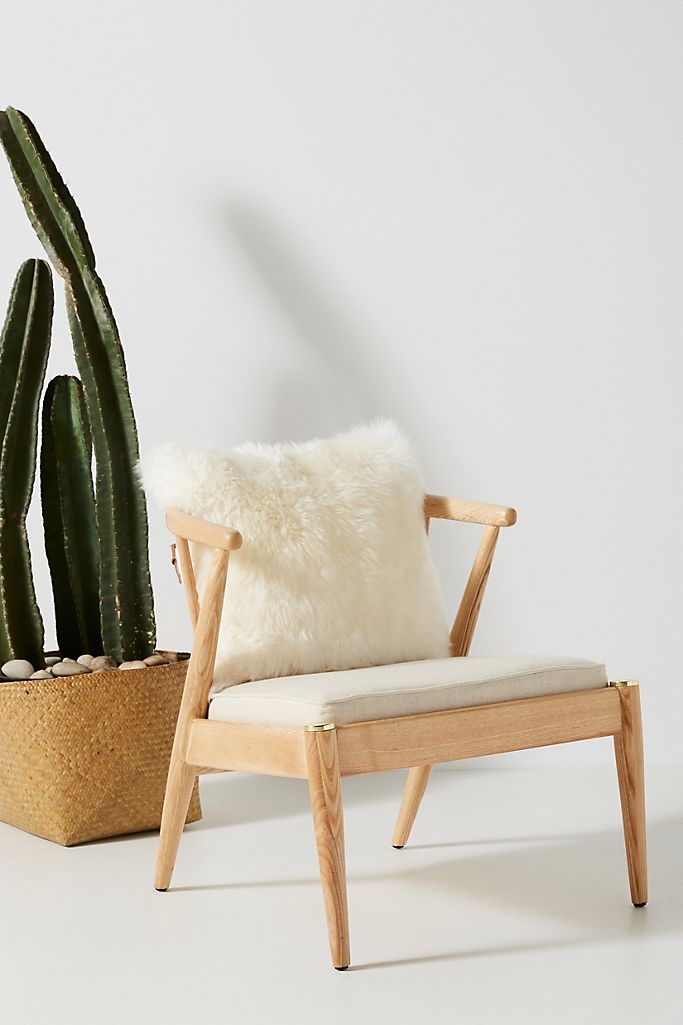 Finding stylish reading chairs for small spaces can be really tough. The key here, though, is to let go of the idea of a traditional reading chair and go for something a little different.
This accent chair is great because it doesn't take up much space at all but it also doesn't sacrifice comfort. It still has armrests (which are essential for a reading chair) and a fluffy seat and back cushion, making it perfect to cozy up in.
Minimalist Armchair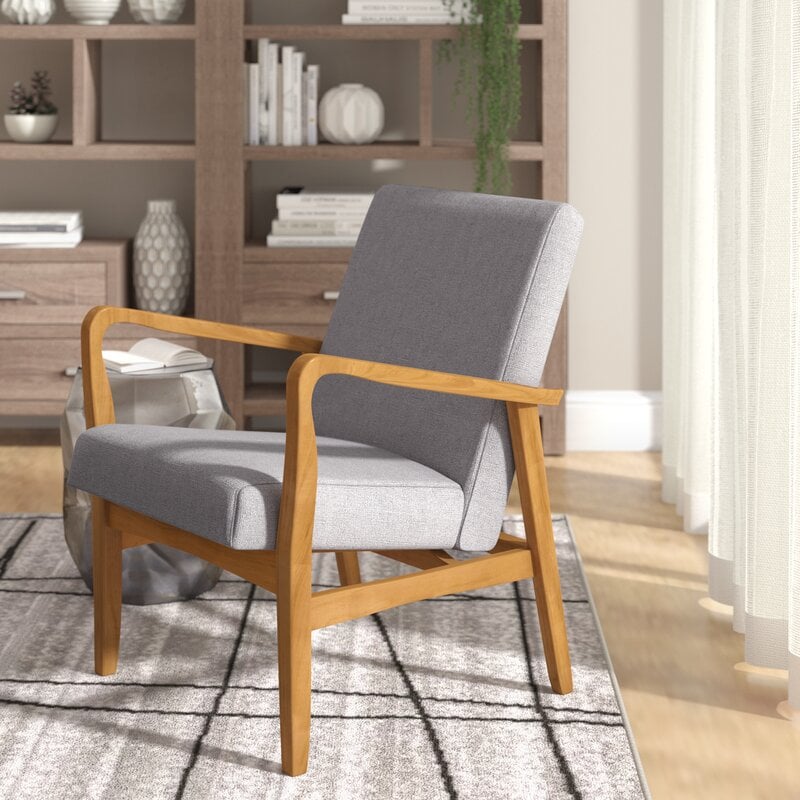 It's unlikely you're going to find a lot of classic armchairs for small spaces because they're typically built large. However, a chair like this can serve the same purpose, still look great, and take up a lot less space.
Simple Rattan Chair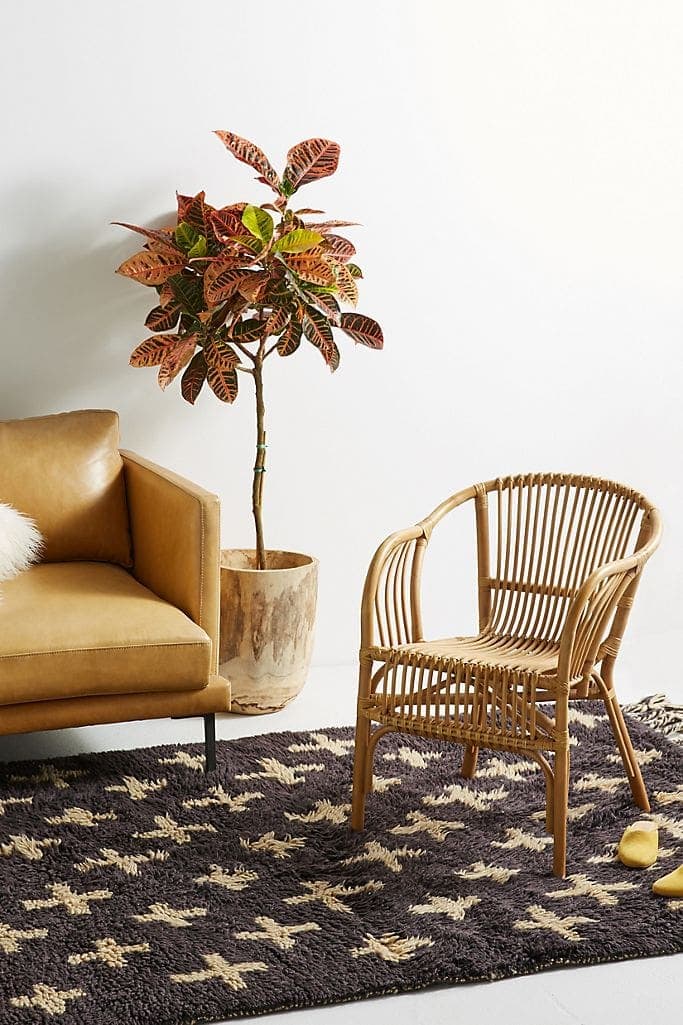 How adorable is this little chair? It has an amazing boho vibe and even though it's not lined with plush cushions, its design has curves in all the right spots to support a body, so you won't even miss them.
What's great about a chair like this is that it already has an airy, open look to it, so it can fit into the smallest of rooms and still seem like it's hardly taking up any space.
Low Back Tufted Chairs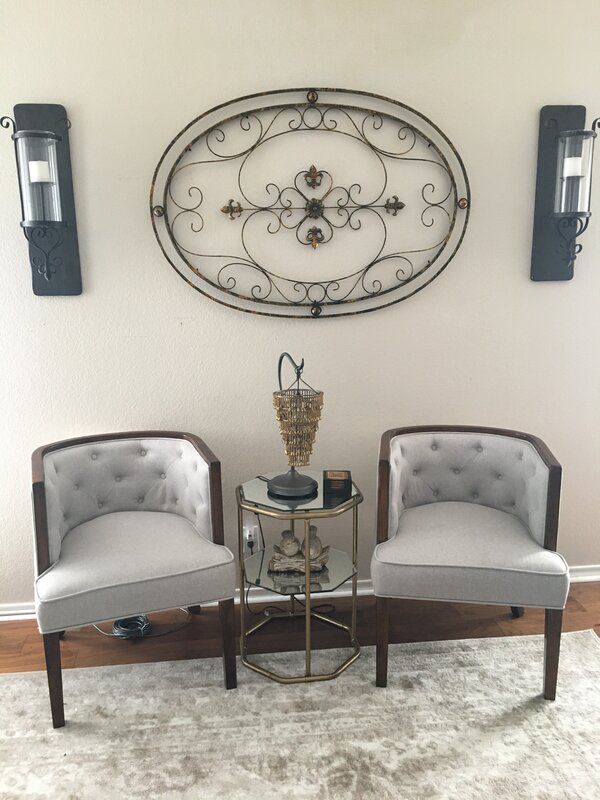 If you have a small living room, chairs that are comfortable, sophisticated, and the right size are few and far between. But, these little tufted beauties fit the description perfectly.
The dark wood paired with the textured gray fabric creates a gorgeous contrast that's only elevated by the tufted details. Plus, they come in a set of two!
Modern Accent Chair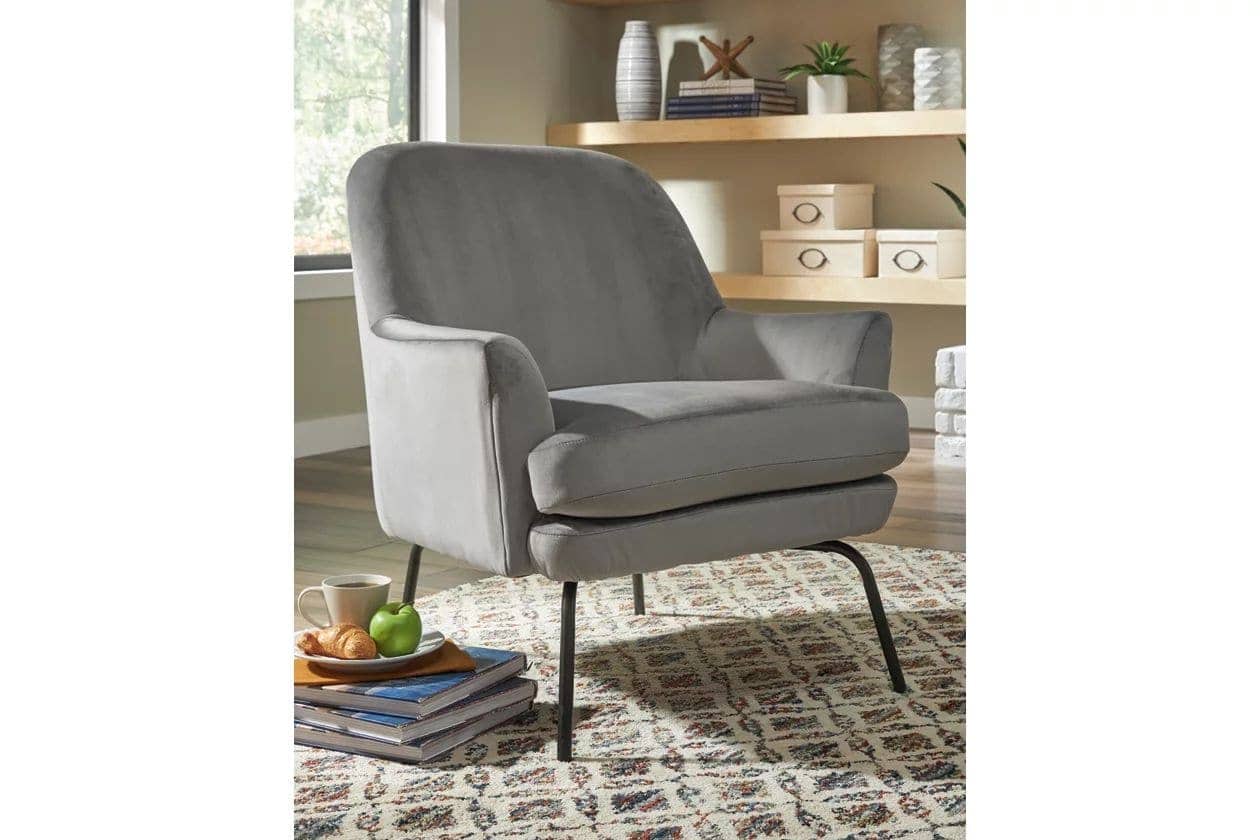 If you love the gray aesthetic, then this small accent chair will fit right into your home. The chair itself isn't very large, but it sits lower to the ground which allows for a thick seat cushion to make it extra comfortable.
You can easily tuck this chair into a small corner and still get a lot of use out of it.
Jewel Toned Accent Chair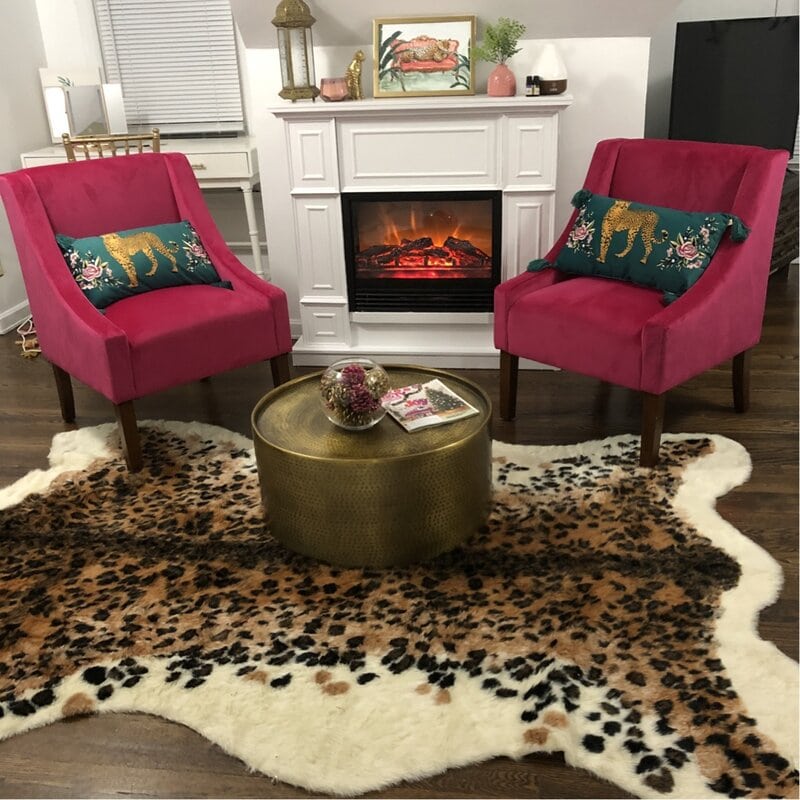 You don't have to forfeit a color to find comfy chairs for small spaces – just look at these gorgeous magenta chairs as proof.
They mimic a traditional armchair, but their design is much more compact and they don't actually have any armrests. They don't require a lot of floor space and, even though they're small, they add a lot of character.
Snuggly Rocking Chair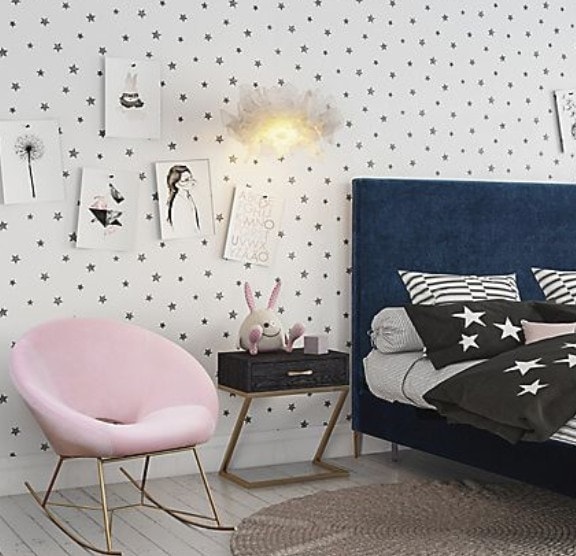 You might not typically peg them as small room chairs, but rocking chairs can definitely work in smaller spaces, especially if there is a corner they can back into.
If you want to implement a rocking chair into your small room, get something like this that has a low profile (so it doesn't look giant in the room) and doesn't need a ton of space to rock back and forth.
Velvet Side Chair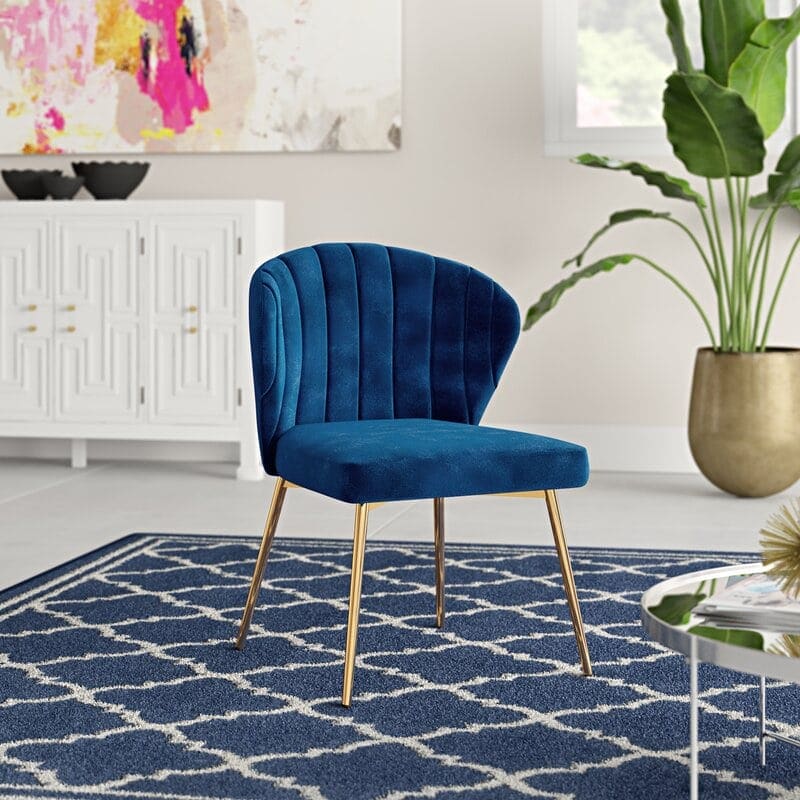 You can use this chair at a desk, as an accent chair, or even scoot it up to a small dinner table. It is very versatile (not to mention, very trendy).
The velvet upholstery and metallic legs makes this small chair look much more stylish and high end, so it's a great addition into just about any room.
Sophisticated Accent Seat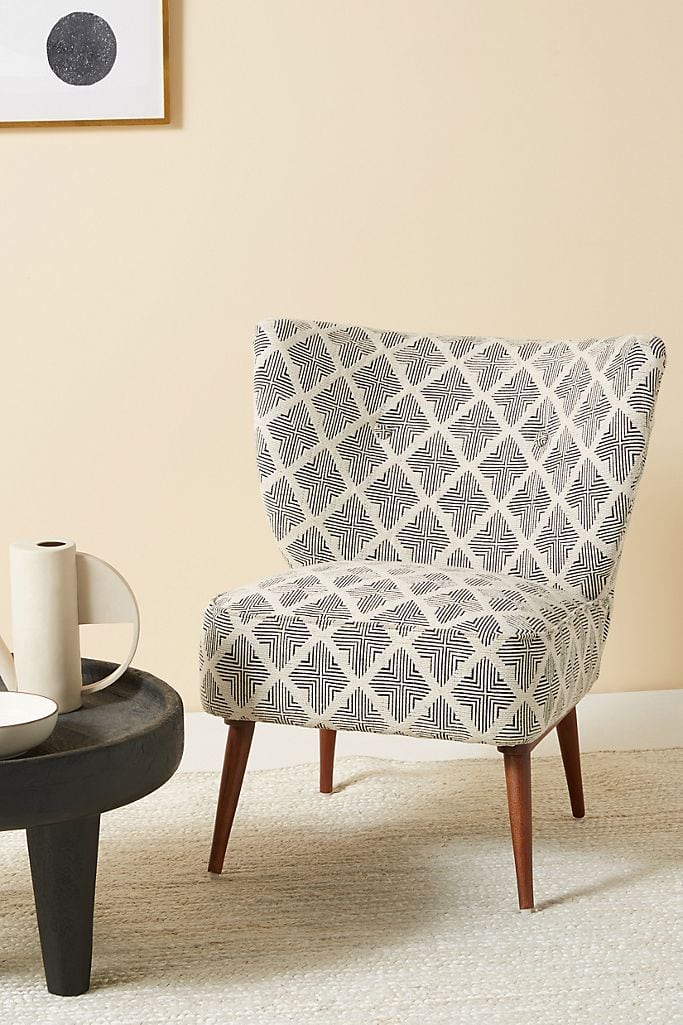 While you could use a chair like this in a lot of different ways, using it as an accent or reading chair lets it get the attention it deserves.
A chair like this isn't hard to find, but what sets it apart is the detail along the back. It's just enough of a design to catch the eye, but not so much that it's uncomfortable to sit in. Plus, it's in no way oversized so it can be used in just about any room.
High Back Petite Chair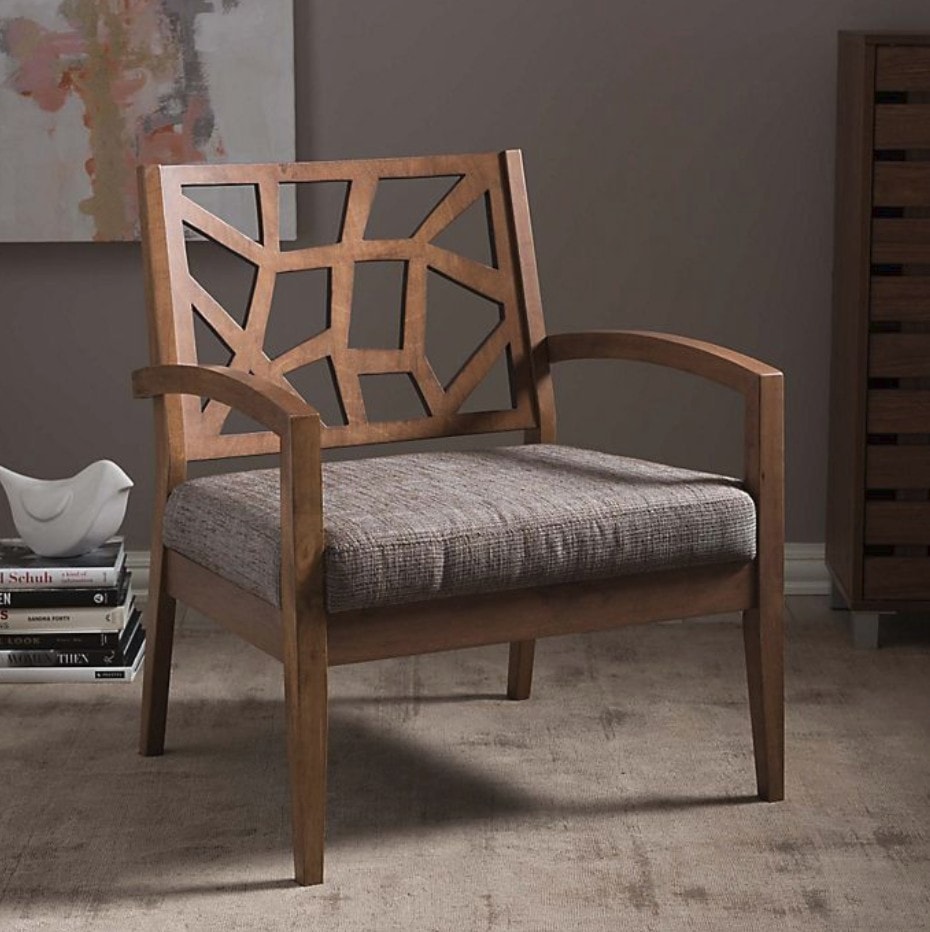 There is so much to love about a chair like this. It's built small, sitting low to the ground and taking up very little space, but the compact design doesn't steal away from its function.
This chair has a nice high back and plush cushions, keeping it supportive and comfortable despite its smaller size. It also has a great pattern because it gives it texture and color without being overwhelming, which would make a small space feel claustrophobic.
Small & Cozy Leather Seat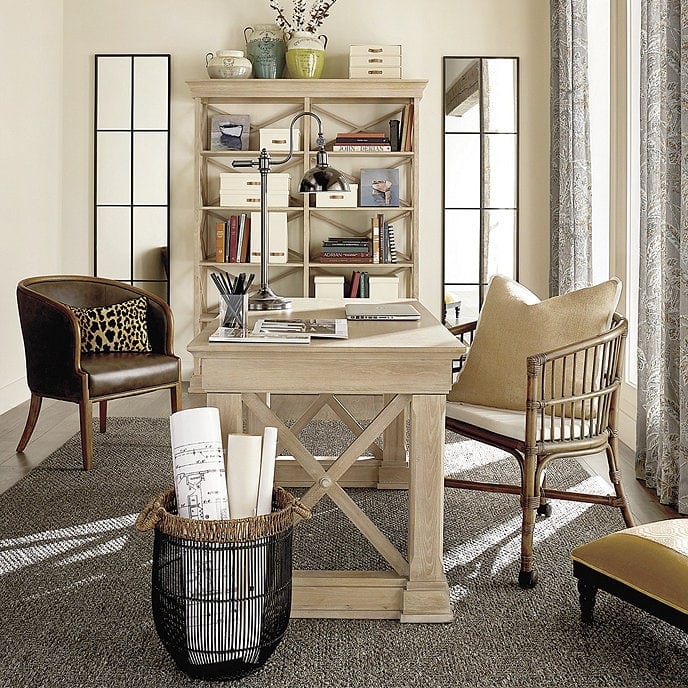 This gorgeous little seat may not be the compact lounge chair of your dreams, but it certainly still serves a purpose in a home (and looks good while doing it!).
It's not only the overall look of the chair that makes it so great, it's also its small size, plush cushioning, and thoughtful design that manages to make a dark piece of furniture still seem a bit airy.
Nursery Glider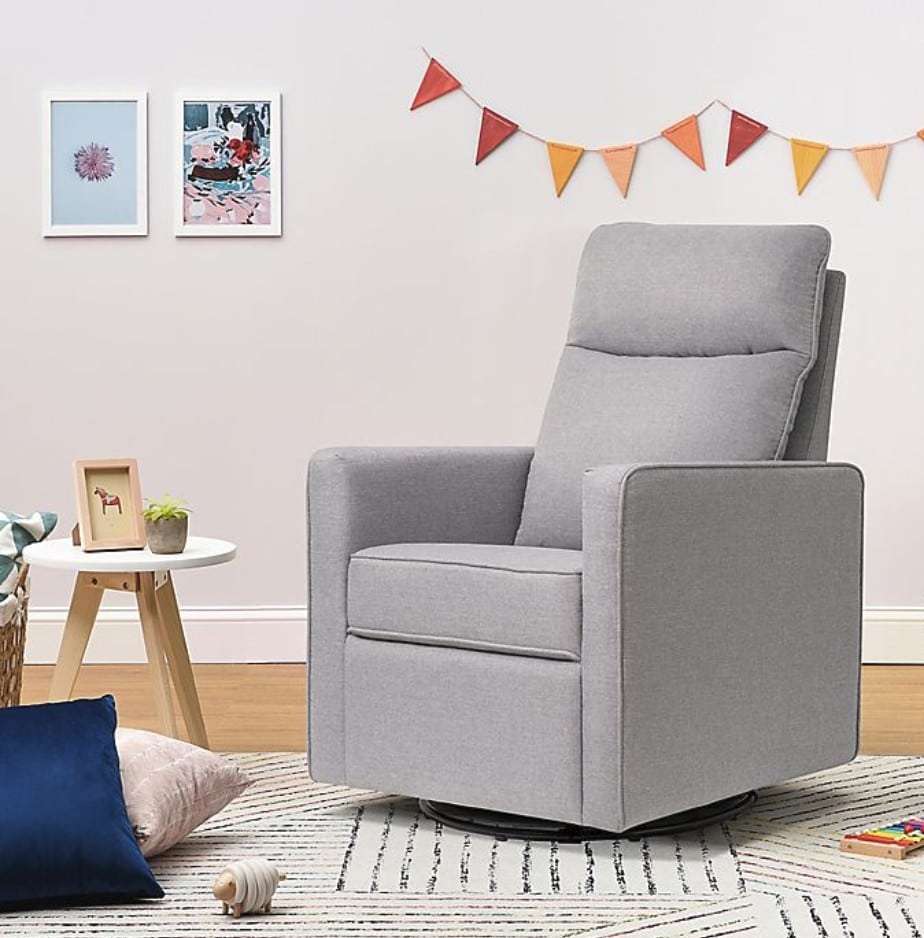 When you think of nursery furniture, bassinets, kid-size small lounge chairs, and nightlights probably come to mind. While that's certainly true for a lot of baby rooms, there is also typically a glider in them, and those gliders are designed to fit into a room with otherwise bulky furniture.
There are a lot of gorgeous gliders now (like the one in this picture), and they're all made to be tucked into a corner of a nursery and to be cozy enough for exhausted parents to rock their baby to sleep at 2 am. There's no reason a well-made glider like this can't be used in a different small room that isn't a nursery.
Boho Woven Chair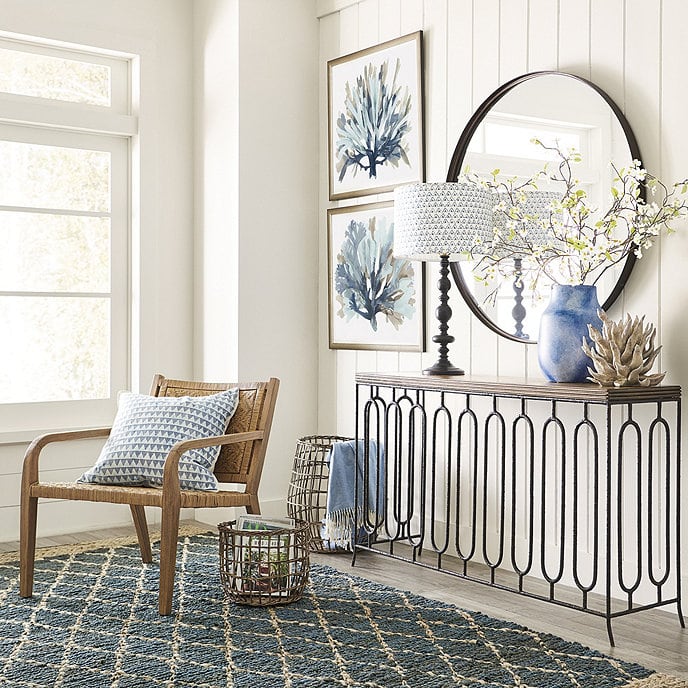 There aren't any bells or whistles on this chair, but there doesn't need to be. Its frame is made to have a little bit of a lounged backing and the woven design allows for some "give," so the chair will naturally work with the body.
It's comfortable all on its own, no pillows necessary. And, it's also the perfect size for a small room.
Final Thoughts
Trying to furnish a tight space isn't always easy because it can quickly go from an awkward open space to a cramped and uncomfortable spot. You don't have to sacrifice comfort for style, though, it's just about finding comfortable chairs that work with what you have.
You may feel a little like Goldilox when searching for comfortable small room chairs, but the time will be well spent. In the end, you'll have a piece of furniture that matches your taste, works well in your home, and is still a wonderful spot to drink some coffee and read a book.