Home Decor + Matching Different Styles
The best home decor comes from making the most of what you have. With a favorite chair, your mother's table, your aunts plates or mementos from a special journey or place; working out how to make these work together without looking a little odd, will create a great home decor look others will scramble to copy.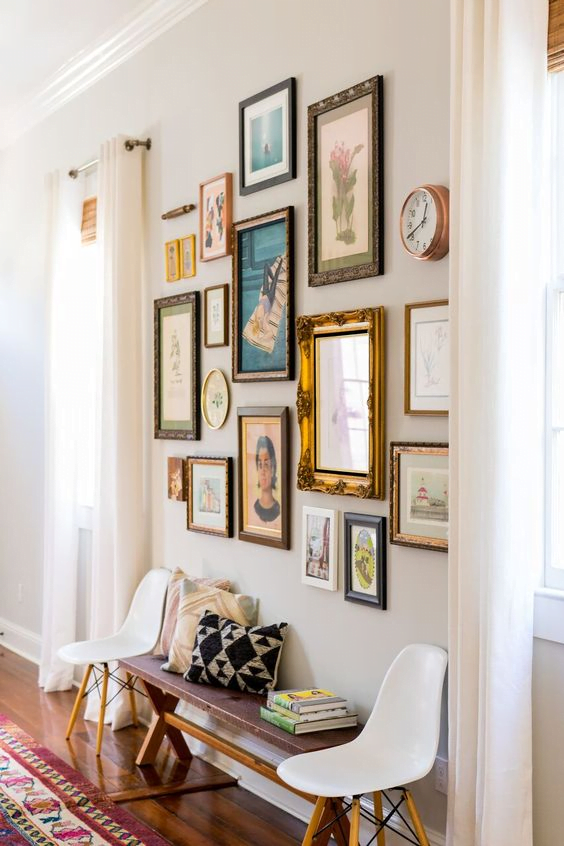 Here's a plan, a strategy to help you get the most out of what you like, and probably already own.
A Guide to Home Décor: Matching Different Styles
Start with knowing your own taste. Do you prefer a cosy, rustic feel in your home or do you like a sleeker, more contemporary one?
Do you like warmer or cooler colors? Warm wood or cool wood tones? Rich warm textures and fabrics or cooler neutral colors? Are you drawn to a specific style or era?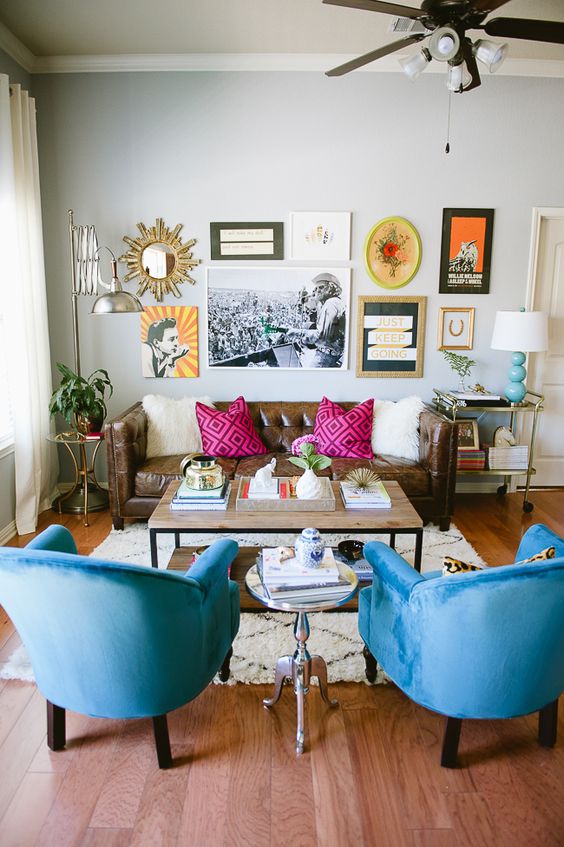 These questions can guide you; its rare for someone to like only one style. With all the wonderful styling and décor ideas, choosing just one style and sticking to it is difficult.
You goal is to consolidate these different styles into your own unique look that flows and looks flawless.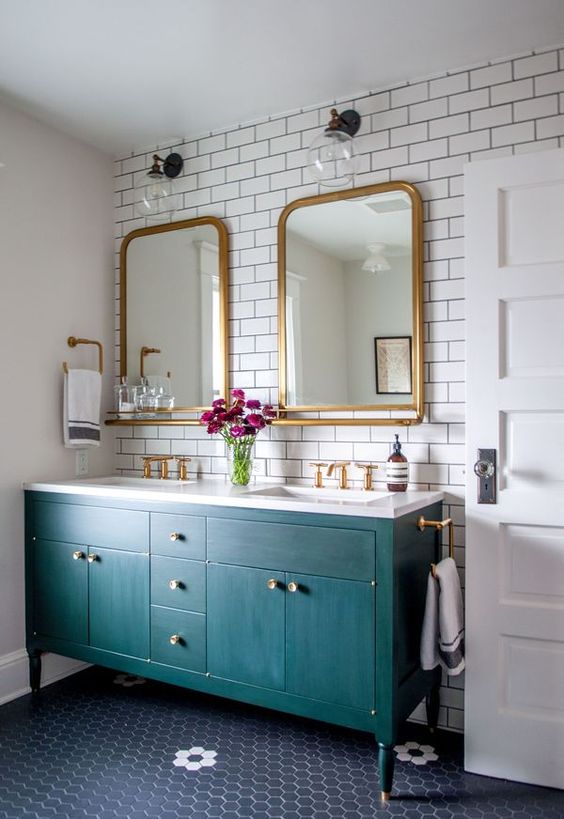 Colorful Interiors
Most people choose a color palette, using one or two shades, lighter or darker, as highlights or accents.

The result can be bland rooms, needing the help of accessories to come alive. Simply change or rotate accessories regularly to get a new look. This is expensive and needs space to keep surplus accessories safe. Instead, can use things you love and already own, differently? A new look doesn't necessarily mean new things.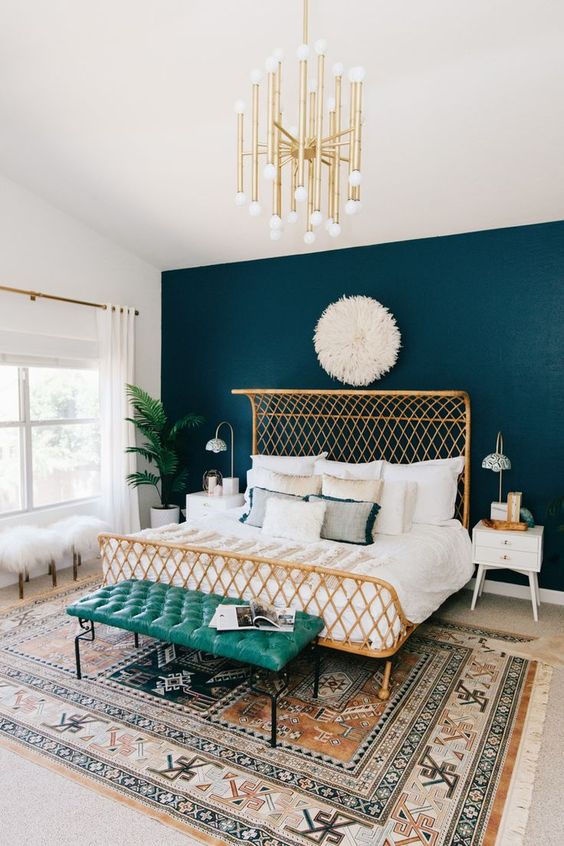 Create a list of items important to you and your family. Use these as the starting point of your decorating style. Drawers of photographs can be turned into a photo gallery in your hallway, entry, bedroom or living room. Bring photos together, using the same size or color frame. Transform photos into a wall feature that brings you joy every single day. Do this with plates, silverware or mementos like the clogs on the stairs below, which adds color, interest and something personal.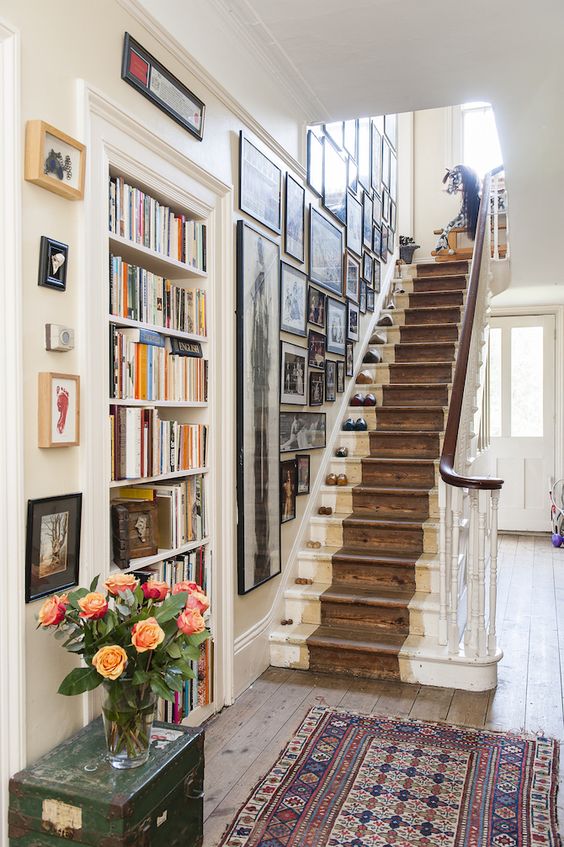 Make a colorful armchair, or rug, the center of attention; the foundation of a look you love. But when selecting, how much is too much?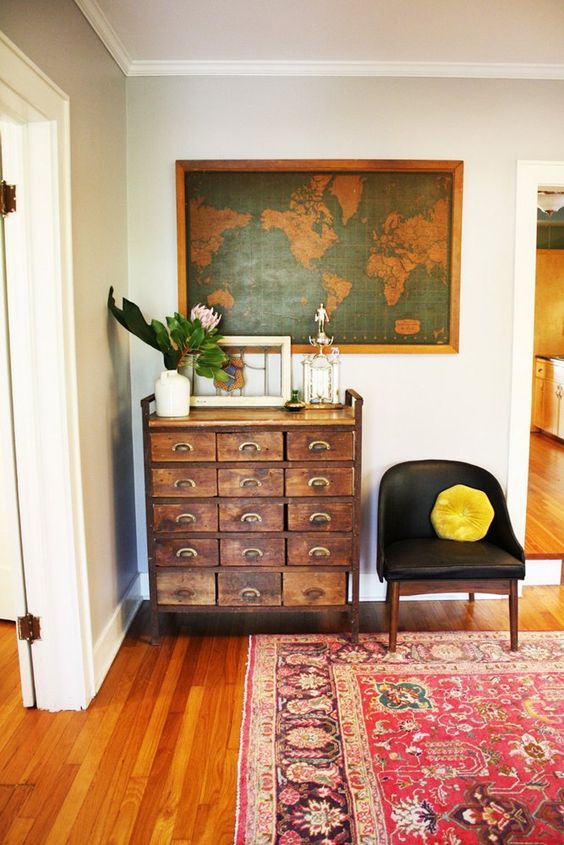 If you choose a bold colorful wall and an equally vivid rug, keep other wall colors or furniture neutral as a background.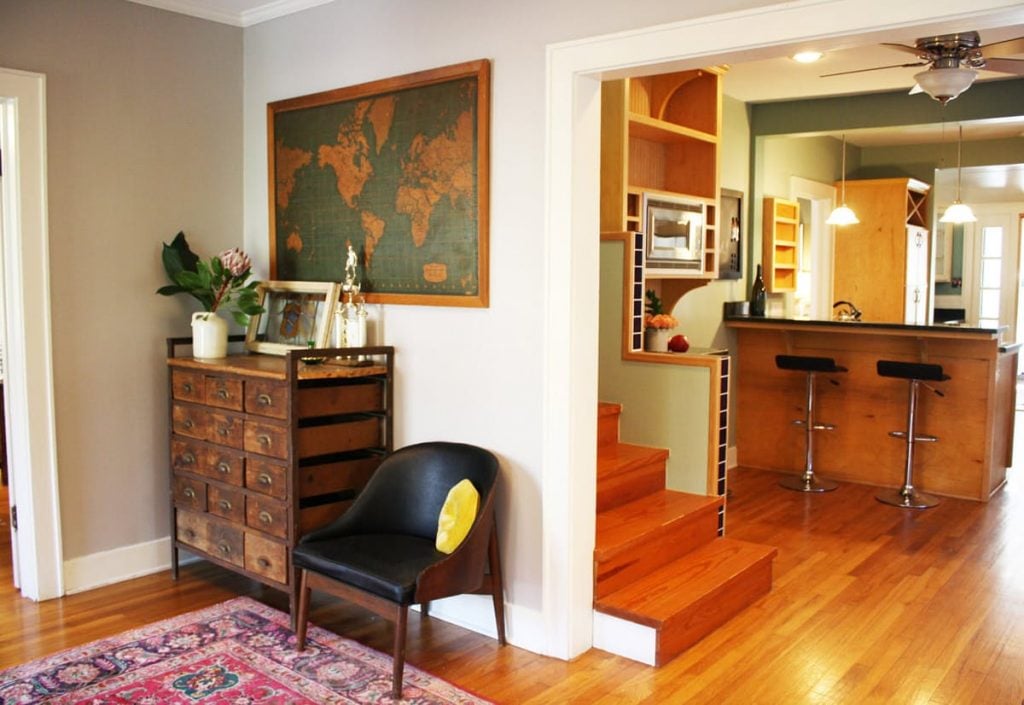 Next; think in triangles.
Most rooms can carry three feature or focal points. They can vary in size, color and height but should work together for the room to feel balanced. Group collections of things, instead of scattering them around. Use anything; one strong feature wall color, one large or colorful rug or a table with a collection of plates to create your three things.

Layer It Up
For a room to come alive it requires depth. Layering textures is the most effective way to add depth.
Different textures unify a room. Splashes of red, yellow and blue brings this room together; in different textures, tones and designs. Stripes, tribal, floral and shabby all living together harmoniously.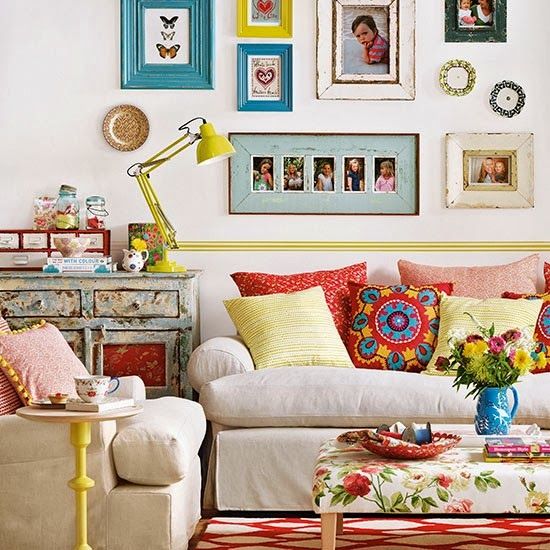 With your basics in place, layer textures to create the look of choice ~ cozy, rustic, or country looks. The best looks use fabrics and materials that are opposite or contrasting textures.
A sheepskin or heavy wool throw on a leather chair is an instant 'cozy' factor. A polished hardwood floor alongside a fuzzy carpet or a rug is another instant cozy factor. Contrasting textures works.The style you choose is up to you.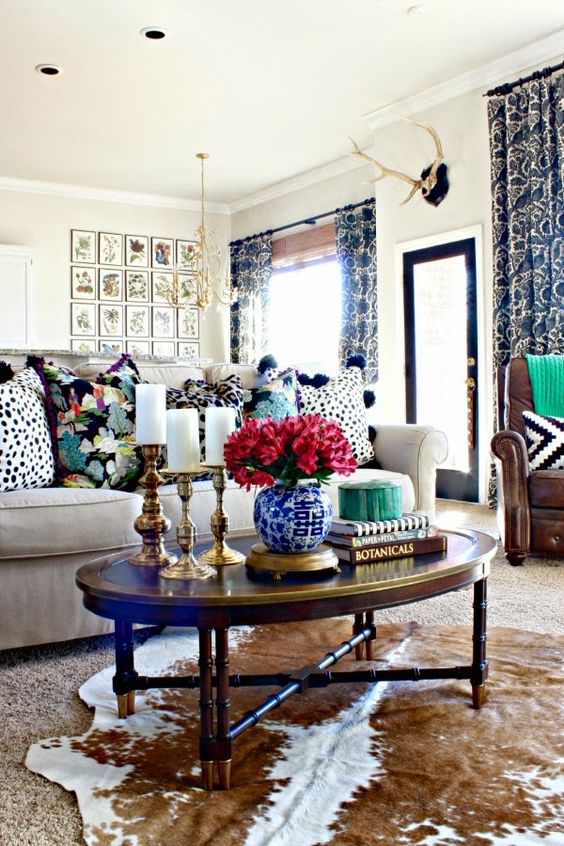 Marble counter tops with metallic finishes work well, as well as mixing wooden elements with plastic or porcelain elements.

Size Matters
Oversized pieces and objects can overwhelm a room. Even so, a small room lined with books, armchairs and bold color can feel warm and cozy; any thing less could feel empty.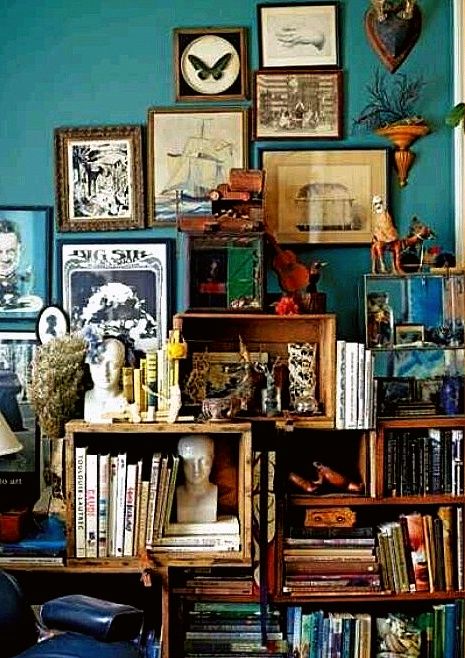 Pay attention to how certain features work within the room and one another to get the best home decor results. 
Overcrowding large rooms are a bigger problem; your eyes and brain can only handle so much visual stimulation. They need a rest from too much color, texture or shapes. Make sure your room has a few visual gaps. If you follow the triangle rule, you can't fail.
If a room feels bland, feel free to add more contrast.

Opposites Attract
In rooms opposites attract. Mixing items, colors and styles you wouldn't necessarily think go together can do wonders for your décor.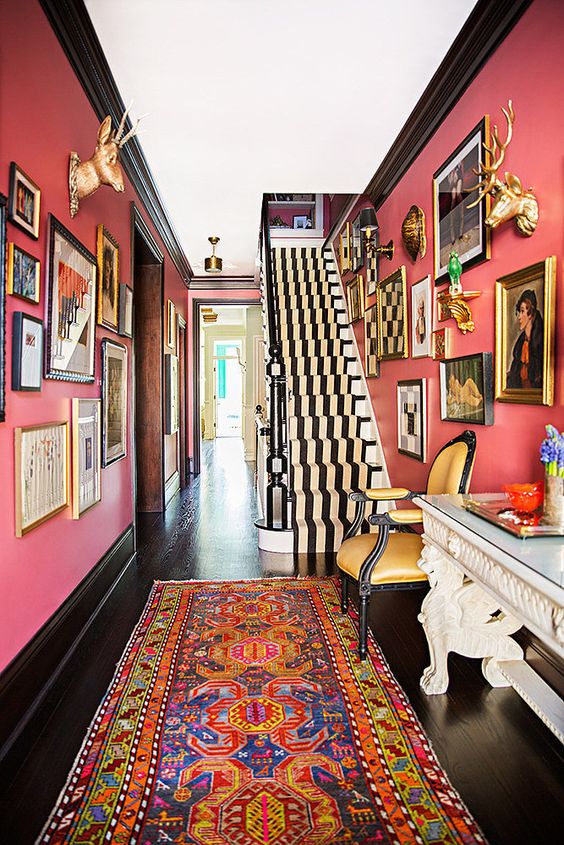 Think about pairing modern and rustic elements, or adding items from different eras.

Finding Your Balance
The secret to bringing different styles together so you create a home, lies in balancing these elements. It can take time and patience. But creatively using these elements will get you there faster. This goes for your garden and outdoor areas as well; from fire pits to water features, play until you the look you love.

Save
Save
Save
Save
Save
Save
Save
Save
Save
Save
Save
Save
Save
Save
Save
Save
Save
Save
Save