How to Decorate a Bedroom Door Creatively
We all recognise the iconic yellow picture frame on a lilac door from a certain nineties TV sitcom to know how impactful door decoration can be. So what can you do to add some interest to your bedroom door?
Whether you're skilled with a paintbrush and the latest DIY techniques, or you want a quick fix for your bedroom decor, there are plenty of gorgeous ideas for some bedroom door inspiration. There's a whole range of schemes to choose from to meet any budget.
Pack a Colorful Punch
The simplest way to update your door, but one that can give maximum impact is to paint it. You may have plain walls in white or a trendy gray, then how about adding yellow or orange for citrus zing?
Perhaps you prefer muted effects. A taupe or a soft blue can look fresh and stylish. Think also about your door hardware. You could paint an existing door handle in a bright color or you could look out for a pretty patterned ceramic doorknob.
With all painting, preparation is key. So be sure to sand down a painted or wooden surface and make sure to use appropriate primer. Follow some tips for a professional finish. The same goes for your painting door hardware. You'll need to use specialized paint for metal surfaces.
Attractive Molding Ideas
If your bedroom door has a flat profile but you fancy something more decadent, you might want to add molding to your door.
Picking a suitable wooden trim and creating your own panels will create a period feel. Choose a contrasting color for interest. Painting your bedroom door in a satin finish will lend an expensive look.
Modern Door Design
You don't need to stick to a traditional style for your bedroom door. If you're modern all the way then you can add a surprising design to your bedroom door by adding molding in a chevron or geometric design.
Painting the shapes in a bold color will emphasize the design. An unusual gold door handle will have your bedroom door looking anything but dull.
Trendy Slats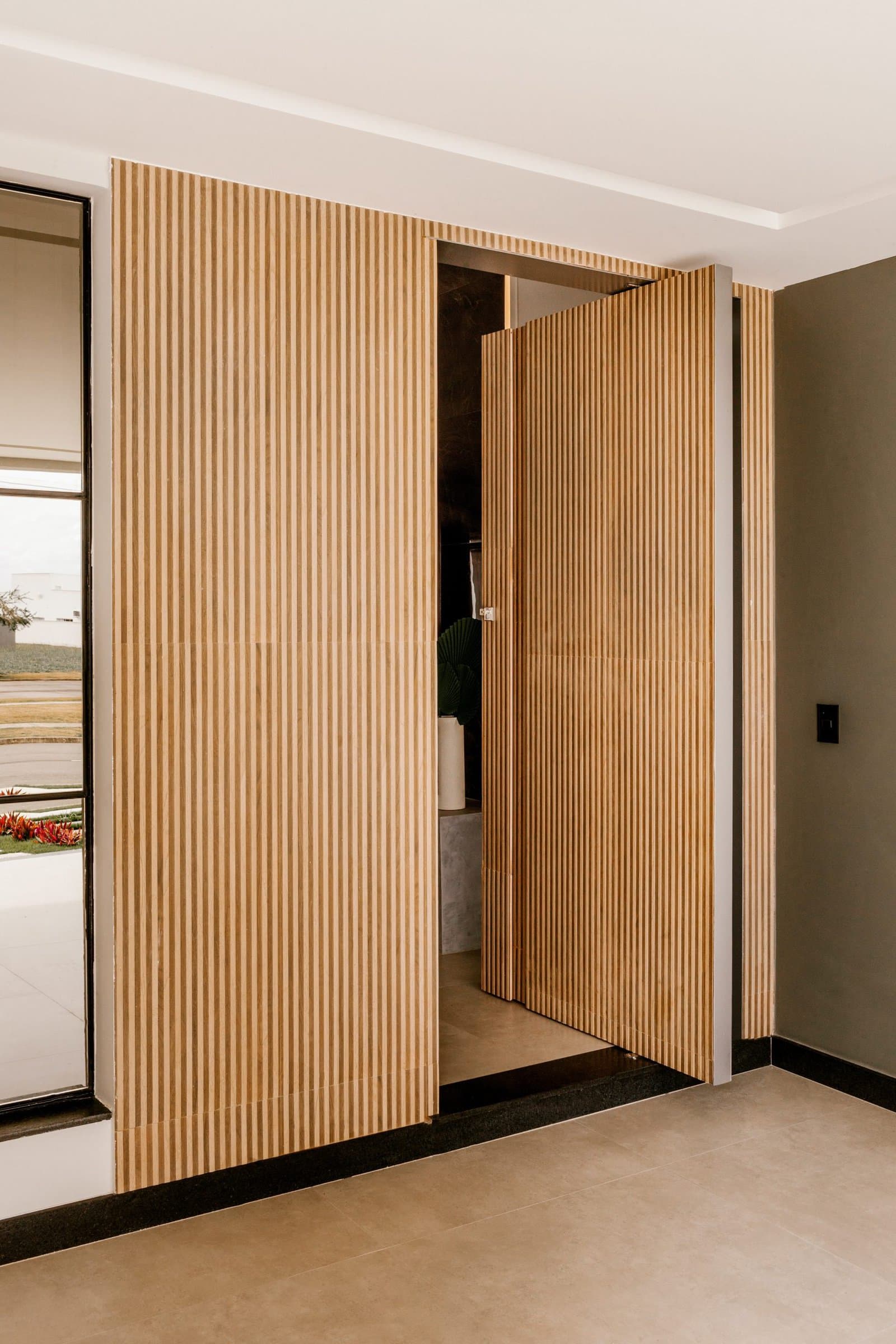 We've been seeing slats as a real design look for the 2020s, whether that's using them as a room divider or as paneling on a wall. In a mid-tone wood like teak, you'll have a retro yet modern feel.
For a flat-surfaced door you could add slatted paneling for a stylish and unusual look. Make sure each slat is polished to perfection and attach it as you would other molding, lining up each slat with precision.
Add a Barn Door
Barn doors are great for taking up minimal room. They are ideal if you have a small apartment or a tiny bedroom where you want to maximize the space.
If you're installing a barn door in your bedroom, there are non-traditional options such as herringbone and geometric designs.
While you're adding a new door, think about the color you'd like to paint it and tone it in with decor and other accents. As long as you pick an interior wood paint, the sky's the limit.
Decal Design
You might think that door decals are the reserve of children. Yep – we've all had to try every tip in the book to remove stickers from doors that our own children have decorated. Or when moving into a new home where a kid has gone crazy with tiny Doras or Power Rangers!
But there are attractive, grown-up decal options from text stickers to simple designs that you can add to the panels on your door.
You can even add a mural style decal to a flat profile door. Perhaps you could gaze at a dream vacation destination as you drift off to sleep.
Wallpaper Panels
If you have a roll of leftover wallpaper in a beautiful design that you can't bear to throw away, then papering a plain door is a great way of adding some color to your bedroom.
Or if you don't have time to paper an entire wall but love the design, covering the door in wallpaper is a great compromise.
On a paneled door, you could try papering the raised panels. And for complementary door adornments, a tasseled handle has an old-fashioned boudoir theme.
Secret Door
If you're into mystery movies with manor houses and smugglers coves then you'll love a secret door. You can disguise your bedroom door as a bookcase and you'll also benefit from the practical storage.
It's a fun idea to amuse your guests and is relatively simple to build if you're handy with DIY tools. Otherwise you can employ a carpenter to make a bespoke door for you.
Bedroom Storage
For an immediate storage solution, as well as adding character, you could add over-the-door shelving.
While you might need storage for items you need to hand, you can also think about the aesthetics of your display. You may like to place a trailing plant or a picture frame on your shelves, and keep a general color scheme for the exposed items.
Mirror on the Door
A mirror attached to your bedroom door is practical, essential even. It's good to have a full length mirror in your room to see your cute new outfit to its best effect. A mirror will also reflect light and give the illusion of space.
You can attach a mirror to your bedroom door using plastic mirror clips. Make sure it's secure and that it doesn't bang against the wall.
For the easiest mirror solution, you can find beautiful designs that fit simply with hooks over the top of the door.
Pictures
Covering the door with a photo display is popular with students and young people. You can buy transparent slotted panels to hang from your door to make this easier.
You don't have to only feature wild nights out in your display! You could add photos of your favorite places, perhaps in arty black and white to create your own bedroom artwork.
Beautiful Studs
Once you've painted your plain bedroom door, you can embellish it and get creative.
Draw a simple line pattern on the surface to give you a guide for your decoration. Gold upholstery studs will work brilliantly and be right on trend. Ensure that you fix them accurately and neatly. The finished look is an unusual, designer embellishment for your bedroom door.
Stencil
To add an intricate pattern when painting your bedroom door, you can buy a stencil kit from your hardware store. Or if you're feeling crafty, create your own by drawing a pattern and cutting out the shapes with a craft knife or a scalpel.
Then fix the stencil with masking tape so it will stay perfectly still and use a sponge or a thick paint brush to stipple the paint. When the paint is dry you can remove the stencil template.
This is a good choice for a plain smooth or paneled door. You can paint your stencil in subtle tones, or go bold for impact.
Paint a Work of Art
Finally, if you have a steady hand and artistic flair, you can paint your own design on your bedroom door.
Consider the theme of your room. If you have a soft, romantic room then a floral design would look good.
If you prefer a more modern look, then paint an angular geometric or mosaic pattern. Choose wood or enamel paints for longevity of your artwork and use a thin, delicate brush for painting detail.
In Summary
For a quick update you could try adding a design to your bedroom door. You can add character through attaching molding or pasting on wallpaper. Or perhaps you could paint on your own design or stencil.
There are lots of over-the-door storage and design options, from shelves to mirrors. Think also about your door hardware for an easy update by either painting a handle or adding a brightly colored knob. And decals are a simple way to add a picture or mural to your bedroom door.
For those who like a DIY challenge, then fitting a bookcase to create a secret doorway will be sure to delight your guests.