Minimalist Bedroom Lighting Ideas That Balance Function and Style
Minimalism never really goes out of fashion but popular design ideas change over the years. For a truly 21st century minimalist look there are certain materials you can choose for your lighting, as well as considering your lighting brightness and positioning.
While a bedroom would ordinarily be softly lit, there are some creative ways to put interior features in focus. So whether you like an industrial minimal look, or fresh and romantic, you'll want to highlight your white decor and sleek lines in the best way.
Minimalist Nightstand Inspiration
Simple Black Lamp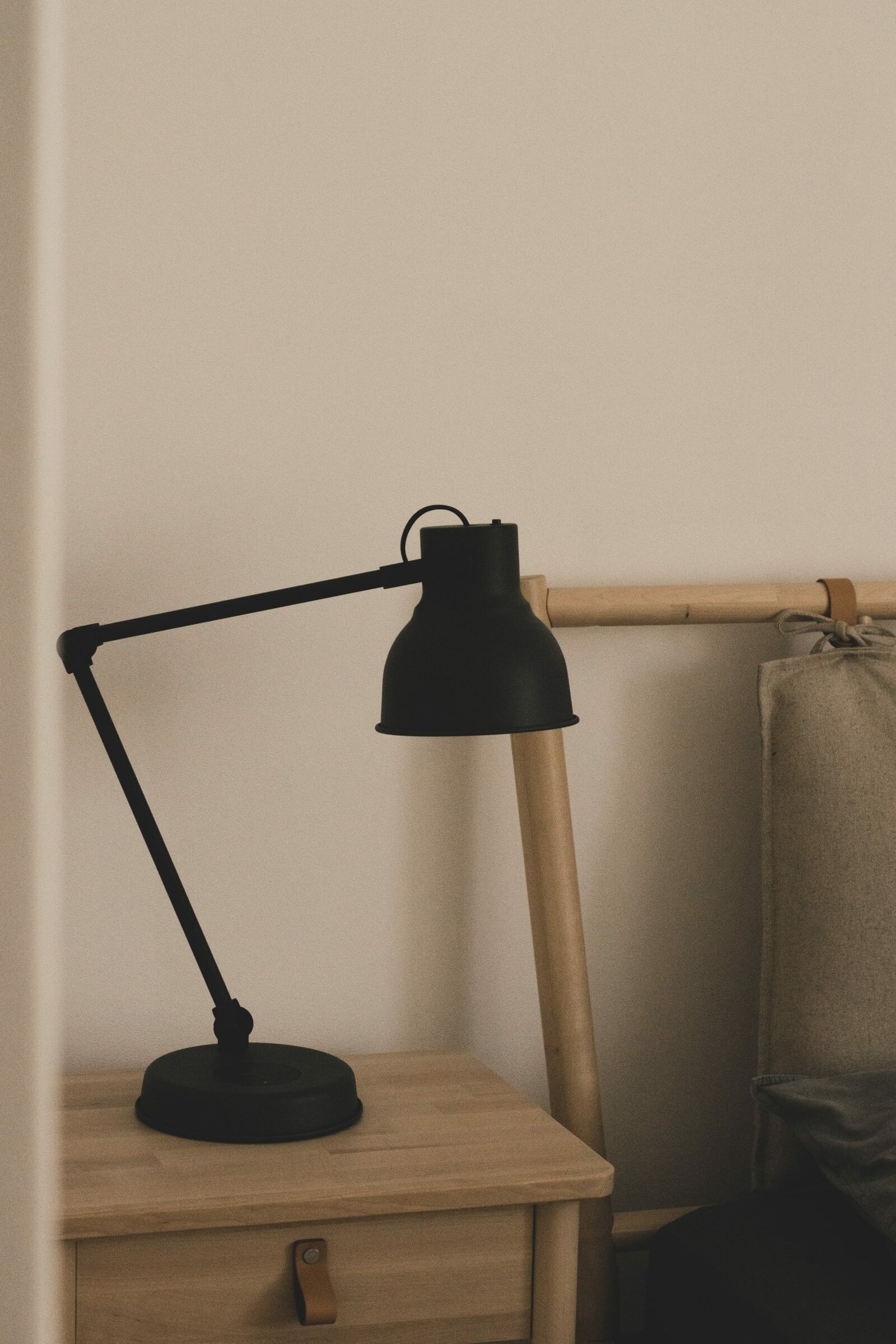 To keep things completely simple, you can place a plain industrial lamp on the nightstand. Juxtaposed against a white or pale colored wall, the silhouette is well-defined.
With neutral bedding and natural wood furniture, this style is for those who love starkness in their minimalism, as well as enjoying being immersed in nature. For a calming light color, choose a warm, yellow light bulb.
Plain White Lamp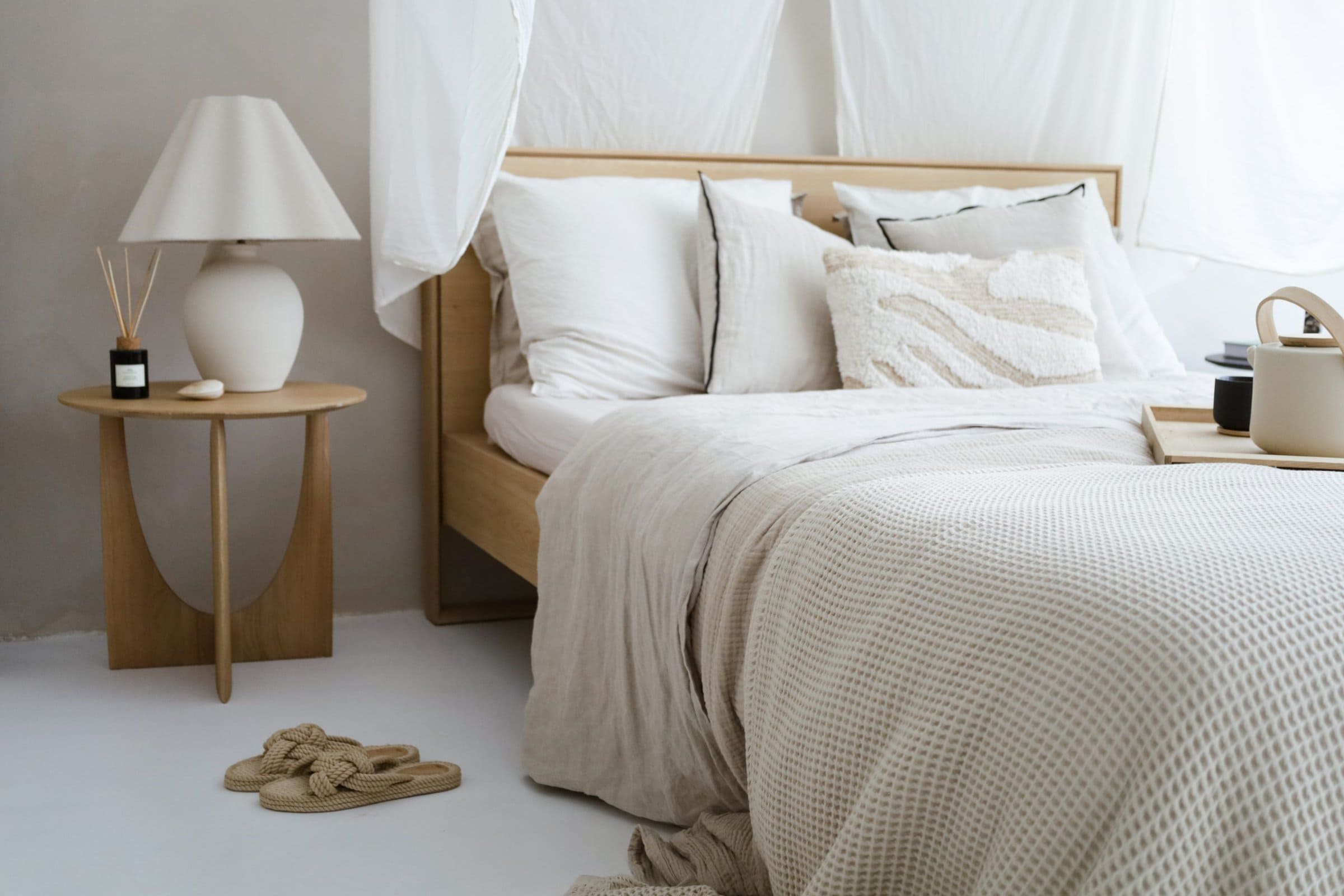 For minimalists who like earthy textures like shell and clay, a ceramic lamp with a plain shade is a gorgeous bedroom choice.
Emitting a subtle light, this lamp will complement the decor and enhance fabric weave, woodgrain and shadow when the night draws in. A gentle, romantic look.
Wood Hairpin Table and Lamp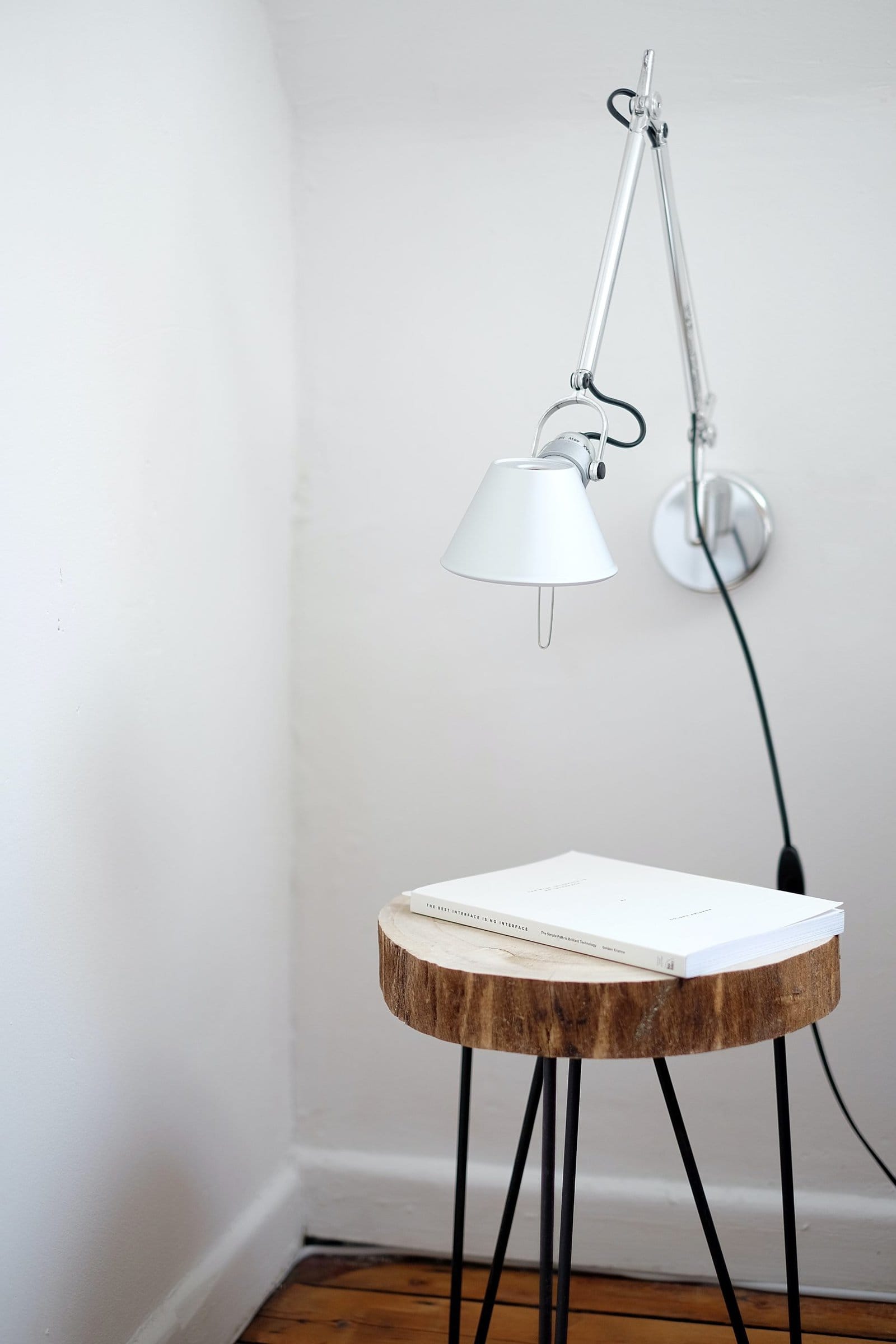 We've seen a lot of these industrial designs in trendy bars and restaurants; black metal minimalist detail in furniture and fittings. An earthy log table as a nightstand can be given a contemporary feel through the addition of black hairpin legs.
Styled with a metal wall lamp and nothing other than a cool coffee table book, this styling epitomizes the minimalist aesthetic.
Industrial Bedside Lamp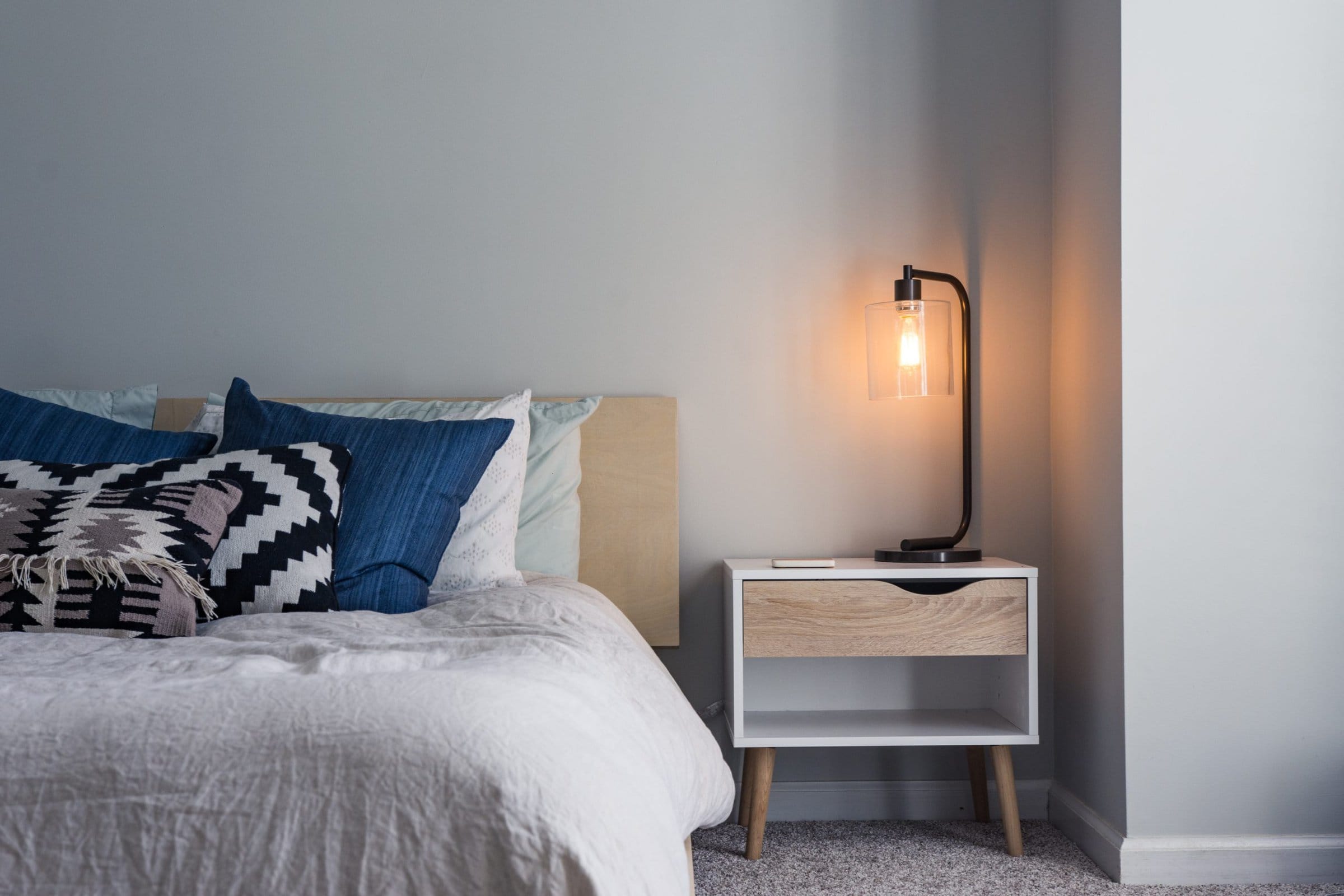 For a bright light to accentuate minimalist sculpture and features in your bedroom, an industrial light with an exposed lightbulb will create maximum impact.
If you love this industrial look, you can even have a go at making your own easy pipe lamp. Keep the nightstand bare for a minimalist touch.
Feature Floor Lamp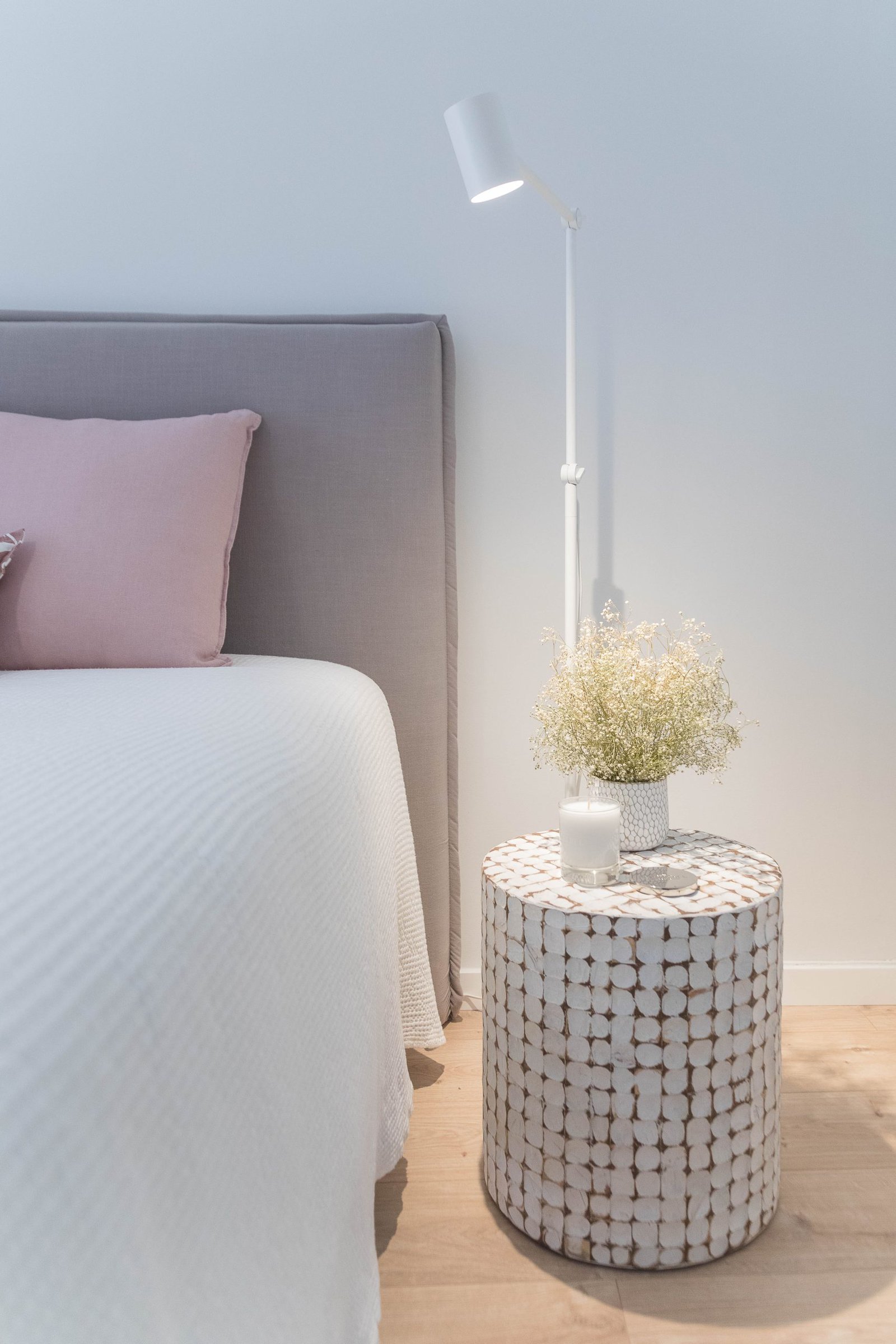 A simple arrangement that works for those who like the prettier side of minimalism is to create a simple floral arrangement on the nightstand with other objects in white.
You can inject interest into the display by installing a simple floor lamp. It's easy to turn toward the obvious choice of a table lamp but if you have the space, you can try experimenting with your lighting height.
Lights Against the Wall
Elegant Brass Wall Light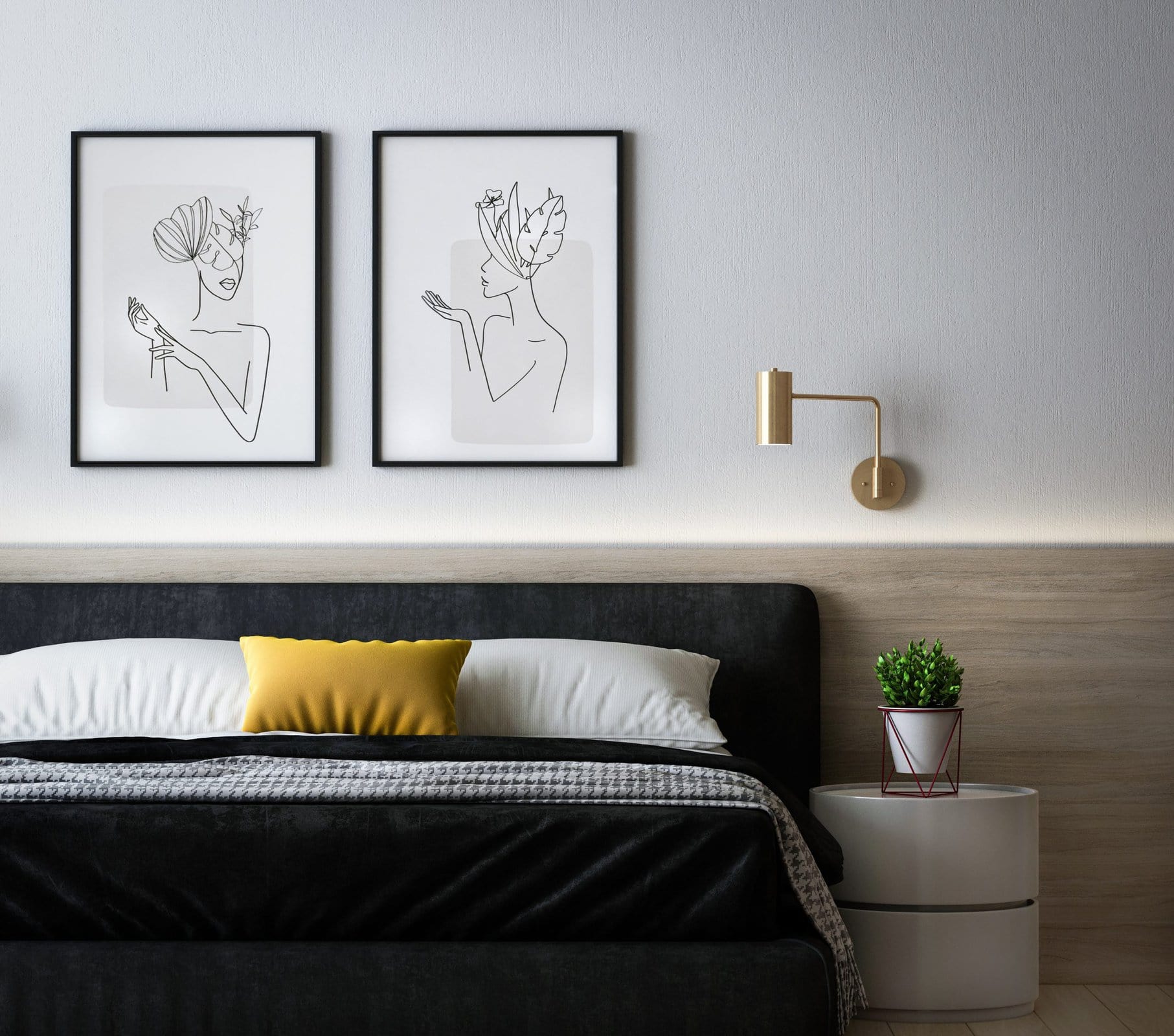 You can have some color in minimalism, and metal tones work well. As long as the overall look is clean and pared back then metallic accents are good.
A sleek brass wall light adds intrigue and the nightstand can be minimal with just one simple pot plant. Unless you are an expert, you will need an electrician to install a wall light so that you don't have any trailing cables. This look needs to be neat.
LED Feature Wall Lighting
For a feeling of grandeur, think five star hotel or billionaire city apartment, the very on-trend teak slatted wall evokes an opulent ambience.
To enhance this feature, you can install LED strip lighting at the top of the wall. Ensure it is fixed to disguise fittings as this look needs to be super sleek. A white or blue light is both modern and works well against wood.
Globe Wall Sconce
If you like the slatted wood wall look, then you can fit it as a half-wall backdrop behind your bed. Unfinished timber sets a natural tone which can be complemented by gentle lighting.
A glass light fitting with black metal fixings is a twist on modern Art Deco. This style suggests taste and class. If you like the 1920s look but want to keep things simple, a globe light suggests an era without being too much.
Minimal Ceiling Lights
Black Wire Light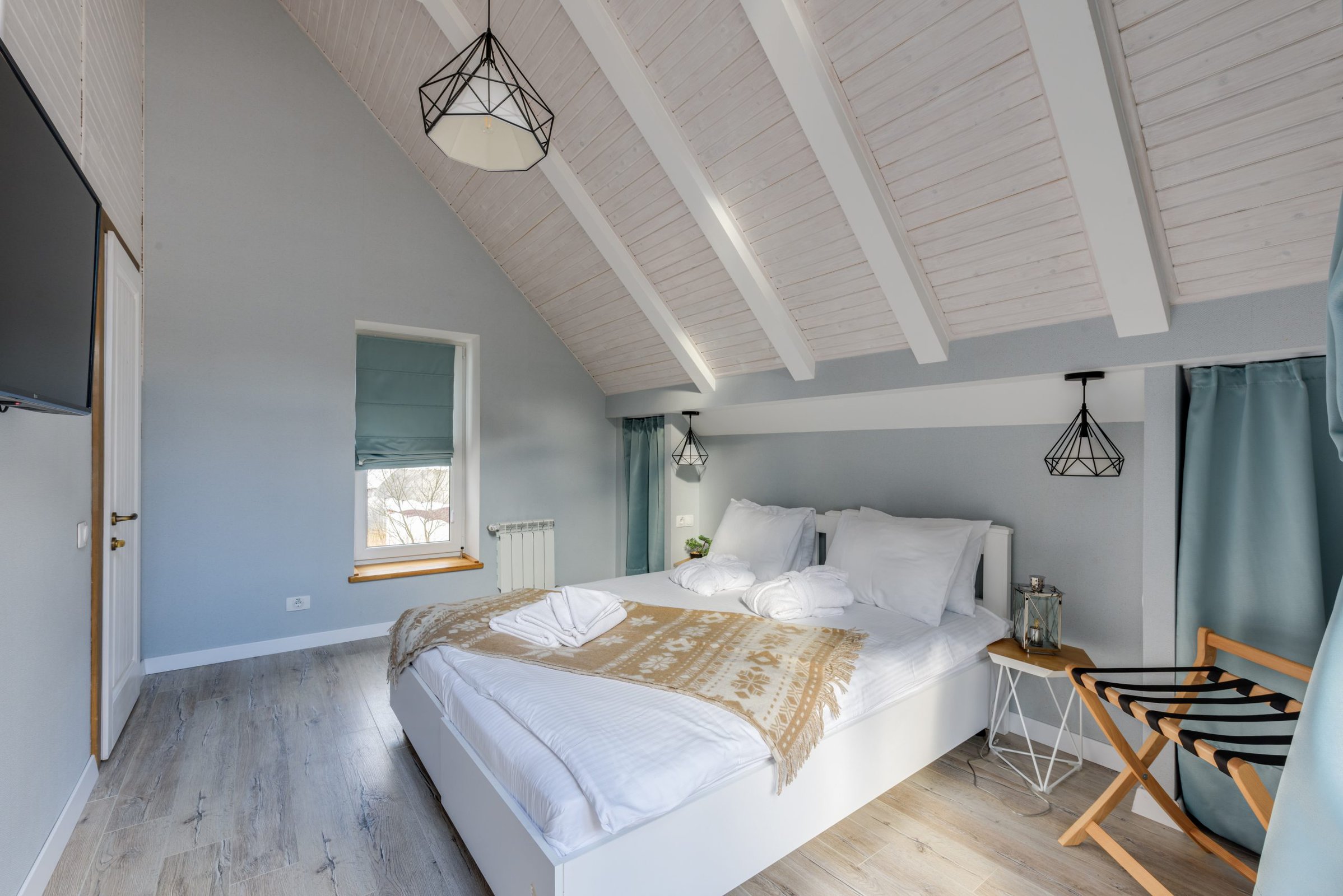 Geometric designs work well in minimalist schemes so if you have plain bedding and furnishings, a modern accent can come in the form of the light fitting.
Bringing a more traditional cottage room more up to date can be done using subtle interior design accents such as a ceiling light or accessories in a black wire design.
LED Flush Ceiling Light
For the atmosphere of the movie classic, 2001: A Space Odyssey in your own home, a space-aged LED ceiling light will give you that look – and then some!
Keeping a white and neutral palette, not only could you try installing an unusual minimal ceiling light but also fitting LED lights within the design of a funky sixties style paneled wall. If you choose a warm light bulb, you'll have a more retro vibe, with a white light, more contemporary.
Bare Bedside Light Bulb
A light bulb without a shade or fitting could look like you've just moved in. But styling appropriately will give you a simple designer look.
The key to this look is to keep the light cable low. That way, the light functions as a nightstand light, at the same height as a lamp.
Also, positioning the light off-center and next to the bed shows you have made a deliberate style choice rather than not getting around to buying a lampshade!
In Summary
Minimal lighting can come in many forms and fittings. From simple light bulb lamps, to plain table lamps and LED strip lighting, you can use your imagination to decide which would work best with your bedroom scheme.
If you love minimalism, then think stripped back, deconstructed and stark. Warmth can be brought into the room through yellow light and the use of natural textures.
If you prefer a more austere, modern look then choose industrial lights with white walls and clean lines.
Either way, if you use the right kinds of accents and accessories, you can enjoy your own minimalist bedroom.