Decorated Life is reader-supported. When you buy through links on our site, we may earn an affiliate commission. Learn More
21 Ideas for Basement Kitchens and Kitchenettes
More and more people are converting their basements into full living and entertaining areas, and for many that means adding a small basement kitchenette or full on kitchen.
Whether your goal is to create a basement apartment, add a bar and food prep area, or build a hosting space for game nights, the options are endless.
What's important is planning the whole thing out properly beforehand so you know exactly how much work and money will be involved. Here are some ideas to get you started.
Make it an Eat-In Kitchen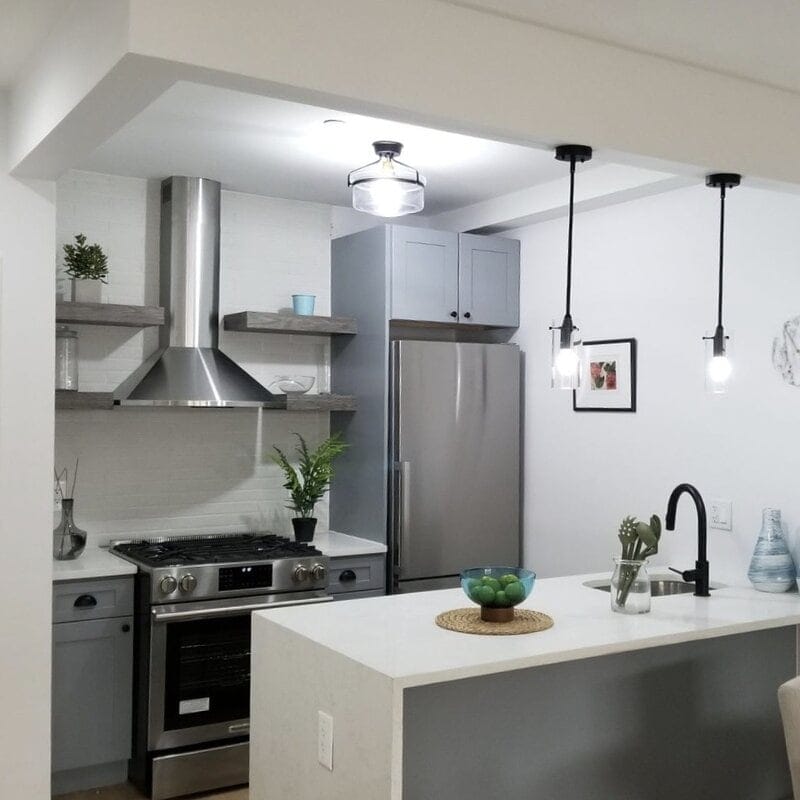 If you're planning to add an apartment but are limited on space, you want to come up with some basement kitchen ideas that are full of function. If there is anything a person needs outside of their kitchen, it's a spot to eat the food they've made.
By making it an eat-in kitchen, you'll be making great use of your space and giving your tenant everything they need to live comfortably. All they have to do is pull up a bar stool and enjoy their dinner.
Be Creative With Corner Space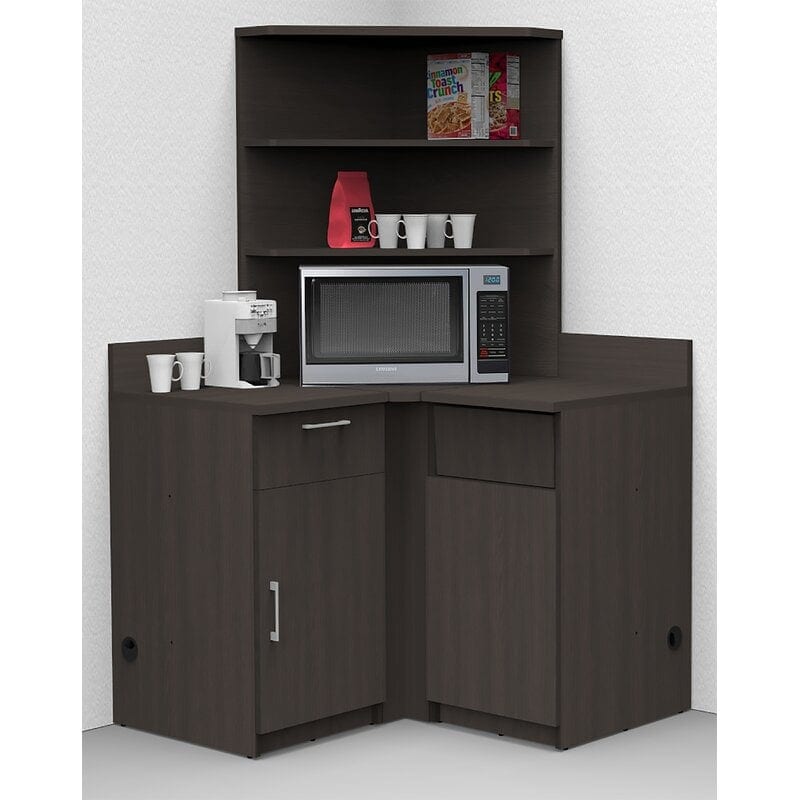 If you think you don't have enough space for a basement kitchen, this example will prove you wrong. It's just the right size to nestle into one of those small, awkward corners that you never know what to do with.
The cabinet is large enough to fit necessary glasses and dinnerware and the shelving can easily store a good amount of food. Plus, there's a microwave!
Maximize Space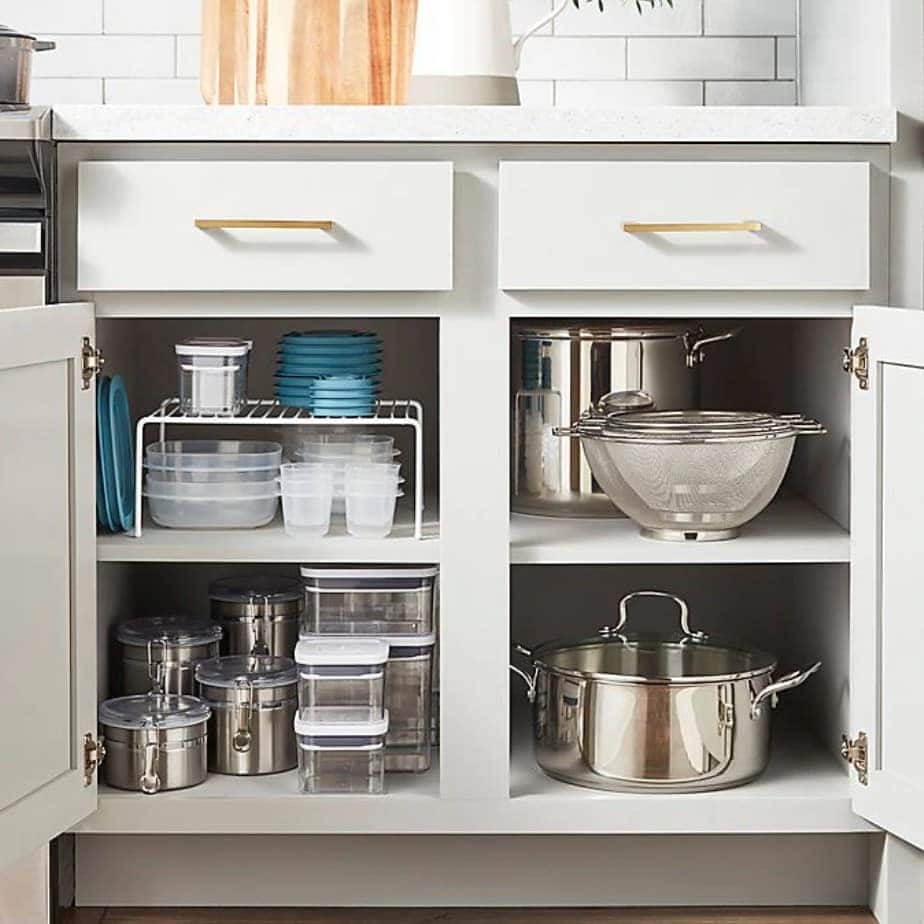 The best thing you can do to make the most of a small basement kitchen, is to maximize your space with cabinet organization. There is so much vertical space in a cabinet that can easily go to waste if you don't plan it out right.
You can include built-in shelves within the cabinets, and also add in some wire racks to strategically stack essentials that aren't the same shape and that you need equal access to.
Add a Dining Area if You Have Space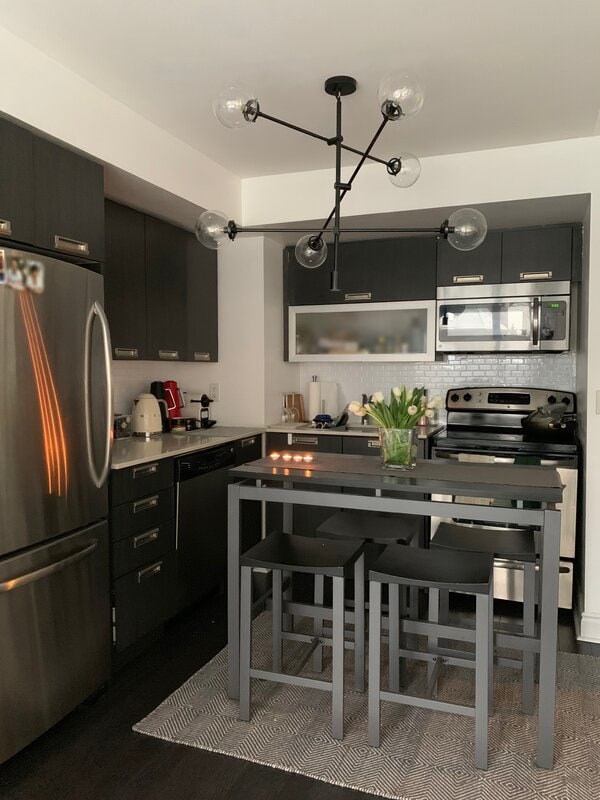 If your basement size permits, you can create a dining area next to your kitchen. It can serve as a good alternative for entertaining, or a more casual space to eat if you spend more time in the basement.
This basement has a little bistro set that takes the place of what would otherwise be an island. If you have more space to work with, go big with a full dining set to make it really feel like home.
Opt for a Mini Fridge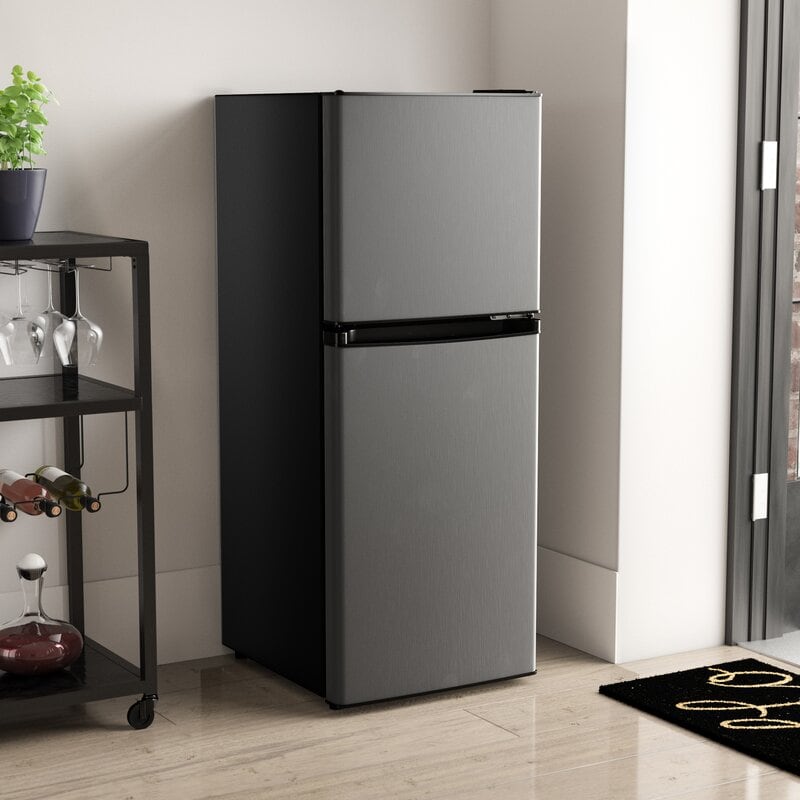 The best basement kitchenette ideas tend to all include one element: a mini fridge.
If it doesn't need to be a full functioning kitchen, then a mini fridge can still store some cold drinks without taking up as much floor space as a typical refrigerator would. A mini fridge is especially helpful if you're building a kitchenette in a basement with a low ceiling that may otherwise be difficult to get a large fridge into.
Use An Island For Storage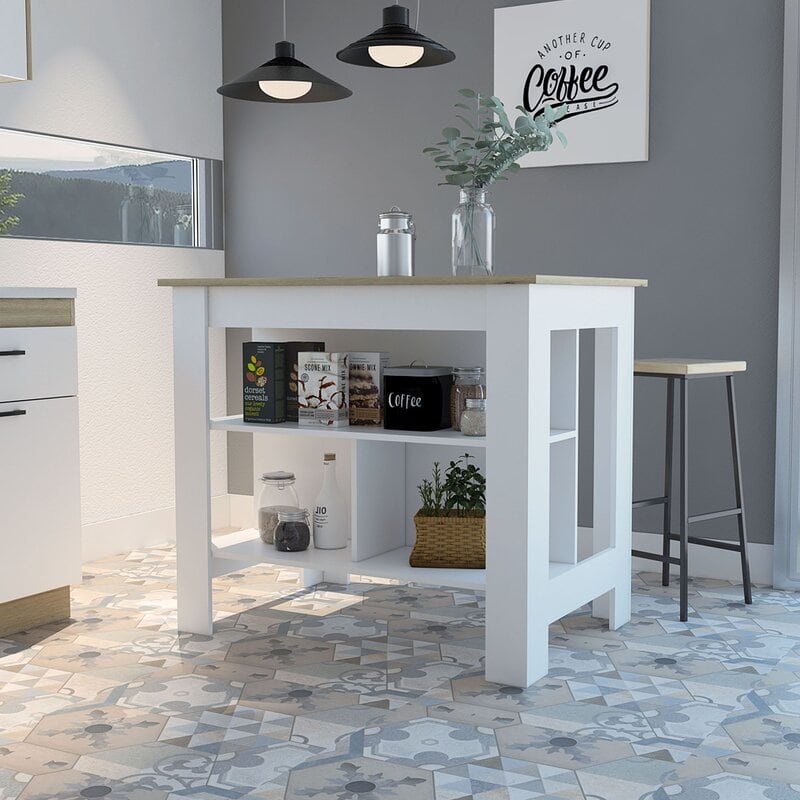 Islands are great for prepping meals and entertaining, but they're also an excellent spot to add some extra storage.
This island does a great job at serving multiple purposes. It offers space for stools to slide under it, plenty of space for food prep and eating, and several shelving spots for easy access to essentials.
Install Wood Countertops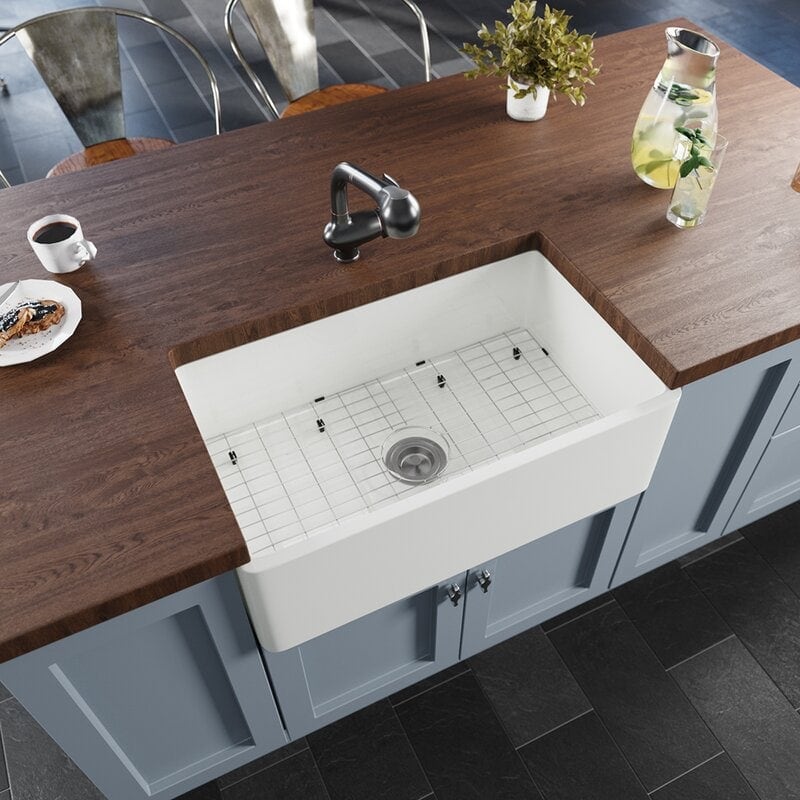 One aesthetic that is easy to pull off in a basement is the industrial chic look. You can play into that by installing wood countertops with your stainless steel sink.
They will add a bit of softness to an otherwise cold space, and are perfect for a basement kitchen that's made for entertaining.
Focus On Plenty of Bar Elements for Entertaining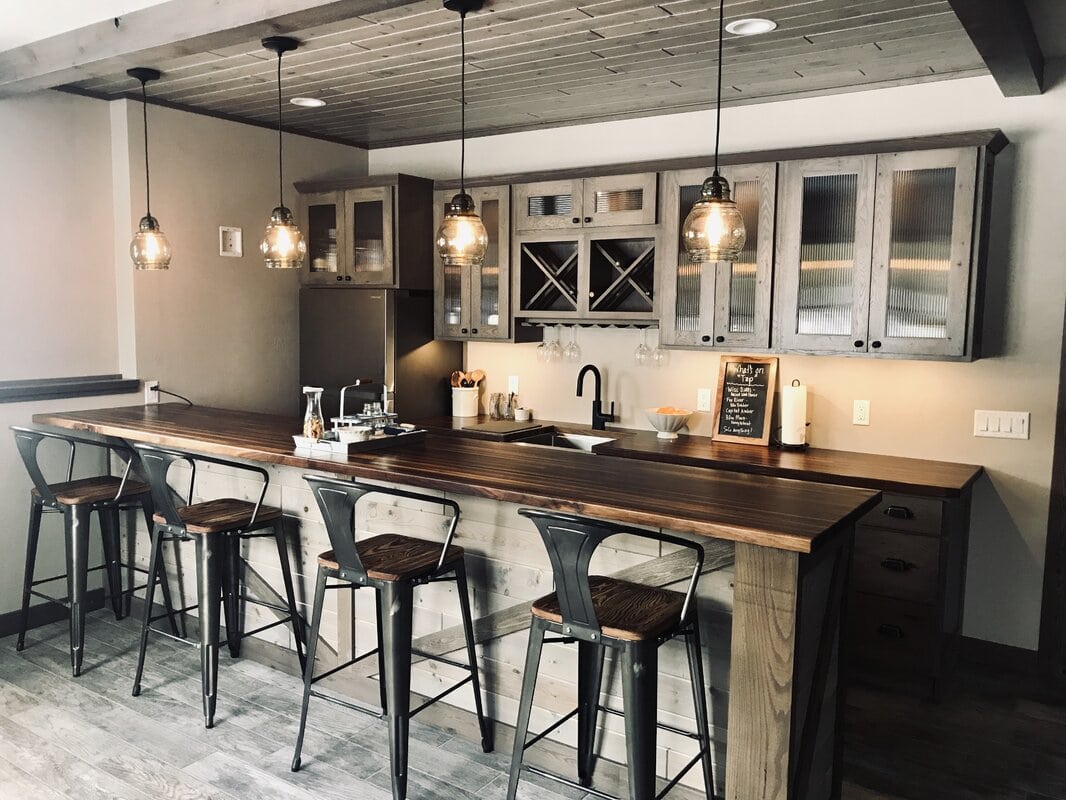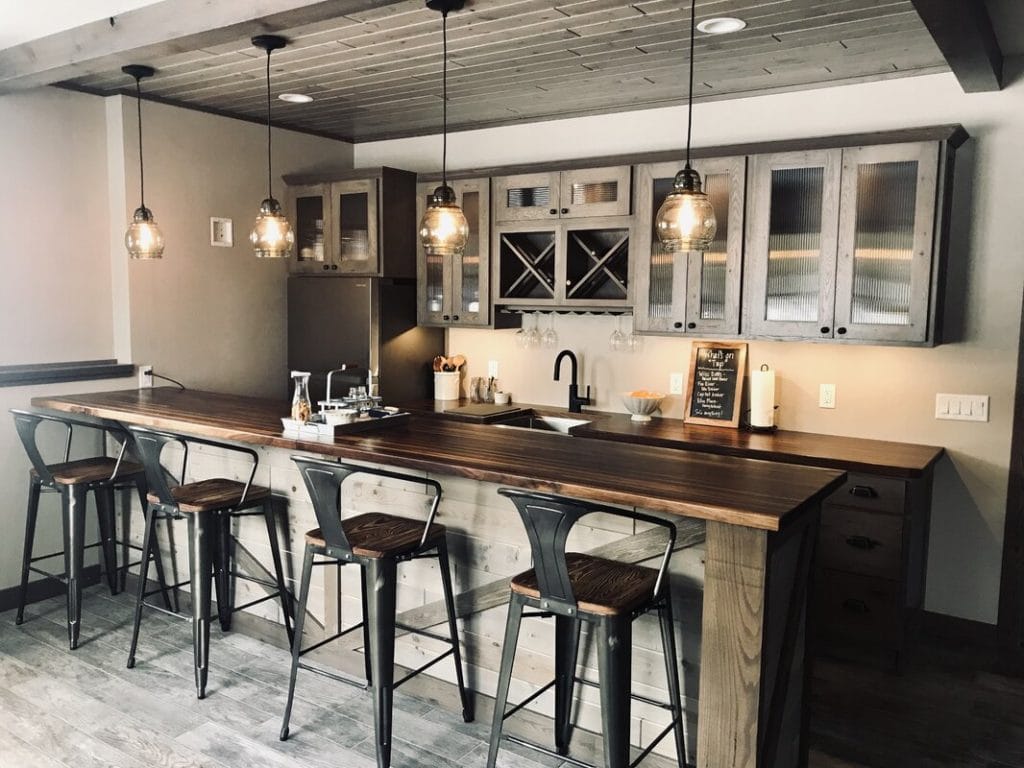 Some people mostly want a kitchen in their basement for entertaining purposes. If that's the case, you should design the kitchen around bar elements, like a wine rack and fridge.
There are a lot of benefits to building a kitchen in the basement, from entertaining to creating a full basement apartment. There are also a lot of considerations to keep in mind before you start this project—here's a great article outlining all you need to know.
Keep it Bright with Lots of Lights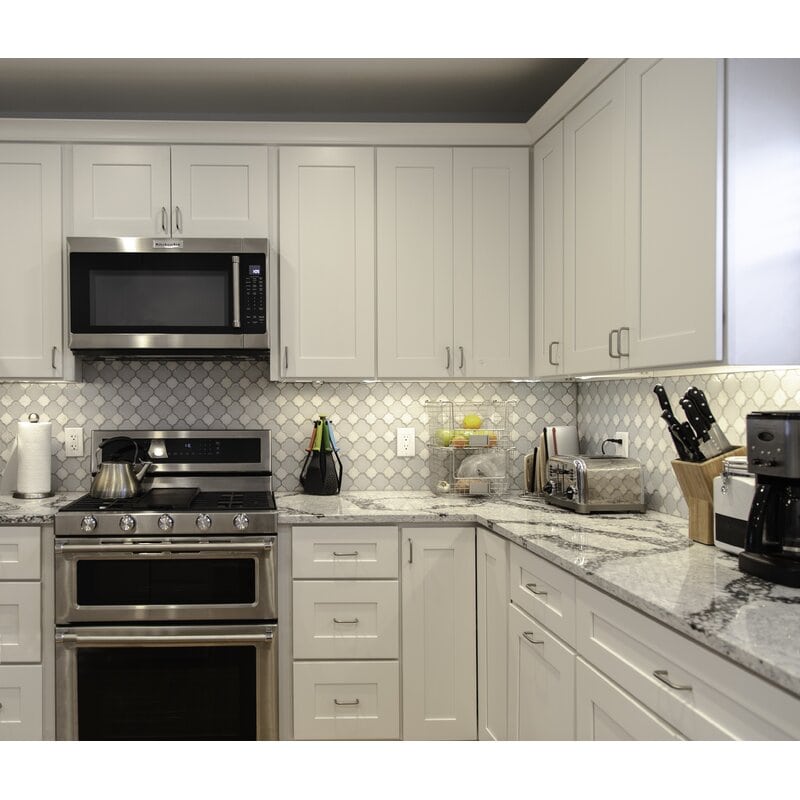 With low ceilings and less natural light, a lot of basements don't have great lighting. That doesn't mean your kitchen should be dimly lit too, though. Make sure to add a lot of bright lighting to the space, including some fixtures underneath the kitchen cabinets.
There's nothing worse than preparing some food in the kitchen and not being able to properly see what you're doing.
Stock It With Compact Essentials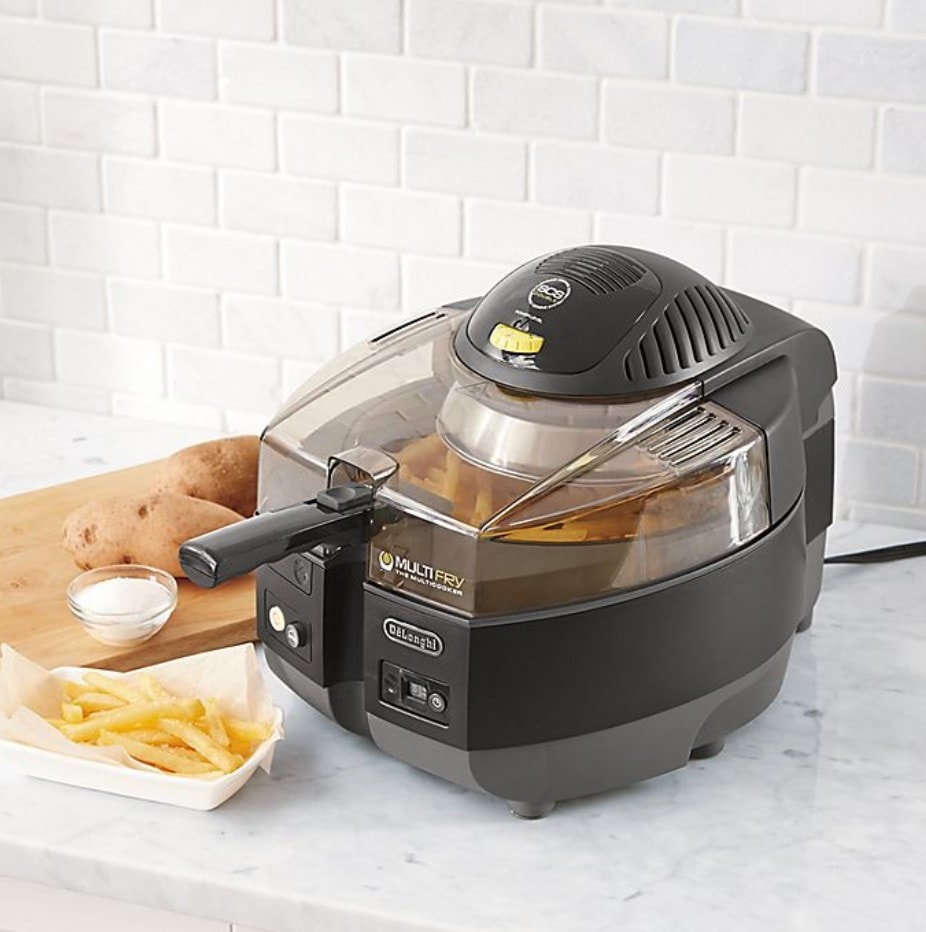 If you're planning on making food in your basement kitchen or kitchenette, you'll want some of the typical small appliances.
But, even the "small" appliances take up a good amount of storage space so you'll want to look for the most compact versions of them you can find. This small air fryer is a perfect example, it may not make a ton of food at once, but it can be easily stored without taking up much space.
Use A Hutch For Storage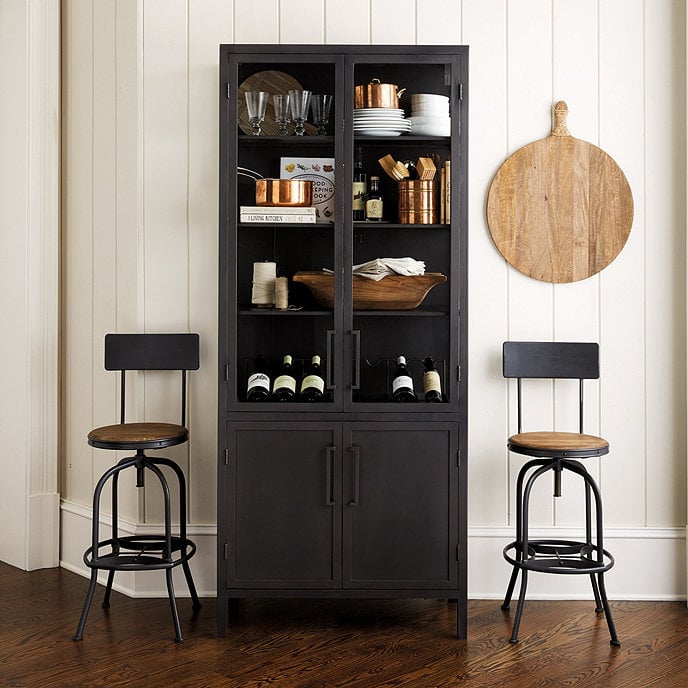 If you aren't able to do a built in kitchenette in your basement, set up a hutch to serve as cabinet space. There are so many different kinds of designs, some of which even include a little counter space if you need it.
A hutch is a unique way to keep everything packed away without having to do a huge renovation in your basement.
Add Color With a Vibrant Backsplash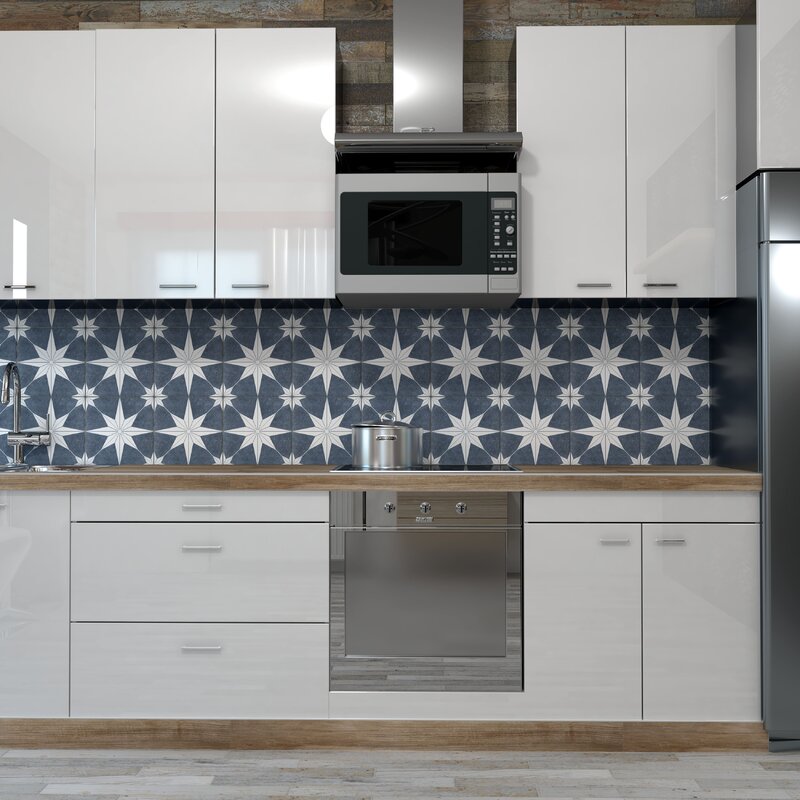 A basement kitchen doesn't need to be either white or neutral warm colors. You can also add splashes of color to make the space pop and feel cheerier. That can be easily done with a patterned backsplash like this one, or even some decor above the kitchen cabinets.
A kitchen in the basement is a great place to show some personality, especially if you have a more stately and serious kitchen on the main floor.
Include a Bar for a Communal Space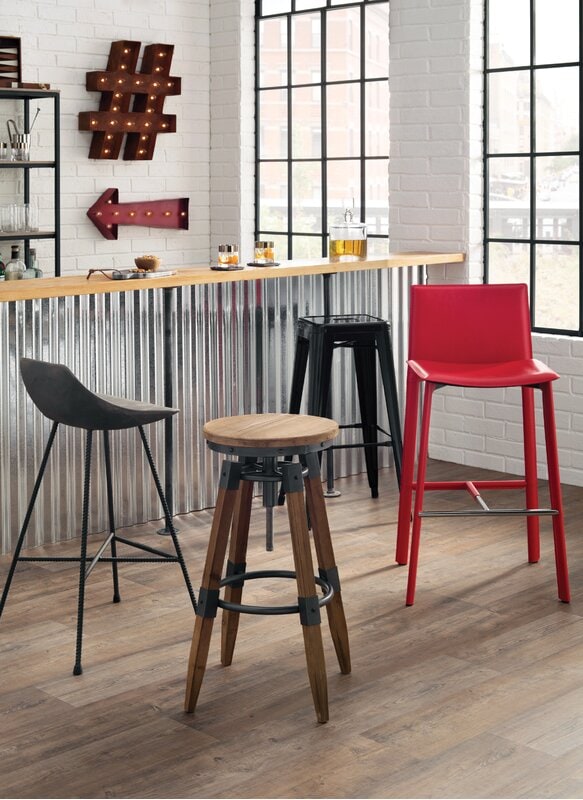 This bar is the perfect place to have a group of friends over sitting in a semicircle. If you don't feel like having a dining table because it's too formal, but you have the space, this is a great alternative.
If you're not doing a full kitchen in your basement, don't discount the idea of a basement kitchenette bar. It doesn't have to be huge for you and your friends to pull up a stool and enjoy a drink together.
Skip The Oven But Keep The Stovetop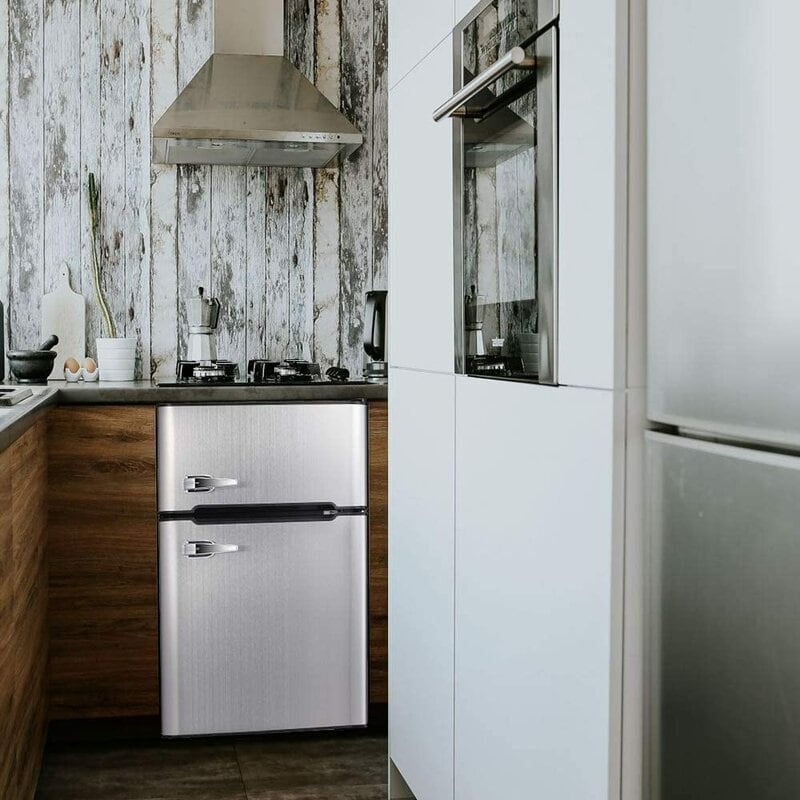 When planning out your basement kitchen design, think about the tools you need most and be willing to skip the ones you don't.
For instance, keep the stovetop but forget the oven if you don't plan on doing a lot of baking down there. Sure, you won't be able to pop in a frozen pizza, but that's what delivery is for, right?
Get Hardwood Flooring for a More Upscale Look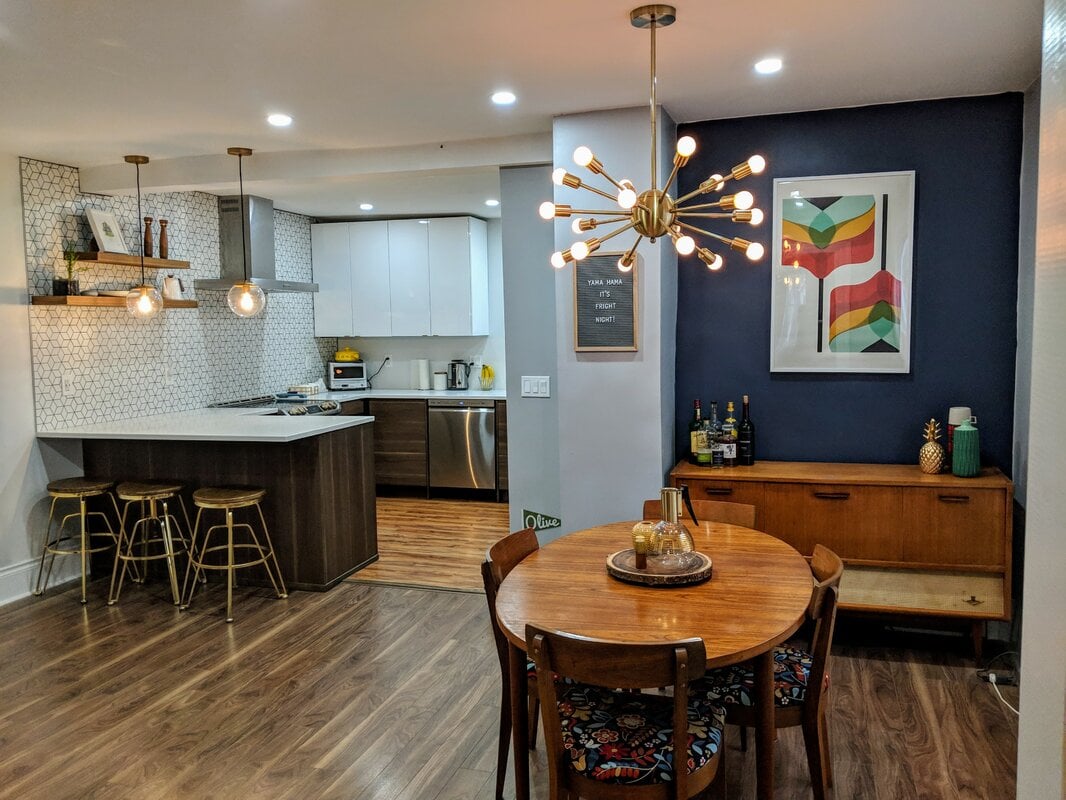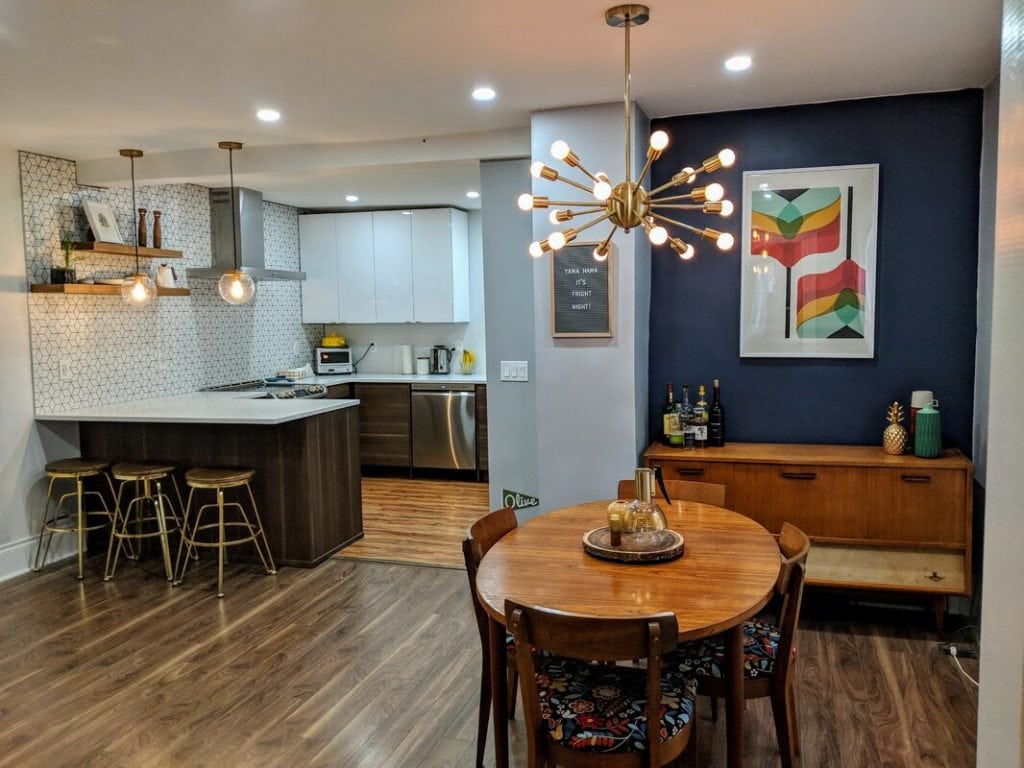 A lot of basement floors are carpets, tiles, or linoleum. If you want to spruce up the space and make it look more upscale, install hardwood flooring.
If you're considering installing a whole apartment in the basement with a kitchenette, getting hardwood floors is a great way to start making it more appealing and livable.
Save Space With A Mini Fridge/Microwave Combo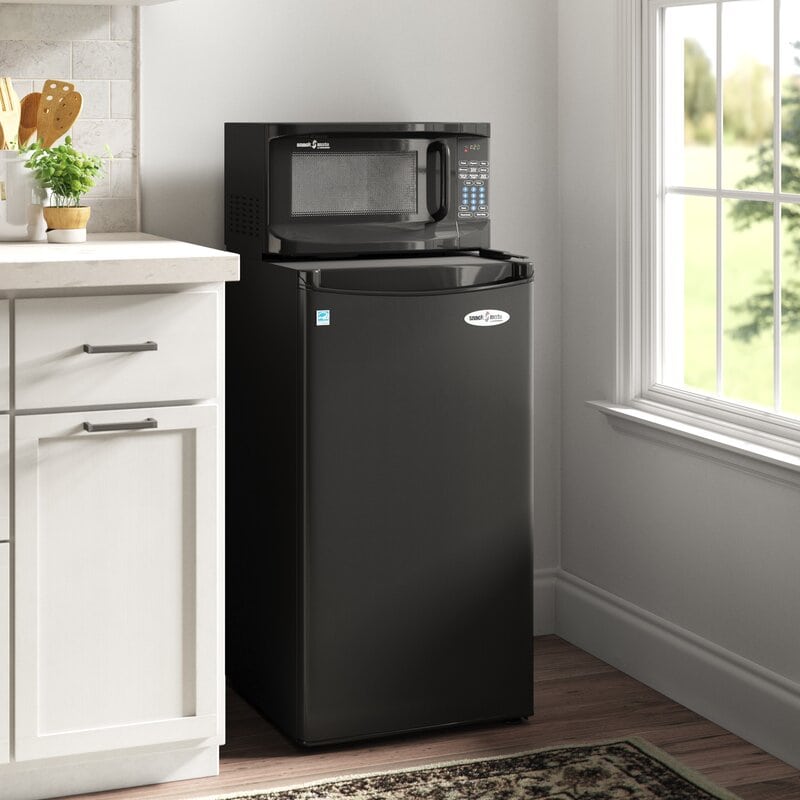 If you're dreaming up a basement kitchenette, think back to your days in college, especially if you lived in the dorms. You probably had to do a lot with very little space, and that's where a mini fridge/microwave combo came in handy.
Kitchenettes aren't meant for making big meals or hosting dinner. They're a spot for snacks and drinks, and this combo has everything you need to pop some popcorn and grab a cold drink.
Brighten Up The Basement With Light Colors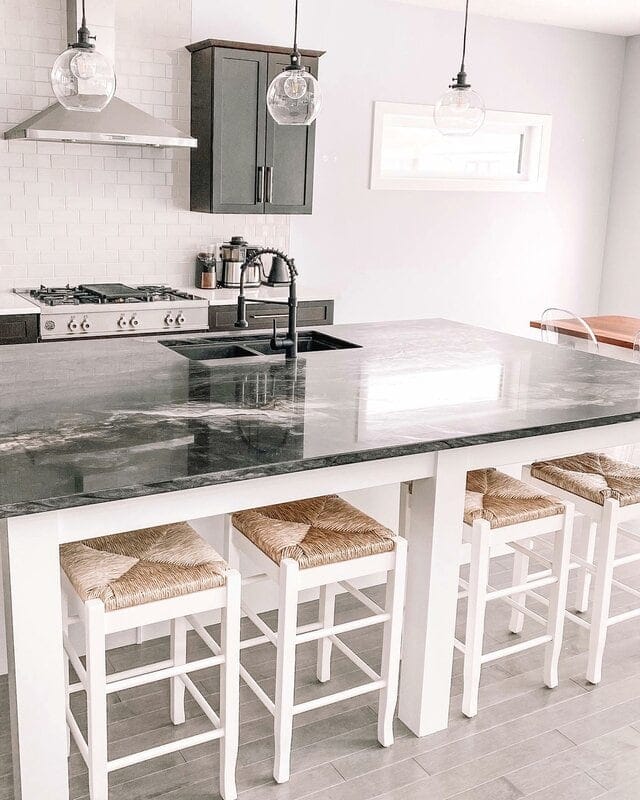 A lot of basements don't have much (if any) natural light, and if it does it's usually in the form of small rectangular windows like in this picture. So, to brighten things up a bit go for white cabinets, a light backsplash, perhaps marble countertops, and even lightly colored stools.
Basically, bring in the light where there otherwise wouldn't be any.
Skip Big Structural Changes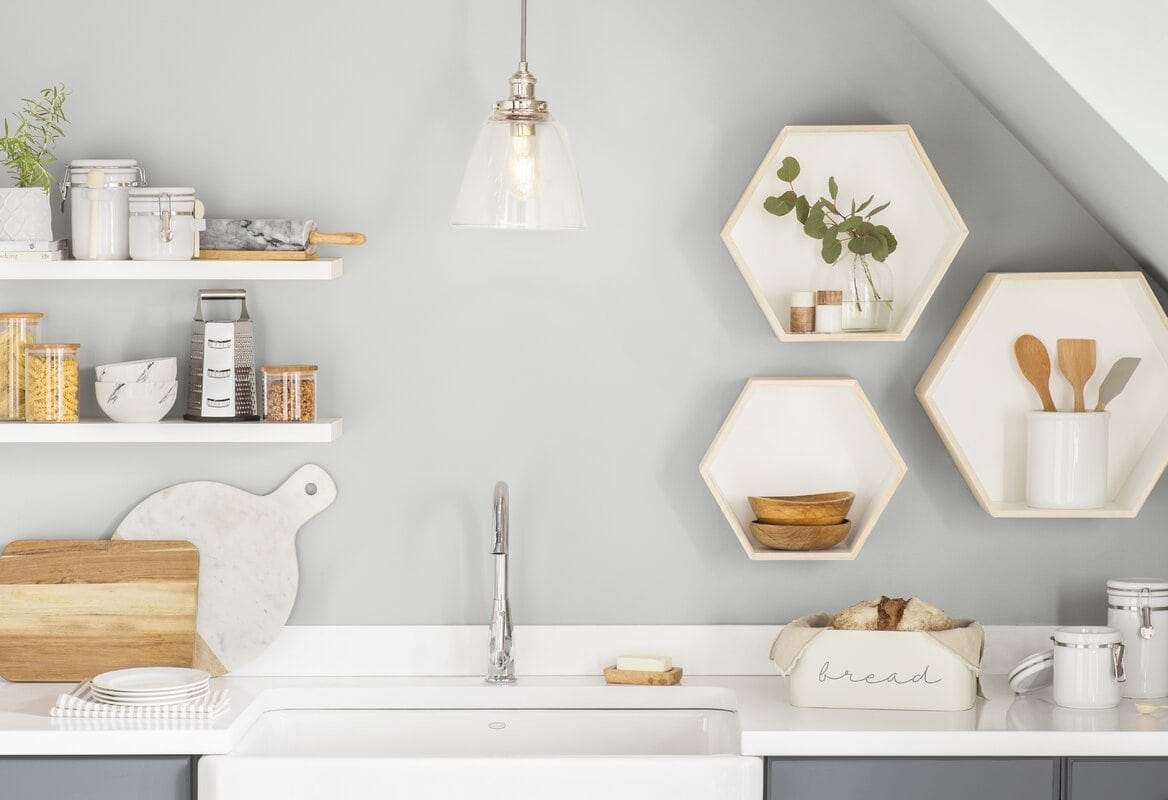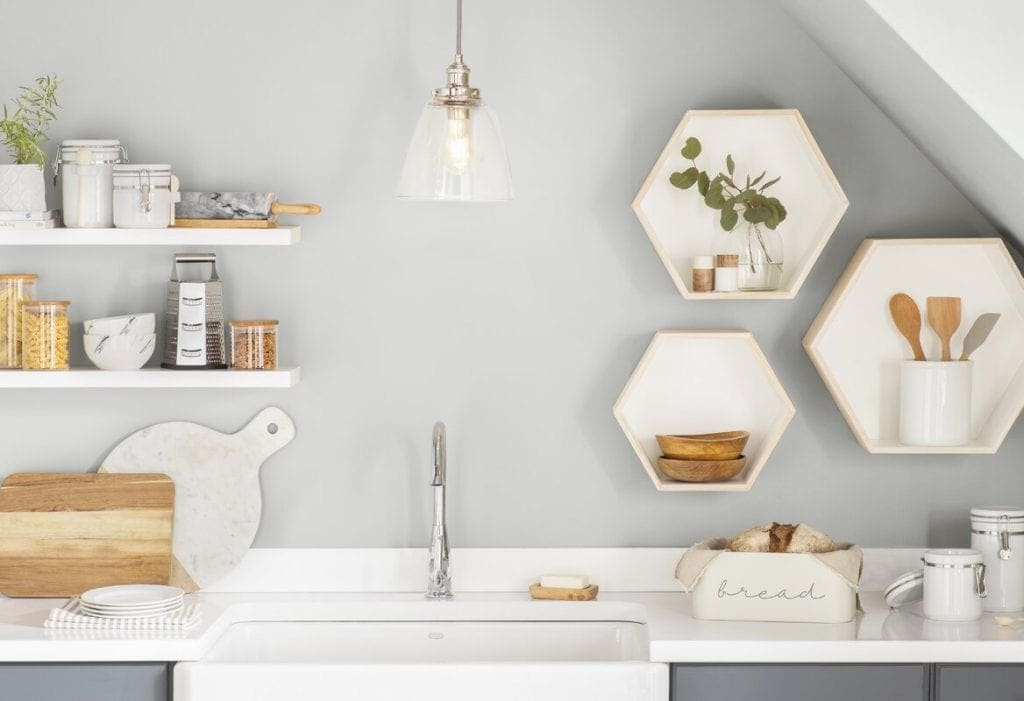 Does your basement have some strange angles and different leveled ceilings? Making big structural changes to streamline all of this would be really expensive. So, skip it!
This kitchen has an angled ceiling to the right of the sink, and instead of a huge renovation, they just worked around it by opting for open shelving instead of hanging cabinets. Adding in a kitchen is expensive enough as it is, so save money where you can.
Find Alternatives To Cabinets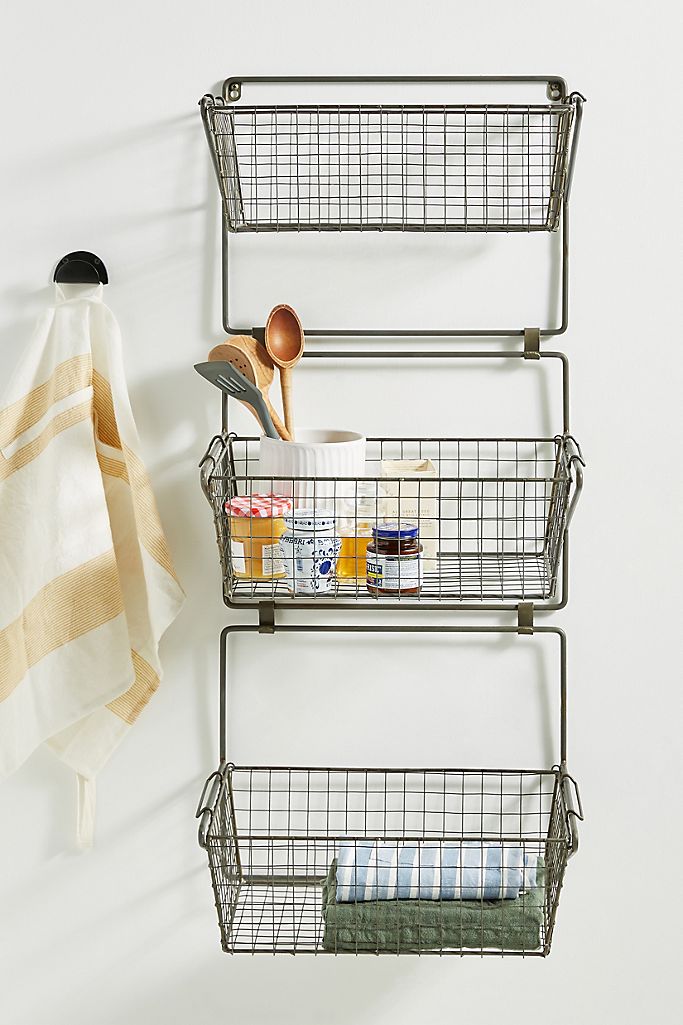 If you have a small basement, it might be difficult to find enough space to build out a kitchenette with enough cabinet space. So, come up with some creative alternatives to cabinets instead.
Use a bookshelf, hang some open shelves, or install some hanging baskets like these (which are perfect for holding some snacks, if you ask me).
Keep Your Brick Exposed
If there is anywhere that some secret brick might be hiding, it would be in your basement. If you're lucky enough to have that – keep it!
Exposed brick adds an industrial warehouse feel that just isn't the same if it's manufactured. So, find a way to incorporate it into your design, because, honestly, you're lucky to have found it!
Get Creative With Storage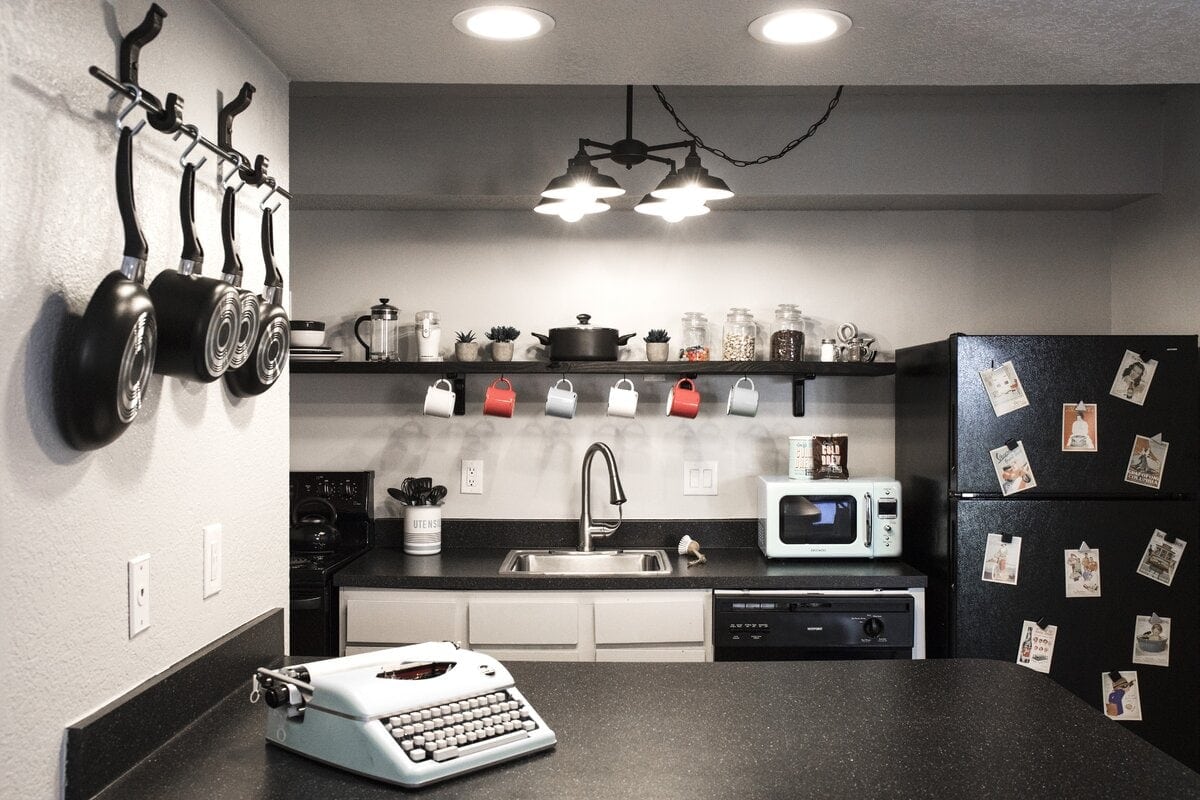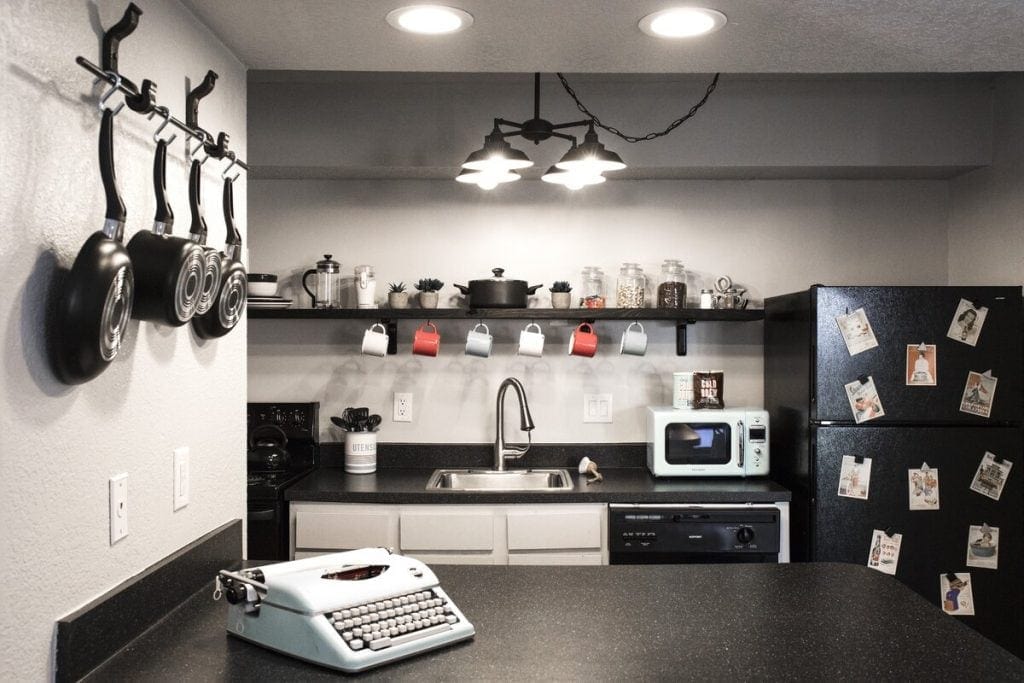 Basements are dark on their own, and if you have a small space, adding in too much cabinetry can make it feel even smaller and darker.You can avoid this by opting out of hanging cabinets and just getting creative with storage.
This kitchen is a great example of ways to get creative with storage. They hung their pans on the wall, their coffee mugs from under open shelves, and used decorative containers to store their essentials like coffee beans.
Summary
When people think of basement kitchens, they often assume that a large space is needed for a dining and entertainment area. However, there are so many different options for basement kitchens and kitchenettes, and it all depends on what you want to use it for and how much space you have.
If you have low ceilings, you might want to focus on the lighting to make sure it's still bright and cheerful. If you're low on space, consider a small tucked-away kitchenette that meets all your needs. Since a basement kitchen is extra, you have a lot more flexibility with the design!