Decorated Life is reader-supported. When you buy through links on our site, we may earn an affiliate commission. Learn More
30 Corner Shelf Ideas To Help You Fill That Awkward Space
Every home has a space or two that is just awkward, and a lot of times it's a corner. Maybe you need to fill it with something decorative to balance out the room or perhaps you are low on storage space and need to use up any inch you can get.
In either case, you could probably use some corner shelf ideas to help you out.
No matter your decor style or need, there is a corner shelf that is right for you. Between bookcases, decorative shelves, cabinets, and tables, here are some ideas to help you figure out how to fill up that awkward space.
Rustic Industrial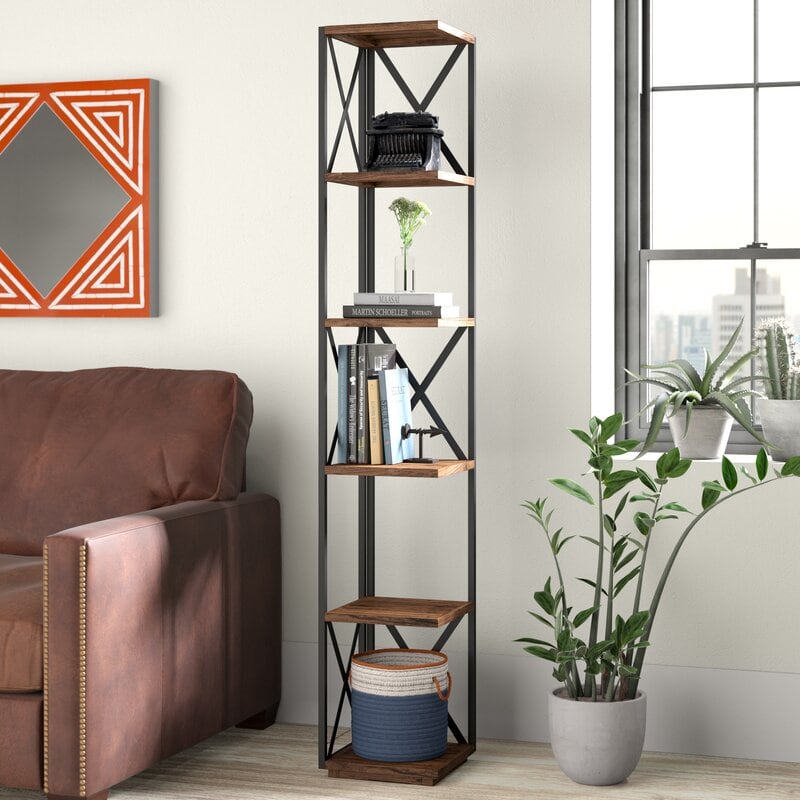 For a home with a mix of rustic and industrial decor, this shelf will fit right in. It's design allows it to easily fit into a corner or sit out on its down, should you change your mind about where you want it in the house.
Something like this is a great option for someone who doesn't want to mount anything to the walls and is looking for something for decoration rather than for storage.
White Rounded Ladder Shelf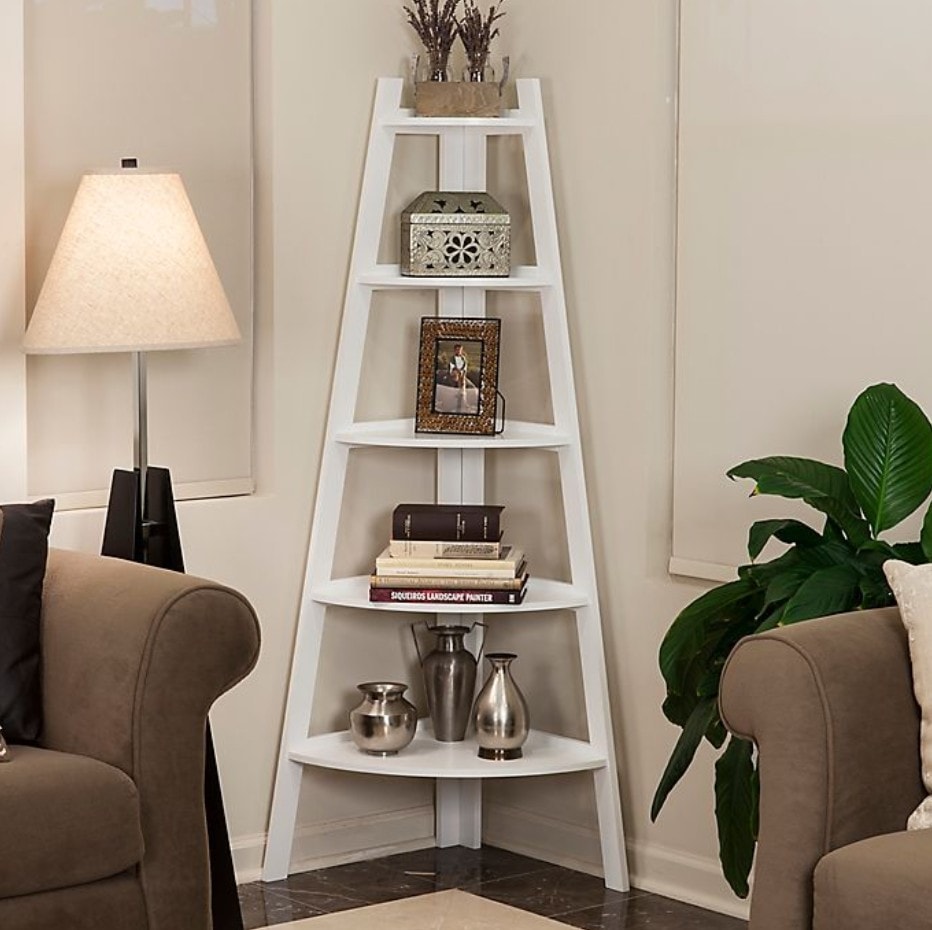 The best thing about white furniture is that it matches basically everything. This white shelf will look fantastic in the corner of just about any home.
You can store books on it, prop up some pictures, and even put a basket for storage on the bottom shelf.
French Cottage Inspired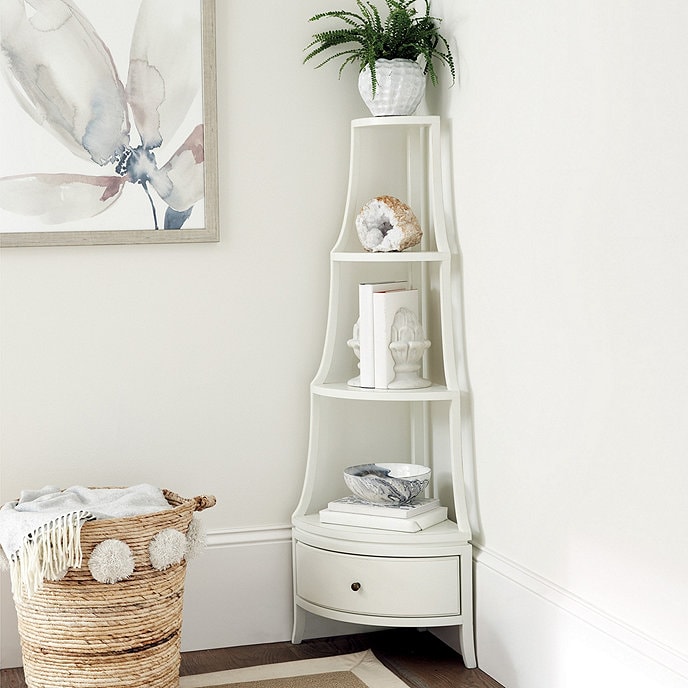 If you love the rustic cottage decor style, then this shelf will fit right in with your home. It has plenty of space for displaying decorative items as well as a drawer on the bottom so you can stash away things you don't want out.
Something like this is especially great for renters or anyone who likes to rearrange their furniture often, because you don't have to drill it into the wall.
Tiered Floating Shelves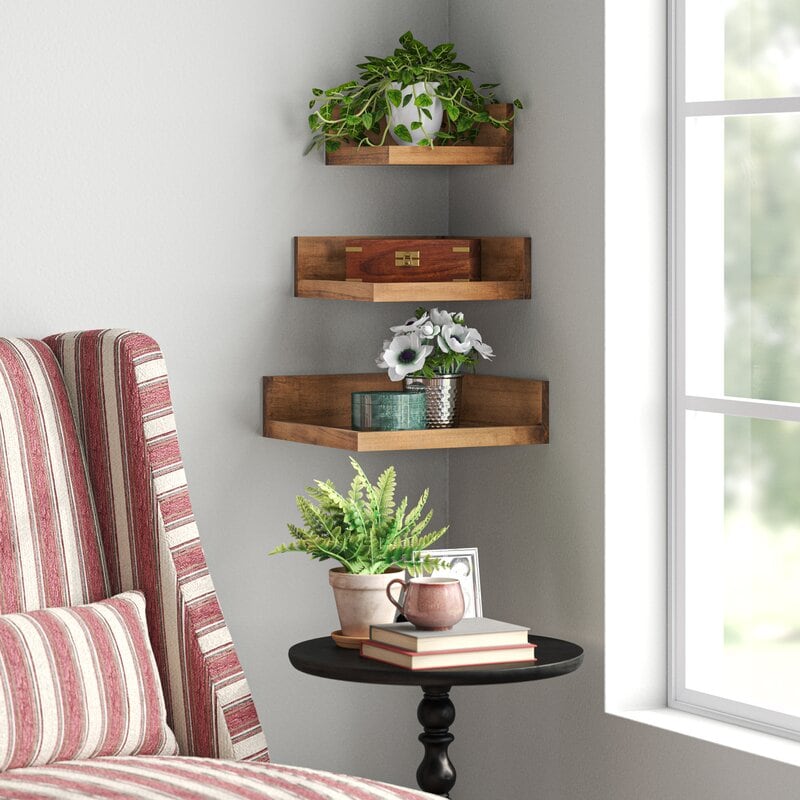 For more secure shelves (that you can't easily move), consider mounting some tiered floating shelves. You can choose how much space you want between them so they fit your space and needs perfectly.
These shelves are not only gorgeous, but they also have a great design. Each one is a different size, but they all have a lip around the edge of the shelf so you don't have to worry about anything slipping off.
Minimalist With a Cabinet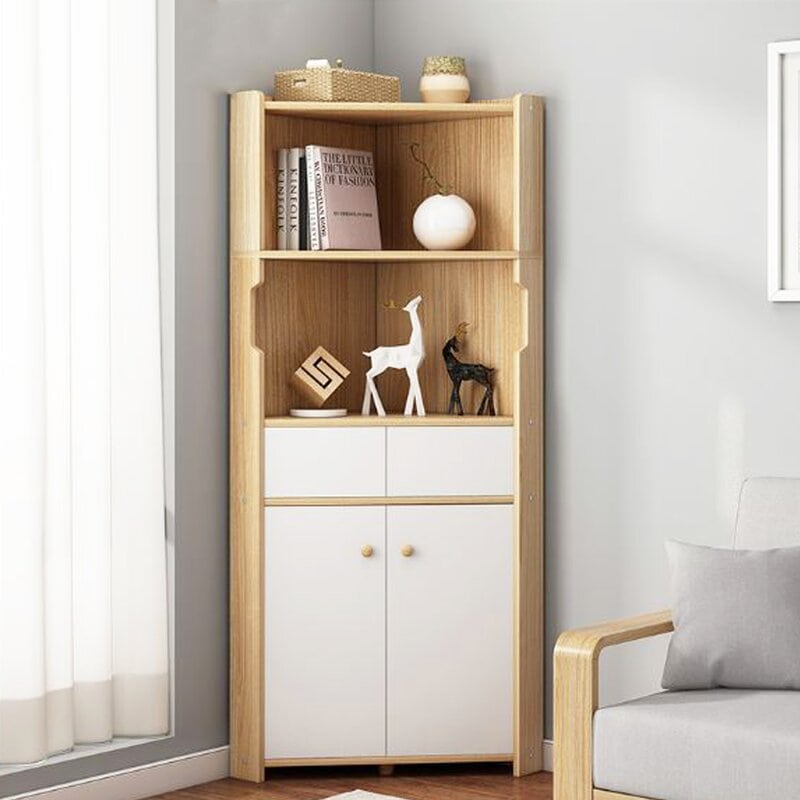 This piece of furniture tucks neatly into a corner and offers both shelving and storage space. There are two shelves and two separate cabinet spaces so you can easily tuck things away out of sight.
What's also great about this piece is the natural wood combined with white. It's so versatile that it would work well in anything from a nursery to a living room to a bathroom.
Individual Geo Shelves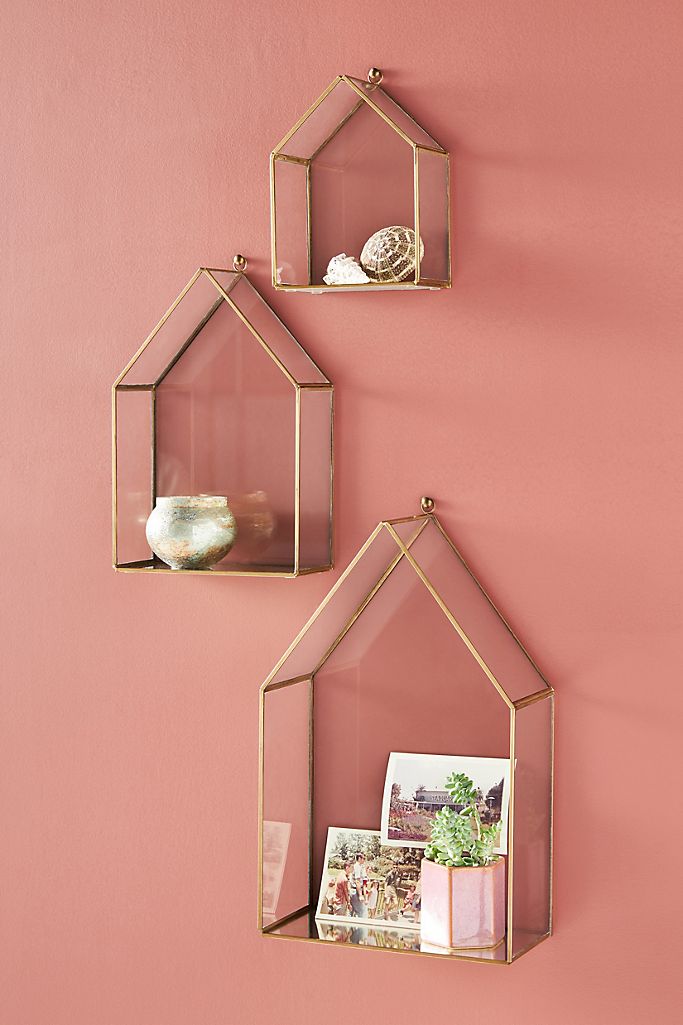 Instead of getting a corner-specific shelf, consider getting different sized geo or glass shelves like these ones and arranging them on the walls around the corner.
It makes for a totally modern look and it's one of the more unique corner shelf decor ideas.
Floating Acrylic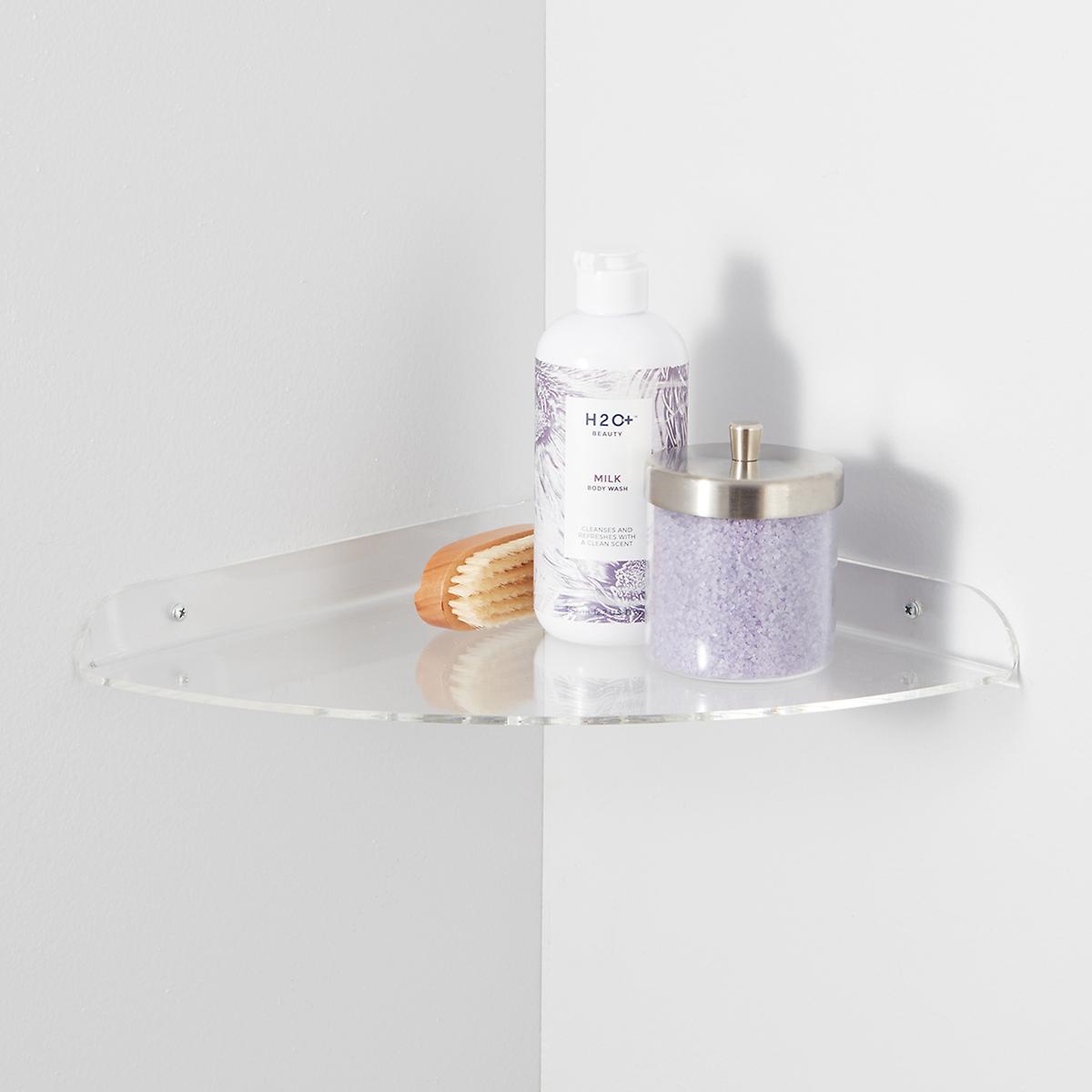 If you just need a couple discrete shelves, or you're into more of an illusion look, a clear acrylic shelf that's mounted on the wall is a fun option.
Something like this is especially great for a room with a lot of moisture (like the bathroom) because it won't get damaged. It's also a fun idea for a playroom or kids bedroom because you can trick them into thinking whatever you display on it is actually floating.
Bookshelf System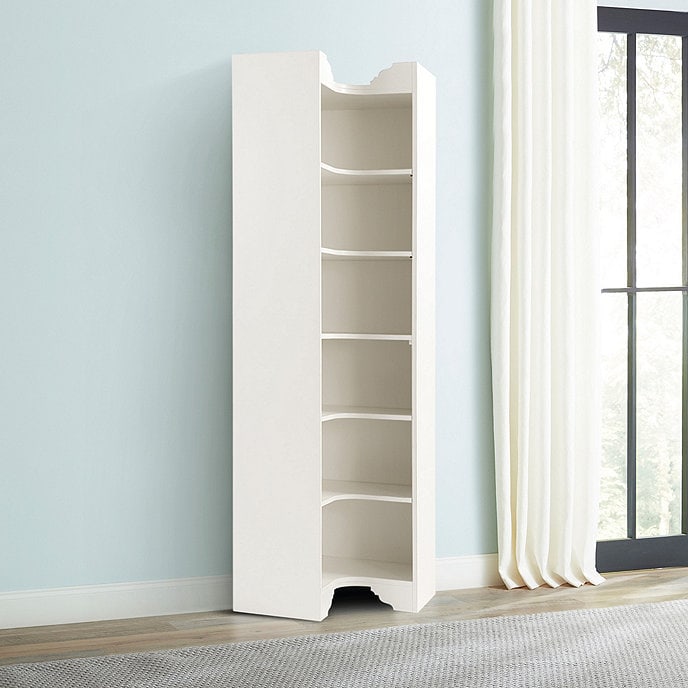 You can also extend your standard shelving unit by pushing it up against a corner bookshelf like this one. There are a lot of great shelving systems that allow you to customize pieces that work with your home – and a corner bookcase isn't one to skip!
Multi-Level Diamond Shelf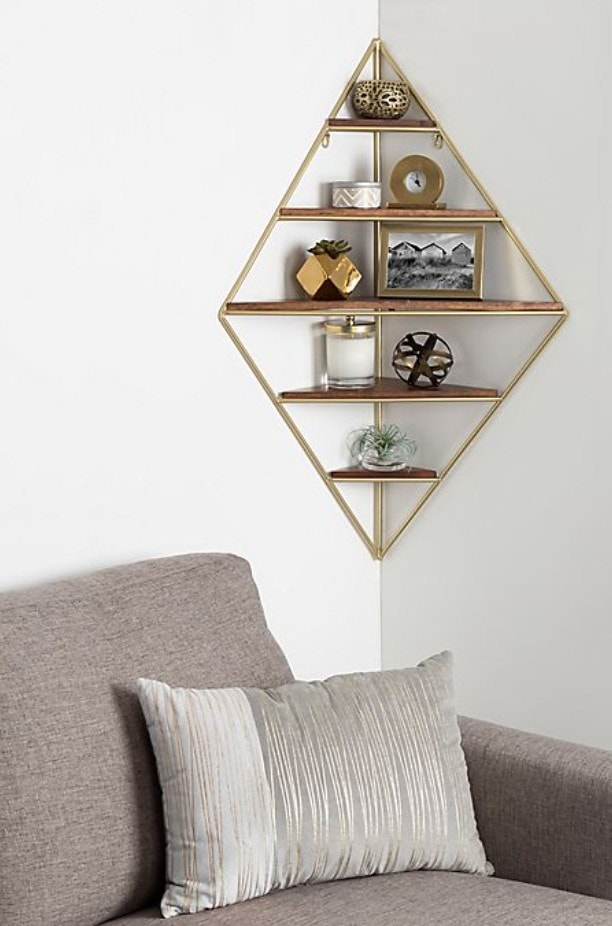 Homes with a mid-century modern or more glam decor style would benefit from a shelf like this one, with its mixture of wood and metallic gold.
This shelf mounts to the wall, which gives you a lot of flexibility in where you put it. But, the best place to put it is somewhere everyone can see it, because just look at it!
White Floating Shelves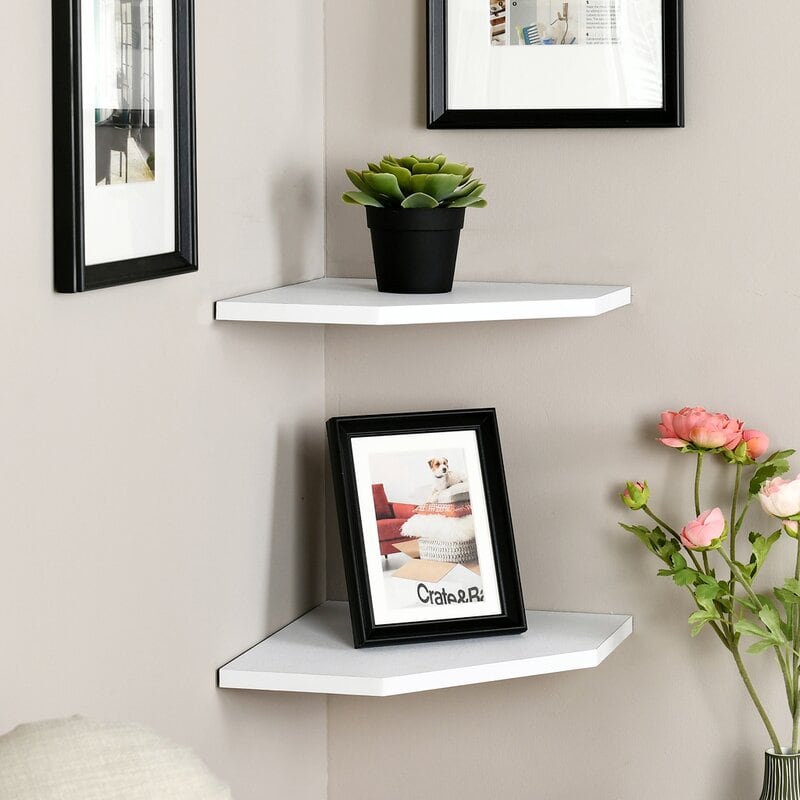 Some corner shelves come out to a hard point, which can look really cool in the right situation, but can also be a full on safety hazard in others.
The corner shelf design here is a little more practical for high-traffic areas, because it won't poke you if you step the wrong way. Not to mention, the unique cut looks great.
Weathered Floor Shelf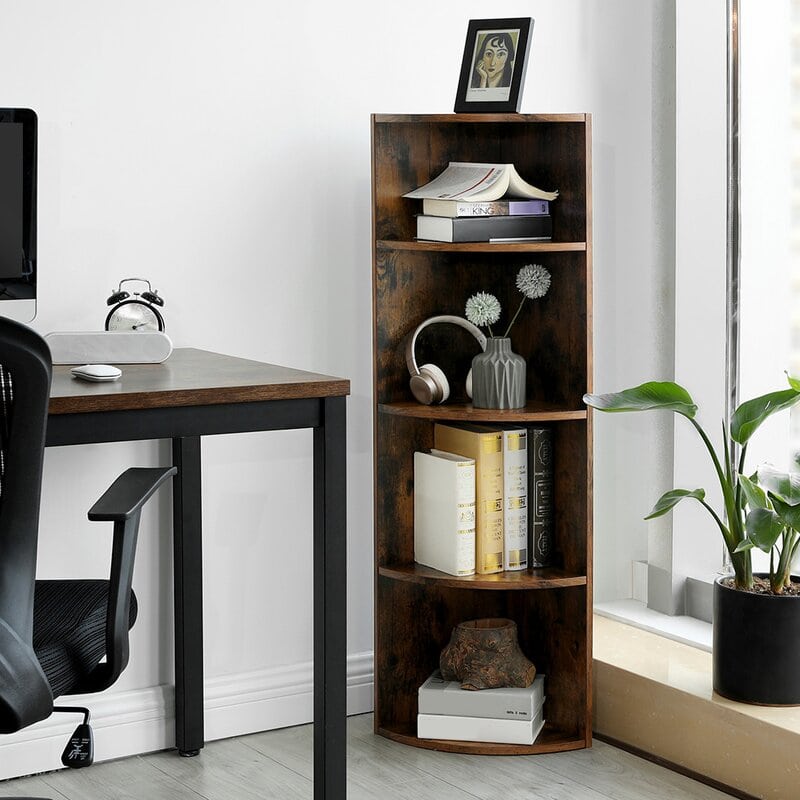 If you have a little bit of space to spare, this short corner bookshelf should be what fills it up! It has gorgeous wood-grain texture and is just the right height to store things you want easy access to.
What's also nice about this design is that it tucks nicely into the corner, but is rounded at the front so it kind of smoothes over the area a bit. It would look amazing in a home with a rustic decor style.
Funky Design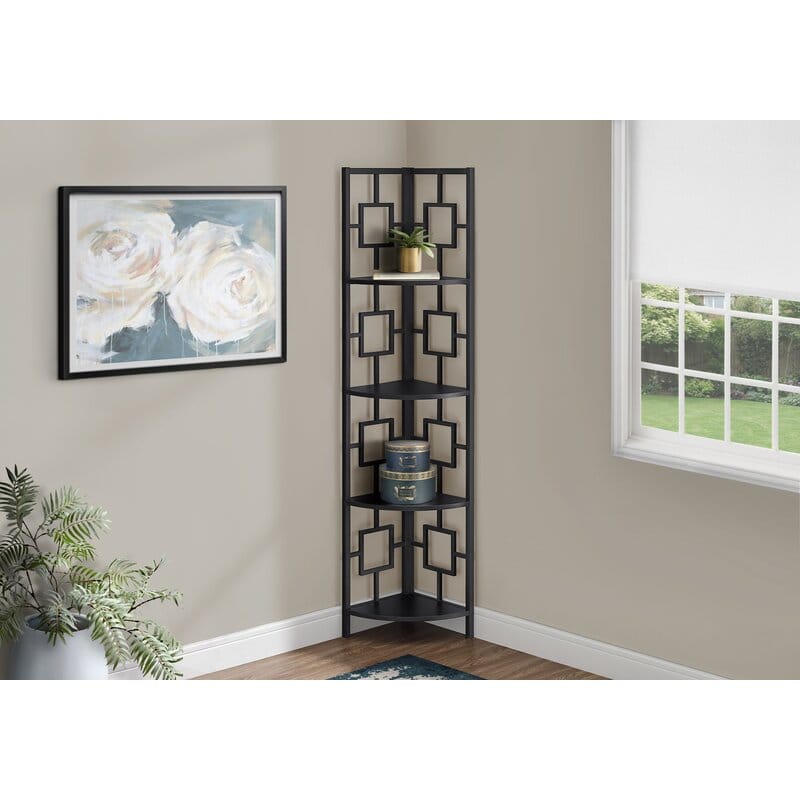 Looking for more decorative and fun corner shelving ideas? Check out this metal piece with rounded shelves and square details along the back. The structure itself isn't out of the norm, but the design definitely sets it apart from more traditional corner shelves.
Marble Shelves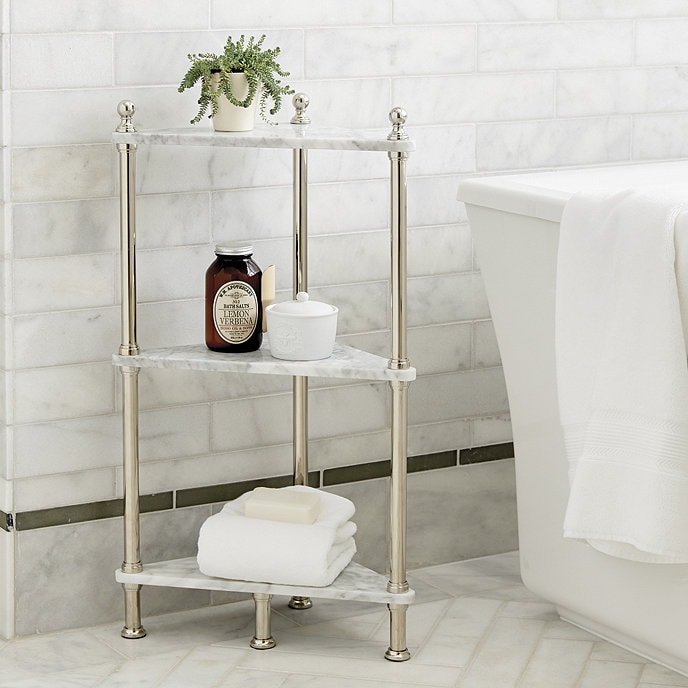 Marble is definitely trending right now, and you can add a little to your home with this corner shelf. You can get it with either polished or satin nickel legs and it stands just under three feet tall.
This shelf can be used in the bathroom, kitchen, or even as a nightstand for a bed that has to be pushed up close to a wall.
Rotating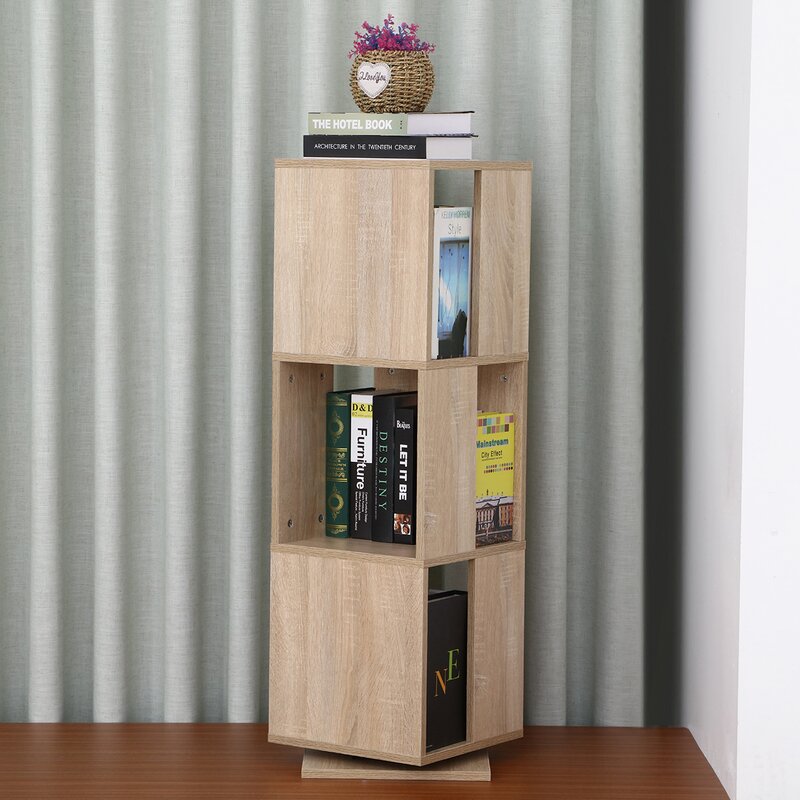 With this shelf, you can position it into a corner at whatever angle you like best. If you like to rearrange, you can pull it out into a more open space so you can rotate it around like it's a display at a store. Whichever way you opt to use it, it's definitely one of the more interesting living room corner shelves out there.
Industrial Chic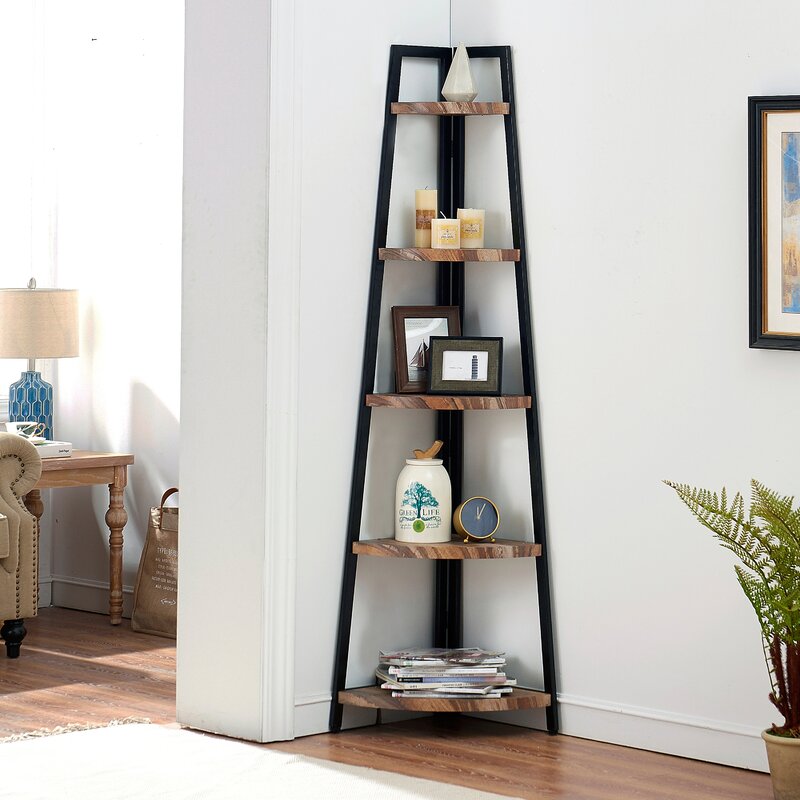 Ladder shelves are always in style, and this one just so happens to be designed especially for corners. Each shelf is a different size and there's plenty of space to store and display whatever you like.
Homes with an industrial chic decor style will really complement this shelf with the combination of black and rustic wood. But, honestly, it's such a pretty piece of furniture that it could be used in just about any home.
Grey Bookcase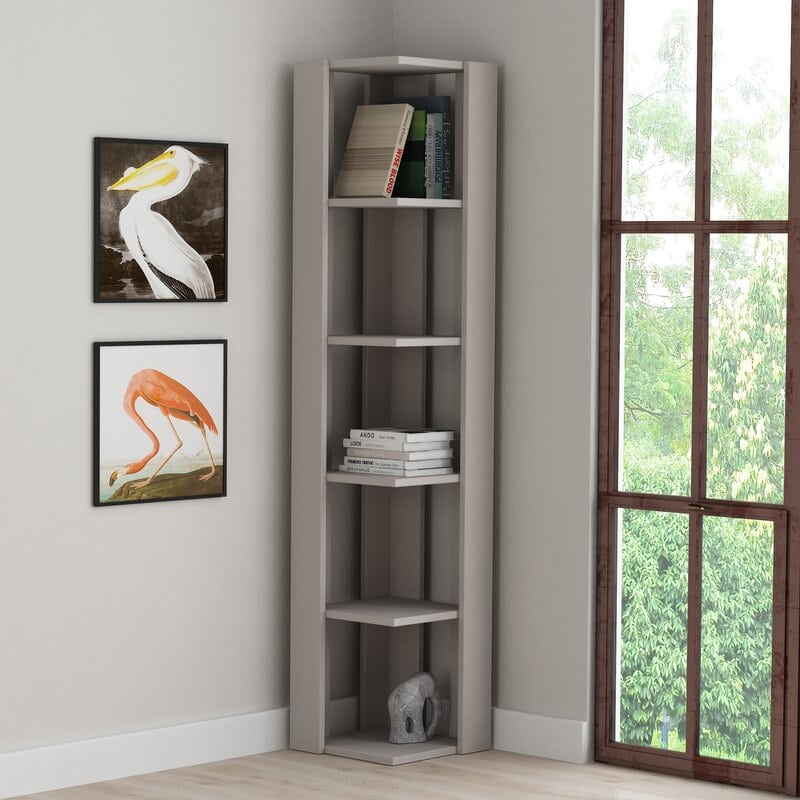 For anyone looking for something basic and straightforward, this grey bookcase is perfect. It has a classic corner design with five shelves and a neutral stain that will fit into just about any home. No frills here, but it gets the job done.
Corner Cabinet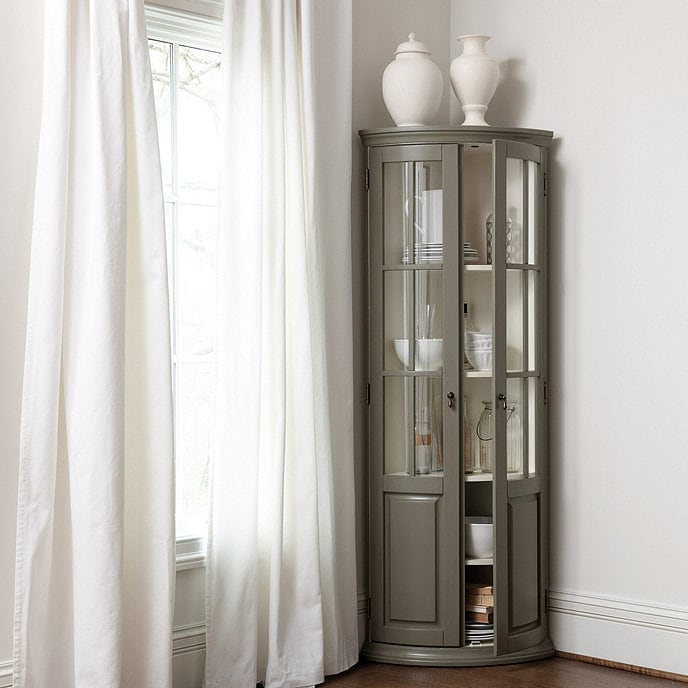 If you're trying to fill a corner in a highly visible room, skip a traditional shelving system and opt for a cabinet with glass doors, like this one.
It has three shelves where you can display things like photos, vases, and other keepsakes as well as the cabinet storage down below where you can stow away items you don't necessarily want out in the open. It's absolutely stunning!
Wavy Sides
Here's another option for someone looking for more unique corner shelves. The overall concept of this shelf isn't exactly groundbreaking, but it's the wavy sides that sets it apart from traditional shelving units.
You could put this anywhere, but it would look especially good in a tween or teen's room, a game room, or anywhere else that needs something a little fun and interesting.
Trellis Design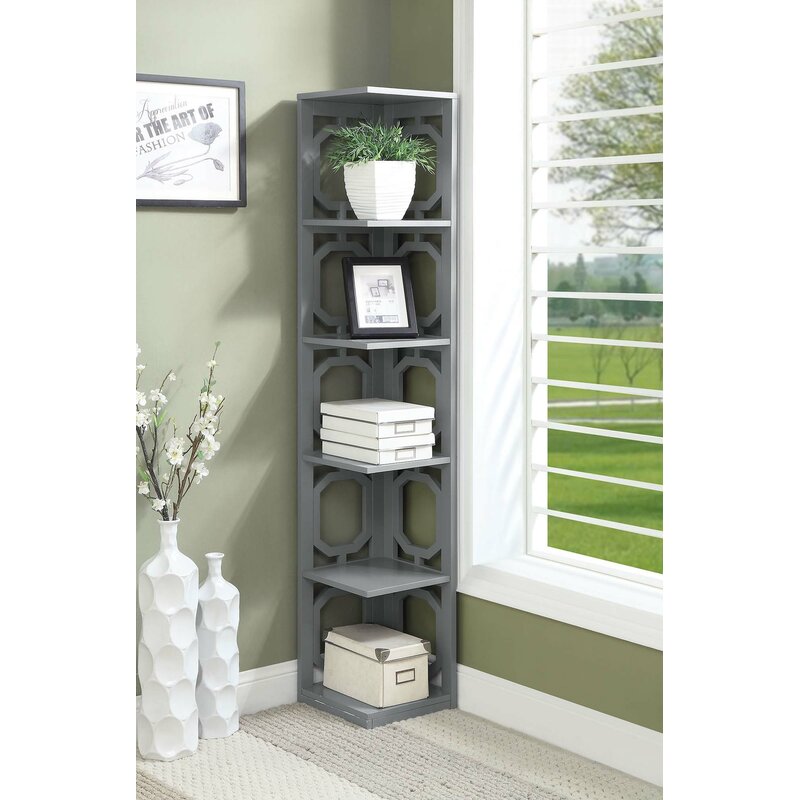 Available in white, black, or grey finish, this corner shelf has a gorgeous trellis design to give it a little extra character and decorative touch. This is definitely a piece you want to have out in the open rather than tucked away in a closet for extra storage space.
Small Cabinet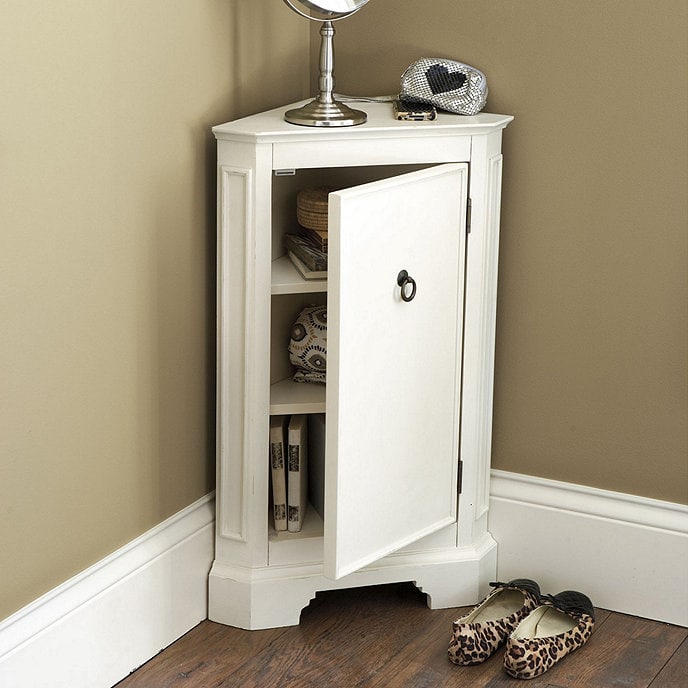 If you just need a little extra storage space, something like this small wooden corner shelf cabinet will do the trick!
There are three shelves inside the cabinet and you can use the top as a side table. This is a stylish way to stow things away in a high-traffic room without being obvious.
Kids Cubby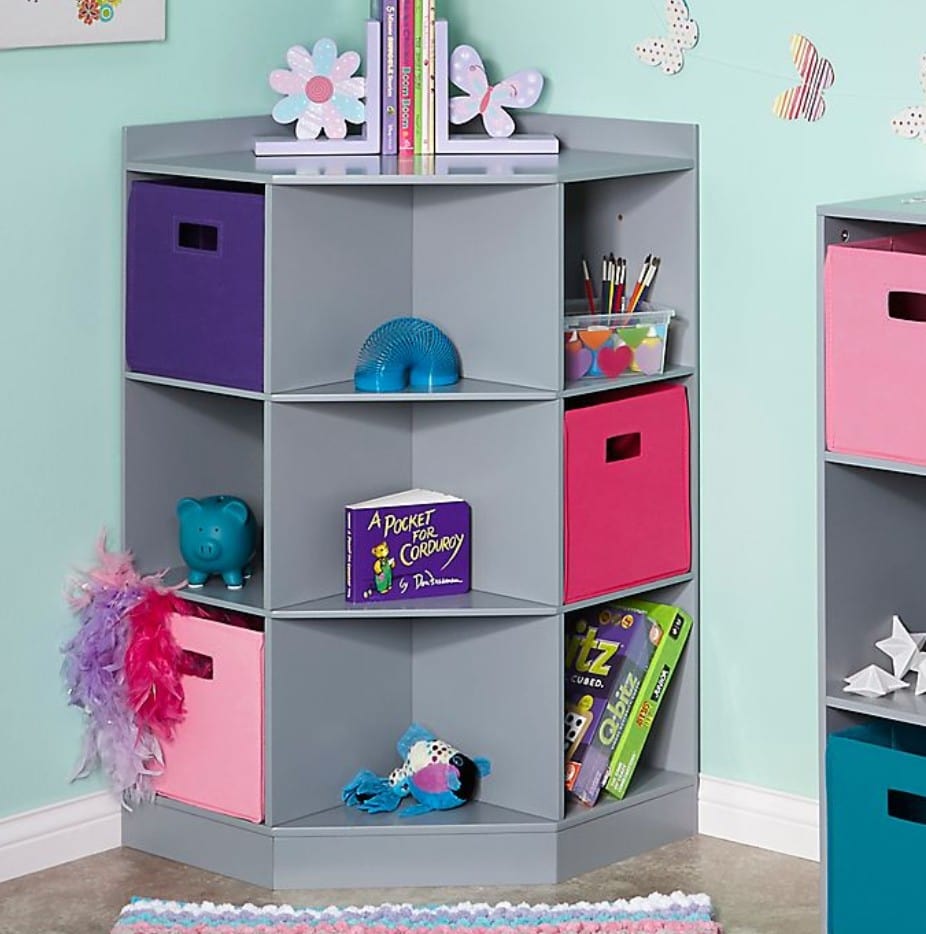 There is basically never enough storage space for kids toys, shoes, and other items. So, you need to use up every square inch of space you can get.
A creative approach to kid storage is this corner cubby shelf that has nine different compartments for storage. Use some cube baskets on the side compartments to store small things like LEGOs and use the front triangle shelves for bigger things like stacking towers.
Curved Corner Shelf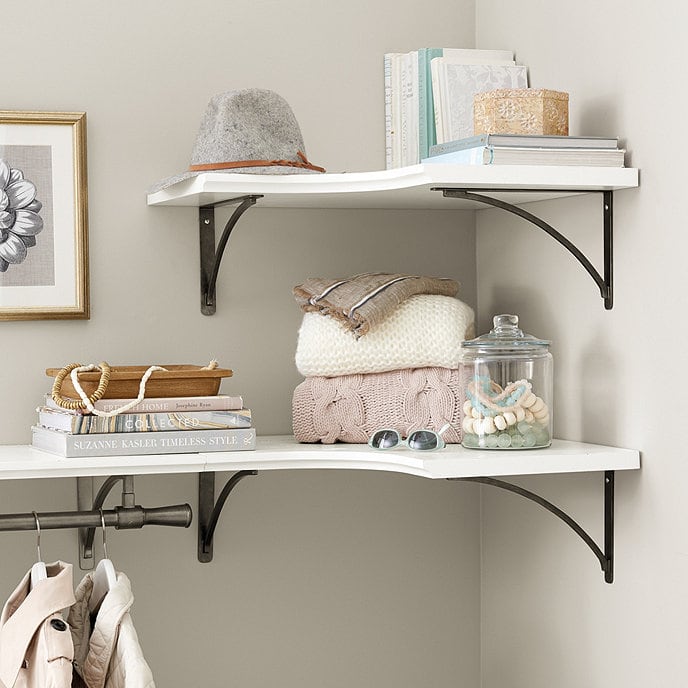 If you're just after a little extra storage space in your closet, pantry, or garage, there's no need to get a large piece of furniture when you can just get a wrap around shelf like this one.
These kinds of corner shelves are great for appearing to attach two standard shelves together to create a seamless look. Plus, it gives you the option to use up that much-needed empty corner space in your closet.
Modern Design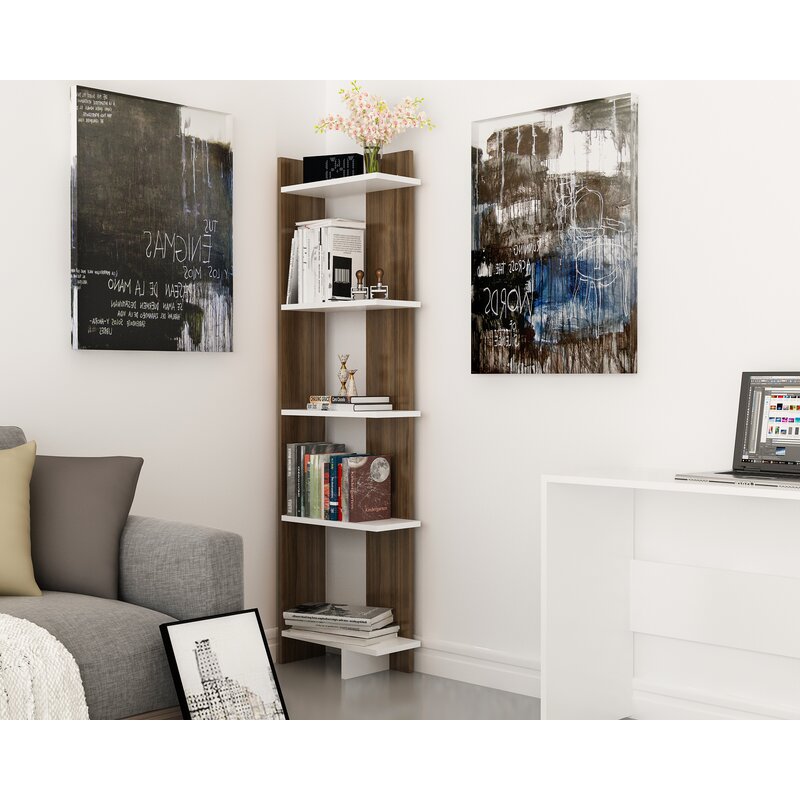 Anyone looking for a more modern corner shelf should seriously consider this piece. There are seven different color/finish combinations, all of which have the same five-shelf design that looks a bit different than traditional corner shelves.
Low Table Shelves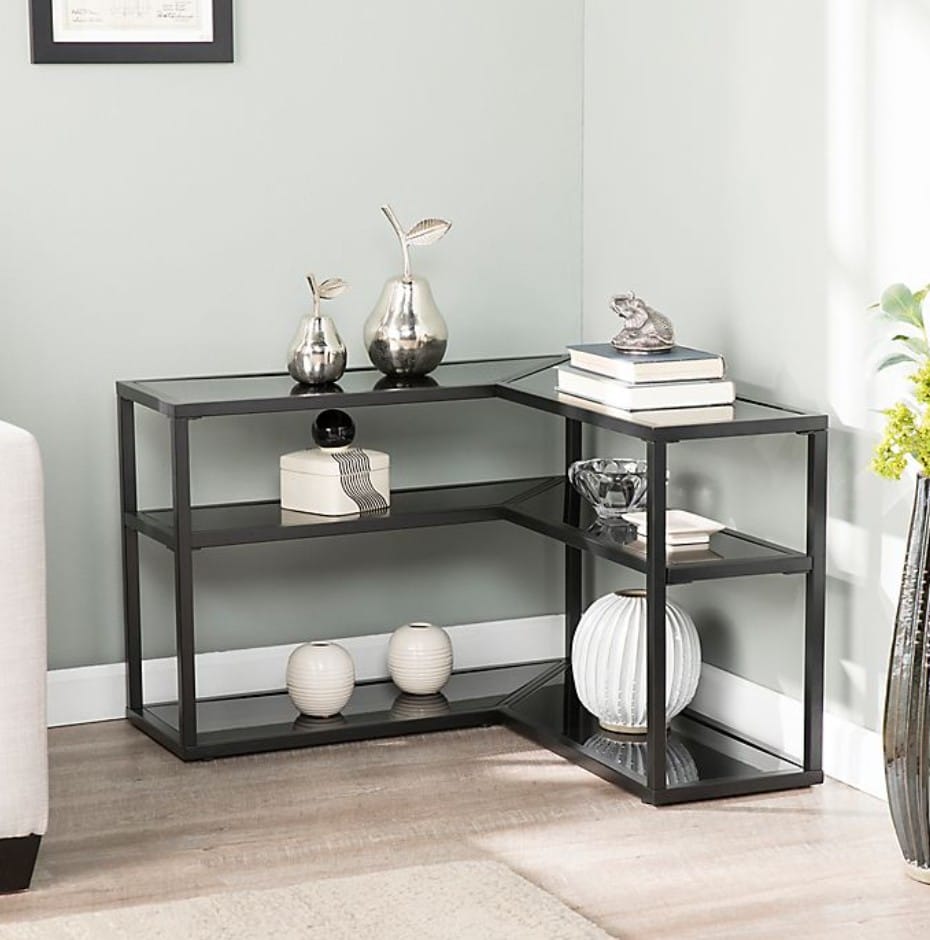 If you're not hoping to use your room's height to your advantage, then consider a low corner shelf that can also serve as a table, like this one.
Push your favorite reading chair up next to it and you've created a cozy corner with plenty of space to store your books, rest your cup of coffee, and even hold a table lamp for extra reading light.
Zig-Zag Design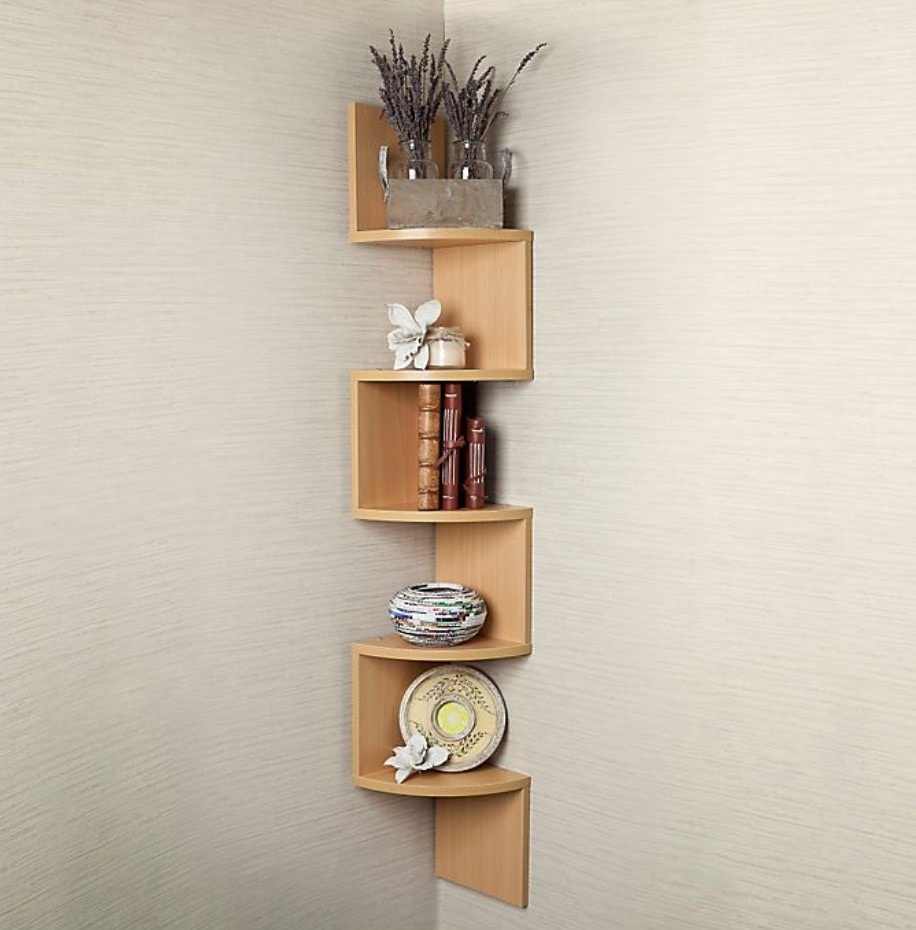 Another fun option for a mounted shelving unit is this zig-zag design.
The shelves aren't huge, so this would be used more for display than storage, but it would definitely make a statement and be a great conversation starter with guests.
Farmhouse Style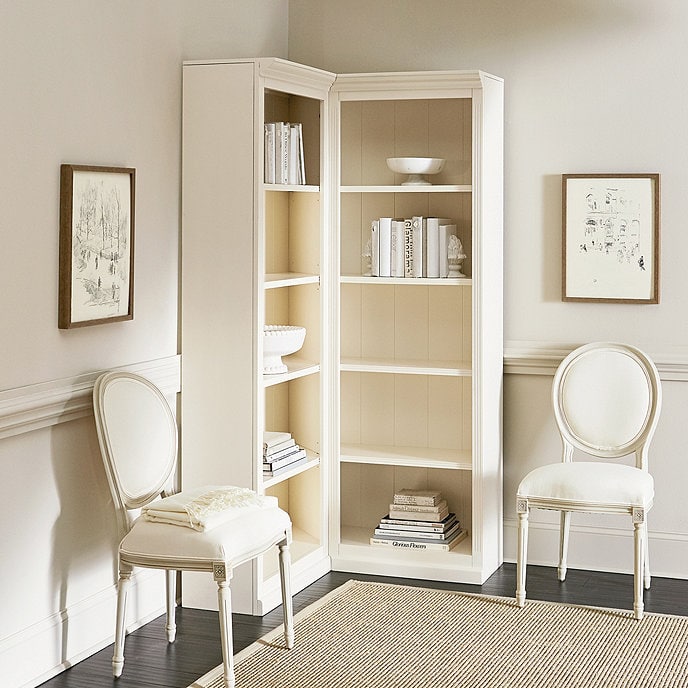 Instead of pushing two tall bookshelves together, get a corner bookshelf like this one that will guarantee everything is level and flush. It doesn't necessarily use the open space of the corner, but it creates a more seamless look which.
Scandinavian Design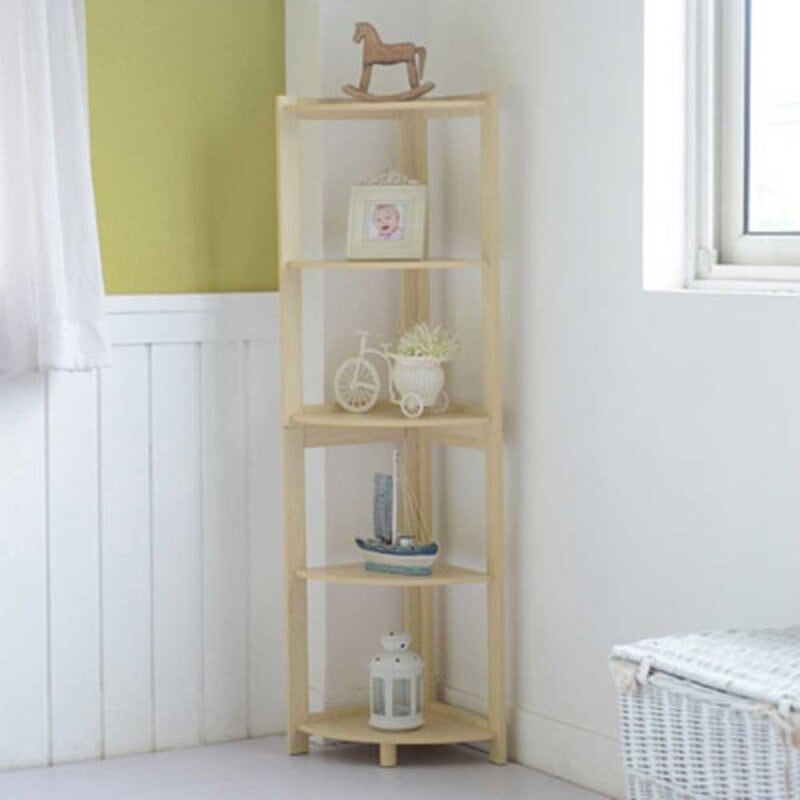 For something with a more minimalist design, this shelf has an unstained wood look, simple structure, but with enough space to display a few decorative pieces or stack a few books.
Something like this would work just about anywhere in a home. It would fit in nicely in a living room, kitchen, dining room, or bedroom.
Creatively Cut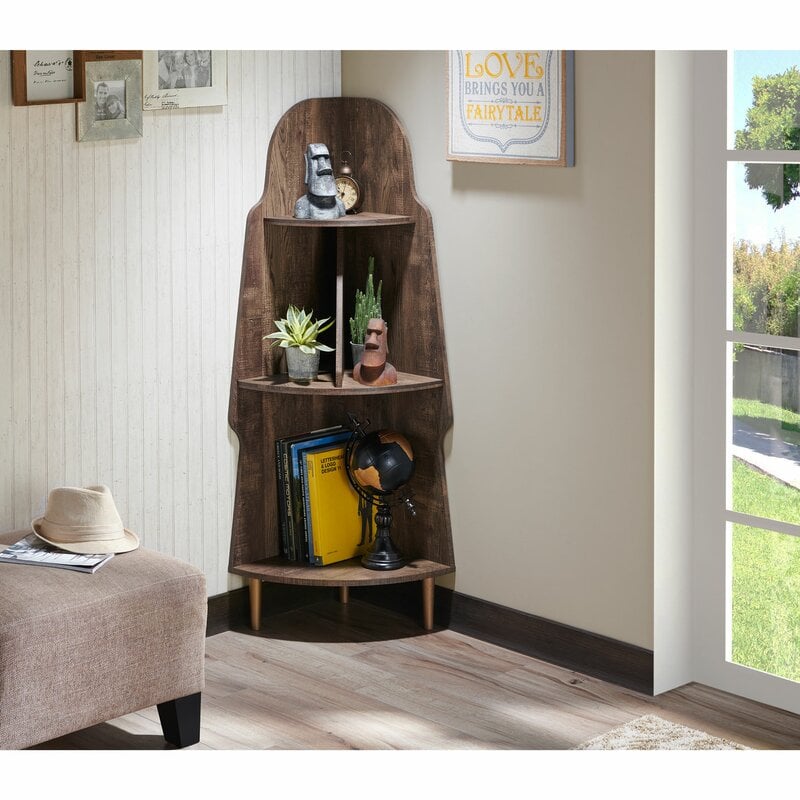 This shelf is a great option for someone who likes more creative pieces of furniture that won't be found in everyone's home. It has a unique shape that will pique interest, but it's not so unique that it's odd.
You could put this shelf in a number of places in your home, it would work great in an office, media room, playroom, bedroom, or living room. Any room that could use something a little different.
Criss Cross Shelves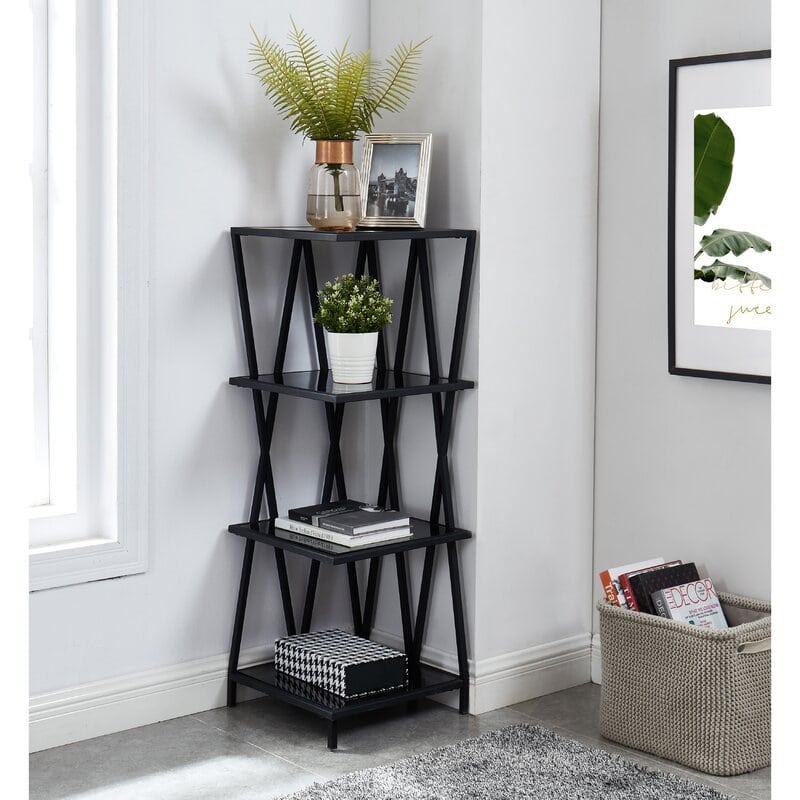 Here's another more modern take on corner shelves. It's made from metal with four shelves total and it has a more open design with sharp straight lines.
This shelf could be used for display, storage, or even outdoors. Its open design also allows for creative decor, like stringing twinkle lights through or embellishing with a pom garland.
Decorative Metal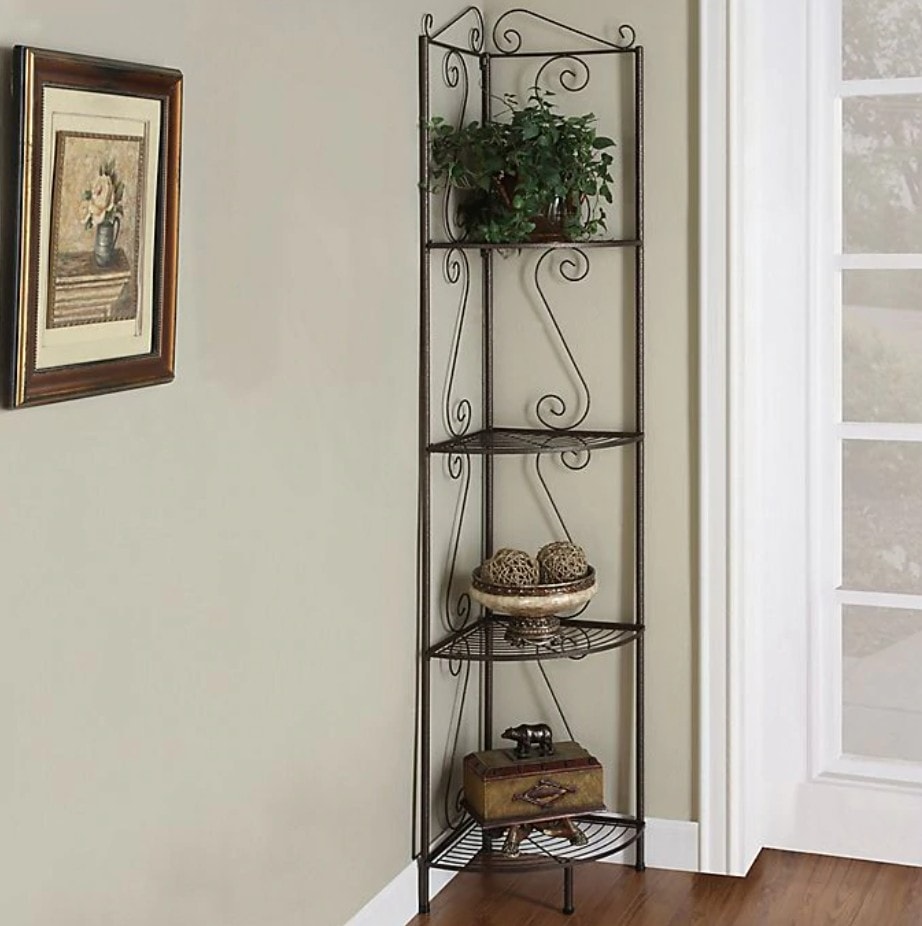 Finally, for a more traditional take on a metal corner shelf, there is this decorative piece with four levels to store and display items. Larger pieces will work especially well with this design, because the shelves have open spaces.
Final Thoughts
Whether you want to stack some books, display photos, or squeeze in some extra storage space, these are some of the best corner shelves to do it with.
It's just a matter of determining which shelf fits your style. Do you want decorative corner shelves? Triangle corner shelves? Suddenly, there are a lot of options for filling in that awkward space.