Decorated Life is reader-supported. When you buy through links on our site, we may earn an affiliate commission. Learn More
20 Indoor Entryway Plant Ideas for Your Home
Adding a plant (or multiple) to your home entrance is a great way to make the space feel more welcoming and bright. Indoor entryway plants can also help purify the air while inspiring feelings of relaxation.
We've gathered 20 of the best plants for the entryway to compile this list. If you're a black thumb that doesn't have time to devote to growing real species of flowers, we've also provided options for faux plants. So whether you're interested in a tall tree on the floor or a mini flower that you place on a table, this list has it all.
We'll give you the best types of plants for your entryway, and you can decide if you'd want to go with the real greenery or a fake imitation that looks the same but with zero maintenance.
Find Some Fun with a Fiddle Leaf Fig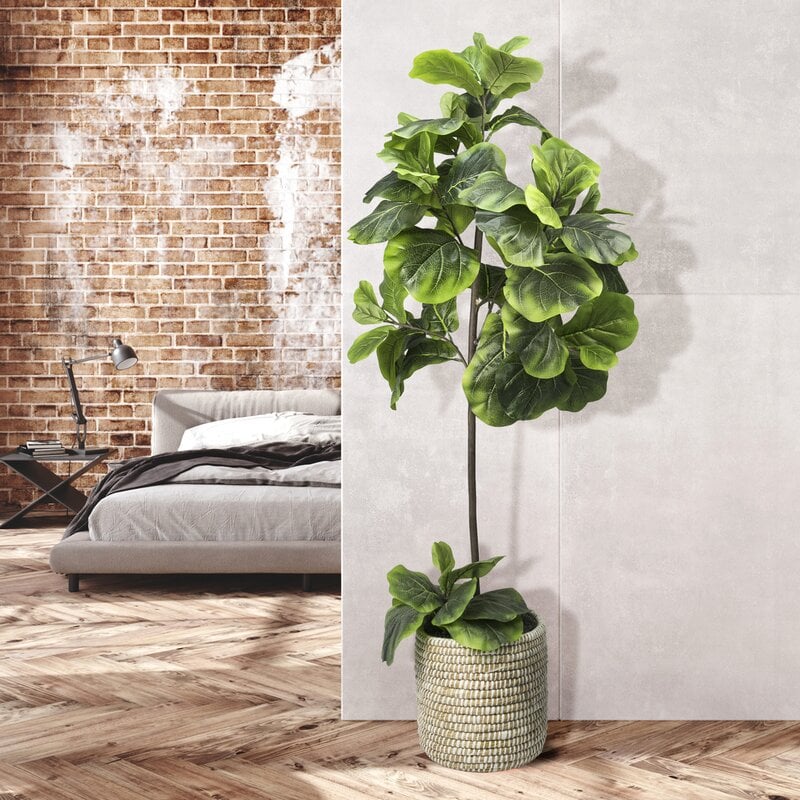 Fig trees – Ficus lyrata – are among the most popular entryway houseplants due to the unique look that sets them apart from other houseplants. This shrub has a high height with a narrow, tall stem and broad leathery leaves.
Real fiddle-leaf fig trees do best under skylights or near windows in the entryway and require watering once a week (more often in winter or homes with dry air). Or you can pick up a faux fig tree, like this realistic 60" placed in a decorative woven white basket.
Add an Areca Palm for Air Purification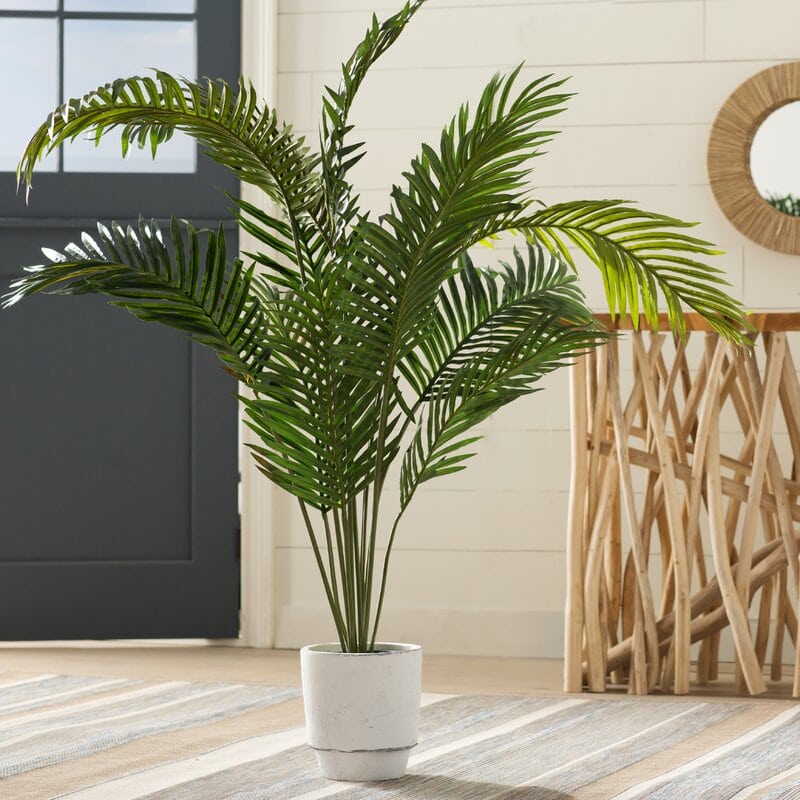 Adding an Areca palm to your entryway can serve a dual purpose – creating a welcoming vibe as you enter the door while purifying your air. This species is also pet-safe, offering zero risks to your cats or dogs, making it perfect for placement on the floor.
These butterfly palms – named for arching fronds with feathery leaflets (up to 100) – can reach 8 feet tall (comes at 30") and have low maintenance needs (water once a week). Prefer the look of a live plant? Get yours here.
Pull the Tropics Into Your Entryway with a Palm Plant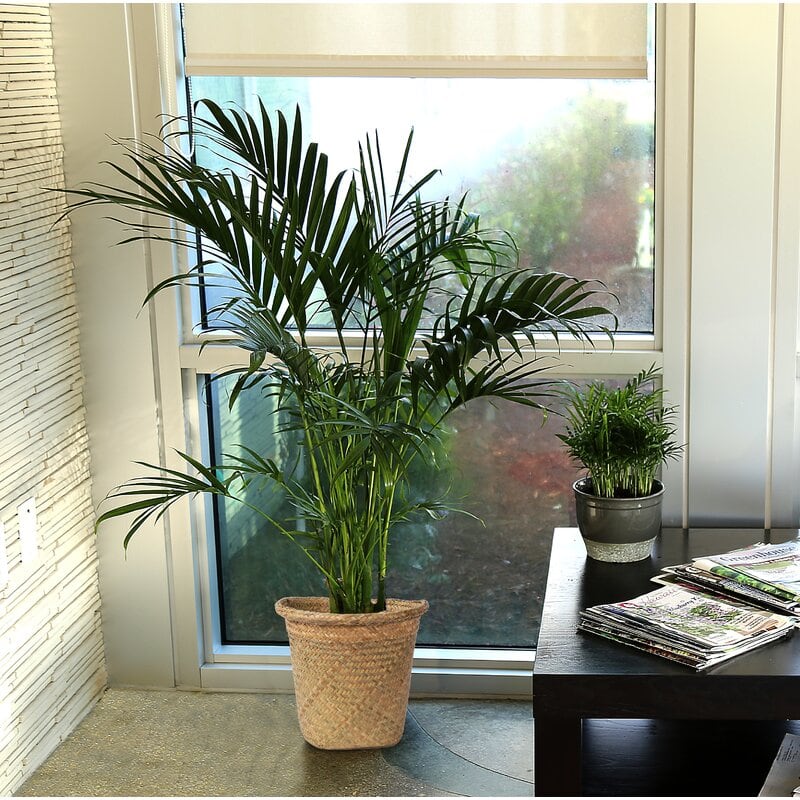 You can give your entryway a luscious tropical feel with the simple placement of a floor palm tree – faux or real. Cat palms aren't just gorgeous to see; they also purify the air.
This cat palm needs indirect bright light when used indoors, although it can survive in low light for long periods. Of course, you'll also need to keep the room humid and warm.
Pick Out a Pachira Aquat Planter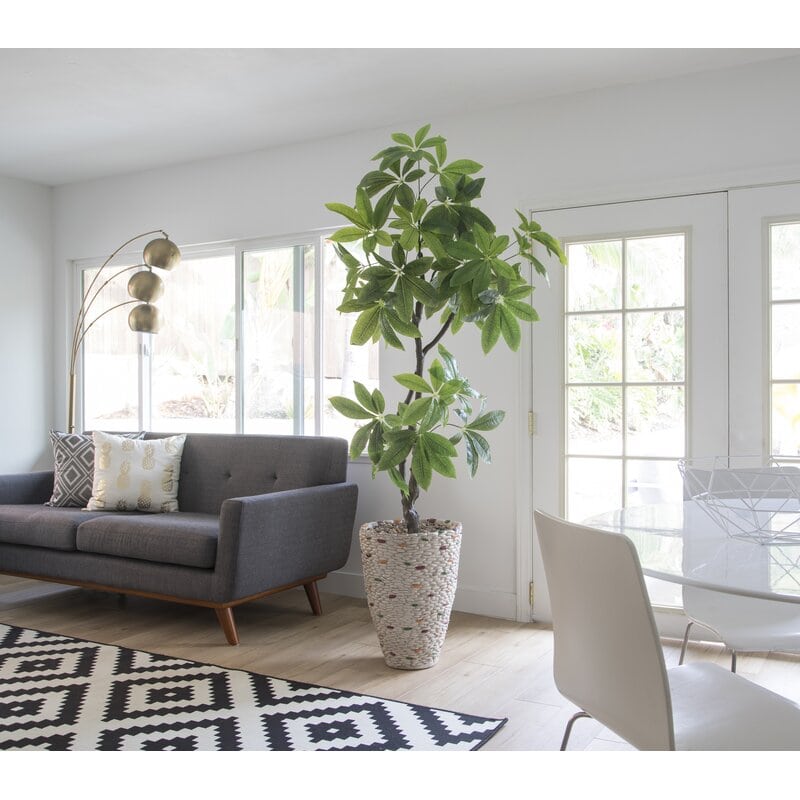 Adding a large tree near your entryway instantly brightens the space, making it feel more inviting and sophisticated. Using artificial plants is the best way to achieve the look without the hassles of heavy maintenance.
We love this faux 24" Pachira Aquat tree with a real touch feel and a stylish 14" tall Boho planter in an ivory fiberstone with decorative color stones in a random pattern.
Enjoy the Exotic Feel of a Yucca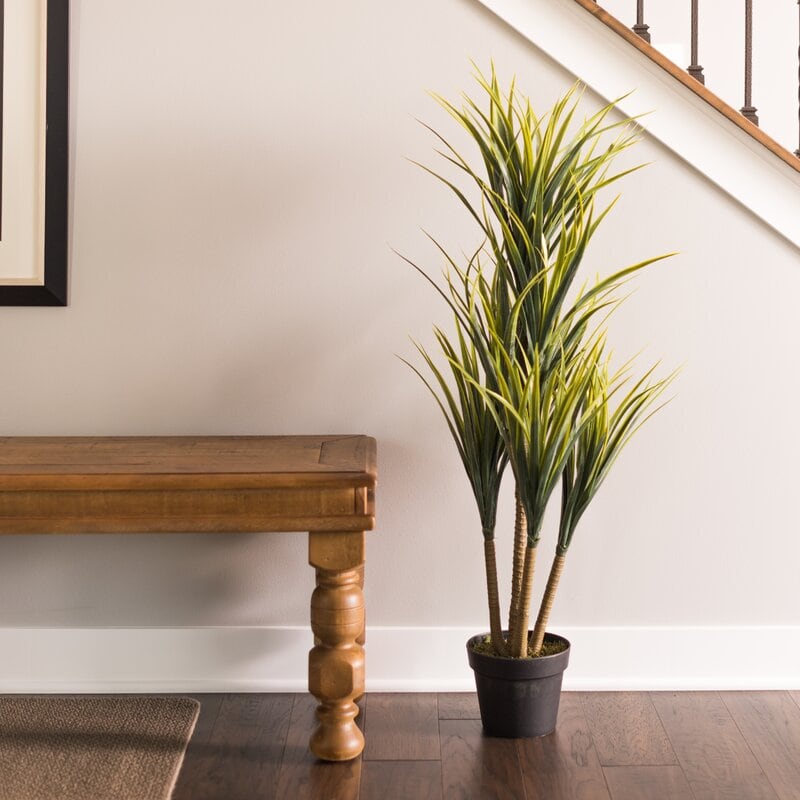 Yucca plants in the entryway to your home are fantastic for making a transition between outside and indoors by giving your space an exotic upscale feel.
The thin stems and vibrant green and yellow upright leaves instantly brighten up a room without taking up too much space, making it the perfect choice for tight entryways.
Believe in the Bulbous Bonsai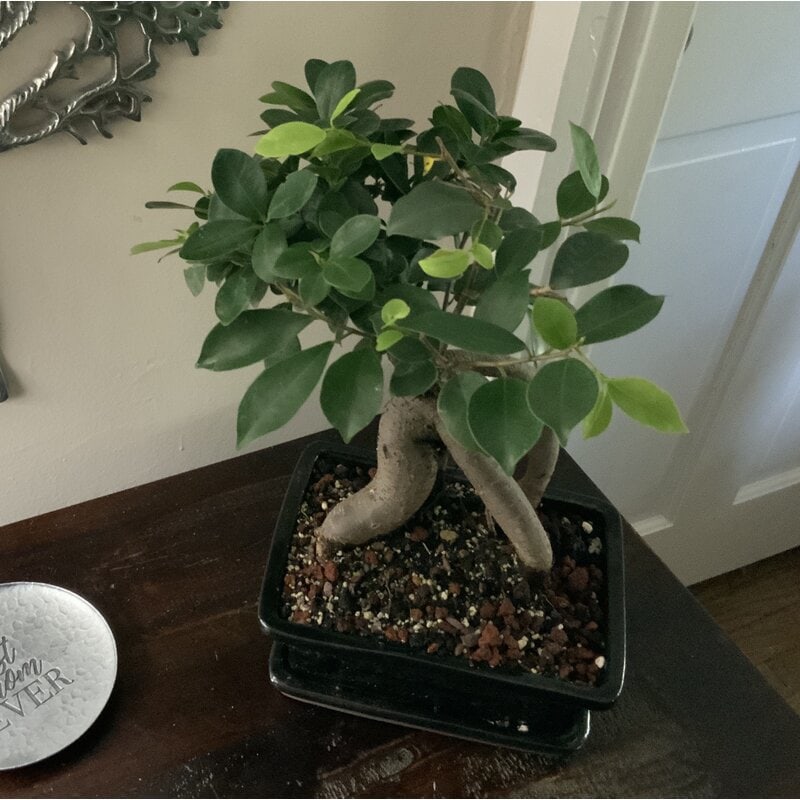 If you're looking for a smaller plant to adorn an entryway table, a Bonsai tree could be the look you need. Widely popular for its easy maintenance and exotic feel, the Ginseng Ficus – Bonsai – is the perfect indoor plant.
This potted tree and black ceramic pot give your entryway zen, Boho nuances with chunky exposed roots and small green and yellow leaves.
Go with a Gorgeous Green Giant – Ficus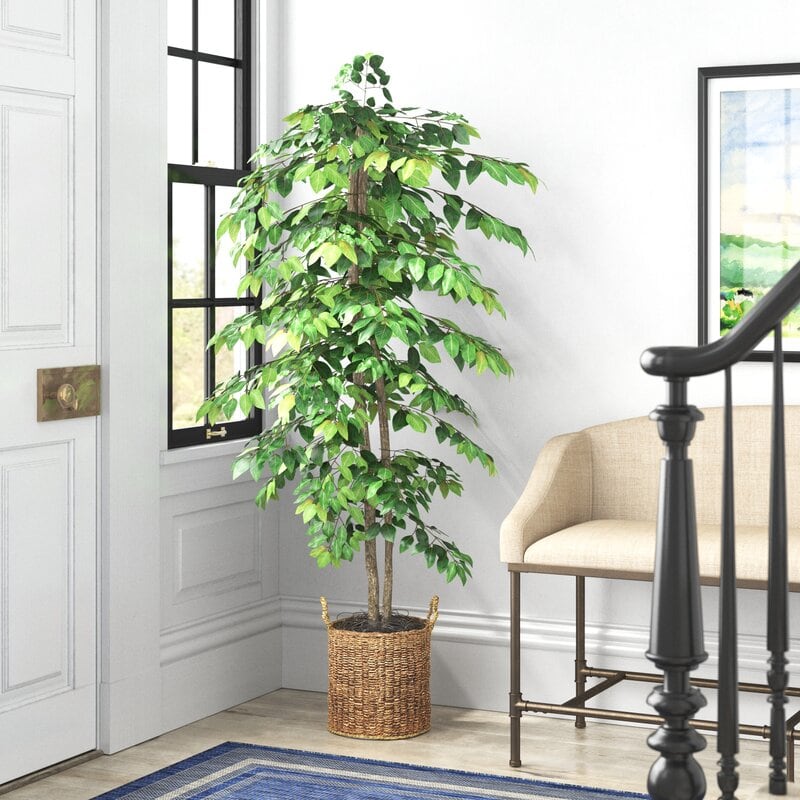 Give your home's entryway a dramatic flair using a giant ficus, heavily loaded with tiny green and yellow leaves.
This 6' behemoth looks fantastic in front of a window, although the faux material means the tree will stay green, even if there's zero light. And the wicker basket base with handles adds a Bohemian influence.
Top Your Entryway Table with a Boxwood Topiary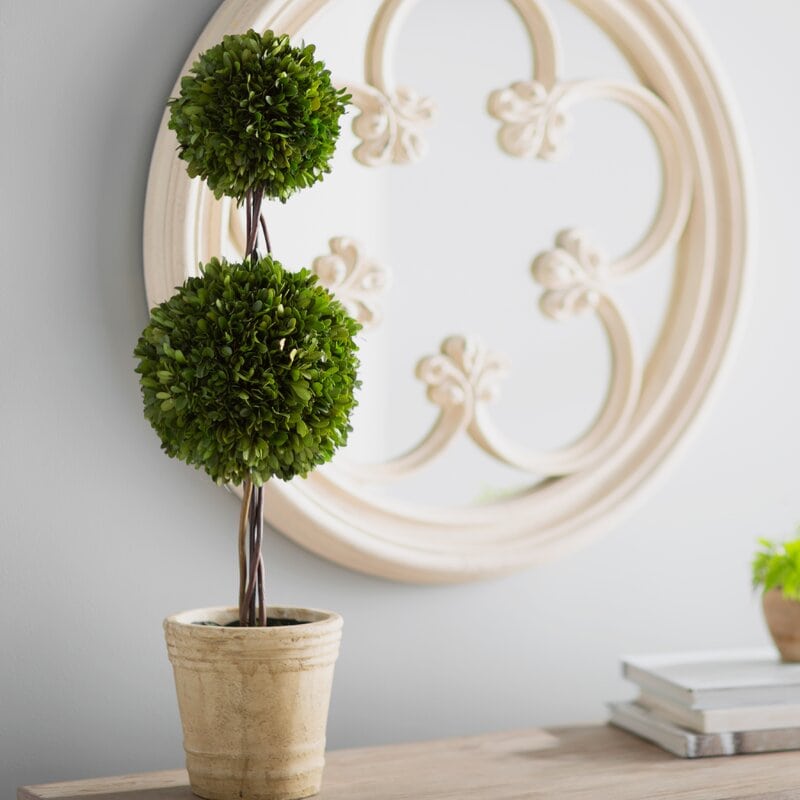 If trees and potted plants aren't really your thing, but you're still eager for something green, then you may want the classic look of a Boxwood topiary.
This small faux manicured shrub offers two varied-sized balls of teeny leaves with a natural wood stem, "planted" inside a distressed ceramic pot.
Enjoy the Energy of a Group of Eucalyptus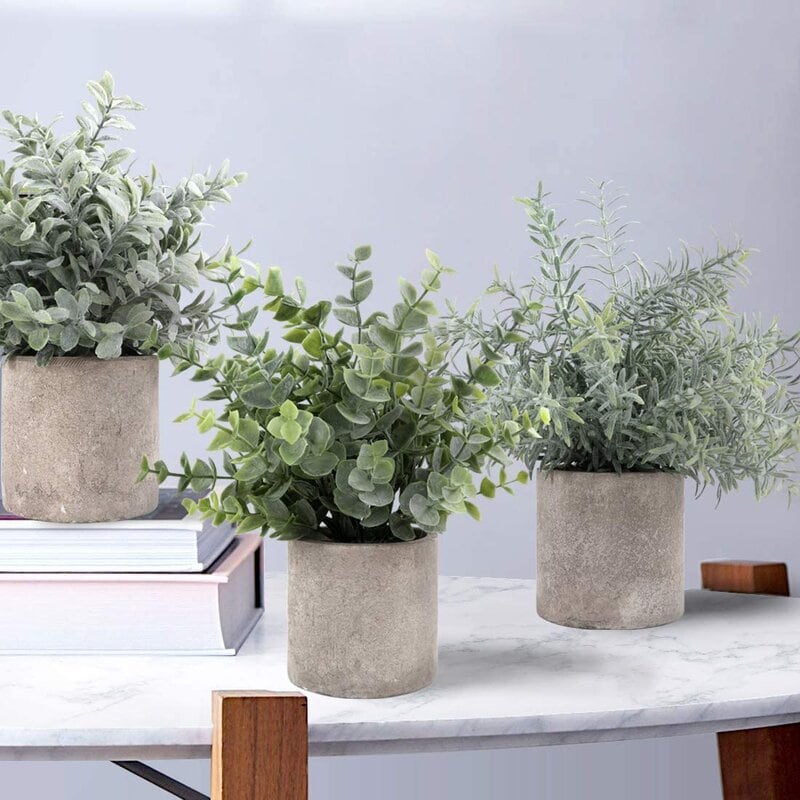 When you have an entryway table in your foyer, you have the perfect platform for displaying a set of plants, like this Eucalyptus group of three.
Although artificial, these mini faux plants look so realistic, and no one will know the difference. You get three species of Eucalyptus succulents potted inside a clay paper pulp pot.
Stack Smaller Plants with a Taller Snake Plant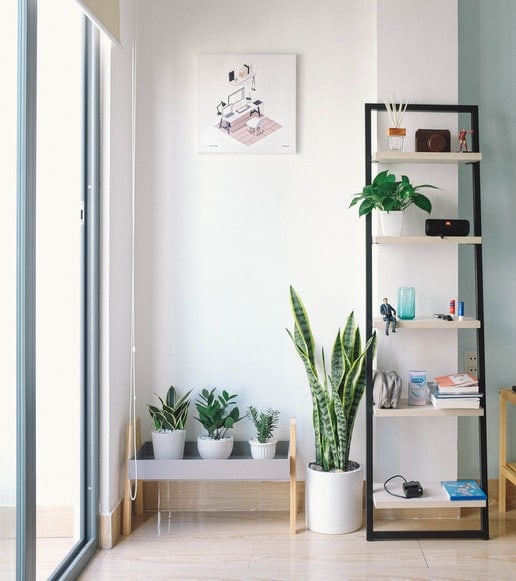 If you have an old shoe rack bench, you can repurpose it into a plant bench to hold a few small plants. Then choose a tall exotic plant like a snake plant to go in a large planter on the ground.
Or you could pick a shorter version, like this faux snake plant in a stylish speckled ceramic pot. These plants have deep green upright leaves in a distinctive shape with imitation variegations for a more natural look.
Plant a Pot of String of Pearls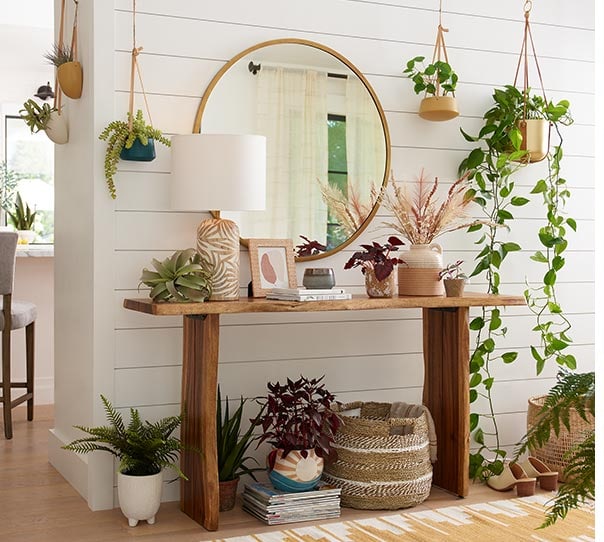 The String of Pearls plant gets its descriptive name for the interesting look, consisting of dozens of little green pearls dangling from vines, making it perfect as a hanging plant placed on the wall or in a flower pot pouring along with the table.
Using unique succulents like this are excellent for foyer plants because if you forget to water them for a few days, there won't be a mess of leaves to clean up. Or you could go with a faux version in a cement-imitation textured pot for a contemporary look – and never need to water it.
Play Around with Pampas Grass for Different Decor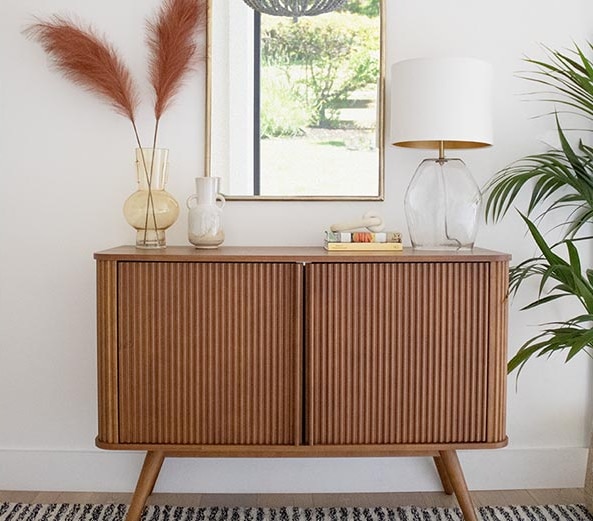 Never underestimate the power of a well-placed tall vase in your entryway. But you don't have to fill it with a green tree or some bright floral flowers.
Instead, you can go with something as simple as grass – pampas – to be exact. These textural grass pieces come in vibrant terracotta orange with feathery plume tops and extra large stems for an eclectic modern minimalist vibe.
Embrace the Elegance of Pure White Orchids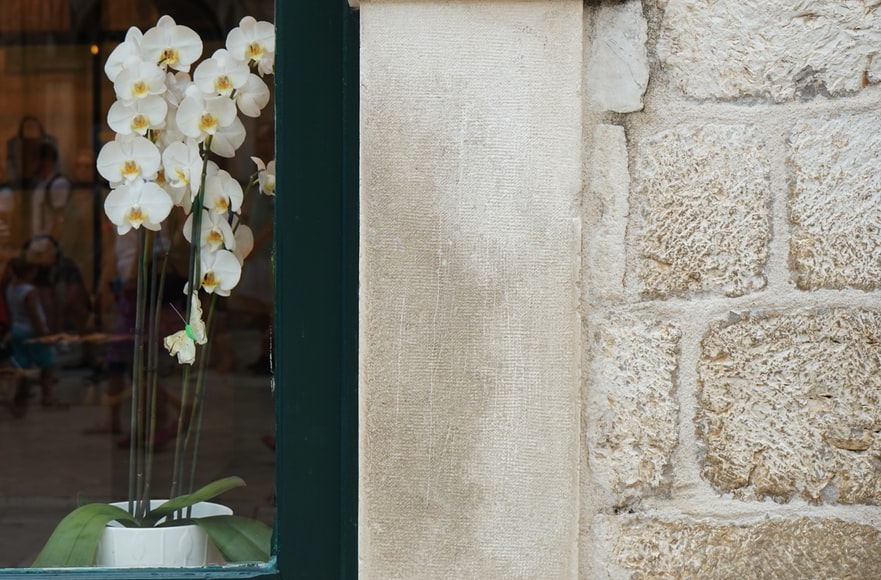 There is no common plant as gorgeous and classy as Phalaenopsis Orchids. These graceful and delicate white flowers with pale yellow centers make a power statement that's incredible for foyers.
Adding an orchid plant near your door sets the ambiance for your home as both welcoming and sophisticated elegance. Everyone is sure to pause to appreciate the innocent beauty, causing a fleeting moment of peace. But the temperamental care needs of Orchids mean you may want to go with a faux plant if you don't want to dedicate the time to provide the proper care.
Hanging Ferns are Fantastic for Foyers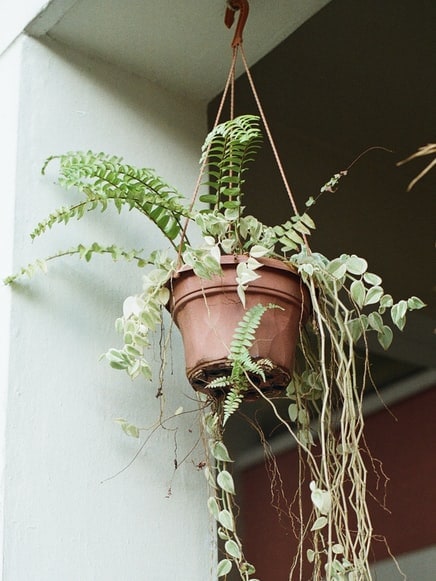 Another fabulous choice for foyer plants is using a hanging fern, one of the most loved ferns for indoor basket plants.
These ferns can grow lush and thick, spilling out of the hanging pot to cascade down in elegant curtains of greenery. Or you can choose a faux silk fern with textured leaves if you're not ready to keep a real plant alive.
Make Your Entryway Monstera-zing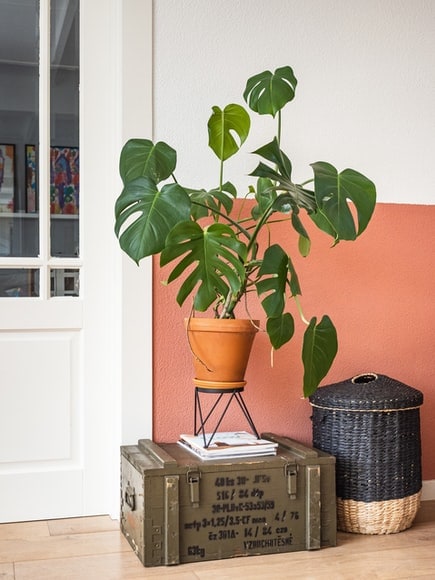 If big, green, and leafy are in your criteria list, along with a big space to support the width, a Monstera plant can be your entryway's best friend.
As an oversized tropical, this plant can get up to four feet high, but the real wow factor is the look of the voluptuous spread. The unique splitting and ribboning of the massive leaves give this plant an instant identifiable – and eye-catching – feature.
A Rubber Tree is Ridiculously Relaxing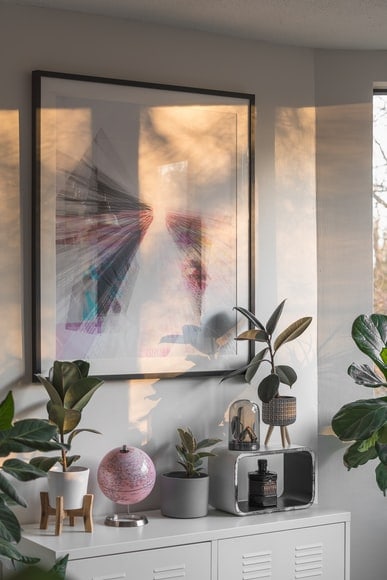 Rubber trees get their name justly due to the big, glossy leaves that can look and feel like a faux plant. With a smooth top surface and a stiff shape, and waxy rubbery texture, it's no wonder this species gets called rubber.
You can go with a single rubber tree in a large planter or make it one of a set of large plants for your entryway.
Plant a Prickly Pear Pokie Plant (Cactus)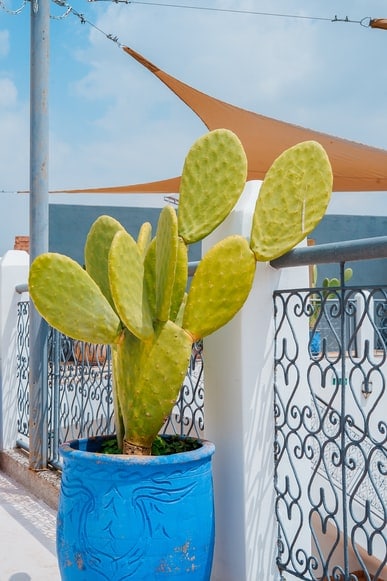 Cactus plants are always a safe choice for greenery in an entryway because they don't require much sunlight or water.
This playful-looking cactus – Opuntia – features beavertail-shaped pads and can bloom with bold flowers in pink, yellow, or orange.
Behold the Beauty of a Bird of Paradise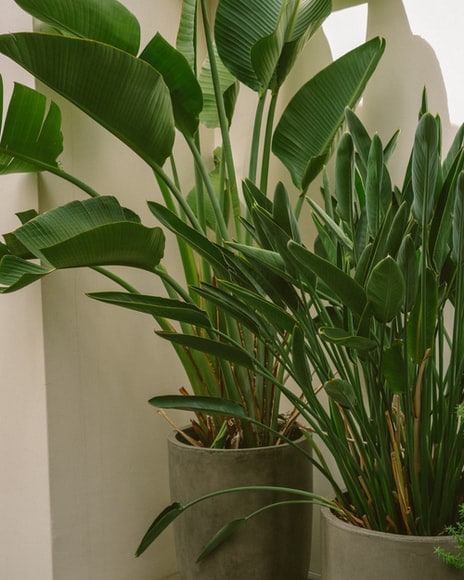 A Bird of Paradise plant is sure to brighten up your entryway with a tropical nuance. The natural beauty of these potted giants means that you can pick a simple, plain pot for growing your plant rather than splurging on a decorative container.
A large stone planter in a natural non-descript color can have a major impression when you fill it with the massive lush greenery of a Bird of Paradise.
Hang a Trailing Blue Pothos Plant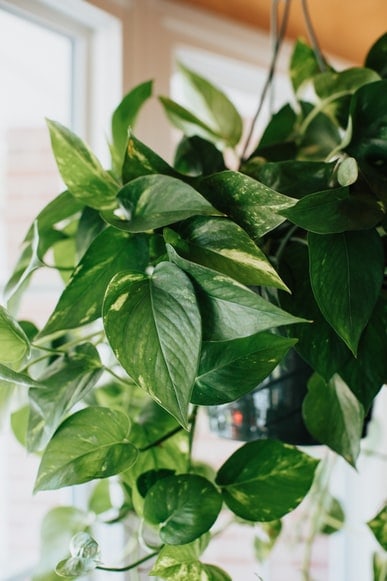 Entryways can look lush and fertile when working with a hanging plant like Cebu Blue Pothos. As a trailing plant, the branches spill out of the basket and dangle towards the floor.
The long vines and oblong leaves with pointed tips have low maintenance and do excellent in indirect bright sunlight, making them great for entryways and foyers.
Pick a Pile of Phalaris in a Pretty Vase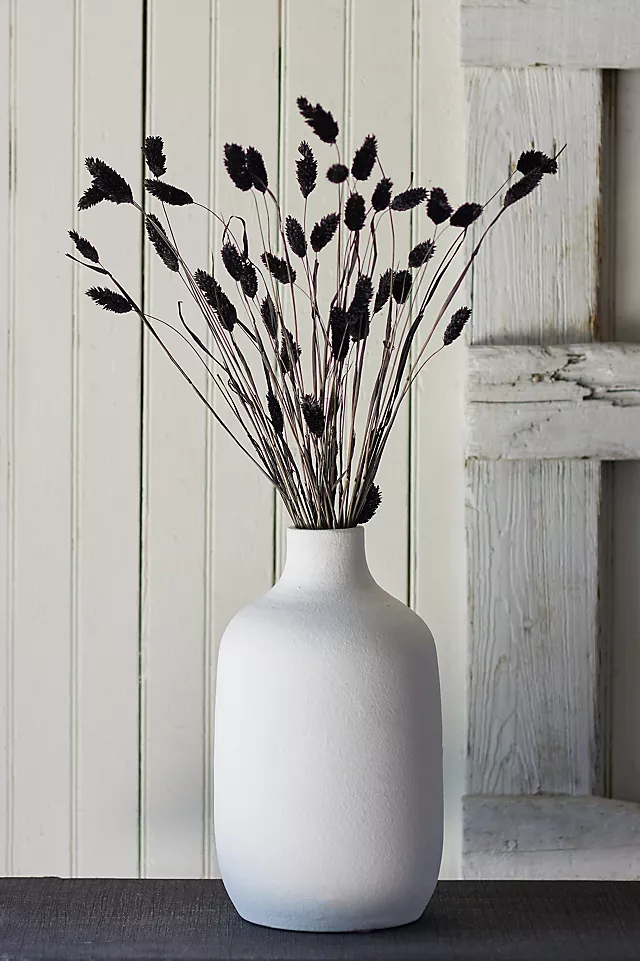 Phalaris stems are a popular type of filler to use in a vase with other main flowers. But the fuzzy textured look and bright, vibrant color also make this wild plant excellent as a solo bouquet.
You have a huge spectrum of choices in terms of vases, from something plain and simple or a decorative sculpted vase in a light contrasting color to the dark color of the flowers.
Final Words
Before you pick plants for your entryway, you'll need to consider the room's size and the lighting. When working with real plants, you'll need to consider the lighting requirements and the spread and height. Faux plants give you a look without the maintenance, but you don't get the aromas.
Have you used any of these plant ideas in your entryway? Or do you have plants that we didn't mention? Share your pics in the comments.