We independently select these products — if you buy from one of our links, we may earn a commission.
Kitchen Pantry Design Updates! What's Hot & What's Not in Pantry Designs
By: Decorated Life Team
|
Trending Kitchen Pantry Design Ideas!
The trend towards smart, easy to access, functional kitchen pantries is growing; for new homes, they a huge plus, if not a must. For existing homes, they are being added to existing spaces; enlarged, expanded or custom built.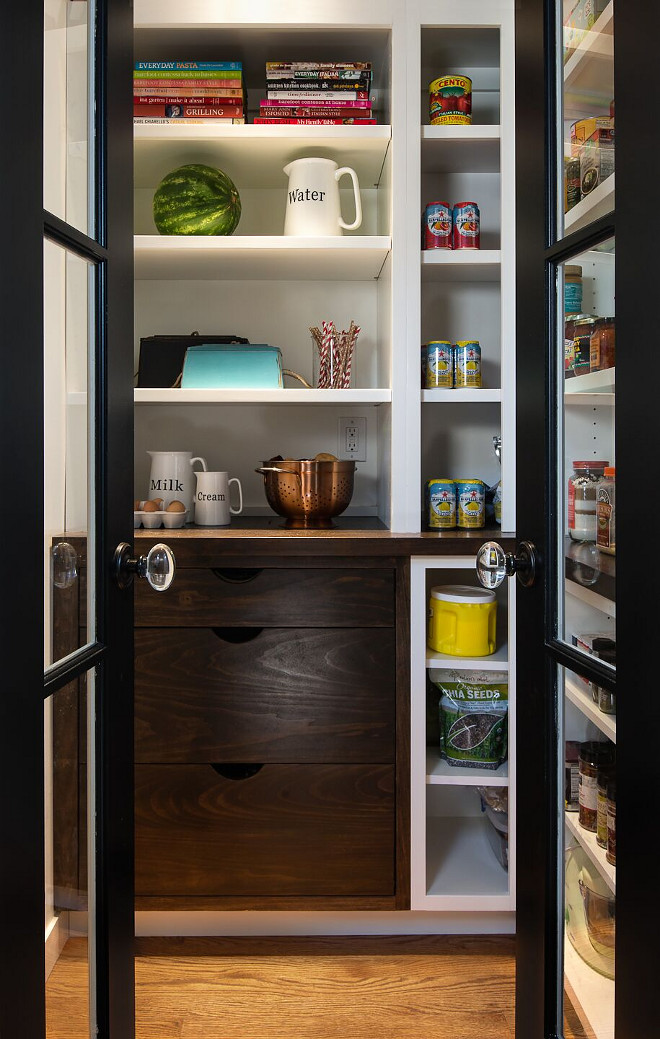 As open plan living rooms merge with kitchen spaces, kitchen counters are kept tidy, minimal and clean. Still, appliances need to live somewhere, food needs to be stored, prep areas are needed and it can all be hidden if you plan it right, and plan it well.
Okay, not everyone has the space or budget for these luxury hidey-holes. But planning can help you improve your existing kitchen pantry; making your kitchen smarter and easier to use. 
The new pantry styles are borrowing from previous periods and merging them with new design ideas. These changes are more luxurious, and becoming the new standard in good kitchen design.
Let's look at existing pantry trends first.
Cabinet Pantry Design Ideas
For many, a wall of cabinets is a better storage solution than a walk-in pantry. You get storage plus a tighter footprint; making access to whatever you need easier. Click the image below for more specific details on this cabinet pantry design.
This remodel created space; storage above the doors wasn't being used, nor was the full depth of the pantry. Like most existing pantries, it needed redesigning or turn a broom closet or nook into a bespoke pantry.  
No matter what your design preference, the key is to use all available floor to ceiling space. Sometimes you will have a sea of cabinets, with the contents neatly tucked away; other times open shelves will help display your more beautiful or precious pieces.
If you want to get in on this kitchen pantry trend, what changes you can focus on? Can you replace your cabinet doors with doors that hold jars, pans or bottles? Can you expand by going all the way to the ceiling or floor? Can you add a corner nook that allows you to go deep, and vertical? Is your focus food or appliances, or both?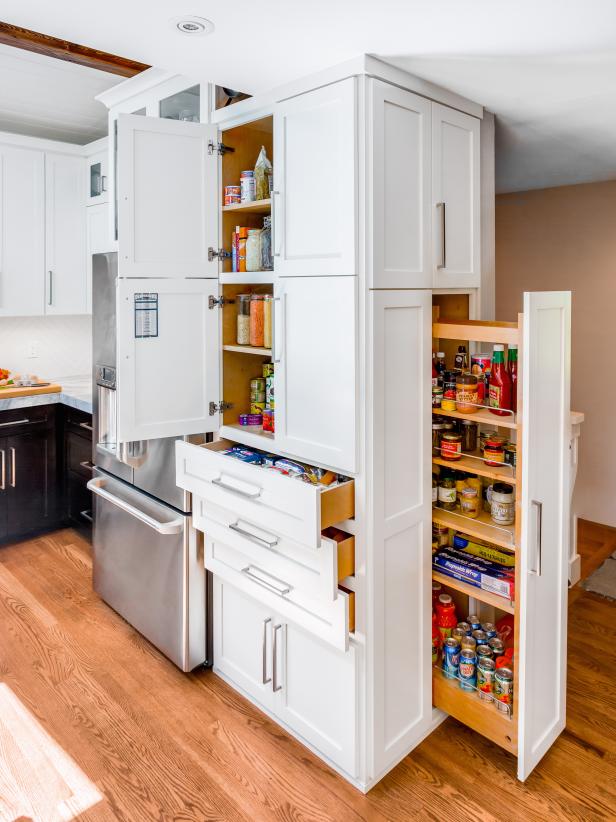 Quality Pantry Solutions
Designers prefer to hide kitchen appliances. Kettles and processors are stored away. That's not always possible with wall cabinet pantries. From from wine to jars, pot and pans, this can be the perfect solution. If your cupboards are very deep, make sure you have enough task lighting to find items, otherwise it defeats the purpose.
Blending Old with New
Vintage-inspired features soften minimalist modern kitchens. There is a trend towards mixing old and new, raw wood and painted white cabinets; mixing vintage industrial or country cottage with new kitchen storage. Replacing an existing door with a barn door can change your look, while making your pantry more accessible. Or add a glass door with a black frame to highlight your organized pantry.
Kitchen Pantry Design – Function and Storage
The check off feature list for new pantry design includes work spaces, appliance and electronic storage, prep areas, sinks, refrigerators and floor-to-ceiling storage, with a style and luxury in keeping with the rest of the kitchen. Again, do you need good task lighting, a ladder, the internet and more electrical outlets? These small things will make a huge difference to how you run your space.
This is not a junk storage closet; but a working space; with expanded functions, without staff! So, it better work, because its meant to reduce your work load, not increase it. 
Butler's Pantry 
You don't have a butler to have an amazing butler's pantry. Perfect for storing entertaining items like trays, champagne glasses and delicate tea or coffee cups. This is a kitchen within a kitchen. Does it have a sink? It can if you want it to.
While a wonderful addition to any kitchen, here are some things to consider when designing your butler's pantry.
How You Will Use It?
The list of course, includes storage, food preparation and baking.
And when entertaining, it becomes a perfect way to hide dirty dishes during a dinner party without leaving your guests for too long.
While budget comes into consideration, it does not have to be big. In fact, a wall without doors, is all you need to strategically hide your kitchen operations.
Design A Space For Everything
Compile your own list of small, large and oddly shaped appliances and platters and how many you own to be housed in your new pantry. Don't forget larger appliances like a wine refrigerator, microwave, and bench space for kettle, coffee machine, waffle maker or toaster. This cleverly designed space stores everything from platters and chopping boards, to spices and baking trays, leaving more space in your kitchen for entertaining, cooking and relaxing.
Plan For Uniformity
Having your glass jars, canisters or containers in the same shape or design allow items to be found easily, and to look more organized and adds an instant design and style factor. 
Add similar flooring, wall tiles or handles to give a sense of uniformity. Add the element of surprise with a bold feature wall or a grand platter display. Then sit back and enjoy!