Decorated Life is reader-supported. When you buy through links on our site, we may earn an affiliate commission. Learn More
20 Kitchen Backsplash Ideas for White Cabinets
If you're working on creating the perfect social media-ready white kitchen, you'll need just the right backsplash to go with it.
Since the cabinets are white, it might seem like just about anything would work but some stones and hues still work better than others, even paired with the most neutral of neutral colors.
Don't worry, though, there are still so many fantastic kitchen backsplash ideas with white cabinets to choose from. Whether you want a pop of color, a totally white look, or a little sparkle, you can easily work it into your backsplash.
Iridescent Tiles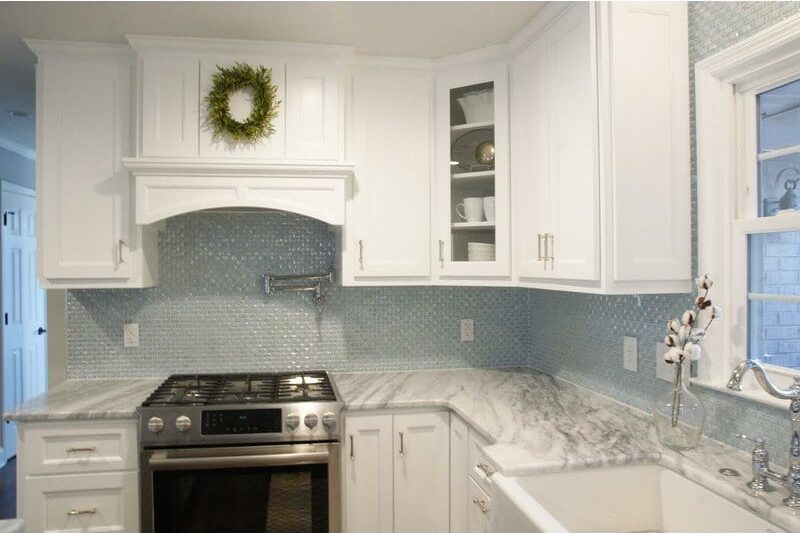 Want to add a little bit of a sparkle to your kitchen? Consider a backsplash made from iridescent tiles! It will always look a little different depending on where you're standing and where the light is shining.
You can go with a white tile to add a little pearly shimmer, something light blue like in this photo for a subtle touch of color, or opt for a deep blue with hints of purple and pink.
Herringbone Pattern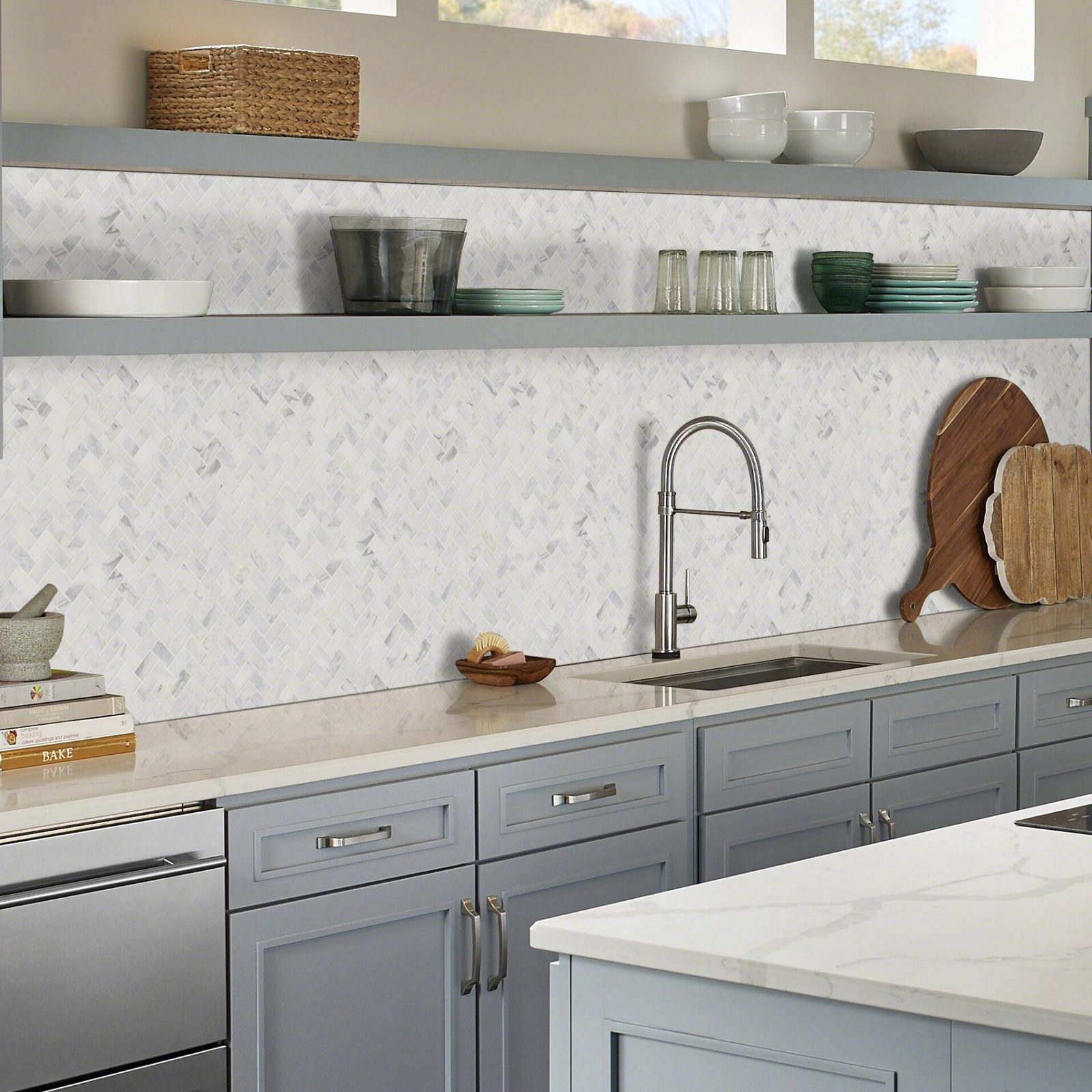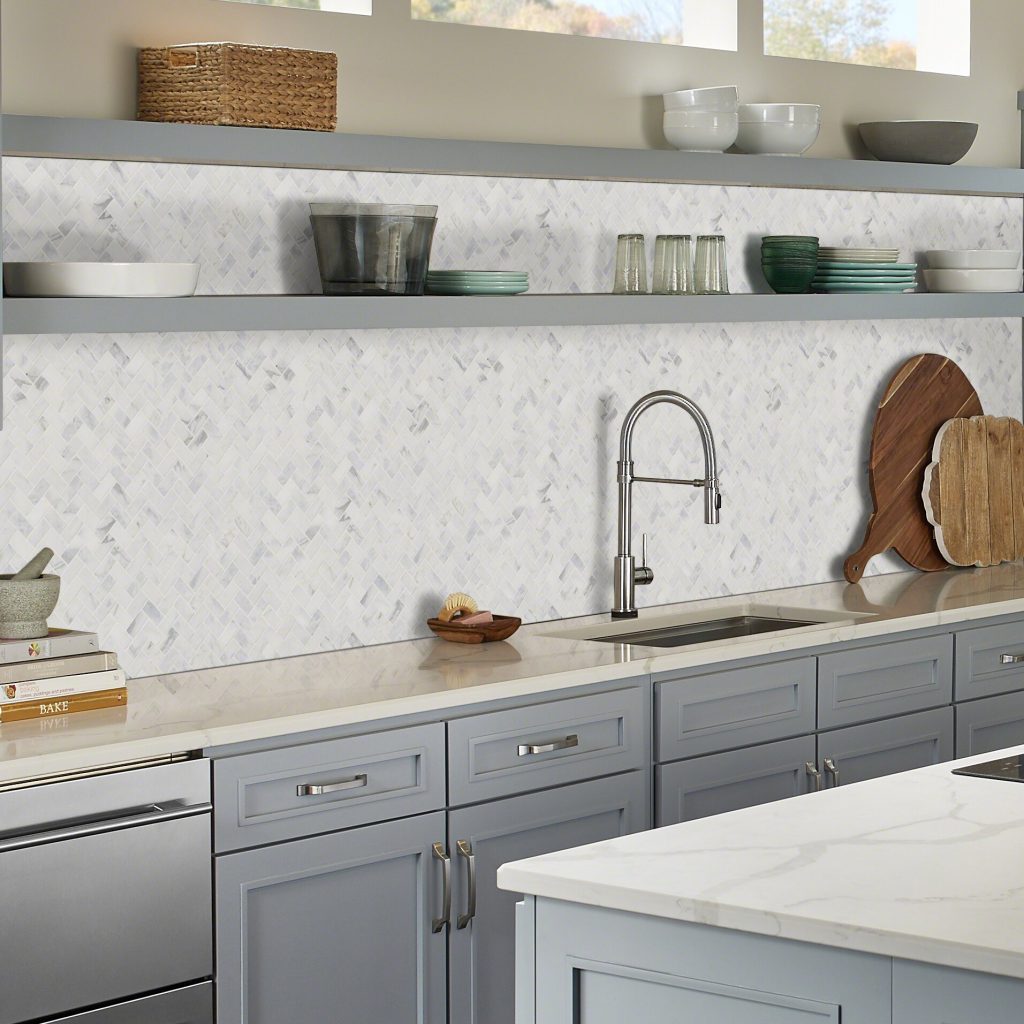 Rather than spend a lot of money on tiles with a unique shape, just get some rectangular ones and create a herringbone pattern out of them. The tiles will be relatively inexpensive, but the finished look will be stunning.
In this photo, the marble tiles are paired with white grout, adding just a hint of variety in the white kitchen. It doesn't get much prettier than this.
Fish Scale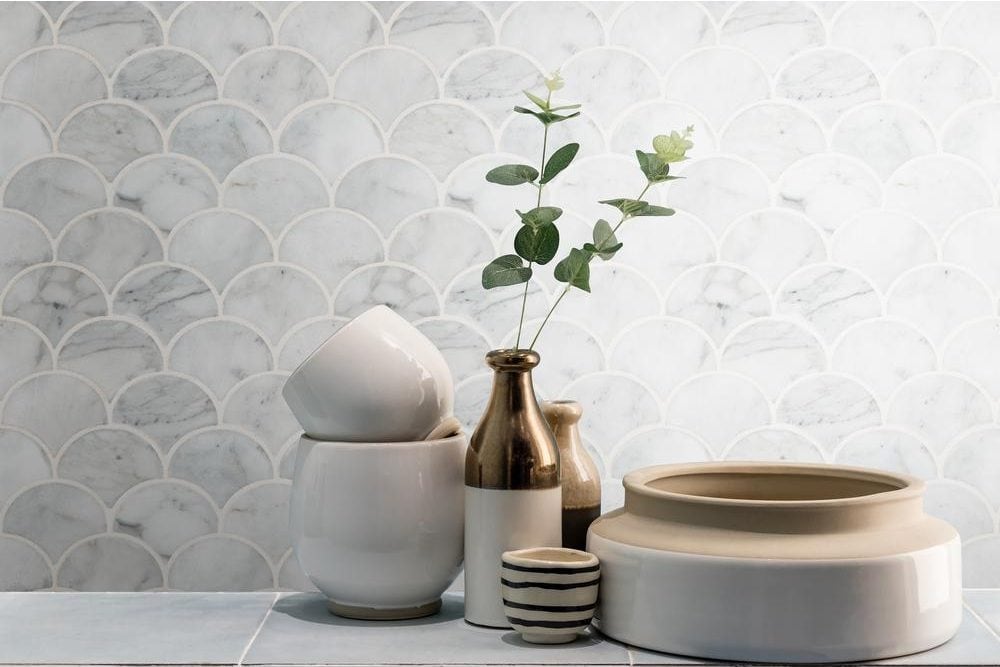 How gorgeous are these tiles? Fish scale or scallop tiles are absolutely stunning, especially when they're understated like in this photo.
Choosing a marble backsplash for white cabinets means you are keeping the kitchen bright, but still with a bit of texture thanks to the grey coloring throughout. But, by cutting the tiles into a scallop shape, you're giving your kitchen a little bit of uniqueness as opposed to a subway tile.
Grey Retro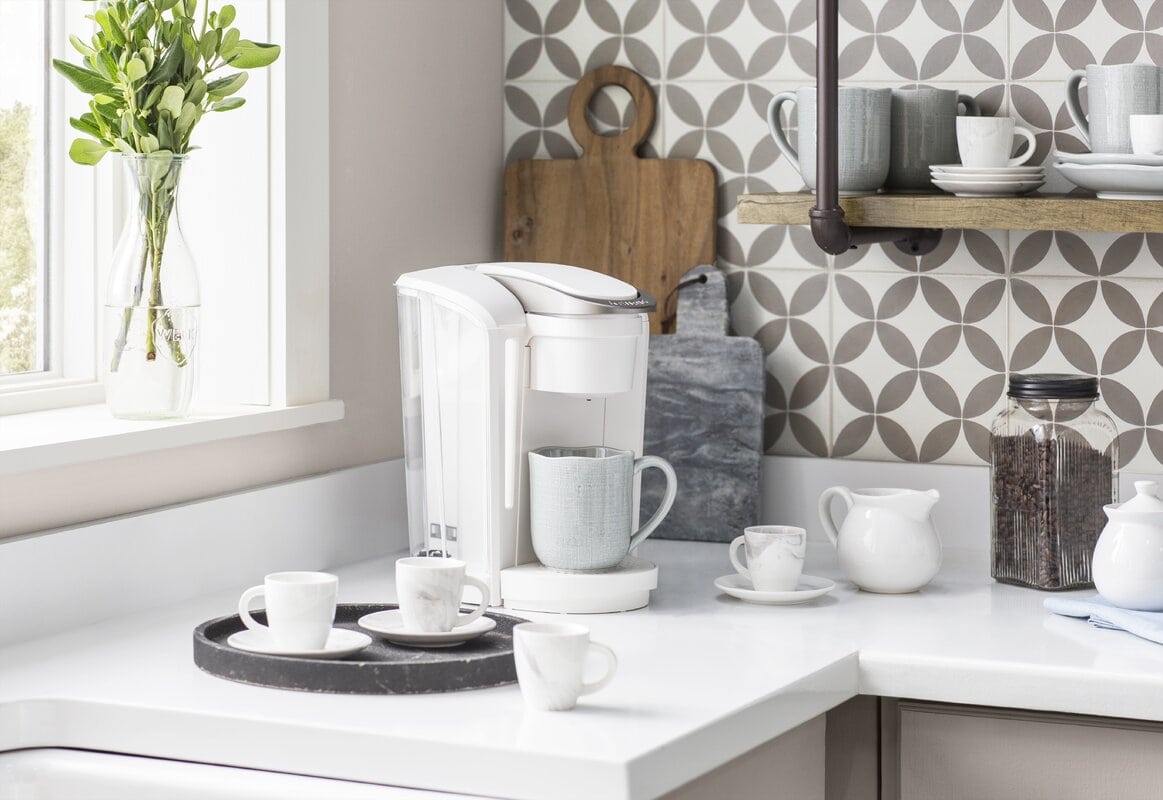 There's no denying that grey and white look amazing together, and they have a way of creating a truly beautiful and bright space. So, it's a no brainer to add some grey into your backsplash.
But, if you're someone who doesn't like to follow the crowd, try a tile with a little bit of a retro design, like this one, to set your kitchen apart from the more traditional styles.
Hexagon Marble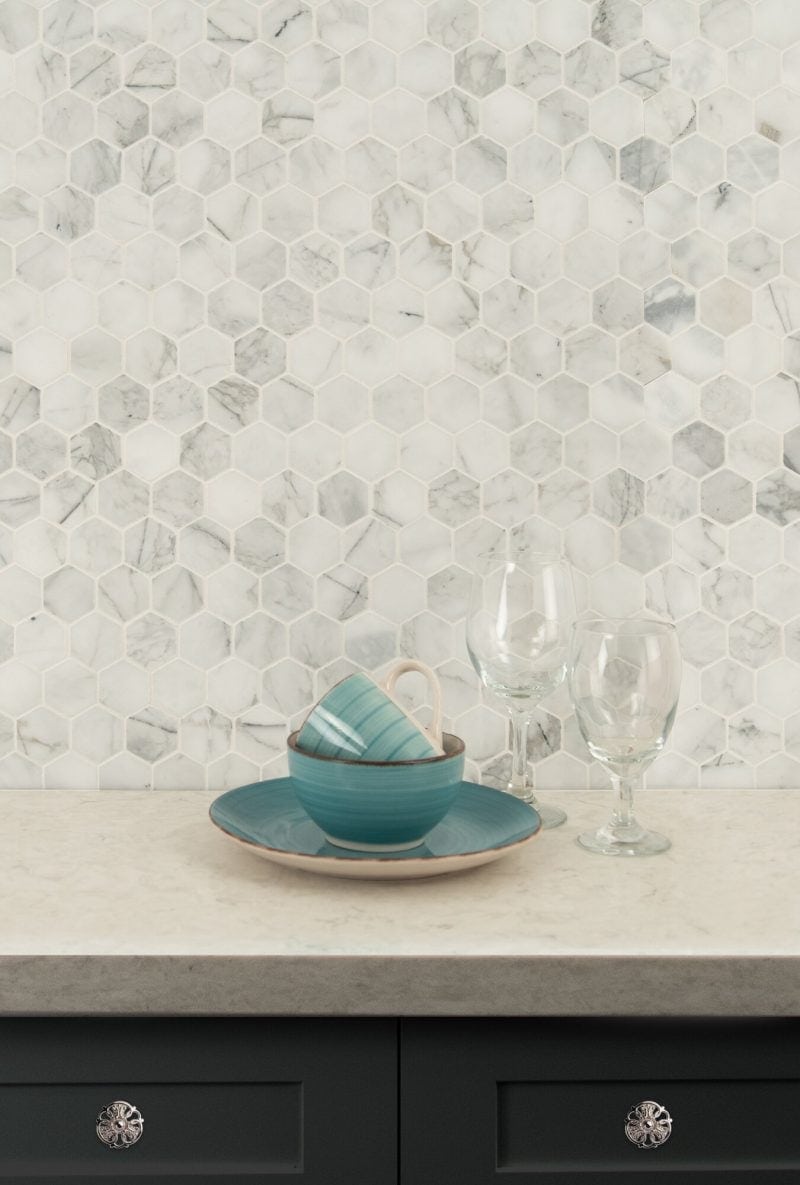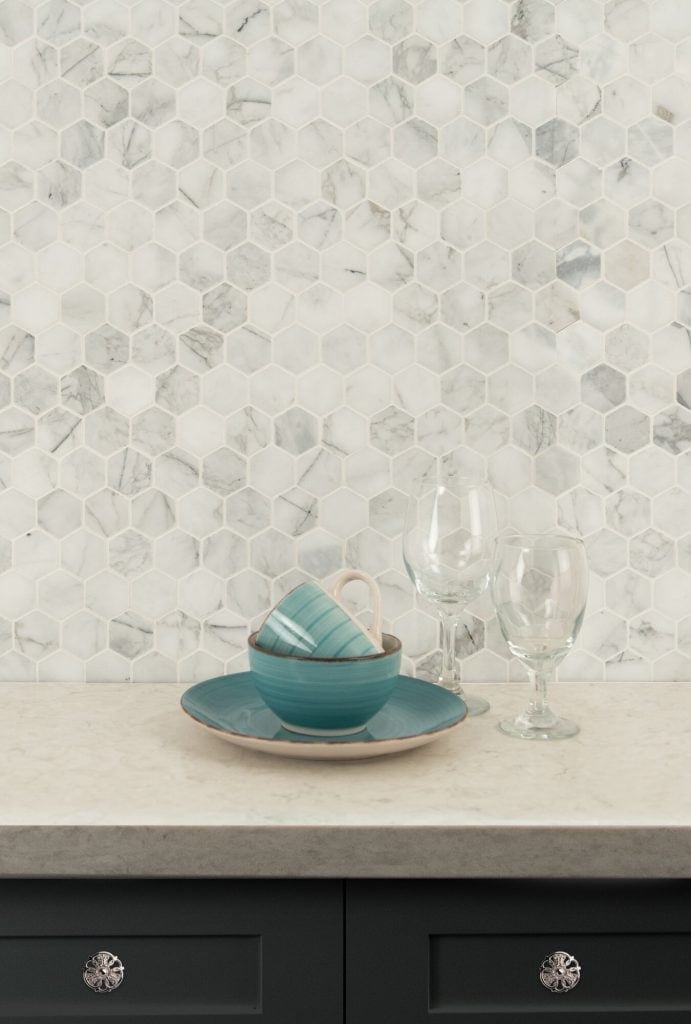 Hexagon shaped marbles are huge right now, and it's obvious why. They create a really clean look, without being boring.
If you love this look, good news, you can totally transform your kitchen using peel and stick backsplash tiles! Seriously, they look just like the real thing and don't require a wet saw or a contractor to install.
Classic Subway Tile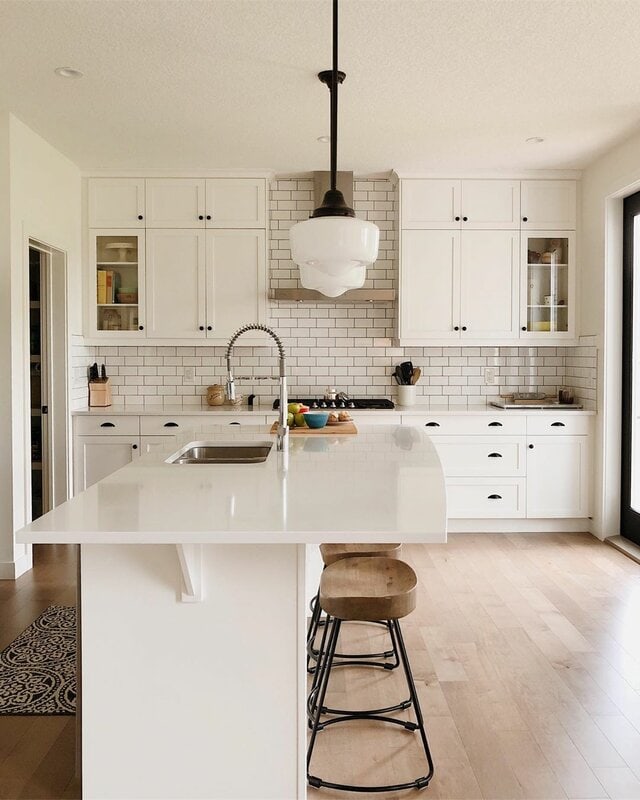 If you're still a fan of the farmhouse chic look, then there is no other option for your white kitchen than white subway tiles with charcoal grout!
The look Joanna Gaines made famous is more than just trendy, because subway tiles basically never go out of style and they will always look great up against white cabinets.
Gold Grout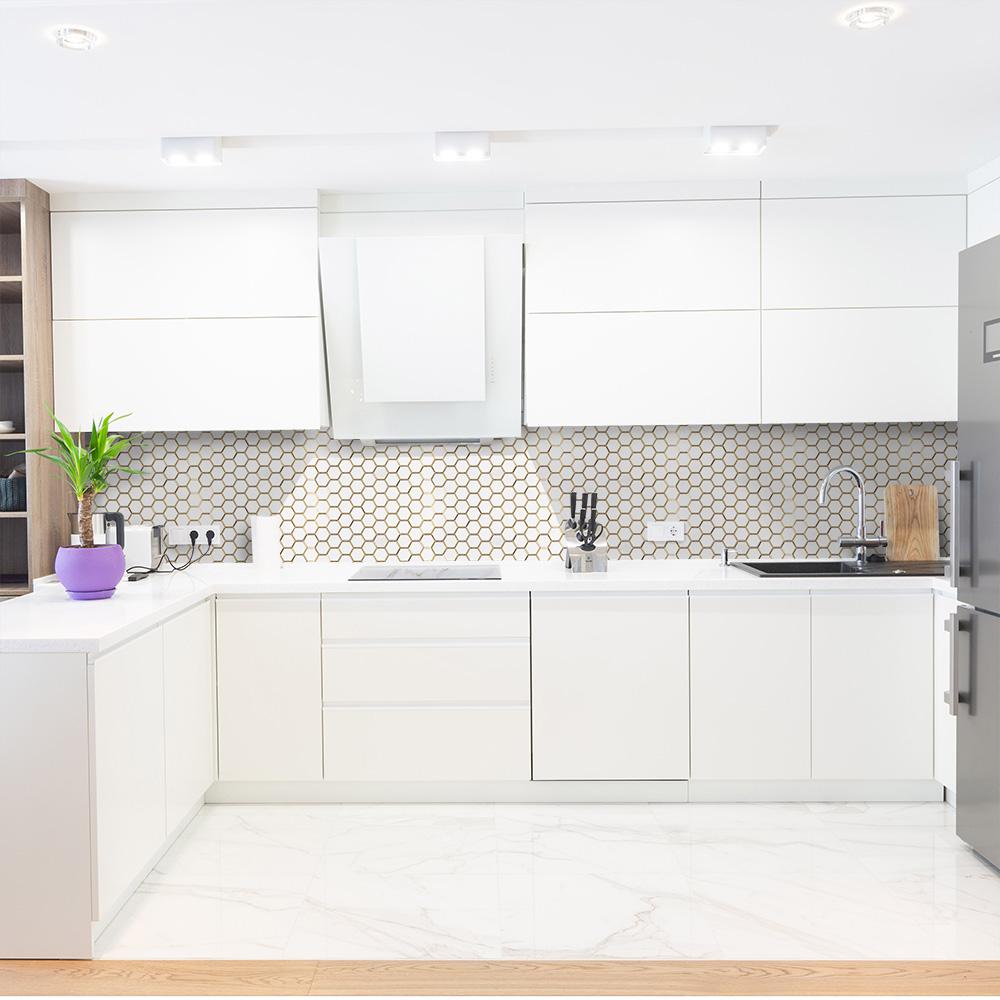 You can use your backsplash to add a touch of gold metallic into your kitchen with either gold grout (yes, they make it!) or tiles like these that have gold worked right into them.
This is a quick and easy way to turn a white kitchen into a glam kitchen. You can also take it a step further with gold hardware on the cabinets.
Brown Glass
Not a fan of grey? No problem, because brown is another great neutral that pairs well with white cabinets.
In this picture, the glass tiles pop out from the cabinets, but not in an overwhelming way like a pop of a bright color might. It adds some texture and depth to the space, without taking away from the overall simplicity.
Mod Design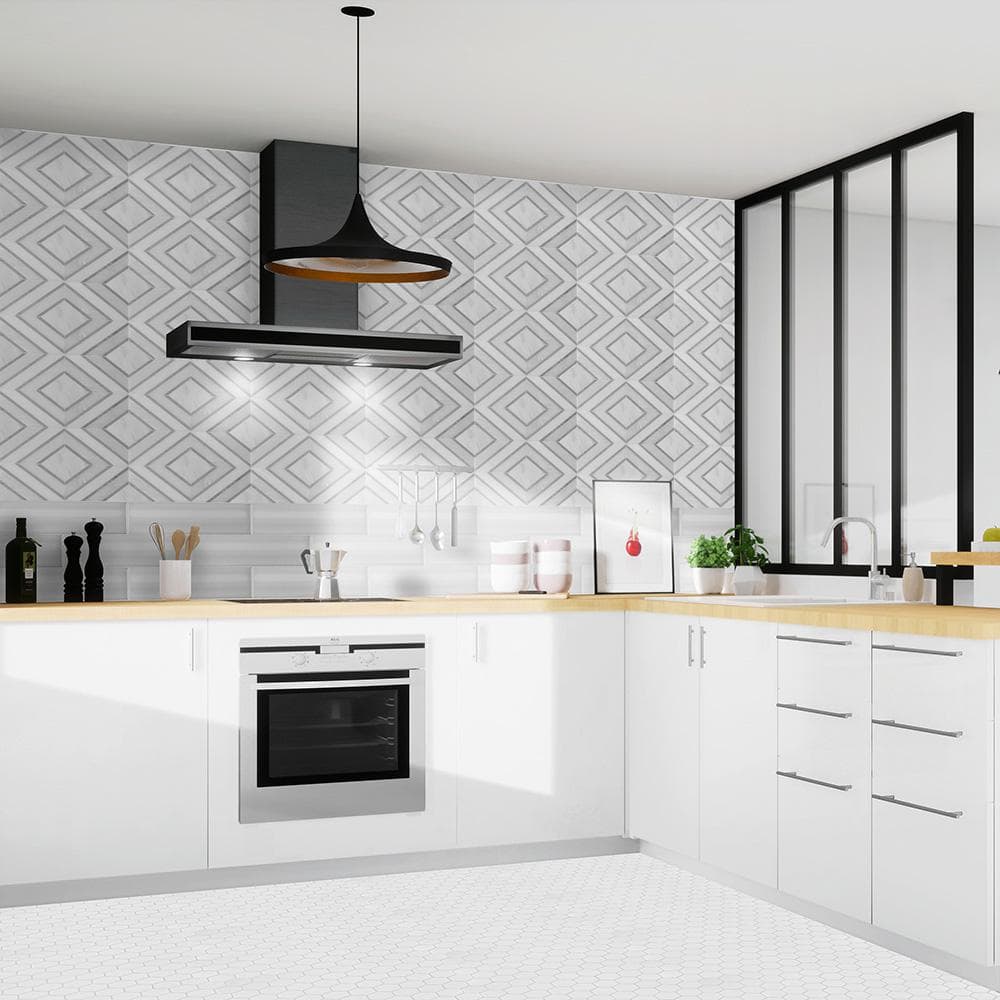 Create a mid-century modern look in your kitchen by finding tiles with a mod design, like these ones. Add in a sputnik light, some jewel tones, and touches of gold and you have a glam and gorgeous white kitchen.
Removable Wallpaper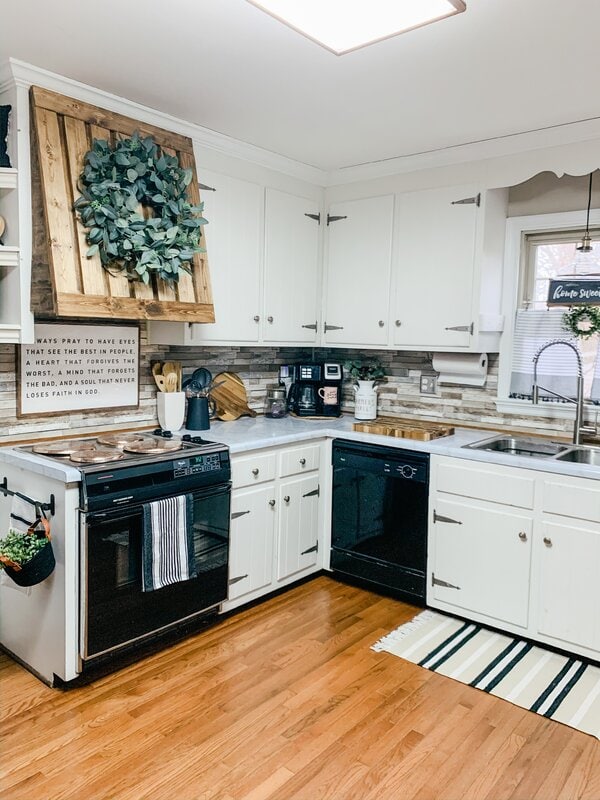 Look, cutting and installing backsplash tile is hard to DIY and expensive to contract out. So, if you want to change things up in your white kitchen, but don't want to invest a ton right now, consider removable wallpaper.
Wallpaper opens up so many great options for color, patterns, and textures. You may even be able to find something like in this kitchen, that looks like a traditional backsplash!
Neutral Chevron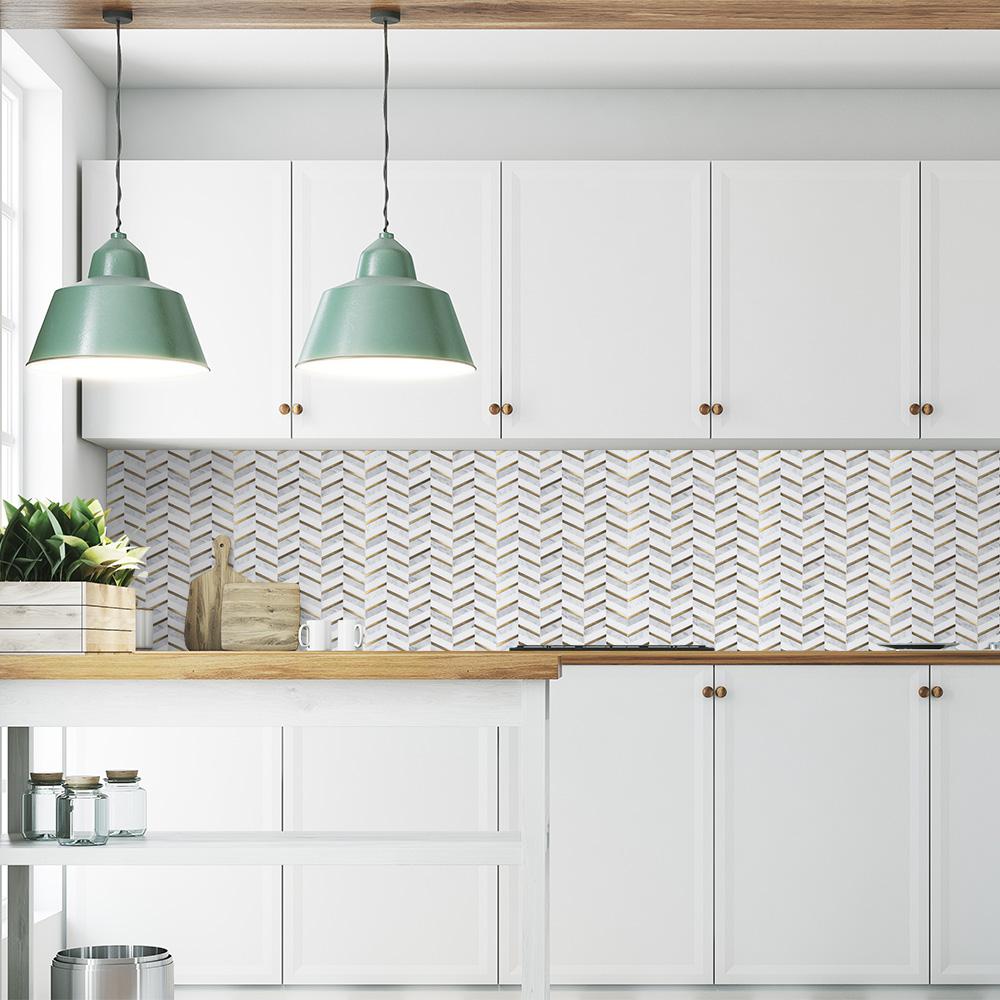 Yes, it wasn't that long ago that chevron was everywhere, and really really overdone. But, if you love the pattern, there's no reason not to use it in your kitchen because if it's done right it can still look very modern and chic.
In this photo, the backsplash is made up of gold, white, and light grey tiles in a chevron pattern. It's very understated and the finished look is very clean with just a little bit of variety. This chevron style is definitely not overdone.
Decorative Taupe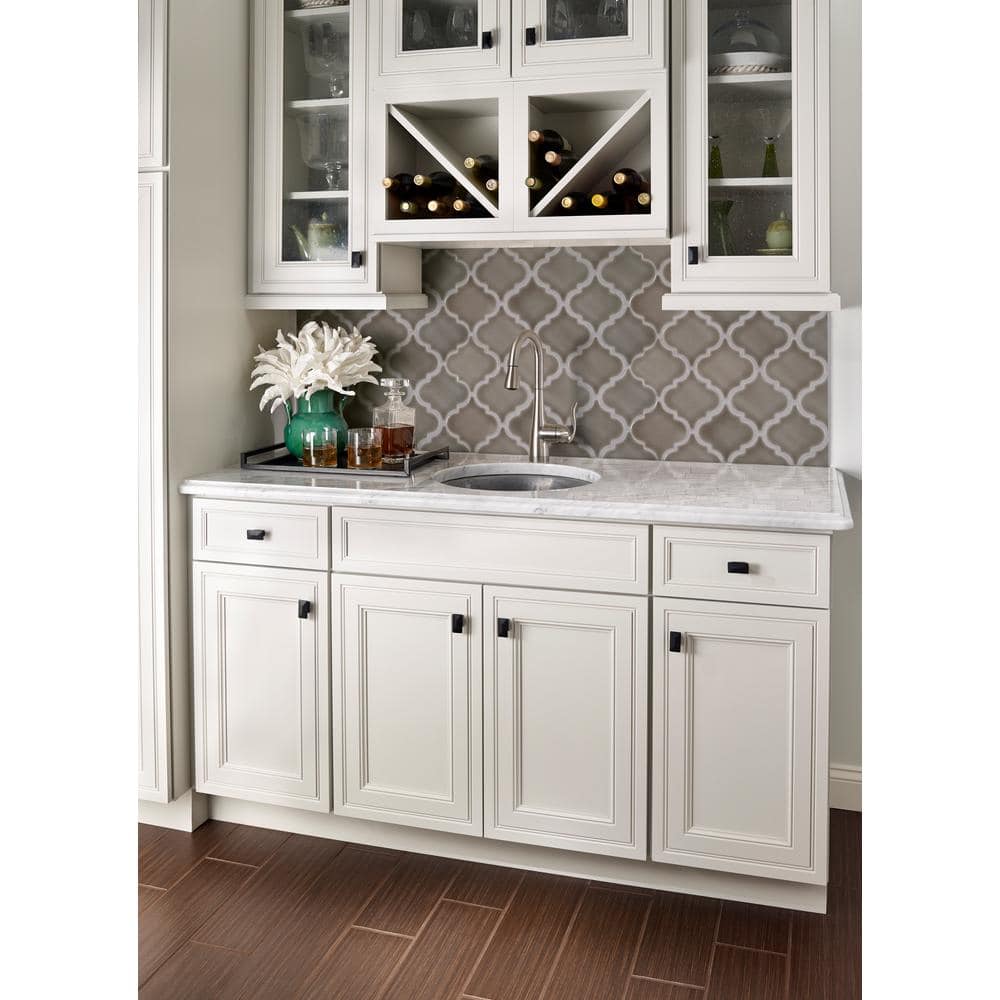 Taupe is another neutral color that can add depth to a white kitchen, without taking away from the classic, clean look.
To elevate the style even more, go for a decorative-shaped tile, like the ones in this photo. Their shape helps make the space look a little more curated than a basic rectangle tile would.
Matte Blue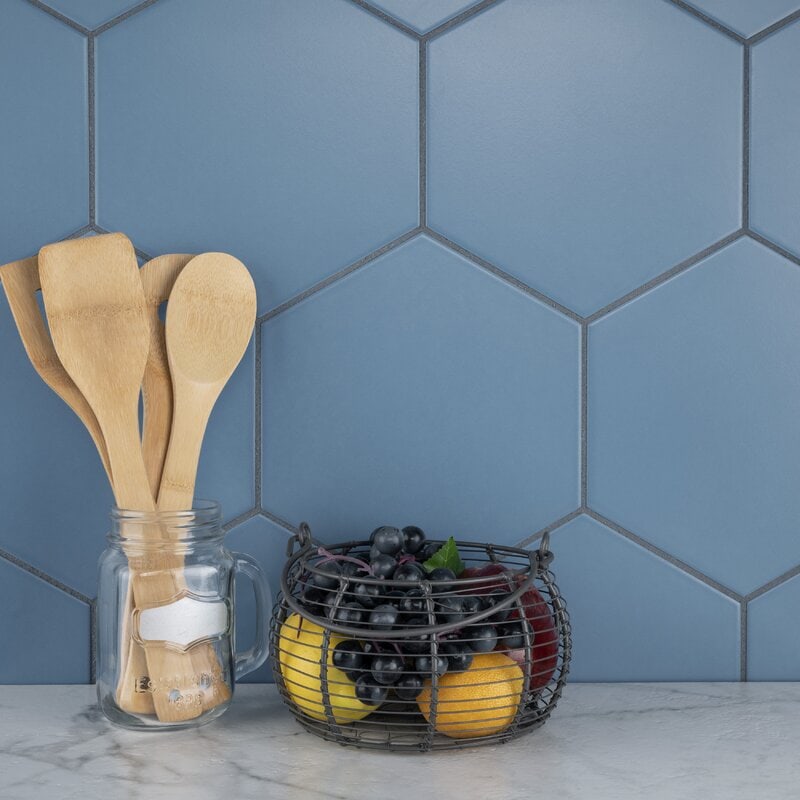 There is no shortage of glass and ceramic tile options for a kitchen backsplash, but a well made tile with a matte finish isn't quite as easy to find.
The tile in this photo will look fantastic in a white kitchen. It adds a low key pop of color, is cut into a trendy shape, and thanks to the matte finish it's not something you'll find in many homes.
Pebble Look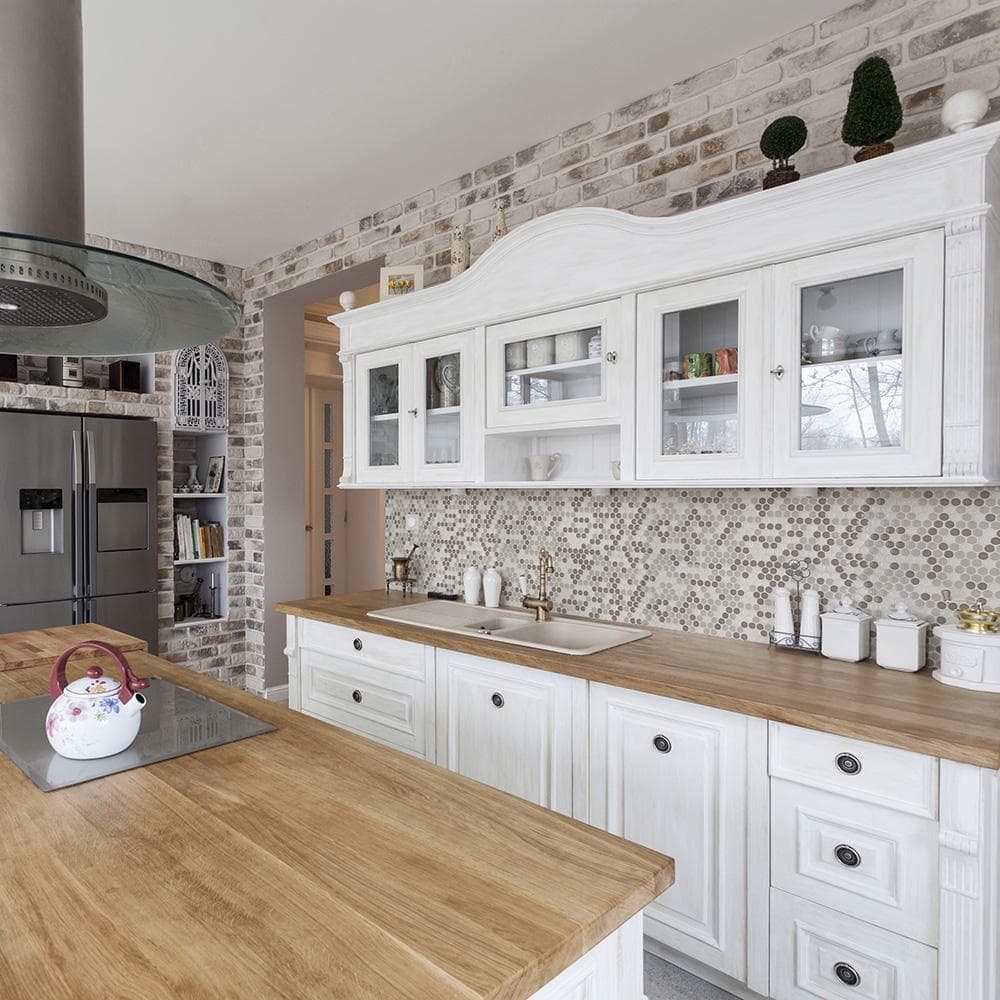 If you're a fan of the country cottage aesthetic, a backsplash that looks like stone pebbles against white cabinets will help create that bright rustic style.
You don't even have to use actual stones to get the look, the backsplash in this photo is made from small, circular porcelain tiles.
Touch of Pink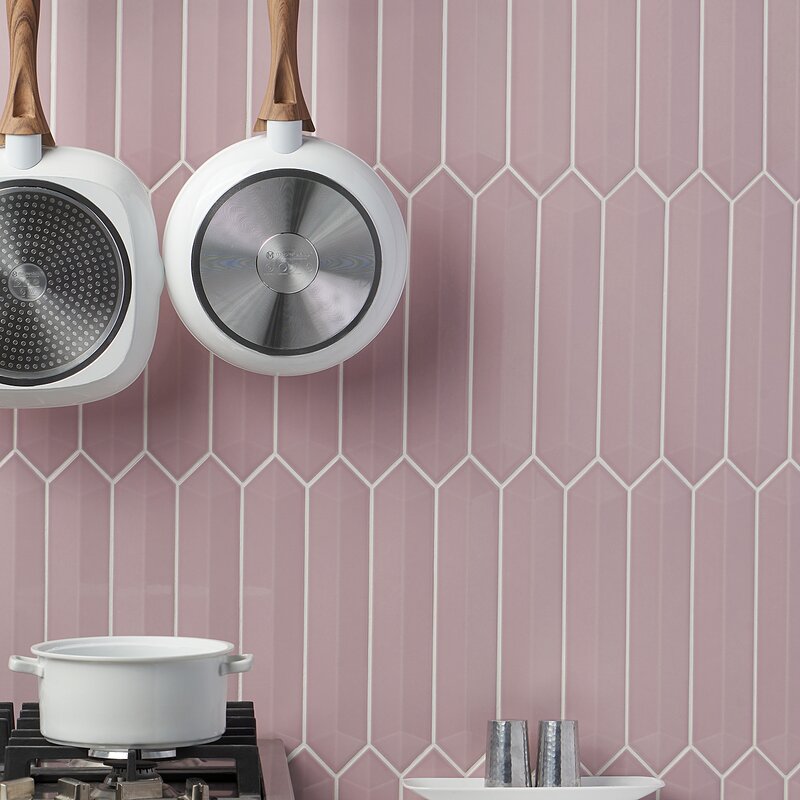 Creating a backsplash out of pastel tiles is a really great way to add a little subtle color into a white kitchen without it being over the top.
If you want a really warm, soft look, consider a pastel pink or dusty rose tile for your backsplash. It will look especially pretty in a home with grey walls and gold accents.
Calming Turquoise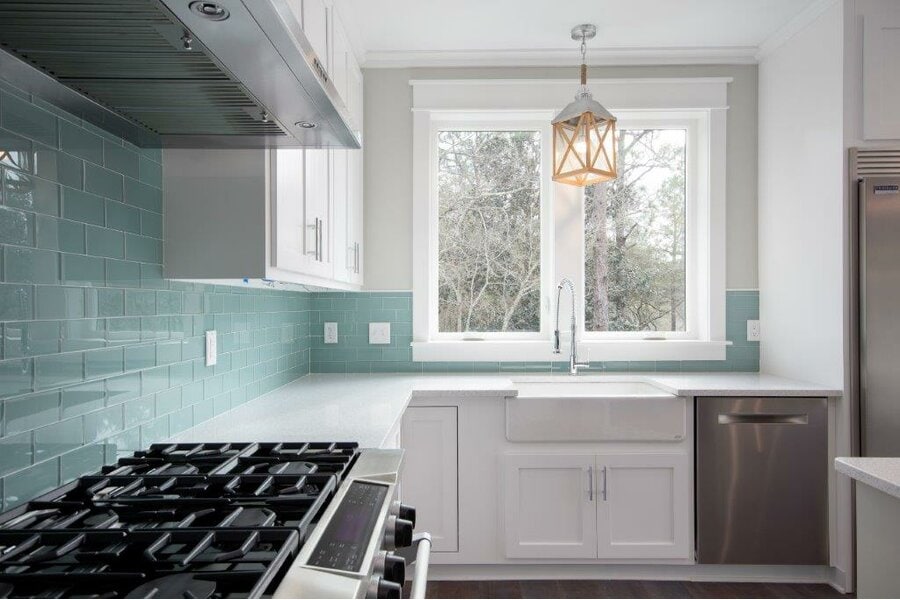 Not a fan of the warmer colors? Soft turquoise tiles will give you the same subtle pop of color a light pink will, but with a cooler overall look. Add in nickel hardware and some navy blue accents and you have a gorgeous color scheme in your white kitchen.
Black and White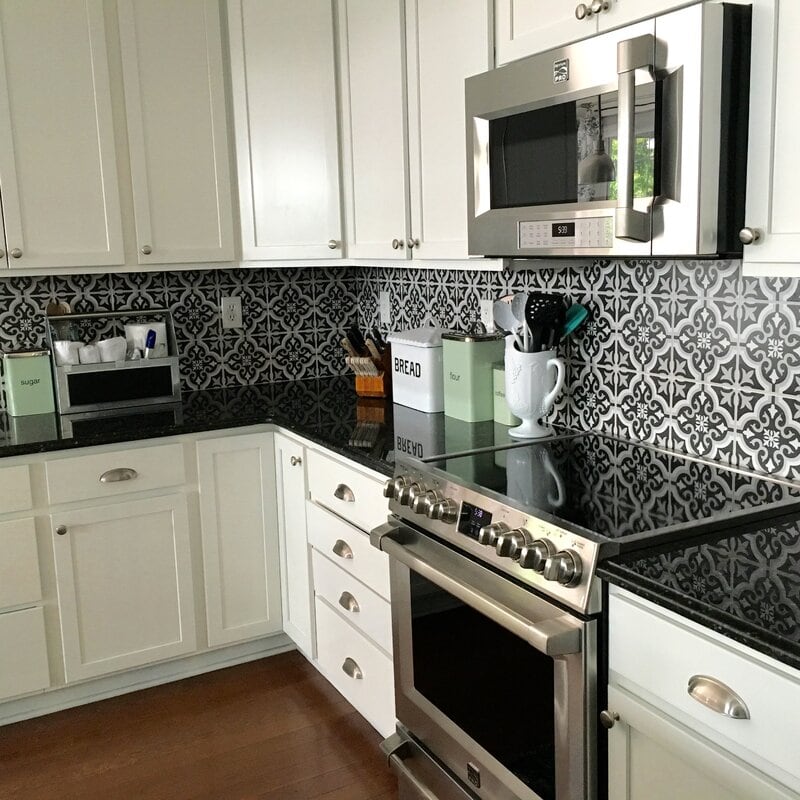 There is no color combination more classic than black and white! You can never go wrong with it!
Consider making up your kitchen backsplash using black and white tiles to create a contrasting look that is clean and timeless. You can get creative with decorative tiles like in this photo, make a checkerboard pattern, or create a unique mosaic using small squares.
Classic Stone in a Unique Shape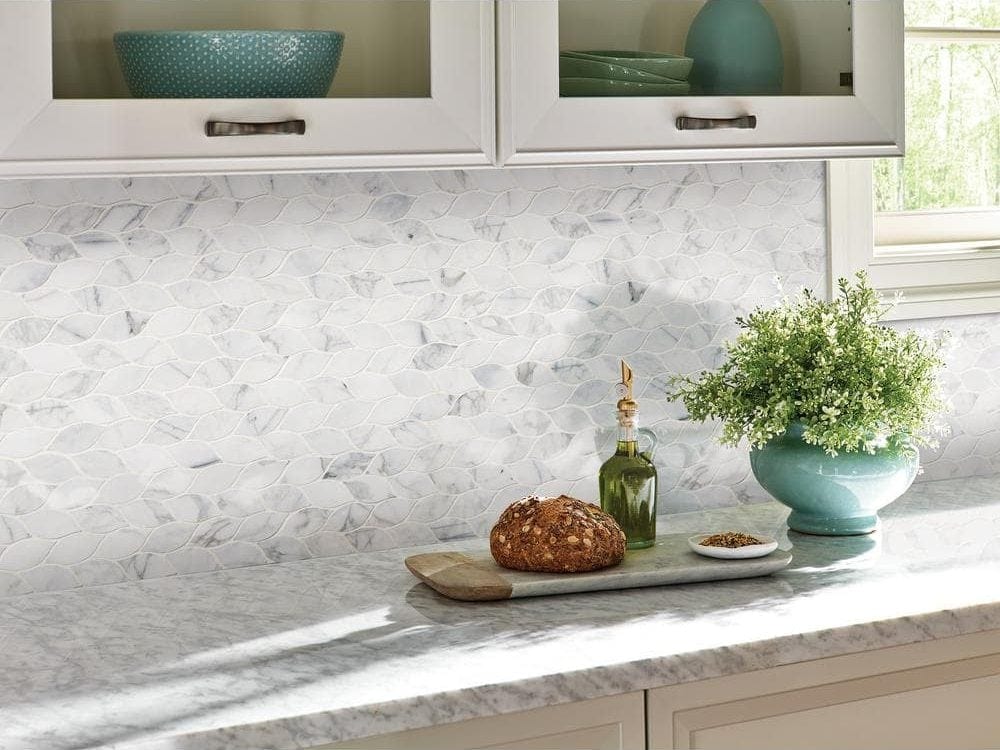 Here's another picture showing how much of a difference a tile's cut makes in the final look of a backsplash. Once again, the backsplash is made up of marble tiles, but this time they're cut into the shape of leaves which looks completely different compared to earlier examples in this article!
Brick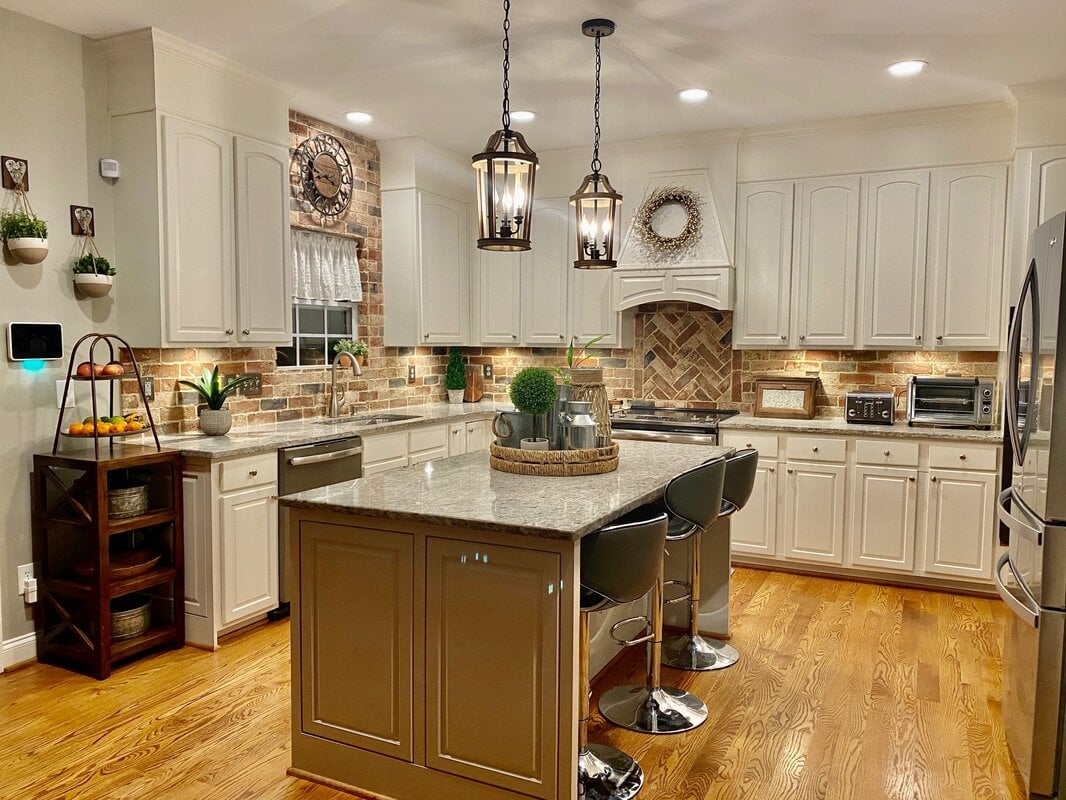 You can really add in some texture and warmth by creating a backsplash that looks like brick stones.
This will work especially well if you are going for the industrial aesthetic. Add in some oil rubbed bronze accents, maybe some tobacco colored leather stools, and stainless steel appliances and you have totally transformed your white kitchen.
Sea Glass Look
Going for a coastal aesthetic? Install a backsplash that looks like sea glass to create a beachy vibe.
A backsplash with blue, turquoise, and seafoam green paired up with white cabinets will practically transport you to the beach. Complete the look with some gold hardware and maybe a candy jar full of saltwater taffy.
Final Thoughts
Deciding on the best backsplash for a white kitchen can be tough, because the options seem endless. Do you lean in and just go for white subway tiles with white grout? Or, do you add in a pop of color or a touch of gold?
The best backsplash for white cabinets is, truly, whatever works for you. It's your kitchen, so you need to love it!