Open Floor Plan Paint Ideas
The open floor plan concept is popular in many homes, affording space and communal living. Usually considered a modern way to live, we may also wonder how best to decorate a more traditional space.
While bright and spacious looks work for many, you may want to think about how you define the areas of your room which you can do with the color you paint on your walls.
Perhaps you live in a small studio apartment and are curious to find out how to make the best of your space. Or you have a large irregular room and are unsure if you should paint it all the same color.
These room ideas will give you some inspiration for your open floor plan home.
One Color Open Floor Plan Schemes
Classic White to Keep it Light
You'll need to consider your space and the kind of look you want to achieve. This is a classic open floor plan which is modern, bright and light.
You can paint each wall the same color for coherence and if you want people in each area to interact together, for example if you entertain a lot, then this is a good way of creating a flow.
Painting all the walls in this space a bright white gives a cool, minimal effect. If you want to achieve the same cool sanctuary feel then white furniture with natural accents is the way to go.
Off White to Enhance the Bright
The off white walls in this room work as a plain backdrop to the bright accents. The window frames are gray so they are highlighted and shown to their best advantage.
If you want to showcase pieces of furniture, this look works brilliantly. If you know you like to change your soft furnishings often (who doesn't love a pillow sale?!) then having a neutral wall color is less of a commitment. You can ring the trend and color changes with your accessories.
Tonal Gray Balance
In this look the gray of the walls exactly matches the kitchen color therefore the two spaces are interlinked. The walls feel warm with the tan furniture and the bare brick walls.
You'll notice that the gray here starts at the top of the steps which keeps the feeling of space. The ceilings painted white keep the brightness from the skylight and showcase the gorgeous oak beams.
Gray is of course the new beige, as in, it is most seen this decade in neutral style rooms. For warmth, tone it with opposite shades of the color wheel.
Bright Room Dividers
If you want to keep your walls all one color or you're thinking of a revamp then this is a simple way of adding a bold statement onto your walls and adding division.
To denote the break-up from one area to another, you can paint the surround of a wall divider with a bright color.
Pink and orange are acid bright and right on trend. These colors help make the white kitchen and the cupboard unit pop.
This is minimal effort for a color update, just pick a shade to add the impact you're after.
Zoning Out
How to Create Zones in Your Open Floor Plan
The zoning technique is very popular right now and you can be as creative as you like. It uses wall and/or ceiling paint to denote areas within an open space.
Whether you want a subtle difference, for example, from white in a kitchen to a darker neutral in the living area. Or if you want to draw attention to a particular area, this is easy to do.
Pick out the areas you most want to define. Look at both wall and ceilings and sketch out where you might want to separate certain areas. Then think about the use and feel for each zone. So if you want a cozy spot you might close it in with dark colors.
If you need a bright space to work then you may pick a sunny color or a bright white. For calmer tones then you're looking at blue shades, greens and neutrals.
Testing Out Your New Color
Remember when testing colors to do this both in artificial light and daylight. Be sure to buy a test pot to paint a section of wall, on all sides you will paint as different lights make paints look very different.
How a shade looks online or in your friend's home can look considerably different in your open floor plan room.
Home Office Definition
If you work from home and have a desk cubby within your open floor plan living space then wall color is a good way to define this.
The yellow walls and ceiling in this office nook make it feel like a separate room. Take a look at your walls and if you have any recesses, this could be a technique you could use.
The yellow here is a calming, warm color so think about how you need to feel when you work. Red for inspiration and energy, white to keep you alert, green to relax, blue to ponder.
Cozy Bedroom Area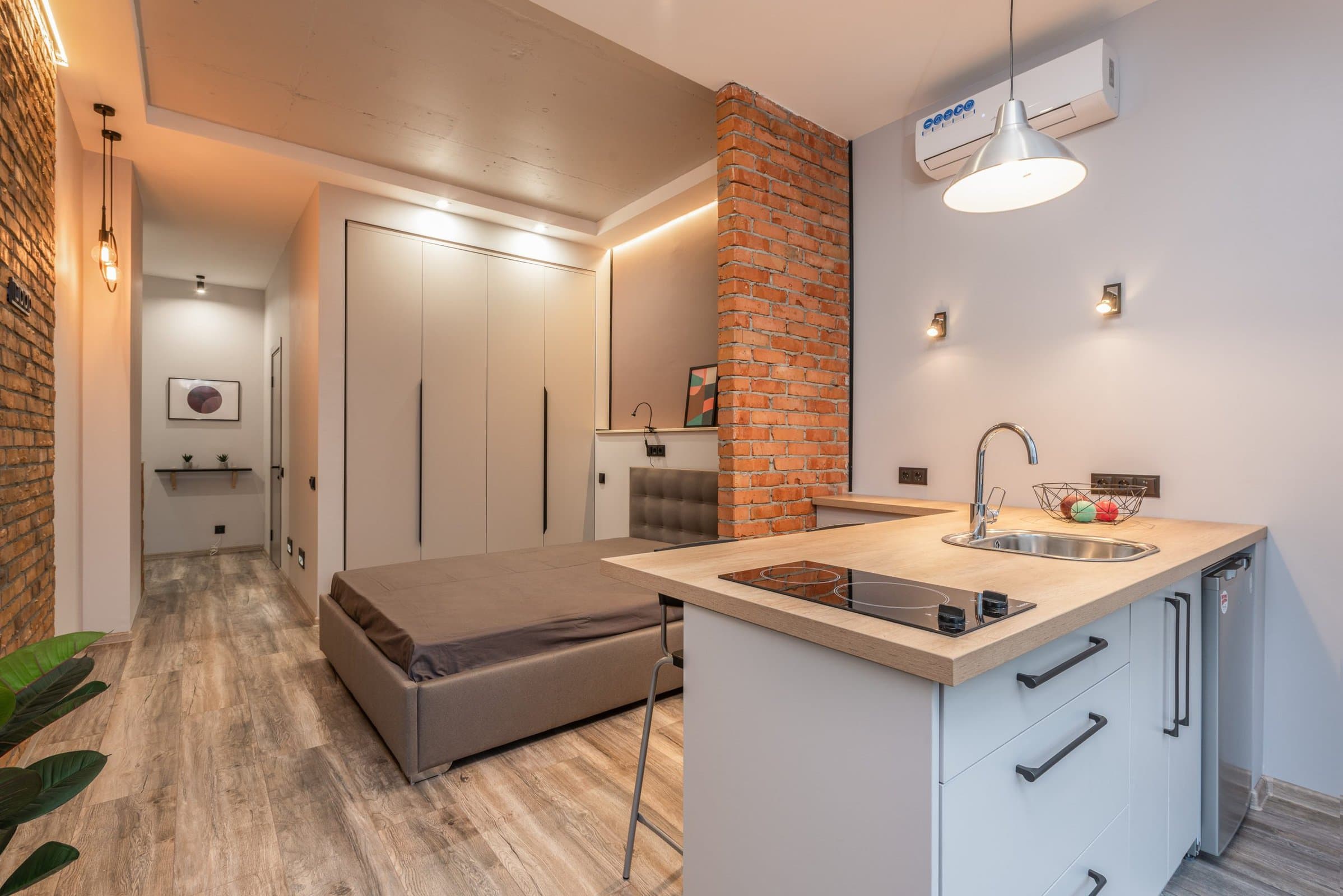 This open plan apartment has the bed situated next to a kitchen area. This is challenging when it comes to decorating but here the bedroom ceiling is a taupe color, like the far wall.
The taupe color in the ceiling and walls adds coziness. It also sections off the area giving the illusion of a separate room against the clean, functional white of the kitchen.
Painting Half Way
Another way of adding interest to a large space is painting the wall color halfway. In a witty turn in this coastal style kitchen dining room, even the door is painted in the same 'half and half' way. This would be a unique style and a talking point for visitors which you could recreate.
The kitchen and the diner are separated by a bright yellow on the inside of the dividing wall. Think about where you could add these pops of color in your decor.
If you have smooth, plain walls, this half way paint technique will add character to a large, regular shaped room.
Color Blocking
Color blocking has become very popular in the past few years. Generally, a pale background is used as the main wall color, the shapes in bold colors are painted on the wall.
Adding both a design accent and a kind of zone, all you need is a laser level and some colored paint to do this yourself. These simple to follow instructions explain how you can achieve this look. This can be a simple way of modernizing a dull room or adding fun to your living space.
If you don't have a laser level, then you can use decorator tape on the walls to mark out a border of the shape you want to paint, best used for straight line designs. If you are feeling brave then you can draw curves in pencil and paint inside the lines.
Unusual Wall Design for You Open Plan Room
If you have a small open floor plan space, then just a little use of color blocking can make a big difference.
This vibrant yellow section creates a more intimate space by the chairs. It includes the door and doesn't touch the floor so this has an arty, experimental sense. This kind of sectioning off would work also for a reading nook.
Just be sure that the color block design you choose tones in with the rest of your furniture and accessories. This look would be best suited to retro mid-century design or more contemporary tastes, rather than in conventional styling.
Fine Dining
This beautiful dusky pink paint color which extends from the wall up to the ceiling defines the dining area in this open plan room.
There are three paint colors here, the white of the main ceiling, the blush pink on the walls and the darker, cozy pink working behind the table. It very much conjures up an ambience of salacious conversations over drinks and dinner!
Color Block Art
This quirky design adds height to the ceilings through the use of block color above the door extending a little over the ceiling. It adds a feature to a plain room. Stylish and clever.
This kind of look is good if you have a stark space you want to add some character to. Think about where the eye will go and the way you want to surprise or draw attention to a particular area.
In Conclusion
Open floor plan rooms are a wonderful blank canvas to try out creative paint color ideas. If you have a large space and want to define areas then you might try zoning to create rooms.
If you are feeling even more adventurous you might want to try color blocking. Using decorator tape to create shapes or sections will add color and interest to your walls.
For a more coherent flow, you may keep the same color on all walls which can work when you prefer a stark look or you entertain a lot and want to use the whole room.