Decorated Life is reader-supported. When you buy through links on our site, we may earn an affiliate commission. Learn More
Accent Wall Ideas to Elevate Your Living Room's Ambience
By: Decorated Life Team
|
Are your living room walls bland and uninspired? Are you looking for something different to brighten up the place? Accent walls are a tried-and-true way to add some color and visual interest to your living room.
But if you're stuck for ideas, don't worry— we're here to help you out. In this article, we'll go over some of our favorite ascend wall ideas for living rooms, and show you how you can use them to completely transform your own home!
Go Bold with Bright Colors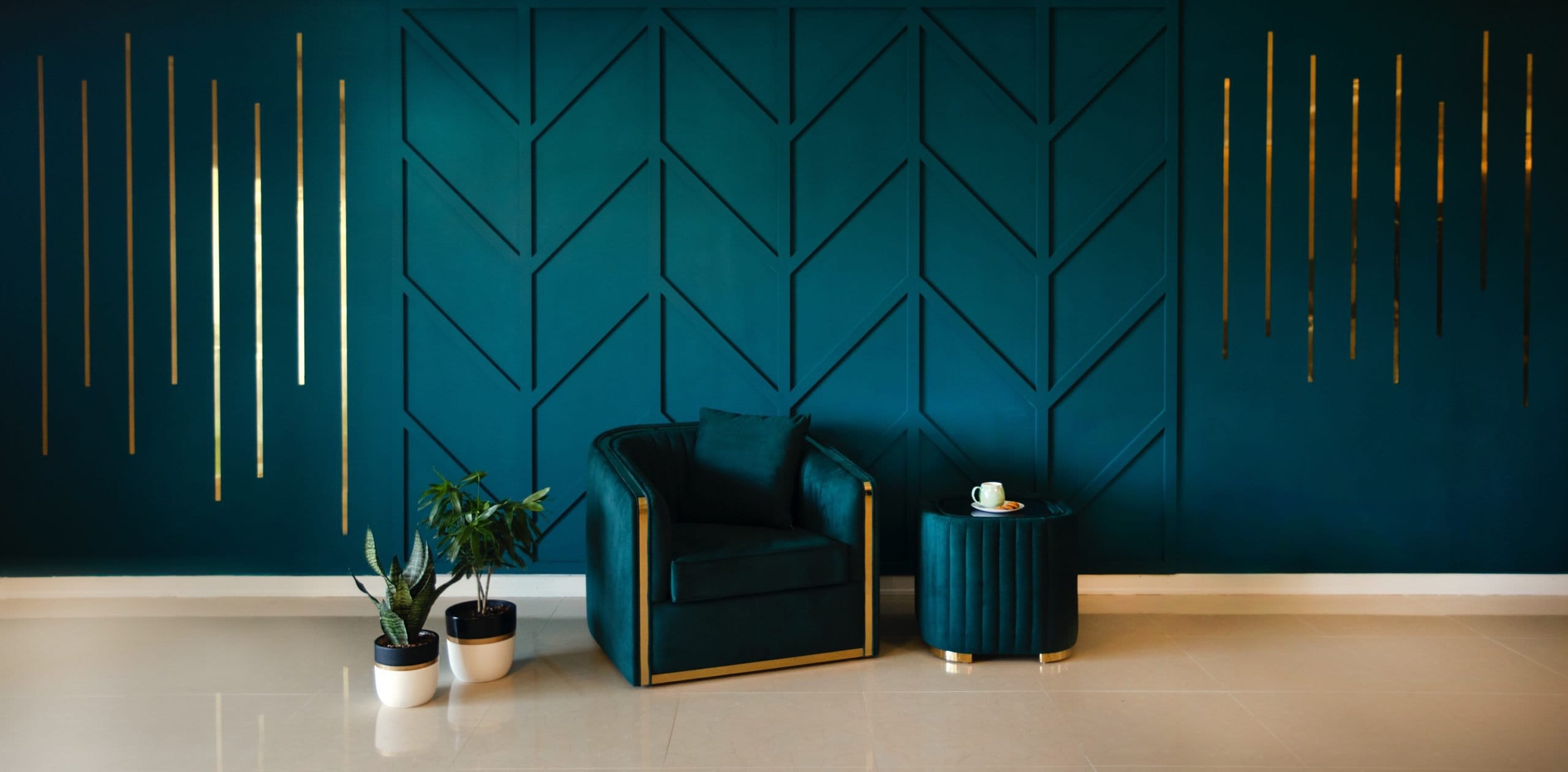 The most traditional way to create an accent wall in your living room is simply to paint one of the walls a bright color, which makes it a focal point of the room. This option is popular for a reason— it's cheap, DIY-friendly, and incredibly effective.
To begin, simply choose a wall in your living room that needs a bit of color. Make sure it's large and relatively empty, without too many windows or other characteristics. You want a wall that can serve as a blank slate for your new accent wall. Then, you'll want to pick the best color for the room.
When choosing the color you want to paint, take into consideration your furniture and decor. You can choose to contrast the color of the wall against the furniture by picking a color that makes the furniture stand out. Or, you could take inspiration from this example and match your walls to the color of your living room furniture to create a strikingly modern monochrome look.
Play with Patterns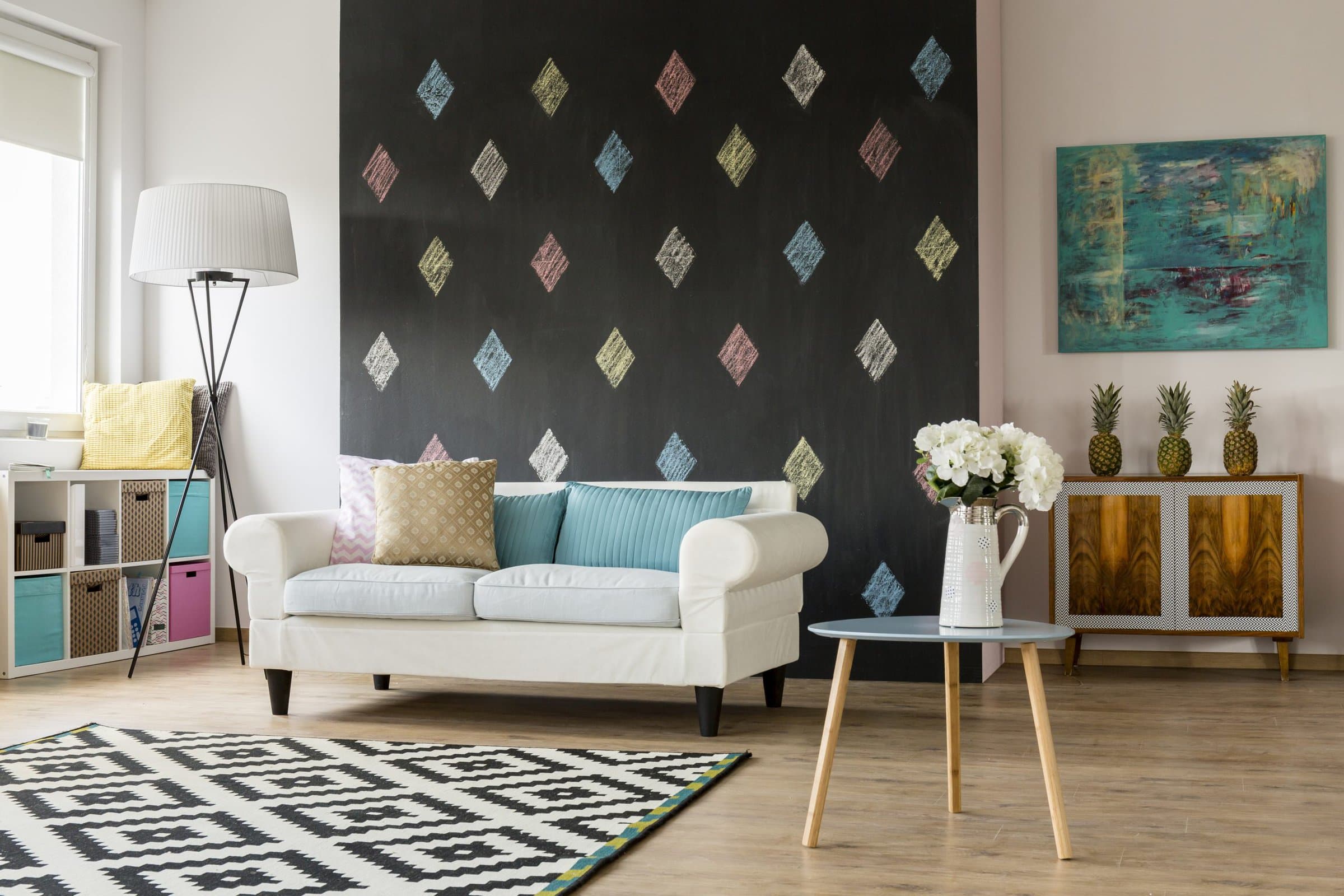 There's no rule that says your accent wall has to be one solid color. Instead, if you want your accent wall to really pop against the rest of the walls in the space, why not add a patterned element?
There are a few ways to add patterns to an accent wall. You could use stencils, stamps, or even freehand a pattern onto a painted wall. You could also consider using wallpaper to add patterns to your accent wall if you prefer. There are thousands of color and pattern possibilities so you can find the perfect one suited to your home.
But patterns can sometimes be a little too bold or distracting— that's why it's important to consider how your pattern compliments the style and decor of other walls in your living room. If your living room is more formal, go for a floral or striped look. If it's more laid-back, go all-out with bold, colorful, and artistic patterns that grab the eye.
Double up on Color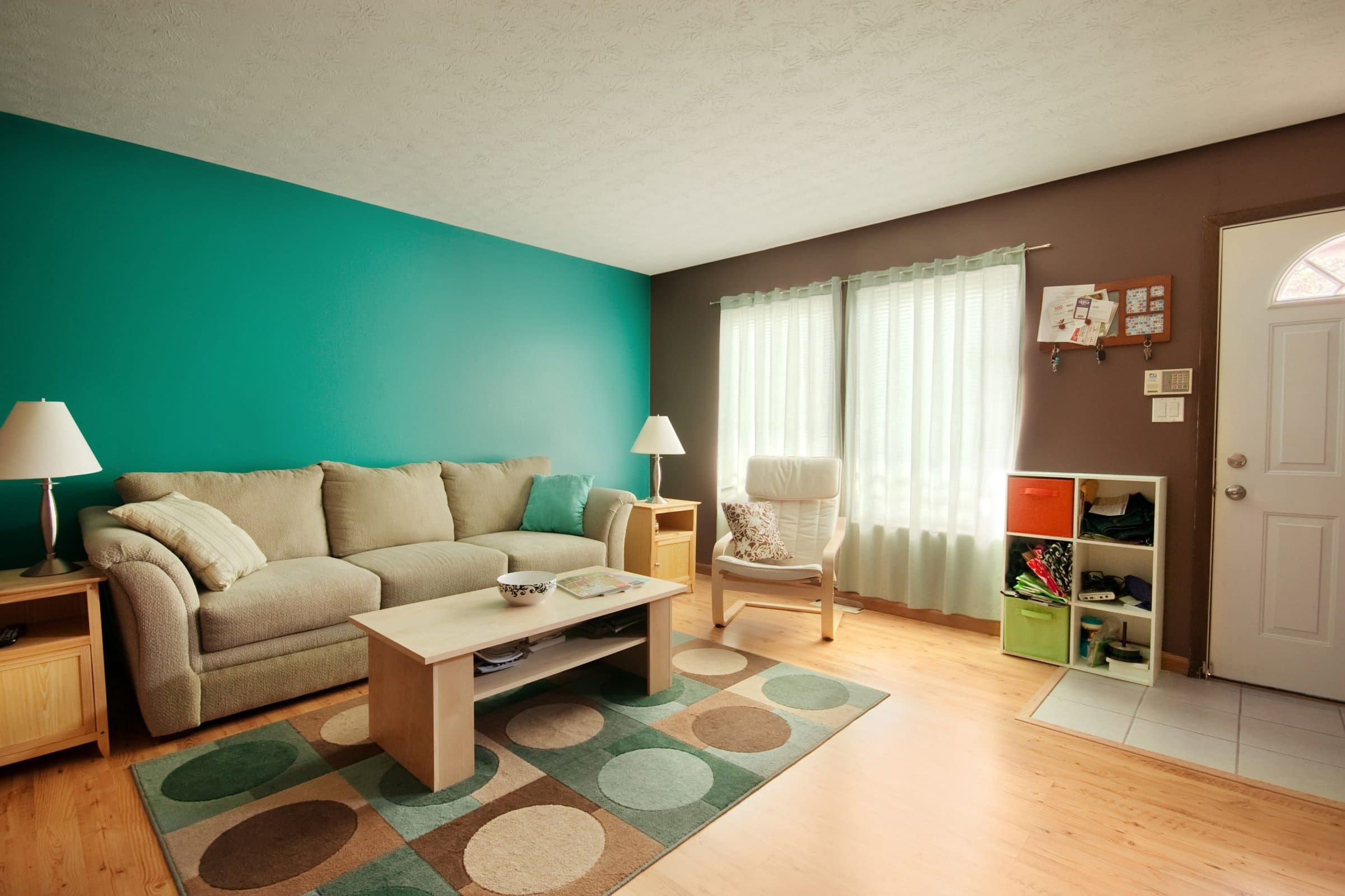 Often when you see accent walls, they're usually made up of one wall in a bright color surrounded by three dark or neutral walls. But there's no reason why you can't have two colors on your walls that pop. Try adding a bright color like the turquoise in this example for your accent wall, and compliment it with a bold color.
If you love a bright and colorful living room design, then try this look out for yourself. Don't just decorate one wall with a bright color. Instead, choose soft pastels or bright browns and tans to create a pleasing contrast to your accent wall.
Finally, make sure that both wall colors are represented throughout the room's decor. This will help to create a balanced look and keep the room from feeling too chaotic. For example, in this blue and brown room, the rug, curtains, and throw pillows all match the wall colors to create a cohesive look.
Try a Two-Tone Accent Wall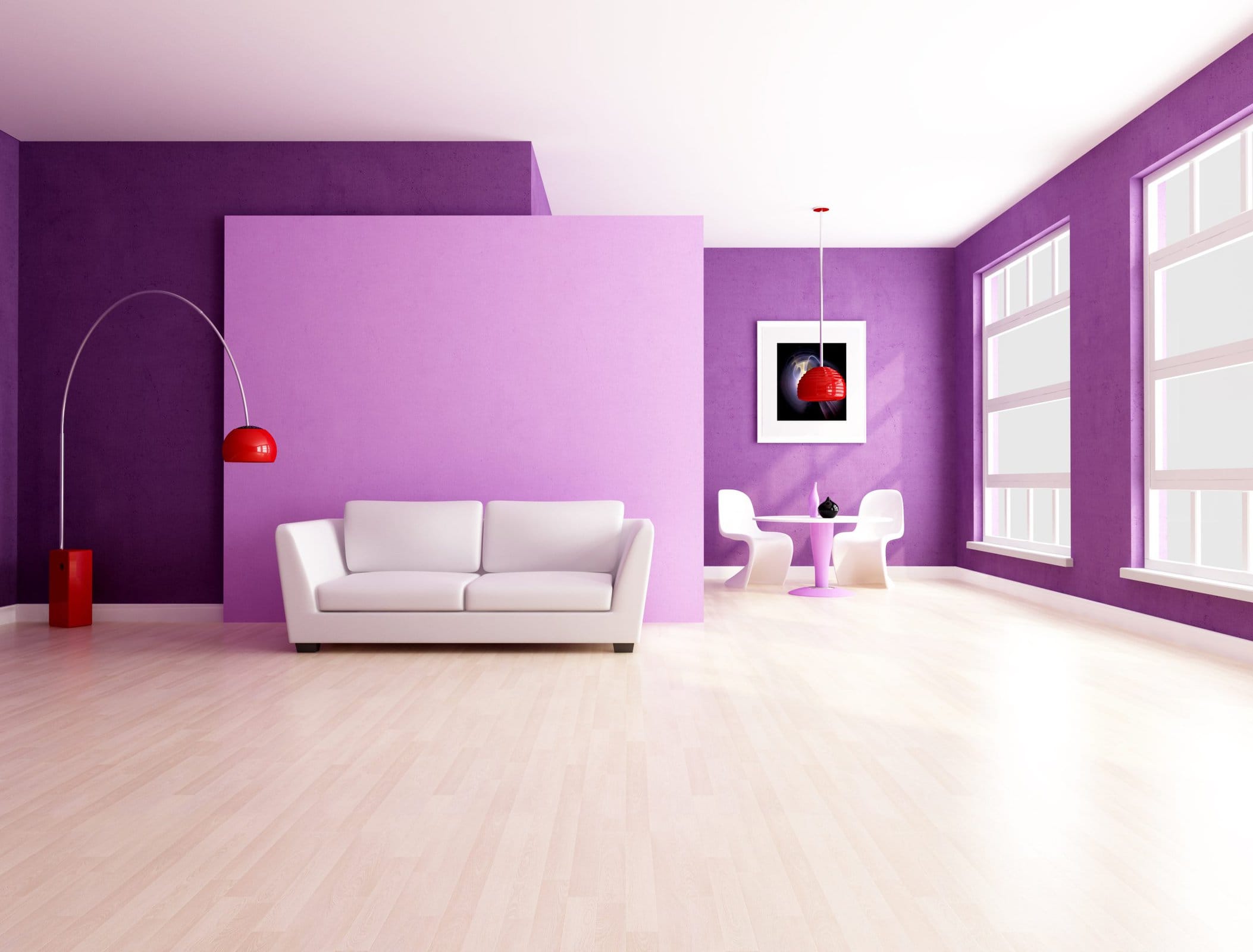 Accent walls don't always have to contrast against the other walls in the room. Instead, why not have your accent wall stand out by choosing a lighter or darker shade of the same hue as the rest of the room? This is a fresh and interesting take on the classic accent wall, which usually uses one bright color against contrasting neutrals.
Why pick a similar shade to the rest of your room? It is easy to feel overwhelmed by too many colors in a room, so sticking to one shade and opting for a more monochromatic scheme is an excellent way to balance vibrant colors with calmer tones. But that doesn't mean you have to go with a dull color— even bright colors like purple work well with this approach.
Check out this example— rather than choosing a contrasting accent wall color to stand out against the darker purple walls, the accent wall is just a lighter shade of the same purple. The accent wall pops and stands out against the rest of the room, but it also feels cohesive.
Make a Statement with a Wall Mural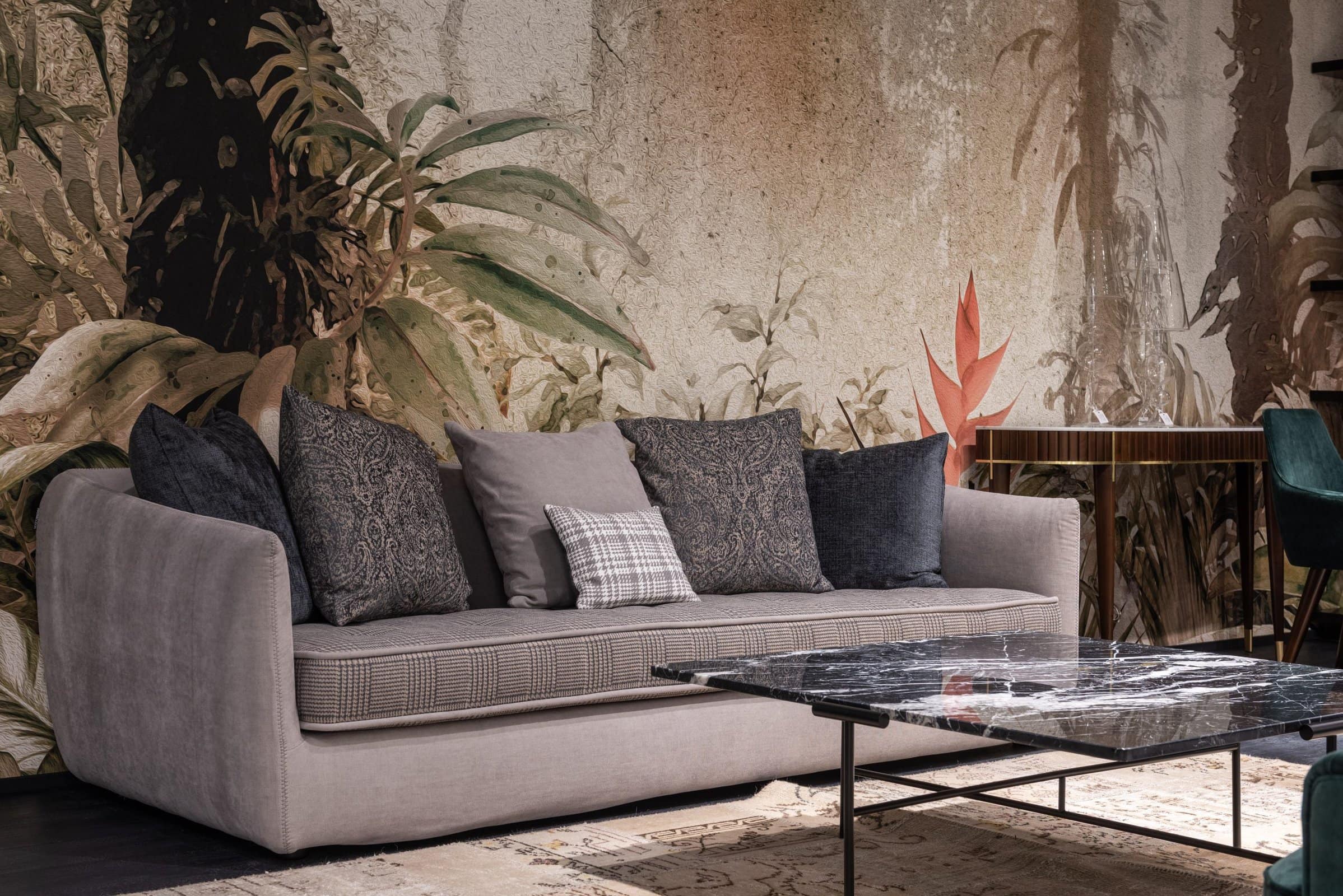 If a coat of paint is a little too plain for you, but you're not sure about the repeating patterns on a roll of wallpaper, then consider a large wall mural instead. Wall murals are designed to be installed just like wallpaper, but they're made with one large image, rather than a pattern that repeats itself.
With a wall mural, you can instantly transform your living room wall into a flowering jungle or a peaceful forest. Or, you could go for a more abstract, artistic design. Either way, wall murals are a quick and easy way to change up the look of your wall to make it totally unique.
Wow with Wallpaper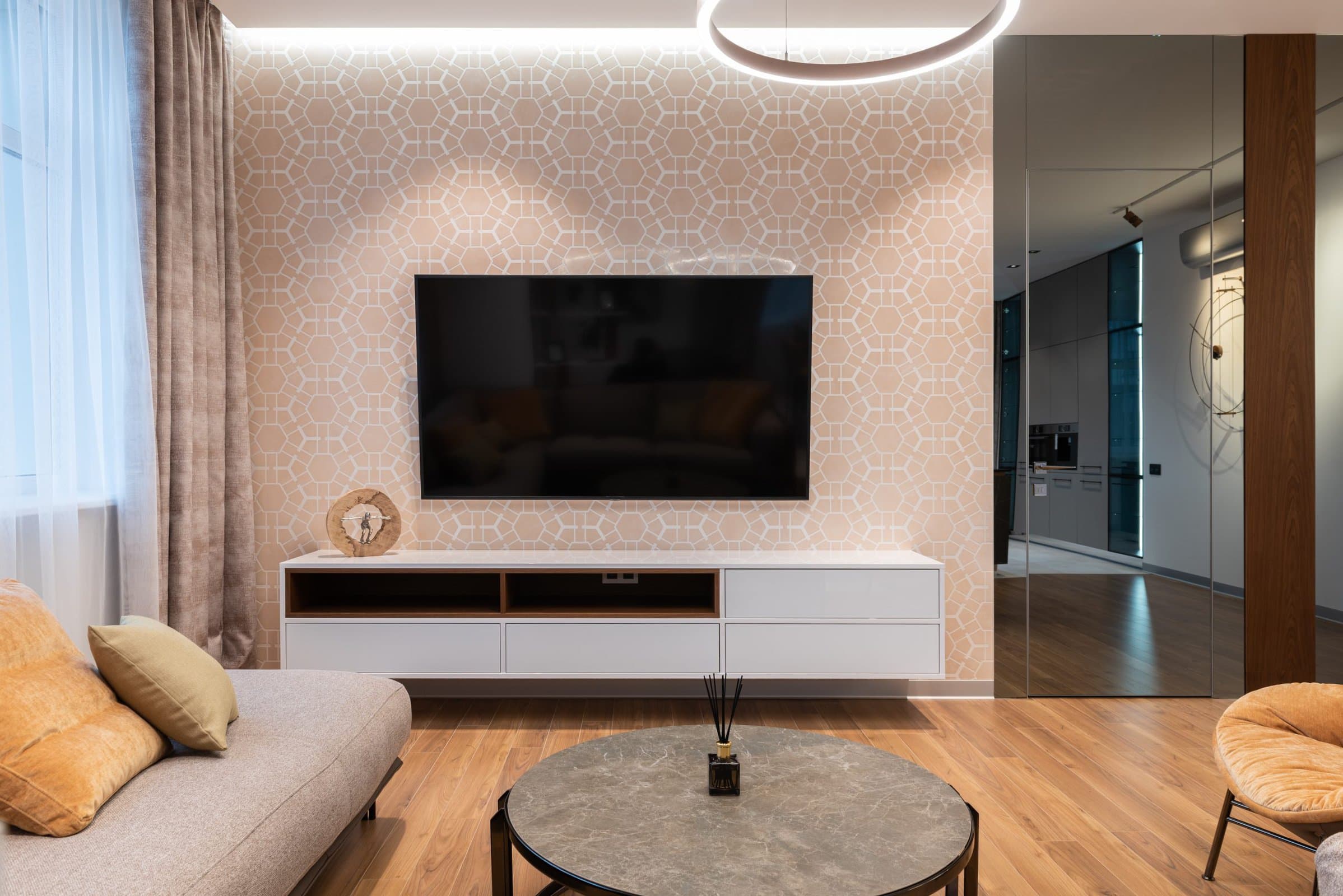 While a quick coat of paint is one of the cheaper and easier ways to add an accent wall to your living room, it's not the only option. If you want to add a bit more color and visual interest to your accent wall,
Wallpaper is a simple and effective way to add color and vibrancy to any space, but especially in an accent wall, where all of your attention is pulled towards one part of the room. You can choose a more subtle wallpaper pattern, or you can go all out with a bright and bold design. The choice is yours!
Another way to make your wallpaper accent wall "pop" is to be intentional with your living room's lighting. A well-placed spotlight, chandelier, or LED strip can help accent your wallpaper pattern and make it stand out even more against the solid colors on the surrounding walls.
Add Texture with Brightly-Colored Panels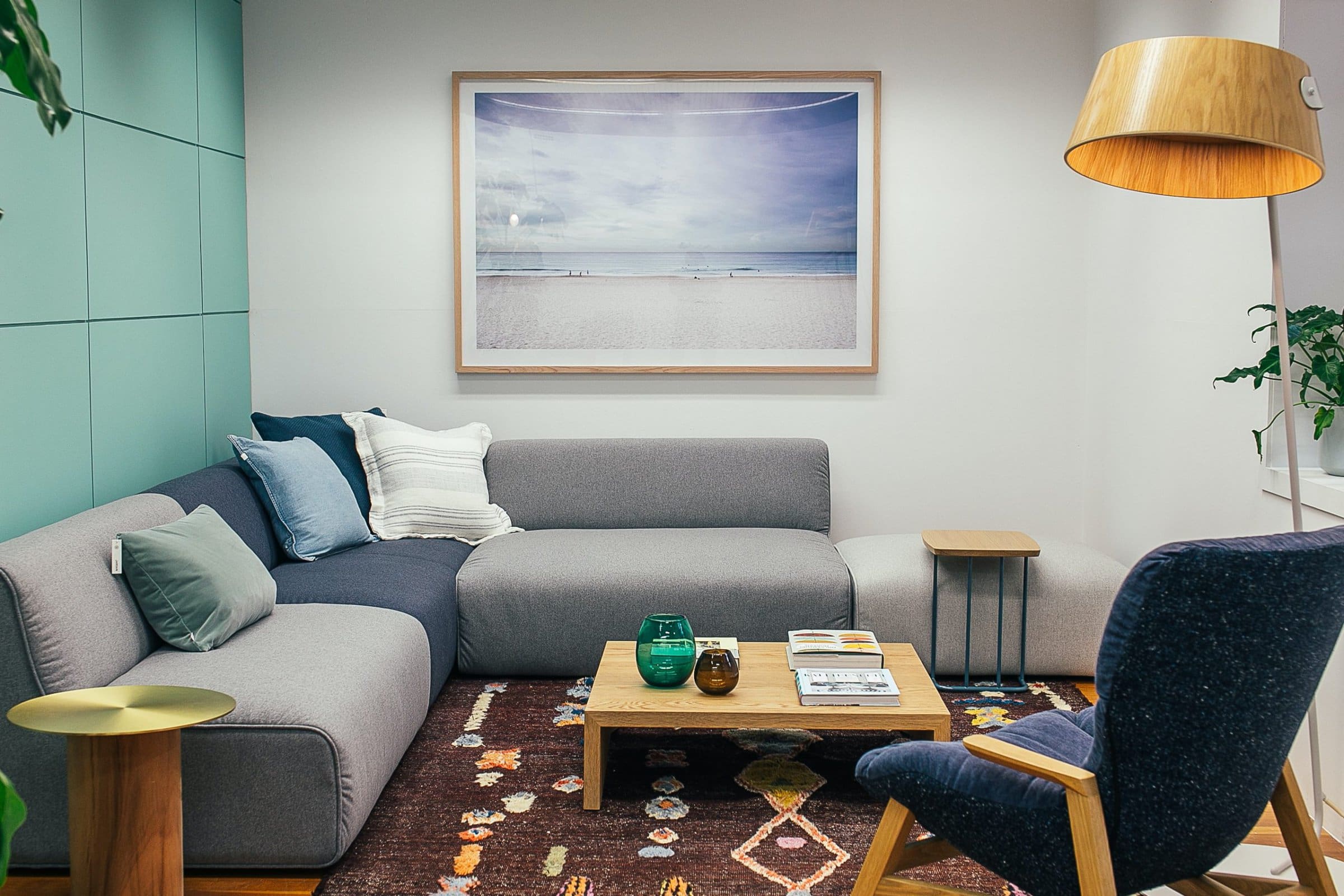 There are different kinds of panels that you can add to your living room accent wall. You could try wood panels in different colors for a rustic and eclectic look, or you could choose a more serene and relaxing style by incorporating padded panels, as you see in this example.
Another big plus of padded panels like these ones is that they're great for sound dampening. If you've got a living room in a large open space or an apartment, then these panels can help keep sound from echoing or traveling in ways you won't want.
There are a couple of different ways you can achieve this look. For one, you could try a DIY method and attach padding and decorative fabric to foam boards.Or, you can buy decorative sound-dampening panels online. From there, you can hang them up on your wall in a colorful pattern.
Go Big with LED Lighting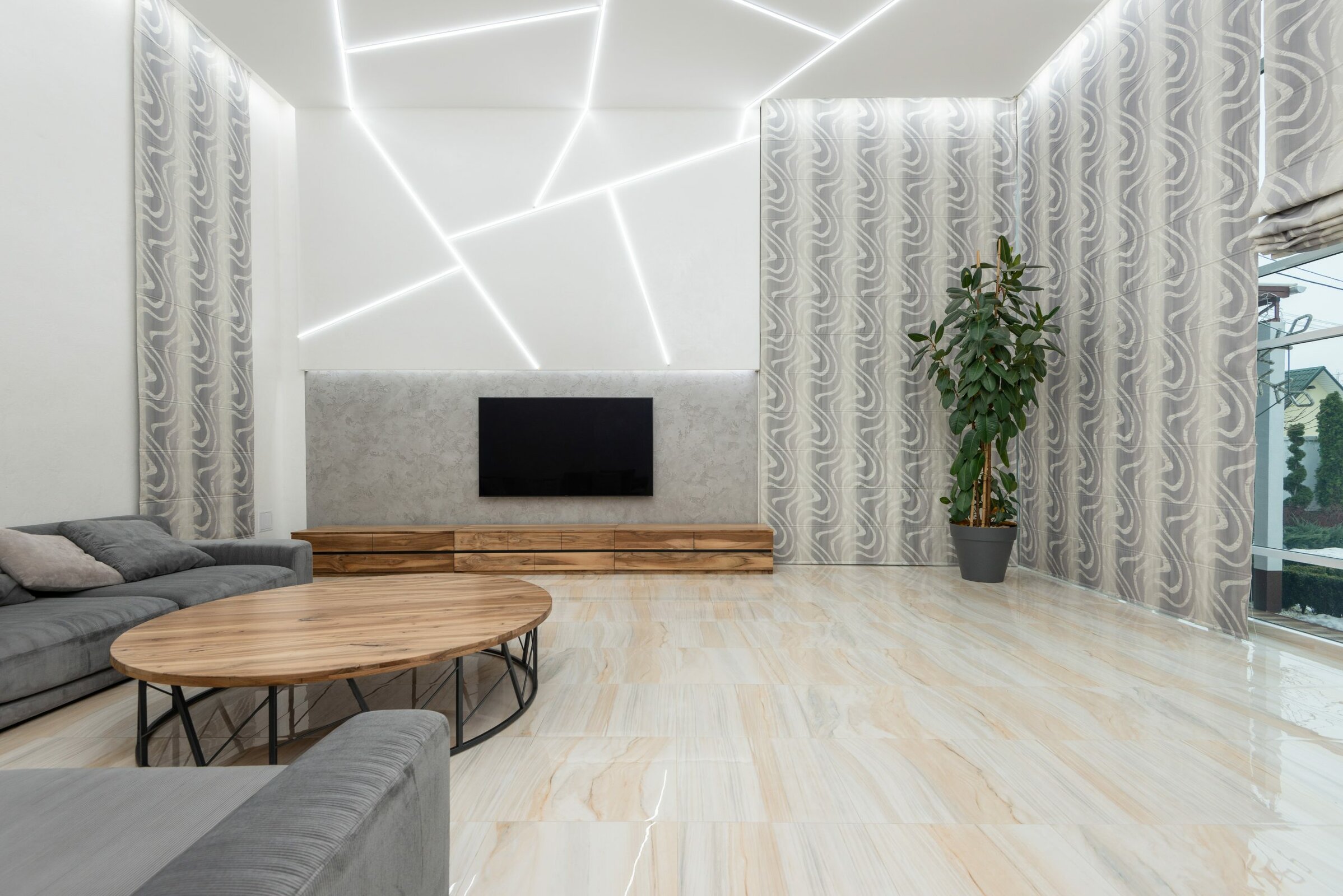 Usually, when you think of accent walls, you think of adding a coat of paint or patterned wallpaper to the wall. But if you're looking for something truly different, consider using lighting to create a bold modern accent wall instead. Check out this gorgeous living room accent wall for inspiration.
There are lots of ways that you can use lighting to create an accent wall in your living room. You can try wall-mounted smart lights that can be programmed to change colors from your smartphone. You could install LED strips in interesting shapes and patterns. For something more colorful, why not display a collection of neon signs as an accent wall?
The trick with this approach is to ensure the rest of the room is well-lit. Use floor and table lamps to create a nice ambiance around the room, or put up LED strips around the ceiling. You don't want all the light in the room to be on one side, so the key here is balance.
Extend Your Accent Wall Even Farther
When you're creating an accent wall for your living room, you'll have to be able to think outside the box if you want the result to be truly unique. Rather than simply painting your accent wall from floor to ceiling, why not extend the color all the way up to the ceiling instead?
Not only is this a great way to add even more color to your living room, but it's also the perfect option if you have a dimly-lit living room with very little natural light. Painting your walls darker colors will only make the room feel darker, so keep all of the walls white except for the wall that has windows. Then, extend that color up through the ceiling.
For an even more stunning effect, consider choosing a color for your accent wall that will compliment a statement lighting fixture, as you see in this picture. Try blue or red to compliment a gold lighting fixture, and consider green or purple to let a silver chandelier shine.
Create a Stunning Statement Piece
What's better than a brightly-colored accent wall featuring your favorite shade? Why not add three or four of your favorite colors and create a bold display? Check out this example of how some brightly colored paint and a bit of DIY know-how can create a stunning statement piece for any living room.
To start, you'll want to pick three colors that work well together and compliment each other, without clashing against the rest of your living room decor. Look around your home, your belongings, your decor, collections, and even your clothing to determine a palette that feels natural to your home.
Then, using painter's tape, create three distinct sections to paint each color. Diagonal lines like the one in this example are an easy, beginner-friendly option that still leaves a bold visual impact, but you can certainly choose a more ornate pattern if you like. Once the wall is painted, dress it up with complimentary furniture and lighting.
Conclusion
As you can tell, there's no one correct way to do an accent wall. From paint and wallpaper to murals and lighting, there are so many ways to dress up a living room wall and create a statement piece. The only real limit is your imagination and the size of the room.
Remember to take into account the best features of your living room, and consider how you can use the size, shape, and features of the room to your advantage by highlighting the unique parts of the space. Choose unexpected colors or patterns and create an accent wall that's just as unique as your home.