Decorated Life is reader-supported. When you buy through links on our site, we may earn an affiliate commission. Learn More
17 Outdoor Table Decor Ideas
As the weather turns warm, there's nothing like decorating your outdoor space.
Outdoor spaces are fantastic for entertaining and a great spot to sip your morning cup of coffee. But unlike decorating the inside of your home, you need to use slightly different materials.
If you're looking for outdoor table decor ideas, try any of these 17 options.
Keep It Minimal with a White Figurine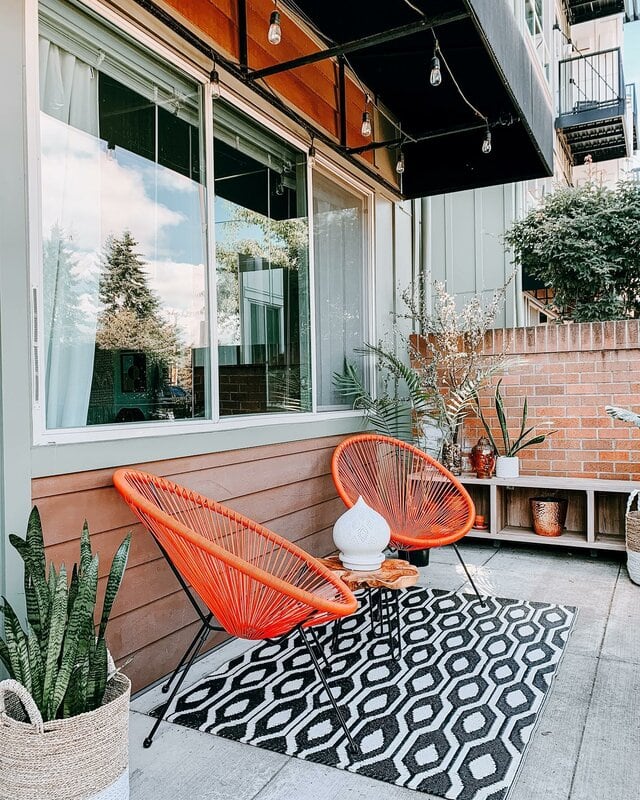 If you have a small space and a small table, keep your decor minimal. A simple white figurine or vase is all you need.
Going with white will help you pull off a clean, pulled-together look. Other great options are rattan, clear glass, or even a small potted plant.
Light Up the Night with a Lantern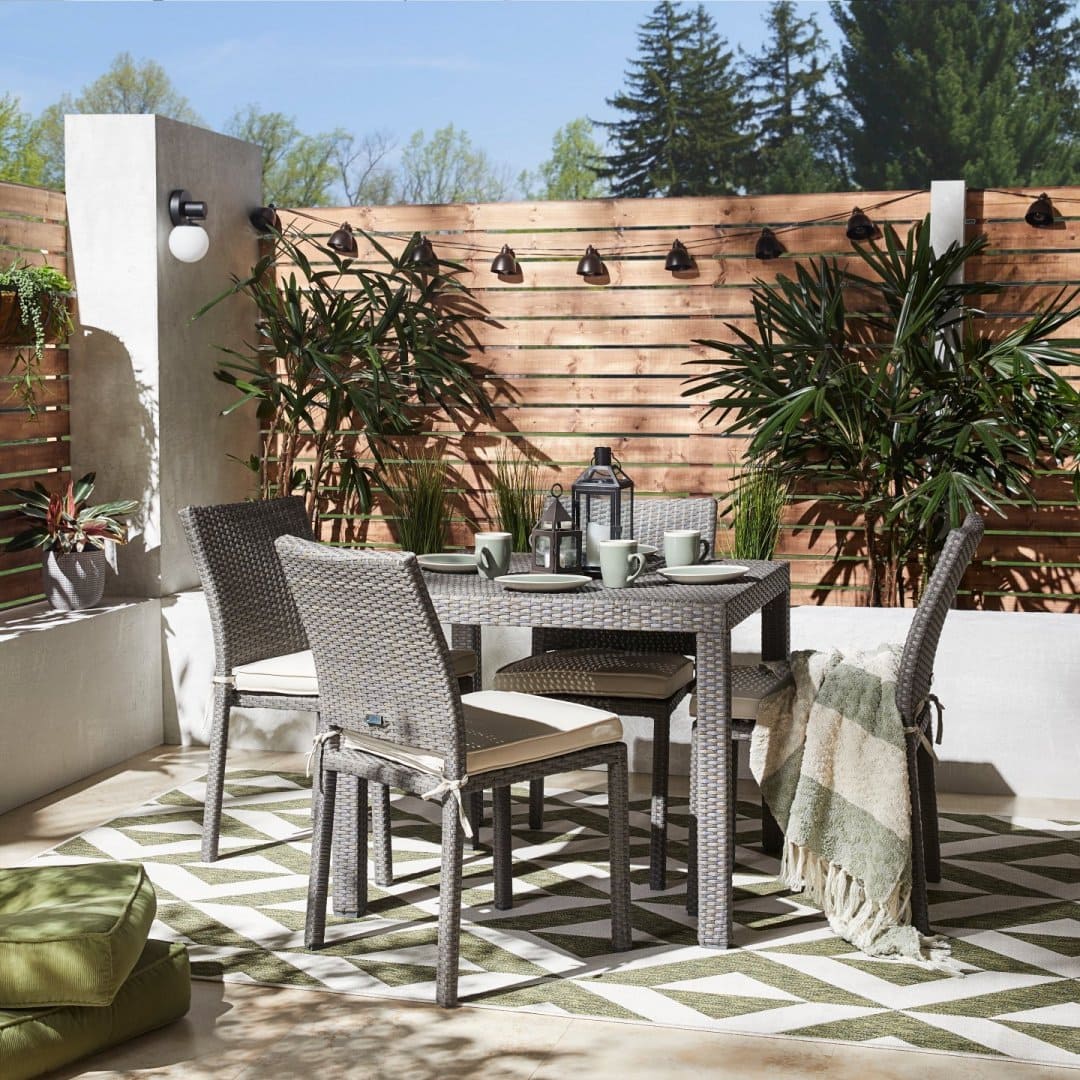 The best outdoor table centerpieces are also functional, which is the case for this lantern. A lantern will look great on your patio during the day and provide you with a light source at night.
These lanterns from Overstock come in a set of two and contain one medium and one large. Unfortunately, they don't come with candles, so you'll need to purchase those separately.
Add a Tablecloth to Your Outdoor Dining Table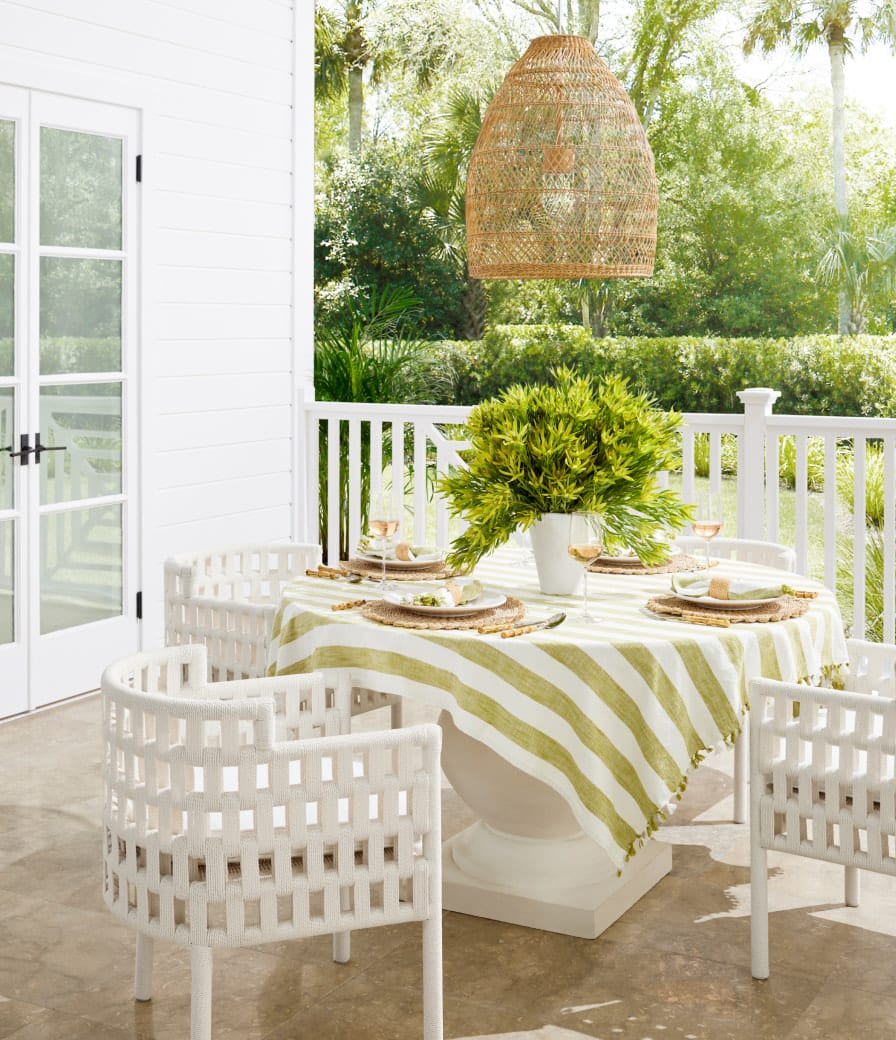 If you want to change up the look of your patio table, adding a table cloth is an easy way to do so. Tablecloths are also fantastic for days you'll be hosting outdoor dinner parties.
You can find this striped tablecloth from Serena and Lily. It comes in three different sizes and colors, including Chartreuse (pictured), French Blue, and Mink.
Try a Simple Potted Plant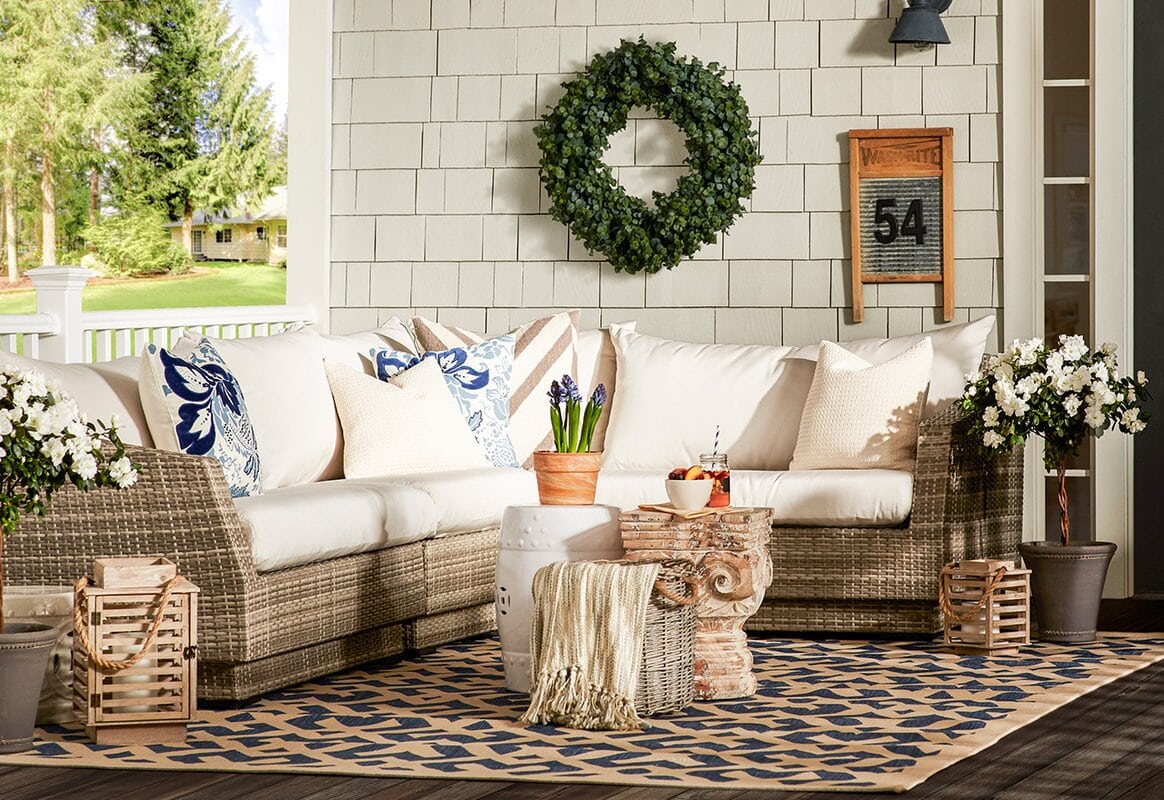 For easy decor, bring in a simple potted plant. You can use a worn clay pot to bring texture. This works exceptionally well for farmhouse and cottage-style decor.
If you prefer a more modern look, try finding a pot in matte black, glossy white, or concrete. Then fill with dirt and add a patio plant.
Group Items for a Stunning Centerpiece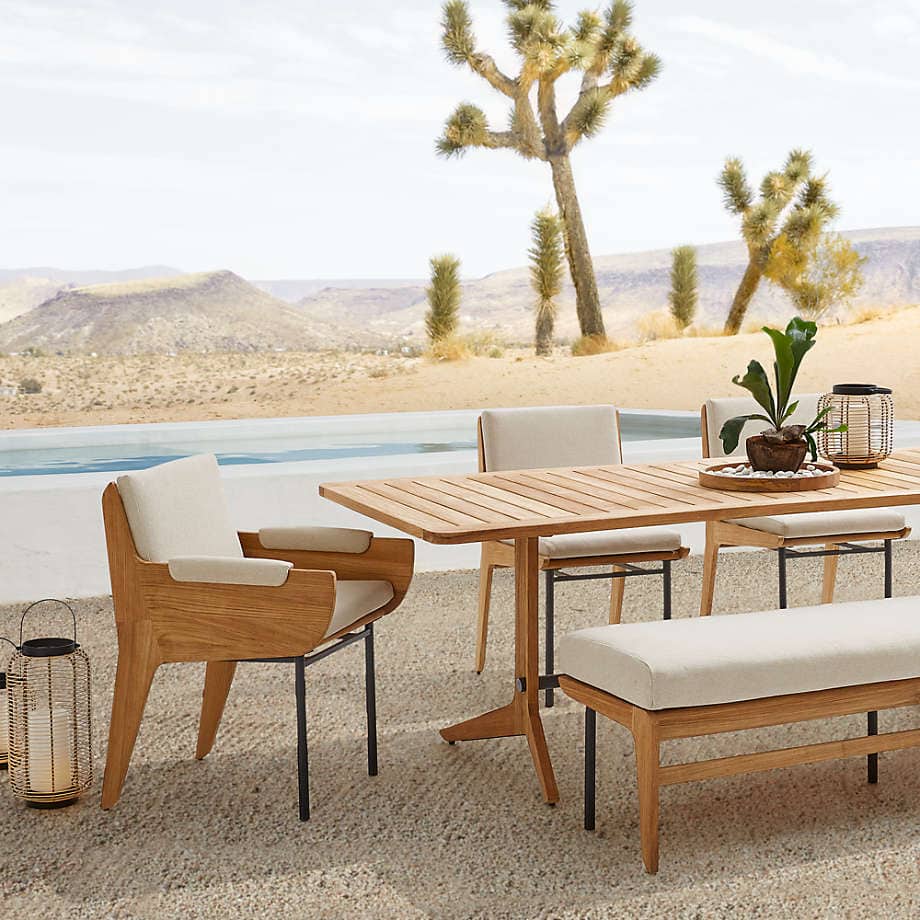 Your patio table centerpiece doesn't need to be just one large item. Instead, you can group items for added texture and a more interesting look.
This rattan lantern from Crate and Barrel is an excellent option for your centerpiece collection. The woven rattan gives it tropical vibes, while the black detailing adds a modern accent.
Load Up Your Garden Table with Beautiful Pots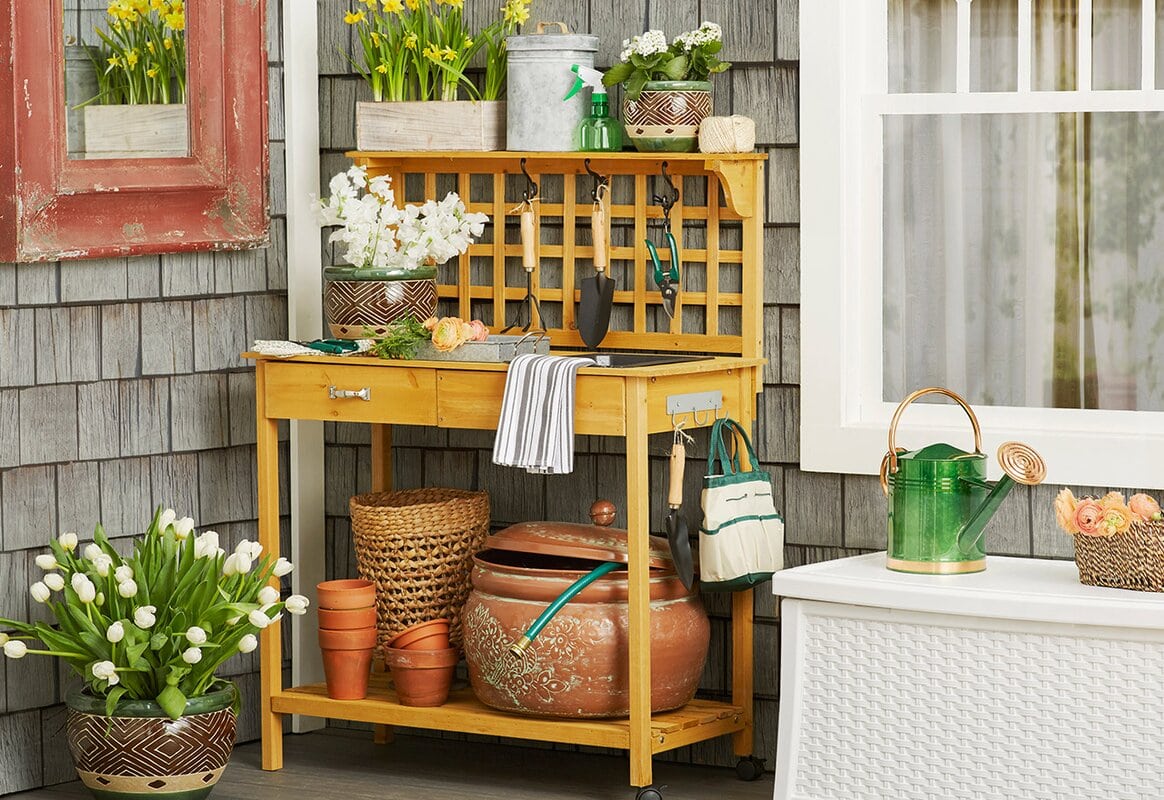 Need garden table decor ideas? No need to overcomplicate things. Load up your garden table with pretty but practical tools.
If your table has shelves, consider adding beautiful pots to the bottom and then hanging your most used tools on top. Not only will your table look beautiful, but you'll be ready for your next flower haul.
Use a Concrete Planter Bowl for Ultra Modern Table Decor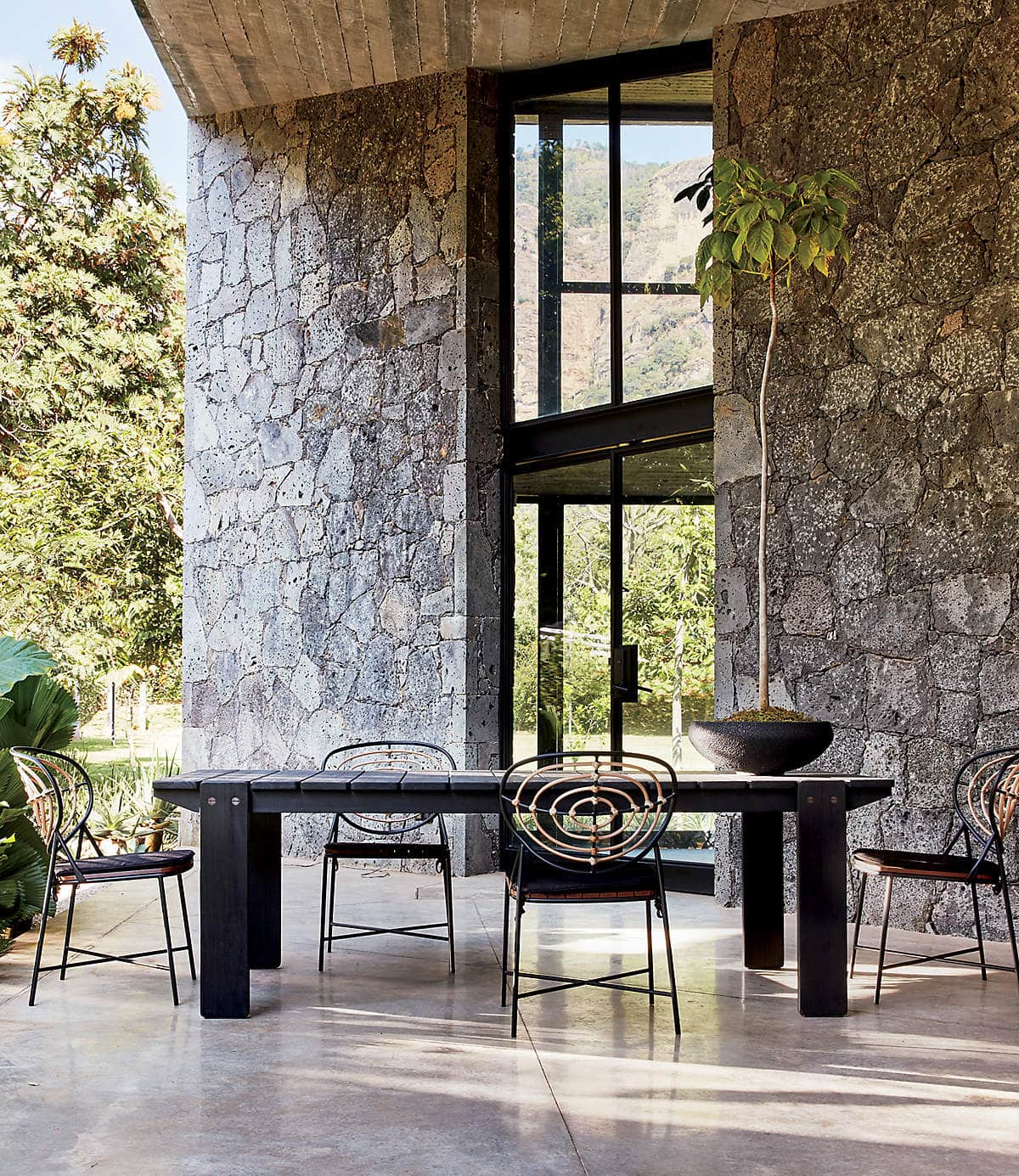 If you're into ultra-modern or utilitarian decor, forget grouping items. Instead, go with one piece of decor that makes a statement – like this concrete planter bowl from CB2.
This piece has a drainage hole for plants, but you can also use it as a bowl. Fill it with a few succulents or a tall tree, depending on the look you're after.
Adorn Your Patio Set with Fresh Cut Flowers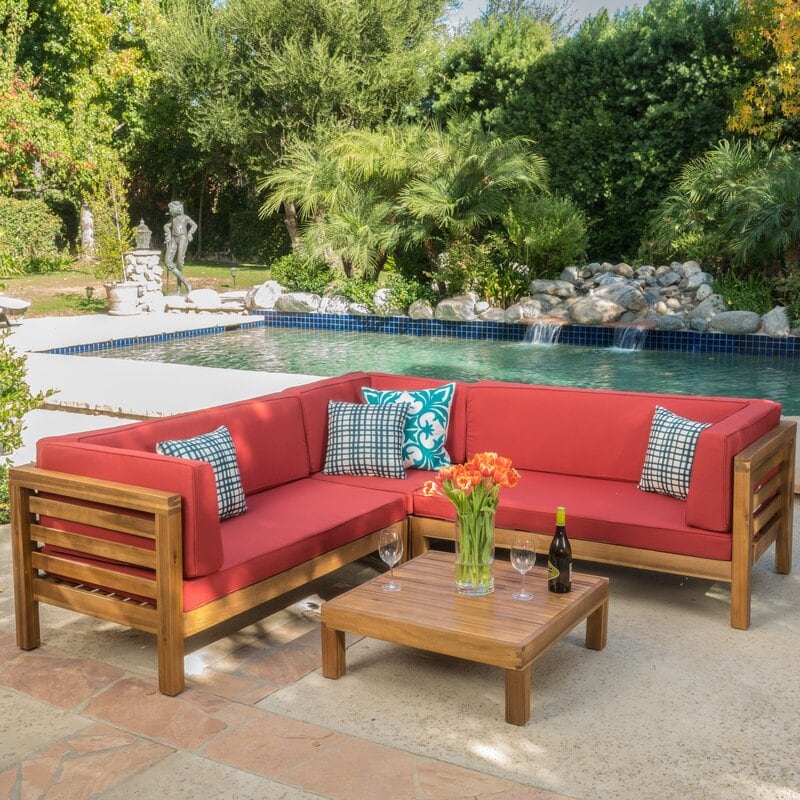 Looking for the simplest of simple ideas? Go out to your garden and cut some fresh flowers. Then, place them in a clear vase and use them as centerpieces.
If you don't have any flowers to cut, consider some authentic look faux ones as pictured, or go pick up a bouquet. Flowers are a classic centerpiece that will always look good.
Place a Rattan Tray on a White Table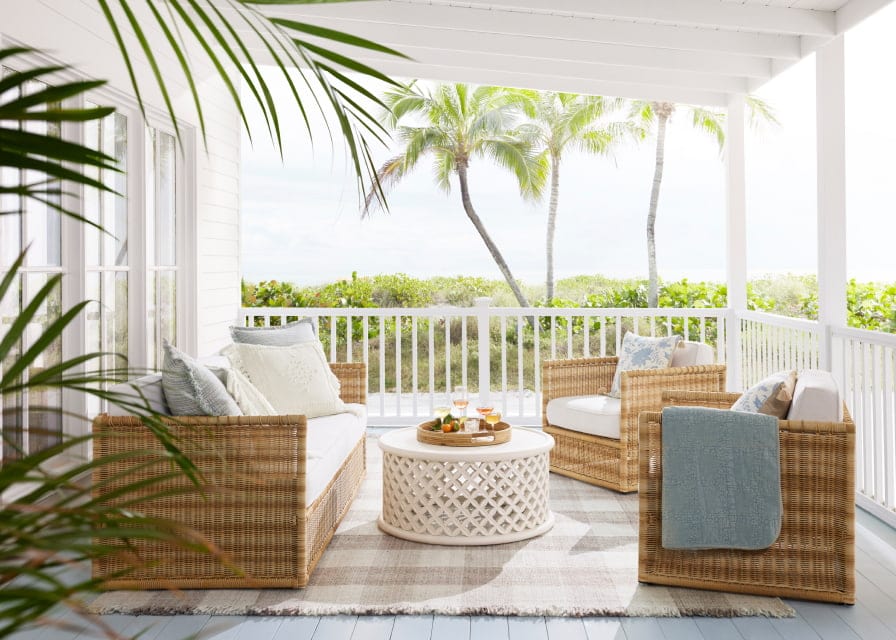 While white decor is crisp and clean, too much white can look dull. An easy way to add interest is to mix in a natural element like wood or rattan.
So, if you have a white patio table, add texture and color with a rattan tray. You can then add a vase to the tray or use it to corral food and drinks.
Create a Centerpiece with Candles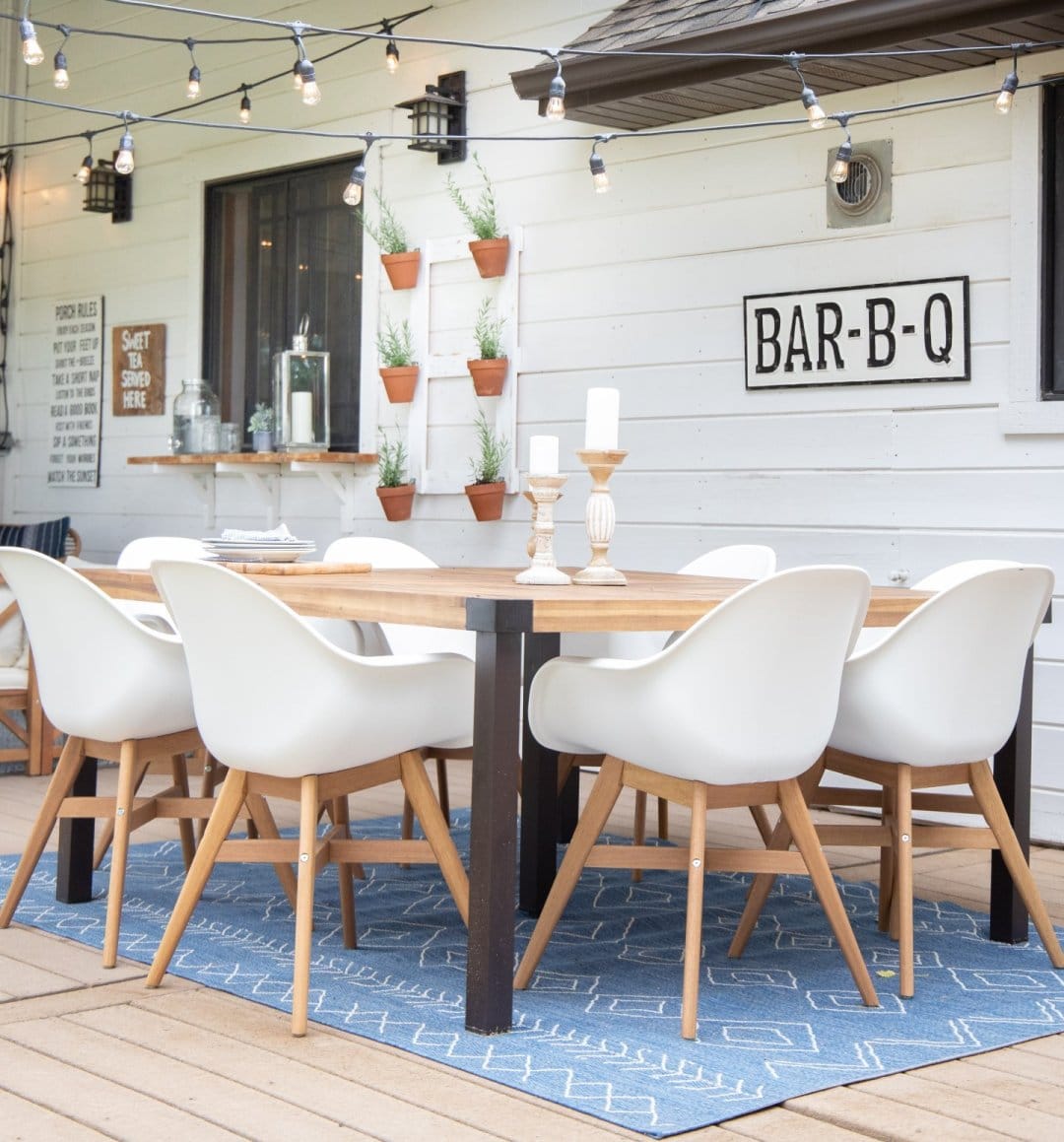 Candles will always be excellent patio decor. You can use a large round candle, or for farmhouse style, try some chunky wooden candlesticks.
Consider adding some citronella taper candles to your holders for added outdoor protection. If your patio isn't covered, remember to bring the candles inside during inclement weather.
Get a Coastal Look with Faux Beach Grass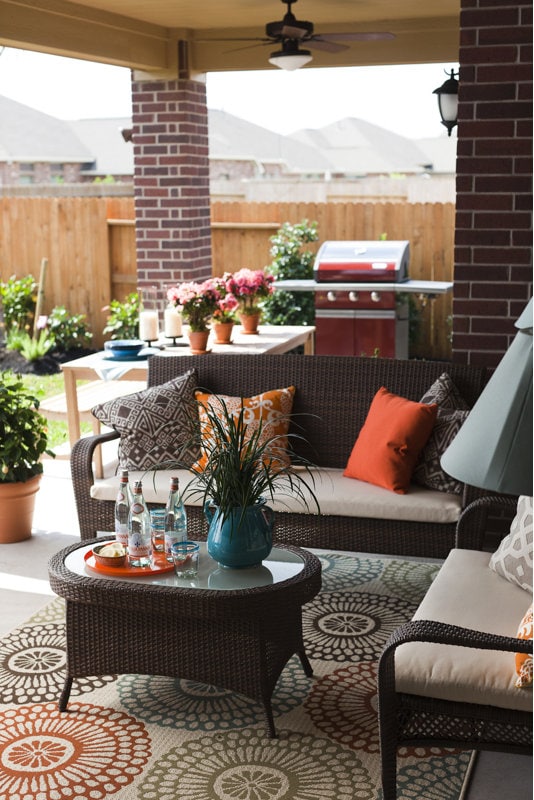 Faux beach grass is excellent patio table decor if you're after a coastal look. You can place a large pot of grass beside a smaller table or a small pot of grass as the centerpiece on a larger table.
If you have a black thumb, don't worry. You can find very real-looking faux grass, like this option, from Wayfair.
Bring in a Copper Ice Bucket for Functional Decor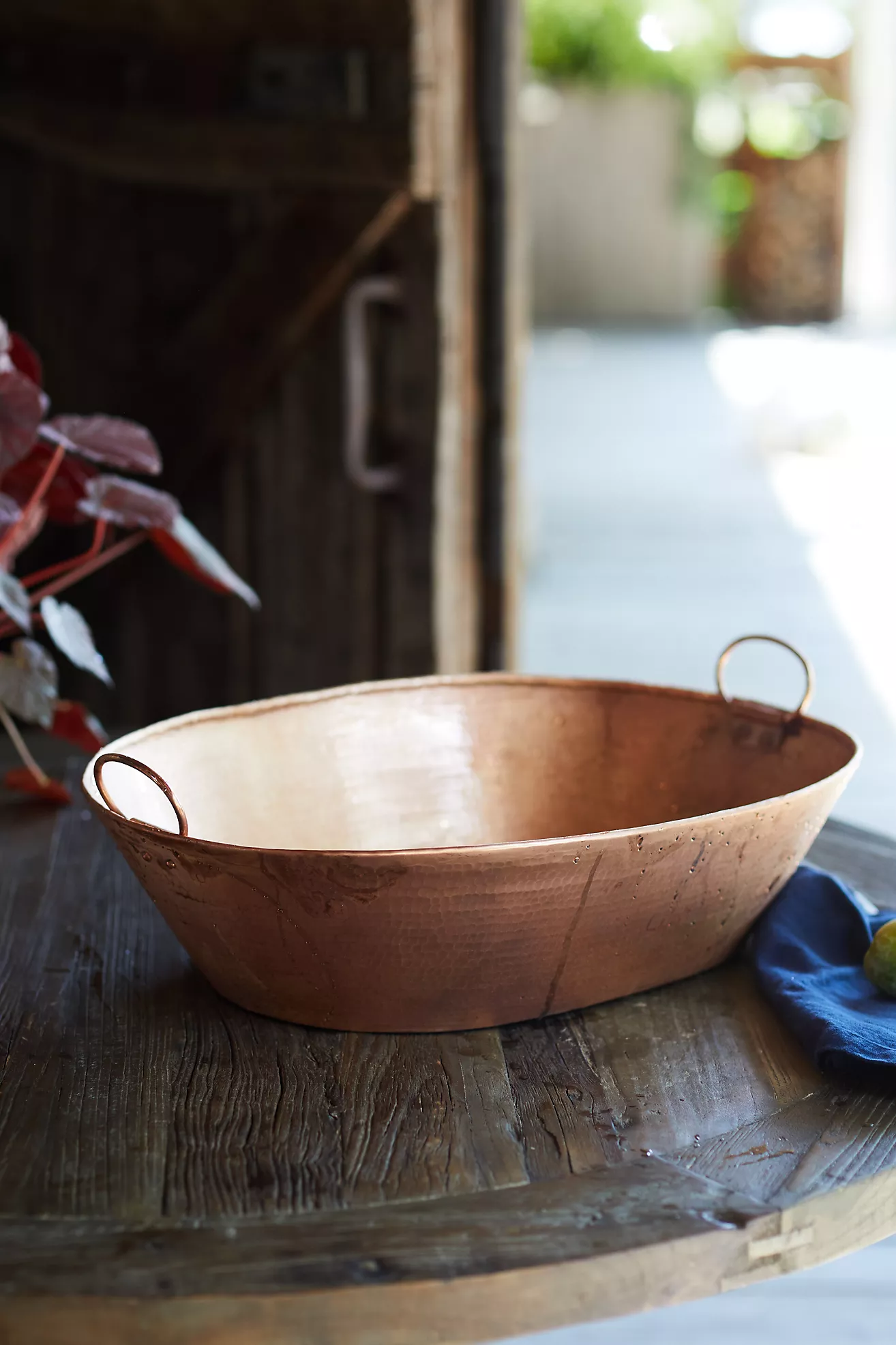 If you're looking for multifunctional decor, this copper ice bucket from Anthropologie is a great choice.
This is a high-quality bucket that looks stunning on its own. You can fill it with ice and your favorite drinks if you're entertaining. Or, for an everyday look, add fresh fruit or decorative wooden balls.
Turn Your Pitcher and Glass Set Into the Centerpiece
Do you host a lot of outdoor dinner parties? Skip the extravagant centerpieces and invest in a high-quality pitcher and cup set.
This set from Lulu and Georgia is perfect for entertaining. The cups and pitcher have a seagrass sleeve for added style and texture. Simply set this in the center of your table for functional decor.
Use a Wooden Tray to Corral Items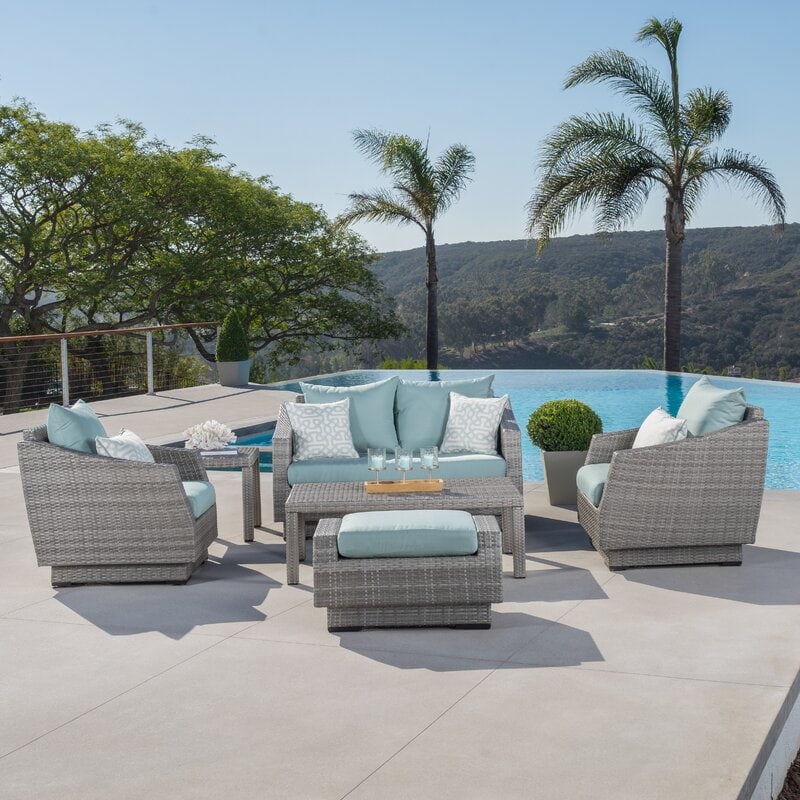 If you're constantly bringing things outside, lay down a wooden tray to corral items. On an everyday basis, your tray will help you keep things together, and when entertaining, you can swap out the decor for a vase or candles.
If you need a tray to fit a small table, consider this one from Wayfair. It's cedar, so it works great as an outdoor accessory.
Display Hammered Copper Mugs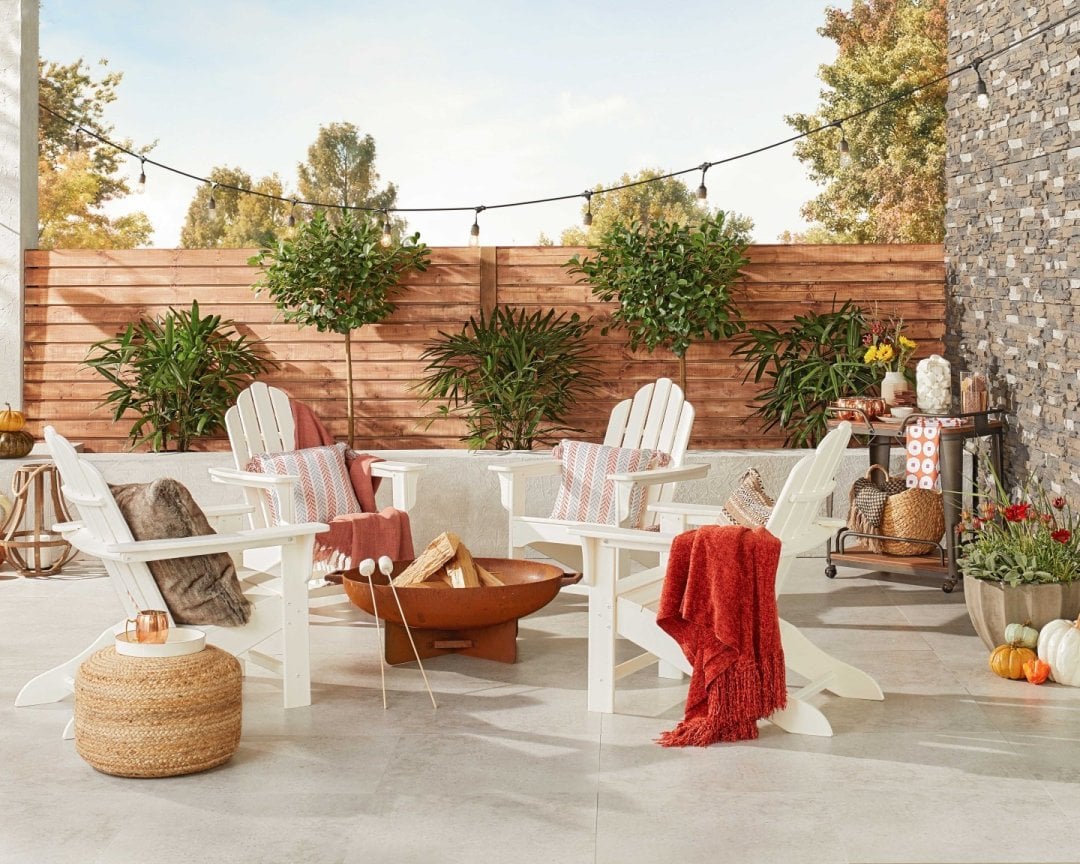 Sometimes the best decor is simple, high-quality items. That's definitely the case for these old dutch hammered copper mugs.
If you find yourself whipping up drinks for your guests often, place a few of these cups on your bar cart or at the center of your patio table for easy decor. The solid copper is beautiful, and the mugs are 100% functional.
Set Your Table with Quality Placemats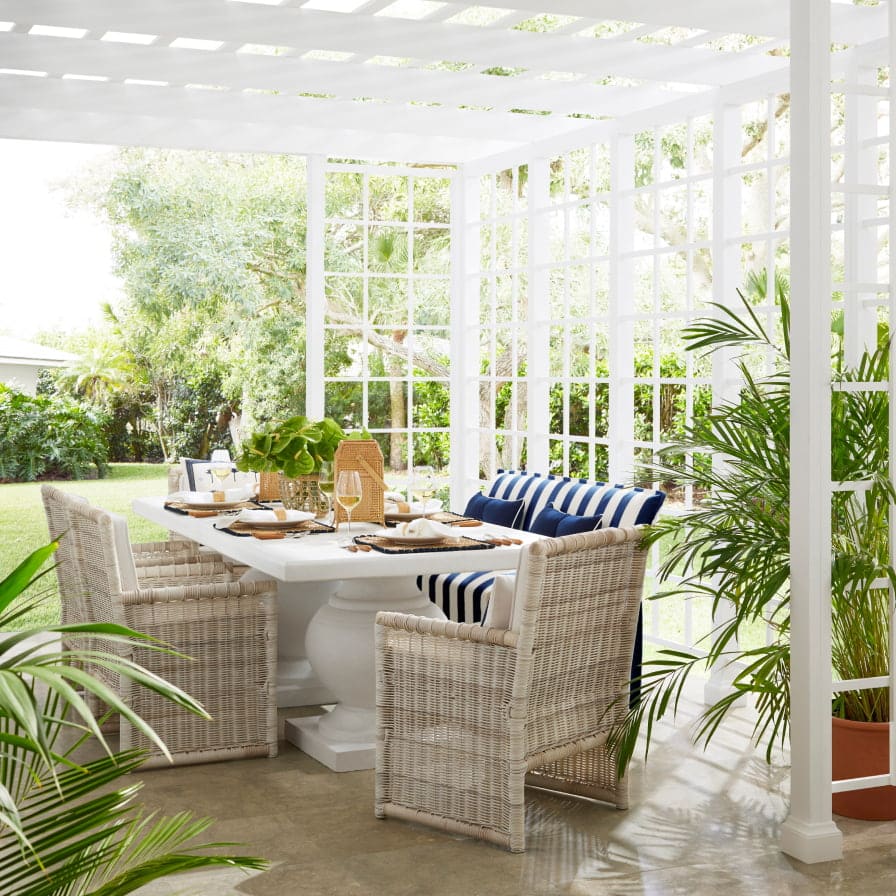 If you need patio table decor ideas for hosting guests, consider laying down a placemat or charger before setting the table. This will help the settings look more put-together.
One great option is the Catalonia placemats from Serena & Lily. You can get them in a rectangle or round shape with a navy or natural accent.
Accent Tropical Spaces with a Wooden Pineapple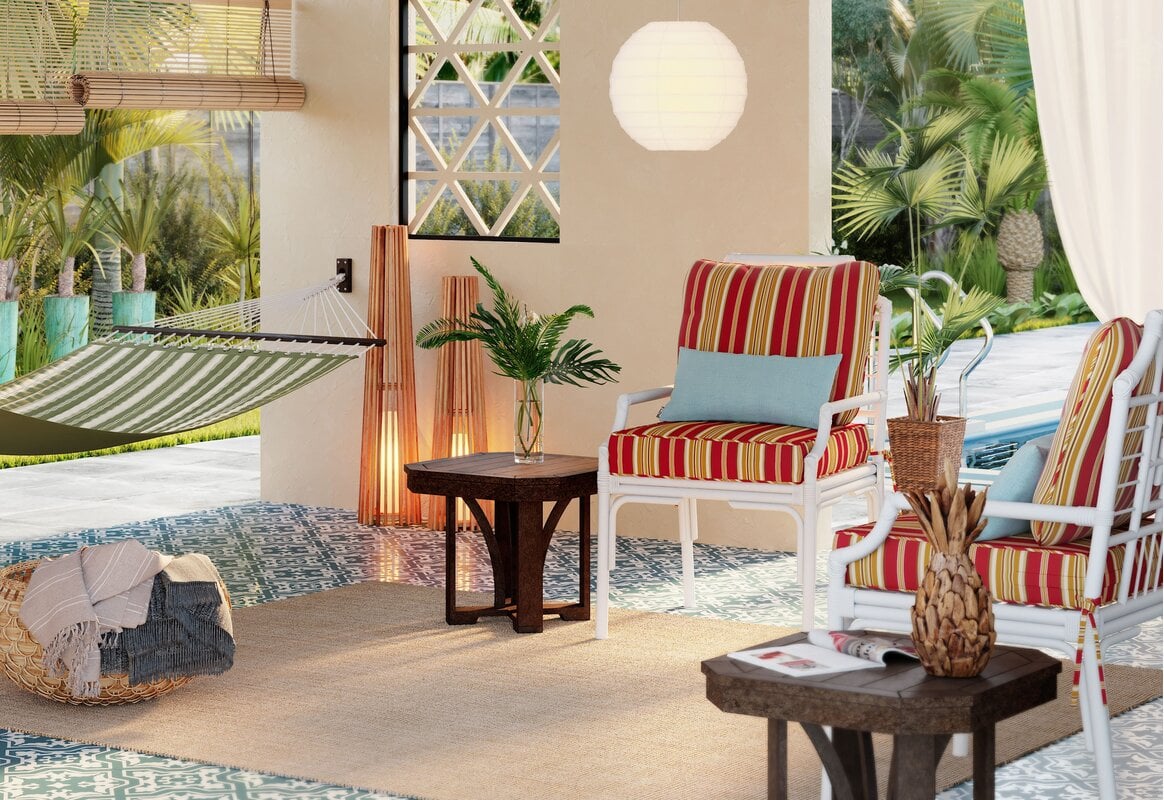 Are you after a tropical look? Then, have a little fun with it, and add a wooden pineapple to your table decor.
You can find this sculpture from Wayfair. It's driftwood handcrafted into a pineapple shape – use this as an end table piece or work it into your main centerpiece.
Final Thoughts
If you're looking for the best patio table decor ideas, try any of these 17 options. For simple decor, go with a single potted plant, lantern, or candle.
You can also layer your decor, grouping together your favorite items. And if you host often, your money is probably best invested in a high-quality serving set, pitcher set, or placemats.