Decorated Life is reader-supported. When you buy through links on our site, we may earn an affiliate commission. Learn More
21 Ideas for the Perfect Backyard Patio Cover
There are a lot of benefits to designing a great backyard patio cover, and many people choose to create an outdoor covering so they can more comfortably spend time outside.
If you're planning a major covered patio project, you might need to consult a professional, but some options are a lot less involved.
Read on for some great ideas to inspire your backyard patio cover project, and find the one that works for your home style, budget, and location.
Keep it Natural with Reed Grass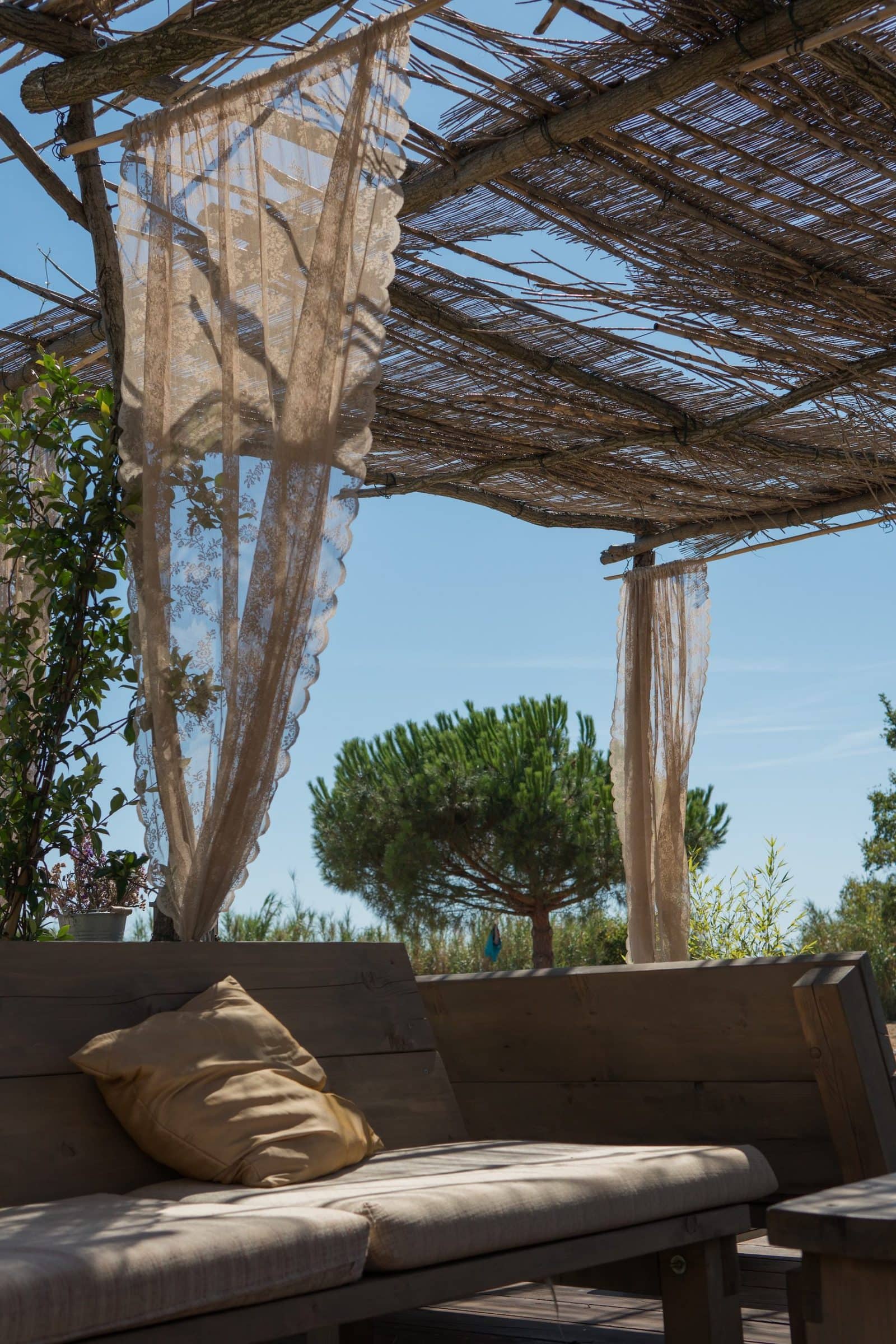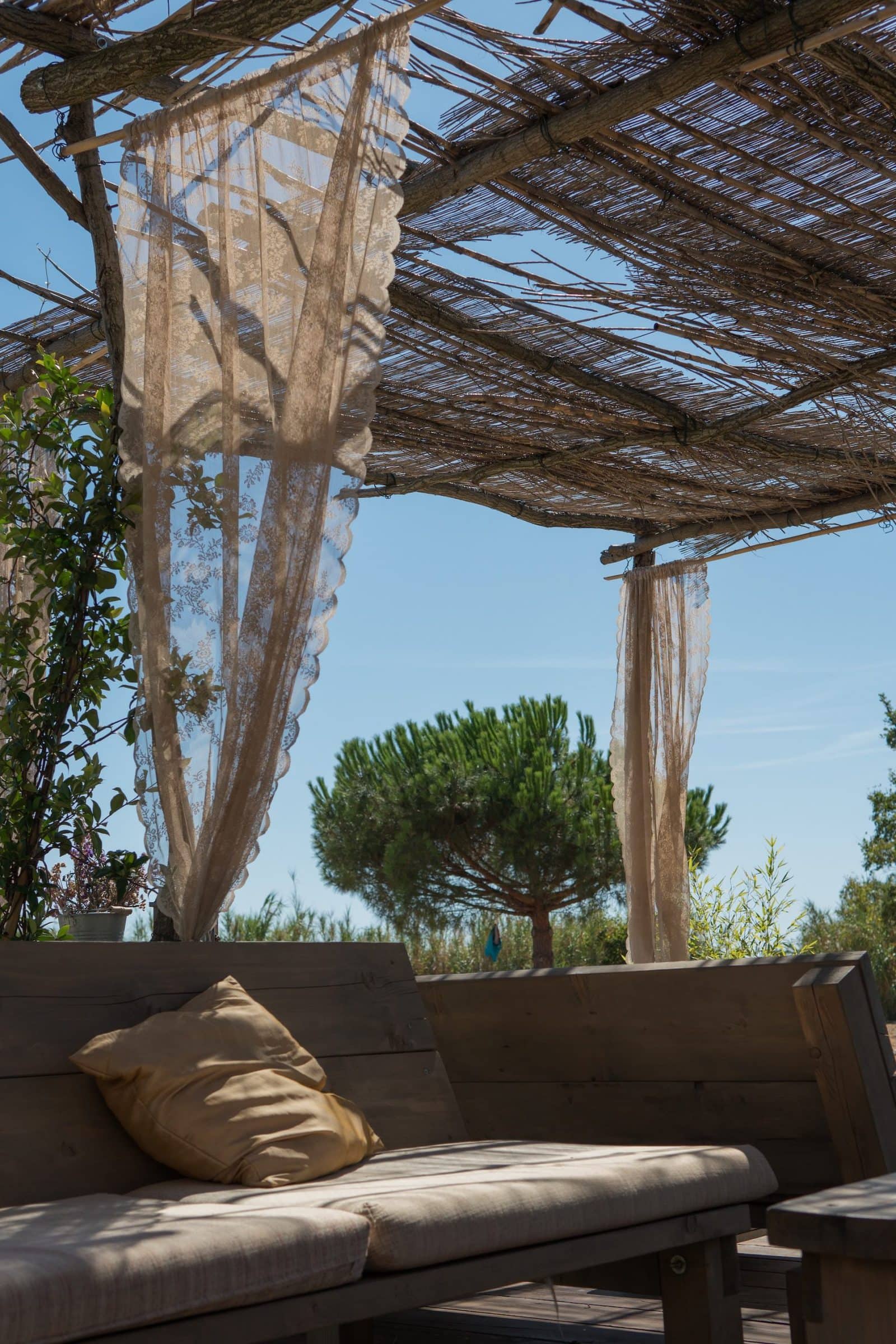 For the perfect, natural way to keep your patio covered, find some natural material curtains and hang them from your reed grass covered frame. You'll just need to build a simple frame of beams or branches or bundles reeds.
Cover the frame with the delicate reeds for a breezy, open-air feeling perfect for the summer, spring, or autumn, wherever you live. The perfect addition is a natural wood bench with soft, natural cushions.
Promote a Tuscan Feel with Brick and Wood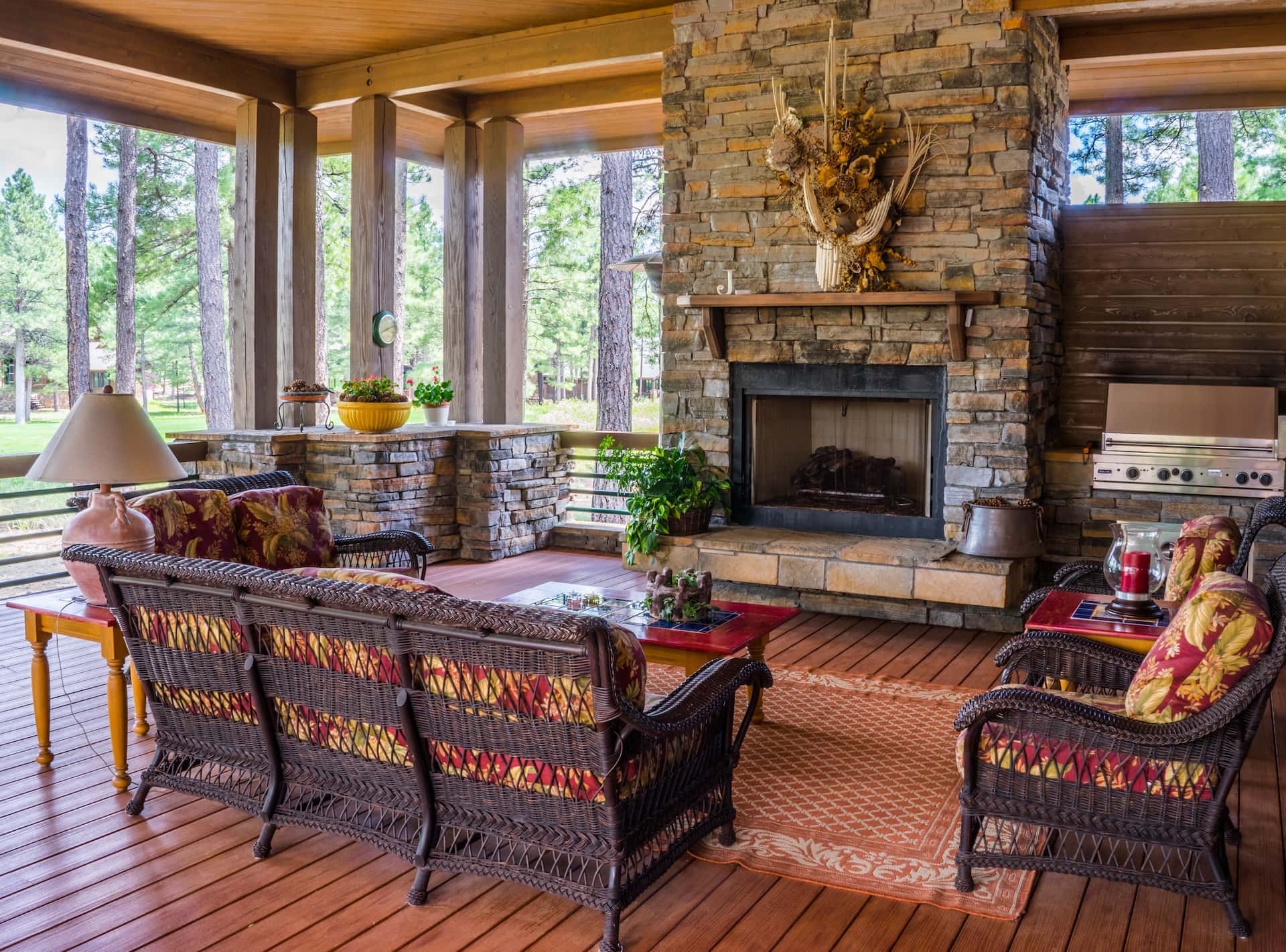 This patio cover design is a lot more involved than others, but the finished result is gorgeous and glamorous. It's made in the Tuscan style, with dark wooden ceiling beams, elements of brick (fireplace, corner half-walls, grill base), and rich, earthy colors.
While this room is currently decked out in Autumn decor, you can add less seasonal items like Italian style decor items to add to the Tuscan feel. Adding a brick pizza oven and cast iron touches will send the design straight into the fields of Tuscany.
Use a UV Protective Open-Sky Cover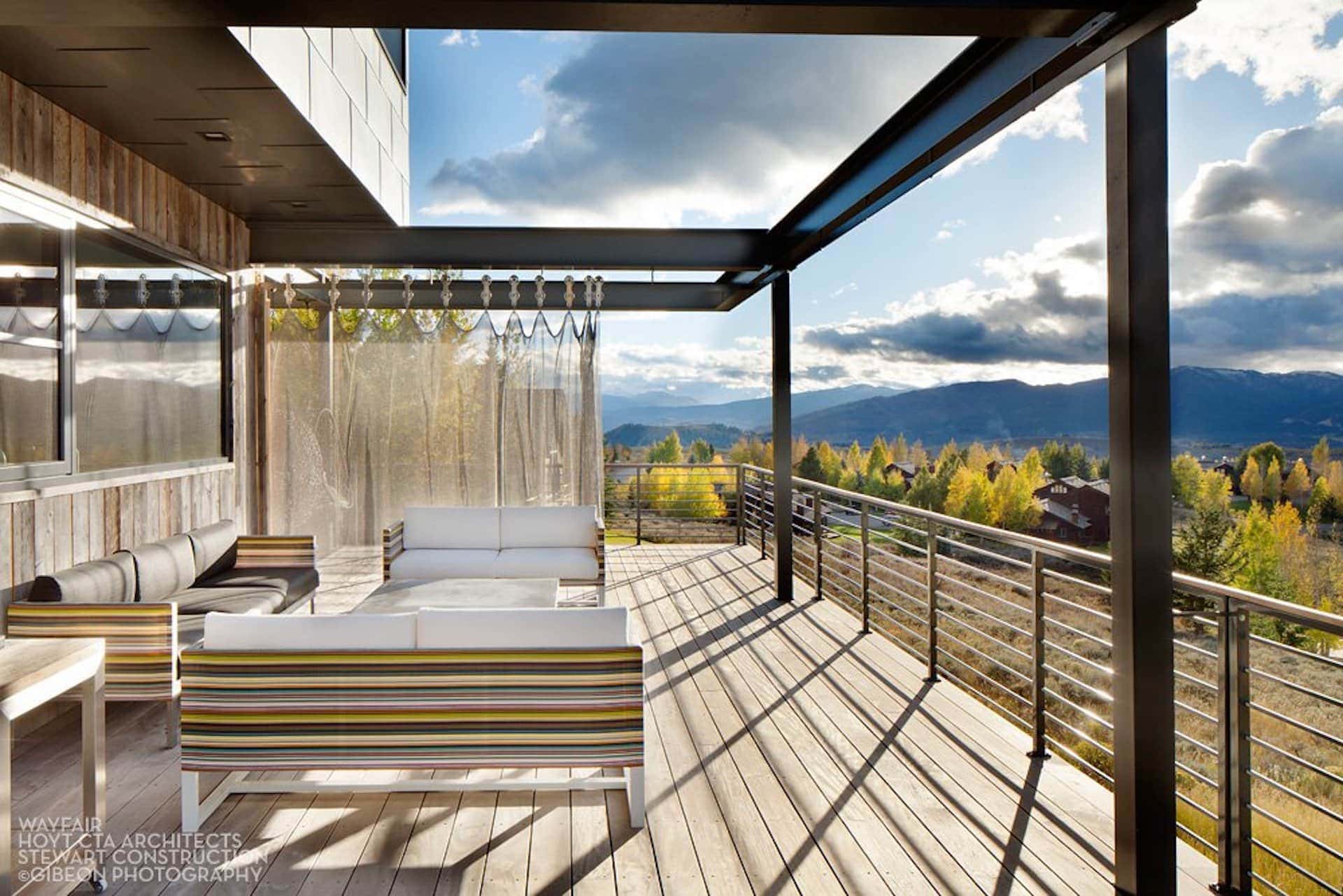 This stunning, backcountry-style covered patio is a perfect escape from the rigors of life. The backyard patio feels warm and inviting with colorful, comfortable furniture, straight lines, and beautiful wood everywhere.
The added curtains to shade folks from the sun coming up in the East or going down in the West.
Build a Gazebo For Your Patio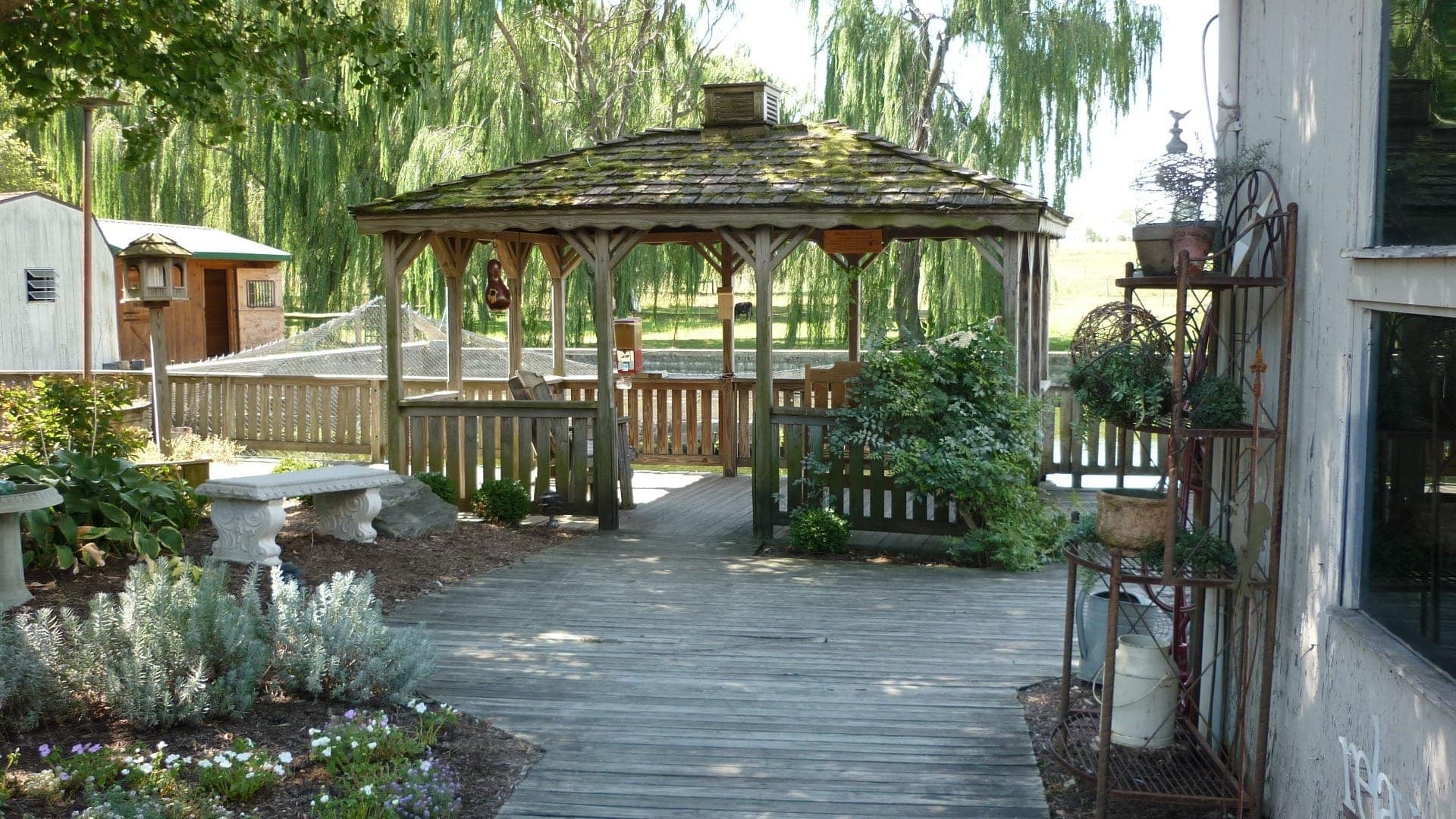 When you want to enjoy your patio in the heat of the summer, a gazebo is a great way to stay open-air without compromising on shade. This outdoor covered patio idea is beautiful, traditional, and extremely versatile.
Not only will your gazebo offer shaded seats at any time of the day, but it adds real old-world charm and nostalgic beauty. Add simple Adirondack chairs like these, a few benches, or a whole dining set up or cozy outdoor couch.
A Palapa Creates a Coastal Vibe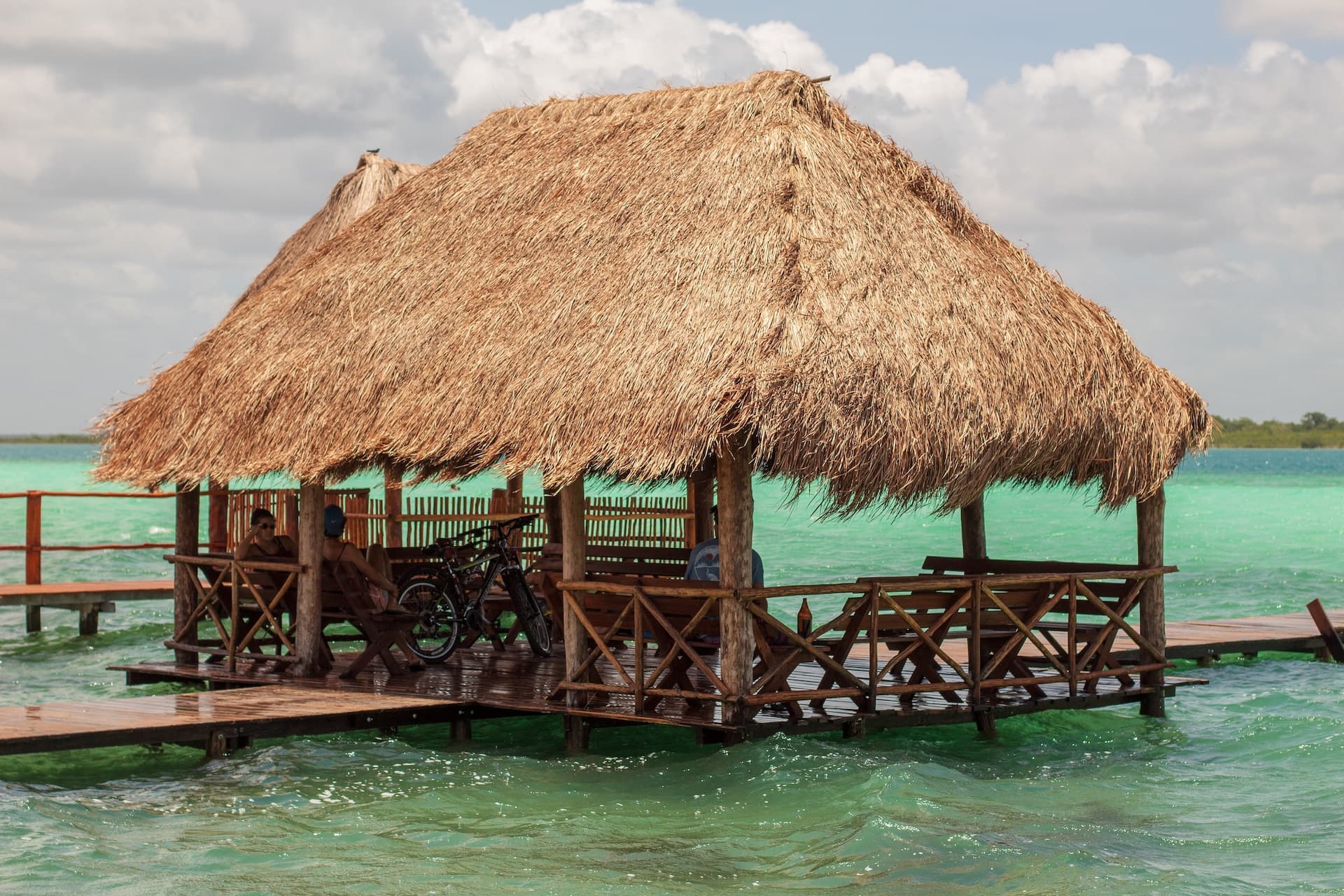 You might not have this kind of view in your backyard, but you can still bring the feel of your tropics home by building a palapa (thatched roof "umbrella") for your patio. You can plant semi-tropical or tropical plants, use some beach-themed decor, and pull up some wicker furniture to bring out that coastal vibe.
Or, if you've got the space and interest, cover your hot tub with the palapa.
Install Shade Sails for a More Casual Look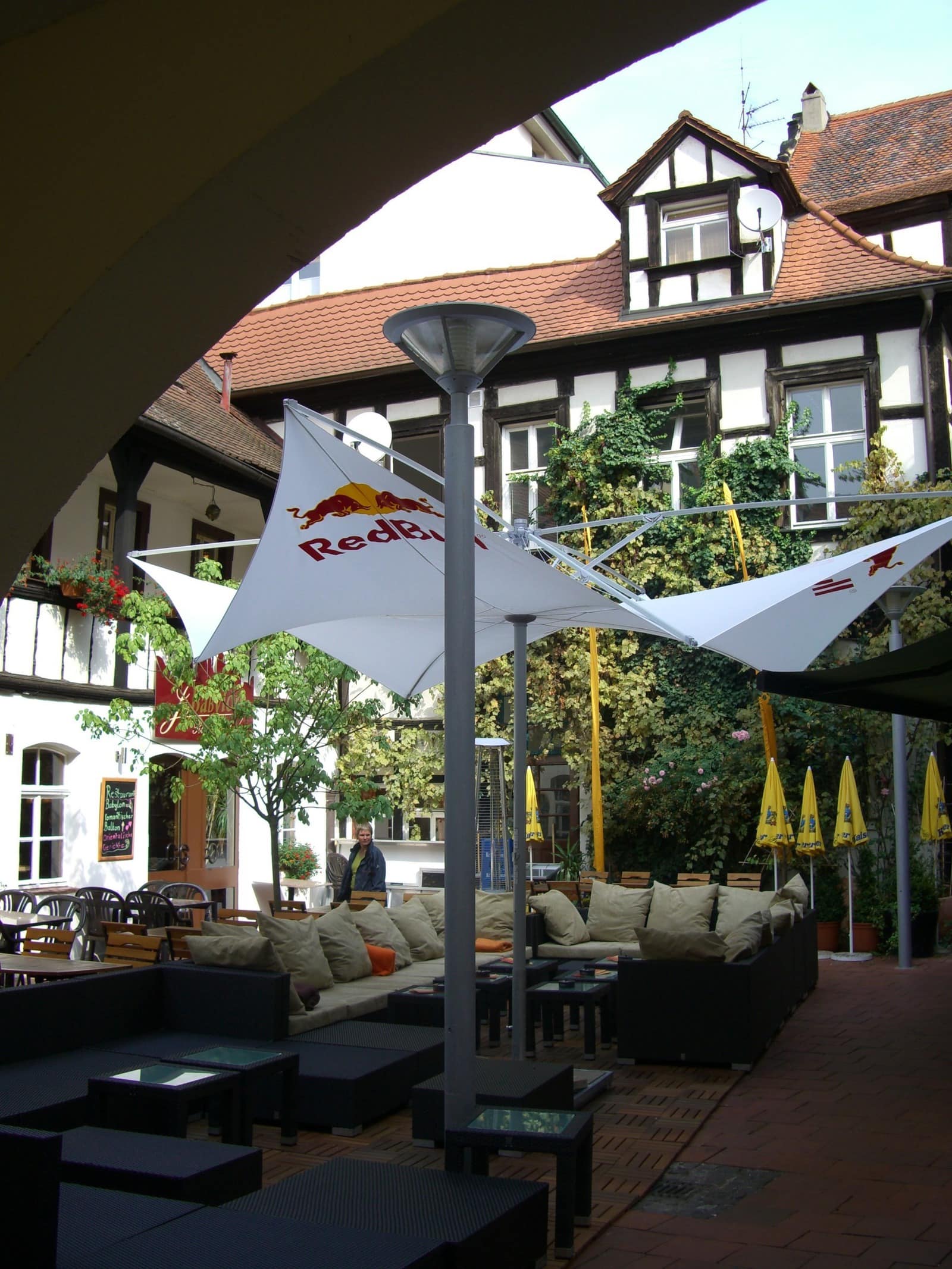 Obviously, this patio belongs to a dining establishment, but the concept is the same for your home. You can install some simple, beautiful shade sails over your patio for a casual, comfortable look at home.
One especially great thing about the shade sail is that you just need a few poles to hang them. You can use as many as you need to cover the whole patio, whatever the size.
Build an Outdoor Grotto with a Pergola and Climbing Vines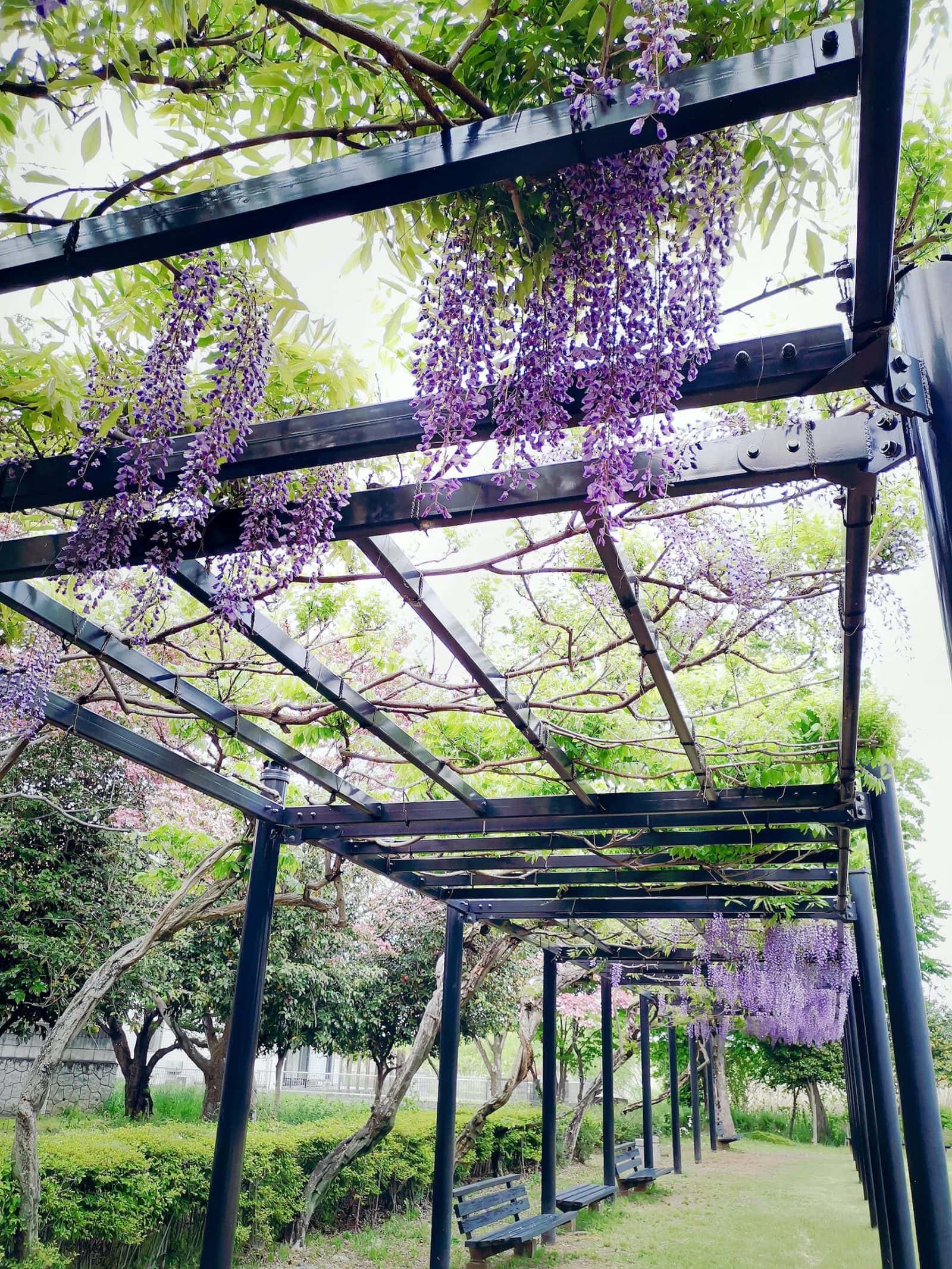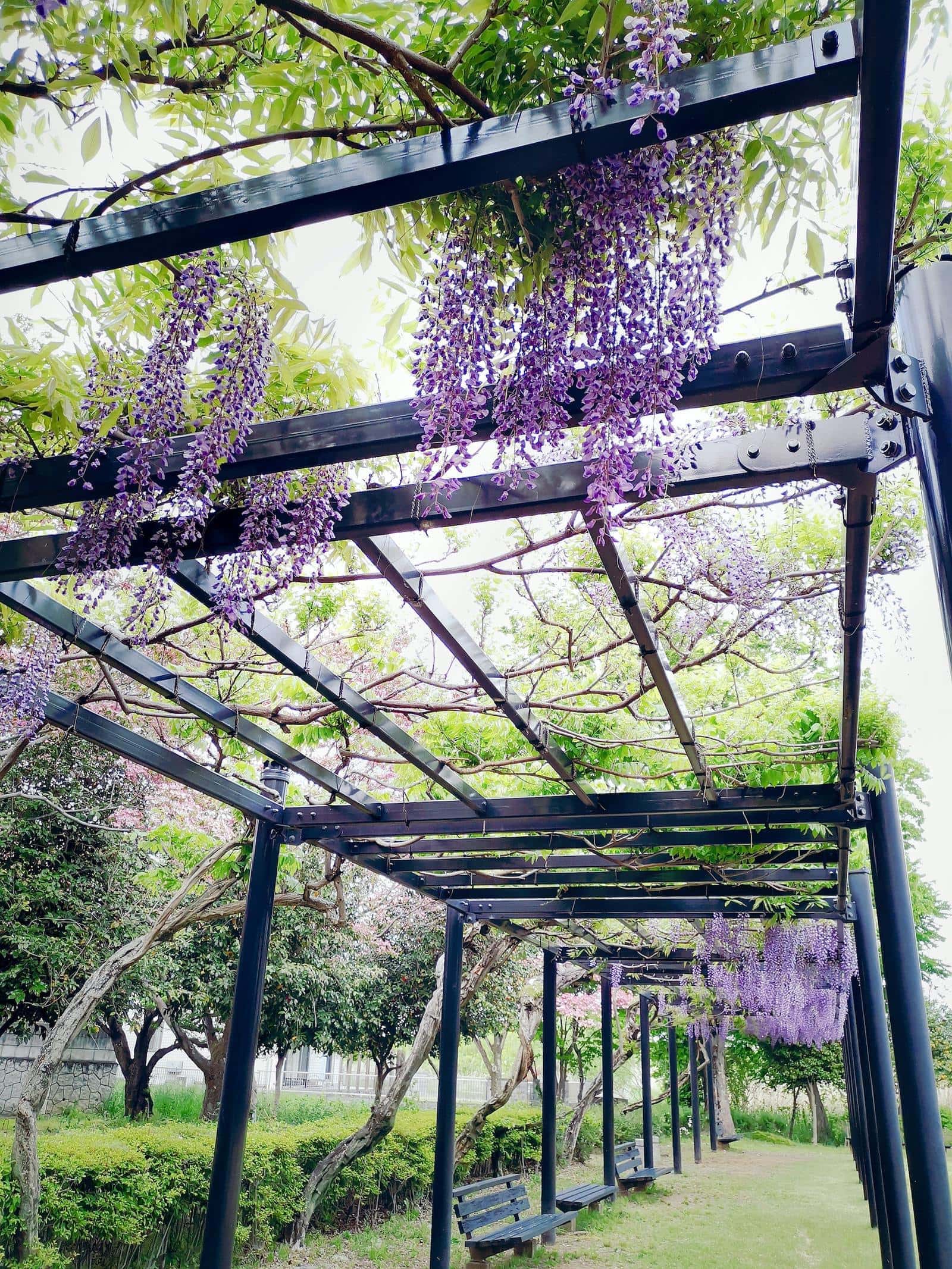 This is one of the breeziest, most beautiful, and simplest patio covering options. A stunning pergola with flowers is simply stunning. There is enough space between the ceiling beams that flowers can come creeping in to great effect. Be aware that this type of project requires patience because some plants can take a lot of time to grow.
Add some additional flowers beneath in pots or planters, some comfy furniture, and you'll find paradise spring to Autumn.
Look for a Sturdy Standalone Patio Structure
Patio roof ideas don't all need to involve an attached patio—sometimes, the best look for a home can be a standalone patio. In this case, the modern structure involves a mix of materials, with steel and wood combined in smooth lines and angles to create a lovely covered patio.
It goes really well with the open-air first floor of the home, which is completely open to the elements thanks to some retractable windows.
Or Go for A Soft, Seasonal Canopy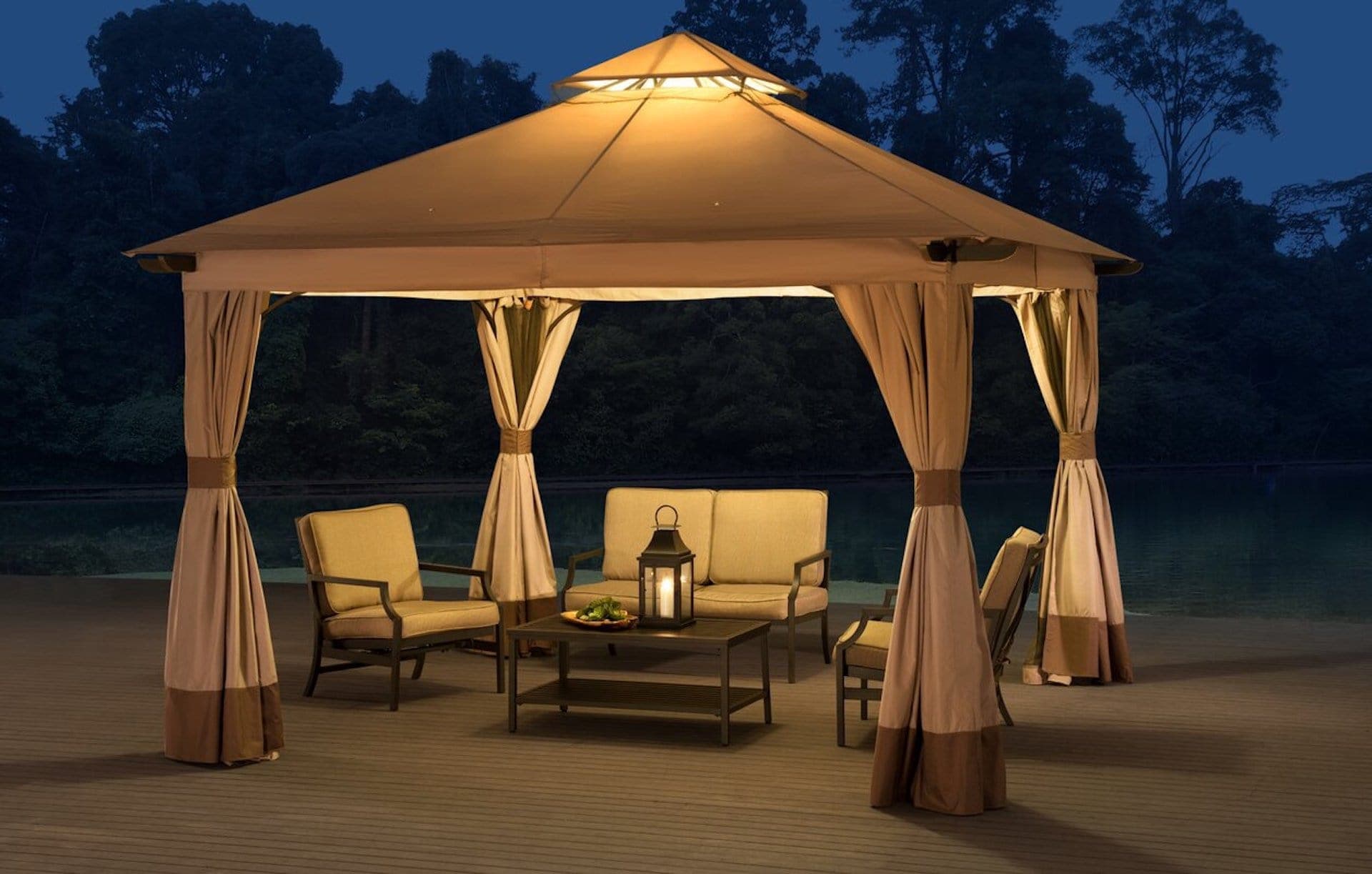 Another patio cover ideas is this soft, fabric canopy for seasonal use. If you live someplace where you get a lot of wind blowing in certain seasons, or extreme cold in winter, this is a great choice.
Choose simple, neutral colors for the fabrics and furniture, add some well-placed lighting, and cozy furniture and you'll be enjoying the great outdoors.
Keep Some Parts Uncovered for Natural Light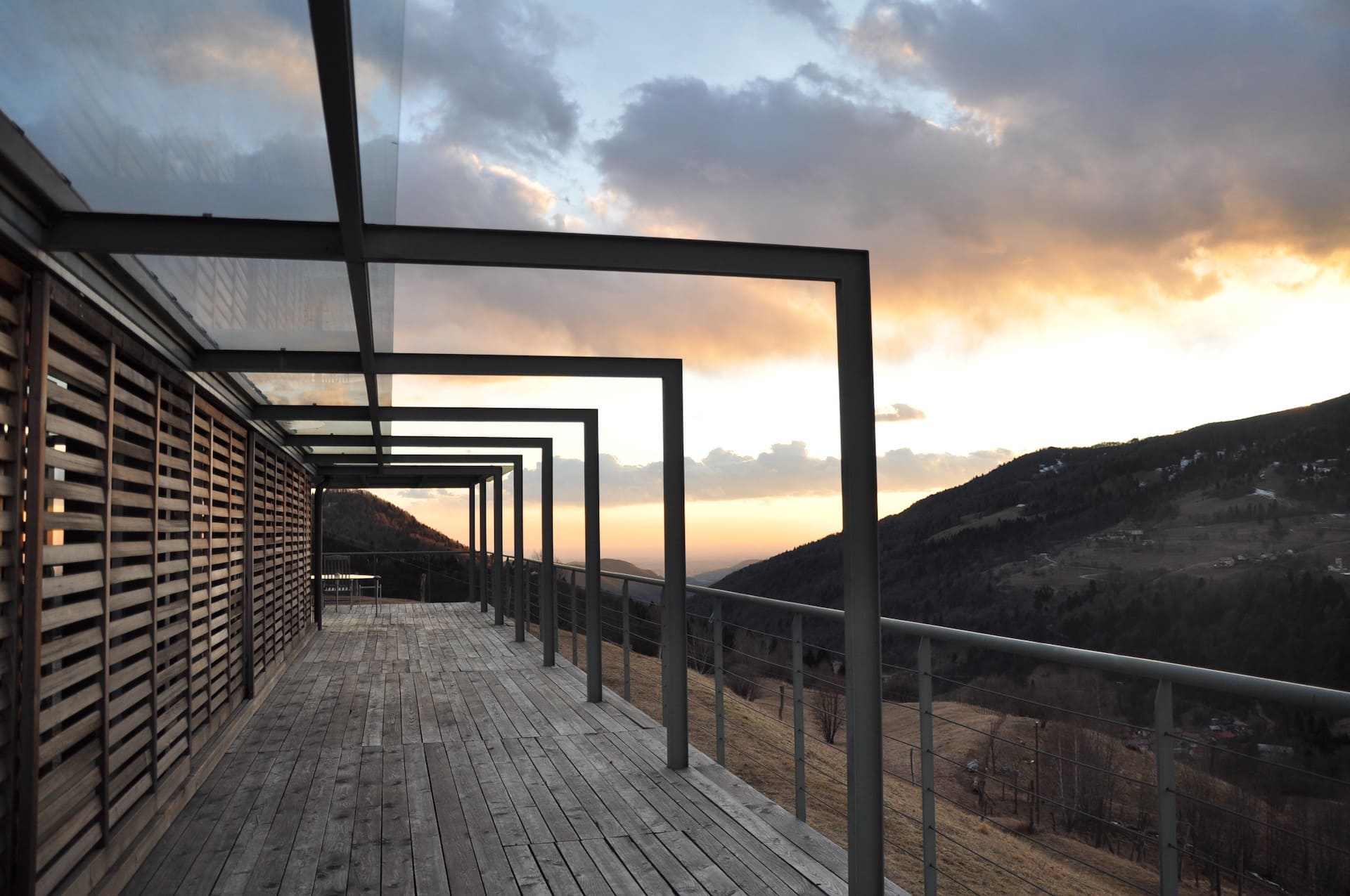 For a truly stunning patio – whether you've got views like these or not – a partially covered patio adds loads of natural light while still offering some protection from light rain, falling leaves and acorns, or other elements.
Go Modern with Straight Lines and Smooth Materials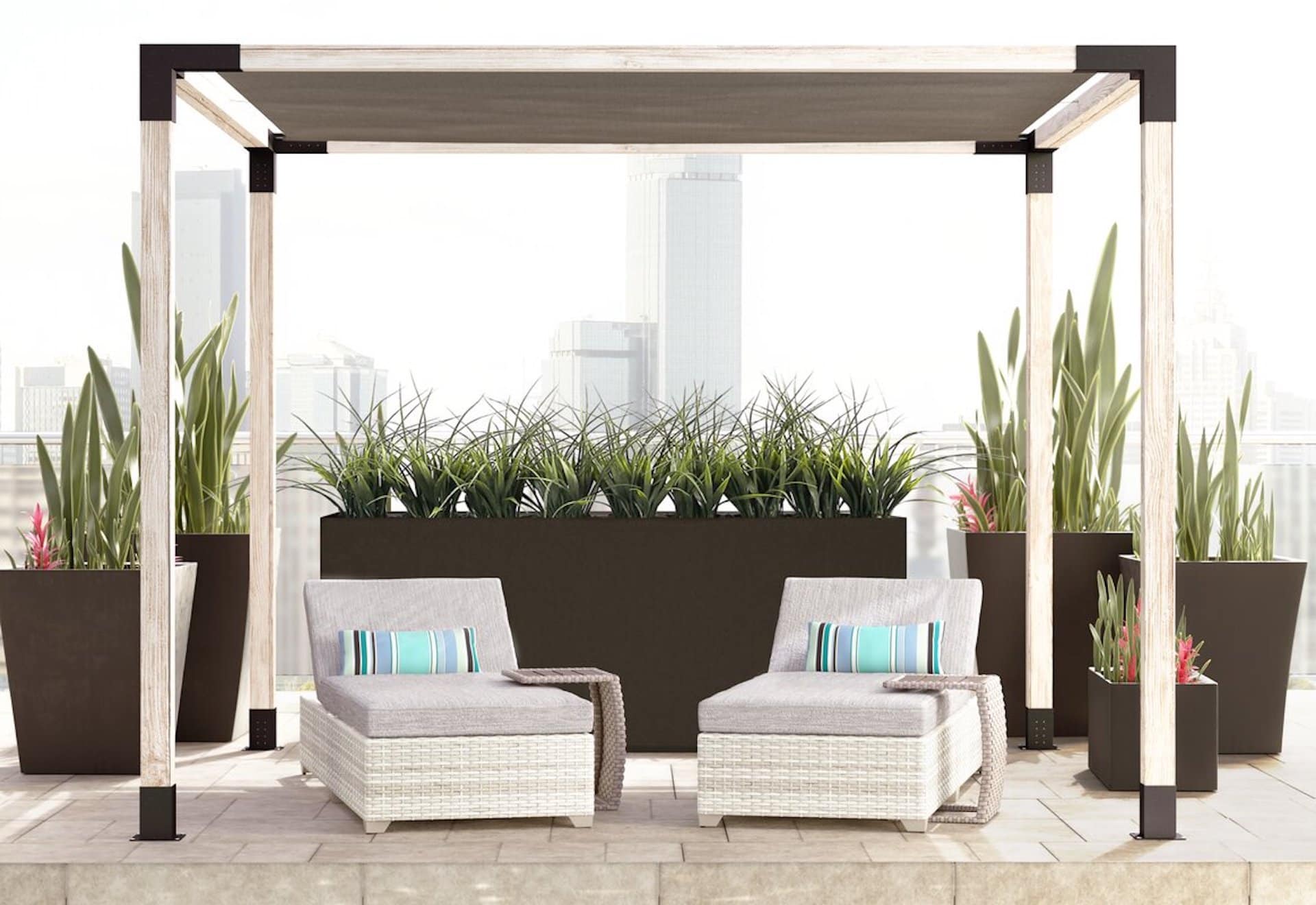 This backyard roof option is truly stunning while also being incredibly lovely.
This modern style is perfect with a city rooftop view or country backyard lawn. Use some patio pavers in neutral tones for loads of versatility and change out the colorful pillows and cushions to add some flavor to your day.
Hang a Fabric Cover for an Affordable Option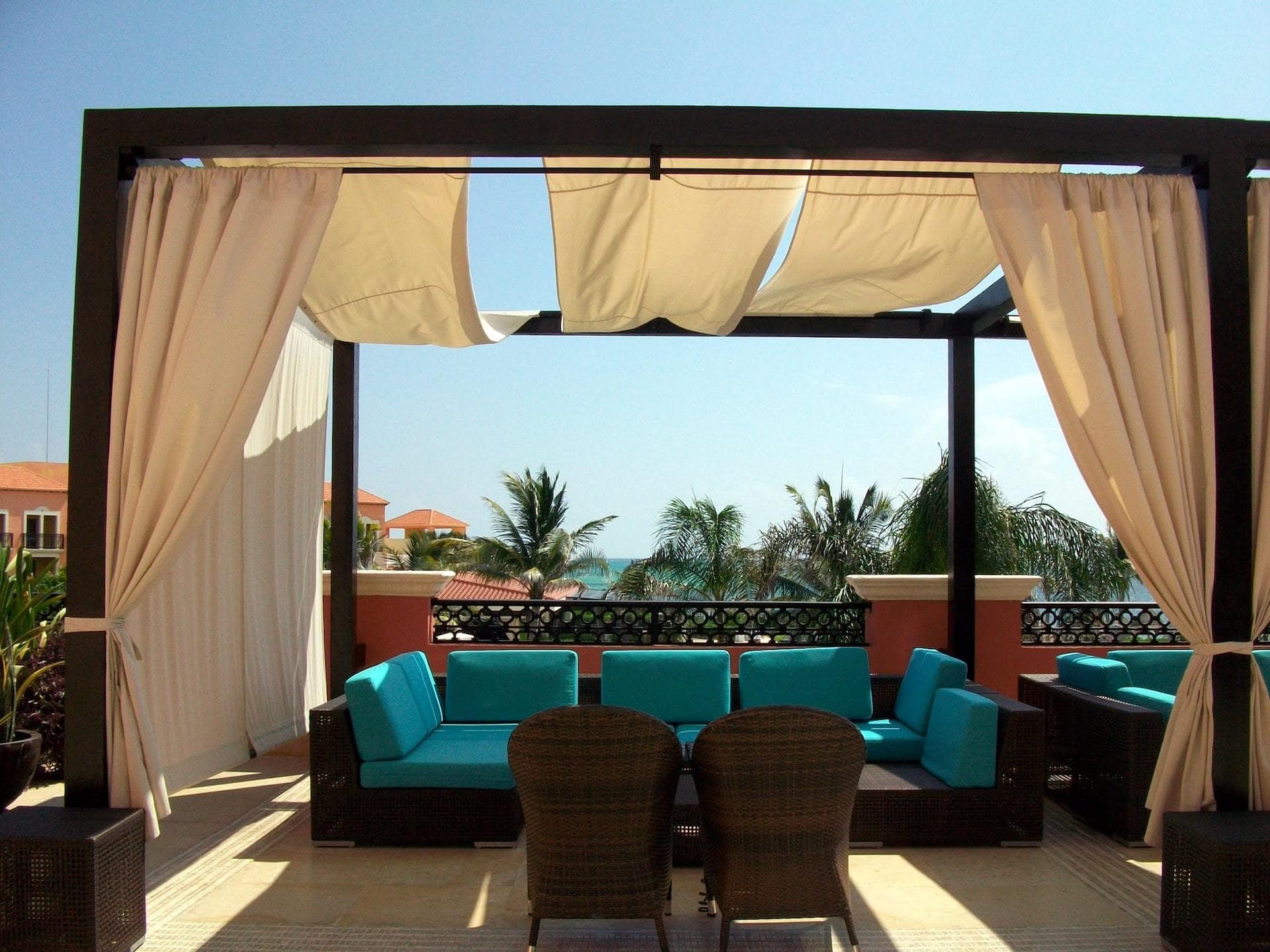 Not all patio cover designs require a lot of planning and financial investment. Some are a lot simpler yet still pretty and effective, like this fabric cover. You just need a simple wooden frame and some water resistant fabric.
Use heavy, neutral fabrics to keep the shade solid and prevent the curtains from blowing around too much. There are loads of DIY options out there, too, for similar designs, so find a handy guide to creating your own outdoor covering.
Channel Asian Influences with Some Pagoda-Style Rooftops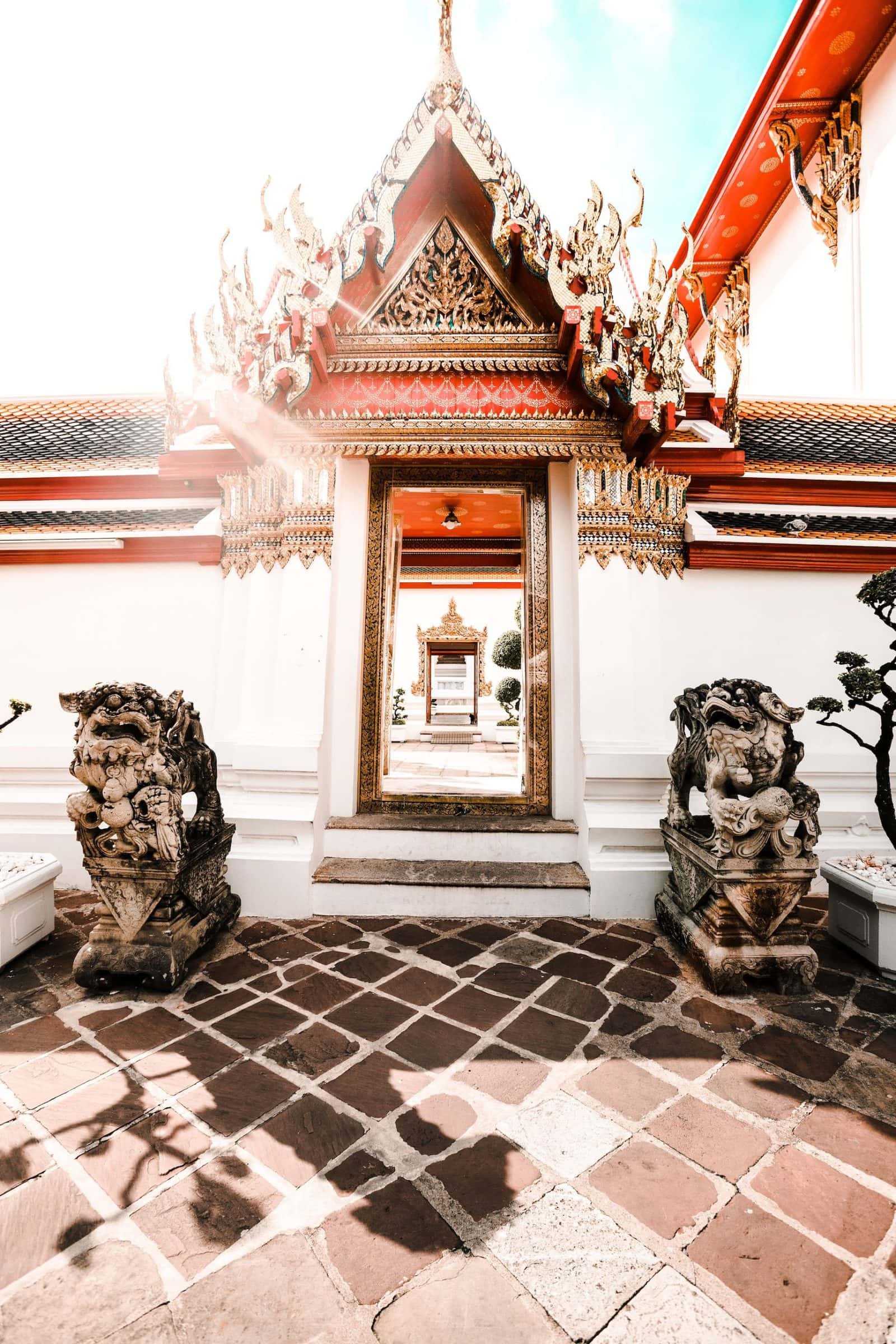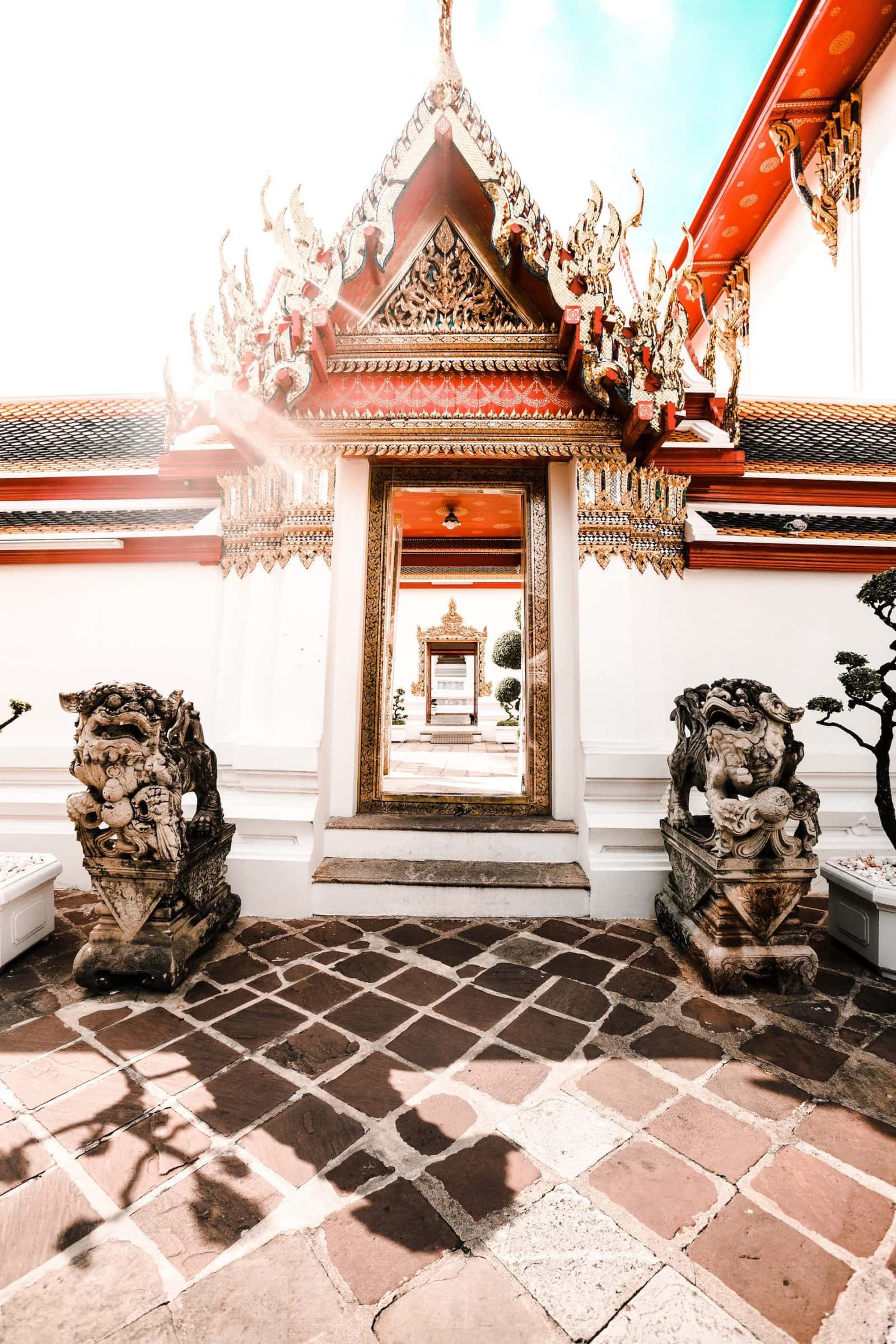 This patio covering would add some unique touches to your backyard. If you've ever been intrigued by Asian cultures, you can create some pagoda-style patio coverings from a variety of materials, including red tiles.
Be sure to find some Asian statuary, build in a Koi pond, and consider adding a zen garden to complete the look and feel of your yard. If you really love it, you can go all the way to create a Japanese garden, complete with some tabletop bonsai trees, fountains, and other special touches.
Build a Pergola and Keep It Bare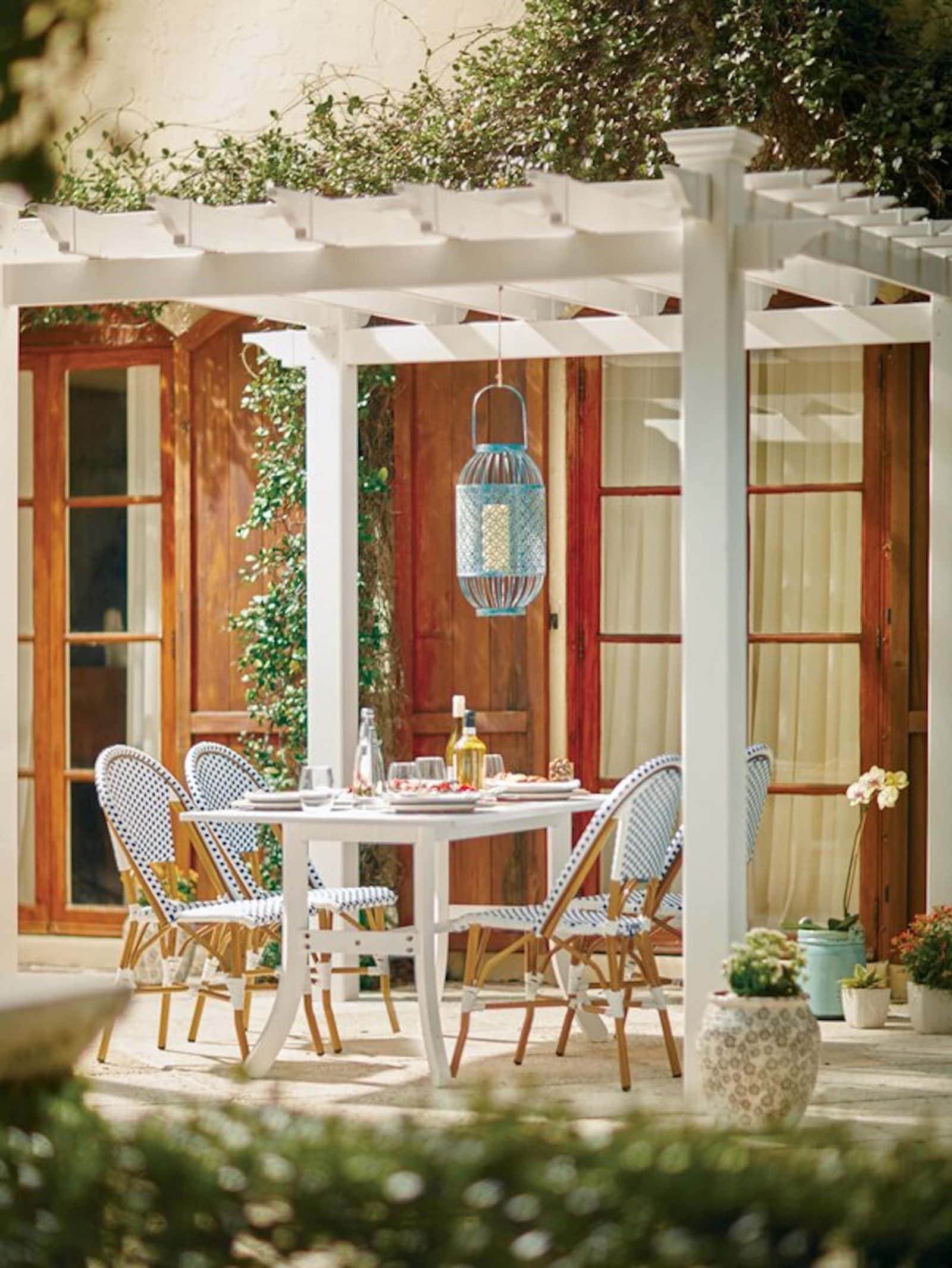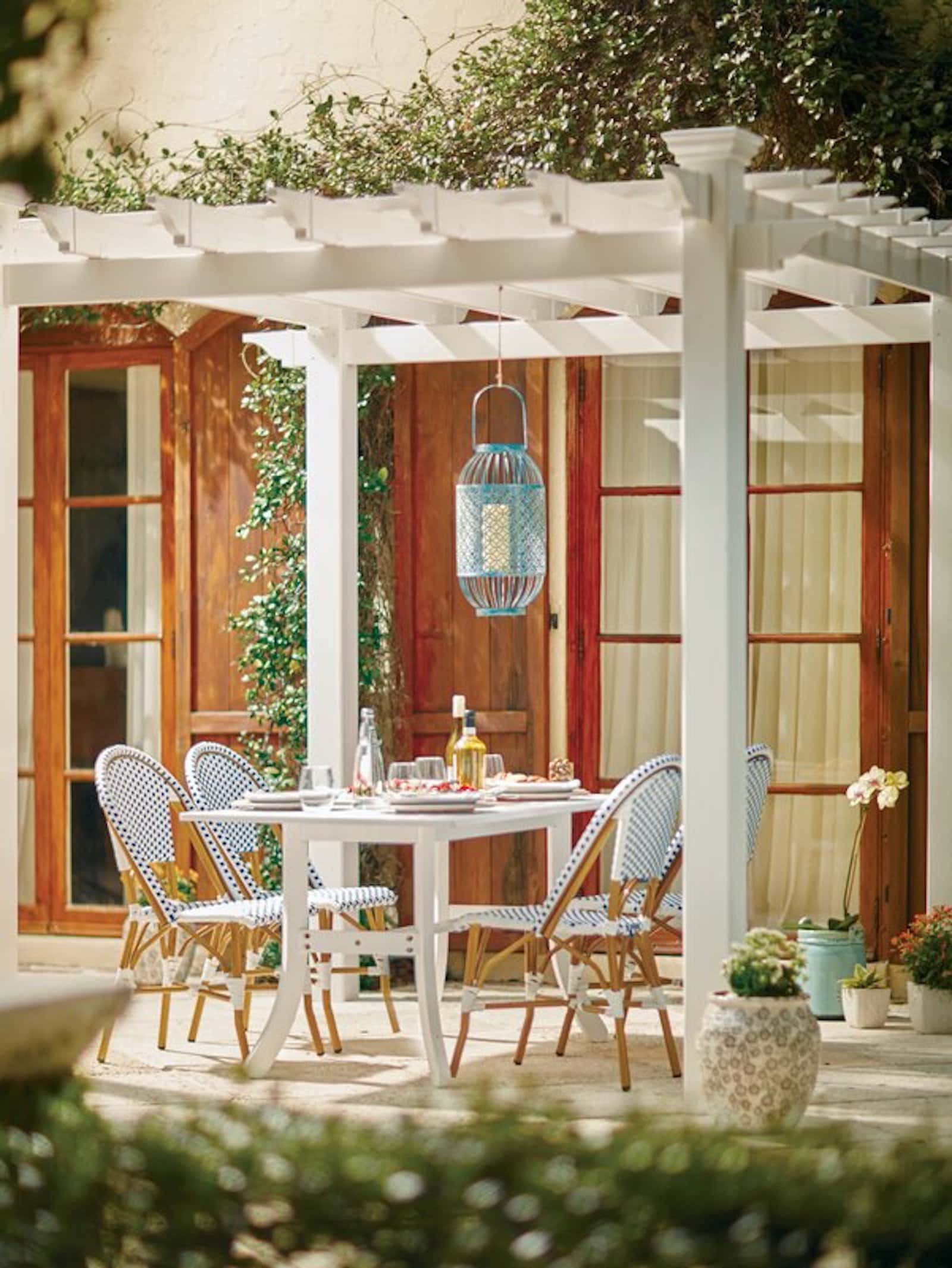 Pergolas are often used as structures to grow climbing plants, but they also look great left bare. This example shows that a pergola covered patio still provides a lot of shade and privacy to the yard.
It's also great in terms of flexibility for down the road, if you choose to add some climbing plants, a retractable cover, or another patio cover addition.
Create a Modern Patio Paradise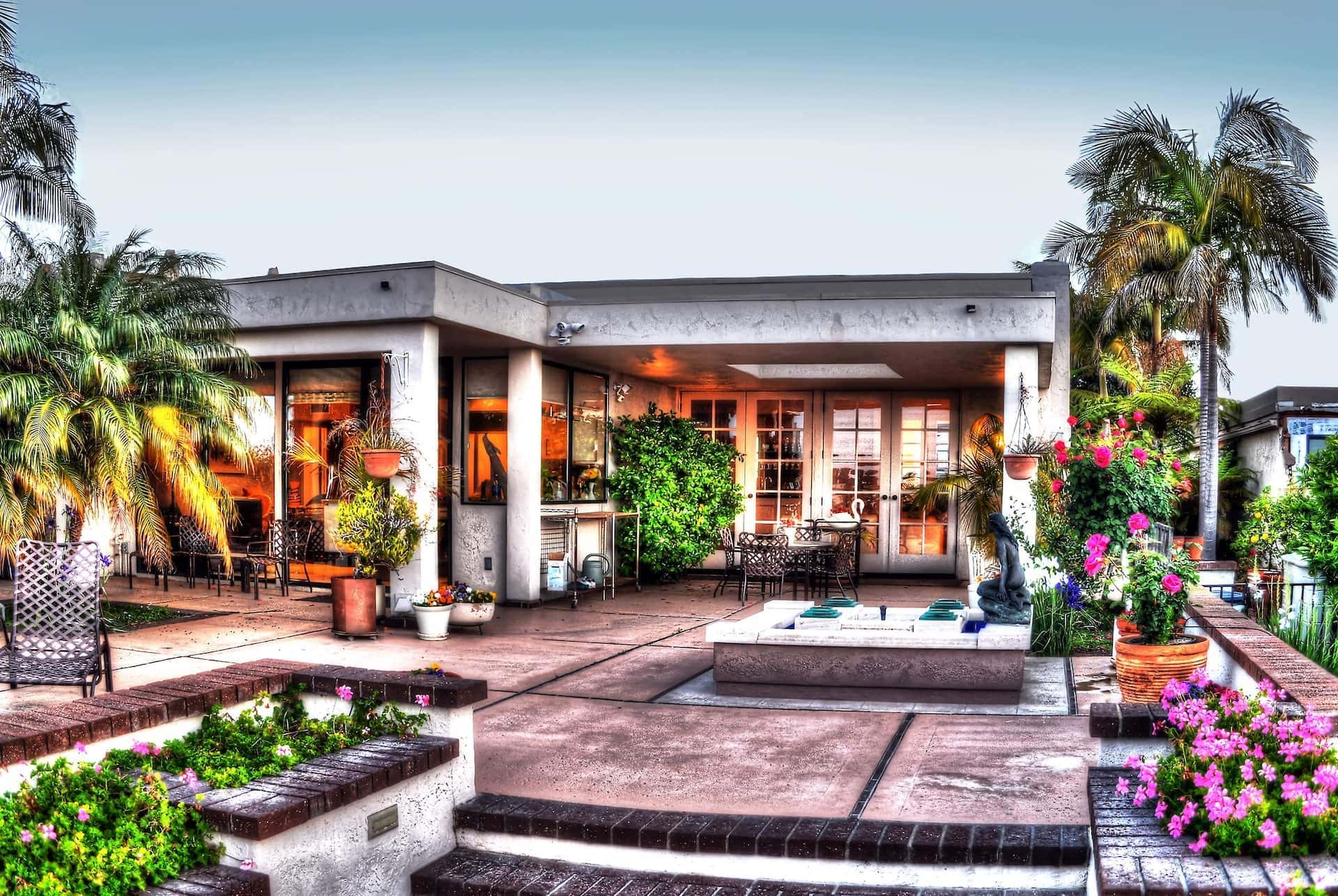 If you've got the space and the budget, you can go all out and create a full patio paradise. Simple, straight forward supplies like concrete and bricks can add some simple yet elegantly modern looks to an otherwise plain patio.
Add a fire pit, comfy chairs, planters, a dining area, or a raised koi pond for a complete look. Don't forget some outdoor rugs, cozy cushions, and pretty greenery to add some color and comfort.
Hang a Light Cover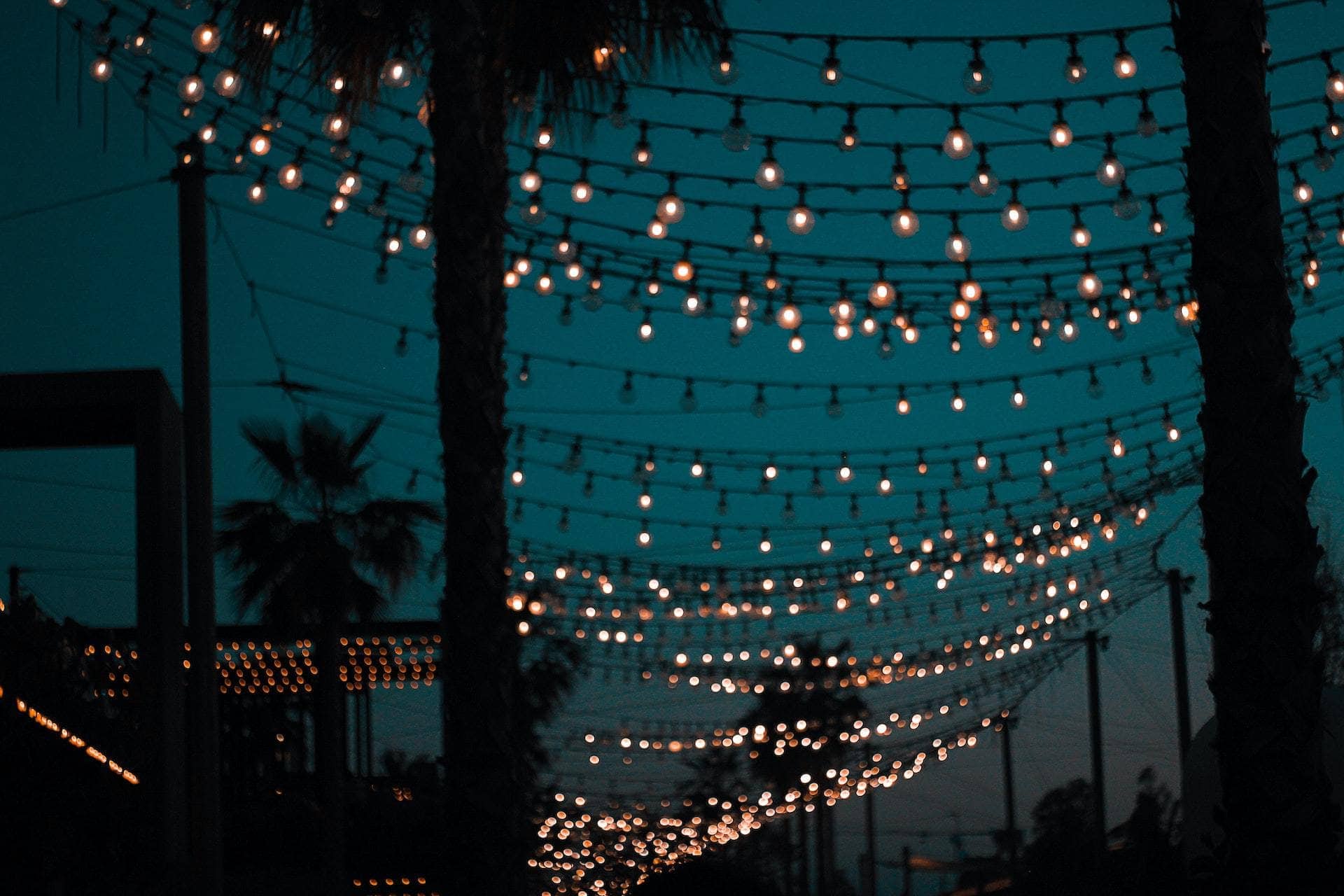 For inexpensive, easy patio roof ideas, this cheap patio cover is a great solution just about anyone can do: a light cover. Gather strands of outdoor lights (LED are best for savings and efficiency) and hang them across in lines over the patio. Use simple posts, Shepherd's hooks, or trees for your corners.
You can use this simple design with straight across lines or mix and match with some swoops, crosses, or even a woven pattern, depending on how many lights you want to use.
Build an Outdoor Living Room with a Permanent Roof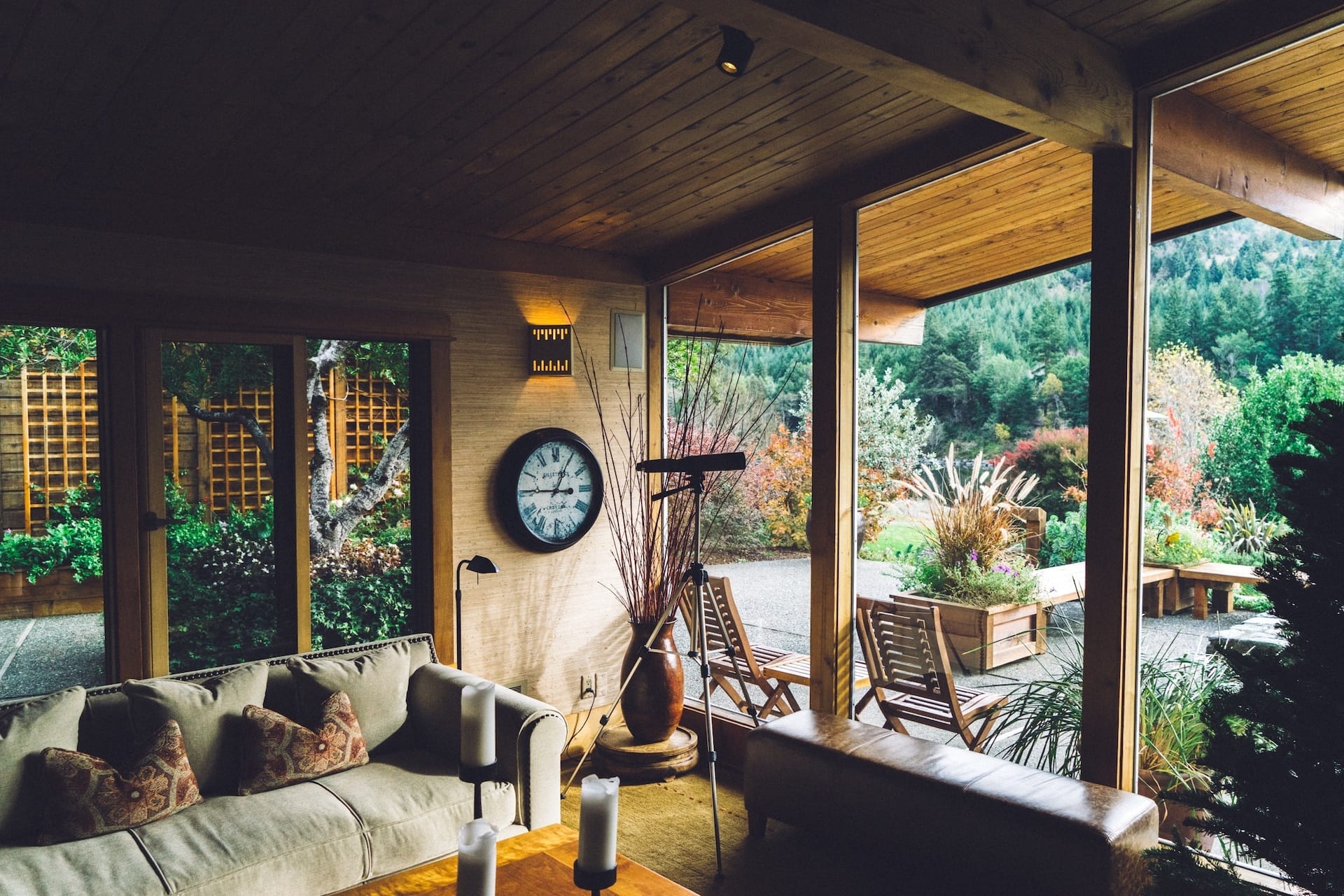 This wooden patio roof idea is perfect for a permanent setup at home. This particular patio has is up against the house with solid pillars and a solid roof and low, step-over walls to build in that "living room" feeling outdoors.
This outdoor space is perfect for your hobbies, be they stargazing, knitting, or gabbing with friends for hours on end with a good bottle of wine. Just be sure to use comfortable furniture and outdoor rugs to make the feeling complete.
Build a Wood Beam Awning
This backyard patio covers idea is perfect anyone looking for simple, solid coverage for family gatherings. This particular cover uses some beautiful wooden beams, concrete pillars, and red tiles for a blended and beautiful style.
Ideally, you'll install this wooden beam awning at the corner like this image shows, but with additional pillars, you can built out the full structure anywhere.
Create a Lovely Lattice Patio Covering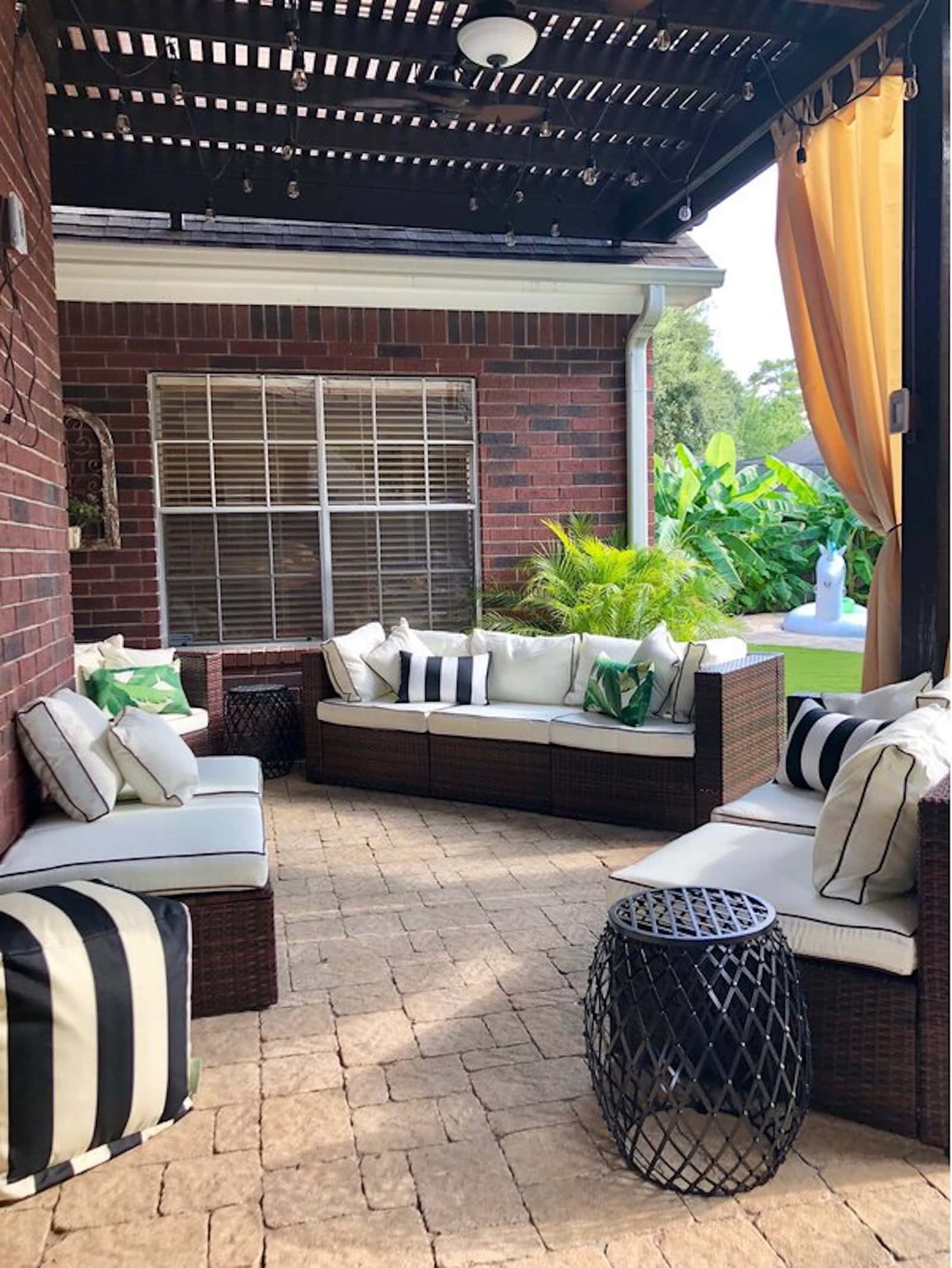 This patio covering is a similar concept to the pergola, with a wooden beam and three corners of a house supporting some wooden beams topped with lattice work. You can use thick, mostly shading lattice like this or use the traditional lattice often used in flower arbors.
This is actually one of our easiest covered patio ideas, so if you're just looking for something inexpensive and easy, this could well be your pick.
Install a Multi-Layered Cover for Texture and Color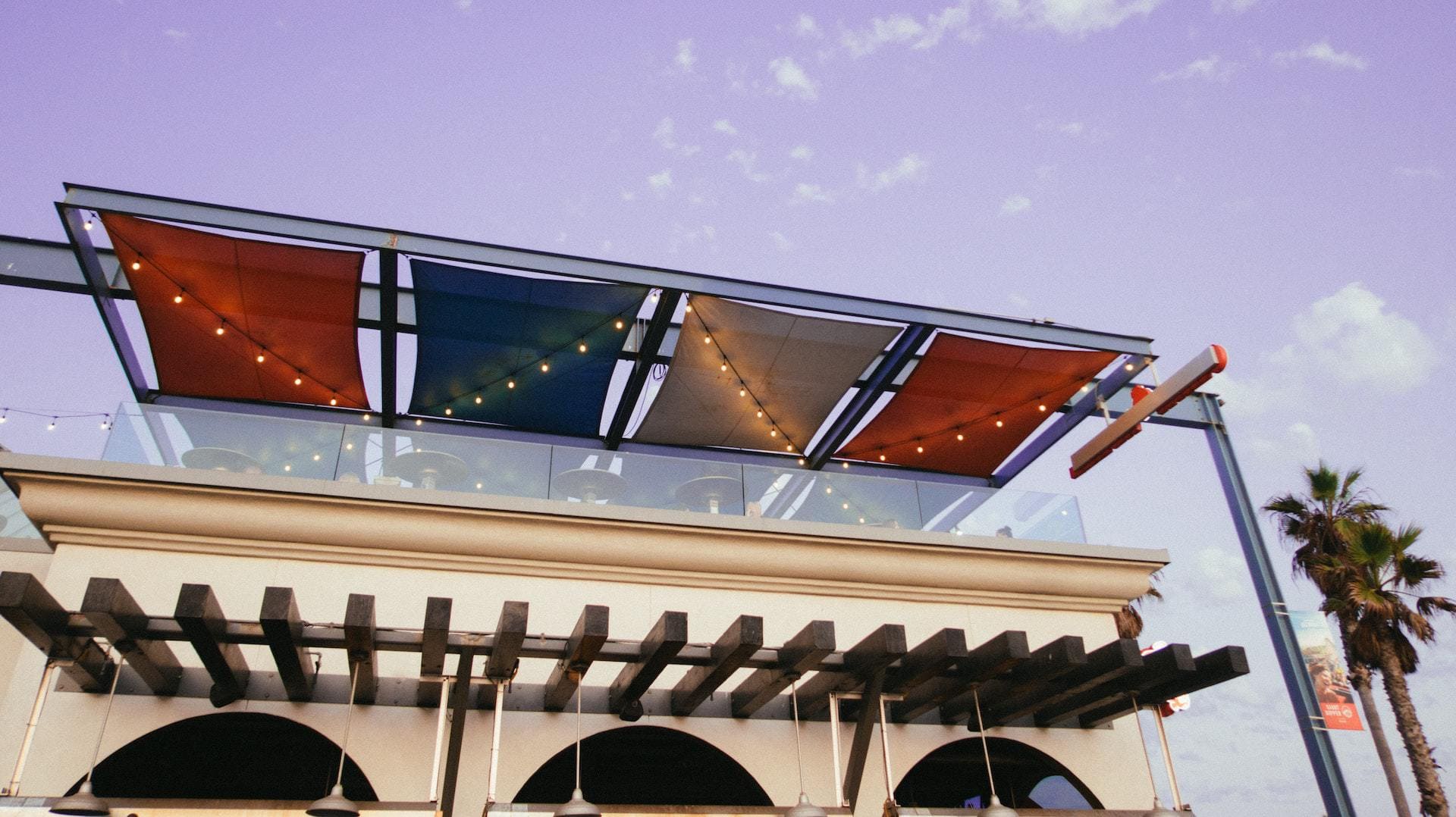 For a unique twist on wooden patio covers, this unique patio cover designs option is a fun, colorful way to add some texture and unique touches to make your patio your own.
The bottom layer of wooden beams gives a classic, rustic feeling, while the colored fabric squares adds a touch of style. Hang up some lights from the various beams, and you've got three layers creating a truly unique feeling in your yard.
Invest in a Giant Patio Umbrella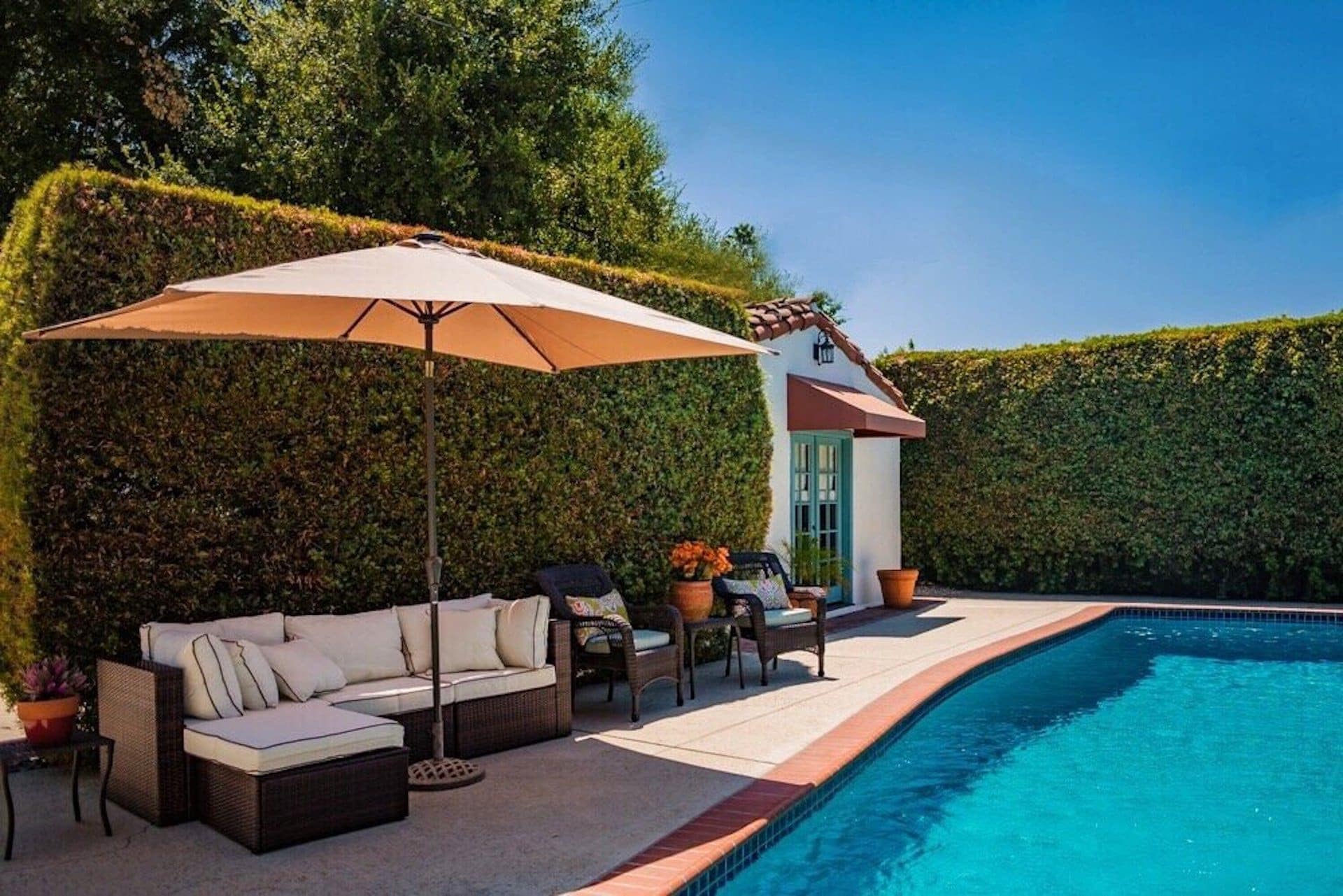 If you'd prefer a less permanent patio cover idea, you can look for a giant patio umbrella like this one. It's big enough to cover all the seating, or even a dining table. Most large umbrellas are also adjustable for angle or height, making this the perfect idea for those looking for flexibility.
You can also add a few extras if you have more area to cover. Then, just fold up and tuck away out of season, and enjoy your patio rain or shine. Truly, it's the best patio cover for someone looking for loads of versatility.
Conclusion
A patio cover design can be anything from a completely separate cabana building to a simple hanging fabric cover. The options are numerous, and it really comes down to your vision for your backyard design, the weather where you live, and your budget.
These inspiring ideas will get you started in thinking about your patio cover design and plan out your ideal backyard. What is most important to you for your patio? Are you looking for privacy, a natural plant-covered porch, or a modern and simple structure?
Which of these ideas would you love to get for your backyard patio cover?