We independently select these products — if you buy from one of our links, we may earn a commission.
26 Pantry Shelving and Organization Ideas
A pantry is a useful space to complement your kitchen, regardless of whether it's in a small cupboard or large walk-in area. The purpose is to store extra items and make your kitchen less cluttered, but often what happens is that the pantry becomes disorganized and messy.
You can use your pantry for cookware, dry goods, spices, and much more. If you're staring at your pantry feeling discouraged, check out these ideas to get everything organized and looking great!
Invest in Loads of Glass Jars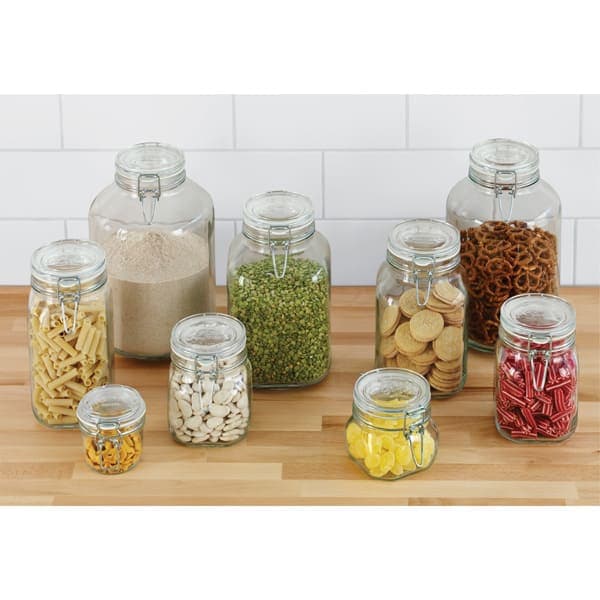 When it comes to organizing your non-perishable food items, it's a great idea to get a ton of mason jars of different sizes. Glass is much superior for storing food than plastic containers because it's 100% recyclable and will last you forever.
It's also easier to wash again and again and you never have to worry about chemicals leaching into your food. Make sure your shelves are sturdy enough, though, as glass jars are heavier than plastic.
Buy or Make Labels for Quick Reference
When you transfer all of your dry goods to your storage containers, you'll want a great labeling system so you can easily locate what you need. You can get some nice customizable and printed labels like the blue ones pictured here.
If you're on a budget and you don't want to spend money on labels, you can make your own easily with a bit of masking tape and permanent markers.
Make Pantry Crates with Cute Labels for Storage
Crates are a great idea for pantry organization, because you can group and store items by purpose, making it easier to find what you're looking for. They're also useful if you're using wire shelving, giving you a flat surface to place smaller jars and cans.
Look for crates at the store or make your own labeled ones like these. The guide to making these crates using cardboard boxes is easy to follow at Blesser House.
Include Wine Storage Options
The pantry isn't necessarily only for dry goods, baking materials, and cans. You can also create a wine storage section in your pantry if you've got quite a collection of bottles. You can see a few different options for wine storage in this homeowner's pantry.
You can build this perfect X-shaped shelf, or hang some wire racks under a shelf. If you have the space, you can even install a mini wine fridge!
Use Large Wicker Baskets for Organization
Similar to the crate idea, wicker baskets can help you organize your different goods and are a relatively cheap option for homeowners on a budget. These ones look quite neat in this white pantry, with small labels identifying the contents of each basket.
Be sure to measure out your space so you're maximizing every inch with baskets that fit perfectly on each shelf.
Brighten it Up with Lots of Lighting
It's a good idea to make sure you have enough lighting in your pantry. Not only does it help you quickly spot what you're looking for, but it also brightens up the whole space for a more cheerful pantry.
You can install some pot lights directly above the shelves, as well as some lower down and in-between shelves so there are no dark corners where you might struggle to find the right canned goods.
Buy a Spice Rack for Smaller Jars
It's a good idea to separate your extra spices, herbs, and seasoning because those smaller jars can easily get forgotten in a back corner of your pantry. Buy a rack that's sized especially for spice jars so you can keep everything together, like in this image.
Another option is to put the spice rack on the inside of the pantry door or even in a pantry drawer; whatever helps you find your supply quickly and conveniently.
Install Hooks for Aprons and Towels
You should also think about putting up some hooks so you can hang your aprons, spare towels, and your grocery bags.
In this example, the hooks are conveniently located on the wall above a shelf, with the aprons hanging behind the counter space. It's perfect for maximizing smaller pantries and making sure all the wall space you have is used for shelving for your goods.
Get Glass Doors to Quickly See the Contents
You might not have space in your home for a dedicated room to become your pantry. That's okay because you can work with other options. Consider getting a standalone pantry like the one pictured here.
The half-length glass doors are very convenient because they can quickly let you spot what you have and what's running low. The bottom half isn't glass so you can store items on the bottom shelves that aren't as visually appealing.
Purchase a Custom-Made Pantry Drawer
If you're redoing your kitchen space, you can get a pantry drawer installed in your kitchen. It's a great option for a narrow cabinet space like the one you sometimes get beside a fridge or an oven.
The pull-out cabinet has enough space to store most of your pantry items, and has convenient metals bars across it to keep everything in place but still visible to the homeowner.
Use Dollar Store Containers for a Budget Solution
It's definitely possible to organize your pantry shelves for a neat result even if you're on a budget. All you need is the time and dedication to clear out everything you have and overhaul your system.
You can buy a ton of plastic storage containers for cheap at your local dollar store. Look for options that stack well on top of each other, which is useful for pantries with more space between each shelf.
Keep a Step Stool Close for High Shelves
Isn't it annoying when something on the top shelf is always just out of your reach? Instead of constantly pulling in a chair from the kitchen, store a step stool in a corner of your pantry.
This one is a pretty wooden step stool that actually fits in seamlessly with the farmhouse style of the whole pantry, and there's just enough space for it to tuck under the bottom shelf so it's not in your way.
Consider Expanding to a Walk-In Pantry
If you've got the space, you can consider converting a mudroom into a walk-in pantry. It's great to be able to wrap your shelves around three walls of your pantry and gives you a lot of flexibility for storage.
This is particularly helpful if you tend to stock up on a lot of bulk items, you want space to store your appliances, or if you do a lot of canning and preserving.
Store Appliances and Cookware Too
You can free up a lot of space in your kitchen drawers and on your countertops if you use the extra space in your pantry to store appliances and cookware. Your blender, mixer, crockpots, Dutch ovens, and even your microwave can be tucked into your pantry.
You'll love all the extra room for cooking prep on your counters once all that stuff is moved out of the kitchen.
Include Cute Decor Touches to Your Pantry
Just because your pantry is a more private space that's less visible than your kitchen, it doesn't mean it needs to look messy or generic. You can add some pretty decor aspects here and there to make it feel more homey and personal.
In this example, you can see that the homeowner decorated in the farmhouse style, with a ladder leaning against the wall, a large pantry sign, woven baskets, and a fresh coat of paint.
Stick to Open Shelves if Space Is Limited
You can save space in your pantry if you give up on having doors and keep all your shelves open. This homeowner has extremely narrow shelves but with some clever color coordination, the open pantry shelves don't look messy at all but instead look modern and bright.
Get Adjustable Shelving for the Door
If your pantry is in a small closet like this one, you could really benefit from getting some adjustable shelves on the door. These wire shelves actually hold a lot of spices, sauces, and bottles, and they're adjusted so there's enough space to comfortably reach for any item.
The high edges mean there's no risk of something falling out, but you can still see through to quickly find what you need.
Hang a Measuring Cup from Your Frequently Used Goods
If you use something every day, it can save you a lot of time to keep the measuring cup close by.
Whether you need oats each morning for your oatmeal or chia seeds for your daily smoothie, you can install a stick-on hook to the appropriate container and hang up the correct measuring cup. It's extremely convenient and a huge time saver.
Add a Pegboard to Hang Up Pots and Pans
This is a clever idea if you have a spare wall in the back of your pantry. A simple pegboard against the wall is a great spot to hang up all your pots, pans, and baking tools.
You can easily see exactly what size pan you want instead of rummaging around in your drawers. Plus, the amount of space you'll save in your kitchen drawers is incredible.
Place Cans Sideways in Wire Racks
Placing cans sideways is an excellent idea to save space and also to avoid them tipping over and making a racket. They're much more stable in this setup, and you can fit in a lot like this.
Simply look for some pantry racks and make sure the lip at the edge is high enough to contain all of your different can sizes.
Get Lots of Different Size Shelves to Maximize Space
Once you know your pantry needs well and exactly what you have to store, you can really plan out how to maximize your shelving and pantry drawers.
As you can see in this photo, some shelves are high enough to perfectly accommodate larger items like a mixer, whereas others are designed specifically for wine bottles and glasses. There are even a couple of narrow vertical shelves for baking trays and cookie sheets.
Build Your Own Pantry in the Kitchen
The Spruce has the full run-down on how to build your own pantry in the kitchen if you don't have the space for a dedicated pantry. You can use anything from a bookshelf to a closet and turn it into a pantry with a bit of imagination!
As you can see in this image, if you get the right baskets and storage jars, the result can be quite appealing and actually enhance your overall kitchen decor.
Add Some Color and Personality with Wallpaper
A fun way to make your pantry pop with color is by adding a bright and colorful wallpaper like the fruit-inspired one in this image. The wallpaper complements the white shelves very well, and it even matches the light blue vintage mixer on the top shelf.
This is an easy look to accomplish to spruce up your pantry; all you need is the right wallpaper and an afternoon to install it!
Buy a Lazy Susan for Easier Access
A lazy Susan is a great addition to your pantry, especially in the corners of shelves. The rotating circular platform allows you to easily access whatever jars or bottles you store on it. It's a convenient purchase and an easy way to reach everything on your shelves.
Stack Crates Sideways to Create Shelves
If you're lacking shelves in the space you've identified for your pantry, you can build your own with crates stacked sideways. These are great to keep in their natural style or paint a color of your choice.
Add some non-slip covers at the bottom of each to make sure your shelves stay neat and tidy. What's useful about these is you can add more crates if you need additional space down the road.
Write and Modify Labels with an Easy Paint Pen
You should invest in a paint pen that you can use to write labels on your glass jars. These are great to erase and rewrite when the contents change.
You can get different colors of paint pens, especially for writing on jars with dark or light contents to create a contrast. If you've got nice calligraphy, you can really have fun with this part.
Conclusion
At the moment, you might hate going into your pantry because it's messy and the amount of work to do to organize it seems daunting. The good news is there are a few small and budget-friendly things you can do for quick wins in your pantry.
Your goal should be that you can quickly reach in and grab the item you need as soon as you open your pantry door. Nothing should be falling to the floor and you shouldn't have to rummage through it for hours. Once you organize it, you can add some pretty decor touches to the space.