Decorated Life is reader-supported. When you buy through links on our site, we may earn an affiliate commission. Learn More
12 Perfect Wall Paint Colors for Dark Wood Floors
Dark wood floors can be a reminder of decades past that overwhelm your home and make its style feel dated and stale. But when replacing the flooring is too expensive or overwhelming, how can you tame it?
It turns out that a fresh coat of paint on the walls can actually do a lot to transform your space. By directing light into the room or offering a handsome contrast, wall paint colors can work magic on those dark wood floors.
Dark woods can be a little tricky to pick out coordinating colors for because the wood itself is usually more than one color. But if you look at it carefully, you'll usually see that it's some combination of warm chocolate browns, cool charcoal grays, and maybe even some black. By treating the wood like those colors, you can pick coordinating colors the same way you would for paint.
In this article I'm going to introduce you to some of the best living room wall paint colors for dark wood floors so you can update your home in a way you'll love!
Best Colors for Dark Wood Floors
Kilim Beige by Sherwin Williams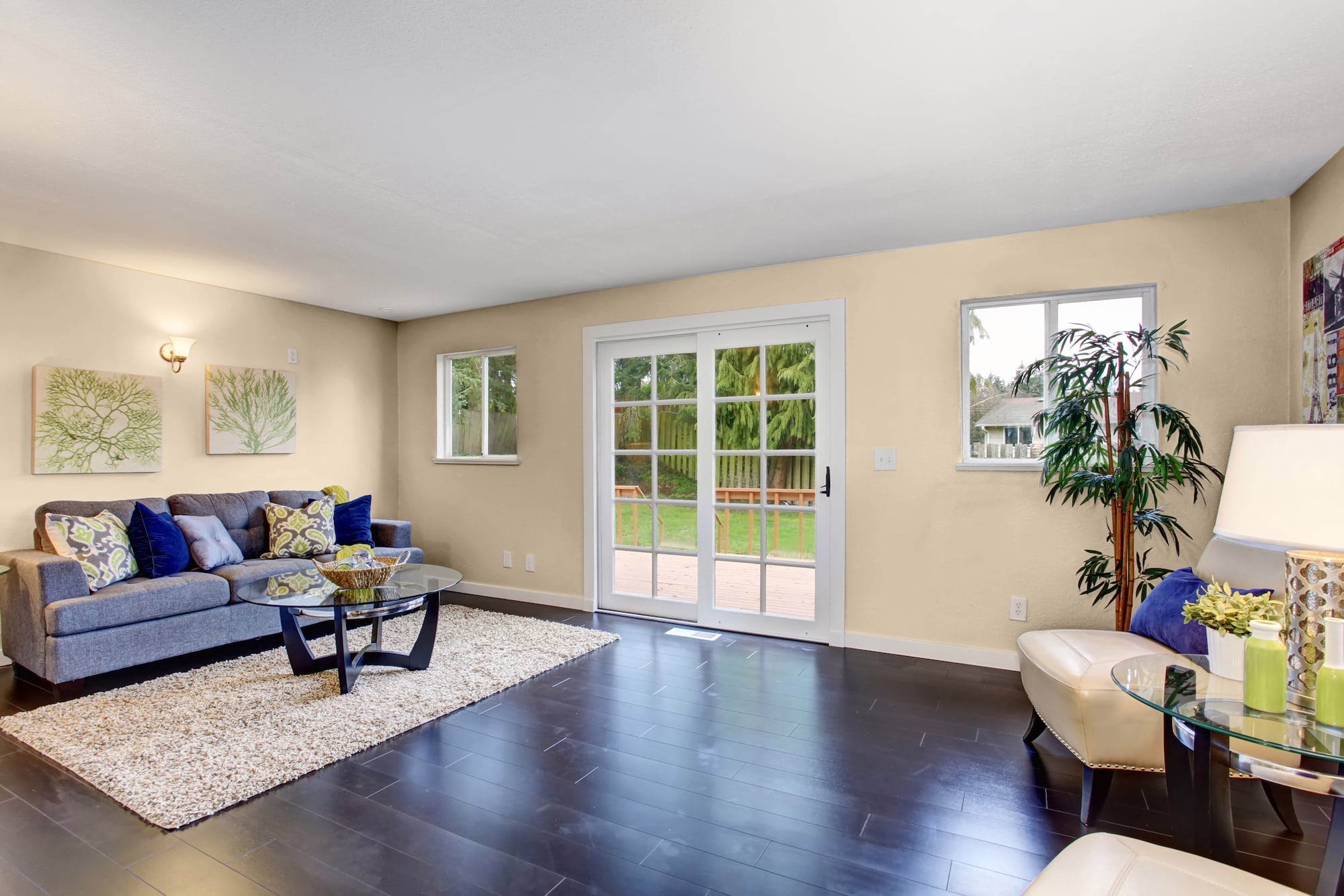 Kilim Beige is a warm tan color that complements the chocolate tones in dark wood. It's a medium toned color that would do best in a room that receives a lot of light. Kilim Beige is an enduring favorite that has a spot on Sherwin Williams' Top 50 Colors list.
Alabaster by Sherwin Williams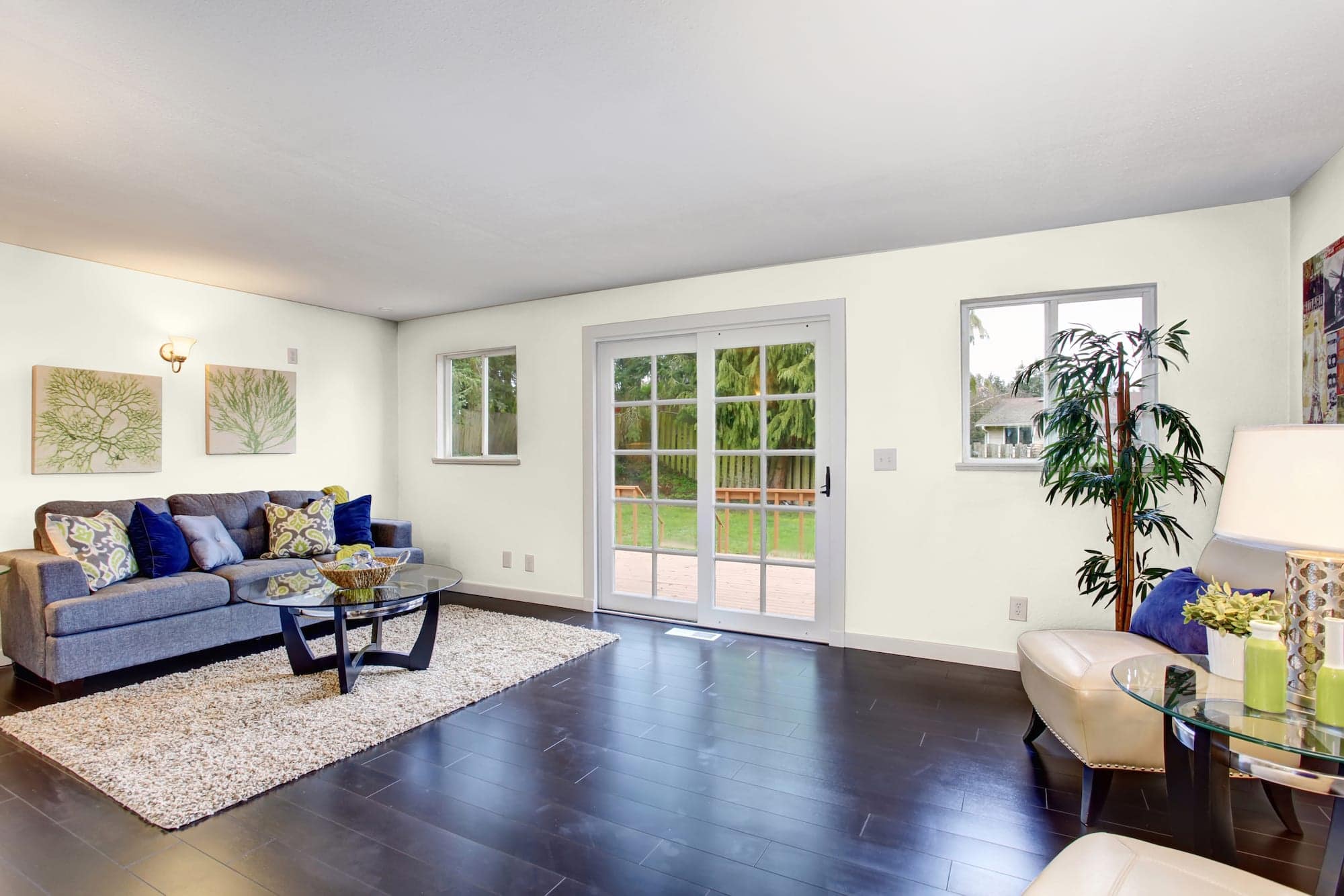 Alabaster is a lofty, lightly shaded color that can work as a white or an off-white. It will bring lots of extra white to rooms dominated by dark wood floors, and its subtle shading will complement the tones in the wood. Alabaster is wildly popular and, in addition to its own spot in the Top 50 Colors list, is part of over ten collections. 
SIlverpointe by Sherwin Williams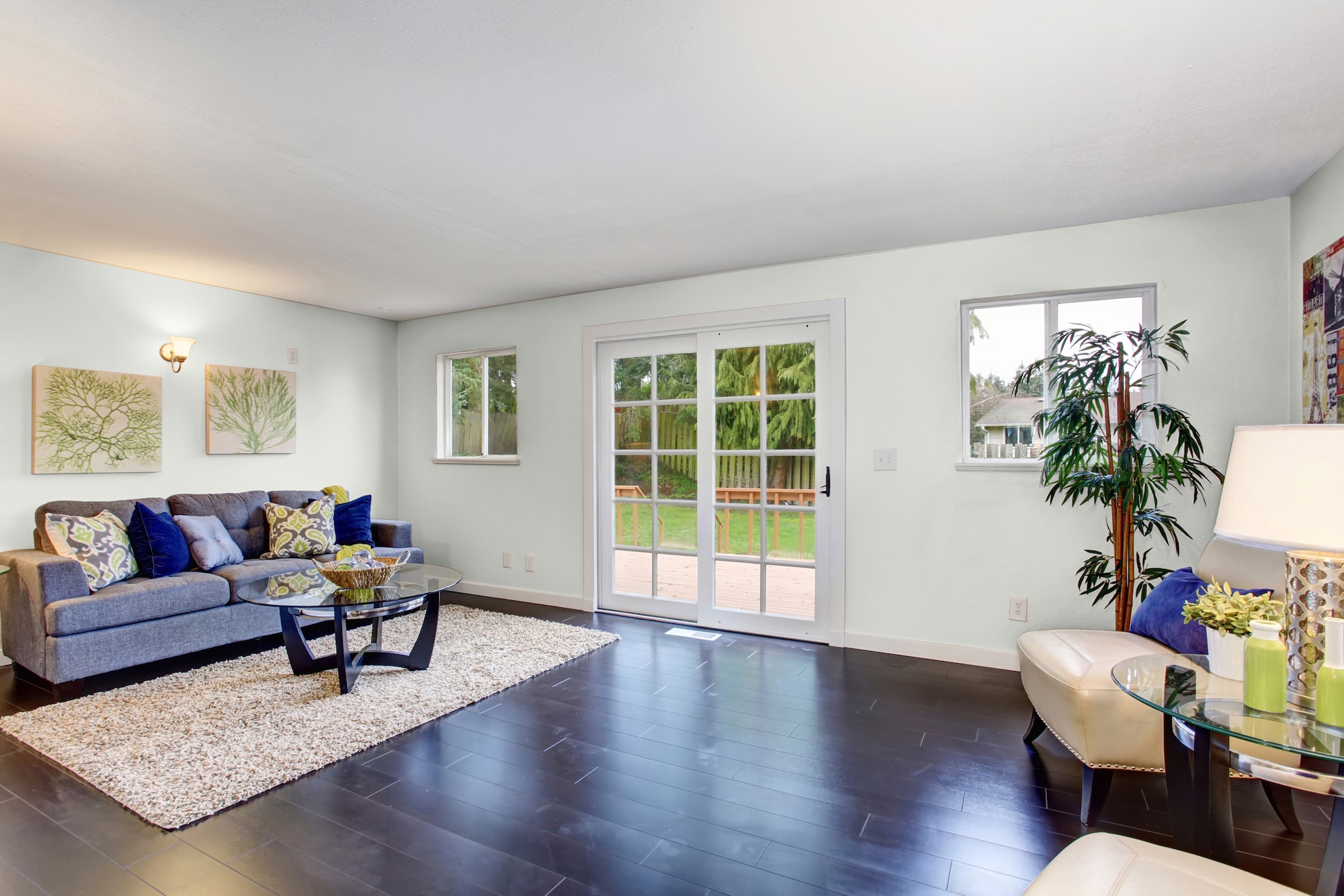 Silverpointe is a cool, airy silver gray that's able to work well in most lighting situations. If your dark wood floors tend more towards black, Silverpointe is going to look especially striking against them.
Icelandic by Sherwin Williams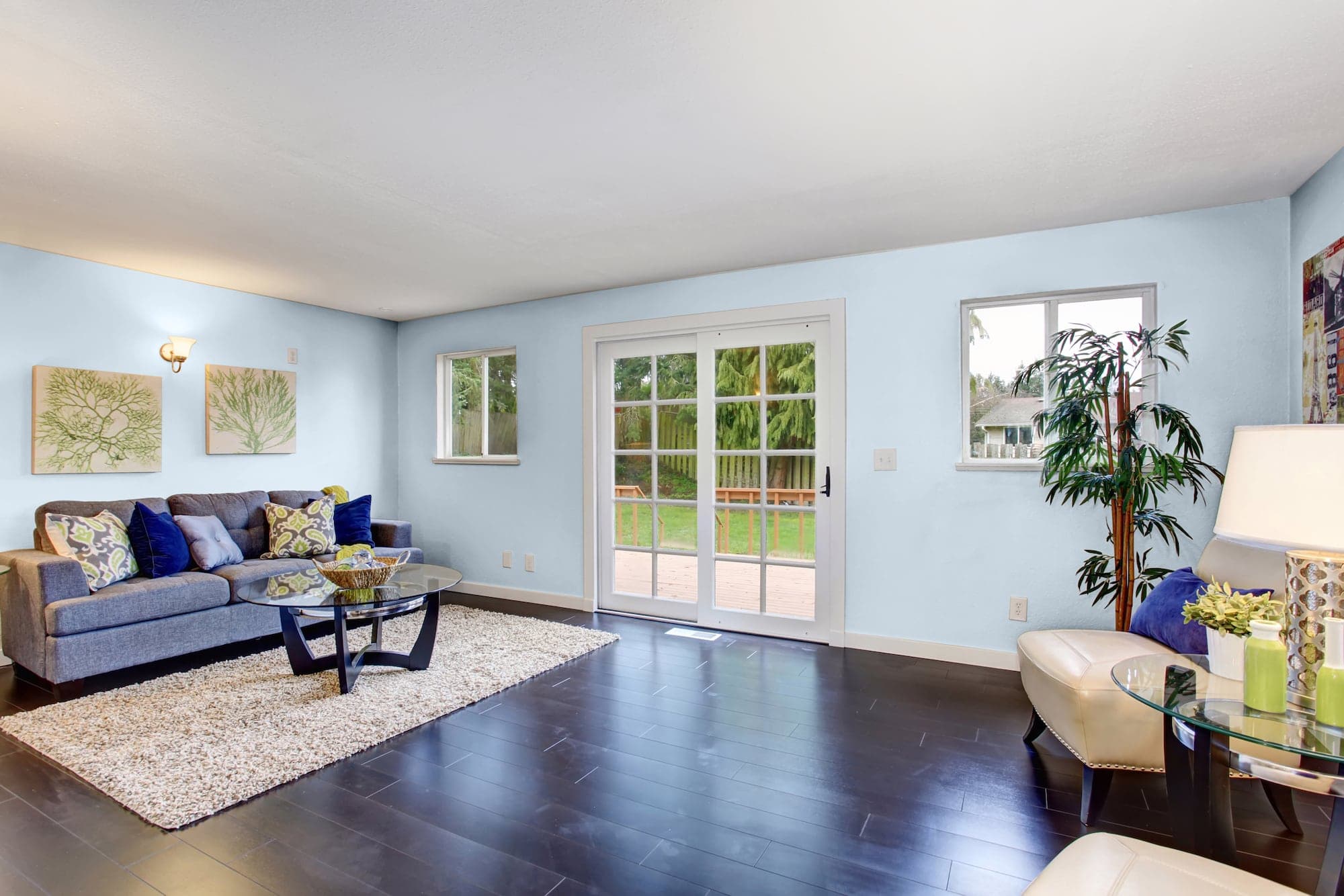 Icelandic is a pale, cool blue that will make an elegant pairing for dark wood flooring. Unlike many pale blues, this one doesn't lean gray, so you'll get more of a pop of pure color.
Potentially Purple by Sherwin Williams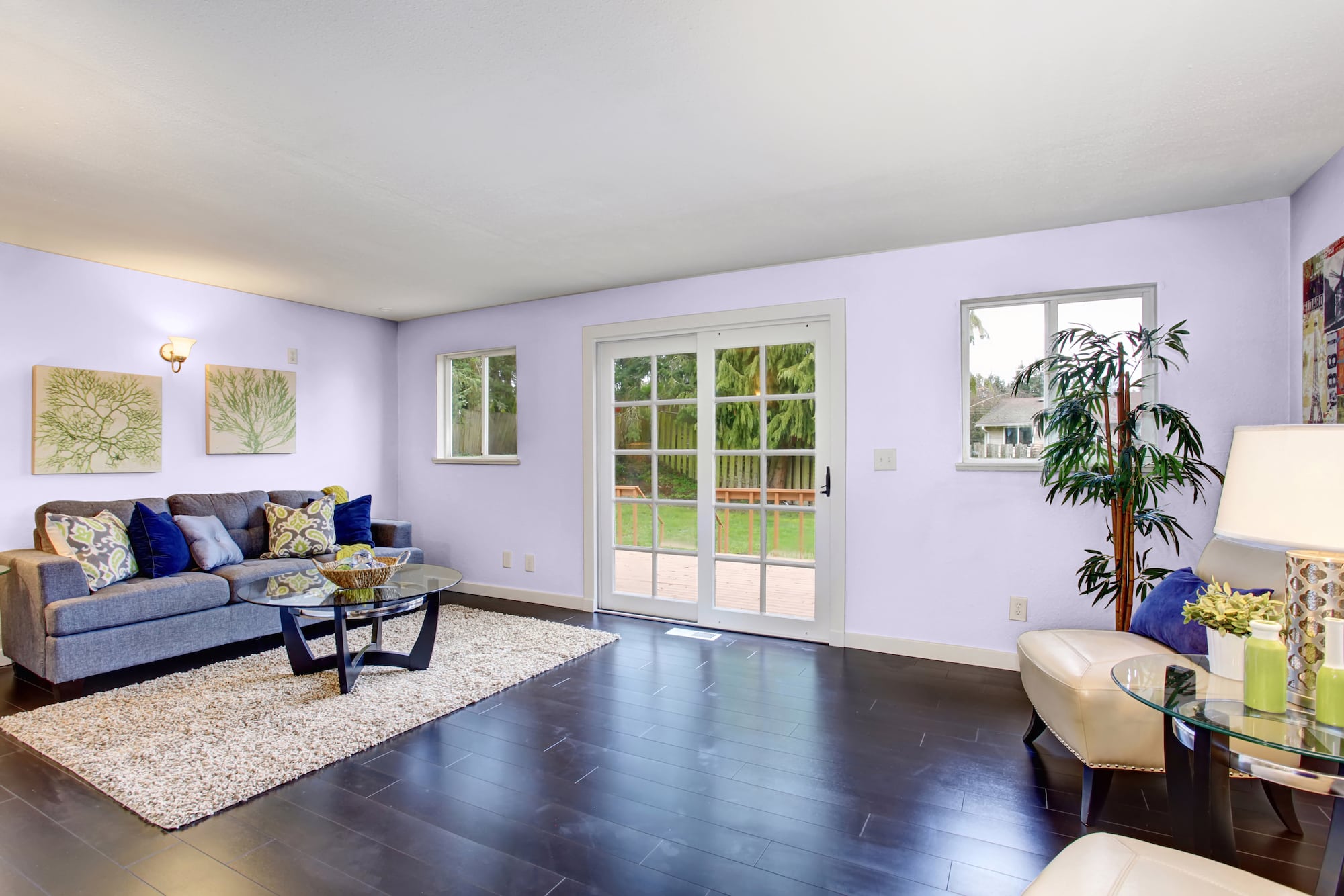 The chocolate brown tones in dark woods respond well to the warmth of purples. Potentially Purple is a gentle and elegant lilac. It's a beautiful choice for French country styles.
Robin's Nest by Benjamin Moore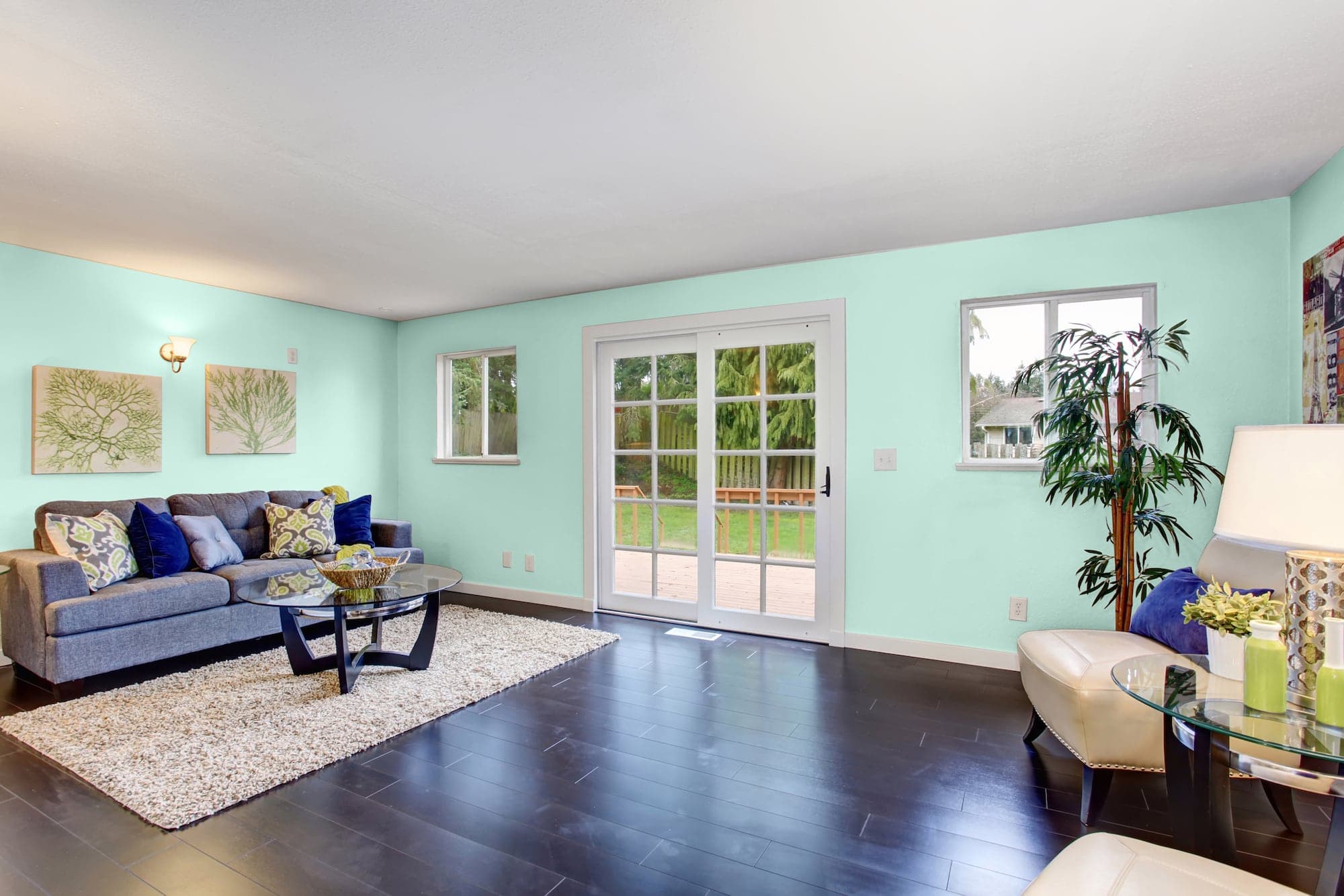 Robin's Nest is an eggshell blue-green that's as fresh as springtime. This is a light, cool color that will tone down the intensity of dark wood floors so they don't dominate the entire room.
Beacon Gray by Benjamin Moore
Beacon Gray is a cool silver-blue color that's light enough to brighten a room with dark wood floors, but subdued enough for styles that tend towards the minimalist or modern. It's definitely a color for finding your calm.
Oystershell by Benjamin Moore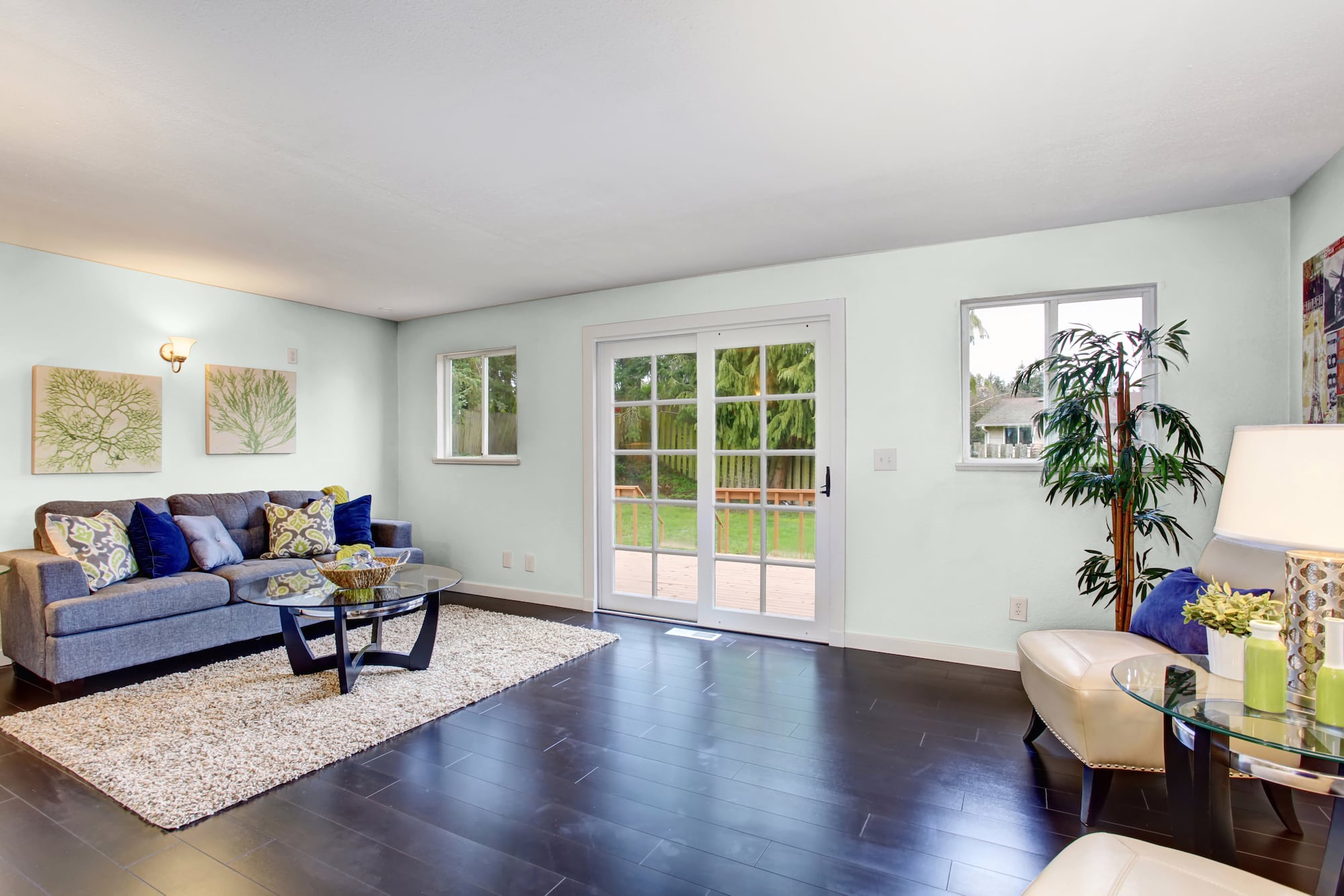 Oystershell is a light balanced gray. It's perfect for a space where you want to use a neutral palette, or natural elements like wood, stone, and leather. This is another great option for minimalist and modern styles.
White Dove by Benjamin Moore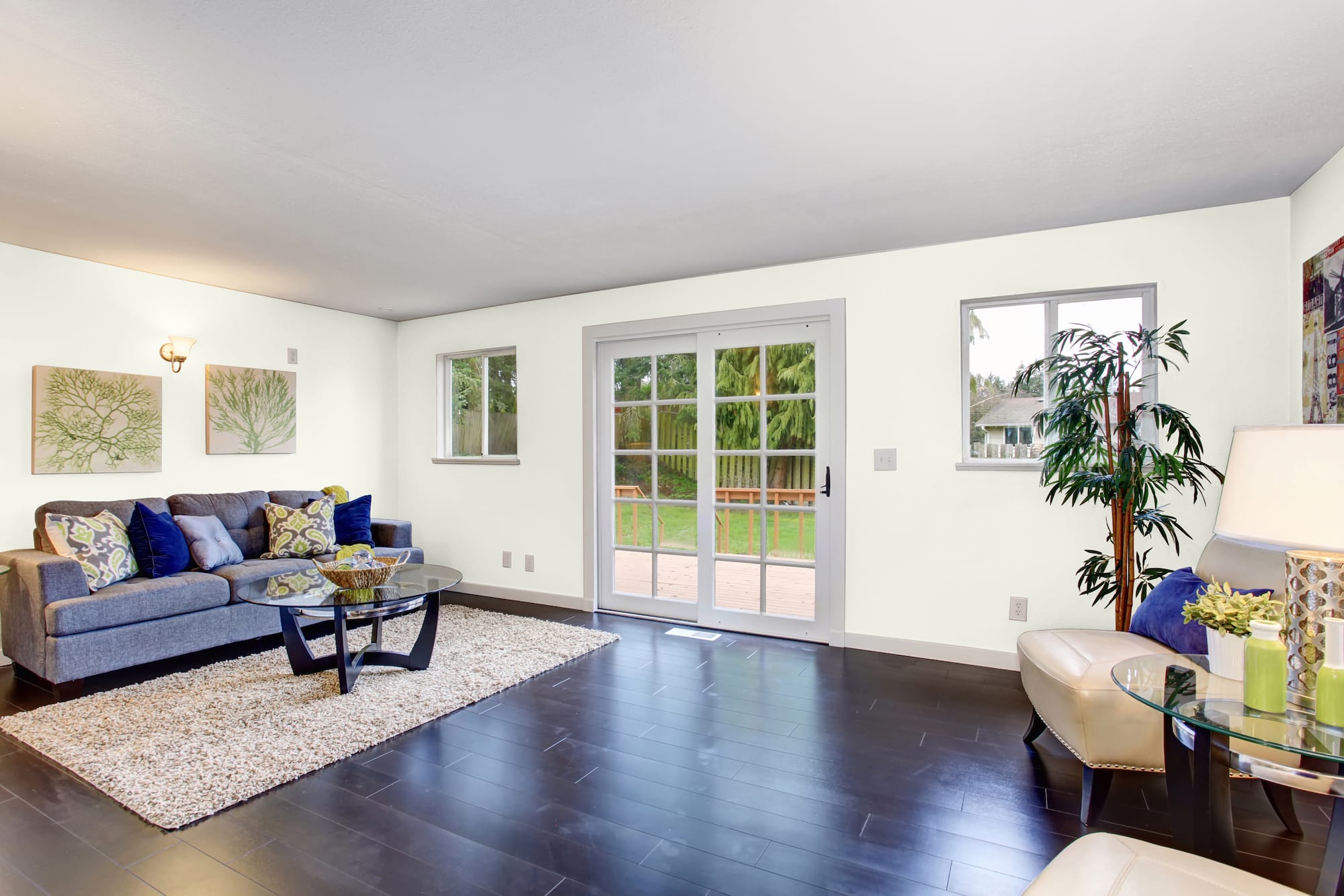 Oh, White Dove! Can we really ever say enough about this favorite white? White Dove has a softly shaded glow that is really just perfect for every situation. It will reflect back the tones of your dark wood floors harmoniously. 
Violet Dusk by Benjamin Moore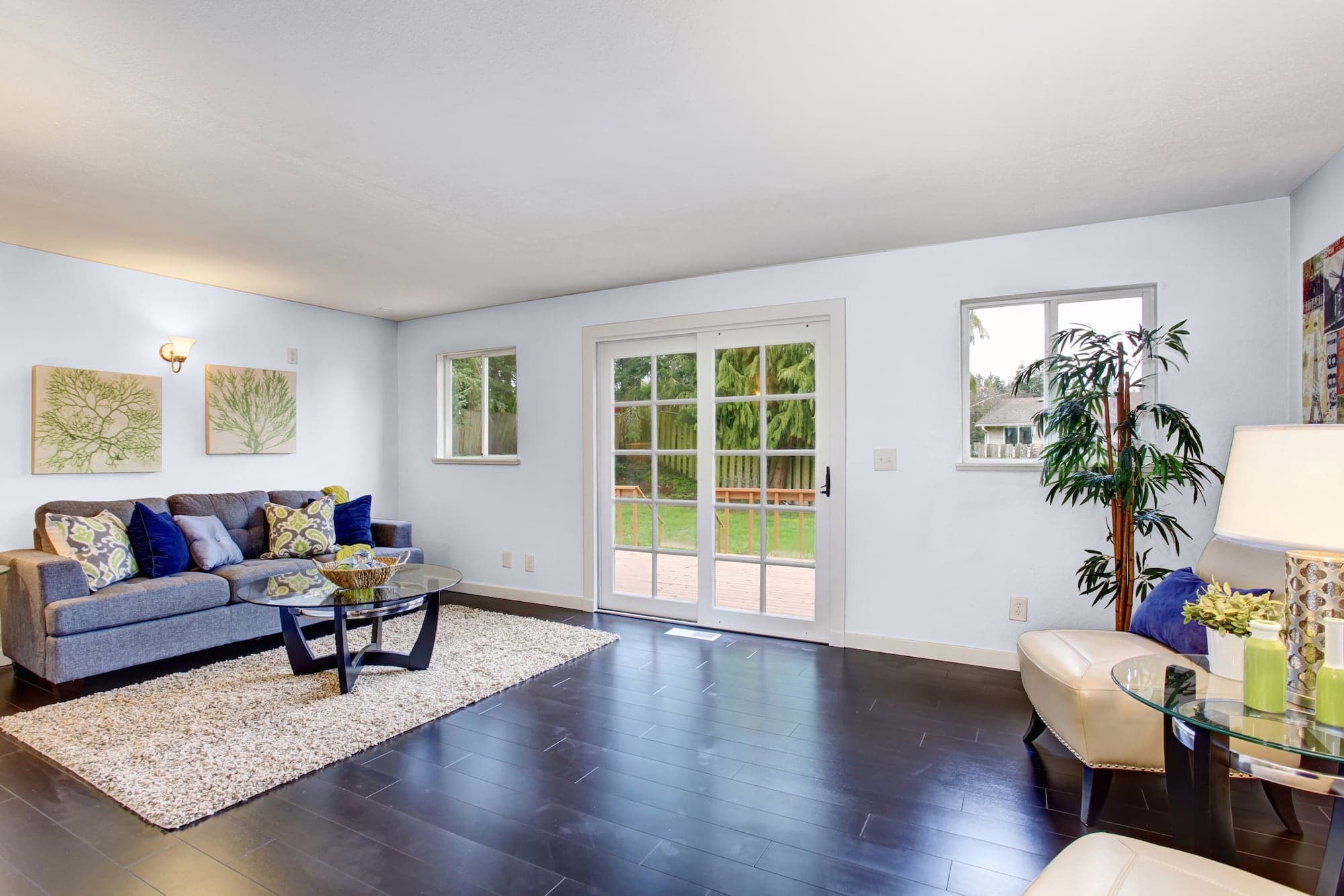 Violet Dusk is just a breath of purple and gray, softly blended. If you like the idea of touching on dark wood's warm tones, but don't want to commit fully to purple walls, this could be an interesting option for you.
Cool Pink by Behr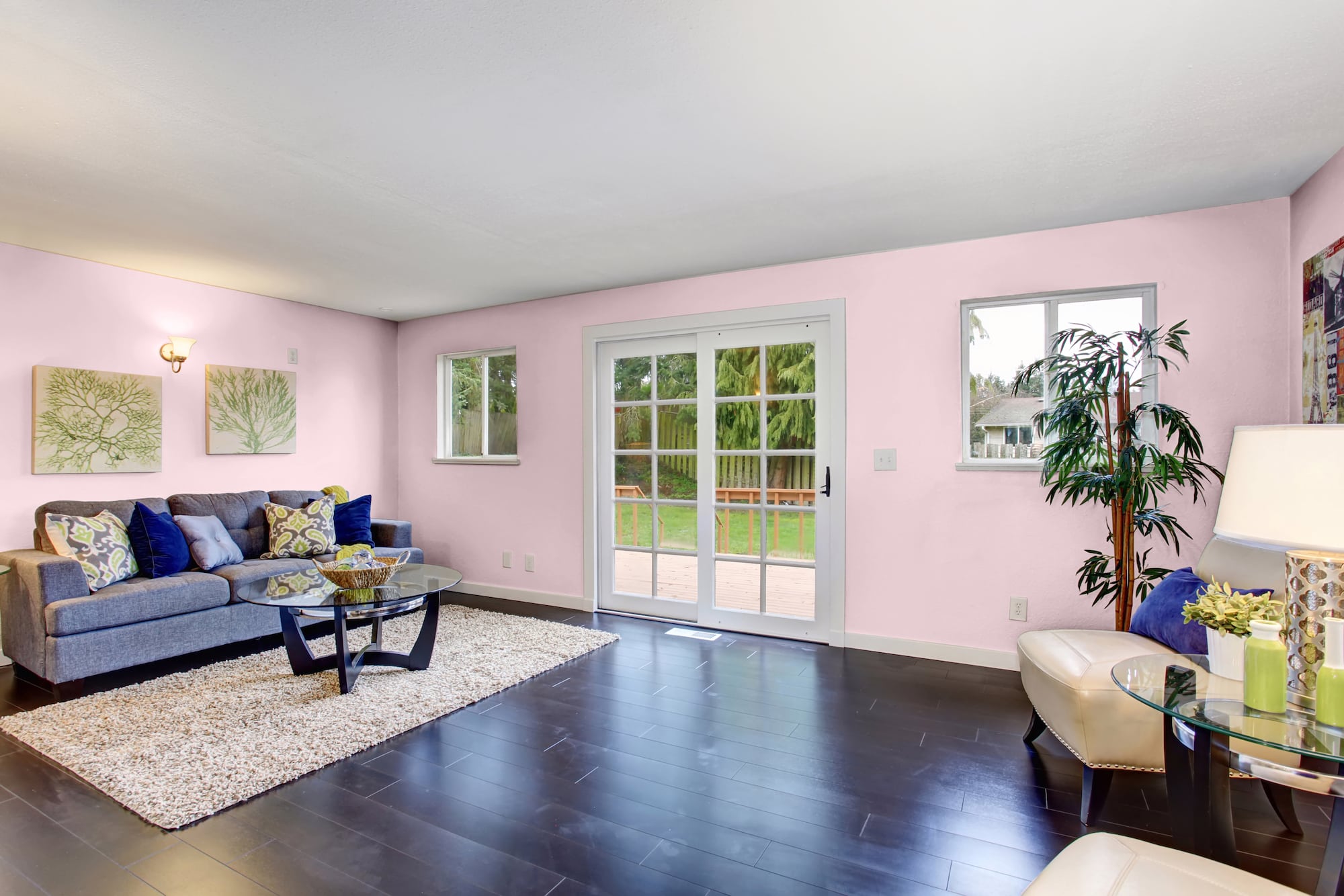 Cool Pink is a soft pastel pink with enough cool undertones to make a nice complement to dark wood flooring.
Parma Gray by Farrow & Ball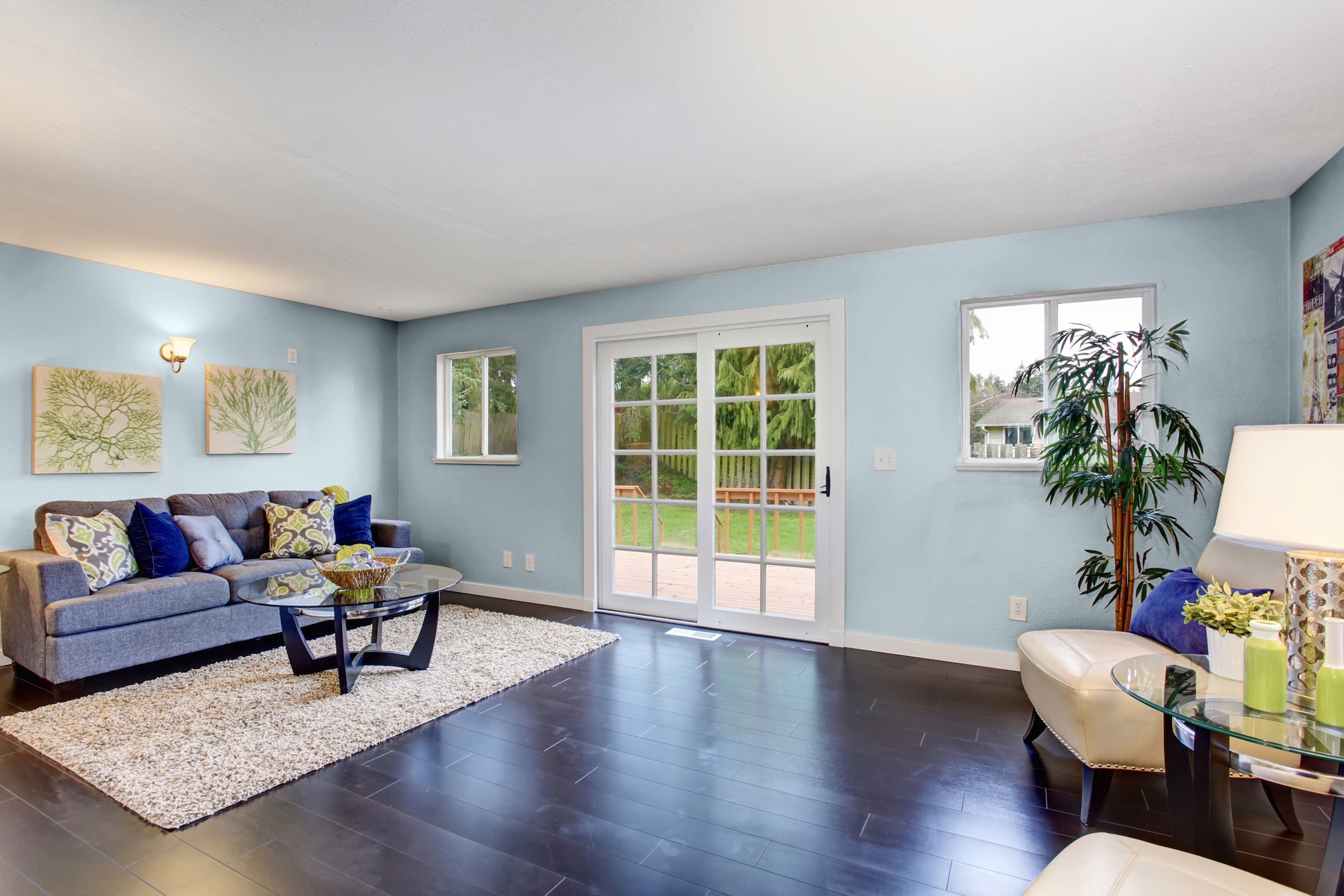 Parma Gray is a soft and subdued pale blue, shaded with gray. It offers a handsome and striking contrast with a dark wood floor.
Final Thoughts
With a lighter paint color and some willingness to experiment, you're sure to find a way to tame down those dark wood floors and create a space you love. Look at the warm browns and cool grays in your flooring, and choose your coordinating colors to suit them. Happy home refreshing!