Decorated Life is reader-supported. When you buy through links on our site, we may earn an affiliate commission. Learn More
Benjamin Moore White Dove Paint Color Review
Confession time: I love colors, all of them! Even some of the colors that look less than appealing by themselves have situations where they look fabulous. But I'm reviewing colors, and you're here relying on my unbiased input, right? So I really try hard not to play favorites, and to highlight the best traits of every color I review, so that you can decide for yourself how to use each one.
But I've realized as I've been recommending coordinating colors in reviews, I really do have a favorite white paint color. No matter how much I try to deny it or play fair, the white paint color that rises to the top of my list again and again, is White Dove by Benjamin Moore.
Why do I love White Dove so much? Lucky you, because I've got an entire article to tell you why!
And lest you think it's only me who is strangely obsessed with this particular shade of white, prepare to have your eyes opened, because White Dove is one of Benjamin Moore's best-selling paints of all time, and a perennial favorite of designers, realtors, and homeowners alike.
Let's open that paint can and get to it!
What Color is White Dove?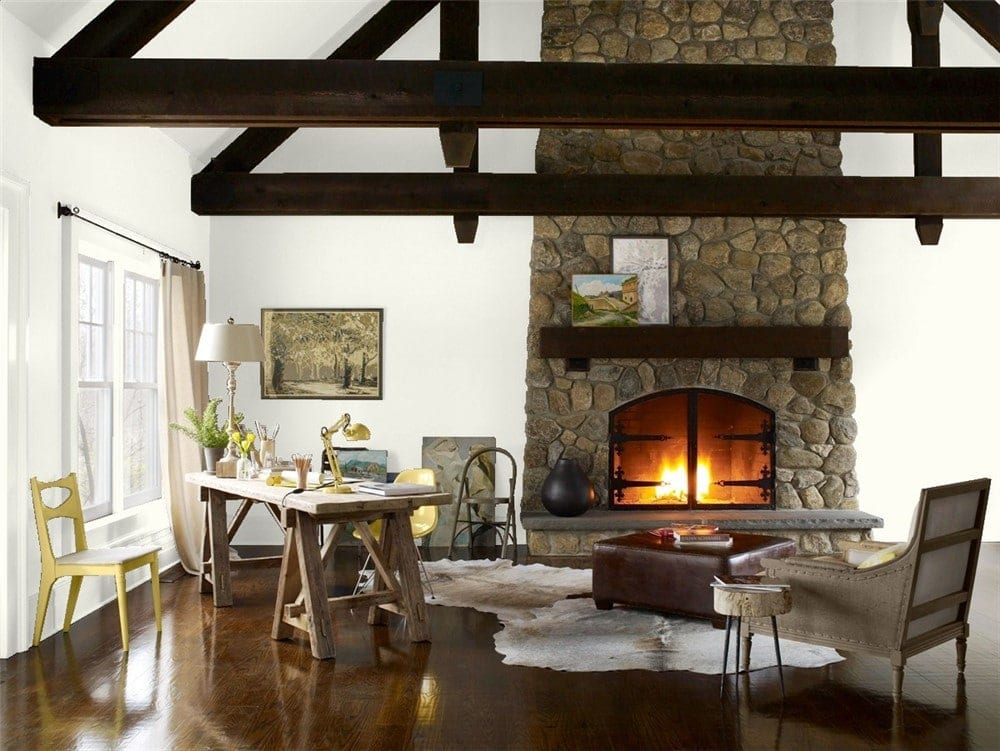 White Dove is a warm, bright white. It has a creaminess to it without being yellow, and a depth that comes from a hint of gray.
LRV of 85.38
White Dove's light reflectance value (LRV) is 85.38. LRV is measured on a scale running from pure black at 0 to pure white at 100. The LRV range for off-whites is about 73-82, so White Dove is bright enough to be a true white.
What Undertones Does White Dove Have?
White Dove's undertones, or lack thereof, are the real secret to its magic. It has creamy undertones, without too much yellow. White Dove also has gray undertones, which give it depth and help it coordinate well with gray and greige colors, but not so much that it feels cold.
Is White Dove a Warm Color or a Cool Color?
White Dove is a warm white, which it gets from its creamy undertones, but its warmth, like its undertones, is not-at-all overpowering.
Where Can You Use White Dove?
Absolutely anywhere you want! White Dove is truly a perfect all-over color. It's bright enough to be used in any room of the house. However, if you feel it's too bright, it's easy to temper that with some coordinating colors on trim, accent walls, or ceilings.
White Dove literally goes with anything. It's a favorite foundational white for styles that lean on white as a central color, such as modern farmhouse style.
White Dove is such a popular color, and there is so much fabulous inspiration out there for how to put this color to work in your space. Feast your eyes on these fantastic rooms!
Living Room
This elegant living room takes advantage of White Dove's ability to give a soft glow without being stark or glaring.
All paint colors will look different under varied lighting conditions. This French country style living room showcases White Dove in a room with east/west lighting.
Rich, dark wood colors in this living room bring out the warmth in White Dove, for a living room that's mellow and grounded.
Bathroom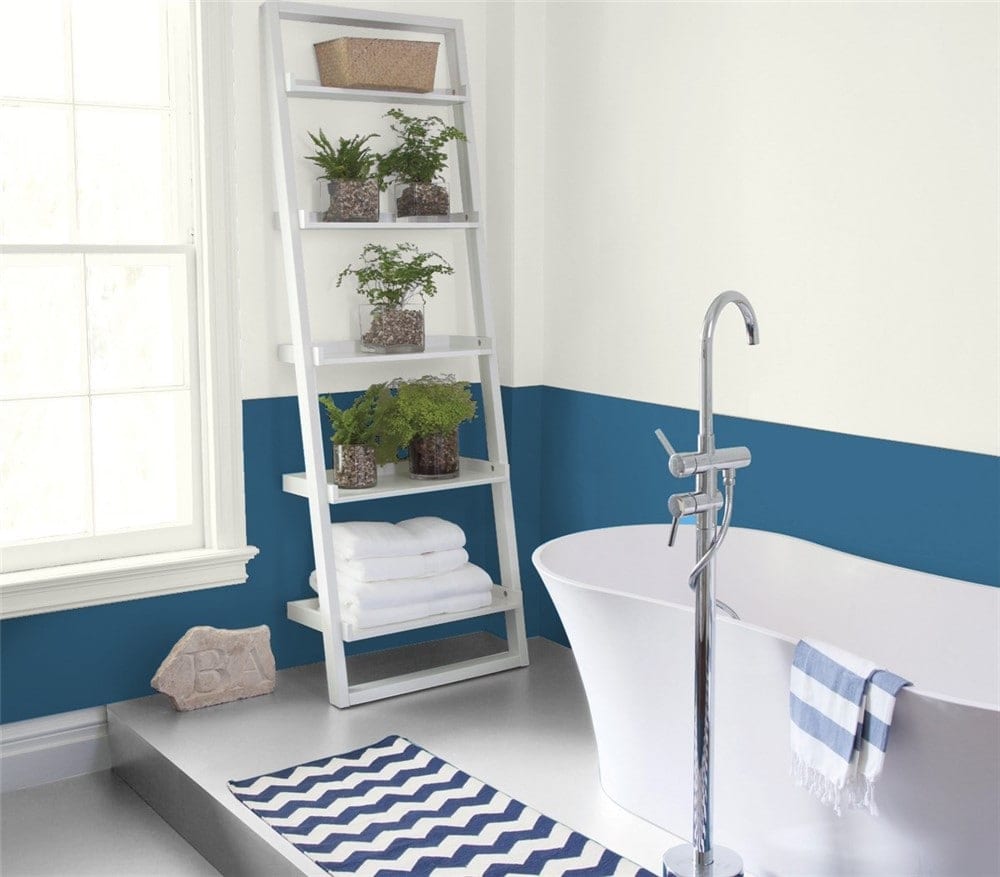 White Dove picks up the sunshine and provides warm balance against Bellbottom Blues and metallics so that this bathroom isn't too chilly.
This DIY bathroom transformation partners White Dove with Smoke. Pops of soft pink in the decor add a feminine touch.
Bedroom
If you love bright color, White Dove is happy to stand back and let those colors pop! The decor colors in this bedroom are high-impact without overwhelming the space.
White Dove harmonizes with natural woods of all shades, and this bedroom builds on that partnership.
One of the advantages of starting your palette with a white is that you can use anything as a contrast color, even soft colors or pastels. This bedroom has White Dove walls with board and batten in Annapolis Gray.
This luminous bedroom is serving French cottage vibes. Gorgeous!
Kitchen
This dark and dated kitchen gets a complete transformation with White Dove cabinets! It's hard to be 100% certain from just the photos, but it looks to me like a gloss finish was used here. Finishes can definitely change the final look of your paint, so that's something you should check out when you're selecting your colors.
White Dove does amazing things to open this kitchen and lift it up in another before/after transformation.
An intense DIY renovation that makes White Dove its darling. Between the natural luminosity of the White Dove and the warm woods, this kitchen really glows.
Office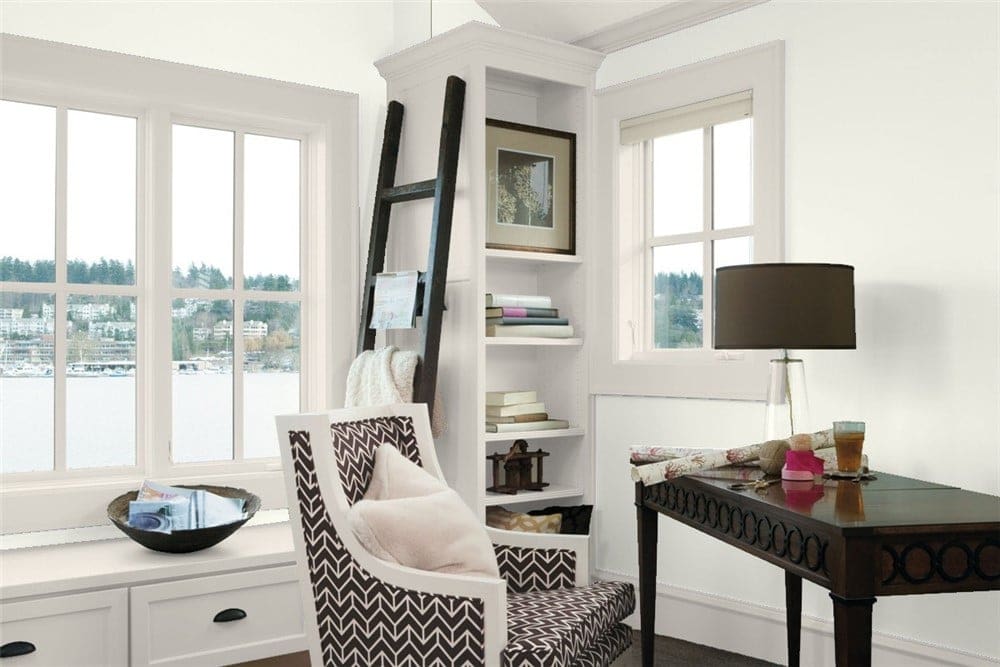 A light and airy home office space is balanced by trim in Wish and furnishings in chocolate shades.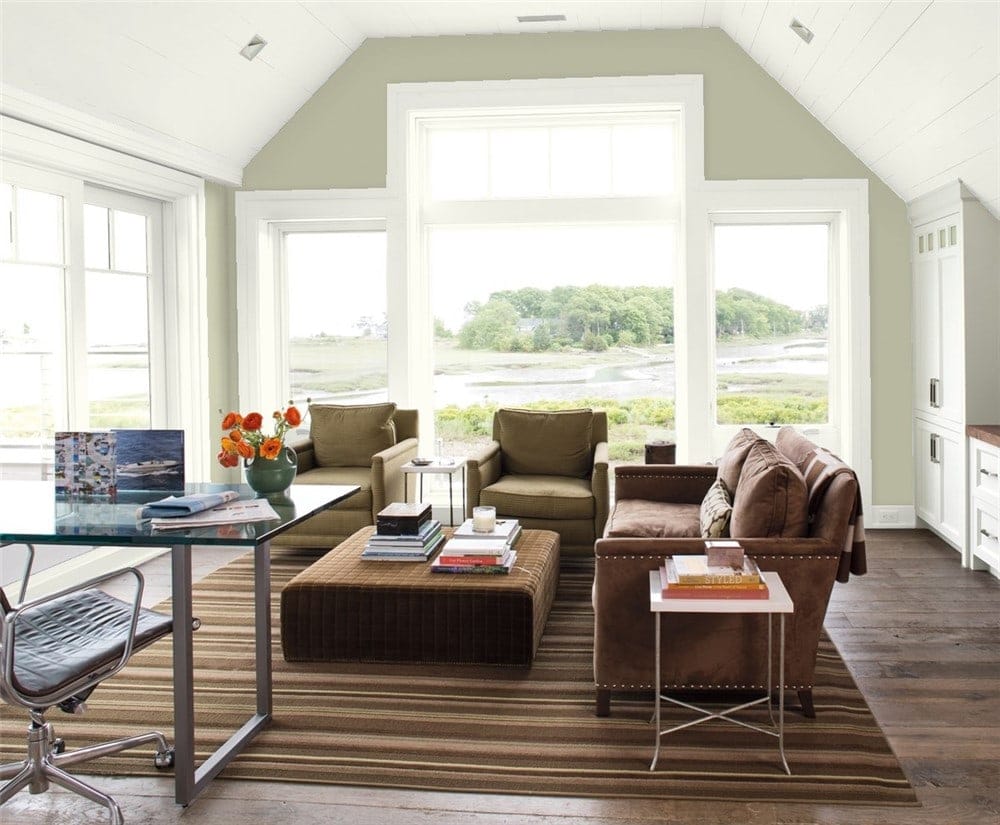 This home office uses a Tree Moss accent wall to take White Dove in an earthy, natural direction.
Entryway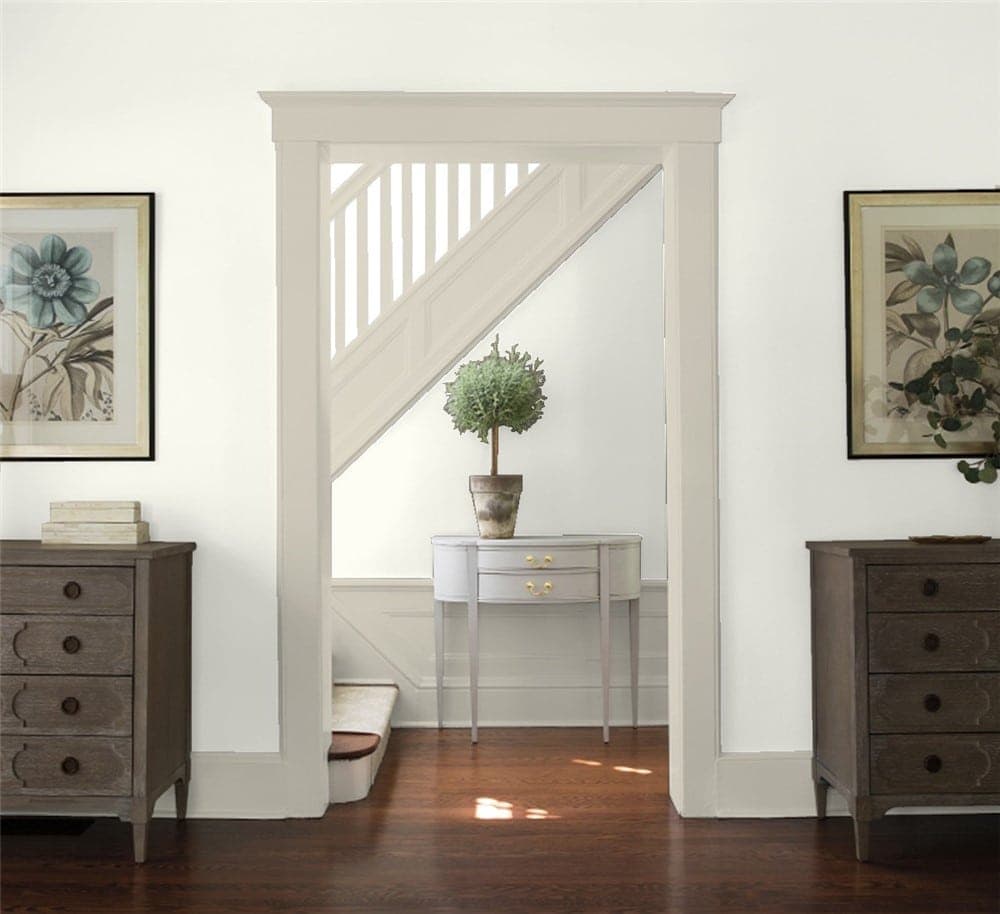 Part of White Dove's enduring popularity is its ability to coordinate with the darling of the decorating world, the greige color family. In this entryway, White Dove walls meet trim in Revere Pewter, one of the bestselling greige colors of all time.
This modern farmhouse style entryway also partners White Dove and Revere Pewter. The color duo is well-loved in farmhouse decor.
Exterior
White Dove can work with any color, so why not try it with perky pink, like this unexpectedly cute front door? The deck also uses La Paloma Gray.
This New Orleans home is bright and crisp in White Dove with pale blue doors and porch ceiling.
This Louisiana farmhouse is using White Dove and Essex Green to complement its traditional exposed brick.
White Dove Coordinating Colors
After all those amazing room examples, you're probably wondering where to start with White Dove. If anything, you are completely spoiled for choice: White Dove can coordinate with any colors you want to use. It doesn't have significant enough undertones to make any color family out of the question.
Benjamin Moore's suggestions to coordinate with its bestselling white include Cheating Heart, Silver Lake, Yukon Sky, and Horizon Gray.
If you're not sure where to start, neutrals are easy to coordinate. White Dove can harmonize with any of them, including popular favorites like Revere Pewter, Wish, and Gray Owl.
But truly White Dove offers endless color possibilities. You could start by choosing a favorite color and building around that. You could also build your palette around cool colors or warm colors.
Here are some coordinating colors for White Dove to get you started:
How Does White Dove Compare to Other Colors?
White Dove vs Cloud White by Benjamin Moore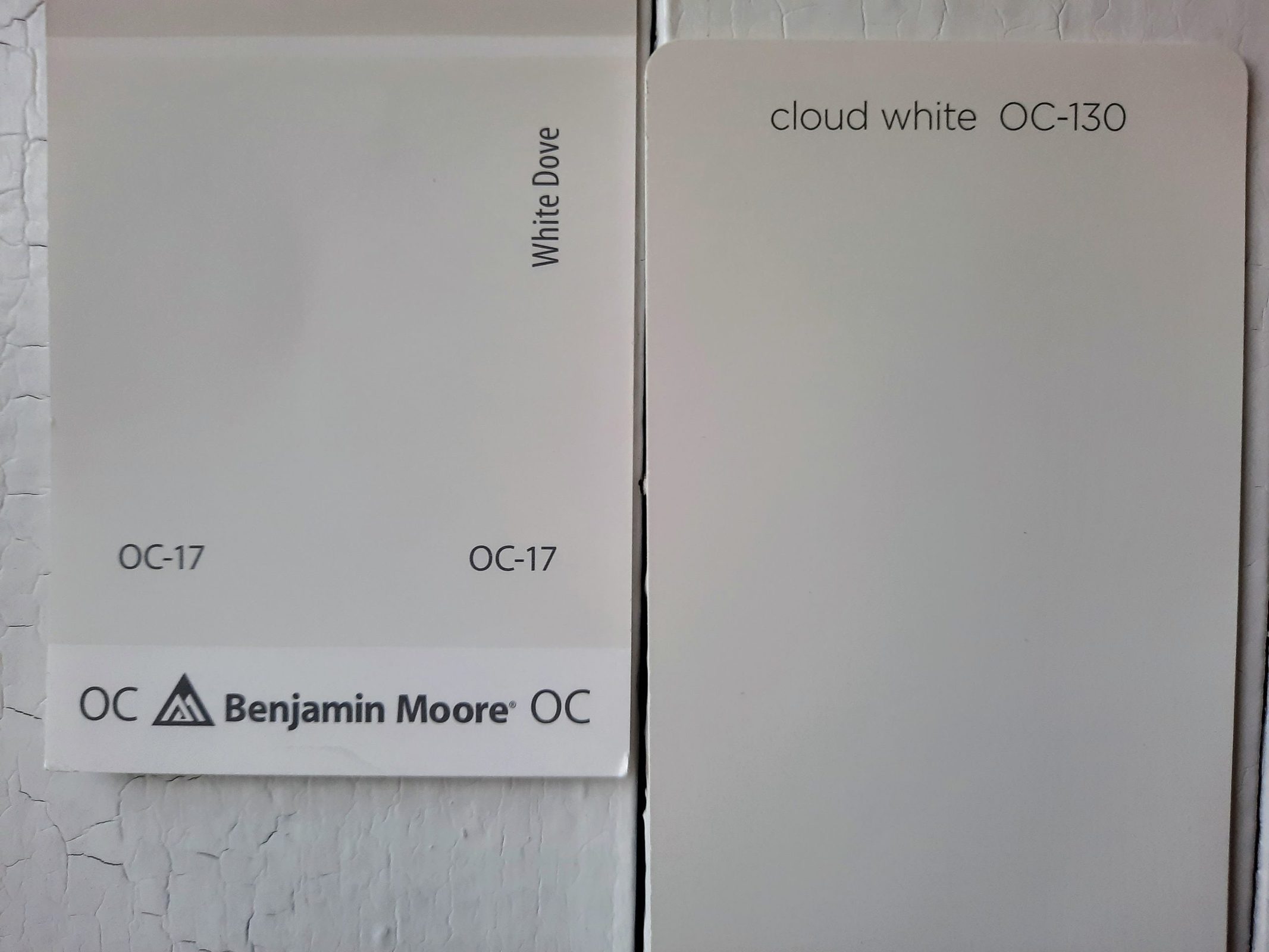 Cloud White is fairly similar to White Dove, as a soft white with an almost identical LRV of 87.35. The most noticeable difference between them is that Cloud White has a bit of a beige tint to it. Under bright lighting, though, it's hard to tell. This choice comes down to your personal preference.
White Dove vs Simply White by Benjamin Moore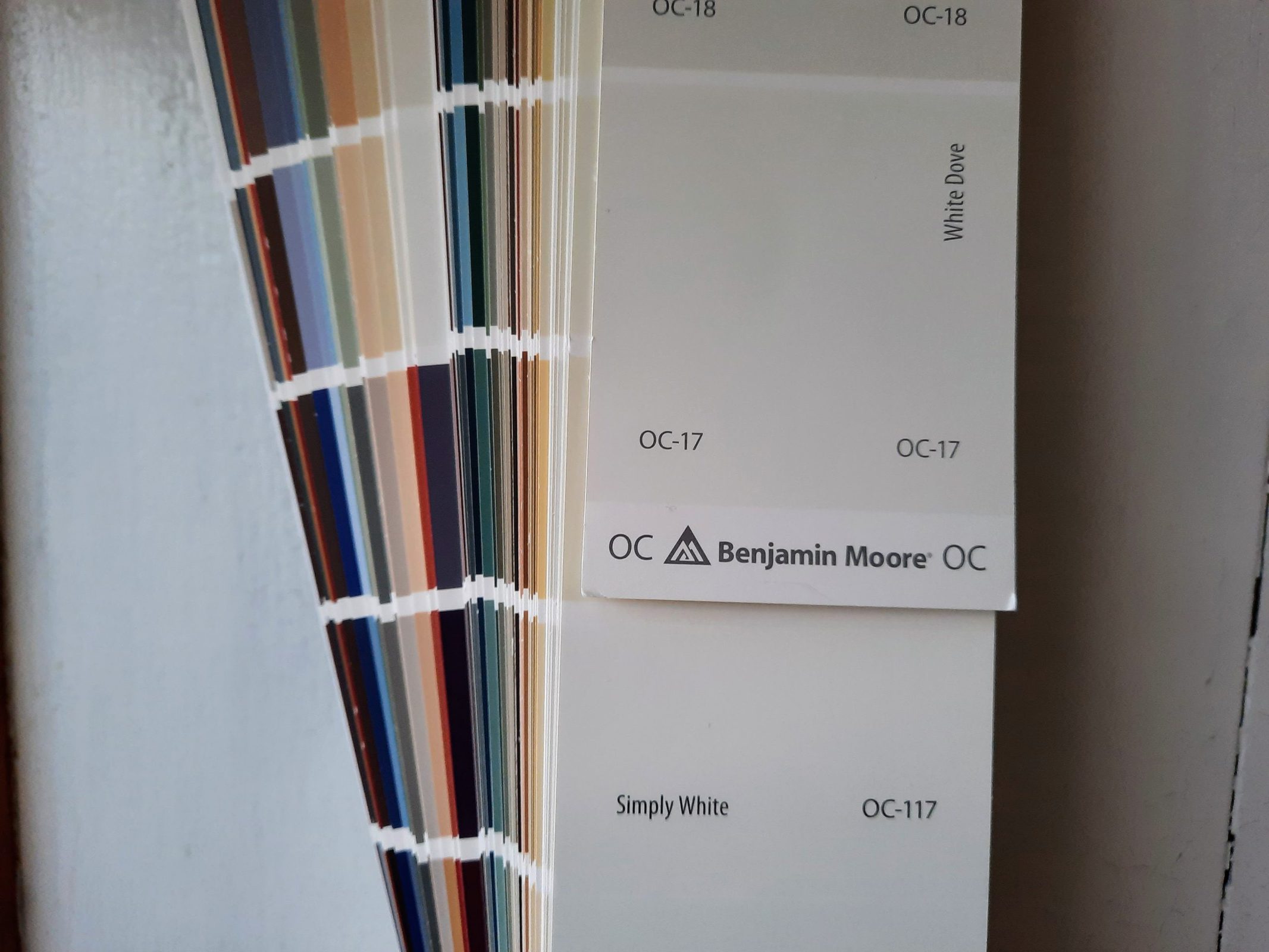 Simply White is brighter than White Dove, at 91.7 on the LRV scale versus White Dove's 85.38. While White Dove is a "softly shaded" white, Simply White is, as you might guess from the name, lacking in that shading. If you really want a pure, bright white that isn't going to give any undertones, choose Simply White. If you're concerned about the space looking too stark, go with White Dove.
White Dove vs Alabaster by Sherwin Williams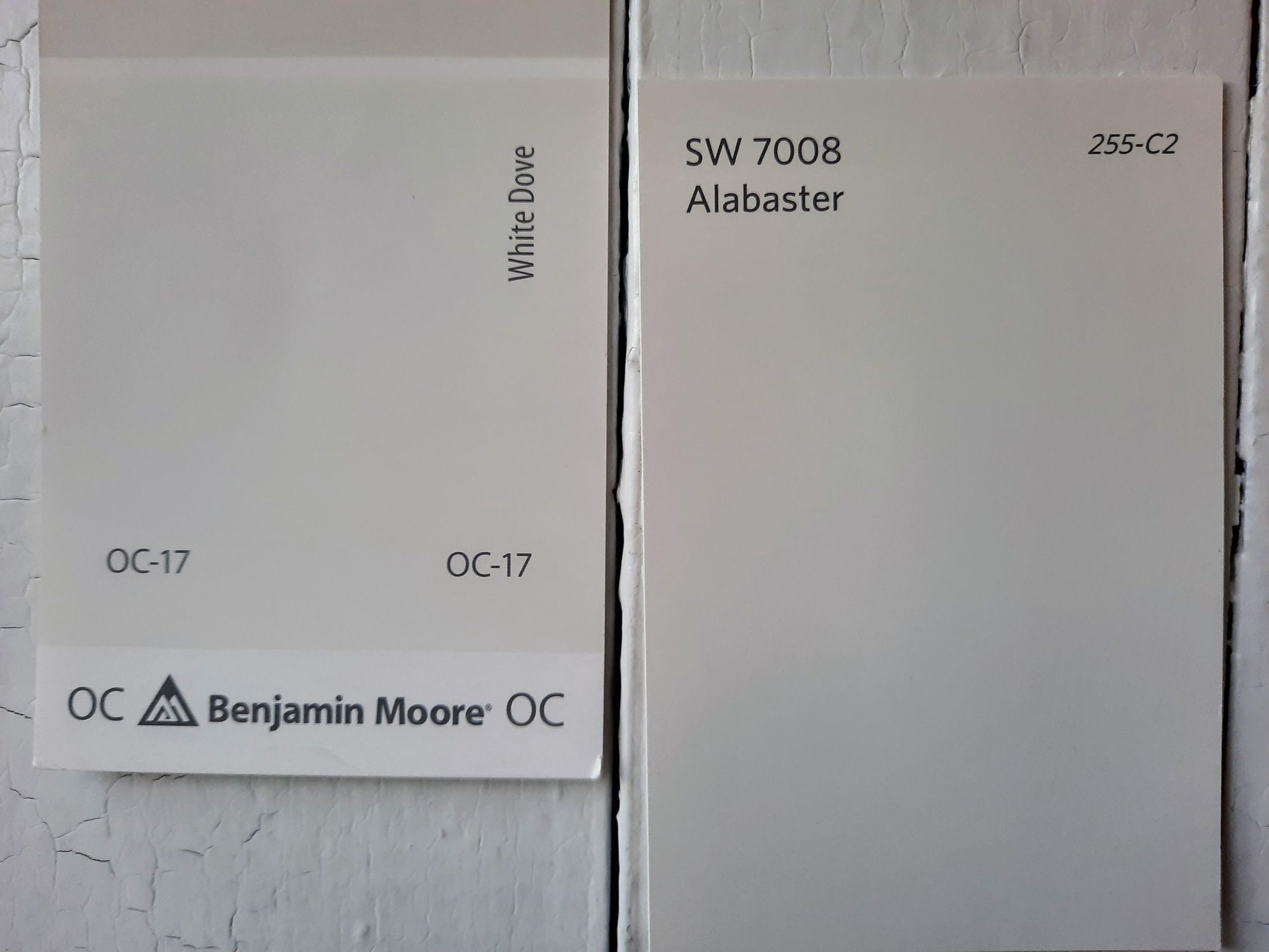 Alabaster might be the closest Sherwin Williams color to White Dove. Its RGB values are very similar, and its LRV is 82, making it just slightly darker.
White Dove vs Dover White by Sherwin Williams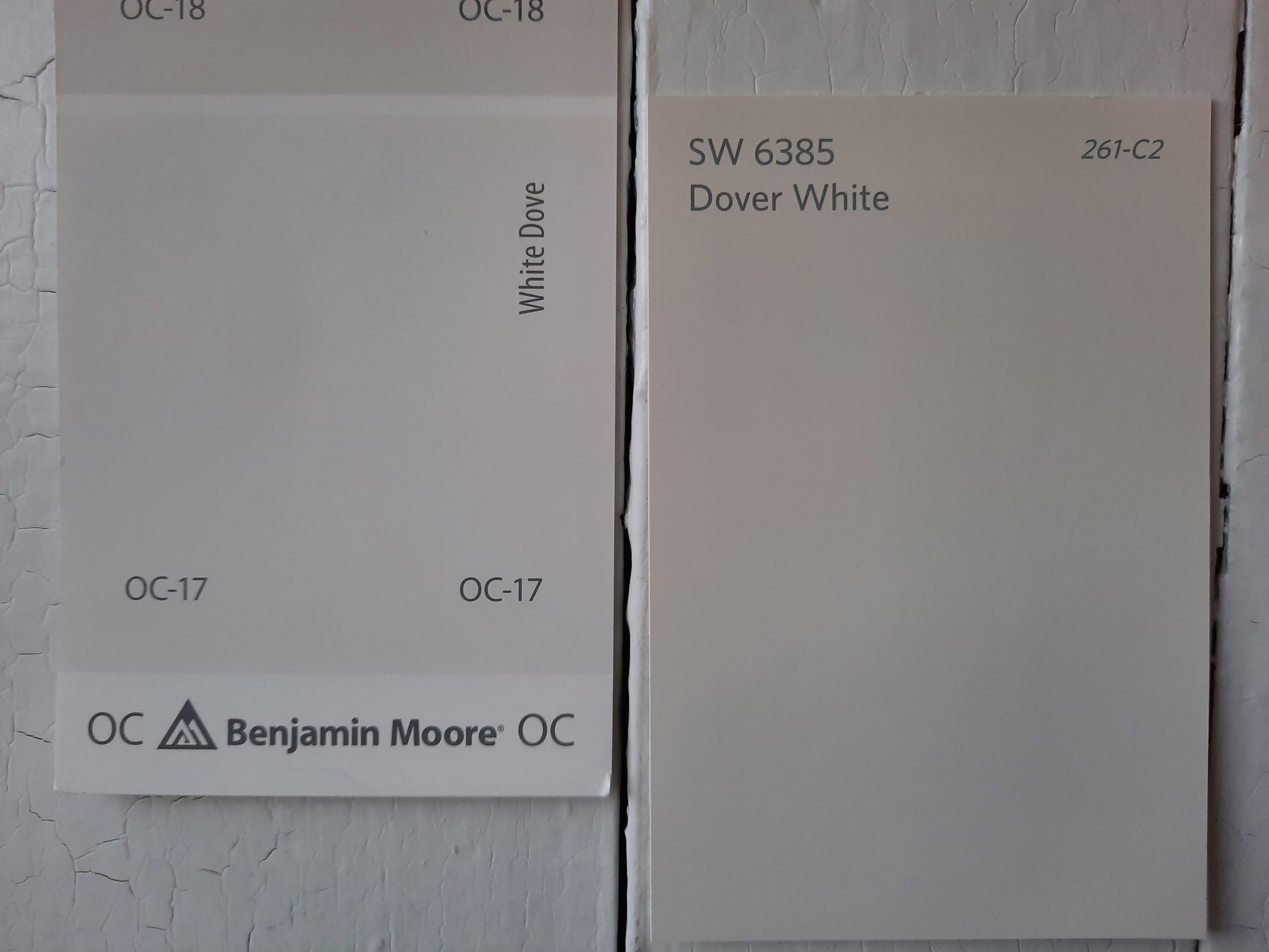 Dover White is a little creamier or beige-looking than White Dove. Its LRV is 83, so there's very little difference there. You might choose Dover White in situations where you have bright lighting and don't want the room to feel too washed-out.
Final Thoughts
Whew! We've gone on quite the tour through the world of White Dove. This paint color is so well-beloved, and there really isn't any project you couldn't incorporate it into. I personally think its best quality is that warm, soft glow it brings to a room, a really unique way of interacting with the natural light. That coziness makes it a great choice for a lot of today's popular decor styles, and keeps White Dove at the top of favorites lists again and again.