Ranch House Front Porch Ideas
What comes to mind when you think of your dream porch? Are you sitting on a rocker looking out at your homestead on a hot summer's night? Or do you have something more modern in mind? Perhaps it's sleek lines and modern architecture that you prefer.
Even if you don't have a Dallas-style ranch, you'll want to make the most of your front porch. One that you're pleased to come home to and that your neighbors will envy! Whether you're looking for traditional staging or clean, modern styling, look at these design ideas and see how to get the most out of your ranch house front porch.
Keeping it Traditional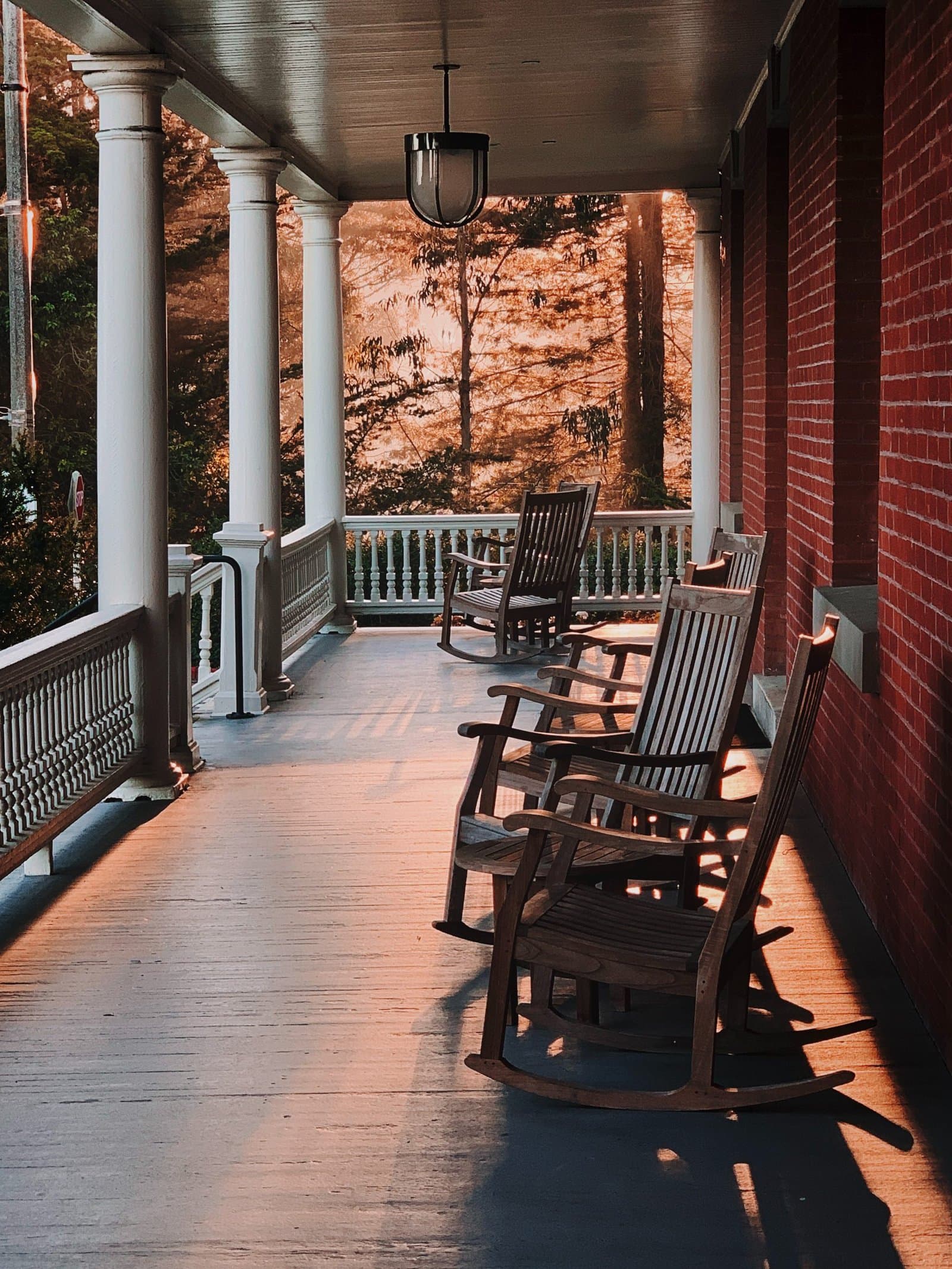 A traditional porch can be romantic but needn't be twee. First take a look at the structure of your front porch. If it's ornate and intricate, then keep furniture and accessories simple.
Pick a rocker or chairs to complement the finish of your porch. These timber rocking chairs look adorable against the classic white balustrade.
If your porch is plainer in construction, then you'll need to consider accessories to create that old-fashioned look. Add floral-patterned pillows to your seating. Vintage-style lanterns and hardware will nod to the past.
Choose hanging baskets and plant an abundance of pretty flowers and vines. Furniture can be more elaborate too, in wrought iron or intricately carved wood. Research the era you want to represent to get more ideas.
Modern Twist
Your ranch house may be more modern in design, or you want to update your front porch to fit with current trends. Whether your home is a boxy, angular design with large windows or more like the Waltons' country house, there are some statement pieces you can choose for a meaningful 21st-century look.
For foliage, think big, jungle style leaves in huge pots and vases of dried grasses. Succulents are trending in indoor plants and look good placed together in groups in simple ceramic pots.
Consider your soft furnishings and fabrics. Monochrome is in and grays and blush pinks work well as a good neutral palette. Geometric prints are on trend as are textured pillows – woven, knitted and frayed in earthy, neutral shades. A casually slung blanket will add warmth and color, as well as keeping you cozy when the weather is cooler.
Get into Your Zen Den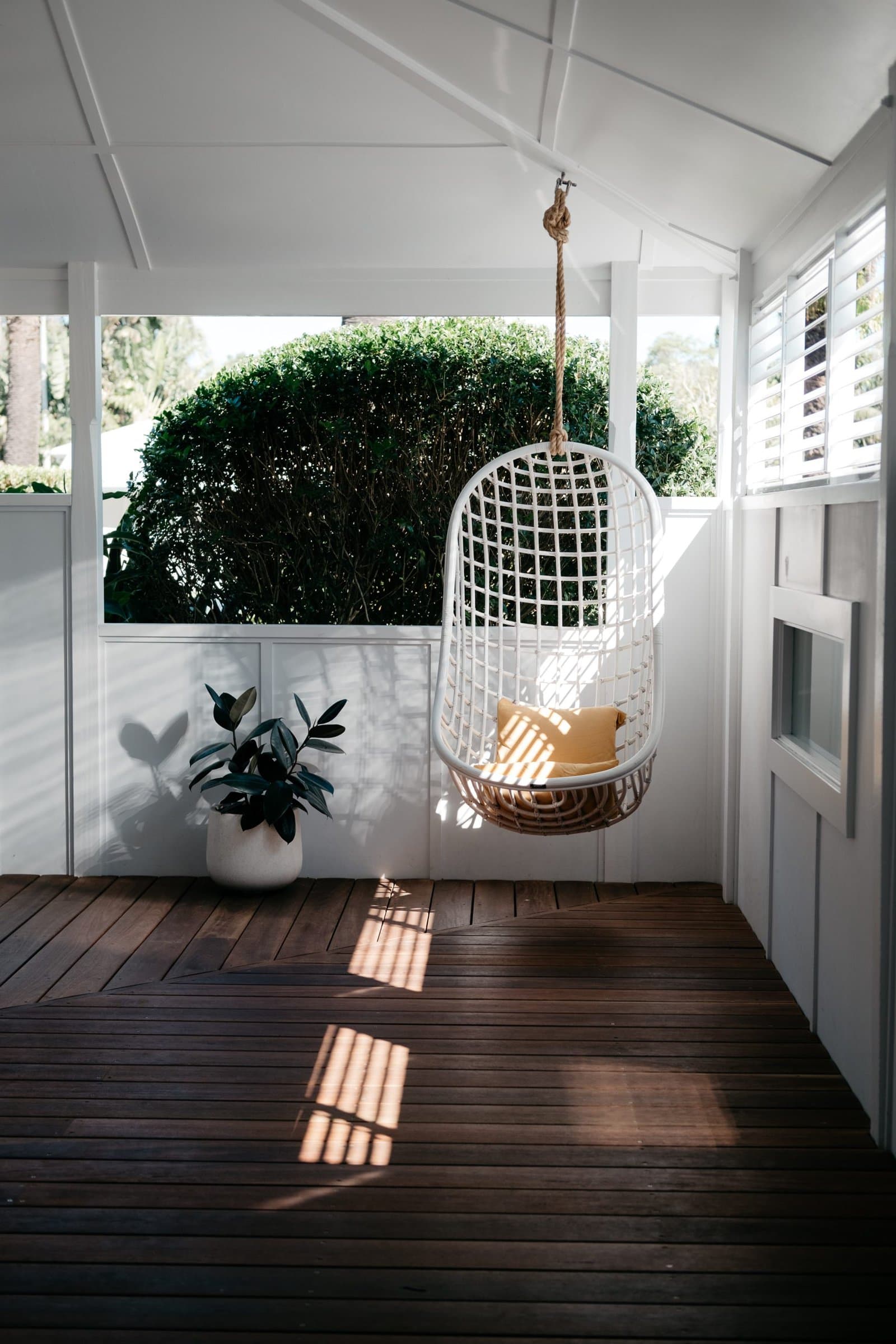 Good mental health and well-being are key to a calmer life. A big part of that is self-care which in its simplest terms can be about making time for you. Why not transform a part of your porch into a quiet area for meditation? Perhaps quiet reading is more your thing, or just being able to kick back, relax and do zilch!
Think clean and clear on your porch for low distraction, with minimal furniture and accessories. You can decorate in white and neutral tones. This hanging chair idea is a great alternative to the traditional porch swing. The white-painted wood on the surrounding timber adds to the feeling of serenity.
If you're lacking your own private space inside your ranch house, then give some thought to what you might be able to create right outside your front door. You deserve that quality alone time.
Inject Some Color
If color is important to you for a sense of mood then think about the shades you'll paint your porch. Perhaps you want to amplify a more traditional style of architecture with a pop of color.
You can continue a tonal theme from your home interior to outdoors. Some of us need bright colors around us to inspire or to make us feel more cheery and comfortable.
Create an impactful first impression on your front porch. Painting the woodwork or deck in dark or bright colors will wow visitors and passers-by.
Black has been a big trend in the past few years and could serve as a dramatic backdrop. Make sure you use an exterior paint and choose a satin or matt finish for a current look.
Pillows, blankets and accessories such as side tables and ornaments can add some zing. So look out for statement pieces and unusual, impactful finds.
Planting for Your Porch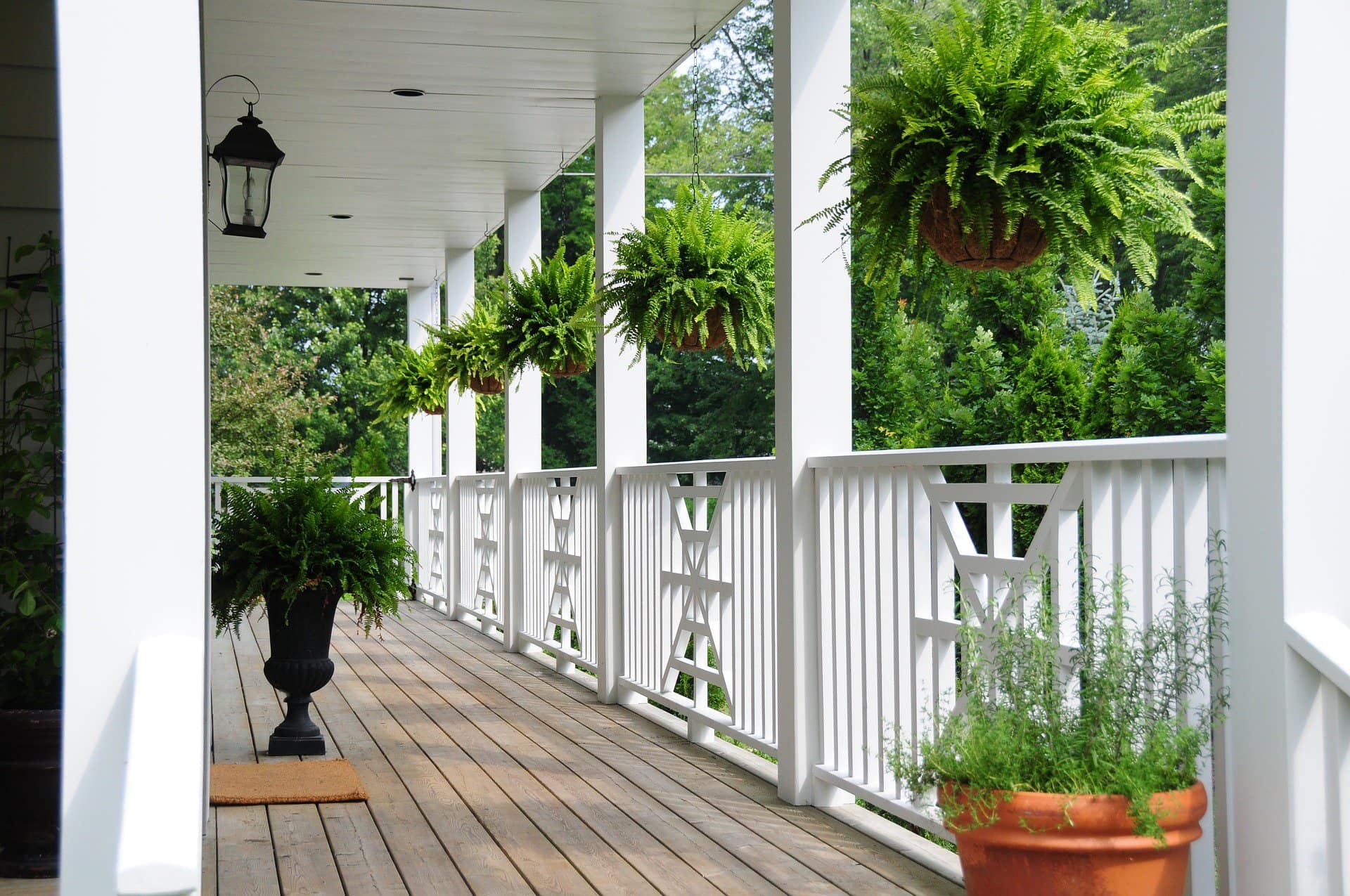 Plants are pretty much essential for the entrance to your ranch house. If you're going for a traditional look then think about your yard and how your porch plants can complement this.
Climbing plants and vines look pretty and some take only a short while to establish. A clematis is a good flowering plant or honeysuckle can add a heady scent in the summer months. Think about your color scheme and choose flowers accordingly.
Ferns, like the ones in this picture, are very 'in' and work well in a damp or cooler climate. Greenery of the lush, jungle kind is on trend, so bring in an abundance with pot plants on your deck and on tables. Small succulents look great arranged in groups in small pots.
You can go big and bold with pots filled with palms. Or how about some large vases with dried grasses like pampas. If you're somewhere hot and dry, cacti of varying heights in pale terracotta pots add interest and are quirky.
Light It Up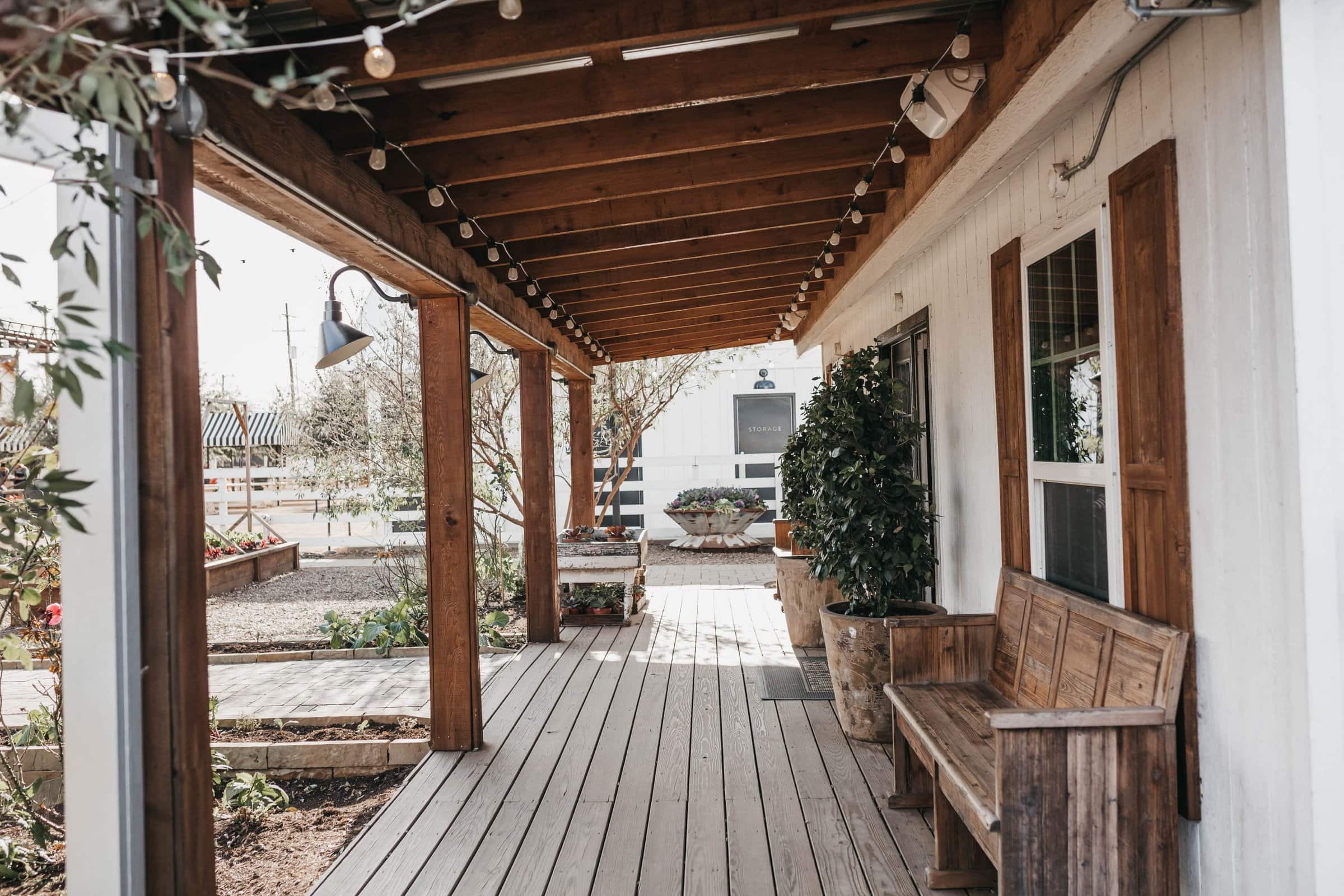 Lighting is important for those evenings on the porch. You may like to sit out with candlelight watching the stars but if you like to use your porch year-round and sit out on colder nights, you'll need to consider brighter lighting.
This porch in this picture has it all covered. Stylish enamel lamps for maximum light and security. Softer lighting comes from the festoon string lights which have been very popular in recent years. You can hang them from the ceiling of your porch or wind them around balustrades and pillars.
If you want something softer, fairy lights are a cheap and pretty option. You can buy battery-operated lights in a range of lengths. You can even string them around the leaves in a pot plant or two. Lanterns, rustic and traditional, or modern and angular also add character to your porch.
Rock and Roll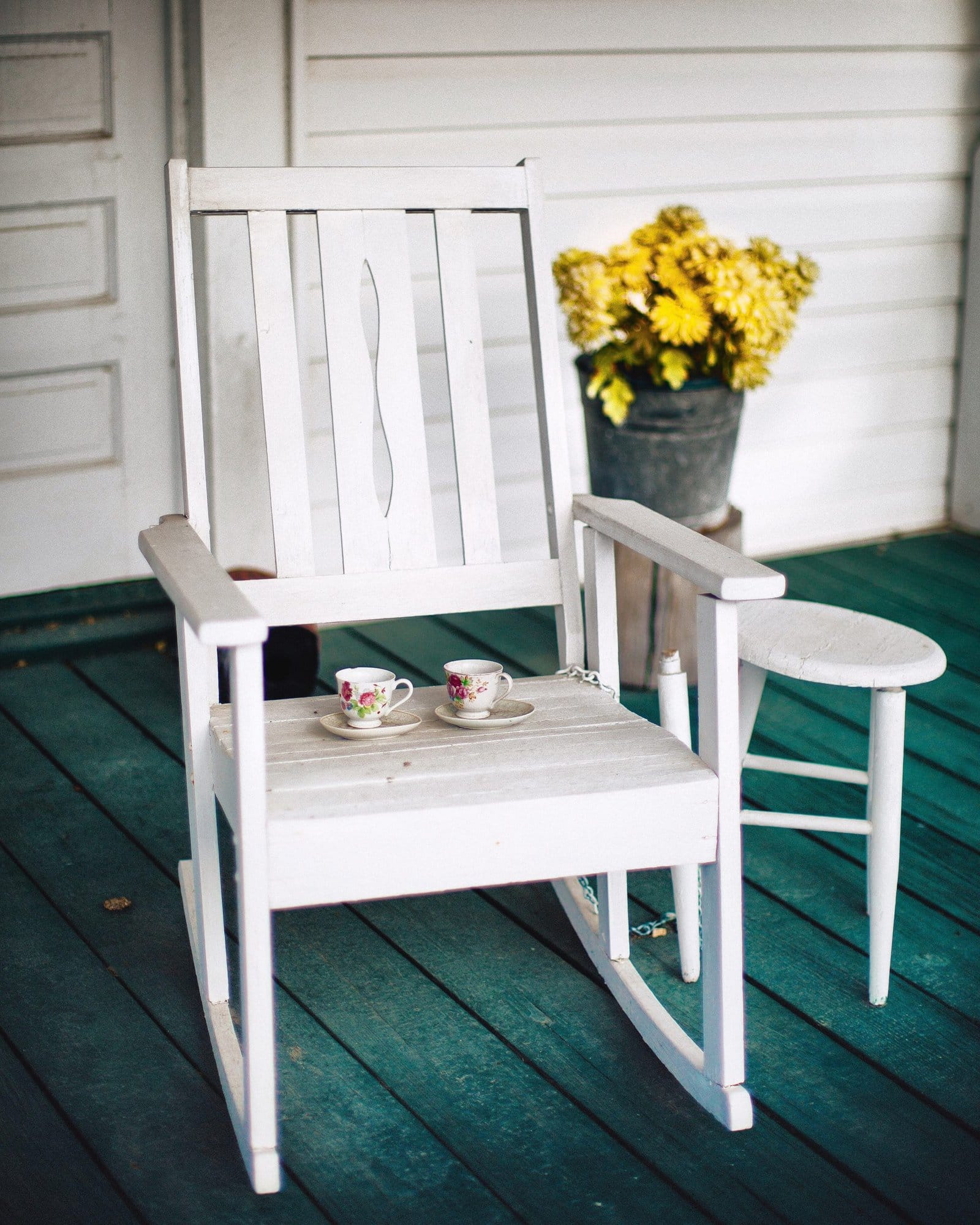 A ranch house front porch wouldn't be right without a rocking chair now would it? But how do you pick the right style for you?
You can choose what you find more comfortable.Think about the space you have and what is in the rest of your scheme. When you think of a rocker, you may picture a wooden rocking chair for grandma with chintz cushions which can be a good look for the traditionally minded. Also, have you considered a chunky, lumberjack-style rocker?
There are lots of contemporary options. You can upcycle your rocker and paint it in a trending matt finish. Or look out for bright metal-framed rockers for a more cutting edge design.
Don't forget the padding which is necessary for comfort but your pillows and fabrics can accentuate your style and theme.
Finding the Perfect Front Porch Swing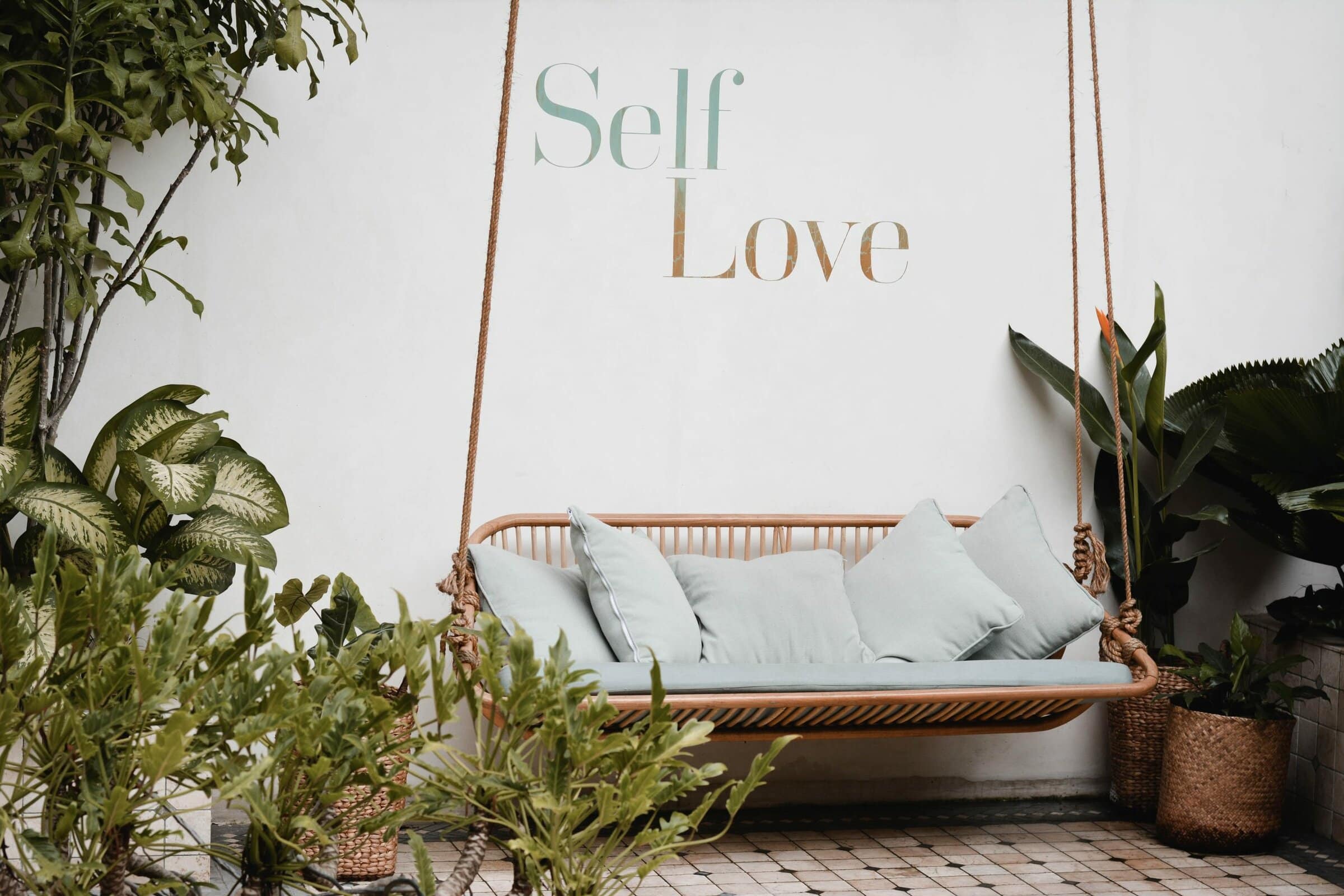 There is a huge array of porch swings to choose from. You may like a white painted bench style or natural timber. Perhaps a fashionable rattan swing like this picture is more for you. Note the styling and the cocooning effect of the plants creating a private nook.
Think about your colors and choose a bright finish for a 'wow' look. And if you want cozy then layer with cushions and blankets. For a more minimal look, strip it right back, whether you have an architectural modern ranch house or you prefer a more rustic, pioneer style.
You can position lighting around your feature swing. A backdrop curtain of fairy lights looks cute. Try a chunky metal candelabra hung above your seat, perfect for an evening read.
Style for the Seasons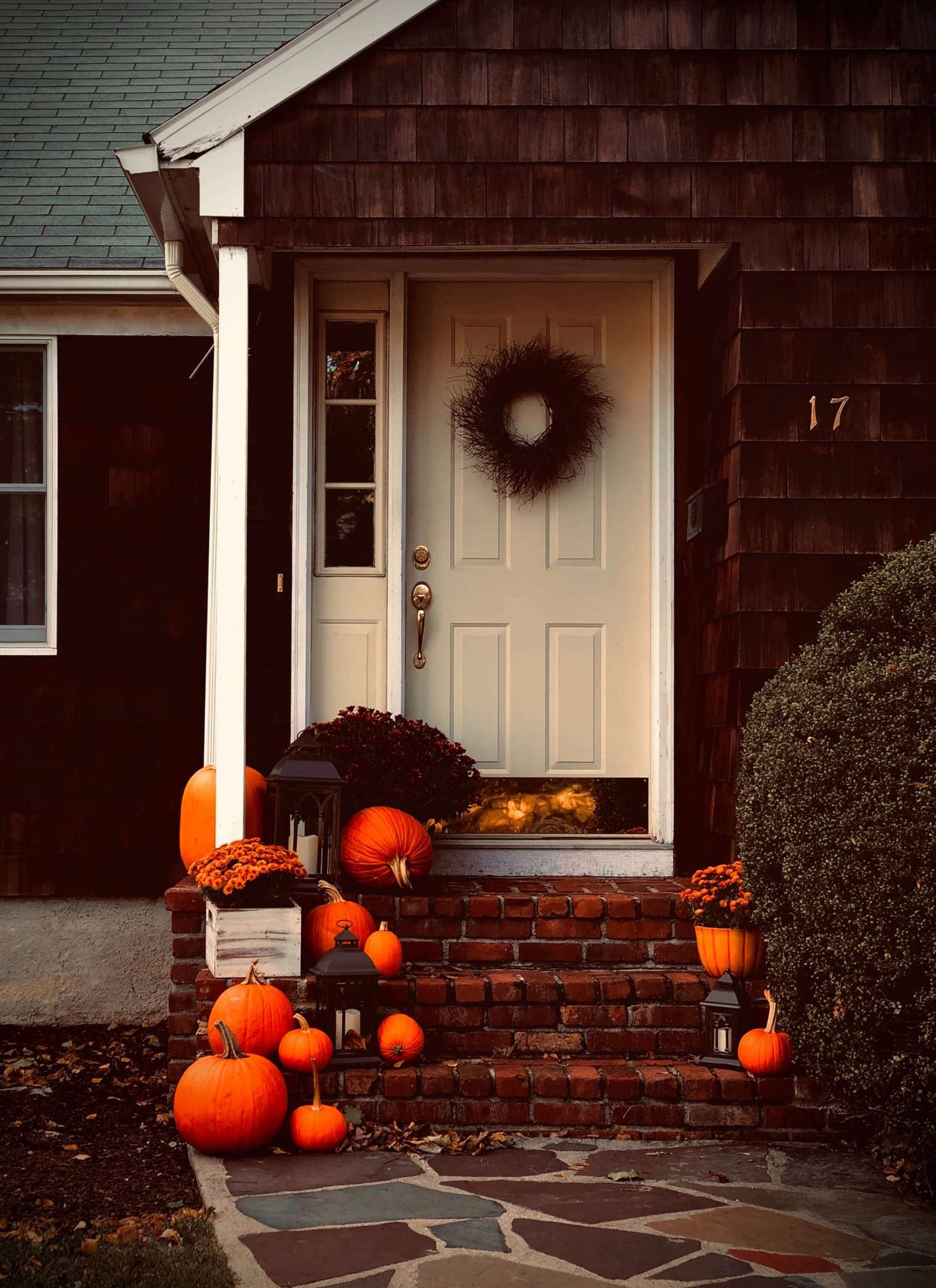 Your front porch doesn't have to look the same all year round. Like the interior of your home, you can decorate for different times of the year.
For Fall, think pumpkins with autumn leaves and grasses for a charming Halloween theme. If you want to stand out in your neighborhood then these stylish ideas will be a winning look.
In the winter you could introduce sumptuous reds and golds for the holidays. Or an icy scene with silvers and grays. Bring out blankets and fake furs for coziness. And if you like to sit out all year round then an outdoor heater is a good call.
Spring can be fresh with pastels, greens and pinks. Fill your pots and the surrounding borders with pretty garden flowers and add some interest with a vase of colorful blooms.
Summer is when your porch will be seen in all its glory so tend your plants and take care of climbing and trailing vines. Put flowers on the deck and ensure you have plenty of lighting for those hot summer nights.
In Conclusion
Your front porch is the entrance to your home and should reflect your personality. Look indoors for design inspiration. If you like minimal, clean lines, then follow that outside of your front door. If you're more homely then seek tradition for inspiration.
If you have more eclectic tastes, go for 'wow' pieces and bold colors. You can transform an old piece of furniture with brightly-colored accent hues.
Plants should follow your theme, palm leaves and ferns are very on trend. Pretty blooms and romantic vines are more classic. Use varying heights to add interest.
And finally, remember those seasons, you can change up the theme whenever you want. It's fun to dress up your porch using props and objects you may have around the house – so get creative!